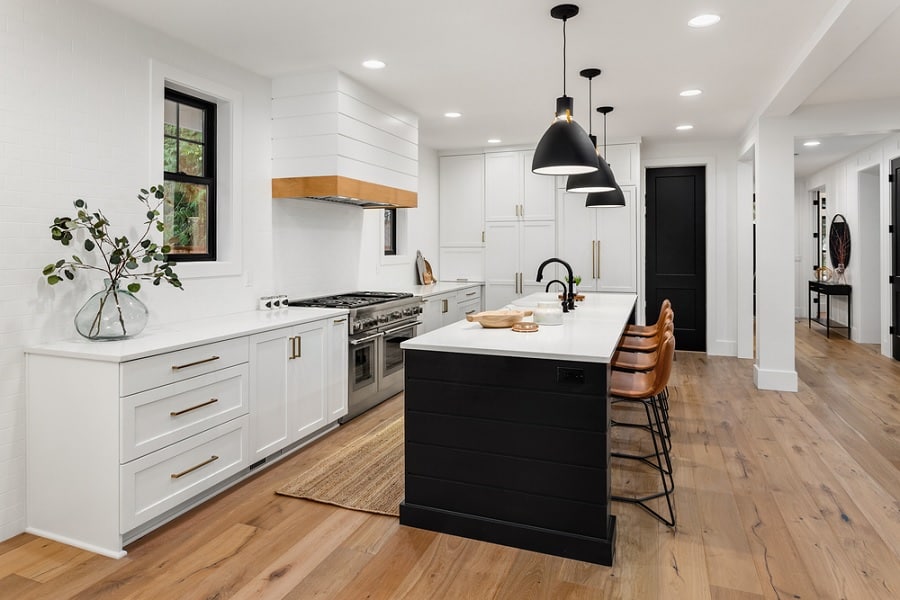 7 Best Ceiling Lights for the Kitchen
In some ways, choosing the right kitchen ceiling light is more important than shopping for ceiling lights designated for other rooms in the house. Not only do you need overall room illumination, the kitchen requires light that's bright enough to work safely.
A good kitchen ceiling light fulfills this dual job, serving as ambient lighting and accent lighting. Of course, it needs to look great, too. We've searched for some of the best ceiling lights for kitchen use. Here are seven of our favorites.
Kitchen Light Glossary
Accent lighting
Light that is aimed at a certain thing or area you wish to illuminate. Think of the picture lights that shine on one painting in a museum. Accent lighting in the kitchen may include picture lights, under-cabinet lights, and LED tape lights.
Wall sconces are another type of accent lighting that can be used to add soft illumination to a breakfast nook or dark kitchen corner. A floor lamp can serve the same purpose and add a relaxed, casual feeling to your kitchen—especially when paired with a coordinating lamp on the countertop.
Ambient lighting
The light that is available to the entire room. Also called general lighting, this includes all components of the room's basic lighting. Natural light, overhead light, cabinet light, lamps—all of these contribute to the kitchen's ambient lighting.
Cabinet lighting
The countertop area beneath your upper cabinets can be dim without illumination from a cabinet light. LED tape lights or other small LED lights fit well under cabinets and show off a beautiful backsplash or canister set. Their slim profile makes them nearly invisible during the day. However, dazzling light effects are possible with new LED light features.
Cabinet lighting is also useful on dark mornings, when you need to make coffee or breakfast but don't want to face a fully-lit kitchen just yet. Many people leave on a few cabinet lights overnight so that it's easy to find what you need during middle-of-the-night snack attacks.
Recessed lighting
Recessed lights, or can lights, are set inside the ceiling so that only the bottom of the fixture is visible. They're a classic solution to the problem of a dim kitchen, as they blend into the ceiling and don't visually clutter the room. Most can lights are circular, and between 4 and 6 inches in diameter. They usually have a plain metal frame in white, black, or silver, although you can occasionally find recessed light fixtures with decorative trim.
Newer recessed light fixtures are insulated to avoid the heat loss that used to occur with can lighting. You may be able to purchase retrofit kits that allow you to replace your existing recessed lights with LED downlights.
Task lighting
Also called work lighting; this term is pretty self-explanatory. These lights illuminate specific kitchen work zones, such as islands and countertop food prep areas. Under-cabinet lighting, track lighting, and carefully positioned recessed lighting fixtures can all serve as kitchen task lighting.
The main thing that differentiates task light from other light sources is that it's highly localized. Good task lighting provides the exact amount of light in the exact spot you need it to do your work safely and effectively.
Track lighting
Track lights are overhead light fixtures that have several individual light fixtures attached to one long strip, or track. Each light can be positioned separately to shine on a specific area of the room. Track lighting can serve as a kitchen's main light source or be used as accent lighting.
Most track light fixtures have a modern style, so they might not look right in a kitchen with country or farmhouse decor. Because of the number of fixtures, track lighting that relies on halogen or incandescent bulbs can add a lot of heat to the kitchen. To avoid dealing with an overheated kitchen, choose LED track lighting when possible.
Conclusion
Many factors must be considered before deciding on the perfect ceiling light fixture for your kitchen. Some kitchens can handle the longer length of pendant lights, while others must have low-profile flush mount fixtures. Because a flush mount fixture is suitable for any interior, we have chosen the Drosbey round light—number one on the list above—as the kitchen ceiling light that's best for all.
While the LED fluorescent replacement fixtures we shared are great for general lighting, the Drosbey round light wins because of its simple, elegant style. We love the modern brushed nickel trim and the frosted white shade. Its basic circular design is unobtrusive and easily melds into nearly any home decorating style. It's also affordable and you never have to change the bulb.