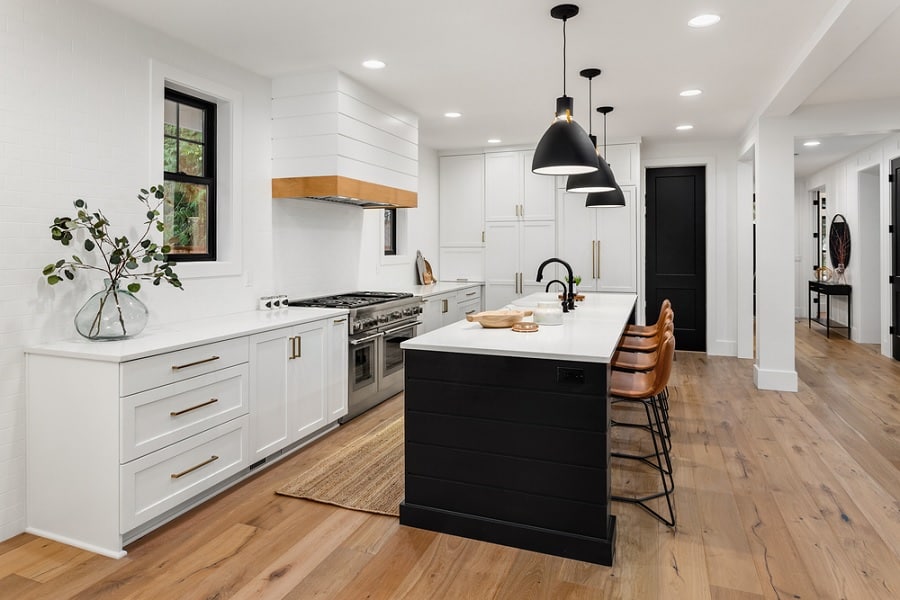 Trendey may earn a commission when you buy through links on our site.
As an Amazon Associate we earn from qualifying purchases.
7 Best Ceiling Lights for the Kitchen
In some ways, choosing the right kitchen ceiling light is more important than shopping for ceiling lights designated for other rooms in the house. Not only do you need overall room illumination, the kitchen requires light that's bright enough to work safely.
A good kitchen ceiling light fulfills this dual job, serving as ambient lighting and accent lighting. Of course, it needs to look great, too. We've searched for some of the best ceiling lights for kitchen use. Here are seven of our favorites.
1. Drosbey 36W LED Ceiling Light Fixture
Sleek, affordable, and you never have to change the bulb: what's not to love about the Drosbey 36W LED Ceiling Light Fixture? Ideal for low ceilings, this flush mount ceiling light is 13 inches in diameter and only extends 3 inches below the ceiling. It is easy to attach to an existing light box, eliminating the need to hire someone to install it.
The bright LED light is a good replacement for a bulky fluorescent ceiling fixture. Its light is equivalent to two 100-watt incandescent bulbs. The LED light bulbs are built-in and not replaceable. This means that if the light fixture stops working, you'll have to replace the entire thing. The company guarantees the light for up to six years, so use the warranty if you need to replace it.
The LED light casts a cool white light, which some find more clinical than they want inside their home. However, this type of LED lighting resembles natural daylight and that level of brightness is usually appreciated in a busy kitchen. It features modern brushed nickel trim and an unbreakable frosted plastic shade. The same fixture is available in an oil-rubbed bronze finish. Both finishes can also be purchased in a smaller, 10-inch diameter size.
2. Yarger Dome Pendant Light
Pendant lighting is an excellent choice for kitchens with high or sloped ceilings. This One-Light Dome Pendant Light glows with vintage charm through its hand-blown clear seeded glass cover. You can amplify the vintage look by putting an Edison style light bulb inside, or use a filament LED bulb.
This light fixture includes an adjustable cord that's 50 inches long. The lamp portion is 9 inches tall, so the combined maximum hanging length is approximately 60 inches. The minimum hanging height is 12 inches.
Choose from two metal colors: brushed nickel or oil-rubbed bronze. Blue or turquoise glass shade options are also listed, but availability may vary. The shade is not replaceable, so if it cracks, you'll have to purchase an entire new lighting fixture.
A row of these dimmable pendant lights would look amazing over a kitchen island or bar. Keep in mind that they are a bit smaller than the average pendant kitchen light, so you may need to install several to achieve a good task lighting level.
3. McAlisterville 1-Light Single Bell Pendant
Pendant-style accent lights will always be a popular choice for kitchen lighting. The McAlisterville Single Bell Pendant is an adjustable-length ceiling light that combines elements of traditional and modern kitchen design. It is suitable for sloped, vaulted, flat, and cathedral ceilings.
The kitchen light fixture plus the shade adds up to a 9-inch-tall unit. The ceiling light comes with a set of stems that allow you to extend the distance from the ceiling up to 53.5 inches. If you have low ceilings, keep in mind that the minimum length from the ceiling to the bottom of the shade is 18.5 inches.
The metal portion of this kitchen ceiling light kit is available in three finishes: brushed nickel, bronze, and midnight black. The shade is clear seeded glass with a simple bell shape. Note that because the seeded "bubble" accents within the glass are organically made, it's normal for each shade to have unique variations in appearance.
Extend the vintage vibe of your kitchen lighting ideas by fitting each pendant with an Edison or other vintage style bulb. If you'd like to be able to dim your kitchen lighting, replace your ordinary wall light switch with a dimmer switch.
4. ZGLAOJT Semi Flush Mount 4 Light Ceiling Light
What is semi flush mount lighting? A semi flush mount light is a marriage between a pendant light and a regular flush mount light. This 4-Light Semi Flush Mount Ceiling Light extends further below the ceiling than domed flush mount lights but is considerably shorter than pendant kitchen light fixtures.
The result is a perfect balance between form and function. It's rare to find an overhead light for the kitchen that goes well with multiple interior design styles, but this one does. It is all at once modern, farmhouse, industrial, and with the right light bulbs, vintage.
Because each of the four matte black arms have exposed light bulbs, you'll want to choose beautiful vintage-style light bulbs instead of ordinary incandescent or compact fluorescent bulbs. Measuring 5.5 inches tall and nearly 15 inches wide, this four-lamp ceiling light could be considered a type of chandelier. It is reminiscent of midcentury sputnik-style ceiling lighting.
Anyone who has experience installing multi-wire light fixtures will find this kitchen light easy enough to install, but the initial job of assembling the chandelier's four arms can be difficult. You will want to have another person around to help hold the components in place while you fasten them together.
5. FaithSail 2 ft Kitchen Light Fixture
The classic fluorescent overhead light gets a makeover with this FaithSail LED lighting fixture. Perfect as a garage, laundry room, or kitchen light, this ceiling lighting option is more energy efficient than fluorescent fixtures that cast a similar level of general lighting.
Easy to install on an existing lightbox, this two-foot-long LED ceiling light includes 24 LED bulbs. It will fill the footprint of a 24-inch fluorescent kitchen light, but with more style. It features a white frosted plastic shade embellished with a dual linear silver panel on each end.
This LED ceiling light is powerful, casting a brilliant white light. This makes it a great source of general lighting, but it may feel too bright if you're looking for a more ambient light fixture. It won't work with many dimmer switches, but you can hire an electrician to connect it to a 1-10V dimmer specially made for this type of LED lighting.
6. AntLux 4FT LED Flush Mount Puff Light
The AntLux 4FT LED Flush Mount Puff Light is an affordable replacement for a four-foot rectangular fluorescent kitchen light fixture. This flush mount ceiling light includes two LED light strips and can last up to 23 years when used six hours a day. It coordinates with the FaithSail 2-foot LED fixture linked above—helpful if you need to replace large and small fluorescent ceiling lighting in adjoining rooms.
Its frosted white plastic cover is curved outward, a gentle puff shape that's different from regular flat fixtures. The cover's diffusing effect evenly distributes the bright white light, and it has silver decorative end caps that add a modern touch of style.
It comes with all the hardware you'll need, including anchors and wire nuts. Be sure to have some zip ties on hand before you install this light—you'll need them to tuck the wires out of sight. Otherwise, stray wiring might be visible from the floor.
7. Emliviar Kitchen Island Pendant Light
Whether you want to call it a pendant or a chandelier, this 6-Light Kitchen Island Pendant fixture adds modern linear charm to your kitchen. Suitable for modern, farmhouse, or industrial interiors, this pendant light has a gorgeous oil-rubbed bronze finish. It holds six candelabra E12 base bulbs. You can choose other decorative bulbs, but they must be 60W or under.
Although it exudes a good bit of light, it is dimmer than many of the LED kitchen light options available. It's compatible with sloped or cathedral ceilings and would be just as amazing over a table as it is over a kitchen island. It dims well with a dimmer switch, and doesn't flicker or hum when you dim it.
The unit is 43 inches long, 13.8 inches wide, and 18.8 inches tall. Its basic height may be too tall for low ceilings, but it's a great choice for high ceilings. It comes with an adjustable chain that can extend it 74 inches below the ceiling.
This light fixture comes with all hardware you'll need to install it yourself. However, some aspects of the installation can be tricky. Be sure to allow a few hours to hang it properly.
Kitchen Light Glossary
Accent lighting
Light that is aimed at a certain thing or area you wish to illuminate. Think of the picture lights that shine on one painting in a museum. Accent lighting in the kitchen may include picture lights, under-cabinet lights, and LED tape lights.
Wall sconces are another type of accent lighting that can be used to add soft illumination to a breakfast nook or dark kitchen corner. A floor lamp can serve the same purpose and add a relaxed, casual feeling to your kitchen—especially when paired with a coordinating lamp on the countertop.
Ambient lighting
The light that is available to the entire room. Also called general lighting, this includes all components of the room's basic lighting. Natural light, overhead light, cabinet light, lamps—all of these contribute to the kitchen's ambient lighting.
Cabinet lighting
The countertop area beneath your upper cabinets can be dim without illumination from a cabinet light. LED tape lights or other small LED lights fit well under cabinets and show off a beautiful backsplash or canister set. Their slim profile makes them nearly invisible during the day. However, dazzling light effects are possible with new LED light features.
Cabinet lighting is also useful on dark mornings, when you need to make coffee or breakfast but don't want to face a fully-lit kitchen just yet. Many people leave on a few cabinet lights overnight so that it's easy to find what you need during middle-of-the-night snack attacks.
Recessed lighting
Recessed lights, or can lights, are set inside the ceiling so that only the bottom of the fixture is visible. They're a classic solution to the problem of a dim kitchen, as they blend into the ceiling and don't visually clutter the room. Most can lights are circular, and between 4 and 6 inches in diameter. They usually have a plain metal frame in white, black, or silver, although you can occasionally find recessed light fixtures with decorative trim.
Newer recessed light fixtures are insulated to avoid the heat loss that used to occur with can lighting. You may be able to purchase retrofit kits that allow you to replace your existing recessed lights with LED downlights.
Task lighting
Also called work lighting; this term is pretty self-explanatory. These lights illuminate specific kitchen work zones, such as islands and countertop food prep areas. Under-cabinet lighting, track lighting, and carefully positioned recessed lighting fixtures can all serve as kitchen task lighting.
The main thing that differentiates task light from other light sources is that it's highly localized. Good task lighting provides the exact amount of light in the exact spot you need it to do your work safely and effectively.
Track lighting
Track lights are overhead light fixtures that have several individual light fixtures attached to one long strip, or track. Each light can be positioned separately to shine on a specific area of the room. Track lighting can serve as a kitchen's main light source or be used as accent lighting.
Most track light fixtures have a modern style, so they might not look right in a kitchen with country or farmhouse decor. Because of the number of fixtures, track lighting that relies on halogen or incandescent bulbs can add a lot of heat to the kitchen. To avoid dealing with an overheated kitchen, choose LED track lighting when possible.
Conclusion
Many factors must be considered before deciding on the perfect ceiling light fixture for your kitchen. Some kitchens can handle the longer length of pendant lights, while others must have low-profile flush mount fixtures. Because a flush mount fixture is suitable for any interior, we have chosen the Drosbey round light—number one on the list above—as the kitchen ceiling light that's best for all.
While the LED fluorescent replacement fixtures we shared are great for general lighting, the Drosbey round light wins because of its simple, elegant style. We love the modern brushed nickel trim and the frosted white shade. Its basic circular design is unobtrusive and easily melds into nearly any home decorating style. It's also affordable and you never have to change the bulb.