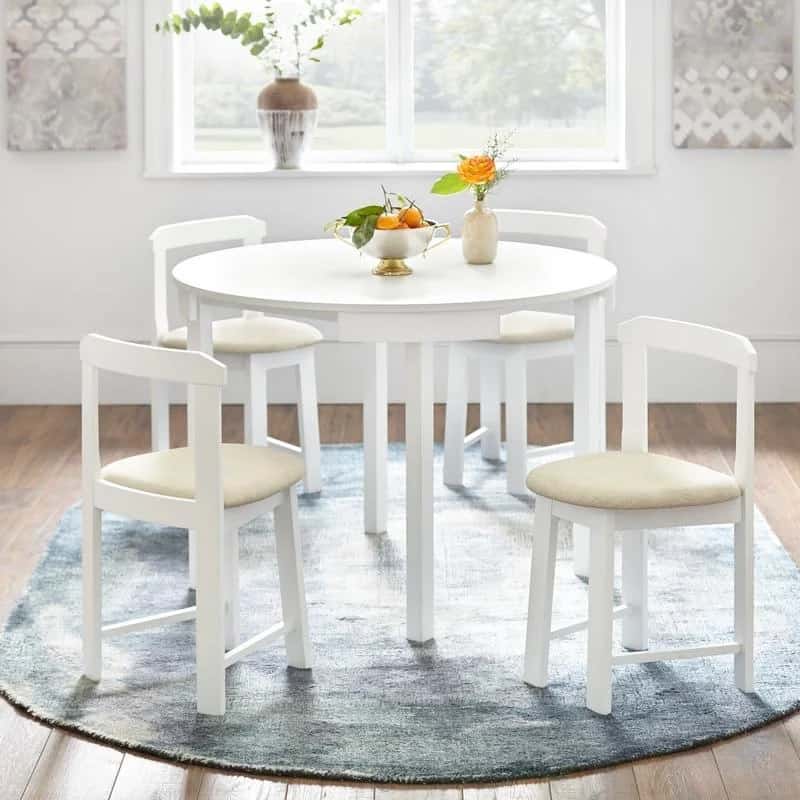 Trendey may earn a commission when you buy through links on our site.
As an Amazon Associate we earn from qualifying purchases.
Best Dining Room Tables
The dining room table is where you gather with friends and family to share a meal. You need a table big enough to accommodate everyone while also fitting into your home.
The best dining room tables are more than just a flat top on legs. They have style and quality that elevates the look of your home. Their large size means they have a big visual impact in the space, so choosing the right one sets the tone for the rest of your interior design.
We have researched and found the best dining room tables for your home.
Top Picks
Best Overall: Tabor Pedestal Dining Table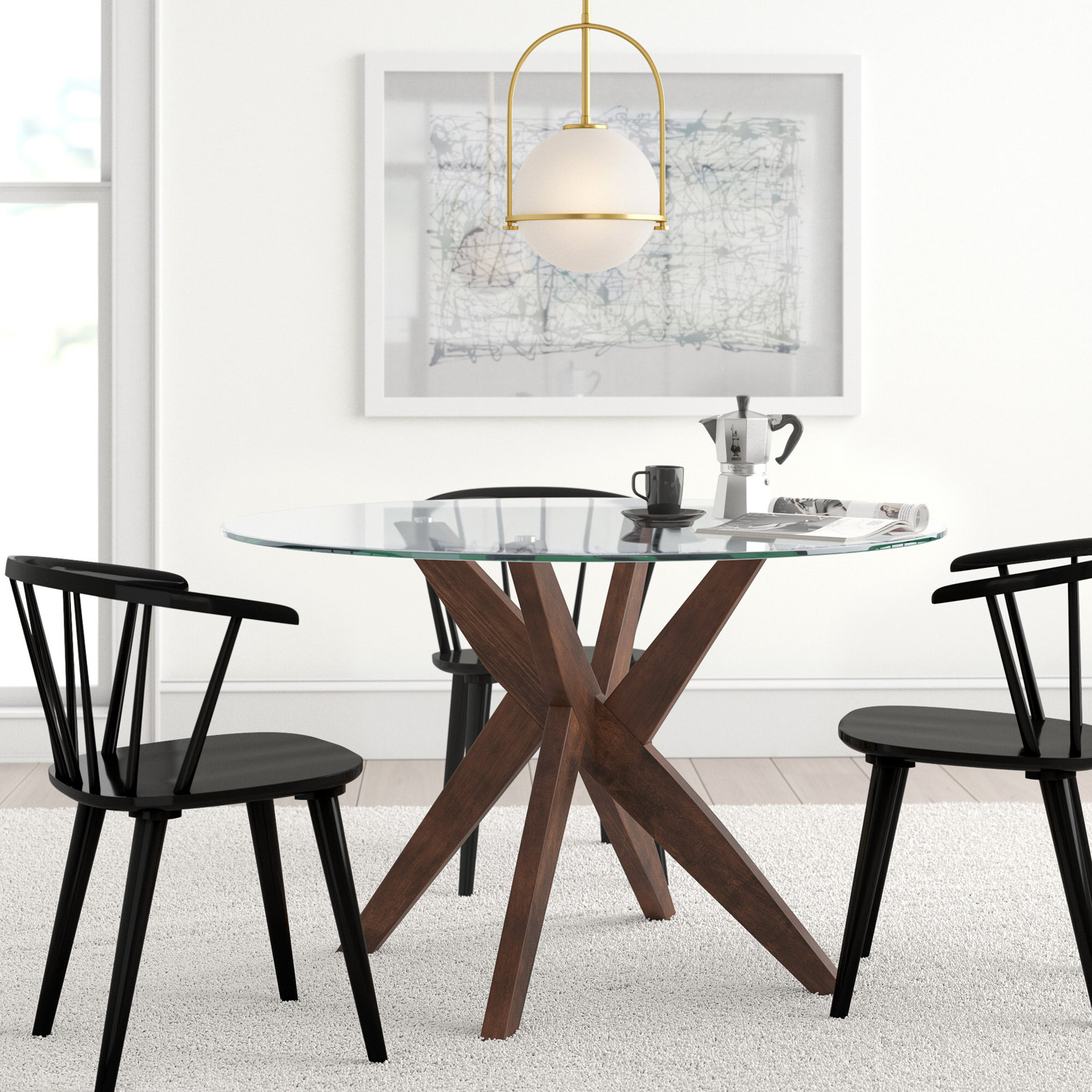 Specs:
Dimensions: 48 L x 48 W x 30 H inches
Material: Birchwood and glass
Seating Capacity: 6 people
This unique table oozes personality with a pedestal that features multiple angular legs that protrude out in all directions. The pedestal design gives the table a mid century feel that also looks modern as it embraces modern geometric trends. The glass tabletop is safety treated to ensure its stability and strength while also allowing you to view and admire the unique pedestal below.
Unlike smaller round tables, this one can comfortably accommodate up to six people. The 48-inch diameter gives you plenty of room for place settings, serving dishes, and a centerpiece. Embrace the rich dark wood coloring with chairs that also have it. For softness, choose chairs that are upholstered with fabric. This table is not just good looks, though; the birchwood construction elevates the quality of this table.
The drawback of this table is that it is a nightmare to keep the glass clean. The angular legs can also be cumbersome to sit around, causing some people to have to adjust around them.
Check Price
Best Budget Pick: Zinus Jen Wood Dining Table
Specs:
Dimensions: 47.2 L x 29.48 W x 29.01 H inches
Material: Solid wood frame
Seating Capacity: 2 – 4 people
This affordable table may look simple, but it is the perfect accent to a living space. The long, slender legs are round with a tapered design that gives this table a mid century modern design. The legs are placed right at the corner to give you maximum space for seating.
There are two finishes to choose from, dark espresso, and a lighter natural wood. Both of these finishes are a perfect complement to your warm color palette. The smaller size of this table helps to create a more intimate dining space. The slender styling of this table works well in smaller spaces where it won't be visually imposing.
A slight drawback of this table is that it could be stronger and more stable. However, it can support up to 100 pounds as long as the weight is evenly distributed.
Check Price
Best Industrial Pick: Langley Dining Table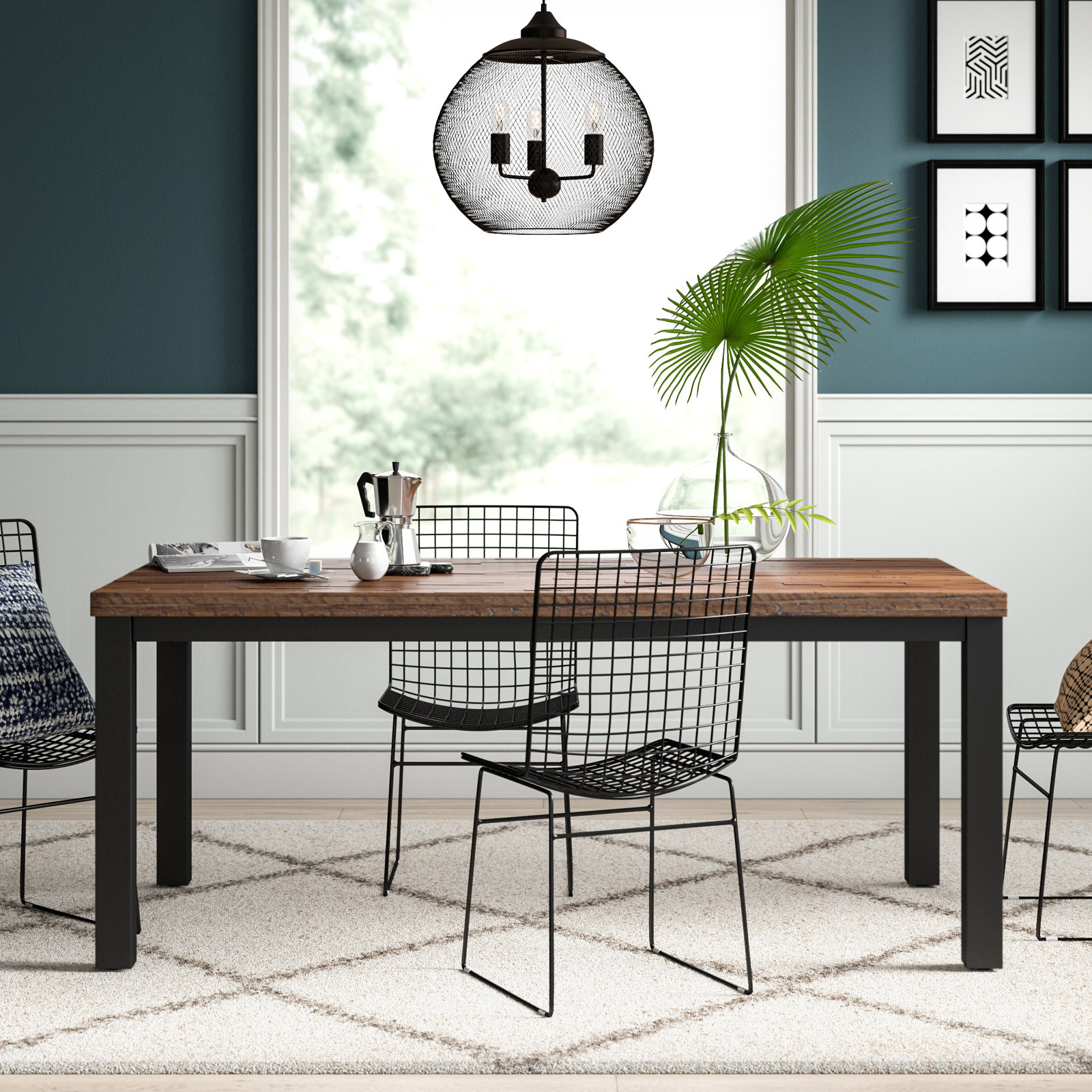 Specs:
Dimensions: 72 L x 36 W x 31 H inches
Material: Acacia
Seating Capacity: 8 people
A little rustic, industrial, and modern, this table perfectly blends multiple design styles to make this table versatile. The tubular steel frame and legs are powder-coated black to give them a finished look and improve their durability. Placed on top is a butcher block solid acacia wood tabletop that is been given a distressed brown finish.
A nice touch to the table is the nylon glides on the bottom of the legs that prevent scuffing or scratching of your floors. Unlike other rustic tables, this one will continue to look just right, thanks to the matte NC lacquer treatment. This heavy glaze accents the natural variations and coloring of the wood while also protecting it from unwanted staining.
One potential issue with this table is that it is made from solid natural wood. This makes it susceptible to moisture, which can cause the table to swell and shrink. While minimal amounts of this are normal, places with high humidity could have a negative impact on the overall structural design and integrity of the table.
Check Price
Best Premium Pick: Farrow Communal Table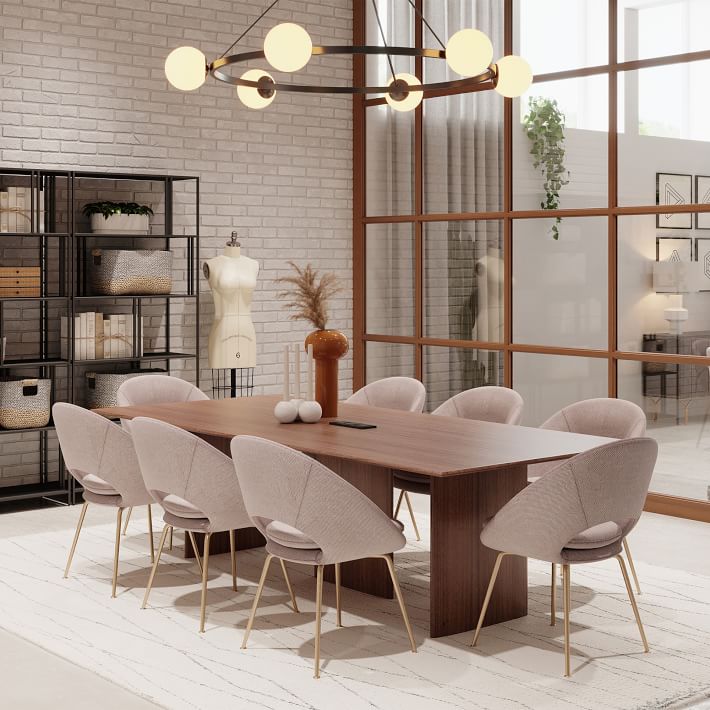 Specs:
Dimensions: 96 L x 40 W x 28 H inches
Material: Solid hardwood
Seating Capacity: 8 people
The beauty of this table is in its elegant simplicity. Its unique design features a slim tabletop and three flat supports for the legs. This unique design maximizes support and stability while minimizing interference with your seating. There are five finishes to choose from, making it possible to find the perfect look for your room. Choose from ebony ash, sand oak, walnut cherry, driftwood oak, and natural walnut.
Depending on the chairs that you choose to pair with this table, it can look modern, minimalist, or mid century modern. A standout unique feature of this table is that it has an optional power hookup. This is perfect for creating more elaborate centerpiece displays or just charging your phone. You can have confidence that this table will last with its contract grade rating.
One drawback of this table is that it looks a bit plain. It lacks style and personality. This can make the table by itself boring. You can accommodate this by adding additional decor to the room.
Check Price
Best Small Space Pick: Harrisburg Tobey Compact Round Dining Set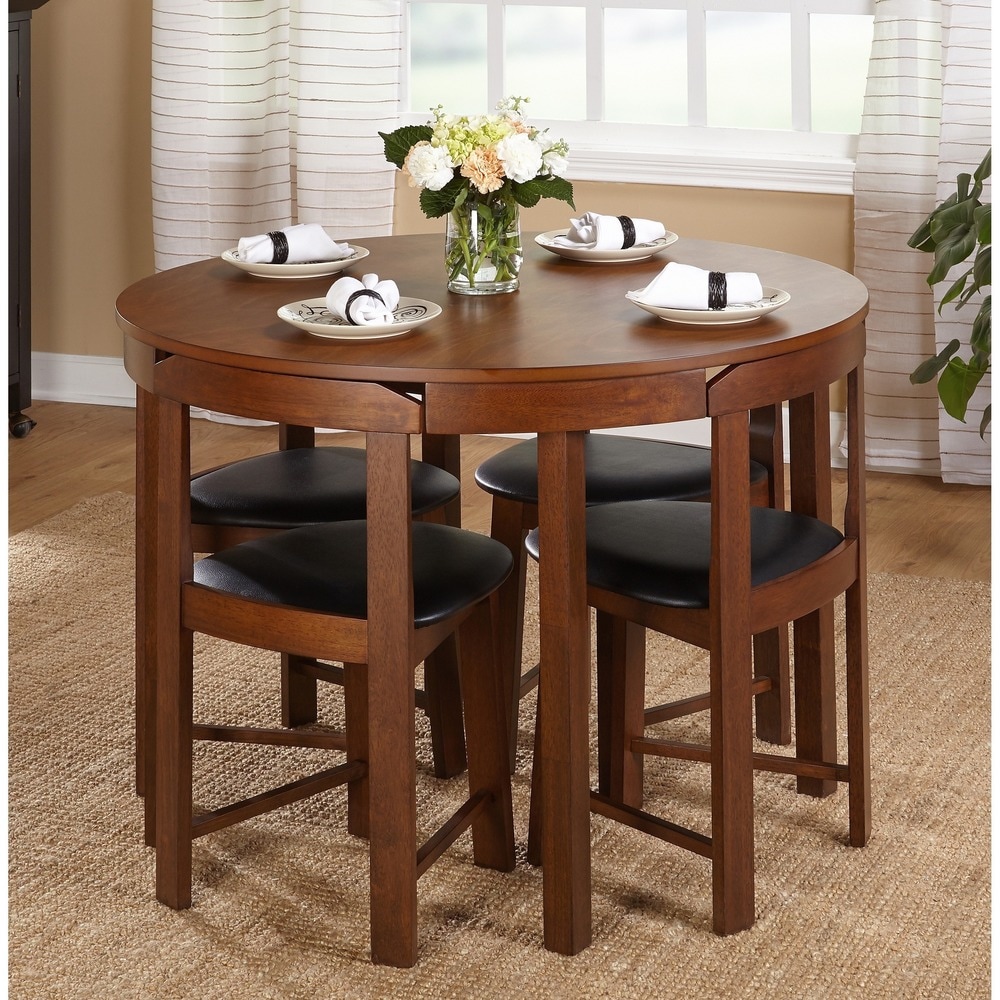 Specs:
Dimensions: 41.3 L x 41.3 W x 29.6 H inches
Material: Solid rubberwood, MDF, and veneers
Seating Capacity: 4 people
Just because you have a small space does not mean you have to give up on having a dining table. This round design is perfect for even the smallest of apartments and homes because it comes with four chairs that tuck neatly under for maximum space. It comes in three colors, gray, walnut, and white.
It is also affordable, thanks to the MDF and veneer construction. The table's round shape helps you maximize the available space without feeling cramped. Choose the dark walnut finish, and it will add a rich warmth to your room. It is then complemented by the faux leather upholstered matching chairs.
The drawback of this table is that it is not as strong or durable as the other tables on this list. In addition, the MDF makes it susceptible to water. It is also a really small table, so you will need somewhere else to put serving dishes if you want to have a centerpiece.
Check Price
Find more dining tables for small space here.
Best Traditional Pick: Sun-Bleached Cypress Complete Rectangle Trestle Table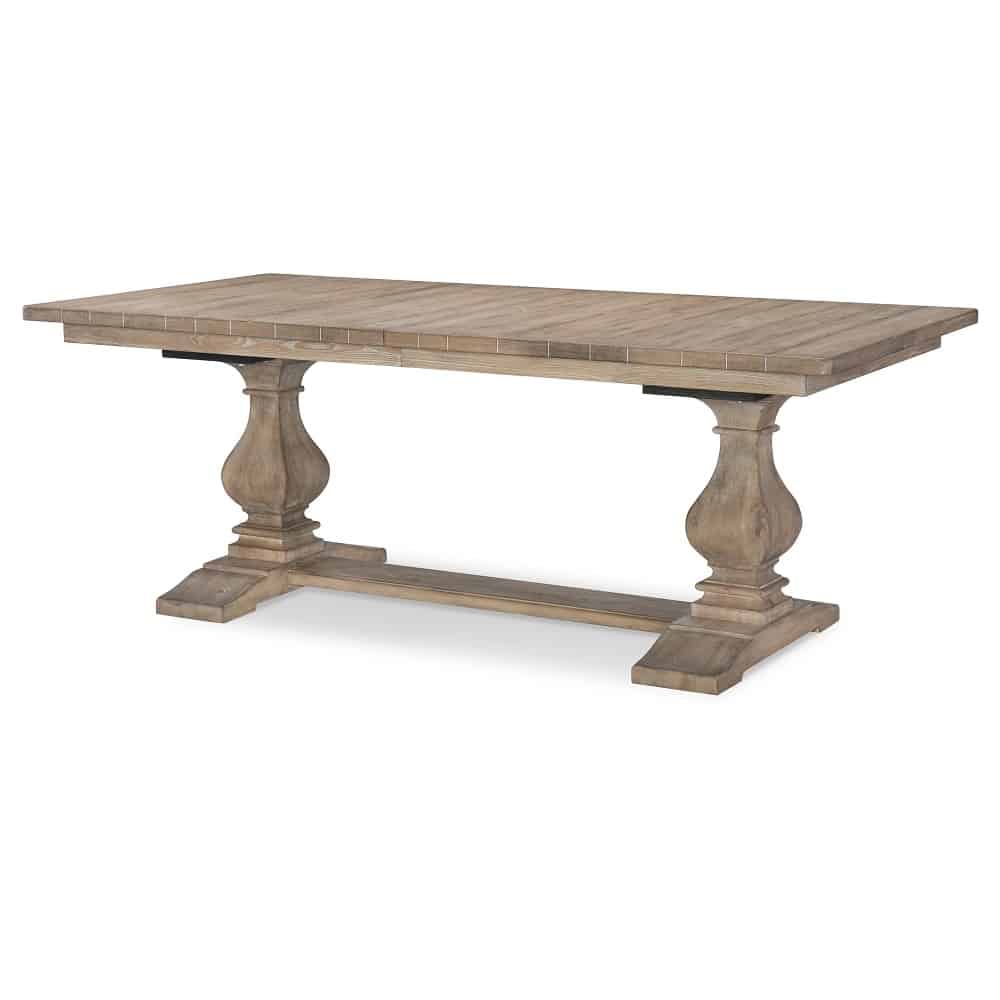 Specs:
Dimensions: 120 L x 42 W x 30 H inches
Material: Pinewood
Seating Capacity: 10 people
The hallmark of a good farmhouse design is the big solid wood table that everyone gathers around for big family meals. This is that table. It has solid sculpted central supports that are connected by a trestle design.
What makes this table really stand out, though, are the two 18-inch leaves. This means you can comfortably seat up to 10 people if needed. When you do not need such a large table, you can take the leaves out and have a smaller table for a more intimate meal.
The construction is solid pine with a knotty cypress veneer for a casual rustic but not shabby design. With a weight capacity of 150 pounds, you do not have to worry about overloading the table.
One drawback of this table is that it does not have a smooth tabletop design. It is styled to look like multiple wood planks, which can create an uneven surface for your settings and centerpiece.
Check Price
Best Modern Pick: Walker Edison Andre Modern Solid Wood Dining Table
Specs:
Dimensions: 72 L x 36 W x 30 H inches
Material: Solid pine wood
Seating Capacity: 6-8 people
The combination of weather wood tabletop and painted wood legs give this dining table a distinctly industrial feel. It is perfect for giving your home an urban-cool vibe. Choose from four colors for the wood tabletop, grey, mahogany, darker brown oak, and rustic oak.
The oversized dimensions of the table allow it to really fill a large space while giving you plenty of room for your settings and arrangements. The strong solid pine top and legs enable this table to support an impressive 200 pounds. Style your industrial table with the matching bench or weathered black metal chairs with a commercial feel.
One potential problem with this table is the placement of the legs. Because they are set in from the end of the table, they have the potential of being in the way of your legs. However, they are also set in from the sides to accommodate this.
Check Price
Best Farmhouse Pick: Home Decorators Collection Edmund Smoke Grey Dining Table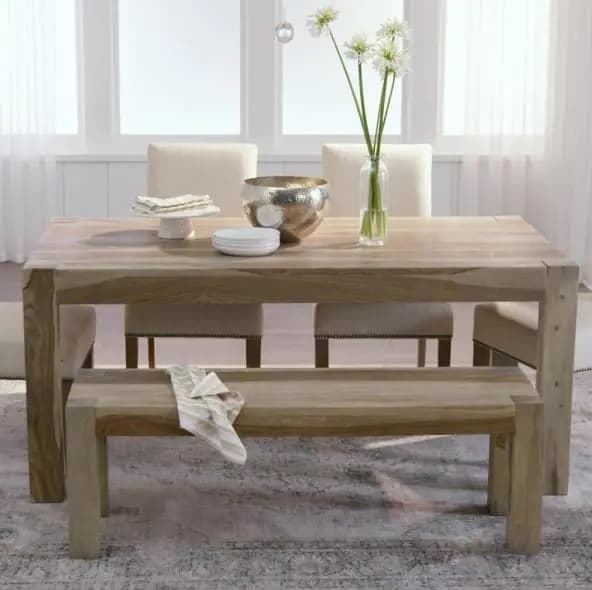 Specs:
Dimensions: 68 L x 36 W x 30 H inches
Material: solid wood
Seating Capacity: 6 people
Crafted of solid hardwood, this beautiful table will become a statement piece in your home. Its smoke grey finish gives the wood a modern touch that helps it to feel fresh and contemporary.
What makes this table stand out is its all-wood solid construction. It will feel strong and sturdy as it commands attention. The wideset legs make it possible to use chairs or benches for the seating.
You could complete the farmhouse look with matching solid benches. Or you could elevate the look of the table by pairing it with vibrant velvet chairs. Metal chairs will bring out the industrial feel of the table.
Unfortunately, the wood is not varnished or sealed in any way. This leaves the raw wood exposed, making it vulnerable to stains. If you are looking for a rustic farmhouse table, then this won't be a big deal. However, if you are looking for something a bit more polished, the stains will detract from the table's overall look.
Check Price
Best Round Table Pick: Linon Tobin Round Traditional Dining Table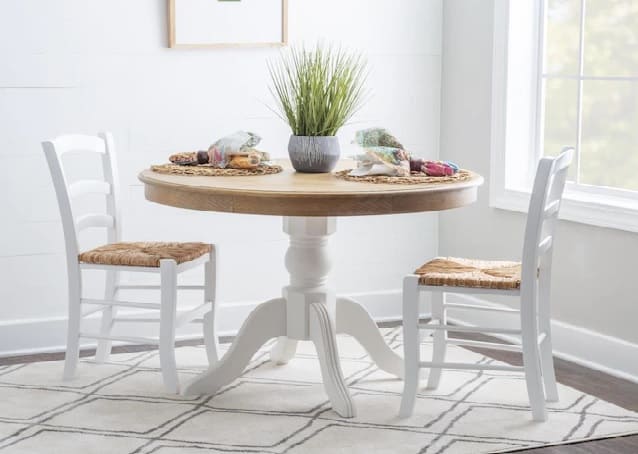 Specs:
Dimensions: 30 H x 42 Diameter inches
Material: Solid pine
Seating Capacity: 4 people
This round table is perfect for homes with a small dining room or homeowners who do not host large dinners. You can comfortably sit four people around the table. However, the pedestal style frame means you can easily fit additional chairs in if needed.
The solid pine tabletop features a rich honey grain that adds warmth to the space. It also gives the table strength and durability to give you plenty of years of service. The 42-inch diameter gives you plenty of room on the table for everyone's place setting, serving dishes, and centerpiece. Style this tale with matching wood chairs or ones with a woven seat and back.
One drawback of this table is that it can look a bit rudimentary and outdated. However, it would look perfect in a farmhouse styled space. In addition, its casual design can make it better suited for a kitchen breakfast nook than a formal dining room.
Check Price
Best Minimalist Pick: Faux Leather and Glass 5-piece Kitchen Dining Set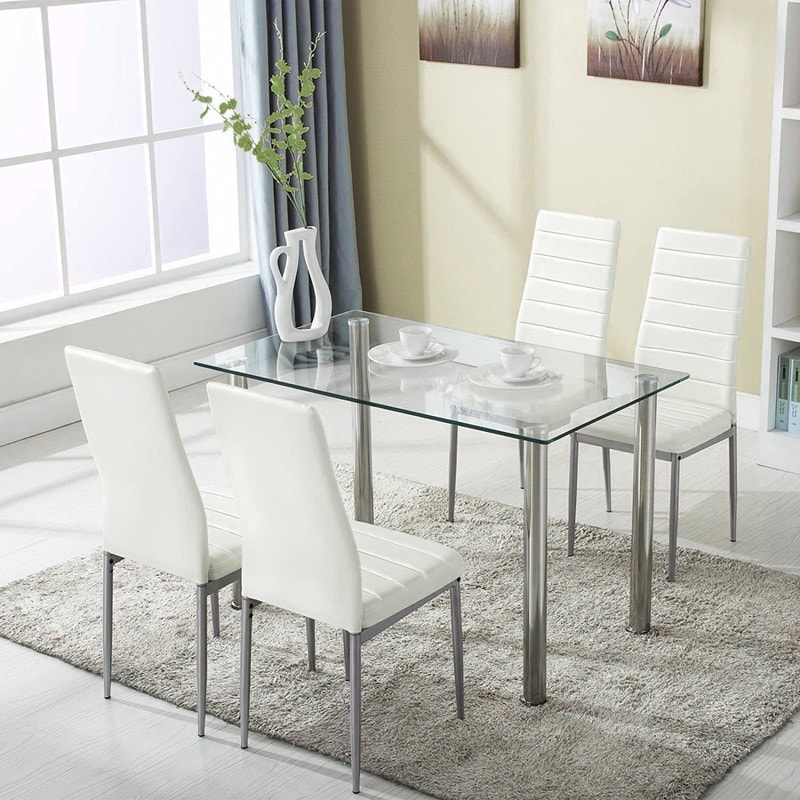 Specs:
Dimensions: 44 L X 28 W X 29 H inches
Material: Metal and glass
Seating Capacity: 4 people
This sleek and modern dining set comes with a glass table and four faux white leather chairs. The thick tempered glass of the tabletop ensures it is safe and sturdy enough for your home. It is then mounted on a rust-resistant steel frame and legs, ensuring the table is stable.
The glass top is perfect for smaller spaces where you are trying to keep an open feeling. Because you can see through it, the table takes up minimal visual space, helping it to feel light in the room. The leather chairs then add a softness to the table. The set has a curated and custom look that you do not typically get with sets. This elevates the look of your dining room.
The drawback of this table and chair set is that the white leather can be hard to keep clean. The table is also narrow at less than 30 inches wide, which can make it hard to have a centerpiece or anything else on the table while eating.
Check Price
How to Choose a Perfect Dining Room Table?
Size
The size of your dining table can make or break your entire living room. Choose a table that is too small, and you won't have enough room for everyone, their plates, serving dishes, and centerpiece. Choose a table that is too large, and you won't be able to move around the room, making it feel cramped. Measure the dimensions of your room and choose a table that leaves at least 36 inches of clearance around the outside of the table. Do not choose a table with a width smaller than 36 inches, or you won't have enough room on the tabletop.
Seating Capacity
The seating capacity is the number of people you can comfortably sit with at the table. This does not account for cramming in extra chairs at family reunions or holidays. The number of chairs refers to the chairs that you can comfortably arrange around the table as a styled set. Consider the number of people you will regularly entertain at the table. You do not need a supersized table that seats 8-10 if you regularly only invite 4 guests to join you. Additionally, consider how the table fits in your room. It may seat six, but you can only fit five chairs around the table.
Table Legs
Nothing is more annoying than sitting at a table awkwardly because the support legs are positioned right where your legs are supposed to go. You spend the entire dinner with your legs crammed to one side or straddling a bar. The legs of your chosen dining table shouldn't invade the space of the people sitting at it. Some tables have a central pedestal, which can look elegant but also create instability on long rectangle tables.
Material
The material of your table will influence its quality and price point. Balance your budget with the style and longevity of the table. Wood is popular and the traditional material. Solid wood is the most expensive but also the most long lasting. Wood-look and veneer are more affordable but not nearly as durable. Stone, like wood, is solid and long lasting. While stone-look mimics the look of stone at a lower price point but is not as durable. Other options are glass, metal, plastic, polycarbonate, and laminate. These materials are less common but can be worth the investment to achieve a specific look.
Construction Quality
The better the construction quality, the more expensive the table will be. If you are investing in a central piece of furniture that you plan to use for years to come, opt for high-quality construction. If you move frequently or plan to upgrade in the near future, then opt for a more affordable table that may not have top-quality construction. To determine quality, look at the joinery. This is where the table's pieces are fitted together and the method used for assembly. Wood on wood joinery is the highest quality, while staples and glue are the lowest quality.
Read also: 58 Dining Table Centerpiece Ideas for Everyday
Conclusion
Our top pick for the best dining room table is the Tabor Pedestal Dining Table with its central pedestal and elegant glass tabletop. Its quality construction will translate to the room, elevating your dining room's design and visual sophistication.
For a more affordable option, the Zinus Jen 47 Inch Wood Dining Table won't let you down. While it could have better construction, it is an affordable table with a classic design that fits well into smaller spaces.
FAQs on Dining Room Tables
How big should a dining table be in a dining room?
The table should be large enough to comfortably seat your chosen number of people while also being small enough that you can move around the table while people are seated at it. There should be at least 36 inches between the table and the surrounding furniture or walls. 
What is the standard height of a kitchen & dining room table?
The standard height for a dining room table is between 28 and 30 inches. This is the distance from the floor to the tabletop surface. When considering height, think about the seat of your chair. These two measurements need to coordinate together to ensure it is comfortable to sit at the table. 
Which dining table shape is best for a small space?
A round table will give you the most space around the outside to move about the room. This keeps the room from feeling cramped or closed in. Also, keep the chair backs low to reduce the visual weight of the set and keep the room feeling open.