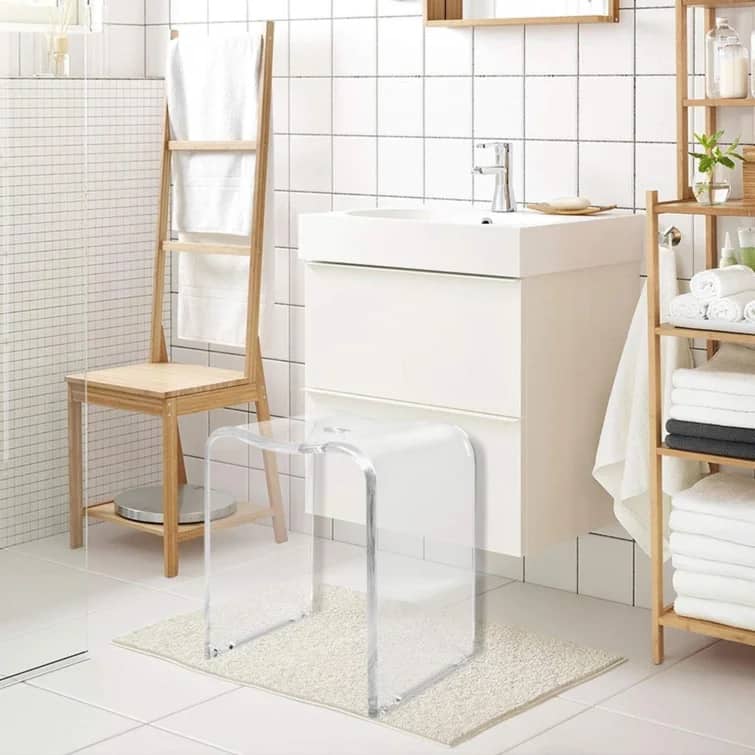 Trendey may earn a commission when you buy through links on our site.
As an Amazon Associate we earn from qualifying purchases.
Best Shower Benches
You don't know what you're missing until you try out a shower bench for yourself. It may seem like a luxury item or a medical device, but it's so much more than that. These handy little pieces of furniture can give you a place to sit, rest your foot while shaving, or act as an extra shelf in your shower.
We've curated a list of the best shower benches to give you a taste of the good life.
Read also: 42 Bathroom Shower Ideas
Top Picks
Best Overall: Symple Stuff Teak Shower Bench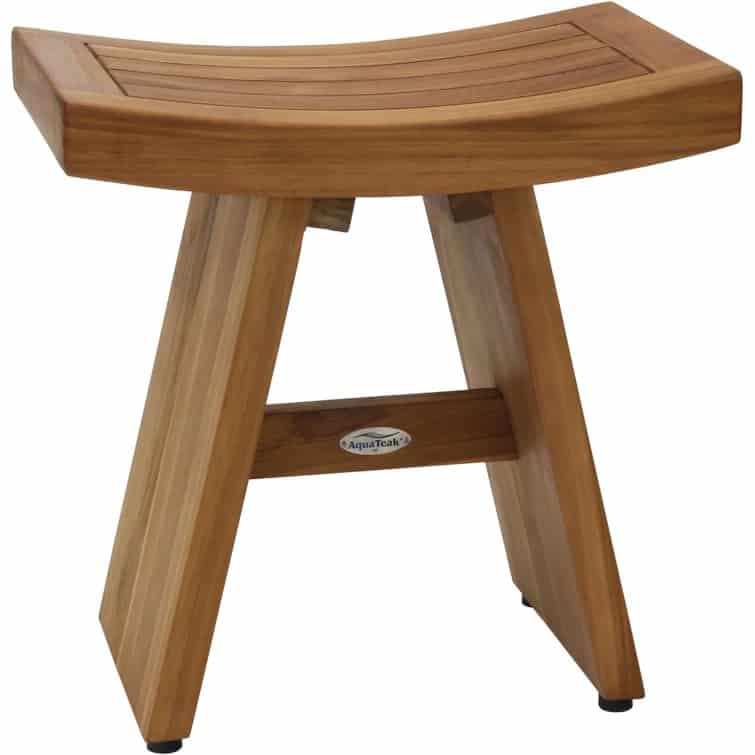 Specs:
Dimensions: 18 x 18 x 12 inches
Material: Teak
Weight Capacity: Unknown
This Asian-inspired shower bench is the perfect small accent to your bathroom. It features two legs that are angled to support the gently curved seat. You'll appreciate the unique shape of the seat because it creates more gentle support that cradles your body when you sit. The slim slits in the seat prevent water from collecting on the seat while also keeping the seat comfortable for your bare bottom.
The teak is re-stained and sealed with oil so that it's ready for use at purchase. All you have to do is occasionally oil it to maintain the beauty and durability of the wood. Don't be afraid to put this stool in your modern or contemporary styled bathroom.
Despite the stool having an Asian flair, its simplicity helps the design to feel fresh and modern. The small footprint of this stool makes it perfect for smaller spaces.
However, its drawback is that the curved design means it'll be difficult to place items on the seat. There's also no additional lower shelf to place items.
Check Price
Best Budget Pick: VaeFae Bamboo Spa Bench
Specs:
Dimensions: 11 x 17.3 x 16.1 inches
Material: Bamboo
Weight Capacity: 150 pounds
This simple and affordable bench is perfect for someone on a budget who still wants to add a touch of style and luxury to their bathroom. It's made from bamboo, helping it to be durable and strong. The bamboo coloring gives the stool a light shade that blends well with Scandinavian-designed bathrooms.
What's nice about this bench is that you also get an additional shelf where you can hold toiletries, towels, or anything else. Another nice feature of this stool is the rubber feet, which protect your tile and floors while also making the stool more stable.
It also has rolled edges, making it safer for use in your bathroom by helping to prevent accidental injury. You'll need to put your bench together, but it will come with everything you need. The hardware used to assemble your stool is durable and corrosion-resistant.
The drawback of this stool is that bamboo isn't the most durable. You'll want to air out your bench to ensure it doesn't develop mold or mildew.
Check Price
Best Extra Large Pick: Espalier Teak Shower Bench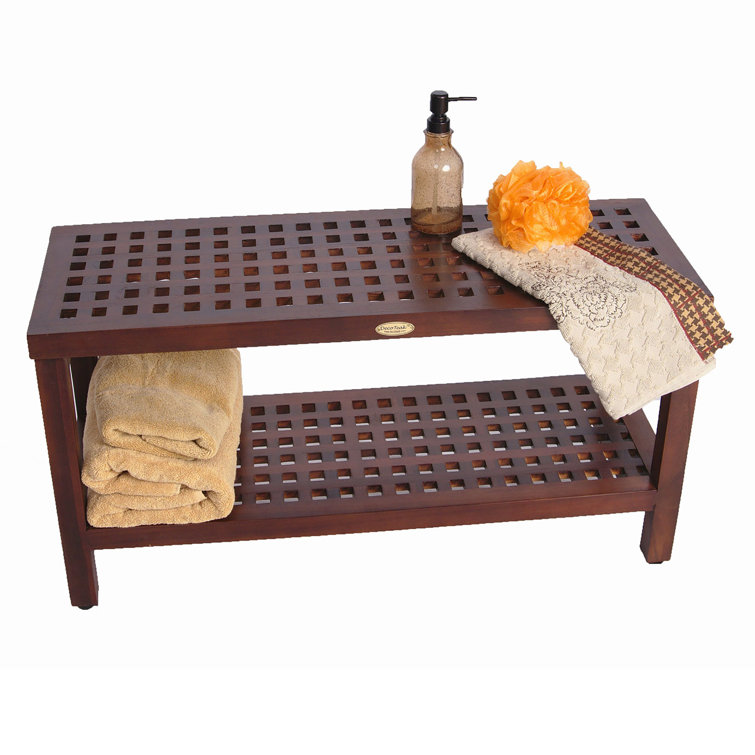 Specs:
Dimensions: 18 x 30 x 13
Material: Teak
Weight: 18 pounds
This elegant bench is long, making it ideal for use in larger showers and bathrooms. At 30 inches, it's big enough for two to sit at the same time. It's constructed of teak but stained to a deep brown color, perfect for giving your bathroom a feeling of sophistication.
The unique square cutout design helps with water drainage while also being more comfortable to sit on. You can also place items on the lower shelf more easily. What's really nice about this bench are the flared legs that give you more stability and the adjustable feet. If your shower or bathroom tile isn't perfect, you can compensate by adjusting the feet to make the bench stable.
You'll want to be careful about where you leave your bench; the dark coloring can fade over time with exposure to water, soap, and sunlight. You'll want to clean and oil it monthly to maintain the color longer.
Check Price
Best Premium Pick: West Elm Bamboo Spa Bench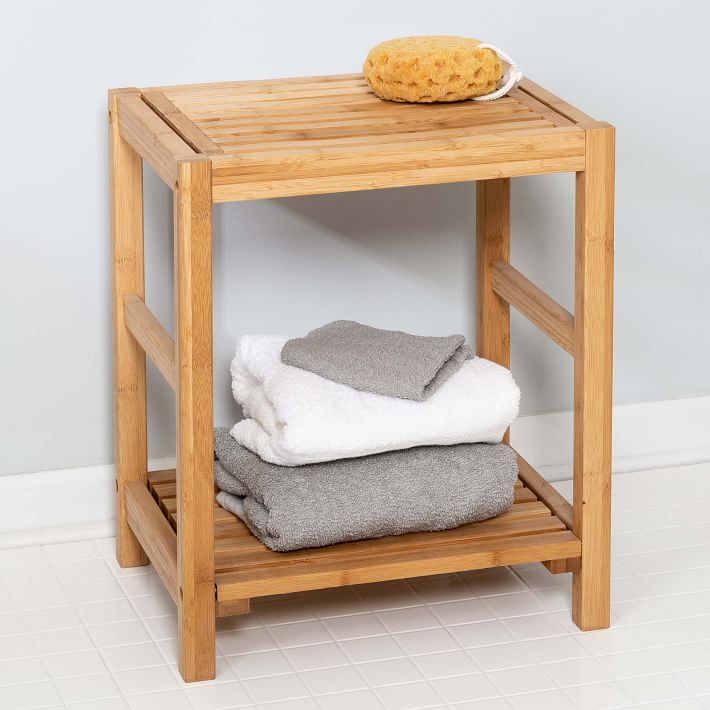 Specs:
Dimensions: 16.5 x 12.6 x 20 inches
Material: Bamboo
Weight Capacity: 250 pounds
Elevate the look of your shower with this slim and modern bamboo shower bench. What makes this bench stand out is its height. At 20 inches, it stands taller than the average wooden shower bench. It also has quality construction, making it capable of supporting 250 pounds.
The natural bamboo finish helps it to blend in with a variety of interior design styles. Another nice feature is a large amount of space between the seat and the shelf, making it possible to place larger bottles and more towels on the lower shelf. Because of this, you can easily place this in the bathroom outside of the shower. Its small footprint will help it to fit into almost any sized bathroom.
The only drawback is to be careful of the bamboo. You will want to put it in a well-ventilated place to ensure it does not harbor mildew growth.
Check Price
Best Wall Mount Pick: Natural Teak Wood Folding Shower Seat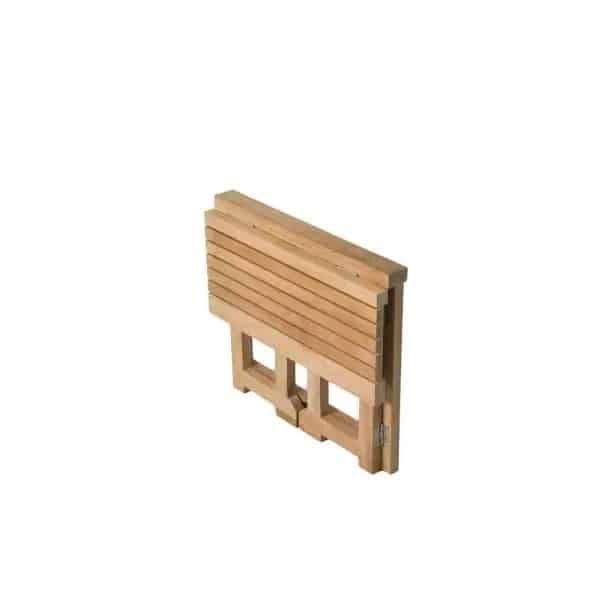 Specs:
Dimensions: 15-3/8 x 20 inches
Material: Teak
Weight Capacity: 250 pounds
If you have a tiny shower, then you'll want to consider a wall-mounted design like this bench. Instead of taking up valuable floor space, you'll mount it on the wall. Then fold it out when you need it and tuck it neatly against the wall when you don't.
The seat is made from natural teak wood, giving it a warm-to-the-touch feel and durability. The frame and hardware are made from corrosion-resistant stainless steel. That way, you never have to worry about it rusting or corroding. The fact that it's ADA compliant means it will be durable and reliable.
The fold-away design gives this bench a modern and innovative feel, making it perfect for minimalist and Scandinavian bathrooms.
The downside of this bench is that you'll want a professional to install it. Because it's installed on the tile wall, it will need a special reinforced installation procedure to ensure that it is secure.
Check Price
Best Corner Pick: Bathroom Shower Bench in Natural Teak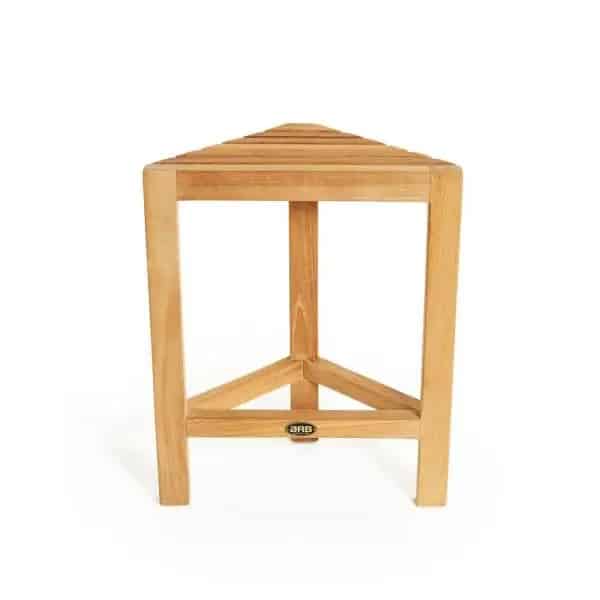 Specs:
Dimensions: 17.75 x 17.75 x 14.5
Material: Teak
Weight Capacity: 150 pounds
Instead of the typical square or rectangle bench, this triangle-shaped option will fit perfectly into a corner. This makes it ideal for someone who doesn't want a bench taking up a ton of the floor space in the shower.
The teak construction helps this stool to look light and fresh, giving it a contemporary design. A standout feature of this stool is that it is made from natural grade A plantation teak, which is high-quality teak. The better quality the teak, the more natural oils it has, and the more durable and water-resistant it will be.
The drawback of this stool is that it's a triangle shape, so it will have less space for your rear end to sit on. It can feel awkward to be crammed into the corner. Because of this, the stool is better for use as storage or a place to rest your foot while shaving.
Check Price
Best Polypropylene Pick: DesignByIntent Indestructible Shower Stool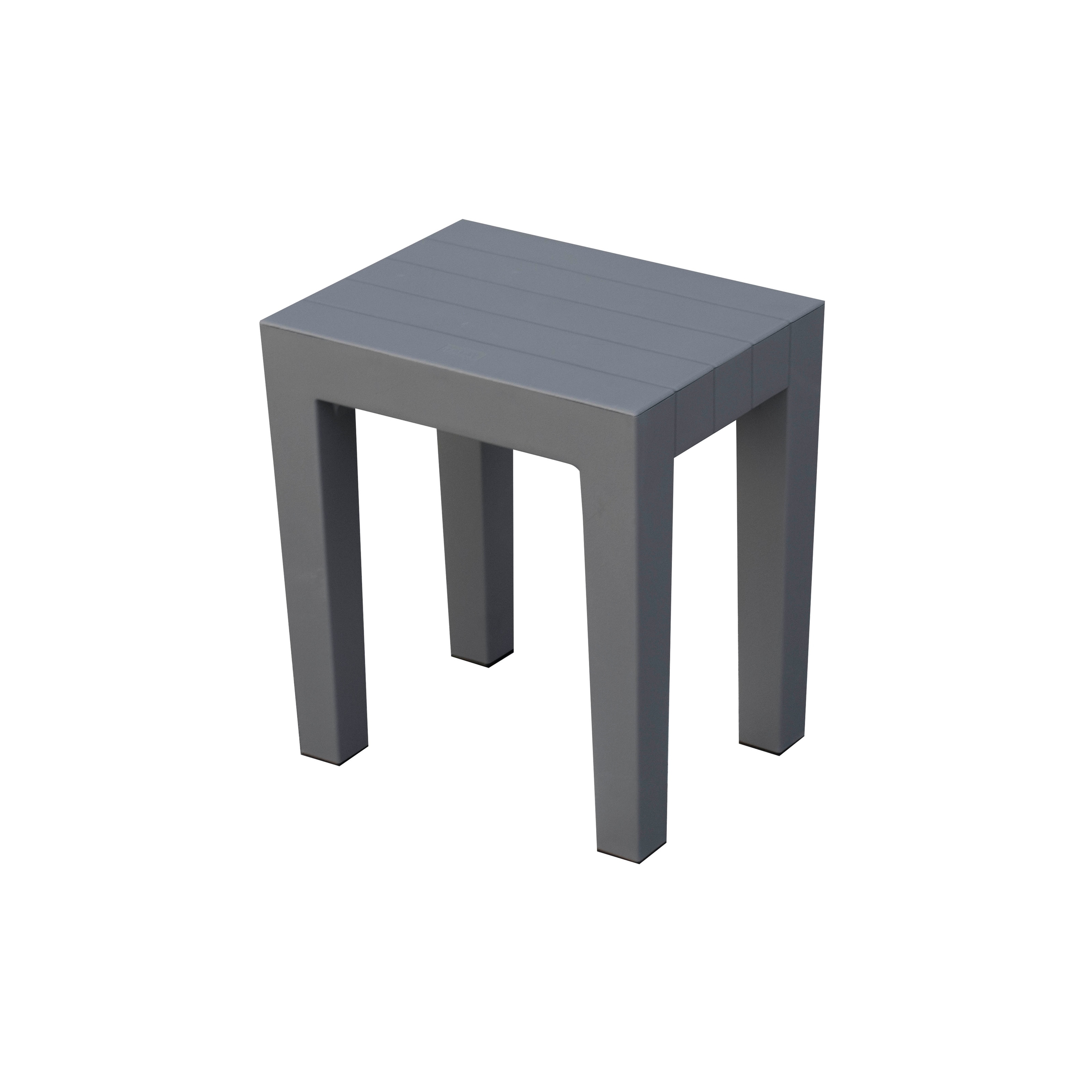 Specs:
Dimensions: 15.0 X 11.5 X 11.5 Inches
Material: Plastic
Weight Capacity: Unknown
A teak or bamboo shower bench doesn't work in all design styles. If this is your bathroom, then you need to consider this polypropylene bench. Its dark gray coloring and simplistic design help it look and feel modern.
The smooth edges and indestructible construction help it to be safe for use in the bathroom or shower. The perfectly flat top makes it perfect for use as storage for your extra shower toiletries. The simple design of the stool means you aren't limited to using this bench in the shower or bench.
While some may find the gray coloring dull or boring, it's actually a perfect neutral for blending into a wide variety of color schemes and interior design styles. The fact that it's less than a foot wide and deep means it will work in small spaces.
The price point for this bench is low, making it affordable for almost anyone.
Check Price
Best Pick With Arms: Solid Teak Shower Bench With Shelf And LiftAide Arms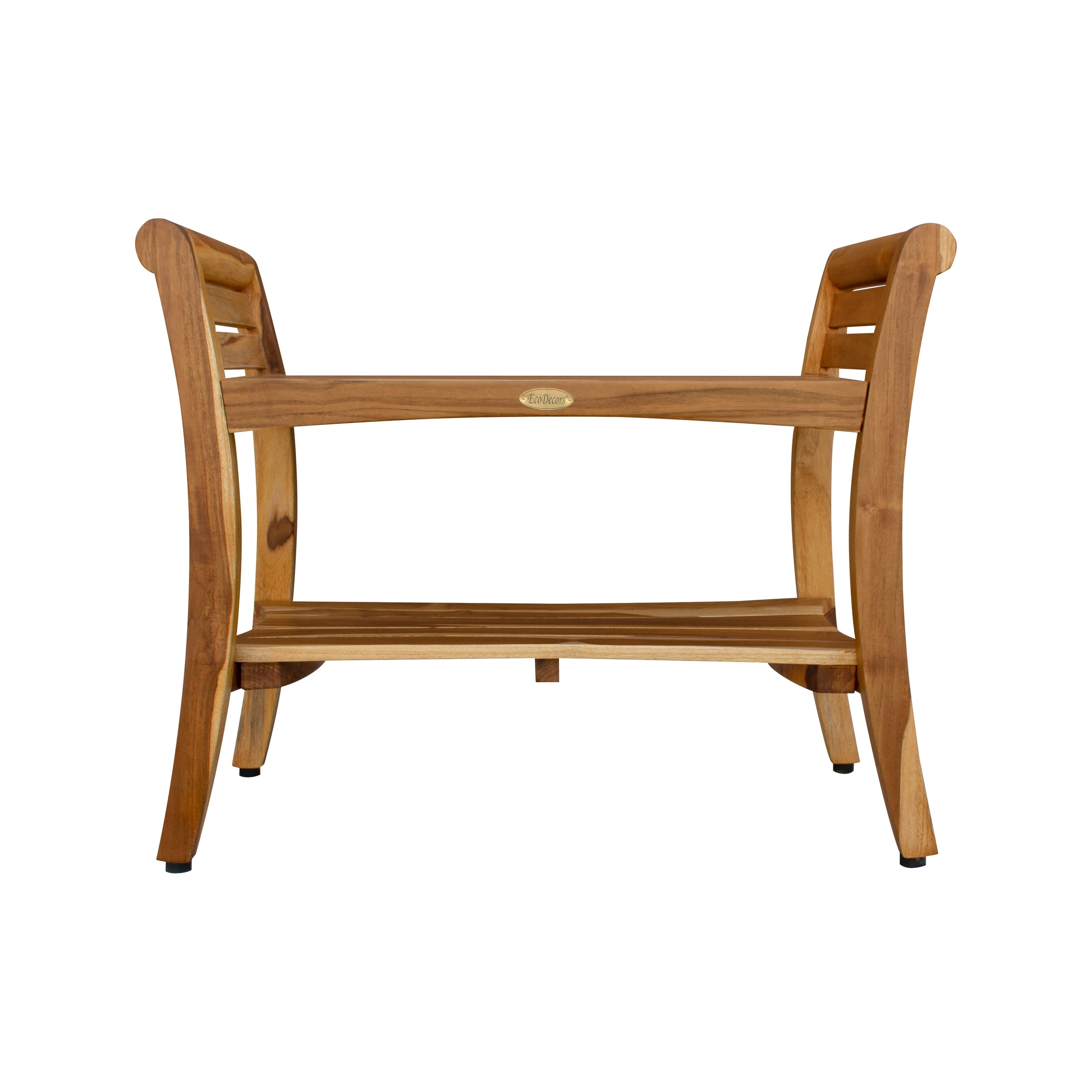 Specs:
Dimensions: 29.0 X 14.5 X 14.0 Inches
Material: Teak
Weight Capacity: 250 pounds
Choose a statement shower bench with this option that features large armrests. The arms flare out in an arch to give the bench the look of traditional furniture. You can also use them to help you sit and stand if you have mobility issues. The extra storage shelf underneath gives you more storage space in your bathroom.
There are adjustable footpads on the legs to give you more stability when placing this bench on uneven tiling. If the design wasn't enough to make this bench stand out, the manufacturing process will.
The teak wood is already impervious to water, but then it goes through a sealant process that protects it even more. This unique treatment also brings out the natural beauty of the teak wood, helping the graining to shine and become the focal point in your bathroom. This bench is perfect for a traditional, farmhouse, or classically designed bathroom.
Check Price
Best Medical Pick: Drive Medical Gray Plastic Freestanding Transfer Bench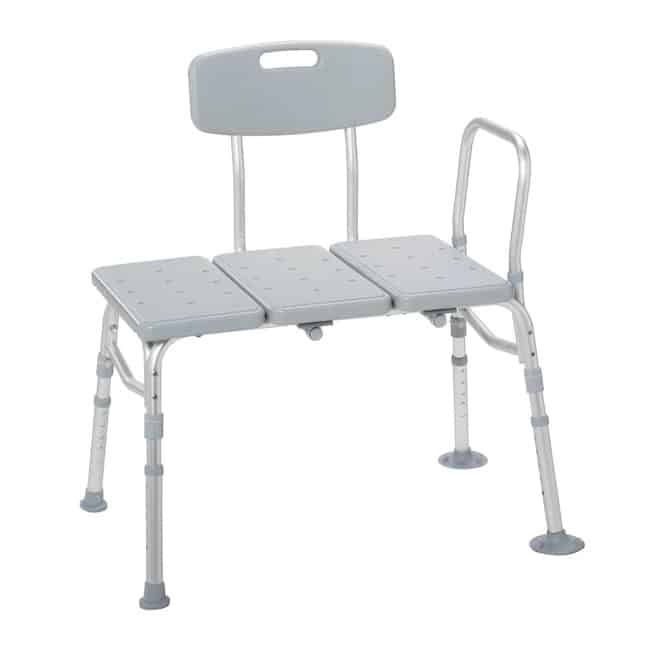 Specs:
Dimensions: 26 x 17.5-22.5 inches
Material: Aluminum and Plastic
Weight Capacity: 400 Pounds
Sometimes you need function over form. If you aren't looking to add a decorative piece to your shower, but need a functional bench, then this freestanding plastic bench is the way to go. You can adjust the height of the seat, the back, and the arms.
The entire bench is reversible, making it compatible with any shower or bathroom. Thanks to the plastic construction, you never have to worry about it developing mold or mildew because it is easy to keep clean. You never have to worry about injuring a finger while adjusting the bench, thanks to the pinch-free levers.
This bench also stands out for having a great amount of stability, thanks to the large foot pads and A-frame design that makes the base have a wider stance than the seat size. The biggest problem with this bench is that it lacks design and style. It could be nicer and more elegant looking.
Check Price
Best Modern Pick: Orren Ellis Acrylic Shower Bench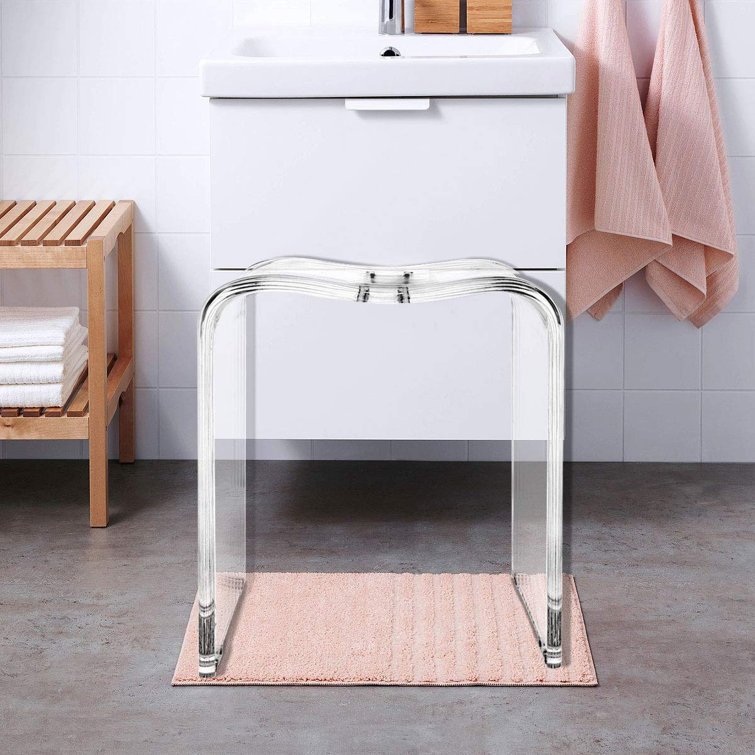 Specs:
Dimensions: 13.4 x 20.9 x 17.7 inches
Material: Acrylic
Weight Capacity: 300 Pounds
This clear acrylic bench is perfect for a modern, minimalist, or just plain small bathroom or shower. Because it's completely clear, you can easily see through it, so it takes up a minimal amount of visual space. The smooth and clear construction makes this the perfect addition to your shower. T
he seat has gentle contouring that will fit the shape of your body for a cradled and more comfortable seat. It's also stain-resistant, so you don't have to worry about your new bench turning weird colors. Because the stool is an all-in-one design, there's no required assembly.
The only thing that might frustrate you with this stool is that it will collect water spots and hard water buildup. This means you'll need to wipe the bench down every time you shower to prevent this. Another drawback is that it can be difficult to use this bench as a storage place because the seat isn't flat, and there's no lower bench.
Check Price
How to Choose a Perfect Shower Bench?
Size and Shape
Buy a bench that fits in your shower. Some are small squares that are just large enough for a single person to sit on. Others are large enough for two or three people. For very small spaces, you could consider a corner stool that fits into the corner of your shower in a semi-circle shape. You want to choose a bench that's large enough to be functional but not so large that it takes too much away from your available floor space. If you're concerned about the bench being in the way when not in use, you could have one that mounts on the wall and folds out of the way.
Construction
Teak and Acacia wood are the two most popular types of wood used in shower bench construction. This is because both are naturally water-resistant, making them ideal for use in a shower, where there is a ton of water. Bamboo is another popular material, but not as durable in wet environments. Be careful with all of these materials, as low-quality versions won't perform as well as higher-quality ones. Also, consider the hardware and fasteners that are used to build the stool. Metal should be rust-proof to make it durable and not corrode.
Style
The majority of shower benches have a similar spa-like feel. They will have solid legs and a slat benchtop. The simple and contemporary design blends well into the majority of homes. If you're looking for something more elegant, consider one with curved lines or decorative carvings. You'll also see a few shower benches that have an Asian-inspired design. These have thick and solid legs that have an arched design.
Purpose
What do you plan to use your shower bench for? If you plan to primarily use it for storage, then you'll want one with a solid top. If you plan to use it for medical purposes, then you'll want a bench that has sturdy legs and is slightly taller in height. This will make it easier to sit down and stand up from the bench.
Conclusion
Our top pick for the best shower bench is the Teak Shower Bench with its Asian-inspired design that is an elegant combination of traditional designs that look modern. Its curved shape is naturally ergonomic.
If you're looking for a more affordable option you can't go wrong with the Bamboo Spa Bench won't let you down. It's a nice size for sitting and has an additional shelf for storage.
FAQs on Shower Bench
Are shower benches worth it?
A shower bench is absolutely worth it. Several reasons make adding a shower bench a smart idea. It can be a footrest for shaving, exfoliating, or washing. It can be a bench for extra toiletries in the shower. It can be a seat for those with mobility issues.
Can you sit on a shower bench?
Yes, you can sit on a shower bench. There are some benches that mount on the wall, so you can fold them down when needed or fold them up and out of the way when not needed. Other benches are small, just big enough to sit on. Others are longer, making them large enough for two people or a single person and toiletries.
Is a teak or bamboo shower better?
Both teak and bamboo are water impervious woods that are durable in wet environments. However, teak is the better wood because it's more reliable, durable, stronger, and better looking. However, these benefits also make teak more expensive.