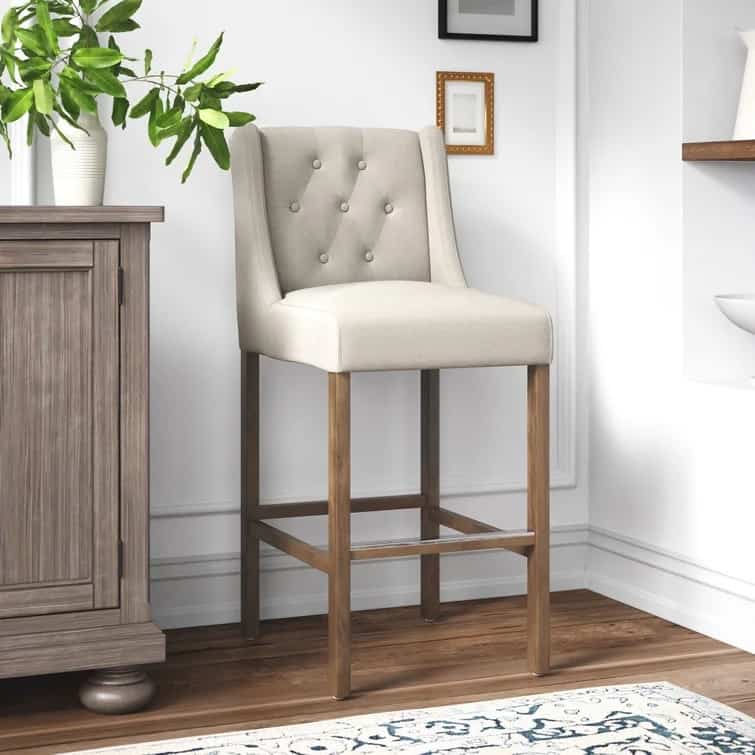 Trendey may earn a commission when you buy through links on our site.
As an Amazon Associate we earn from qualifying purchases.
Best Bar Stools
Adding stylish bar stools to a bar-height counter gives you an additional seating area in your home. This increases the functionality by giving you extra space for eating, drinking, or entertaining.
Perhaps you add them to your breakfast bar in the kitchen, around a high-top table in your dining room, or at a home bar that you have set up in your living room or basement.
This buying guide will have you choose the best bar stools for your home.
Top Picks
Best Overall: Kelly Clarkson Home Avah Bar Stool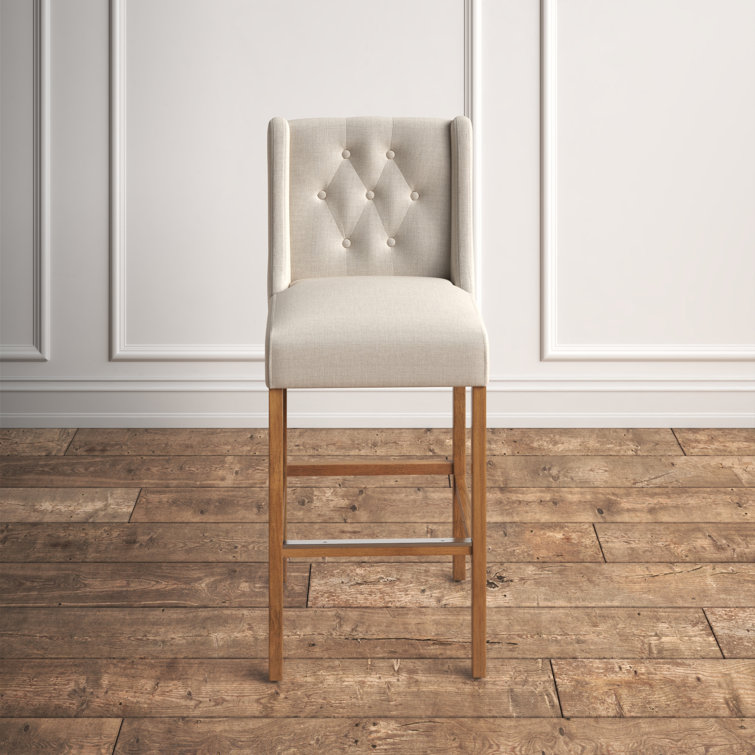 Specs:
Seat Height: 30 inches
Seat Back Type: Full back
Adjustable Height: No
Swivel: No
This bar stool may look plain, but its subtle design gives it an elegant and understated design. It has a contemporary feel with hints of French country in the slight wingback detailing. This gives your home bar or kitchen design a homey yet sophisticated feel. The comfortable seat is upholstered in a light French beige or gray fabric that is polyester, viscose, and linen. The button tufting in the back gives the chair a more traditional feel and just enough detail. The high back has cushioning, giving you maximum comfort of this cushioned seat. Å nice touch that gives this bar stool more durability is the metal plate on the footrest. This provides the wood with protection so that it has more durability from your shoes. These chairs could be placed at a high breakfast counter in your kitchen or around a high breakfast table.
One downfall in the design is the perfectly straight legs. They can make the bar stool feel less table than others that have flared or connected legs.
Check Price
Best Budget Pick: Leopard Modern Square PU Leather Adjustable Bar Stools
Specs:
Seat Height: 24 to 31.5 inches
Seat Back Type: Full back
Adjustable Height: Yes
Swivel: Yes
This set of faux leather two bar stools is a perfect solution for someone on a budget. Of course, you should always place more than two bar stools together, so this set of two helps you create a beautiful design without spending a fortune. The stools feature a singular pole base with a shiny metal finish. Choose from black, white, cream, brown, grey, ash, beige, mint, light grey, and orange. What makes these bar stools stand out is their adjustability. You can move the seat height between 24 and 31.5 inches. This makes it possible for everyone to sit at the perfect seat height for their height. The attached footrest is also nice because it moves up and down with the seat. The shiny metal base and the leather combo make this a perfect chair for your kitchen or dining room.
The PU leather could feel nicer, as it doesn't feel exactly like leather. They are also styled to be modern bar stools, which may not blend well with your home's interior design style.
Check Price
Best Traditional Pick: Boraam Augusta Cappuccino Swivel Cushioned Bar Stool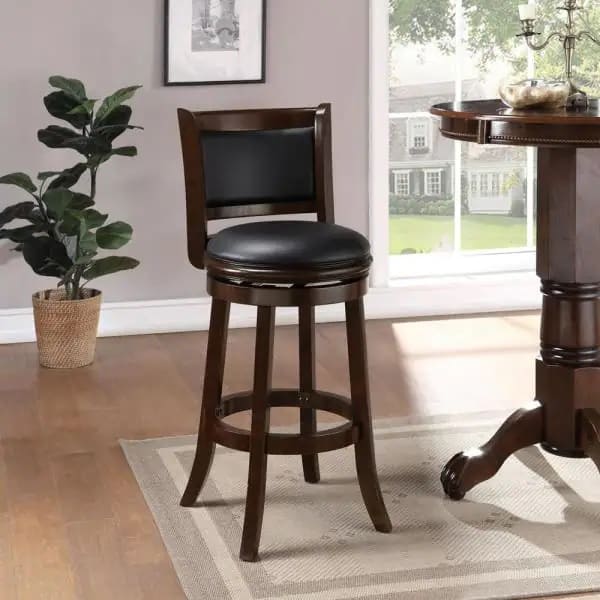 Specs:
Seat Height: 29
Seat Back Type: Full back
Adjustable Height: No
Swivel: Yes
The sophisticated and traditional styling of this bar stool makes it perfect for a home with dark wood and ornately carved furniture. This swivel stool features a dark wood frame with solid wood construction. Upholstering the seat is a faux leather that is a rich black color. A unique feature of this bar stool is the ball-bearing swivel plate that the seat sits on. This lets the seat spin in 360 degrees. There are subtle, elegant details throughout this swivel bar stool. The legs have a slight flare at the bottom and detailing on the corners. There is also faux leather upholstery detailing on the seatback, giving it a style that can be seen even when the chair is pushed in.
One thing to be aware of is that you'll want to be careful when moving this bar stool. This is because the legs are susceptible to chipping. This can leave unsightly light marks on the legs where the finish gets chipped off.
Check Price
Best Premium Pick: Westelm Slope Leather Bar Stools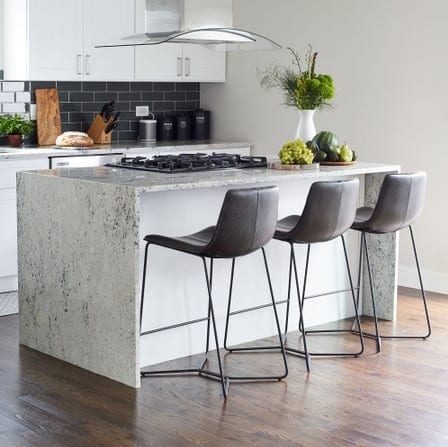 Specs:
Seat Height: 30 inches
Seat Back Type: Full back
Adjustable Height: No
Swivel: No
Sink back into this leather bar stool and relax as it comfortably supports your back and seat. The seat's slanted back design helps you get into position and stay there while sitting. Its simple styling looks elegant with clean lines throughout. Choose from several leather options that make it possible to find the perfect accent to your home's interior design. Paired with the leather seat is a slim-lined metal frame. What's nice about this bar stool's design is the frame with a base with centralized support underneath you. This gives it more stability. Choose from charcoal, brass, or light bronze finish for the frame. The quality of this chair is throughout with a kiln-dried bentwood seat wrapped in foam padding underneath the leather upholstery. The contract-grade construction means these chairs are tough enough for commercial use, making them more than durable enough for your home use.
One potential drawback of this bar stool is the lack of cushioning on the seat. It can feel a bit hard and flat for some homeowners' tastes. However, you can easily add additional cushioning if you'd like more support.
Check Price
Best Rustic Pick: Carlson Solid Wood Stool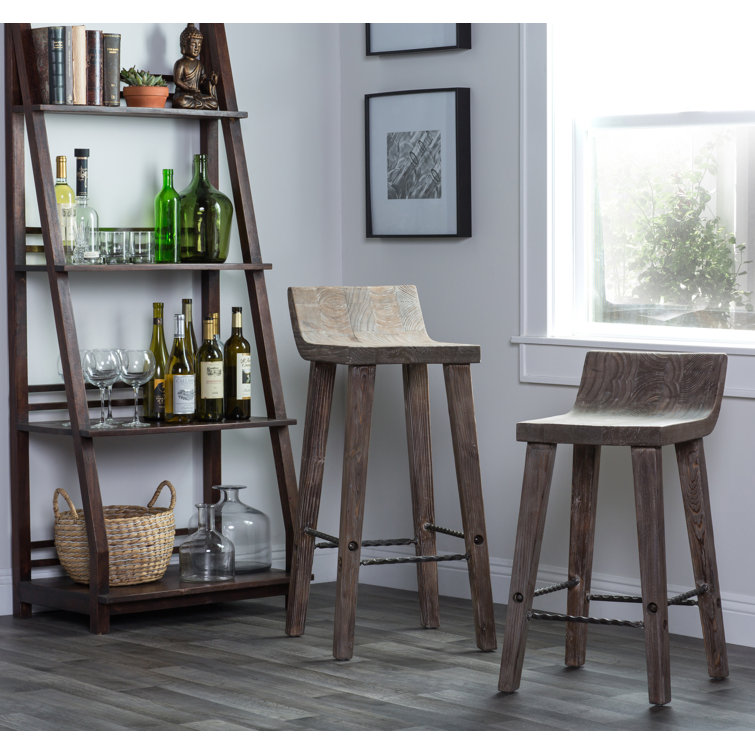 Specs:
Seat Height: 30 inches
Seat Back Type: Low back
Adjustable Height: No
Swivel: No
Your rustic dreams have come true with this simple yet functional bar stool. It's constructed from reclaimed pine wood and finished in a medium brown shade with distressed detailing throughout the seat and legs. Each stool has a unique look, giving your set of bar stools plenty of character. Choose from either a rustic or honey brown. Attaching the legs are twisted iron rods that give the stool a slightly industrial feel or as if it was made from scrap metal found on a farm. This bar stool's aged and weathered look makes it perfect for an outdoor bar.
The wood has an imperfect finish. This can mean there are edges and knurls where clothing can get snagged. Also, due to the nature of the wood, there can be some variation in the color of the wood. If you want your stools to match perfectly, this could be an issue.
Check Price
Best Mid Century Modern Pick: Madeleine Home Romboss Saddle Seat Bar Stool
Specs:
Seat Height: 29.5 inches
Seat Back Type: None
Adjustable Height: No
Swivel: No
Slide onto this metal and wood bar stool and feel how comfortable the saddle shape is as it cradles the natural shape of your seat and legs. The slender metal frame keeps the bar stool feeling light, making it ideal for smaller spaces. The frame is epoxy polymer powder coated in black to give it a durable finish and uniform look. The mango wood seat has an organic feel that features the beautifully wood graining with a light finish. The wood is kiln-dried to give it durability. A nice feature of this bar stool is the rubber floor protectors on the metal that prevent marks and damage to your floors when moving the bar stool.
One potential drawback of this bar stool is that the wood is polished smooth, and the seat has a slight forward angle. This can cause you to slide forward while sitting on the stool. Thankfully, there is a footrest that can help you stay in place.
Check Price
Best French Country Pick: Govan French Country Wooden Bar Stools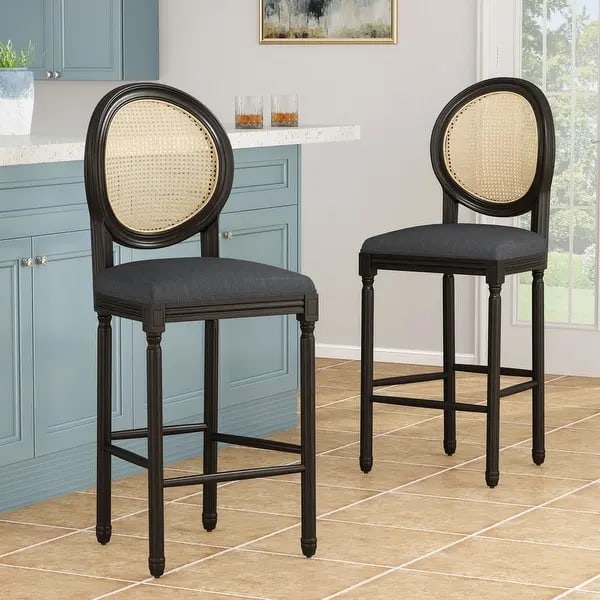 Specs:
Seat Height: 30.25 inches
Seat Back Type: Full back
Adjustable Height: No
Swivel: No
Give your bar an elegant old-world feel with these French country bar stools. The curved shape of the back on this bar stool makes them as comfortable as an office chair as it cradles your body. The mix of materials gives this bar stool the classic French country aesthetic. The ornately carved solid rubberwood frame with a dark finish, woven wicker backrest, and dark charcoal or light beige seat upholstery. Pair these bar stools with an ornately carved bar trimmed with elegant gilded accents. You'll appreciate the supportive foam in the seating that makes this bar stool comfortable for sitting for long periods.
One drawback of this bar stool is that it can feel a bit stuffy. In addition, they can be too formal for some spaces. The dark wood frame can also be a challenge to match your existing dark wood. Wicker can also be less durable than other materials, so consider this if you have a plan to give your bar stool heavy use.
Check Price
Best Industrial Pick: Flash Furniture Distressed Blue Bar Stool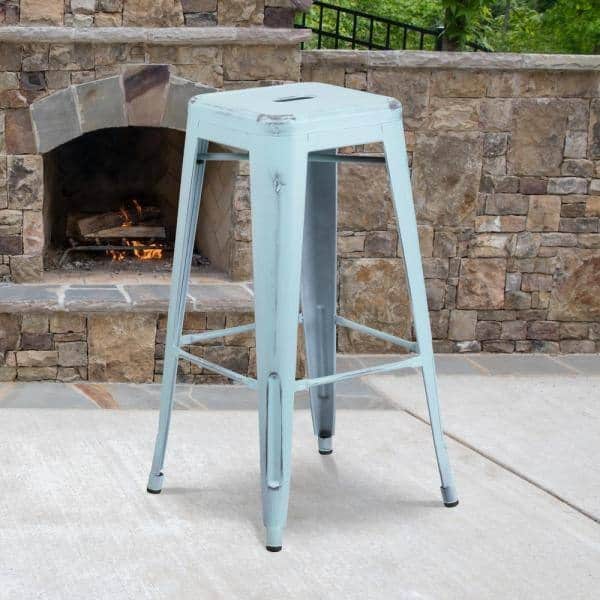 Specs:
Seat Height: 30 inches
Seat Back Type: None
Adjustable Height: No
Swivel: No
This all-metal bar stool features the classic industrial style. There are several colors to choose from, including black, copper, pale blue, green, teal, orange, red, white, and yellow. This backless bar stool from Home Depot will give your home a commercial touch. They have a weathered look that makes them suitable for a rustic, industrial, farmhouse, or eclectic interior design. What's nice about these bar stools is that you can stack them neatly out of the way when you don't need them. This makes them ideal for use in flex spaces where you have different uses for the same space. The metal construction of this bar stool helps make it durable, but thankfully, also lightweight at 11 pounds. It also means that it can support up to 500 pounds.
One drawback of these barstools is that they could be more comfortable. The smooth metal can cause your rear end to slide around on them, and there's no back to help hold you in place.
Check Price
Best Coastal Pick: Mercana Monmouth Brown Upholstered Bar Stool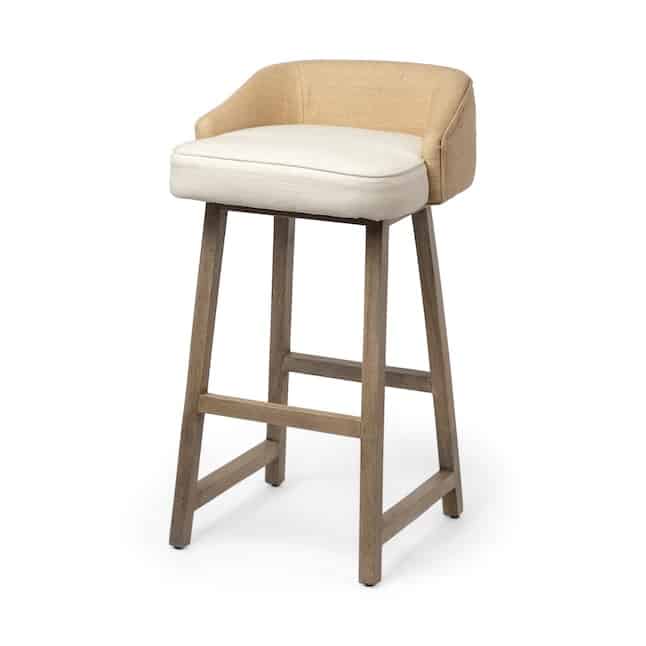 Specs:
Seat Height: 30.5 inches
Seat Back Type: Low back
Adjustable Height: No
Swivel: No
This coastal-inspired upholstered bar stool will be the perfect addition to your beachside bungalow or paradise-inspired interior design. The stool features a mango wood base with an upholstered seat and back. The padded seat is covered in elegant cream-colored fabric with jute fabric covering the back for a subtle contrast. This chair stands out because of the armchair-style seat on bar stool length legs. Rest your feet on the perfectly positioned footrest and feel comfortable for hours. With a width of just under 20 inches, there is plenty of room for everyone to sit and have space. Style this bar stool in a neutral-colored coastal room with other natural wood elements and cream-colored fabrics.
One potential drawback of this bar stool is that it doesn't swivel. Combine that with the light armrests it has, and it can be more difficult to get in and out of this bar stool.
Check Price
Best Transitional Pick: Winsome Wood Huxton Set of Two Bar Stools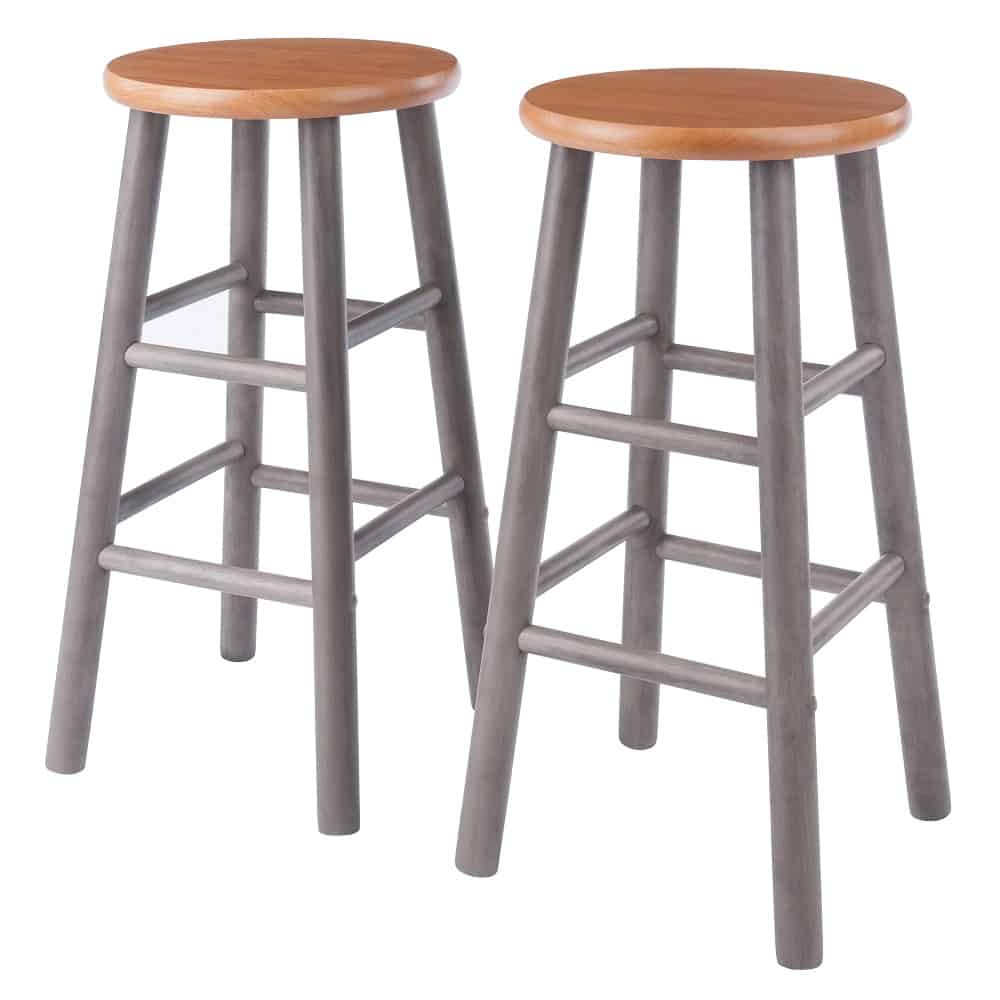 Specs:
Seat Height: 24.41
Seat Back Type: None
Adjustable Height: No
Swivel: No
These simple bar stools is just what you need to give you a bit of extra seating in your home. Their simple design makes them usable throughout your home, as a plant stand, or as an accent piece in your bathroom. The seat's white base and teak finish give the bar stool a transitional feel, helping them blend contemporary and modern touch into your interior design. In addition, the flared design of the legs provides the bar with stool stability. If you have a small space, tuck these solid wood stools under the counter, so they are neatly tucked away. The round seat is 13 inches in diameter and can hold up to 220 pounds.
One drawback of this wooden bar stool is its counter height and not the full bar height. This can make them too short for the typical bar. But if you have a lower bar counter, these will work well.
Check Price
How to Choose a Perfect Bar Stool?
Seat Height
The seat height of the best bar stools will depend on your kitchen island or breakfast bar height. Comfortable bar stools are not too tall so that you don't have to awkwardly lean over the counter. They also aren't low like kitchen counter height stools so that the bar is at your chest. While there are standard heights for bar counter heights, you should still measure your bar height before buying barstools. An inch or two difference in the seat height can mean the difference between comfortable and not.
Style
The style of your bar stools will be shaped by the materials used to construct them and the design used. Solid wood barstools can look rustic or sophisticated depending on the shape of the legs, seat, and back. Faux leather on the seat can elevate the look of a simple wood barstool. Metal can look sleek and modern, industrial, or vintage. Look at the other home decor and furniture in your home and use similar materials and designs. If all of your furniture is metal with minimal ornamentation, then choose bar stools that are also.
Backrest
If you choose to have a backless stool, it should have enough cushioning or shaping to help hold your body in place while sitting on the stool. A low backrest is nice because it helps hold your rear end in place. However, a low backrest won't give you much back support. A mid-rise to high back will give you the most support. However, a high backrest also takes up the most visual space and can look too bulky or big in a small space.
Footrest or Armrests
Having a footrest on your bar height bar stools makes them more comfortable. Otherwise, your feet are left dangling with no support. It can also make getting on and off the bar stool for short individuals easier. The footrest should be located several inches from the floor. Armrests are nice if you plan to spend long hours sitting on the barstool. However, they can hinder your ability to push them under the bar overhang so that they are out of the way.
Conclusion
My top pick for the best bar stools is the Avah Bar Stool. It's a beautiful combination of materials with a wood frame and upholstered seat. The large seat, tall back, and perfectly placed footrest makes this chair comfortable.
If you're working with a tight budget, the Leopard Modern Square PU Leather Adjustable Bar Stool is a good option because it's so versatile. You can adjust it up and down as you need it. The PU leather elevates the look of the bar stool while giving it durability.
FAQs on Bar Stools
What is the difference between a bar stool and a counter stool?
A bar stool has a taller seat height than a counter stool. Counter stools typically have a seat height of around 24 inches. Bar stools have a seat height of 28 to 30 inches.
What style of bar stool is most comfortable?
The most comfortable bar stools are the ones that have a cushioned or shaped seat and are tall enough back to support your back while sitting on the stool. They should also have a footrest to put your feet on so that they aren't dangling.
How do you use bar stools without a bar?
You can use barstools throughout your home, not just at a bar. Place them in your dining room, living room, or bedroom as a plant stand. Use one next to your vanity as an extra stand. Place one in your bathroom.