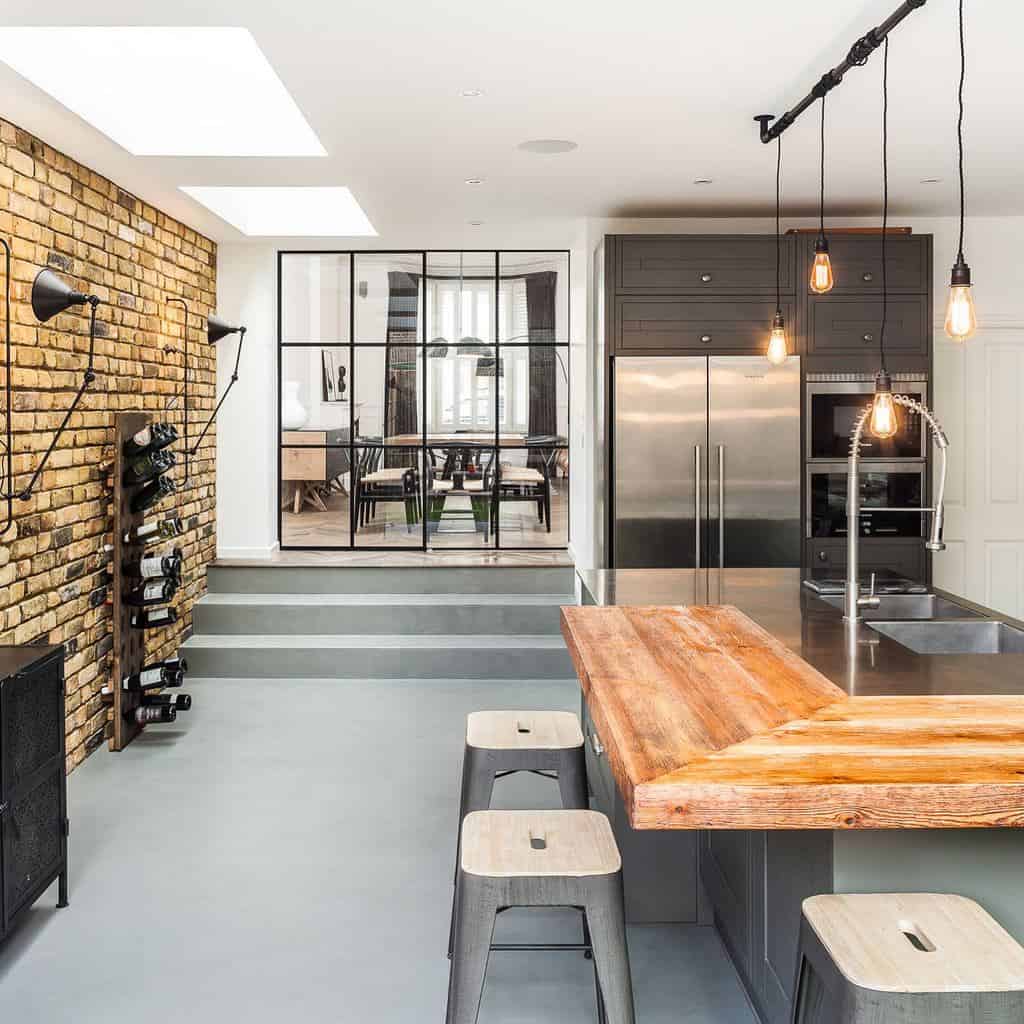 42 Kitchen Bar Ideas and Designs
If your family is like mine and loves to spend time in the kitchen chatting and cooking together, then a bar kitchen is the perfect spot to entertain! You don't really need a large space, any little nook can be an awesome bar, you just need to accessorize it properly and it will be an inviting space for you and your friends to hang out, watch sports, and have a few drinks while preparing a delicious meal. That's what interior design is all about: creating cozy spaces that fit your lifestyle and help you make the most use of your house.
Check out the kitchen bar ideas we have selected for you and get inspired to decorate your home bar right now!
1. Basement
Whether you have a man cave or a family room in your basement, a home bar is a must-have. When you're watching TV or entertaining, you don't want to go up and down the stairs to fetch something to eat or drink. So, a wet bar or even a dry bar are essential in a basement.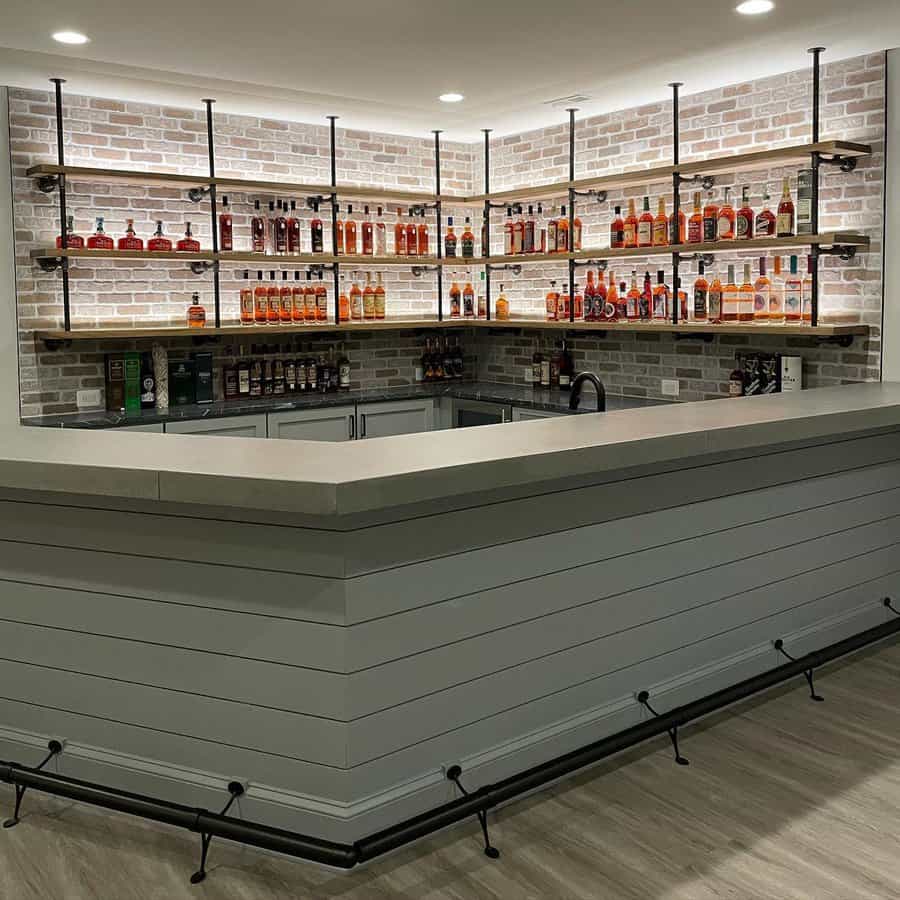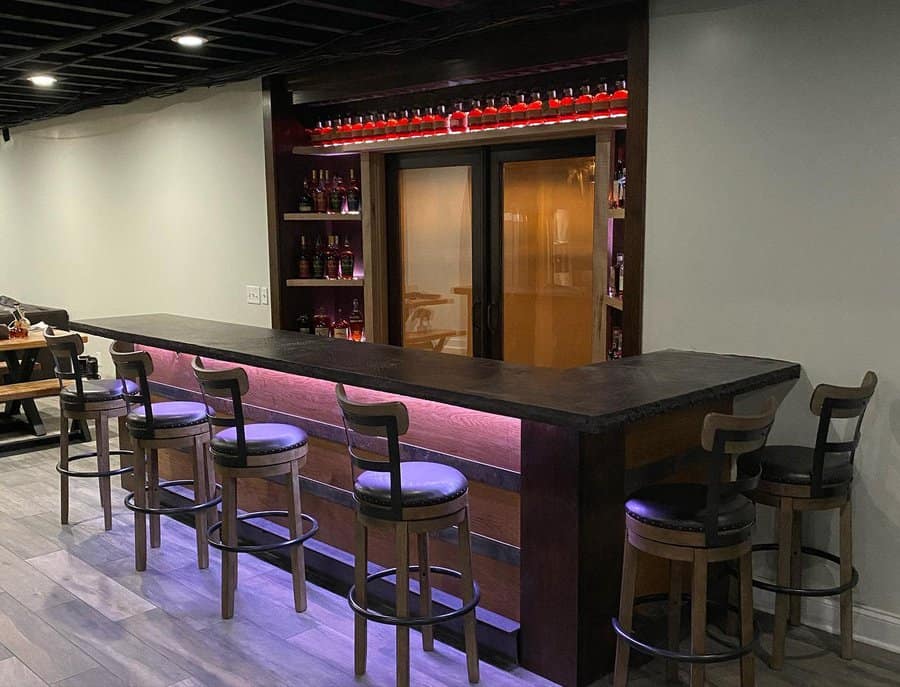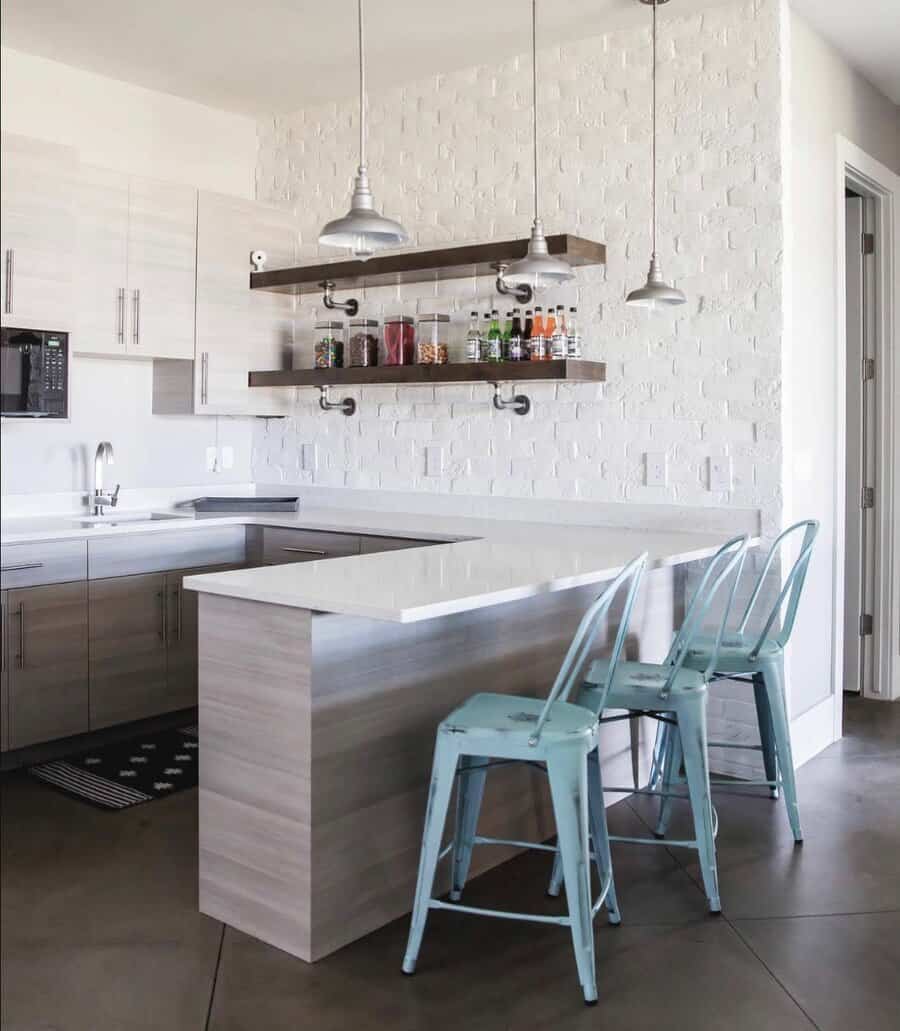 Style up your bar by installing open shelves to display bottles and glassware, and mirrored walls, which will make the space feel brighter and bigger.
2. Countertop
When you're entertaining, you don't really want to be apart from your guests while preparing meals or drinks. That is why a kitchen bar is fundamental. Install an island or a peninsula with bar stools, so you can be surrounded by friends and family while cooking or fixing drinks.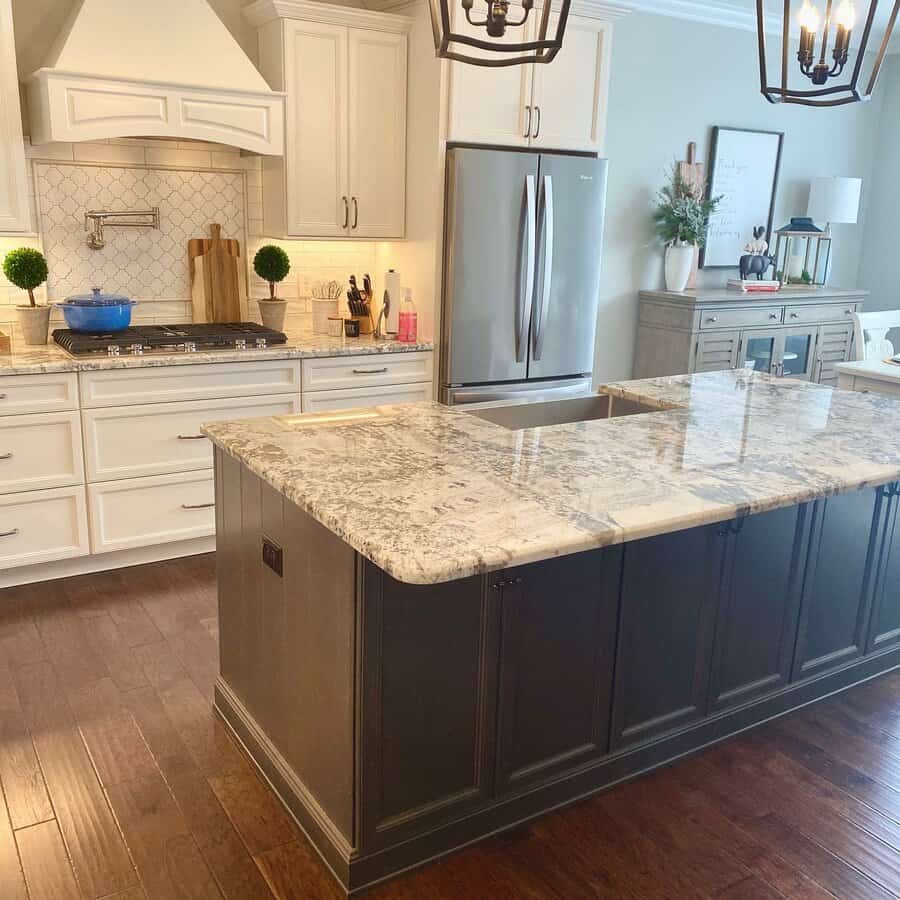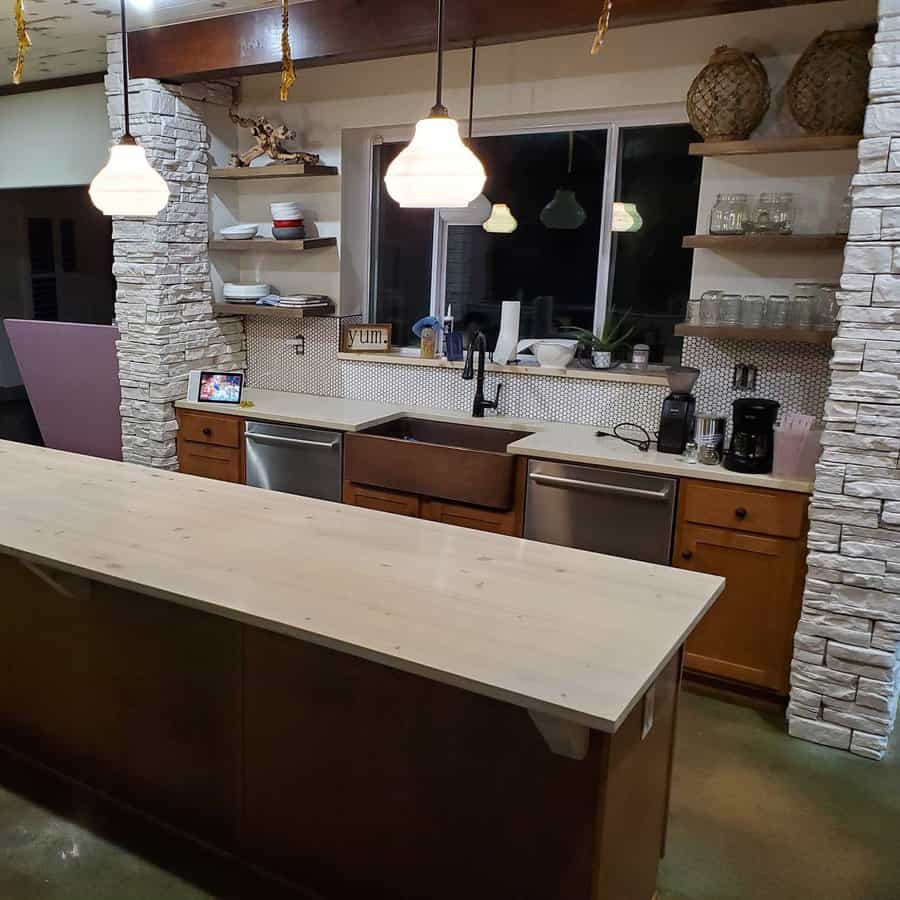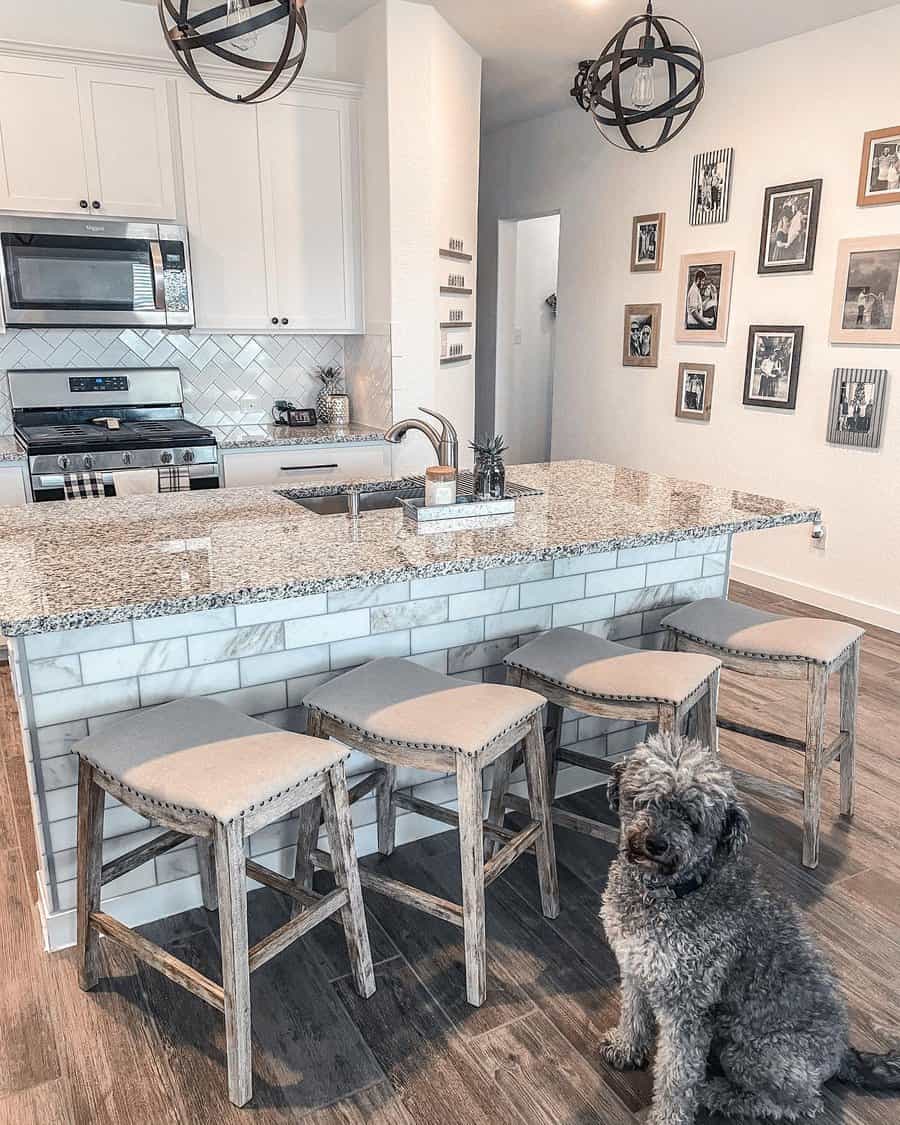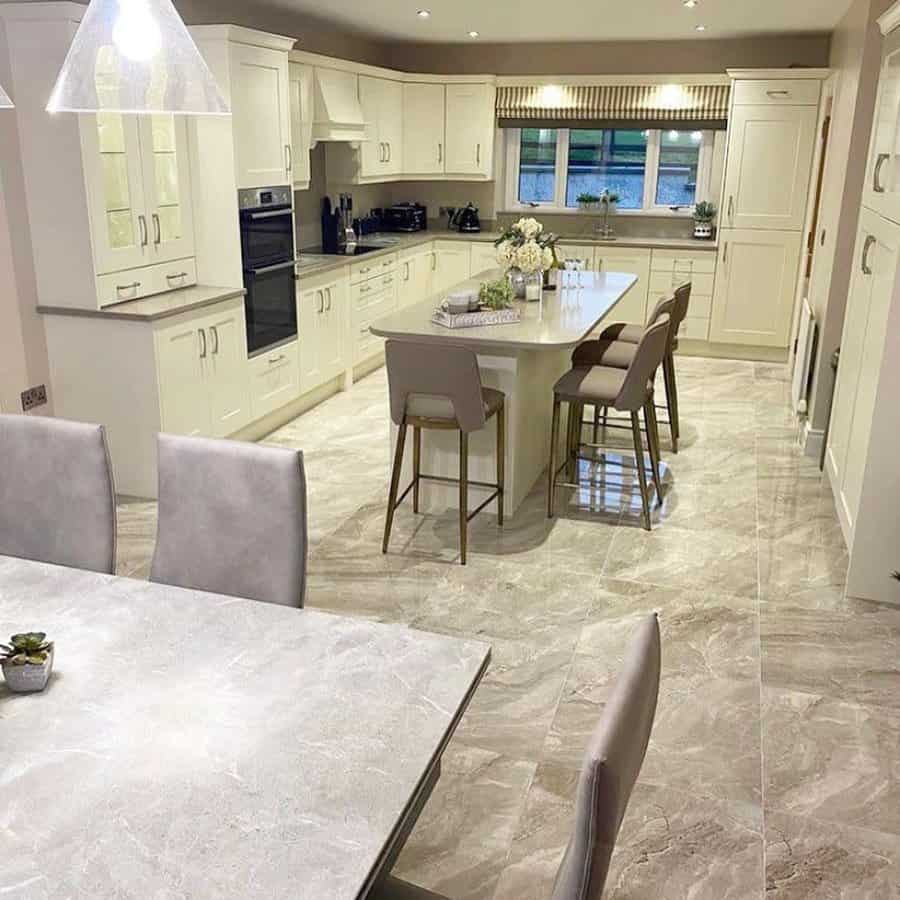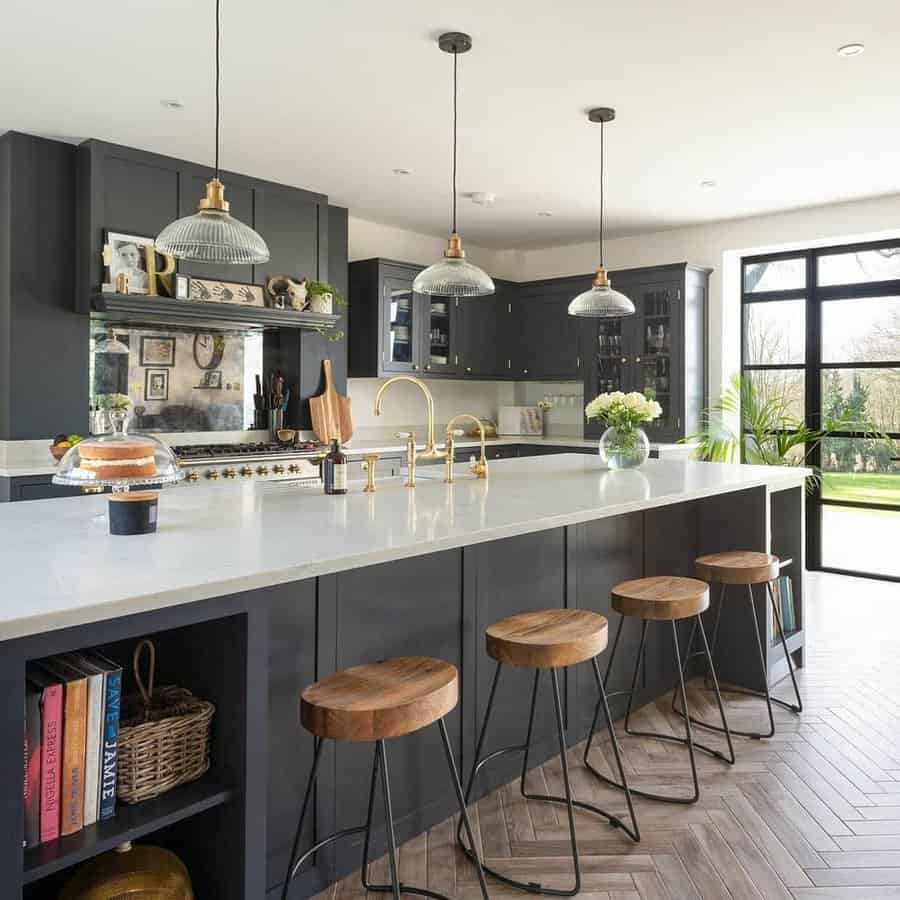 Granite countertops have been a homeowner's favorite for a long time, and it still remains the number one choice in breakfast bars and kitchen counters. Marble countertops are also a hit, even though they need some maintenance. Marble is a porous stone that requires professional sealing upon installation, to help prevent damage.
Quartz countertops, on the other hand, are the most durable ones. They are very easy to clean, are not susceptible to knife cuts, and won't chip or crack. Contrary to marble, quartz is highly stain-resistant. Other options to choose from are resin countertops, wood or butcher's block, laminate, concrete, solid surface, soapstone, and glass countertops.
Solid surface countertops mimic natural stone, but are manmade, and come in a wide variety of patterns and colors. They don't need to be sealed and won't absorb stains. Glass countertops are extremely heat resistant and look awesome with LED lights or epoxy resin.
See more countertop ideas for your kitchen here.
3. Curved
A kitchen bar can be the centerpiece of your home if you like to entertain. And if you want this space to stand out, why not have a different and exclusive design? Have a look at this design idea we have selected for you.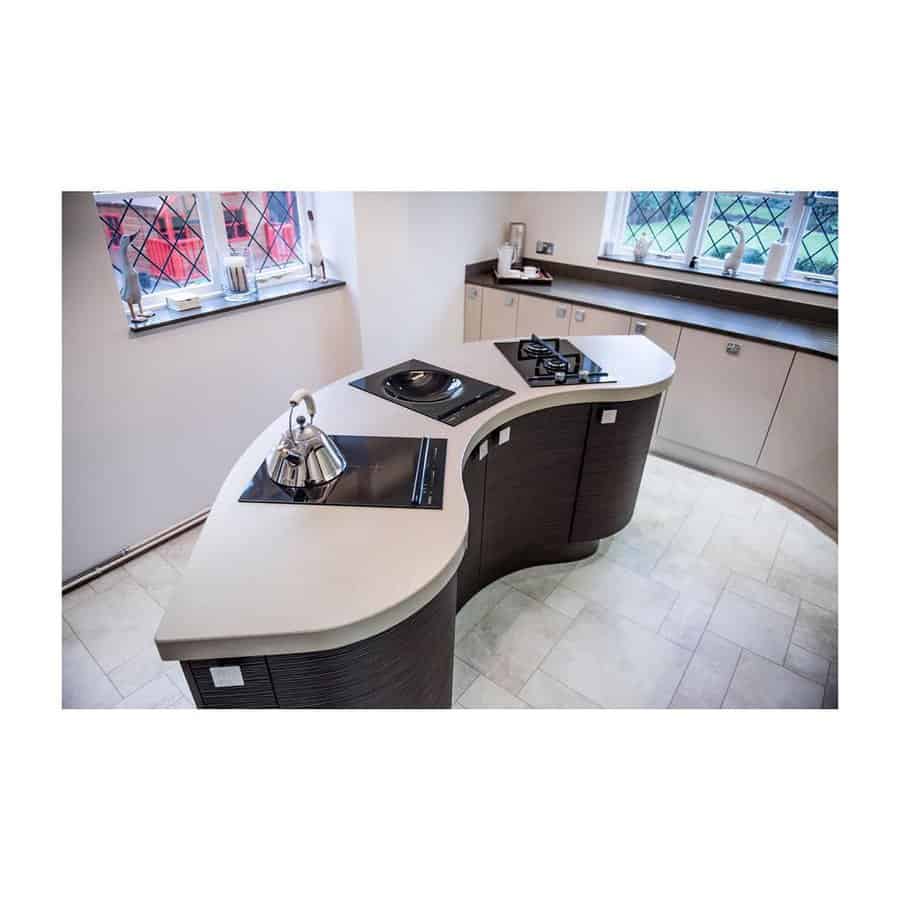 Curved bars are unique! Differently from a square or rectangular kitchen island, the curved layout allows for people to sit across from each other, like around a table. It's welcoming and great for hosting guests. With a curved bar, you will hold your parties in the kitchen from now on, instead of the living room.
4. DIY
If you are the DIY type, why not repurpose a vintage dresser into a cool kitchen breakfast bar?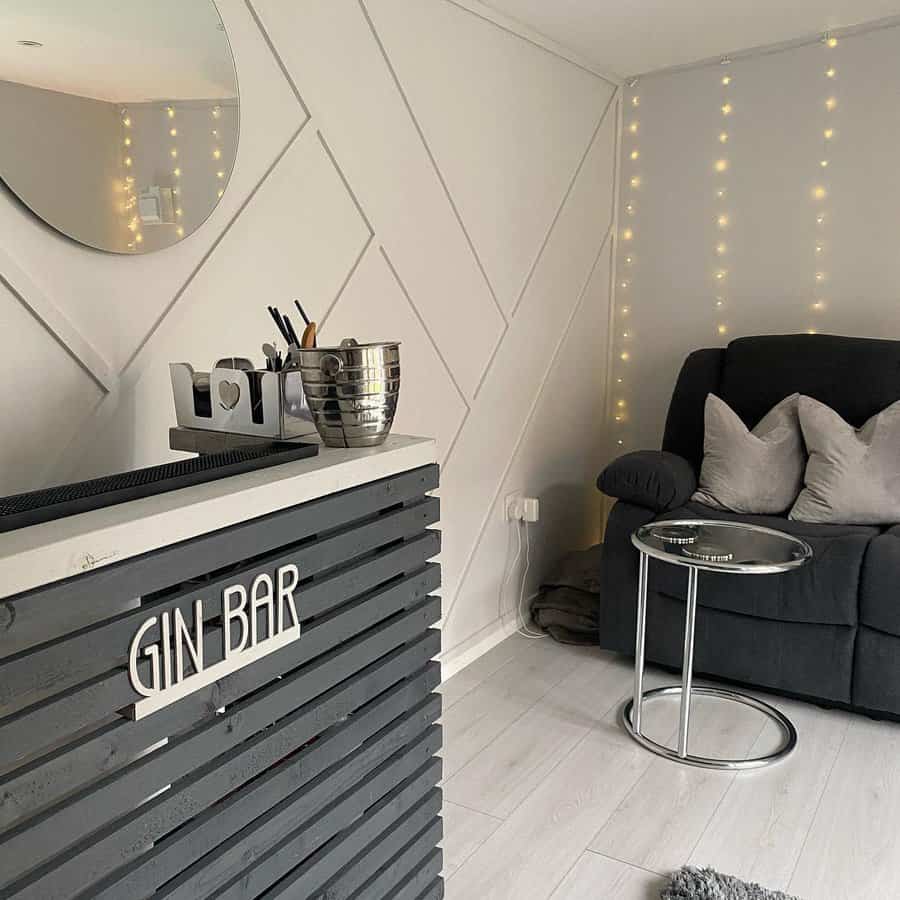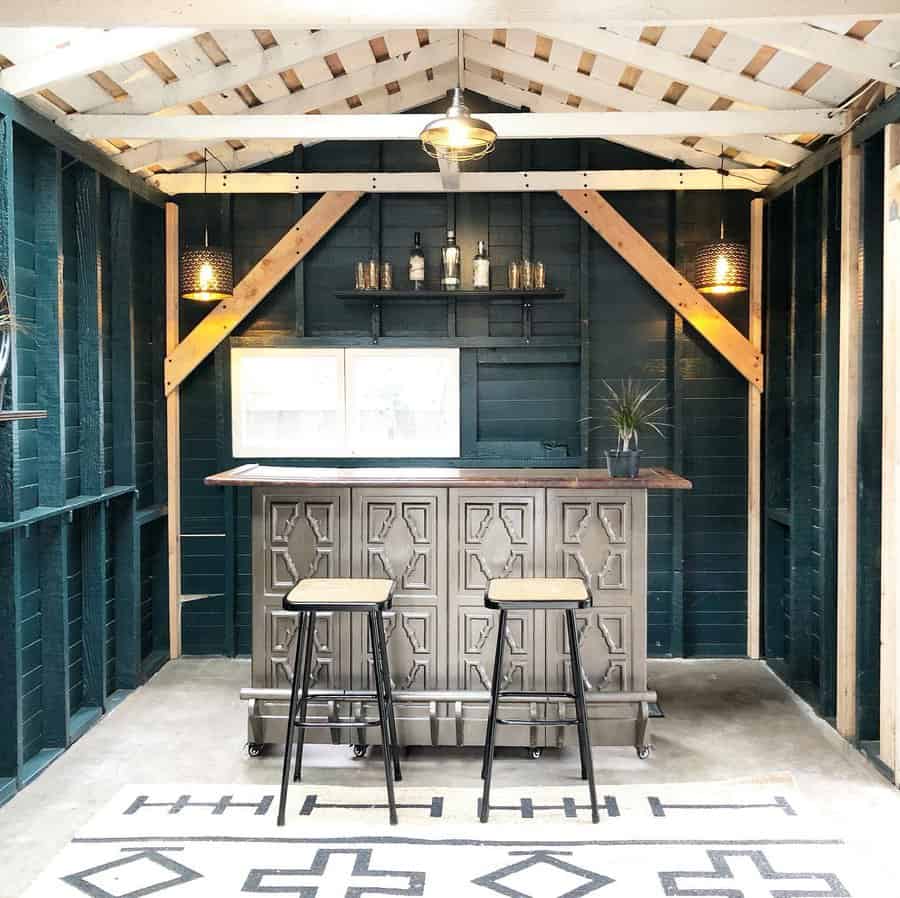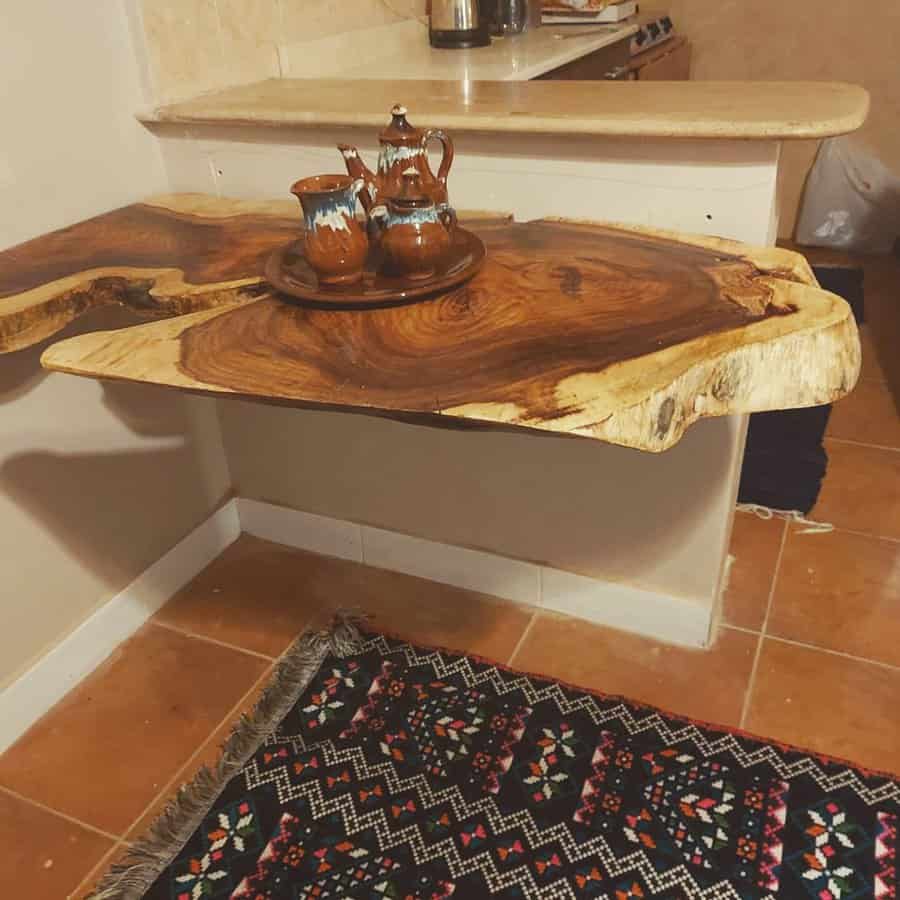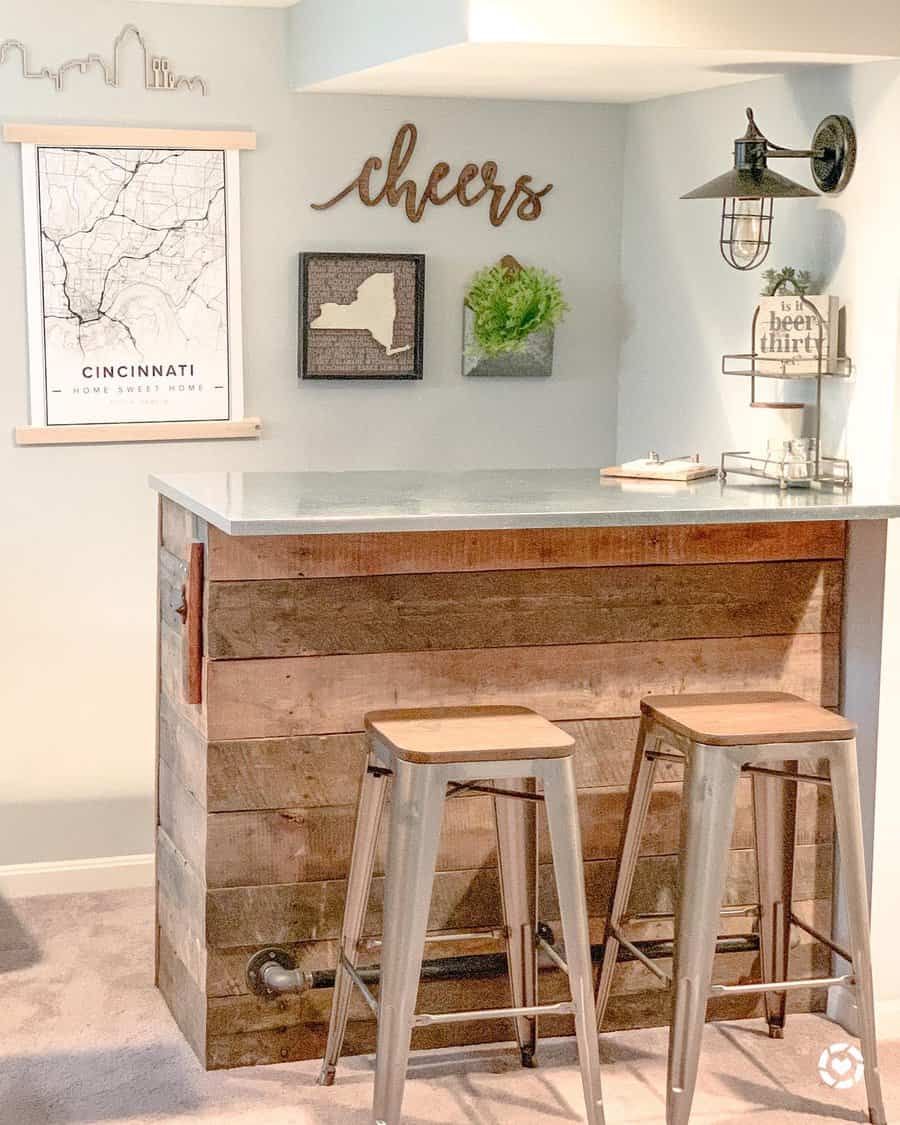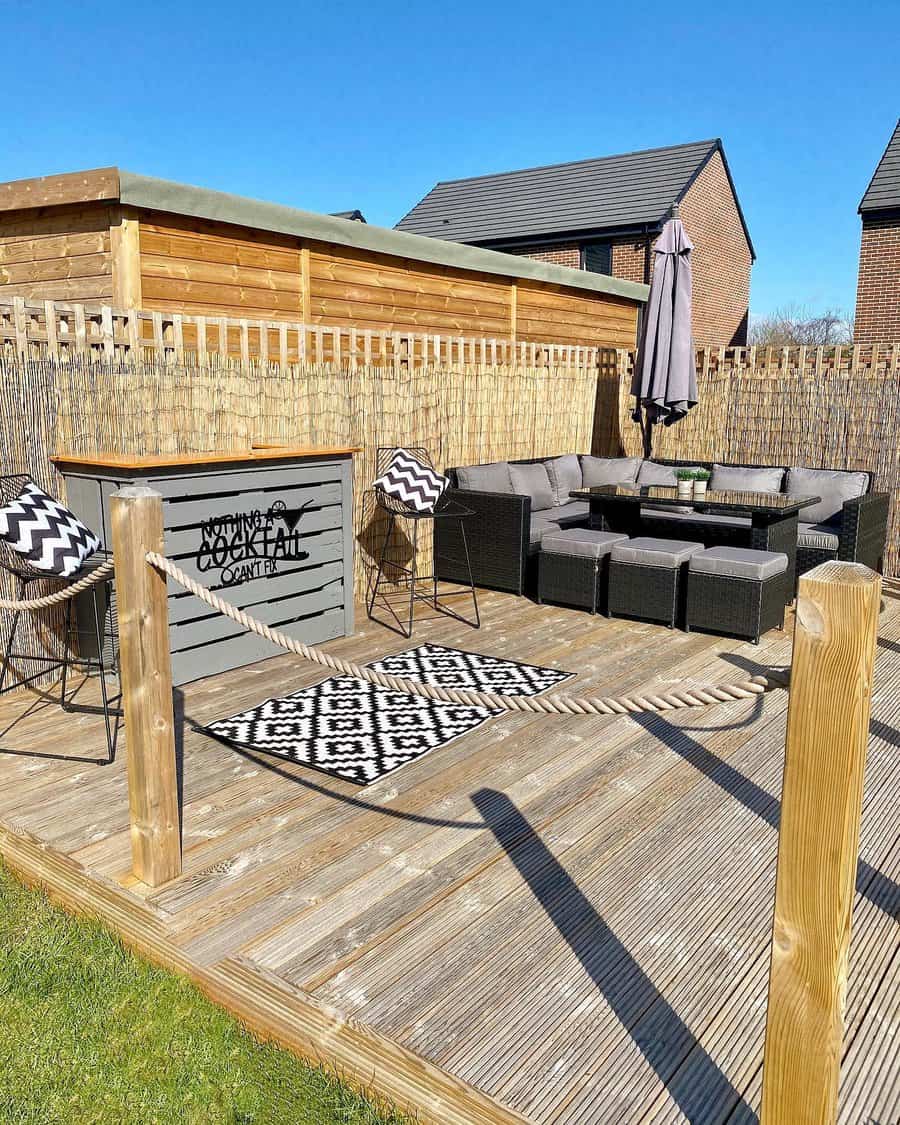 Add casters and a wooden top on a sideboard or refinish an old desk into a cool rolling dry bar! You can upgrade a rustic table and transform it into a stylish wet bar, with a wine sink. Add some counter stools and let the party begin!
5. Half Wall
If your kitchen is separated from the living space, and you don't want to go through a full kitchen remodeling, open a half wall. Add a countertop and stools and you'll have your kitchen bar, and the open space feel.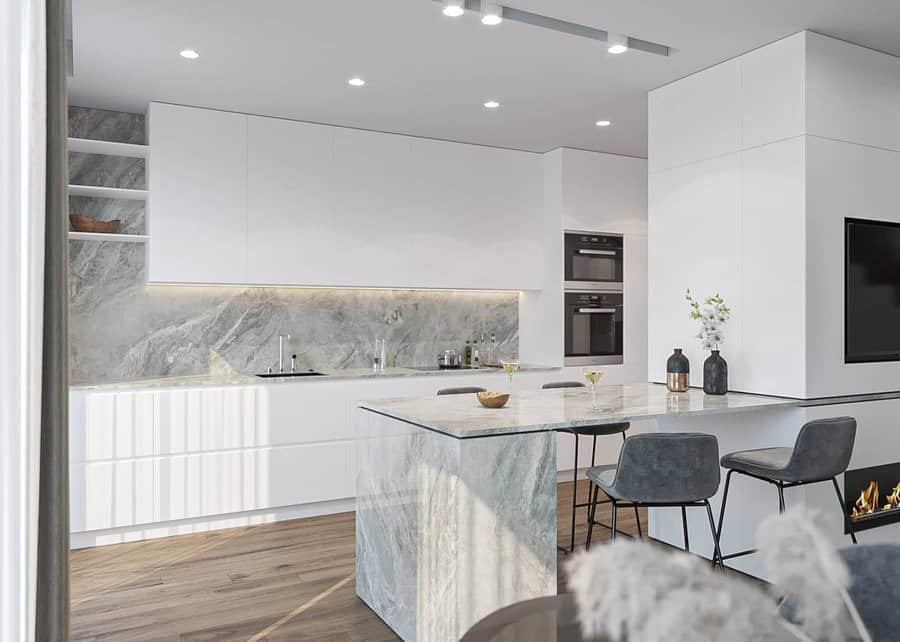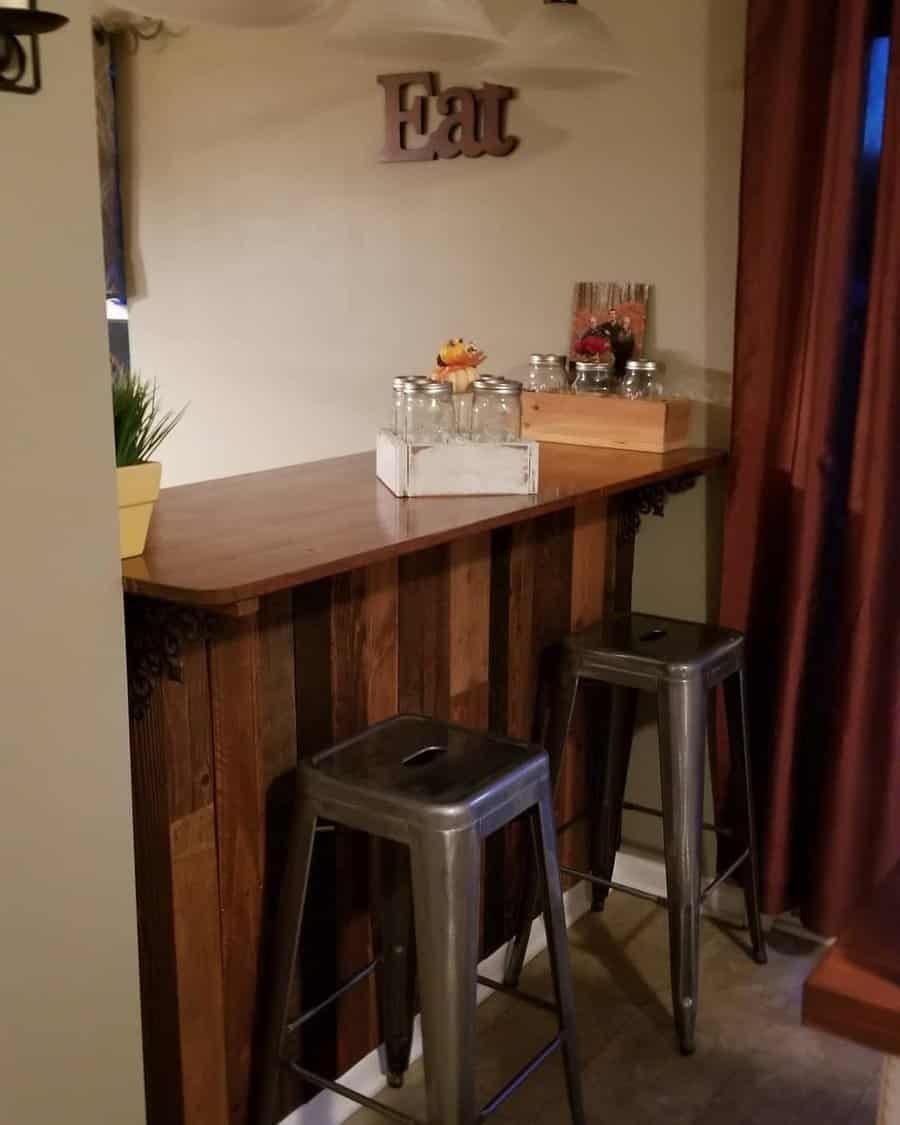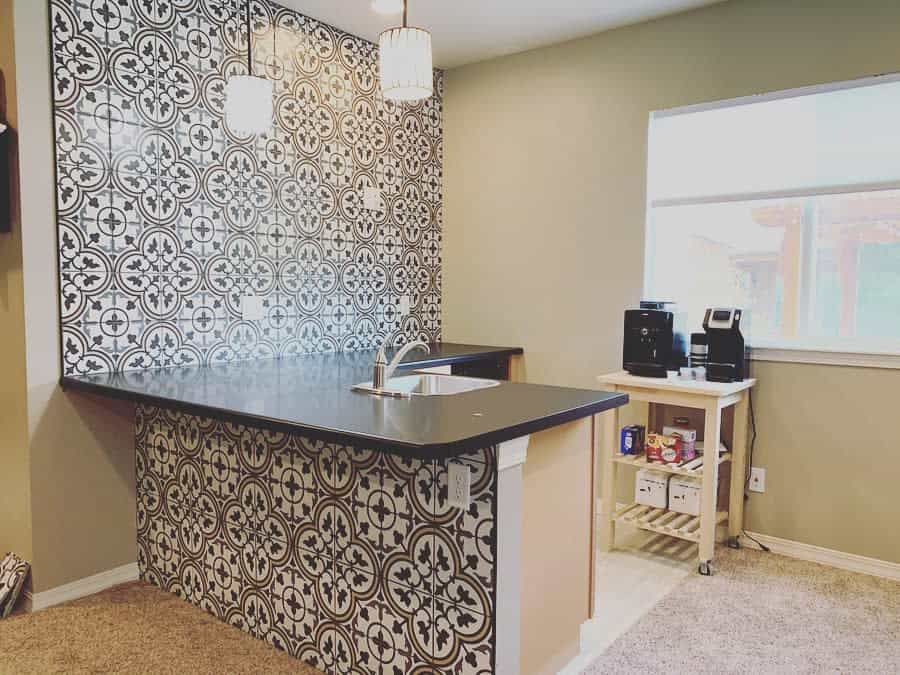 You will be able to use your kitchen cabinets, so you won't need extra storage for the bar area. If the space allows, install a wine fridge under the counter.
6. Industrial
A basement bar is a great addition to any home!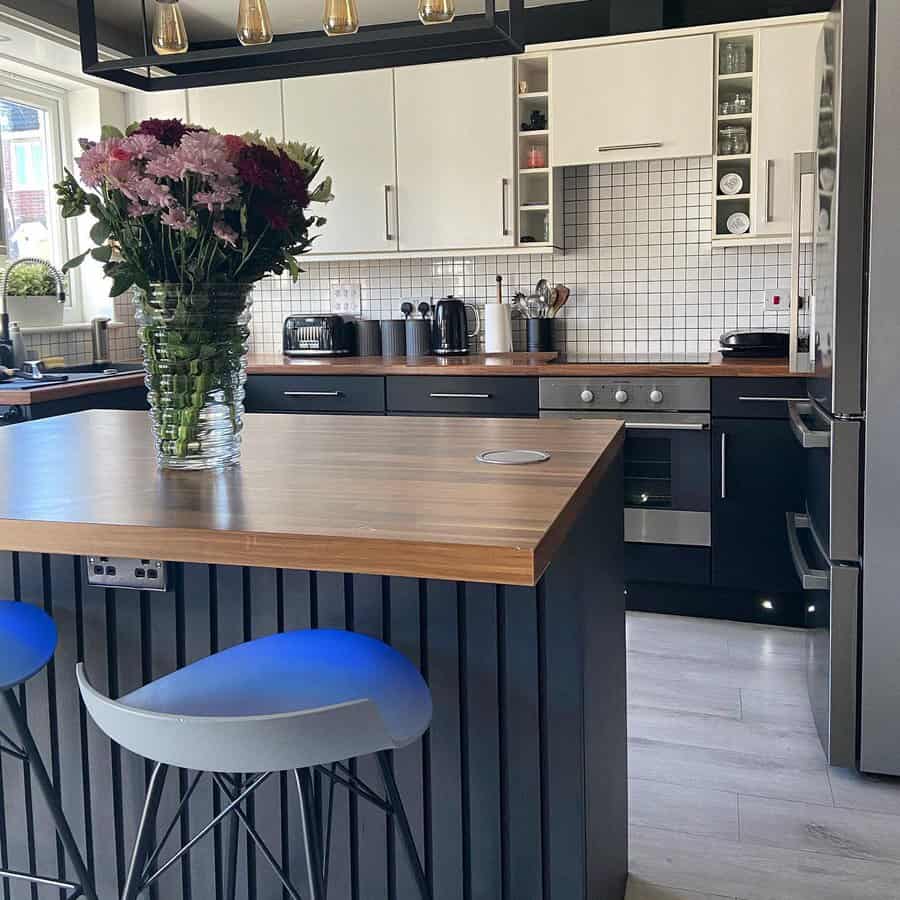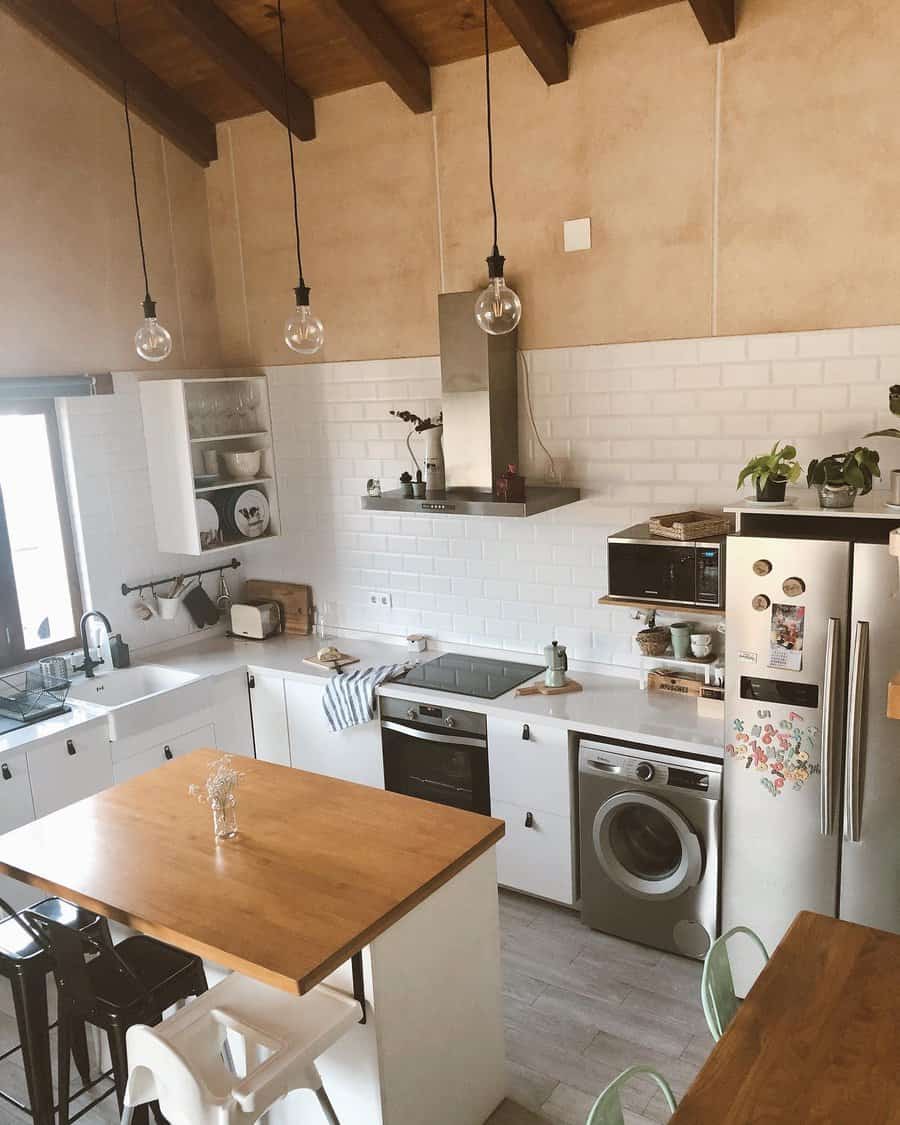 If you like the industrial style, think of concrete flooring, open ceiling, and wood elements. Bar stools with a granite countertop and pendant lights are complemented by floating shelves to display glassware and bottles.
7. L Shape
Kitchen bar designs can be versatile to suit different needs. You can transform your peninsula into a bar area, with some barstools and shelving for bottles and glasses.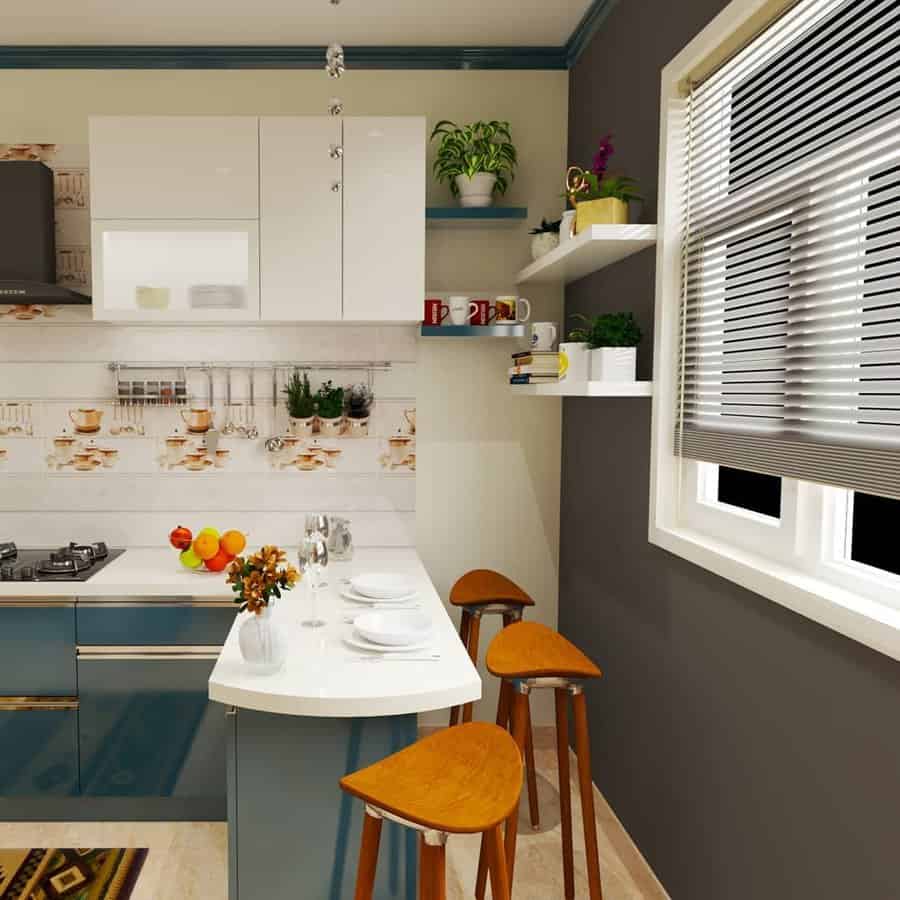 That coffee nook can also be upgraded into a bar area for when you have guests over.
Read also: 88 Coffee Bar Ideas
8. Mini Bar
Pallets and stone blocks, that's all you need to build a cool minibar, and create a cozy little nook either inside, or outside. Pallet racks on the wall will look awesome with your pallet mini bar!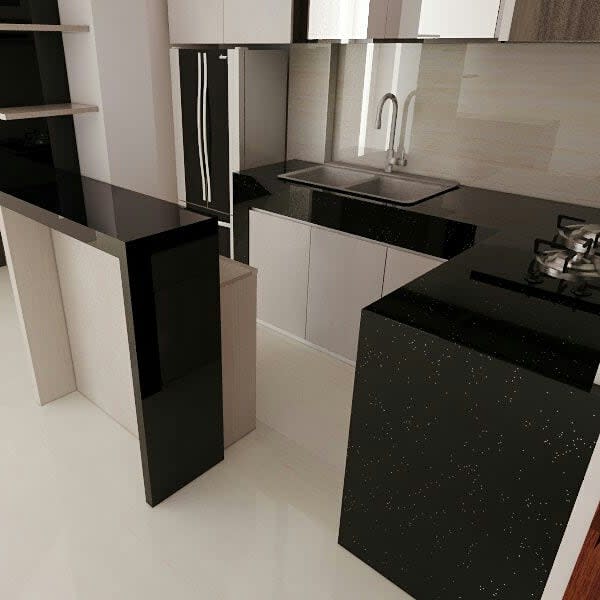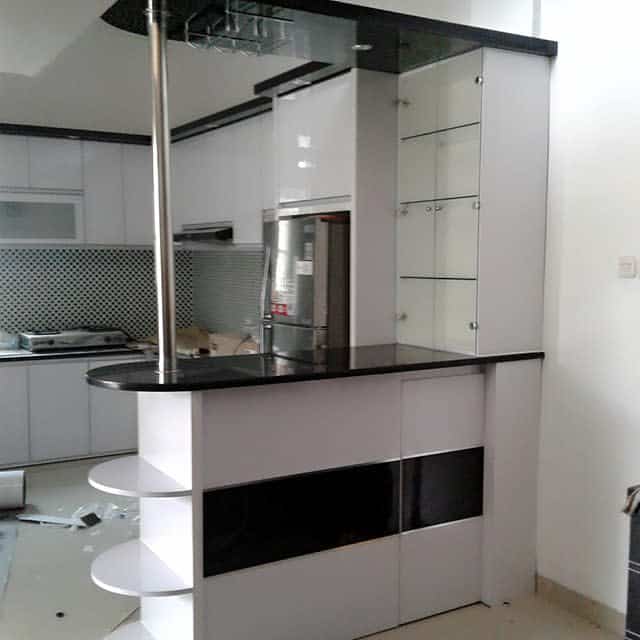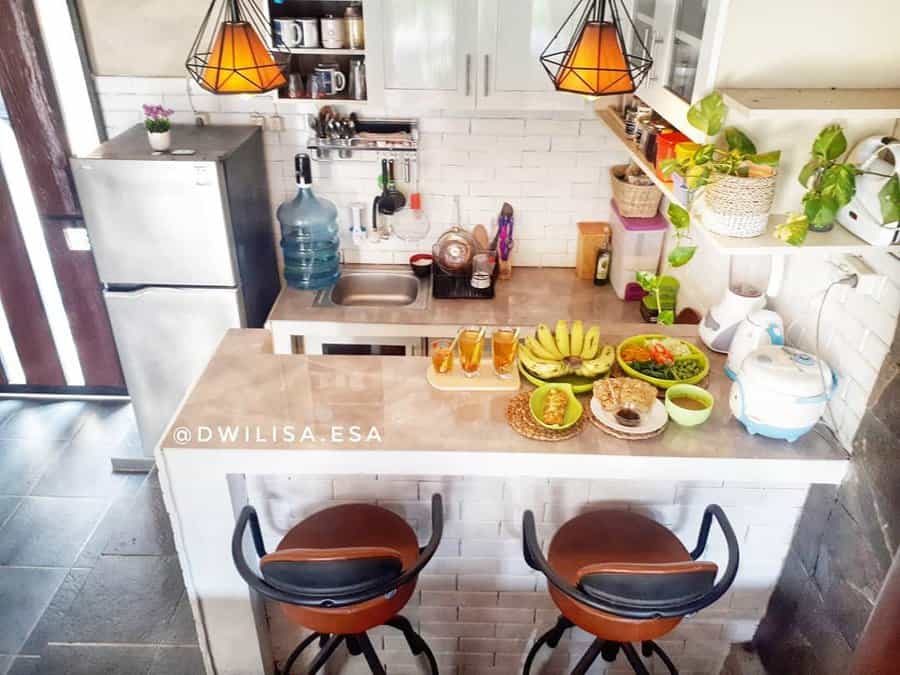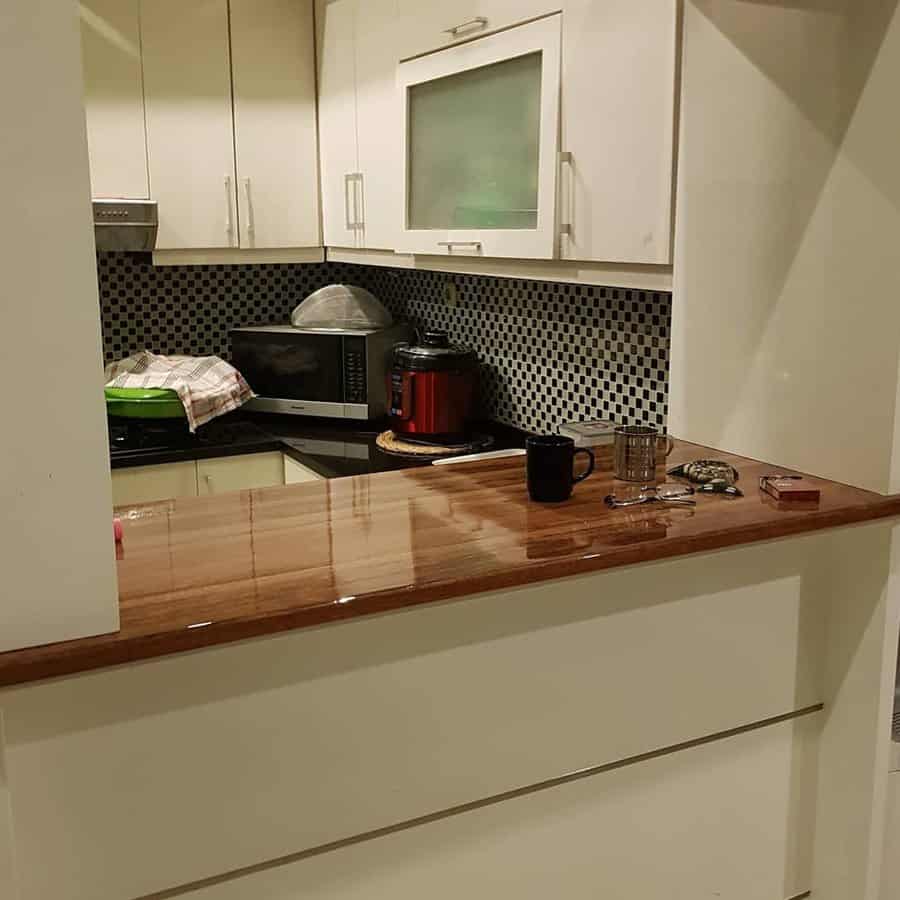 Small spaces can be accessorized with a bar cart and some seating, which include patio chairs in outdoor spaces.
9. Open
A kitchen island and a breakfast bar are very similar, with the exception that you need a 12 to 16-inch countertop overhang for a breakfast bar, to create enough room for seating. A kitchen island, on the other hand, does not have these space requirements.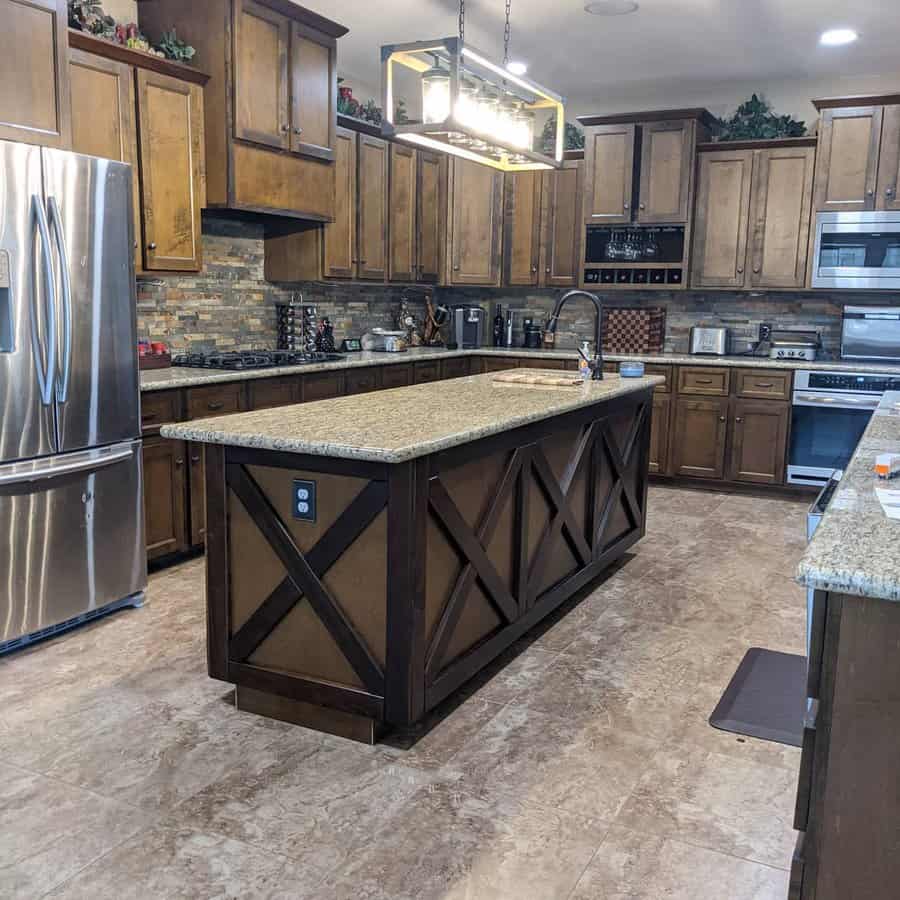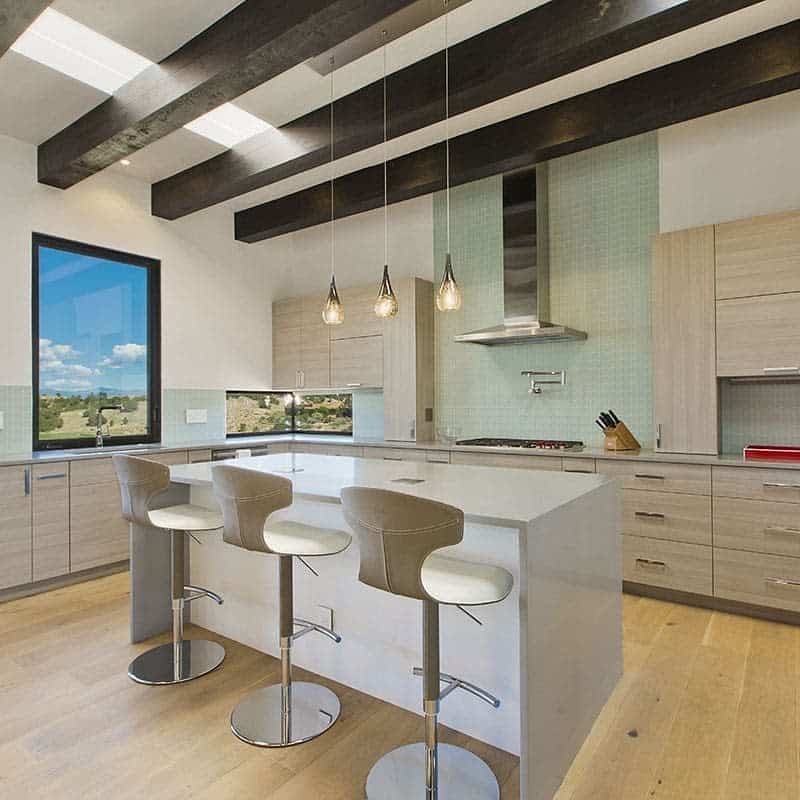 If you don't have a countertop overhang, there won't be enough leg room, and seating will be rather uncomfortable.
10. Outdoor
An outdoor kitchen is a great addition to any home and a perfect spot to entertain. Materials that can endure weather conditions, like granite countertops and wood, are ideal for outdoor bars.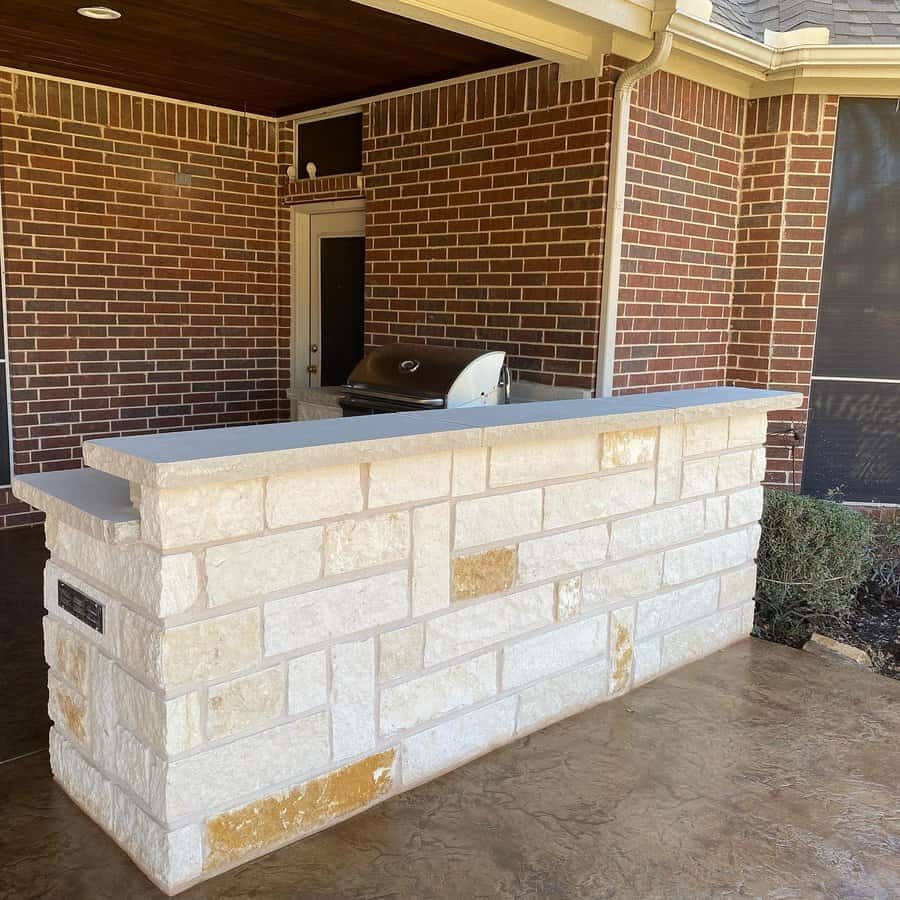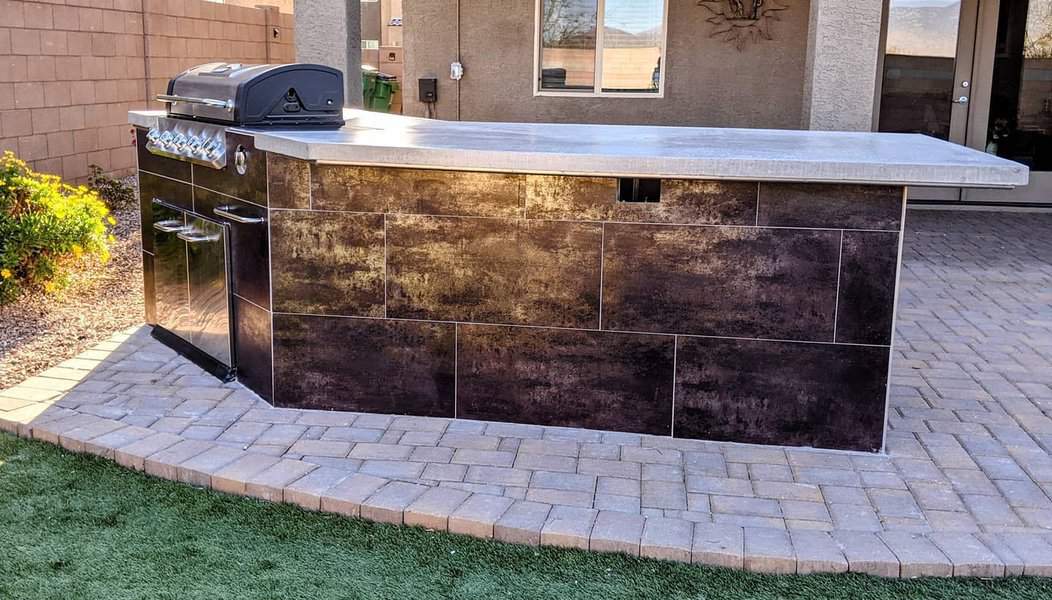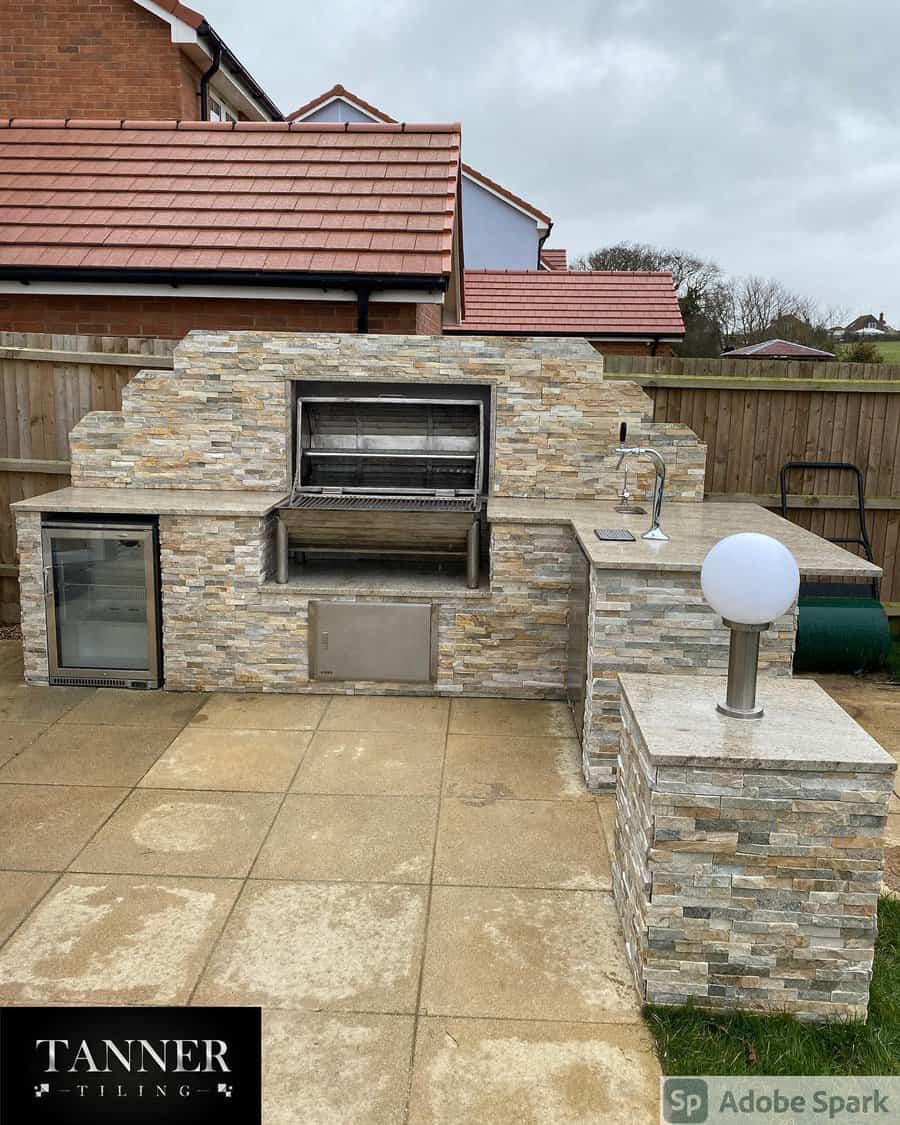 Aluminum and stainless steel elements are also a good call. It's important to install cabinets in your outdoor bar area, to avoid all the running around from the house to the bar, to fetch things. Wood and stainless steel cabinets are the most common choices for outside spaces.
11. Small
A comfortable bar with seating area for three should be at least 6 feet long, and about 16 to 20 inches wide for the bar counter.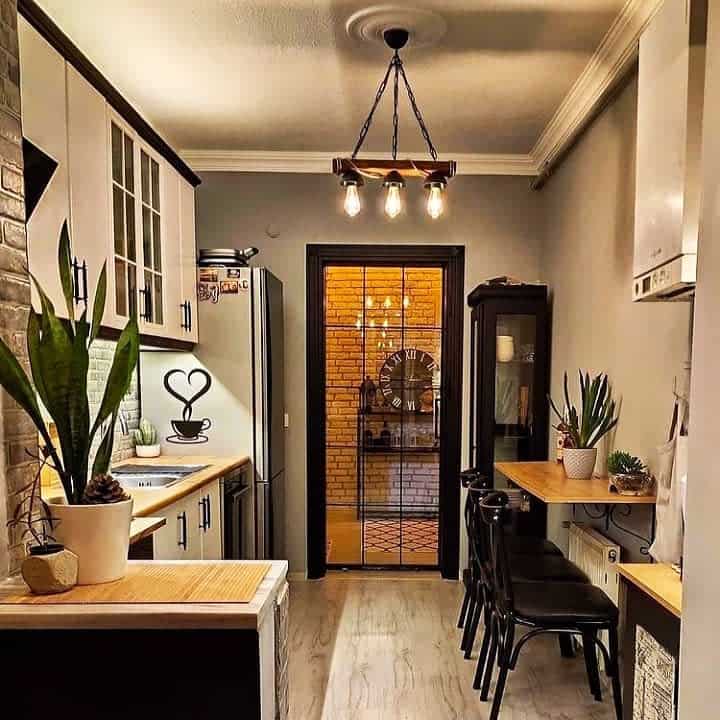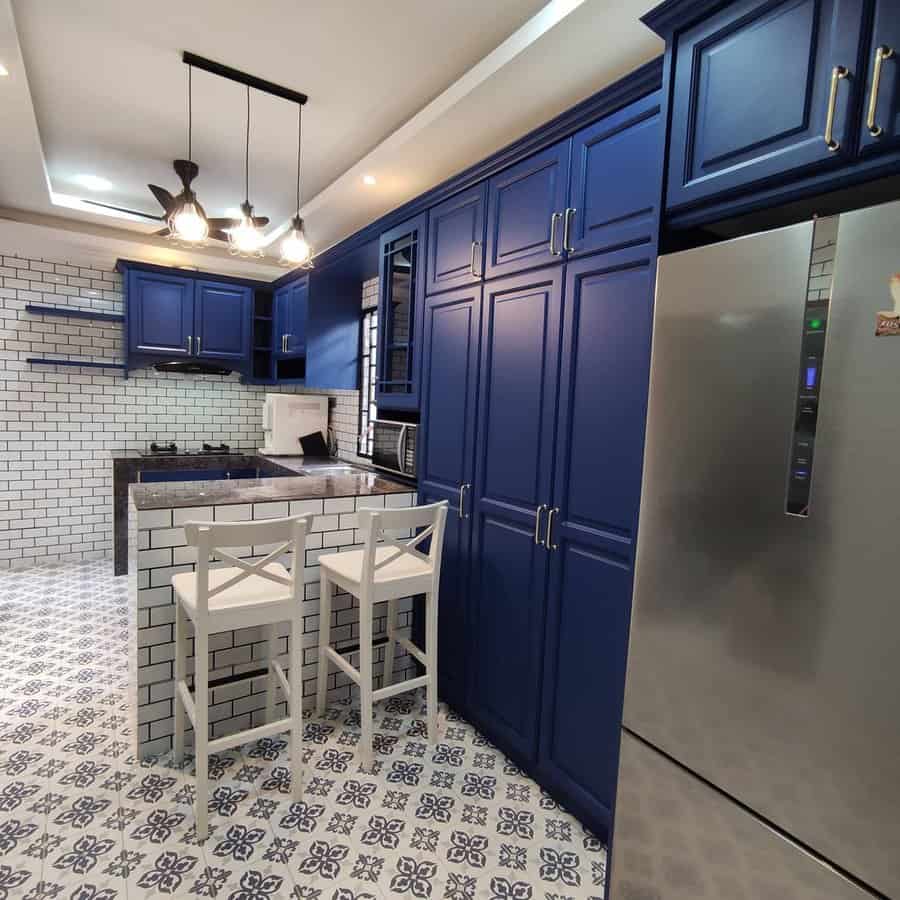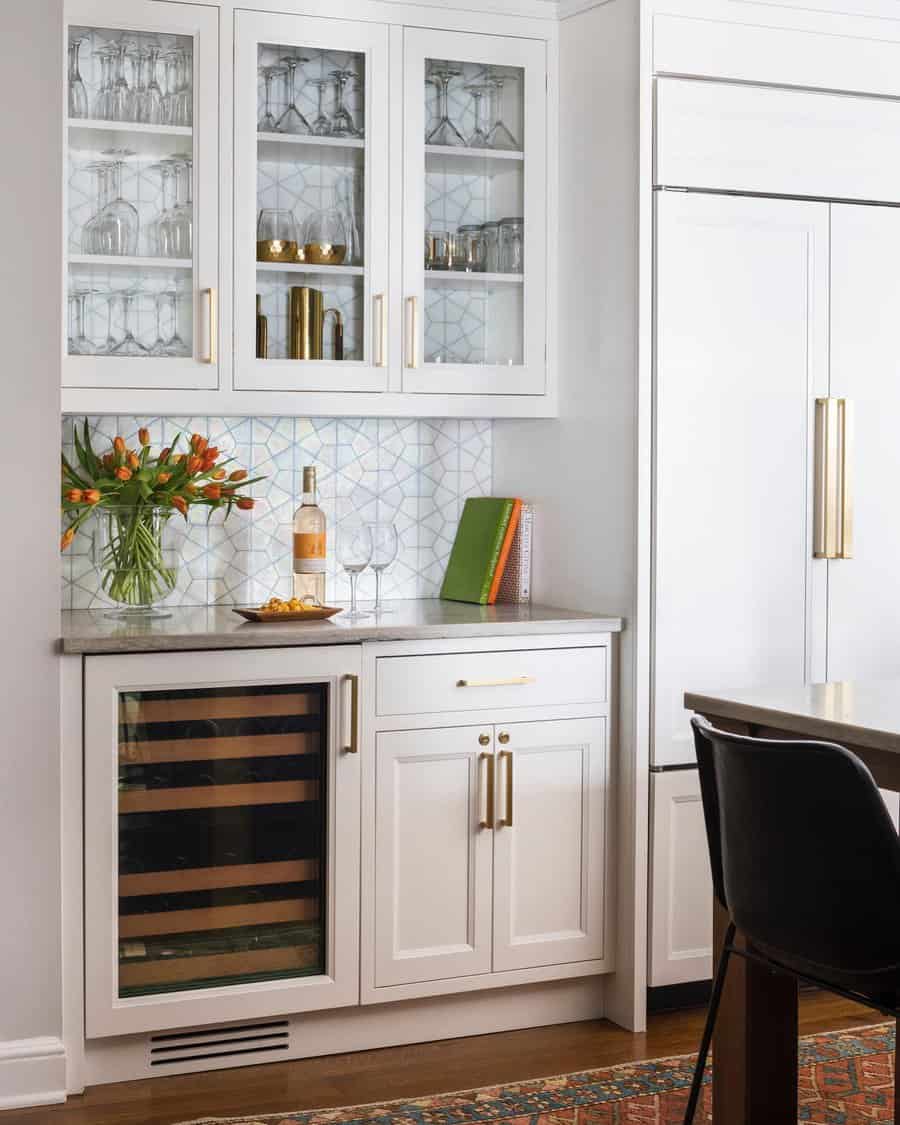 If your space is too small for a bar with seating, a bar cart is an option. Or you can create a dry bar with cabinetry and shelving in a cozy nook.
12. Wall Mounted
You don't need much for a wall-mounted bar, other than a beautiful wooden slab and some stools.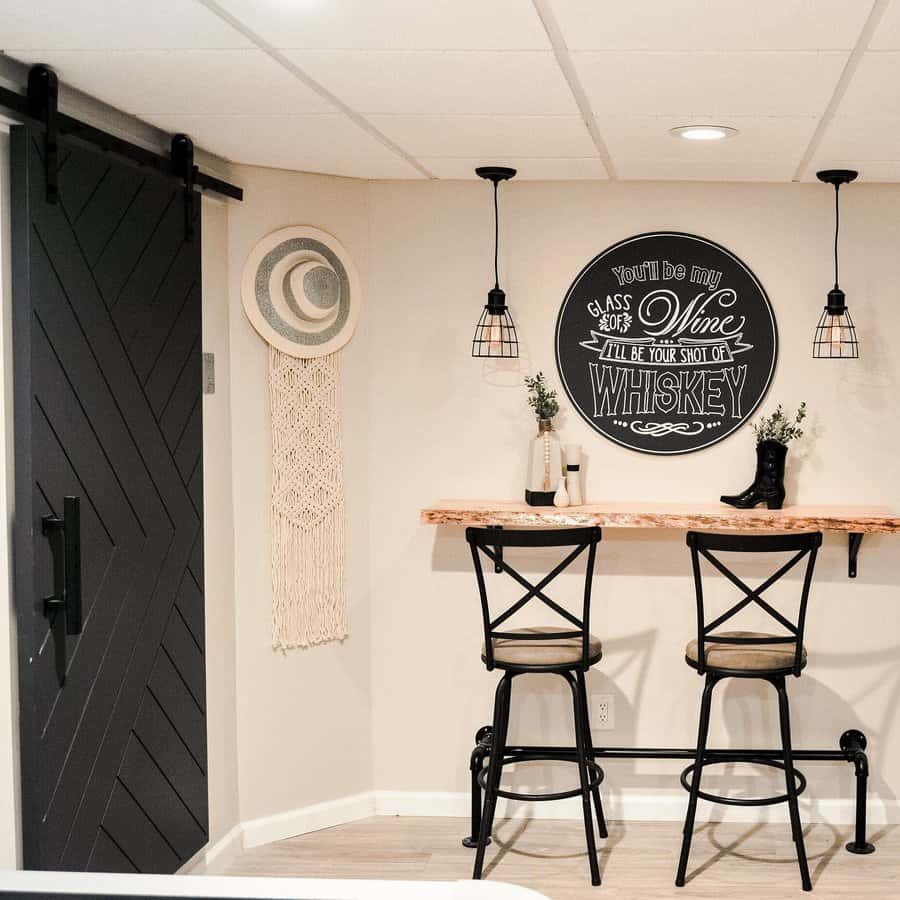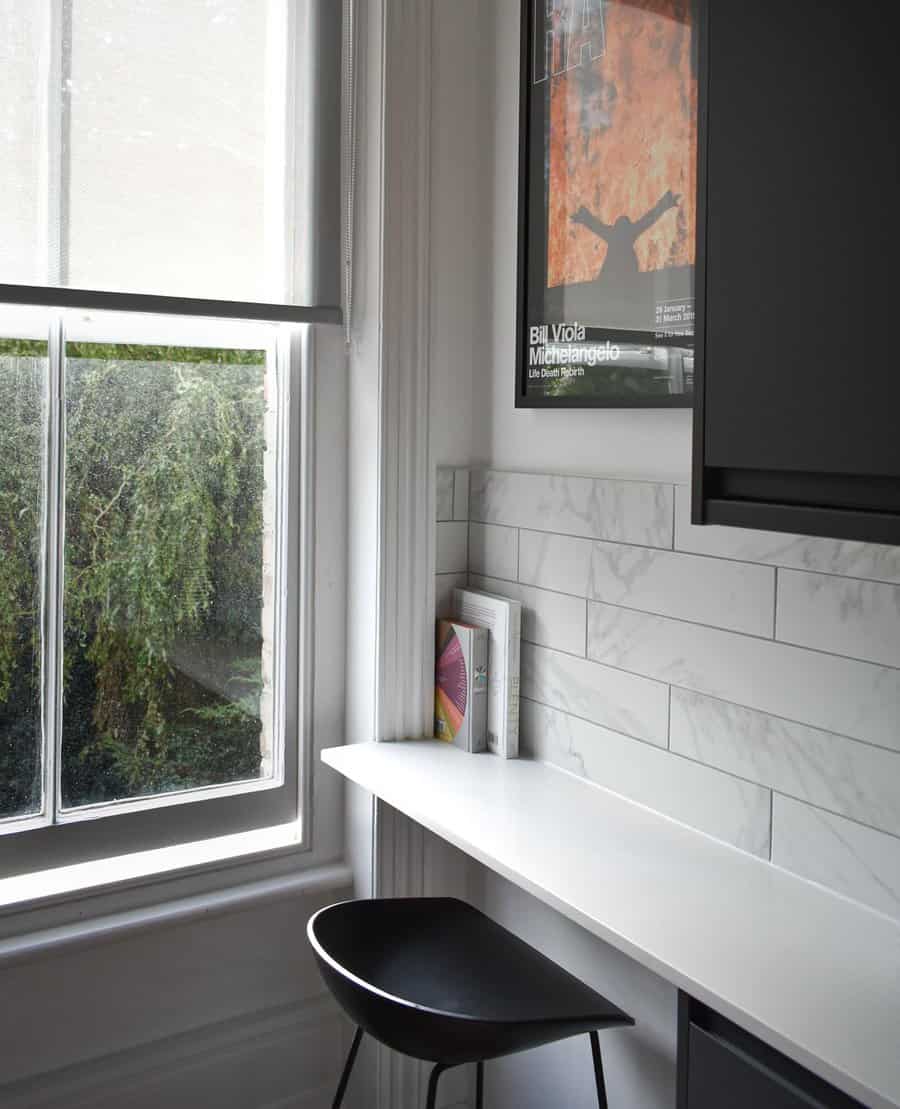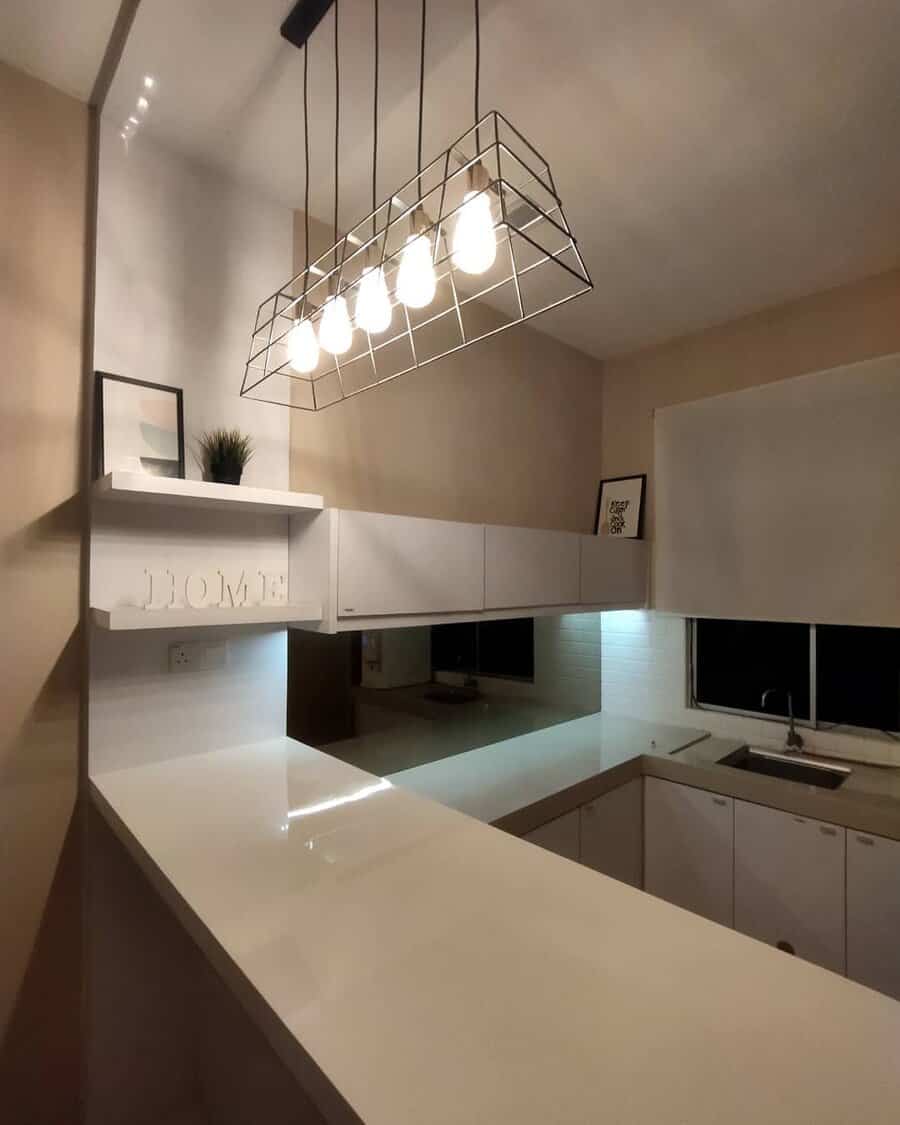 A murphy bar is also a great solution if you don't have enough room for a standing cabinet.
13. Wood
Natural décor and earthy colors complemented by wooden cabinetry provide a rustic feel to your bar area.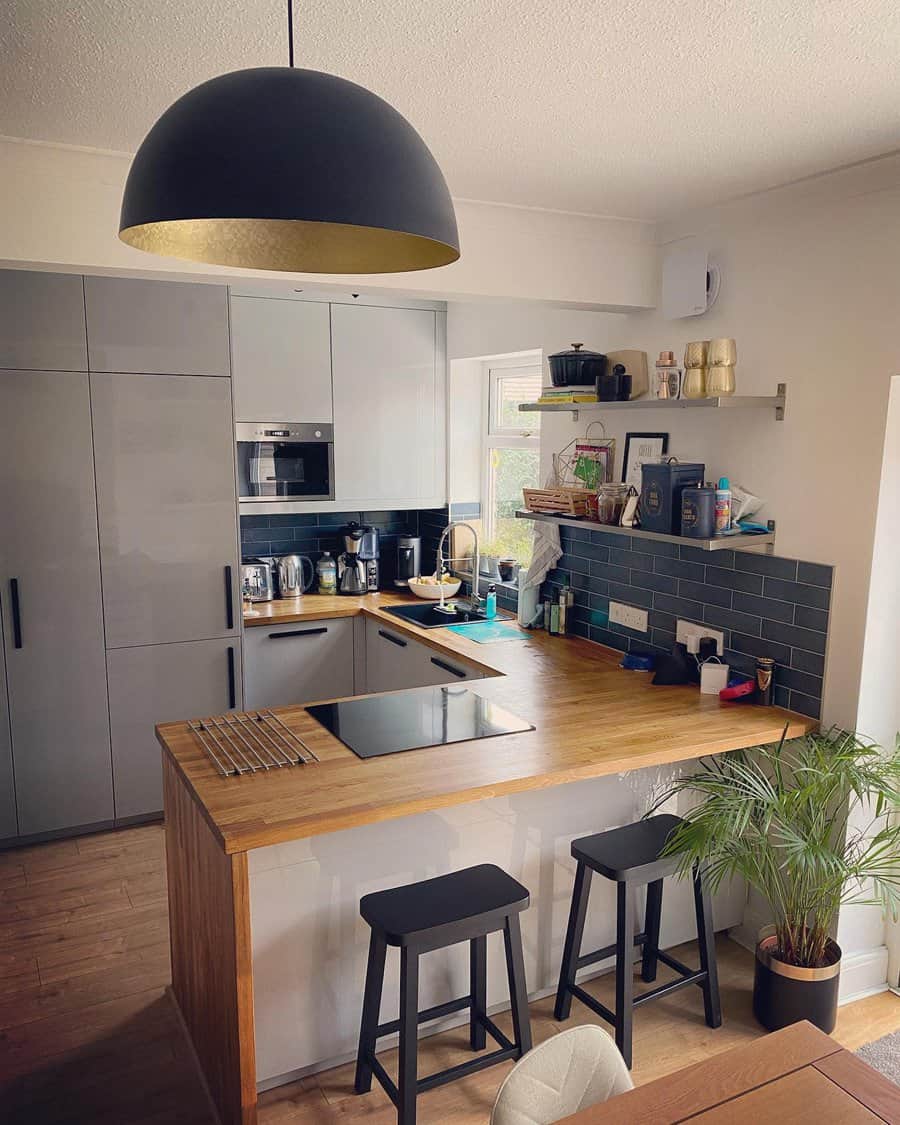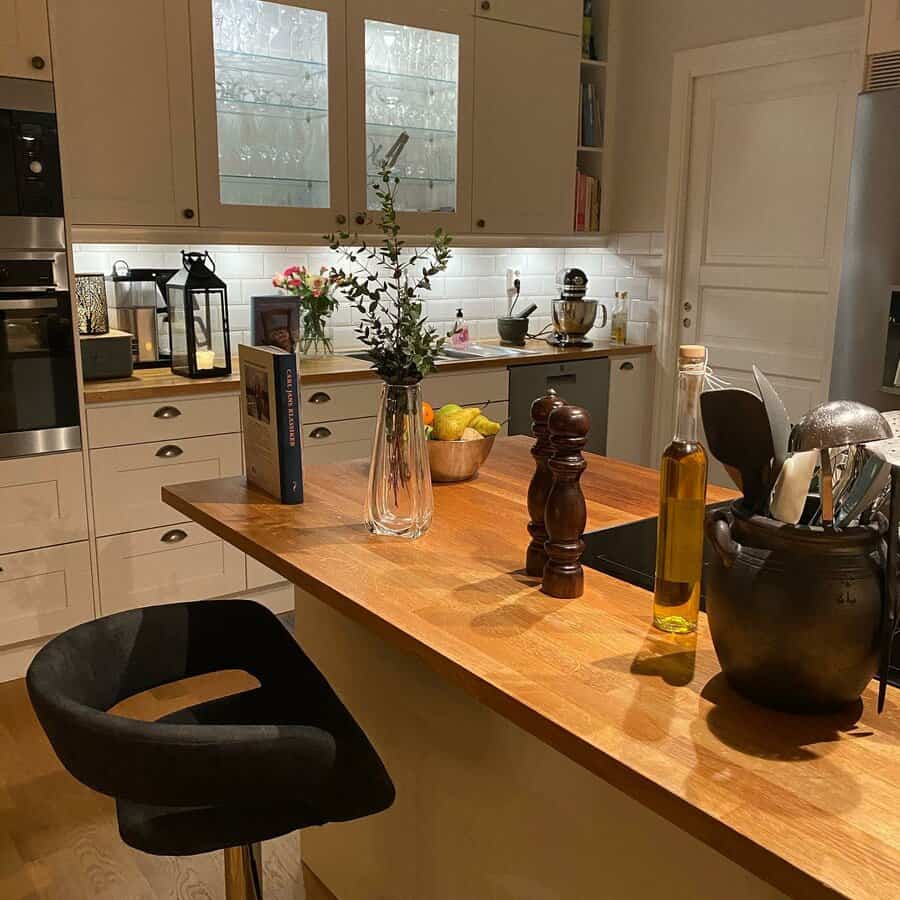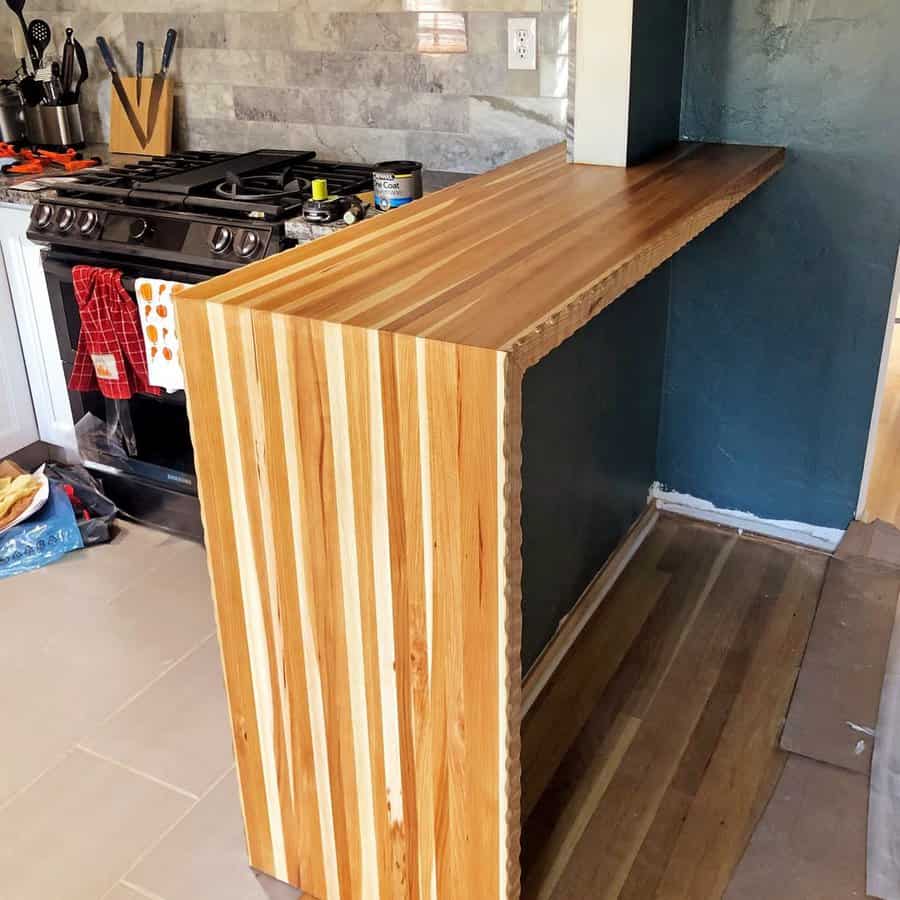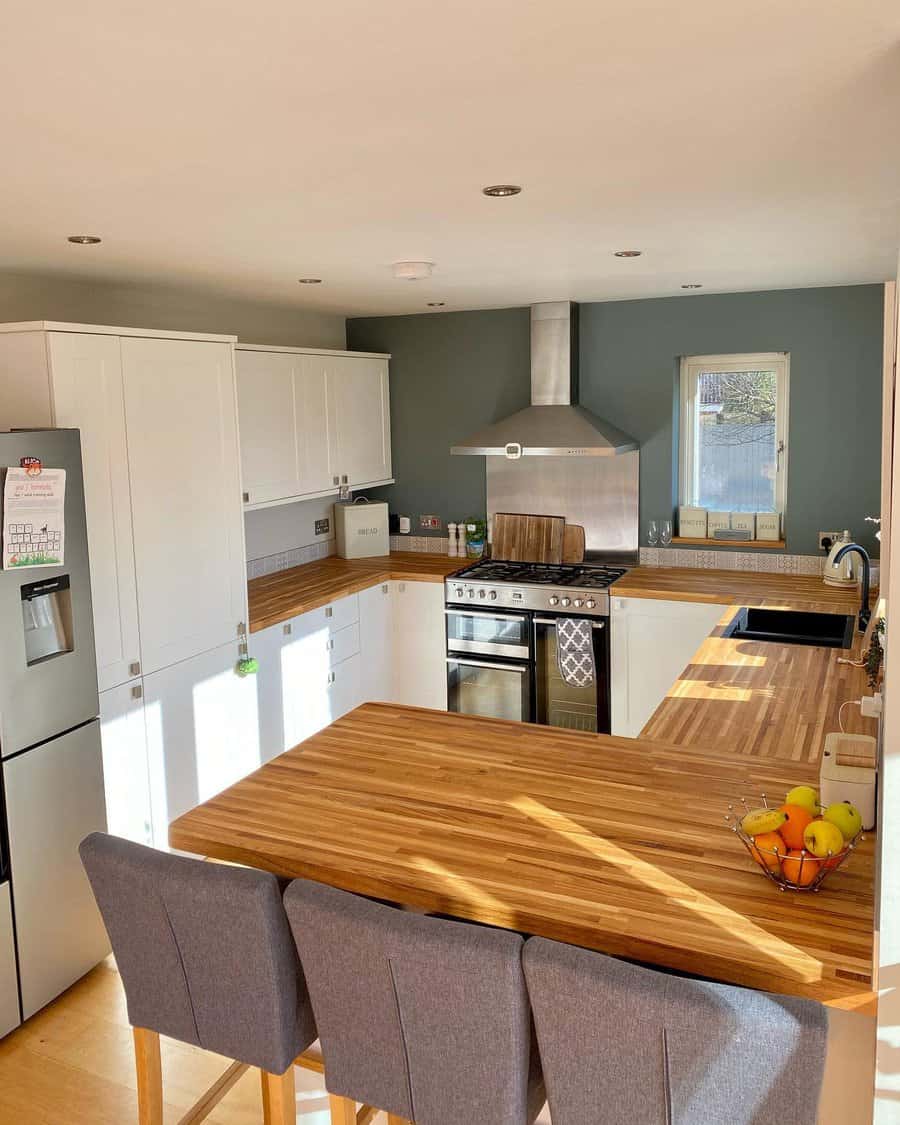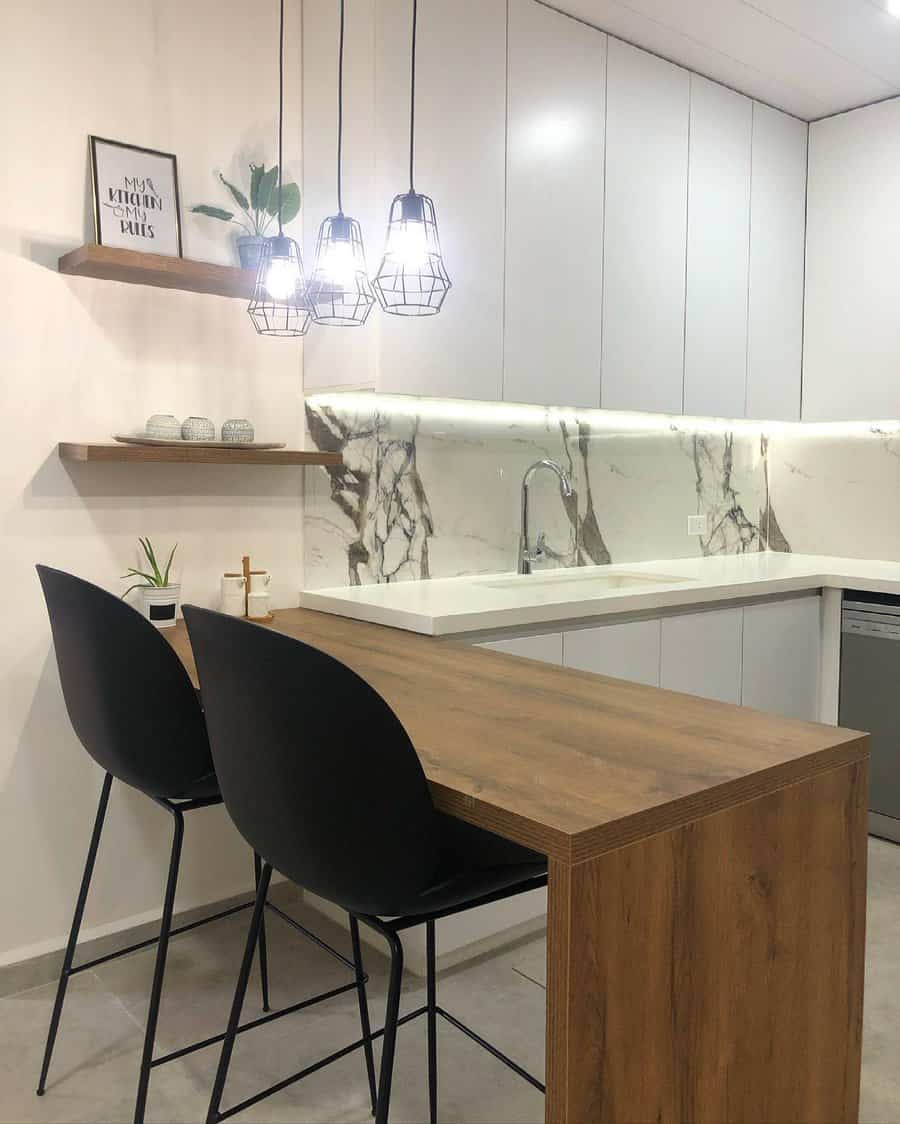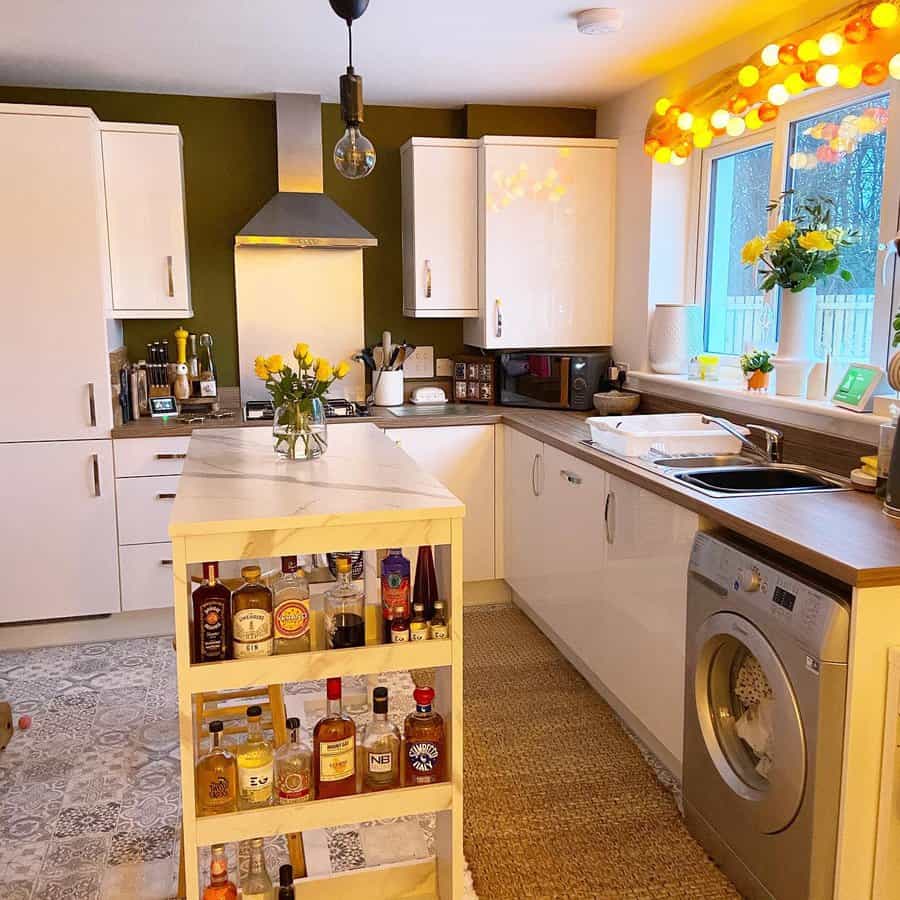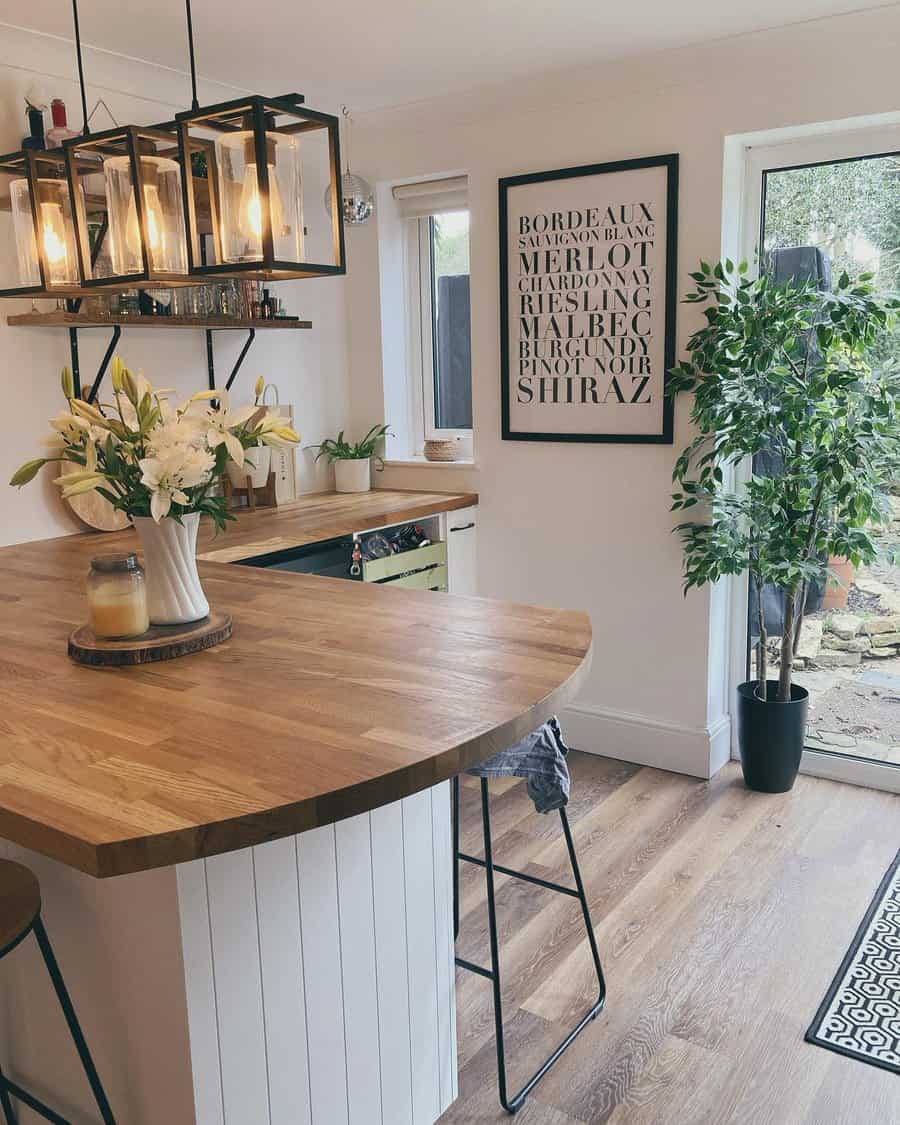 Dark wood cabinets, on the other hand, bring a classic touch and casual sophistication to a home bar. White countertops with dark wood cabinets are a perfect contrast, along with stainless steel beverage fridges.
FREQUENTLY ASKED QUESTIONS
Is soapstone a good option for outside bar countertops?
Soapstone is durable and incredibly long-lasting.  Contrary to marble, soapstone is non-porous, so it won't get stained by rain or bird droppings, which makes it the perfect material for outdoor bars. Another huge advantage is that this natural material also withstands winter temperatures.
It may be prone to scratches, which can be easily removed with light sanding or mineral oil.
Can I have a resin countertop in an outside bar?
Epoxy countertops can be used outside, as long as properly protected. Nevertheless, this type of material should not be exposed to direct sunlight for long periods, which is a downside.