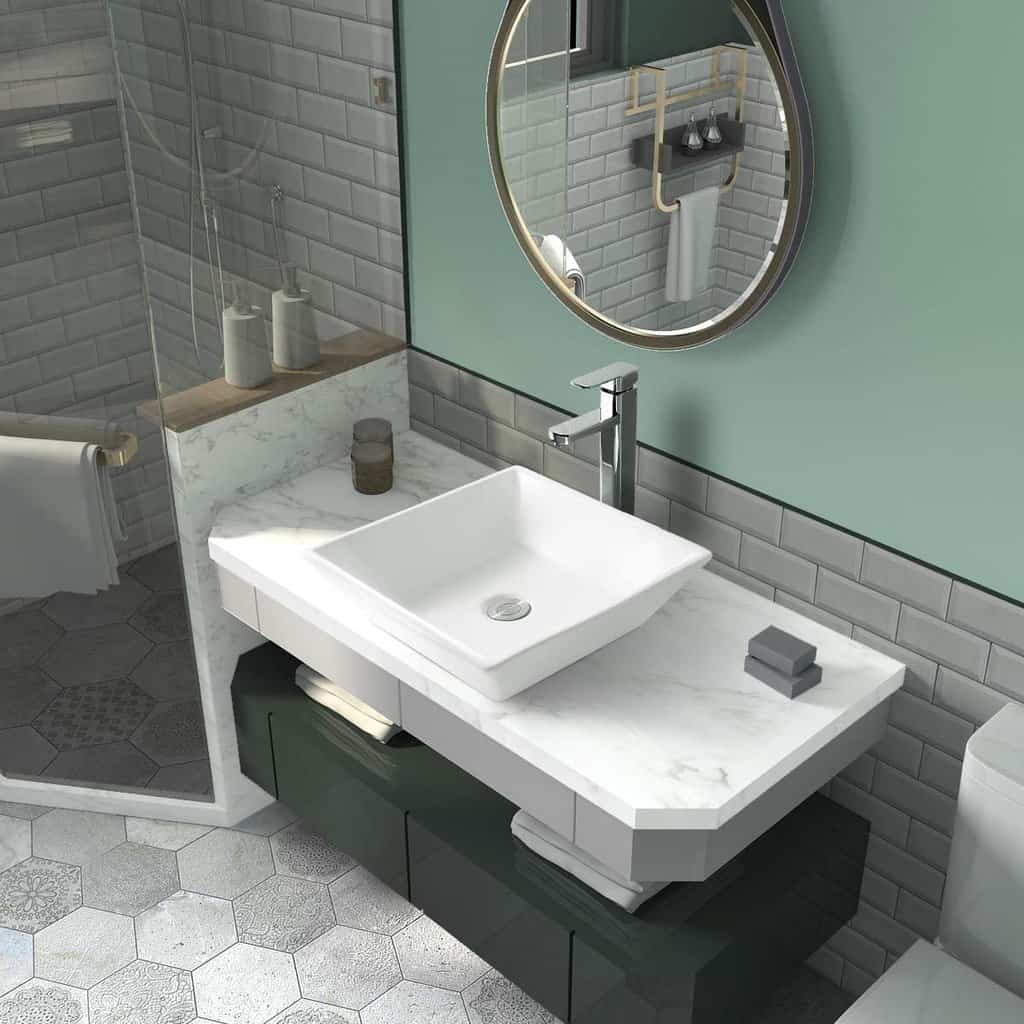 Trendey may earn a commission when you buy through links on our site.
As an Amazon Associate we earn from qualifying purchases.
Best Bathroom Sinks
You're remodeling your bathroom and focused on choosing the perfect tile, shower setup, and faucet hardware.
However, there's probably one element of your bathroom that you haven't thought about yet. The bathroom sink. It's often forgotten, and people choose a basic round or oval white sink. This is a missed opportunity.
The best bathroom sinks are both elegant and functional. These are some of the best bathroom sinks to add to your bathroom remodel.
Top Picks
Best Overall: VIGO Crystalline Circular Vessel Bathroom Sink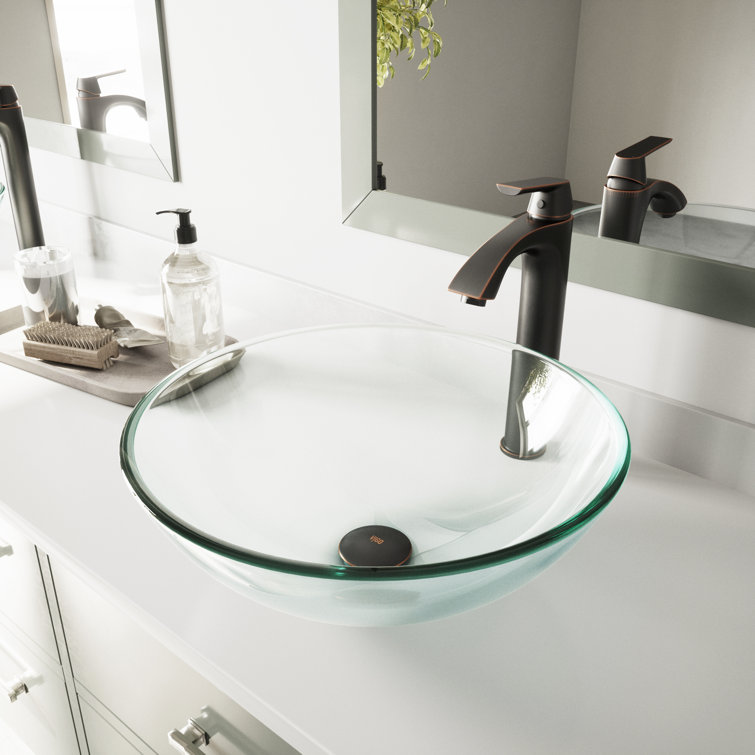 Specs:
Dimensions: 16.5 L x 16.5 W x 6.5 H inches
Style: Vessel
Material: Tempered glass
This modern glass vessel sink makes a statement in any bathroom as it gracefully sits on your bathroom vanity countertop. The half-inch thick crystalline glass gives the sink stability and strength while also creating an open feel in your bathroom. It is scratch resistant with a smooth interior, making it easy to keep clean.
The textured exterior adds dimension and design to the sink, creating visual interest. Pair this elegant bowl with a modern countertop-mounted faucet that's tall enough to extend over the edge of the bowl. The bowl shape of the sink helps it be plenty deep for washing your hands or face in it without splashing.
One potential drawback of this sink is that the glass has a green hue to it. However, this is pretty standard for thick glass. The glass can also develop water spots that can degrade the look of the sink.
Check Price
Best Budget Pick: Sinber Ceramic Vessel Sink
Specs:
Dimensions: 16 H x 16 W x 4.92 D inches
Style: Vessel
Material: Ceramic
This affordable ceramic square sink is small in size, but that's what makes it perfect for homeowners with a small bathroom and on a strict budget. You don't have to sacrifice quality with the solid ceramic construction with a crystalline glaze. The smooth surface is easy to clean and won't harbor bacteria or germs. The square shape and gently flared sides give the sink a modern feel that isn't too sleek. Its minimalist design won't distract from the other design elements in your bathroom. The manufacturer states that you can install this sink in nine simple steps, making it a DIY-friendly project for homeowners. The single-hole drain is located in the center. However, it does not come with drain hardware.
One potential drawback of this sink is the lack of consistency. Some sinks may have a slight curve to the sides. This can be an issue if you're looking for a perfect square. However, the slight curve can add an extra touch of elegance to the sink.
Check Price
Best Floating Pick: Juniper Stone Wall-mounted Vessel Sink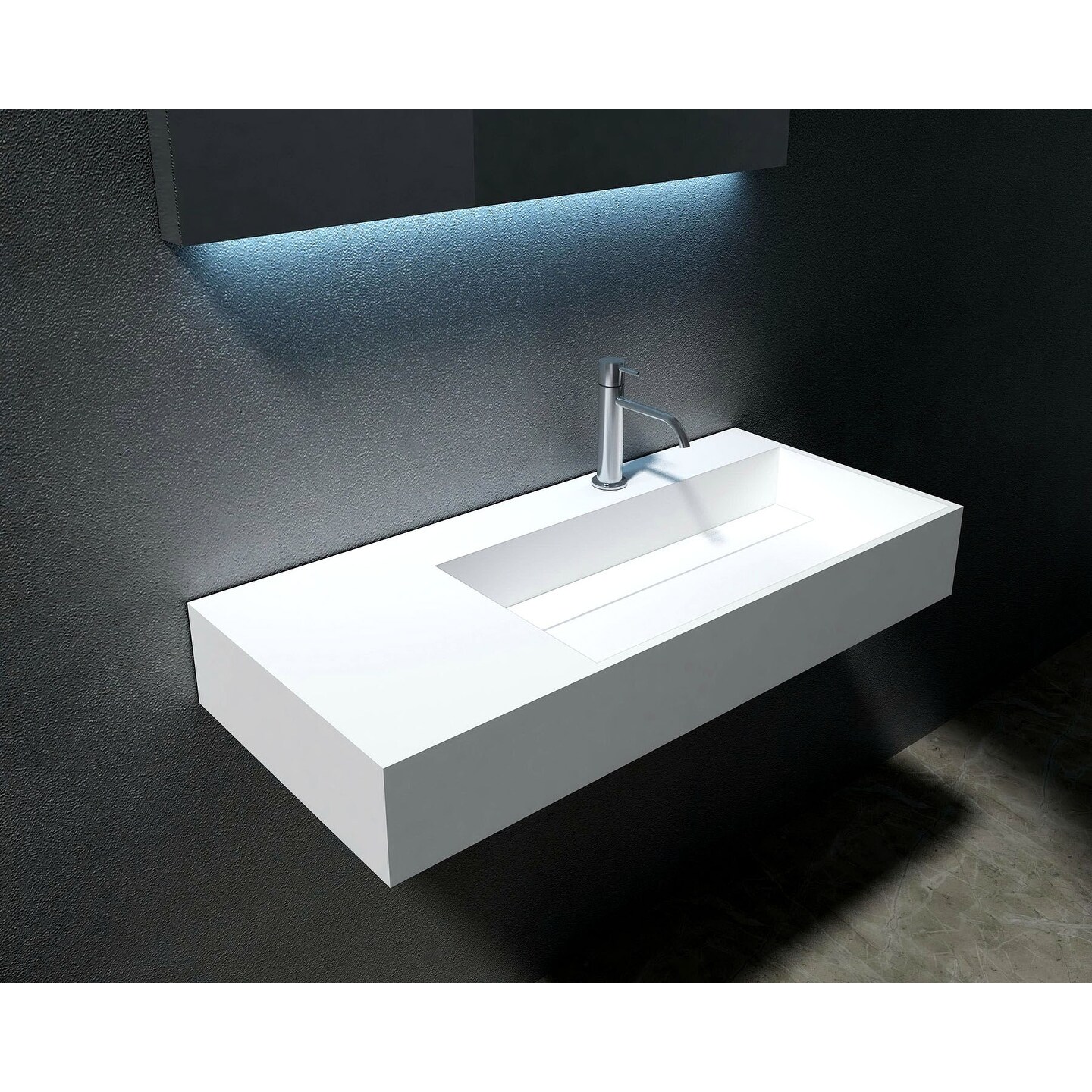 Specs:
Dimensions: 88.7 L X 9.8 H X 23.6 D inches
Style: Wall mount
Material: Composite stone
Mount this floating sink and vanity on your bathroom wall and have a sleek and modern design. The floating design eliminates the bulk underneath, creating a more open design in the bathroom and giving you additional storage space. With the vanity and sink combined, installation becomes simple. It's also easier to keep everything clean. Choose from three colors for your stone sink, gray, white, and black. The surface of the stone is stain, fade, and scratch-resistant. What's nice about this sink are the many setup options, including both left and right positioned and double basins.
One potential issue with this sink and vanity combo is that the countertop is completely flat. If water gets on the countertop, it will run off and get the bathroom floor wet. It also has a narrow slot for the drain, which can easily get clogged.
Check Price
Best Premium Pick: Trough Concrete Rectangular Bathroom Sink
Specs:
Dimensions: 48 L x 19 W x 5.5 H inches
Style: Drop-in
Material: Concrete
Give your bathroom an industrial feel with this concrete trough sink. Instead of having two separate sinks, this single long sink will give you and another person plenty of room for washing at the same time. Choose from ash, charcoal, earth, pearl, or slate for the color of your sink. You can also choose from a single, double, or no faucet mount hole. You'll drop it into the hole to install the sink, with a raised lip rest on the countertop around the edge. Then, pair your sink with black hardware to continue the industrial look. Or dress it up with gold or nickel plumbing hardware.
One drawback of this sink is that it is not perfectly smooth. There are some rough spots or pits, which can make cleaning the sink harder. This should be expected because it is made from concrete, which typically does not have a perfectly smooth surface. You will want to be careful about cleaning your sink because concrete can be susceptible to stains.
Check Price
Best Pedestal Pick: Memoirs Stately Pedestal Bathroom Sink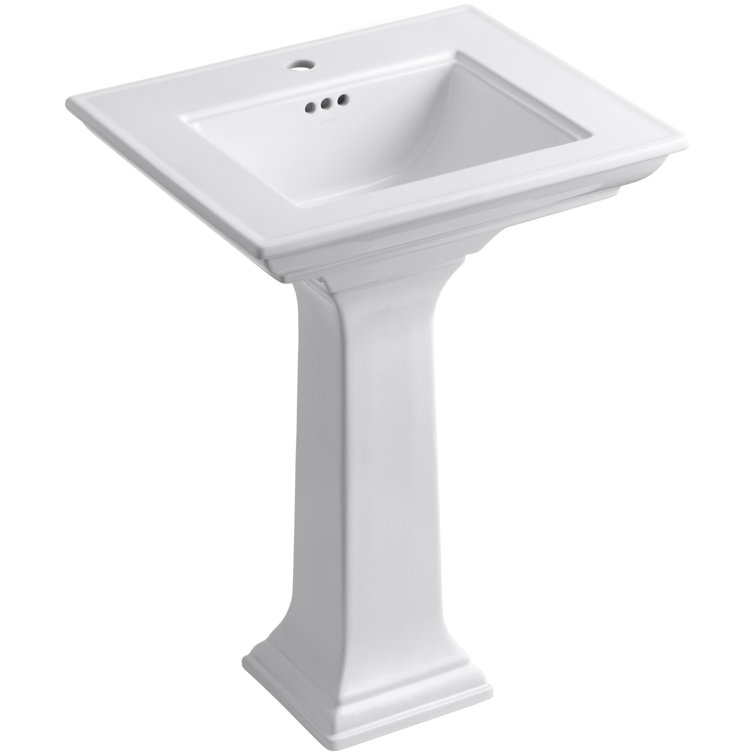 Specs:
Dimensions: 24.5 L x 20.5 W x 34.75 H inches
Style: Pedestal
Material: Fireclay
This classically designed pedestal sink will be a perfect accent to a small bathroom. It comes in several colors: white, biscuit, black, almond, cashmere, dune, thunder gray, ice gray, sandbar, and Mexican sand.
The tapered design of the basin as it turns into the stand is large enough to hide the plumbing without being too bulky. This sink stands out because you can choose your faucet first and then buy the sink with the holes to match. There are single, 4-inch center, and 8-inch center options.
Unlike other pedestal sinks, this one has an impressive amount of vanity space around it. This gives you enough room for soap, toothbrushes, and some other small toiletries.
The traditional styling gives the sink a classic appeal that helps it to look at home in a wide variety of interior design styles. Unfortunately, the sink and surrounding area can develop hairline cracks.
Check Price
Best Minimalist Pick: Kohler Verticyl Traditional Bathroom Sink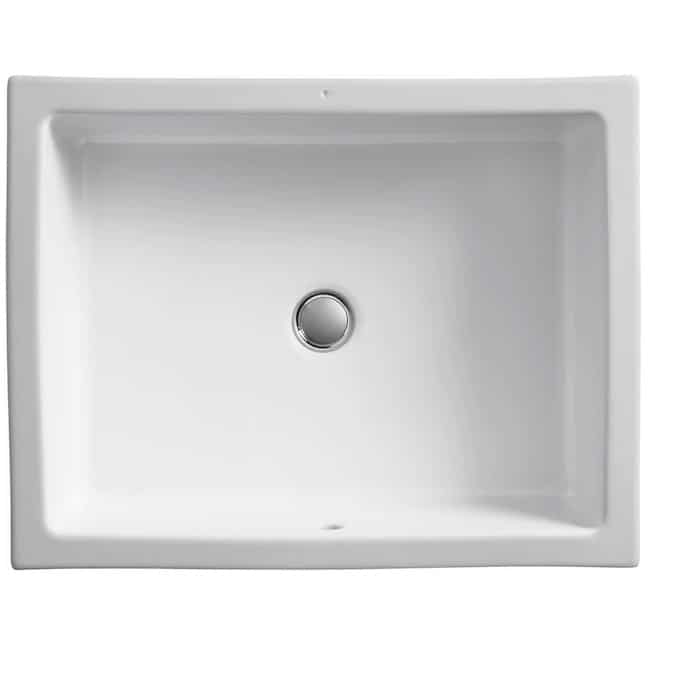 Specs:
Dimensions: 19.8125 L x 14.375 W x 6.75 H inches
Style: Undermount
Material: Vitreous china
This rectangle undermount sink is the definition of low profile. It features a strong geometric shape with crisp corners and a flat bottom. It has a centrally located drain and an overflow drain to prevent the sink from overfilling.
The simple and clean design of this sink gives it a sophisticated feel. You can pair it with almost any countertop, and it will look good. Because it's vitreous china, it has a thick and durable enamel coating on the basin side. This makes the sink resistant to stains, chipping, cracking, scratching, or fading.
One thing to note about this sink is that it does not come with faucet holes. You'll need to have enough room on your countertop to install the faucet here instead of through the sink. The perfectly flat bottom can also require more maintenance to keep it clean.
Check Price
Best Vessel Pick: DeerValley White Ceramic Rectangular Vessel Bathroom Sink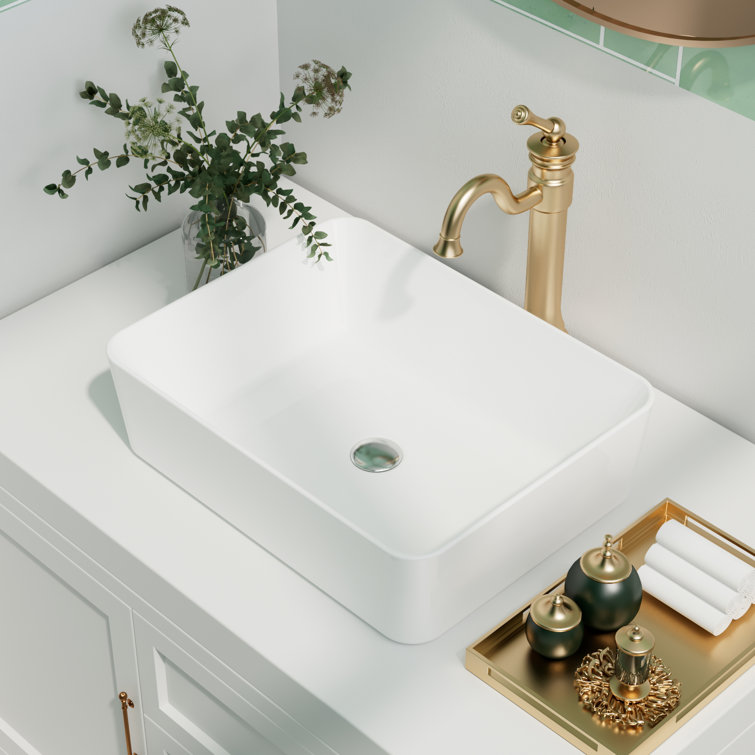 Specs:
Dimensions: 18.7 L x 14.75 W x 5.12 H inches
Style: Vessel
Material: Ceramic
Place this sink on top of your countertop with this ceramic white vessel sink. Its elegant design will update the look of your bathroom. It's made from durable ceramic so that it will resist staining, fading, and scratching. In addition, the smooth surface of the sink makes it easier to clean.
A standout feature of this sink is the softly rounded corners. This prevents dirt and bacteria from building up in the corners.
Because it's a vessel sink, you'll mount the faucet in the counter. The deep sides are just over five, so you will need a tall enough faucet to reach over. It should also extend far enough into the sink to prevent accidental splashing.
One complaint about this sink is that it does not come with a drain stop. You'll need to purchase one separately. However, the hole for the drain is tapered to prevent leaks.
Check Price
Best Undermount Pick: Caxton Vitreous Undermount Bathroom Sink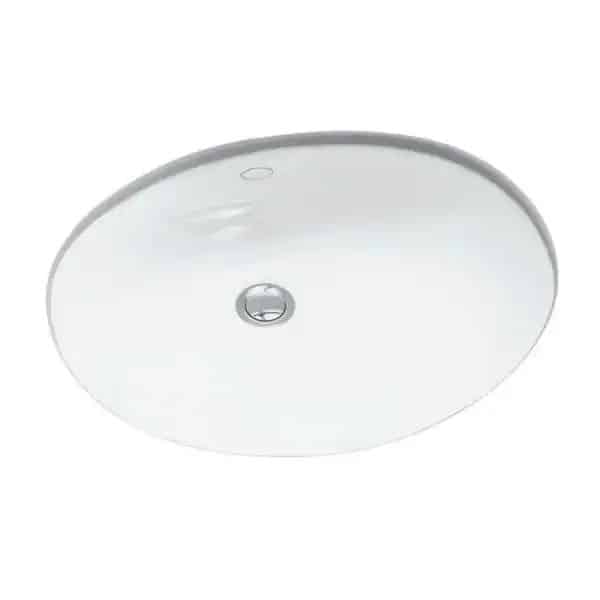 Specs:
Dimensions: 19.25 L x 16.25 W x 7.5 H inches
Style: Undermount
Material: Vitreous China
If all you need is a replacement for your standard undermount sink, then this is a perfect option. It comes in classic white or a cream-colored off-white. You will install the sink from underneath the vanity countertop. You'll find the top easy to clean with the smooth glazing. The underside of the sink is not glazed.
Vitreous china has a special enamel coating process that helps to make the sink shinier and more durable. Because the sink mounts underneath the counter, it's easier to clean the counter and wipe any water into the sink. Because the sink is an undermount design, you don't have to worry about matching your faucet to it.
One potential issue with this sink is that the drain hole is unusually far back. This can present a challenge when installing the sink in your countertop. The oval shape can look a bit outdated.
Check Price
Best Modern Pick: Swiss Madison Concorde Rectangle Ceramic Vessel Sink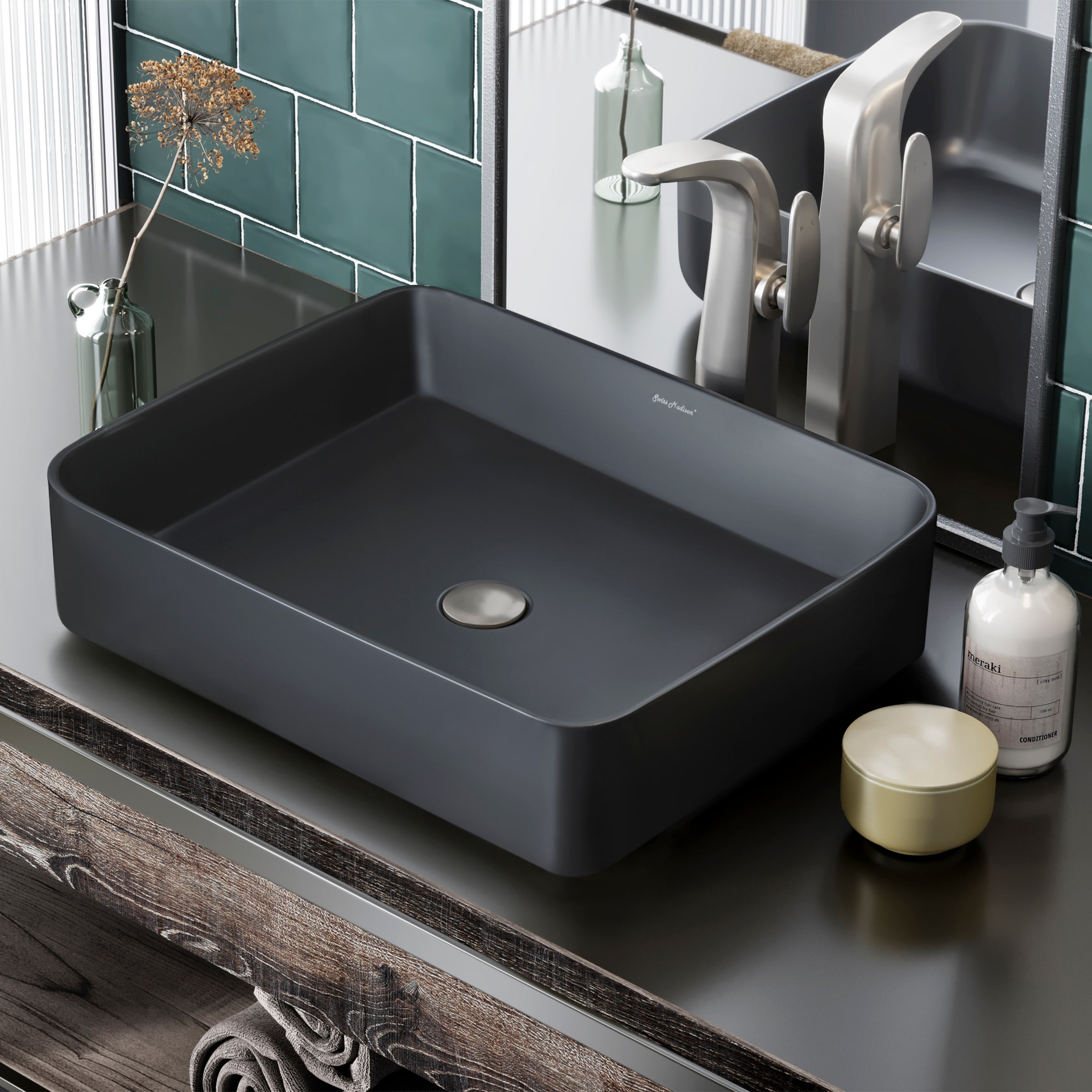 Specs:
Dimensions: 20 L X 16 W X 4.3 H inches
Style: Vessel
Material: Ceramic
Do something different in your bathroom with this bold black vessel sink in a rectangle shape with rounded corners. Its styling gives it a uniquely modern design with a flat bottom and refined sides. The matte black finish stays in line with the modern styling and prevents the sink from looking outdated.
The ceramic material is durable, easy to clean, non-porous, and scratch-resistant. The above-the-counter installation makes it simple to choose the perfect countertop t coordinate with your new sink. Contrast your black sink with bright gold or silver hardware. Or you can create a monochromatic look with matching matte black hardware.
One drawback of this sink is that it's black. This can be off-putting for some people because it's hard to tell if the sink is really clean like you can with a white one. It's also on the shallow side with a four-inch depth. However, the sink is quite sizable in length and width, so there's a reduced chance of splashing outside of the sink.
Check Price
Best Vintage Pick: Claire Ceramic Console Sink White Basin Gold Legs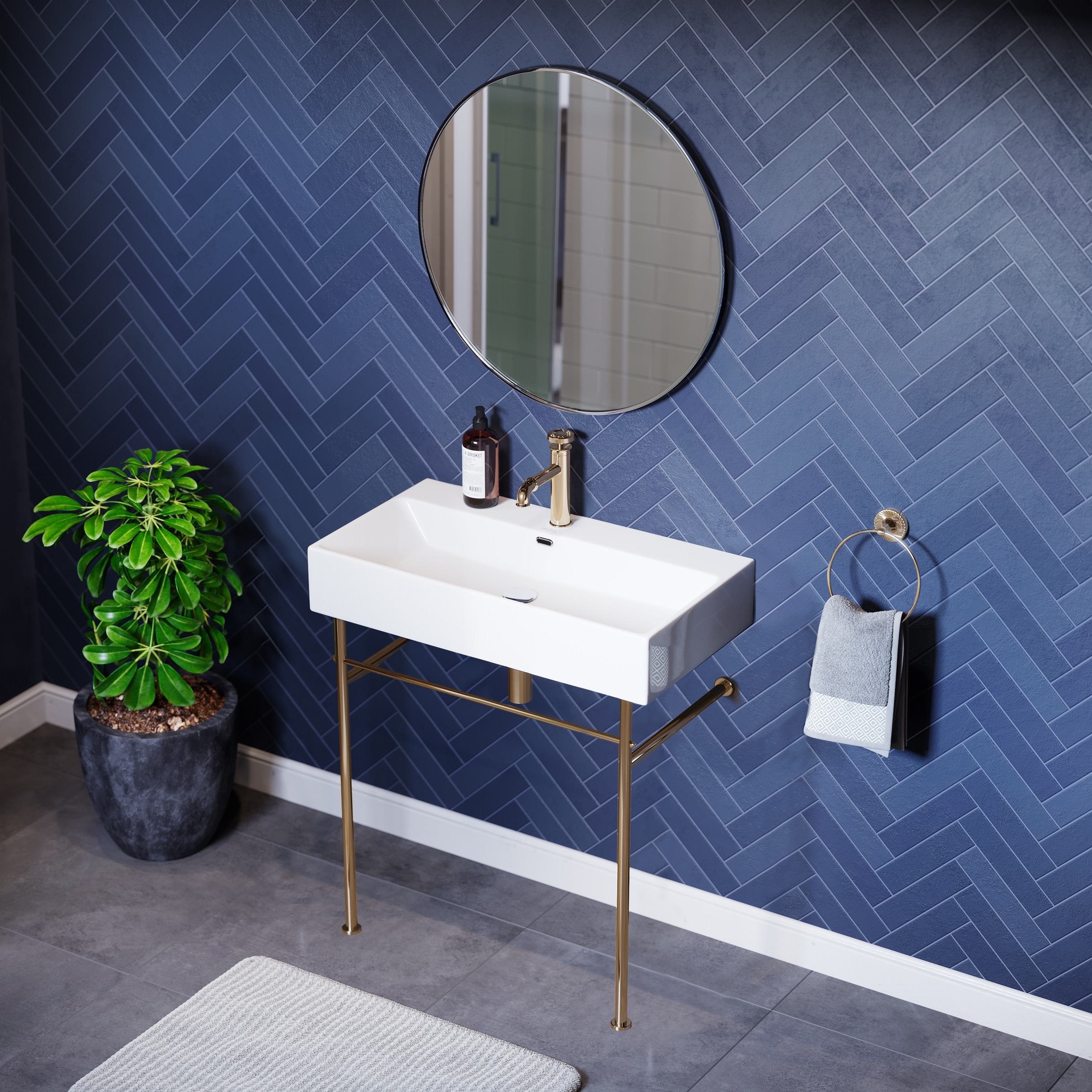 Specs:
Dimensions: 23.62 L X 16.53 W X 35.43 H inches
Style: Dual, Pedestal
Material: Ceramic, Stainless Steel
Replace your entire vanity with this wall-mounted basin that comes with a gold frame and legs. It's the perfect piece for adding a vintage touch to your bathroom. The large ceramic sink has a rectangular shape that looks similar to a vintage work basin. It's then paired with a stainless steel frame that has a brushed gold finish.
This sink combination is perfect for a small bathroom but can look just as beautiful in a larger bathroom. There are several sizes available, from 24 to 40 inches in length. It comes with a hole ready for faucet installation. A gold vintage-styled faucet would be the perfect matching accent.
The biggest problem with this sink is that it lacks vanity counter space. This makes it less than ideal for a master bathroom but better suited for a guest bathroom or half bath. You'll also want to invest in specialty plumbing underneath the sink, or the standard PVC pipe will detract from the aesthetic.
Check Price
How to Choose a Perfect Bathroom Sink?
Mounting Style
An undermount and drop-in sink are the most common types of sinks. They get fitted into a hole in your countertop. These are good if you aren't replacing the entire vanity but looking to fit a new sink into an existing countertop. An integrated or console sink is a single unit that is one piece for the sink and the countertop. These are good if you want to create a minimalist look or replace the sink and countertop. A vessel sink sits on top of the countertop, making it ideal for making a statement. Finally, pedestal sinks stand on their own base and are best for small bathrooms.
Size
There is no standard single size for bathroom sinks. However, most sinks are typically between 16 and 20 inches in diameter. Rectangle sinks need to be between 19 and 24 long and 16 to 23 inches deep to give you enough space for comfortable use. Additionally, you need to consider the depth of the sink. Sinks between 5 and 8 inches deep are the most comfortable to use. Too shallow, and water will splash out all over the bathroom. Too deep, and it can be awkward to wash your face in.
Shape
Generally, choosing a shape is purely about personal preference. However, if you are replacing a sink, then make the project easier on yourself by choosing a sink that's the same shape as the sink you removed. Consider the size and shape of your bathroom countertop when choosing your sink shape. If space is limited, consider a long and narrow rectangle or a triangle shape that can fit into a corner.
Construction Material
Traditional sink materials are ceramic, porcelain, vitreous china, and fireclay. They give your sink a classic white look. If you want to make a bold statement with your sink, then consider a sink made from natural stone, metal, or glass. When choosing a stone, it should be non-porous so that it does not harbor bacteria. Be careful of stones that stain easily. Metal sinks should be made of metal that won't corrode. Stainless steel, nickel, brass, cast iron, and copper are popular.
Faucet Compatibility
Don't forget about the faucet you plan to install with your sink. The size, shape, and design of the faucet can influence the sink that you buy. Faucets can have one, two, or three parts. This means you need the matching one, two, or three holes. Undermount and vessel sinks do not have mounting holes. You need a faucet that looks proportional to the sink. The faucet needs to extend far enough out into the sink to make it comfortable to use without being in the way. The handles need to comfortably fit in the space on the countertop.
Conclusion
Our top pick for the best bathroom sink is the elegant Crystalline Circular Vessel Bathroom Sink. Its glass construction and vessel design give t a modern feel while also being durable and easy to keep clean.
For a more affordable option, the Sinber Ceramic Vessel Sink is small and sturdy. The square shape gives it a unique shape that adds style. While the ceramic construction ensures it's durable.
FAQs on Bathroom Sinks
What is a good size for a bathroom sink?
If you're adding a round sink to your bathroom, then aim for the average size of 16 to 20 inches. Smaller than 16 inches and it will feel too small, making it difficult to wash your hands and face in it. Rectangle sinks are typically between 19 and 24 inches wide and 16 to 23 inches in length. The basin of your sink should be at least 5 inches.
What is the difference between a sink and a vanity?
The bathroom vanity is the sink, countertop, and any other elements in this general area of the bathroom. This could include an enclosed storage unit that encases the plumbing below the sink. It can also include the mirror hung on the wall above the countertop. The sink is just one element in the vanity.
Do double sinks add value?
Double sinks in your master bathroom will add value to your home. It makes the home more desirable for those who live with their partner. It makes the home more practical because two people can utilize the bathroom simultaneously.