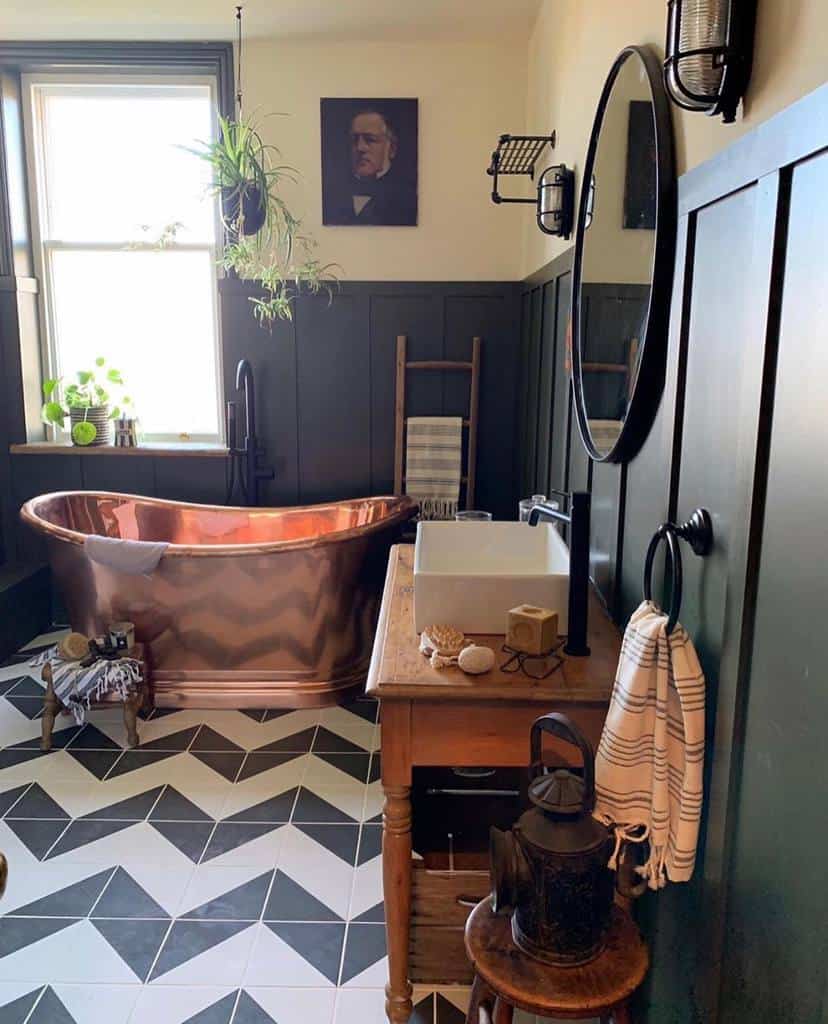 35 Small Bathroom Ideas on a Budget
A bathroom makeover is challenging enough when you have a small bathroom. Add a tight budget to the equation, and you could be left wondering what options exist for creating a fabulous new space.
Fortunately, there are hundreds of small bathroom makeover ideas that can transform your bathroom without draining your bank account. Check out our top 35 small bathroom ideas on a budget and see how to stretch your dollars into an amazing small space.
1. Bathtub
The shower and bathtub are the biggest fixtures in your bathroom and if they're an eyesore, it really stands out. Before investing in bathtub replacement or reglazing, try deep cleaning to reduce the appearance of any scratches or stains. Find out what type of shower or tub you have before using abrasive cleaners such as Comet or Ajax.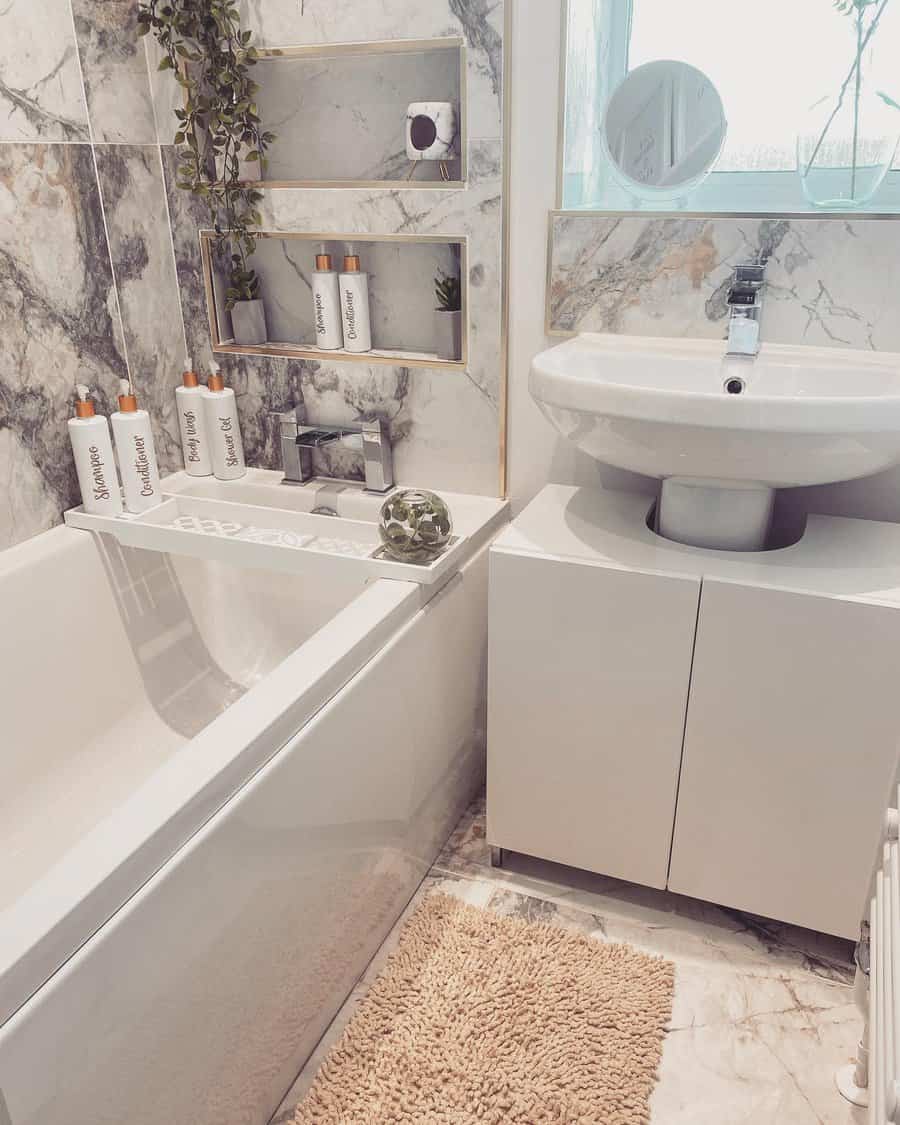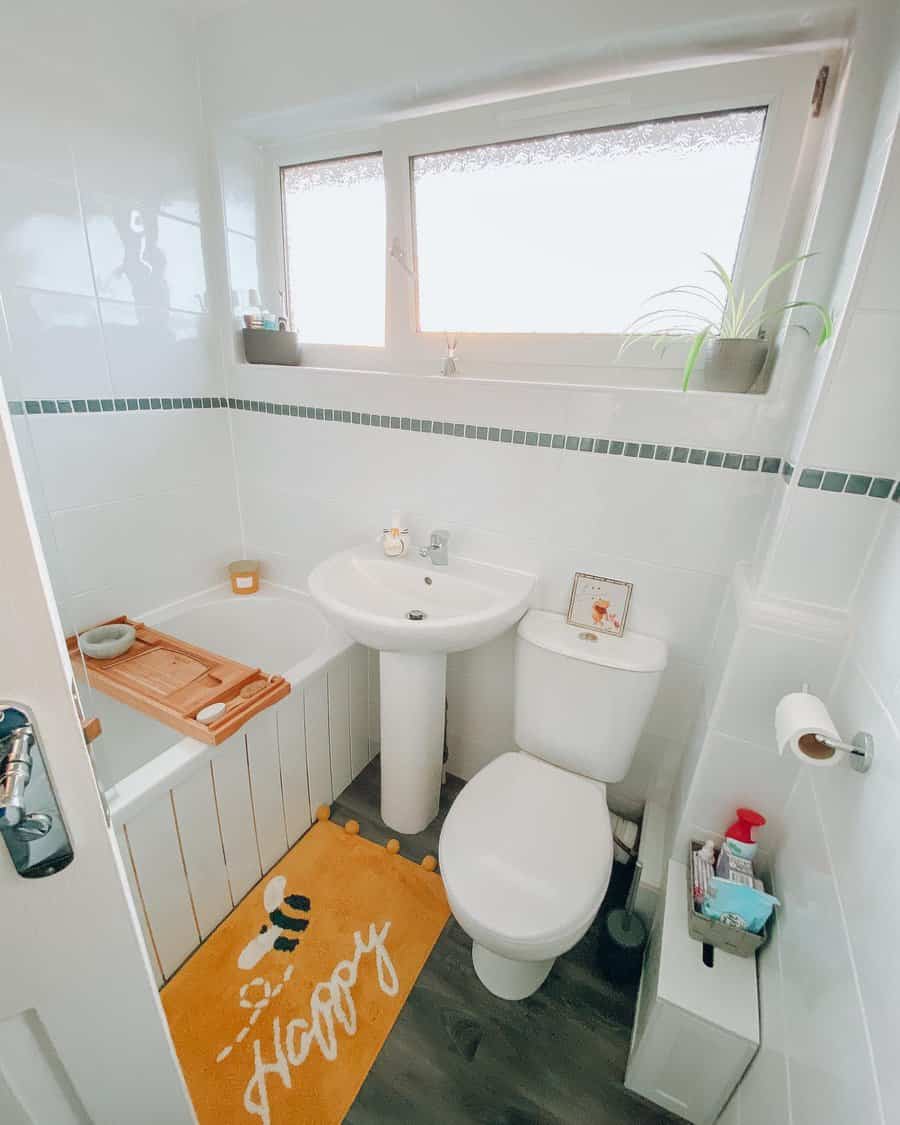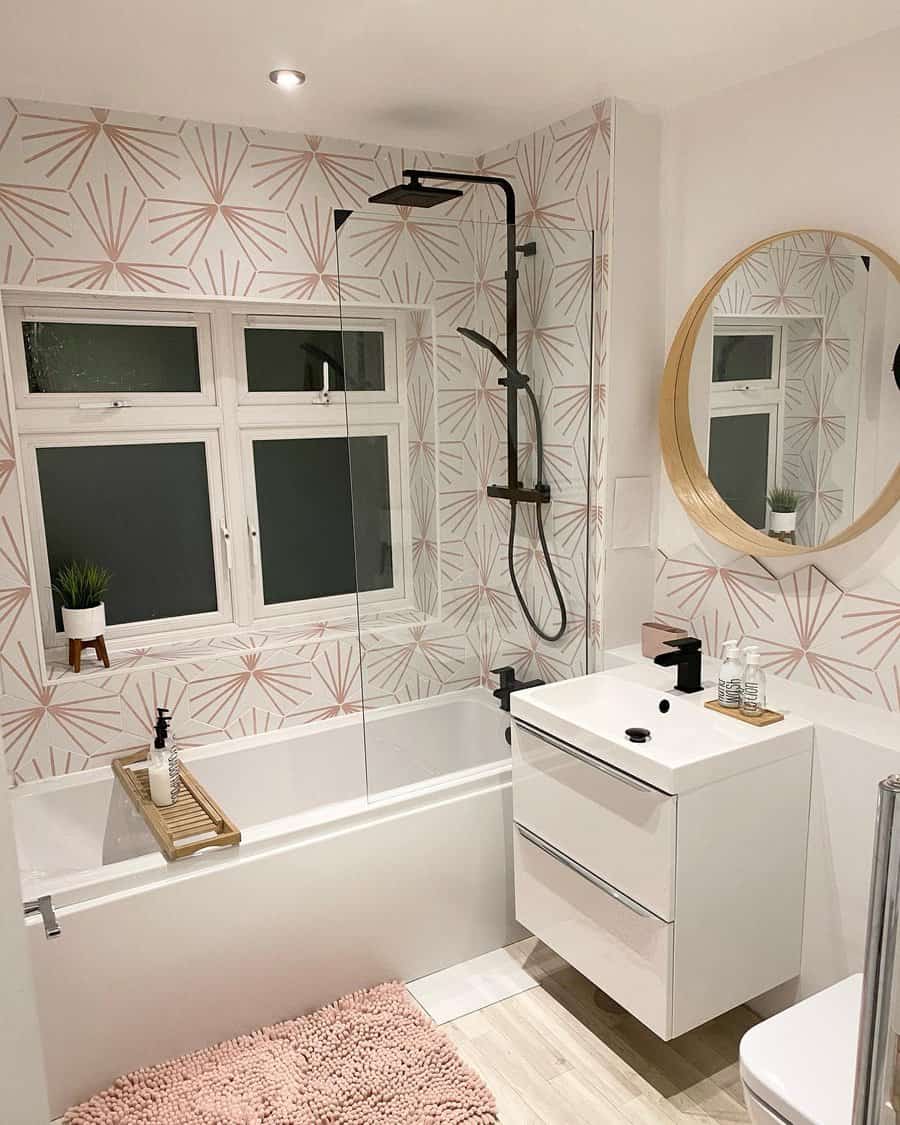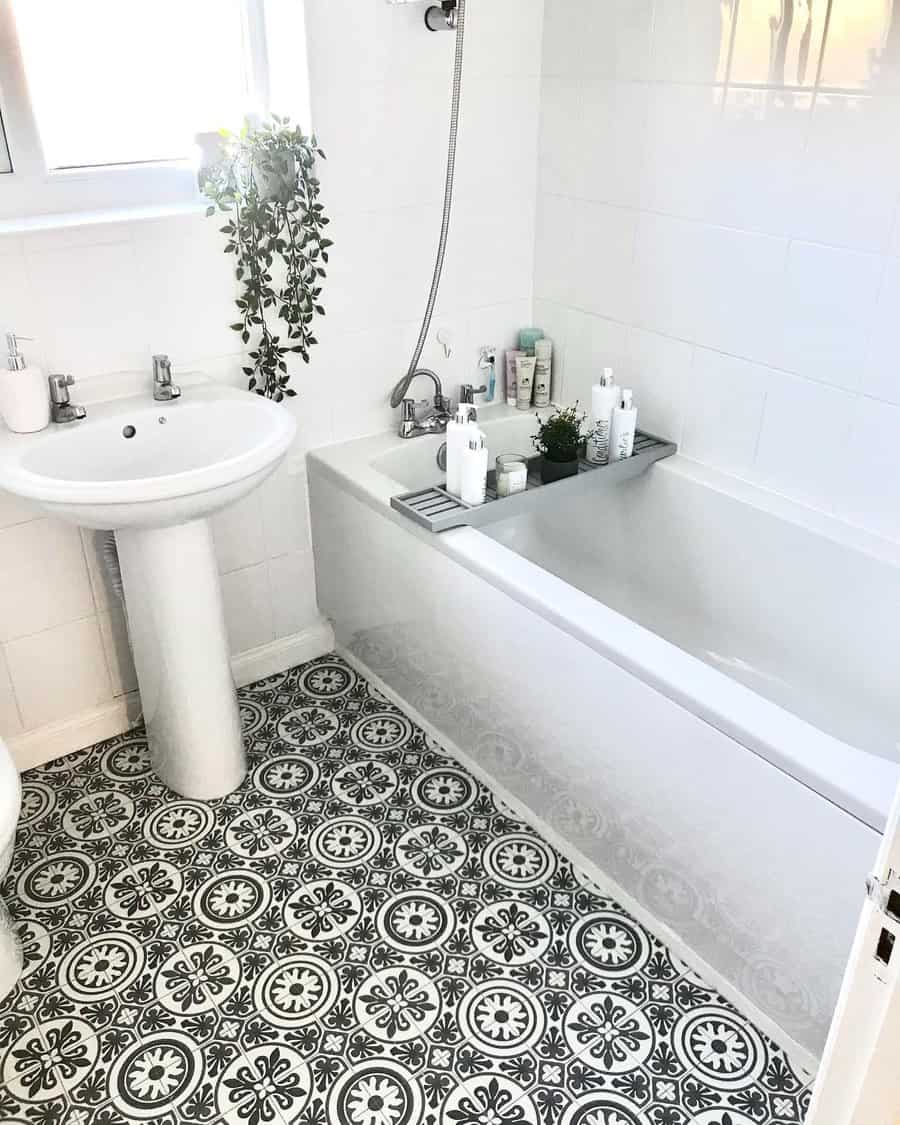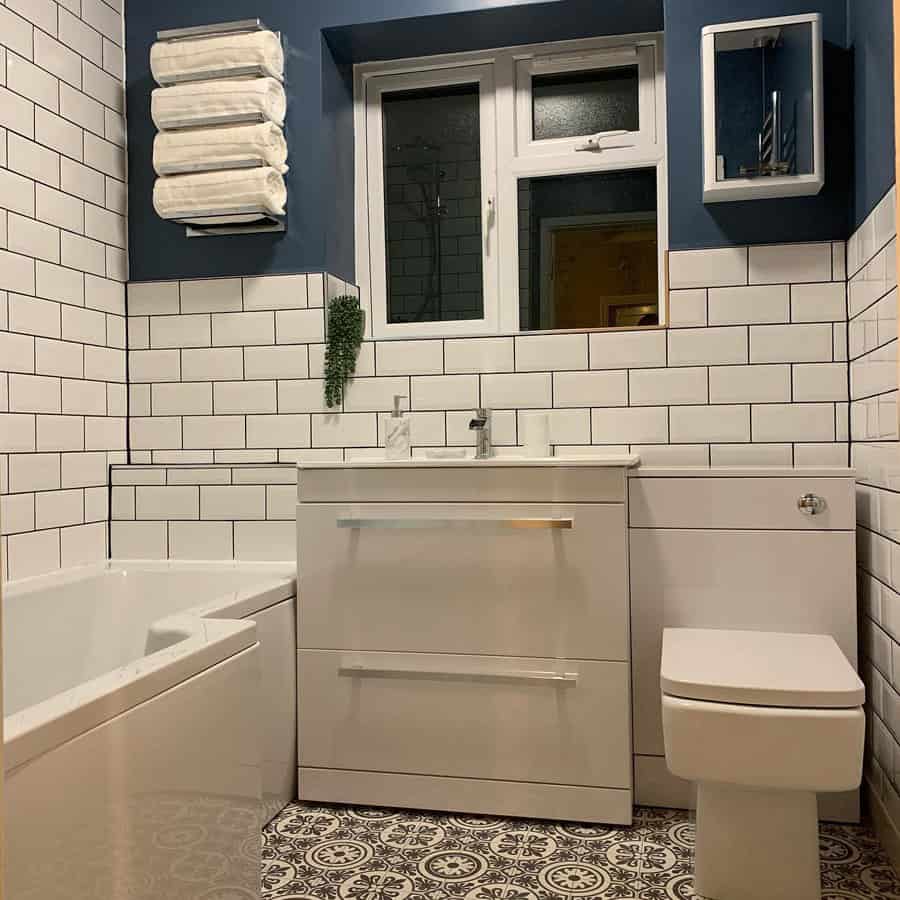 If the tub still looks grungy after cleaning, get estimates for tub reglazing. Also known as refinishing or recoating, the process begins by filling and sanding any cracks or chips. Then a special type of primer and paint is applied, and buffed to a like-new shine. Reglazing can seem expensive, but it is considerably cheaper than buying a new tub and paying someone to remove the old one.
2. Decor
Refreshing your small bathroom decor might be as simple as replacing the shower curtain, shower curtain hooks, and towels. Take your decor ideas a step further and paint the walls a new color. Also paint the bathroom vanity and shelves to refresh the space on a budget.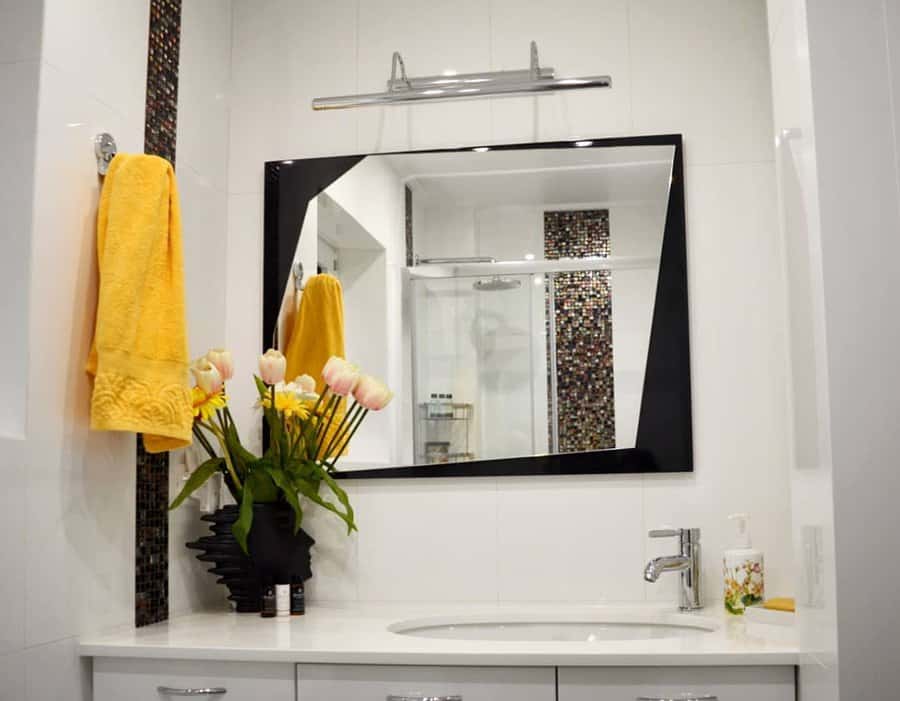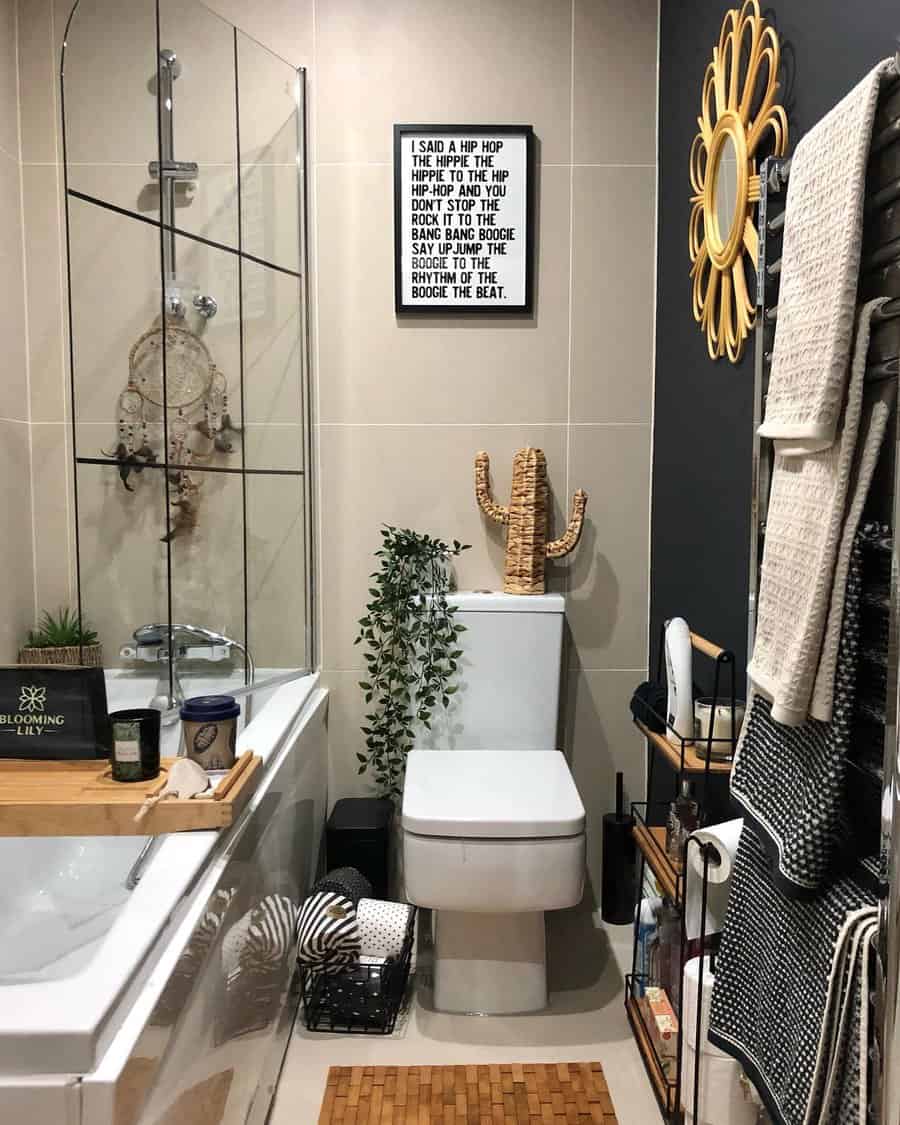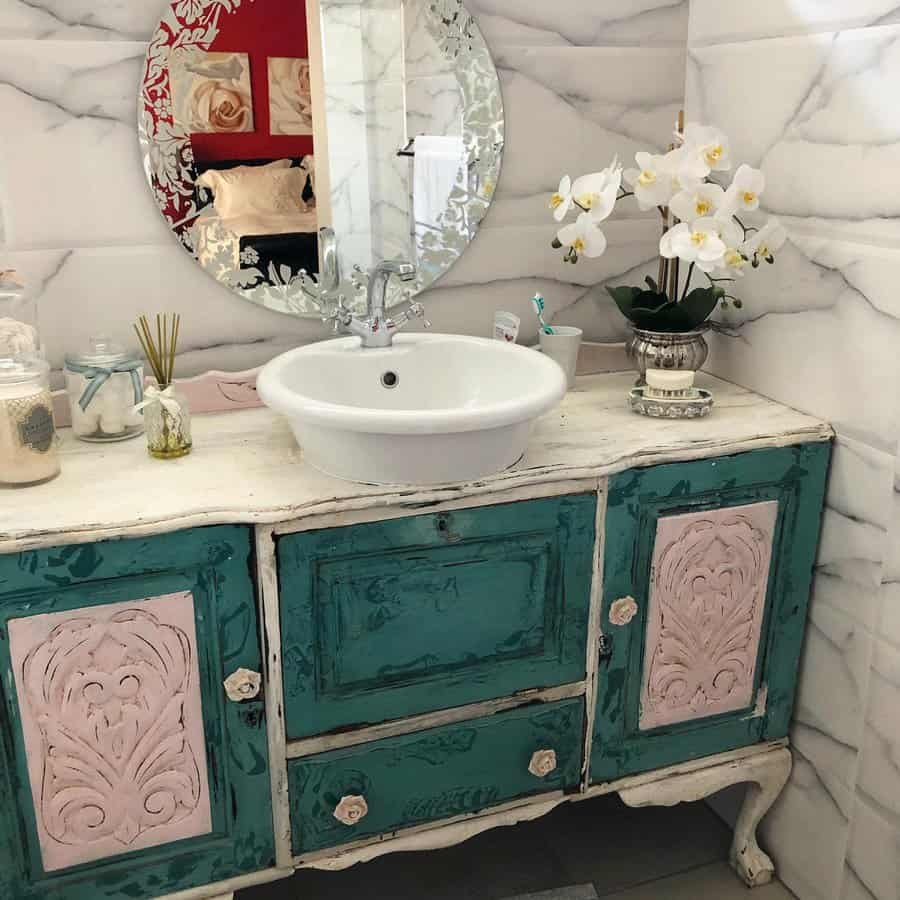 Replacing cabinet hardware is one of the best budget small bathroom ideas. You might be surprised by how much new glass or black metal knobs can elevate the appearance of your vanity. While you're at it, replace the shower towel bar, vanity towel rack, toilet paper holder, and any hooks on the wall.
3. Floor Tiles
Replacing floor tiles can be an expensive proposition, but the advantage of a small bathroom is that less material is needed to do the job. Inexpensive floor tile options include using reclaimed or salvaged tile instead of buying new tiles.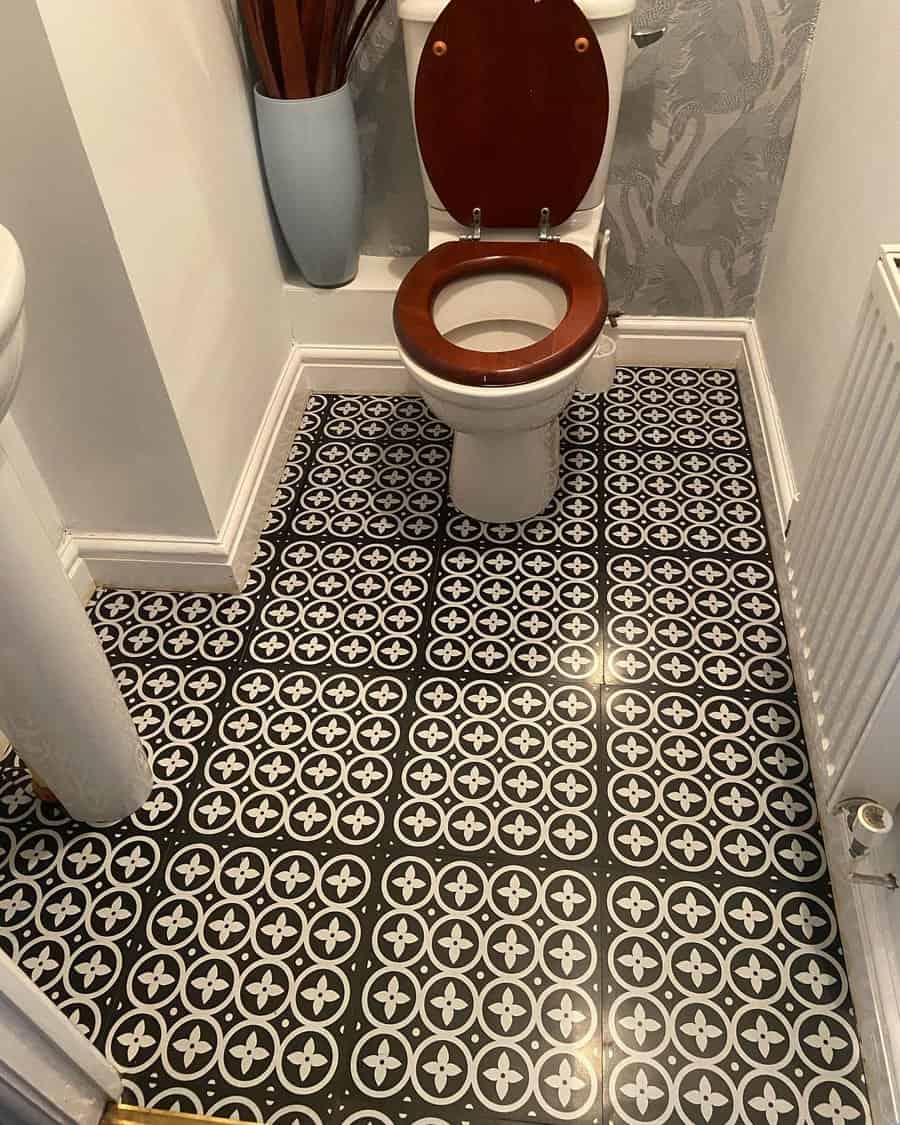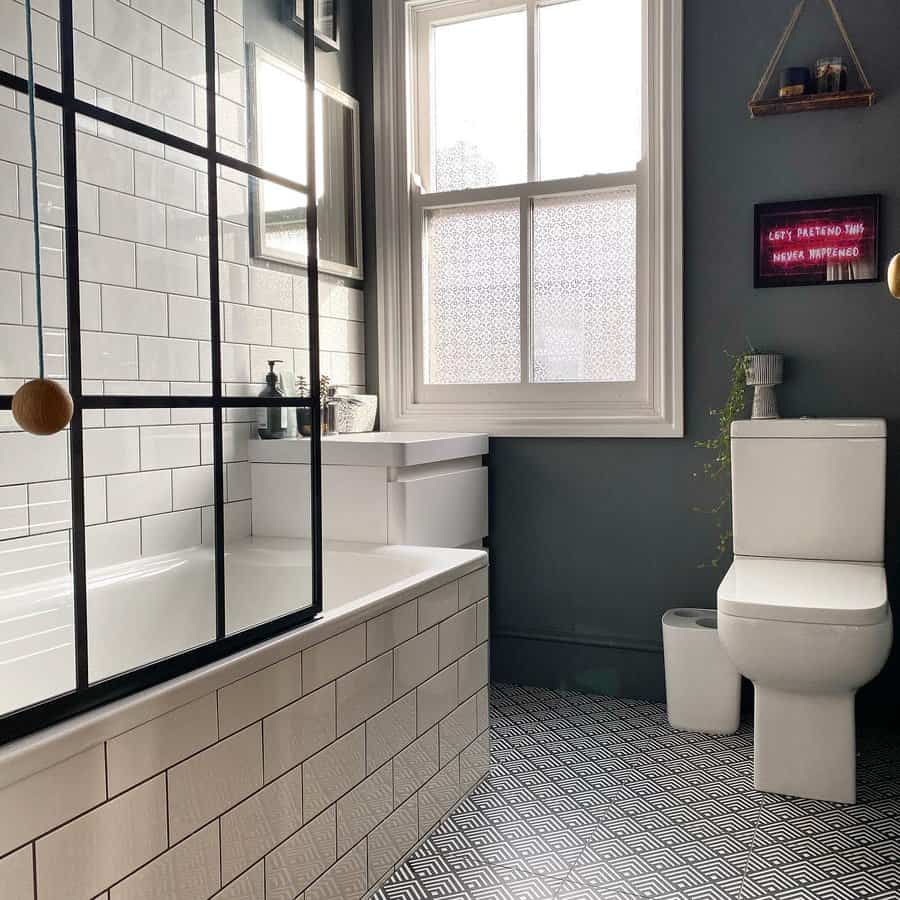 Vinyl tile quality has improved greatly, with grout and other details that make it hard to visually differentiate from the real deal. Not only are they reasonably priced, they're fairly easy to DIY—saving you hundreds on professional tile installation. Check out this video to learn more:
4. Floor Wood
Few flooring options add more natural warmth to a room than hardwood. That's one reason it's popular in every room—from the kitchen to the master bathroom. Unfortunately, real wood isn't the most durable choice in heavy moisture rooms. But now we have dozens of tile and vinyl flooring options that give you the look of real wood but provide the necessary water resistance.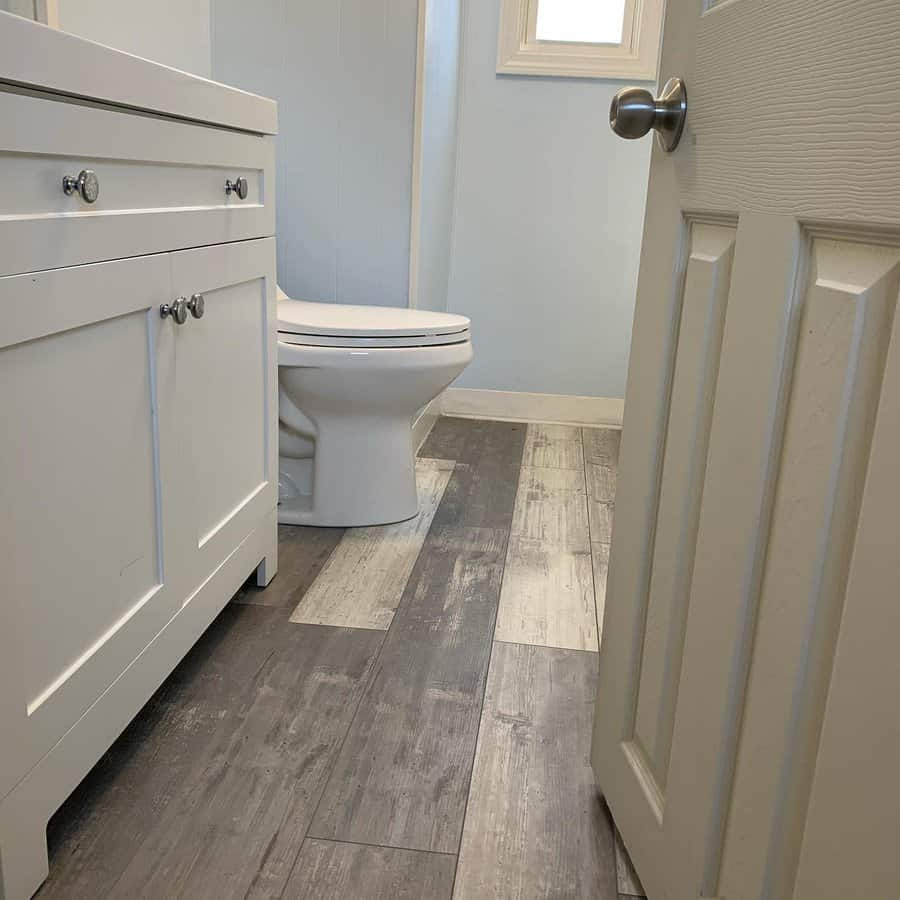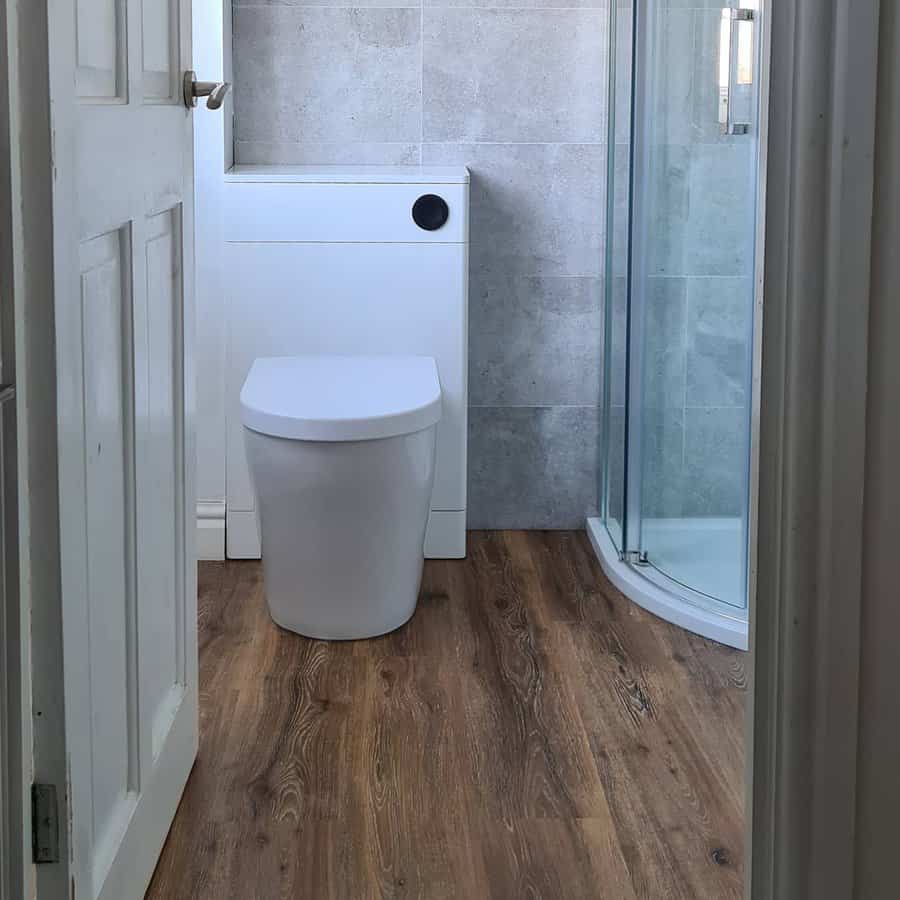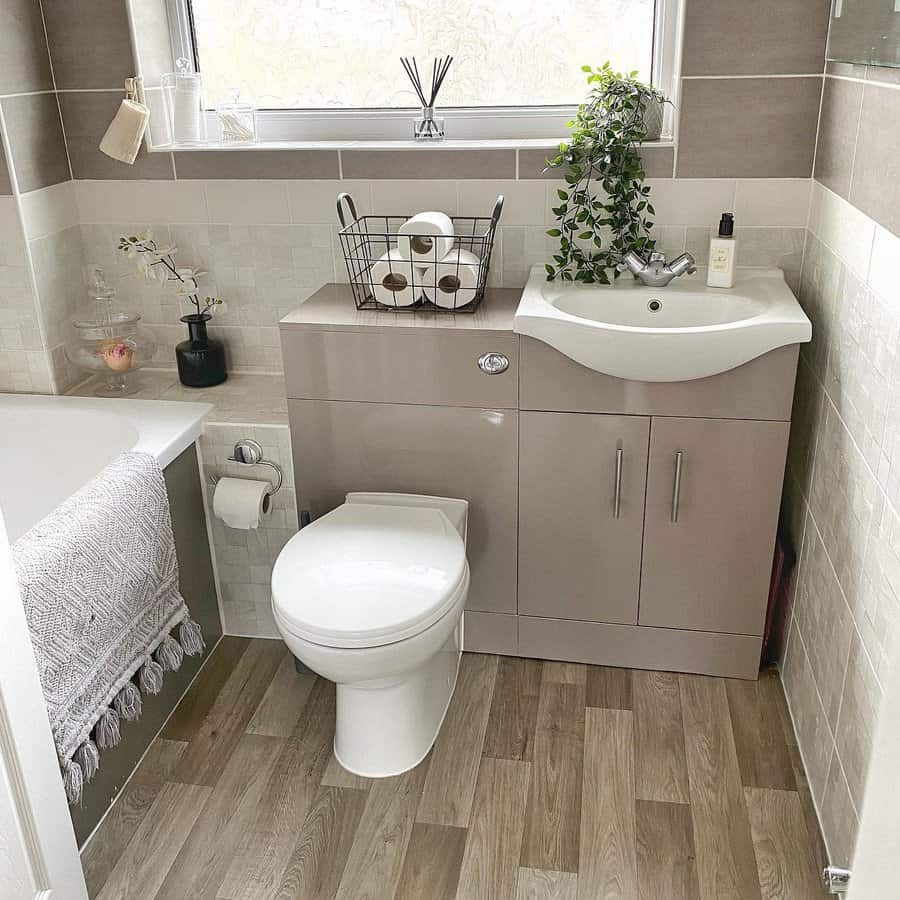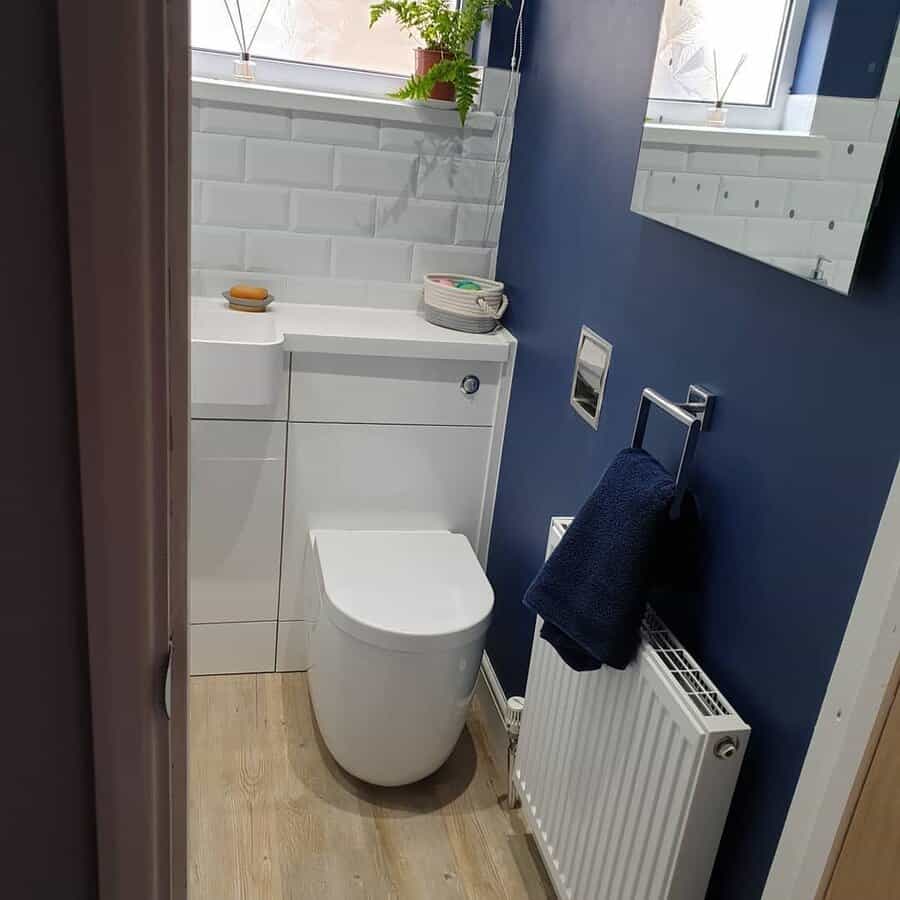 Vinyl plank flooring is easy to DIY and can provide the look of a hardwood floor on a budget. In addition, these products are excellent in bathrooms, as they are water resistant and extremely durable.
Read also: 32 Small Bathroom Flooring Ideas
5. Mirror
A frame can be all that's needed to turn a builder-grade mirror into something special. This is especially helpful if your existing mirror has age-related flaking along its edges, as the framing will cover up these defects.
Bigger is better when it comes to small bathroom ideas for mirrors, as they help visually expand the space. Consider replacing a standard vanity mirror with a lighted LED mirror. This will eliminate the need for wall lighting fixtures and create a more modern, minimalist bathroom appearance.
See more bathroom mirror ideas here.
6. Plants
Houseplants bring the outdoors inside, and add a lot of natural ambience to a small bathroom remodel. Whether you choose trailing vines, colorful succulents, or basic greenery, be sure that your small space has enough natural light to keep them alive.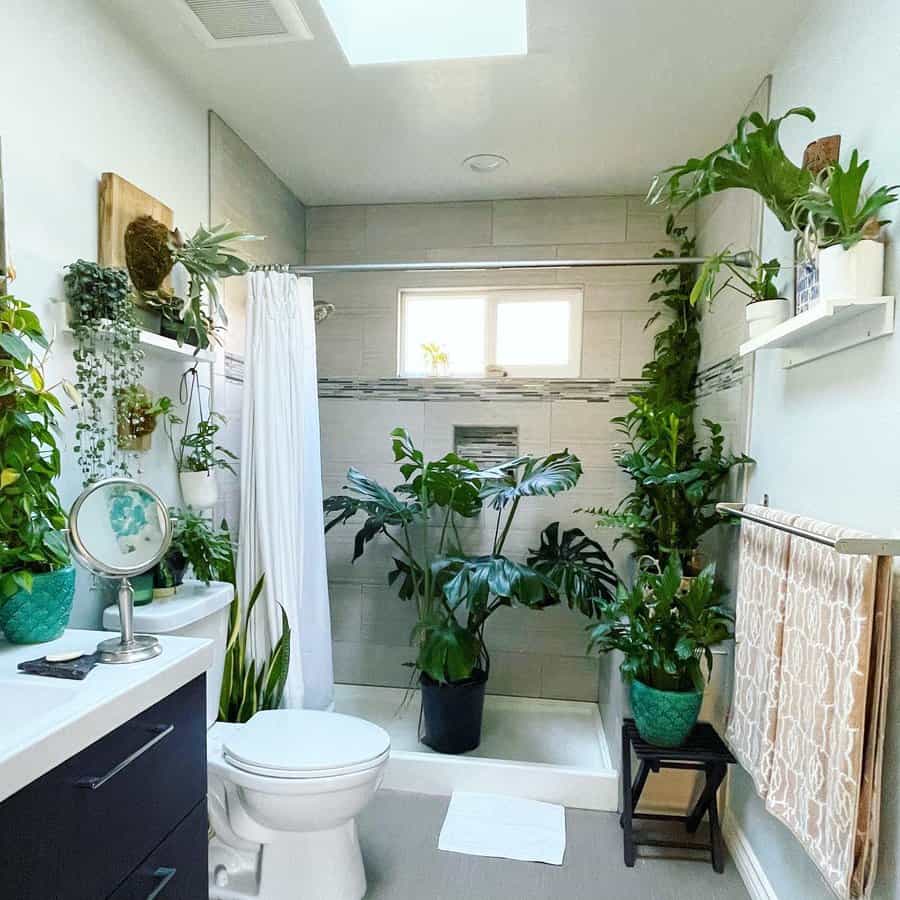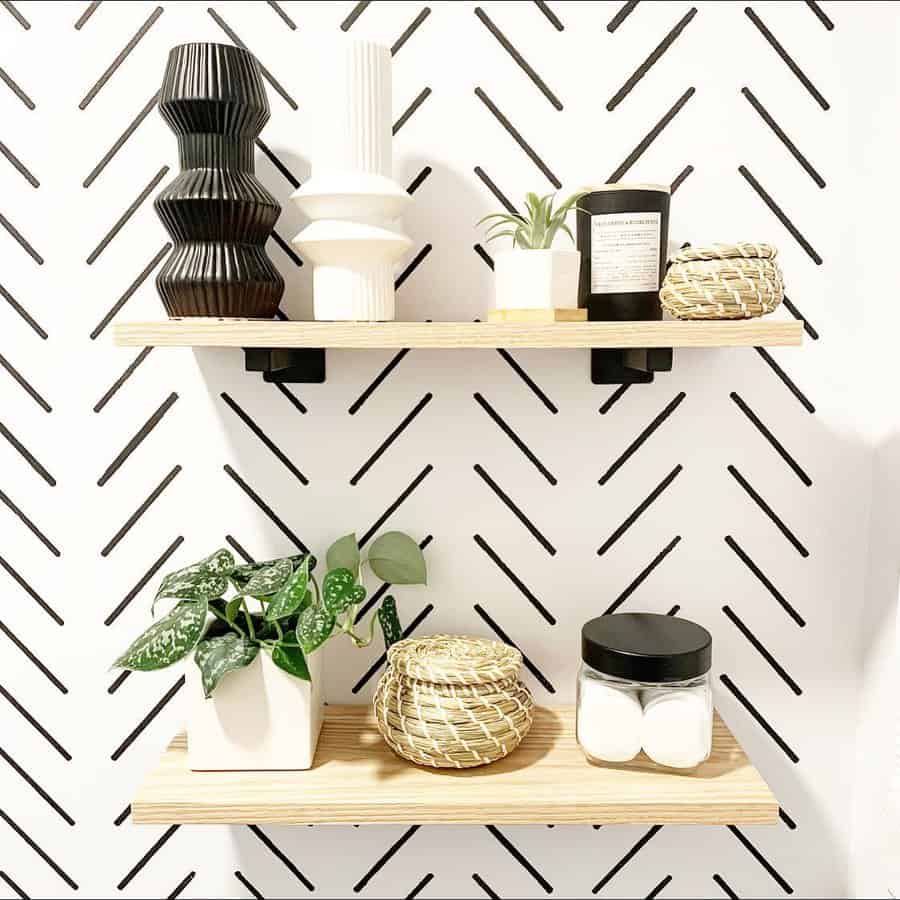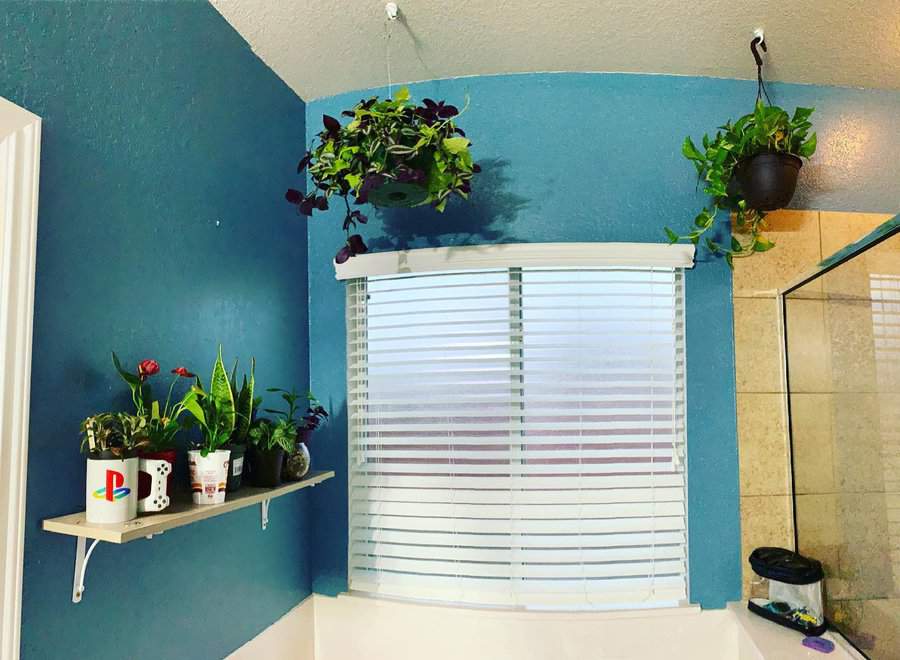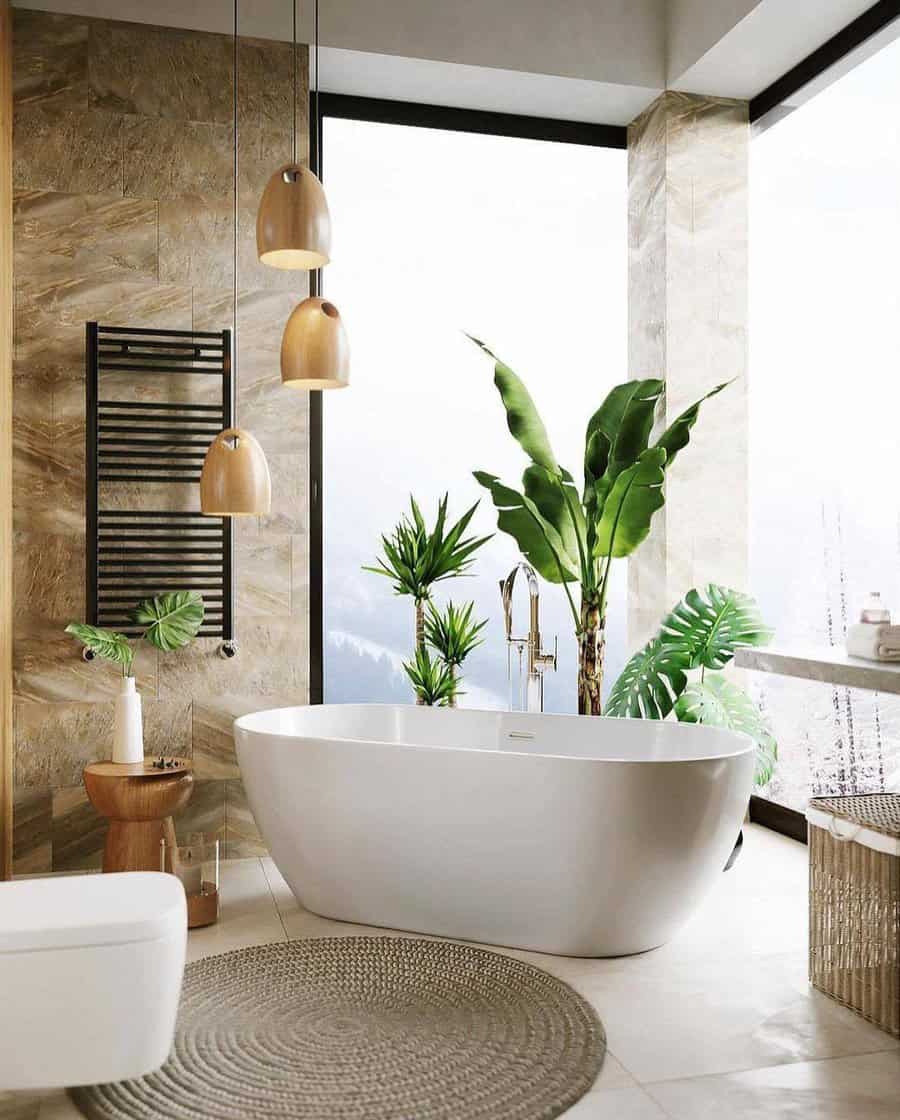 If your powder room or half bath lacks a window, you can find surprisingly realistic artificial plants that add the green aesthetic you're looking for. Be sure to place faux—or real—plants in decorative baskets or pots, and keep their size scaled to suit your tiny bathroom.
7. Rustic
Rustic bathroom ideas include wood, metal, stone, and other organic materials close to their natural state. A standard vanity cabinet may be replaced with a wide, rough-hewn wooden plank mounted to the wall. This type of vanity looks amazing with a basin sink on top, perhaps made from hammered copper or galvanized steel.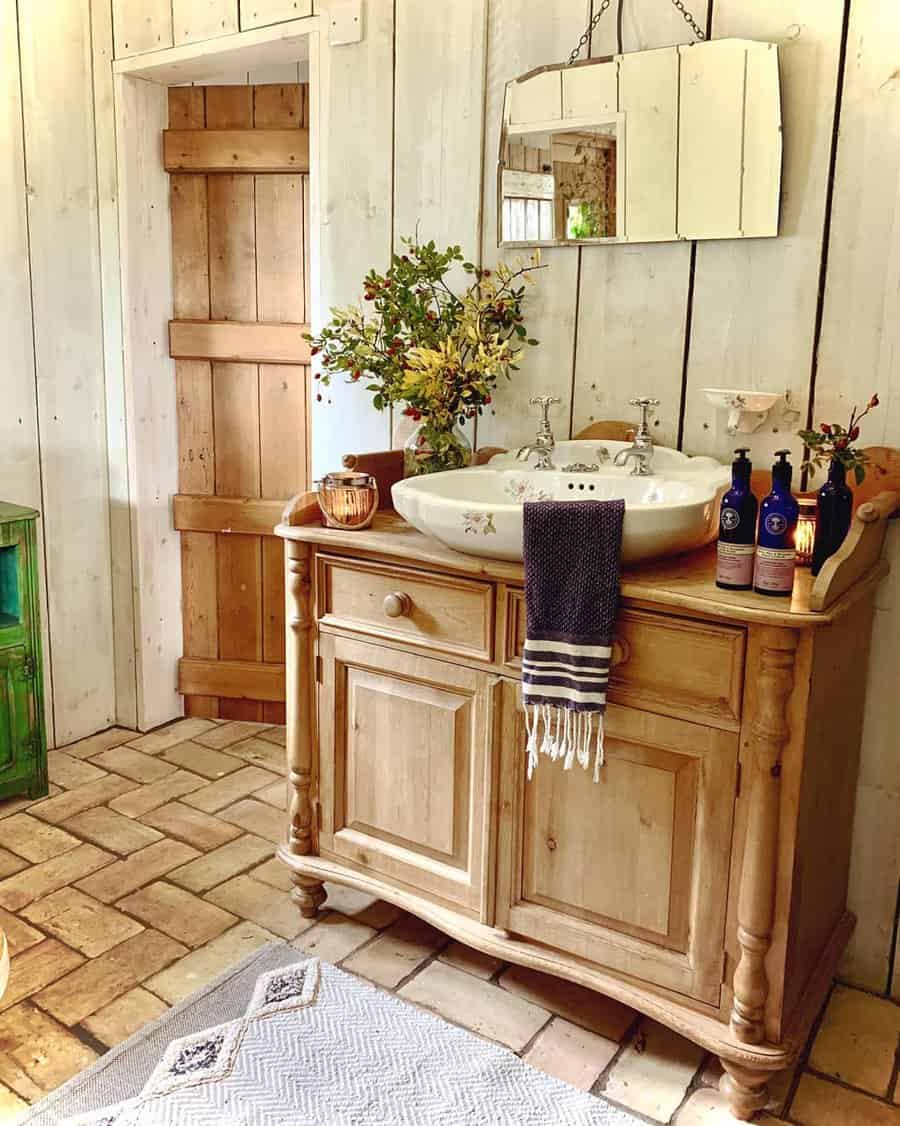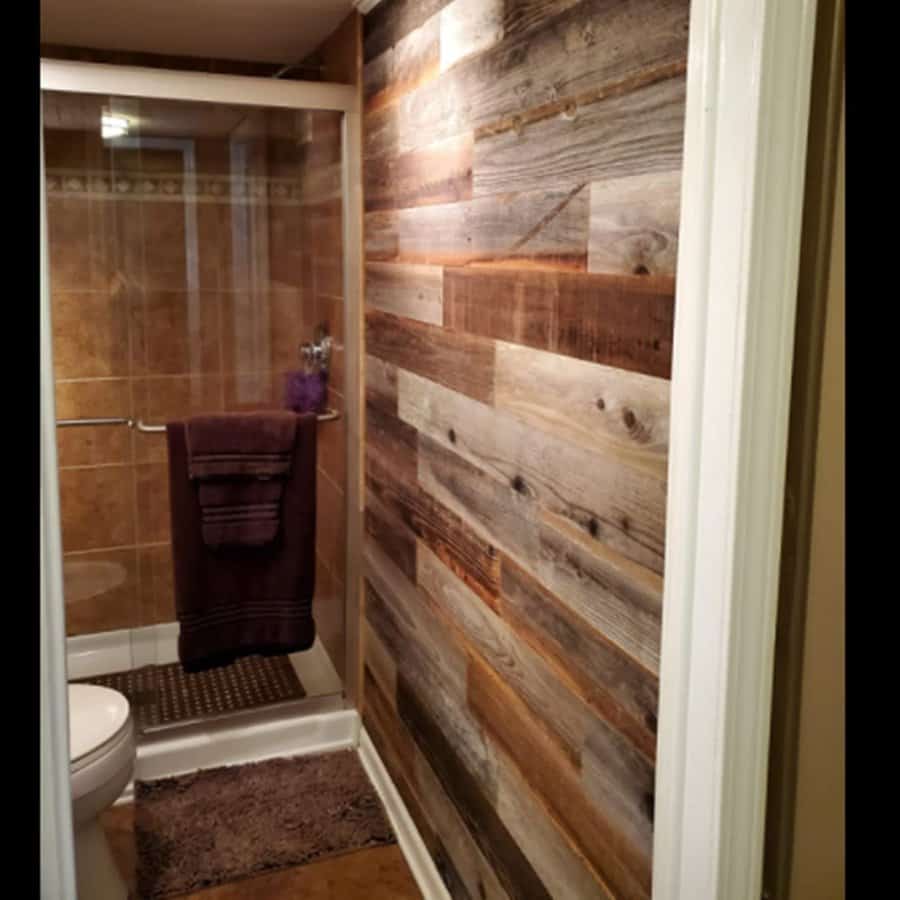 Rough wood paneling is a good rustic small bathroom idea that adds warmth to the space. Dark faux slate shower tile is perfect in a rustic bathroom makeover. Replace the shower curtain with a glass shower enclosure and shower door that showcases your rustic shower tile.
See more rustic bathroom ideas here.
8. Shelves
Shelves greatly expand storage space in your small bath or powder room. Whether you opt for extra shelves inside your vanity, a cabinet-type of shelf, or an over-the-toilet shelving unit, adding extra shelf space is always a good bathroom idea.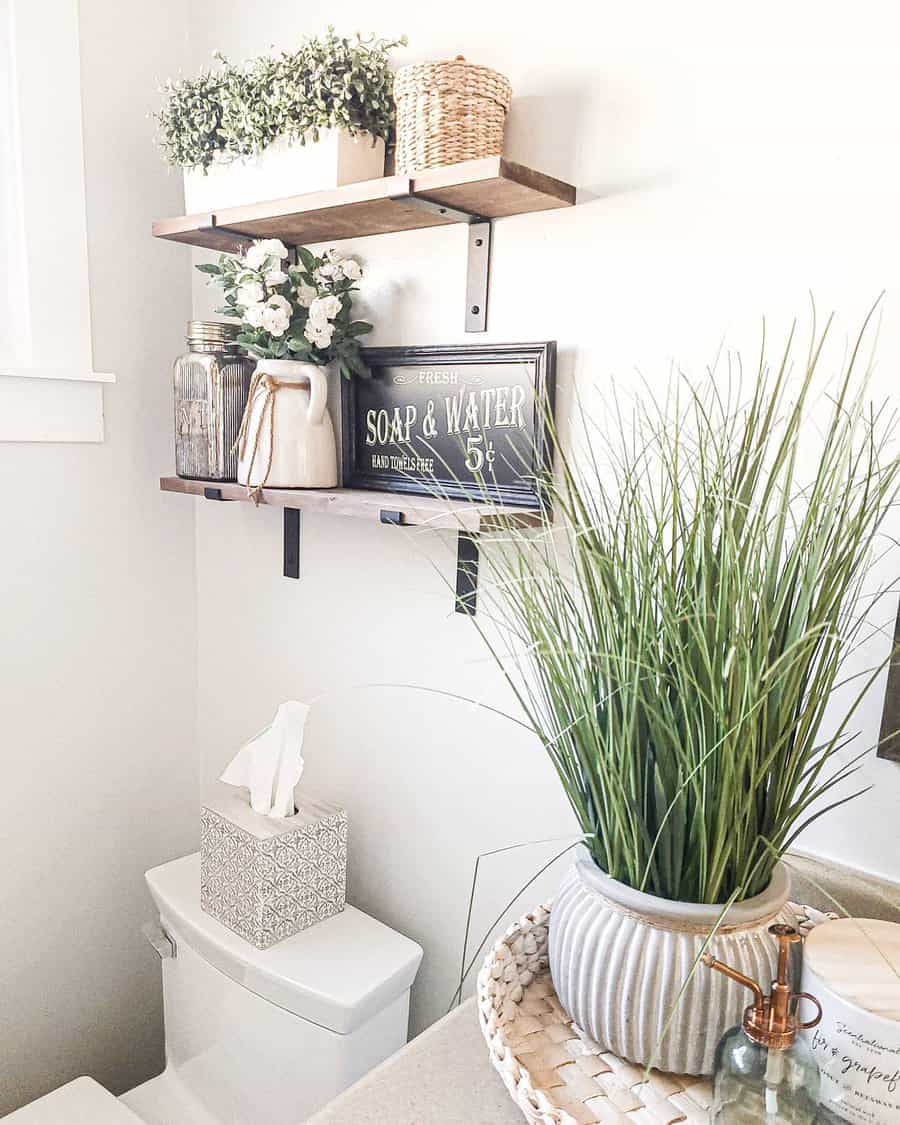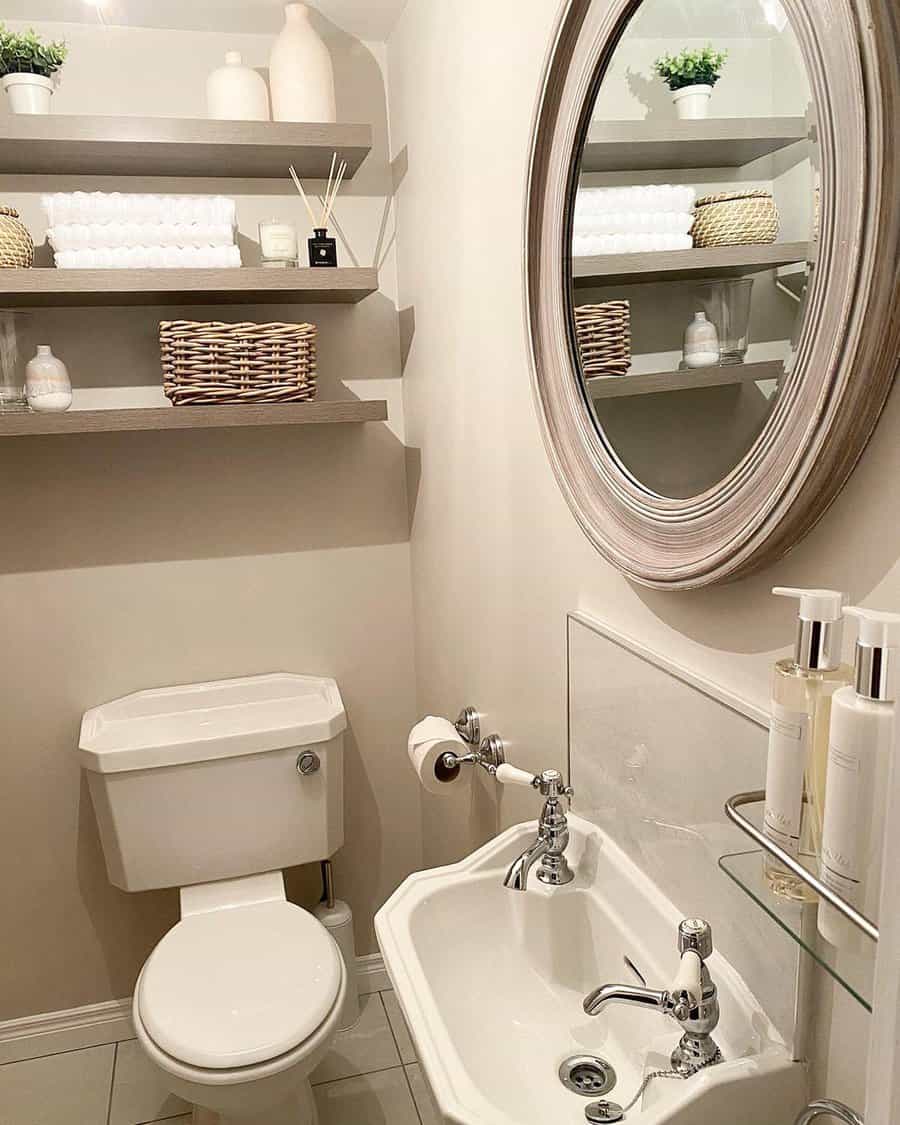 Open shelves are a great idea in a small bathroom because they create the illusion of more square footage. Install floating shelves and use them to store stacks of towels and decorative items. Use baskets as a shelf storage solution for items you'd rather keep out of sight, such as toiletries.
See more creative bathroom shelf ideas here.
9. Sink
The sink and vanity can take up a good bit of valuable floor space in a small bathroom. You can reclaim this bathroom space by replacing a traditional vanity and sink configuration with a narrow profile vanity topped with a basin sink. Or, one of the best bathroom ideas for limited space is the classic pedestal sink. Hang a floating shelf nearby to serve as a counter space alternative.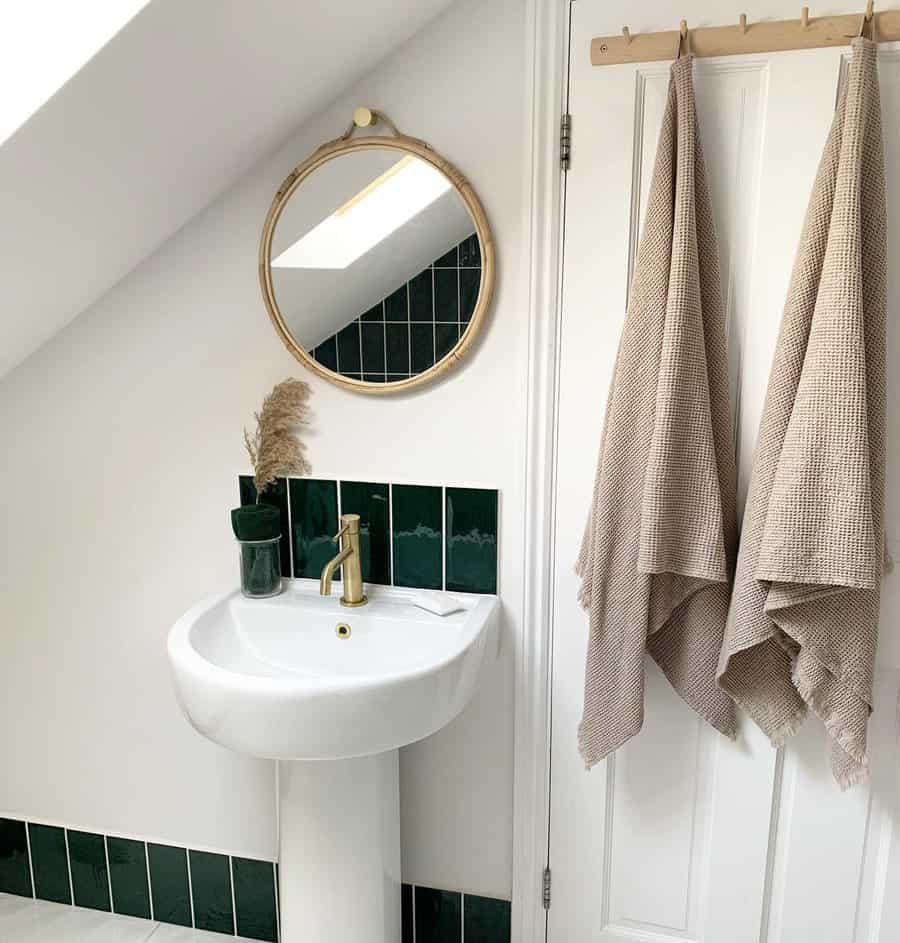 A simple bathroom refresher is to replace the grout around your sink if it's looking dingy. A grout removal tool makes simple work of it, and applying new grout is an easy DIY project.
10. Toilet
Replacing your toilet may be one of the more expensive bathroom remodel ideas, but it can be worth the time and expense. Modern toilets feature smaller profiles and sleek designs that merge well with today's home decor. Some even feature tanks that are hidden in the wall, making them take up much less visual space.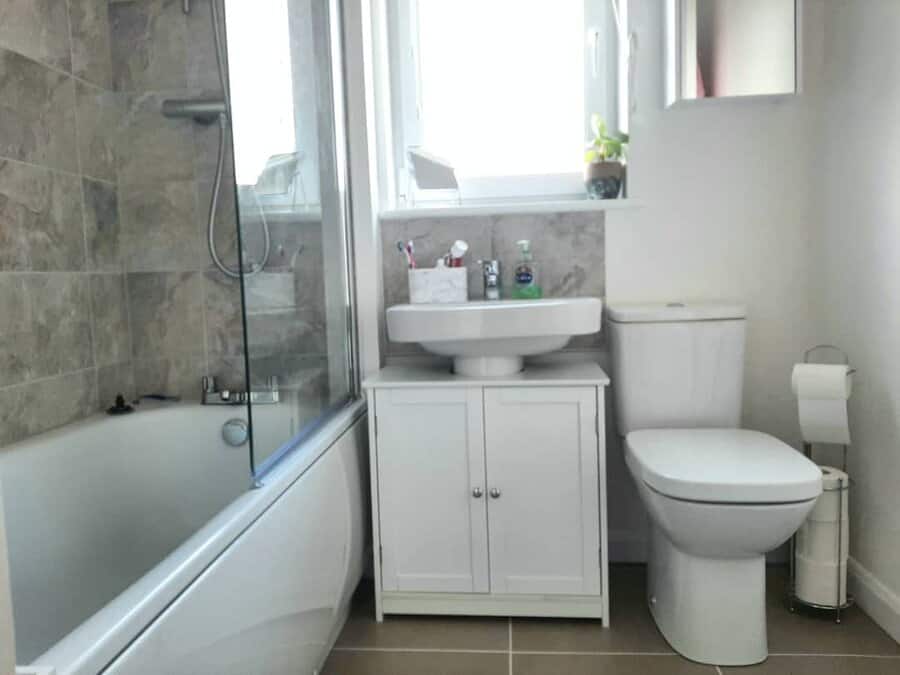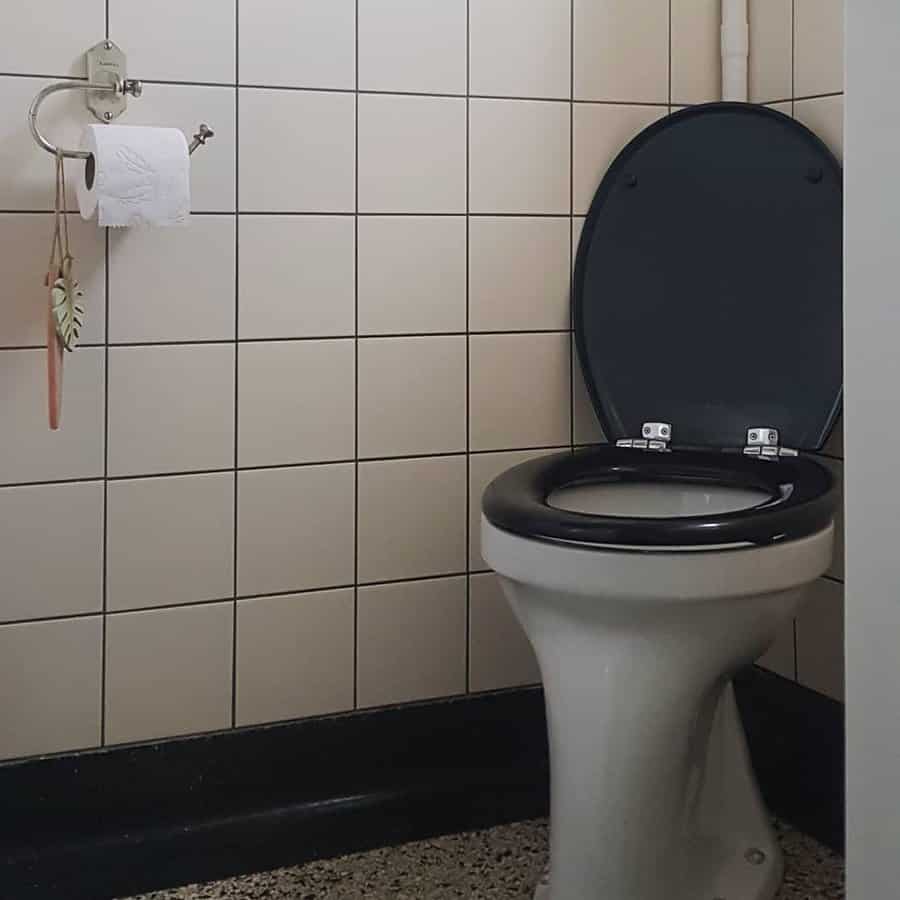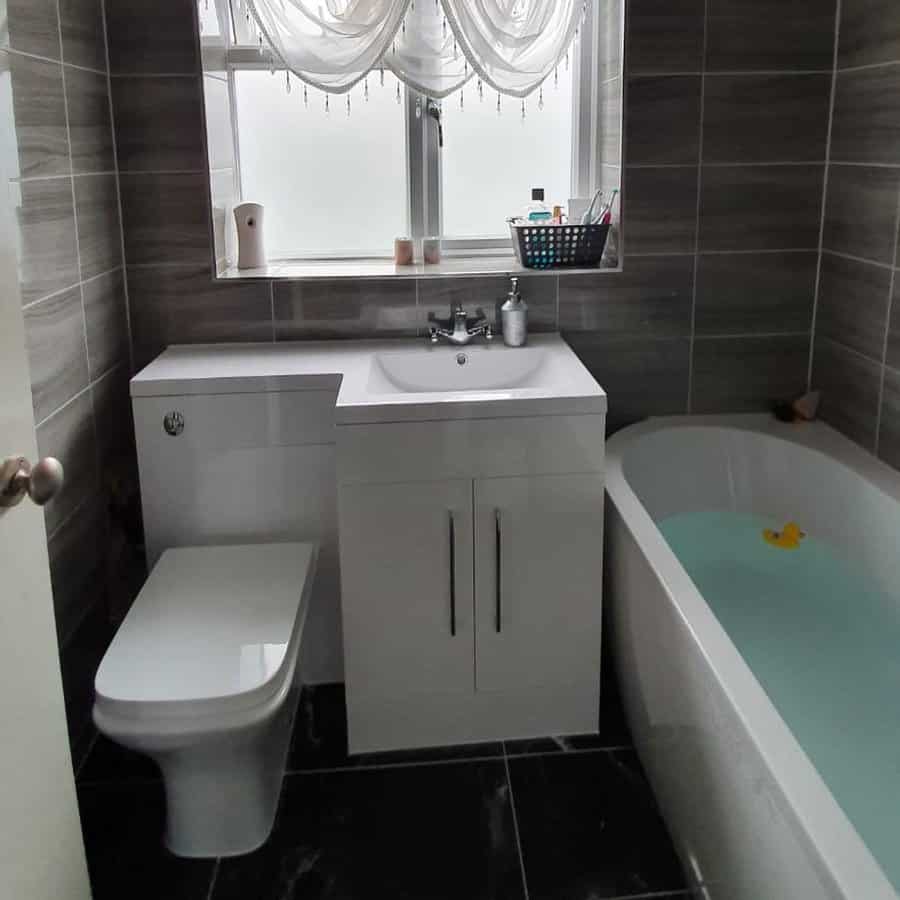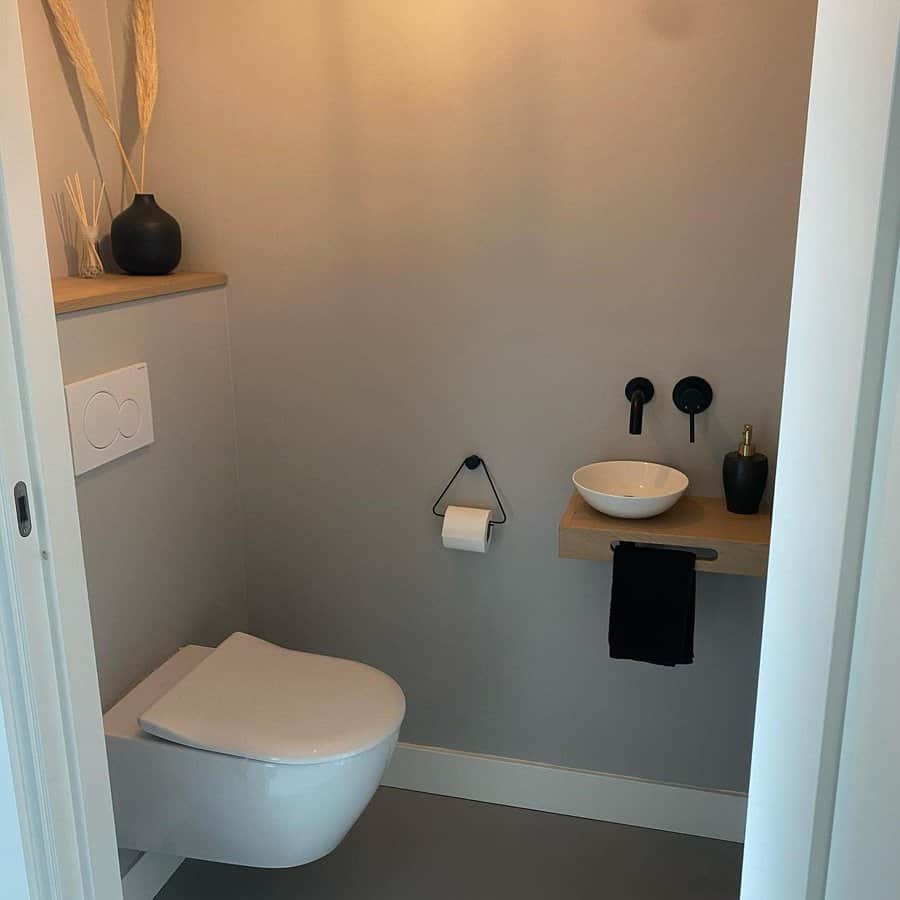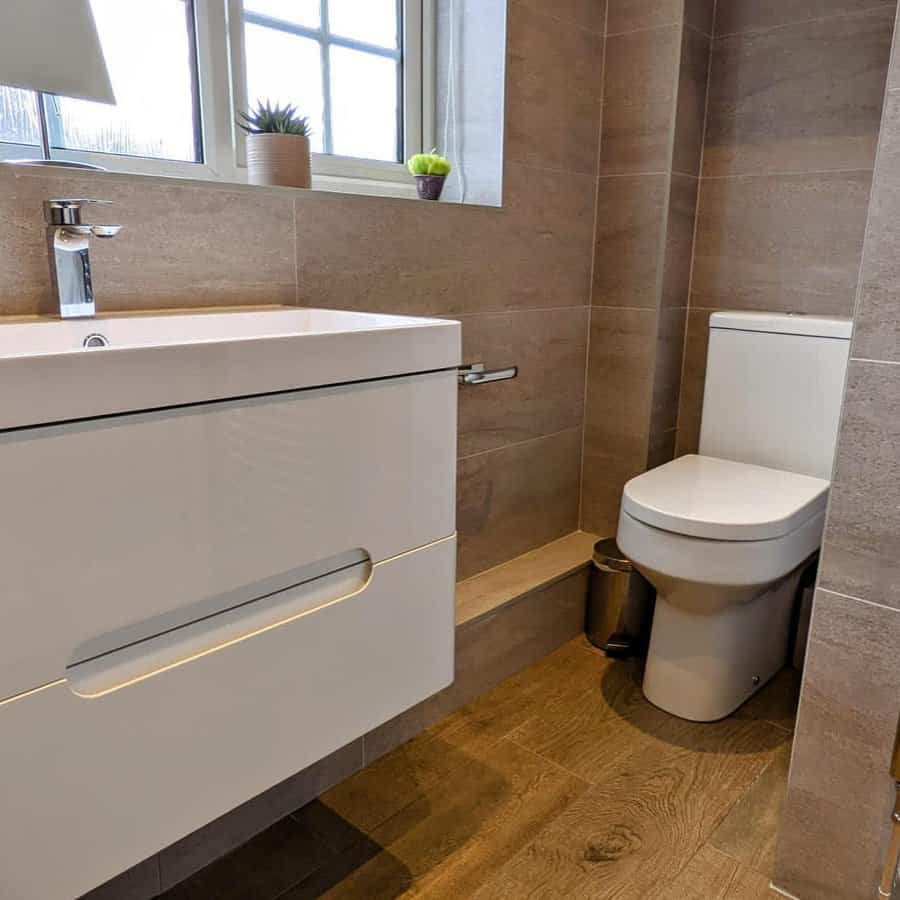 Be sure to look for a toilet that has water saving features. This is one of the best budget-friendly bathroom ideas to save money over time.
11. Wallpaper
Wallpaper is a fantastic addition to a small bathroom or powder room. Whether it appears on all four walls or just one accent wall, a beautiful wall covering can form the foundation for your other bathroom renovation ideas. Temporary stick wallpaper may be preferable if you want to be able to remove it easily later on, such as when you're renting and not allowed to paint.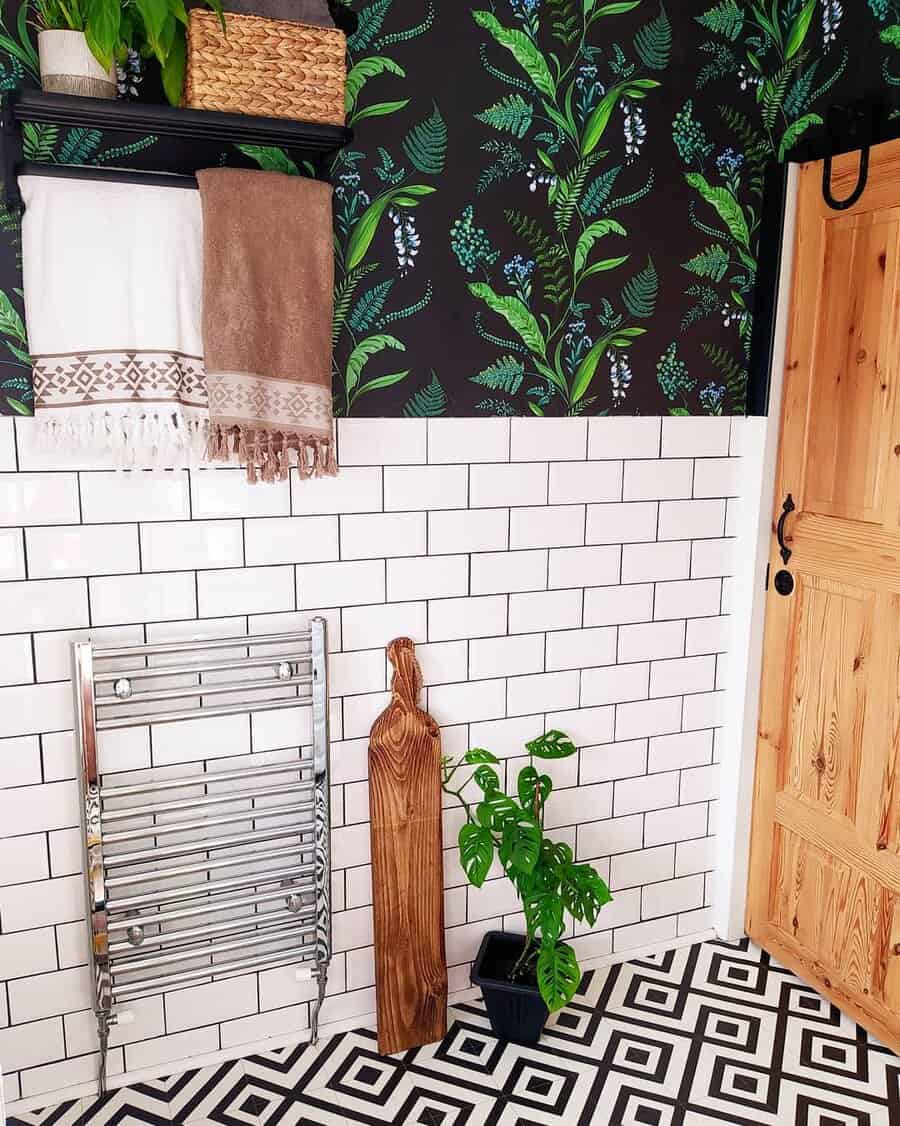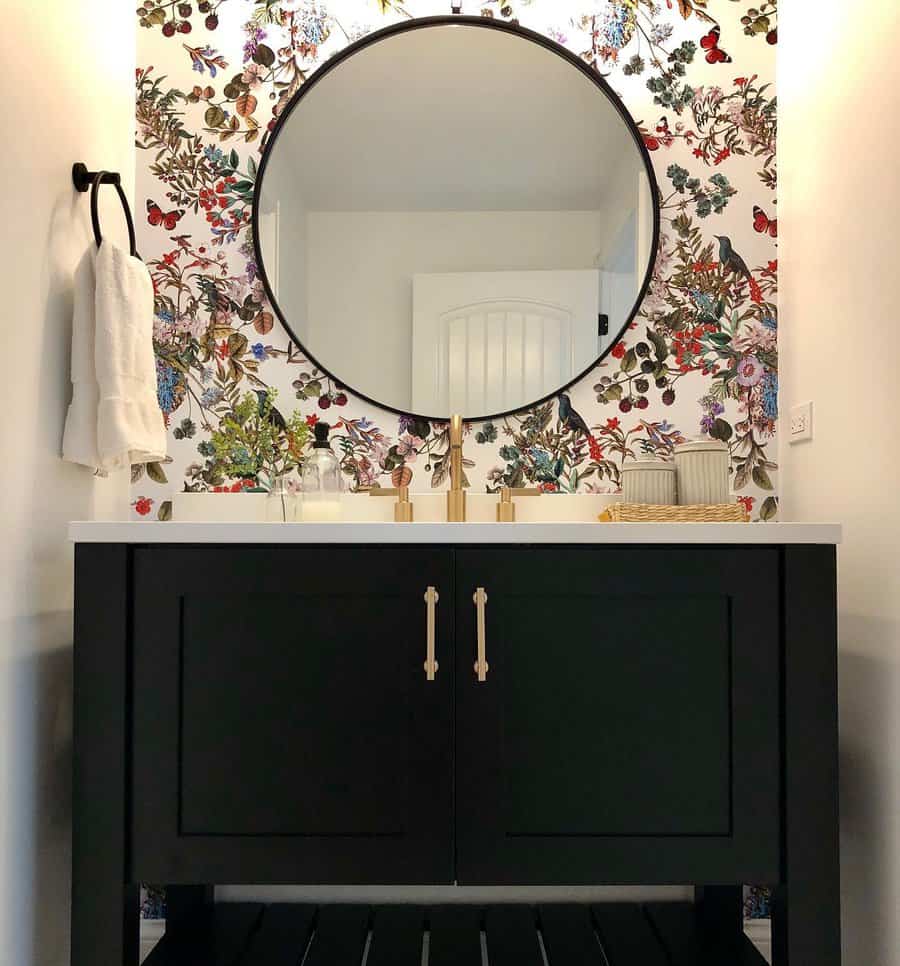 If floor to ceiling wallpaper is too much for you, cover the bottom half of your bathroom wall with beadboard or wood panels. Paint it one of the colors found in your wallpaper pattern for an impactful small bathroom design. Apply wallpaper above the wood wall covering.
12. White
White is the classic, clean bathroom color that will never go out of style. White fixtures, white wall paint, a white shower curtain and towels create a perfect background for your modern, cottage, or farmhouse decor.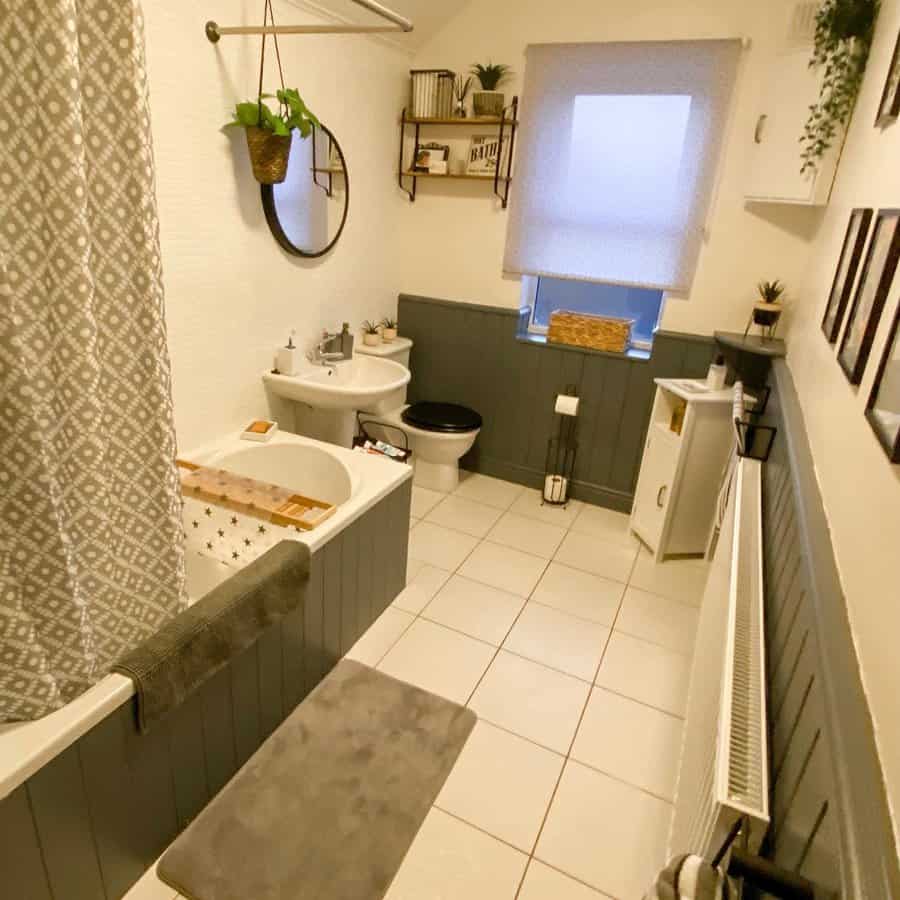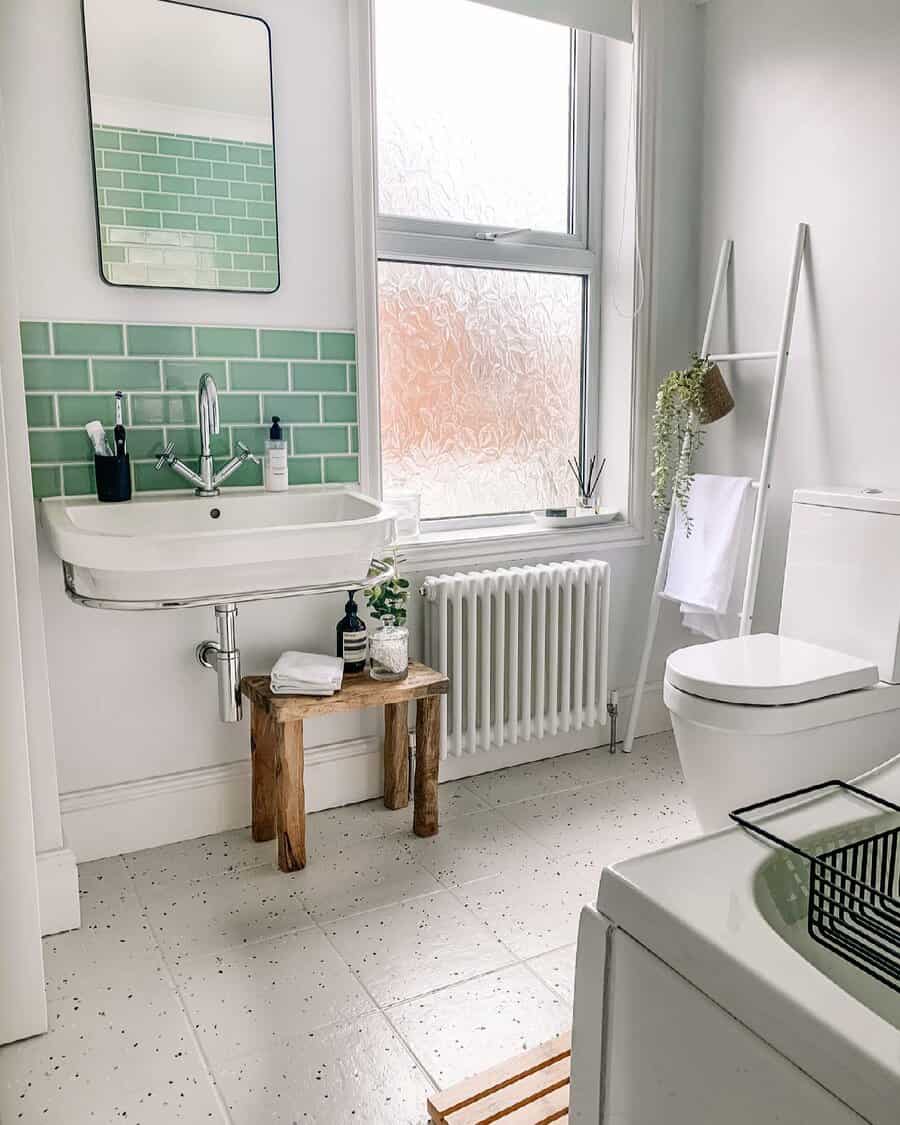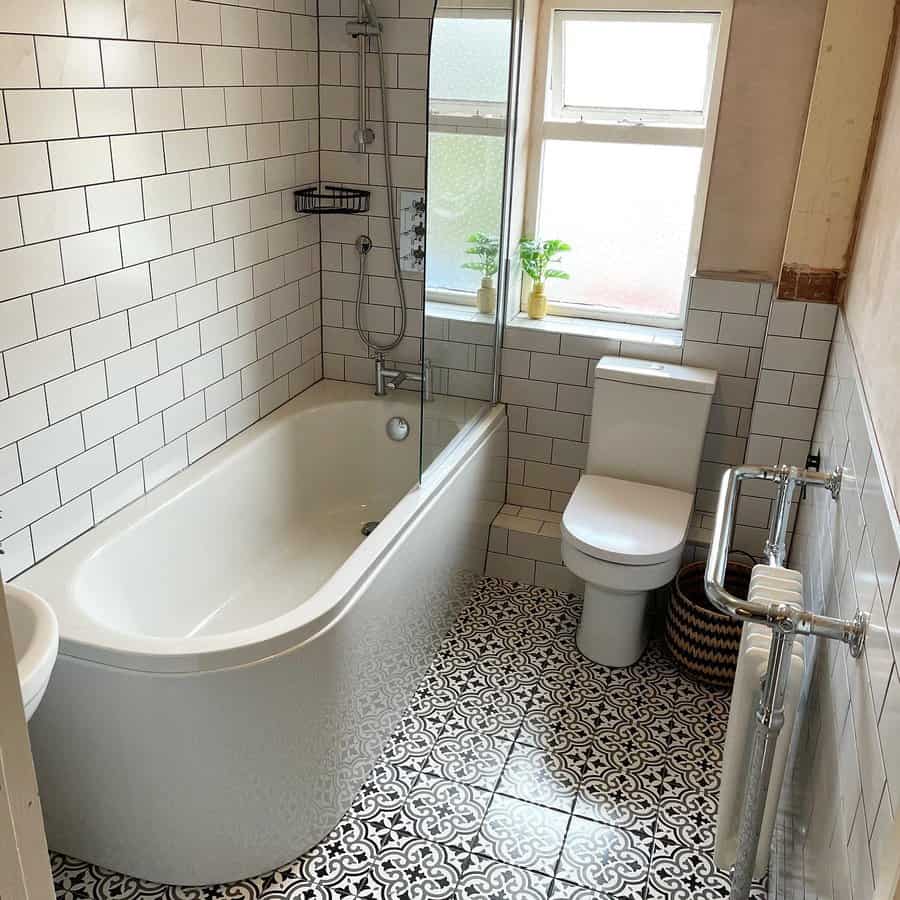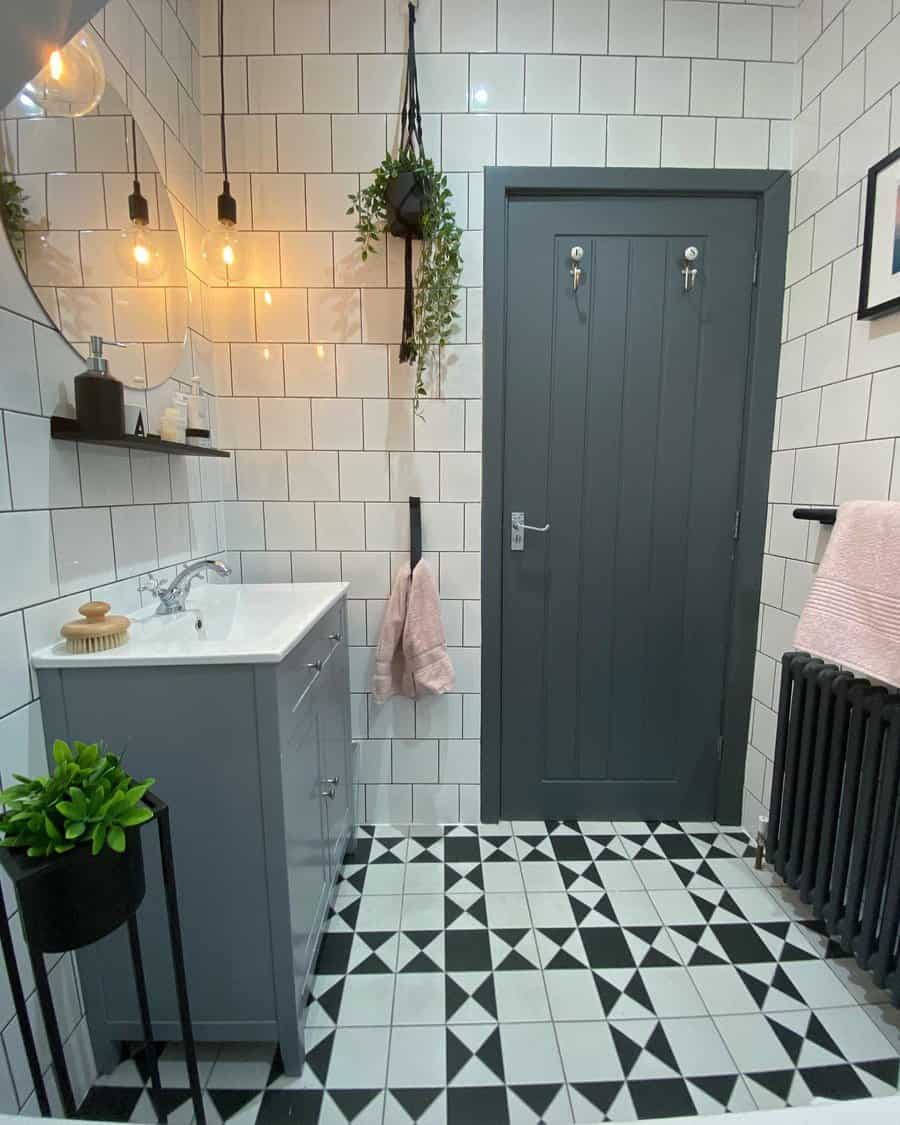 White also has the ability to make a small room feel more spacious. If having all white walls feels uninspired, add a second color of paint to your remodel, such as grey or blue. Paint the vanity and trim in this second color, and find accessories that incorporate touches of your chosen shade of paint.
Small Bathroom on a Budget FAQs
Is reglazing a bathtub worth it?
Replacing a tub can be one of the biggest bathroom remodel expenses. So unless your tub is full of cracks, leaks, or mold, reglazing can give you several more years of use. It will look brand new at a fraction of the cost.
How can I remodel my bathroom without spending money?
There are ways to update a small bathroom without spending much—or any—money. First, forget expensive ideas like moving bathroom fixtures or replacing your bathroom tile or flooring. Ask friends or relatives if they have leftover paint, grout, or wallpaper from a previous remodel. It may be just enough material to update your small bathroom.
If your tile really needs an upgrade, shop for inexpensive stick tile decals to refresh the space. Even dollar stores carry these cheap decor ideas that can really brighten up the bathroom. Certain dollar stores are also great resources for budget-priced shower curtains, towels, and bathroom accessories.