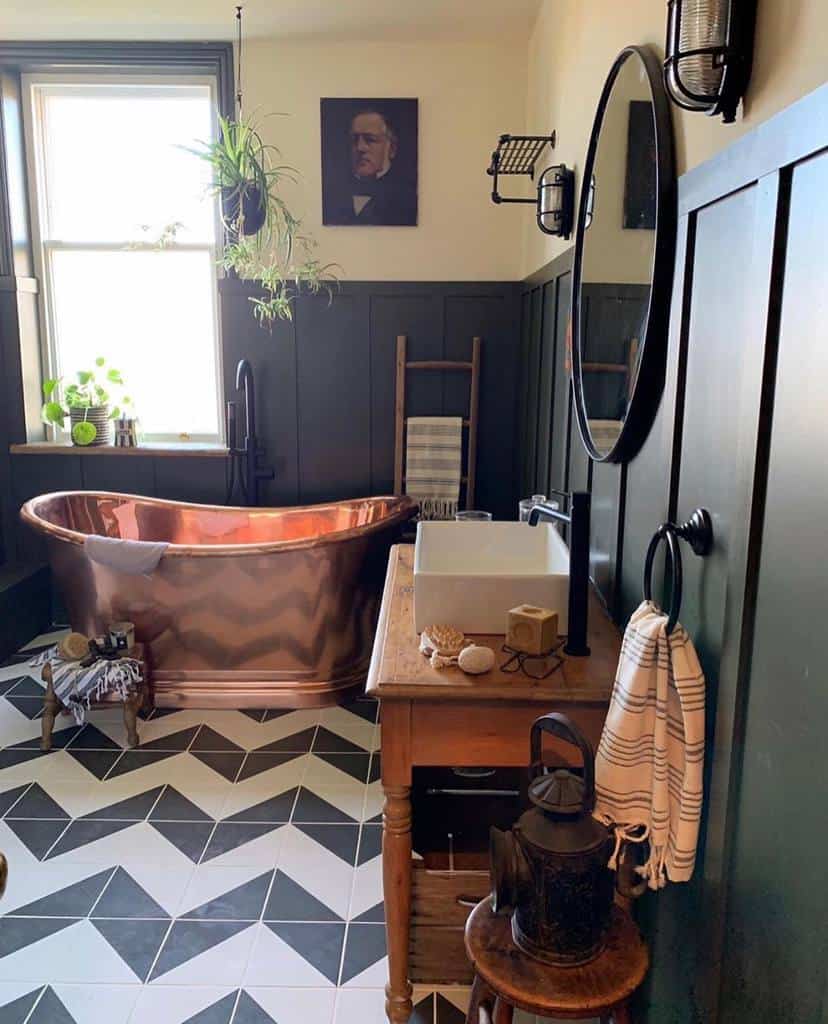 35 Small Bathroom Ideas on a Budget
A bathroom makeover is challenging enough when you have a small bathroom. Add a tight budget to the equation, and you could be left wondering what options exist for creating a fabulous new space.
Fortunately, there are hundreds of small bathroom makeover ideas that can transform your bathroom without draining your bank account. Check out our top 35 small bathroom ideas on a budget and see how to stretch your dollars into an amazing small space.
1. Recessed Wall Shelves
Low-budget small bathrooms can be a challenge to update, but that doesn't mean you have to sacrifice style. Get creative and utilize recessed wall shelves to store items and create an airy feel—plus it maximizes every inch of space!
Or, try your hand at a DIY sink cabinet with a rustic, industrial look; it's the perfect way to make a statement without breaking the bank.
Low-budget small bathrooms don't have to be boring; by getting smart with storage and design, you can create the bathroom of your dreams without spending a fortune.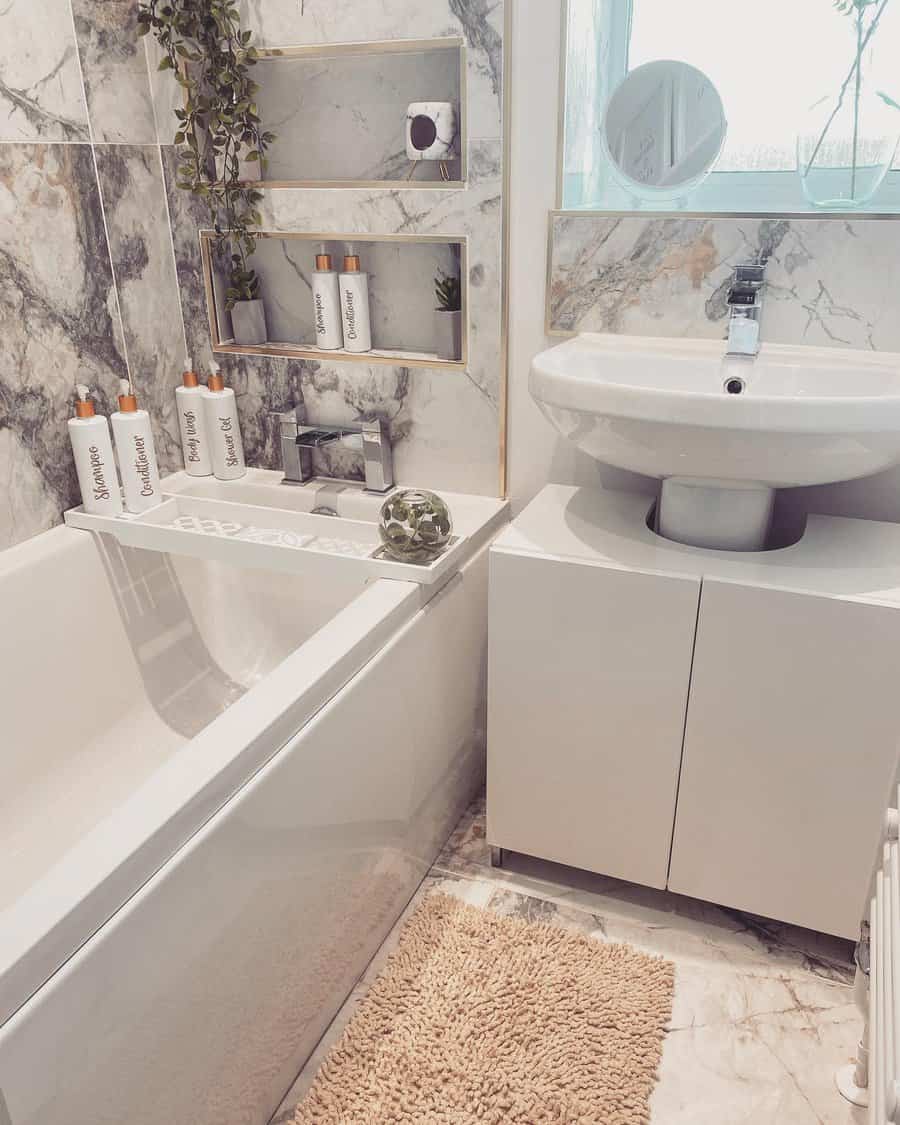 2. Frosted High Window
A small bathroom doesn't have to be an eyesore! With a frosted high window that lets in bright light, white walls for a sense of cleanliness, and subtle accessories for personality, you can transform any low-budget small bathroom into a stylish retreat.
Whether it's scented candles in beautiful containers, hanging plants from the ceiling, or creative wall décor, there are numerous ways to make a small bathroom come alive.
With a little imagination and some budget-friendly ideas, you can create the perfect hideaway space without breaking the bank.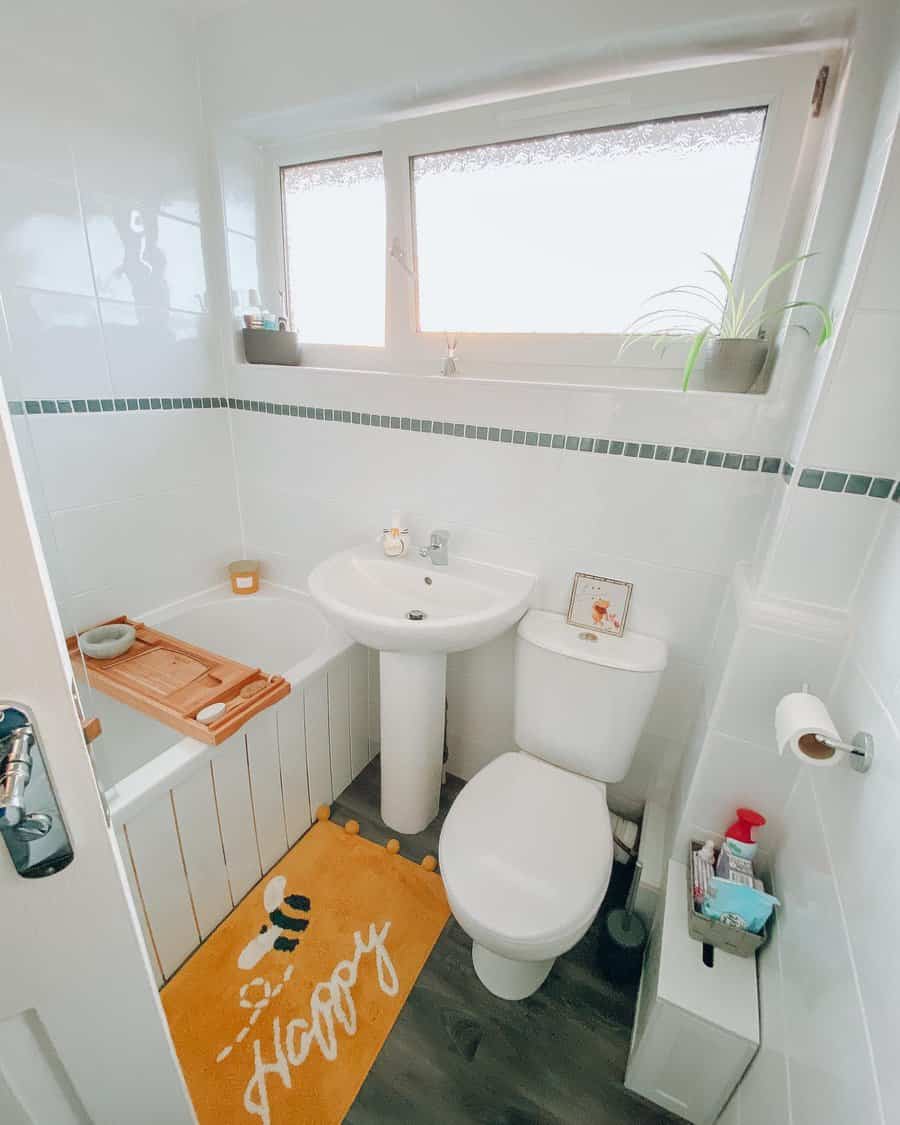 3. Recessed Bathroom Window
A low-budget small bathroom can still be a chic and stylish sanctuary for you to relax and unwind.
Consider recessing your bathroom window with a recessed shelf and placing small potted plants, like succulents and ferns, to make the room appear bigger and more inviting.
You can add shelves around the window to create storage space for your bath essentials like scented candles, fragrant soaps, and colorful towels which will add an element of character and warmth to the room. Let a little creativity in your life help you design an inspiring getaway!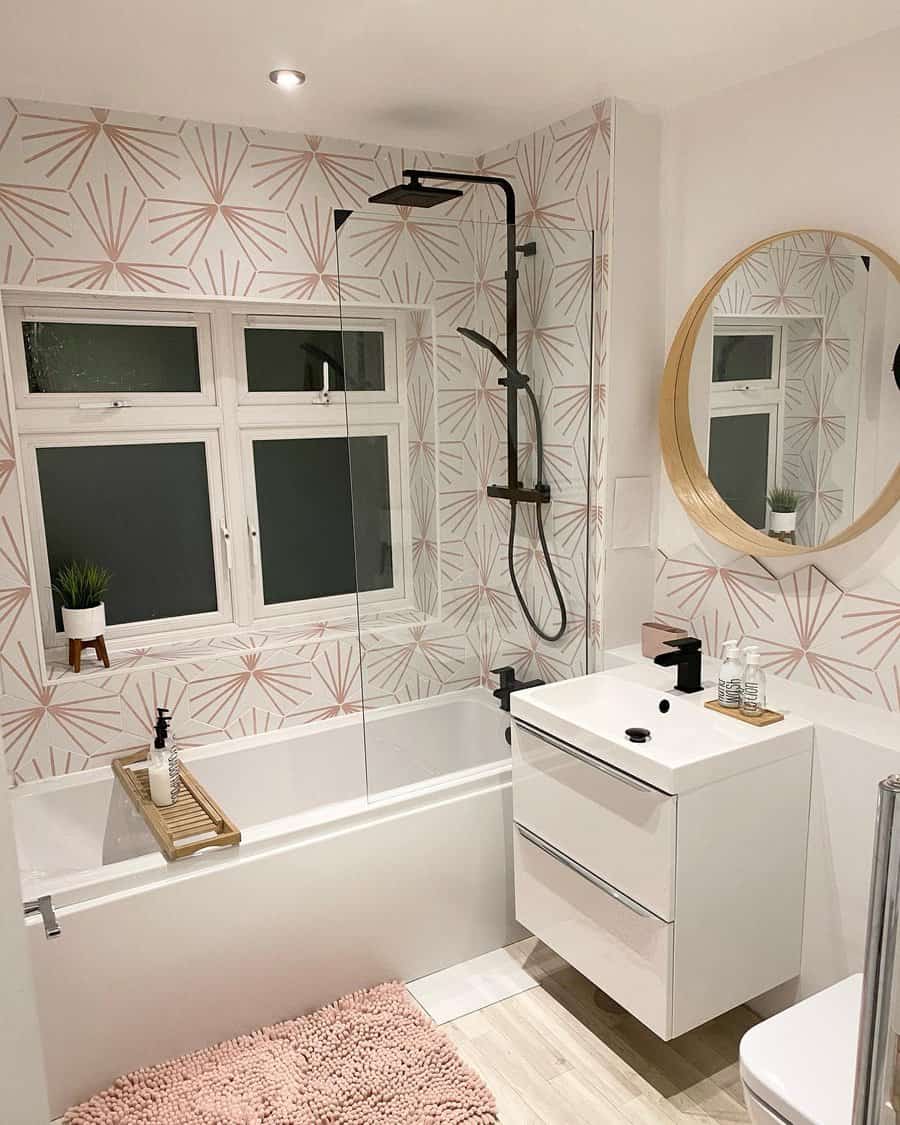 4. All-White
When it comes to making the most out of a low-budget small bathroom project, an all-white interior design can create an illusion of a larger space. By using all one tone, your small space is unified and creates continuity. When combined with strategic lighting and an extra large mirror, all that white can make your bathroom feel much larger than its square footage.
Take advantage of all the great stylish monochromatic accessories available in modern designs like clean lines and geometric shapes to further contribute to this all-white nirvana you have created in your bathroom!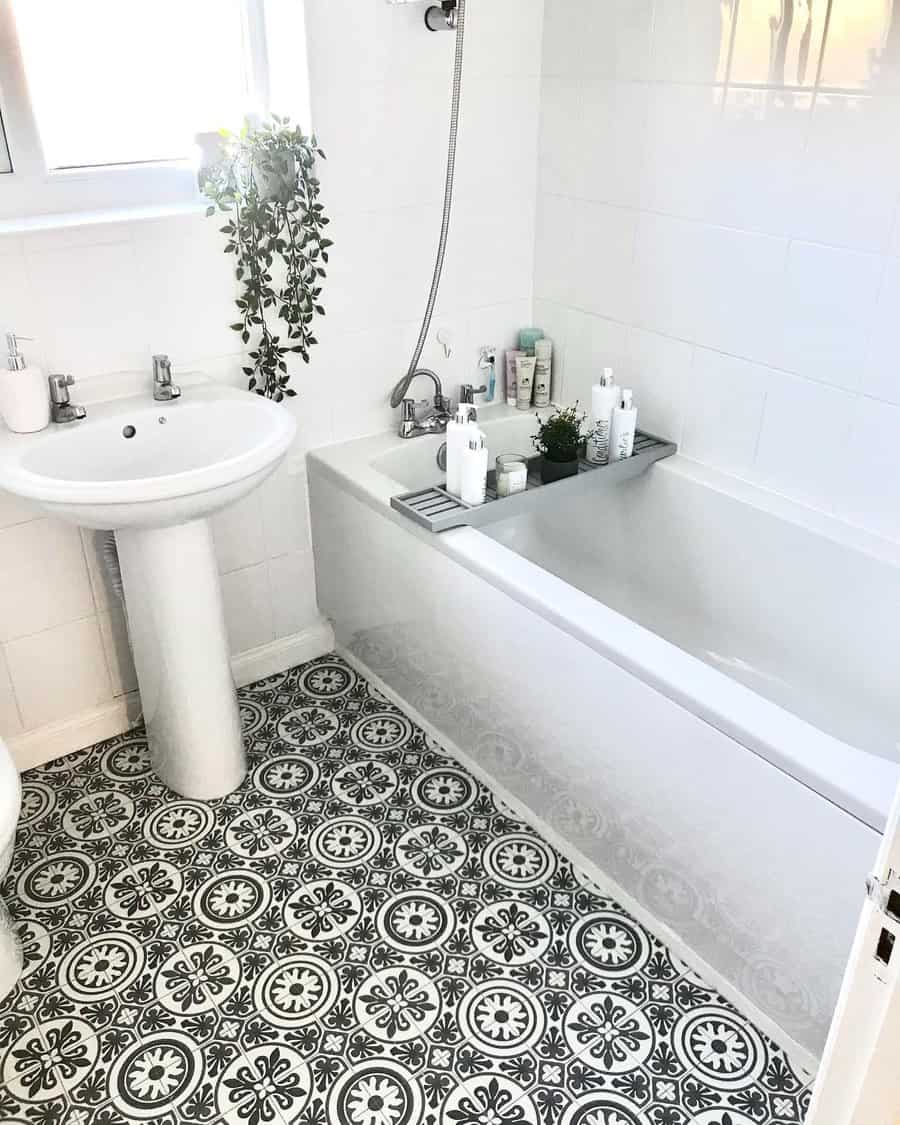 5. Ladder Towel Rack
Redoing a small bathroom on a budget doesn't have to mean sacrificing style or creativity. Incorporating DIY elements can bring an entirely unique look and atmosphere to the space.
A great way to do this is with a DIY ladder towel rack – perfect for hanging towels and also adding plants, candles, and other decor pieces. Have fun with it by playing up bold colors or interesting textures that will bring a personal touch.
Hang vintage signs or other fun pieces from the ladder, put some potted plants on the bathroom countertop and hang pretty houses from ribbons in the window for an outdoor feel – there are so many options. With DIY projects you don't have to break the bank to make your small bathroom highly stylish and creative.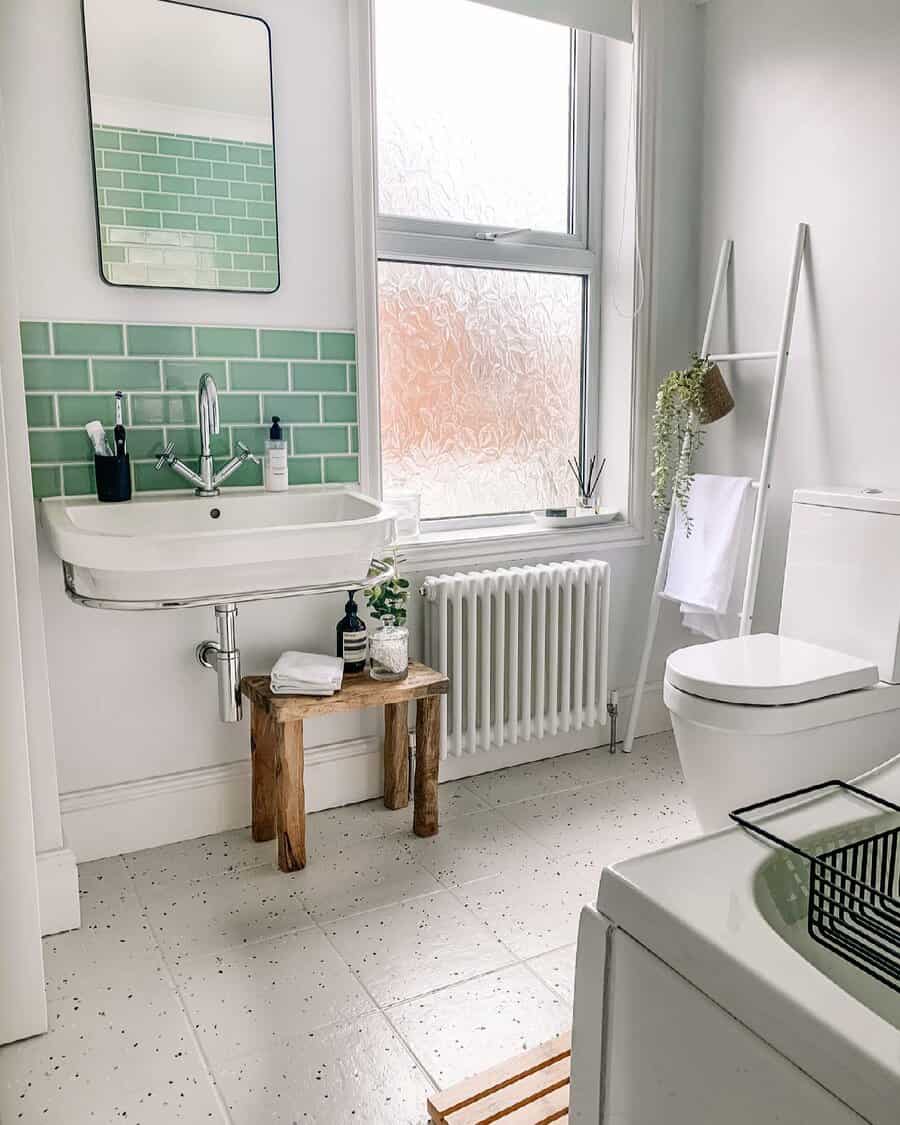 6. Macrame Wall Art
When it comes to low-budget small bathrooms, you don't have to compromise on style and creativity! To maximize the bathroom's space while keeping costs down, macrame wall art can be an invaluable investment; this type of art adds visual interest to an often-overlooked area and still maintains a minimalistic vibe.
Additionally, utilizing the walls is ideal; installing shelves, hanging various knick-knacks, and other decoration techniques are clever ways to make the room stand out.
With macrame wall art as a basic starting point, there are plenty of ways for a small bathroom on any budget to look elegant and inviting.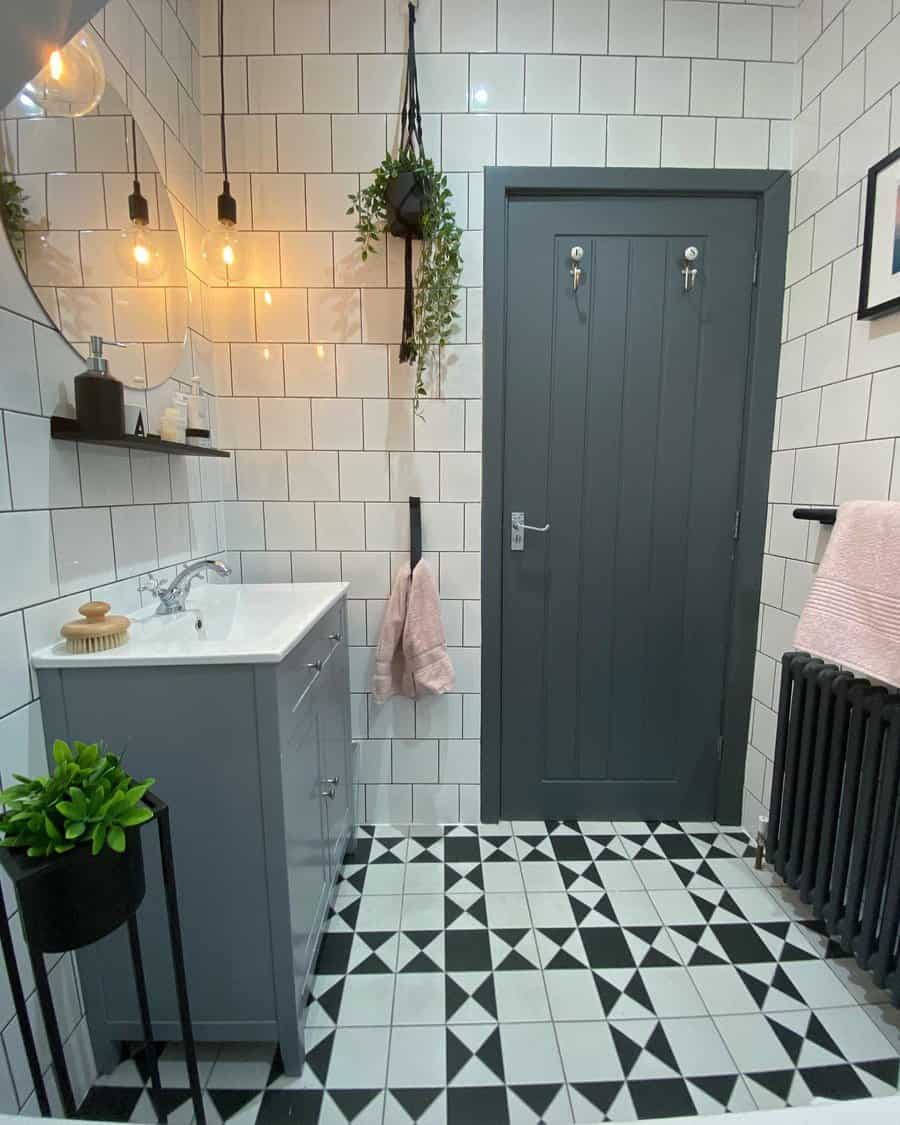 7. Door Racks
Outfitting a low-budget small bathroom doesn't have to be daunting! With some creativity, it can even become an enjoyable task. A door rack is a great way to add extra room for towels and other necessities while keeping the overall look flexible.
To give the bathroom an extra touch of style, adding a charming small vanity mirror or two will make the space feel polished and updated.
Allowing these elements to shine can give the perfect final touch to transform any low-budget small bathroom into a beautiful one.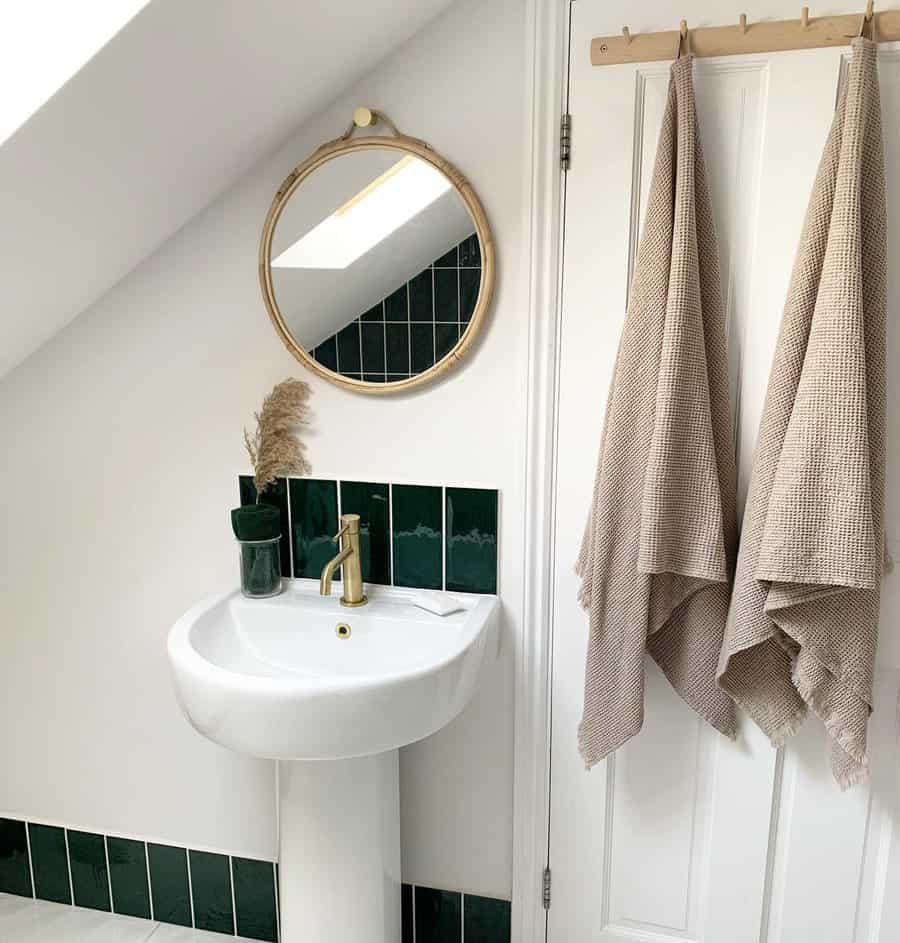 8. Elevated Wall Racks
When decorating a low-budget small bathroom, elevated wall racks can be brought into play to create the illusion of more space. Adding dual-toned walls is also great for making these rooms look even bigger and more inviting.
Mirrors can be used to create further depth in these environments, and by painting the walls with lighter colors you can even make the room feel larger than it actually is; for example, white helps reflect light and gives a brighter atmosphere throughout what was once a cramped space.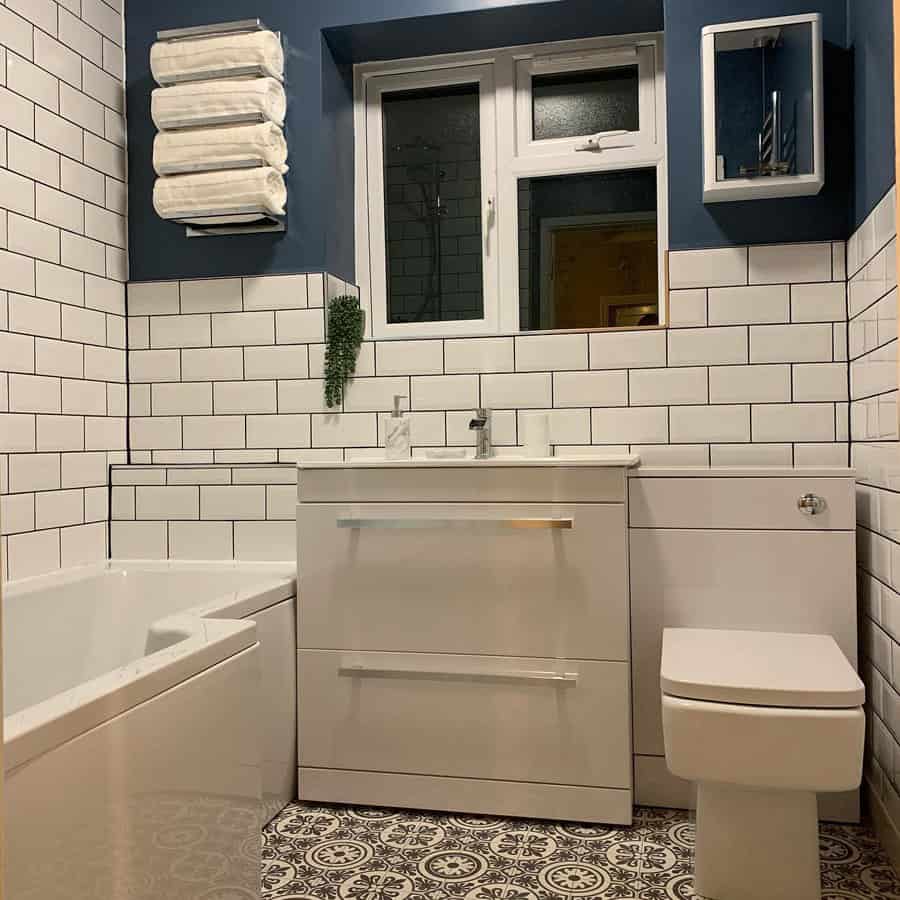 9. Window With Roll-Up Curtain
Renovating a small bathroom on a budget can seem overwhelming but it's actually quite fun and easy. If you have a window, for example, why not get creative and use it to your advantage?
Try hanging a window with a roll-up curtain that allows natural diffused light to enter your bathroom. This automatically creates an airy atmosphere in the room while providing privacy at the same time.
Plus, your window will look chic and stylish – all while sticking to your budget.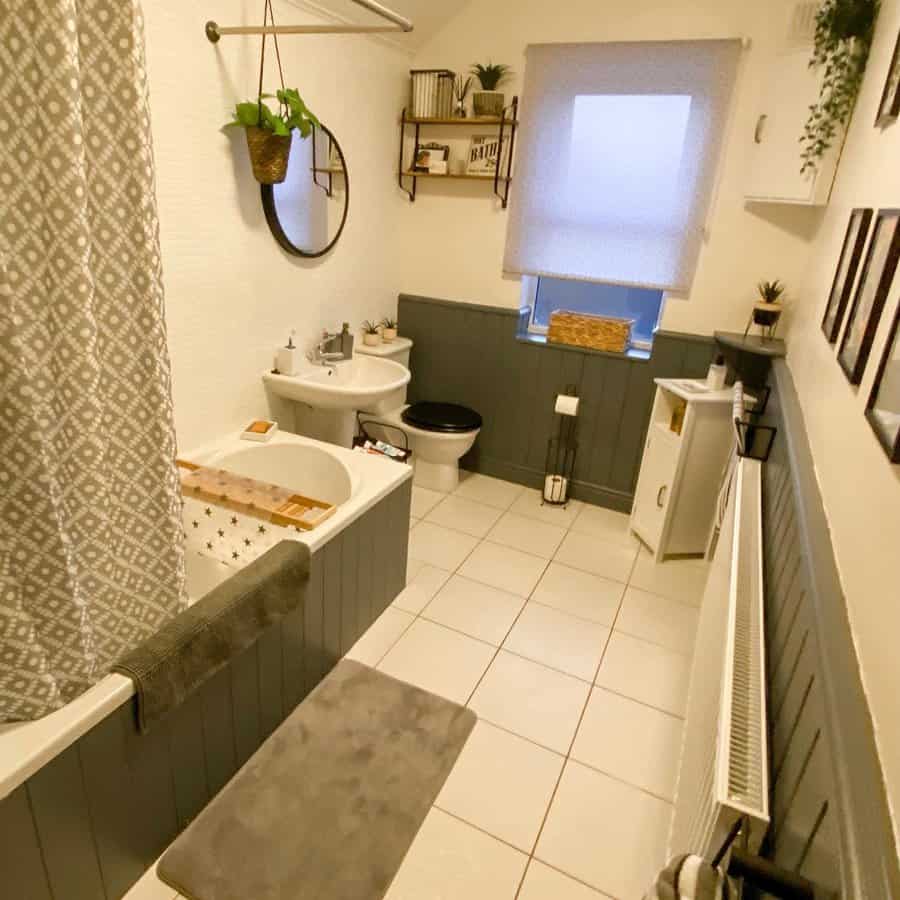 10. Glass Mosaic Accent Tiles
An often-overlooked space can easily become a fun and stylish sanctuary with a few clever tricks! A low-budget small bathroom can become an inviting retreat with the addition of glass mosaic accent tiles on a white tiled wall.
This subtle but beautiful feature is sure to make a statement without blowing your budget.
Not many know that glass mosaic tiles are easy to install and come in many shapes, sizes, and colors, so the possibilities are truly endless. Dare to be creative and transform that simple bathroom into a welcoming haven!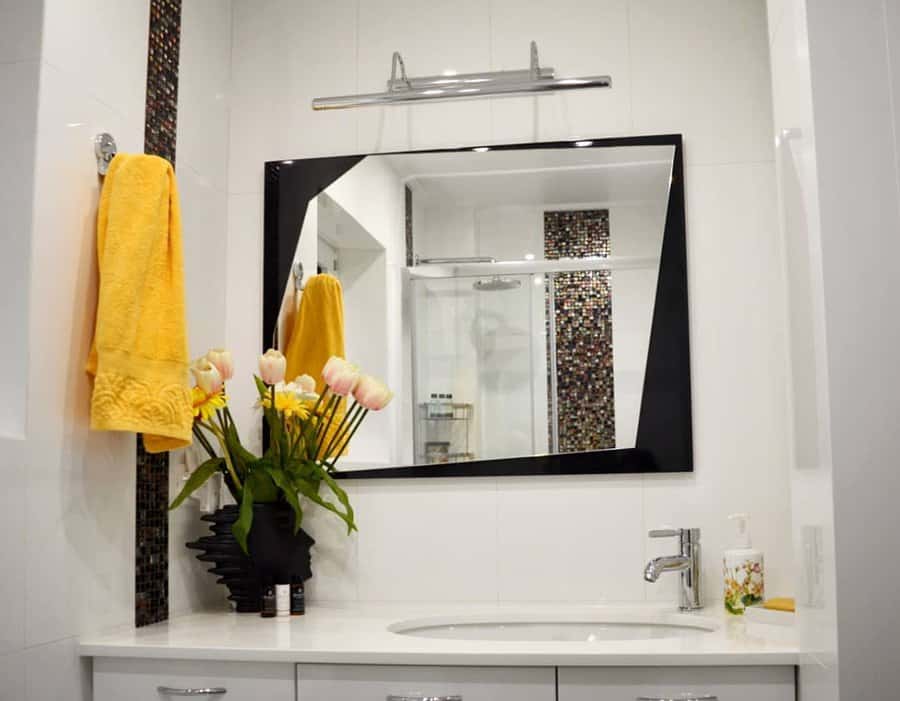 11. Bath & Shower Glass Divider
A small bathroom can still feel spacious and inviting with the right design touch! Add quirky bath and shower glass dividers with a printed black frame, or create an accent wall with a bold wallpaper design. Darker shades add the illusion of more space in even the smallest of bathrooms.
To reflect the light and make the room appear larger, consider adding mirrors to the walls for a subtle yet effective trick. Brighten up any dull corner by adding some indoor plants in chic pots, brightening your low-budget bathroom with style!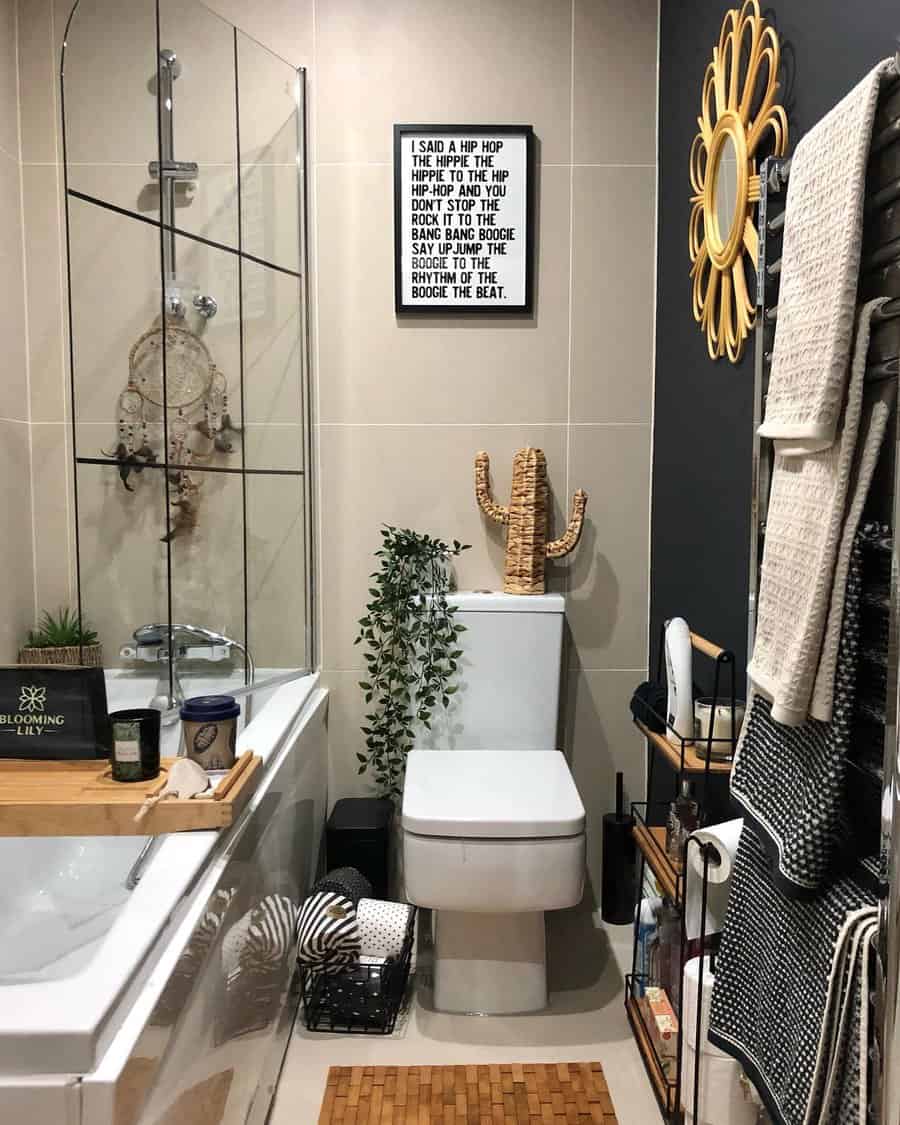 12. Decorative Round Mirror
A low-budget small bathroom doesn't need to feel cramped and dull. With a few decorative touches and some clever design, you can achieve an eye-catching shabby-chic interior in no time.
Start with a decorative round mirror on one of the walls: its shape will make the room look bigger while providing an attractive focal point. Consider investing in a bright shower curtain, or handmade wicker basket for extra storage – these will add charm as well as practicality.
Finally, don't forget to add some plants or even decorative wall art – it'll give your space personality and breathe life into any bathroom.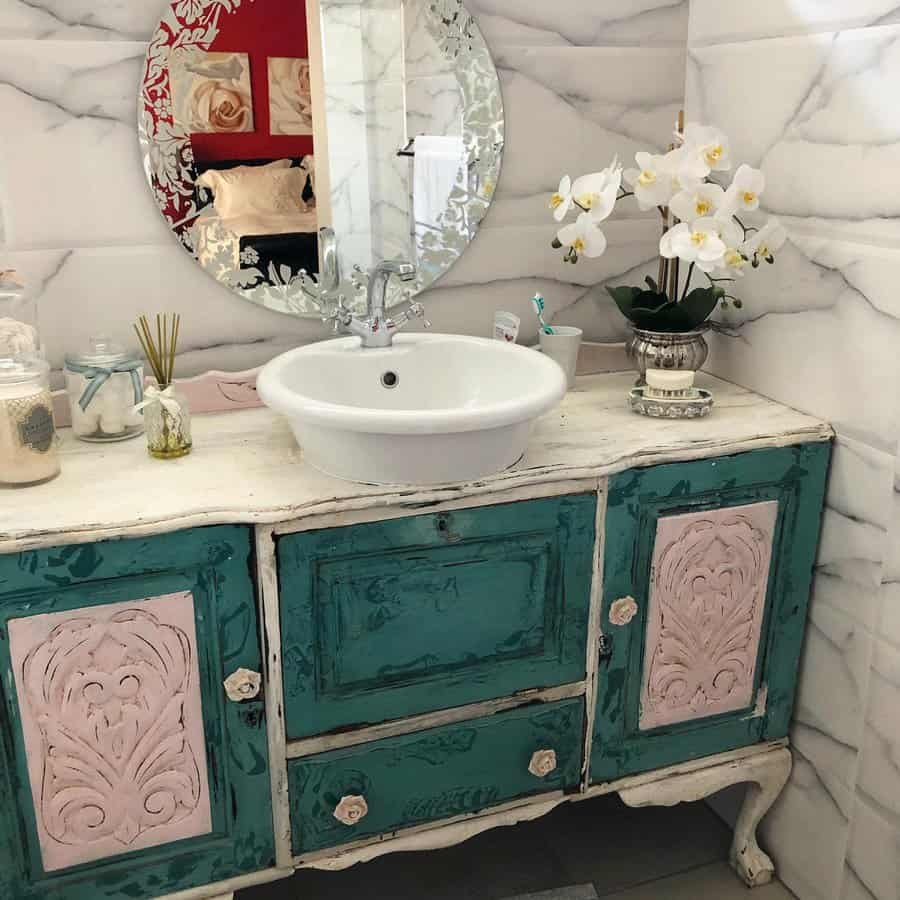 13. Built-in Bathtub
If you are looking to revamp your low-budget small bathroom, built-in baths are an excellent choice. Not only do built-in baths provide a modern look and feel for the space, but they also take up considerably less room than a traditional freestanding bathtub does.
For example, built-in baths can be custom-built and fit into tight spaces which makes them ideal for adding sophisticated style to any small bathroom. Furthermore, built-in baths will provide more surface area, making it easier to clean around the edges and get into those hard-to-reach places.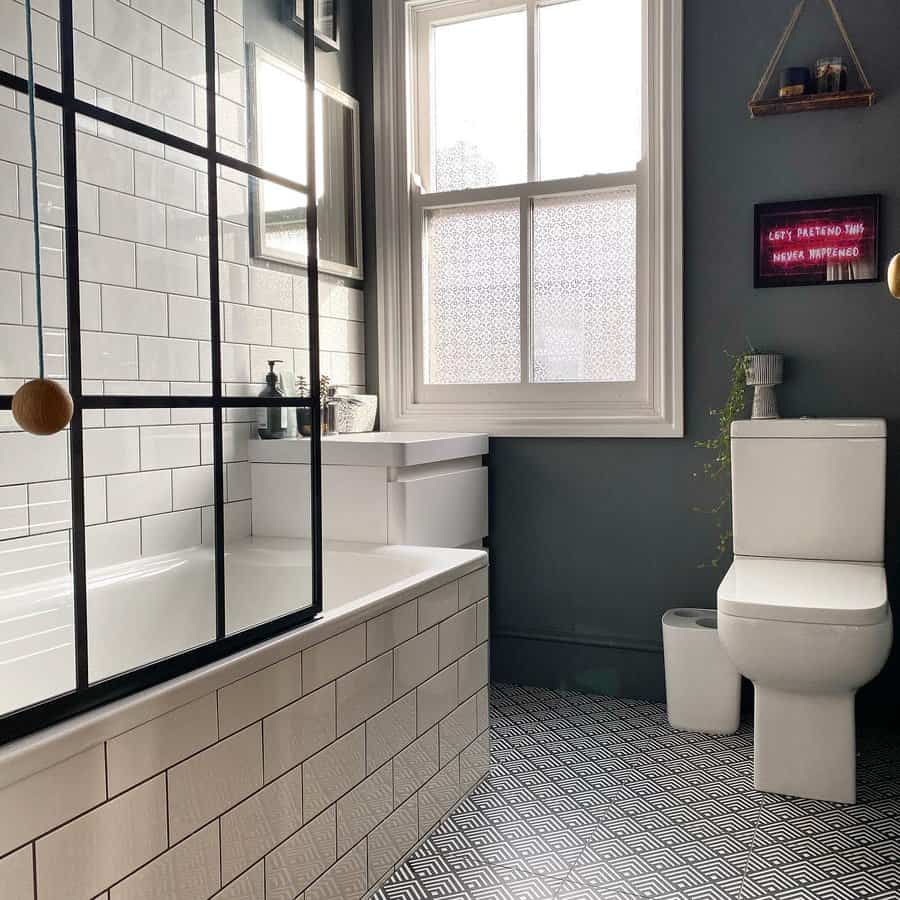 14. Toilet With Hidden Cistern
Working on a tight budget doesn't mean you have to sacrifice good design in small bathrooms. With creative thinking and inspiration, every inch of space can be maximized to create a modern, stylish look.
One way to achieve this is with a toilet with a hidden cistern – giving you plenty of additional floor room which can be used for additional storage or an impressive built-in wash basin.
Clever use of lighting, mirror frames, and different finishes also help to create an atmosphere where the small size of the bathroom is not obvious.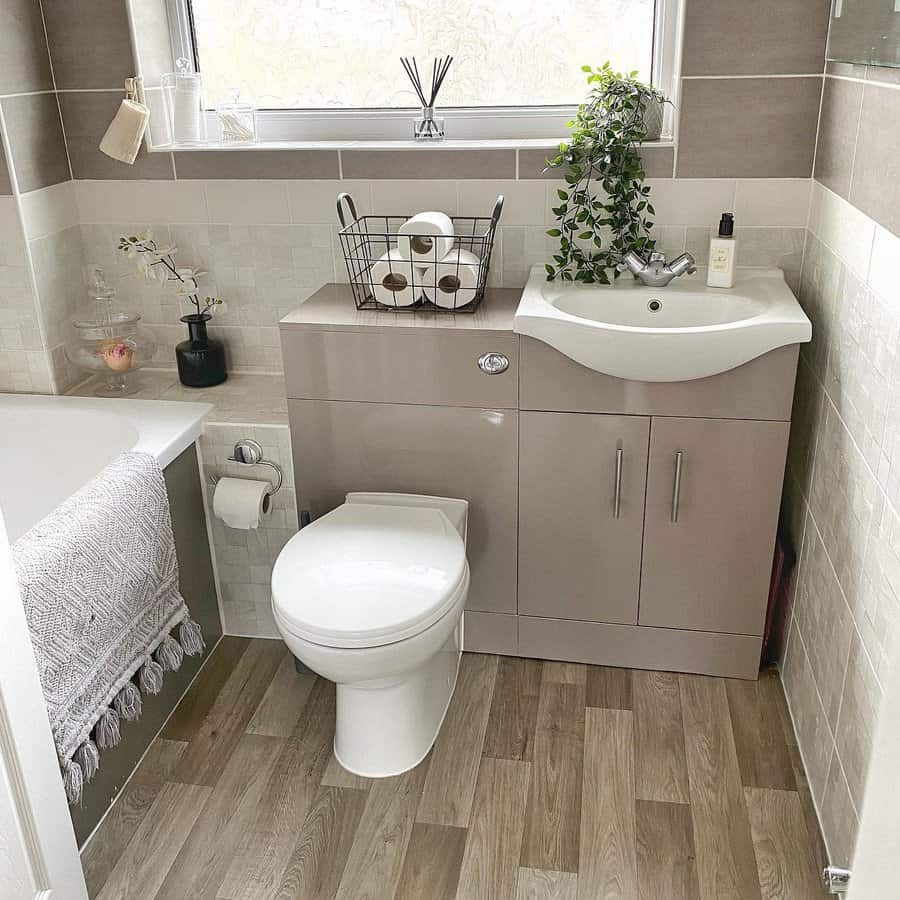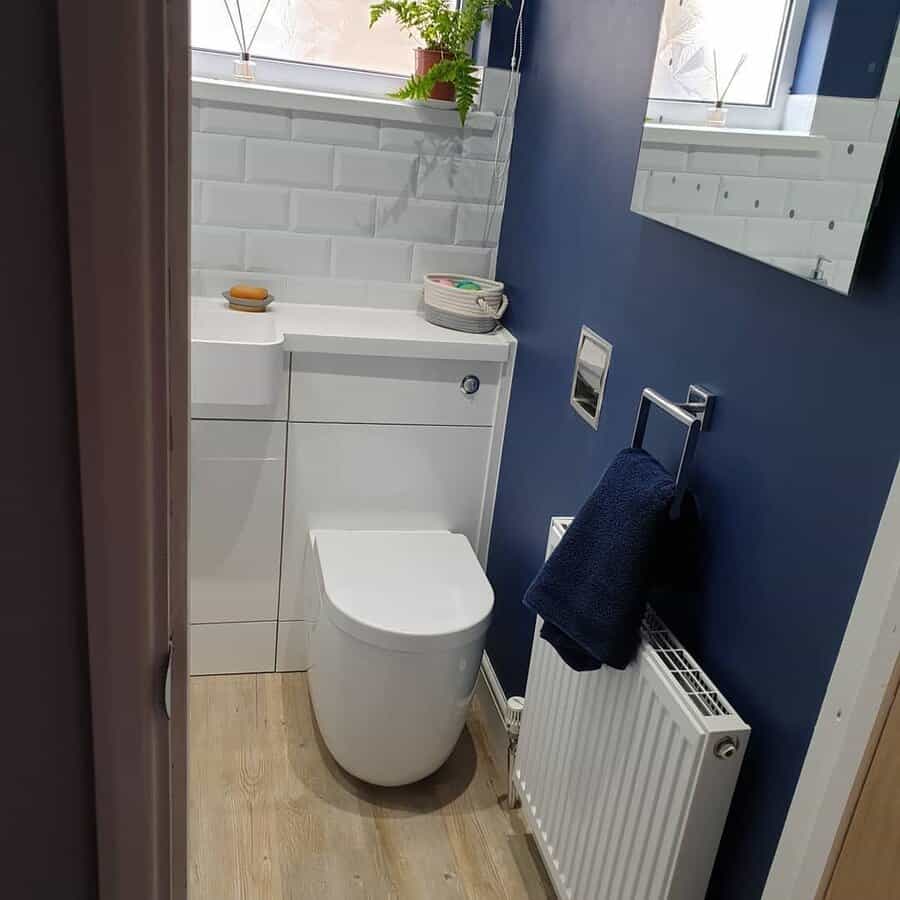 15. LED Mirror
Instead of letting the small space of a bathroom limit your creativity, use it to get creative with design! Install interesting vanity LED mirrors above the sink and vanity to bring life to the space. The warm light they emit adds a sense of warmth and brings the room together.
This can be further accentuated with additional features, such as a small plant or artwork. Don't let the size of your bathroom stop you from achieving maximum comfort for you and your family – create something great out of your low-budget small bathroom!
16. Put Plants into Your Bathroom
Houseplants bring the outdoors inside and add a lot of natural ambiance to a small bathroom remodel. Whether you choose trailing vines, colorful succulents, or basic greenery, be sure that your small space has enough natural light to keep them alive.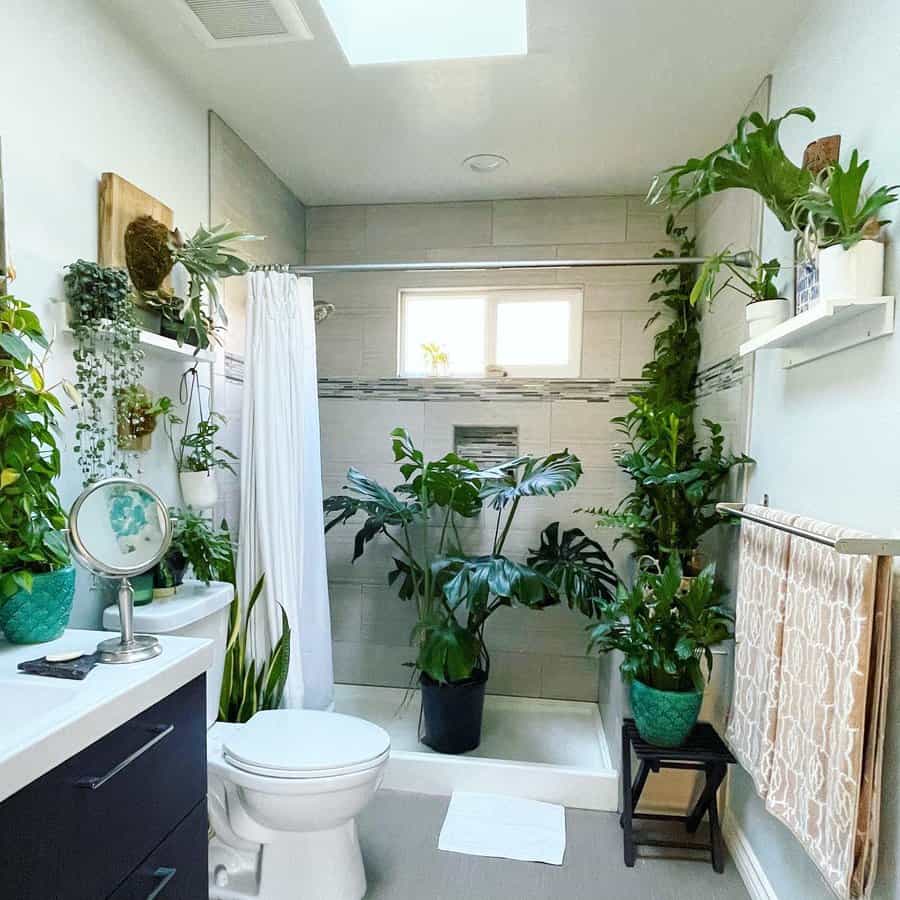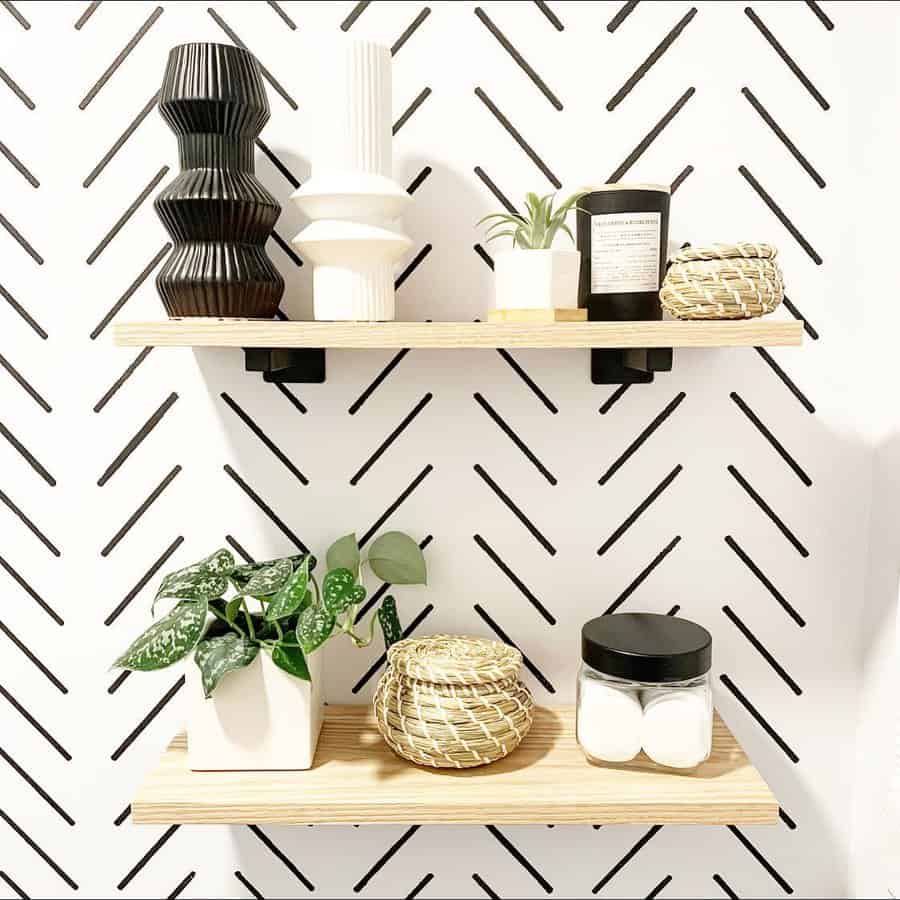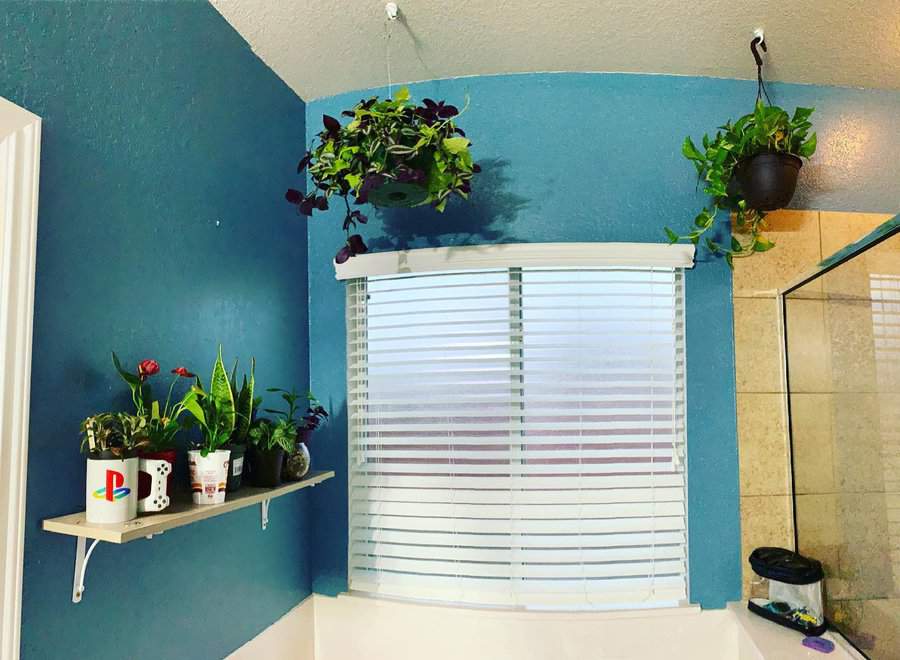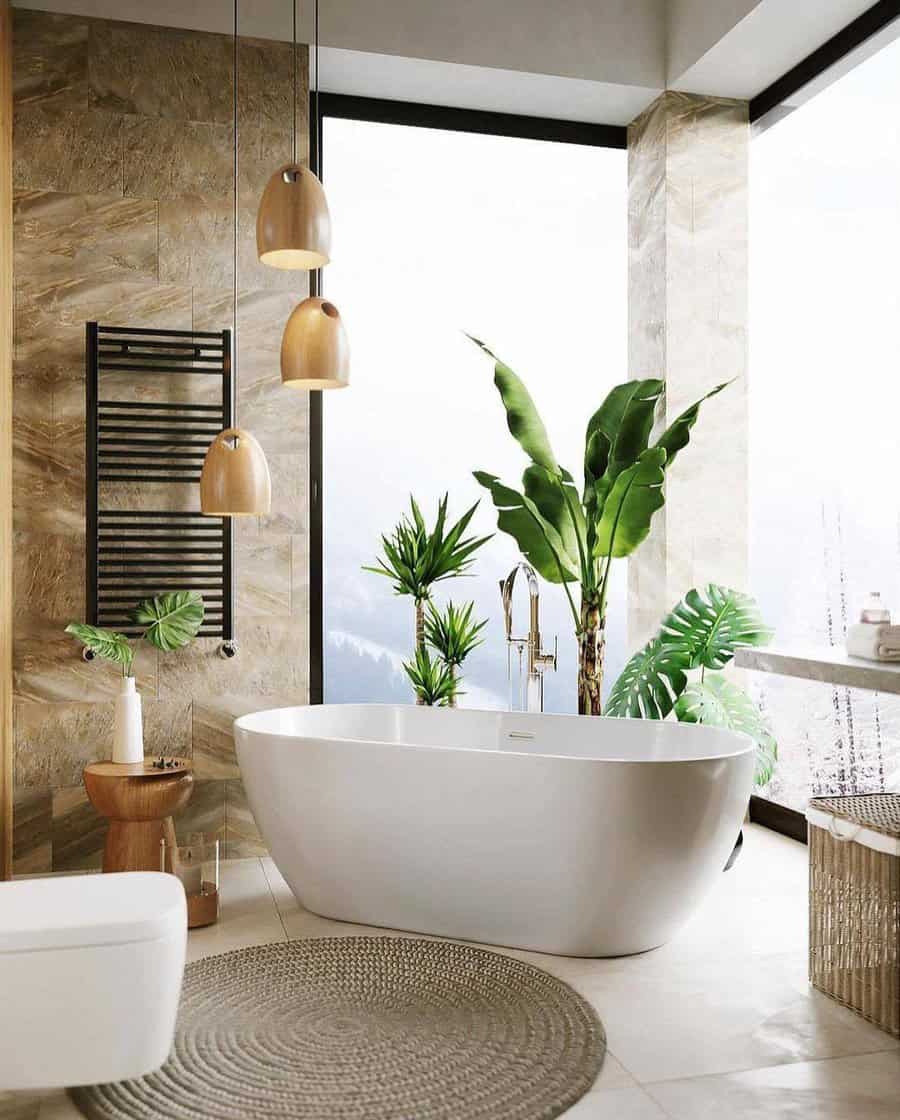 If your powder room or half bath lacks a window, you can find surprisingly realistic artificial plants that add the green aesthetic you're looking for. Be sure to place faux—or real—plants in decorative baskets or pots, and keep their size scaled to suit your tiny bathroom.
17. Rustic Style Small Bathrooms
Rustic bathroom ideas include wood, metal, stone, and other organic materials close to their natural state. A standard vanity cabinet may be replaced with a wide, rough-hewn wooden plank mounted to the wall. This type of vanity looks amazing with a basin sink on top, perhaps made from hammered copper or galvanized steel.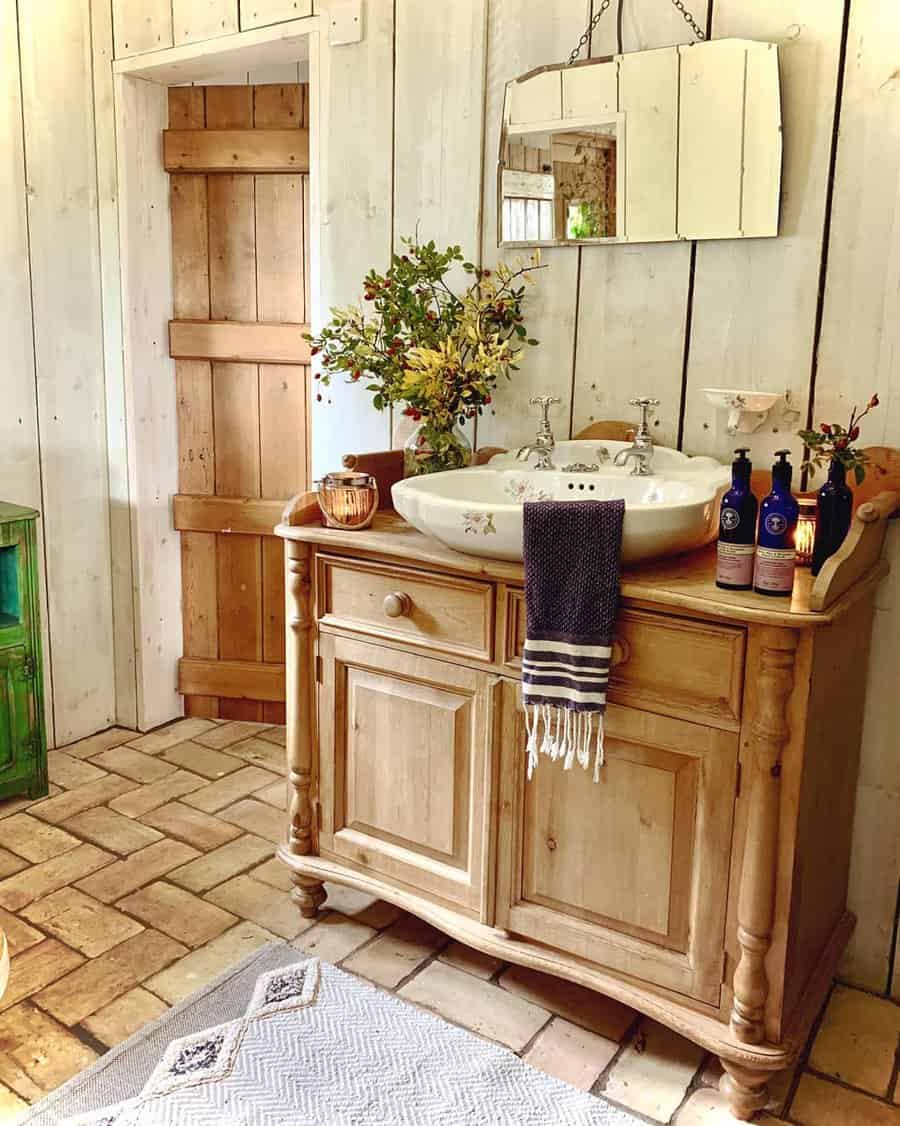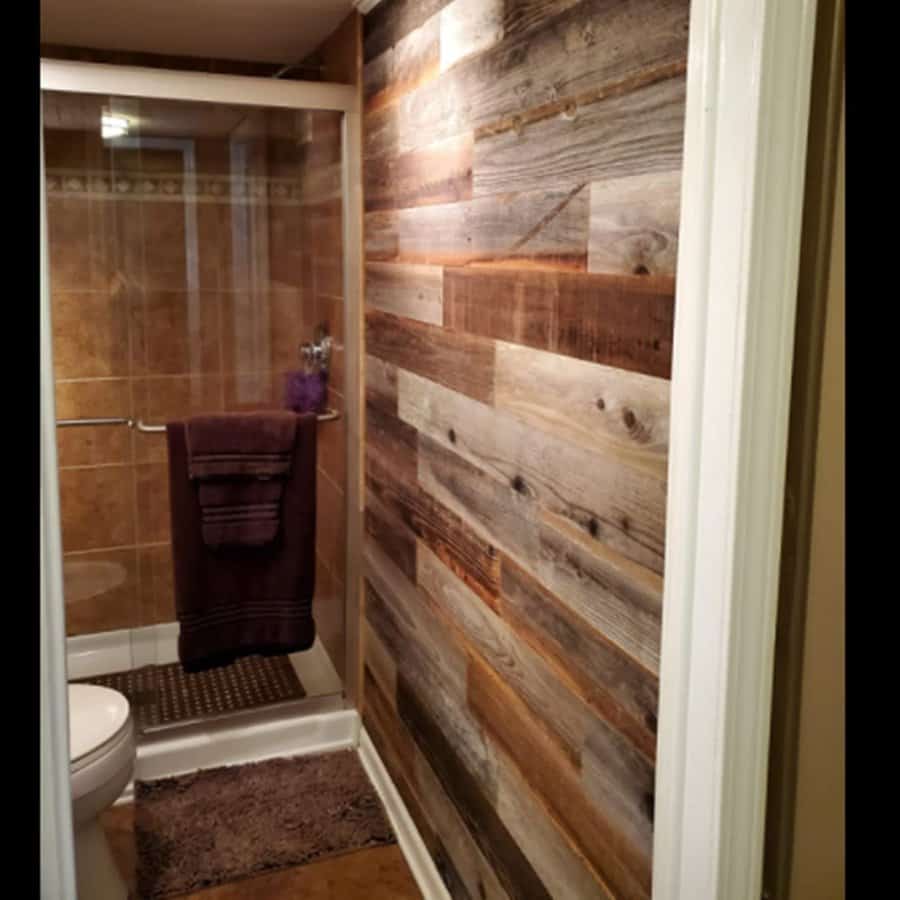 Rough wood paneling is a good rustic small bathroom idea that adds warmth to the space. Dark faux slate shower tile is perfect in a rustic bathroom makeover. Replace the shower curtain with a glass shower enclosure and shower door that showcases your rustic shower tile.
See more rustic bathroom ideas here.
18. Add Shelves
Shelves greatly expand storage space in your small bath or powder room. Whether you opt for extra shelves inside your vanity, a cabinet-type of shelf, or an over-the-toilet shelving unit, adding extra shelf space is always a good bathroom idea.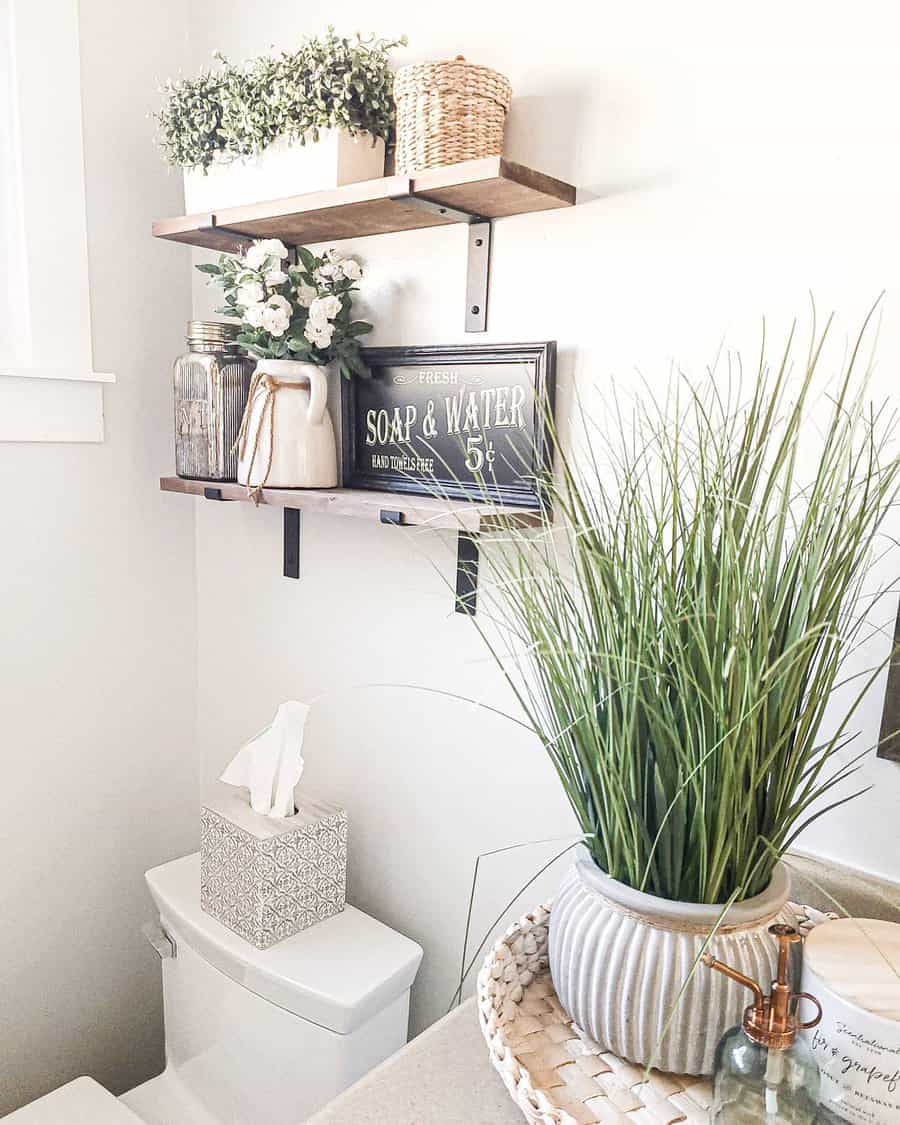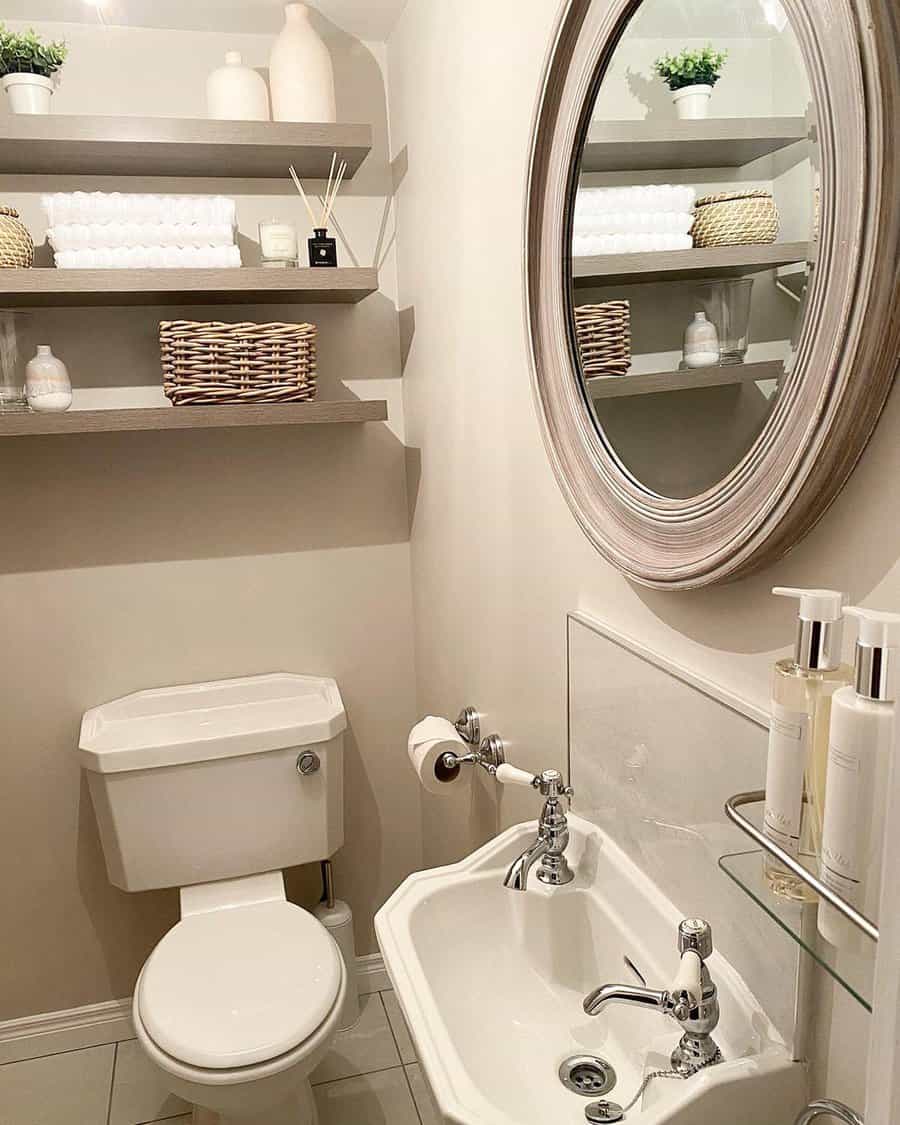 Open shelves are a great idea in a small bathroom because they create the illusion of more square footage. Install floating shelves and use them to store stacks of towels and decorative items. Use baskets as a shelf storage solution for items you'd rather keep out of sight, such as toiletries.
See more creative bathroom shelf ideas here.
19. Add a Wallpaper
Wallpaper is a fantastic addition to a small bathroom or powder room. Whether it appears on all four walls or just one accent wall, a beautiful wall covering can form the foundation for your other bathroom renovation ideas. Temporary stick wallpaper may be preferable if you want to be able to remove it easily later on, such as when you're renting and not allowed to paint.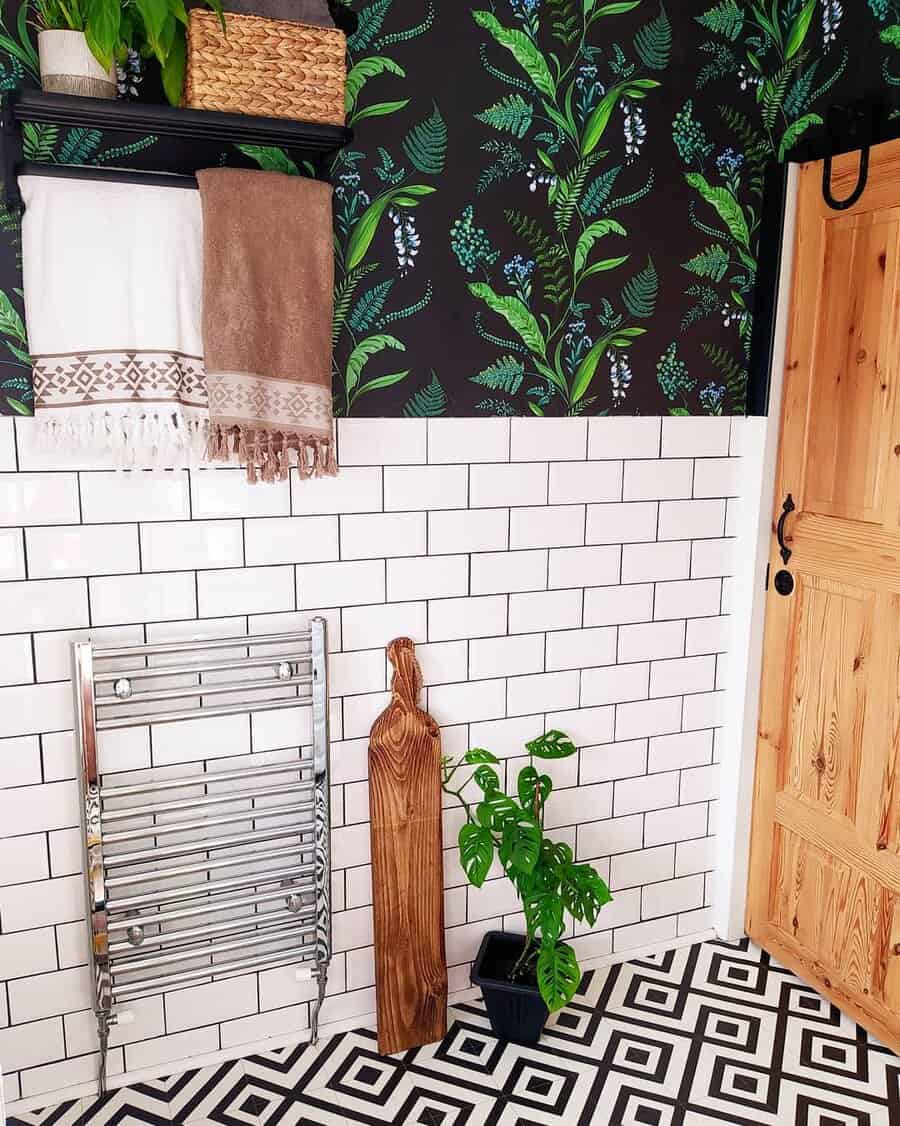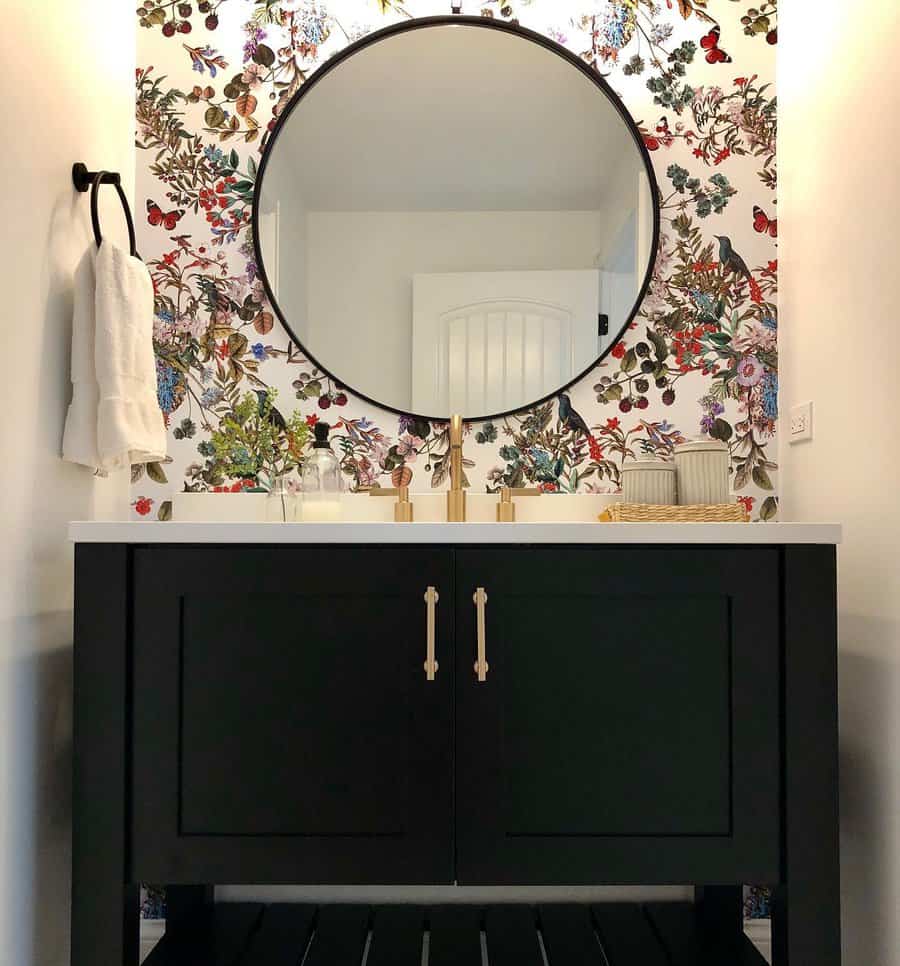 If floor-to-ceiling wallpaper is too much for you, cover the bottom half of your bathroom wall with beadboard or wood panels. Paint it one of the colors found in your wallpaper pattern for an impactful small bathroom design. Apply wallpaper above the wood wall covering.
Small Bathroom on a Budget FAQs
Is reglazing a bathtub worth it?
Replacing a tub can be one of the biggest bathroom remodel expenses. So unless your tub is full of cracks, leaks, or mold, reglazing can give you several more years of use. It will look brand new at a fraction of the cost.
How can I remodel my bathroom without spending money?
There are ways to update a small bathroom without spending much—or any—money. First, forget expensive ideas like moving bathroom fixtures or replacing your bathroom tile or flooring. Ask friends or relatives if they have leftover paint, grout, or wallpaper from a previous remodel. It may be just enough material to update your small bathroom.
If your tile really needs an upgrade, shop for inexpensive stick tile decals to refresh the space. Even dollar stores carry these cheap decor ideas that can really brighten up the bathroom. Certain dollar stores are also great resources for budget-priced shower curtains, towels, and bathroom accessories.