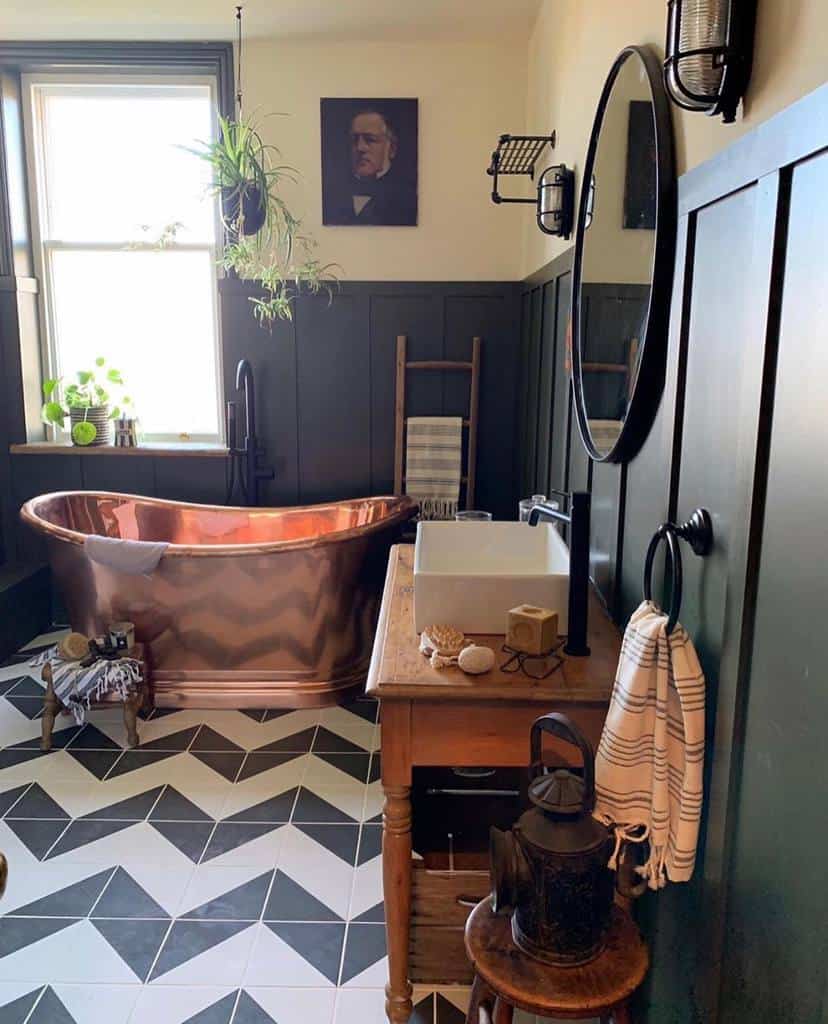 35 Small Bathroom Ideas on a Budget
by — Kari Apted

Published on April 15, 2022

Updated on October 1, 2023
A bathroom makeover is challenging enough when you have a small bathroom. Add a tight budget to the equation, and you could be left wondering what options exist for creating a fabulous new space.
Fortunately, there are hundreds of small bathroom makeover ideas that can transform your bathroom without draining your bank account. Check out our top 35 small bathroom ideas on a budget and see how to stretch your dollars into an amazing small space.
1. Space-Saving Recessed Wall Shelves
Updating a low-budget small bathroom can be a design challenge, but style doesn't need to take a backseat. Harness your creativity by incorporating recessed wall shelves to cleverly store items while creating an open and spacious ambiance.
Alternatively, consider a DIY rustic-industrial sink cabinet that adds character without straining your budget. With savvy storage and design choices, you can transform your small bathroom into a dream space that's both functional and visually appealing. Learn how to maximize every inch of your bathroom and elevate its style without breaking the bank.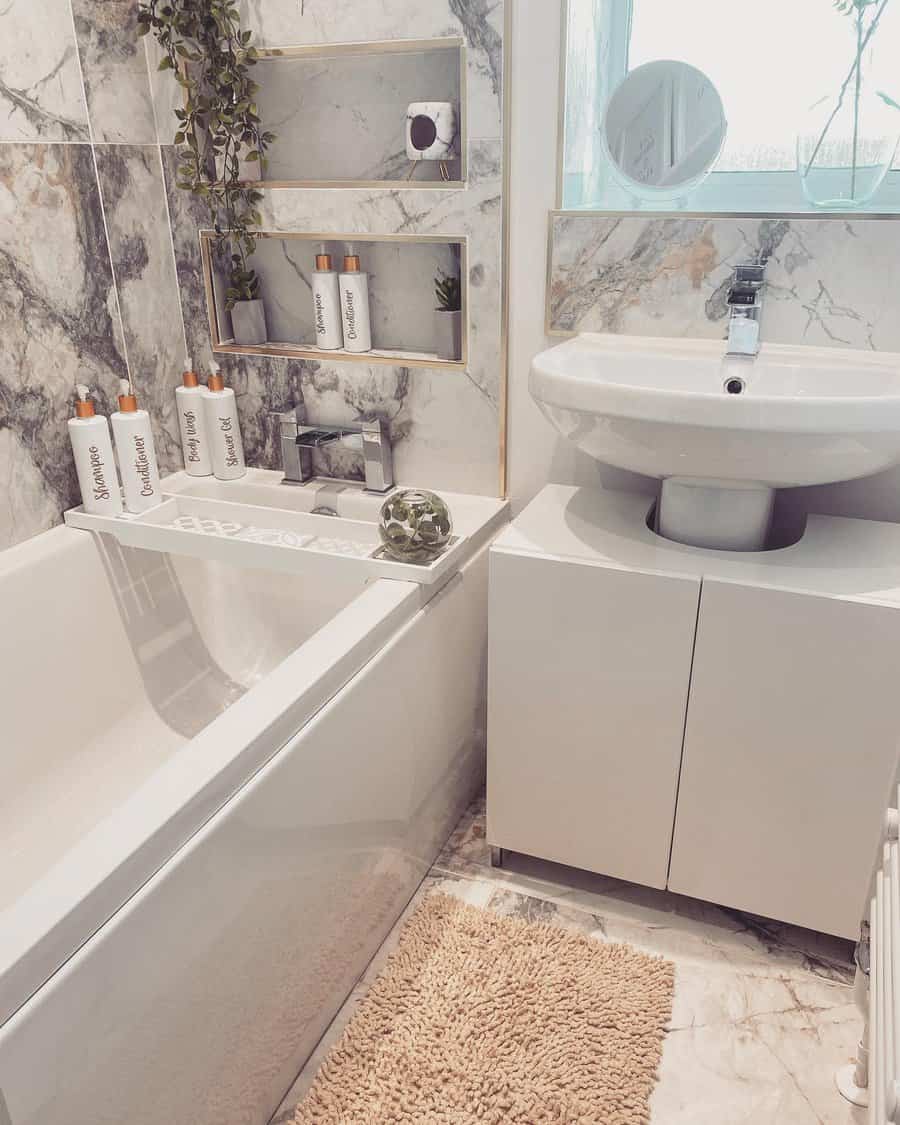 2. Natural Light: Frosted High Window
Don't let a small budget dim your bathroom's potential. Install a frosted high window to flood your space with natural light, pair it with pristine white walls for a clean and airy feel, and add subtle yet charming accessories to infuse personality. Explore options like scented candles in elegant holders, suspended ceiling plants, or imaginative wall art to breathe life into your small bathroom. By blending creativity with cost-effective strategies, you can craft a stylish, budget-friendly sanctuary that reflects your unique taste and maximizes your bathroom's allure.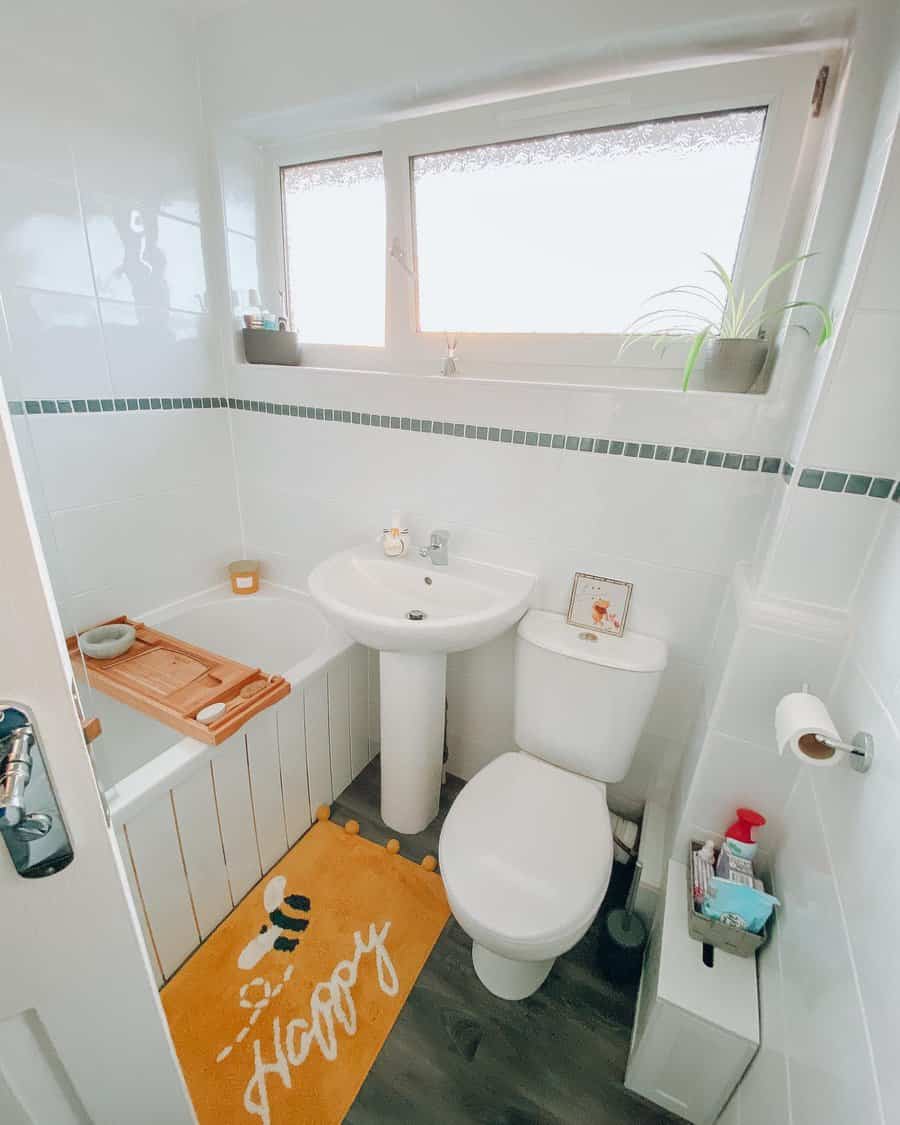 3. Stylish Recessed Bathroom Window
Transform your small bathroom into a budget-friendly oasis of elegance and charm. Opt for a recessed bathroom window with a built-in shelf, where you can display small potted plants such as succulents and ferns, creating the illusion of a larger and cozier space. Maximize functionality by installing shelves around the window, offering storage for bath essentials like scented candles, fragrant soaps, and vibrant towels. Embrace your creative side and let it guide you in crafting an inspiring and inviting getaway within your small bathroom.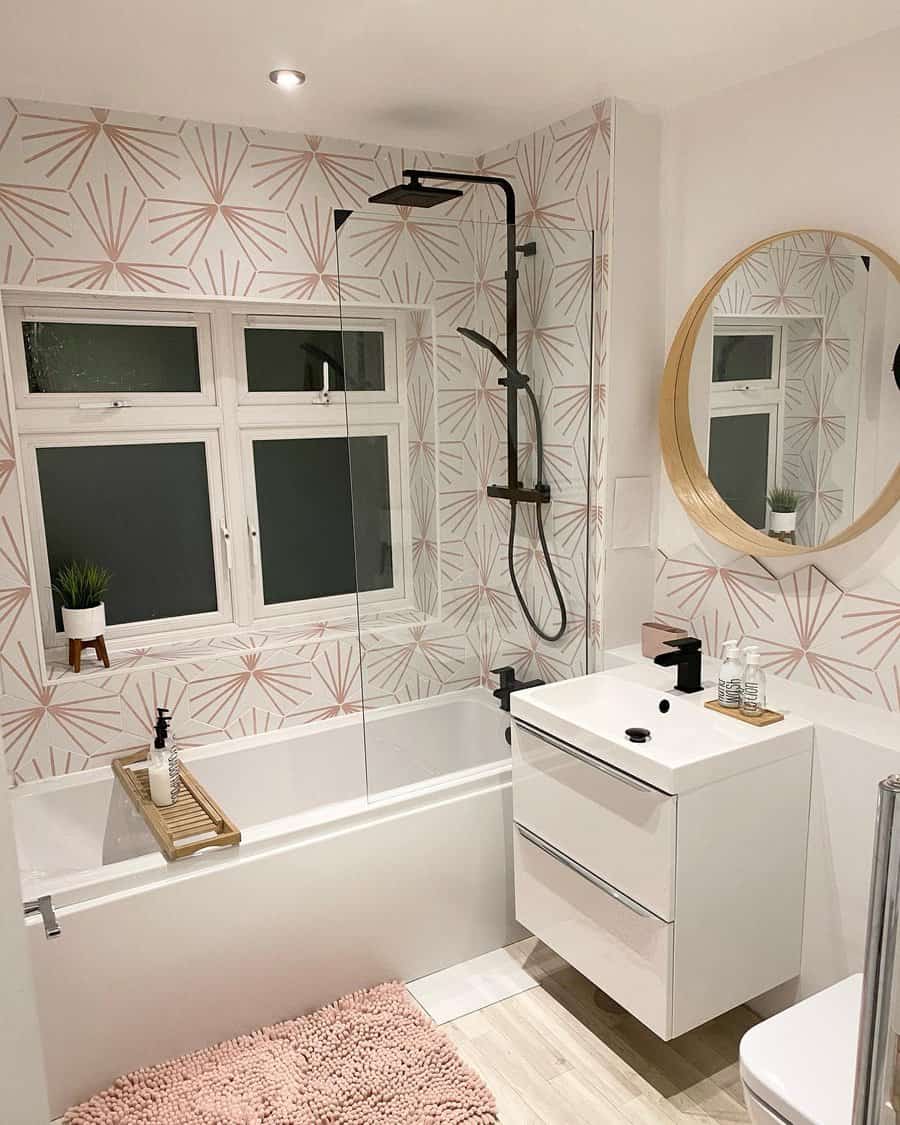 4. Budget-Friendly All-White Design
Elevate your small bathroom on a budget with an all-white interior design, known for its space-enhancing effects. The uniformity of a single color creates visual continuity, making your bathroom feel more spacious. Amplify this effect with well-placed lighting and a generously sized mirror to maximize the illusion of space.
Complement the monochromatic scheme with stylish accessories featuring clean lines and geometric shapes, enhancing the serenity of your all-white bathroom retreat. Discover how to create an inviting, budget-friendly oasis that exudes elegance and openness within your small bathroom.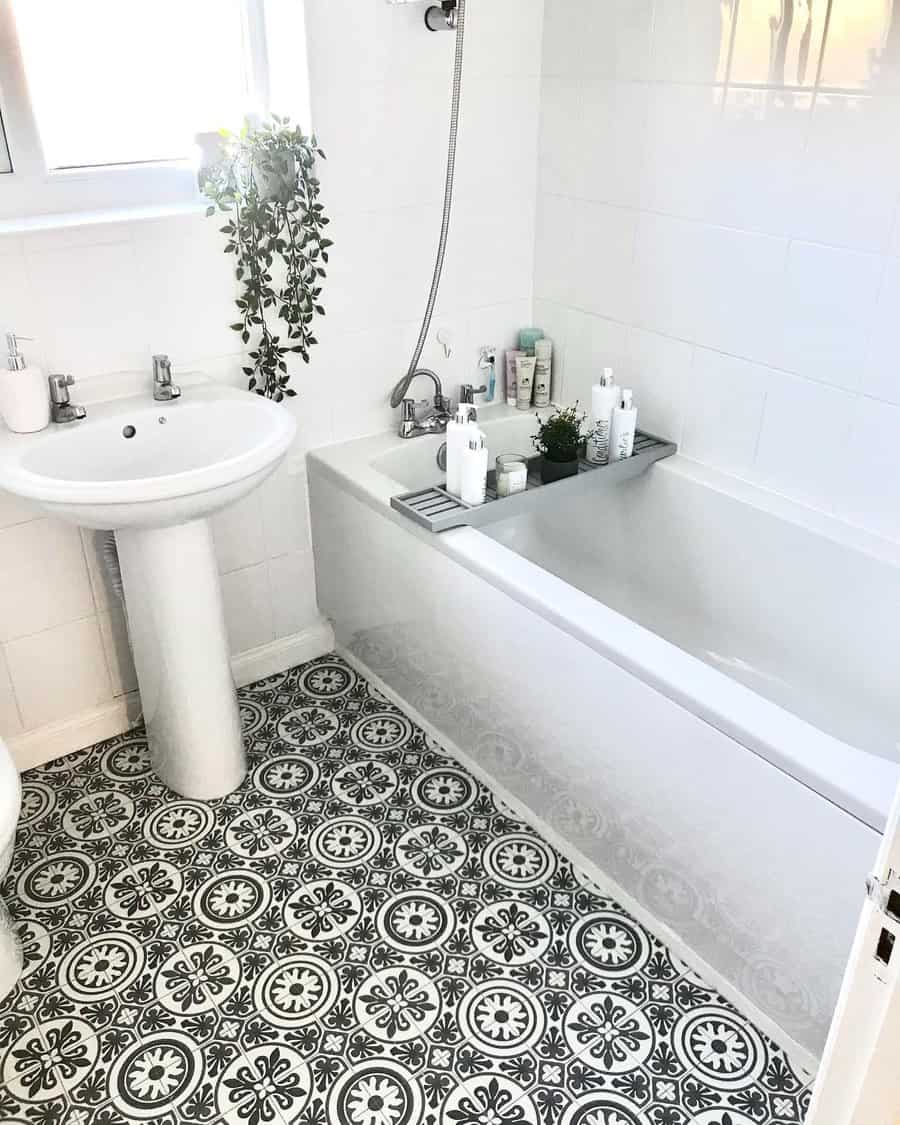 5. Functional Ladder Towel Rack
Revamping your small bathroom on a budget can be an opportunity to infuse style and originality. A DIY ladder towel rack is an excellent addition, serving both functional and decorative purposes. Not only can you hang towels, but you can also embellish it with plants, candles, and unique decor pieces. Embrace creativity with bold colors, textures, and vintage signage, allowing you to personalize your bathroom's ambiance.
Enhance the atmosphere further by adding potted plants on the countertop and hanging decorative accents from ribbons in the window for a refreshing outdoor touch. Discover the limitless possibilities of budget-friendly DIY projects to elevate the style and creativity of your small bathroom.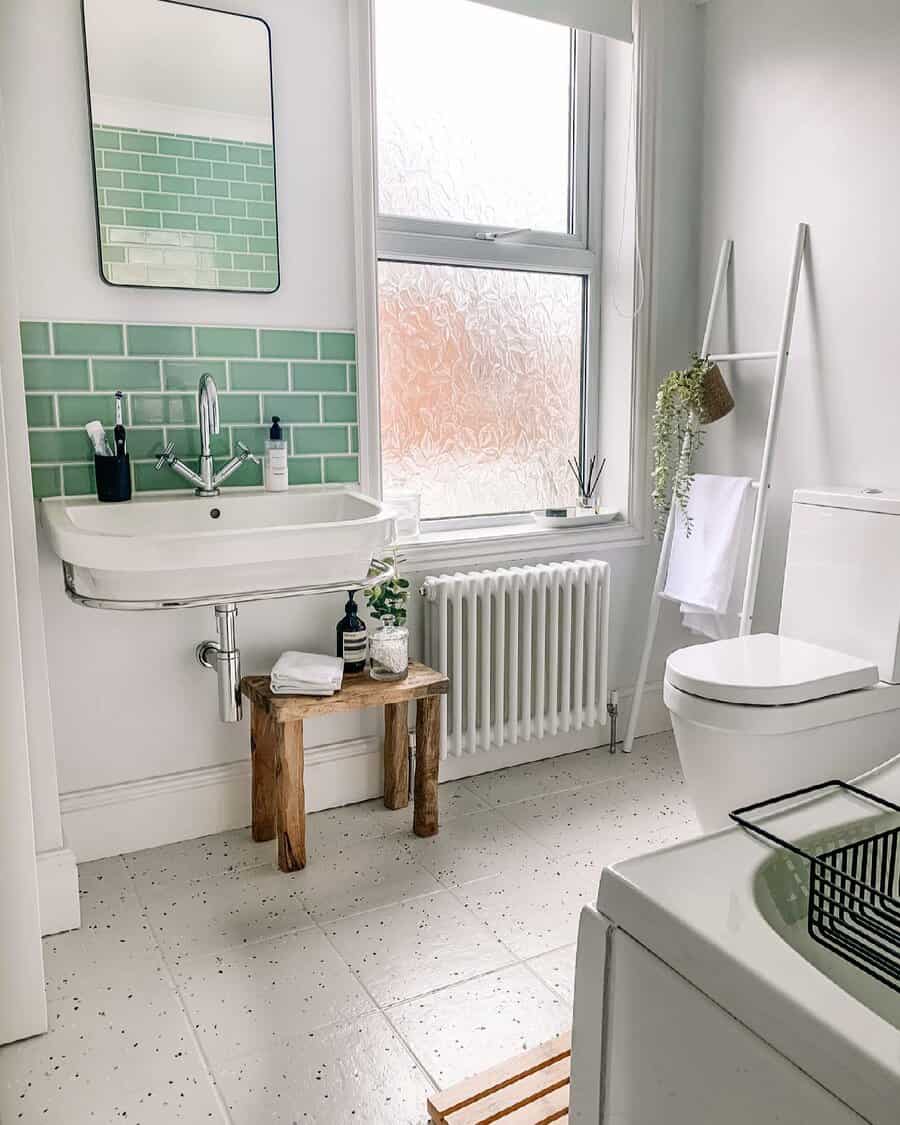 6. Boho Vibes: Macrame Wall Art
Creating a stylish and imaginative small bathroom on a budget is entirely achievable. Consider investing in macrame wall art to maximize your space without breaking the bank. This art form adds visual intrigue while maintaining a minimalist ambiance.
To further enhance your bathroom's appeal, utilize the walls for storage by installing shelves, displaying decorative items, and employing various design techniques. With macrame wall art as your foundation, you can effortlessly infuse elegance and charm into your small bathroom, regardless of your budget. Discover how to transform your space into an inviting oasis that reflects your unique style.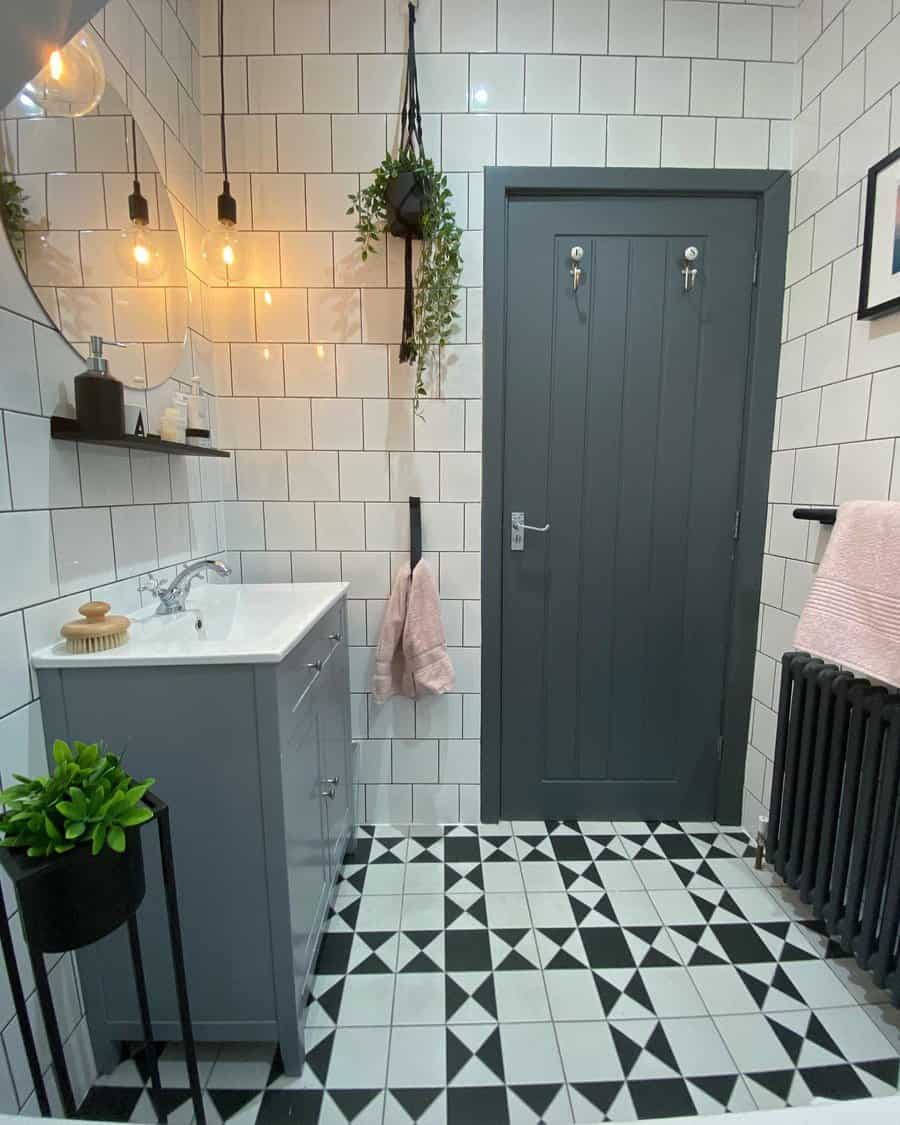 7. Door Storage Racks
Don't be overwhelmed by the prospect of sprucing up your small bathroom on a budget; it can be a rewarding endeavor. Opt for door storage racks to create additional space for towels and essentials while maintaining flexibility in design.
Elevate the bathroom's aesthetics by incorporating charming small vanity mirrors, instantly giving the space a polished and refreshed feel. Let these elements shine as they put the finishing touches on your transformation, turning your low-budget small bathroom into a beautiful and functional oasis. Explore the possibilities of enhancing storage and style to make the most of your space.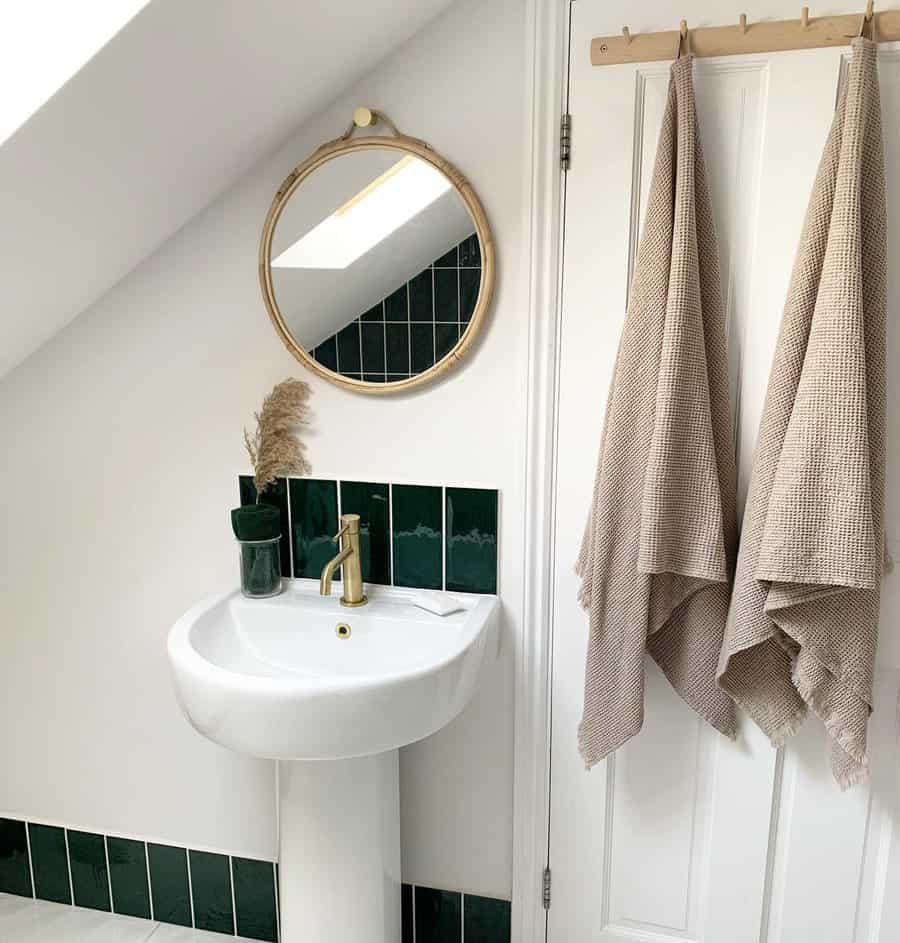 8. Storage Hacks: Elevated Wall Racks
Maximizing space in a budget-friendly small bathroom is achievable with elevated wall racks. These clever storage solutions not only add functionality but also create the illusion of a more spacious environment. Enhance the sense of space by incorporating dual-toned walls, which make the room appear larger and more inviting.
Further, use mirrors strategically to introduce depth, and opt for light-colored wall paint to amplify the feeling of spaciousness. By embracing these design elements, particularly the use of lighter shades like white, you can transform your cramped small bathroom into an airy and welcoming retreat without exceeding your budget. Explore how these tips can elevate both style and functionality in your compact bathroom.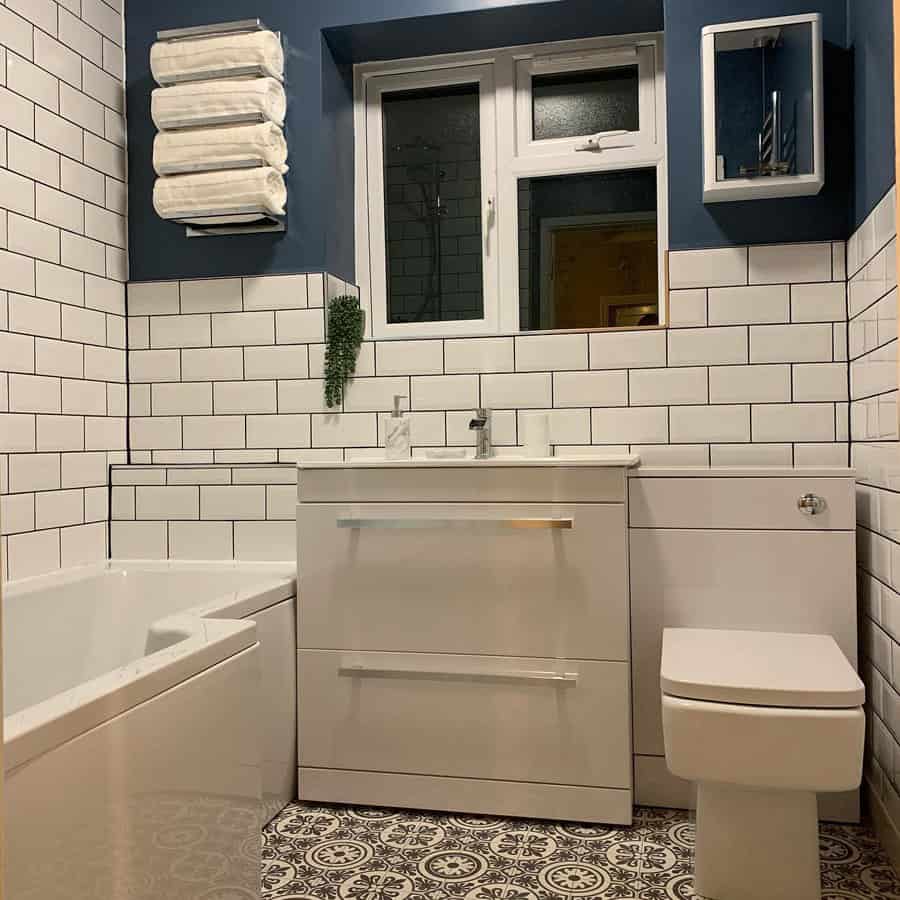 9. Privacy and Style: Roll-Up Curtain
Don't let the idea of renovating your small bathroom on a budget intimidate you; it can be an enjoyable and straightforward endeavor. Leverage your window as a design element by hanging a roll-up curtain that welcomes natural diffused light into your bathroom. This effortlessly establishes an airy ambiance while ensuring privacy. The added bonus is the chic and stylish look it imparts to your window, all without straining your budget.
Discover how this simple yet effective solution can enhance both the aesthetics and functionality of your small bathroom, creating an inviting and well-lit space.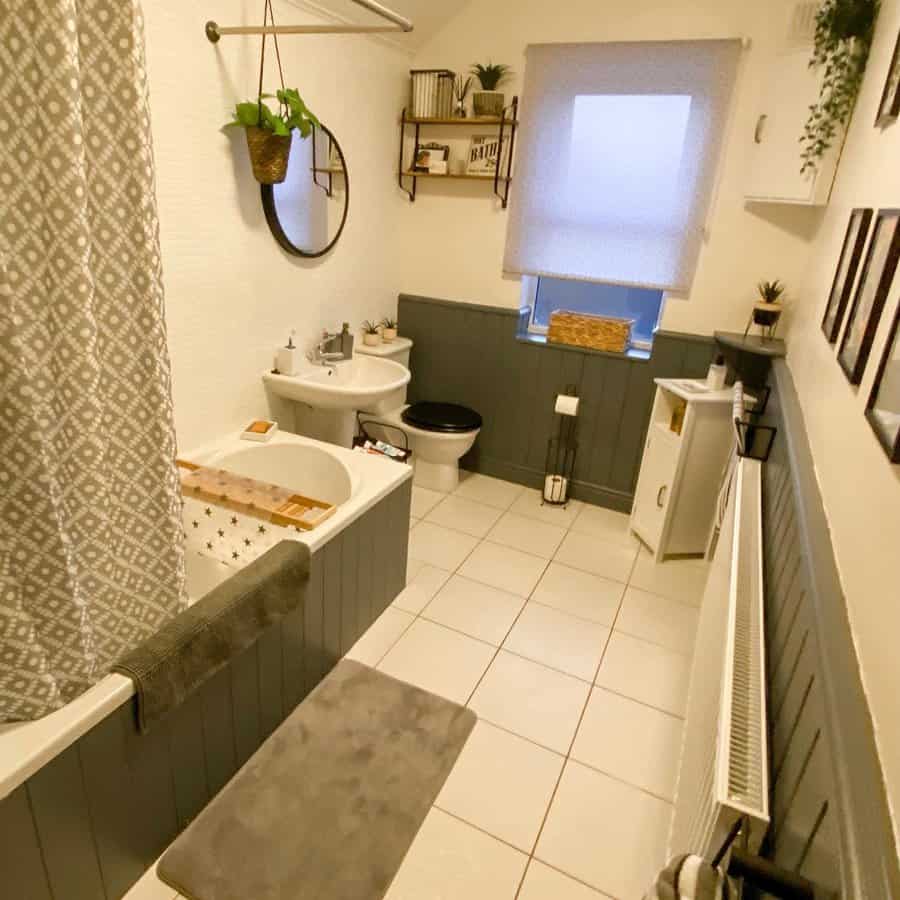 10. Shine with Glass Mosaic Tiles
Turning a small bathroom into an inviting sanctuary on a budget is achievable with some clever design choices. Consider enhancing the bathroom's appeal by incorporating glass mosaic accent tiles onto a white-tiled wall. This subtle yet stunning addition makes a striking statement without straining your budget. Discover that glass mosaic tiles are not only easy to install but also come in a wide range of shapes, sizes, and colors, offering endless possibilities for creative expression.
Embrace your creativity and transform your modest bathroom into a welcoming and elegant haven by exploring the versatility of glass mosaic tiles and their potential to elevate your bathroom's style.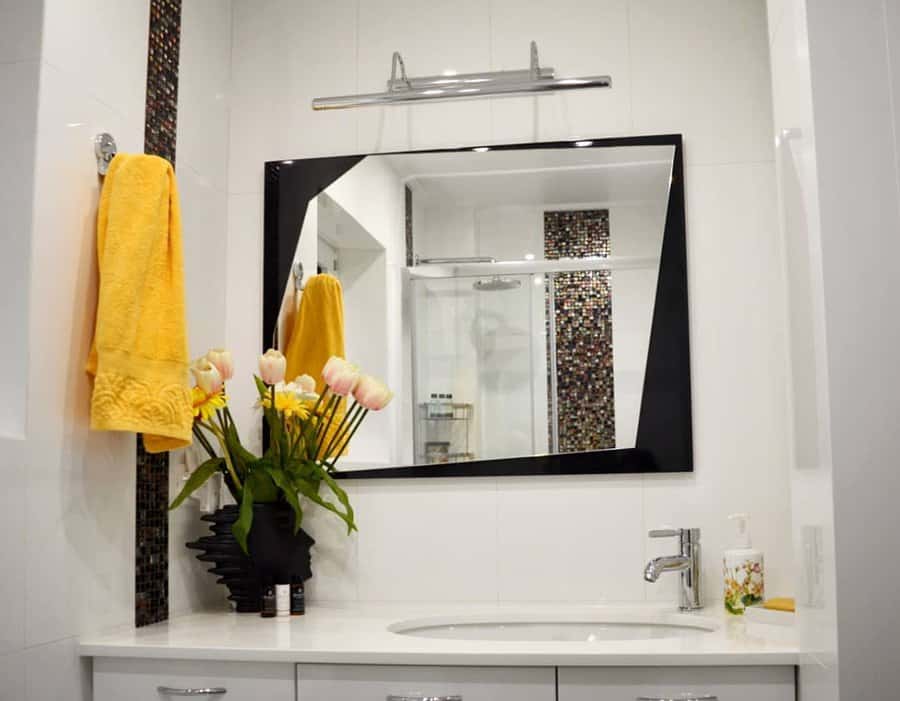 11. Divided Spaces: Bath & Shower
Even a small bathroom can exude spaciousness and charm with strategic design choices. Incorporate unique bath and shower glass dividers featuring a stylish printed black frame, or create an eye-catching accent wall with bold wallpaper patterns.
Darker shades on the walls can create the illusion of more space, especially in compact bathrooms. Amplify the brightness and perceived size of the room by strategically placing mirrors on the walls. To infuse style and vitality into your low-budget bathroom, add indoor plants in chic pots to liven up any dull corner. Discover how these design elements can elevate your bathroom's openness and aesthetics while staying within your budget.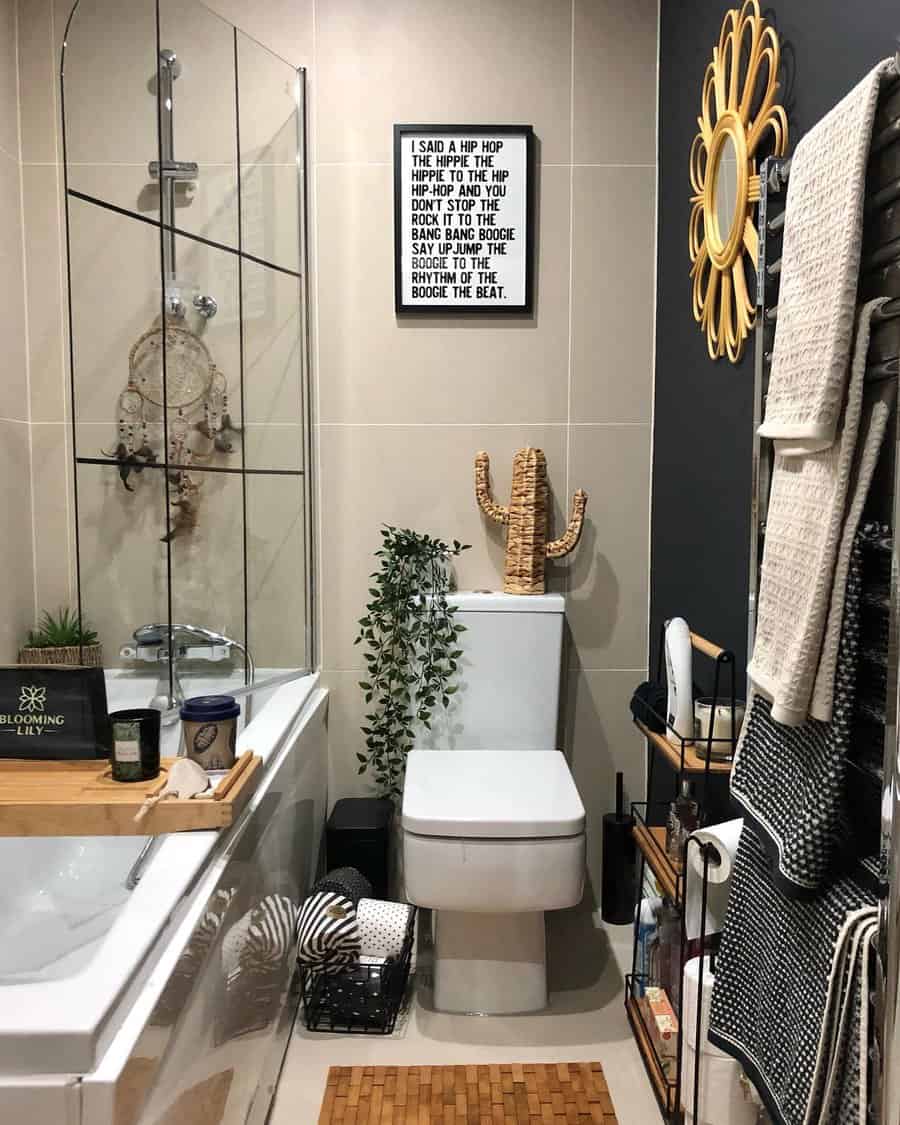 12. Chic Touch: Decorative Round Mirror
Enhance your small bathroom's style on a budget by incorporating chic design elements. Begin by adding a decorative round mirror to one of the walls, which not only creates the illusion of more space but also serves as an attractive focal point. Consider investing in a vibrant shower curtain or handmade wicker baskets for additional storage, combining charm with practicality. To infuse personality and vitality into your bathroom, incorporate plants or decorative wall art, making it a more inviting and visually appealing space.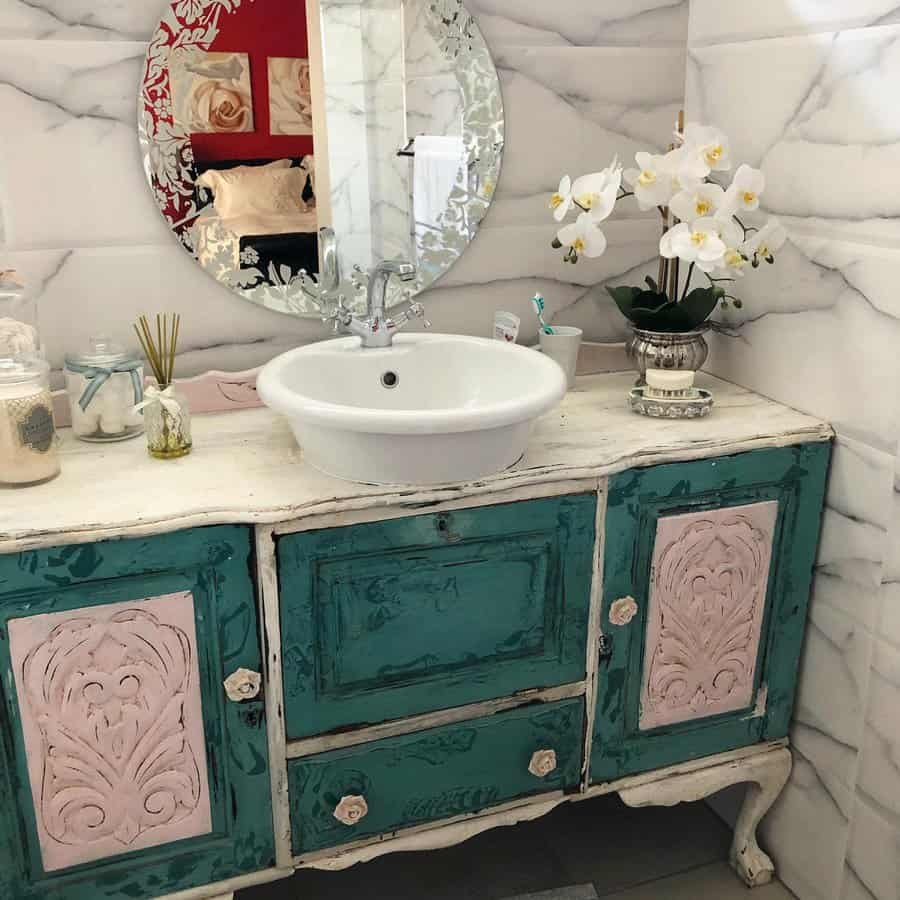 13. Sleek Built-in Bathtub
When transforming your small bathroom on a budget, consider opting for a built-in bathtub. Built-in baths offer a modern and space-saving solution that can be custom-designed to fit even the tightest spaces. This choice not only adds a touch of sophistication but also provides more surface area, simplifying cleaning and maintenance. Complement your sleek built-in bathtub with contemporary fixtures and minimalist decor to create a stylish and functional small bathroom design.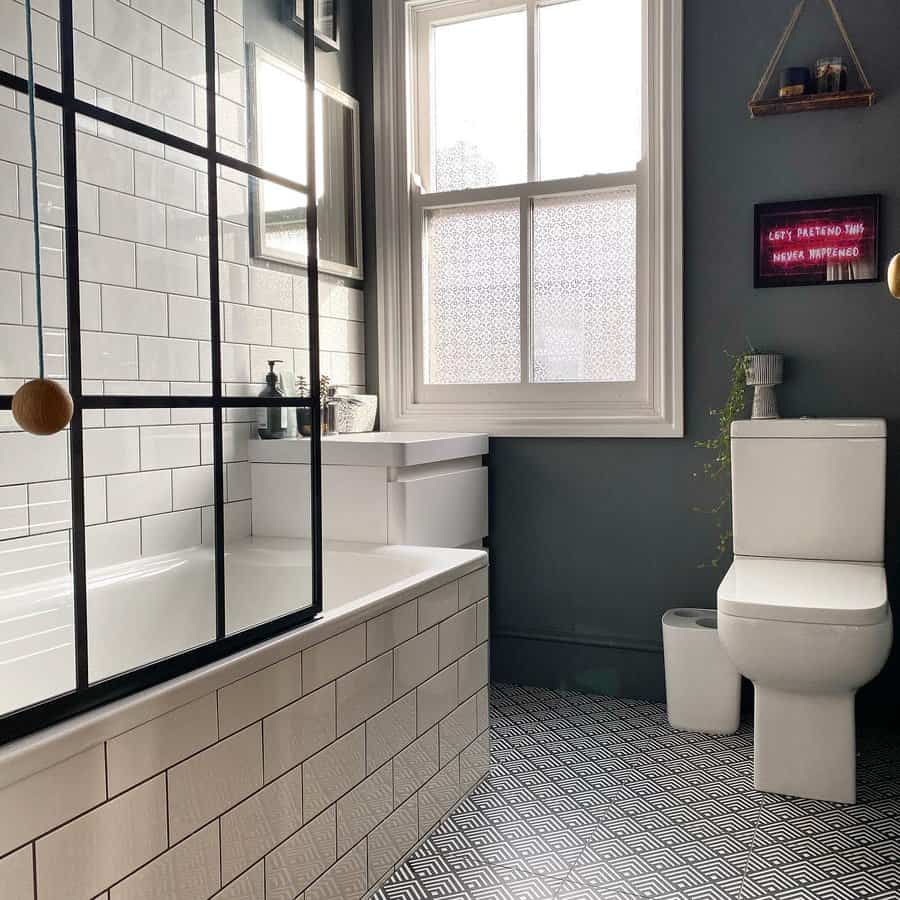 14. Hidden Storage: Toilet Cistern
A tight budget shouldn't limit your small bathroom's design potential. Embrace creativity and inspiration to maximize every inch of space for a modern and stylish look. Opt for a toilet with a hidden cistern to free up additional floor space, which can be utilized for storage or a sleek built-in wash basin. Enhance the ambiance further with strategic lighting, mirror frames, and various finishes to create an atmosphere that conceals the bathroom's small size.
Discover how these design elements can help you achieve both functionality and aesthetics, transforming your budget-friendly small bathroom into a space that feels more spacious and inviting. Explore additional design choices to complement this strategy and complete your bathroom's makeover.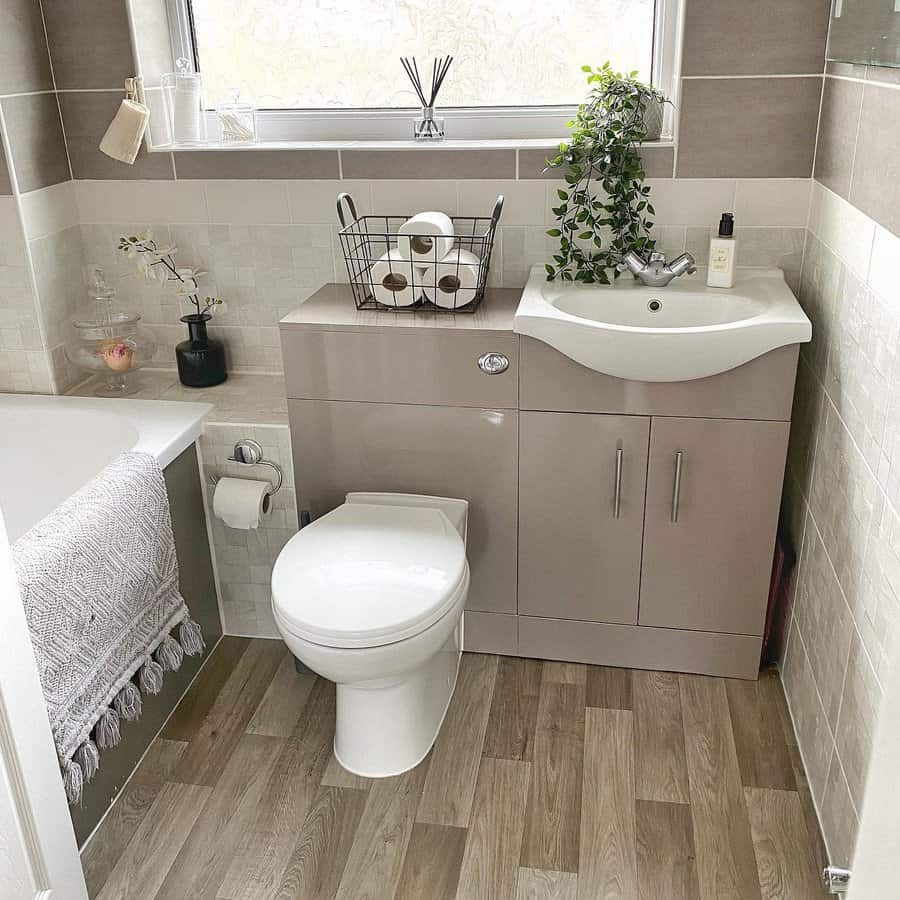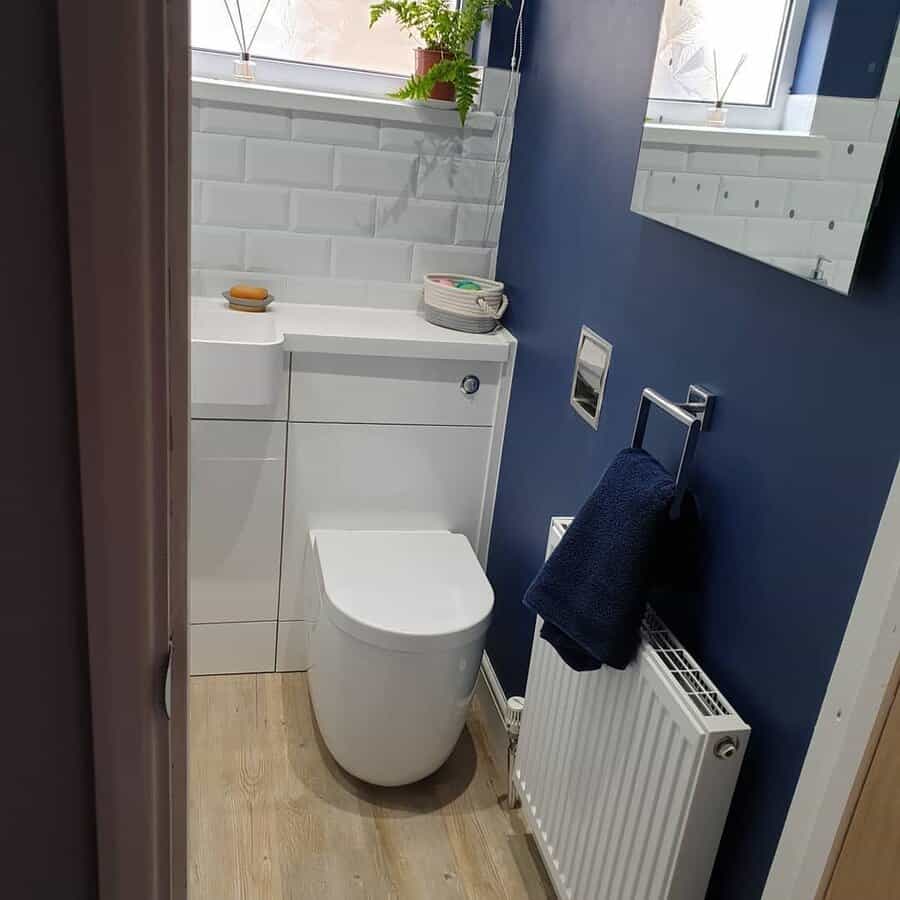 15. Illuminate with LED Mirror
everage your small bathroom's size as an opportunity for creative design. Incorporate stylish vanity LED mirrors above the sink and vanity to infuse life into the space. The warm illumination they provide adds a sense of coziness and unity to the room. Enhance this effect with complementary elements like a small plant or artwork. Don't allow your bathroom's size to hinder your quest for maximum comfort; instead, transform your budget-friendly small bathroom into a welcoming oasis.
Discover how LED mirrors can elevate both functionality and ambiance in your compact bathroom, and explore other design elements to complete your bathroom's makeover.
16. Greenery in Your Bathroom
Infuse your small bathroom remodel with natural ambiance by introducing houseplants. Whether you opt for trailing vines, vibrant succulents, or simple greenery, ensure your bathroom receives sufficient natural light to support their growth. In windowless powder rooms or half baths, consider lifelike artificial plants that provide the desired green aesthetic. Elevate their presentation by placing them in decorative baskets or pots, and select sizes that suit your compact bathroom.
Discover how greenery can breathe life and freshness into your small bathroom while adhering to your budget, and explore additional design elements to complement this natural touch and complete your bathroom's transformation.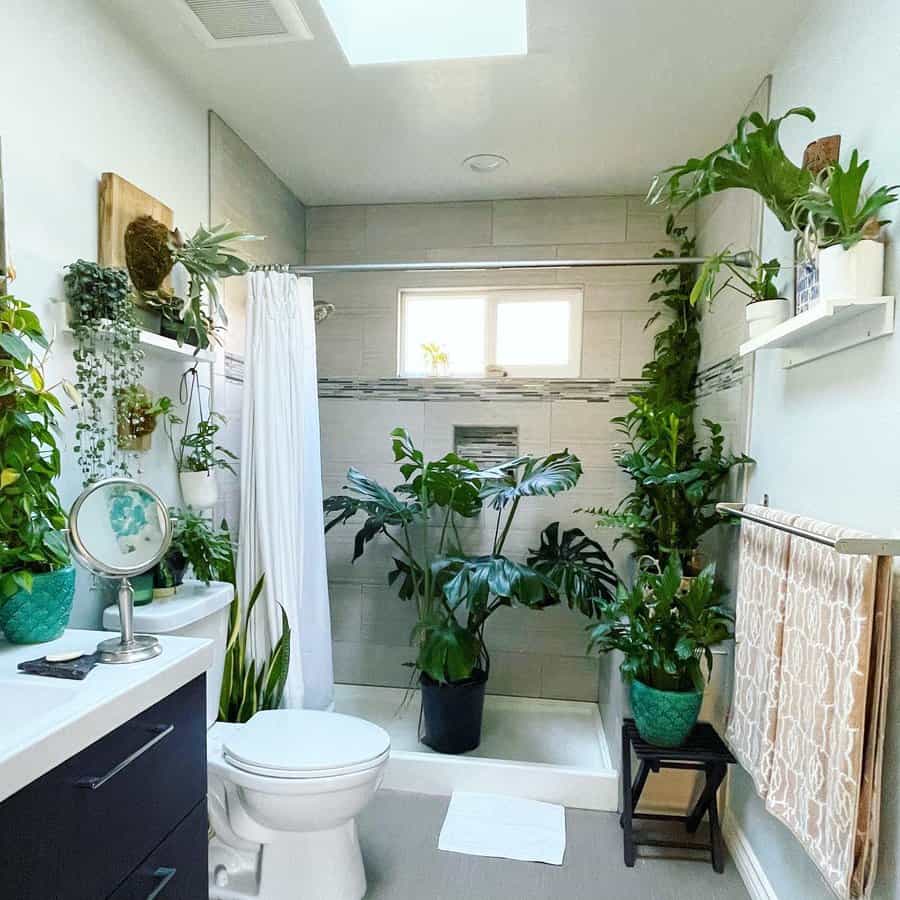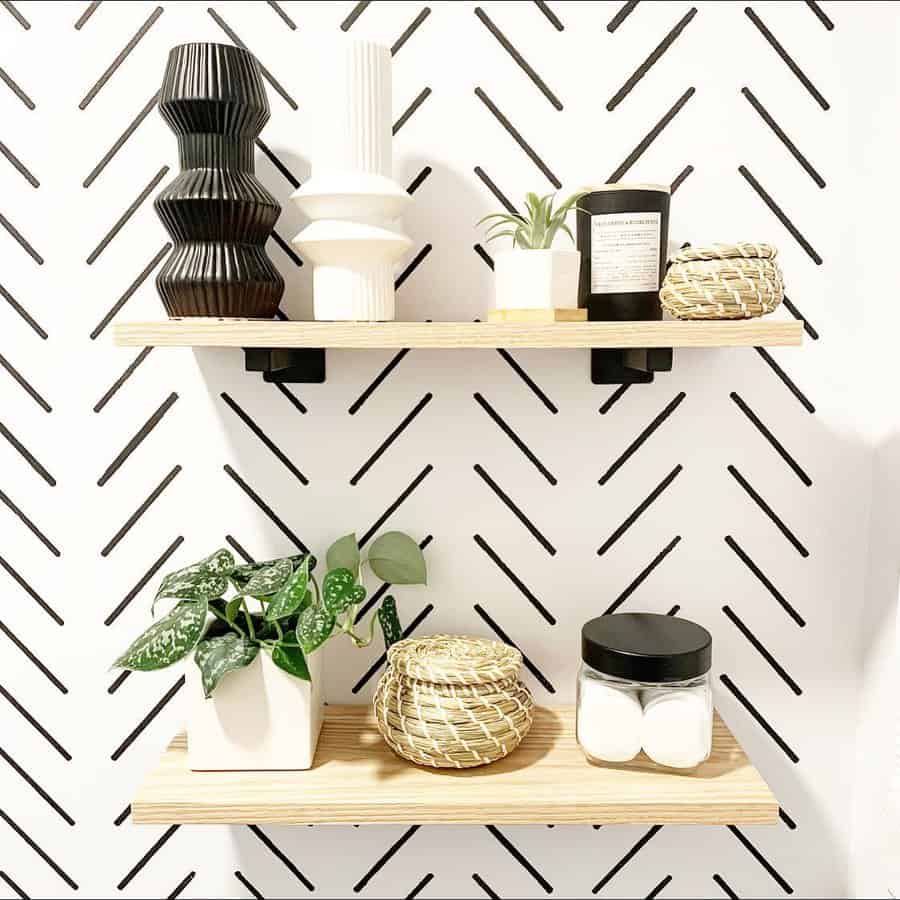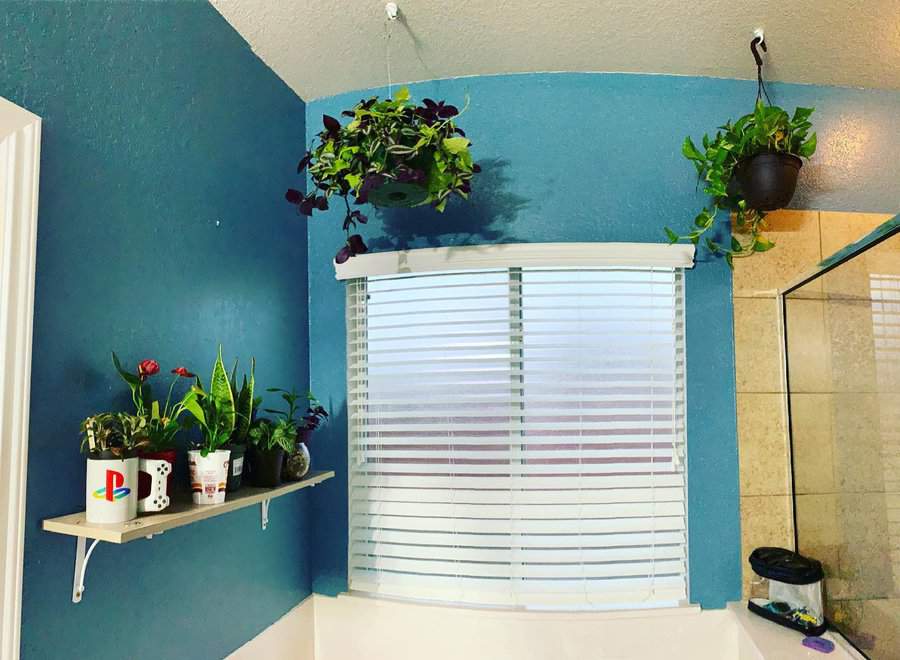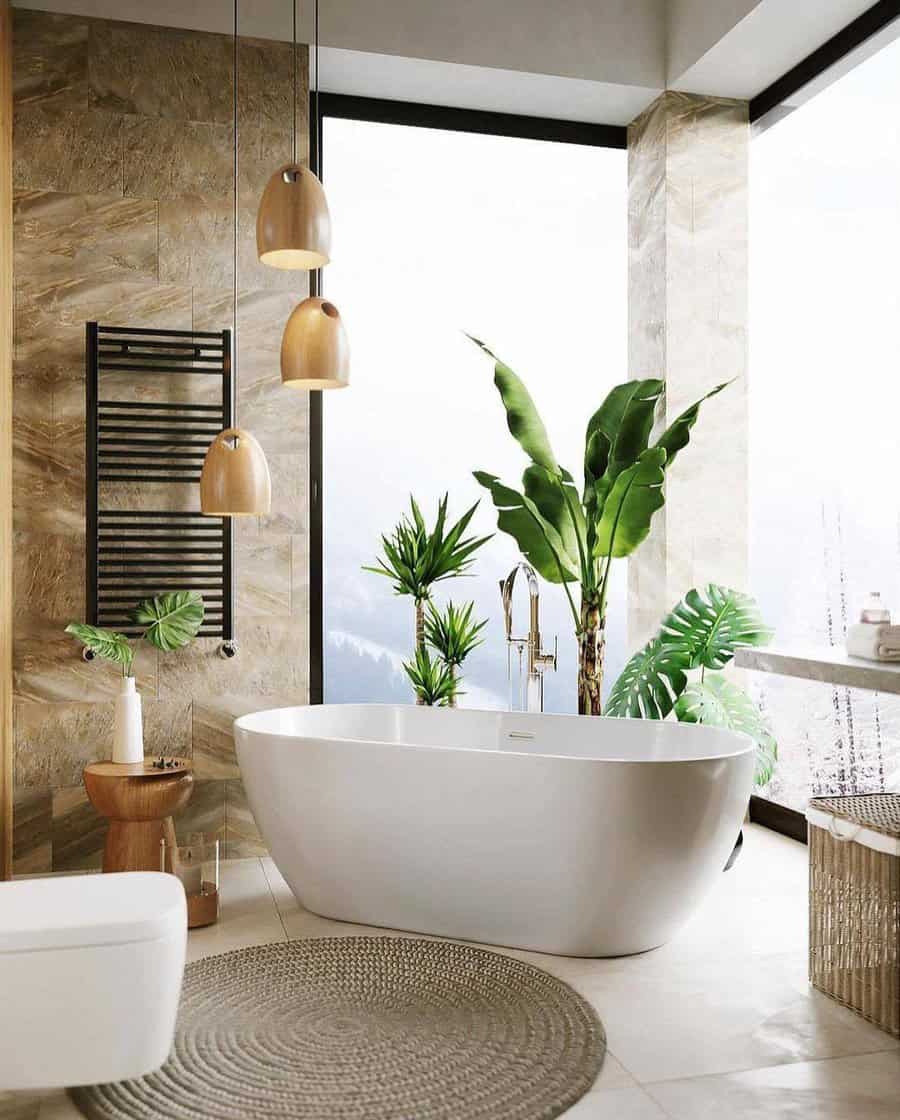 17. Charming Rustic Small Bathrooms
Achieving rustic charm in a small bathroom is all about incorporating natural materials like wood, metal, and stone. Replace a standard vanity cabinet with a rustic touch by mounting a wide, rough-hewn wooden plank on the wall, pairing it with a basin sink made from materials like hammered copper or galvanized steel for an authentic look. Add warmth to the space with rough wood paneling, creating a cozy atmosphere.
Dark faux slate shower tiles add rustic elegance; consider replacing the shower curtain with a glass shower enclosure and door to showcase the rustic shower tile. Embrace the beauty of nature's elements in your small bathroom design, creating a charming rustic retreat that complements your budget. Explore additional design elements to complete the rustic ambiance of your small bathroom.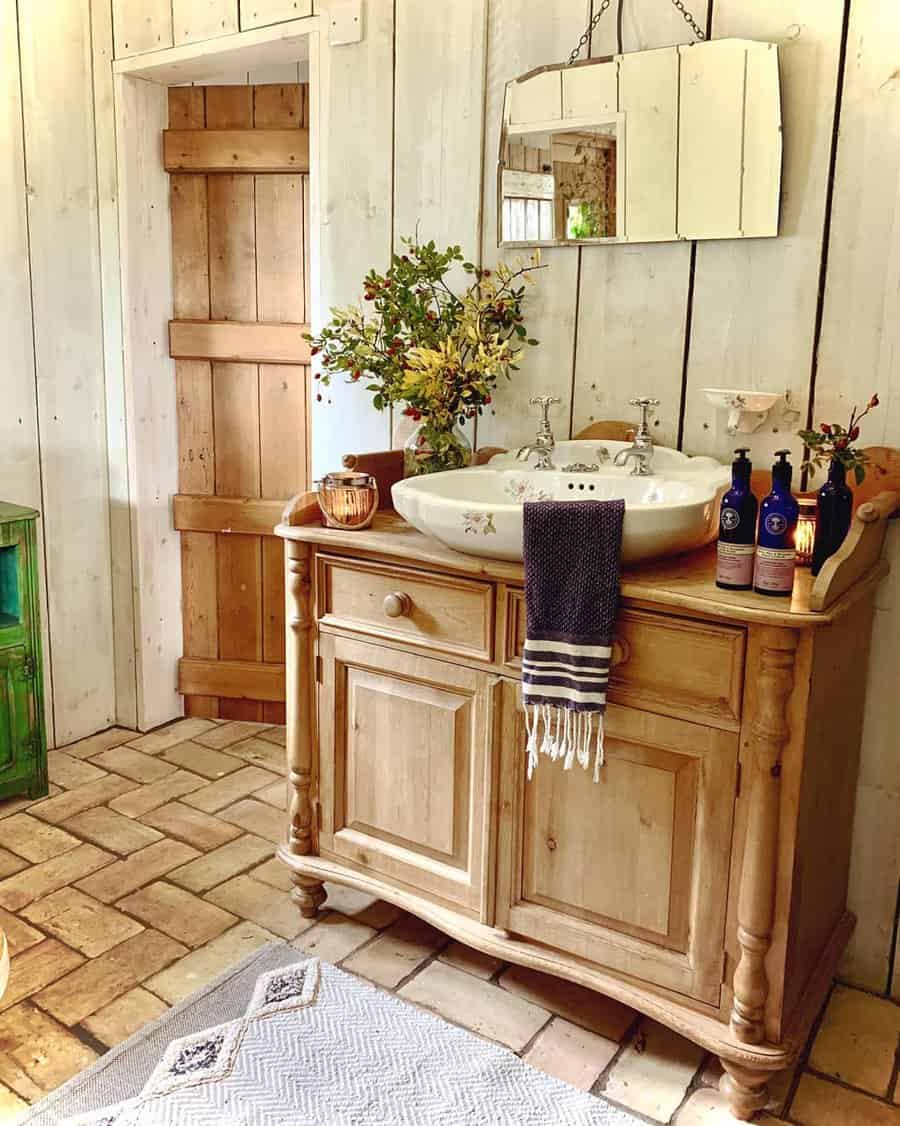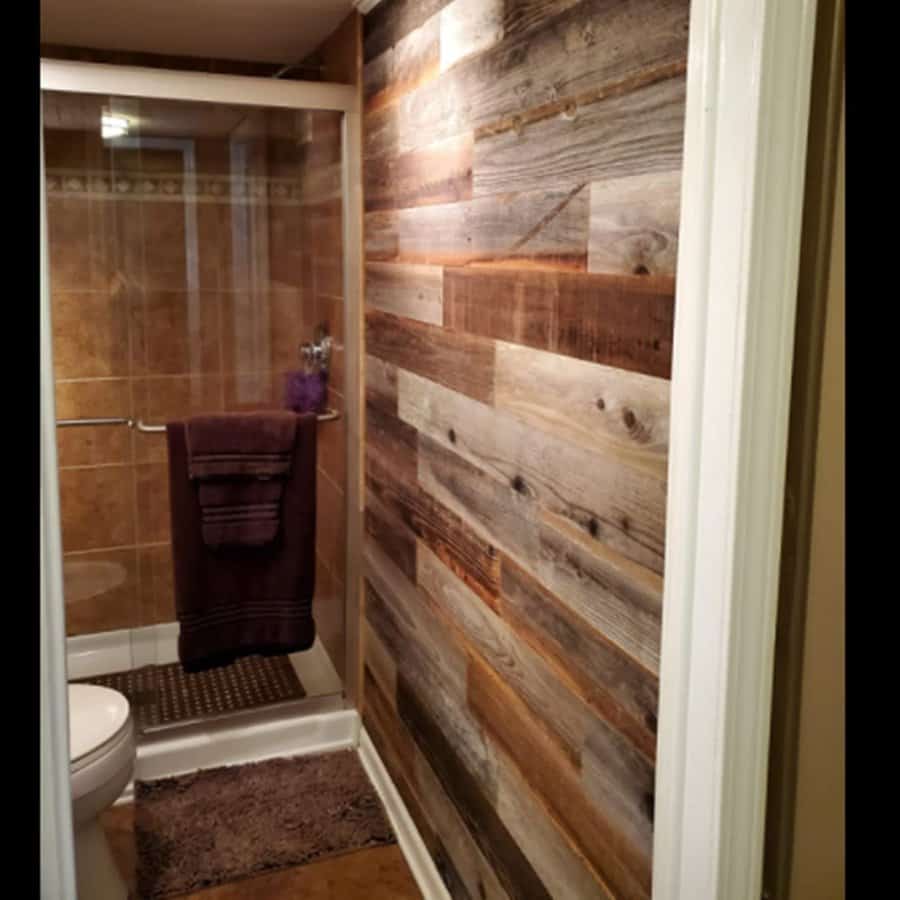 See more rustic bathroom ideas here.
18. Organized Bliss: Additional Shelves
Efficient storage is crucial in a small bathroom, and adding extra shelves is a practical solution. Consider installing shelves inside your vanity, a cabinet-style shelf, or an over-the-toilet shelving unit to expand your storage options. Open shelves work particularly well in small bathrooms as they create the illusion of more space.
Opt for floating shelves to store towels and decorative items while utilizing baskets for discreet storage of toiletries and other items you prefer to keep out of sight. This thoughtful addition, combined with other design elements, will help you achieve an organized and stylish small bathroom on a budget.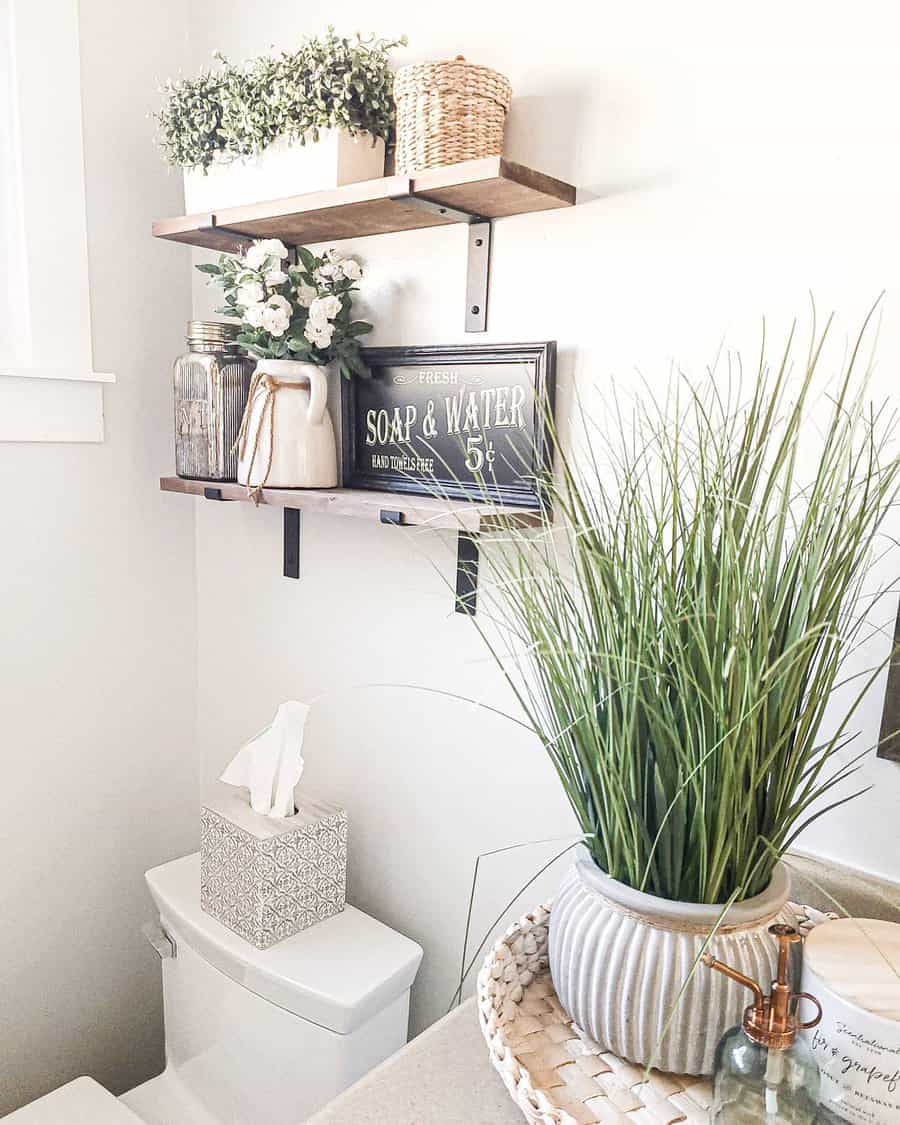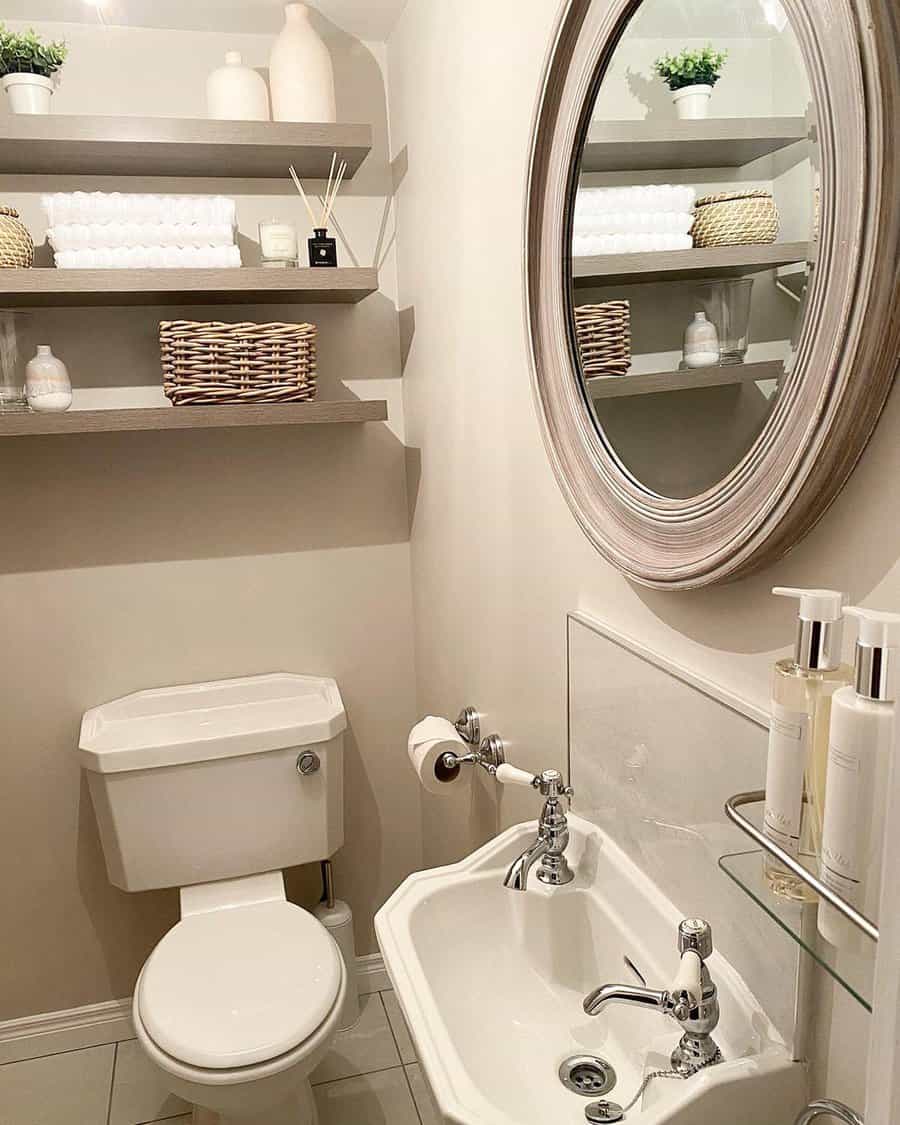 See more creative bathroom shelf ideas here.
19. Transform with Wallpaper Accent
Introduce style and personality to your small bathroom on a budget by incorporating wallpaper. Whether you choose to cover all the walls or create a striking accent wall, wallpaper serves as a fantastic foundation for your bathroom makeover. Opt for removable stick-on wallpaper, ideal for renters or those who prefer easy removal.
If full-wall coverage feels overwhelming, consider covering the lower half of your bathroom wall with beadboard or wood panels, painted in a color from your chosen wallpaper pattern. This layered approach adds depth and flair to your small bathroom design, creating a harmonious and budget-friendly transformation.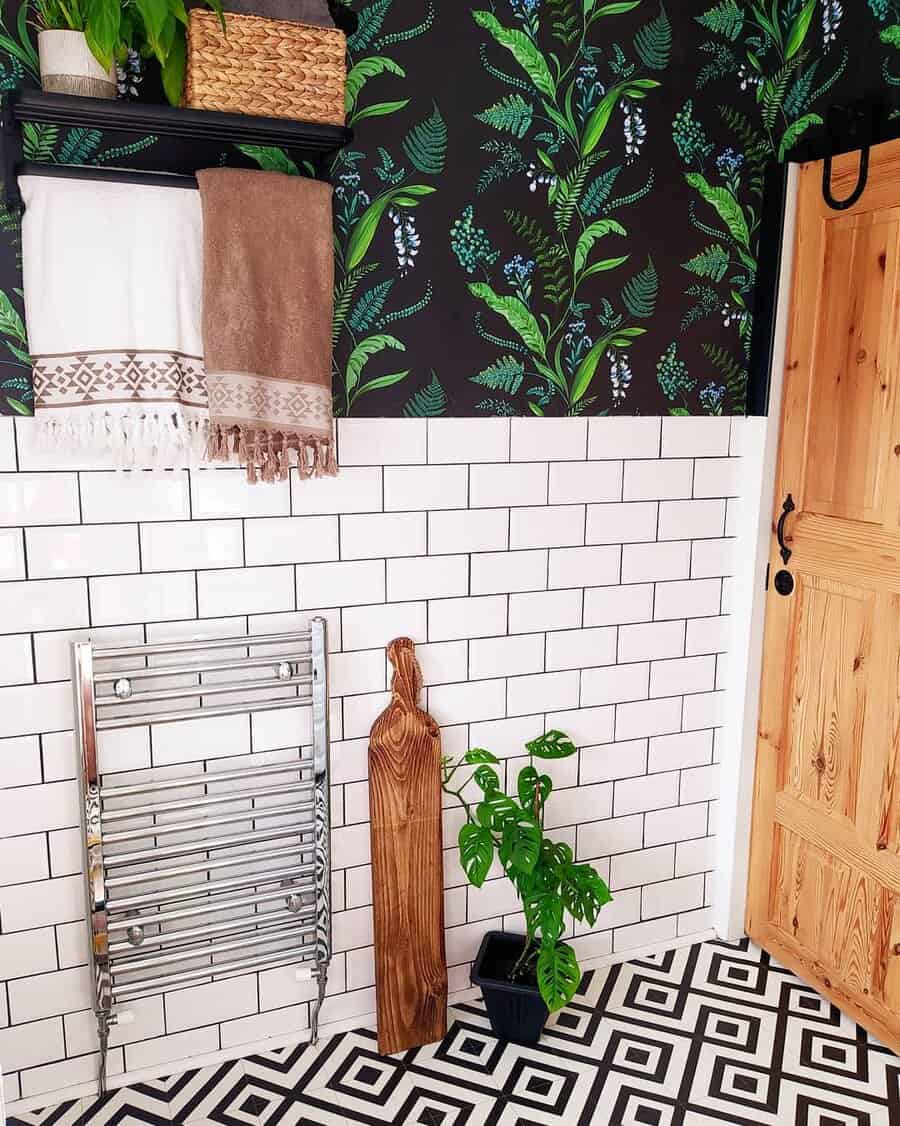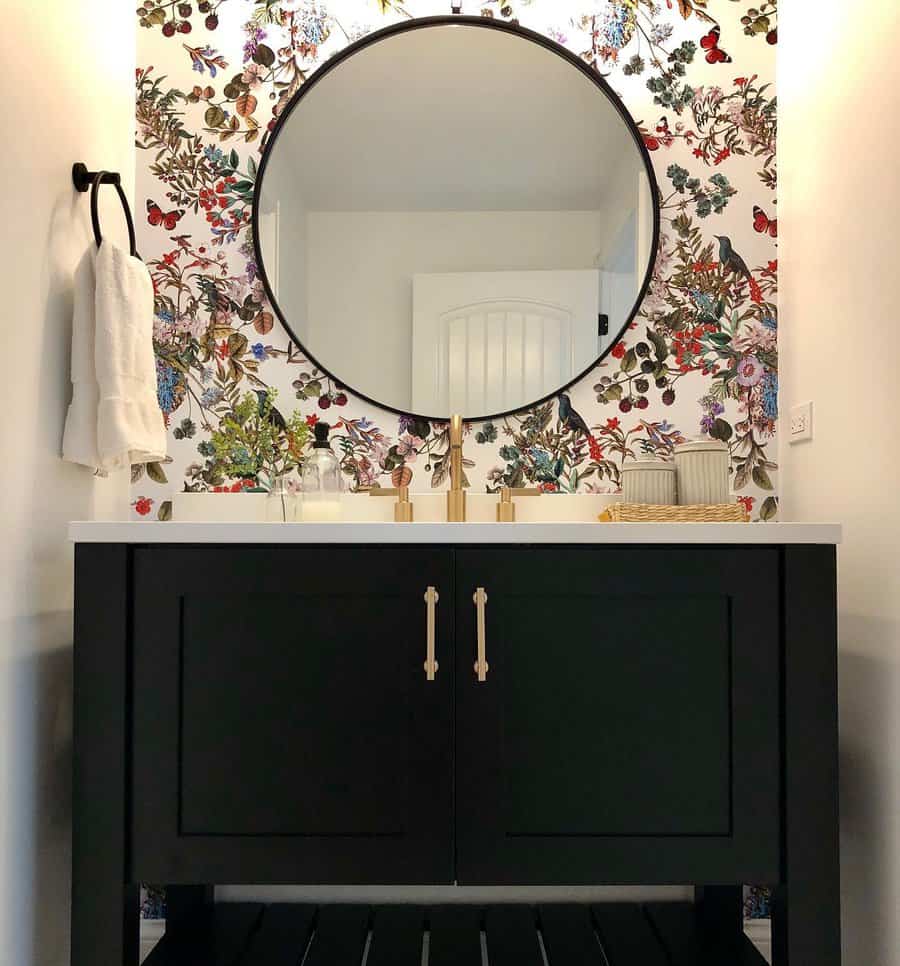 Small Bathroom on a Budget FAQs
Is reglazing a bathtub worth it?
Replacing a tub can be one of the biggest bathroom remodel expenses. So unless your tub is full of cracks, leaks, or mold, reglazing can give you several more years of use. It will look brand new at a fraction of the cost.
How can I remodel my bathroom without spending money?
There are ways to update a small bathroom without spending much—or any—money. First, forget expensive ideas like moving bathroom fixtures or replacing your bathroom tile or flooring. Ask friends or relatives if they have leftover paint, grout, or wallpaper from a previous remodel. It may be just enough material to update your small bathroom.
If your tile really needs an upgrade, shop for inexpensive stick tile decals to refresh the space. Even dollar stores carry these cheap decor ideas that can really brighten up the bathroom. Certain dollar stores are also great resources for budget-priced shower curtains, towels, and bathroom accessories.