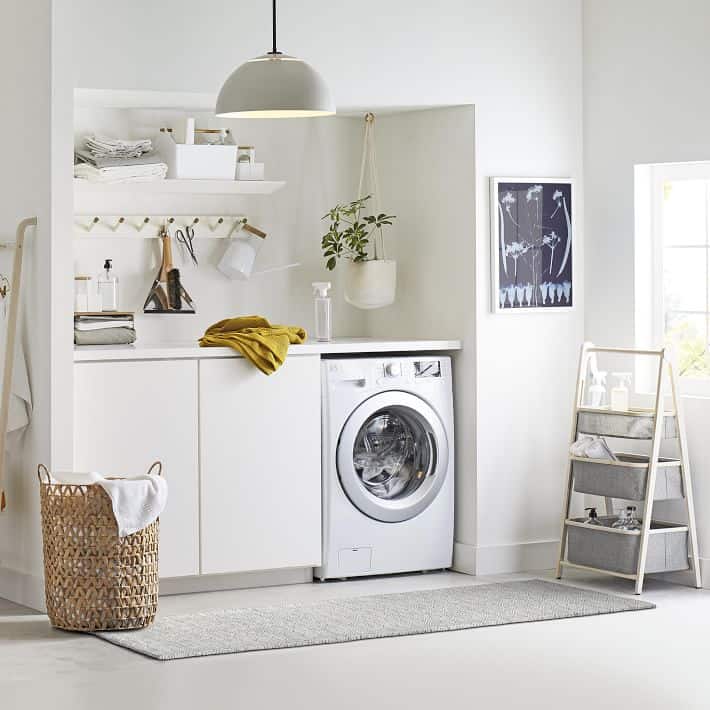 Trendey may earn a commission when you buy through links on our site.
As an Amazon Associate we earn from qualifying purchases.
Best Kitchen Rugs
You've added area rugs to the rest of the rooms in your home. They look beautiful and bring life and color into the rooms. They help the spaces to feel larger, tied together in a cohesive design, and more inviting.
Isn't it time you considered kitchen rugs?
This is the last room in your home that you haven't placed a rug in. What you need is the right type of rug that will enhance the look of your kitchen while also being easy to maintain and clean.
We did the work for you to find the best kitchen rugs for your home.
Top Picks
Best Overall: Lark Manor Breazeale Kitchen Mat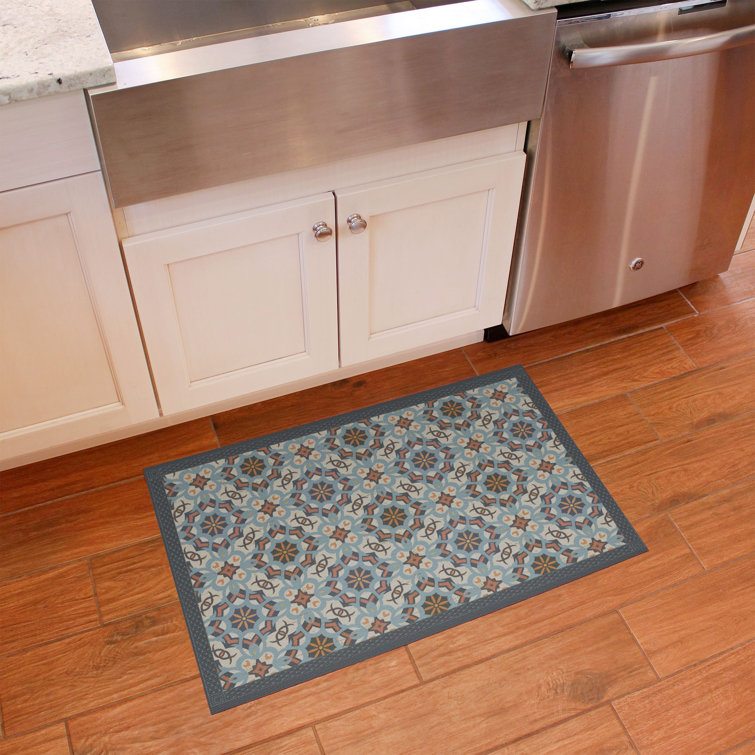 Specs:
Dimensions: 34 x 22 inches
Material: Polyester
Anti-Slip Backing: Yes
This low profile mat may not have the woven texture that a typical rug has but it mimics the look of a rug with its bold and colorful design. Unlike other mats, this one has a low-profile design, making it safer for use in the kitchen.
Its rubber construction and non-skid backing give your feet plenty of cushioning without fear of the mat moving. The polyester construction makes this mat easy to clean and stain-resistant. The backing on this mat is made from nitrile, giving it a stronger grip than other kitchen mats.
The downside of this mat is that the design can look a bit dull and dated. It won't blend well with modern or contemporary kitchens. However, if it's the right fit for your home, then it will shine in your kitchen. This mat also doesn't come in large sizes, so it's best used in front of the stove or sink and not as a large area rug.
Check Price
Best Budget Pick: MontVoo Kitchen Rug
Specs:
Dimensions: 17 x 47 inches
Material: Polypropylene
Anti-Slip Backing: Yes
This woven polypropylene rug will give your kitchen an earthy and rustic feel. Thanks to the rubber backing, you never have to worry about it slipping or moving while cooking. There are five neutral colors to choose from that will perfectly accent your kitchen.
Unlike other rugs, this one is designed to absorb liquids, helping to keep your kitchen clean and dry. The polypropylene material is stain resistant, so you never have to worry about spills creating a permanent memory on your rug. If the rug does get too dirty, you can easily throw it in the washing machine and have it look like new.
One potential drawback of this rug is that it could be thicker. It lacks cushioning, which can cause fatigue in your legs and back over time. The rug can also begin to curl when you wash the rug if you don't do it carefully.
Check Price
Best Bohemian Pick: Safavieh Handmade Cape Cod Marget Boho Coastal Jute Rug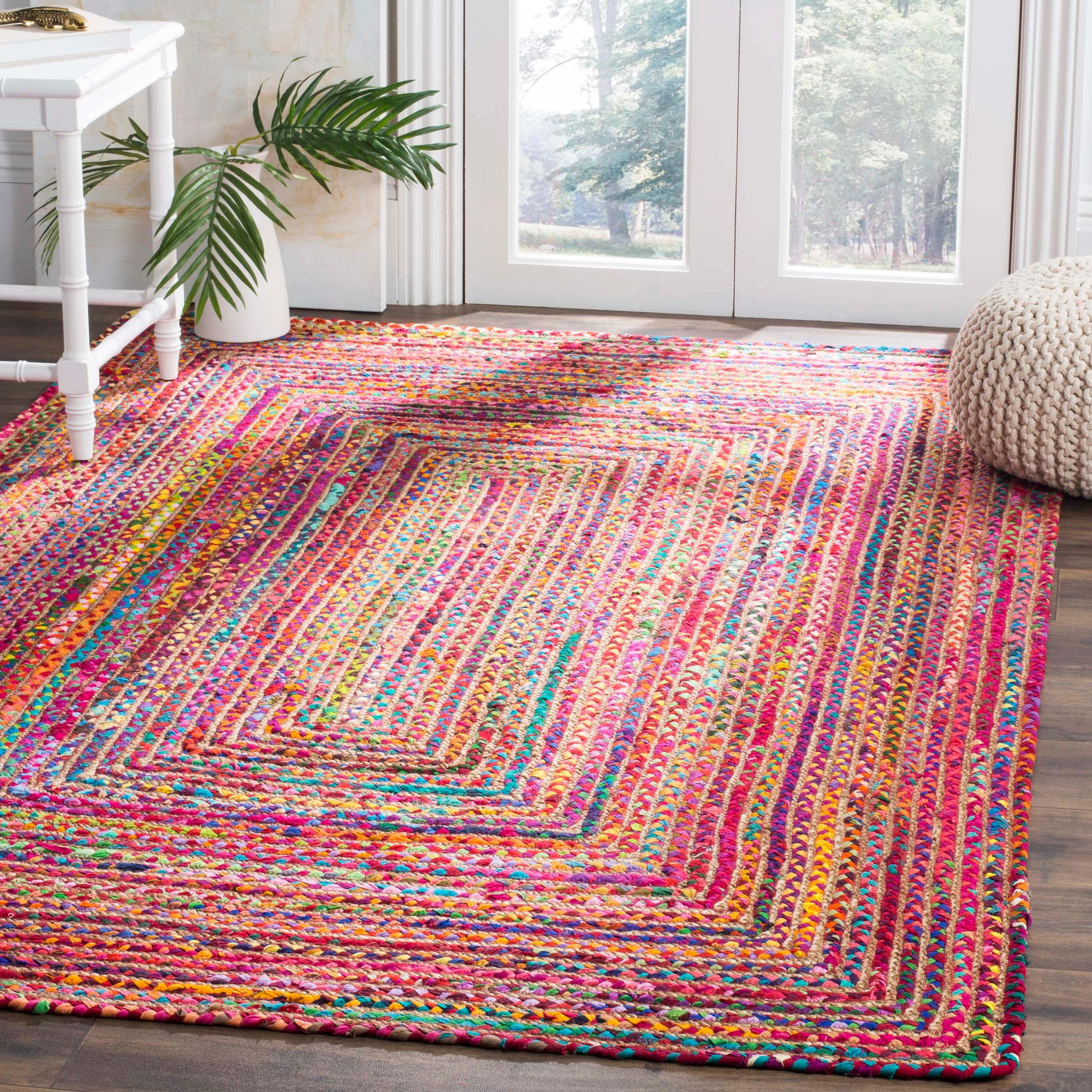 Specs:
Dimensions: 2 x 3 feet- 12 x 12 feet
Material: Cotton, Jute
Anti-Slip Backing: No
If you love color, then this bold rug is the perfect addition to your kitchen. It comes in green, blue, beige, and multi-colored. Each is rich and vibrantly colored. If the color wasn't enough of a selling point, it also comes in a wide range of shapes and sizes. It even comes in round and oval shapes, giving your kitchen a unique look.
The casual feel of this rug is perfect for a coastal or bohemian kitchen where creativity and color thrive. The tight braided weave helps this rug to be durable in high traffic areas and with heavy cleaning.
You will need to add a non-skid pad to ensure this rug doesn't move around on the floor. The sizing is also approximate because the rug is handmade. The cotton and jute construction of this rug can cause it to absorb liquids. Thankfully, the bold coloring can hide any hard-to-clean spills.
Check Price
Best Premium Pick: West Elm Chilewich Mosaic Woven Floor Mat
Specs:
Dimensions: 2 x 3 feet- 8 x 10 feet
Material: Vinyl and polyester
Anti-Slip Backing: Yes
This elegant rug features a repeating woven diamond pattern that adds plenty of pattern and texture to your kitchen. There are three colors to choose from, blue, grey, and black. The distressed vintage pattern gives the rug the perfect worn-in look. It also comes in a range of sizes, making it adaptable for various kitchen sizes. From runners to rectangles, you can adjust the shape to suit your kitchen.
The vinyl and polyester weave helps this rug to be more durable in high-traffic areas. This construction material is also perfect for being mold and mildew-resistant. You'll also appreciate the latex backing that helps to hold this rug securely in place. Use this rug to decorate your bohemian, vintage, farmhouse, or country kitchen.
Unfortunately, this rug could feel softer on your bare feet. This rug is also incredibly thin, which can leave you wishing for more cushioning. It can also be harder to clean than other rugs on this list.
Check Price
Best Vintage Pick: Jonathan Y Modern Persian Vintage Area Rug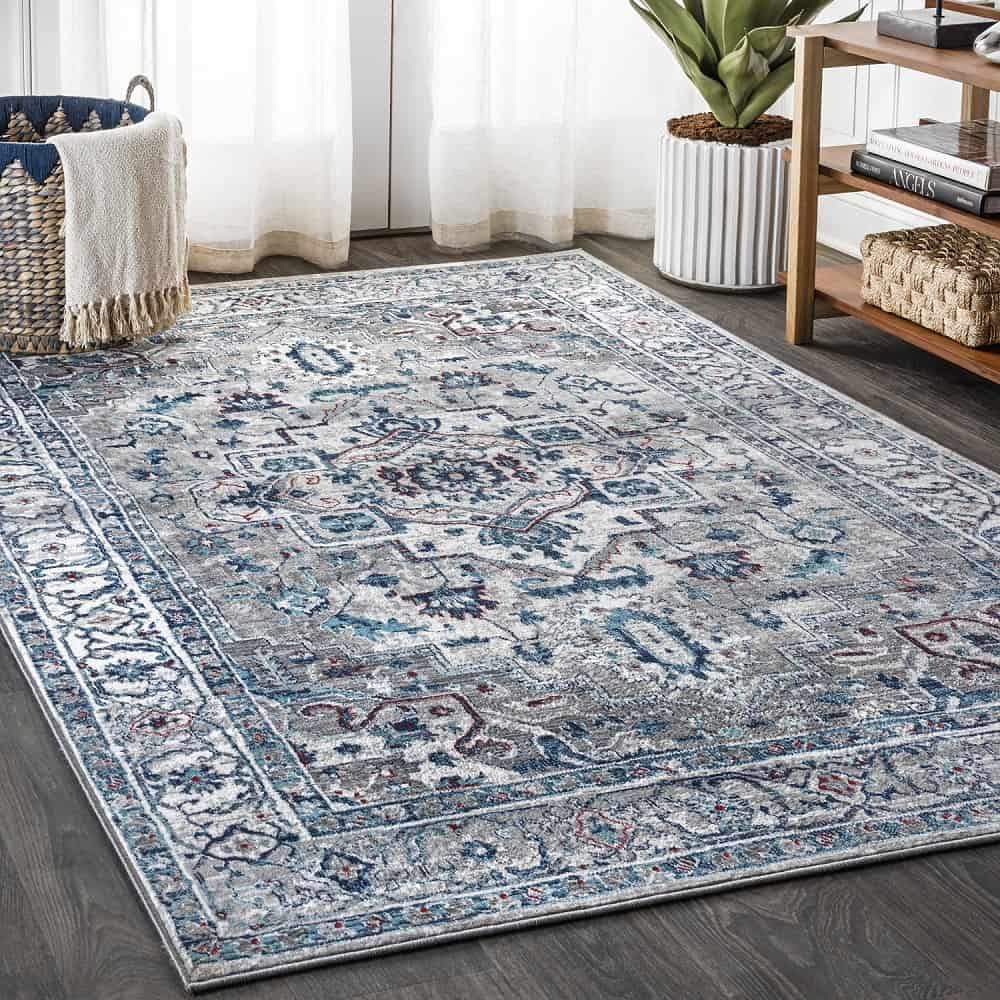 Specs:
Dimensions: 4 x 6 feet- 8 x 10 feet
Material: Polypropylene
Anti-Slip Backing: No
Give your kitchen the perfect vintage accent with this Persian styled rug with faux aging. It comes in three color options, grey with either bright blue, blue, or navy. Each with plenty of color variation and pattern to give your kitchen texture and movement. All of the variations also help to hide spills and stains.
The polypropylene material is durable enough for high traffic areas and helps to be water-resistant. You don't have to worry about fraying with this rug, thanks to the power loom manufacturing in Turkey. The sturdy edging ensures that it will stay secure despite experiencing heavy traffic.
While this rug will feel lush under your feet with its .31-inch cut pile construction, it can also be harder to clean. This rug comes in limited sizes and only in a rectangle shape, which can be limiting in ensuring its compatibility.
Check Price
Best Coastal Pick: Archer Lane Labrador Botanical Coastal Area Rug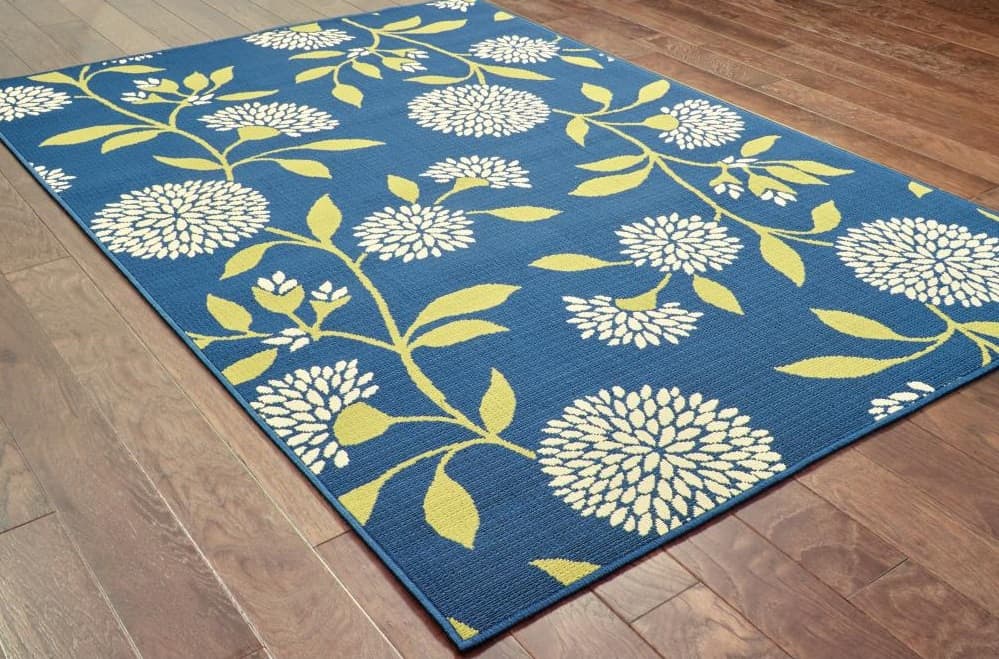 Specs:
Dimensions: 4 x 6 feet- 8 x 10 feet
Material: Polypropylene
Anti-Slip Backing: No
The bold floral pattern to this rug is the perfect statement piece in your kitchen. Its color and large print pattern make it the perfect accent piece for a coastal, country, or farmhouse kitchen. The dark coloring is also perfect for hiding spills and stains, helping it to keep it looking like new for longer. If you prefer a brighter design, there is a bright and sunny yellow option.
It's also made of polypropylene, making it naturally stain and fade-resistant. If you do spill on it, you'll find it easy to clean. There is a range of sizes to make this rug suitable for a range of kitchen sizes.
Unfortunately, it could have a more durable edging. The wrap stitched edging is vulnerable to wear and tear. It can quickly show fraying. You will also need to add a non-slip pad to prevent slipping. Be aware that when you unpack your new rug, it may need some manipulation to get it to lay flat.
Check Price
Best Rustic Pick: Allen + Roth Lifestyle Performance Amelie Coral Medallion Oriental Area Rug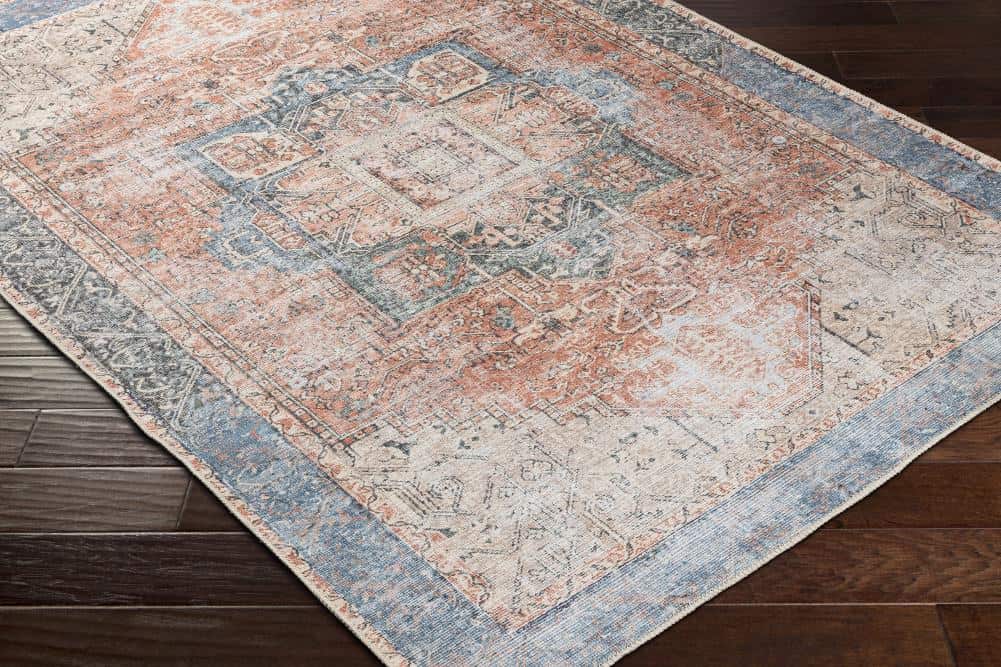 Specs:
Dimensions: 2 x 3- 8 x 10 feet
Material: Chenille-polyester
Anti-Slip Backing: No
The vintage styling of this antique rug gives it a relaxed, lived-in feel that's perfect for creating the rustic or farmhouse aesthetic in your kitchen. The woven chenille-polyester blend will feel soft on your bare feet. The low pile construction makes it safe for moving about on in the kitchen. It's also durable enough for the kitchen, thanks to its stain and fade resistance. When it does get dirty, you can spot clean it, spray it down with a hose, or even throw it in the washing machine.
Unfortunately, it doesn't come with a non-slip backing, so you'll need to buy a separate rug pad. Otherwise, this rug will slip around, making it potentially unsafe in the kitchen. The edge of the rug also lacks a nice finish, which leaves the rug's design a bit lacking. The thin construction may make the rug easy to clean, but it isn't very cushioned under your feet.
Check Price
Best Commercial Grade Pick: AKRO Sanitop Utility Mat
Specs:
Dimensions: 3 x 5, 3 x 10, and 3 x 20 feet
Material: Rubber
Anti-Slip Backing: Yes
If you're looking for a bit more than a residential rug, then consider this commercial-grade rubber mat. If you spend hours standing in your kitchen cooking for your family, then this is an ideal mat for your kitchen.
The rubber construction creates a non-slip surface for walking on. The many holes allow for effective drainage. The rubber also gives your feet a bit of cushion to relieve the stress on your legs and back. Washing the mat down is simple with a mild detergent. It also comes with a one-year warranty to ensure your satisfaction with your new flooring cover.
The downside of this mat is that it's made of rubber and is not attractive. It will give your kitchen a commercial or industrial feel. It only comes in two colors, black and red. The mat is also heavy at 27, 54, and 108 pounds and hard to move around.
Check Price
Best Modern Pick: NuLoom Wynn Braided Indoor/Outdoor Area Rug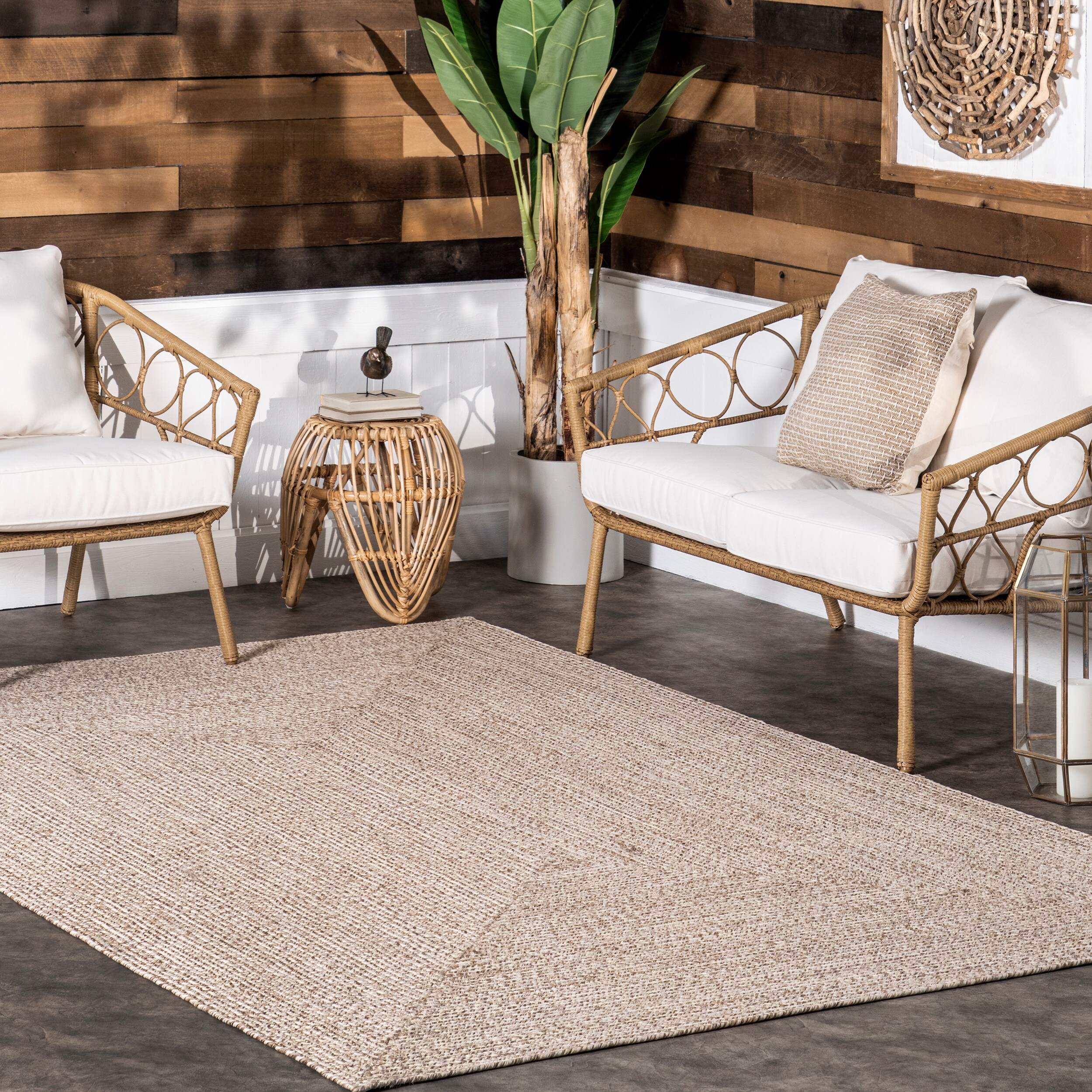 Specs:
Dimensions: 2 x 3 feet- 12 x 18 feet
Material: Polypropylene
Anti-Slip Backing: No
Don't discount this rug just because it's an indoor/outdoor rug. The braided polypropylene fibers feel soft to your feet but create a flat and even surface that's ideal for walking on while cooking. Because this is an indoor/outdoor rug, it's water-resistant, making it a smart buy for your kitchen. The braided construction also gives this rug impressive durability, making it suitable for high-traffic areas like the kitchen.
It comes in a range of colors, including light blue, salt and pepper, charcoal, aqua, ivory, pink, and tan. There are also several shapes available, so you can find a rug that will suit your kitchen floor space perfectly.
Unfortunately, the rug doesn't have a backing, so you'll need to buy a separate pad for this rug. The rug also comes rolled up, so it can be difficult to get it to lay flat. This rug can also shed if you vacuum the rug with a beater bar.
Check Price
Best Contemporary Pick: Allen + Roth Lifestyle Performance Off-white Trellis Area Rug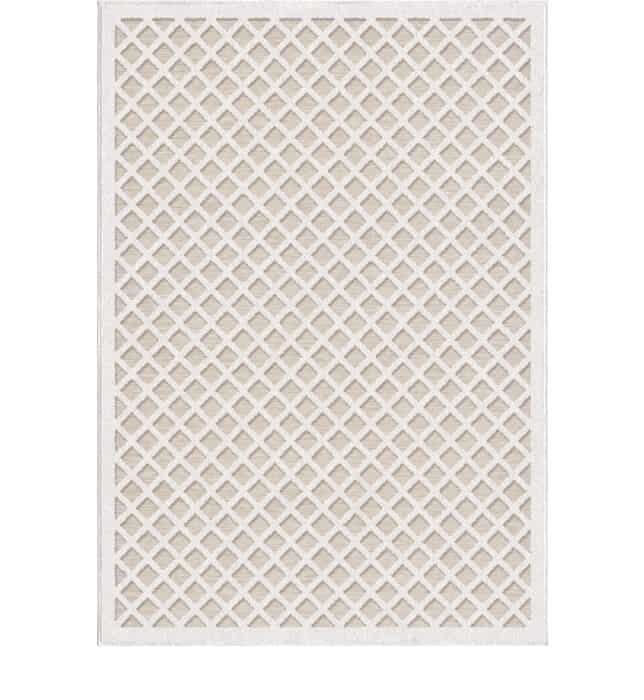 Specs:
Dimensions: 8 x 10 feet
Material: Polypropylene
Anti-Slip Backing: Yes
This contemporary rug is family and pet friendly thanks to its polypropylene construction. It's easy to clean with strong detergents and bleach. The synthetic fibers are soft and durable with a low pile lattice pattern.
You'll appreciate the durability of this rug. It's fade resistant to extended sun exposure and repeated cleaning.
What really makes this rug stand out is the automotive industry strength surging around the outer edge. This prevents fraying and wear and tear from immediately showing. The light coloring of the rug keeps your kitchen feeling bright and fresh. While the lattice pattern design gives the rug a contemporary design that blends well with a variety of interior designs.
The drawback of this rug is that it doesn't come with a built-in backing. This means you'll need to purchase a separate rug pad to use under the rug. The light color of this rug can also be an issue since it will show stains and spills quickly.
Check Price
How to Choose the Perfect Kitchen Rug?
Size
The size of the rug you choose will depend entirely on the size and shape of your kitchen. A long and narrow galley kitchen requires an equally long and narrow runner rug. A square or rectangle-shaped kitchen could look beautiful with a similarly shaped area rug. A kitchen with an island can benefit from multiple rugs that are positioned throughout the kitchen. Do not size the rug too large. It shouldn't extend to the edge of the kitchen or under the cabinets. Instead, it should be a few inches in from the edge.
Construction Material
Because your kitchen rug will get dirty, it needs to be made from a material that's easy to clean. Avoid wool and cotton, as both of these, will absorb liquids, causing stains. They are also slow to dry, which means they can harbor bacteria. Instead, stick with polypropylene, PVC, or vinyl. These materials won't absorb liquids and are stain-resistant. This makes them easier to clean so that your rug stays looking like new for longer. In addition to the material, look at the construction. A pile rug will be less sanitary and harder to clean. A flatweave is better because it's harder for the liquid to sink in, and it's easier to keep clean.
Design
The design of the rug is pattern and color. The colors you choose should match the colors throughout the rest of the room. The pattern will depend on the interior design style of the room. You could keep things simple with a single plain color or a two-color stripe. Then there are more complex multi-colored weaves. There are also more complex designs, such as Persian, Indian, or Moroccan rugs.
Backing
The backside of your rug is just as important as the front side. The backside is the side that goes against the floor. It needs to have some grip or non-slip quality to it. Otherwise, you risk the rug sliding and you losing your balance. You're moving quickly and changing directions while cooking. Your rug needs to stay in place throughout all of this. IF the rug you buy doesn't have a non-slip backing, then consider adding a non-slip layer between the floor and the rug.
Comfort
If you love to cook, then you'll be on your feet for long time periods. A comfortable rug will feel nice on your feet and give your body support and comfort. The right type of chunky weave can have a massaging effect on your feet. Thick material can give you a bit more cushion. Rubberized mats can also give you some support and cushion.
Conclusion
Our top pick for the best kitchen rug is the Breazeale Kitchen Mat. Its rubberized non-skid backing makes this rug safe for the kitchen, while the woven polypropylene construction makes it durable enough for use in the kitchen. The bold design is sure to add plenty of color and pattern to your kitchen.
For a more affordable option, the MontVoo Kitchen Rug is the perfect natural and neutral accent for your kitchen. The durability of this rug ensures you'll have a beautiful accent for years to come.
FAQs on Kitchen Rugs
Where should kitchen rugs be placed?
You should arrange your kitchen rug in the areas that get the most foot traffic. In a galley kitchen, this is directly down the middle. In larger kitchens, this could be in front of the stove and sink. If your kitchen is square or rectangle-shaped, you could have a large area rug in the middle.
What kind of rugs are good for kitchens?
The rug that you choose should be durable and easy to clean. Your kitchen rug will experience messes and spills, so avoid materials that are easily stained or will harbor bacteria. Avoid wool and cotton rugs. PVC, vinyl, and polypropylene are all good options. Stick with a low pile rug or one with a tight weave.
How often should you wash kitchen rugs?
You should vacuum your kitchen rug at least once a week, more often if you have children and pets. This keeps the dust, dirt, and allergens down. Every couple of weeks, you'll want to wash your floors. This can require you to pick the rug up. Spot clean the rug whenever it needs it. At least once a year, give the entire rug a washing.