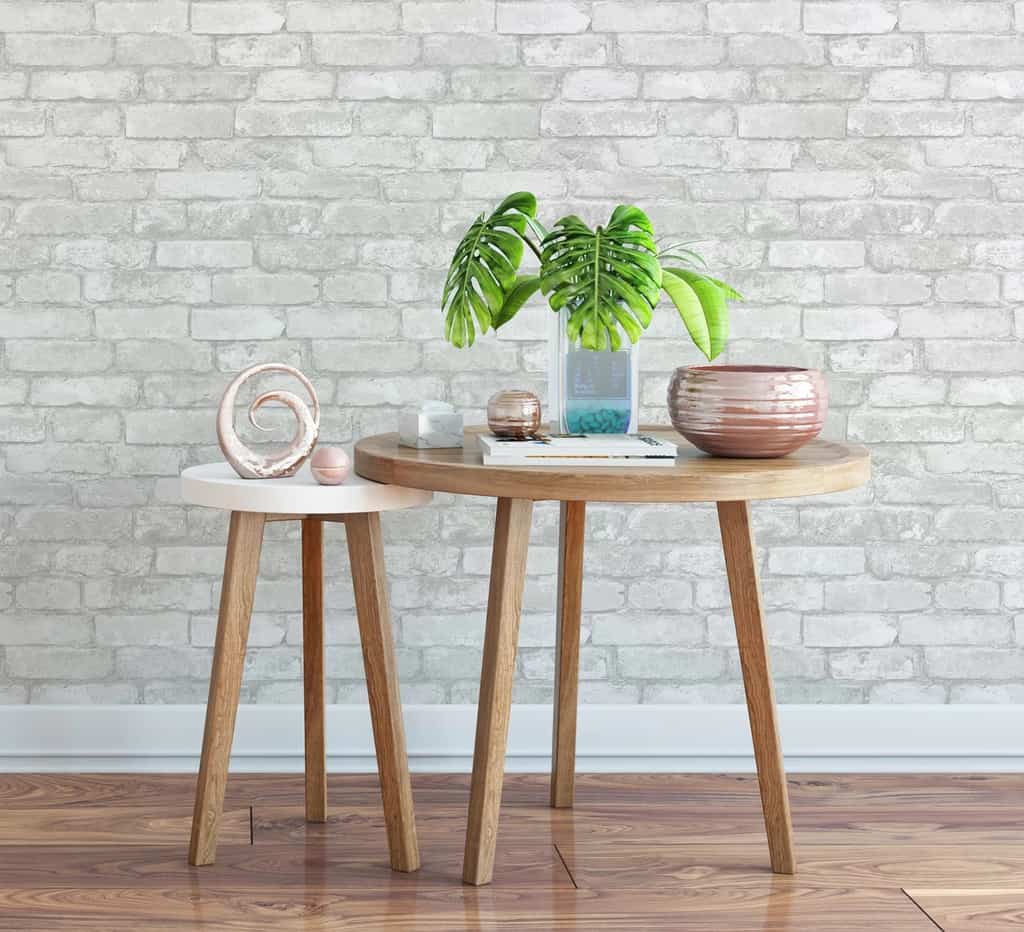 Trendey may earn a commission when you buy through links on our site.
As an Amazon Associate we earn from qualifying purchases.
Best Removable Wallpapers
Your boring white walls are in desperate need of an upgrade. Peel and stick wallpaper is the wall treatment of the future that gives you limitless options for color and design. Unlike permanent wallpaper, you can easily remove it when you don't want it anymore. To make the most of your new walls, you need a peel-and-stick wallpaper that's easy to install and looks great once it's on your walls. Check out these options for the best removable wallpaper to improve your next home decor project.
Top Picks
Best Overall: Wokingham Peel And Stick Wallpaper Roll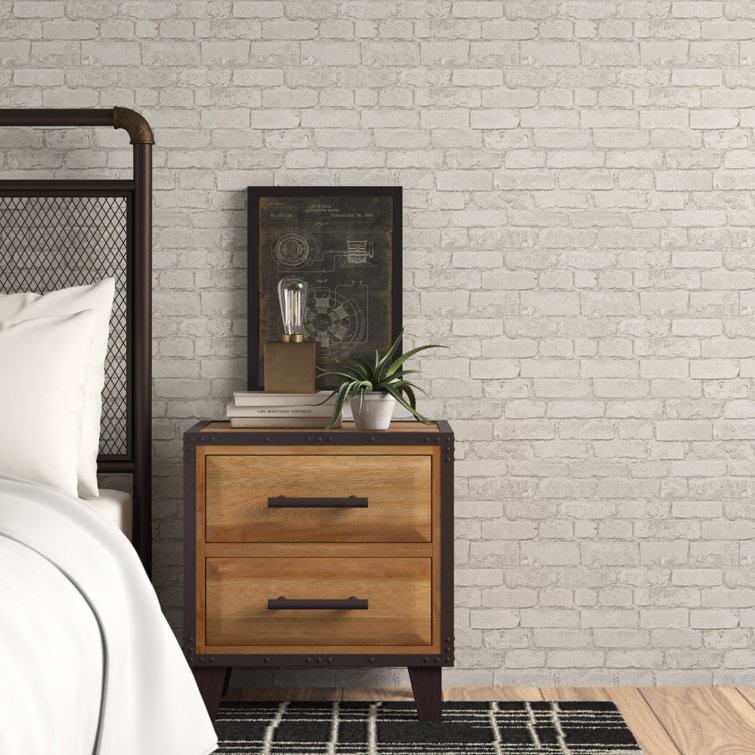 Specs:
Dimensions: 18 feet x 20.5 inches
Square Footage per Unit: 30.75 square feet
Finish: Matte
Color Options: Gray
Give your home a cool, New York City loft appeal with this self-adhesive wallpaper. It has a realistic white brick wallpaper design that turns plain walls into textured walls. Unlike plain white wallpaper, the grey outlines of the brick on this wallpaper adds visual interest. It stands out from other black designs with its three-dimensional printing that gives the bricks a realistic look that will fool anyone. The paper is thick, making it less likely to stick to itself or crease. Beginners will find it easier to apply and achieve a successful finished project.
The drawback of this wallpaper is that the adhesive is very strong. This can make peeling it off the wall a challenge. You may also notice variations in the gray color, so be sure to order the total amount you need in a single order to ensure your rolls come from the same dye lot.
Check Price
Best Budget: Black Silk Wallpaper Embossed Peel and Stick Wallpaper
Specs:
Dimensions: 16.4 feet x 23.6 inches
Square Footage per Unit: 32.12 square feet
Finish: Matte and gloss
Color Options: black, grey, white, blue, and pink
This unique wallpaper is a perfect option if you have a tight budget. It features a unique combination design of matte and gloss to create more depth to the design and give your walls an eye-catching texture that looks layered. The surface of the wallpaper has a PVC lamination treatment that makes cleaning your wallpaper easy and prevents stains. Turn the wallpaper over, and the backing has an easy-to-use grid for accurate cutting. Lining up multiple panels is simple, thanks to the abstract design that encourages a lack of uniformity. Use this black wallpaper to add sophistication to your home decor or give your room a modern touch without the hassle of black paint.
Unfortunately, you may find this removable wallpaper difficult to get it to adhere. The adhesive on the paper sometimes loses its stick while others suffer a high number of air bubbles. Be careful when using heat to remove them; the wallpaper is not heat-resistant.
Check Price
Best Textured: Wadile Textured Peel and Stick Wallpaper
Specs:
Dimensions: 32.8 feet x 15.7 inches
Square Footage per Unit: 42.92 square feet
Finish: Matte
Color Options: Beige, coffee, dark gray, dark green, navy blue, light green, light gray, khaki, and orange
Give your walls a subtle texture with this linen printed wallpaper that actually has the texture of linen. It stands out because this physical texture gives the wallpaper a sense of authenticity. Having texture on the walls like this can elevate the look of your smooth walls and bring an extra layer of texture into your room's design. The uniform and neutral patterns are also nice for installation because you don't have to worry too much about perfectly lining up the linen pattern. You'll notice that the wallpaper has a thicker construction than most peel and stick wallpapers, making it more durable for use in high-traffic areas.
Unfortunately, there are variations in quality, making a larger project more challenging. You may notice variations in the color from different dye lots. The adhesive also loses its ability to stick as it ages, so an older roll will be troublesome to install.
Check Price
Best Premium: Tempaper Moire Dots Removable Wallpaper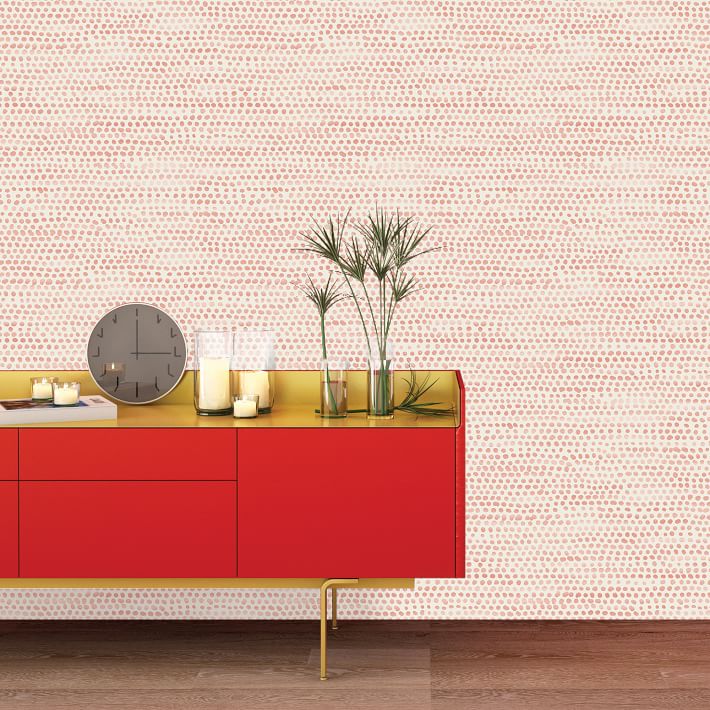 Specs:
Dimensions: 16.5 feet x 20.5 inches
Square Footage per Unit: 28 square feet
Finish: Matte
Color Options: coral, black, and tumaric
The wallpaper pattern on this option is small and repeating. It's the perfect alternative to using individual wall decals to create a similar look. What's nice about this small and tight pattern is that it won't overwhelm you on a large wall. Unlike perfect polka dots, these have an organic feel, as if someone hand-painted the dots on your wall using a paintbrush and watercolor paint. This makes them a perfect backdrop for displaying wall decor. The varying dots also make them forgiving when it comes to installation, so you'll have an easier time lining up the different panels.
The downside of this wallpaper is that it can be expensive if you have a large wall surface you need to cover. Thankfully, the forgiving pattern can reduce the amount of wastage you'll need, which can help you save some of your budget. It's also in a limited set of colors that may not coordinate with your chosen color palette.
Check Price
Best Wood Design: Bertsch Beachwood Peel And Stick Wallpaper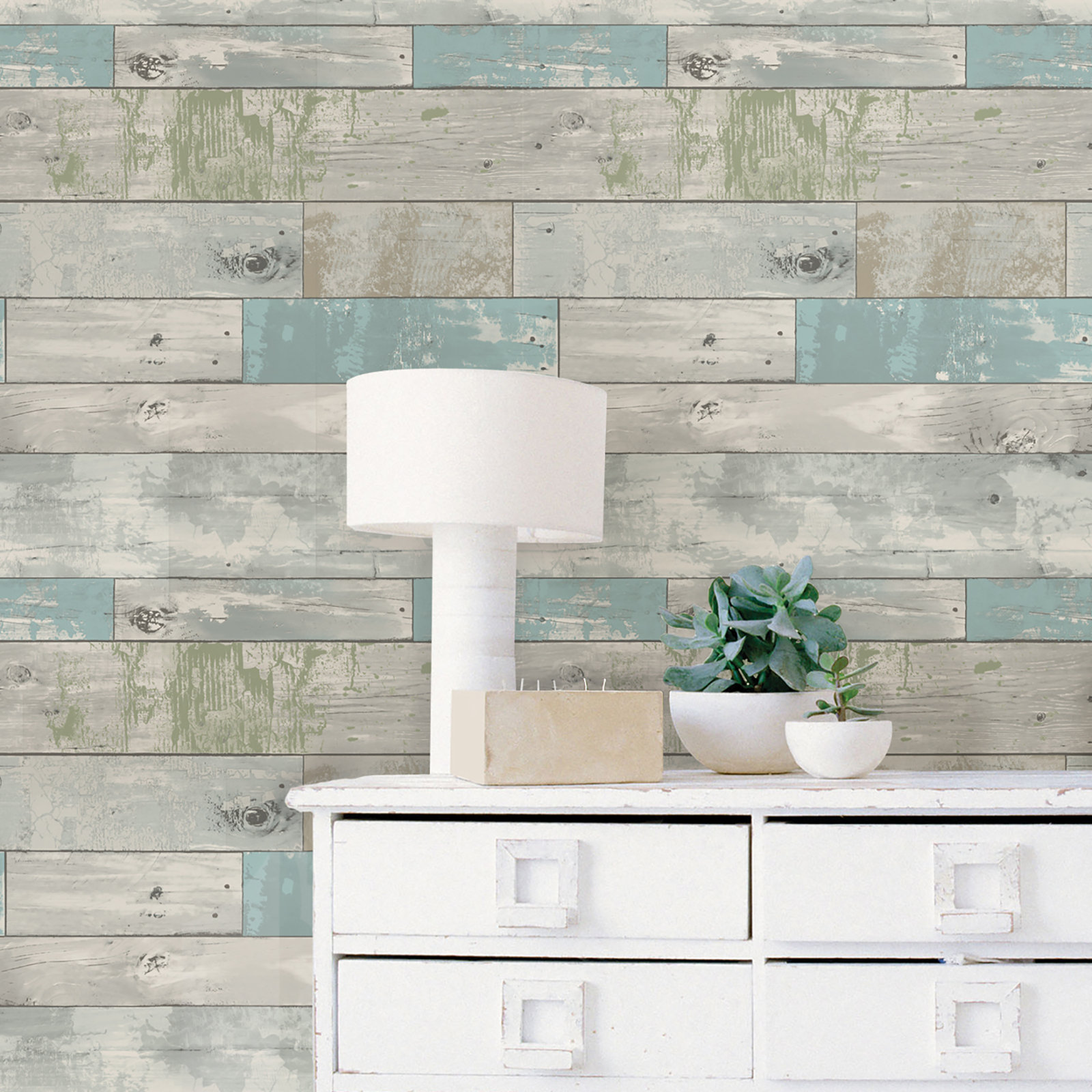 Specs:
Dimensions: 18 feet x 20.5 inches
Square Footage per Unit: 30.75 square feet
Finish: Matte
Color Options: Gray/blue/green turquoise/white
Give the wall's in your home a rustic touch with this wood patterned wallpaper. It features a weathered wood look with soft colors of gray, blue, turquoise, and white. What's nice about this wallpaper is that it has a large 20.5-inch repeating pattern, helping a large wall to look beautiful and not too repetitive. The soft colors and light white-washing of the wood make it perfect for a country, farmhouse, or rustic design. Because it has a matte finish, it's best for use in a bedroom, laundry room, basement, or closet. For a unique look, consider turning the wallpaper 90 degrees for a vertical instead of a horizontal design.
Unfortunately, the adhesive on this wall doesn't stick as well as others. It's only designed for installation on smooth surfaces, so anything with even a slight textured will reduce its ability to adhere. The printing design isn't as crisp as other designs. This can be a good or bad thing. It's supposed to mimic wood, which isn't perfect, so the softer printing better mimics natural wood. Some people find it unappealing.
Check Price
Best Bohemian Design: Ethan-Jay Peel and Stick Wallpaper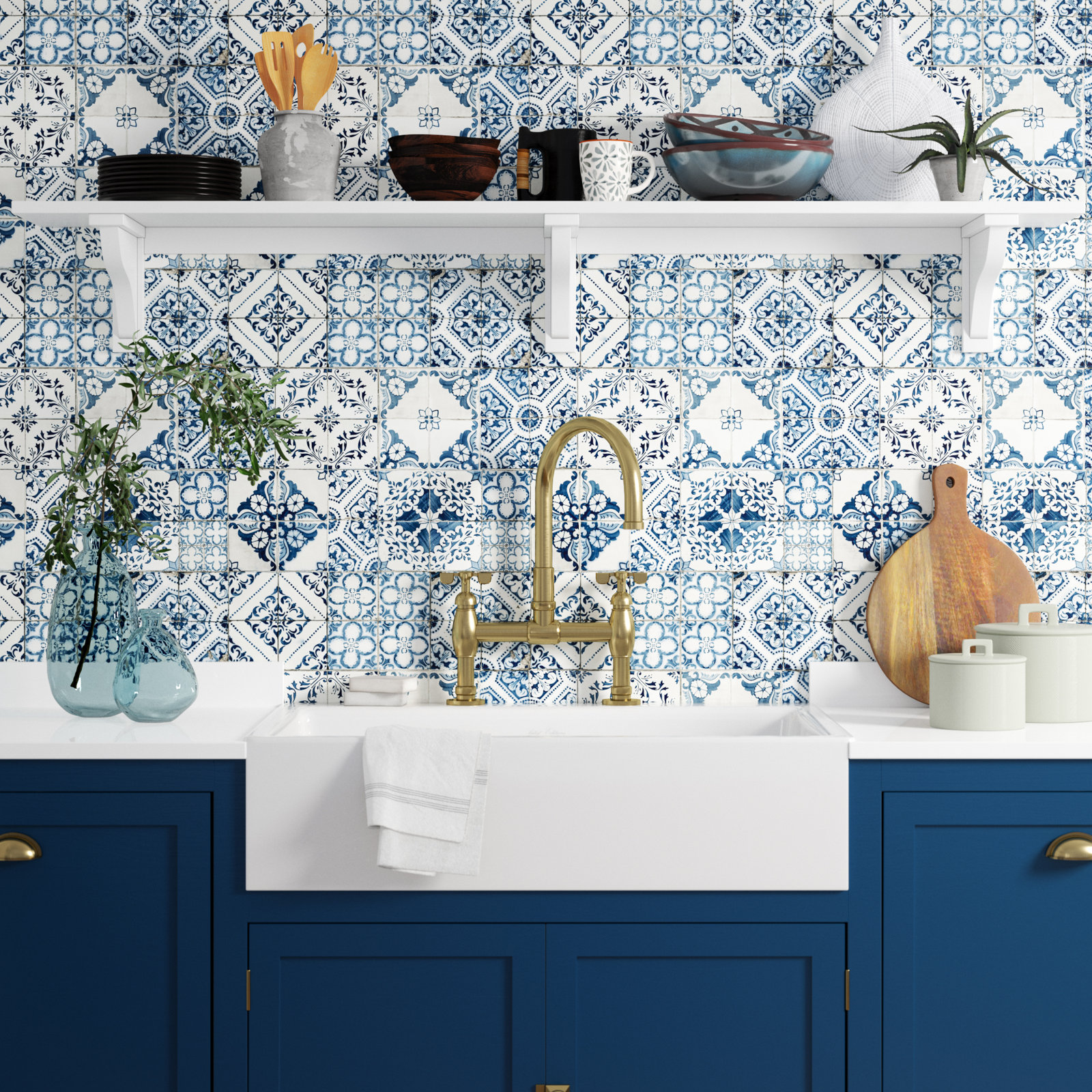 Specs:
Dimensions: 16.5 feet x 20.5 inches
Square Footage per Unit: 28.18 square feet
Finish: Semi-Gloss
Color Options: Blue/white
Have the look of tile without having to actually install tile with this bright blue and white removable wallpaper. This wallpaper stands out with its varied design with a 20.5-inch repeating size, making it possible to cover a larger space without it obviously looking repetitive. The semi-gloss finish makes this wallpaper perfect for use in your kitchen because it's easy to clean. Unlike lower-quality wallpapers, this one feels thick and substantial, making it easier to work with and more durable. The adhesive on this wallpaper is strong, and you'll find that it doesn't trap as many air bubbles as other wallpapers.
Unfortunately, the oversized repeating pattern means you may need to order more wastage. This is the extra wallpaper you'll buy so that you can perfectly line up the pattern. Additionally, the pattern is old, worn, cracked, weathered, and split tile. This may not be the look everyone is going for.
Check Price
Best Farmhouse Design: Magnolia Home Common Thread Premium Peel and Stick Wallpaper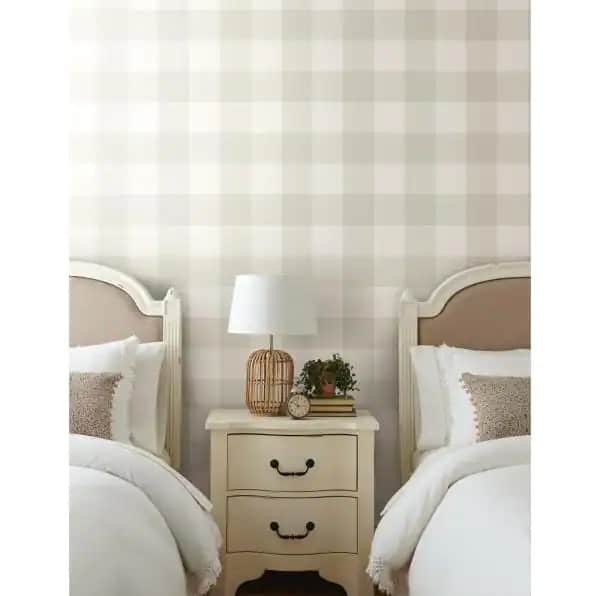 Specs:
Dimensions: 20 feet x 20.5 inches
Square Footage per Unit: 34.17 square feet
Finish: Matte
Color Options: Black, and green
Joanna Gaines is one of the most well-known interior designers in America, and her Magnolia Home brand is sold at several retailers, from Target to Home Depot. It's the perfect brand for creating a farmhouse aesthetic for your home decor. This large-scale plaid aesthetic is perfect for giving your home that country or farmhouse look. You could easily use this wallpaper in your dining room, kitchen, breakfast nook, or laundry room. The bright white background keeps your room feeling bright, while the plaid pattern softens the white, giving your room a warm and welcoming touch. You'll find this wallpaper easier to install than others with a simpler pattern, although you'll want to make sure the spacing of the lines is uniform.
Unfortunately, the adhesive on this wallpaper could be better. It tends to peel off the wall and fall if you don't install it just right on a clean and smooth surface. You may also find the pattern different in person, with more noticeable lines creating the plaid pattern. Some people appreciate the difference, while others find it off-putting.
Check Price
Best Modern Design: Analeese Peel and Stick Removable Wallpaper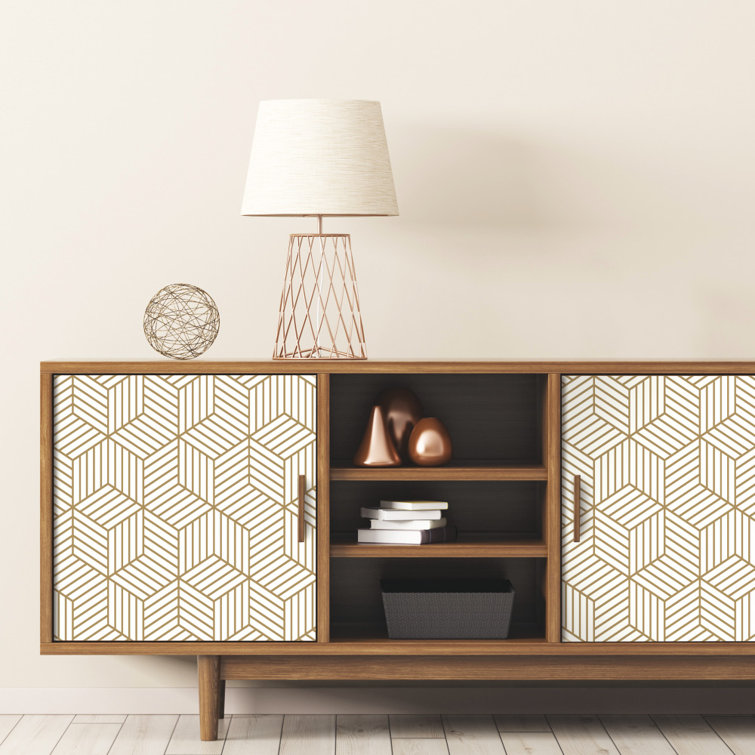 Specs:
Dimensions: 16.5 feet L x 20.5 inches
Square Footage per Unit: 28.18 square feet
Finish: Metallic
Color Options: White/gold, gold/black, and white/gray
The bold pattern and metallic finish of this wallpaper will add a modern and slightly glam touch to any room. This removable wallpaper option is best for smaller applications. It will become incredibly overwhelming on a large wall or cover an entire room. Use it to cover the bottom half of your walls to keep the pattern low, or use it as an accent wall. It's perfect for highlighting architectural features, such as an alcove or backsplash. What makes this wallpaper stand out is the metallic finish that's bright and reflective but isn't too jarring.
Unfortunately, it's hard to adhere and bubbles easily, making this wallpaper labor-intensive to get a perfect finish. You'll also find it challenging to perfectly line up the many lines on the pattern. This is frustrated by a lack of quality control where the lines may not always be printed perfectly. However, with careful installation, these slight mismatches can be hidden.
Check Price
Best Nature-Inspired Design: Floral Peel and Stick Wallpaper Roll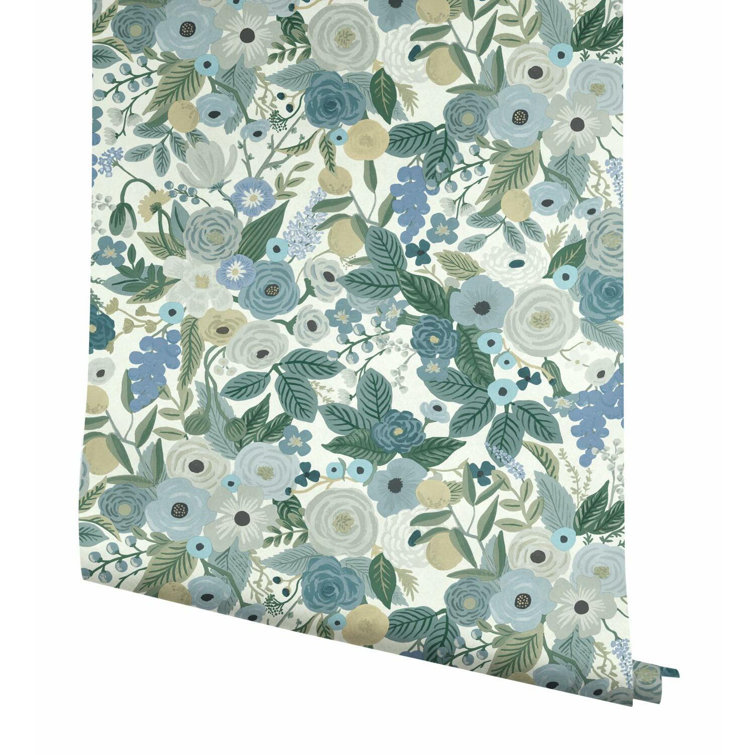 Specs:
Dimensions: 20 feet x 27″
Square Footage per Unit: 45 square feet
Finish: Matte
Color Options: Rose, blue, burgundy, off white/brown, and pastel
This nature-inspired wallpaper from Rifle Paper Co. has a large and bold pattern that features a stunning bouquet of large-scale flowers and leaves. It's perfect for a small guest powder room or an accent wall. The paper feels thick, making it less likely to crease and easier to work with. The wall pops with vibrant and rich colors. If you find the pattern overwhelming, try using it only on the upper half of the wall. You'll appreciate the attention to detail in the printing with crisp edges, uniform printing, and accurate colors. Once installed, the adhesive will keep your wallpaper securely stuck to the wall for years to come.
The biggest problem with this wallpaper is that it doesn't have an overlap margin, making it difficult to install. You'll need to line up the edges perfectly. This can be not easy, given how intricate the pattern is. The intricacy of the design can also mean an increase in wastage, requiring you to buy more wallpaper than you would with other designs.
Check Price
Best Versatile Design: Dimoon Blue Peel and Stick Wallpaper
Specs:
Dimensions: 65.5 feet x 17.7 inches
Square Footage per Unit: 96.74 square feet
Finish: Embossed
Color Options: Blue-grey, light green, dark blue, dark purple, beige, dark green, light blue, yellow, white, red, pink, emerald, light pink, rose pink, grey, black, and purple
Whether you are looking to cover your walls, furniture, kitchen cabinets, or anything else, this simple and colorful temporary wallpaper is a perfect solution. Unlike paint, you can stick it on and easily peel it off later. With the wide range of sizes available, you can buy exactly how much you need for any project. Because the wallpaper is a plain color, it's perfect for someone who wants to achieve the look of a painted finish without actually painting, such as renters or those whose tastes change often.
It may take some practice to get your finished project looking nice. The vinyl is very thin, making it easy to crease and difficult to get smooth. You may also be able to see imperfections and designs through it, so it's best to install it on a smooth, plain surface. However, its thinner, helping it to flex and curve better, giving you a better finish on surfaces like cabinets with a raised or sunken panel. Be careful when ordering; this wallpaper is subject to color variations due to inconsistency between dye lots.
Check Price
How to Choose a Perfect Removable Wallpaper?
Color and Pattern
Choosing a color and pattern sounds fun, but there's more to it than just picking out a design that appeals to you. The pattern's scale should make sense for the size of the wall you plan to cover. Consider what the pattern will look like on a large scale, not just the small square sample you see online. Additionally, a more intricate or detailed pattern may result in you needing more wallpaper to ensure you have enough. An intricate pattern will also be more difficult to align across the wall perfectly.
Adhesive
Not all adhesives are the same, and not all manufacturers use the same adhesive formulation on their removable wallpaper. The adhesive needs to be strong enough to adhere the paper to the wall but not so strong that you can't get it off. The adhesive should also be durable enough to withstand changing temperatures and humidity levels. If you plan to install your wallpaper on a wall that gets a high degree of sun exposure, this can also influence the performance of the adhesive.
Print Quality
Higher quality printing will produce a better-finished product. If you choose a realistic design, like wood or bricks, then opt for a higher quality wallpaper for a more realistic design. You want the finished wall to trick people into thinking it really is wood or brick, not an obvious faux wallpaper wall. If you choose a printed design or one that mimics painting, then crisp edges are a must to make installation easier, and the finished design looks appealing. Pixelated images and edges are harder to line up and cheapen the look of your wallpaper.
Material
The material the wallpaper is made out of can influence how easy the wallpaper is to work with, the look it has on your wall, and its durability. Vinyl wallpaper is the most popular because it can be made thicker to give it more durability. However, the thicker paper can be more difficult to work with and get the air bubbles out. Thinner papers will flex and adhere more easily but may not have the same level of durability. There are a few papers that have a PVC coating. This makes the wallpaper more durable but can also cheapen its look.
Finish
The finishes available on removable wallpaper are similar to paint finishes. A matte finish is a flat finish that won't reflect much light and have a softening effect on your room. A satin finish will have a slight gleam but will not be shiny. A semi-gloss or gloss finish will have a shine and reflect the most light. Some wallpapers could have a metallic finish that mimics the look of real metal. A gloss or semi-gloss finish will be easier to wipe clean, making them better for families with children and pets or in high-traffic rooms.
Conclusion
Our top pick for the best removable wallpaper is the Wokingham Peel And Stick Wallpaper Roll. This white wallpaper has a realistic design that will add subtle texture and pattern to any room.
For those on a budget, the Black Silk Wallpaper Embossed Peel and Stick Wallpaper will offer a nice accent with its subtle abstract design.
These wallpapers come in a thickness that makes them durable but not challenging to install. In addition, they have adhesive that will ensure the wallpaper stays stuck to your walls and won't peel off on its own.
FAQs on Removable Wallpaper
Is removable wallpaper actually removable?
Unlike traditional wallpaper, you don't need special tools or chemicals to remove the peel and stick wallpaper. If it was correctly applied according to the manufacturer's directions, you can easily remove it. There will be no sticky residue or mess left behind.
How long does removable wallpaper last?
As long as it's applied to a clean and smooth surface in accordance with the manufacturer's directions, it's claimed that you can expect peel and stick wallpaper to last as long as regular wallpaper. However, ten years is the average useful life for most people.
Can you use peel-and-stick wallpaper in a bathroom?
Technically, you can add removable wallpaper to any room in your home. However, the high moisture atmosphere in your bathroom could cause it to prematurely peel off the wall. The best places for application are in your bedroom, living room, office, hallway, entryway, or kid's room.