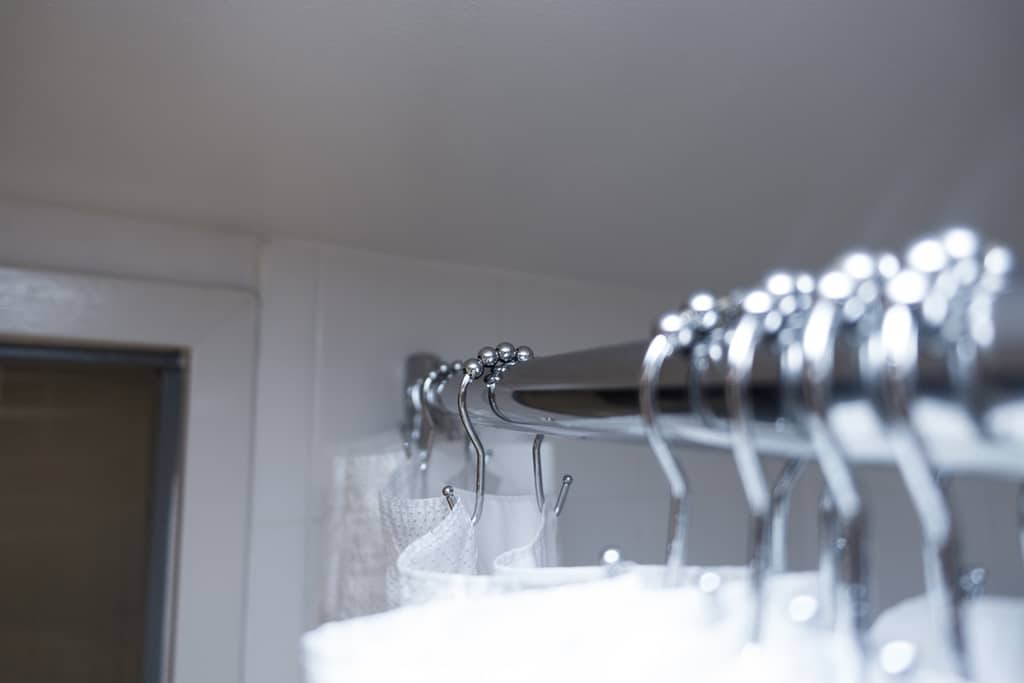 Trendey may earn a commission when you buy through links on our site.
As an Amazon Associate we earn from qualifying purchases.
Best Shower Curtain Rods
Without a shower curtain, your bathroom would become a flooded mess every time someone takes a shower. To hang a shower curtain, you need a curtain rod. However, not all shower curtain rods are built the same. The last thing you want is a poor-quality rod that suddenly comes crashing down in the middle of your shower. We want to help you outfit your showers with the best shower curtain rods that not only look great but also perform reliably.
Top Picks
Best Overall: Briofox Shower Curtain Rod
Specs:
Min to Max Length: 27-43 inches or 43-73 inches
Mount Type: Tension
Primary Material: Stainless Steel
This is one of the best tension shower rods because not only is it affordable, but it looks great and is durable. You can adjust its length from 27-43 inches in length. There is also an alternative length that ranges from 43 to 73 inches. While the bronze finish is beautiful, you can also choose from black, polished gold, nickel, stainless, or white. You can trust the durability of this curtain rod thanks to its 304 stainless steel construction that makes it capable of supporting up to 30 pounds. The large non-slip plate on the ends makes it safe for installation on all wall surfaces. Inside of the bar is an extra thick heavy-duty spring that securely holds the bar in place.
One drawback of this shower curtain rod is that the finish on the ends doesn't always match the rod finish. This is especially a problem with the chrome option. It can also fall down if you don't tighten it enough on your wall with the grip pads in the correct place.
Check Price
Best Budget Pick: Moen Adjustable Straight Tension Shower Rod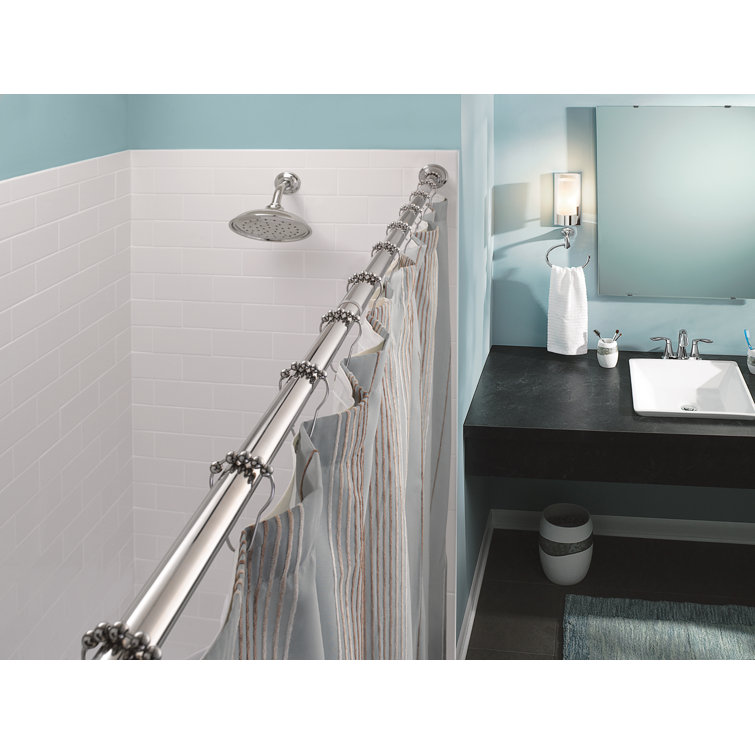 Specs:
Min to Max Length: 44-72 inches
Mount Type: Tension
Primary Material: Stainless Steel
With Moen being one of the most well-known brands in bathroom fixtures, you can trust this shower rod to deliver quality. You can adjust it between 44 and 72 inches. There are three colors to choose from, old world bronze, chrome, and brushed nickel. Thanks to the tension system, installation is quick and easy. It has a fast-lock system that helps to hold the rod in place once you get it into position. Its stainless steel construction helps it to be strong and durable. It's rust and corrosion resistant, helping it to stay beautiful. What's nice about this affordable shower rod is that it has a decorative end cap that helps to elevate the look of your shower.
Unfortunately, the brushed nickel looks more like a flat grey than metal, which may not be the look you're going for. It also isn't strong enough to hold heavy-weight fabric shower curtains. It's best to stick with lighter-weight options.
Check Price
Best Decorative: Pismo Straight Fixed Straight Shower Rod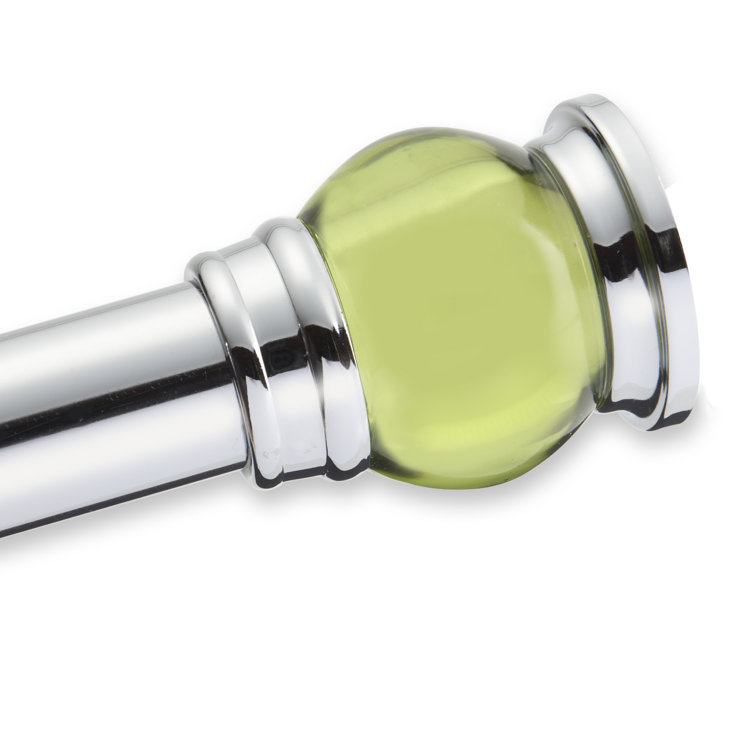 Specs:
Min to Max Length: 42-72 inches
Mount Type: Fixed
Primary Material: Steel
This decorative shower curtain rod has a bit of extra finial detailing on the ends. Choose from sage, blue, clear, dark chocolate, or mocha for the translucent crystal on the ends. This shower rod requires a fixed-mount installation. It's adjustable between 42 and 72 inches. Thanks to the installation method and steel construction, it's strong enough to support wet towels or a heavy shower curtain. This rod is perfect for adding a touch of glam to your shower. Style it with a shower curtain that has the same color and the accent on the rod for a coordinated look. With the right curtain, it could also look bohemian. Try a bright and bold colored curtain with a large-scale ethnic design.
The drawback of this curtain rod is that The crystal detailing on the end could interfere with the movement of the shower hooks. You'll want to be careful when fully opening or pulling the curtain closed.
Check Price
Best D Shaped: Aluminum D-Shape Fixed Curved Shower Curtain Rod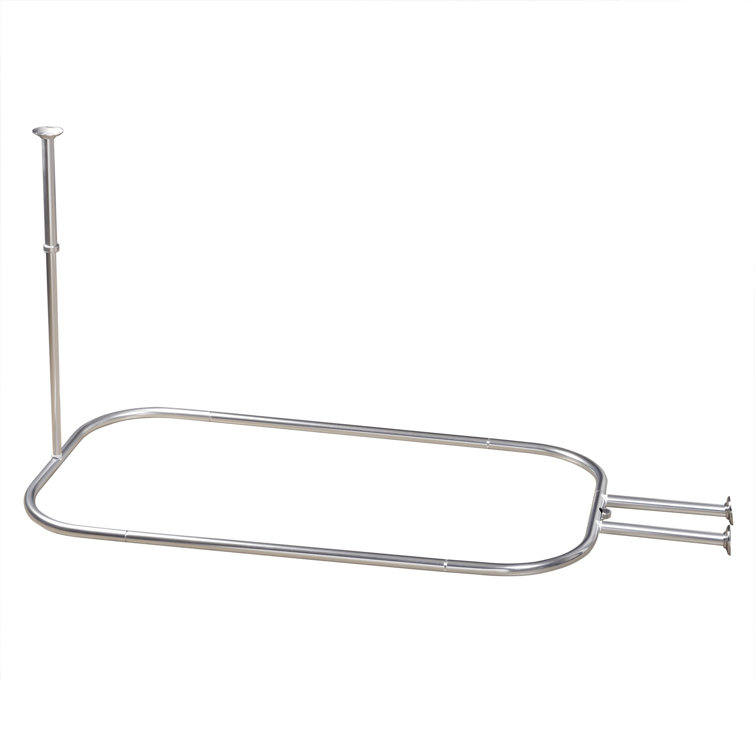 Specs:
Min to Max Length: 24-30 inches
Mount Type: Fixed
Primary Material: Aluminum
If you have a freestanding tub that you also use as a shower, then you need a unique shower curtain rod. This D-shaped rod forms a complete loop overhead to allow a curtain to completely surround you while in the tub. To install it, there are two pipes that attach to the wall and one that supports the rod from the ceiling. Due to the nature of the rod, it is a fixed-mount design. You'll need two shower curtains, one for each side of the tub. There are two color options, classic chrome or modern oil-rubbed bronze. To keep the entire structure lightweight and durable, it's constructed from aluminum. It will never rust and has a chip-resistant finish.
Unfortunately, some users felt like the aluminum construction made it feel flimsy. However, once installed, this feeling should go away. Additionally, this rod won't work for bathrooms with a slanted ceiling over the tub.
Check Price
Best Fixed Mount: Project Source Fixed Single Straight Shower Rod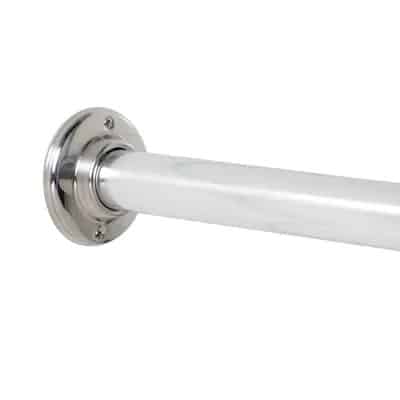 Specs:
Min to Max Length: 60 inches
Mount Type: Fixed
Primary Material: Stainless steel
This classic fixed mount shower curtain rod may not be the most styled, but it will deliver when it comes to functionality. It has two large plates at either end that are secured to the wall with two screws. The rod is constructed of sturdy stainless steel, making it rust-resistant. You'll find it easy to install with the included instructions and hardware. This rod is perfect for someone who owns a rental property or a vacation property where you need a durable and sturdy rod. The chrome finish gives the rod a classic look that will match other builder-grade fixtures.
Unfortunately, this shower rod is not adjustable. If you don't have a standard 60-inch shower or tub space, then this rod will not work for you. If you want the rod to fit a smaller opening, you will need to cut it. You may also find it challenging to install because the screw holes are too close to the bar.
Check Price
Best Curved: Bath Bliss Wall Mounted Adjustable Curved Bathroom Shower Curtain Rod
Specs:
Min to Max Length: 42-72 inches
Mount Type: Fixed
Primary Material: Alloy Steel
Unlike the straight curtain rods on this list, this shower rod has a gentle arch. The curved curtain rod shape will arch out into your bathroom, giving you more room in your shower. It helps the shower feel brighter, more spacious, and helps keep the curtain from billowing in on you. You can adjust the rod's length from 42 to 72 inches, making it versatile. You will need to secure it to the wall with two screws. There are four color options, including chrome, oil-rubbed bronze, satin, and stainless steel. It's made from alloy steel, helping it to be durable and resistant to rust or corrosion.
One drawback of this curtain rod is that it has a maximum weight capacity of five pounds. This can make it not strong enough to support heavy fabric curtains. The outside support plates do not have large bar supports, which can cause the center of the car to sag.
Check Price
Best Premium Pick: Edenscape Adjustable Straight Fixed Shower Curtain Rod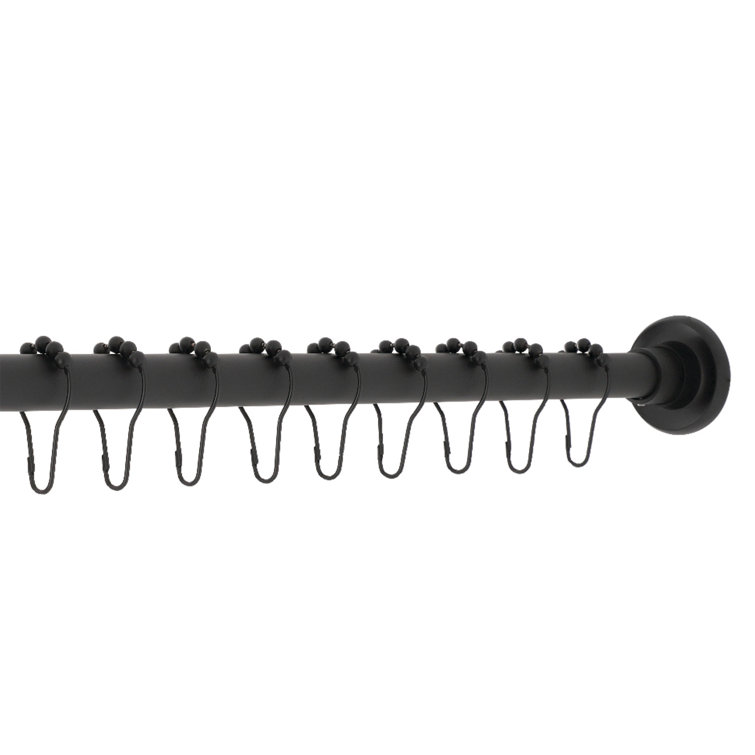 Specs:
Min to Max Length: 60-72 inches
Mount Type: Fixed
Primary Material: Stainless Steel and solid brass
Give your shower a sleek and modern look with this all-black shower curtain rod. Unlike other bars on this list, this one comes with a matching set of shower curtain hooks. This makes it simple to upgrade the look of your shower. The bar and its components are constructed from the highest grade 304 stainless steel and solid brass. This gives the bar strength and durability. It's also resistant to rust and corrosion. You can adjust the length of the rod from 60-72 inches. The fixed mount design and sturdy construction help this rod to be strong enough to support heavier decorative shower curtains. This rod is perfect for a modern, contemporary, or vintage-inspired design in your bathroom.
One potential drawback of this curtain rod is that you can't cut it shorter than 60 inches. The end caps for the rod are made of plastic, not brass like the rod. This does detract from the overall quality and durability of the shower rod.
Check Price
Best Corner Rod: Polished Chrome Corner Shower Rod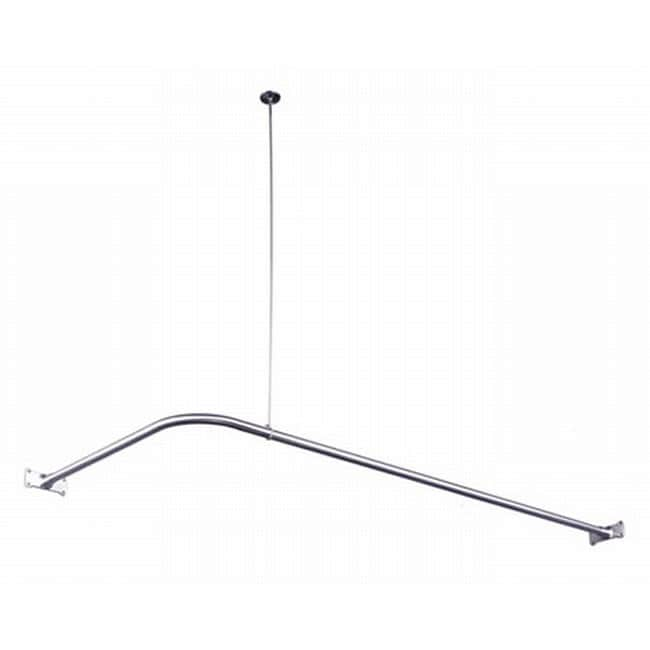 Specs:
Min to Max Length: 62 inches x 28 inches
Mount Type: Fixed
Primary Material: Brass with chrome finish
If you have a corner tub or shower, then you need a shower curtain rod that can provide protection on two sides. This L-shaped shower curtain rod has one long bar that extends the length of the tub or shower and a shorter bar that protects the depth. This setup requires you to attach it to the two walls on either side of the corner. There is also a ceiling support bar to help it stay horizontal. It is constructed of brass to give it durability and has a chrome finish to improve its looks. With this setup, hang two curtains to have the shower open at the corner.
Unfortunately, the manufacturer doesn't specifically state that it is corrosion or rust-proof. This means it could eventually rust if left in a wet environment for too long. The overall weight of the bar feels lightweight, which makes installation easy, but also reduces the bar's maximum weight capacity.
Check Price
Best Matte Finish: Teeck Shower Curtain Rod
Specs:
Min to Max Length: 40-73 inch
Mount Type: Tension
Primary Material: Stainless Steel
This sleek shower curtain has a matte black finish that looks modern, which is accentuated by the minimalist end caps. If you prefer a different color, you could choose the bronze, matte gold, chrome, or white options. You can adjust this tension rod from 40 to 73 inches. Installation is simple, adjust, compress, and move it into place. Despite being a tension rod, it has an impressive maximum weight capacity of 22 pounds. This is partially due to the 304 stainless steel construction and heavy-duty spring. Go ahead and hang that heavy fabric decorative shower curtain on this rod. Another nice feature that helps hold the curtain rod in place is the end cap plates with ridges that help to grip the wall.
Unfortunately, the end caps aren't made of metal. This makes them more vulnerable to damage, such as cracking. While you want to put the tension rod under pressure, you don't want to do it too much, or you risk the end caps cracking.
Check Price
Best Rust Resistant: Amazer Spring Tension Shower Curtain Rod
Specs:
Min to Max Length: 42-72 Inches
Mount Type: Tension
Primary Material: Nickel
If durability is your priority, then this rust-proof shower rod is a top choice. It comes in two sizes 26-42 inches for shower stalls and 42-72 inches for larger showers. You also have five color choices, including black, bronze, chrome, nickel, and white. This tension mount rod has a thicker than average spring inside to give it a stronger hold once positioned into place. A unique feature of the rod is that the end of the rod is detachable. This gives you complete freedom in the type of hooks you use. Each of the finishes is durable, with no risk of chipping or cracking. On the ends, there are grip pads to help hold the rod in place on any surface, from tile to drywall, wood, or wallpaper.
Unfortunately, this shower rod is a bit plain-looking. It also doesn't have a strong maximum weight capacity, so heavy fabric curtains may be too heavy for this lightweight curtain rod.
Check Price
How to Choose a Perfect Shower Curtain Rod?
Tension or Fixed
The first step in buying a shower curtain is to decide what style of installation you want. There are two options, tension or fixed. Tension rods use a spring to apply tension to the walls to hold the rod in place. This is perfect for a renter or someone looking for an easily removable solution. Fixed mounted shower curtain rods require you to screw the rod's endplates into the walls. This is a stronger and more stable solution, but will make holes in the walls. If you want a double rod or hang your wet towels over the curtain rod, then a fixed mount is a better option.
Finish
Consider the rest of your bathroom decor and the style of hooks that you want to hang on the rod when choosing the finish. A basic rod will have a chrome finish. This looks nice but can be a bit commercial or industrial. Another plain option is black, which works well to help your shower curtain rod blend into the general design of your bathroom. If you want something a bit fancier, then consider a rod with a matte finish, such as brushed bronze.
Straight or Curved
Straight shower curtain rods are the standard and won't let you down. They come in a variety of lengths to work with a shower stall to an oversized custom design. If you're looking for extra space in your shower, then consider a curved rod. Unlike straight rods, curved rods only come in a fixed mount design. The benefit of the curved rod means it will arch out towards the bathroom, giving you more shower space. Keep in mind that you may need a wider shower curtain because the distance is further that the curtain has to cover.
Durability
The rod you install needs to be durable enough to last. You'll see some options, such as plastic rods, that won't last as long as stronger rods that are made from metal. When it comes to metal rods, you need to ensure it's durable. It should be rust-resistant so that it doesn't corrode and make a mess of your bathroom. If you buy a tension rod, consider the quality of the mechanism that holds the rod in place. Over time, low-quality rods lose their hold and it will cause the rod to fall.
Included Accessories
A tension rod may come just by itself. However, some will come with curtain hooks for a matching set. If not, you'll need to buy the curtain rings when you buy your curtain liner and decorative curtain. If you decide to buy a fixed mount rod, then it should come with the necessary mounting brackets. Typically, they will have a plate that holds the end of the rod and has two to four screw holes. High-quality rods will also have an additional plate that covers the mounting plate for a clean look.
Conclusion
Our top pick for the best shower curtain rod is the Briofox Shower Curtain Rod because it's durable and affordable. The adjustable length and beautiful finish help it to look elegant in your bathroom. For a more budget-friendly option, the Moen Adjustable Straight Tension Shower Rod won't let you down with its adjustable length, three color options, and fast-lock installation system. Both of these shower curtain rod options are strong enough to hold your decorative shower curtain and liner.
FAQs on Shower Curtain Rod
How do I keep my shower curtain rod from falling down?
If you have a fixed mounting method, such as what you'd see on a double shower curtain rod, then the shower rod is screwed into the wall. It won't fall unless it's ripped out of the wall. Rubber caps can help to prevent a tension rod from falling. However, even if tension rod has rubber caps, they may not grip the smooth surface of tile. Try gluing rubberized shelf lining material to the end of the rod. This will create more grip and prevent the rod from falling.
Can you install a tension shower rod on drywall?
Yes, you can install a tension shower rod on drywall. However, you'll need to be careful that you don't have it pushed too hard against the drywall or it can damage it by creating a dent.
Should the shower curtain be higher than the shower head?
Yes, you should mount the shower curtain rod higher than the showerhead. This helps to prevent overspray and the splashing of water from over the shower curtain. However, you don't want to mount it too high. Your shower curtain needs to be long enough to hang at least six inches past the top of your tub. You also don't want the shower curtain to be so long that it sits on the floor. Too short and it could billow into the tub, defeating its purpose. Too long and it could potentially sit in a puddle, encouraging mildew growth.