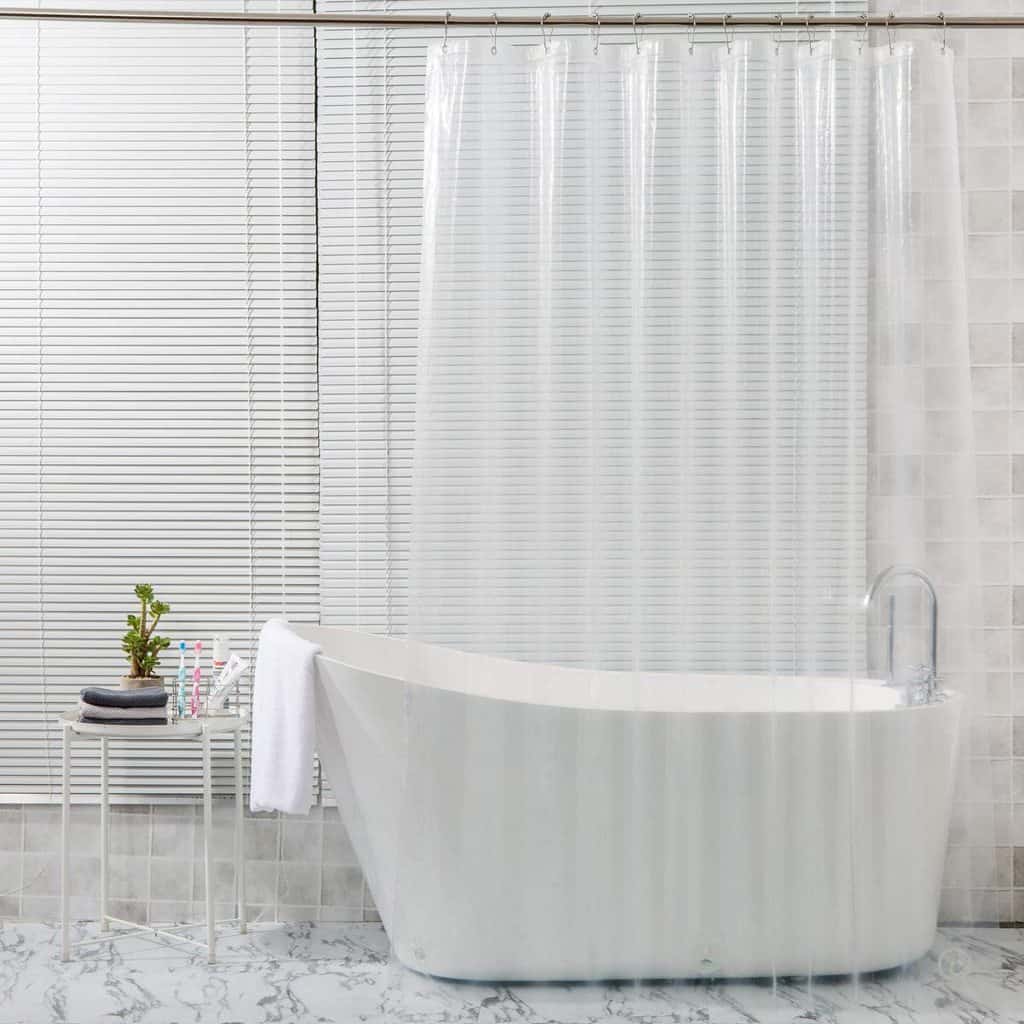 Trendey may earn a commission when you buy through links on our site.
As an Amazon Associate we earn from qualifying purchases.
Best Shower Curtain Liners
You've found the perfect decorative curtain and are ready to hang it on your shower rod. Not so fast. Without a shower liner, you will end up with a soaking wet bathroom floor. If you only have a decorative curtain, the water won't be contained. So, whether you're buying a bohemian shower curtain, simple cotton, or delicate lace one, you need a shower curtain liner. Check out some of the liners that made our list of the best shower curtain liners.
Top Picks
Best Overall: Vinyl Solid Color Shower Curtain Liner + Hooks
Specs:
Dimensions: 72 x 72 inches
Material: Vinyl; Peva
Color Options: Clear or frosted white
When it comes to vinyl shower curtains, this one impresses with its quality construction. Its eco-friendly, biodegradable, chloride-free, and doesn't have any toxic chemicals. It's safe for you, your family, and the environment. Vinyl is a durable material that feels lightweight and more like fabric. It also comes with shower curtain hooks for hanging on your curtain rod. It also has all of the performance qualities you'd want, such as mildew resistance and water repellent. The standard 12 hook holes across the top make it suitable for use with almost any decorative shower curtain. Its clean and bright white color makes it perfect for keeping your shower feeling light and spacious. It also won't show through your decorative curtain.
Unfortunately, this liner doesn't have magnet weights in the bottom. This can lead to it billowing away from the tub on the inside as you take your shower.
Check Price
Best Budget Pick: Eva/Peva Frost Solid Shower Liner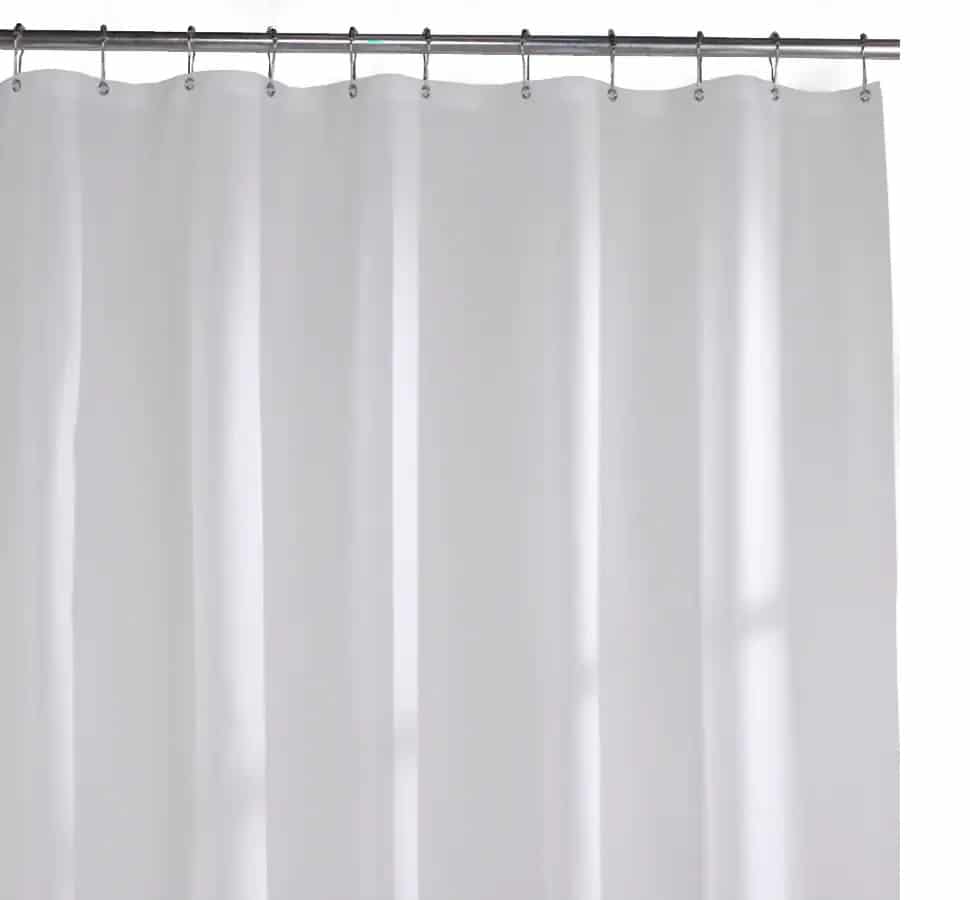 Specs:
Dimensions: 70 x 72 inches
Material: Peva
Color Options: Frost white
This affordable shower curtain liner is a budget option. It's made from 100 percent peva, a modern material similar to vinyl or PVC. It's different because it's chloride-free and doesn't have any unpleasant odors. Along the bottom are magnetic weights, which are useful for keeping the liner in place and tucked out of the way. The color is a soft frosted white, which keeps it from looking cheap or tacky. It's incredibly thin, helping it to be more lightweight, putting less stress on the shower curtain rod.
The drawback of this curtain is that it isn't mildew resistant. This means it can develop mildew or mold if it isn't effectively dried out after each shower. This means more frequent cleanings or a full replacement. There also aren't metal grommets on the holes so the liner could tear more easily than others on this list.
Check Price
Best Colored Pick: AmazerBath Plastic Shower Curtain
Specs:
Dimensions: 72 x 72 inches
Material: Ethylene Vinyl Acetate
Color Options: Beige, black, blue-purple, clear, dark gray, pink, navy blue, khaki, gray, frosted, teal, turquoise, white
Express your inner creative with this colorful shower curtain liner. With so many colors to choose from, there's one for everyone. The dark colors are perfect for creating a moody and sophisticated feel in your shower. The light neutrals are perfect for keeping it light and bright but softer than harsh white. This shower curtain also comes in several sizes, so you can get a custom fit, no matter what your shower size is. This plastic liner is made from 8G, making it thick and durable. At the top, there are 12 rust-resistant grommets. The construction of this liner is strong, with the stone weights securely held in place in individual pockets.
The downside of this plastic liner is that the three stones at the bottom are not magnetic. So while they weigh the curtain down, they won't actively hold it in place.
Check Price
Best Hotel Pick: Falko Hotel Weight Plastic Solid Shower Curtain Liner
Specs:
Dimensions: 72 x 72 inches
Material: PVC
Color Options: Beige, clear, frost, white
This plastic curtain comes in four elegant colors that are perfect for adding the finishing touch to fabric shower curtains. The hotel weight of this shower curtain liner helps it to feel more substantial and durable. While it's water repellant, what makes this liner stand out is that it dries quickly. This helps to reduce the risk of mildew growth. The holes across the top have metal grommets, but they aren't designated as rust-resistant, so they could potentially rust over time.
Unfortunately, this liner isn't as easy to take care of as other liners on this list. It requires dry cleaning, which may not be worth it for your shower liner. It also doesn't have weights in the bottom to help it stay in place while you're showering.
Check Price
Best Premium Pick: West Elm Shower Curtain Liner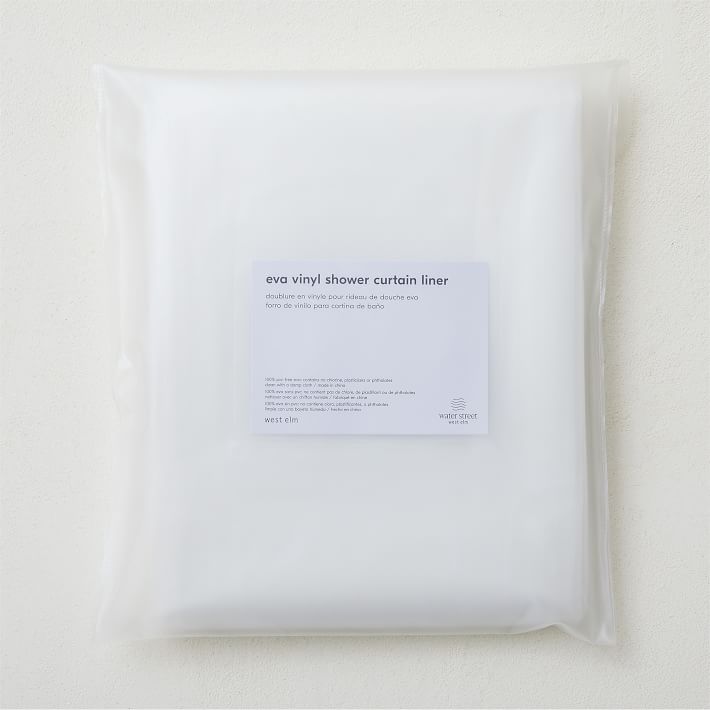 Specs:
Dimensions: 72 x 72 inches
Material: Vinyl
Color Options: Clear
This beautiful shower curtain liner may cost more, but it's well worth the extra investment. It's made from 100 percent PVC-free vinyl that contains no chlorine, plasticizers, or phthalates. This makes it safe for use in your home and around your family. Caring for it is simple; just wipe it down with water and a damp cloth. The metal grommets reinforcing the holes have a nickel finish, making them not only durable but also beautiful. While it coordinates with West Elm shower curtains, you can use it with any type or brand of shower curtain. The bottom of the curtain has powerful magnets that hold the curtain securely in place against your bathtub.
The drawback of this vinyl liner is that it's just a shower curtain liner. It's twice as much money and doesn't come with hooks or a curtain.
Check Price
Best Extra Long: Vinyl Solid Color Single Shower Curtain + Hooks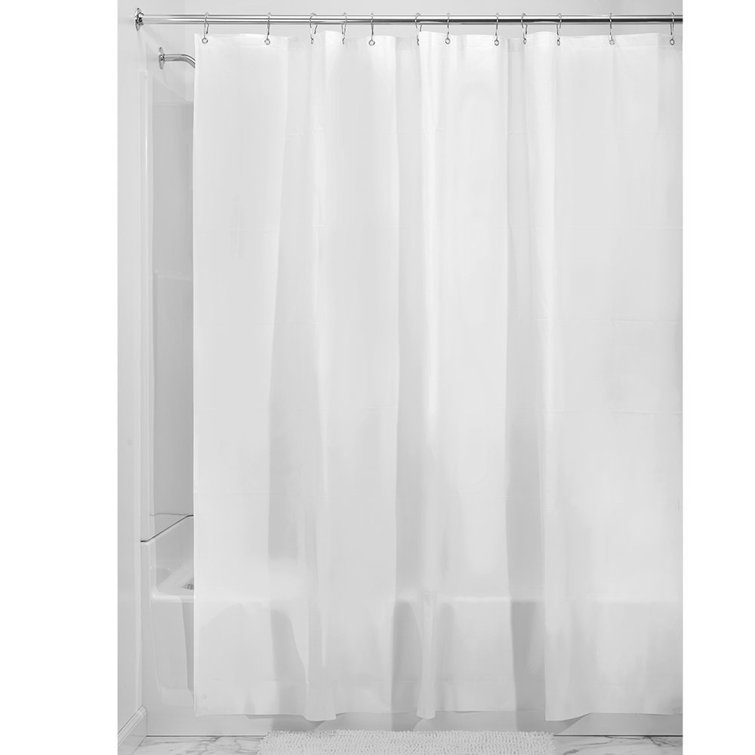 Specs:
Dimensions: 72 x 96 inches
Material: Ethylene-vinyl acetate
Color Options: Frosted
This simple and elegant shower curtain is perfect for your oversized shower. It comes with all of the standard features that you want your shower curtain to have, including being mildew-resistant, water-repellant, and odorless. The top has 12 holes that are lined-with rust-proof grommets and reinforced with additional stitching. The quality construction and design of this liner let you use it with a decorative liner or on its own. The frosted white coloring will blend with a variety of decor while also providing the shower with privacy. The feature that makes this liner unique is that it's extra long. This is perfect for showers that need additional height protection.
One complaint about this liner is that it feels like plastic. It doesn't have the same softness or fabric-like quality that some of the other liners on this list have. It's also quite thin, making it more delicate than other options.
Check Price
Best Pockets Pick: Coleridge Solid Color Shower Curtain Liner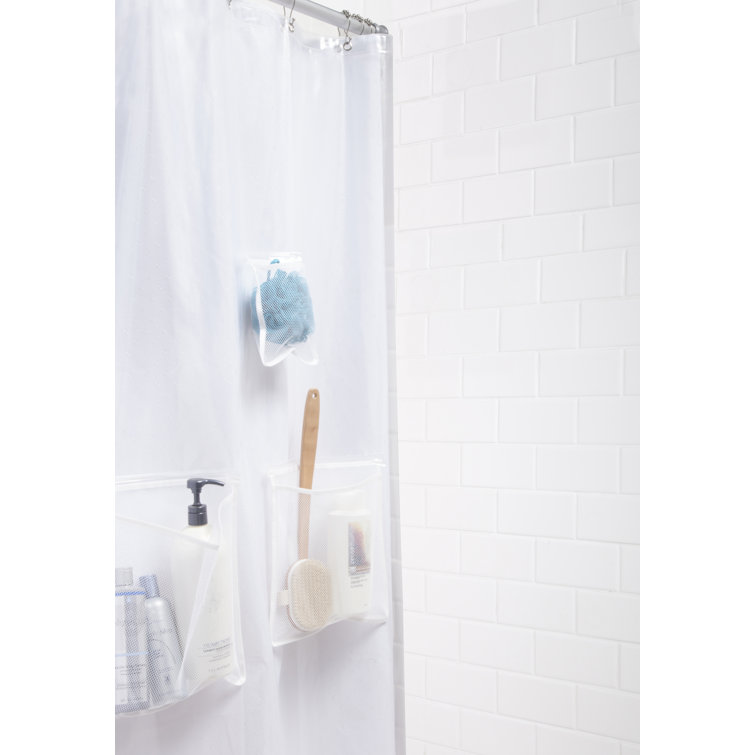 Specs:
Dimensions: 72 x 70 inches
Material: Peva
Color Options: White
It's frustrating to be in your shower and have it be cluttered with items all over the place. It seems like there's always a lack of storage space. A shower curtain liner with pockets could help you the extra organization that you need to free your shower from clutter. This liner has five self-draining pockets that can expand to hold even bulky items. To ensure the liner can hold the weight, there are twelve grommet-lined holes across the top. For durability, the liner is water, fade, and tear-resistant. There are weights to help keep the curtain steady and secured along the bottom.
The drawback of this curtain liner is that the pockets are its downfall. You'll need to make sure they fully drain and air out so that they dry. Otherwise, they could start developing mildew. You'll also want to be careful about what you put in them. Heavy items can cause the pockets to tear.
Check Price
Best Hookless: Hookless Eva/Peva Shower Liner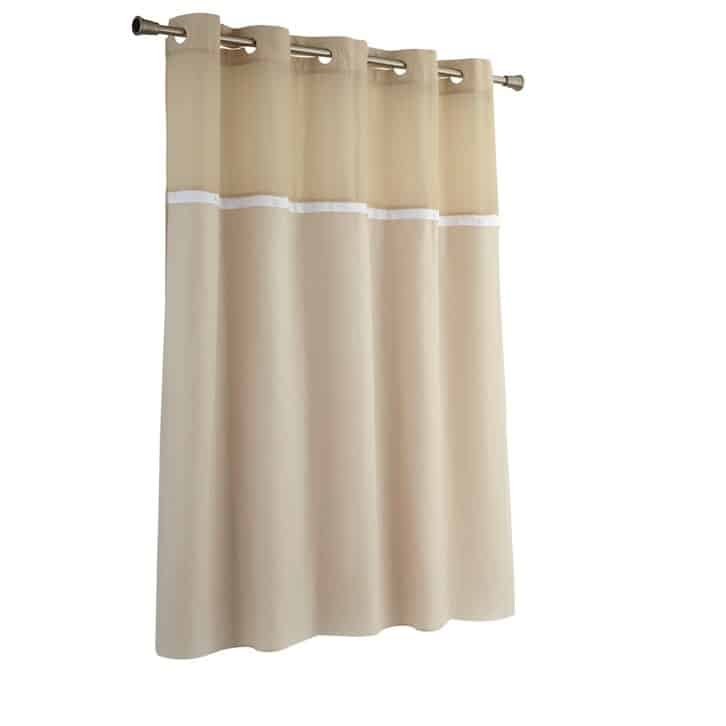 Specs:
Dimensions: 70 x 54 inches
Material: Peva
Color Options: Frosted
Some decorative shower curtains have an extra flap on the backside of the curtain. Along the edge of this extra flap, there are plastic snaps. You can use these to attach a hookless shower curtain liner. This makes it simple and easy to replace the liner without having to take the entire shower curtain rod down. This peva liner has antimicrobial properties to help prevent the growth of potentially harmful bacteria. It's also mildew resistant and chlorine-free to help it stay looking clean for longer. If your liner does get dirty, you can spot clean it with a damp cloth or simply replace the entire liner. At the bottom of the liner, there are magnets to help secure the liner into place.
Unfortunately, there is only one color option for this liner, so you better like white frosted. It's also not versatile, so you'll need to be sure that it's compatible with your shower curtain liner's snap setup.
Check Price
Best Narrow Width: LiBa PEVA 8G Bathroom Shower Curtain Liner
Specs:
Dimensions: 36 x 72 inches
Material: Ethylene Vinyl Acetate
Color Options: Clear, frosted, white
When you have a shower stall, using a standard size shower curtain is overkill. The curtain will bunch up and be bulky in the small space. What you need is a shower stall liner that's about half of the width of a standard shower curtain liner. This will reduce the bulk and make the curtain and liner more manageable. Across the top of this liner are six rust-proof grommets. The eight-gauge thick material helps to make it strong and durable. What makes this liner stand out is that it's soap scum resistant, thanks to innovative technology. This unique feature keeps your liner fresh for longer. If your curtain does get dirty, it's easy to wipe clean with a damp cloth. Similar to other peva curtains on this list, it doesn't have any harmful chemicals or offensive odors.
While this curtain is soap scum resistant, it's not mildew-resistant. If you don't ensure that it dries quickly after each shower, it will foster mildew growth along the bottom of the curtain. Additionally, there are two magnets at the bottom that are not strong enough to stick to anything.
Check Price
Best Heavy Duty: BigFoot Shower Curtain Liner
Specs:
Dimensions: 72 x 72 inches
Material: Polyethylene vinyl acetate
Color Options: Clear, frosted, or white
This heavy duty shower curtain can withstand a shower that experiences heavy use. The hook holes have rust-proof metal grommets for reinforcement. The bottom of the curtain has three strong magnetic weights to keep the shower curtain in place. The entire curtain is mildew-resistant and odor-free. This durable shower curtain is safe for use in your home thanks to it being chlorine and phthalate-free. What makes this shower curtain stand out is the clear option, as it's truly crystal clear. However, if you're looking for something that offers a bit more privacy, the frosted and white versions are also beautiful. You won't have to worry about these white-hued colors yellowing over time. This is the ideal curtain liner for hanging in your guest or children's bathroom where the shower will receive heavy use or the person showering won't be gentle on the curtain.
One problem with this curtain liner is that the grommets can fall out of the holes. Without them, your liner holes are vulnerable to tearing.
Check Price
How to Choose a Shower Curtain Liner?
Size
The standard size for shower curtains is 72 x 72 inches. This makes them large enough to cover the open space in front of a bathtub. Shower stalls are smaller, and typically use a shower curtain that's about half the width of a standard shower curtain. A freestanding tub will need a curtain that wraps around the tub. You could buy a single extra wide and long curtain, or use two standard size curtains that overlap. If you have a custom shower, you will need to measure the width and height that you need to cover the opening.
Hanging Method
You will need to hang the curtain liner on the shower curtain rod. The standard hanging method is to use the holes in the top of the curtain to attach rings or hooks. High-quality liners will have metal grommets that line the holes. This reinforces them and prevents ripping. Look for liners with rust-proof grommets. Another option is plastic snaps that secure the liner to the backside of the decorative fabric curtain. A third option is large holes in the liner that you thread directly onto the shower rod. The style you choose will depend on the look you are trying to create in your bathroom.
Color
Typically, fabric shower curtain liners are clear, white, or frosted. This minimizes their impact on your bathroom decor. That way, you don't see unwanted color or pattern through your decorative fabric liner. The light color or clear material also allows for maximum light to come through. That way, you're shower doesn't feel like a dark cave. There are some curtain liners that come in a color. You could use them for a surprise pop of color or use them on their own. However, this isn't the best approach for creating a well-put-together bathroom design.
Material
The best material for your shower curtain liner is one that's impervious to water. Liner materials need to block water from getting out of the shower and onto the fabric curtain or into the bathroom. Unlike the decorative curtain that could be a colorful cotton shower curtain, the liner is a plastic shower curtain. It could be made from plastic, vinyl, peva, PVC, polyethylene vinyl acetate, or ethylene-vinyl acetate. All of these materials have similar performance and durability capabilities. Look for one that doesn't contain BPAs.
Care Method
The majority of shower curtains have low maintenance requirements. This is because they are made from a synthetic material that doesn't hold water and resists mildew growth. While your polyester fabric curtain may be machine washable, your liner is not. Once in a washing machine, the liner will distort from the heat or rip apart from the aggressive agitation of the washing. If your polyester shower curtain and liner need washing, you can hand wipe down the liner or throw it away and replace it. Wash the liner with a sponge and warm soapy water or diluted bleach.
Conclusion
Our top pick for the best shower curtain liner is the Vinyl Solid Color Shower Curtain Liner + Hooks. Its high-quality material and included hooks make it ready for use out of the package and durable enough to last.
For a more affordable option, the Eva/Peva Frost Solid Shower Liner is a great option. Its simple design makes it versatile and the magnetic weights at the bottom keep it secured in place.
FAQs on Shower Curtain Liner
Does a shower curtain need a liner?
While you can technically use a shower curtain without a liner, it isn't recommended. A fabric liner absorbs water, which can develop mold or mildew. A liner can provide better protection and keep the water contained in the shower or bathtub.
How often should you replace your shower liner?
Experts recommend that you replace your shower curtain liner every six months. For many of us, this is more often than we actually replace the liner. You should definitely replace your liner when you see it beginning to develop mold or mildew. If you wish, you could spend time disinfecting and cleaning the liner instead of replacing it.
Does the shower curtain liner go inside or outside of the tub?
The purpose of the liner is to keep the water contained so that it doesn't flood your bathroom or splash all over. To do this, the liner needs to be on the inside of the shower. The decorative curtain then hangs on the outside of the tub.