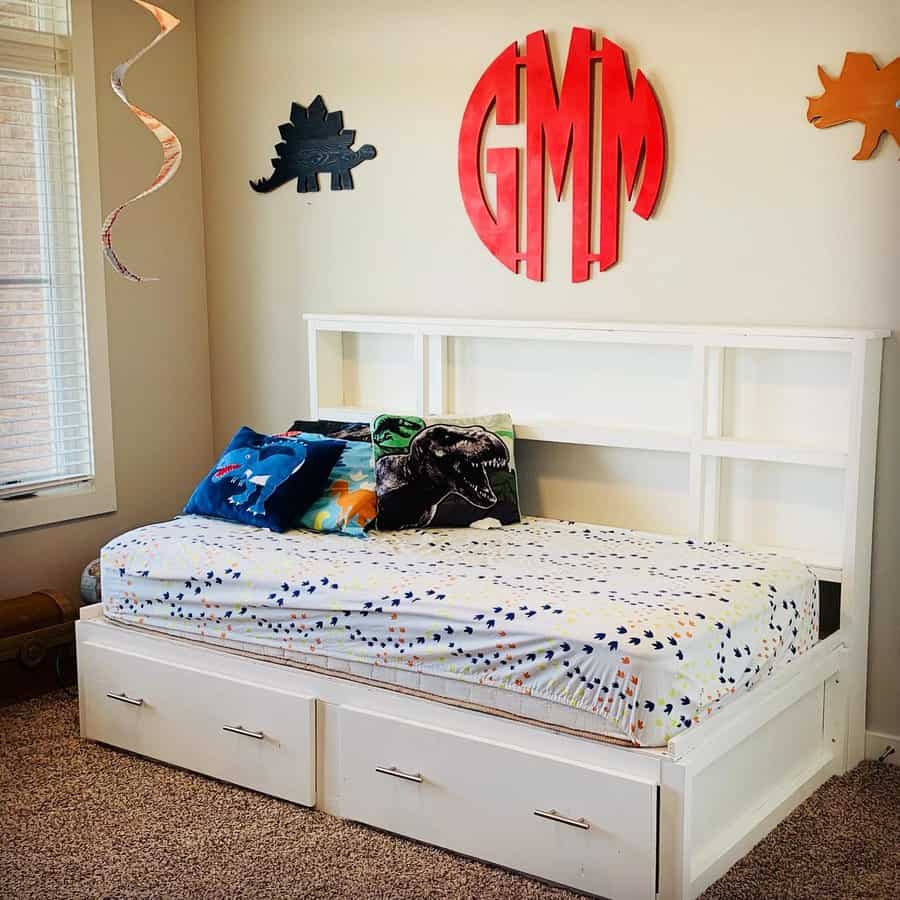 Trendey may earn a commission when you buy through links on our site.
As an Amazon Associate we earn from qualifying purchases.
Best Storage Beds
Sometimes, all you need is a bit of extra storage space, and the best storage beds are the solution you are looking for. Take a look under your bed; there is a large amount of wasted space. You could buy bags and bins to place under there. This is not the best solution, though.
Replacing your bed frame with a storage bed is a better solution because the final look is a clean design that truly hides your under bed storage. With the storage built directly into the bed, you do not have to worry about finding matching storage containers or your chosen container shifting too far underneath the bed.
Check out these attractive storage beds that will help you make the most of your bedroom space.
Top Picks
Best Overall: Brayden Studio Morphis Tufted Storage Bed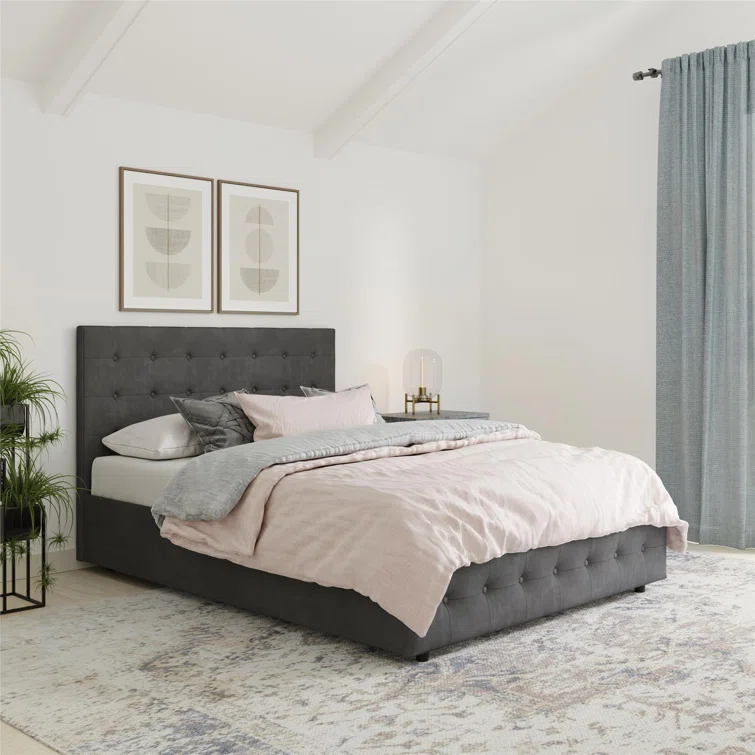 Specs:
Frame Material: Solid wood and polyester/linen blend
Bed Sizes Available: Full, twin, queen, and king
Storage Type: Lift up storage
This storage bed is a top pick because it is unlike the other beds on this list. Instead of having drawers, the entire mattress lifts up from the footboard. This gives you complete open access to the entire space underneath the bed. This maximizes your storage space and makes it easy to reach the entire space.
In addition, the style of the bed frame is contemporary, helping it blend in with a variety of home decor. Choose from gray velvet or gray linen for the fabric upholstery. This gives the bed a refined silhouette that is elegant and contemporary.
The tufted design is not just on the headboard but also on the footboard, giving it an extra nice touch. Keep a low profile design as you do not need to use a box spring with your mattress. Dress this storage bed with crisp white sheets and a plush comforter for a luxurious hotel feel.
The soft velvet has a more luxurious take on contemporary. Pair it with gold fixtures and polished wood nightstands. The linen has a more relaxed feel. Try pairing it with black metal nightstands and fixtures. Keep the design contemporary with pieces that are not weighed down with intricate ornamentation.
Check Price
Best Budget Pick: Allewie Queen Platform Bed
Specs:
Frame Material: Steel, fabric, and wood
Bed Size Available: Queen
Storage Type: Drawers
Increase your bedroom storage capacity with this affordable storage bed. There are two large storage drawers on either side of the bed. The frame of the drawers is steel metal wire, allowing for plenty of breathability. There is a large-scale tufted design on the headboard and footboard, giving this storage bed a classy look despite its affordable price point.
The linen fabric has a subtle texture that gives the bed dimension and depth. What is nice about this bed is that you can adjust it to suit your bedroom and mattress. Adjust it to 38.5 or 41.3 inches high so that it can fit a mattress that is six to ten inches.
What is nice about this bed frame is that when the drawers are closed, the drawers are hidden. The drawer fronts do not have pulls and are upholstered in the same fabric as the headboard and footboard. This allows them to blend in and look like a complete bed frame that does not have storage underneath.
Check Price
Best Versatile Pick: Baxton Studio Arthur Ash Queen Platform Bed Frame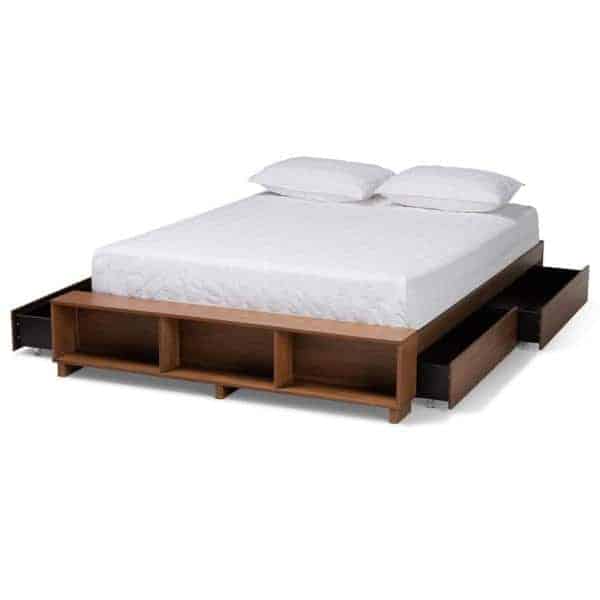 Specs:
Frame Material: Wood
Bed Sizes Available: Full, queen, and king
Storage Type: Shelves and drawers
Maximize your storage space with this beautiful ash walnut wood finished frame bed. With four drawers and three storage compartments, there is plenty of space for all of your belongings. Supportive slats eliminate the need for a box spring. There is no headboard on this bed, leaving the wall over your bed empty for hanging decor or adding your own custom headboard. At the foot of the bed is a small bench that houses the three shelves. Use them for displaying your book collection or other decor.
This bed frame's clean design gives it a timeless mid-century modern feel. Style this bed by placing a large area rug underneath it that extends out beyond the foot of the bed. This helps frame the shelves with decor. Add nightstands on either side that also have a mid-century design. This frames the bed and gives the room balance.
Check Price
Best Premium Pick: Westelm Emmett Side Storage Bed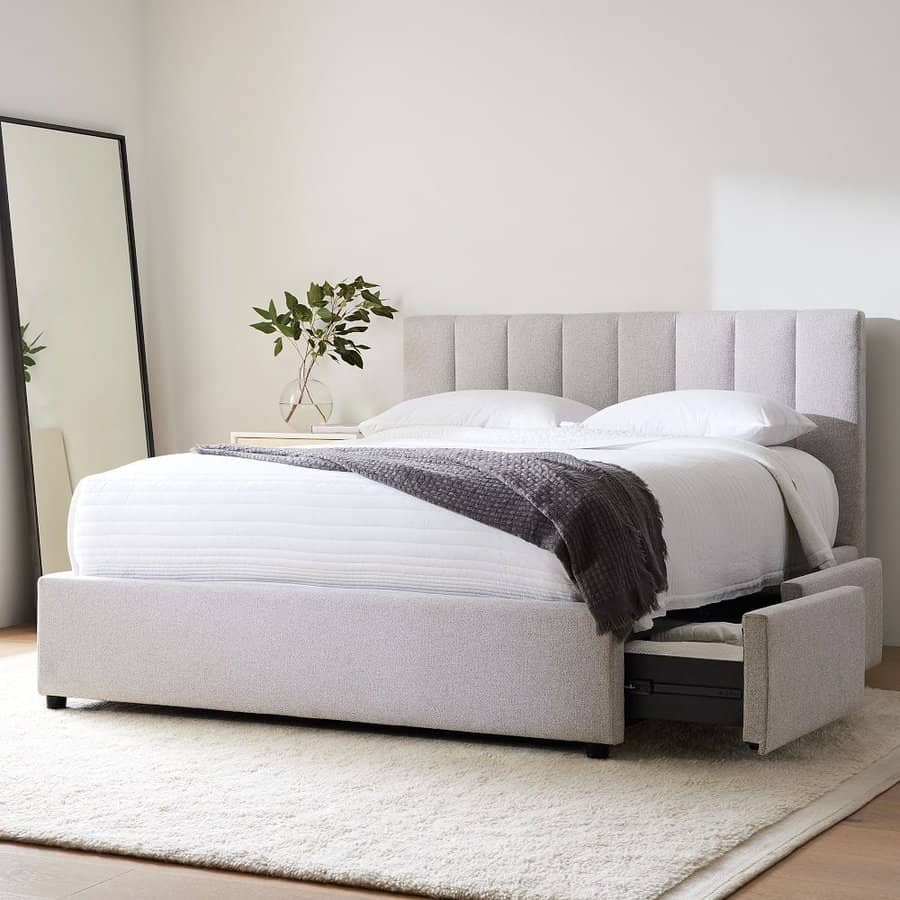 Specs:
Frame Material: Solid pine, engineered wood, and polyester fabric
Bed Sizes Available: Twin, full, queen, king, and California king
Storage Type: Drawers
Do not sacrifice storage and functionality because you want to have a stylish bed frame. This beautiful bed combines both to give you the best of both worlds. Customize everything about this bed frame for a custom look to your bedroom. Start by choosing the size from twin to California king. Then choose the headboard height, standard or tall. Next, choose the style of upholstery tufting that you want, grid, horizontal, vertical, border, diamond, or none. You will then choose your fabric and color. The final step is to choose the leg style, no-show, dark pewter, or light bronze. For storage, there are two large drawers on either side of the bed that sit flush with the bed frame. The simplistic design of this modern storage bed gives it versatility in how you incorporate it into your bedroom design. It is perfect as a neutral staple furniture piece that allows your decorative elements to shine.
Check Price
Best Contemporary Pick: Prepac Mate's Platform Storage Bed
Specs:
Frame Material: Wood
Bed Sizes Available: Twin, twin XL, full, queen, and king
Storage Type: Drawers
This simple storage bed is perfect for when you want simple functionality. It comes in four neutral colors, black, cherry, espresso, and white. There is also a wide range of bed sizes available. While it does not automatically come with a headboard, there is the option of purchasing one as a part of a larger set that includes this platform storage bed. What is nice about this particular bed is the metal slide mechanism on each of the drawers. You can smoothly pull the drawer out, and a safety stop prevents the drawer from falling out when pulled too far. There are three drawers on one side that extend the length of the twin bed. The drawers are on both sides of the larger beds. Keep this in mind when styling your bedroom. You do not want to place a nightstand next to the bed and block your access to the first drawer. One drawback of this bed is that the maximum weight limit is noticeably lower than other beds on this list. This makes it better for use in a children's room than an adult's. The manufactured wood construction is the culprit behind the lower weight capacity.
Check Price
Best Traditional Pick: Prepac Mate's Drifted Gray King Platform Storage Bed
Specs:
Frame Material: Wood
Bed Sizes Available: Queen and king
Storage Type: Drawer
Make a design statement in your master bedroom with this craftsman-style platform bed with six storage drawers underneath. You can have an impressive amount of storage space with this bed. Each drawer measures 5 x 8 x 23.25 inches. While it only comes in queen or king, there are five color options to choose from. There is a crafted, yet clean design to this bed frame, with subtle detailing throughout that keeps it from looking too sleek and modern. Details were thought of, including finger pulls carved into the bottom of each drawer. This makes the drawers easier to pull without sacrificing the smooth design of the drawer fronts. What is nice about this bed frame is that it is part of a larger bedroom set. If you like all your furniture to match, you can pair it with a set of matching nightstands. There is also a bookshelf-style headboard that is perfect for giving you additional storage and decor space. Place it against the wall and then place your bed in front of it.
Check Price
Best Modern Pick: Novogratz Kelly Bed Velvet Upholstered
Specs:
Frame Material: Wood
Bed Sizes Available: Full and queen
Storage Type: Drawers
Do not overcomplicate your bedroom furniture. This modern upholstered bed has a thoughtful design that looks simple yet purposeful. The large square headboard is free of tufting and designed to give it a sleek appearance. This is paired with a matching footboard and four slat style front drawers. The choice of velvet fabric for the upholstery was a smart one. It gives this bed a sense of luxury and quality that you would not otherwise have. There is a smooth yet subtle texture to the fabric that adds a layer of coziness without being over the top. This creates long clean lines throughout, helping to blend perfectly into a modern bedroom. What makes this bed frame stand out are the mattress support slats. Unlike other beds on this list that have solid straight wood slats, this storage bed frame uses arched ones. The slight bend in the wood creates more flex in the support for a more comfortable sleeping experience. Pair this with the best mattress for your taste, perhaps a memory foam mattress, and you will have the best sleep you have ever had.
Check Price
Best Leather Pick: Tufted Storage Platform Bed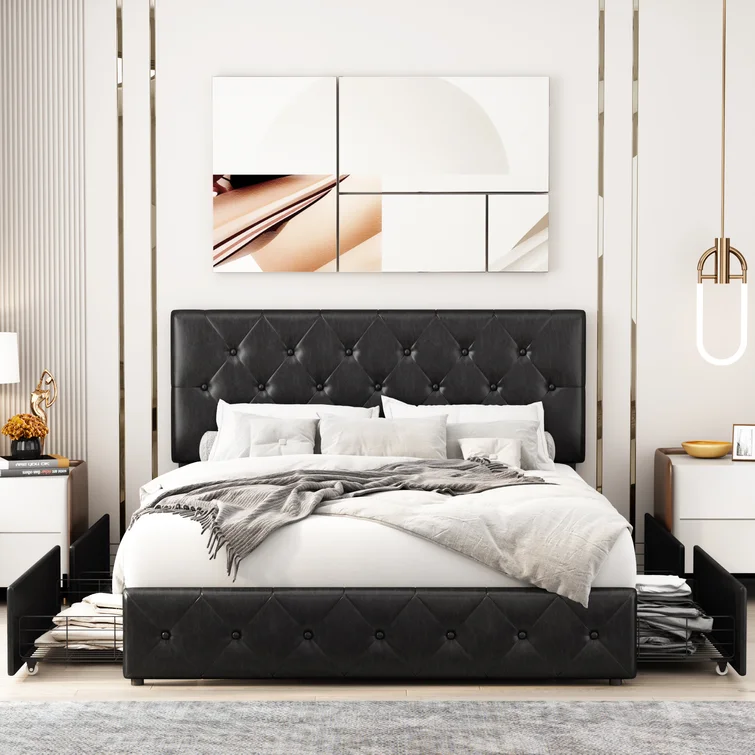 Specs:
Frame Material: Manufactured wood and PU leather
Bed Sizes Available: Full, double, and queen
Storage Type: Drawer
This bed looks elegant with its tufted upholstered design that comes in black, dark gray, light gray, and off white. Choose from either linen or PU leather. The upholstery material that you choose will depend on the type of look that you are aiming for with your bed frame. Black leather is sleek, modern, and slightly masculine looking. Gray linen is softer with a contemporary feel. The storage option on this bed comes in the form of four metal wire basket drawers. This is nice for maximum airflow but can also allow for dust to gather and small items to fall through the wires. These drawers are ideal for adding extra space for extra linens and out of season clothing. What makes this bed frame stand out is the noise-free mute stickers. They prevent that annoying squeak sound from happening while you are sleeping, enabling you to have a peaceful and restful night's sleep.
Check Price
Best Twin Pick: Prepac Sonoma Twin Wood Storage Bed
Specs:
Frame Material: Solid wood
Bed Sizes Available: Twin
Storage Type: Drawers
When you have more than one child living in a bedroom, you need to get creative with storage and sleeping arrangements. A single bed is small but lacks storage. A trundle bed is convenient but places your children too close together. This double bed is the perfect solution. Large slats hold the mattress in place and provide it with plenty of support. It is ideal in small spaces because there are two rows of drawers, giving you six total drawers for storage. The twin size storage bed is perfect for children. Place this bed with the long side against a wall and maximize the space in the room. You can choose what side of the bed you want the six drawers on, giving you freedom in where you place the bed in your room. The drawers are 18 inches deep, giving you plenty of storage space. Instead of having drawer pulls, there are finger pulls carved into the bottom of each drawer.
Check Price
Best Daybed Pick: Furniture of America Daja Transitional Full Daybed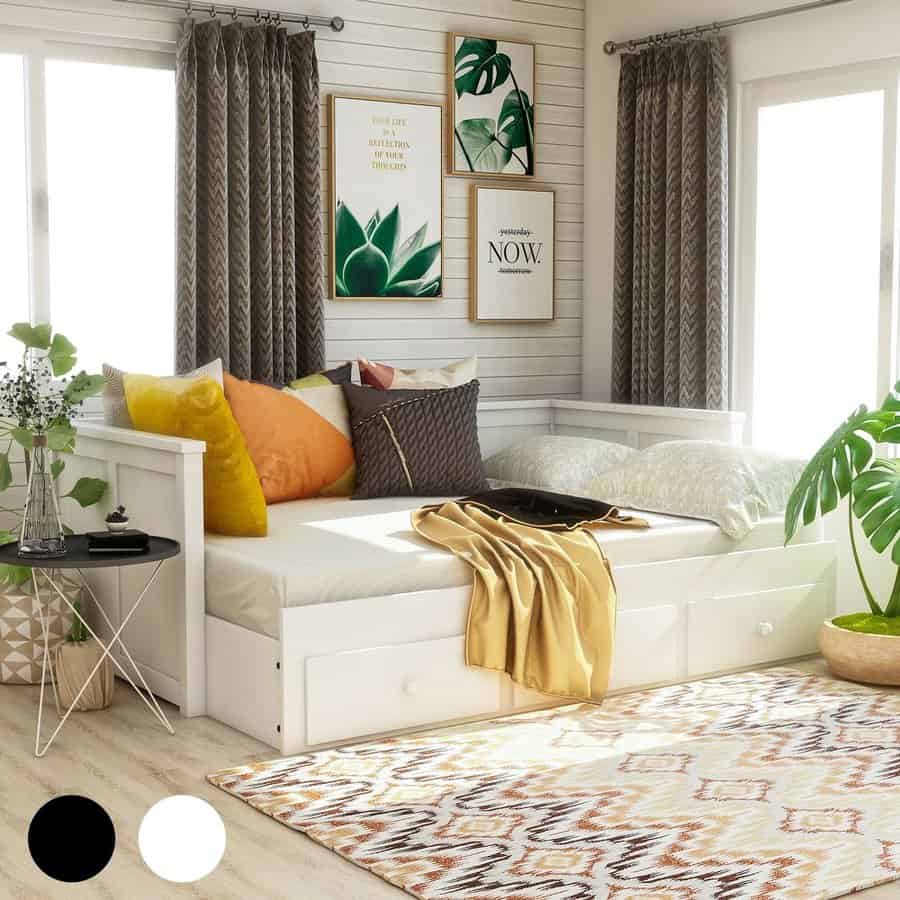 Specs:
Frame Material: Solid wood
Bed Sizes Available: Daybed
Storage Type: Drawers
This beautiful daybed is the perfect addition to your guest bedroom. Unlike larger wooden storage beds, this daybed is compact enough to neatly fit into a room that you use for multiple purposes. It also has three large drawers underneath to give you plenty of additional storage space. Arrange decorative accents and throw pillows along the back to use the daybed as a sofa. The frame comes in black or white, both neutrals that are perfect for any interior design style. Using the storage underneath is simple, thanks to the easy-glide mechanisms for the drawers. The drawers are lined with wood veneer, giving them a clean look. There is plenty of space for storing clothes, extra linens, or anything else. The simple wood drawer pulls, and slat beadboard finish on the frame give this daybed a country cottage feel that is simple yet chic. This daybed does not come with a mattress, so you will need to purchase a full-size mattress for it.
Check Price
How to Choose a Perfect Storage Bed?
Bed Size
Storage beds come in the full range of sizes from twin to California king. There are even storage beds that come in a daybed design. This lets you choose the perfect bed size for the room you are placing it in. A daybed would be perfect in a child's room or multi-function guest bedroom. If you are placing the storage bed in your large master bedroom, then a king or California king can fit comfortably into the room.
Storage Capacity
The significant benefit of this style of bed is the built-in storage, so you will want to make the most of it. The majority of storage beds simply have drawers underneath. These could be two large drawers on each side or several smaller drawers. A unique storage bed design is the lift-up. You will need to raise the mattress to access the space underneath. Finally, there are storage beds that have shelves at the footboard or headboard. This is nice for displaying a book collection or decor but is not great for creating hidden storage.
Style
The style of your bed should match the style of the rest of your bedroom. Storage beds come in a variety of styles, but the most common are contemporary and mid-century modern. These designs have a classic appeal and lend themselves well to adding storage underneath. When determining the style of a storage bed, look at the material it is made out of. Consider the amount of detailing and ornamentation the legs, frame, and headboard have. For example, a rustic wood design will have a farmhouse appeal. A headboard upholstered with leather or velvet and tufting will look more elegant and sophisticated.
Construction Quality
Solid wood construction is going to give you a strong, stable, and durable bed frame. However, solid wood is also more expensive. If you are looking for a more affordable bed frame, then consider one that uses a combination of solid and manufactured wood. The most budget-friendly bed frames use plastic. However, you may be disappointed with their durability in the long run. In addition to the construction material, look at how the wood pieces are joined together. The highest quality construction has an interlocking design for joining two pieces. A more affordable option uses metal hardware to hold the bed frame together.
Read also: Best Under Bed Storage Organizers
Conclusion
Our top pick for the best storage bed is the Morphis Tufted Upholstered Low Profile Storage Bed because it maximizes the storage space under your bed. Because it lifts up from the bottom, you have full access to the entire space underneath. The clean design of the bed frame helps it to look timeless. 
For a more affordable option, the Allewie Queen Platform Bed is a smart choice. It has large wire basket drawers and can be adjustable to accommodate mattresses in a range of sizes.
FAQs on Storage Beds
Does under bed storage get dusty?
Yes, the dust gets on anything that has a flat horizontal surface. If there are drawers underneath your bed, there is no top to the drawer, so dust can gather on anything that's in the drawer. To prevent items from getting dusty, you need to have a lid on the storage container.
Is a storage bed good for feng shui?
For good feng shui, your bed should be made of wood and have space underneath it. This encourages positive energy and allows energy to flow. Storage beds are not ideal. While the frames are typically made of wood, they are solid underneath, so energy cannot flow.
Is Underbed storage a good idea?
Some interior designers or organizers claim that under bed storage is a bad idea. They claim that keeping the space under your bed open is best because it helps you sleep better with an uncluttered mind. However, this is not always practical in small bedrooms. If you are going to have under bed storage, keep it neat and organized.