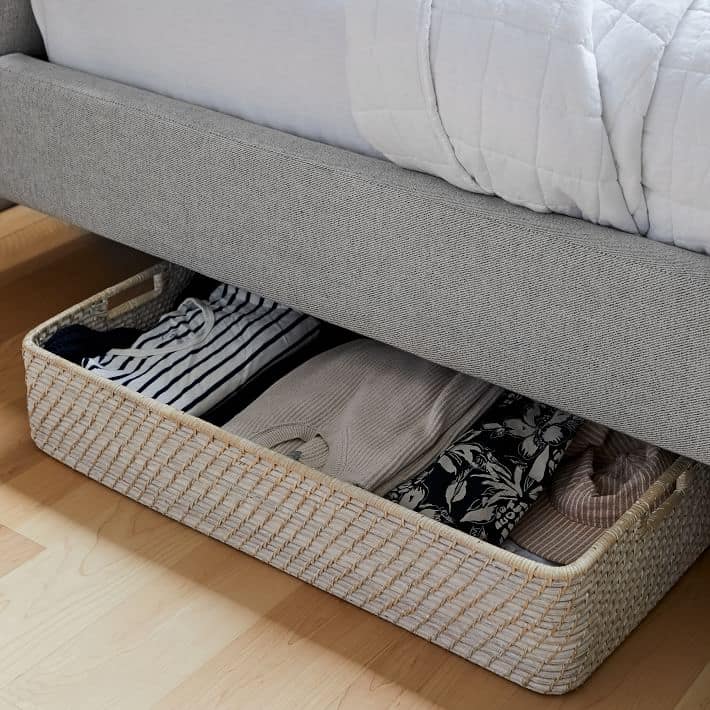 Trendey may earn a commission when you buy through links on our site.
As an Amazon Associate we earn from qualifying purchases.
Best Under Bed Storage Organizers
We could all use more storage, especially in our bedrooms. While you could remodel your bedroom, there's a much easier solution.
Look for ways you can create additional storage space by identifying space in your bedroom that's going unused. Start with the space under your bed. Under-bed storage is convenient and sizable.
The best under-bed storage solutions help you stay organized while maximizing the available space.
Top Picks
Best Overall: Rubbermaid Under the Bed Wheeled Storage Box
Specs:
Dimensions: 43.1 x 19.5 x 6.6 inches
Material: Plastic
Wheels: Yes
These plastic bins are our top pick for the best under bed storage because they are large, durable, and come as a two-pack. This makes it easy to create plenty of storage while also having matching bins.
Four wheels are on the bottom, making it easy to move the bins forward and back. The lids are also portioned in half, so you can easily access one side or the other without taking the entire top off. Unlike fixed wheels, these are castors, making it easier to move the bin about.
The clear construction makes it easy to see what's in each bin without opening them. The shallow height of this bin helps it fit into tight spaces and beds that have a lower stance.
One complaint about these bins is that they do not have the signature latching lid that Rubbermaid is known for. This can lead to the cover not staying securely closed.
Check Price
Best Budget Pick: Onlyeasy Large Underbed Storage Bags
Specs:
Dimensions: 39.37 x 19.69 x 5.91 inches
Material: Polypropylene nonwoven fabric
Wheels: No
This two-pack of storage bins will give you plenty of under bed storage. What's nice about these bins is the many colors to choose from, including herringbone gray, linen black, linen gray, Moroccan gray pattern, and herringbone gray. You can also choose from soft sides or upgraded firm sides.
The bins are made from an eco-friendly nonwoven fabric that still allows air to circulate. What's nice about these bins is the transparent top that lets you see what's in each bin. There are two sturdy zippers that make it easy to fully open the lid for complete access to the bin.
Unfortunately, there are no wheels on these bins. However, there are four sturdy handles to help you move them out and back under. It would also be nice if there were a window on the side so that you didn't have to take them out to be able to see what's in them.
Check Price
Best Organizational Pick: ClosetMaid Under-Bed Storage Bag in Gray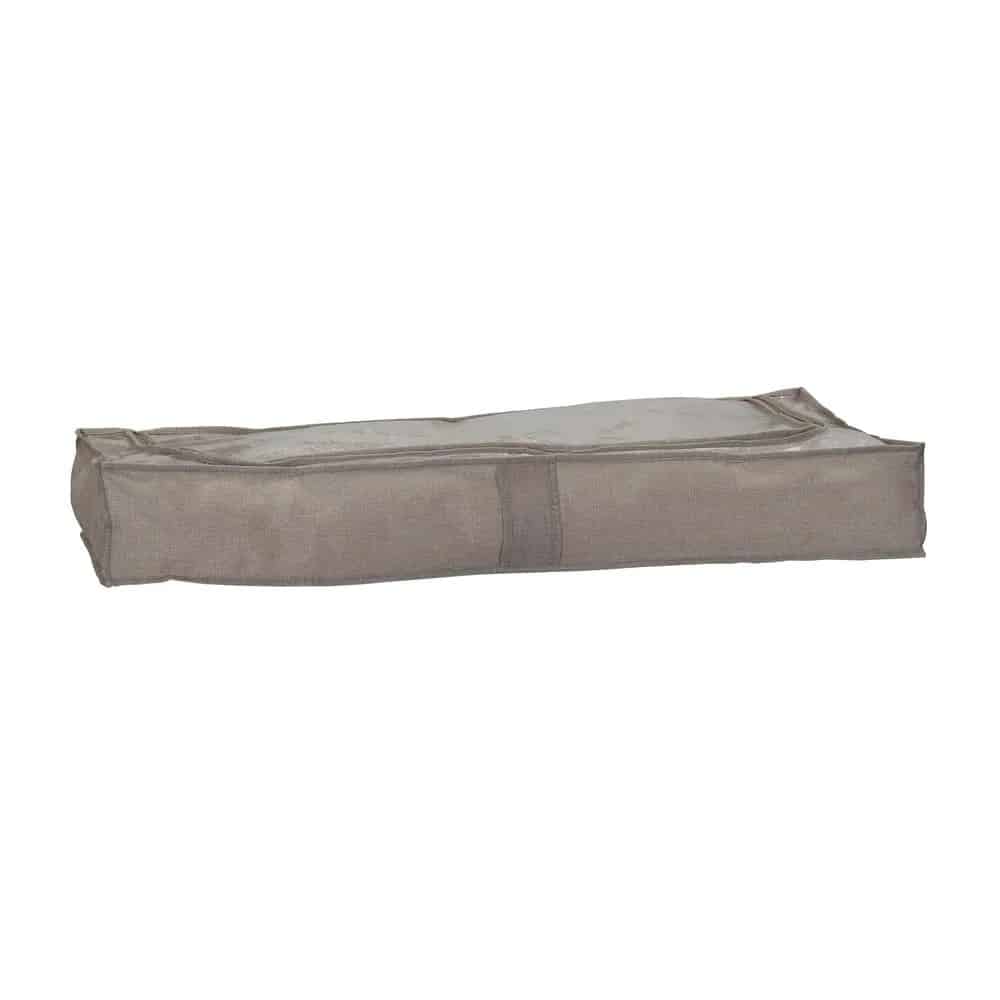 Specs:
Dimensions: 20.1 x 5.7 x 30.2 inches
Material: Fabric
Wheels: No
This large capacity storage bin has a homey feel with its fabric construction. There are handles on each side, making it easy to move in and out. The front has a label plaque for you to create neat labels of the contents. The clear top makes it easy to see what's inside. There are dual zippers for securing the lid.
When you don't need to use your storage bin, you can collapse it down for compact storage until you need it again. The rigid sides give this bin more stability to better hold items.
One complaint about this storage bin is that the content label is on the long side. You need to keep it turned a certain way under the bed to see the label. Unfortunately, you could maximize the space better with the bin turned the other way, and the label is no longer visible.
Check Price
Best Premium Pick: Westelm Modern Weave Underbed Storage Basket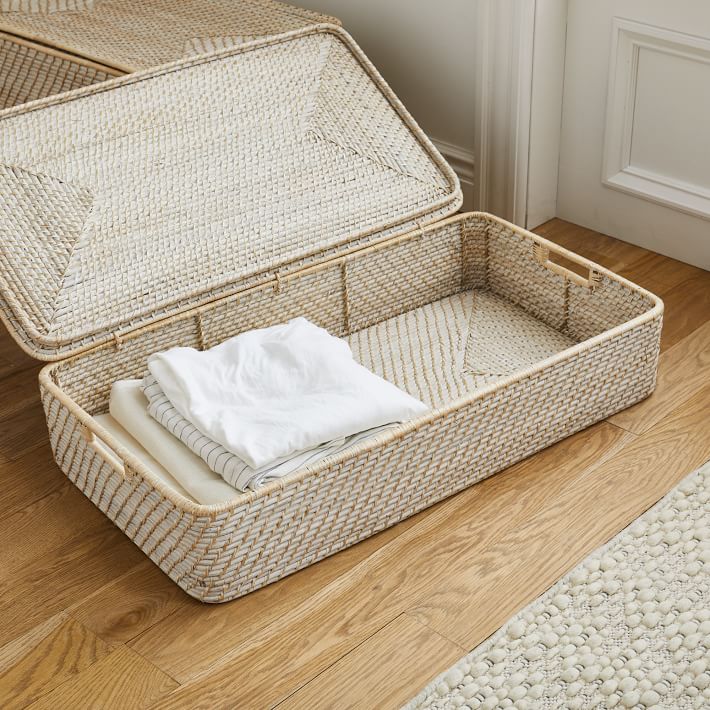 Specs:
Dimensions: 32 x 17 x 6.5 inches
Material: Rattan peel
Wheels: No
Unlike purely function bins, this storage bin adds style and decor to your bedroom. It's made of rattan peel and handwoven into a sturdy frame. The woven design also allows for plenty of breathability, which keeps your cloth items smelling fresh.
The hinged lid closes over the bin to hide what's inside. This makes them perfect for people who want to bring the bin out and leave it out for a while.
The organic feel and texture of the bin are perfect for a bohemian or farmhouse bedroom. The weave on the lid has a contrasting design that gives it a bit of style.
One drawback of this bin is that you can't see inside it without opening the bin. The lid is also permanently attached to the bin and on the long side. There also aren't easily grabbed handles, just holes on the short ends.
Check Price
Best Extra Long Pick: Rebrilliant Under-the-Bed Storage Bag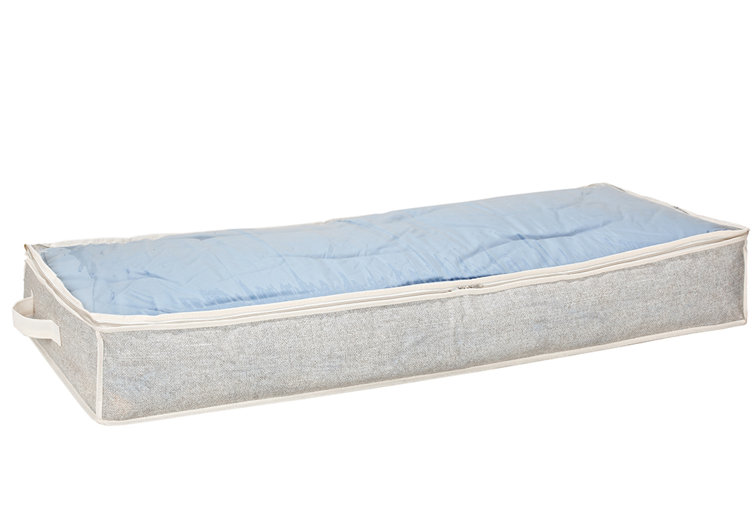 Specs:
Dimensions: 6 x 40 x 18 inches
Material: Fabric
Wheels: No
This collapsible polypropylene storage bag is going to give you plenty of storage. The fabric and soft design of this bag make it better for storing fabrics and linens. There are wide and sturdy handles on the ends for moving it about.
The see-through lid makes it easy to see what's inside. Securing the lid are two zippers that allow you to fully open the lid. There's also a write-on label for identifying what's in the bag.
What makes this bag stand out is its extra-long length. This gives you plenty of room for storage. It can extend the entire length of your bed.
Unfortunately, there are no wheels on this bag and it is extra-long, so you'll be dragging it on your floor. This will make the bottom of it become gross after a while. The long length may not work for you either if you do not need that much storage space in a single storage bag.
Check Price
Best industrial Pick: Gracie Oaks Galvanized Metal/Wire Underbed Storage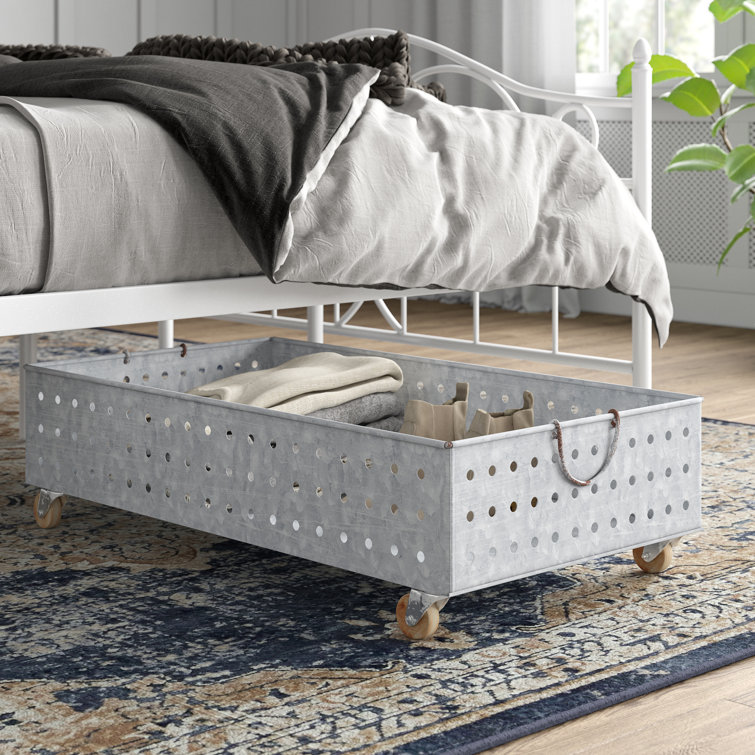 Specs:
Dimensions: 8.75 x 31.25 x 19.5 inches
Material: Galvanized metal
Wheels: Yes
Do something different for your under the bed storage with this galvanized rolling metal tray. It will give your bedroom a distinctly industrial or rustic feel. The caster wheels are perfect for rolling the tray about in any direction.
The high-quality wheels do not get stuck and are smooth rolling, making for a pleasant user experience. Throughout the sides, there are holes to deliver plenty of ventilation.
There are also two hinged handles at either end for easy maneuvering. Unlike other storage solutions, the metal is rigid and won't weaken over time. This makes it perfect for holding heavier items or for storage that'll you will access on a daily basis.
The drawback of this storage tray is that the wheels give it a taller stance, which may require you to raise your bed for it to fit. It also doesn't come with a lid, so whatever you put in it will eventually collect dust and require cleaning before use.
Check Price
Best Built-In Pick: Bolton Furniture Alaterre Under Bed Storage Drawers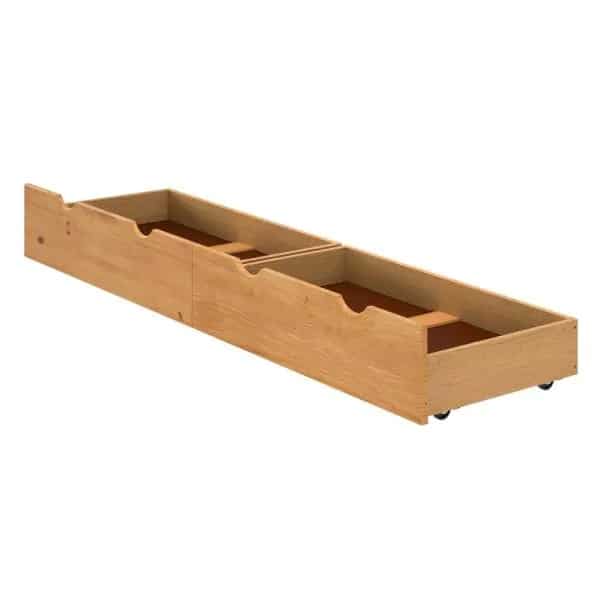 Specs:
Dimensions: 20.38 x 9.38 x 37 inches
Material: Wood
Wheels: Yes
Elevate the look of your bed with these rolling drawers that mimic the look of built-in drawers. They are designed to look like dresser drawers with a large flat front and knotch cut-out that you can use to grab the drawers when moving them forward and back.
The rest of the drawer is a shallow rectangle with the entire unit mounted on wheels. It's best to buy them in pairs to roll them side by side under the bed and create a cohesive look.
Unlike other under bed storage solutions, this one is designed to be in line with the side of the bed and be seen. This makes them ideal for organizing and holding shoes or seasonal clothes.
Unfortunately, these drawers are quite tall, so you'll need to be careful about compatibility with the space available under your bed. They also only come in white, which may not match the finish on your bed frame.
Check Price
Best Scandinavian Pick: BIKAHOME Solid Wood Underbed Storage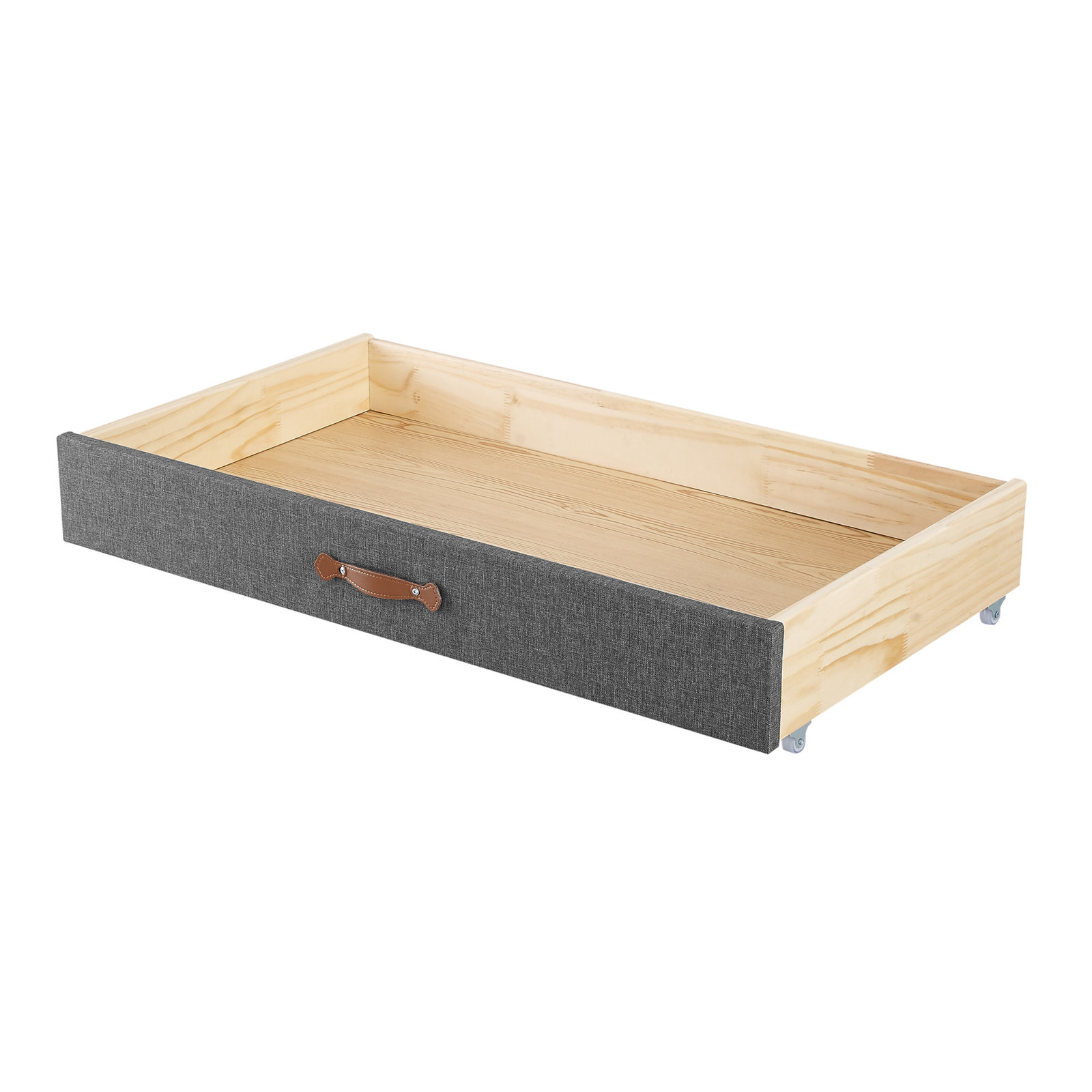 Specs:
Dimensions: 5.83 x 35.43 x 19.68 inches
Material: Solid Wood
Wheels: Yes
This solid wood rolling under the bed storage tray is the perfect accent to your Scandinavian style bedroom. What makes this drawer stand out is its low-profile design. Unlike other similar designs, this one has a height that's under six inches, making it comparable to the zippered bags.
The drawer's construction is solid high-quality pine, giving the drawers a feeling of quality. The front is then upholstered in grey fabric to soften its look and help it blend into your bedroom decor better. A lovely touch on the drawer's front is a saddle color leather handle. The width of the drawer is also impressive, helping you to maximize your storage space. The simple design and quality construction will give your bedroom a sense of authenticity to the Scandinavian aesthetic.
One potential drawback of this drawer is that the wheels are small, which can lead to them being less durable or not rolling as well as larger wheels.
Check Price
Best Utility Pick: Wayfair Basics Vacuum Underbed Storage Set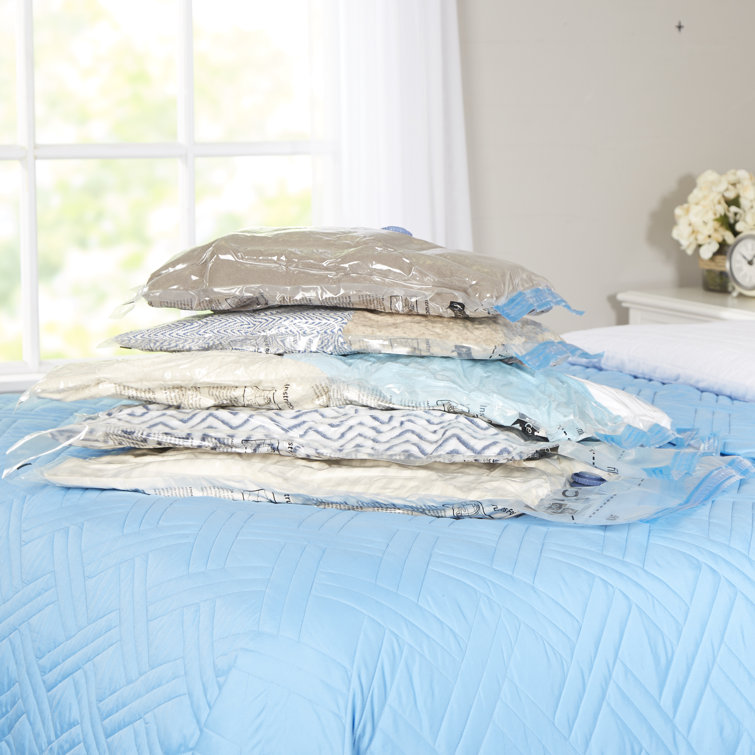 Specs:
Dimensions: 22.5 x 17.5 and 33.5 x 21 inches
Material: Polypropylene plastic
Wheels: No
This five-piece set is perfect for someone who isn't concerned about aesthetics and is purely looking to maximize their storage space. To use, fill each bag with soft items and seal the opening. Then use your vacuum cleaner to suck the air out of the bag. It will compress down until all of the air is removed, and the bag is almost flat. You can then stack them under your bed.
What makes them stand out is the significant amount of stuff you can put in each bag. These bags are perfect for linens that you only occasionally use for guests or seasonal items that you only use for a few months out of the year.
The drawback of this solution is that you'll only benefit from their compression when storing soft items; shoes won't work. They also aren't attractive, so they can detract from the look of your bedroom.
Check Price
Best Fabric Pick: Hefty Underbed Tote with Latching Lid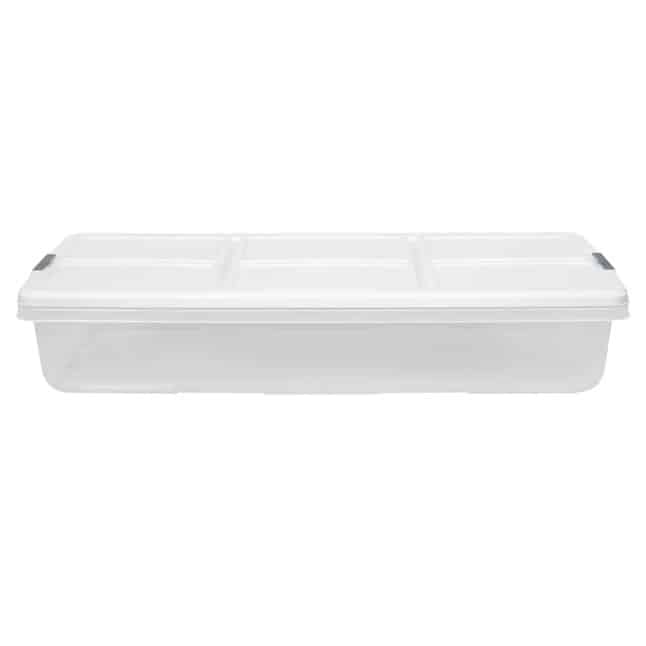 Specs:
Dimensions: 6.59 x 16.81 x 35.96 inches
Material: BPA-free plastic
Wheels: No
This large-capacity plastic storage bin can hold 13 gallons or 52 quarts worth of stuff. The body of the container is clear so that you can easily see into each bin without having to pull them out.
What's nice about this storage bin is the double rim on the base that prevents stress warping. This lets you put heavier items in the container.
On the base, there are latches that securely hold the lid in place. This makes it easier to move the storage bin out and back under your bed. What's nice about this plastic is that it's BPA-free, making it safe for use around your family.
One drawback of this storage bin is that it can break easily. Be careful not to drop or bang the plastic or it can crack or break. You also cannot easily stack them on top of each other.
Check Price
How to Choose a Perfect Under Bed Storage?
Size
The size of the under bed storage that you buy needs to actually fit under your bed. Measure the space underneath your bed to better understand what you're working with. An essential measurement is height. Measure from the floor to the underside of the bed frame. This ensures that your storage container will actually fit under the bed. Consider buying multiple smaller containers that you can pull out from either side of the bed. This makes it easier to maneuver and use them.
Organization
Some storage containers are single large compartments that do not have any dividers. These are ideal for awkwardly shaped items or folded linens. If you have a specific item that you want to store, then consider buying a storage container with compartments. For example, some hold small clothing items, shoes, hats, or jewelry.
Construction Material
Plastic compartments are more durable because they are strong and protective and can take a beating. However, they tend to be the least attractive looking. Reinforced fabric construction looks nicer but can be less durable. Some containers also have clear vinyl panels that make it easier to see what is in each container. Solid wood or metal containers are the most protective and durable but they are also the most expensive.
Construction Quality
You're going to be pulling and pushing on the storage container. It needs to be strong enough to handle this kind of active use and abuse. Look at how the handles are attached to the storage bin. Double or reinforced stitching will be the strongest. Look at the wheels and how they are attached to the bin. Solid and sturdy wheels will roll smoothly.
Conclusion
Our top pick for the best under bed storage is the Rubbermaid Under the Bed Wheeled Storage Box with its clear plastic construction, smooth-rolling wheels, and securely latching lid. This bing will protect your items while also being convenient enough for daily use. For a more affordable option, the Onlyeasy Large Underbed Storage Bags are a perfect alternative. They have a large storage capacity and convenient clear lid that makes seeing what's inside easier.
FAQs on Under Bed Storage
Does under bed storage get dusty?
Yes, the items you store under your bed will get dusty. Without regular cleaning, anything in your house will get dusty. Bedrooms tend to have higher dust concentrations, so it's even more likely that dust will build up on the under-bed storage.
Is it better to have your bed high or low?
When your bed is lower it makes your bedroom feel larger and more spacious. However, if you have high ceilings, a taller bed can look more cohesive. A taller bed also gives you more space underneath the bed. Consider how much space you want or need when determining the height of your bed.
Is it good to have storage under the bed?
There are some people that think it is bad to keep anything under your bed. They theorize that having items under the beds means your life is cluttered, which hinders your ability to have a solid night's sleep. However, this isn't functional or practical for most people. The empty space under your bed is an ideal place for creating more extra storage.