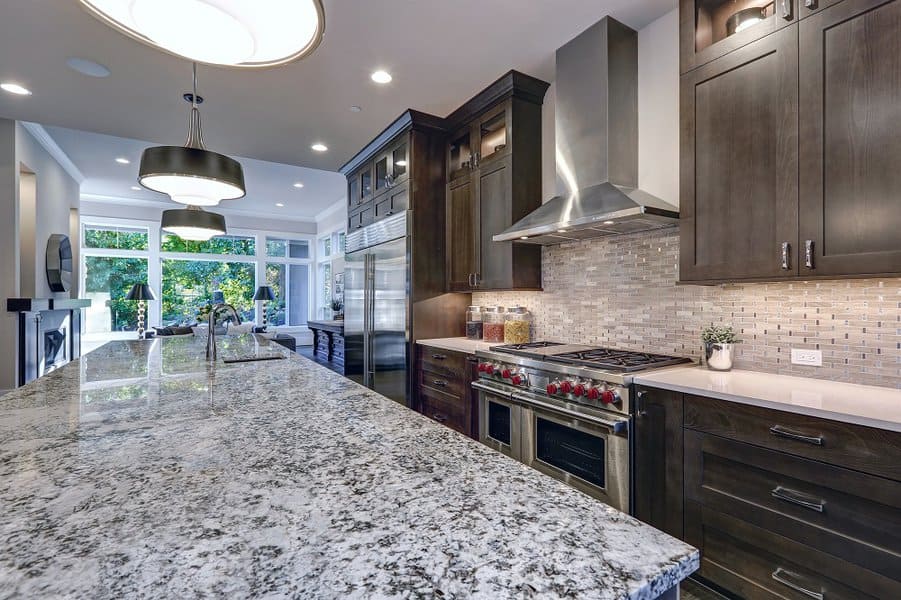 What Color Paint Goes with Brown Granite?
Walk into most new homes today and you'll see a granite countertop in various shades of grey. But not long ago, most kitchen countertop materials were in different shades of brown. Because granite is such an expensive natural stone, it's easier to work with the brown granite than to replace it.
While a brown granite countertop might not be the first choice of builders today, brown granite is still a beautiful, neutral countertop material. Few types of brown granite are pure brown; most have accents of other colors that you can use as your cabinet color and wall color. Here are our top ten colors to use in a room with brown granite countertops.
Beige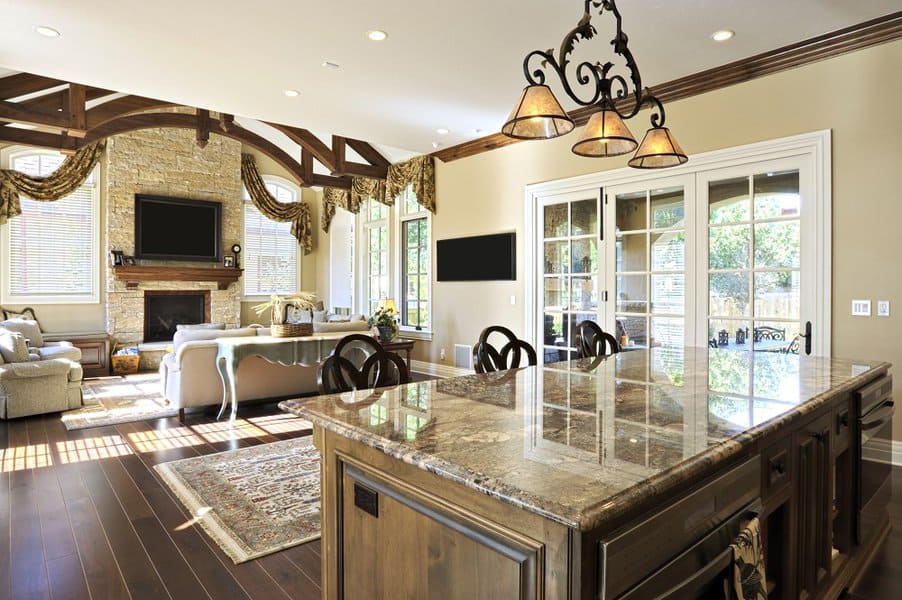 Whether you call it beige, buff, tan, or sand, this lightest shade of brown is a natural pairing with brown granite counters. White cabinets and trim are a classic look beside beige paint and a similar value of brown granite. This overall pale, neutral background allows darker accents to become the room's focal point.
A coffee brown countertop and similar color kitchen cabinets go well with creamy caramel beige walls. Add plenty of green plants and metal accents to brighten up your darker neutral colored kitchen.
Black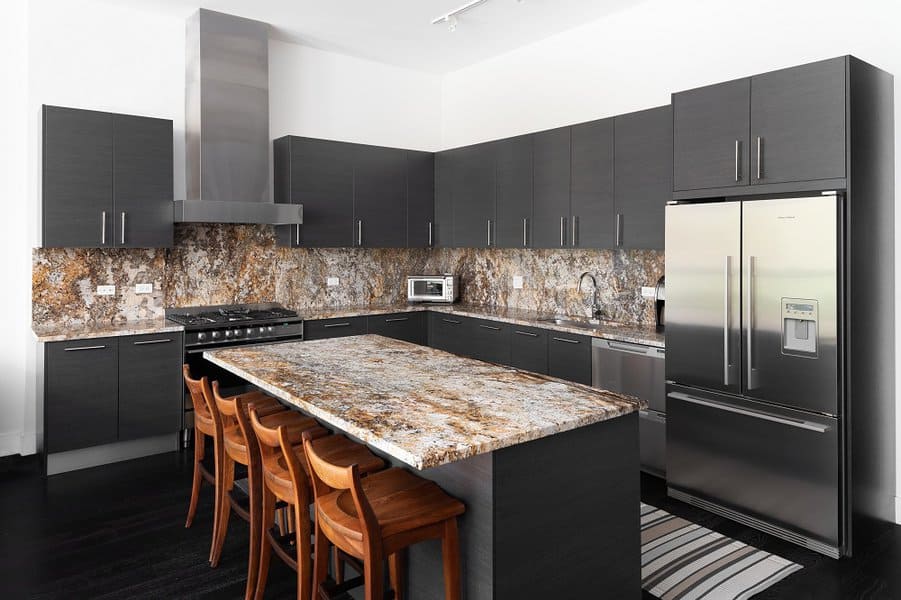 Black isn't a common wall color in the kitchen, but it is a popular kitchen cabinet color. This is especially true when the kitchen has upper and lower cabinets in different colors. You can also paint a kitchen island black to make it stand out from the other kitchen cabinetry. 
For extra variety, top your black island with a white granite countertop—something that looks really good with white-flecked brown countertops in the rest of the room.
Baltic brown granite is a mixture of brown and black granite, with smaller flecks of light tan and grey. It has a speckled or spotty pattern that's reminiscent of cheetah fur. Oak cabinets and a dark brown tile backsplash look great with Baltic brown granite and a black or charcoal wall color. 
Read also: What Color Cabinets Go With Black Stainless Steel Appliances?
Blue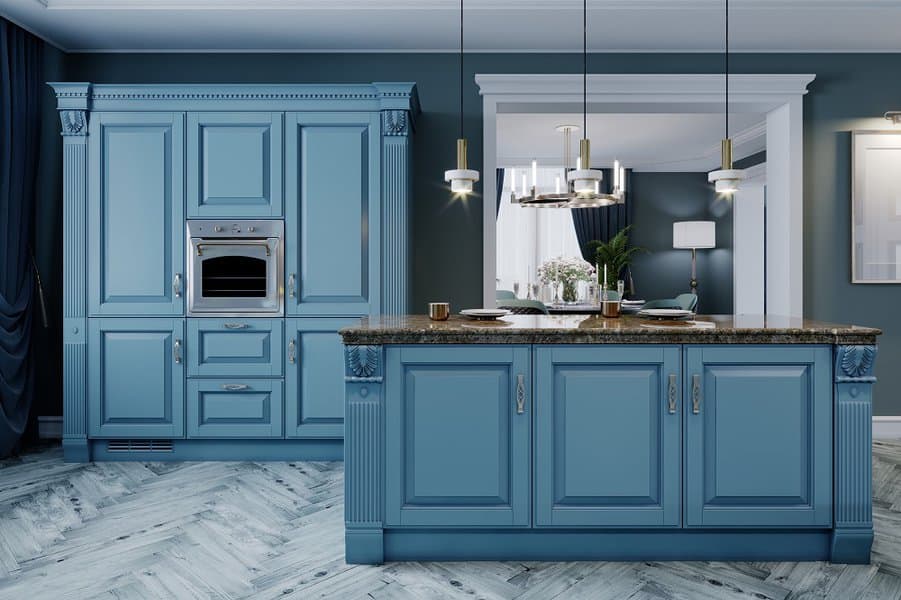 Deep navy blue adds masculine elegance to a kitchen with brown granite countertops. Midnight blue or even cobalt blue can also work with a granite color along the brown spectrum. If you prefer blue as a wall color, a tan brown cabinet color will look good with blue walls and a brown countertop.
Touches of gold always look classy beside darker shades of blue. So consider replacing your cabinetry hardware with gold or bronze knobs and drawer pulls.
Lighter shades of blue paint, including turquoise and sky blue, are excellent wall color choices in a coastal cabin. Pair your brighter blue walls with a sandy brown granite or quartz countertop and pure white cabinets.
Brown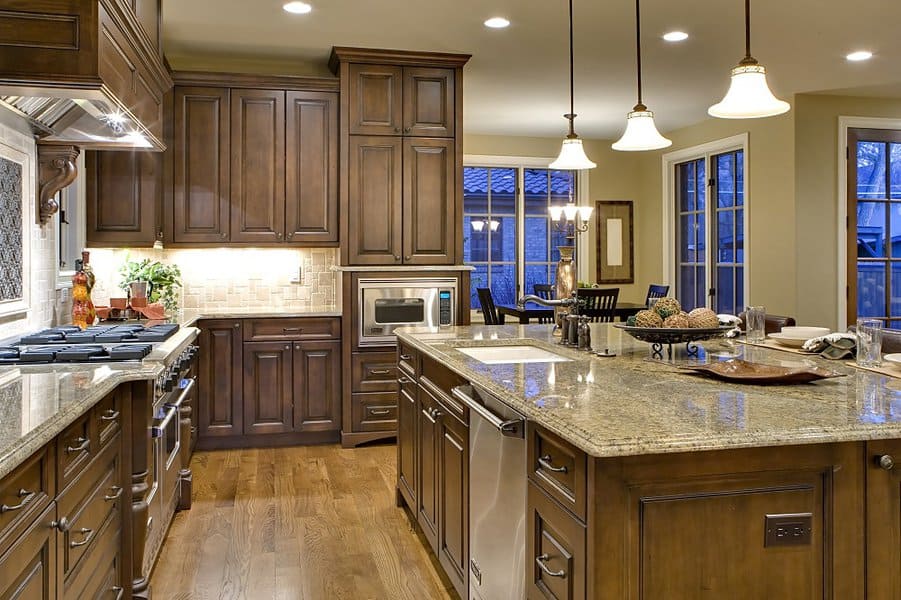 Brown might not be the first color that comes to mind when you're wondering what color paint goes with brown granite. But monochromatic color schemes are wonderful when they're well designed. A variety of brown shades can be simply beautiful in a kitchen or bathroom.
Fantasy brown granite looks more like marble than granite, with its wavy lines and curvy patterns. In fact, it isn't granite at all but a metamorphic rock that isn't as durable as real granite. It's still hugely popular because its veining is so beautiful.
While marble tends to be in the black and grey spectrum, fantasy brown granite includes cream, brown, and sandy hues. Any of the shades of brown in your fantasy brown countertops is a good option for your interior paint color.
To keep a room with wood cabinets, brown walls, and fantasy brown countertops from being too monochromatic, add decor that adds another color, such as gold or blue. Baltic brown granite is another good selection for this color scheme.
Green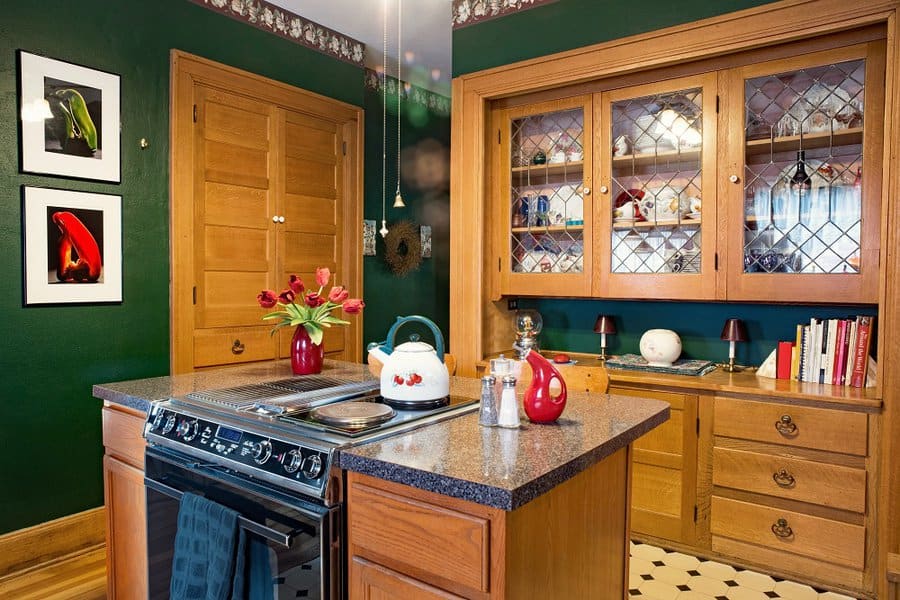 Earthy green is one of those paint color choices that's not quite a neutral, but works like one. It adds a natural warmth to the kitchen and pairs well with brown cabinets and countertops. Try pairing maple cabinets with sage green walls and a lighter brown countertop.
Because red and green are complementary colors, cherry cabinets look particularly great with a brown granite countertop and a green wall color. If your home has honey oak cabinets, you can strip them and stain them with a cherry cabinet stain to get this dark cabinet effect.
Uba tuba granite is such a dark green that it almost appears black. However, it includes flecks of other colors, including gold, brown, black, green, blue, and/or white. Though not as popular as it used to be, it's still a great granite counter choice in a kitchen with green walls.
Grey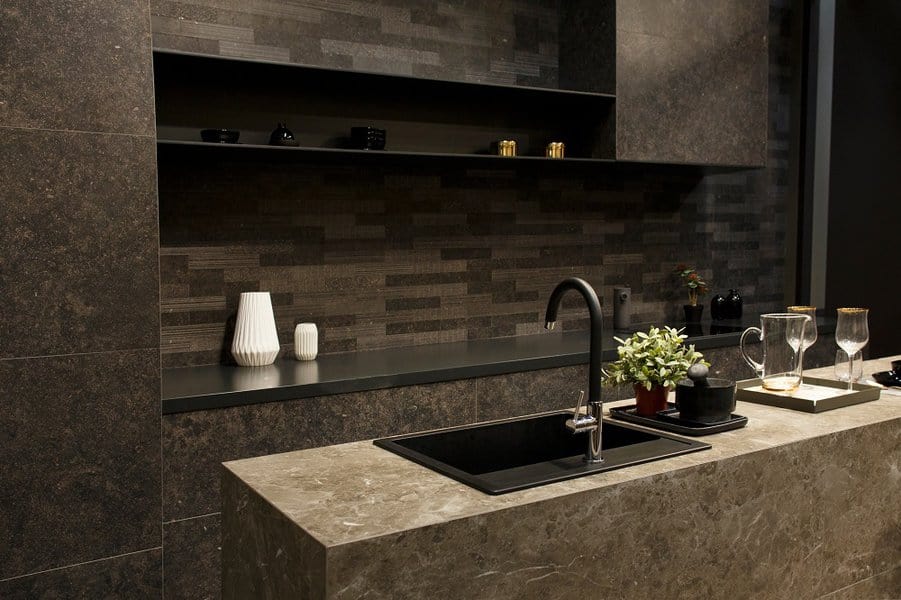 Grey and brown can be a surprisingly cool pairing, particularly when a brown, grey, and white granite countertop ties your colors and wood finishes together. Black granite countertops with flecks of grey and brown are another good match for grey kitchen walls or cabinets.
If you love grey but don't want to replace your brown granite counters, shop for a mosaic backsplash that includes both grey and brown glass tile. Choose a warm grey such as Sherwin Williams' Repose Grey for your kitchen cabinet color, and your kitchen will look like you planned it that way all along.
Read also: 37 Grey Kitchen Ideas
Red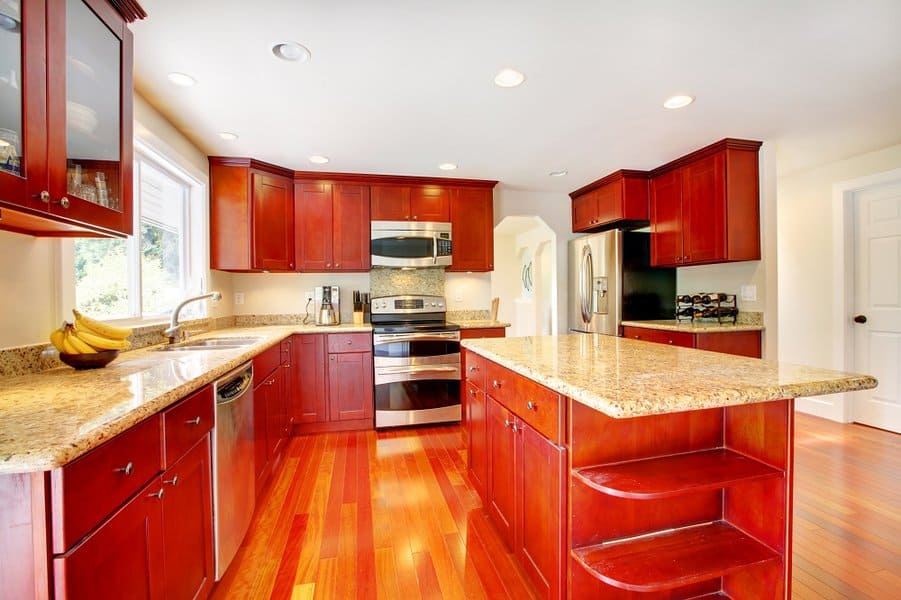 Red and brown are a natural color pairing when you want to create a warm, welcoming kitchen. Barn red, brick red, and wine are all great color choices for kitchen cabinets or walls. If you go with this color scheme, choose a warm brown tile that looks like wood to further enhance the homey feeling.
Lighter colors on the red spectrum, such as salmon or coral, can also look amazing with dark brown granite. Perhaps limit this cabinet color to an island or an accent wall and use it in other decorative touches.
Taupe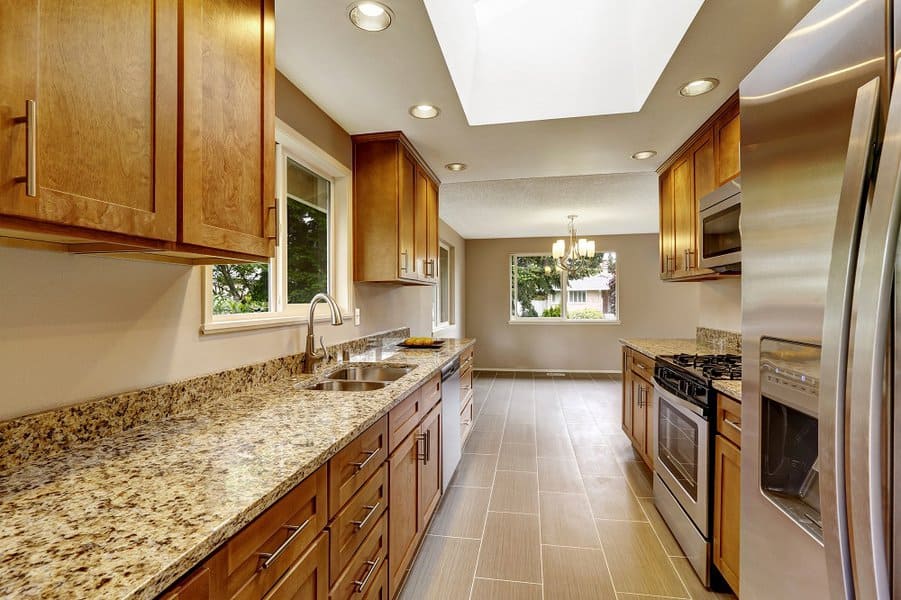 Taupe is a mixture of grey and beige, much like the popular color greige. Both of these colors are great neutrals for pairing with grey or brown granite countertops. They add a casual, comfortable feeling to the space—much like your favorite pair of relaxed khaki pants.
White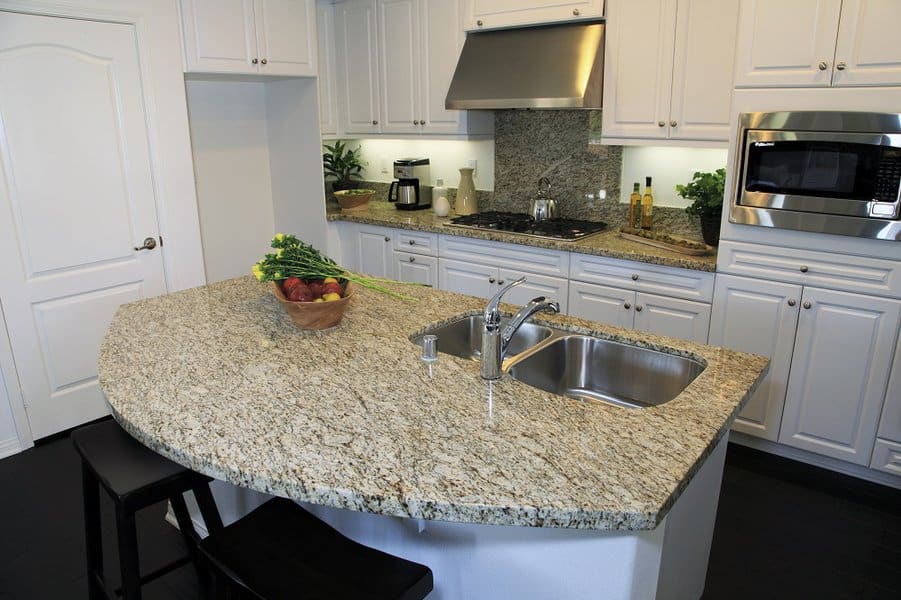 Cool white is a little harsh next to warm brown granite, but warmer shades of white or ivory give your kitchen or bathroom a timeless look. Because outdoor lighting and the lighting inside your home can make a paint color look different than it does in the store, always take home samples before choosing a color.
Santa Cecilia granite is a beautiful lighter colored granite to install with white or cream cabinets. Depending on the type you choose, you can end up with grey, beige, yellow, burgundy or brown veins that will stand out if you include those colors elsewhere in the room.
Whether in the kitchen or on a bathroom vanity, distress your ivory or white cabinets to add a touch of brown to your cabinetry surfaces. Rubbed bronze light fixtures and cabinet hardware will draw attention to the distressed surface.
Read also: 49 Must-See White Kitchen Ideas
Yellow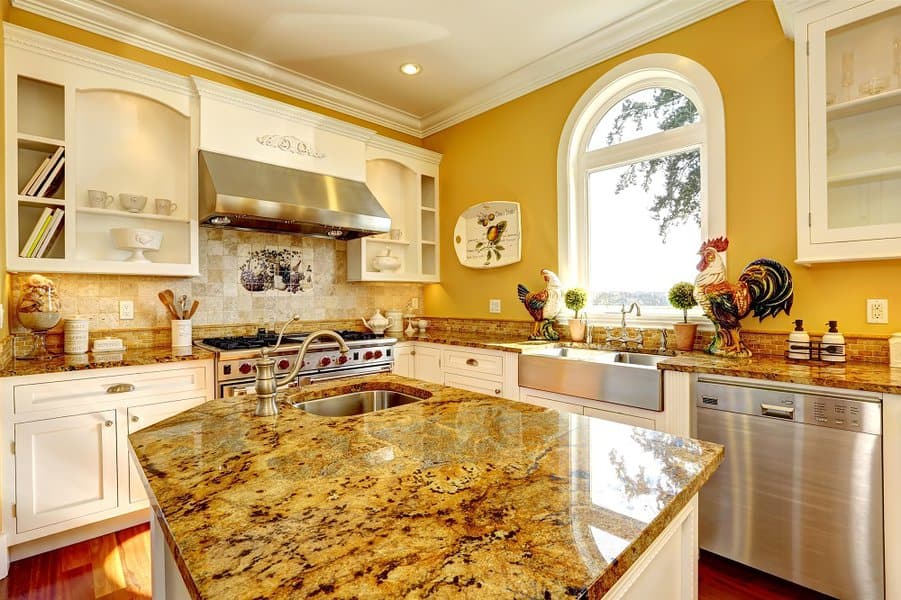 Pale, buttery yellow kitchen cabinets look amazing next to light brown granite countertops. Pair this with a wallpaper that incorporates both hues. If you use dark bronze cabinet hardware, it will add contrast and tie in a darker brown kitchen floor.
Gold granite is another good match for yellow cabinetry or walls, but you have to carefully choose your paint color to make sure they're compatible. Many brown or black granite kitchen countertops include flecks of gold or yellow stone. Choosing a yellow shade of paint helps those flecks of color stand out.