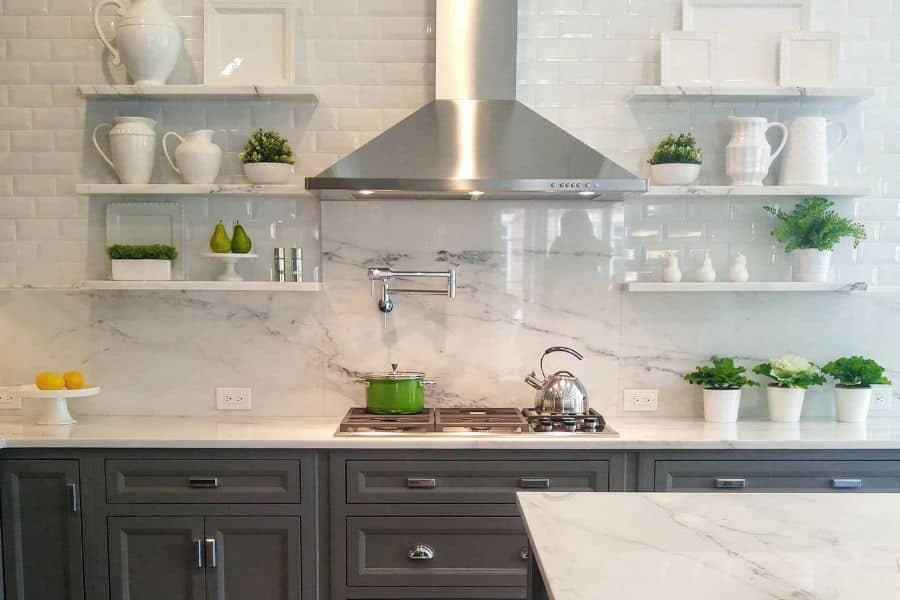 The Top 41 Kitchen Hood Ideas
Range hoods are, first and foremost, functional. Without them, our kitchens would fill with unwanted moisture, smoke, odors, and more every time we cooked. But they also hold the potential to be extremely decorative.
Selecting the right hood cover for your home can add intrigue and originality to your culinary workspace without the use of unnecessary decor.
Kitchen hoods are not all the same. Check out these diverse range hood ideas and discover the perfect vent cover for your kitchen cooktop today!
1. Minimalist Stainless Steel Kitchen Hood Cover
Your kitchen should not only be functional, but also beautiful. One way to achieve this is by choosing the perfect kitchen hood. With all the options available these days, why settle for a boring and bulky hood? Get creative!
Perhaps a sleek and industrial metal hood would give your kitchen the chic edge it needs. Or maybe a bold and colorful hood would be the perfect pop of personality in an otherwise neutral space. Don't be afraid to mix and match materials, textures, and colors to find the perfect hood for your kitchen.
Your hood should be a statement piece that reflects your unique style while also serving its practical purpose. So, be bold and dare to try something new. Your kitchen will thank you for it.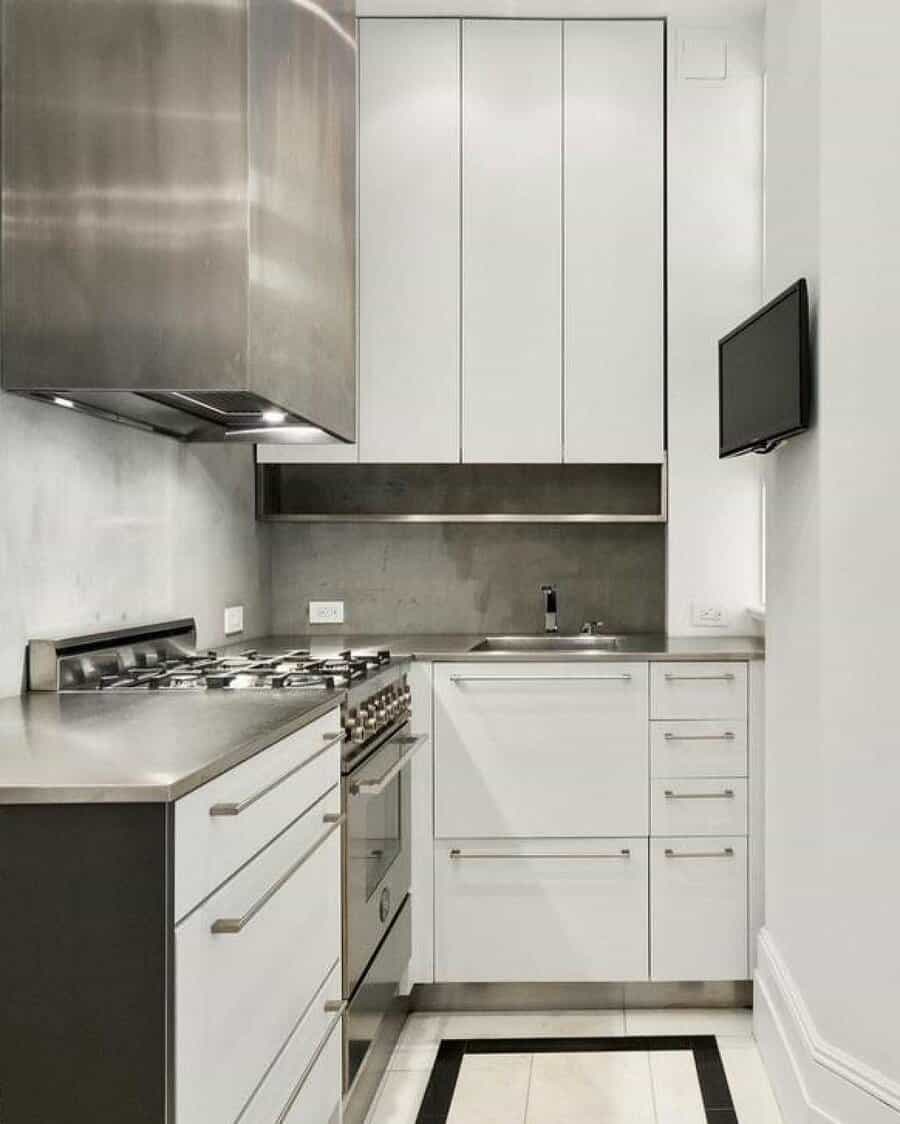 2. Mount On Protruding Accent Ceiling
When it comes to designing a kitchen, the hood may not be the first thing that comes to mind, but it can make a huge impact on the overall aesthetic. Kitchen hoods come in all shapes, sizes, and styles, from sleek stainless steel to trendy copper finishes. However, why stick with a traditional design when you can get creative with a modern approach?
Indulge your imagination and consider unique ideas like a hood mounted on a patterned tile or a statement piece made of wood from the ceiling.
Creating an eye-catching kitchen hood not only adds character to your space, but it's also a fun way to reflect your personal style. So, bring on the inspiration and let your kitchen hood steal the show.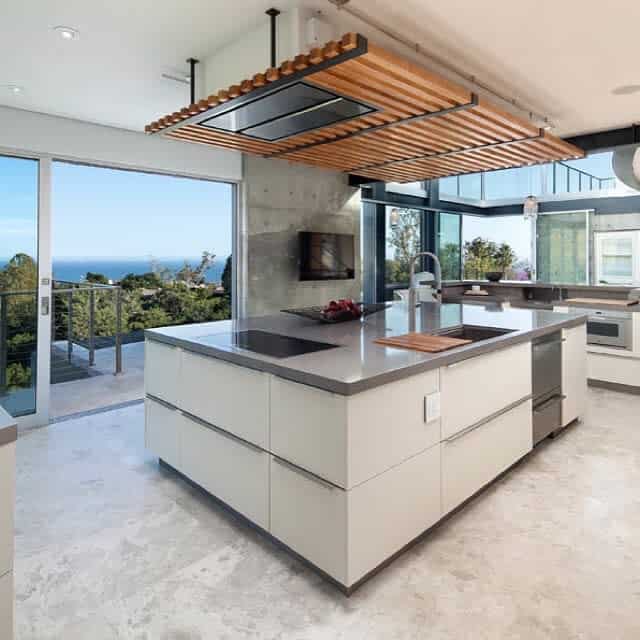 3. Pair With Beveled Tile Backsplash
Transforming your kitchen can feel like a daunting task. But with the right design, you'll find yourself wanting to cook all day long! One way to add some sophistication and efficiency is by installing a kitchen hood with beveled backsplash tiles.
Not only will the hood keep your kitchen smelling fresh, but the beveled tiles will add depth and texture to your space. The beveled edge catches and reflects light, giving your kitchen a luxurious gleam.
This unique design element can act as the perfect finishing touch to your kitchen renovation. So, let your creativity run wild and watch as your kitchen becomes the heart of your home.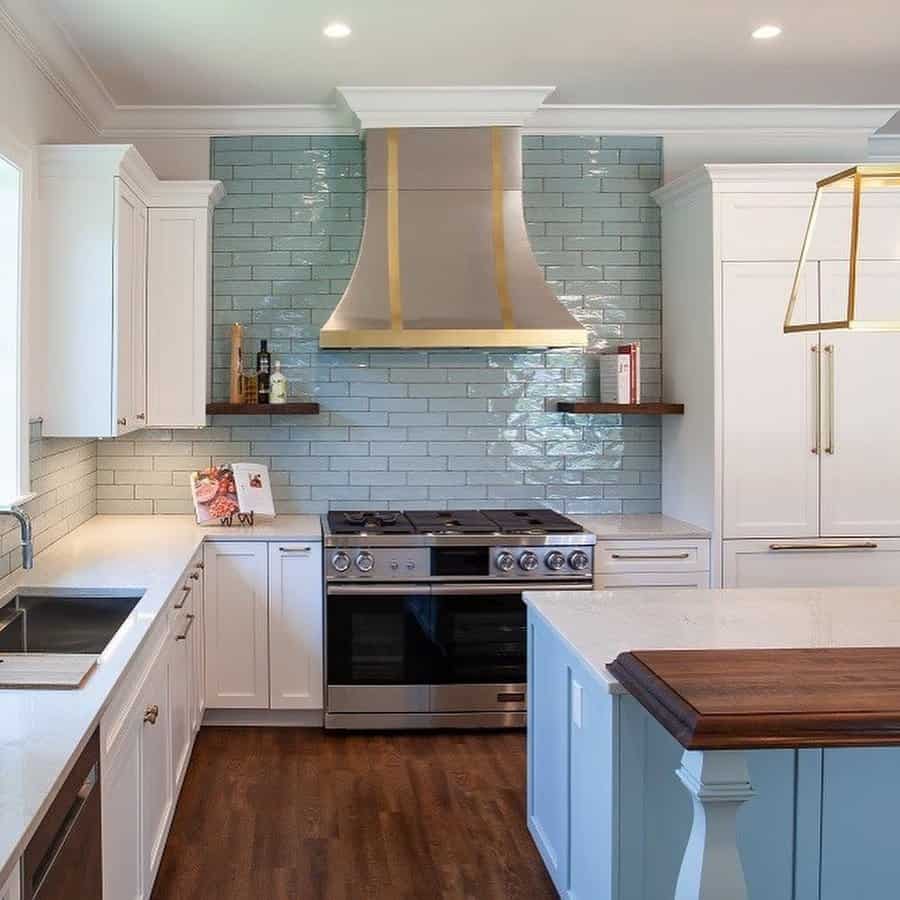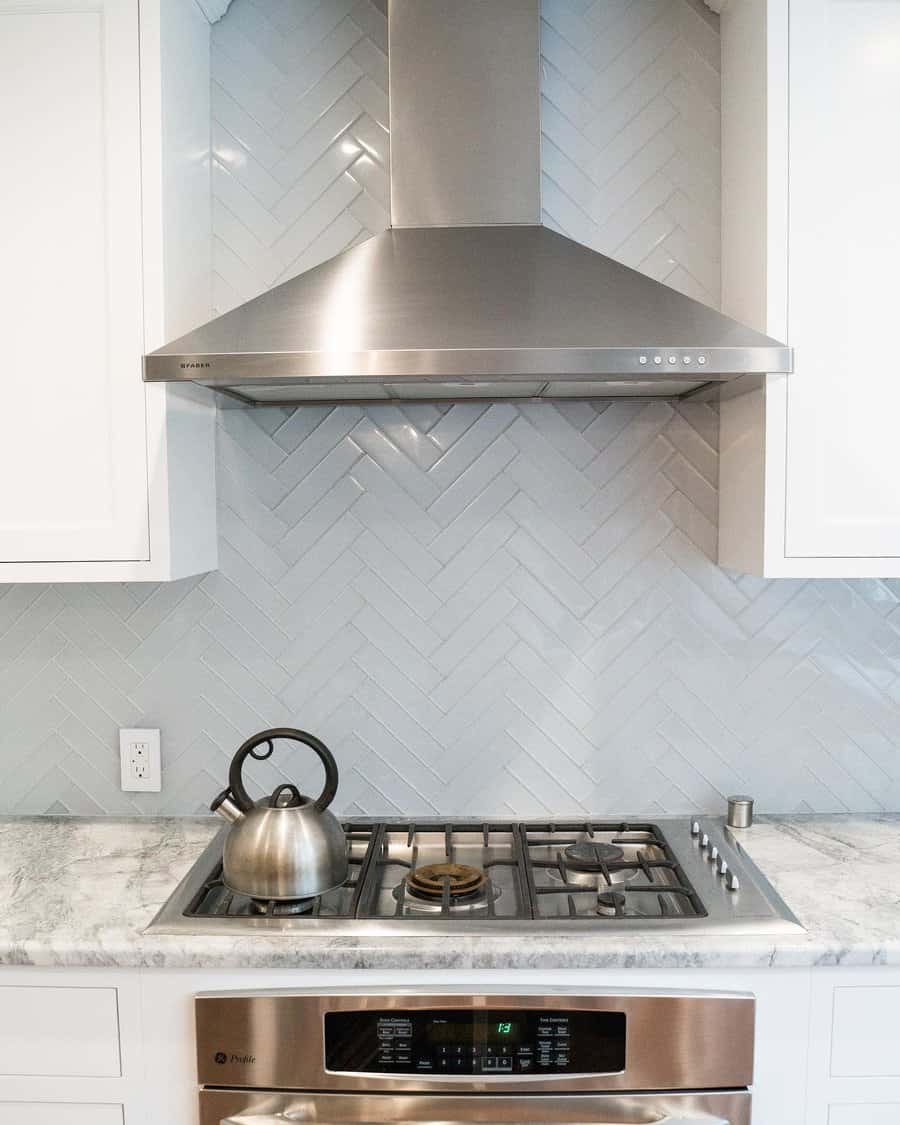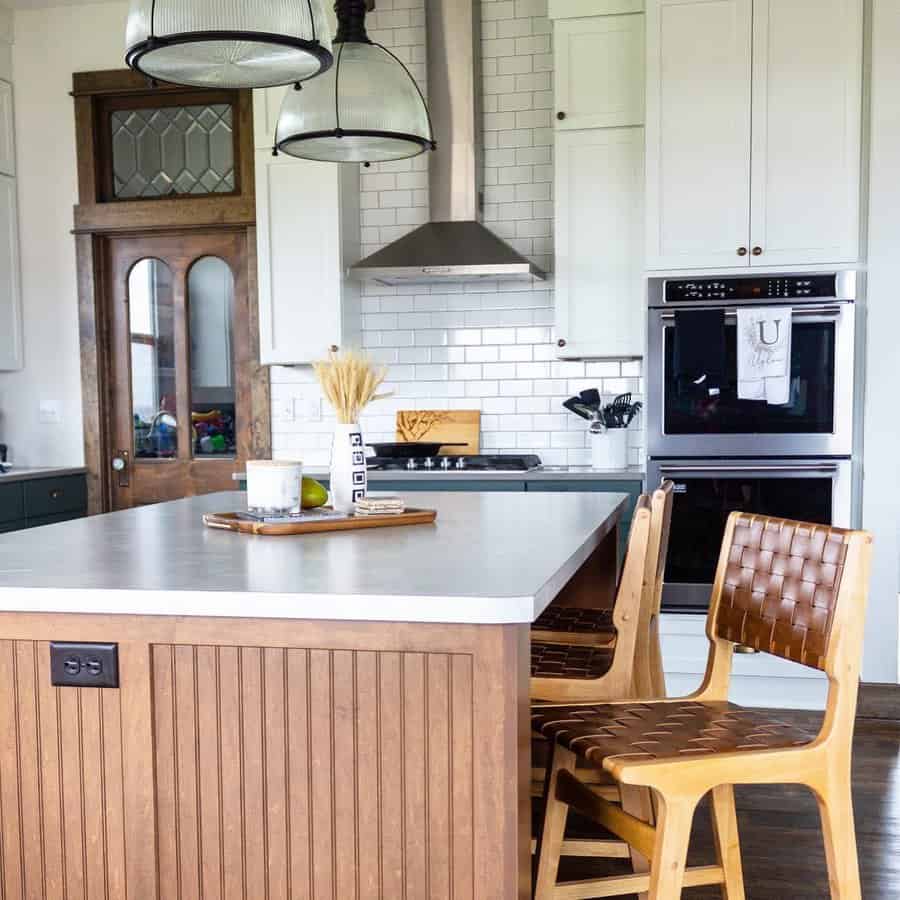 4. Install Vintage-Style Kitchen Hood
As the heart of the home, the kitchen is where most of us gather to create mouthwatering meals, laugh, and socialize. And what better way to showcase your culinary skills than with a stylish kitchen hood? From sleek stainless steel models to rustic wooden ones, the possibilities are endless.
Spice things up with a bold, colorful hood, or opt for a minimalist design that blends seamlessly into your décor. Not only do kitchen hoods add a touch of personality and charm, but they also serve a crucial function in keeping your kitchen fresh, clean, and smoke-free.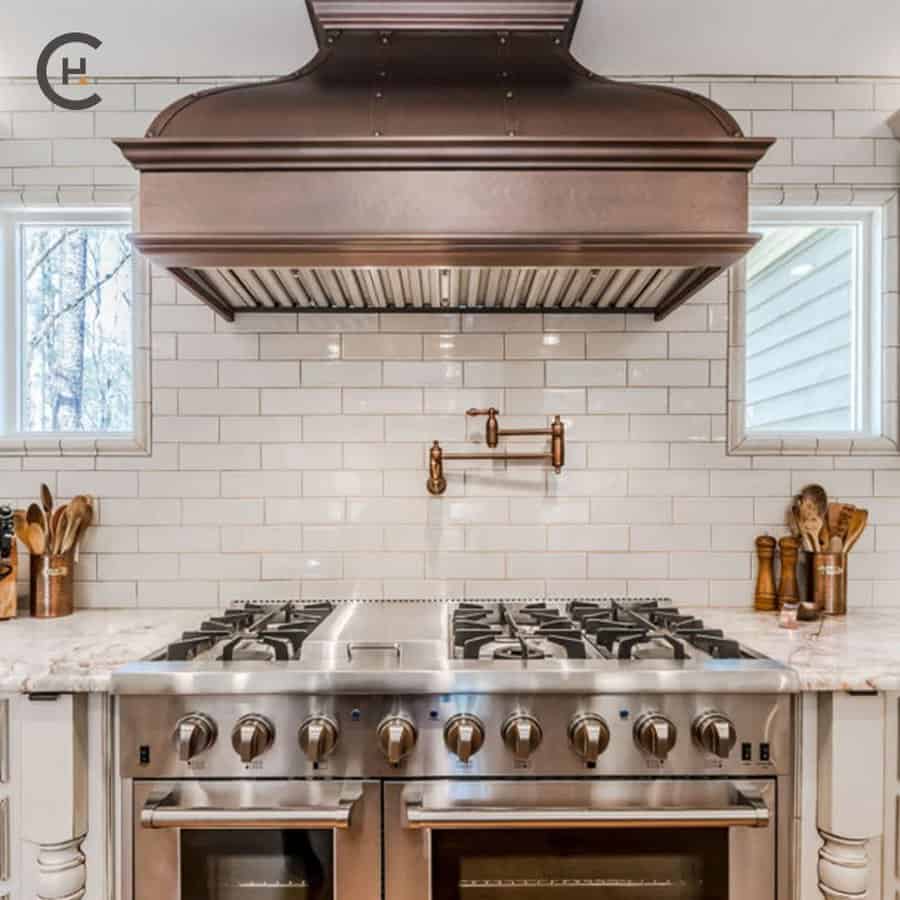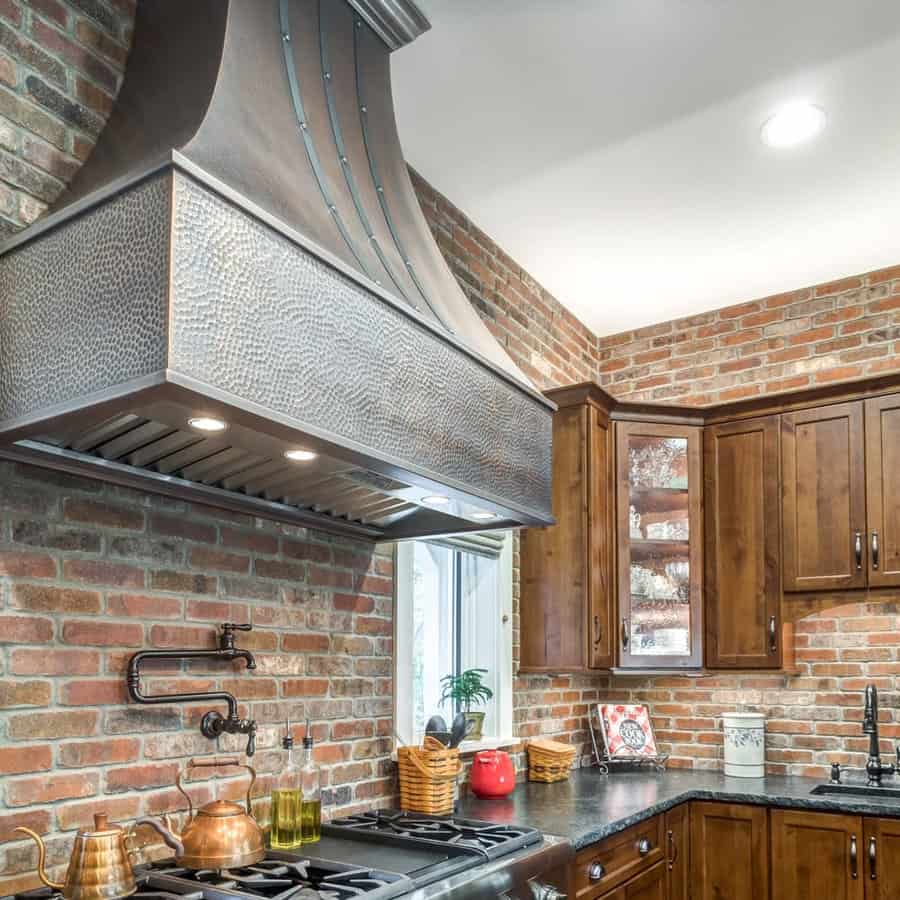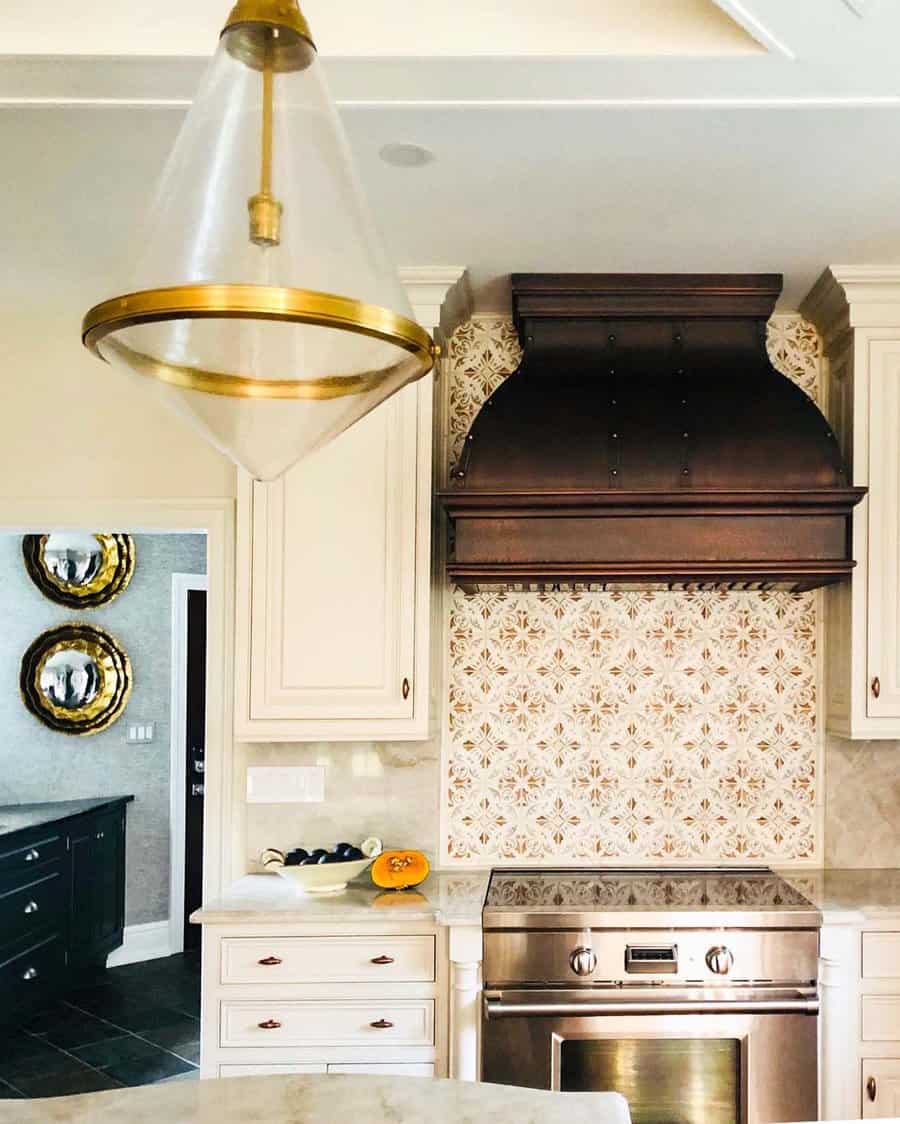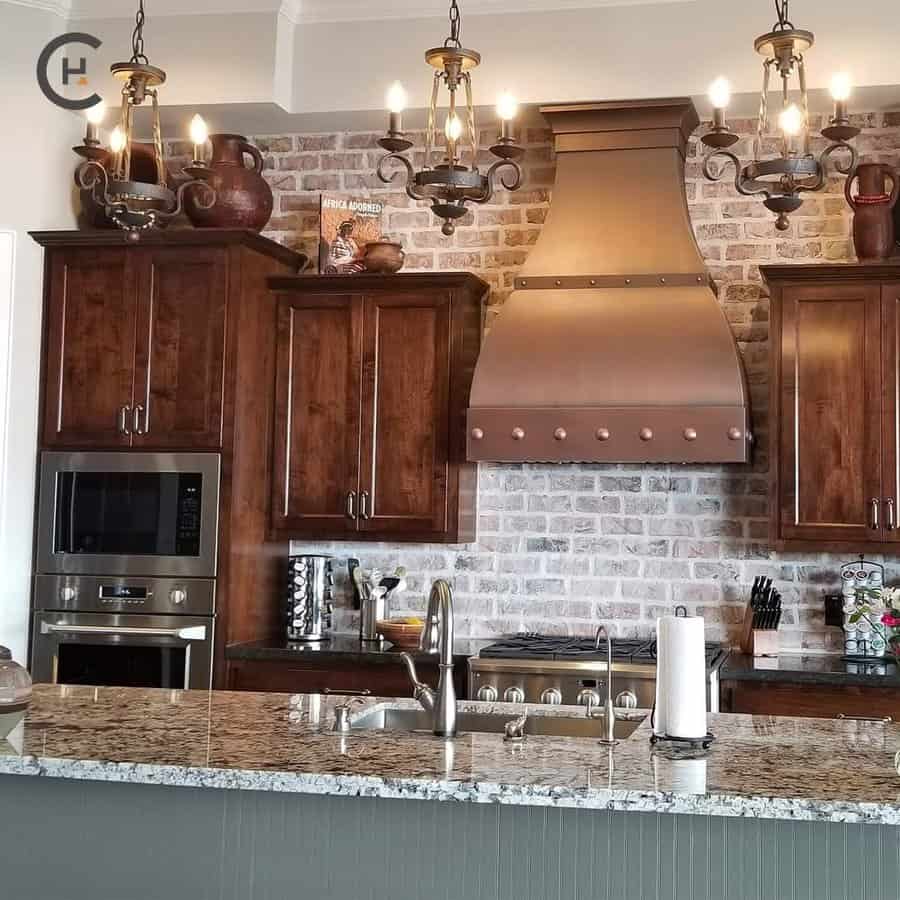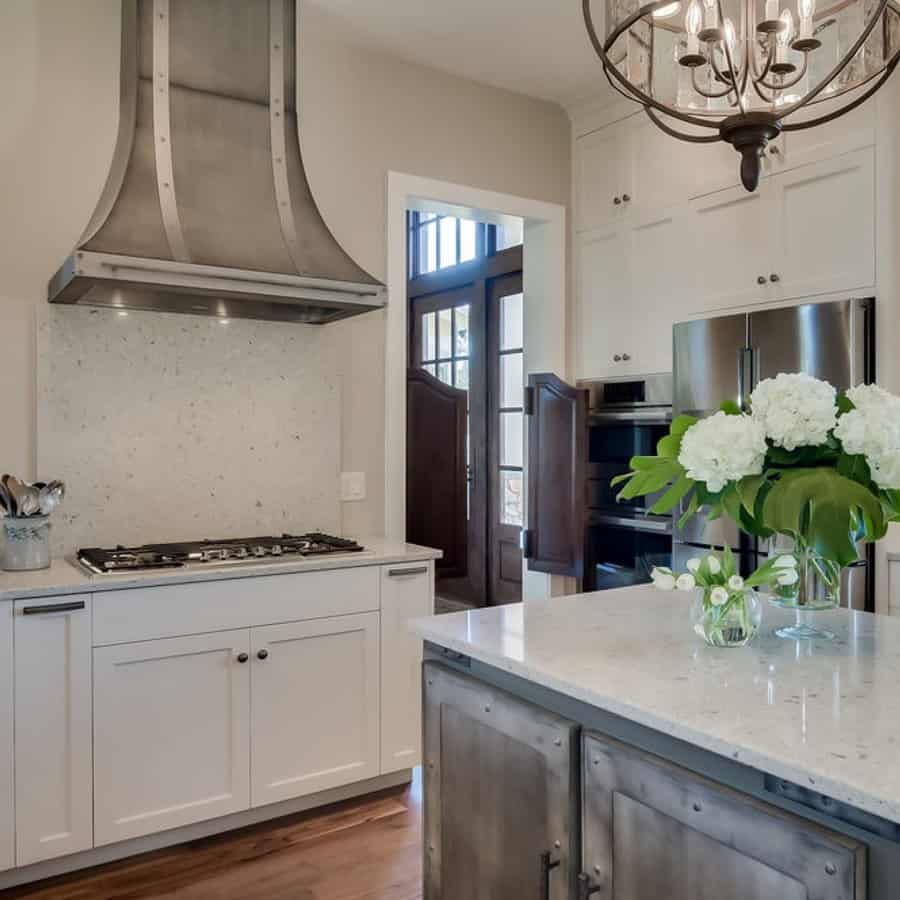 5. Go For Sparkling Stainless Steel
The kitchen is the heart of the home, and the hood is the centerpiece. It catches the eye and sets the tone for the entire room. With so many kitchen hood designs to choose from, the possibilities are endless. For a touch of rustic charm, a reclaimed wood hood adds character and warmth.
If you're looking for a modern twist, a sleek stainless steel hood with clean lines might be just what you need. A colorful statement piece can also be made with a custom hood in a bold hue or pattern.
Don't forget that the hood can also serve as a functional piece, like a built-in spice rack, to make your cooking experience even more efficient. Whatever your style, the perfect kitchen hood is waiting to be discovered.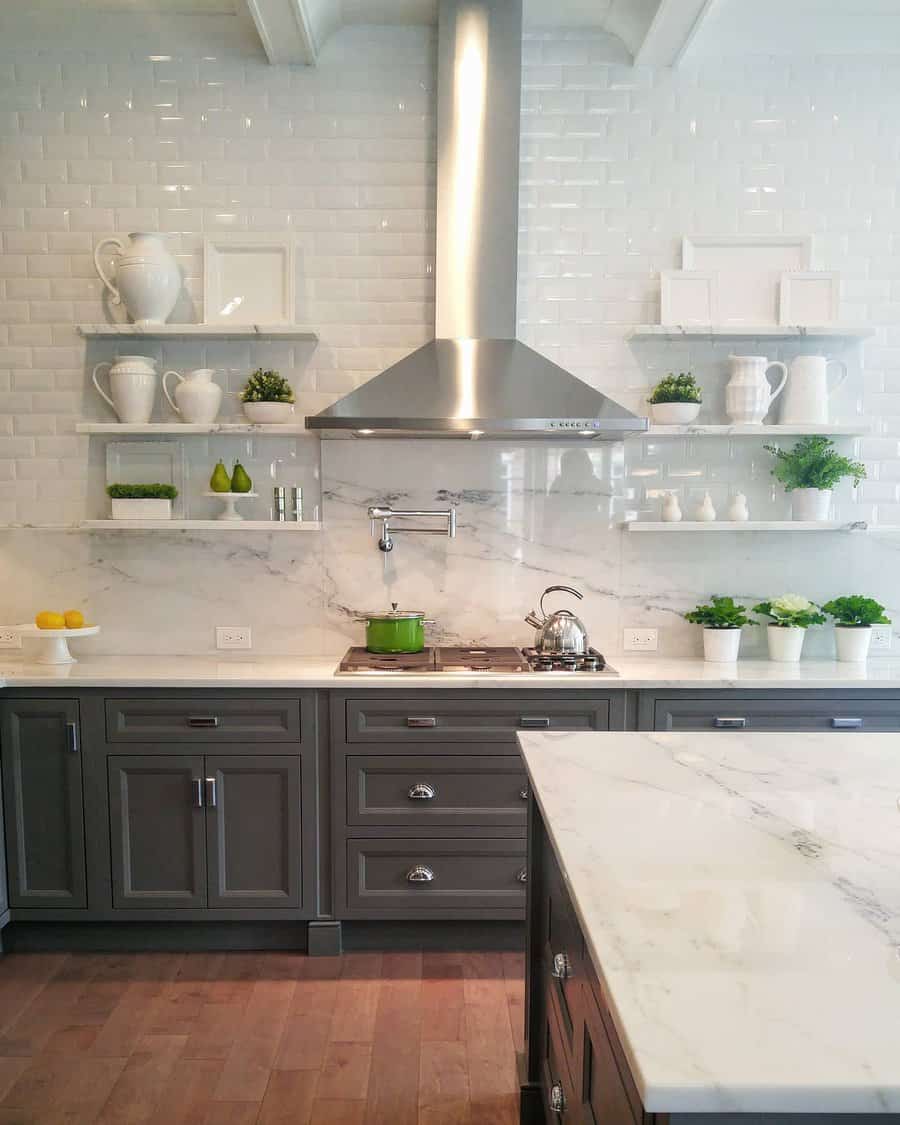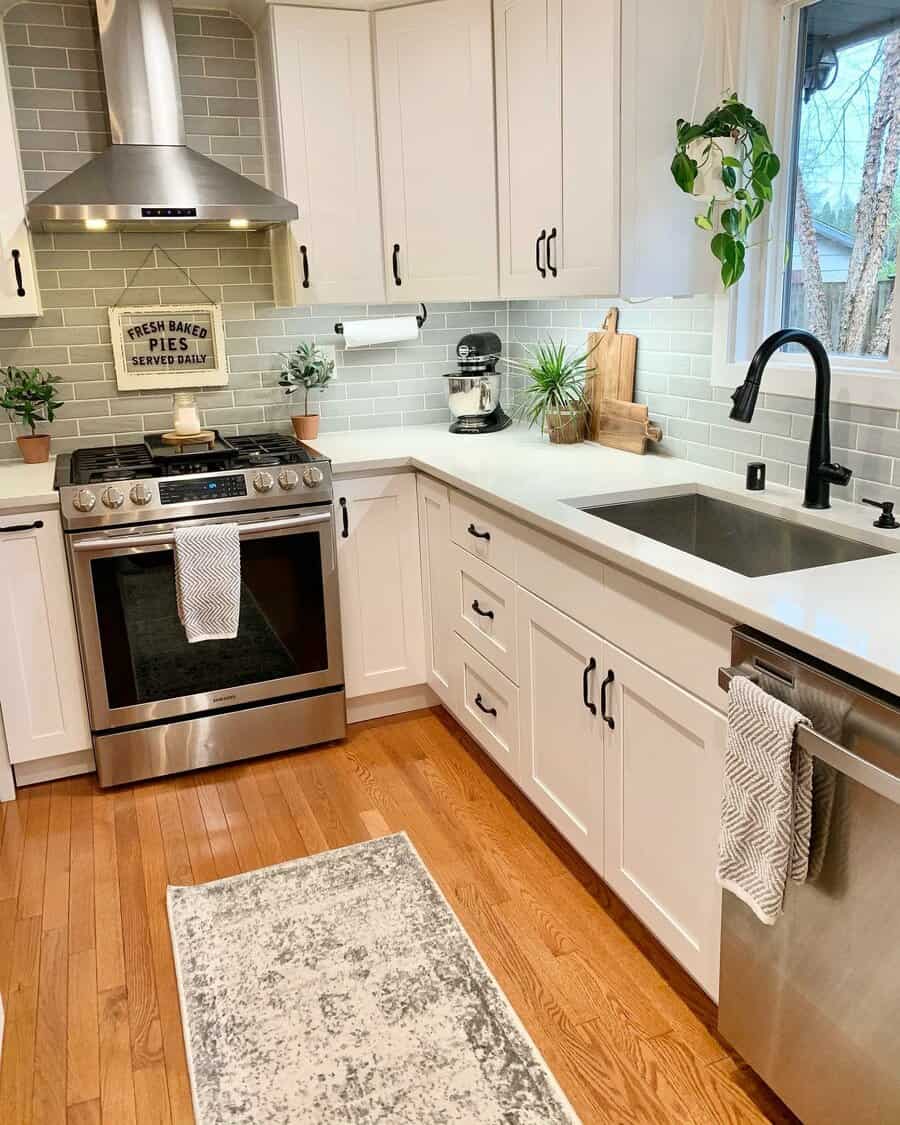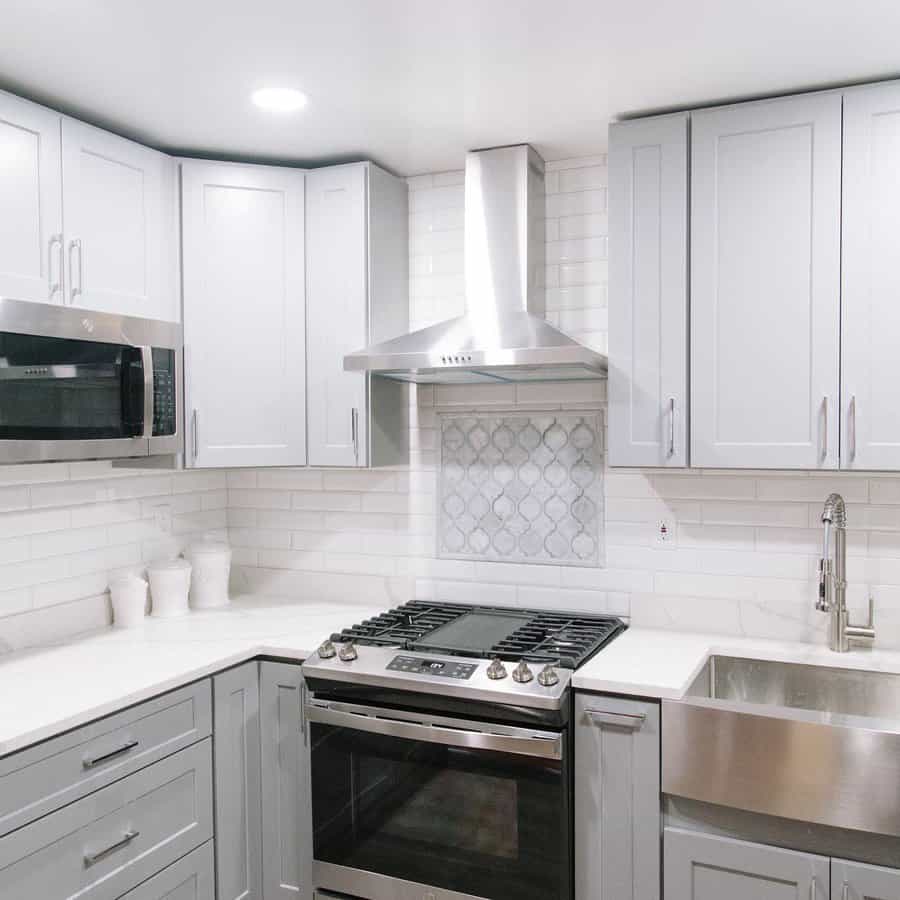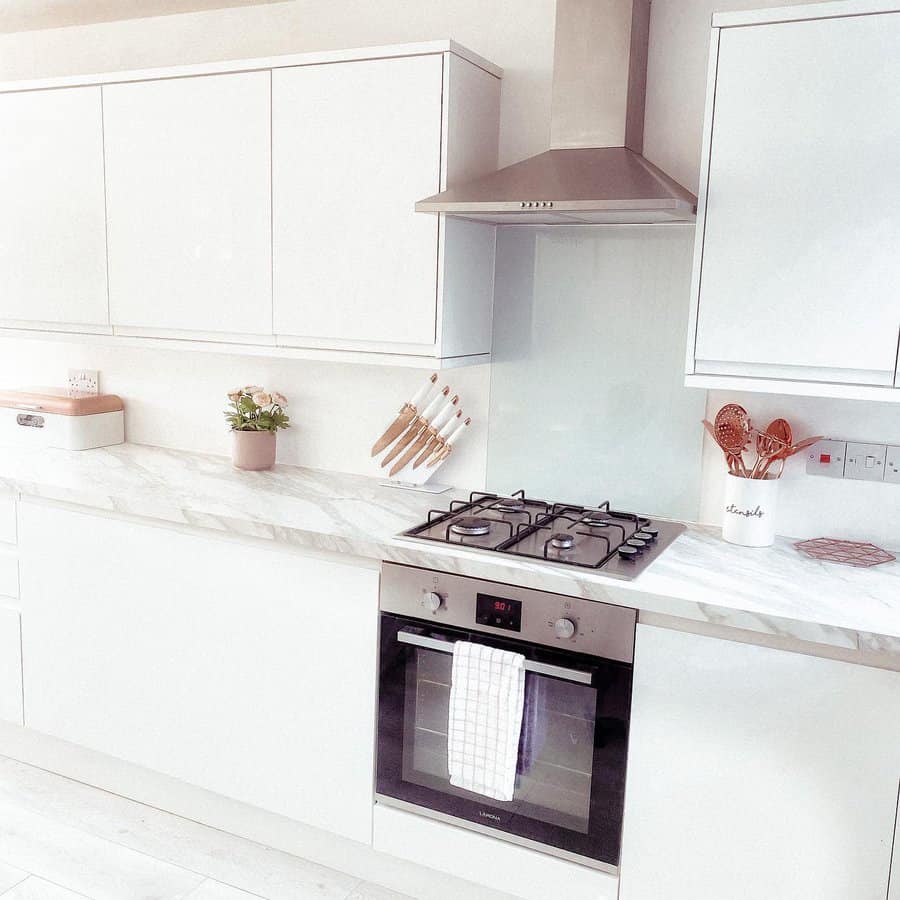 6. Copper For An Industrial Look
In the heart of every home is a kitchen where cherished memories are made, and exquisite meals are prepared. An innovative way to add style and functionality to your space is with a copper kitchen hood. Imagine the warm glow of copper, reflecting light as its cascading curves frame your cooking range.
The soft ambiance combined with the sleek, metallic appearance creates a harmony that fosters an inviting atmosphere for all. Not only does the copper hood add undeniable glamour, but it also works diligently to suck up unwanted steam and smoke, ensuring a clean kitchen and a home filled with savory scents.
Whether you're planning a family dinner or a romantic evening for two, elevate your culinary space with a copper kitchen hood that exudes charm and sophistication.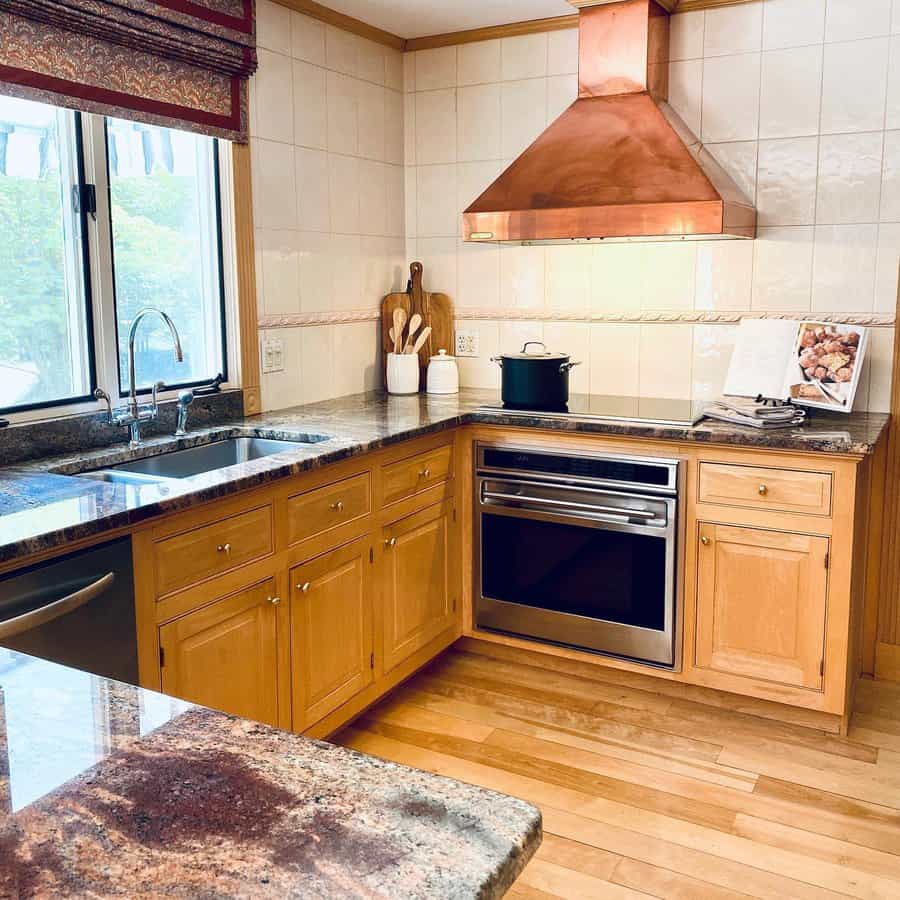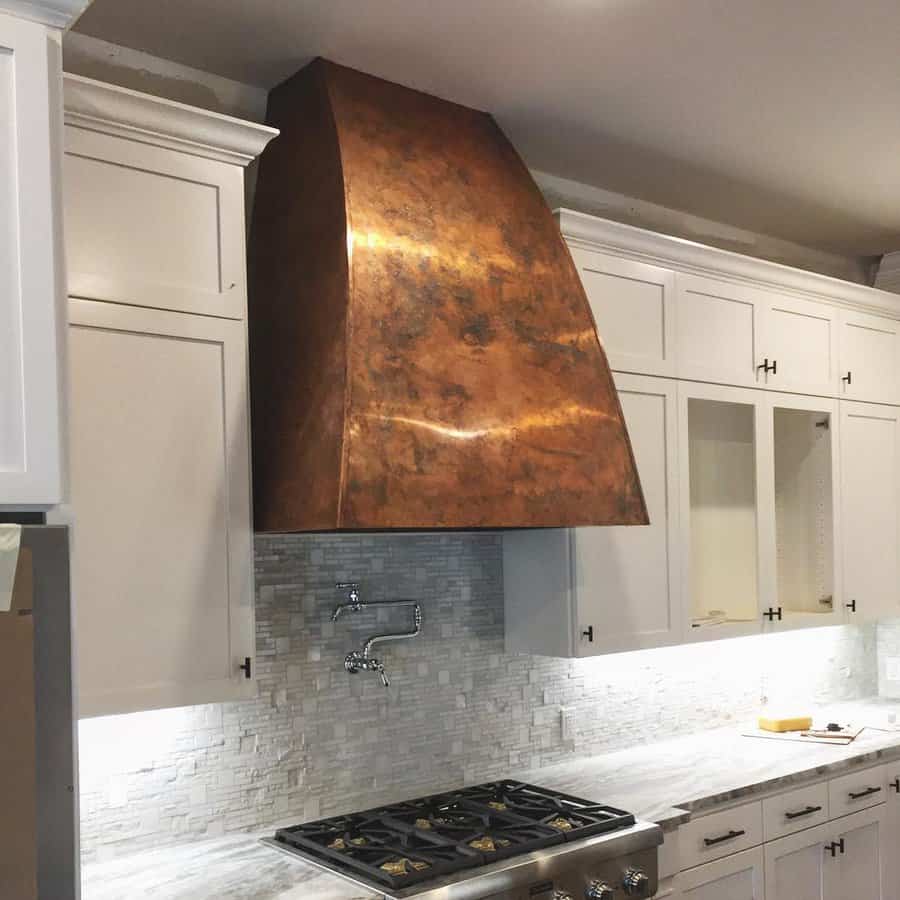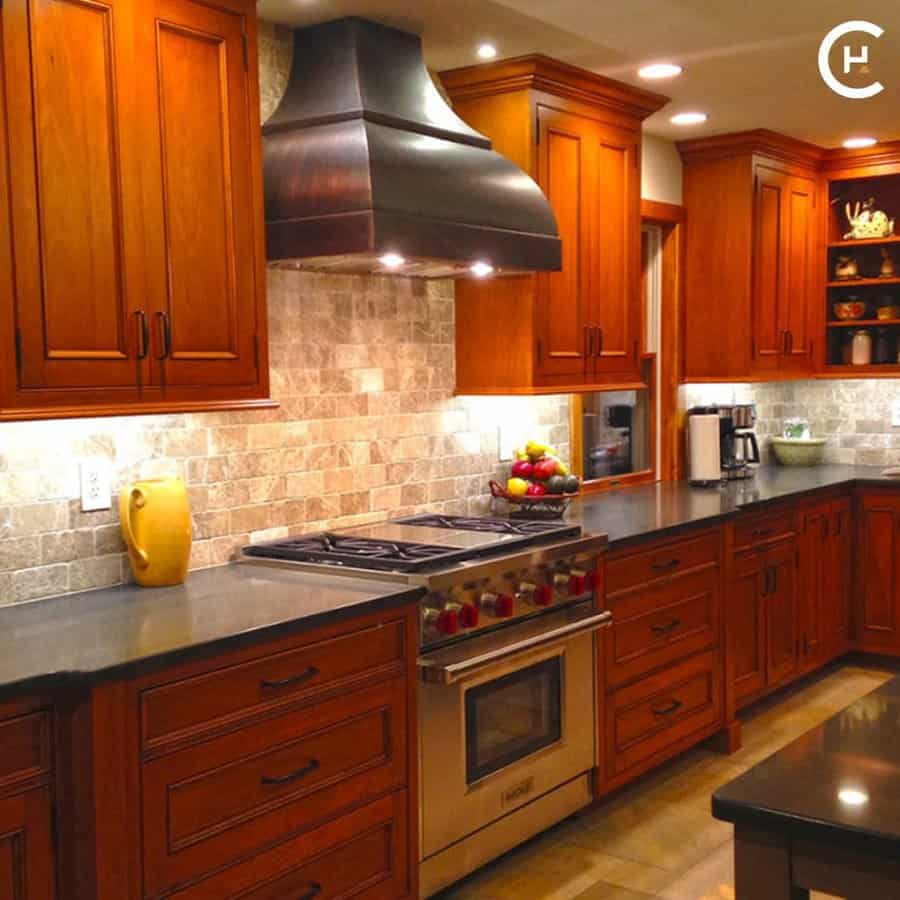 7. T-Shaped Kitchen Hood
As the centerpiece of any kitchen, the range hood should be a statement piece that enhances the entire aesthetic of the space. Introducing the T-shaped kitchen hood, a unique and creative solution to transform the look and feel of any cooking area.
With its sleek and modern design, this hood not only functions as a powerful ventilation system but also adds a touch of sophistication and elegance to your kitchen.
The T-shape allows for maximum coverage and efficiency, while the variety of customizable finishes and colors ensure that it will seamlessly blend in with any design style.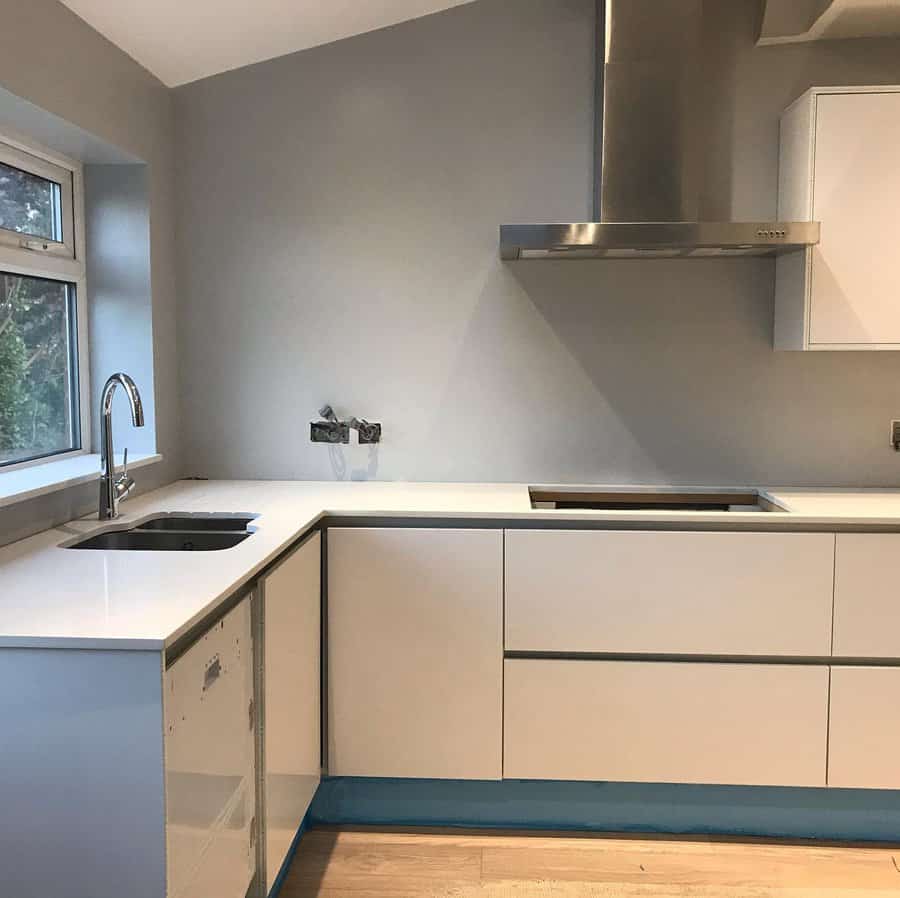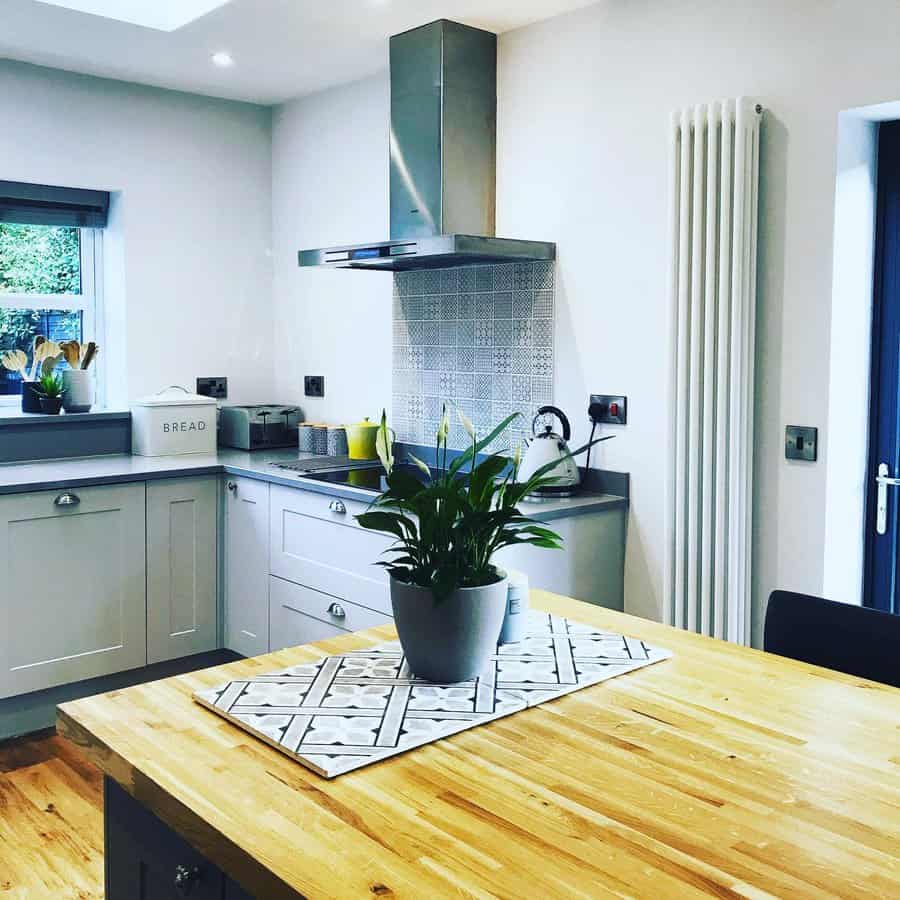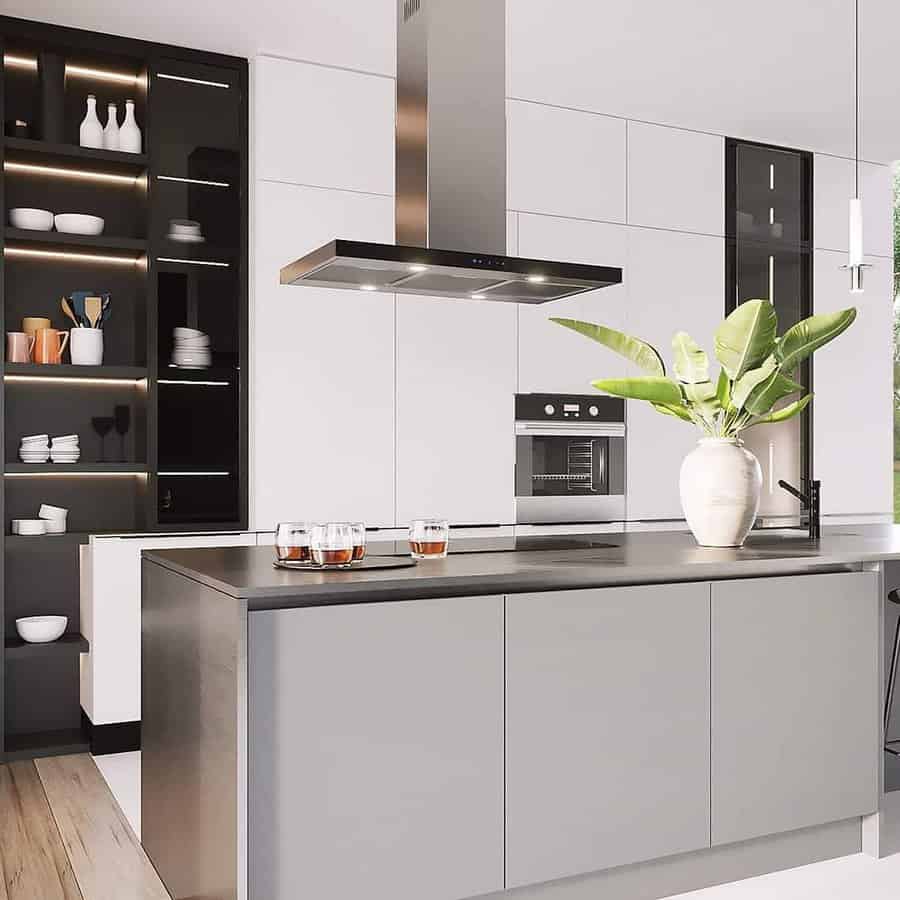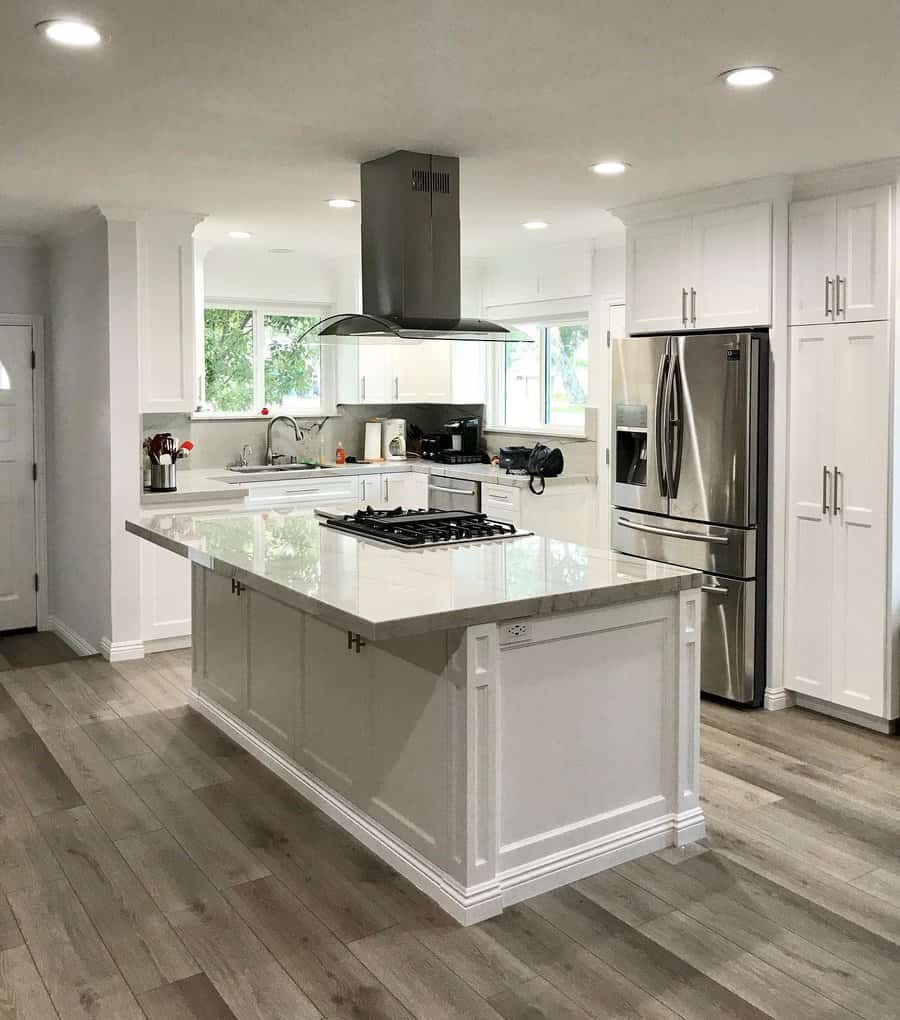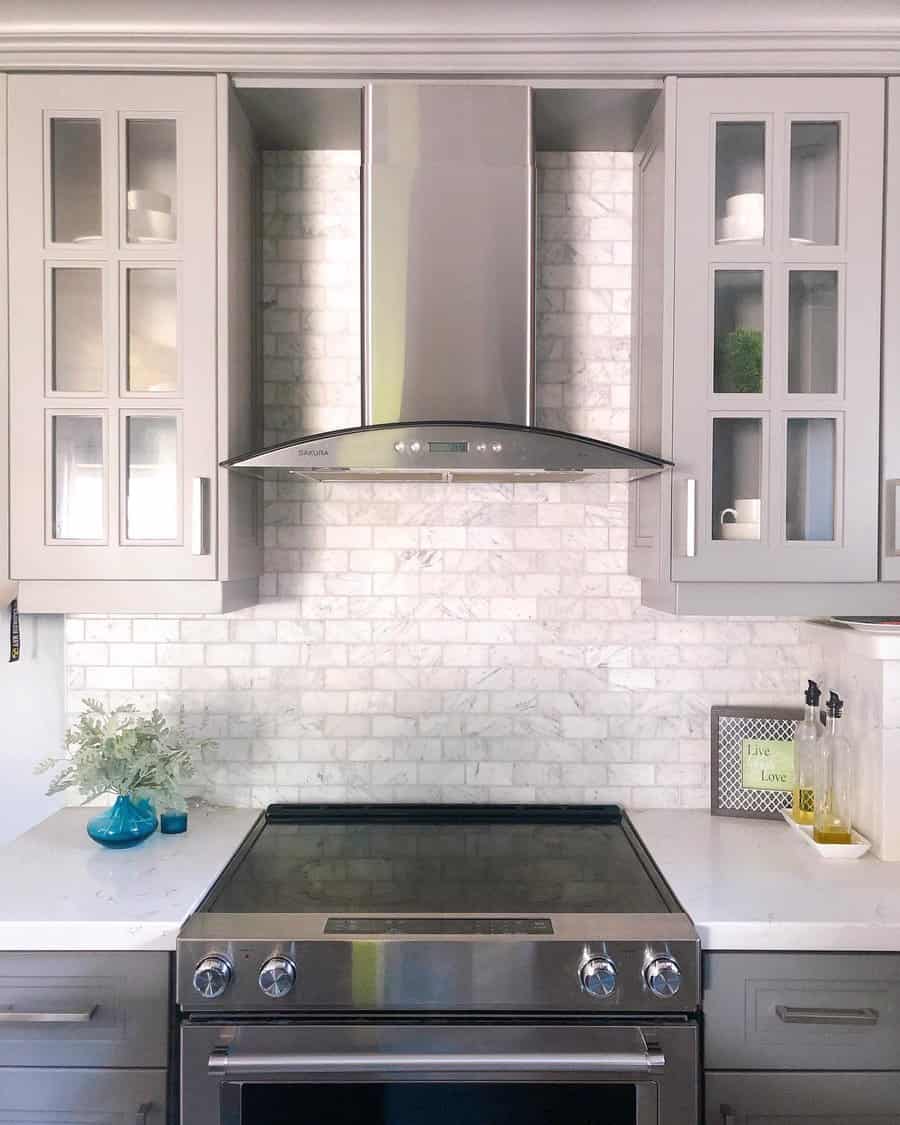 8. Surround With A Dry Wall
A kitchen hood is an essential component of any successful kitchen, allowing for proper airflow and removal of cooking odors and smoke. But what about the aesthetic aspect? What if your hood was surrounded by drywall, blending seamlessly into the ceiling and walls?
This innovative approach not only eliminates the clunky appearance of a traditional range hood but adds a touch of elegance and sophistication to any kitchen design.
With this smooth finish, your kitchen hood becomes a subtle statement piece, quietly contributing to the overall ambiance of the space.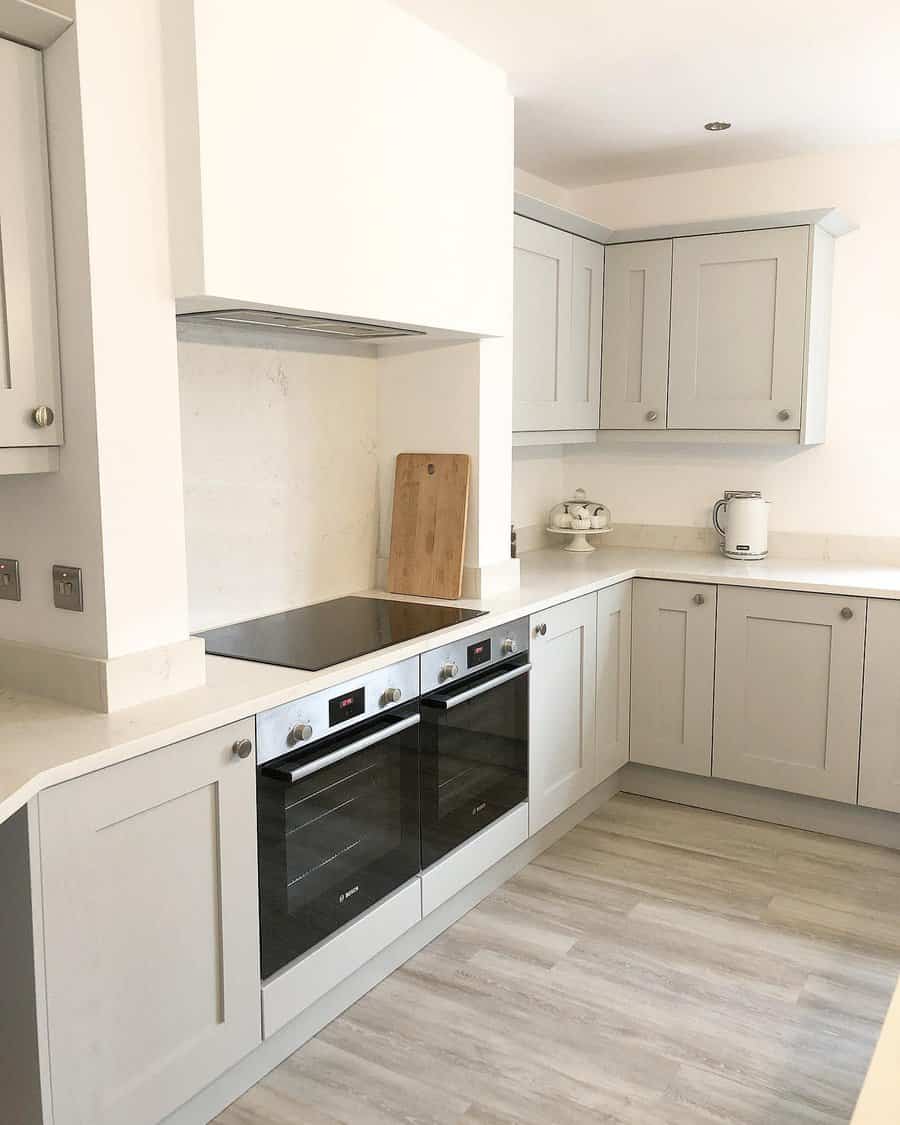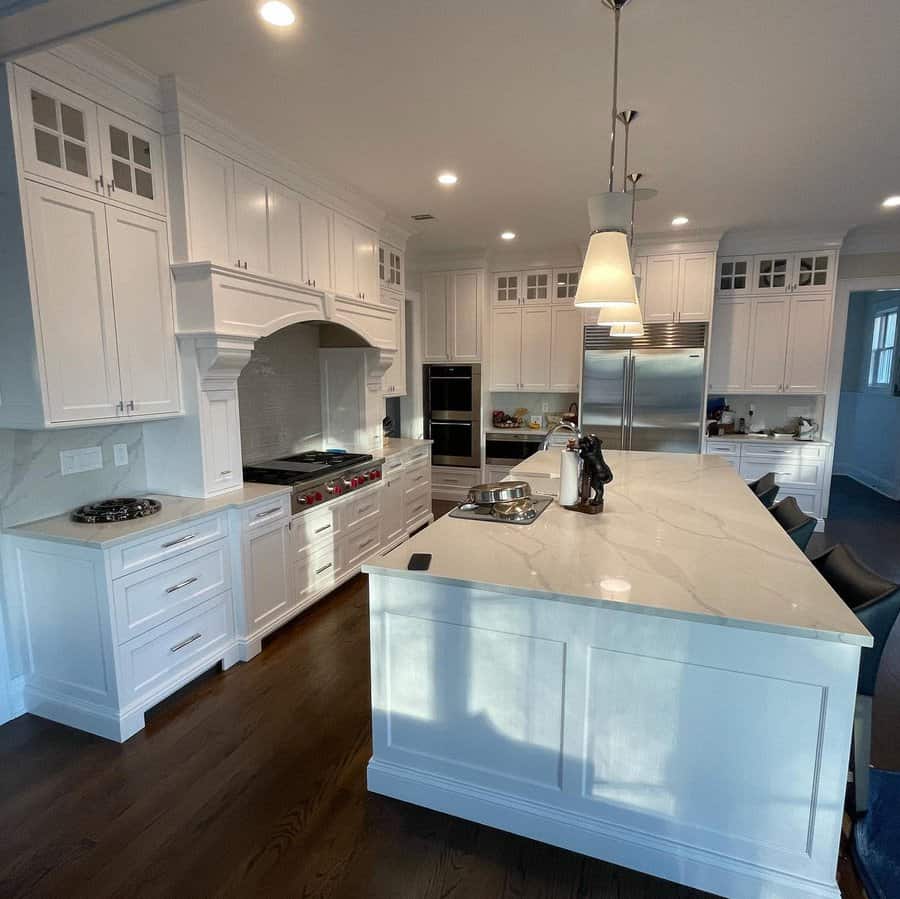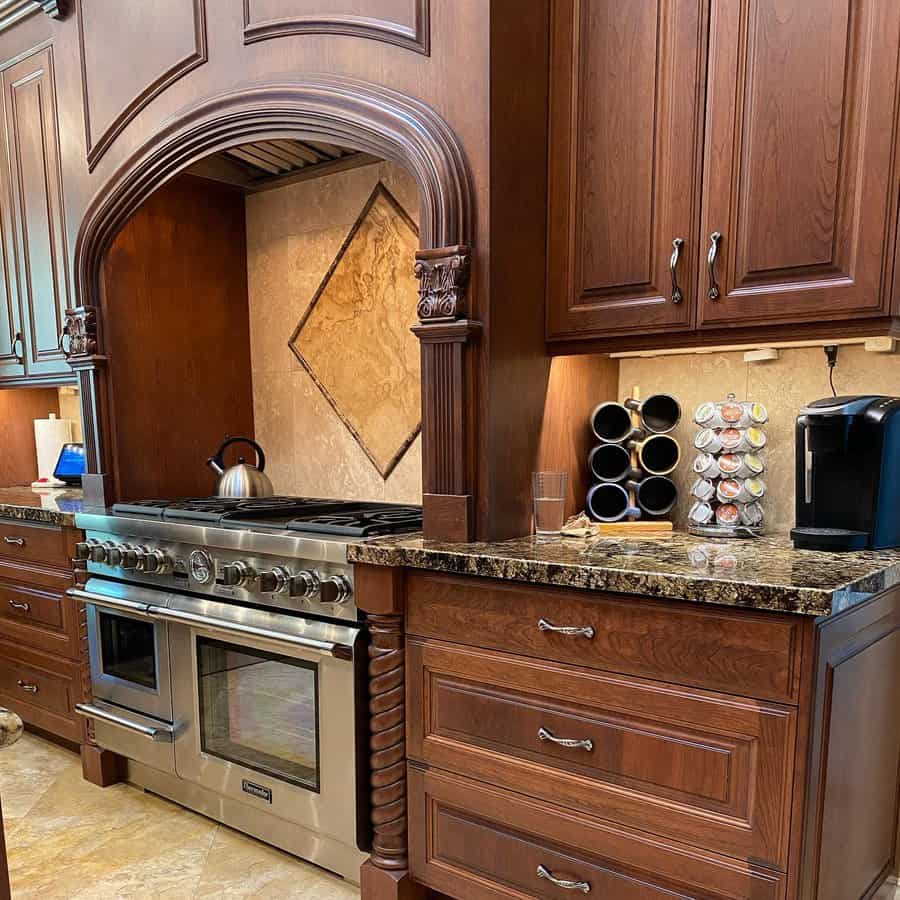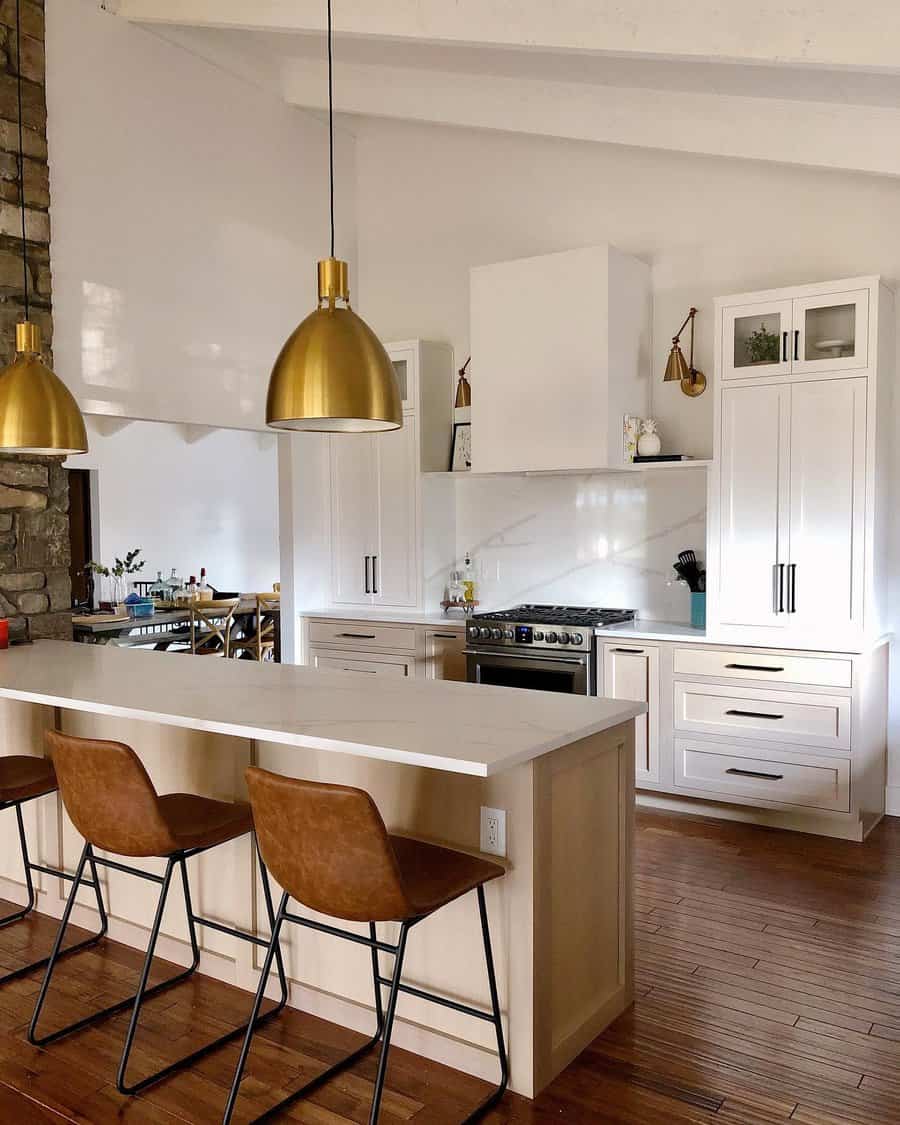 9. Matte Black Kitchen Hood
A matte black kitchen hood sleek and stylish addition to any kitchen not only looks amazing, but also serves a practical purpose by extracting smoke, steam, and unwanted odors from your cooking space. Imagine the impressive look of a black stainless steel hood hovering over your stove, silently doing its job as you cook up a storm.
It's the perfect way to add a touch of sophistication and modernity to your kitchen, without sacrificing functionality. With a matte black kitchen hood, you can enjoy the best of both worlds: practicality and style.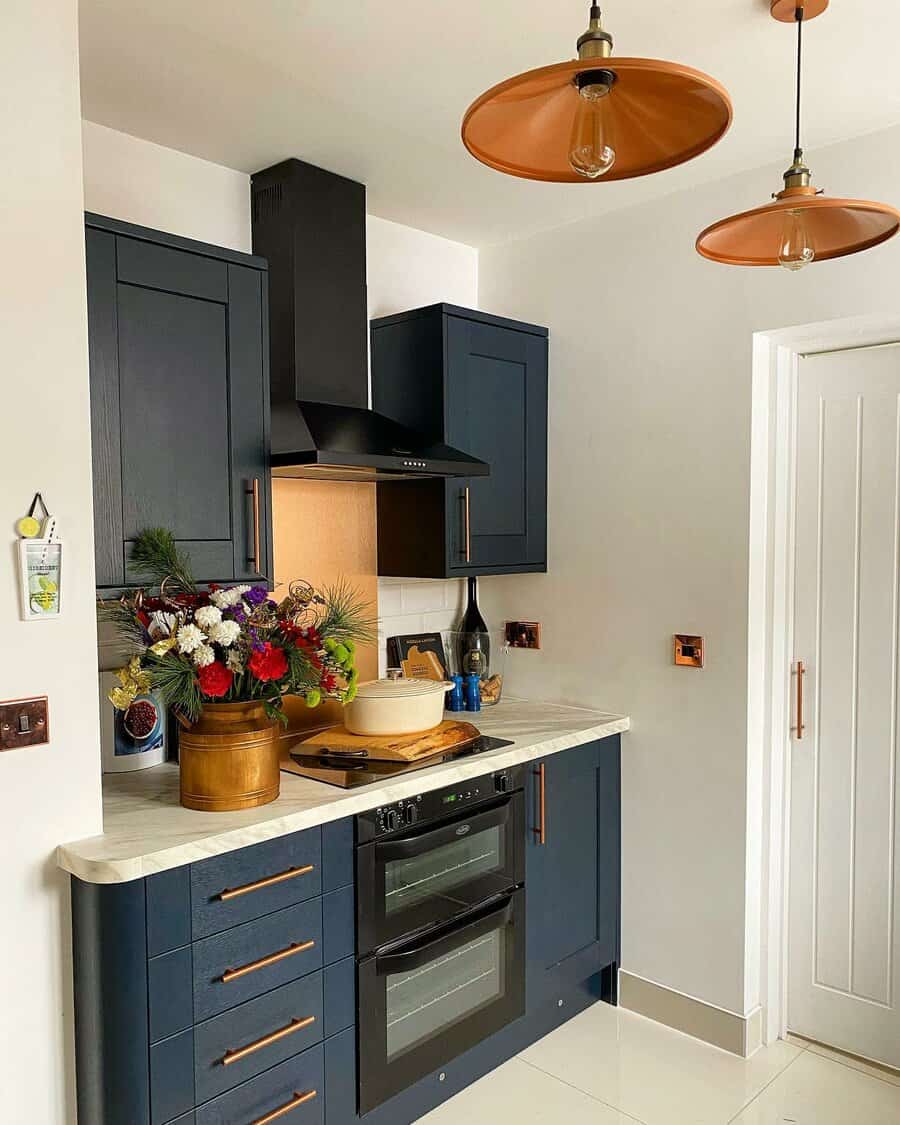 10. Make A Custom Cover
Have you ever walked into a kitchen that felt like it was straight out of a gourmet cooking show? The gleaming appliances, the sleek countertops, the carefully curated cookware – all of these elements come together to make a kitchen that feels professional and refined. And yet, sometimes there's one detail that can throw off the whole vibe: the kitchen hood cover.
That clunky, generic-looking cover over your range hood can really detract from your kitchen's aesthetic. That's where a custom kitchen hood cover comes in. With a custom cover, you can take your kitchen from trendy to timeless.
You can choose the materials, the colors, and the design that best suits your space and your personal style. A custom cover can make your kitchen feel like a true expression of who you are, and isn't that the ultimate goal of any home renovation project?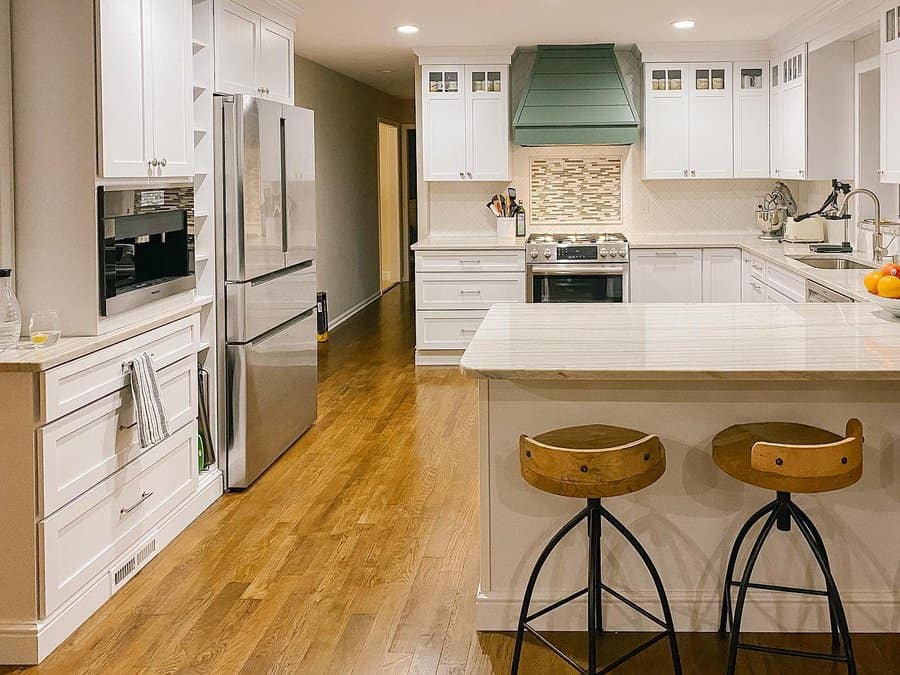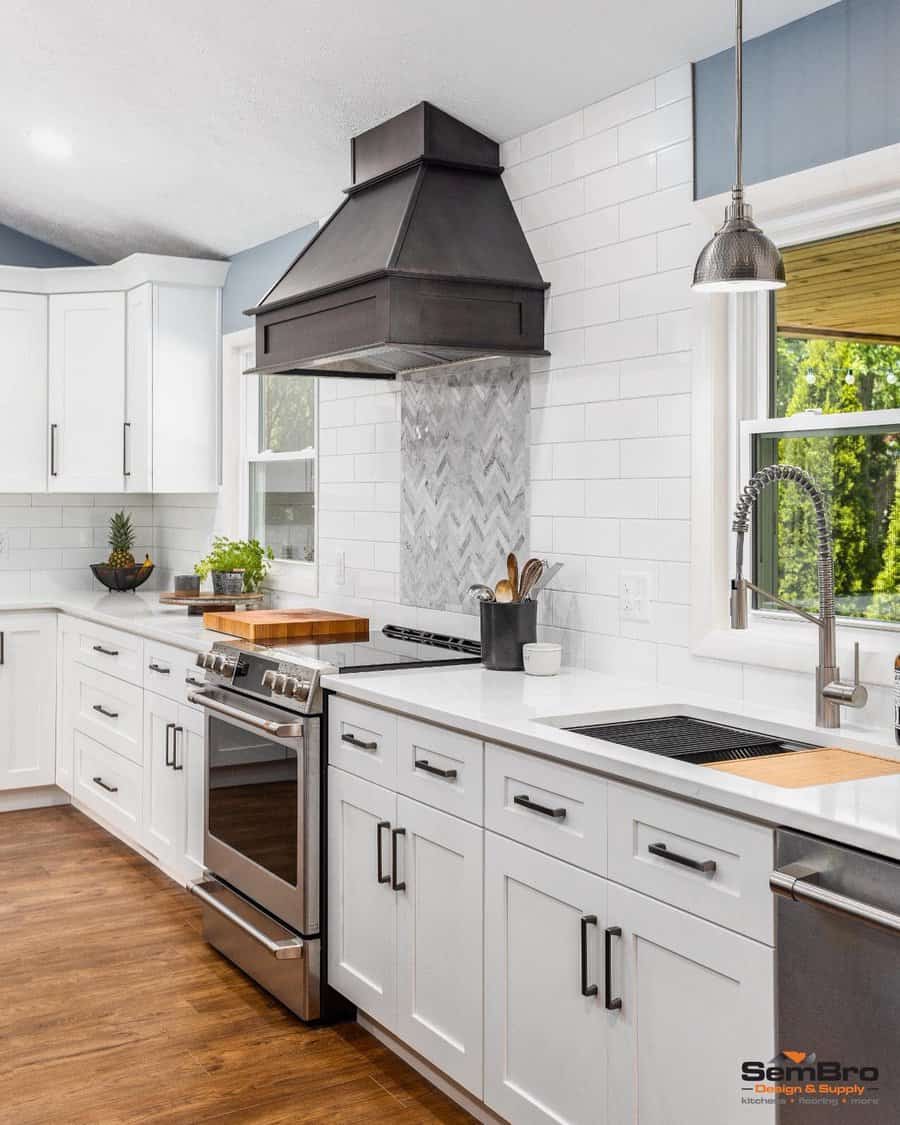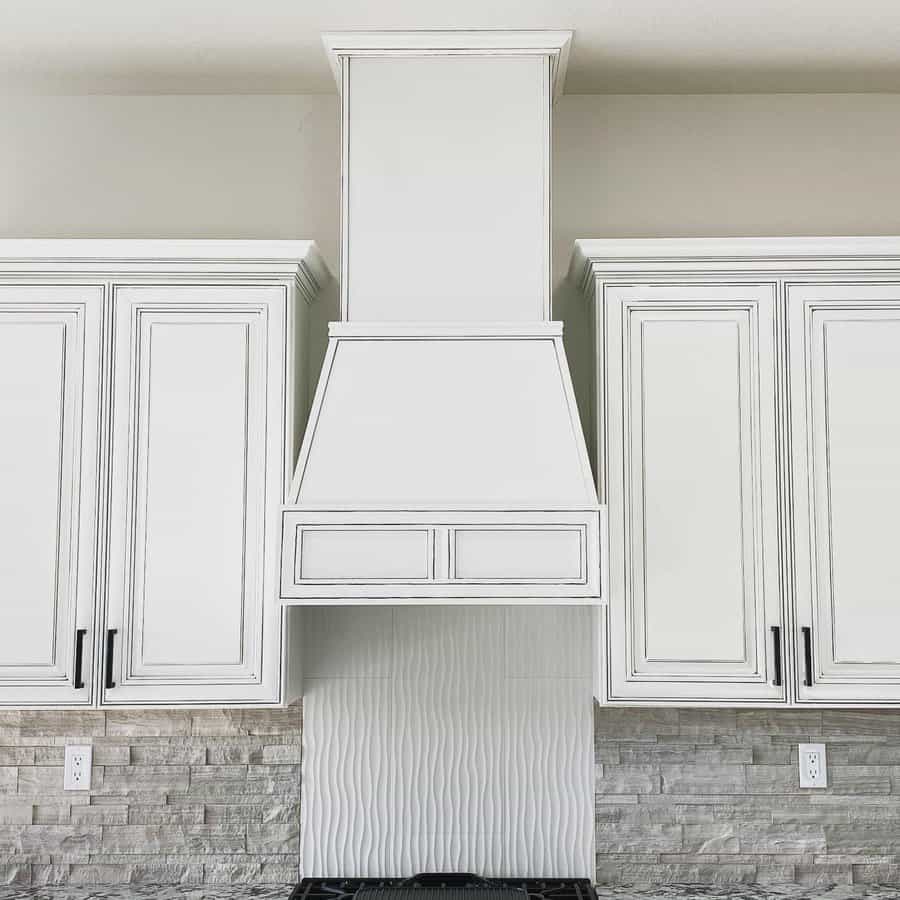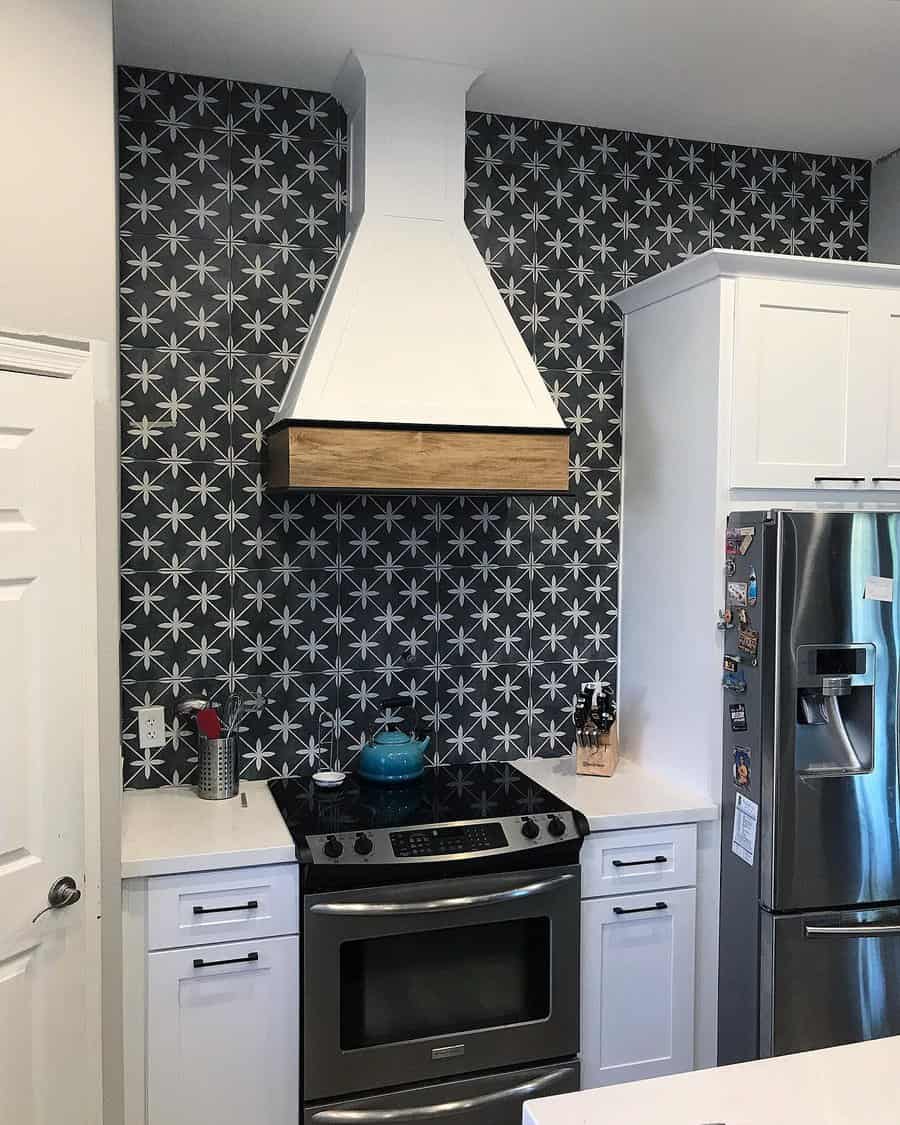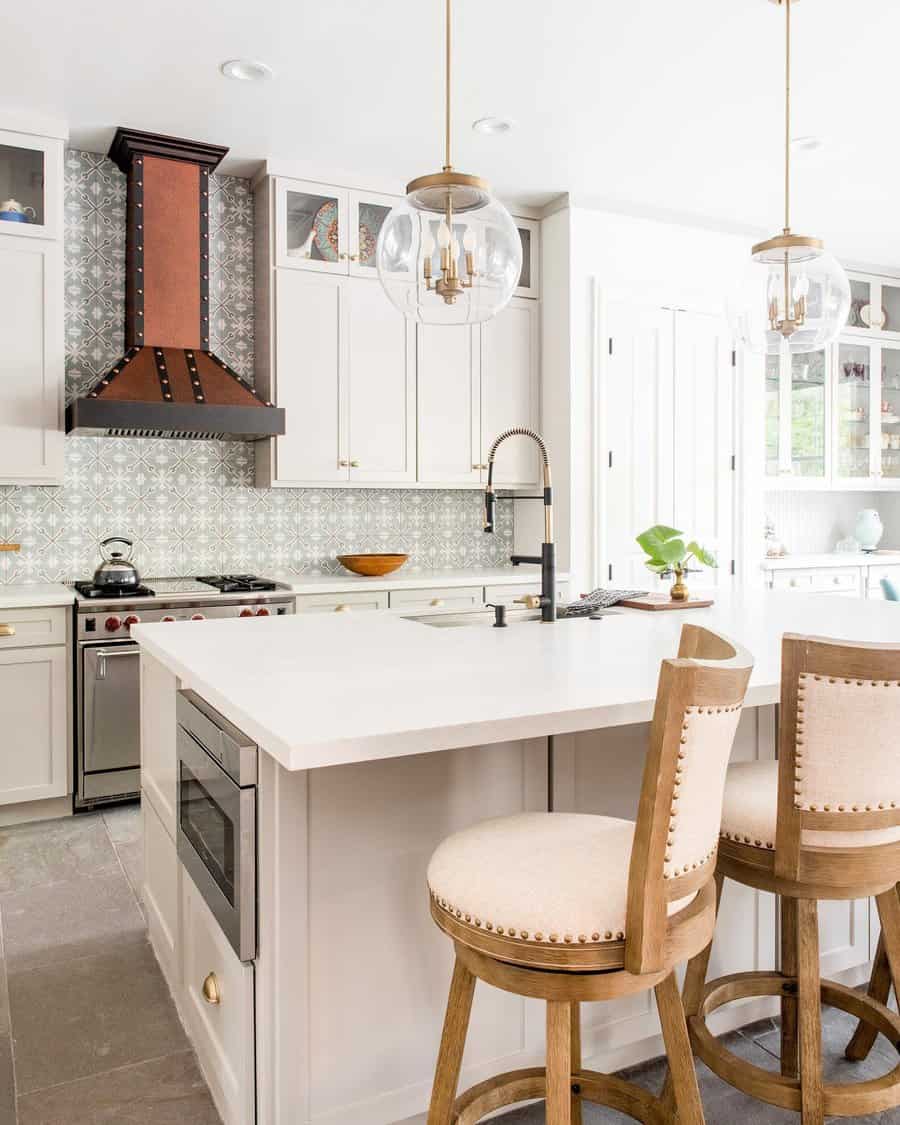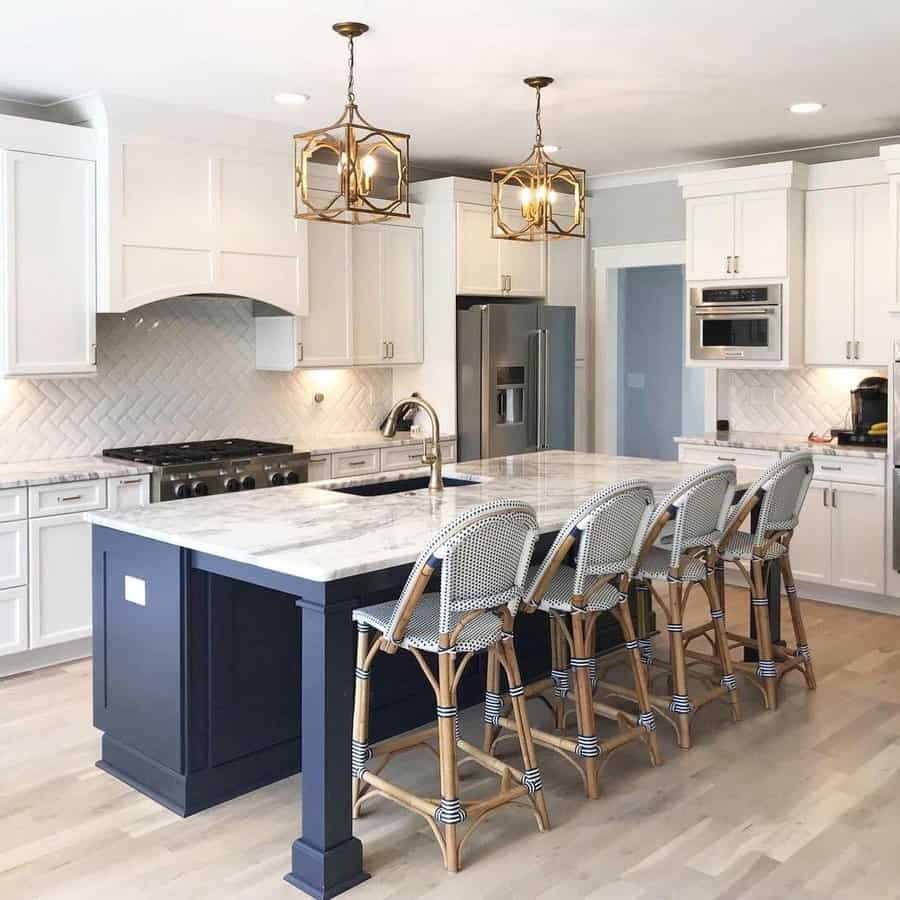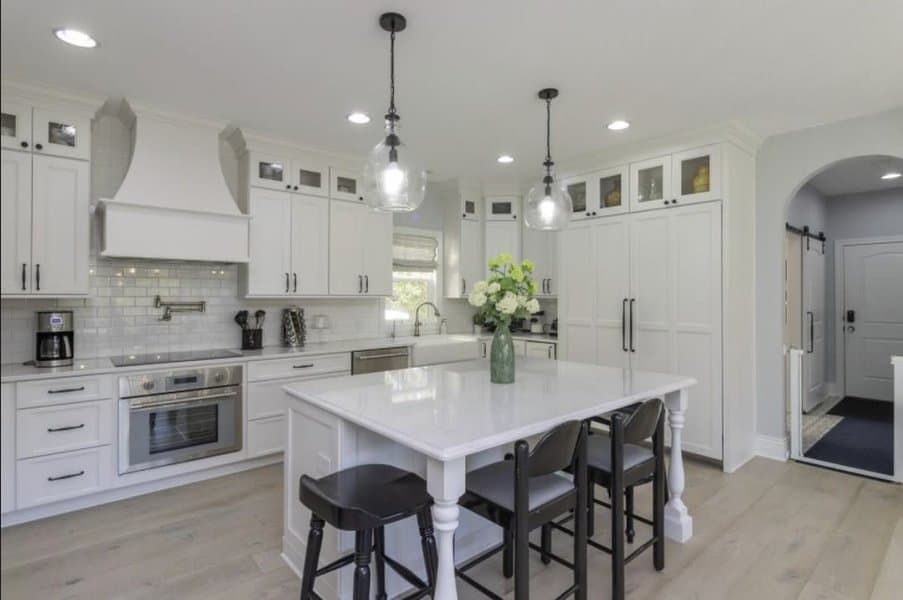 11. Decorate With Magnets
If you're looking to spruce up your kitchen, one thing you shouldn't overlook is the hood above your stove. A kitchen hood can add both style and function to your space. Imagine a sleek stainless steel hood that brings a modern touch to your kitchen, or a rustic wood hood that brings warmth and charm.
Don't be afraid to get creative with the design – perhaps a bold patterned tile or a unique shape can add some personality. But don't forget about the importance of function – make sure your chosen hood has enough power to properly ventilate any smoke or steam that arises from your cooking adventures. With countless kitchen hood ideas, the possibilities for transforming your kitchen are endless.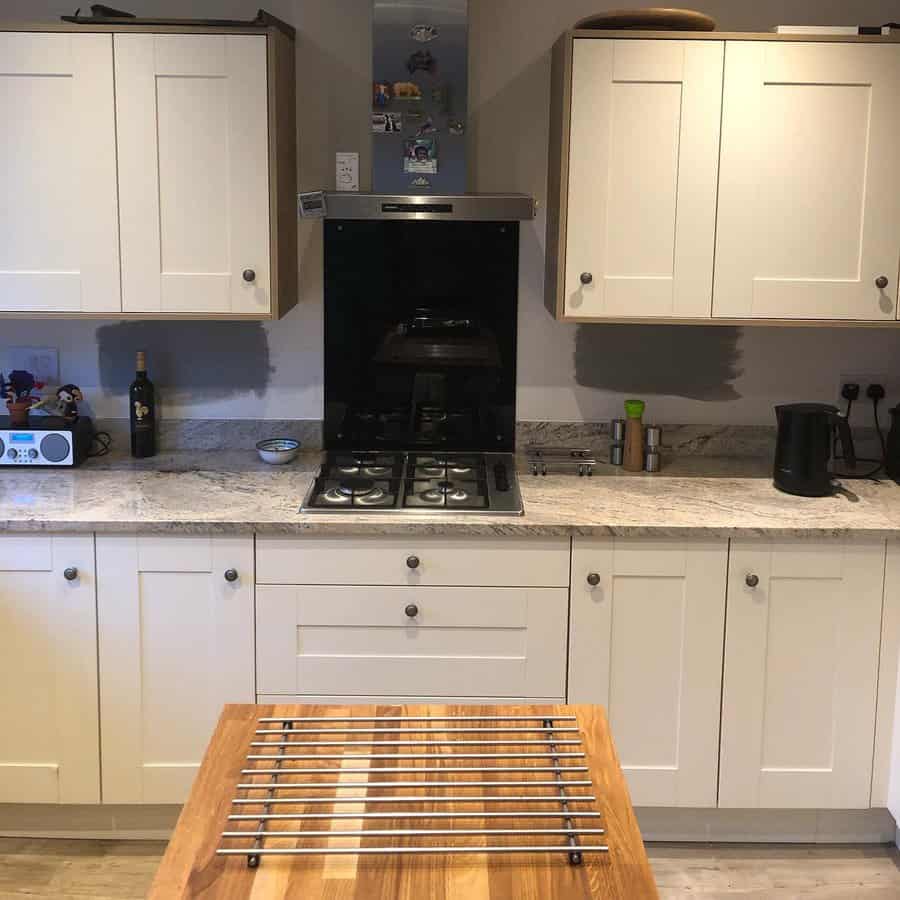 12. Cover With Wood Pallet Panels
Step into your kitchen and be transported to a cozy rustic cabin in the woods with a unique wood pallet hood cover. A kitchen hood doesn't have to be just functional, it can also make a statement. Embrace the charm of a shabby chic look and add character to your cooking space with this DIY project. Not only will it serve as a focal point, but it will also add warmth and texture to a typically sterile environment.
The best part is, you can customize it to fit your style by painting or staining the pallets to match your existing decor. Enjoy the warmth and comfort of a cabin retreat in the heart of your home kitchen with a wood pallet hood cover.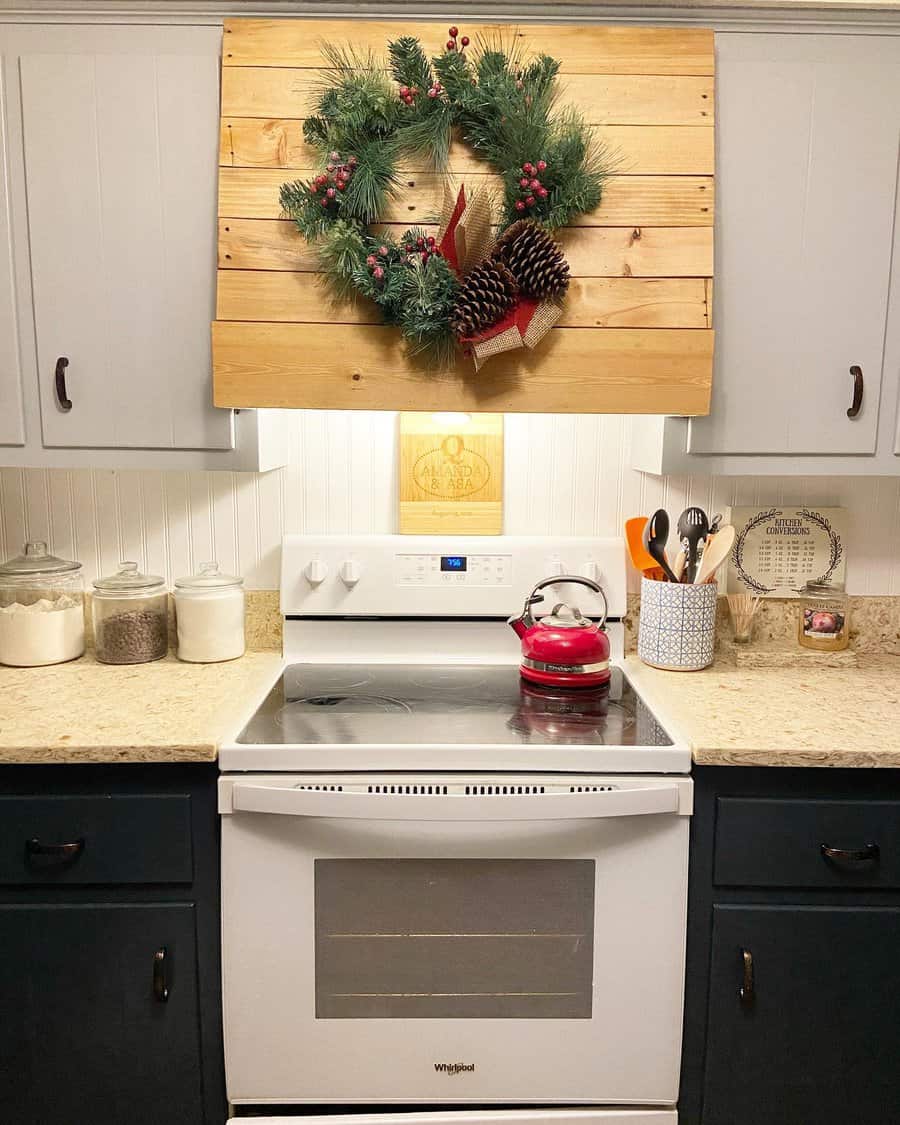 13. Wood Kitchen Hood Cover For Extra Accent
The kitchen is often referred to as the heart of a home, and what better way to make the heart even more beautiful than by adding a wooden kitchen hood cover? With different wood stains and finishes available, the kitchen hood cover can be customized to complement any style – from a rustic farmhouse vibe to a sleek modern look.
So whether you're a home chef or just love spending time in the kitchen, a wooden kitchen hood cover is a must-have accessory that will elevate the heart of your home to a whole new level.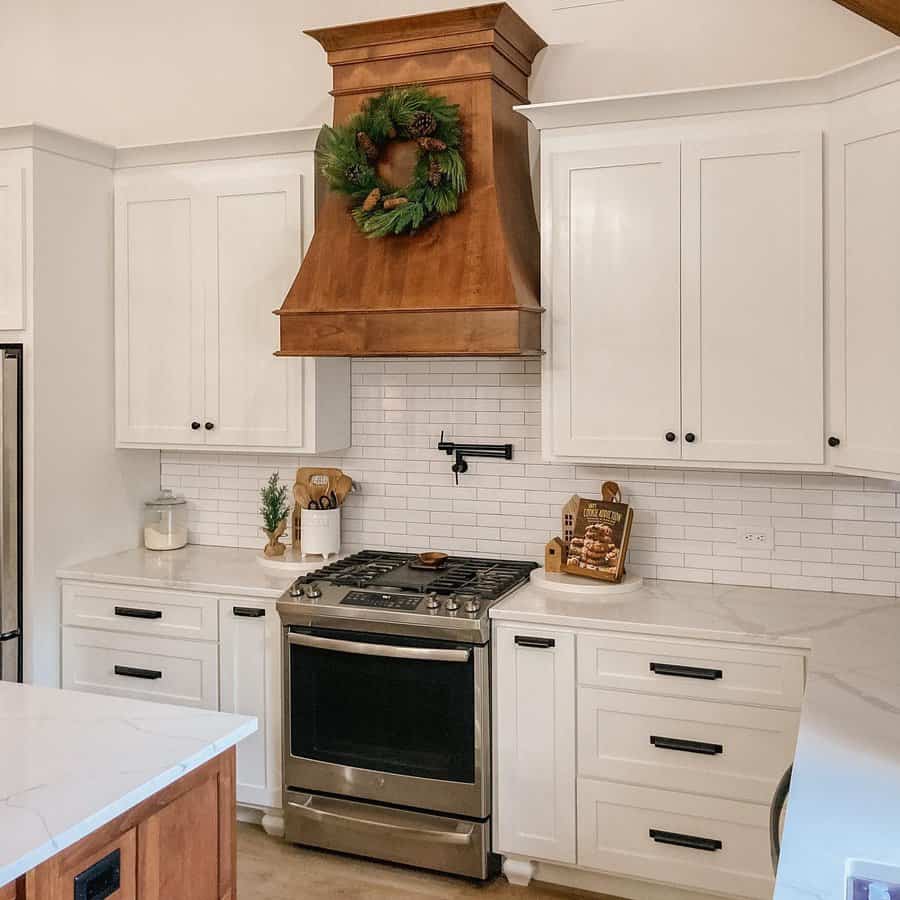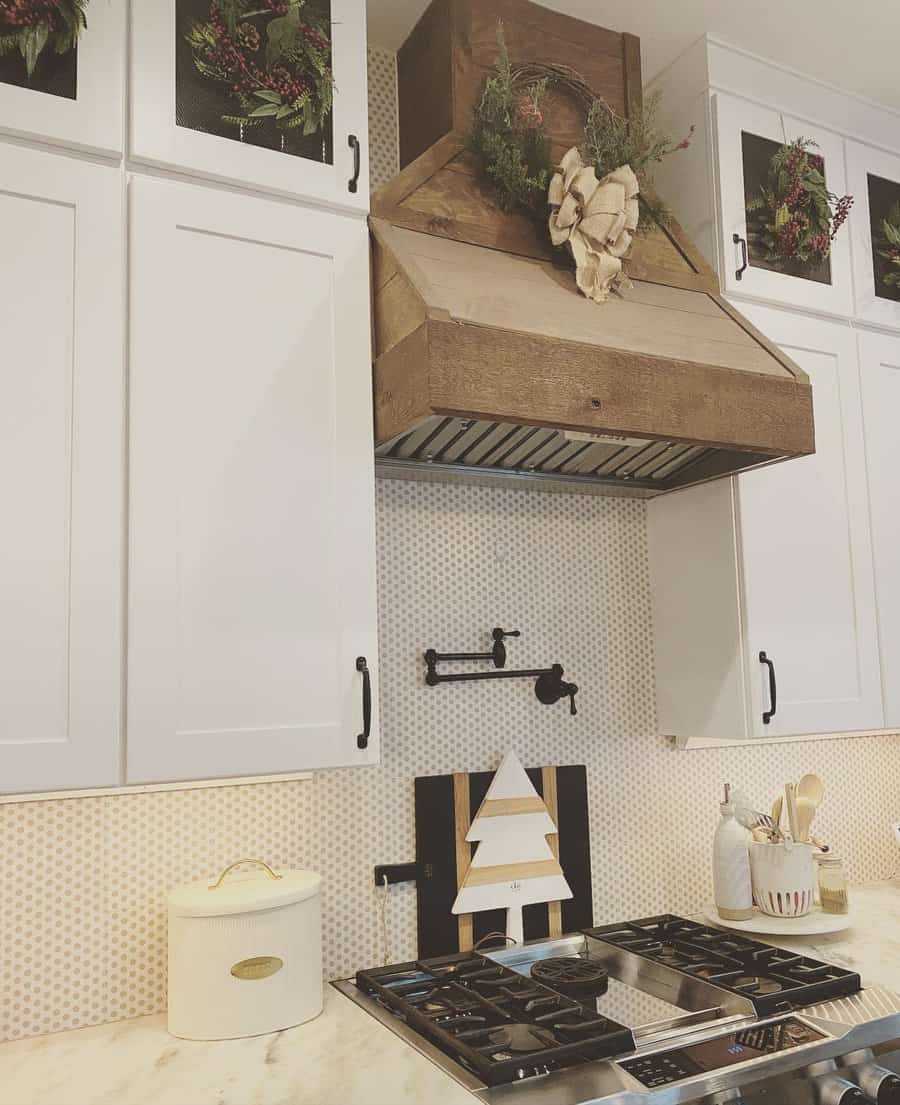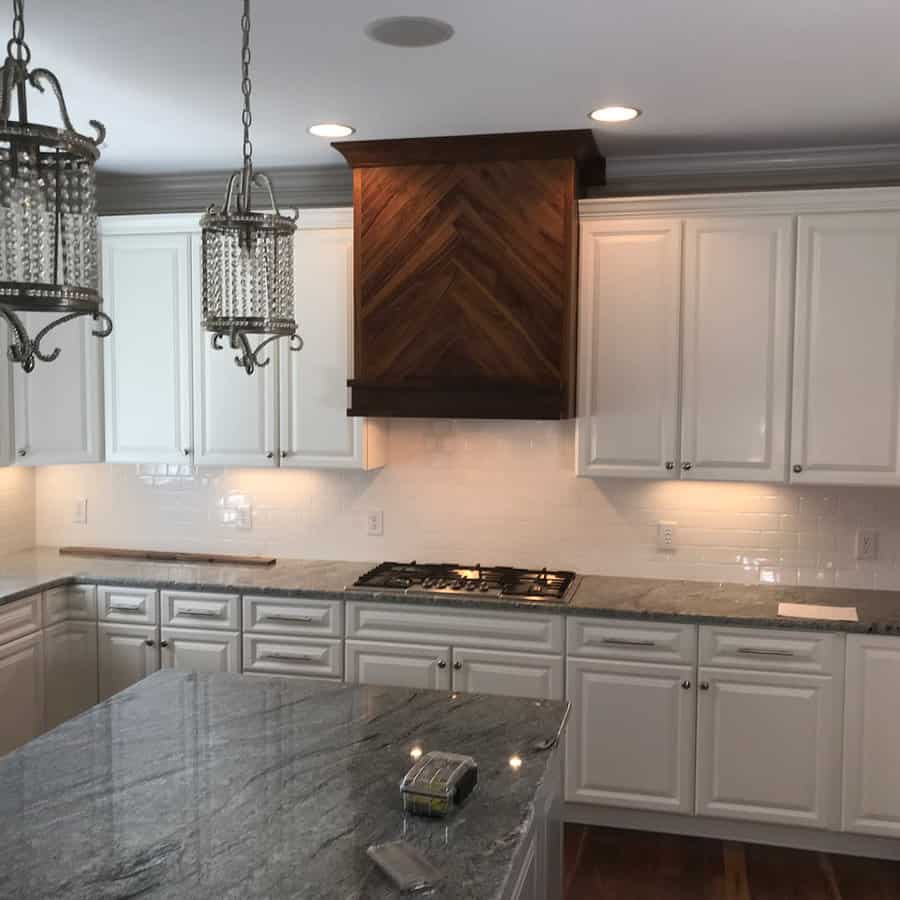 Kitchen Hood FAQs
What is a ductless kitchen hood?
The only difference between a ductless kitchen hood and any other style is that ductless models do not vent air outside of the home. Instead, they feature a filter that cleans the air before recirculating it back into the kitchen.
Ductless hoods may be used in apartments or other residences where full ductwork is not feasible. They may also be used over islands in lieu of installing a traditional chimney.
How much space should be between a range hood and cooktop?
Each range hood is designed to work at a specific height from the stove below. However, it's recommended that your kitchen hood is within 36 inches of the cooktop for maximum efficiency.
While this is the maximum distance that should be between your stove and ventilation system, many hoods are installed lower. This distance can be as short as just 20 inches above the cooking surface.