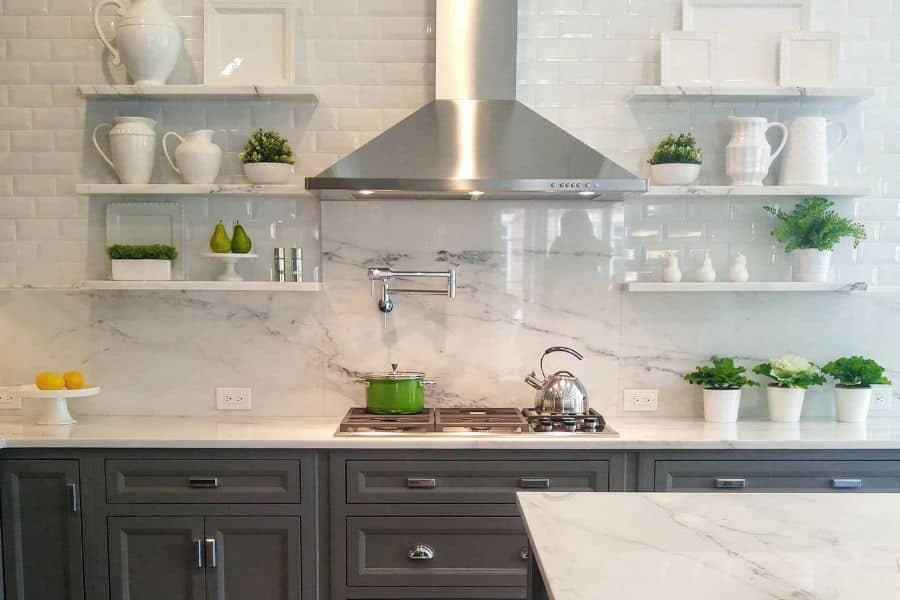 The Top 41 Kitchen Hood Ideas
Range hoods are, first and foremost, functional. Without them, our kitchens would fill with unwanted moisture, smoke, odors, and more every time we cooked. But they also hold the potential to be extremely decorative.
Selecting the right hood cover for your home can add intrigue and originality to your culinary workspace without the use of unnecessary decor.
Kitchen hoods are not all the same. Check out these diverse range hood ideas and discover the perfect vent cover for your kitchen cooktop today!
1. Built-In
A built-in range hood is the ideal solution for any sleek, modern kitchen design. This style of hood offers efficient ventilation without interrupting the aesthetic appeal of your culinary workspace.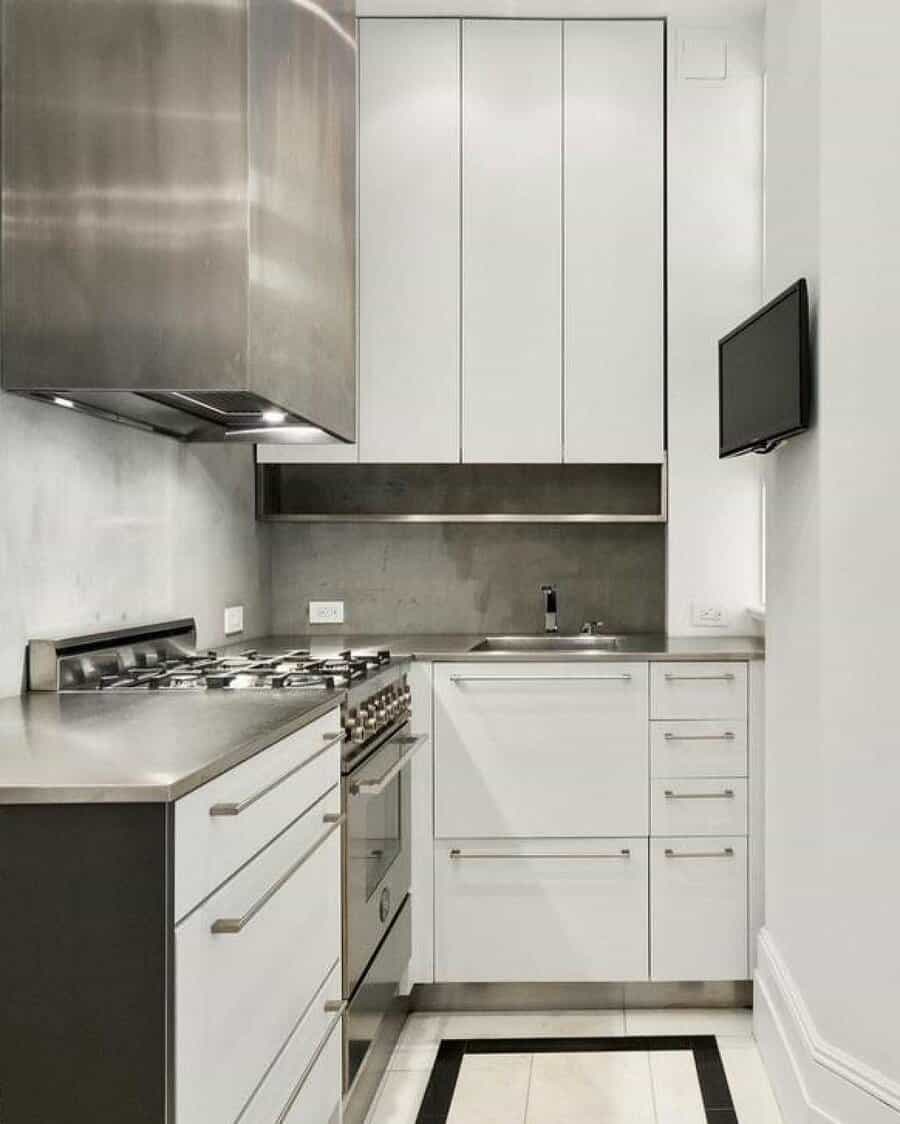 You can draw attention to your kitchen hood cover with an accent color or material. Or you can expertly blend this structure into the rest of your kitchen cabinetry with a matching finish. Either way, the inner workings of your range hood will be completely hidden from view.
Opt for a built-in range hood with integrated lighting to illuminate your stovetop without clunky fixtures.
2. Ceiling
Omitting an exhaust system from your kitchen isn't an option for obvious reasons. But you can eliminate the need for a bulky range hood by investing in a ceiling insert instead.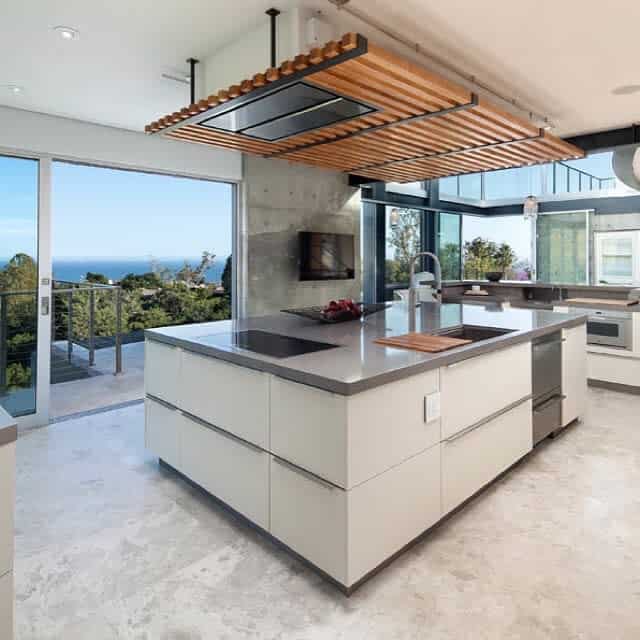 These ultra-modern range hoods are easy to overlook. Believe it or not, though, they offer efficient ventilation without imposing on your kitchen as a whole.
Keep in mind that installing one of these exhaust systems is no easy feat. Be prepared to overhaul your kitchen ceiling during the process! Once you see your new kitchen hood in action, however, it'll all be worth it.
Read more: 39 Kitchen Ceiling Ideas
3. Chimney
It's extremely common for the chimney vent of a kitchen hood to be hidden behind cabinetry or within the supporting wall itself. With that said, many homeowners prefer the industrial appearance of exposed ductwork.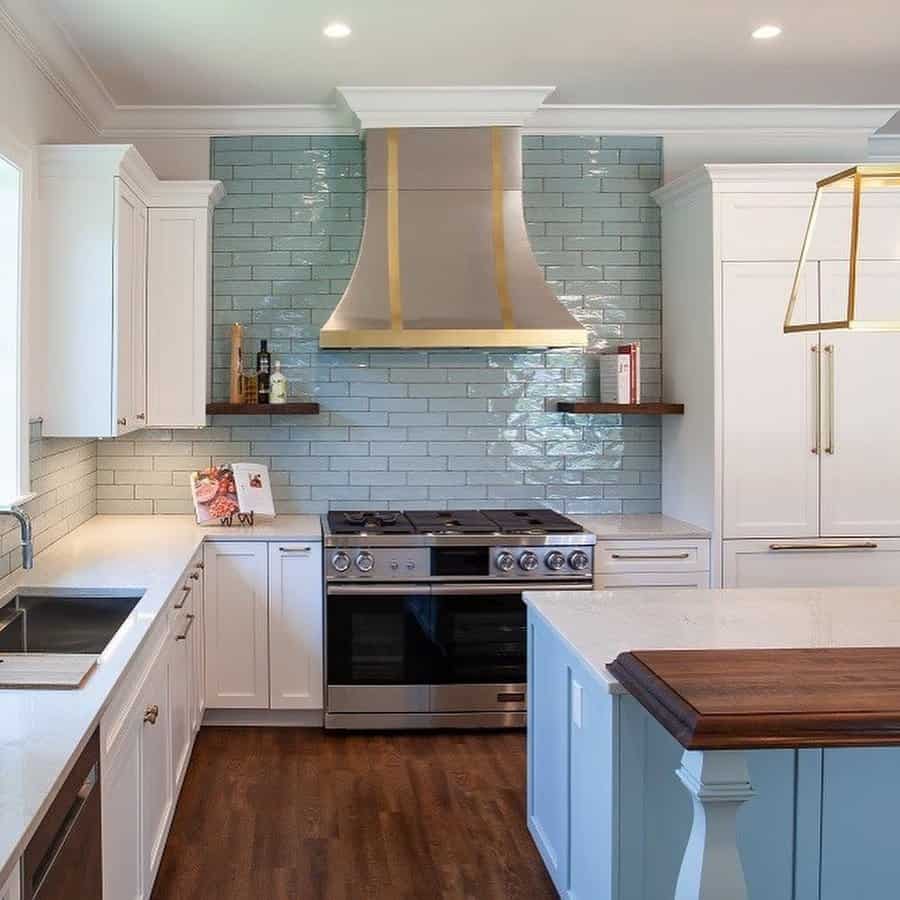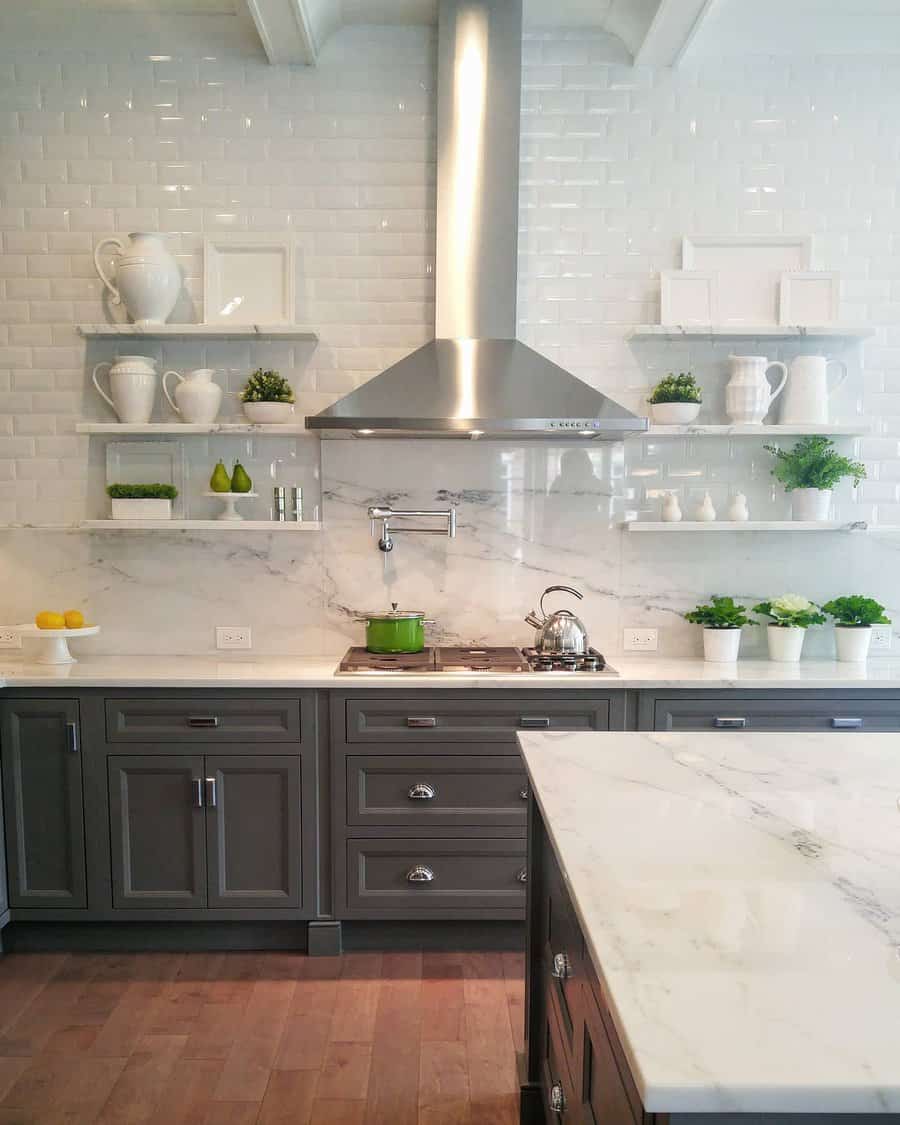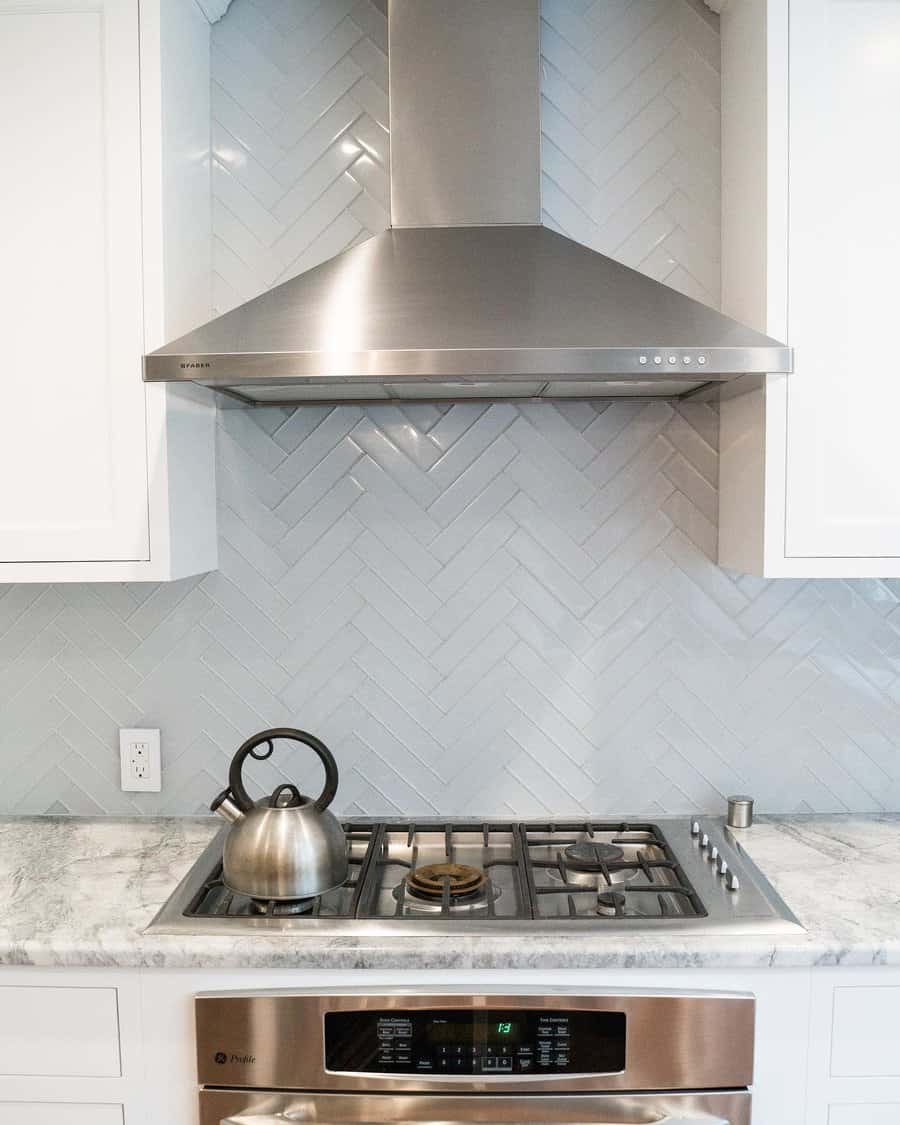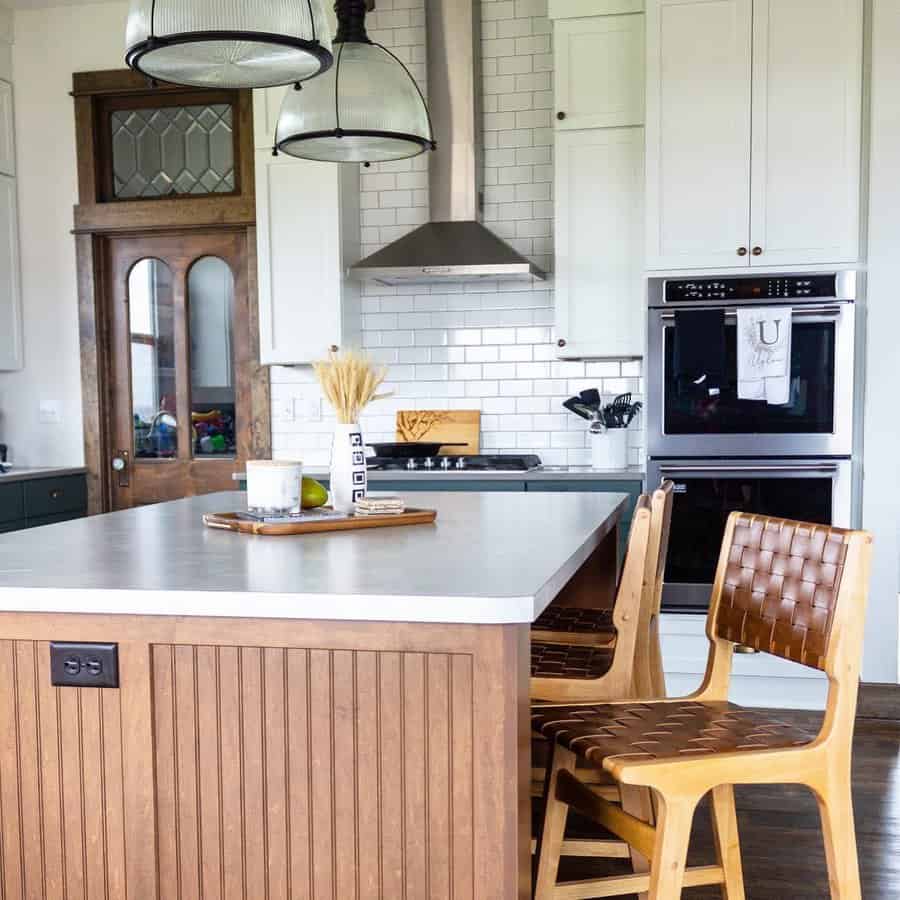 The best way to achieve the look is with a contemporary stainless steel kitchen hood unit. For a more rustic aesthetic, consider opting for a copper or brass finish.
A chimney-style hood can add style and intrigue to a kitchen all on its own. Use a simple tile backsplash or neutral wall color as a backdrop for your new kitchen range hood.
4. Copper
If your kitchen features stainless steel appliances, then it's only natural that your metal range hood would match. But you shouldn't overlook the unique look a copper kitchen hood could bring to your stovetop.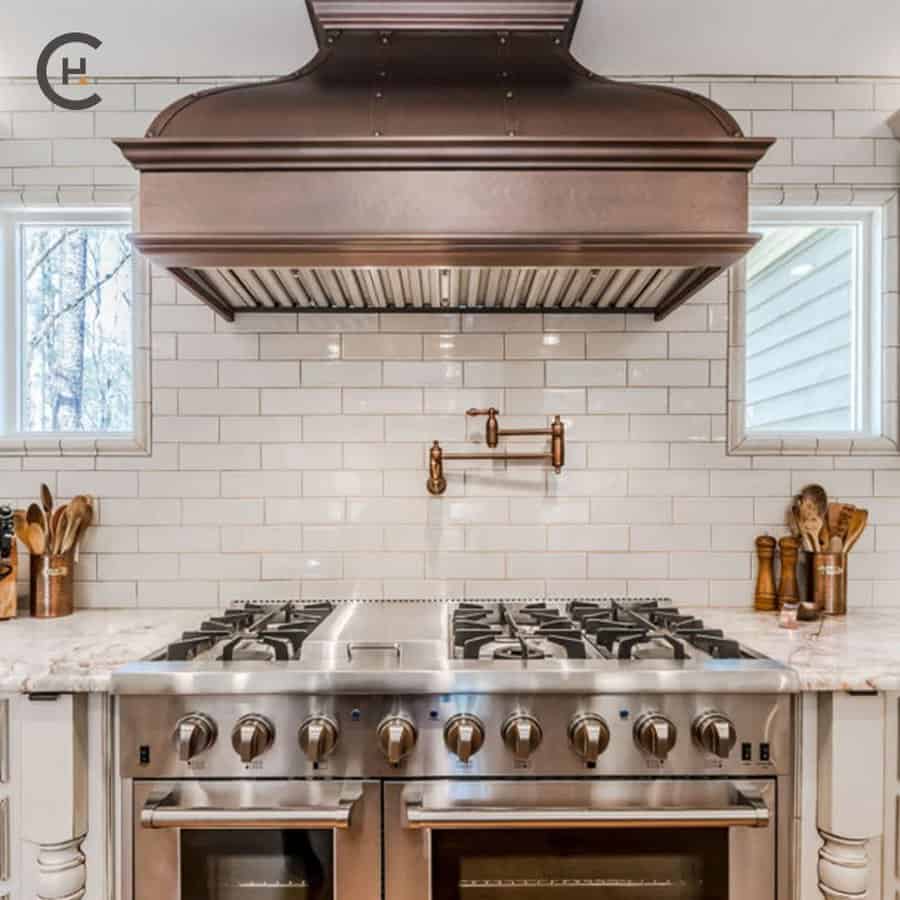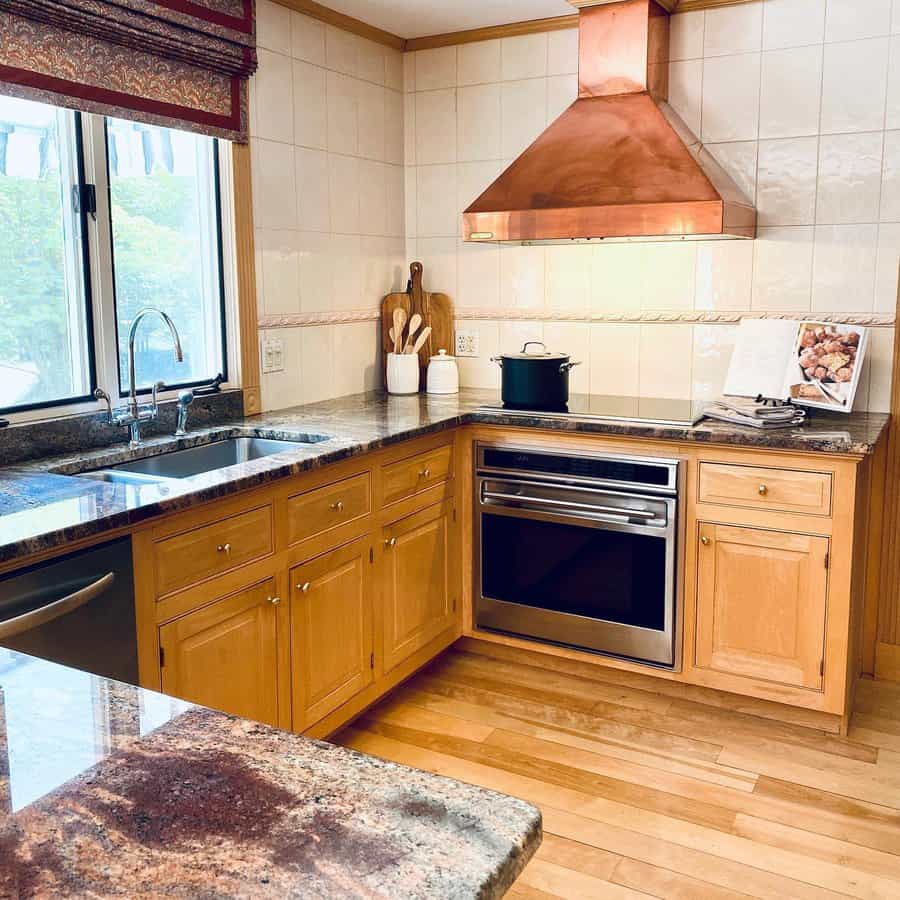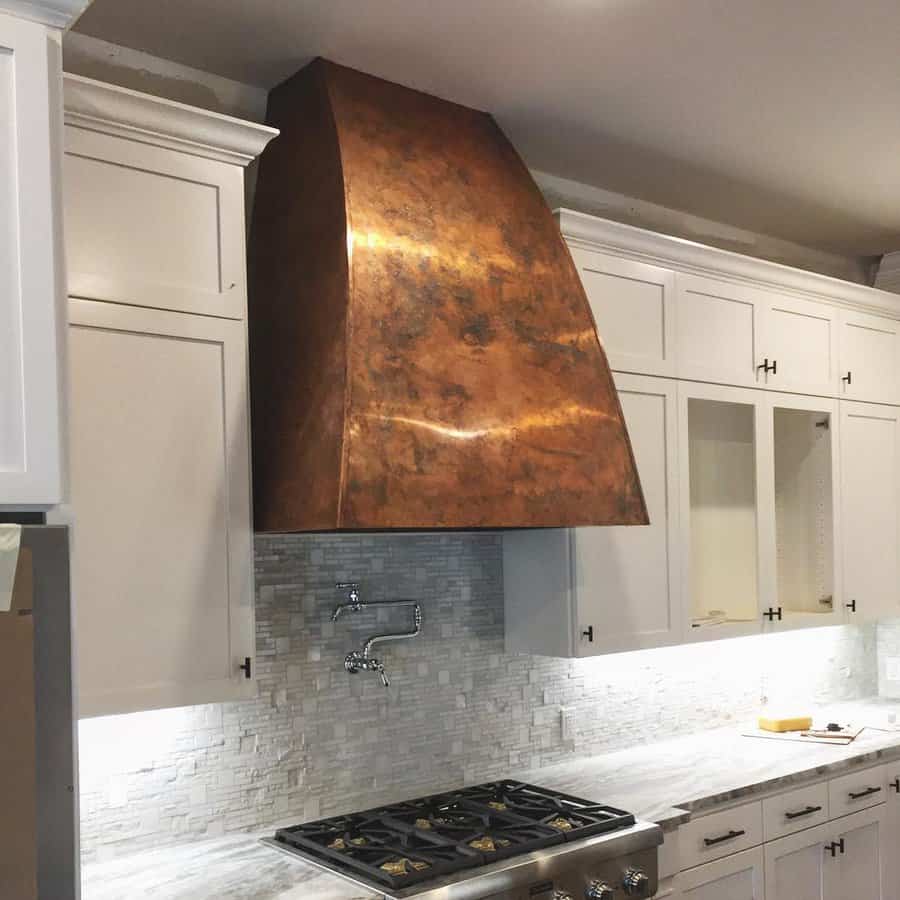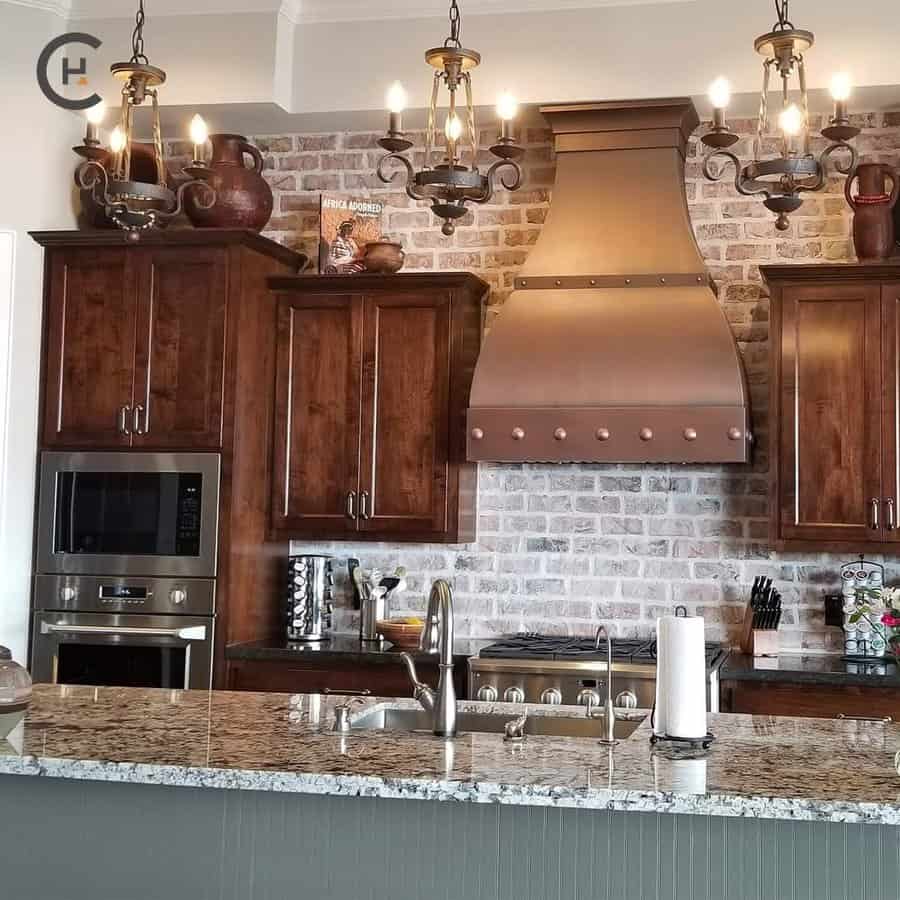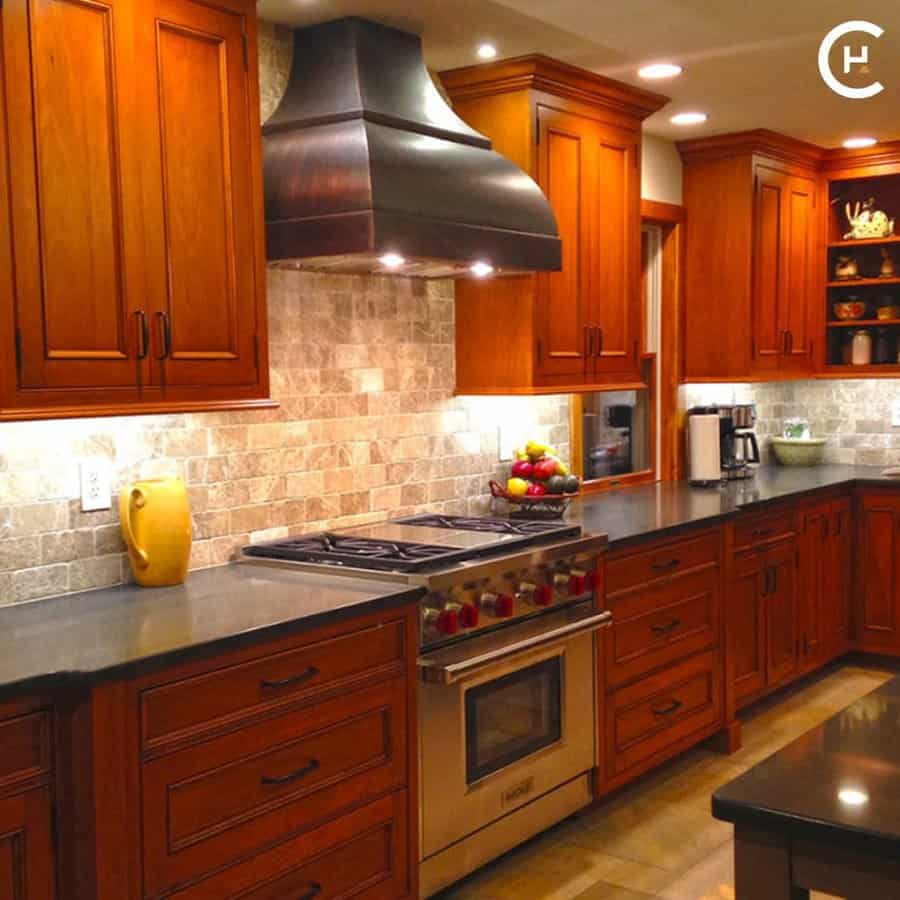 A copper range hood can add a much-needed pop of color to your kitchen design without clashing with the existing elements. (Yes, it's okay to combine different shades of metal in your home design as long as you do it strategically!)
This type of kitchen hood comes in many different styles. You can also choose from a range of finishes, from ultra-clean to rustically aged.
5. Extractor
An extractor fan is an integral part of many kitchen hoods, even if you don't often think about it in the context of interior design. Without this helpful gadget, your kitchen would be prone to collecting heat, smoke, grease, and odors during cooking.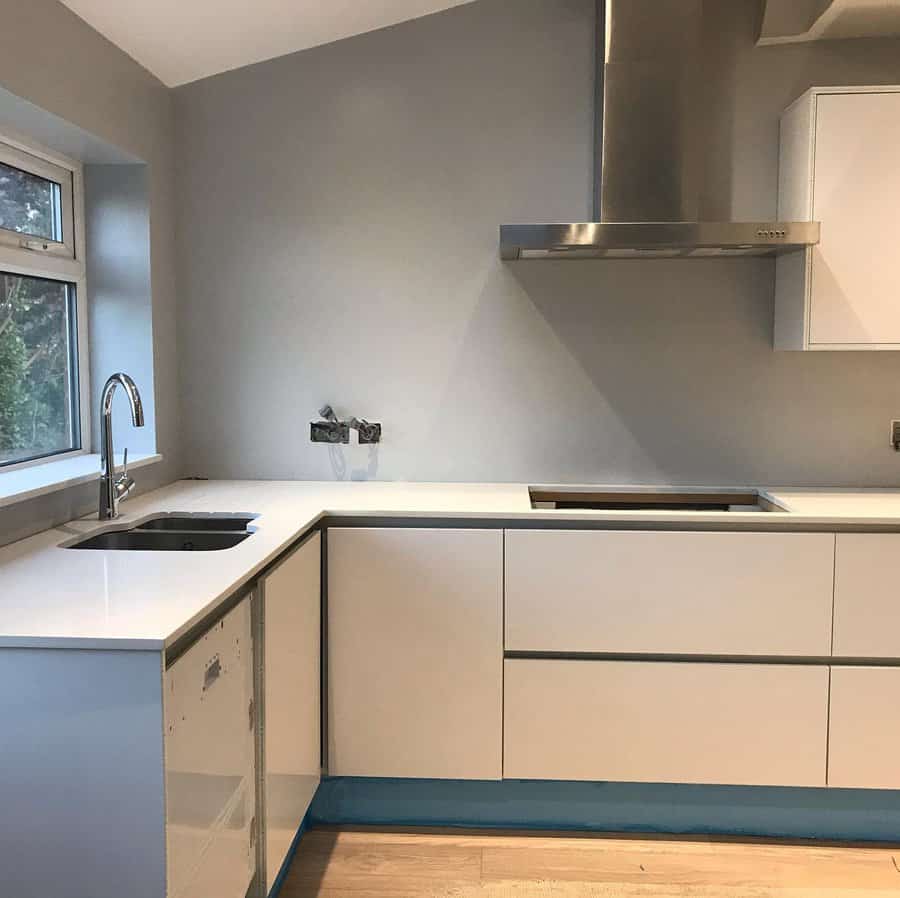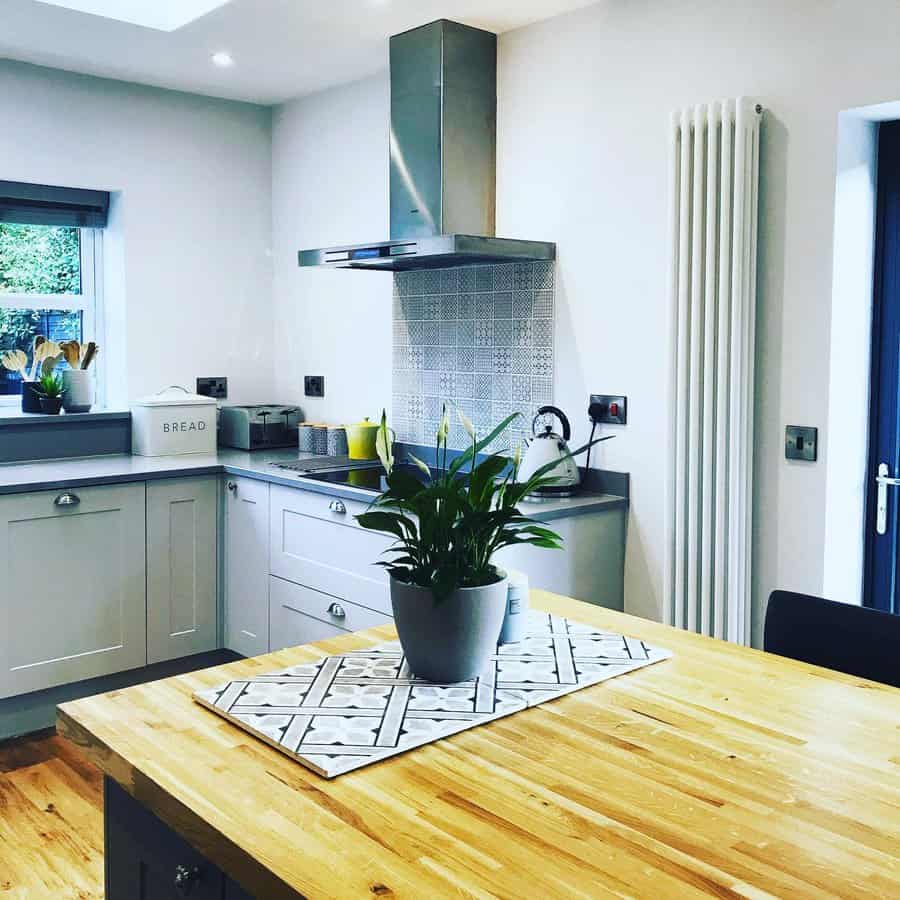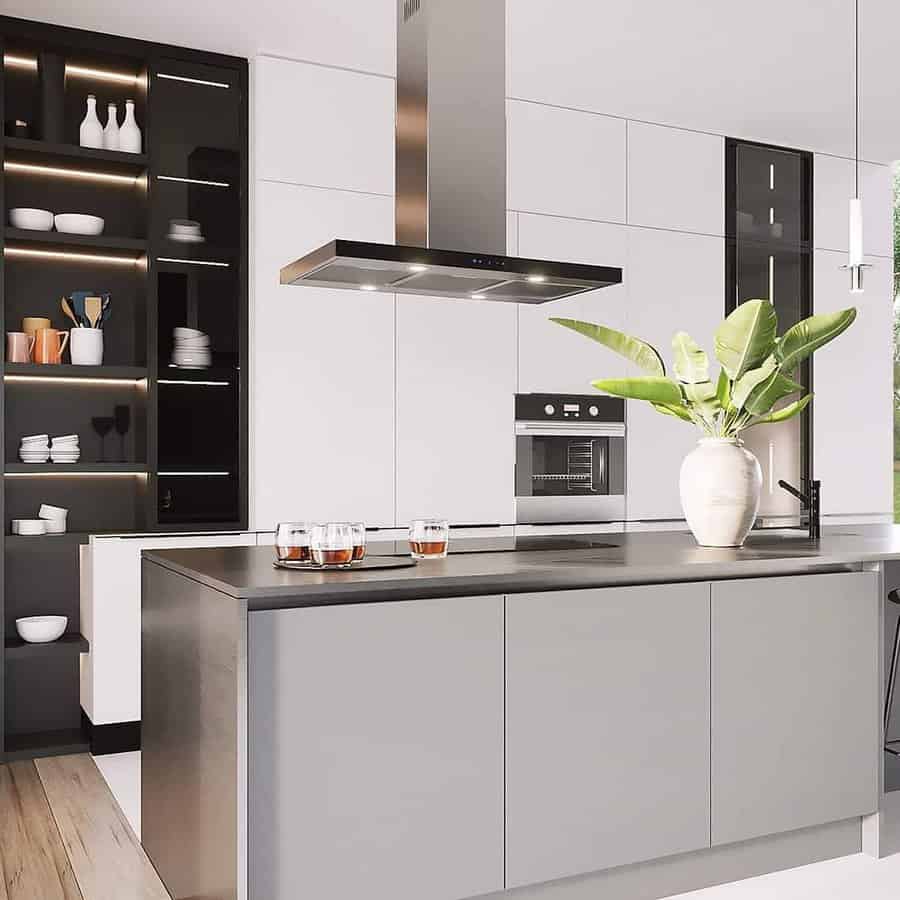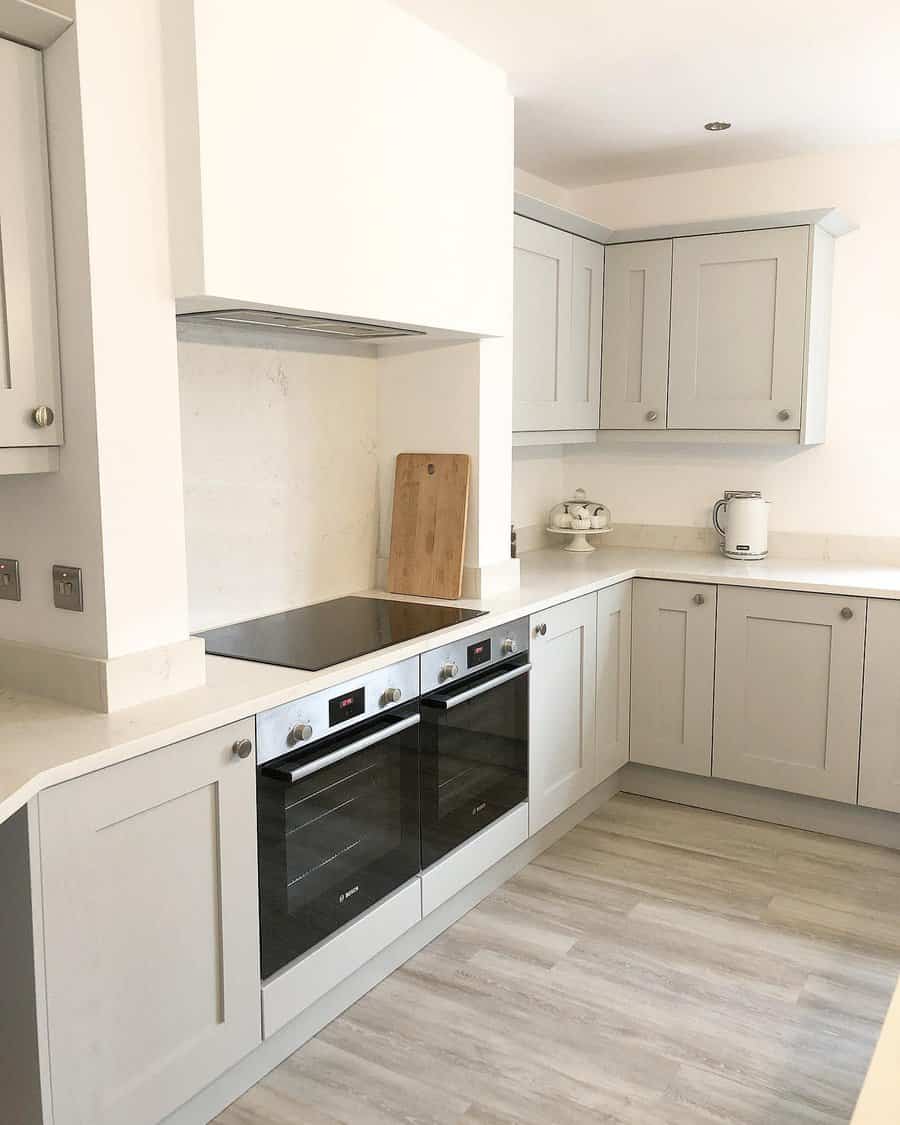 Typically, extractor fans are hooked up to vent air outside of the home. The fan draws in air from your kitchen to make your kitchen hood more efficient and effective.
If you want to install a range hood somewhere without existing ductwork, then a filtration system might be your best bet. These extractor fans use a charcoal filter to remove contaminants before venting the air back into the kitchen.
6. Island
The kitchen island has revolutionized how contemporary homes look and function. And, with the help of a ceiling-mounted island hood, you can place your main cooktop in the very center of your cooking space.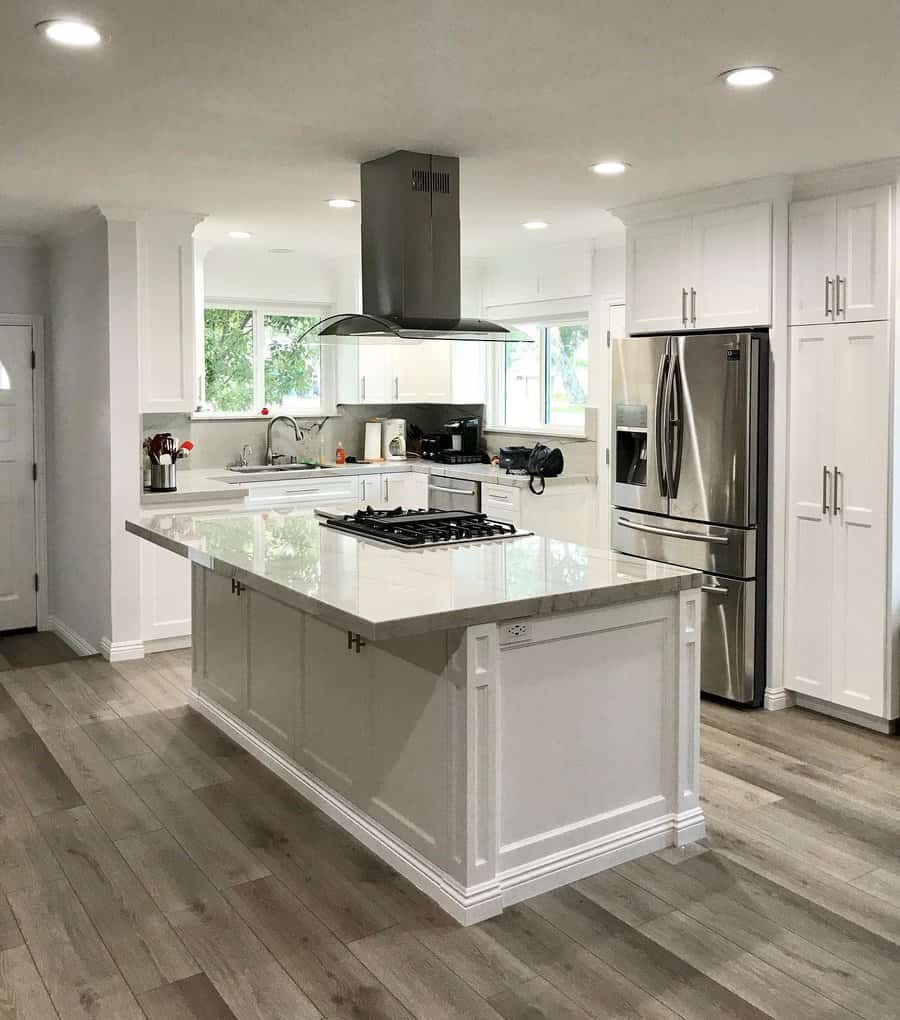 An island vent hood is essentially identical to most wall-mounted models. The main difference is that the chimney is completely out in the open — not tucked behind a cabinet or along a wall.
There are plenty of industrial- and modern-style island hoods to choose from. For a more traditional look, consider investing in a hood cover made of wood or plaster to match the rest of your kitchen decor.
Read more: 69 Kitchen Island Ideas
7. Modern
If your kitchen is inspired by modern architecture and design, then installing a clunky range hood over your stove is the last thing you want to do! Instead, be sure to research sleek kitchen hood ideas that will match your personal style.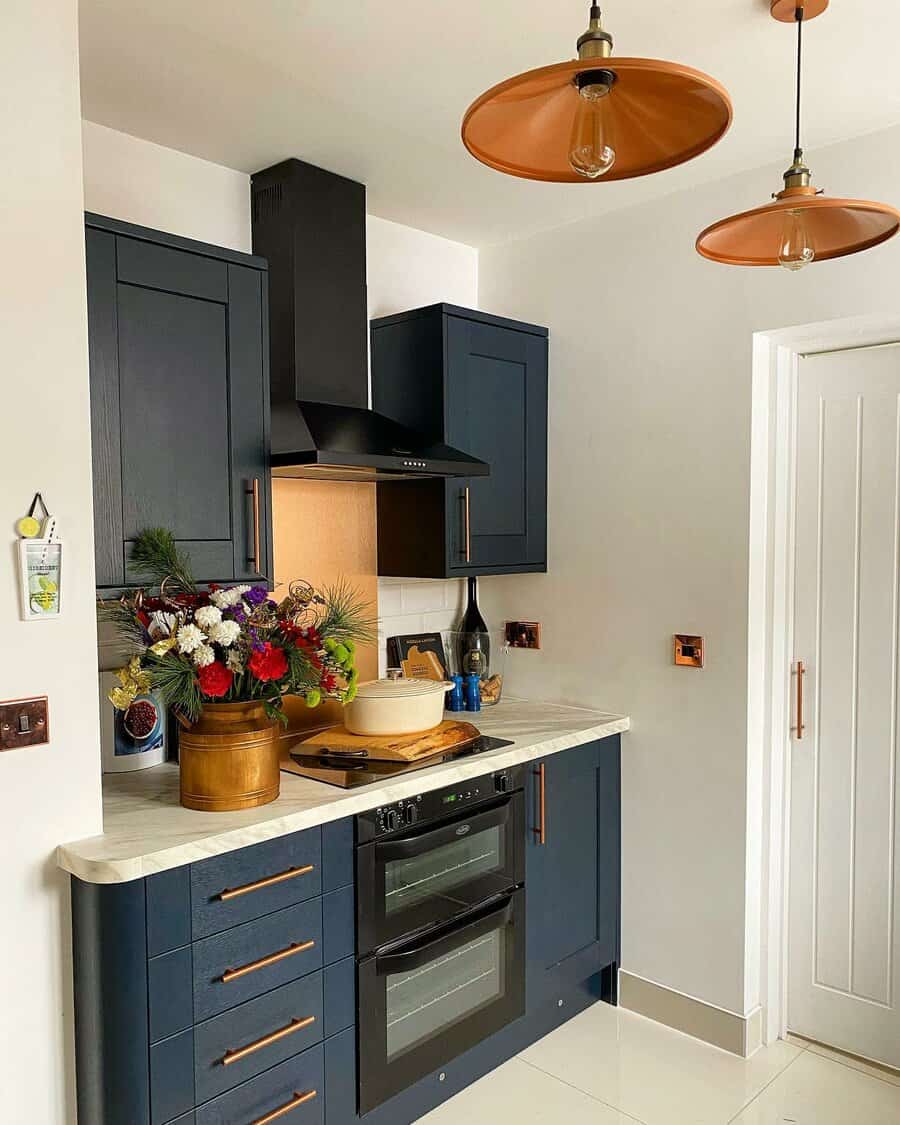 Color choice can play a big role in how modern your kitchen exhaust hood looks. Stainless steel or another metal finish will suit most modern decor perfectly. On the other hand, consider opting for a matte black or wood overlay to give your cooktop a unique touch.
Stick to the most simple silhouette possible for your ductwork and vent opening. Play around with interesting geometric shapes — you can even find circular range hoods!
Read more: 54 Modern Kitchen Ideas
8. Range
Of course, your range hood is just a small piece of a much larger puzzle. Finding ways to coordinate your stove hood with the cooktop below can take your kitchen design from just okay to absolutely amazing.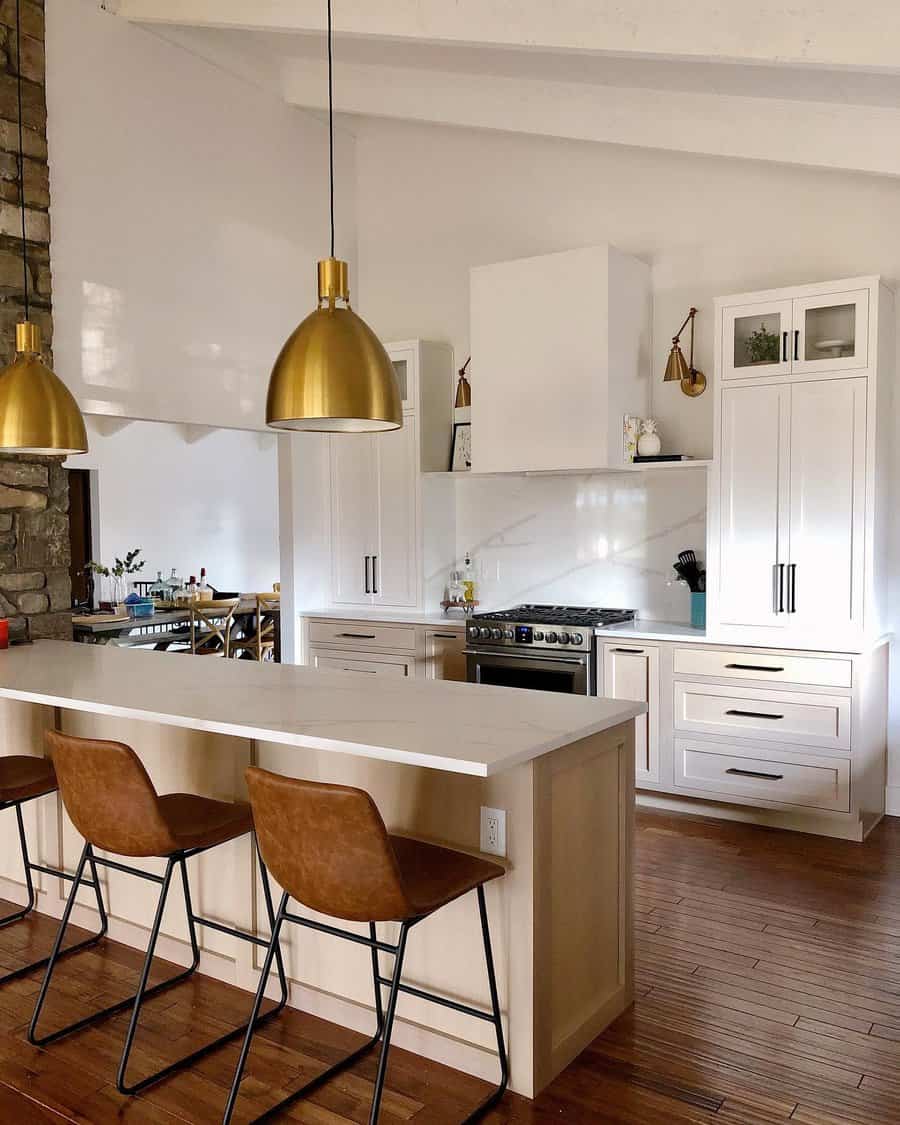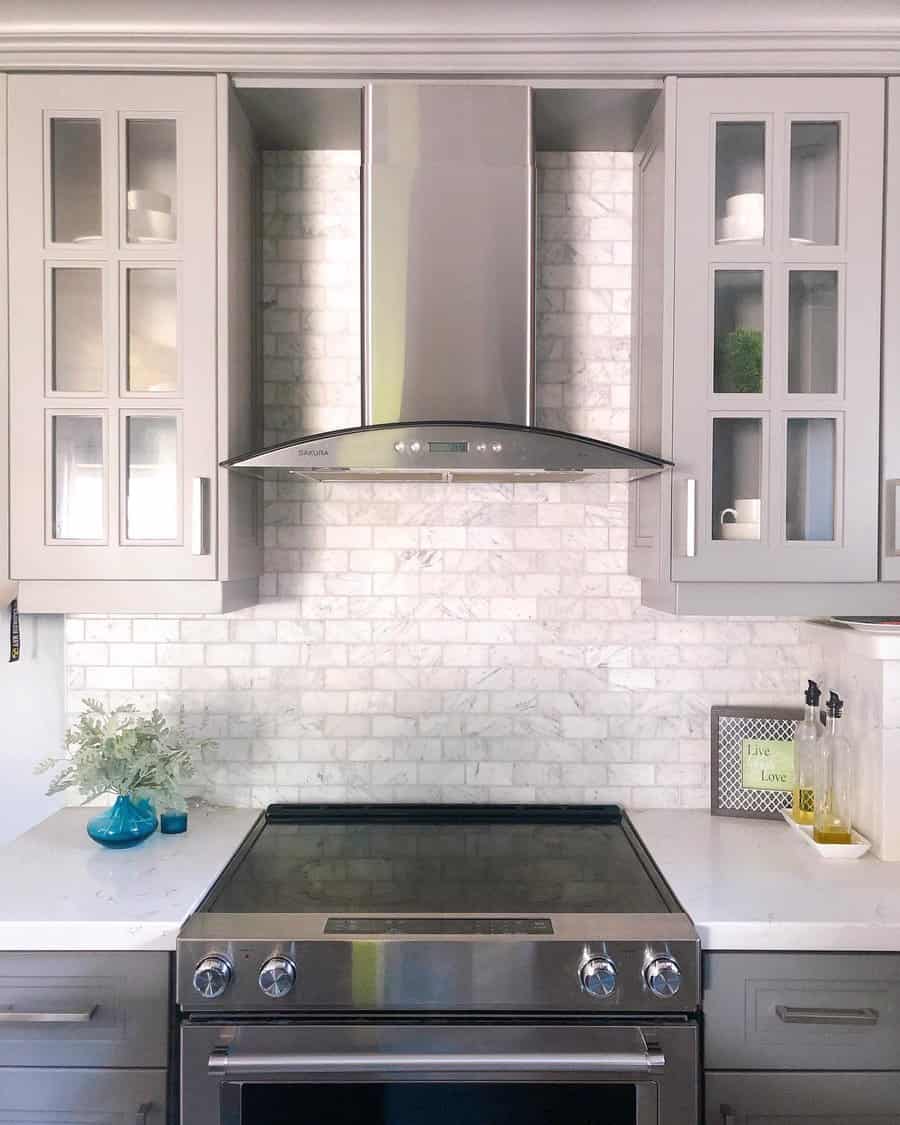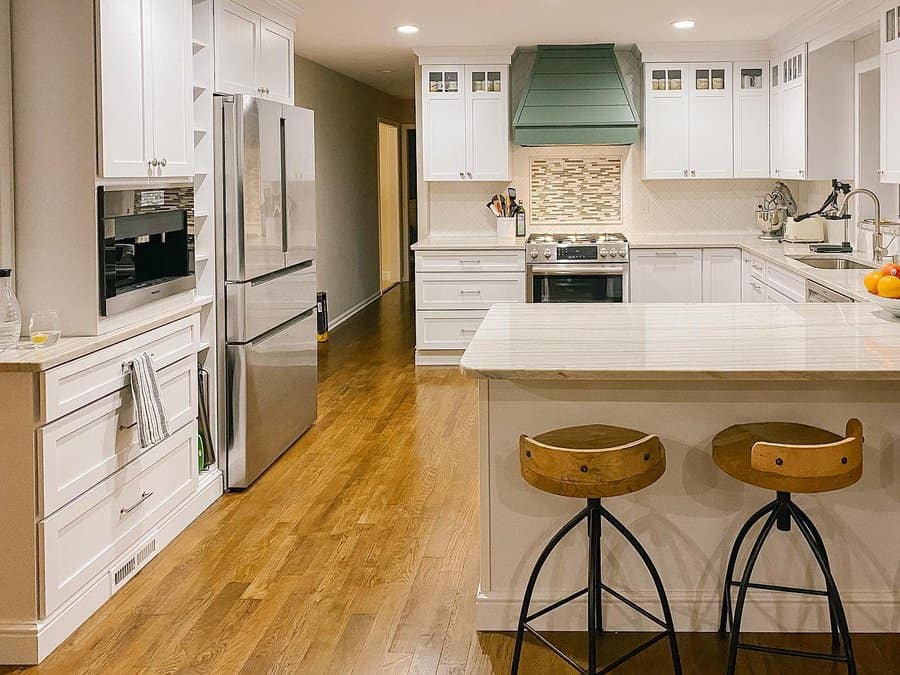 Pay attention to the finishes of your kitchen appliances! Your vent hood does not need to be the exact same color as your stove. It can instead match the burner knobs, cabinetry, or hardware elsewhere in the kitchen.
Be sure there's enough space between your stovetop and the exhaust fan. Not only do you need to be able to comfortably cook underneath your kitchen hood but it should be aesthetically balanced with the rest of the space.
9. Stainless Steel
If you're looking for the perfect balance of style and durability, narrowing down the right range hood material can be tough. Well, look no further. A stainless steel hood vent is exactly what you need.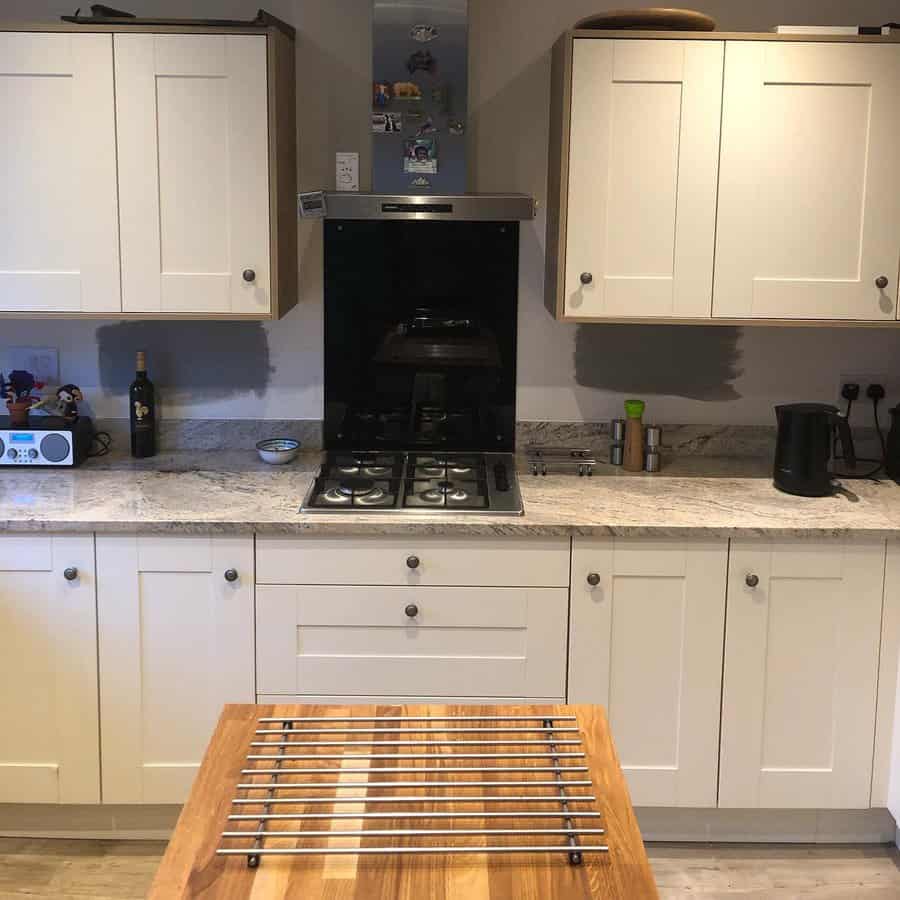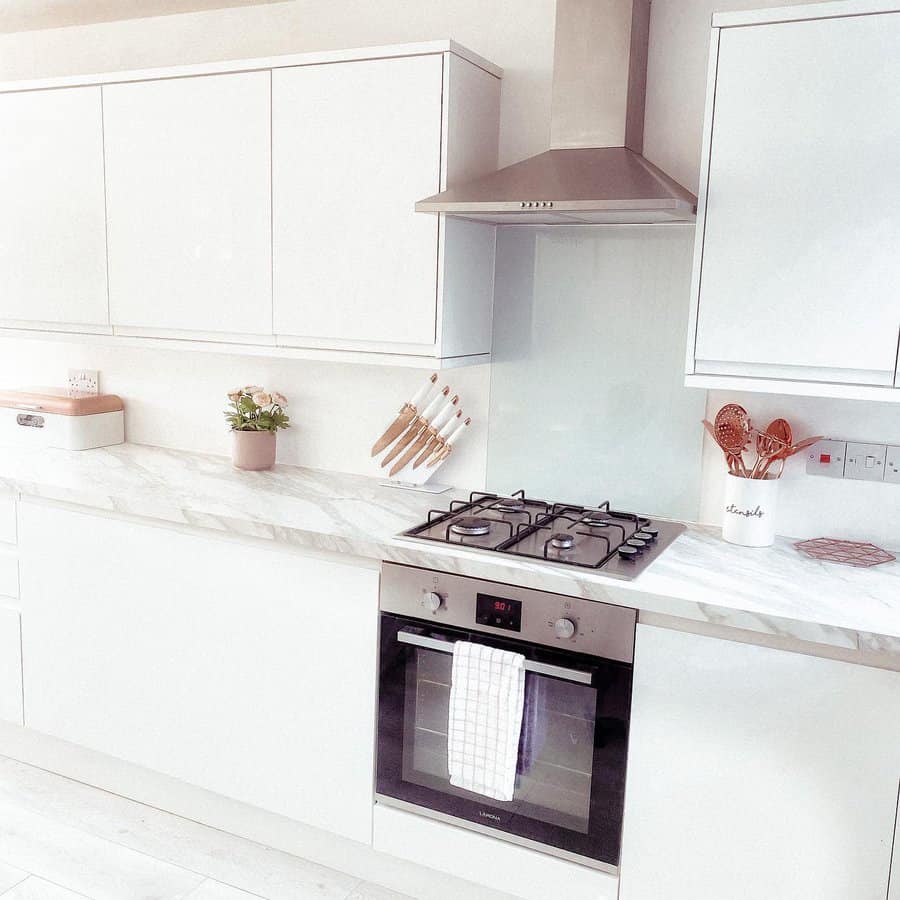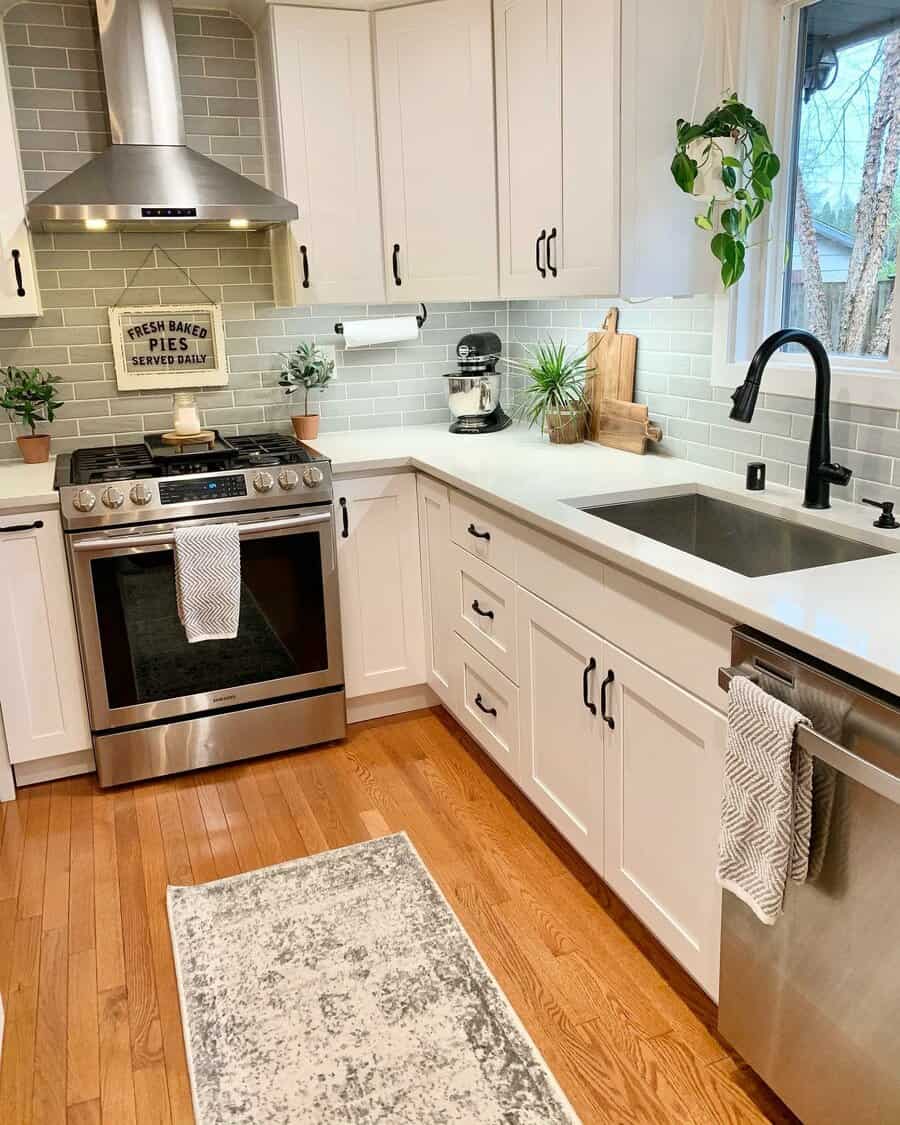 As you already know, kitchen finishes can take a real beating. Between grease splatters and intense heat, few materials will hold up to wear and tear like stainless steel.
Stainless steel comes in more than one color. If silver doesn't suit your decor, consider opting for a black, gold, or other unique finish.
10. Traditional
In contrast to the sleek minimalism of modern hoods, traditional range hoods tend to be ornamental in design. They often frame the cooktop as a whole, making it the "star" of the space overall.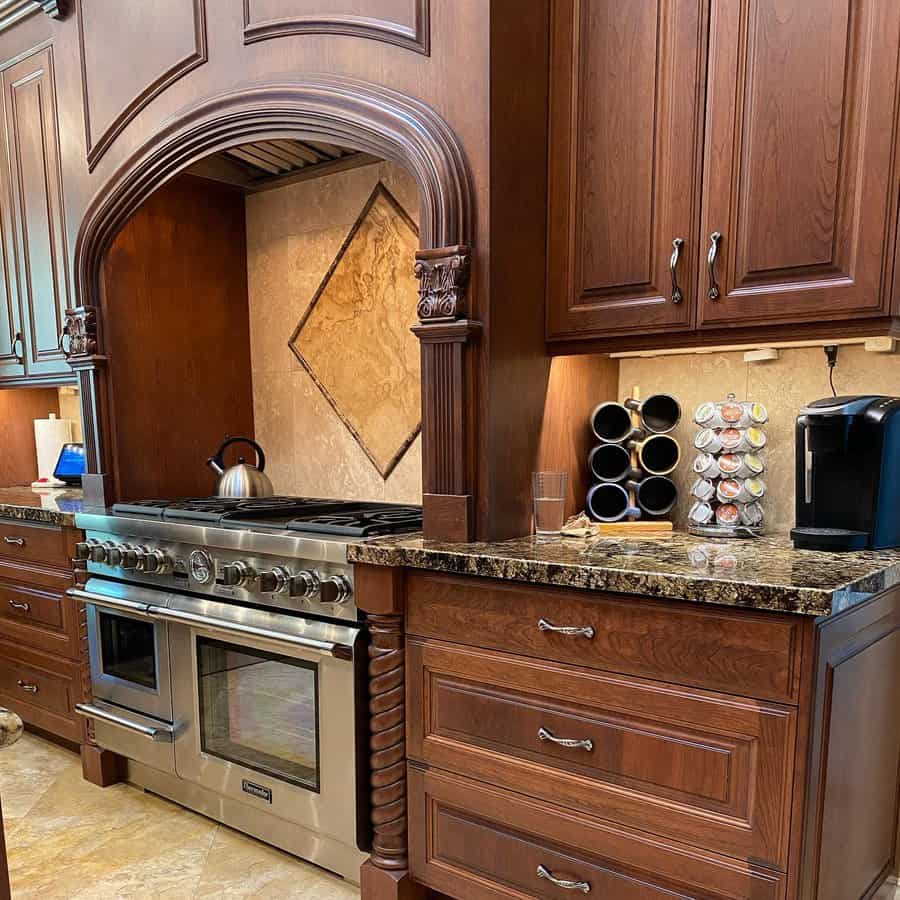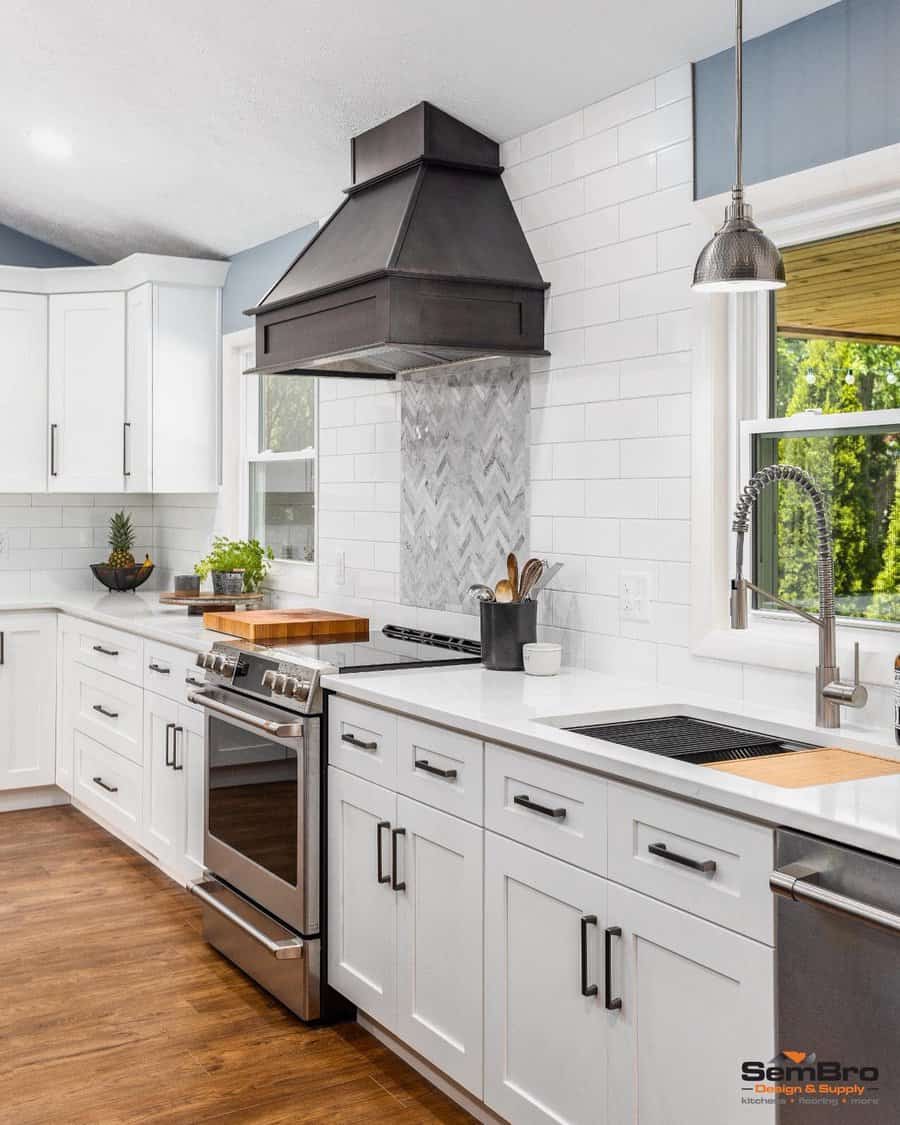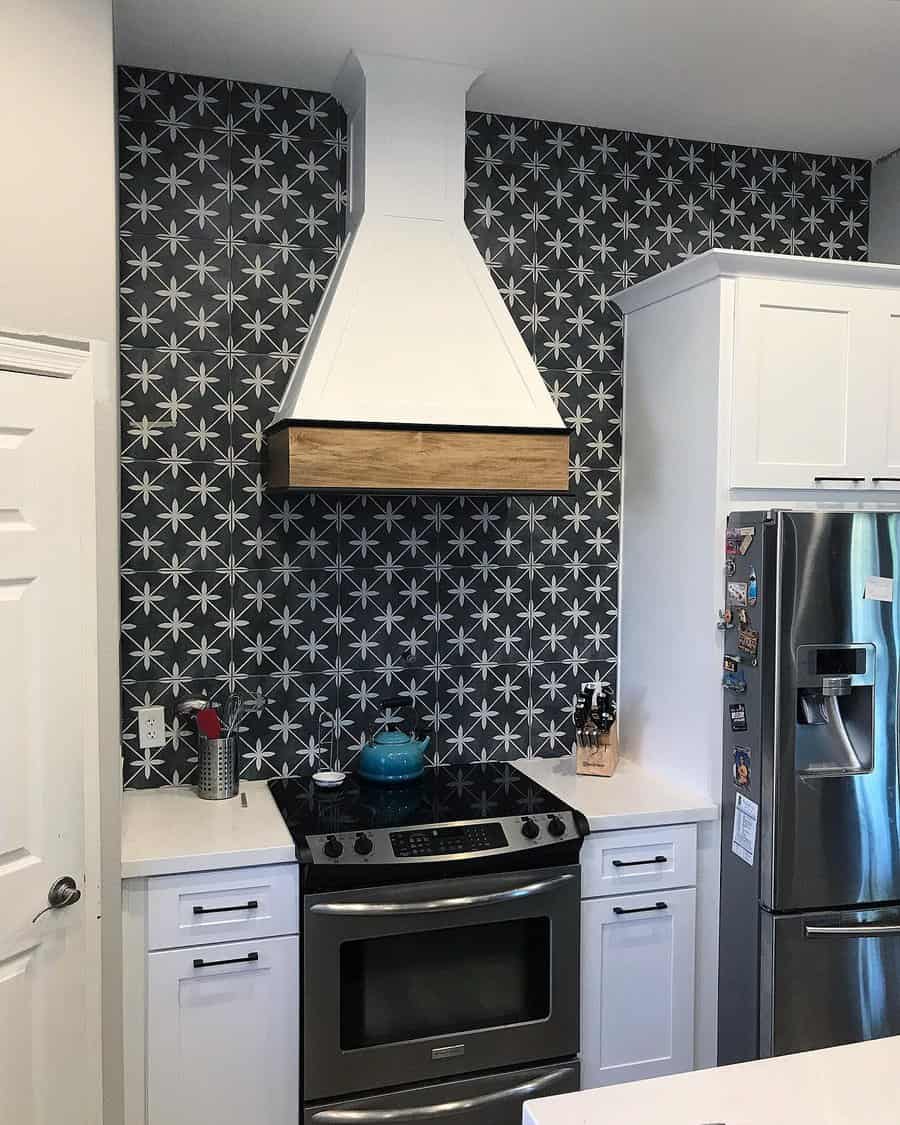 Add intrigue to a simple range hood with a bright backsplash stretching from the stovetop to the exhaust system.
The easiest strategy for selecting a new range hood is to coordinate the shape to your kitchen cabinets. If your kitchen features rustic shaker cabinets, then a shiplap-covered hood might be ideal. But if your kitchen has more ornate cabinetry, your range hood should be designed to match.
11. Under Cabinet
Even if you like the look of chimney hoods, sacrificing cabinet space might not be an option. An under-cabinet range hood will preserve storage space while filtering smoke and other contaminants from your kitchen.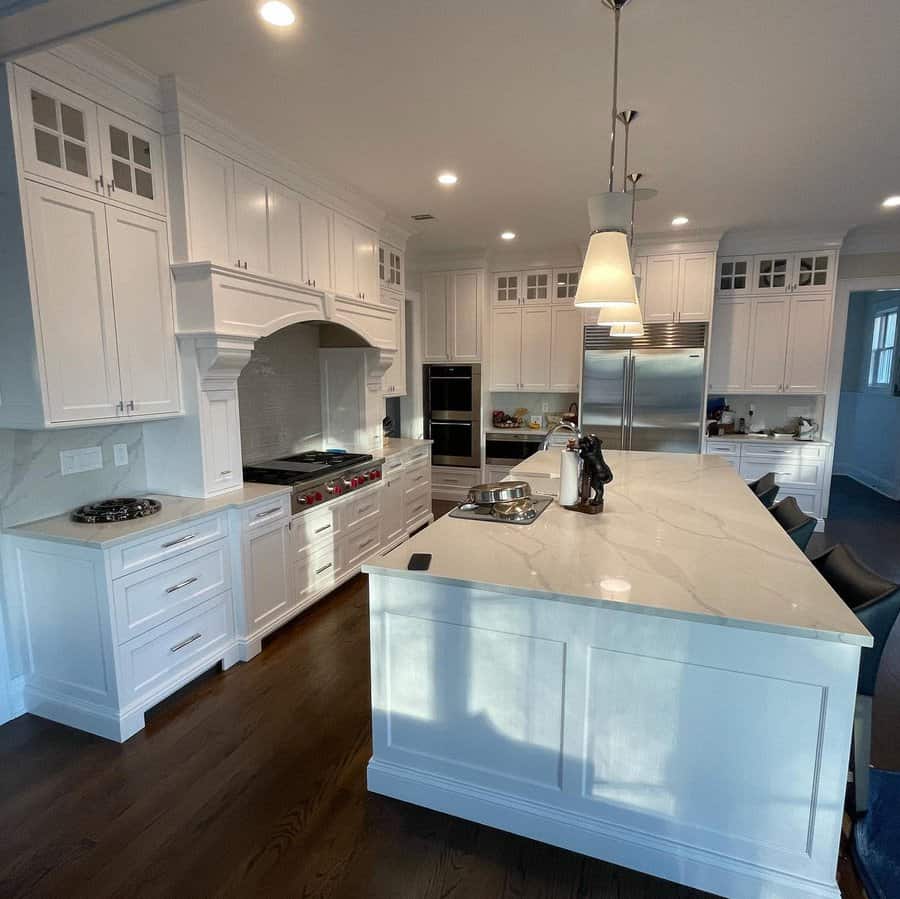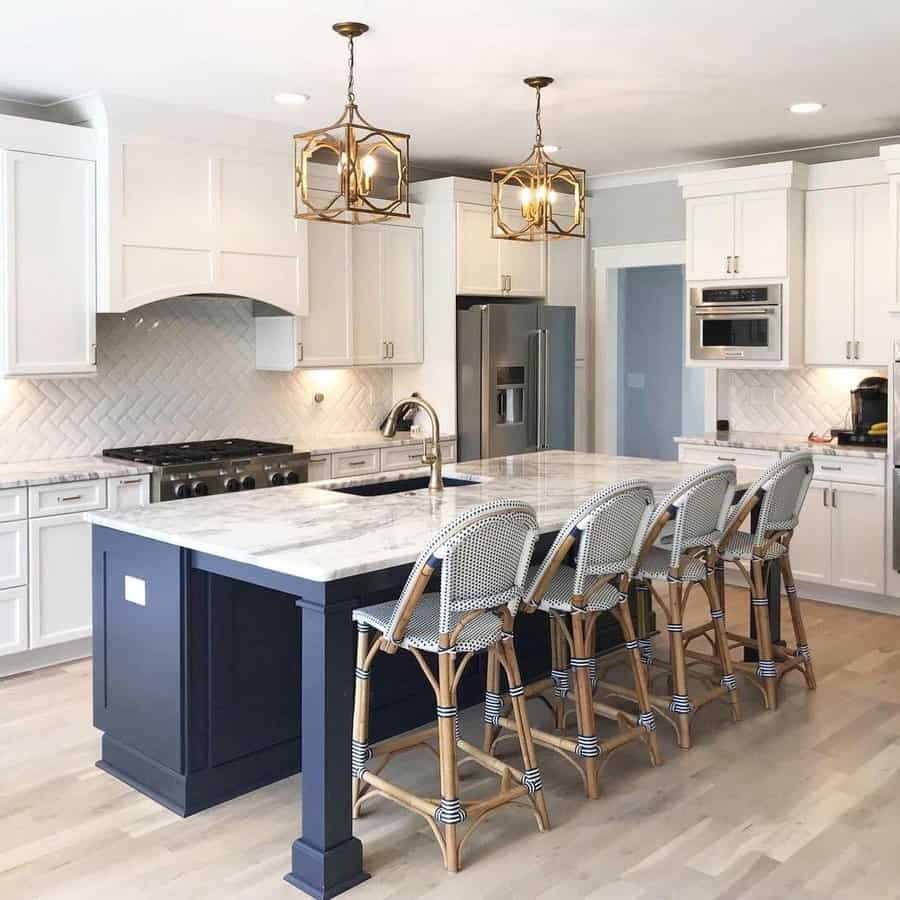 With an under-cabinet exhaust system, you have the option to completely hide the range hood or let it stick out a few inches. The latter option will work particularly well in a farmhouse- or industrial-style kitchen.
You can also use a set of faux cabinets to mimic the look of an under-cabinet vent. While this setup doesn't offer extra storage above the stovetop, it can give your kitchen a more polished look.
12. Vent
At its core, a range hood is just a vent running to a filtration system or to the outdoors. And if you enjoy cooking with strong spices or pungent greases, high-powered ventilation is irreplaceable.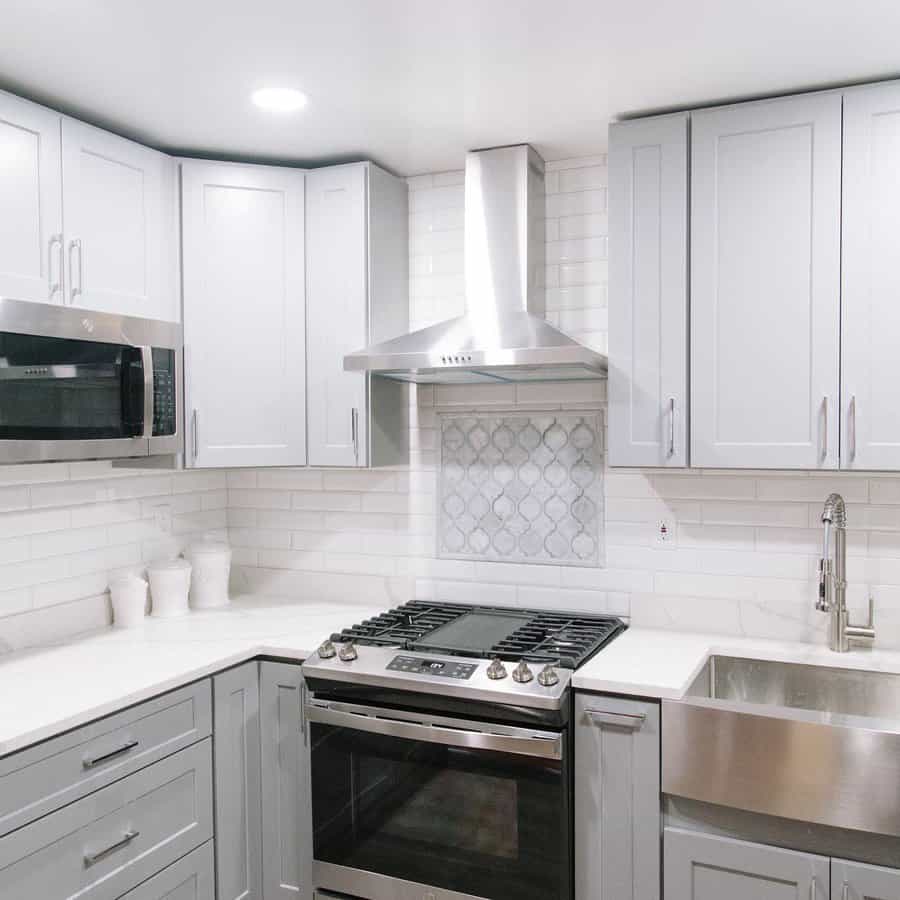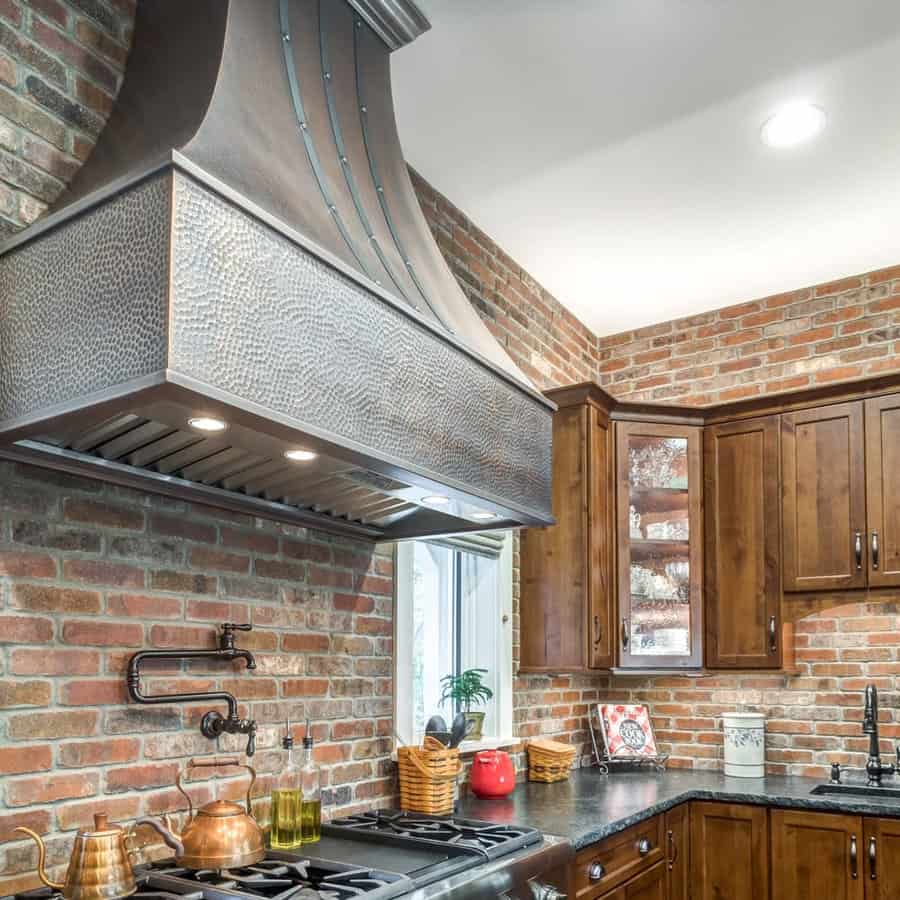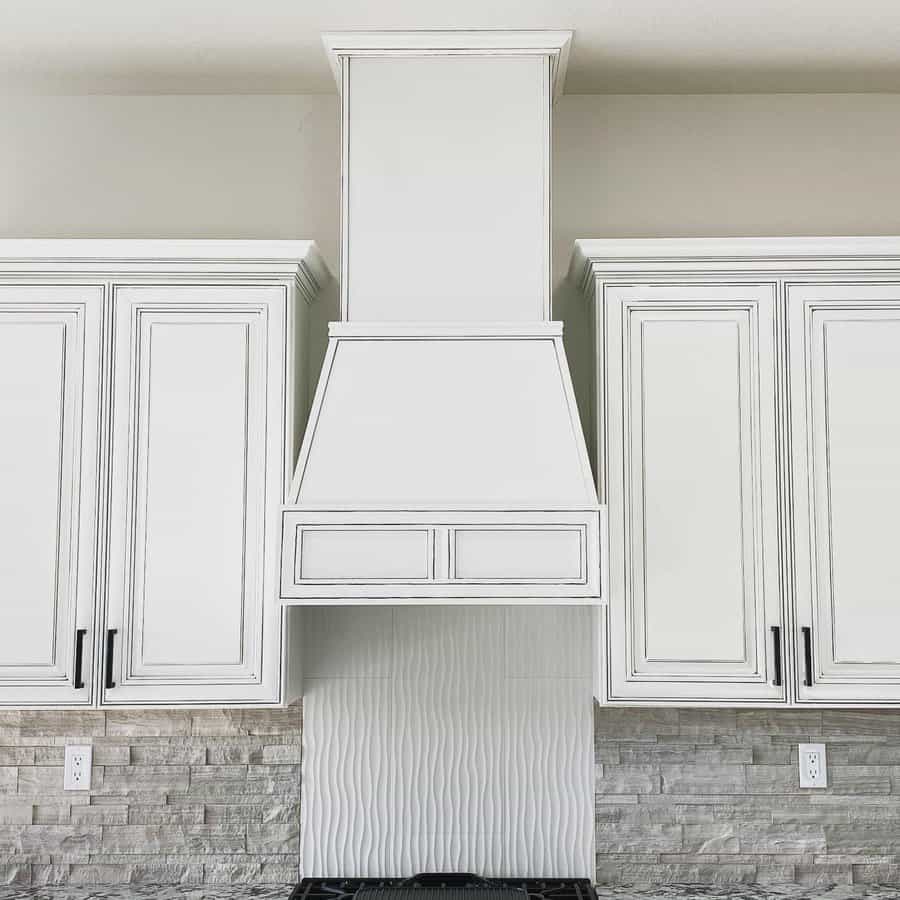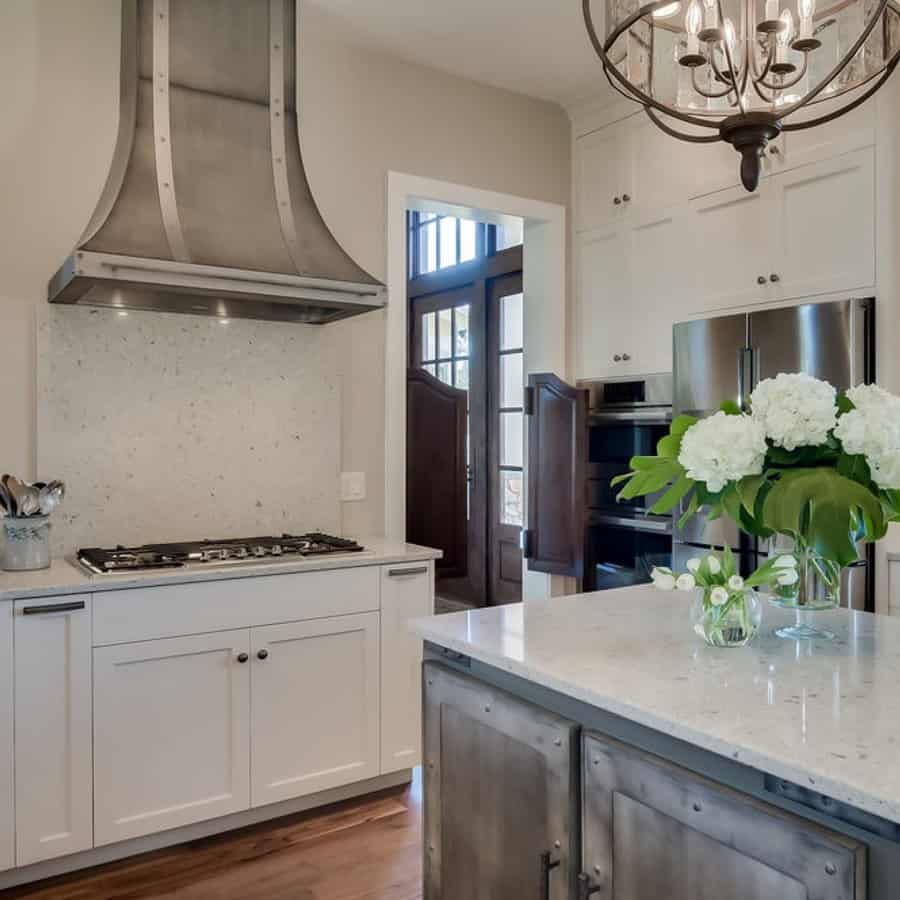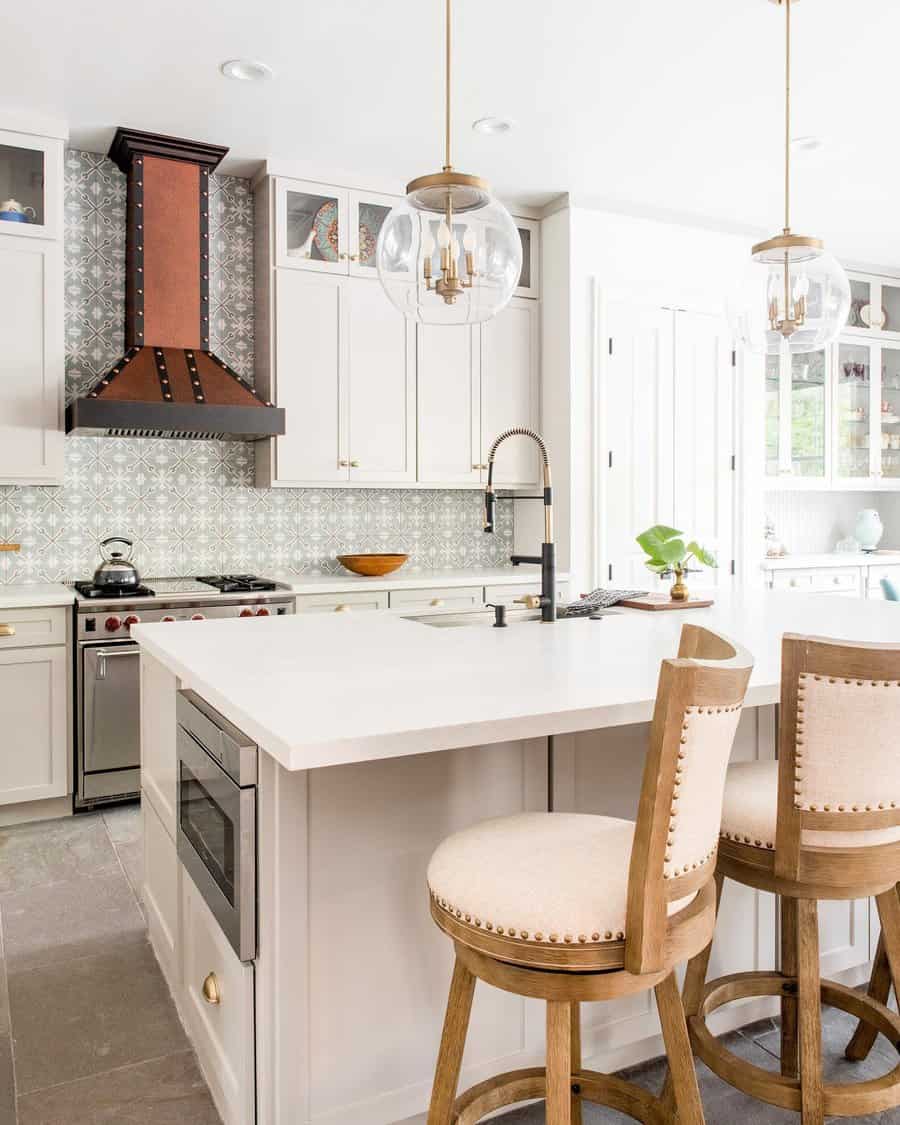 While your range hood vent is largely hidden from view, it's still an important part of your kitchen design as a whole. Along with appearance, think about how easy or difficult your chosen vent will be to clean.
If your kitchen real estate is limited, consider swapping out a traditional range hood for a built-in microwave vent. This setup is particularly popular in apartments and other small living spaces.
13. White
Are you unsure what color range hood will look best in your kitchen? When all else fails, a bright white finish is often the answer.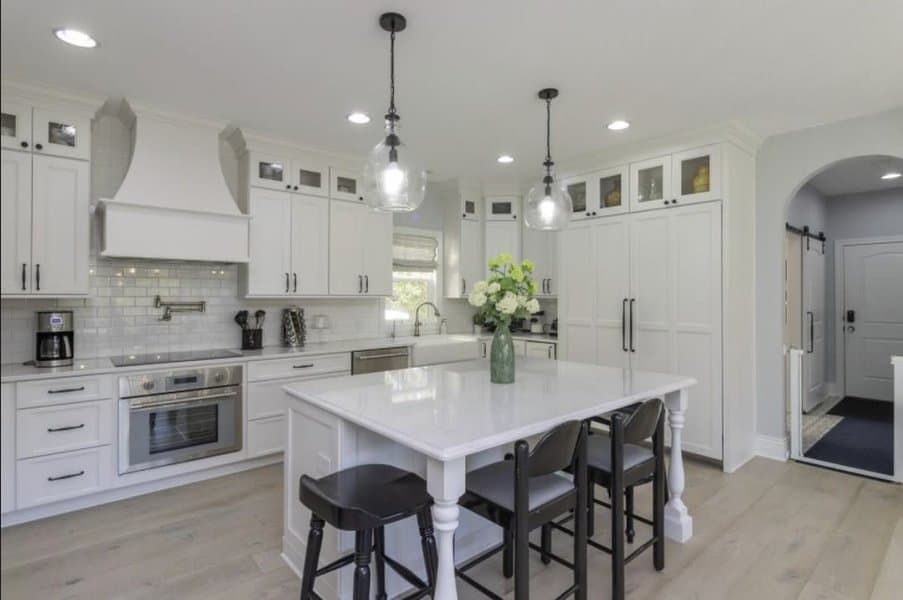 A white range hood will give your cooking space a clean, contemporary appearance. This color can be used with both sleek and decorative hood profiles. Frame the unit with dark backsplash tiles for extra dimension and contrast.
You might worry that a white hood cover will show dirt and stains more than other colors. But — with the right protective finish, of course — white can actually hide small smudges and splatters better than darker shades.
14. Wood
A metal range hood might not be the right choice for your kitchen design at all. For a warm, natural appearance, you can't go wrong with a wood range hood cover.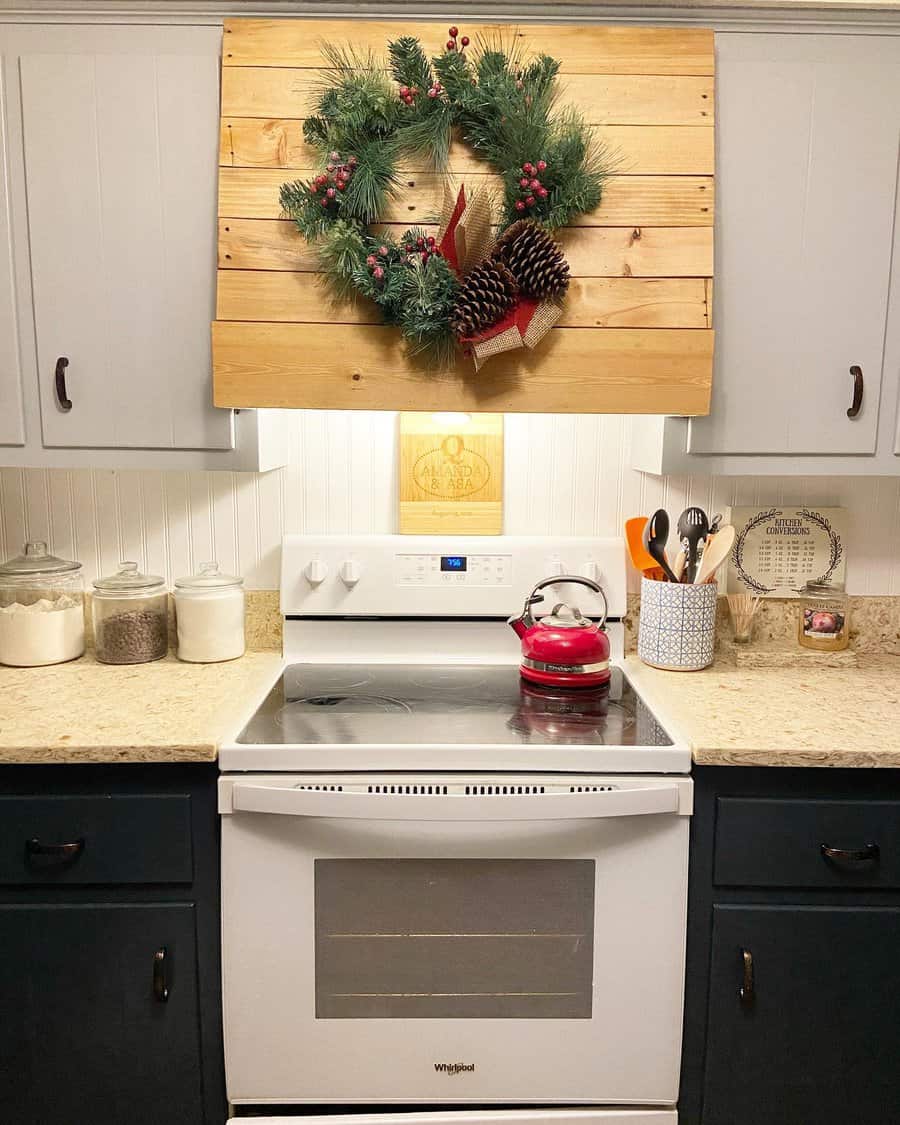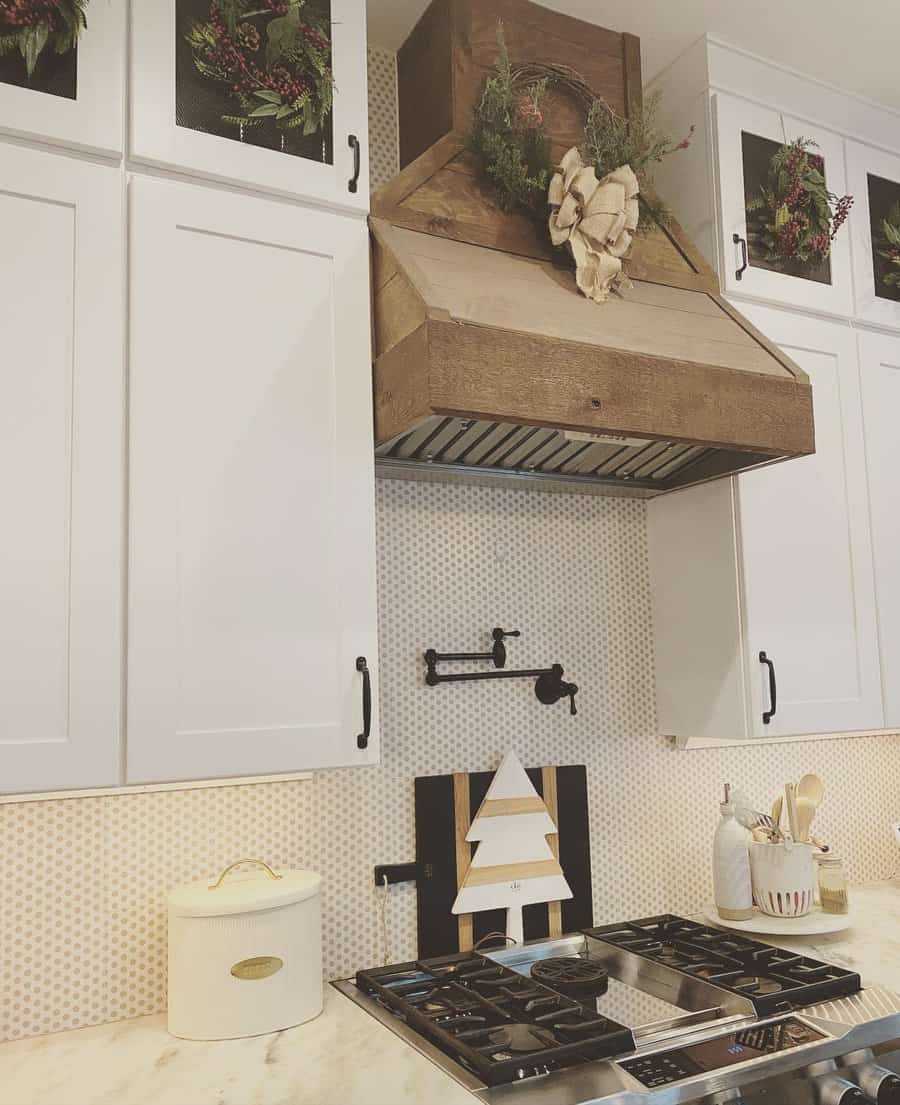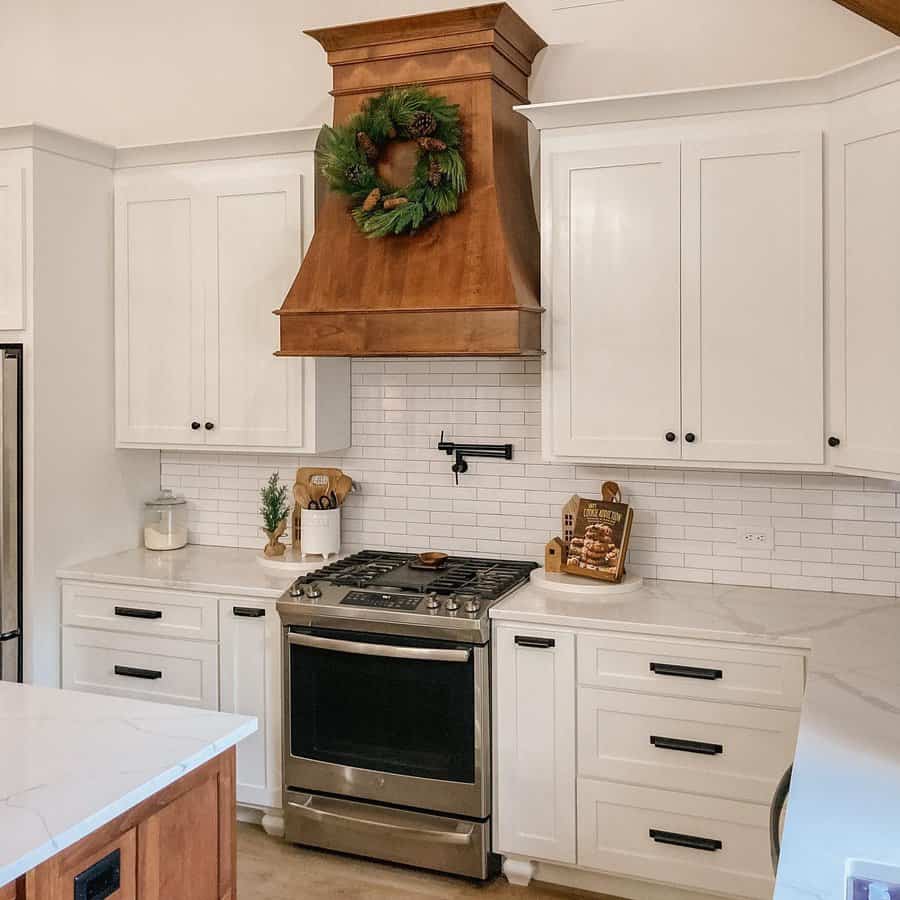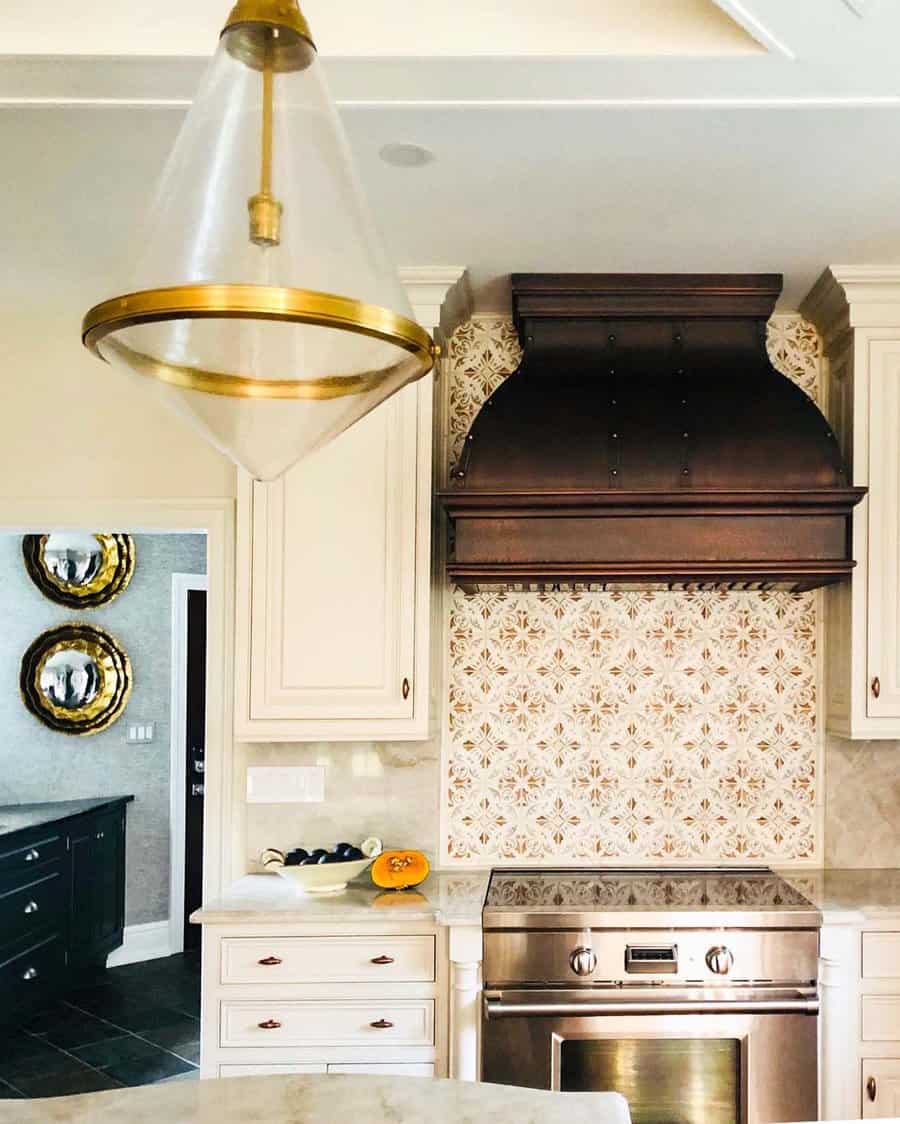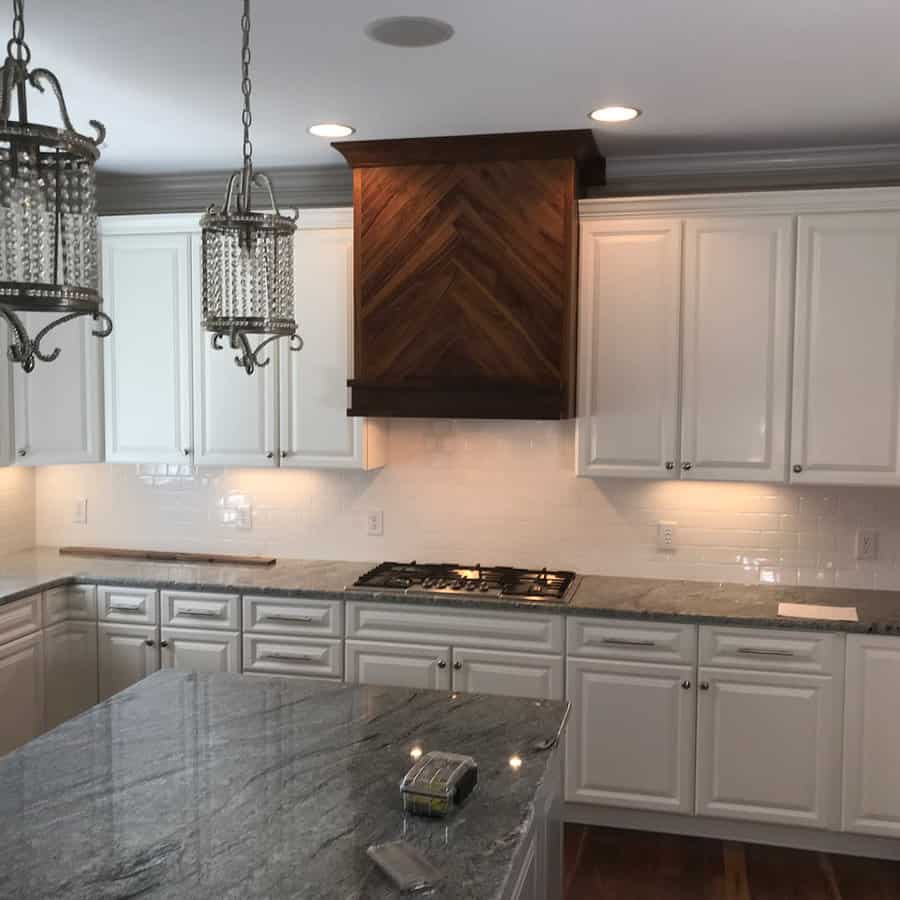 Wood kitchen hoods feature the same inner workings as other units. But, at least on the outside, they offer a dose of organic texture to a space that is made up almost entirely of manmade materials.
A wood hood will look great in a kitchen with butcher block countertops or other rustic details. However, this style of hood will blend just as well into a contemporary kitchen with modern appliances and cabinetry.
Kitchen Hood FAQs
What is a ductless kitchen hood?
The only difference between a ductless kitchen hood and any other style is that ductless models do not vent air outside of the home. Instead, they feature a filter that cleans the air before recirculating it back into the kitchen.
Ductless hoods may be used in apartments or other residences where full ductwork is not feasible. They may also be used over islands in lieu of installing a traditional chimney.
How much space should be between a range hood and cooktop?
Each range hood is designed to work at a specific height from the stove below. However, it's recommended that your kitchen hood is within 36 inches of the cooktop for maximum efficiency.
While this is the maximum distance that should be between your stove and ventilation system, many hoods are installed lower. This distance can be as short as just 20 inches above the cooking surface.