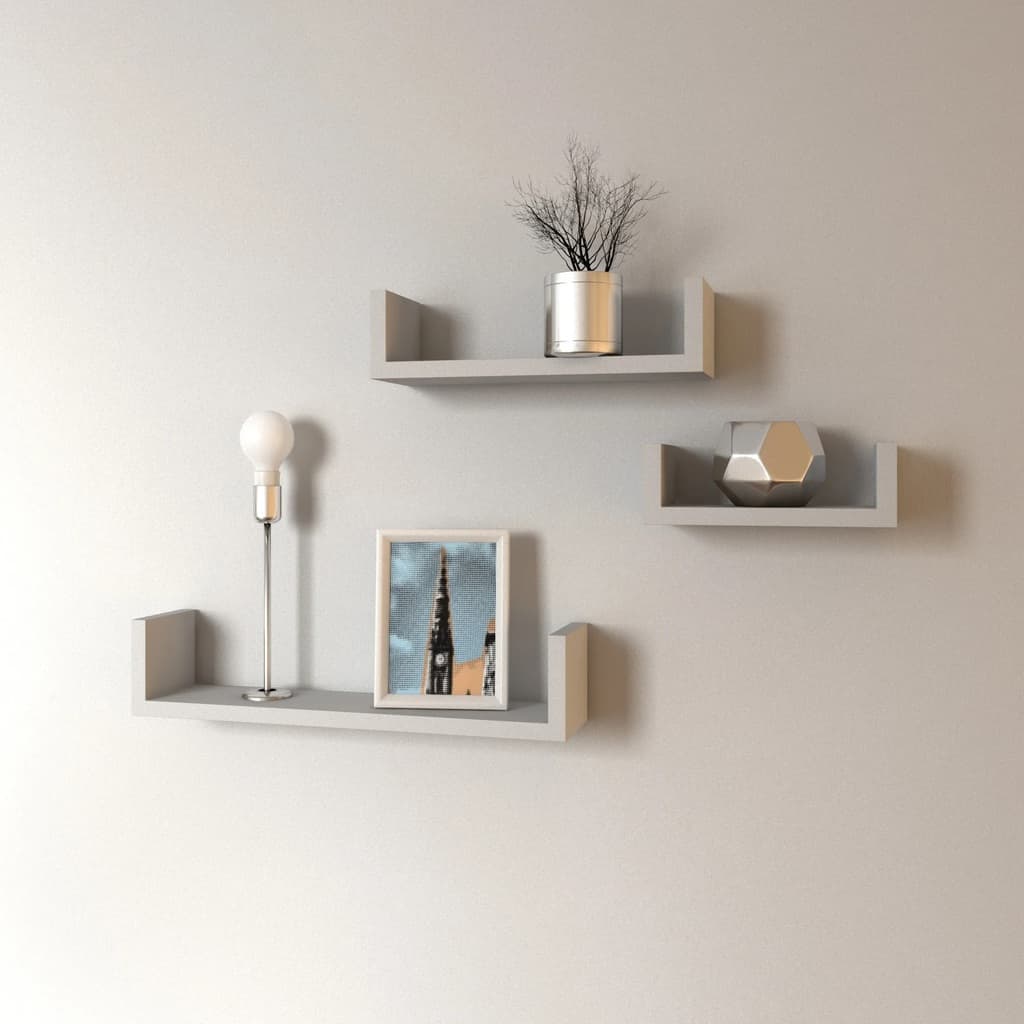 Trendey may earn a commission when you buy through links on our site.
As an Amazon Associate we earn from qualifying purchases.
Best Floating Shelves
Adding a floating shelf or two on your living room walls gives you the perfect place to display your home decor. With a wide range of depths, lengths, and styles, you're sure to find the perfect shelf for your needs. Skip the DIY shelf option; you can easily find the best floating shelves for your home. From an oversize storage shelf that gives you additional storage space to a micro shelf that holds a single small item, we've curated the perfect list of floating shelves for your home.
Top Picks
Best Overall: Sartaaj Floating Shelf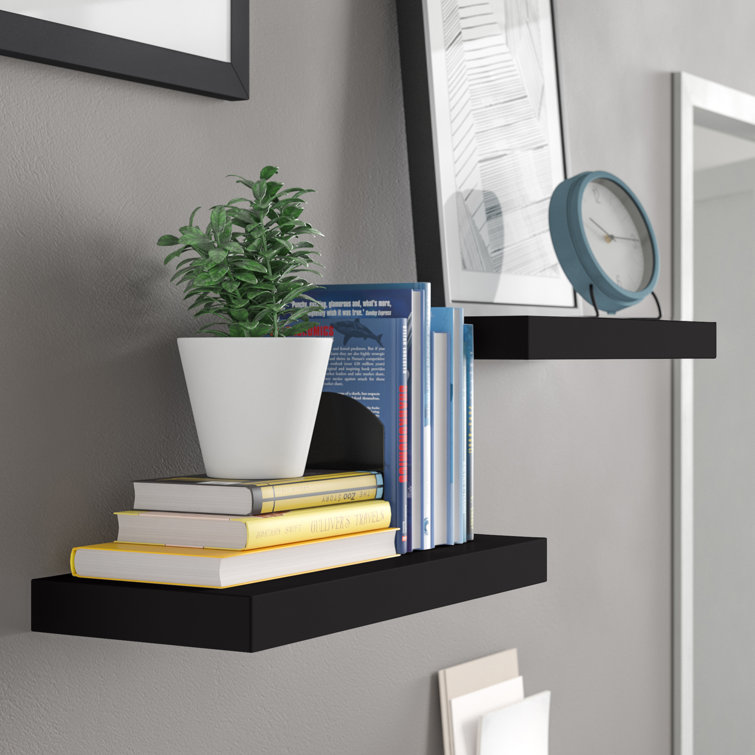 Specs:
Dimensions: 2" H x 24" W x 10" D
Weight Capacity: 20 pounds
Color Options: white, black, or brown
This simple floating shelf may look plain, but it has sophistication in its simplicity. Mount one or more on your wall to create long clean lines on your wall. At two feet long and ten inches deep, there's plenty of room for showcasing your decor. While it's made of manufactured wood, it's finished with a laminate to create a smooth and uniform finish. It's also thicker than other modern-styled floating shelves, giving it some bulk and heft that helps it to feel substantial on your wall. Additionally, it comes with all of the necessary mounting hardware, making installation quick and easy.
One drawback to this shelf is the weight capacity. It would be nice if it was higher considering the size of the shelf. However, the 20-pound limit should be plenty for displaying small decorative decor and picture frames. I just wouldn't recommend using them to hold a book collection.
Check Price
Best Budget Pick: Arshaun Floating Shelf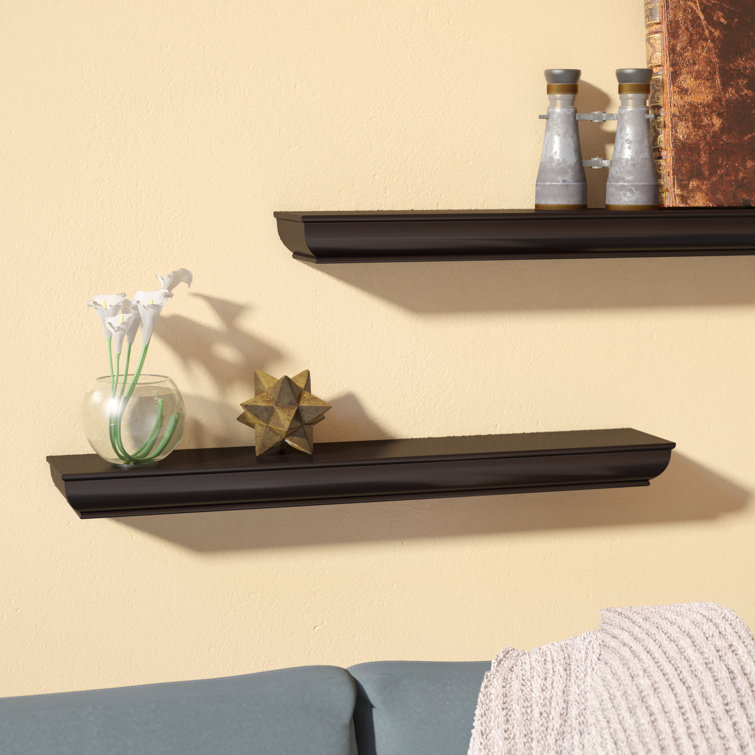 Specs:
Dimensions: 1.75" H x 23" W x 4" D
Weight Capacity: 20 pounds
Color Options: white or espresso
Add elegance to your room with this floating shelf. It comes in crisp white or dark espresso that is both styled with a design that mimics decorative molding. The curved carved design that wraps around the three sides of the shelf gives these floating shelves a traditional or craftsman look. However, it's also timeless so that they would blend perfectly in a contemporary-styled home. These dark or white floating shelves have three mounting holes on the back for a secure hold. The shelf itself is made from manufactured wood, and it comes with the necessary mounting hardware. This narrow shelf is only four inches deep, making it perfect for smaller spaces. Try adding this shelf to your entryway, hallway, or small bathroom.
Unfortunately, the shallow depth does limit what you can display on this shelf. However, it has a weight capacity that gives you greater freedom in what you put on it.
Check Price
Best Modern Pick: Akerboom Wall Shelf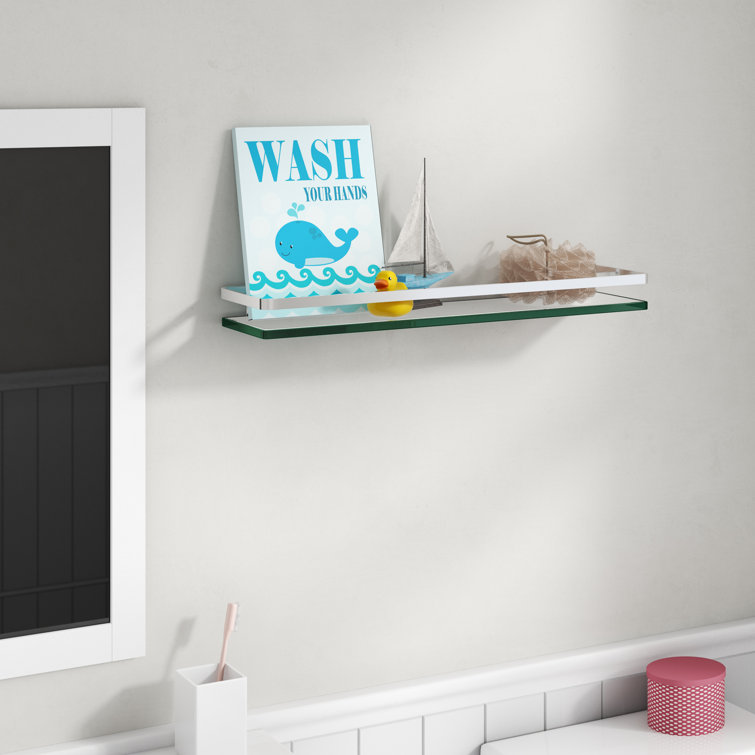 Specs:
Dimensions: 2" H x 23.5" W x 5.5" D
Weight Capacity: 10 pounds
Color Options: CLear
For true sleek modern design, this glass shelf with metal accents. It's perfect for use in a kitchen or bathroom where you need to hold several small items. In the bathroom, you could place toiletries, toothbrushes, and small bottles on it. It would make the perfect spice or condiment bottle shelf in the kitchen. Because it's made of glass, it's impervious to moisture and grease, making it more durable than a wood shelf. It's also safe for installation on a tiled wall. The glass is tempered, ensuring it won't crack or shatter with changing temperatures. The metal rail holds everything on the shelf, ensuring that nothing accidentally falls off.
The drawback of this shelf is that it's glass. This makes it heavier than other shelves. The metal bar will also make it more challenging to clean, and cleaning is a must because the glass will show obvious collecting dust, dirt, and dander.
Check Price
Best Full Wall Display: Tuncer 9 Piece Acrylic Floating Shelf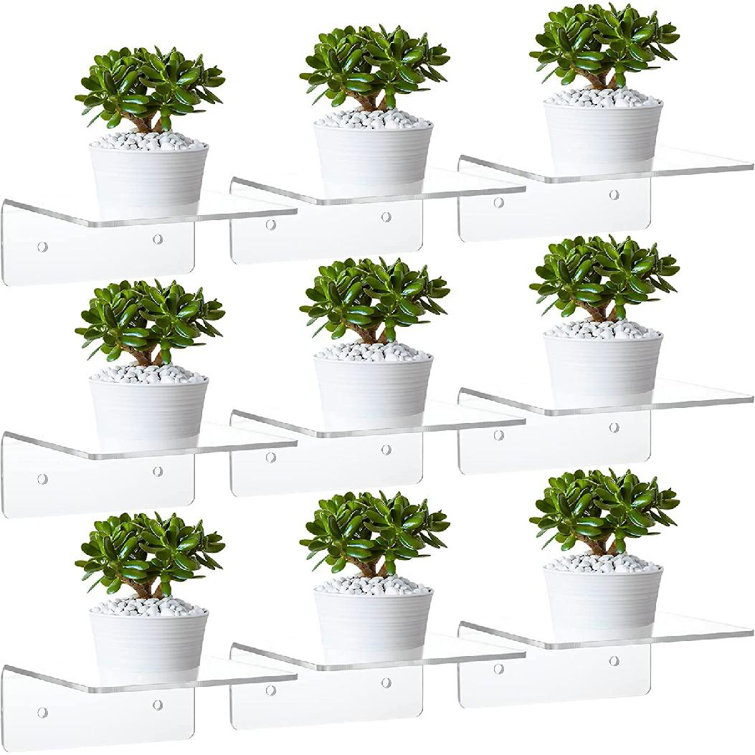 Specs:
Dimensions: 3.9" W x 3.9" D
Weight Capacity: Eight pounds
Color Options: Clear
This set of nine acrylic floating shelves will give you plenty of freedom to arrange them in your home. You could mount them all on a single wall for an entire wall display. You could separate them and mount them throughout your home. Place one in your bathroom by the vanity to hold your toothbrush, one on the wall next to your bed for your cell phone, in the living room as a convenient remote station, in the kitchen as additional storage, by the door to hold small items, or anywhere else you need a small space to put stuff. The clear acrylic keeps them looking minimalist and unobtrusive. Installation is simple thanks to the included hardware and two screws mounting system.
The problem with acrylic is that it tends to scratch easily. Making it less than ideal for uses where it would take a beating. I wouldn't drop your keys on it every day.
Check Price
Best Premium Pick: Takara Live Edge Wall Shelves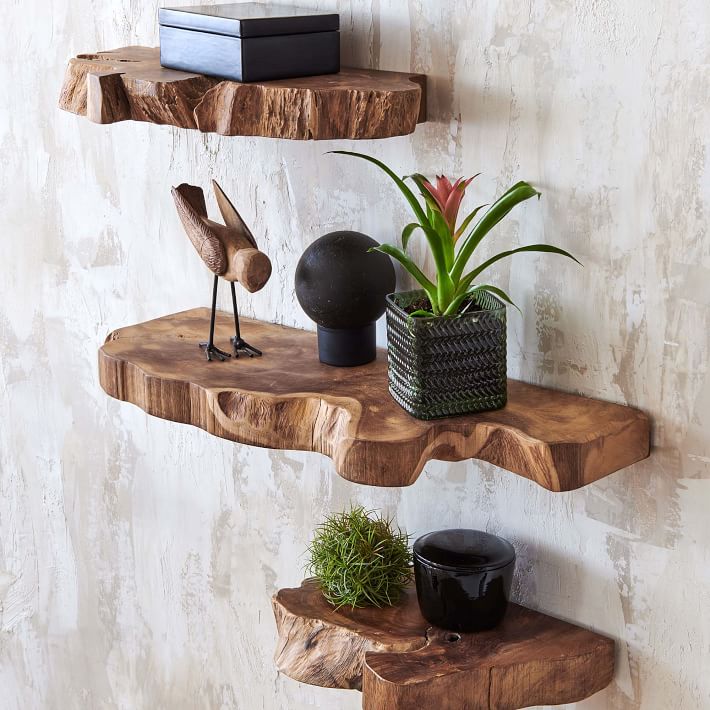 Specs:
Dimensions: 11.8″w x 9.8″d x 2″h., 15.75″w x 9.8″d x 2″h., 19.7″w x 9.8″d x 2″h., or 23.6″w x 9.8″d x 2″h.
Weight Capacity: ten pounds
Color Options: Teak wood
Instead of having just purely functional floating shelves, consider these one-of-a-kind options. They are sold separately, so you could have a single wood shelf or have a set of wooden shelves. Each shelf is made from solid wood that is natural and made from reclaimed wood. They have an earthy look, with no two shelves being exactly the same. The live edge of the shelf adds a touch of nature and an organic feel to your home. The mounting hardware is just as unique as the shelf. You'll easily mount the bracket on the wall and then slide the shelf onto the bracket.
Unfortunately, because these shelves are handmade, you won't know exactly what you're getting until it arrives. However, West Elm is reliable for consistency of quality, and their customer service is responsive should you decide your shelves aren't you're favorite. The uneven edge can also restrict what you put on them since they don't have a uniform depth.
Check Price
Best Rustic Pick: Allen + Roth Rustic Shelf Kit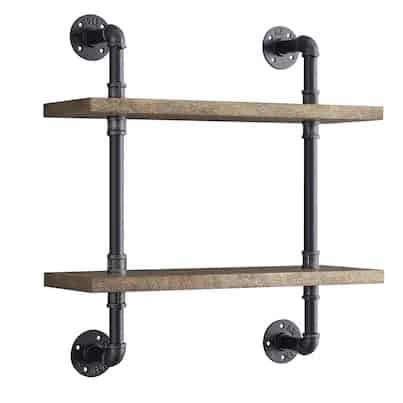 Specs:
Dimensions: 23.75″ L x 26.25″ H x 8″ D
Weight Capacity: 20 pounds
Color Options: wood and metal
Add an industrial feel to your home with these floating shelf kit that comes with two shelves. It's nice that you get double the display space for the work of one. Unlike other floating shelves on this list, the wooden floating shelf floats on a decorative pipe frame. This set comes as a part of an entire line of shelving units, so you can easily outfit your entire room in matching pieces for a cohesive look. The slightly rustic and vintage feel of these shelves are perfect for a living room, bathroom, cafe station, or kitchen. While the entire unit has a 20-pound maximum weight capacity, each shelf has a maximum weight capacity of 10 pounds.
Unfortunately, the laminate veneer on these shelves is delicate. You'll want to be careful during installation to ensure you don't damage it. You also should not use any strong solvents or cleaners, or you will damage it.
Check Price
Best U Shaped: Floating 'U' Shelves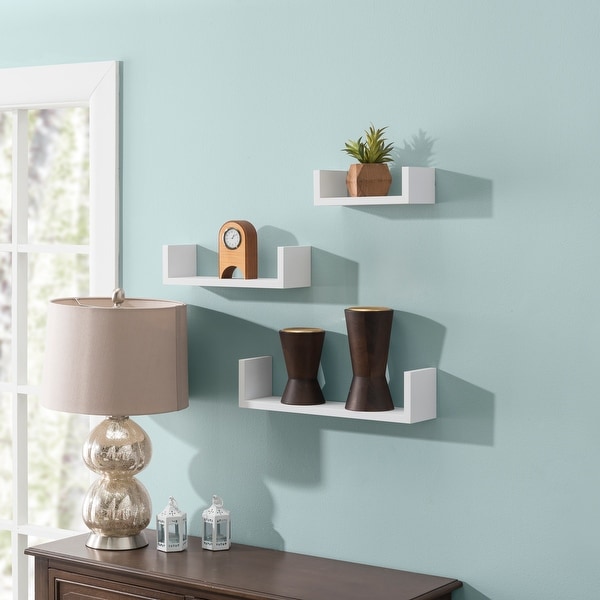 Specs:
Dimensions: Small: 3 x 9 x 4 inches, Medium: 3.5 x 13 x 4 inches, Large: 4 x 17 x 4 inches
Weight Capacity: small 5lbs, medium 7 lbs, and the large 10lbs
Color Options: Walnut and white
Give your floating shelves a unique look with these U shaped shelves. They are perfect for curating a creative and artful aesthetic. The shape adds angles and depth to the arrangement. Choose from either walnut or white for the laminated shelving finish on the MDF material base. Each set comes with three shelves that nest together. All of the required hardware for hanging the shelves come with them. The three shelves are three different sizes, letting you create a multi-dimensional look. You can hang them all together or hang them in different places around your home. The maximum weight capacity for each shelf is impressive, letting you put a wide range of items on each one.
Unfortunately, the finish on these shelves could look a little nicer, but these will work perfectly for someone on a budget looking to make a big impact without spending a fortune. It would also be wise to replace the hardware with higher quality replacements.
Check Price
Best Industrial: Love-Kankei Floating Shelves
Specs:
Dimensions: 17″ D x 4.7″ W x 4.2″ H
Weight Capacity: 40 pounds
Color Options: Black, carbonized, brown, gray, white
These rustic floating shelves have visible brackets, but the shelf looks like it is floating on the metal brackets instead up being supported by it from underneath. They come as a set of three, with several color combination options. You'll appreciate how sturdy these shelves feel, thanks to a secure mounting system. They also have an impressive maximum weight capacity, making these shelves useful in a broad range of applications. You could use them for decor or for additional storage. The brackets are powder coated for a durable finish that won't chip off or scratch. The shelves are constructed from solid Paulownia wood. Each kit comes with the required hardware for hanging each of the shelves. The installation process is simple, with pear-shaped holes in the brackets that you hook over the mounted screws.
Unfortunately, this type of wood is softer than others. This can lead to the shelves getting easily scratched or dented. The metal brackets may have defects in the soldering that can make installation more challenging.
Check Price
Best Concealed: Umbra Conceal Floating Bookshelf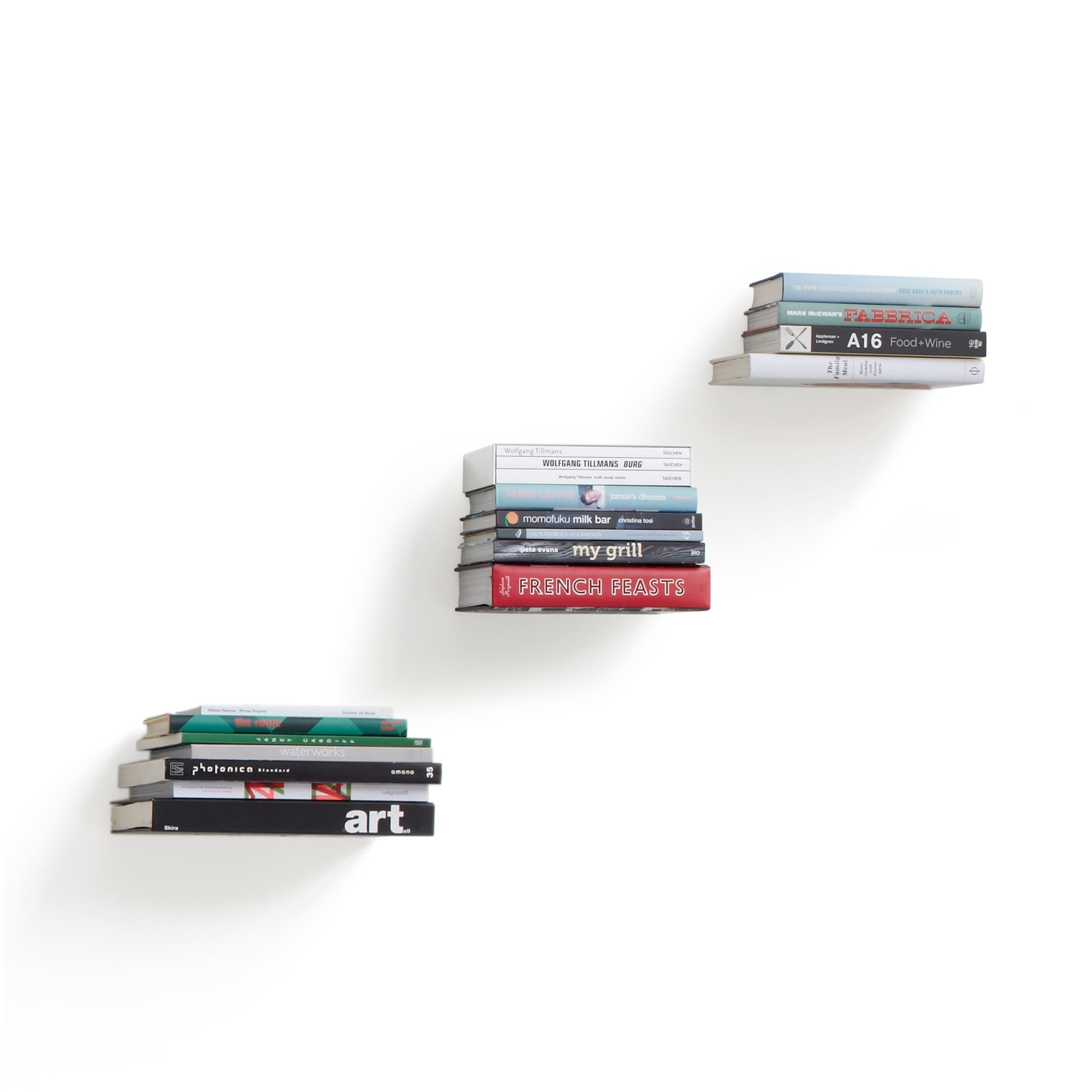 Specs:
Dimensions: 5.5 In. X 5.25 In. X 5.5 In.
Weight Capacity: 20 pounds
Color Options: Steel
Some floating shelves you can see, some you cannot. These wall-mounted shelves are so minimal and streamlined that you can't see them when you place certain items on them. Use them as a floating bookshelf, and you won't see the shelves at all. Each shelf can hold up to 20 pounds or about an eight-inch high stack of books, so you could stack several books on each shelf. Place them scattered on a wall, or install them one over the other to look like a continuous stack of books that goes up the wall. Only you would know that they are really several small stacks.
The downside of these shelves is that they are very small. At 5.5 inches square, you won't be able to do much on them. You'll also need to be careful about not having anything fall off them. These shelves are L-shaped, so you will see the leg of the L that goes against the wall if you put something other than a stack of books on them.
Check Price
Best Reversible: Amada Home Furnishing Wall Shelves
Specs:
Dimensions: 5.9″ D x 16.5″ W x 3.2″ H
Weight Capacity: 40 pounds
Color Options: black, brick red, dark brown, grey, light brown, rustic brown, white
Adding floating shelves to your bathroom can give you much-needed storage space without taking up precious floor space. This set of two floating shelves is perfect because they are the ideal size for mounting over your toilet or an existing towel bar. Both shelves have a metal railing that prevents items from falling off the shelves. One of the shelves has a detachable towel bar underneath. The shelves have an impressive weight capacity, making it safe to hang wet towels or place heavy items on them. Another perfect use for these is in the kitchen. Use the towel bar to hang kitchen towels or cooking utensils.
One potential issue with these shelves is that the wood is soft and lightweight. This can compromise the sturdiness and strength of the shelves. Additionally, the metal brackets are painted and not powder coated. This can lead to the paint peeling or getting scratched.
Check Price
How to Choose the Perfect Floating Shelves?
Size
The size of the shelf you choose will depend on the wall space you have available. Measure the wall space to determine the size of the shelf that will look good on the wall. Pay attention to the length and depth. If you plan to hang floating corner shelves, consider how far out on each wall the shelf extends. The shelf should be deep enough to place your desired items on but not so deep that people could walk into it. The average shelf depth is in the 8-12 inch range.
Finish
The finish of your floating shelf is what it looks like. A common choice is a wood finish. You can invest in quality and have solid wood shelves made of almost any type of wood. You can then leave them raw or stain them. If you don't have the budget for this, then plywood or MDF wood is a more affordable alternative. This manufactured wood typically has a laminate finish that mimics the look of solid wood shelves. If you plan to mount them on a shelf frame, consider staining everything to match.
Style
The style of the shelves you choose will depend on your interior design choice for the room. Open shelves are perfect for any living space so that you can have shelves of different styles throughout your home. Perhaps you have a modern floating corner shelf in that dead corner of your bedroom. Or you could have rustic wood floating shelves in your living room. Then in your kitchen, you could mount industrial steel floating shelves. The style of the shelf is determined by the finish, design, and mounting hardware.
Mounting Method
The best mounting method for your shelves is to use floating shelf brackets that secure into the wall stud. This will give the shelf the strongest and more secure mounting to your wall. Another option is to use drywall anchors. While these are strong, there is a risk of them pulling through the drywall if you overload the shelf. A final option is to use mounting tape like Command Strips. This is not recommended because they can lose their ability to hold. They are also not as strong as using hardware to secure the shelf.
Weight Capacity
The weight capacity is the total amount of weight you can place on the floating wall shelf and have it remain on the wall. Overload a shelf with heavy items, and you risk it ripping off the wall. If you only plan to place picture frames and typical wall decor, then a weight capacity of 20 pounds should be more than enough. If you plan to display large items or use the shelf as storage, then you need strong floating shelves with a higher weight capacity. As a general rule, the larger the shelf, the higher the weight capacity. You can also increase the weight capacity of the mounting hardware to make the shelf stronger.
Conclusion
Our top pick for the best floating shelves is the Sartaaj Floating Shelf with a thick design and simple, clean lines. There are several color and length options, making it simple to find the perfect shelf for your wall space.
For a more affordable option, the Arshaun Floating Shelf has a decorative design that will add a traditional look to your decor. With its narrow depth, you have a lot of flexibility in where you install your shelf.
FAQs on Floating Shelves
Can floating shelves hold much weight?
The maximum weight that your floating shelves can hold will depend on their material, size, and mounting method. Bigger and thicker shelves can hold more weight than skinny or small shelves. Those made of solid wood or metal are stronger than floating shelves made of particle or pressed wood.
What is a good depth for floating shelves?
A good standard size for floating shelves is between ten and twelve inches. Too shallow, and you'll struggle to fit items on the shelves. Too deep, and you risk people bumping into it.
Do you need studs for floating shelves?
If you want your floating shelves to be securely mounted on the wall, then you should mount them into a stud. The studs are wood 2×4 beams that make up the framing of your home. They will provide extra support and stability to your floating shelf.