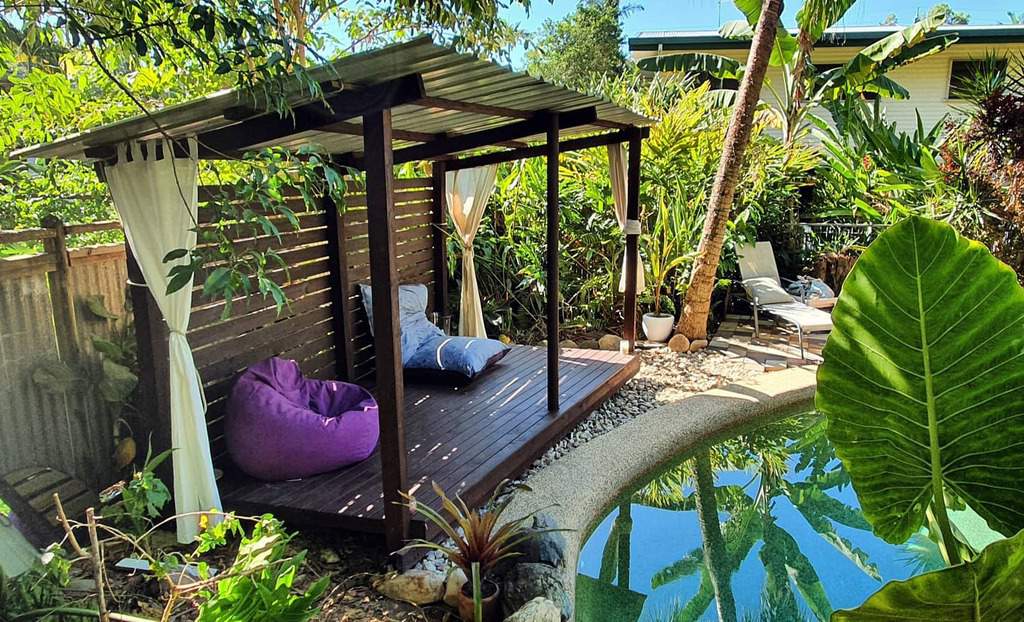 49 Pool Cabana Ideas
by — Kari Apted

Published on May 18, 2022

Updated on October 15, 2023
A cabana or pool house adds a lot to your backyard pool area. Not only is a cabana a welcome source of shade on hot summer days, it can include a changing room and space to store pool equipment.
Before settling on a pool cabana design, it's important to consider what functions you expect it to fulfill. If you want a full miniature house with a bathroom and kitchen, you'll need to look at pool house design plans instead of a basic cabana.
Whatever your intent for this poolside structure, check out our favorite cool pool cabana ideas. They will guide you in designing the perfect backyard cabana.
1. Design an Elevated Deck Sanctuary
Consider designing an elevated pool cabana to enhance your outdoor space. This sanctuary offers a peaceful retreat from the elements while allowing you to stay connected with nature. Whether you prefer a tropical tiki-inspired design or a sleek modern look, an elevated cabana provides a personal oasis. Discover how to incorporate this design into your space and complement it with other outdoor elements.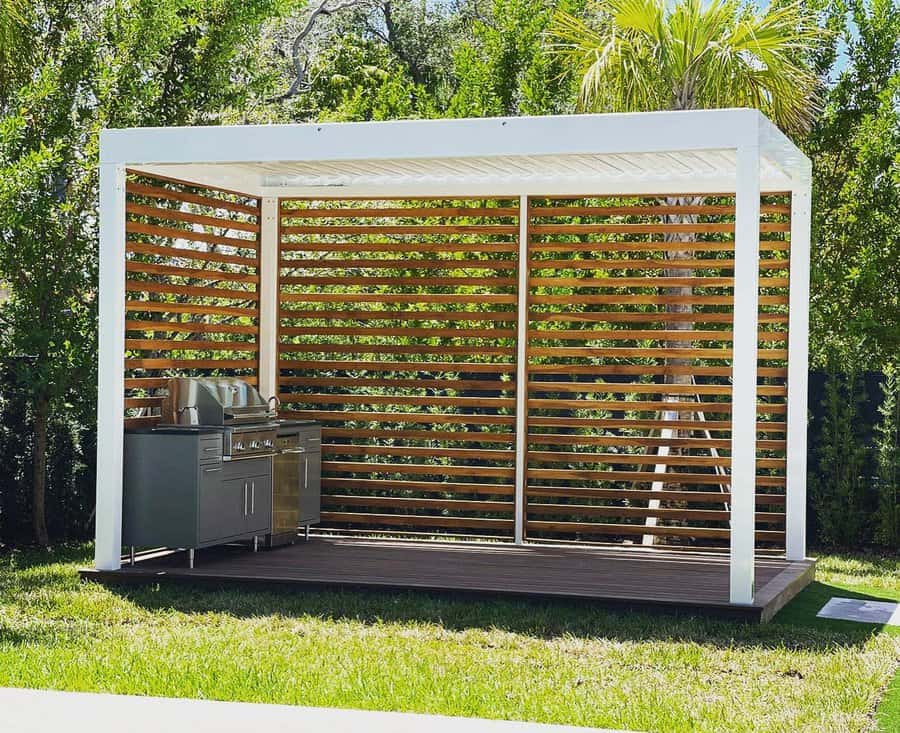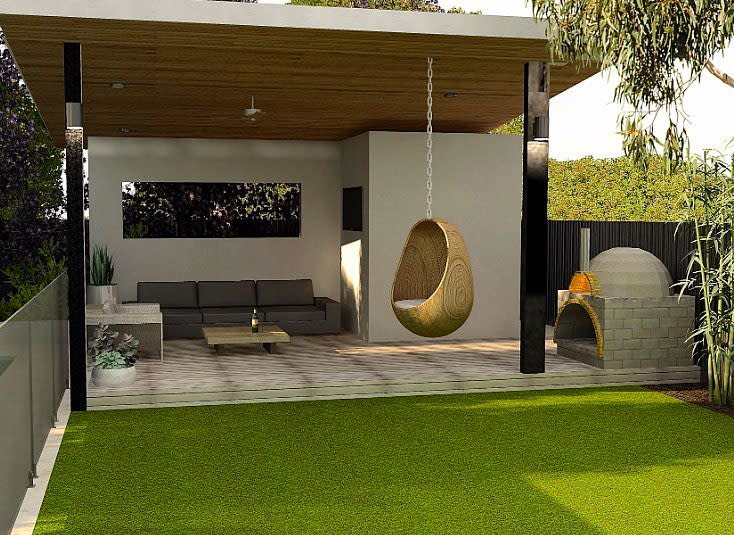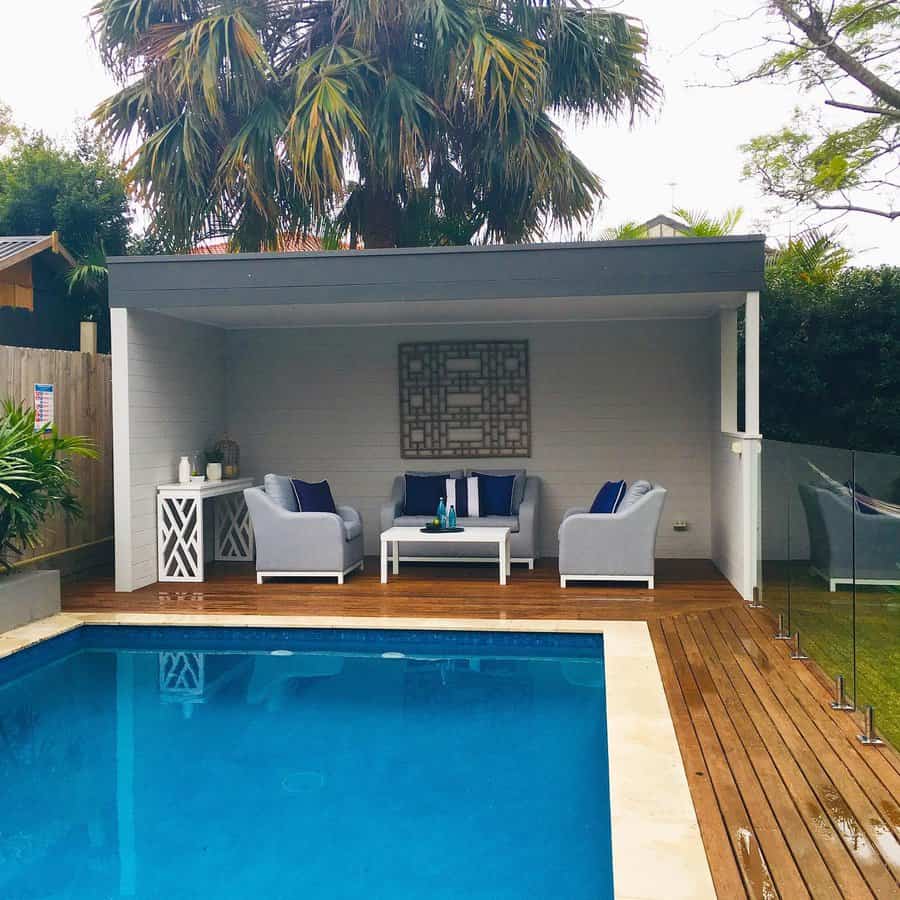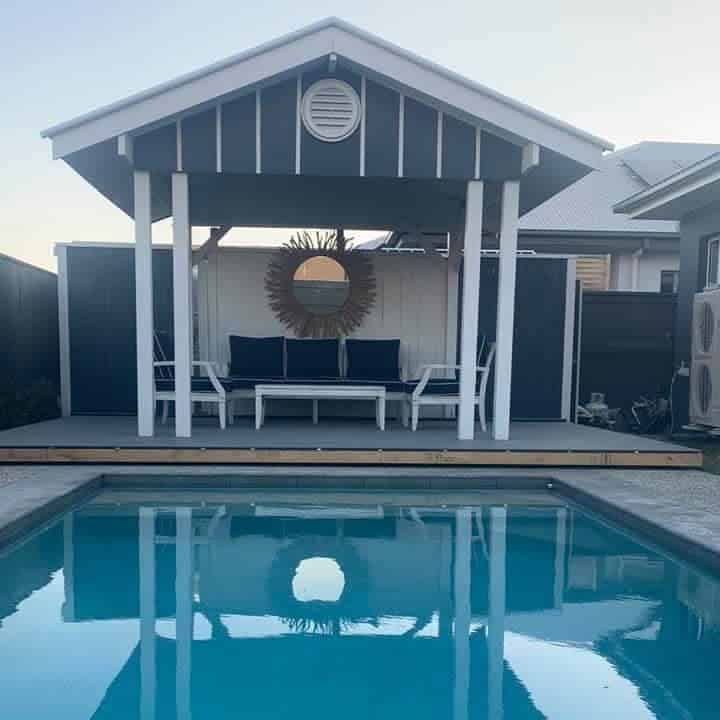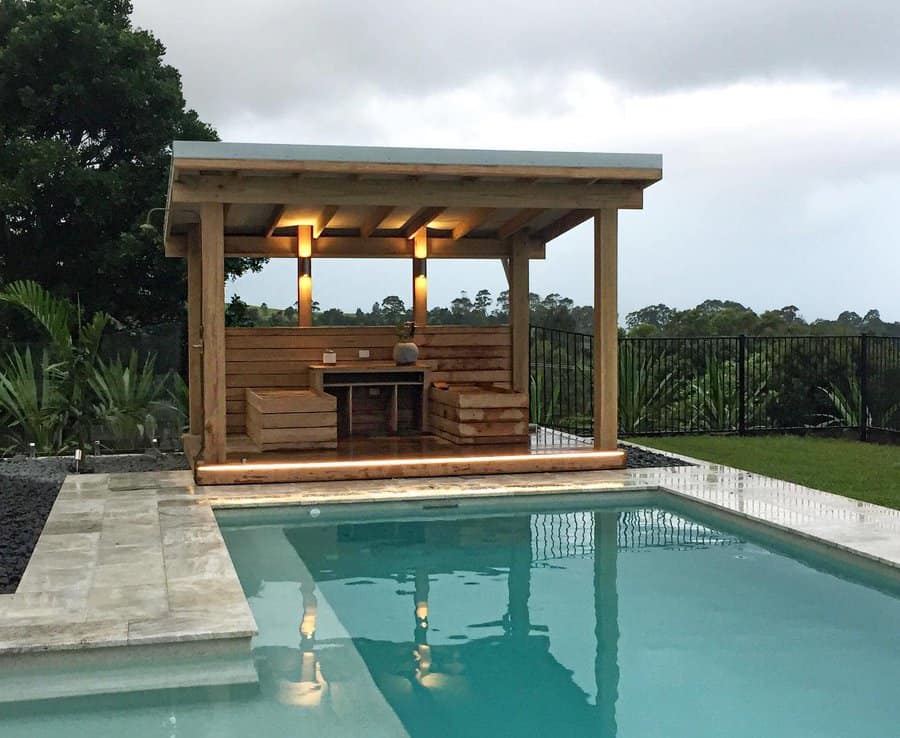 2. Revitalize Your Oasis with Enclosure
Revitalize your poolside oasis with an enclosed cabana. This addition offers a year-round retreat, allowing you to relax and enjoy your pool area regardless of the weather. Discover how to incorporate an enclosed cabana into your space and elevate its design with practical tips and stylish elements.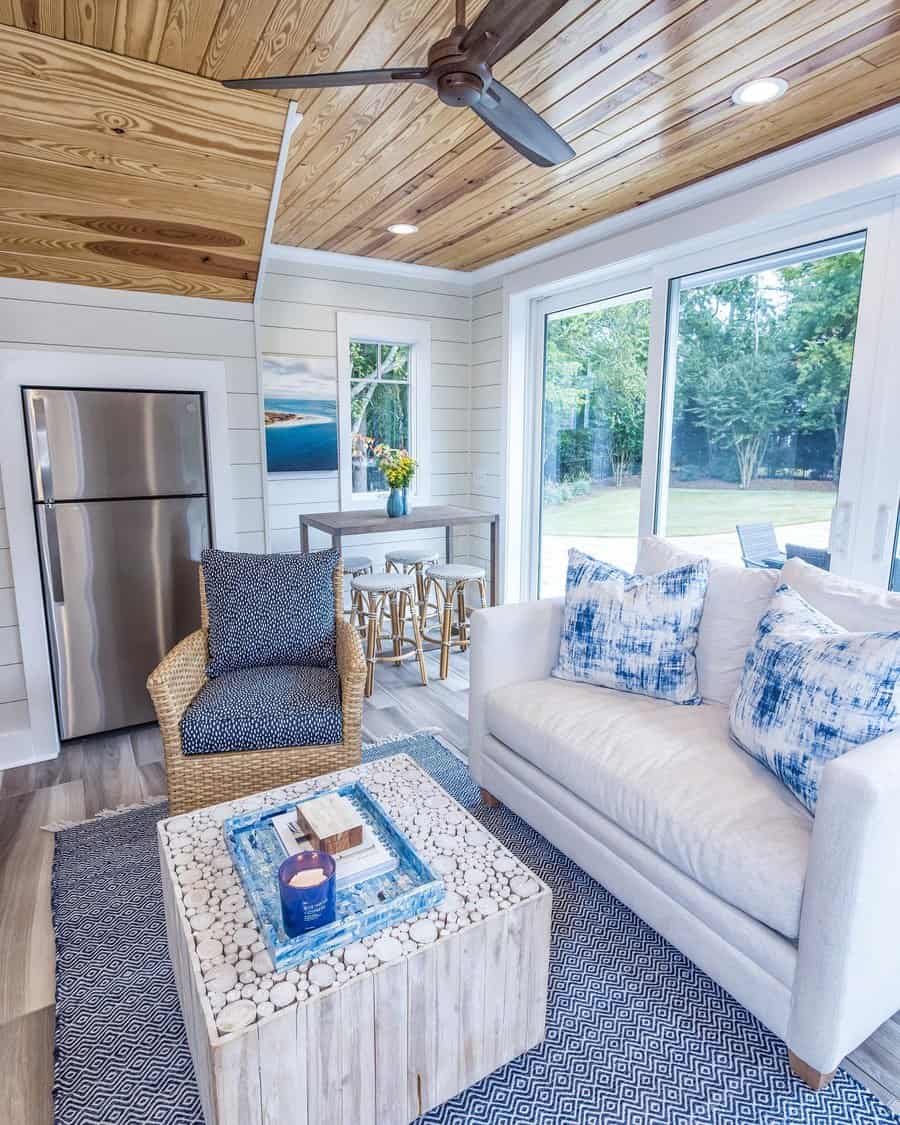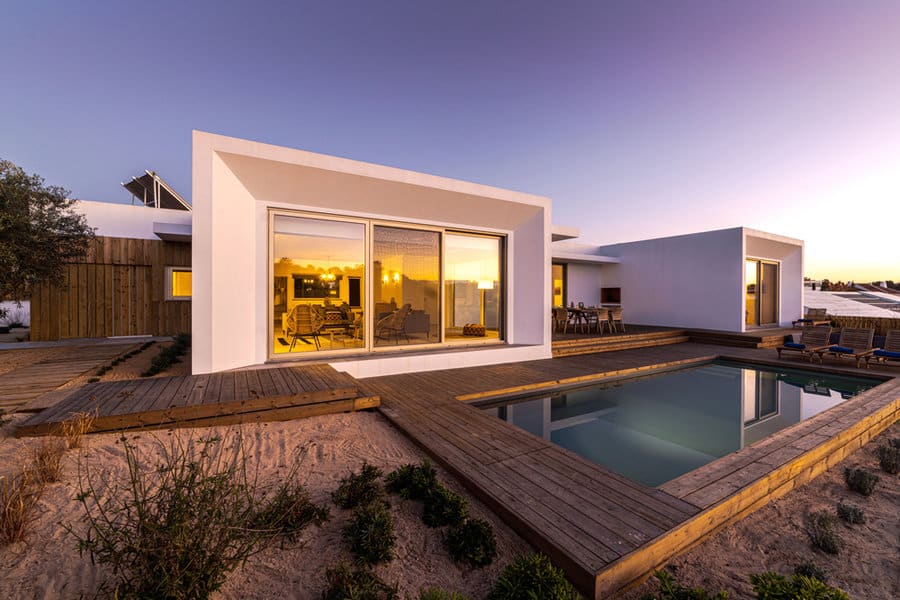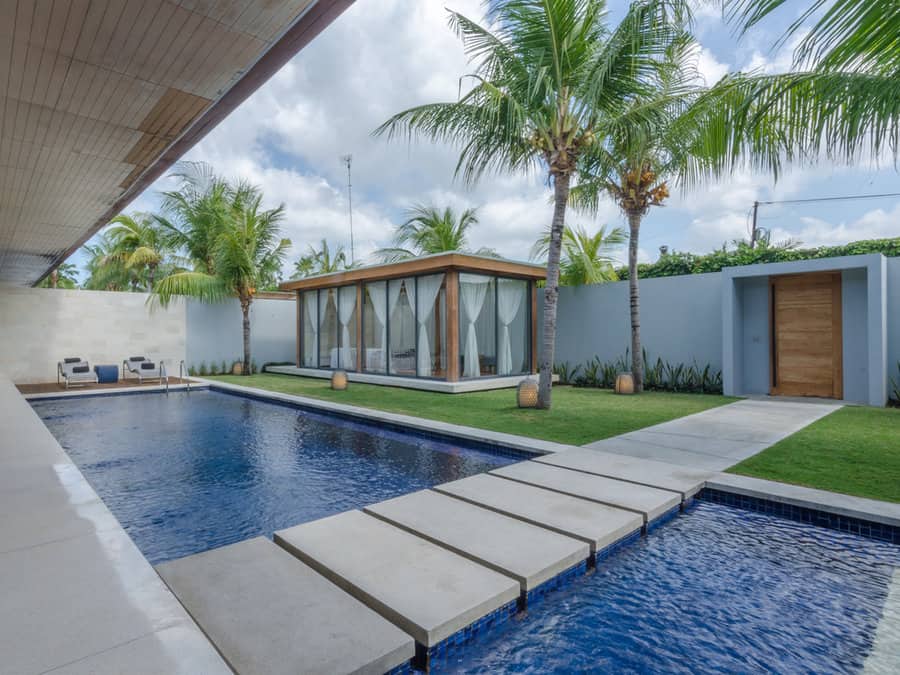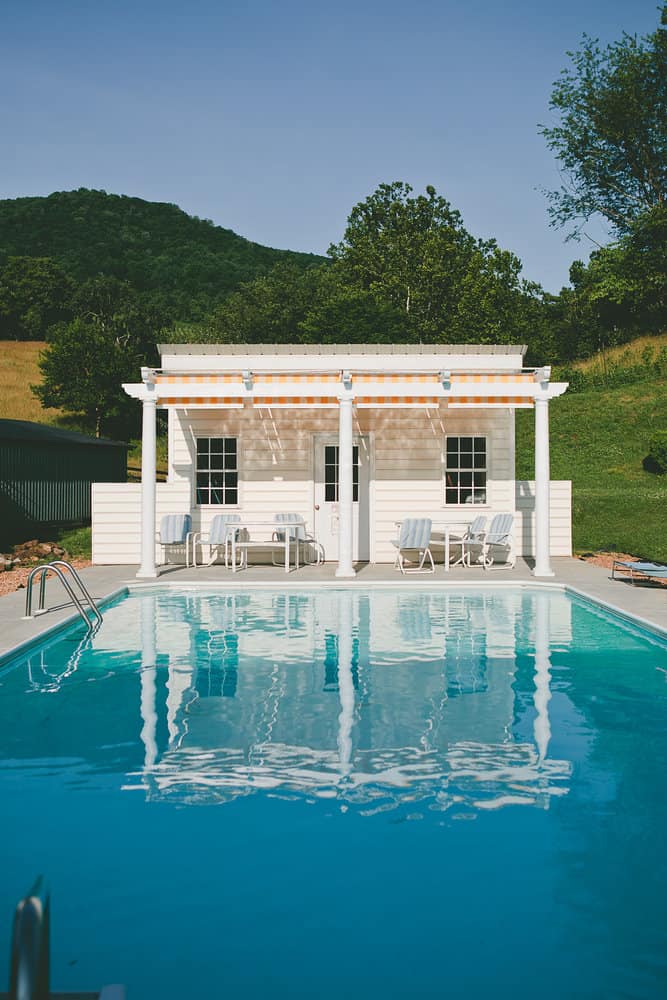 3. Tropical Vibes: Bamboo & Raffia Paradise
Immerse yourself in the captivating charm of a pool cabana infused with bamboo and raffia. This design radiates a serene beachfront feel, setting the perfect tone for unwinding by the pool. Explore the steps to infuse this tropical essence into your poolside space, harmoniously blending it with other design elements for a captivating and enduring atmosphere.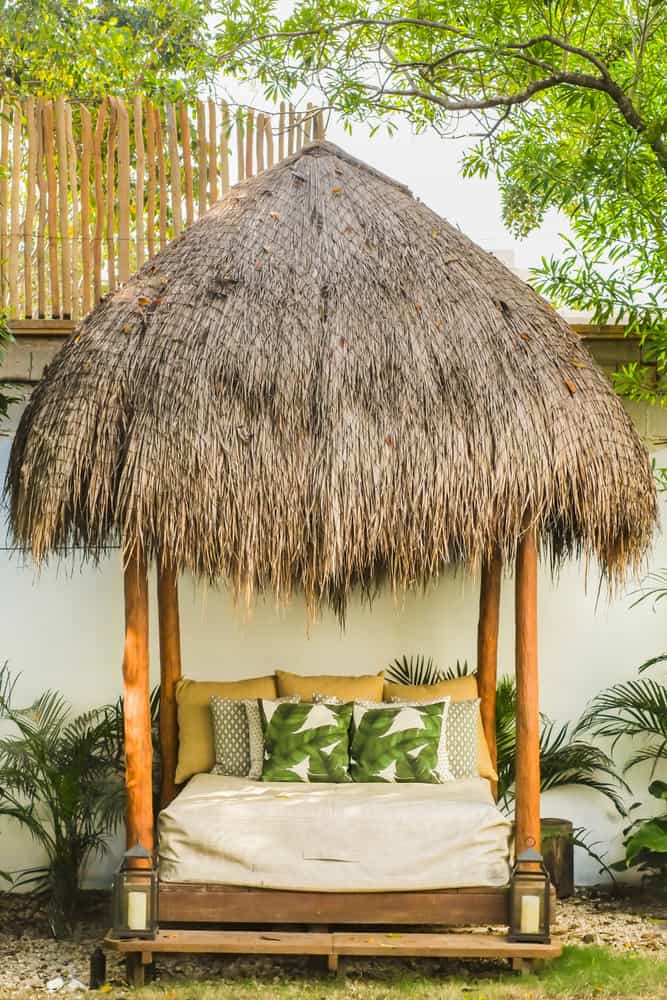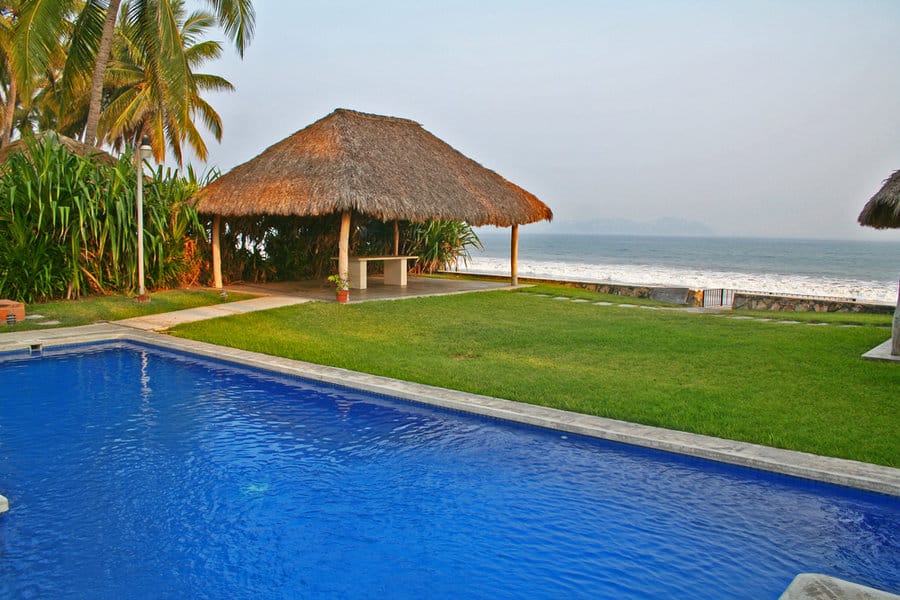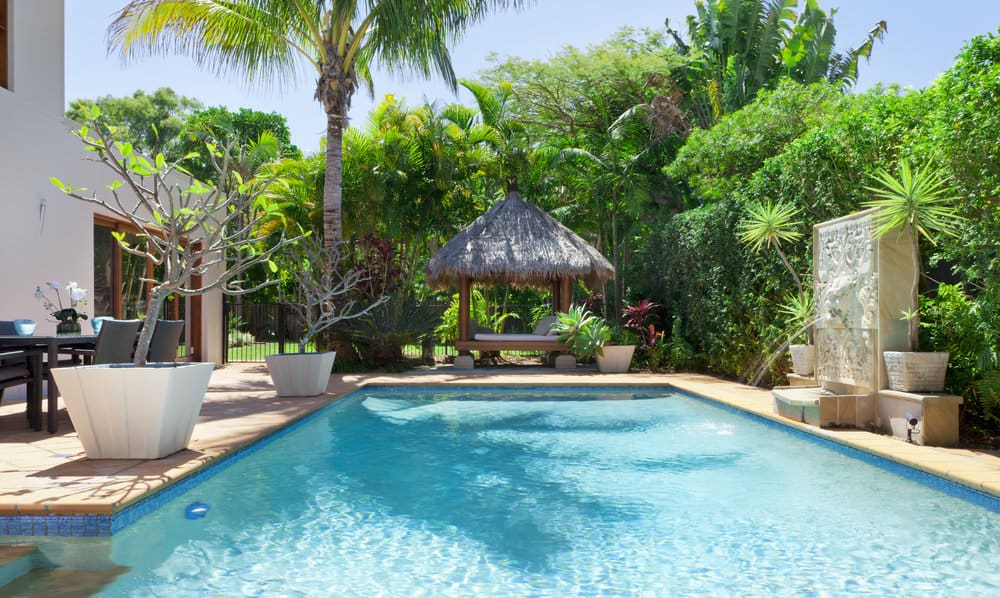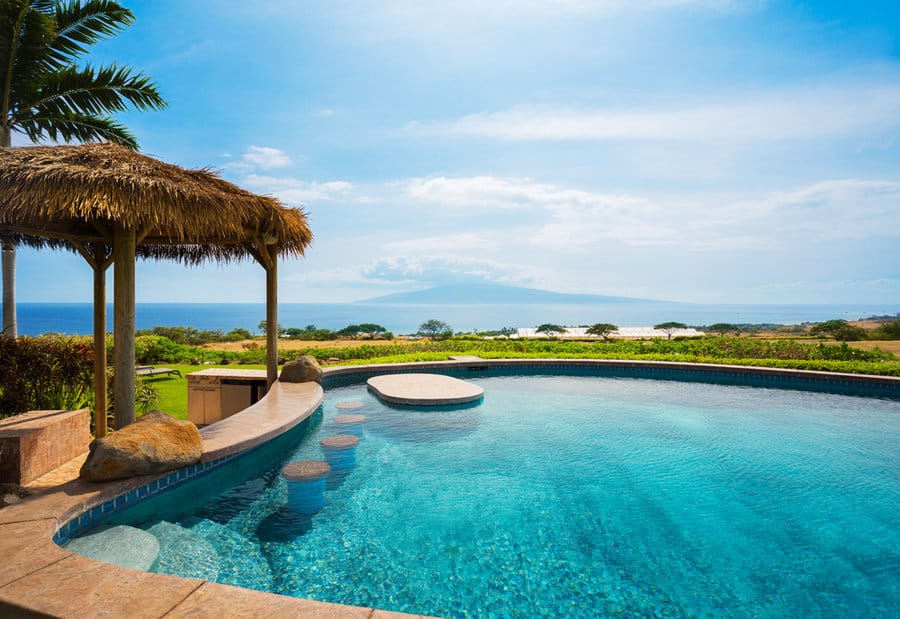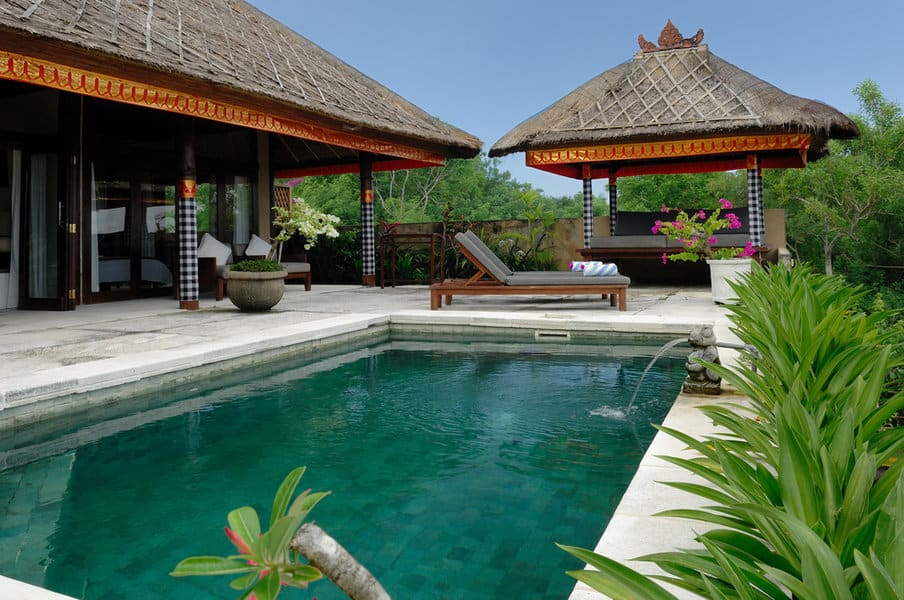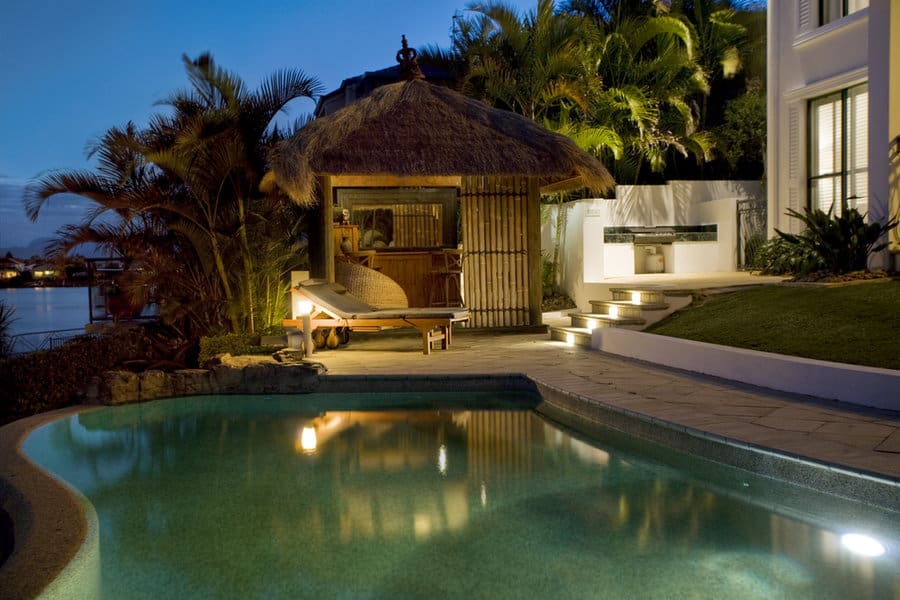 4. Stylish Hosting: Expansive Cabana Retreat
When you're aiming to host significant gatherings, an expansive pool cabana is the perfect solution. Create an inviting retreat in your backyard that offers ample space for your guests to mingle and relax. Let's explore how to design this generous cabana and enhance it with essential elements for an impressive hosting experience.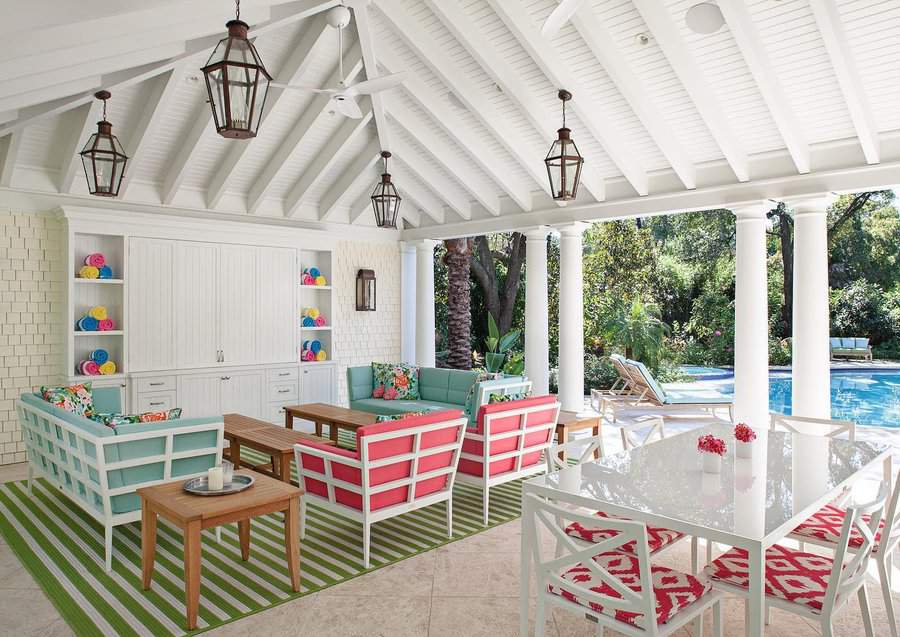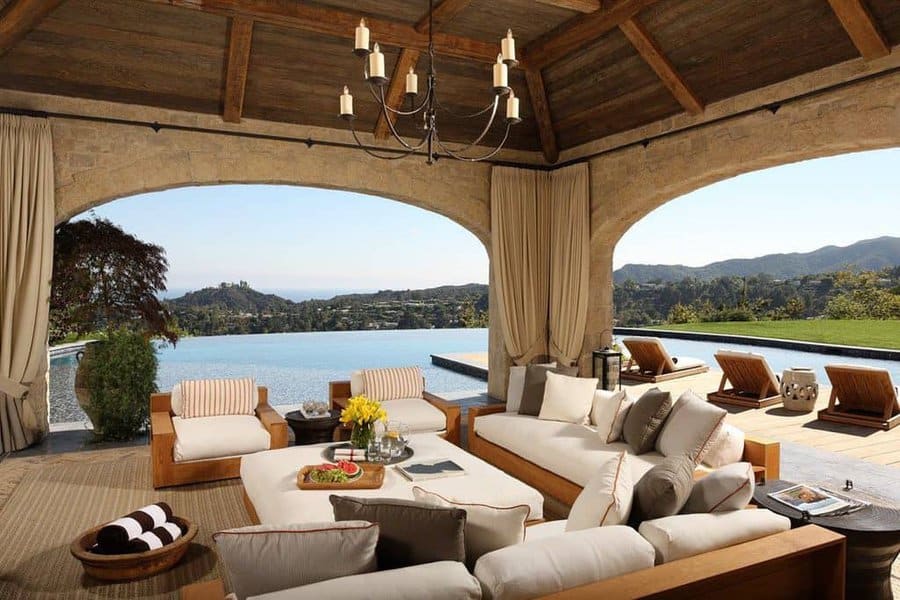 5. Modern Simplicity: Roofed Pavilion Chic
Achieving a luxurious backyard retreat doesn't have to be complicated. A roofed pavilion pool cabana offers a simple yet chic solution. In this section, we'll explore how to create this elegant outdoor living space with readily available components and design tips for a modern, sophisticated look.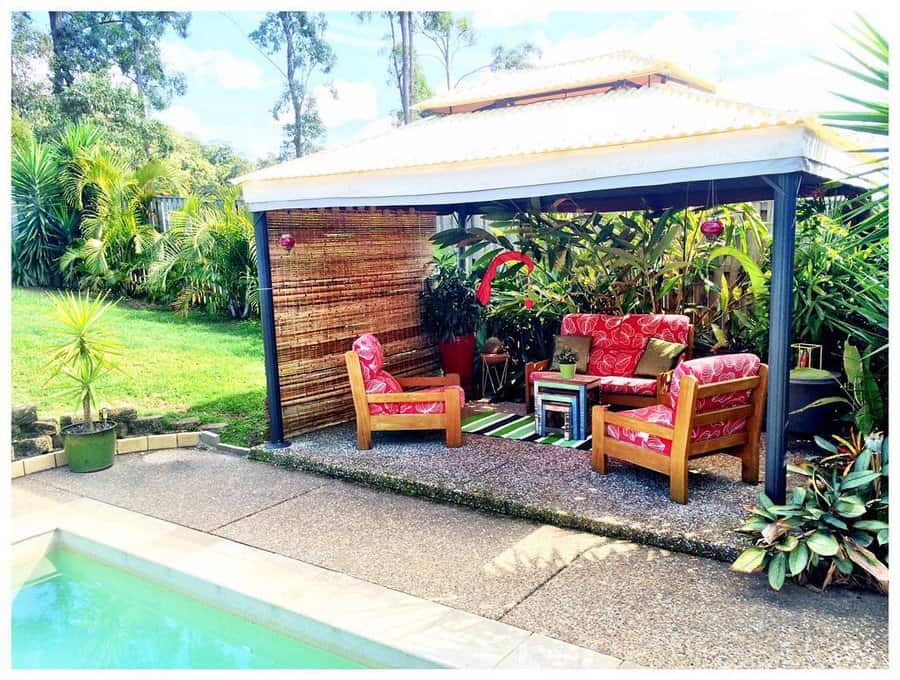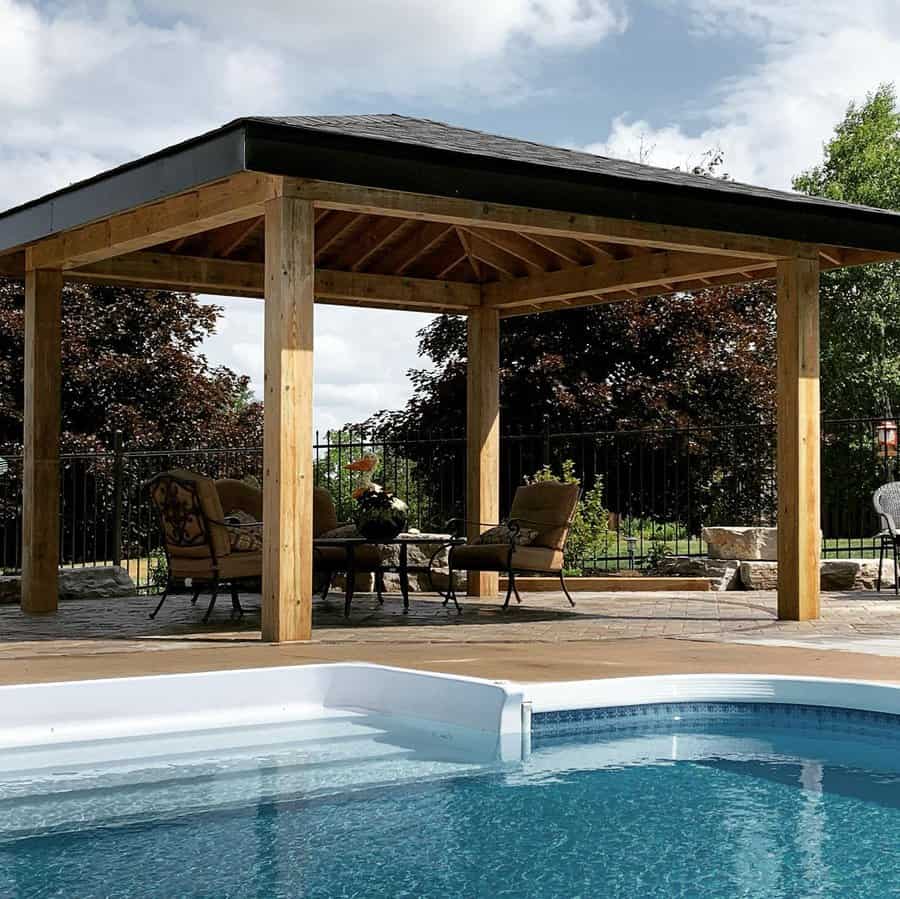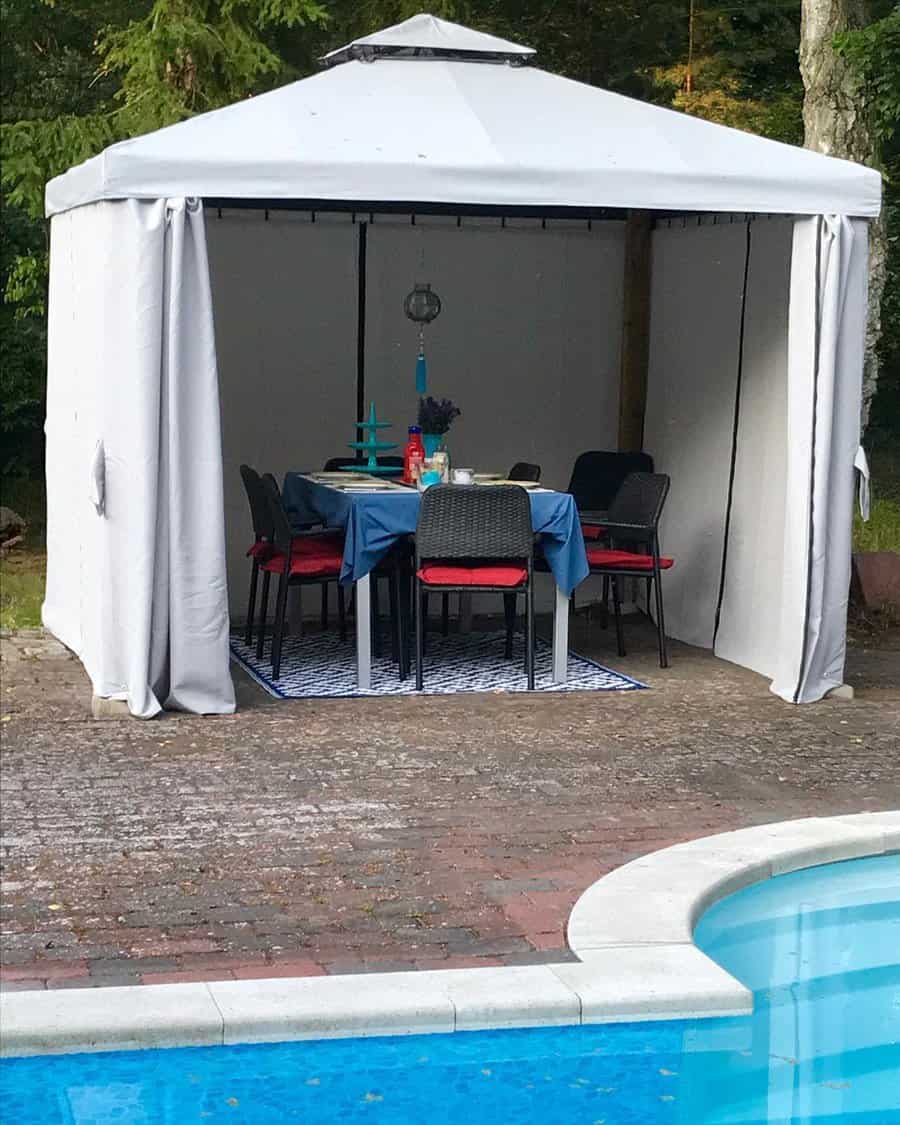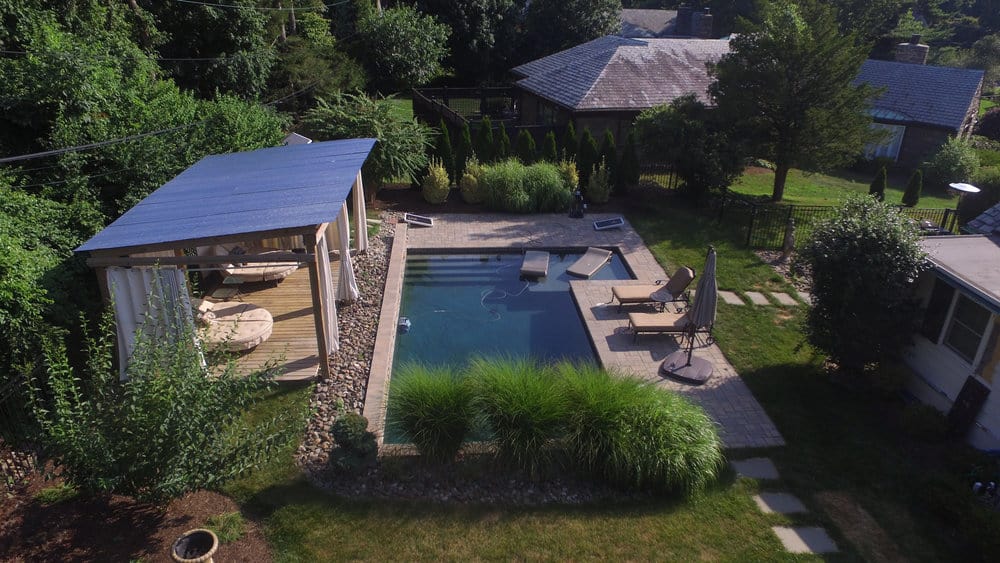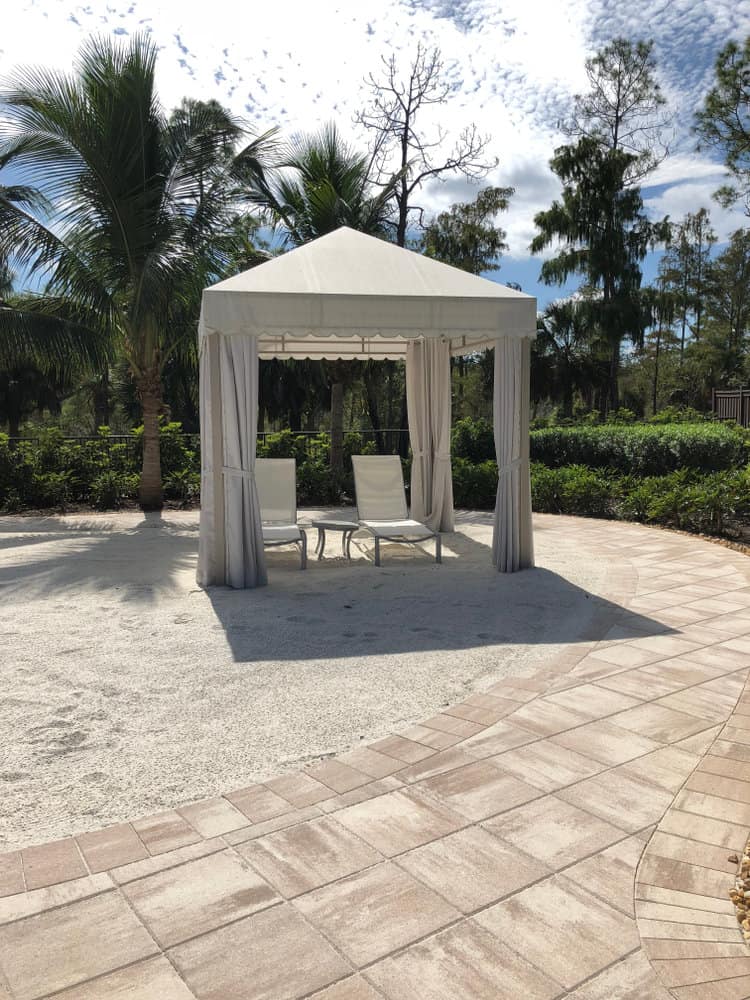 6. Contemporary Poolside Aesthetics
Experience the epitome of contemporary poolside luxury with a sleek and minimalist flat-top cabana. In this section, we'll explore how to infuse modern aesthetics into your outdoor space and create a tranquil oasis. Discover the secrets to providing shade, optimizing comfort, and elevating your poolside experience with a modern-style cabana.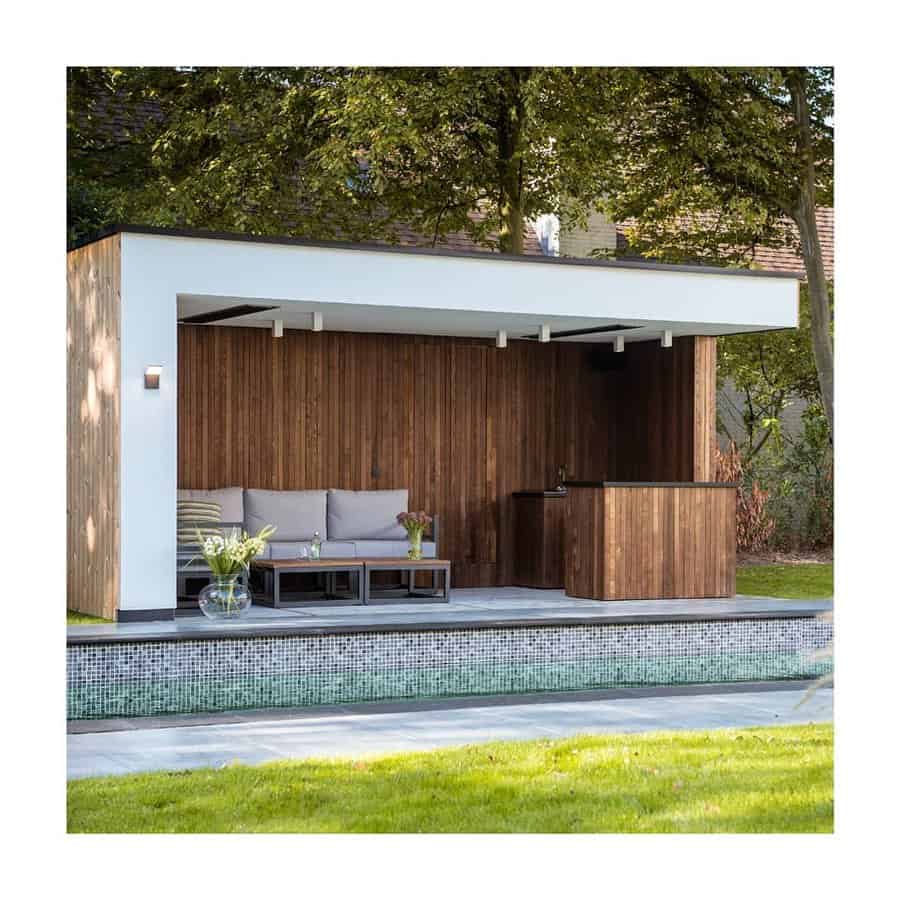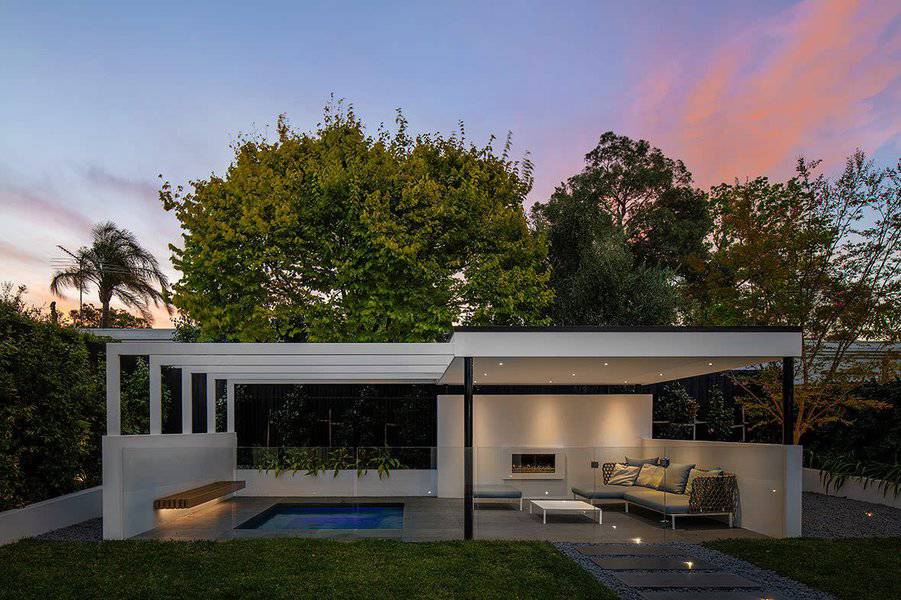 7. Sheltered Relaxation: Roof Over Furnishings
Turn your backyard into a tranquil retreat with the addition of a modern pool cabana. This section will provide insights on how to create a sheltered space for your outdoor furniture, combining functionality and aesthetic appeal.
For the perfect sheltered environment, opt for a contemporary and minimalistic design. Utilize robust materials, like metal or treated wood, to ensure durability in an outdoor setting. Select comfortable and stylish furnishings such as loungers and sofas to complete the cabana.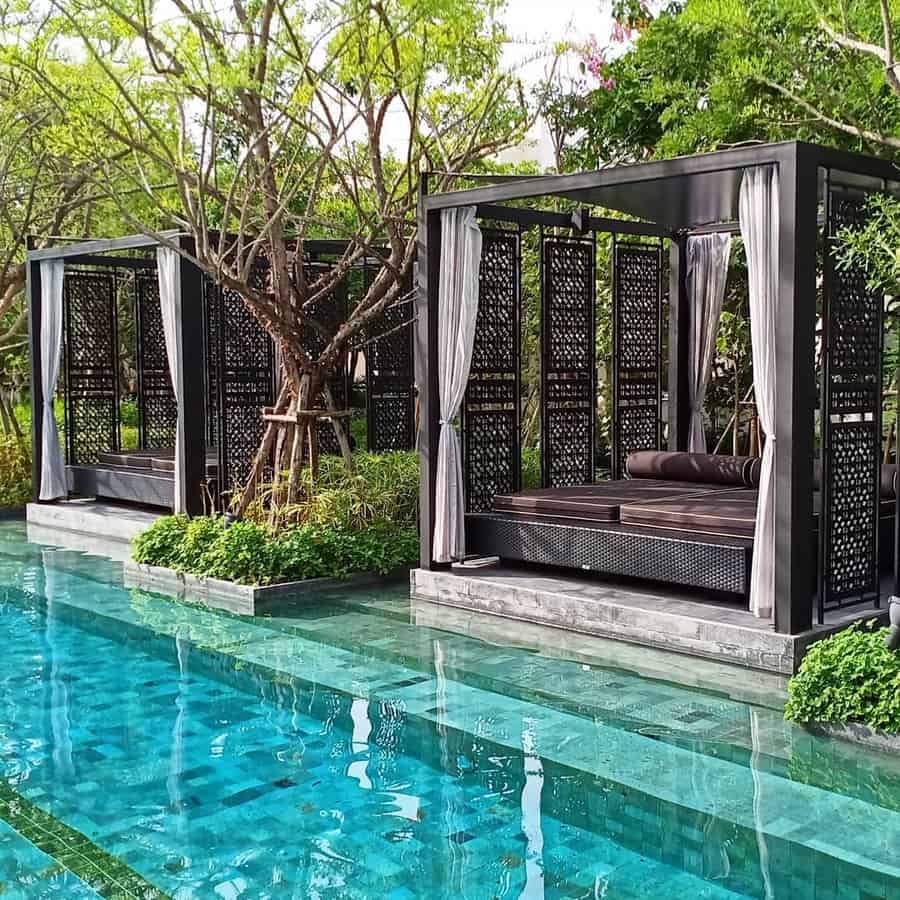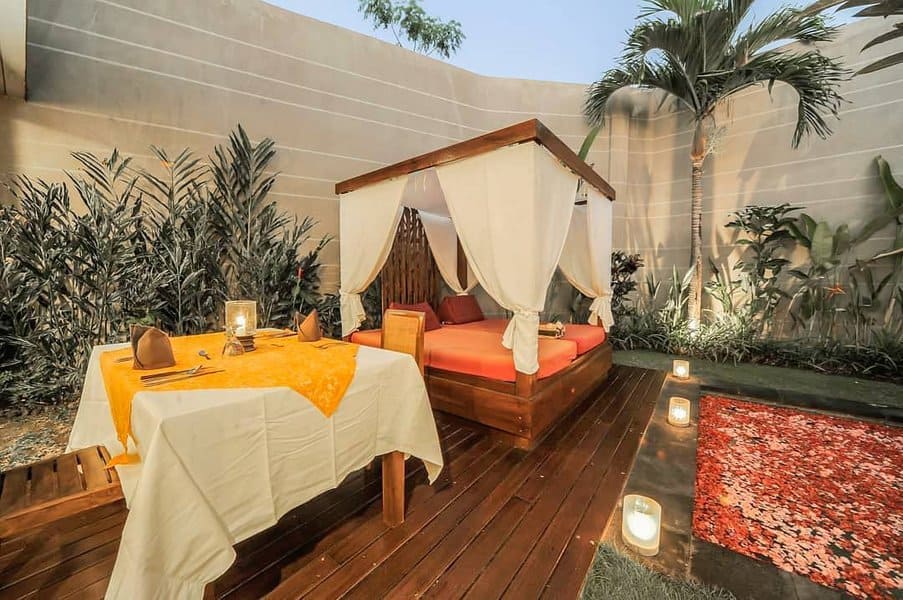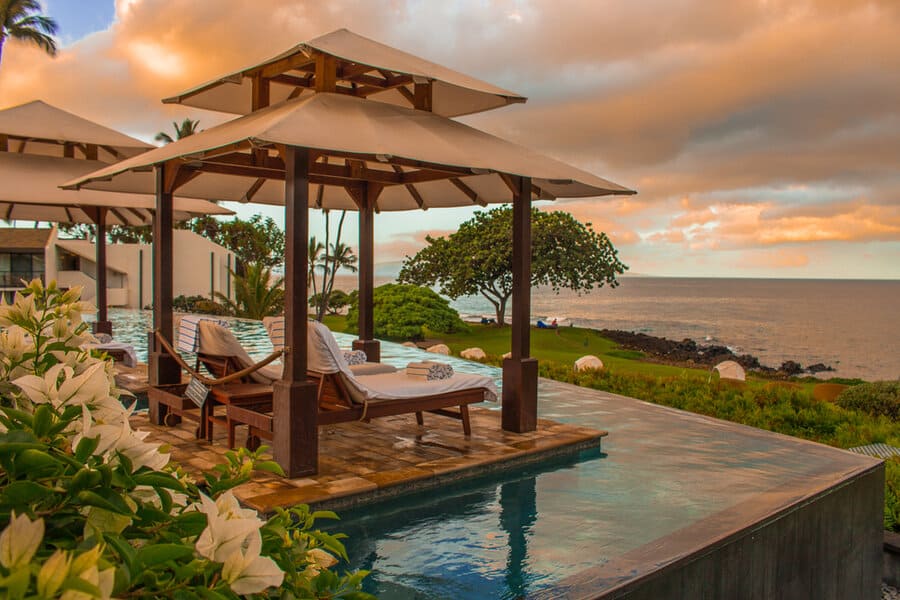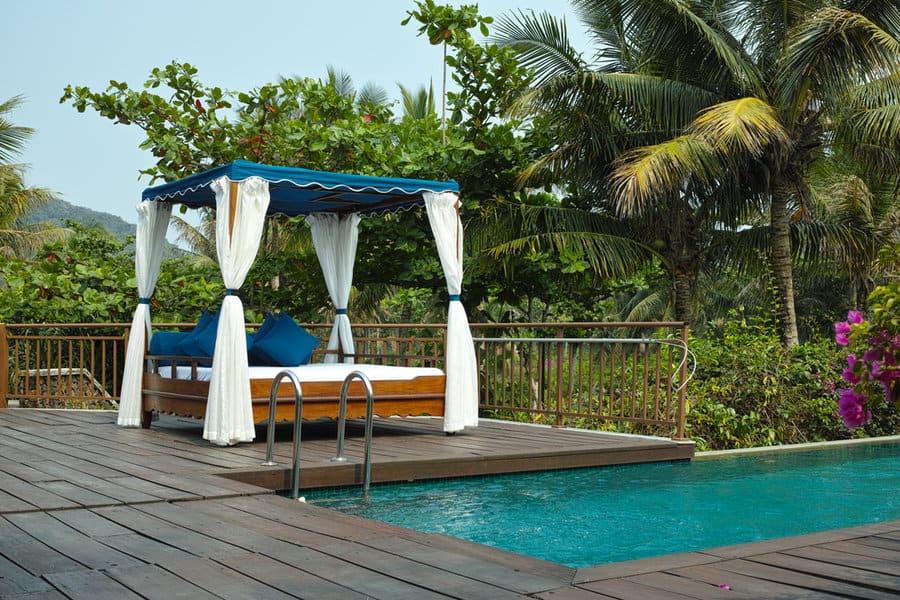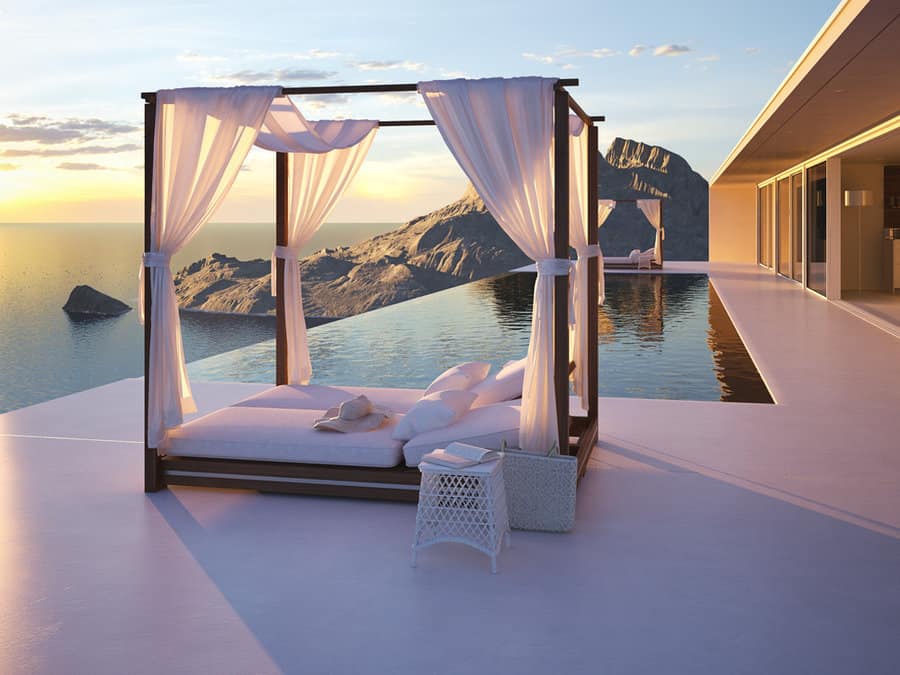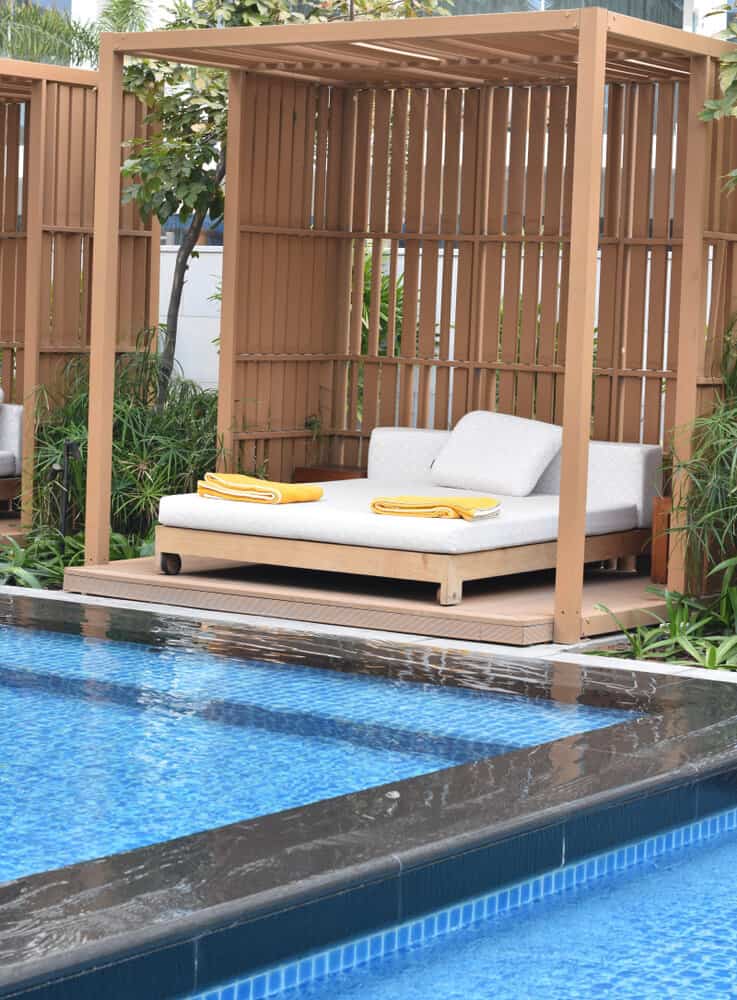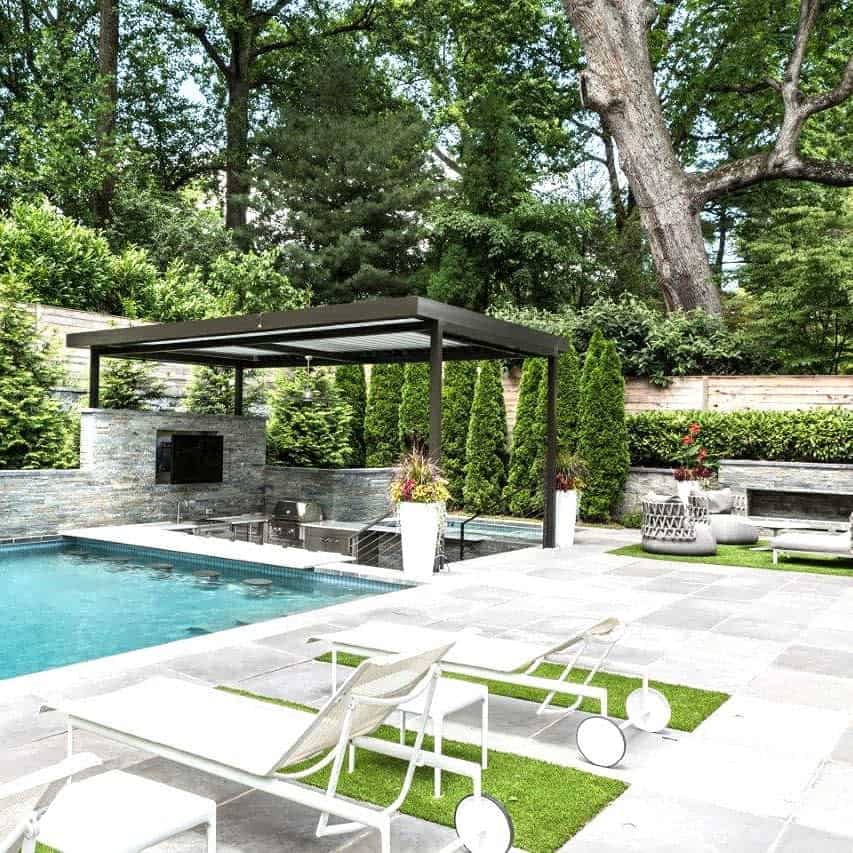 8. Craft a Covered Wet Bar Space
Transform your outdoor space into a haven of relaxation and entertainment by adding a covered wet bar to your pool cabana. Picture a chic roofed area where you can serve refreshing beverages and snacks to your guests. This stylish addition not only elevates your outdoor entertaining area but also provides ample seating and storage options. Let's explore how to design this enticing wet bar space and complement it with other poolside elements.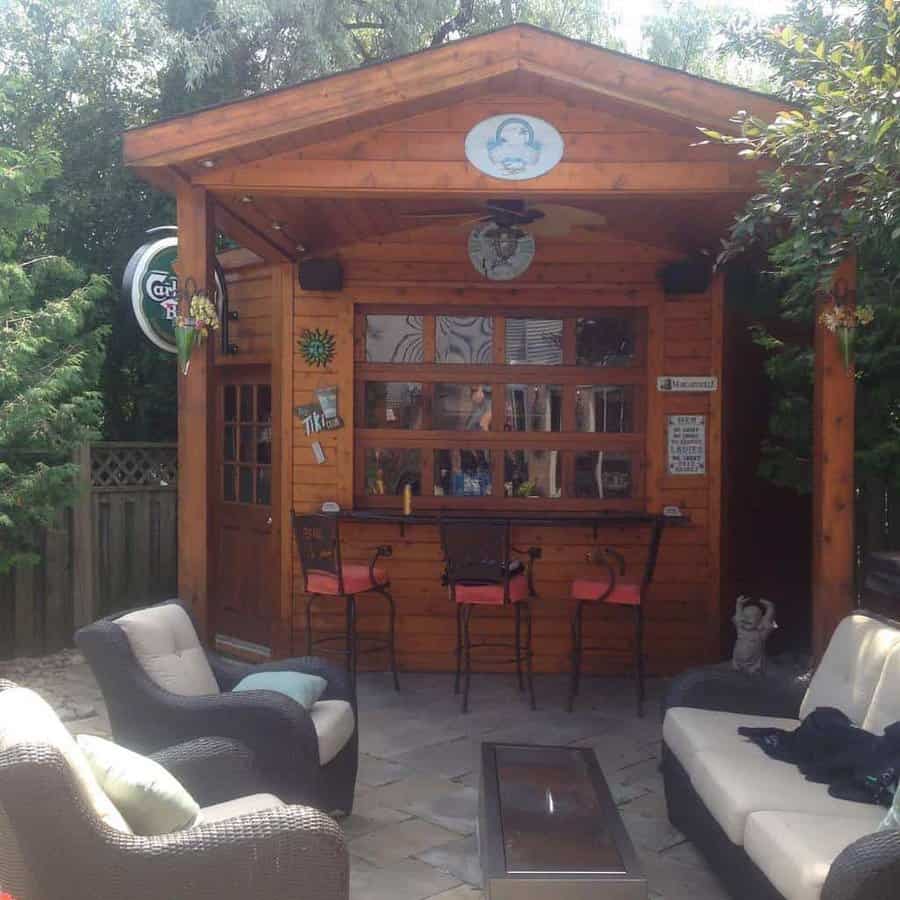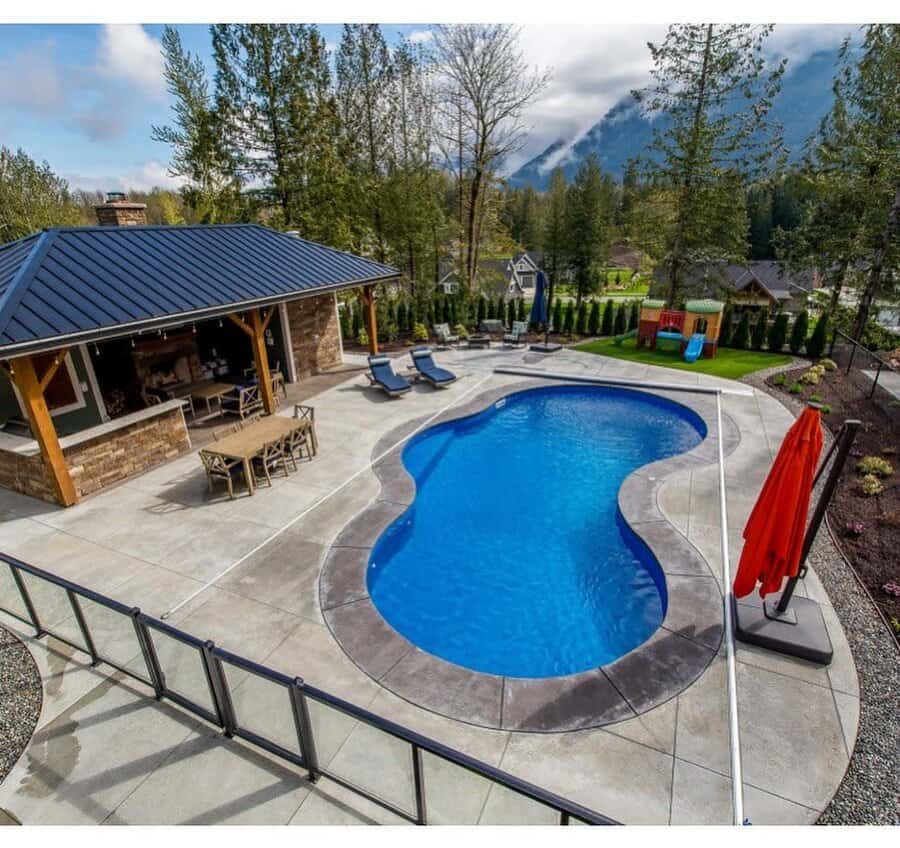 9. Embrace the Outdoors with a Pergola
Integrate the beauty of the outdoors into your space by incorporating a pergola cabana. This airy addition offers a bright and relaxing atmosphere, ideal for lounging or hosting guests. Use it as extra seating or to provide shade by the pool. Discover how to design your pergola cabana and harmonize it with other elements in your outdoor area.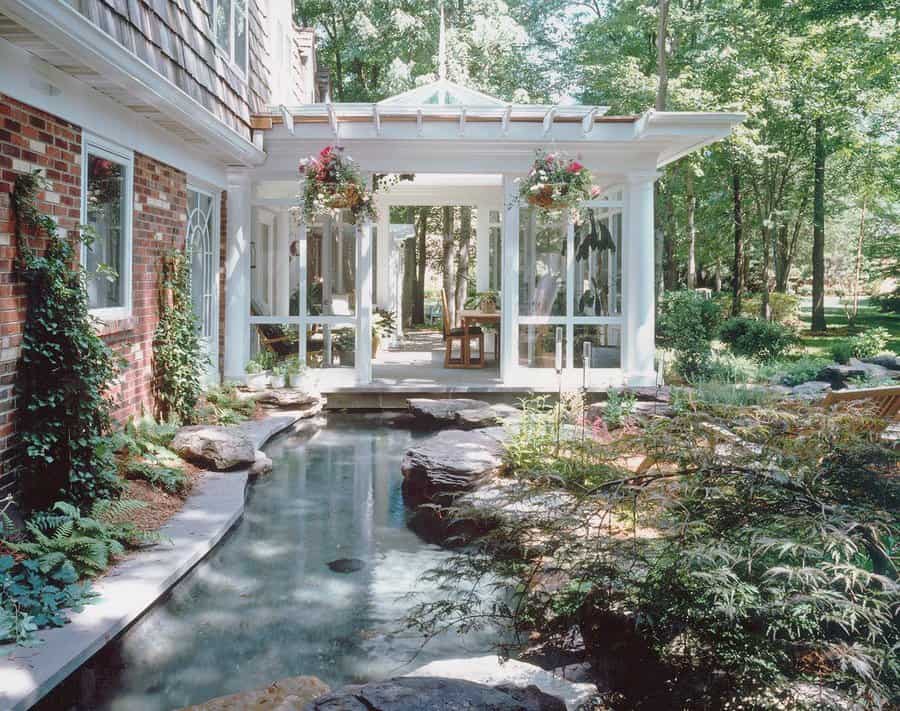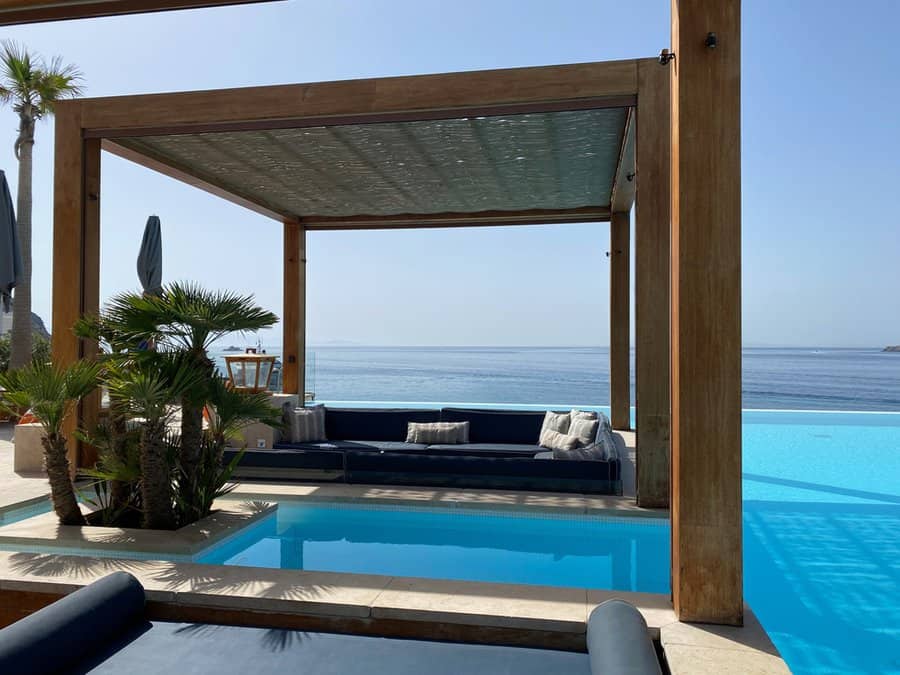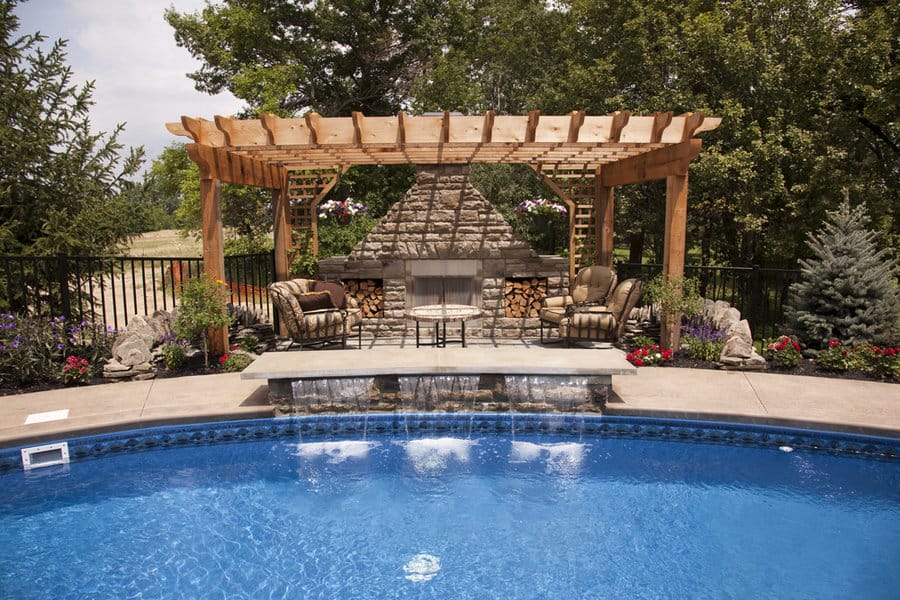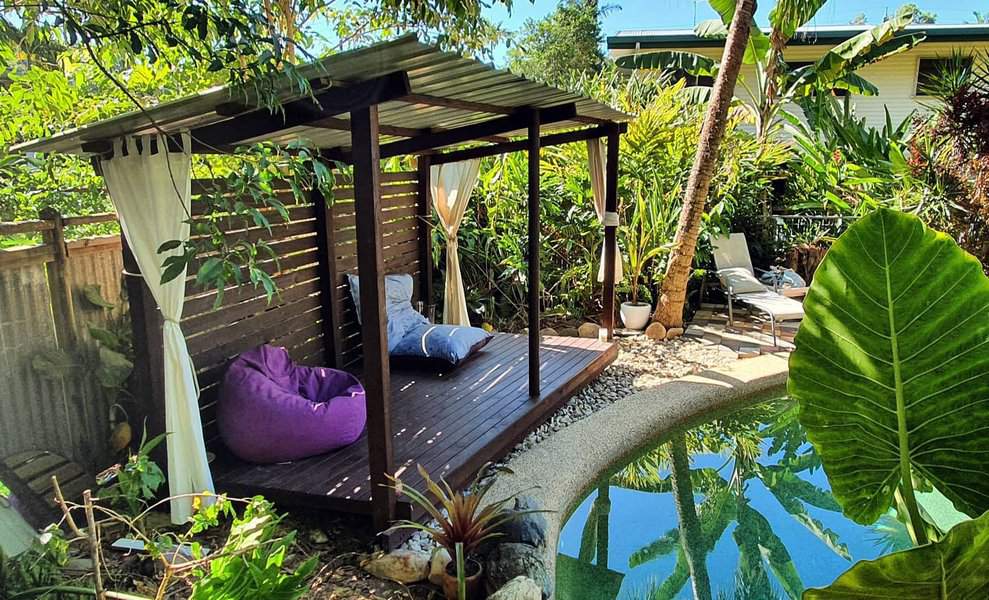 10. Effortless Elegance: Prefabricated Cabanas
Enhance your backyard oasis effortlessly with a prefabricated pool cabana. These stylish additions not only offer sun protection but also bring elegance to your outdoor area. Opt for cost-effective customization to match your preferences, and discover how to seamlessly incorporate a prefabricated cabana into your space for maximum charm.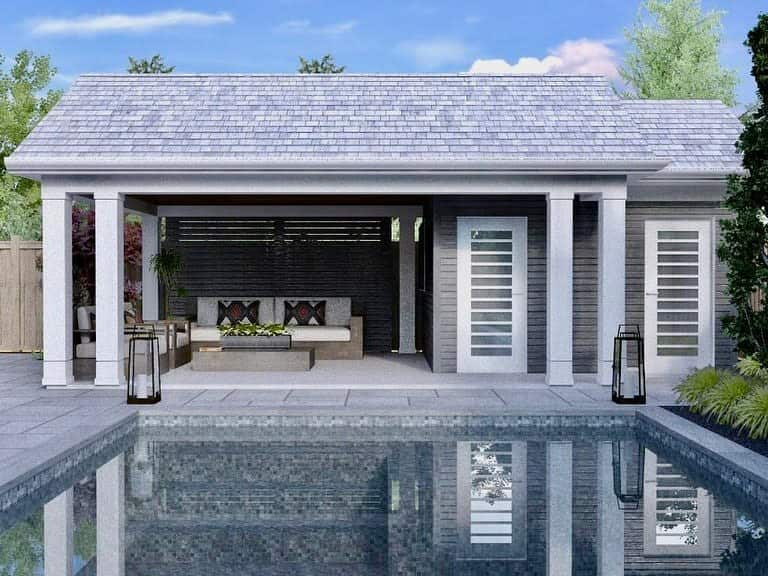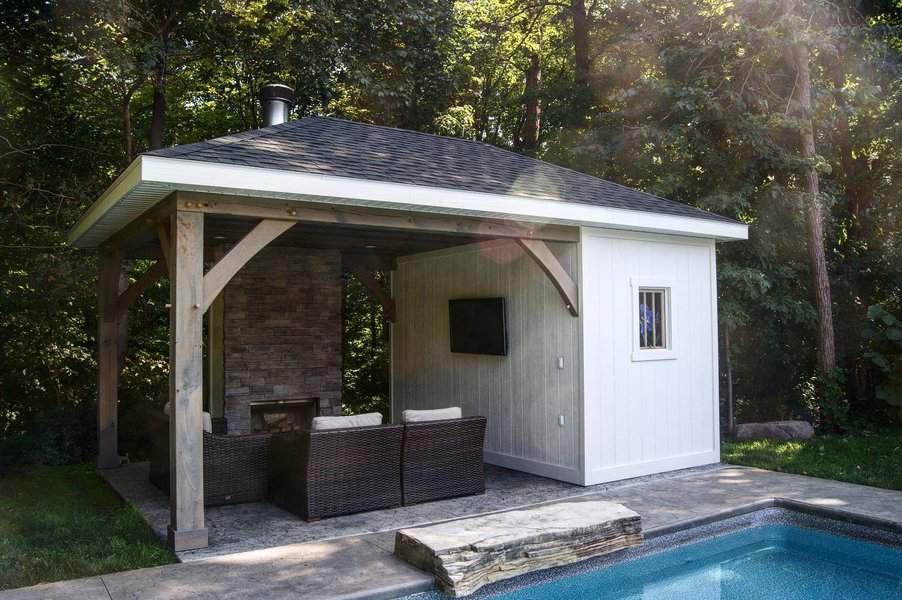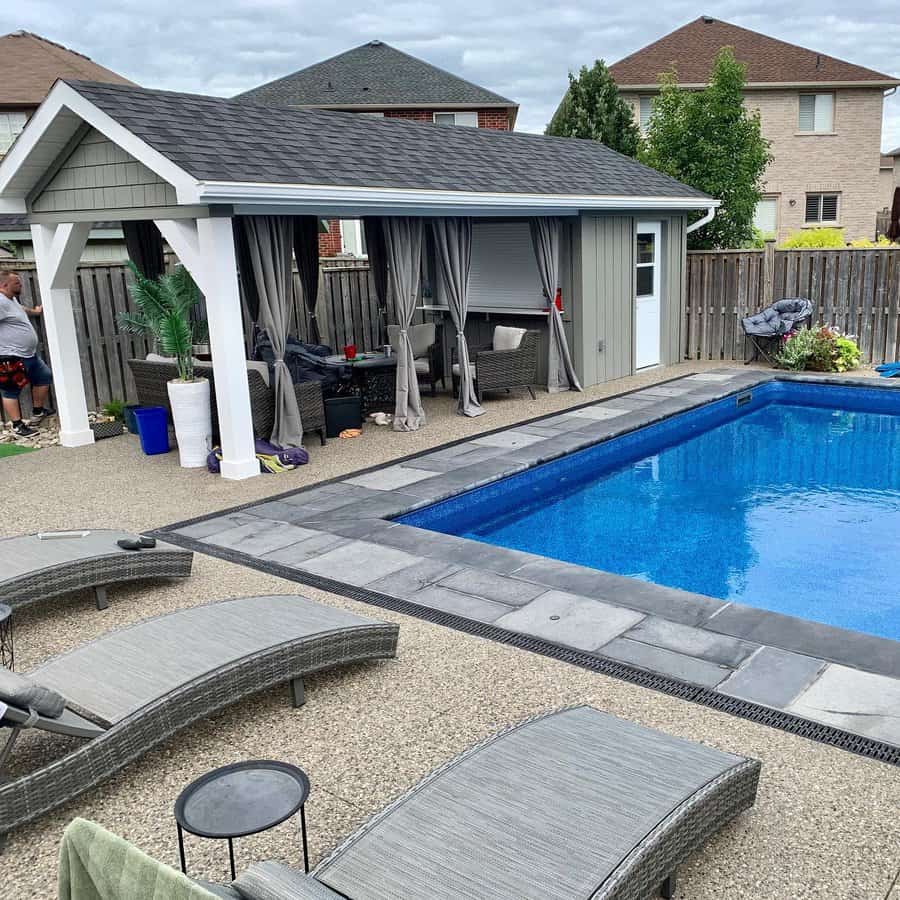 11. Rustic Appeal: Repurposed Cabana Elements
For a truly unique and eco-friendly pool cabana, consider one crafted from repurposed or distressed wood. This rustic option not only adds charm but also longevity to your outdoor space. Discover how to incorporate repurposed cabana elements and create a beautiful retreat or entertaining space that blends seamlessly with nature.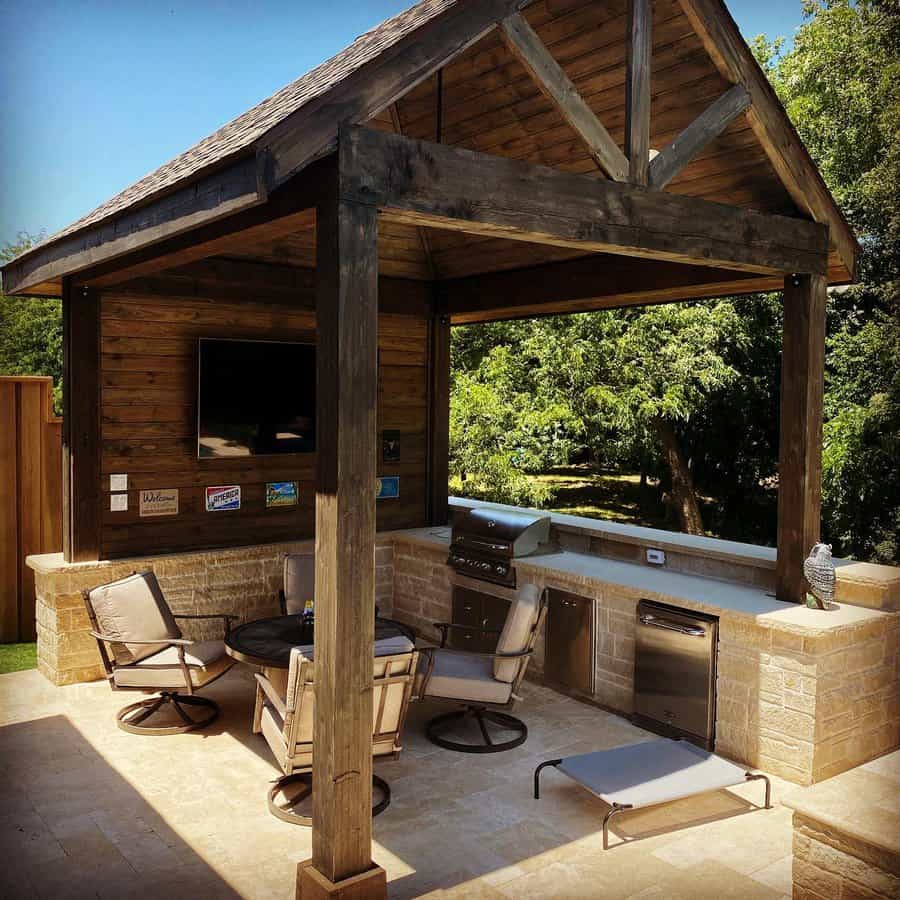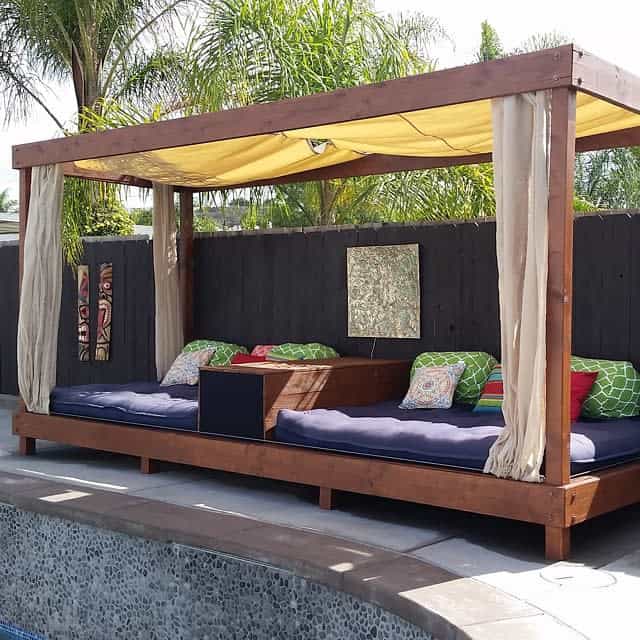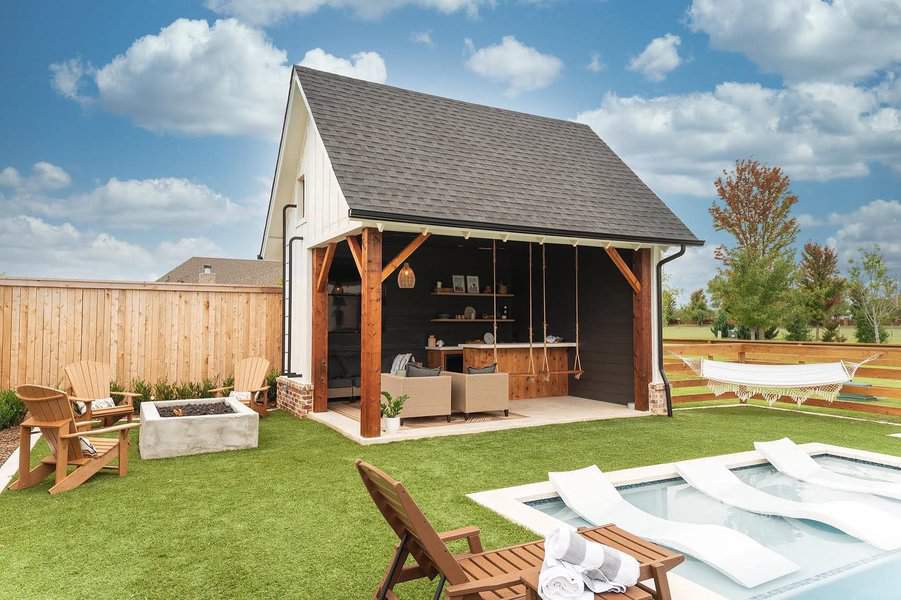 12. Blend Cabana and Storage Shed
For a versatile and stylish addition to your backyard, consider blending a pool cabana with a storage shed. This dual-purpose structure not only adds a touch of elegance but also enhances the functionality of your outdoor space. The pool cabana offers a relaxing retreat, perfect for lounging and entertaining while providing shelter from the elements. Alongside, the storage shed ensures tidy organization for pool essentials such as toys and cushions.
Combining the beauty of the outdoors with practicality, a pool cabana with a storage shed elevates your pool area to new heights. To create this design, choose materials that complement your existing outdoor decor, and don't forget to add some comfortable seating and lighting to complete the setup.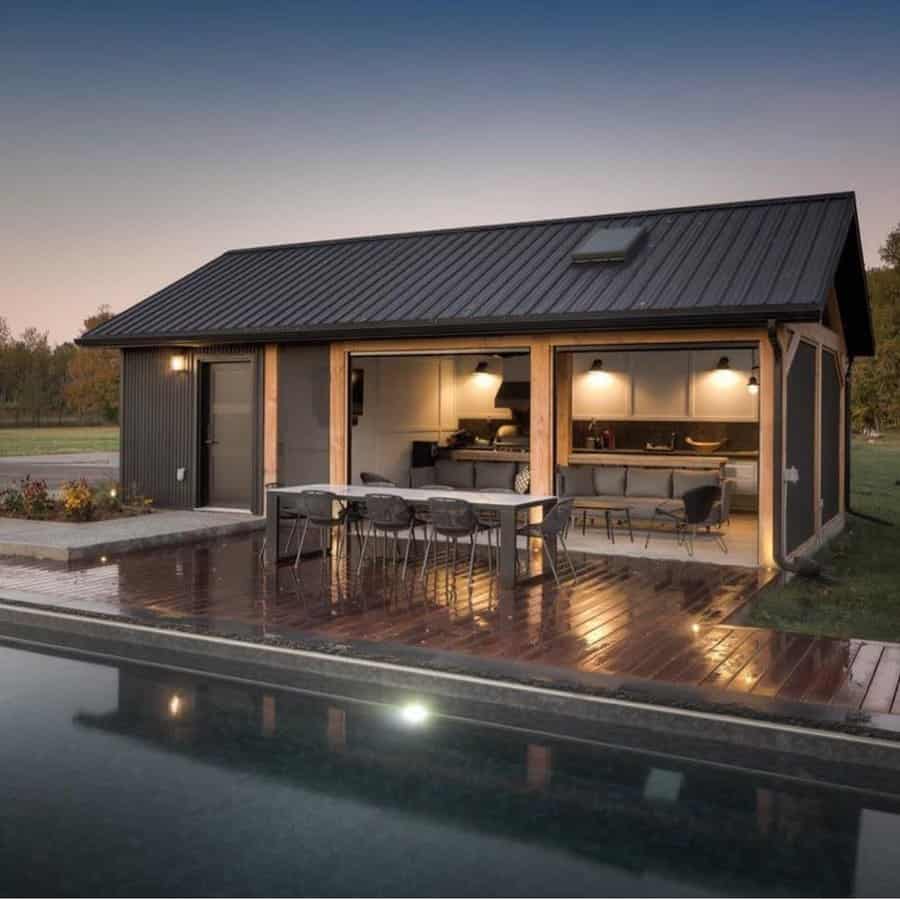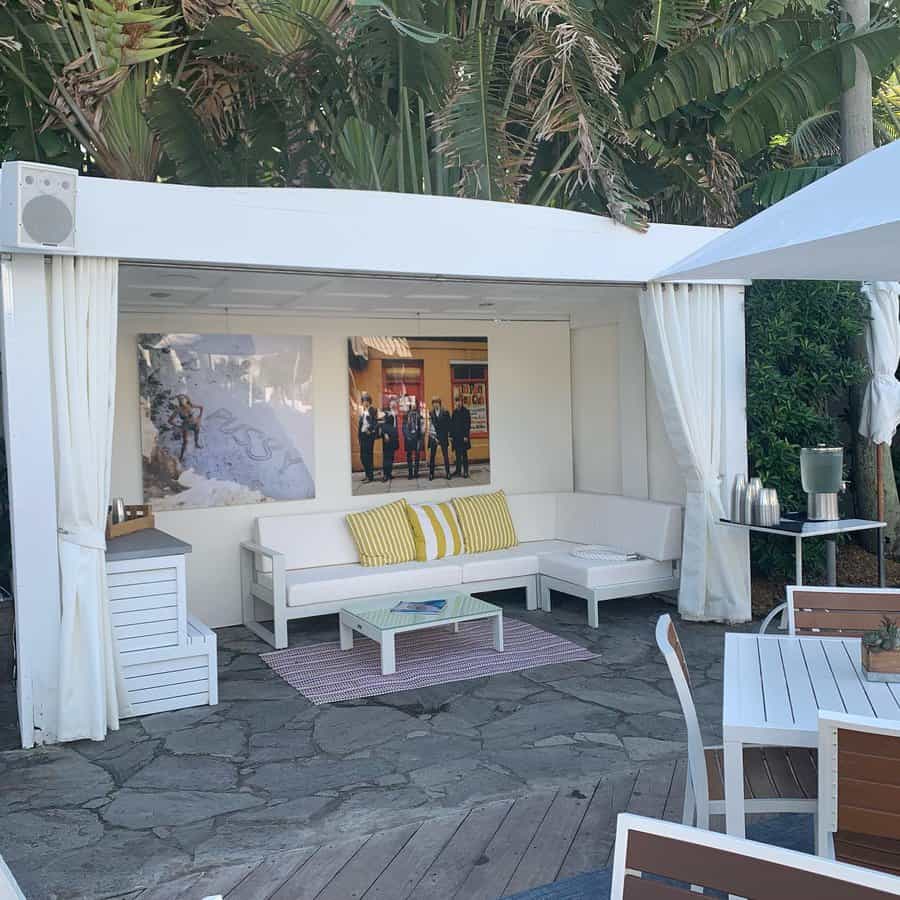 13. DIY Privacy Screen for Cabana Seclusion
For those yearning for poolside seclusion, consider a DIY pool cabana with a privacy screen. This clever addition allows you to relax without compromising your privacy. Escape to your private haven under the shade of a cabana with a built-in screen, shielding you from unwanted distractions. Opt for materials that match your existing outdoor decor, and enhance the tranquil ambiance with cozy seating and soft lighting to complete the experience. Transform your pool area into a serene getaway of your own.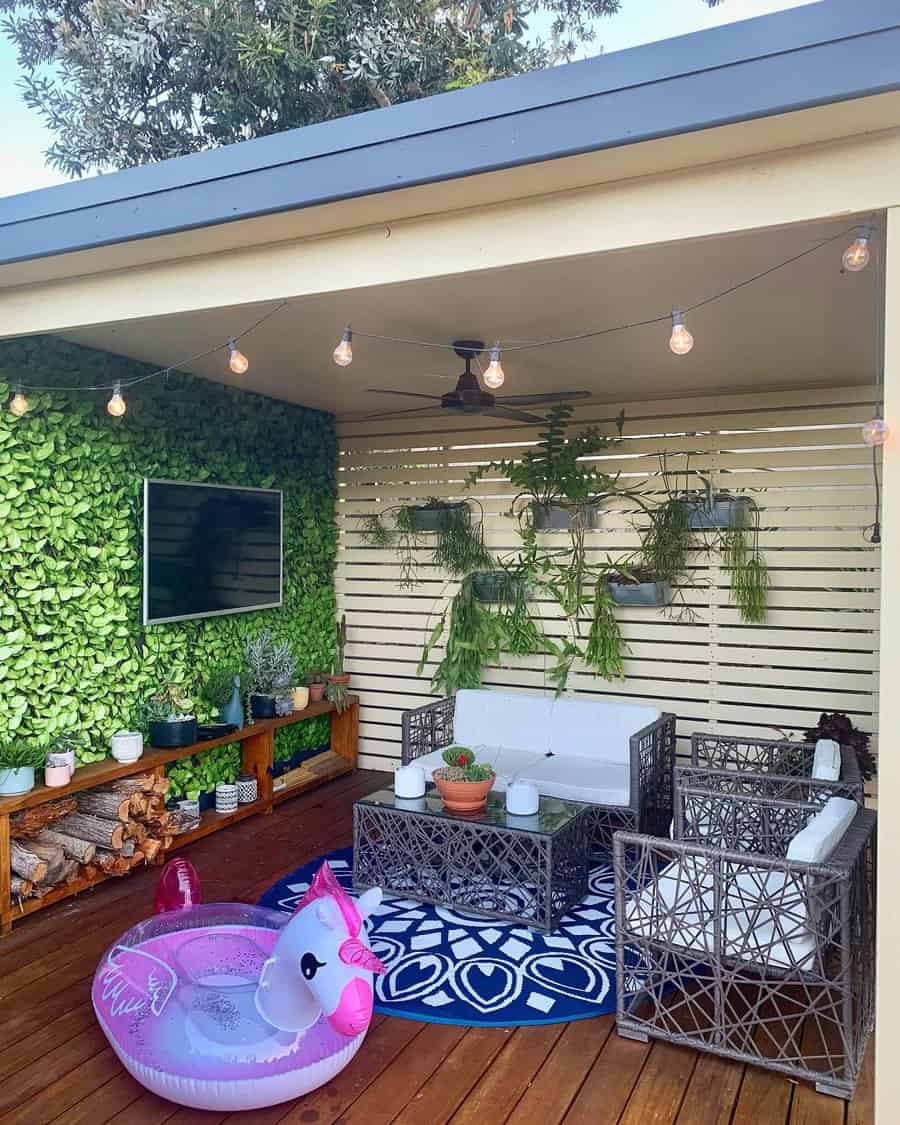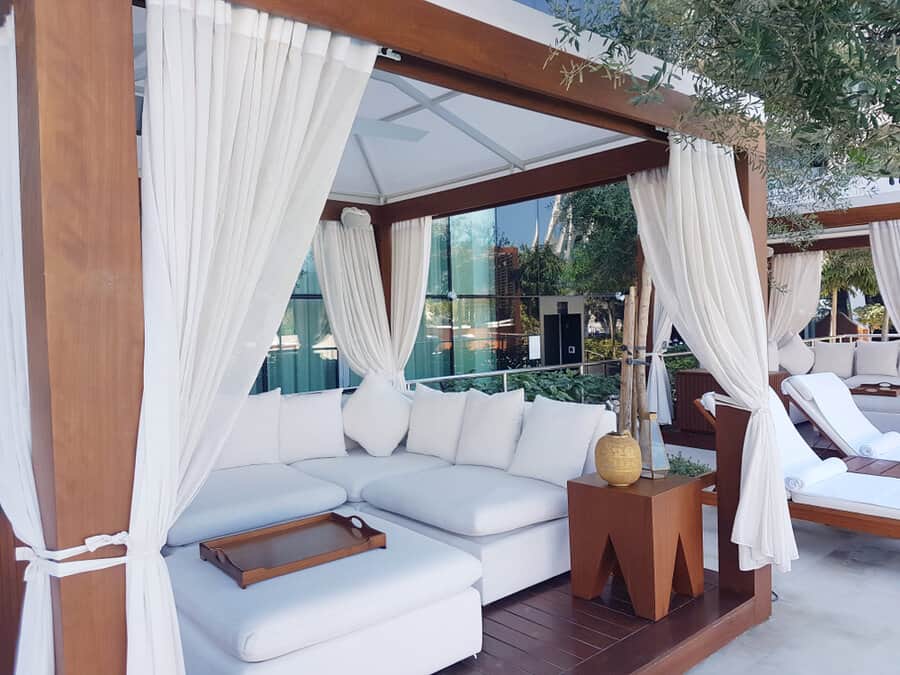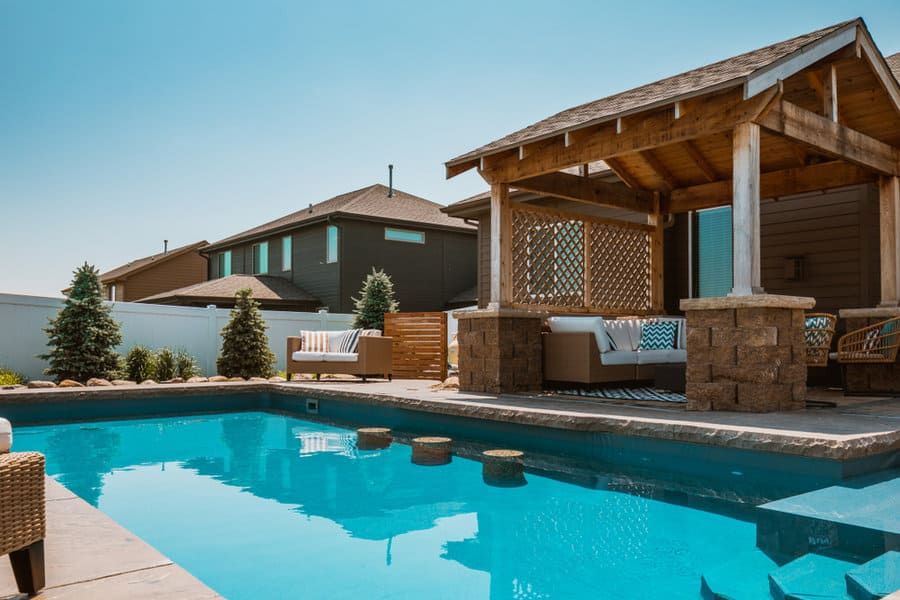 Pool Cabana FAQs
What is the difference between a cabana and a pool house?
Although the two terms are often used interchangeably, they are two different types of structures. A cabana is an outdoor structure with three sides and a roof. The pool cabana design provides poolside shelter and usually includes a private changing room.
A pool house is a separate guest house built near a backyard pool. It requires building permits and full utilities like any other house. A pool house plan often includes a small kitchen, bathroom, living space, and perhaps a guest bedroom.
How big should a pool cabana be?
There are no rules for how big or small your pool cabana design should be. Most backyard cabana structures average between 8' x 12' and 10' x 14'. It simply needs to be big enough to provide shade to your pool area an perhaps an enclosed space for changing in and out of swimwear.