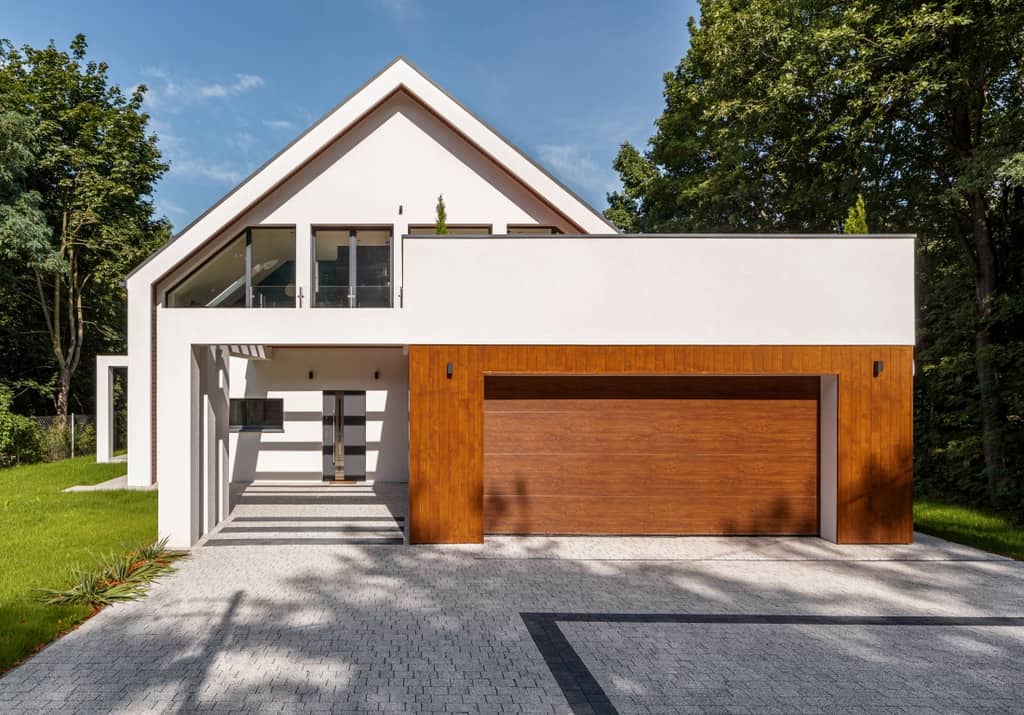 Get inspired by the images you see in Good Housekeeping and make the most of your small garage. You do not need a lot of garage space to have a useful storage space or functional workspace. Take the ideas that you find inspiring and scale them down to fit in your garage. So head to your local Home Depot or home improvement store and get to work giving your small garage a makeover. These small garage ideas will help you turn a plain and dreary small garage into a beautiful and functional space.
1. Door
You can invest in a more expensive garage door when you have a small garage. Choose one with more style and design than a standard large garage door. It could have a sleek modern design with decorative frosted glass panels. It could give your garage a rustic or farmhouse touch with a wood barn style.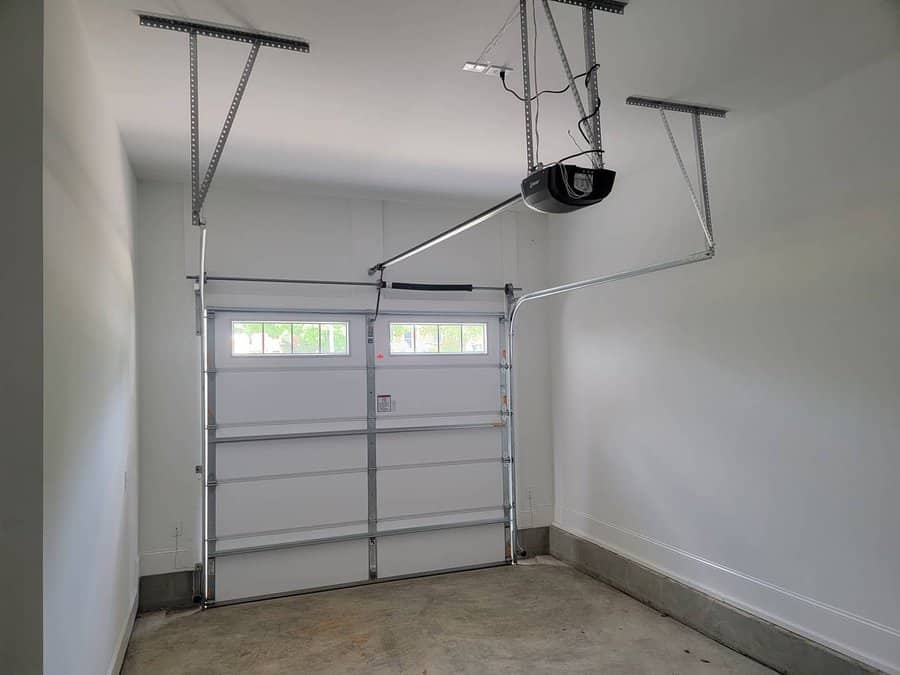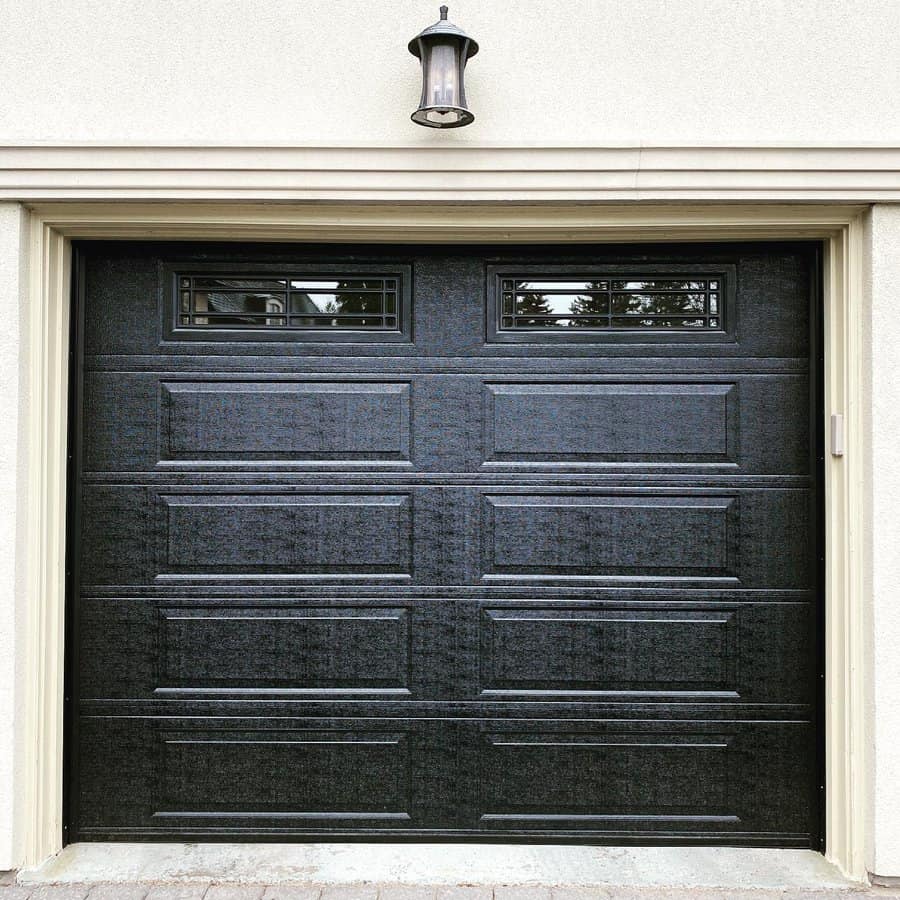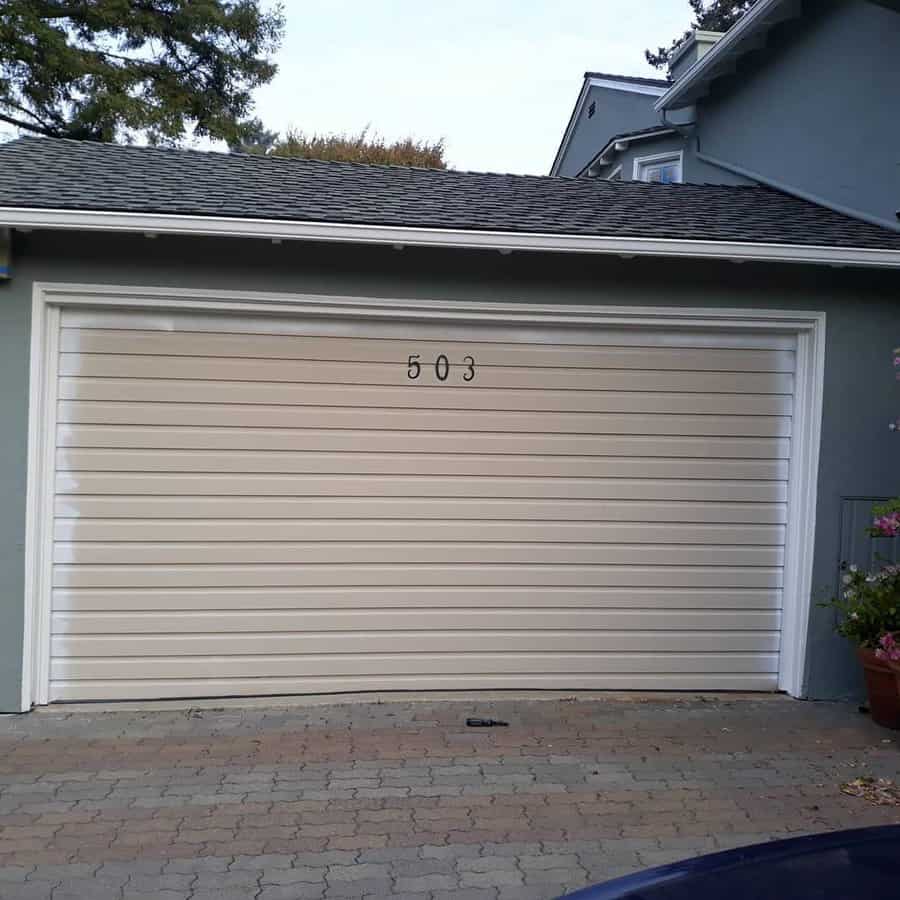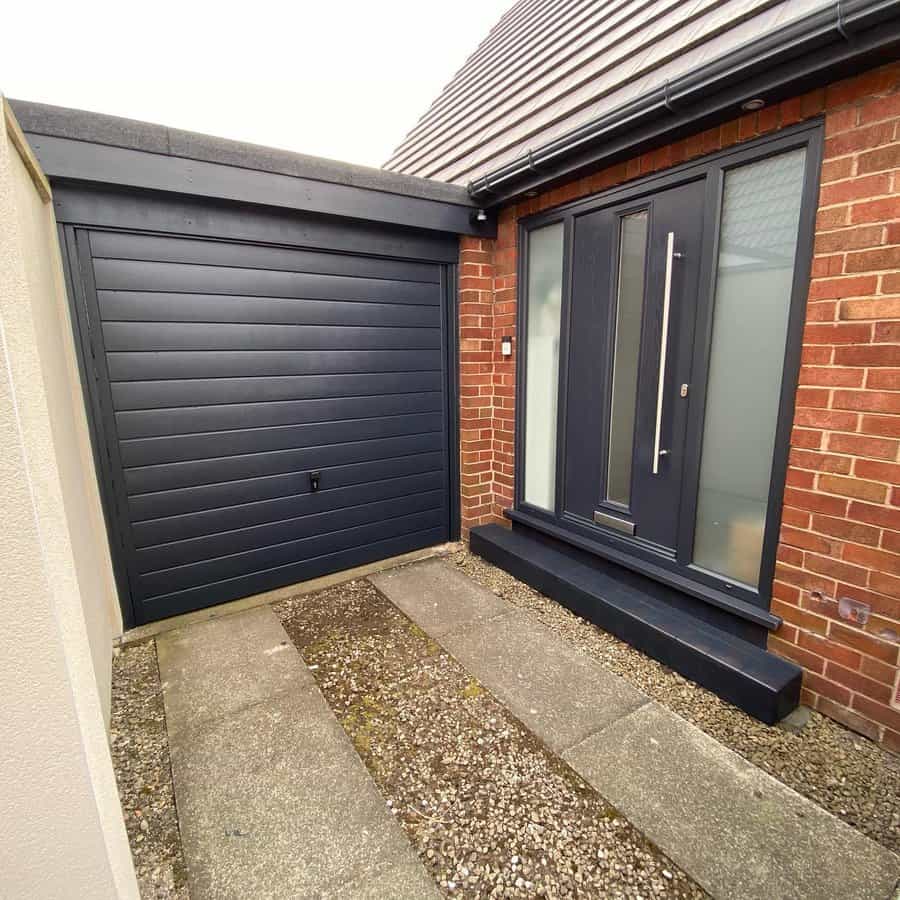 Try painting it a bright or bold color to make a statement and turn the garage into a focal point for the home's exterior. Use modern materials with insulation on the backside. This will help regulate the temperature in your garage better.
See more garage door ideas here.
2. Floor
The typical garage floor is bare concrete. It is porous and gray, making it less durable and easily stained. To keep your floor space looking good, you need to apply a protective coating. While you could paint it, this is not your best option.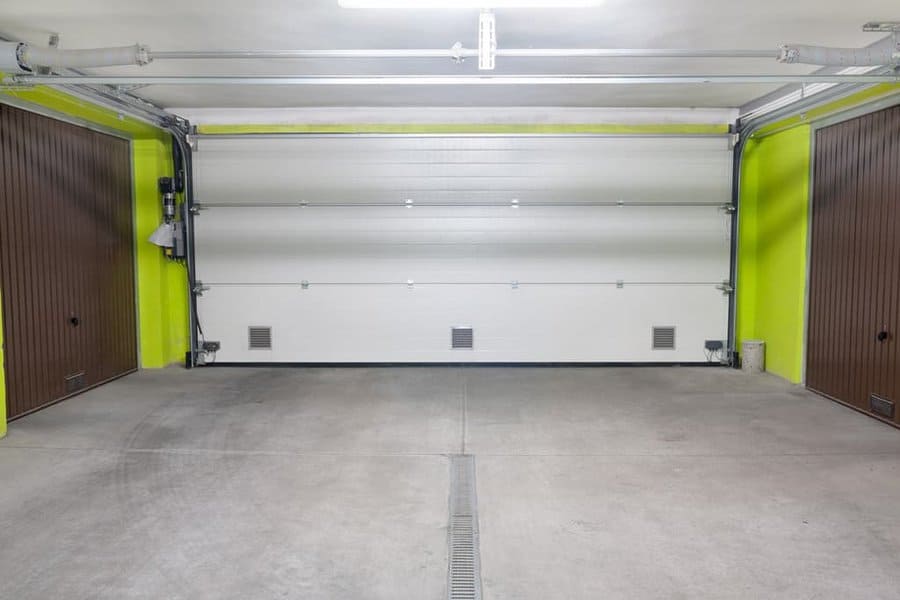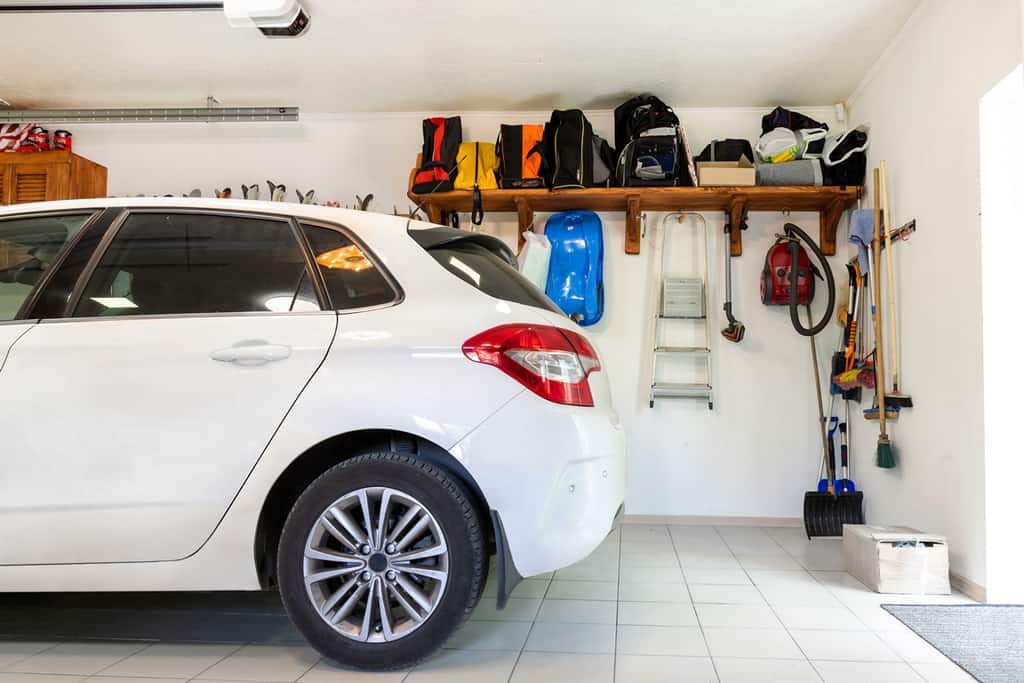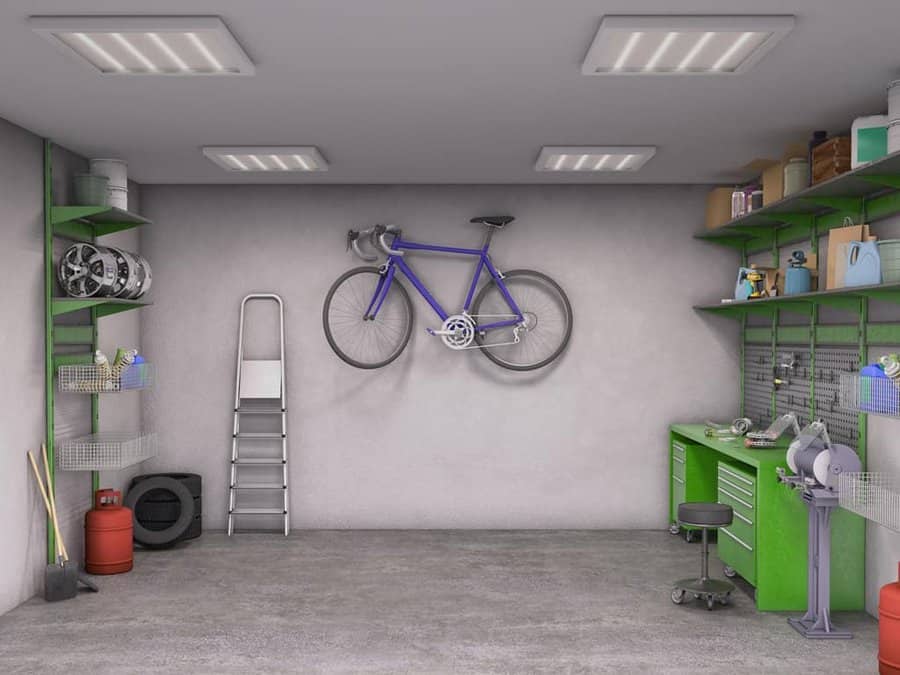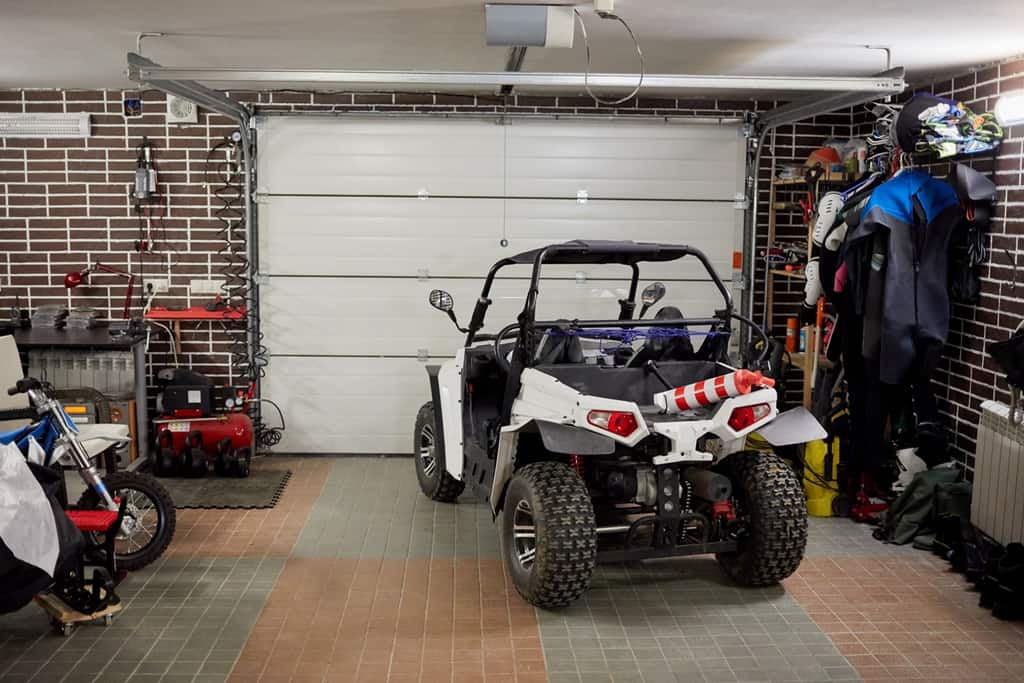 A concrete stain and clear epoxy finish can easily hide dirt and spills. A modern epoxy will be the most durable and protective. Finally, you can finish your garage with a peel and stick vinyl tile or click together laminate to give the garage floor an interior finished feel.
See more garage flooring ideas here.
3. Gym
If you are a sports or fitness enthusiast, turn your small garage into a home gym. You could have shelves to create storage space for holding sports equipment. Look at overhead storage solutions to learn how you can use the overhead space to hold seasonal sporting goods.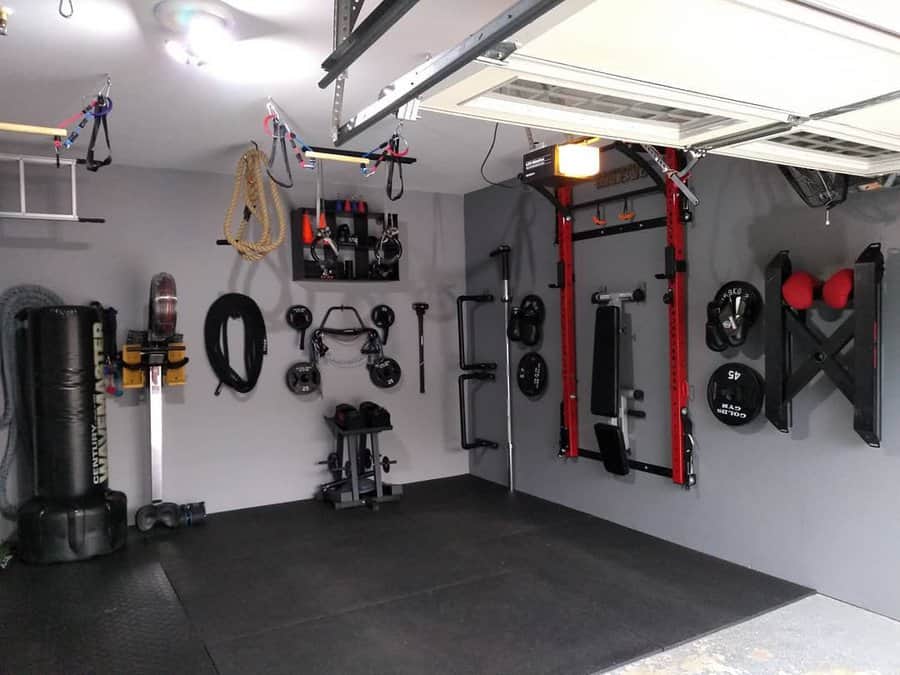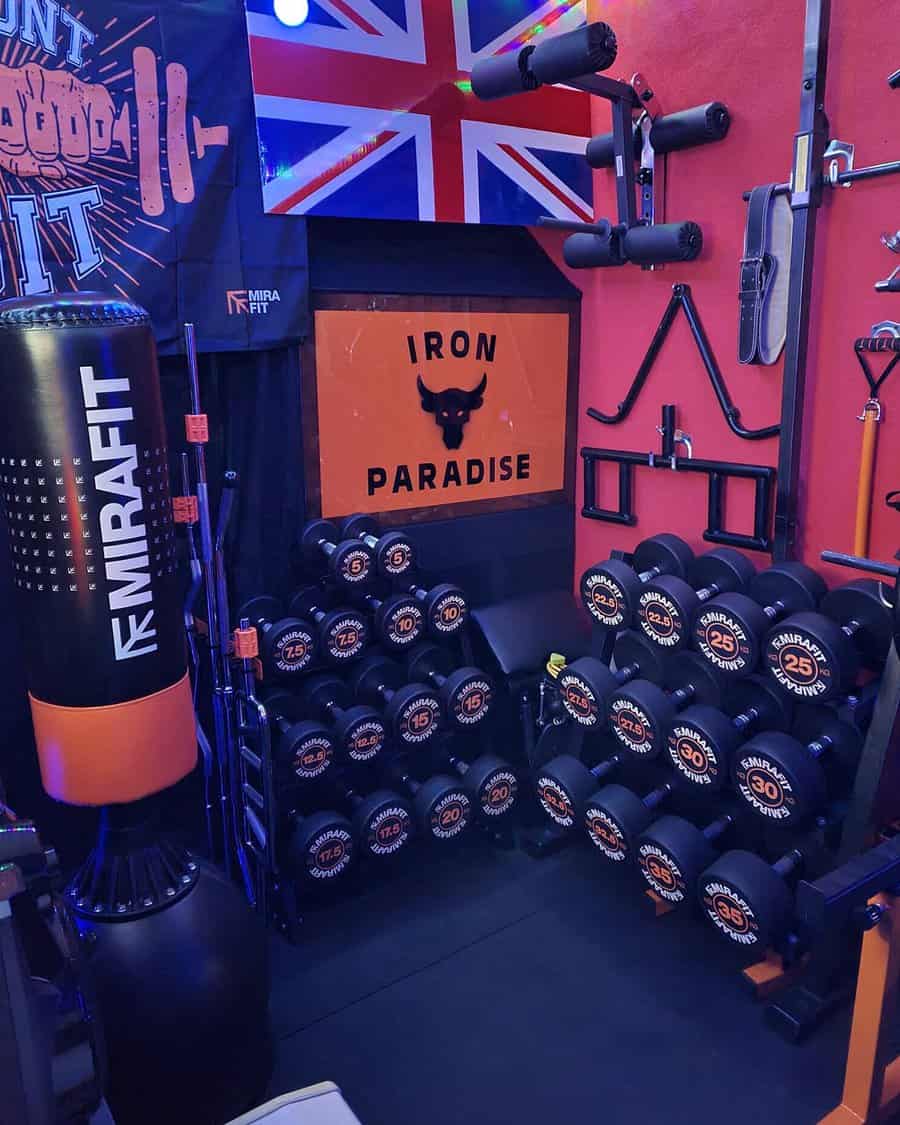 These garage storage ideas show you how to keep winter gear out of the way during summer or sports equipment used in summer neatly tucked away during winter. Lay a thick rubber mat on the floor, and then place your gym equipment on the mat. Leave enough space around each equipment piece to ensure you can easily walk around your new home gym.
4. Light
Add more light to your small garage to make it feel brighter, bigger, and more welcoming. Take a similar approach as you would with your home decor. The light you choose needs to complement the space, be bright enough to illuminate the space, and have a style that suits the garage. A flush light will probably work best to keep the light tucked out of the way.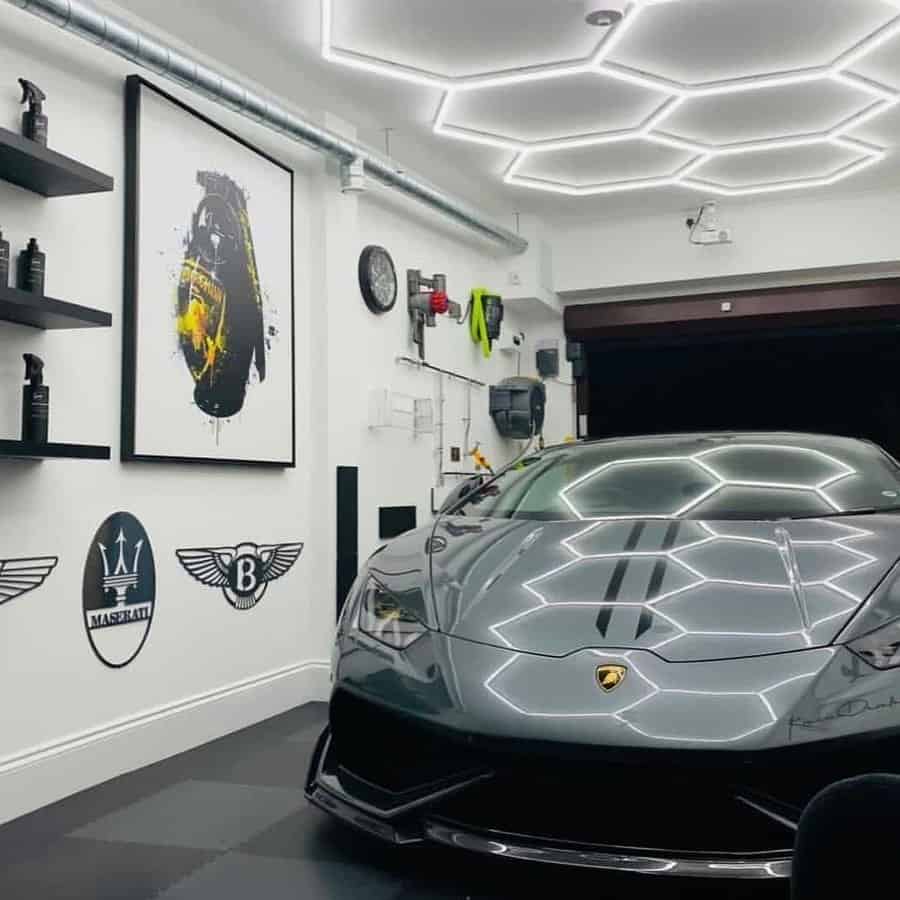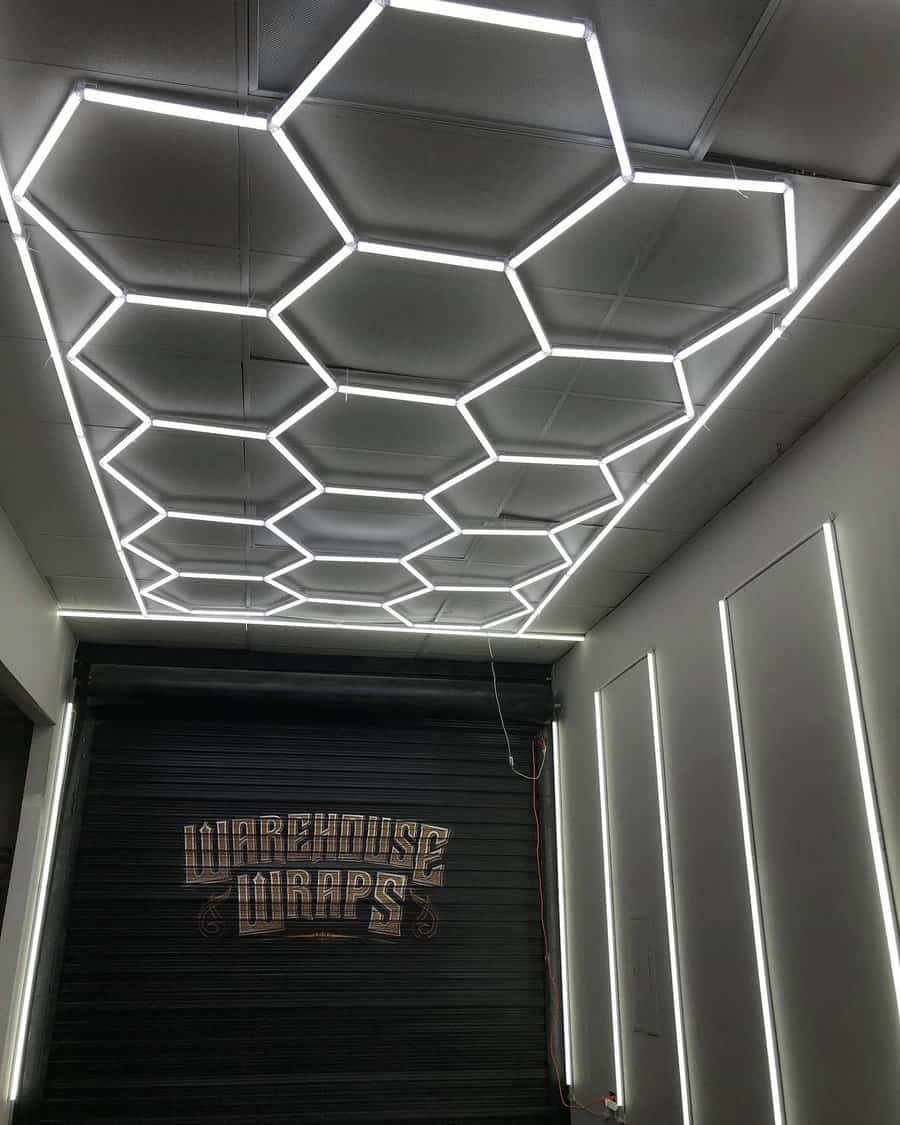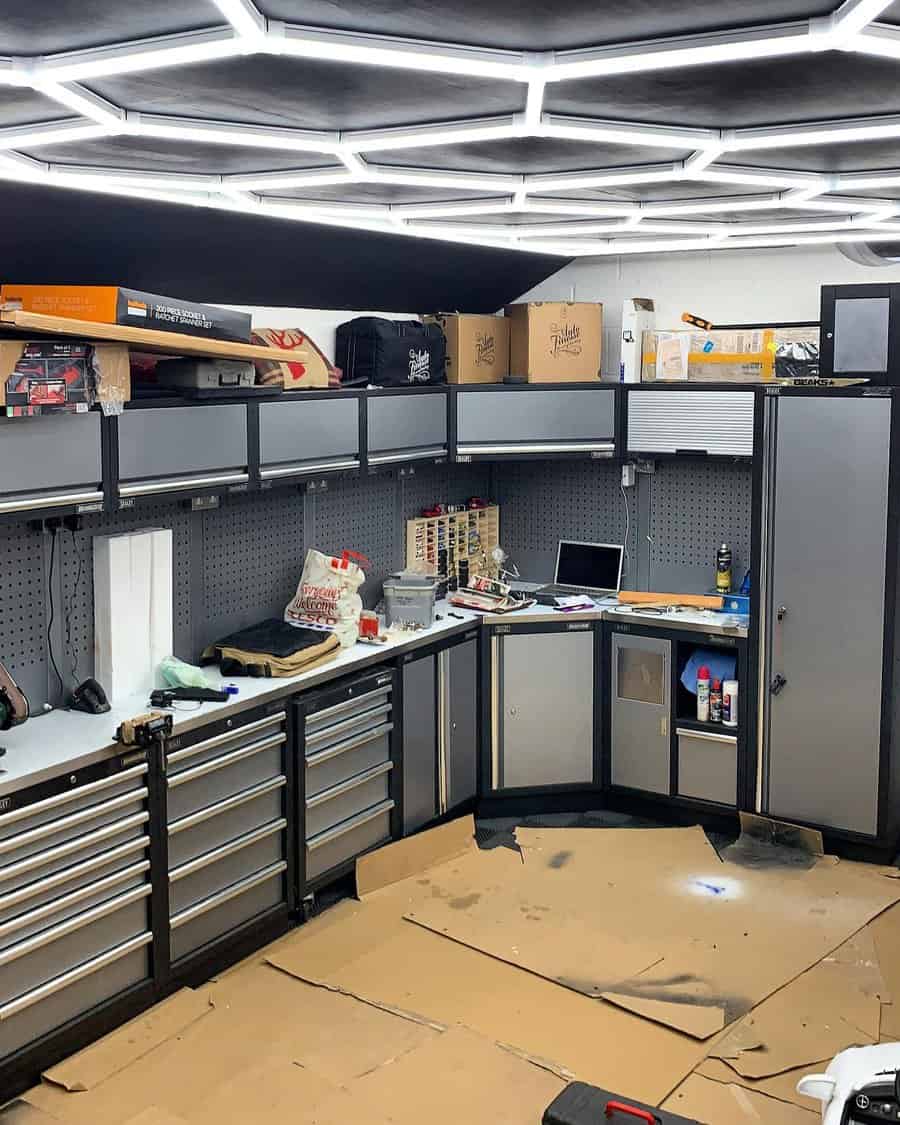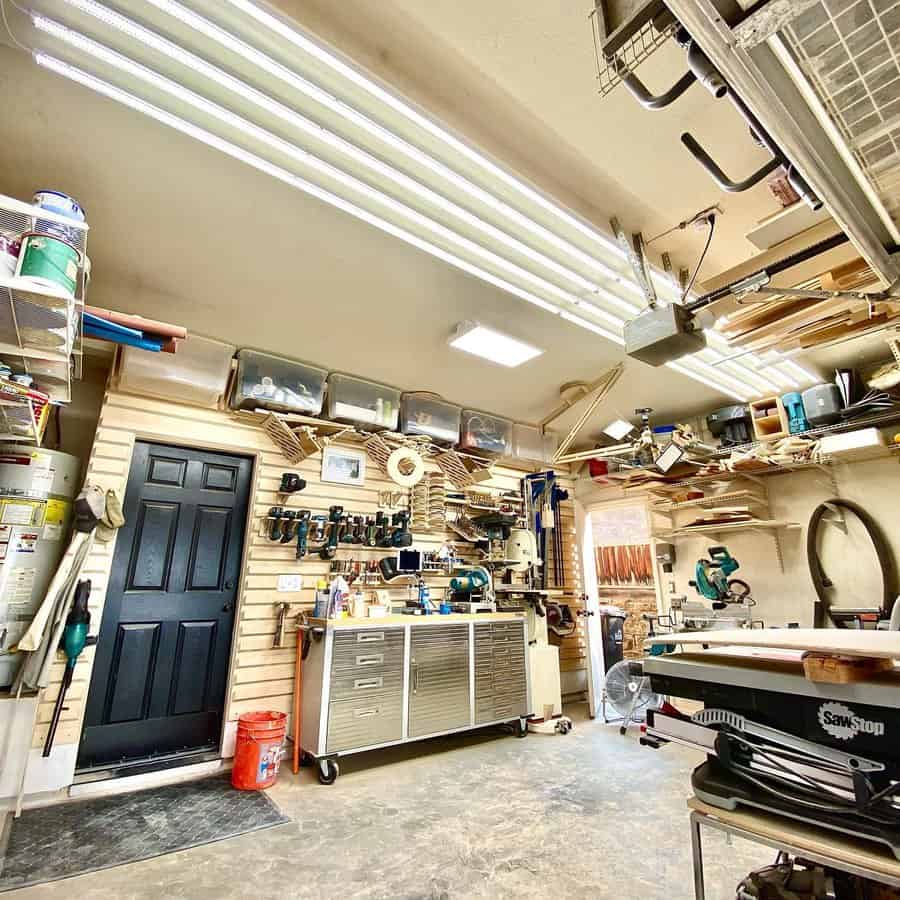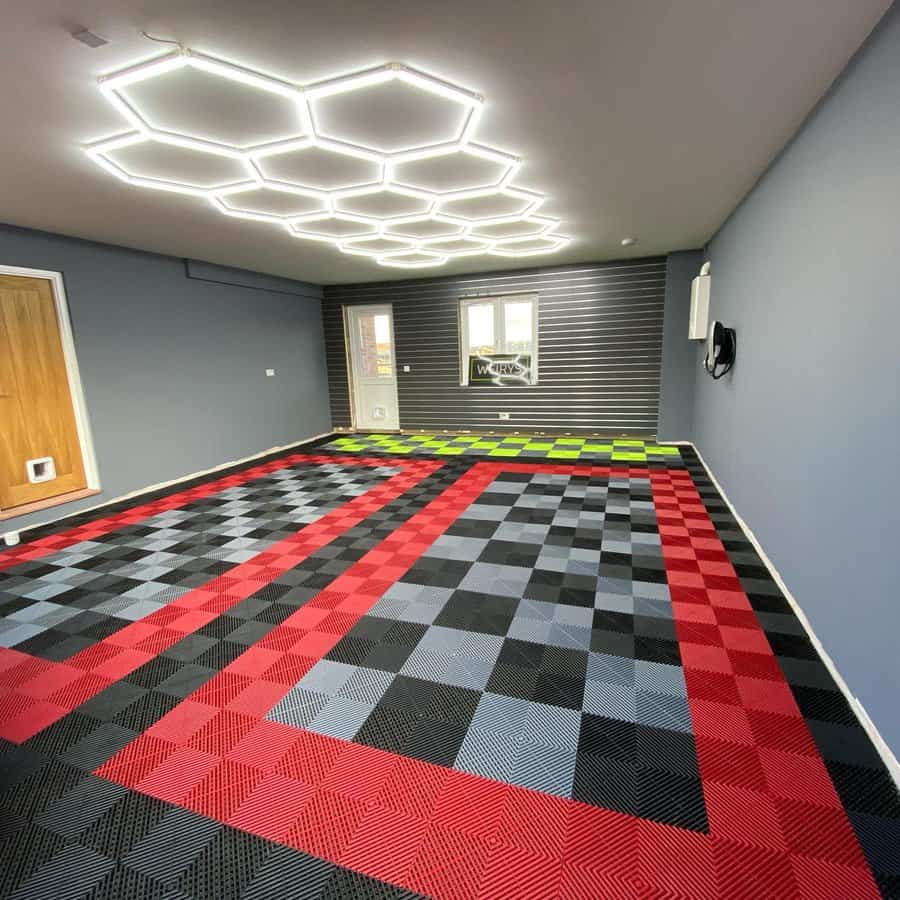 LED bulbs are also a smart choice because they are durable, long-lasting, and energy-efficient. If you are looking for a quick DIY solution, you will want a light that can plug into an existing outlet. Have the wiring done to add an additional light fixture for a more extensive remodel.
5. Minimalist
To create a minimalist look in your garage, look for garage organization ideas that show you how to hide clutter. You want to create a uniform and clean design that hides everything. This means installing cabinets with slab front doors.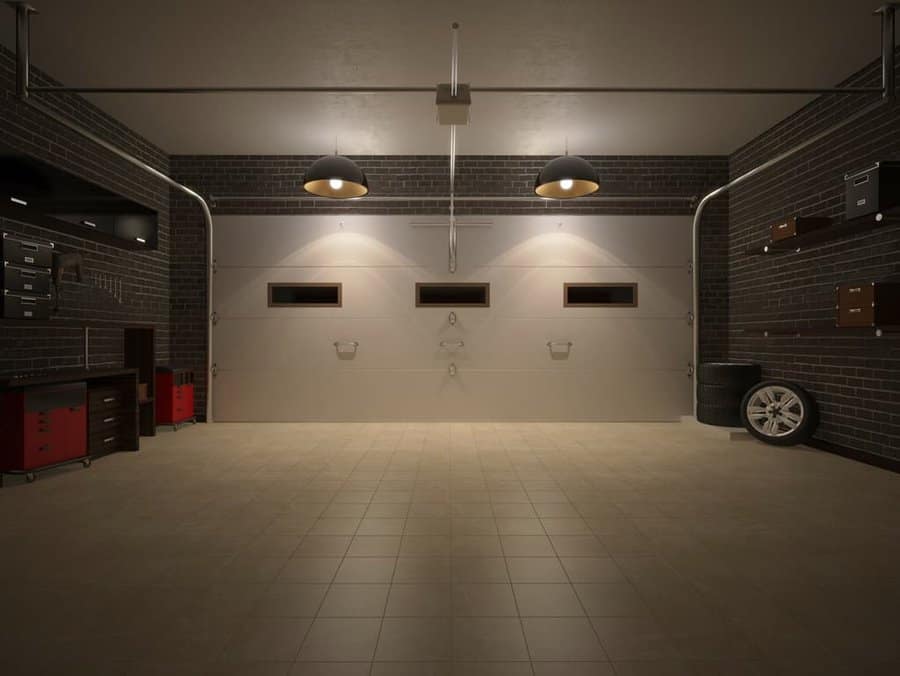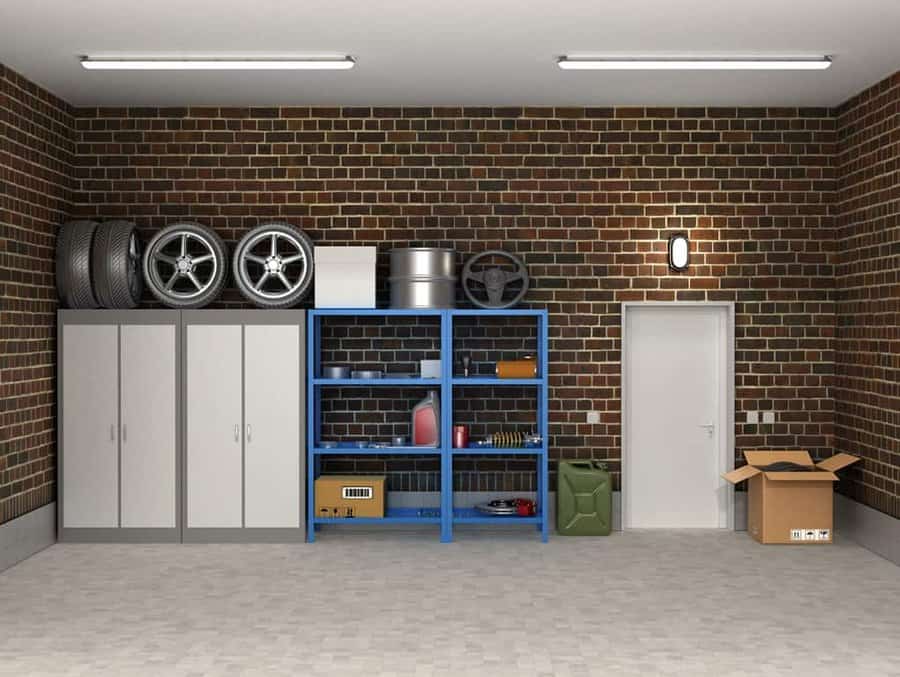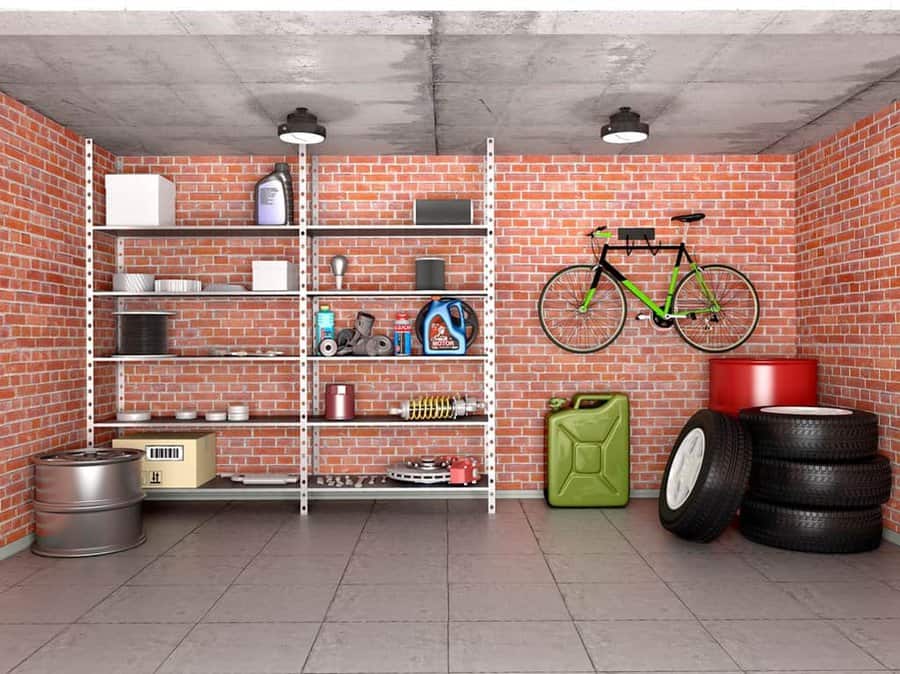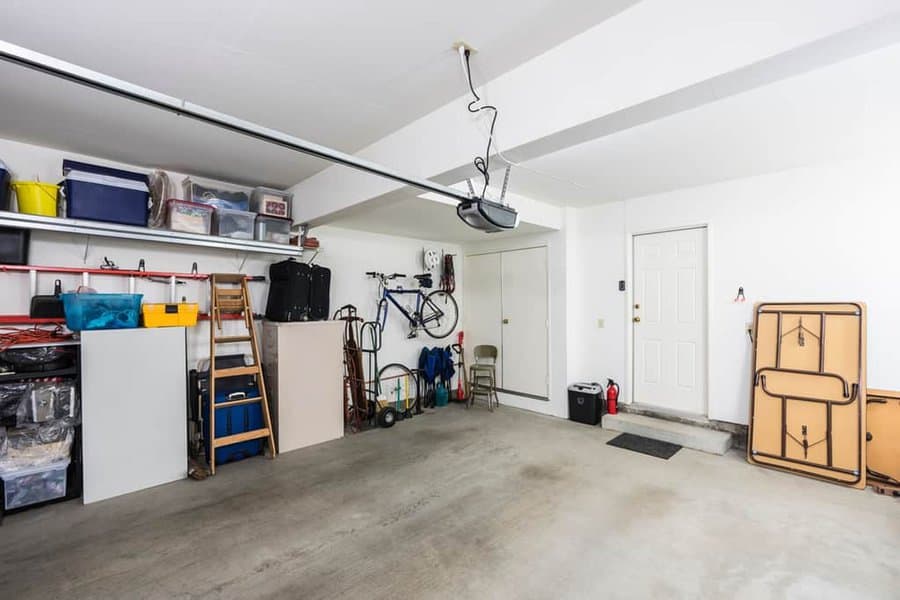 Install floor-to-ceiling cabinets along the entire length of the wall or around the entire garage. Overhead garage storage is also good because it moves everything above eye level. Add decorative lighting to your garage design. LED strip lighting mounted underneath your cabinets creates the perfect task lighting and adds a modern accent.
6. Organization
Staying organized is crucial when you have a small space. Because you have a smaller square footage to work with, clutter becomes overwhelming quicker. Purchase storage bins of varying sizes to hold small items.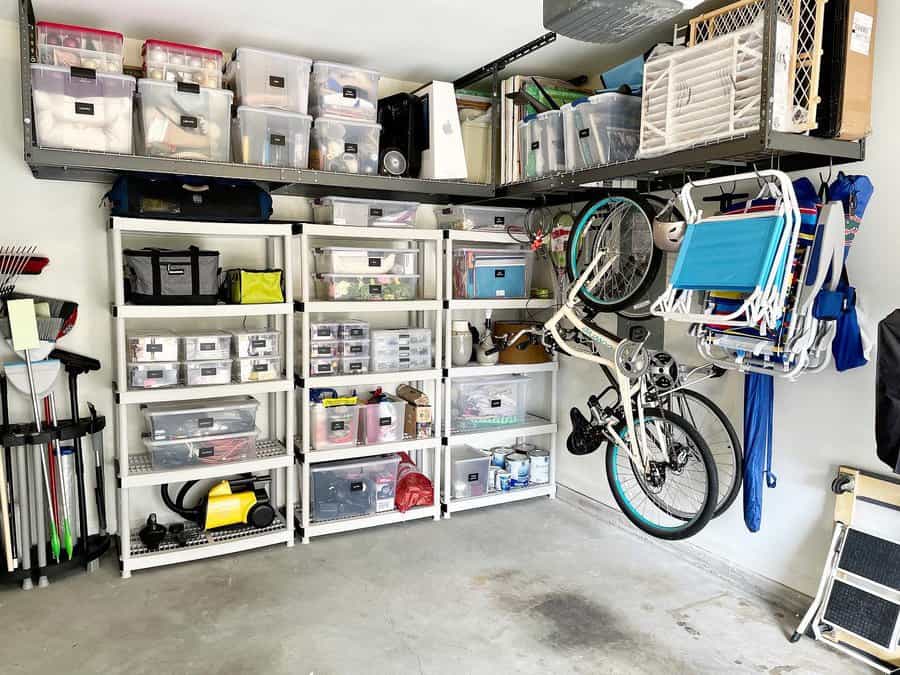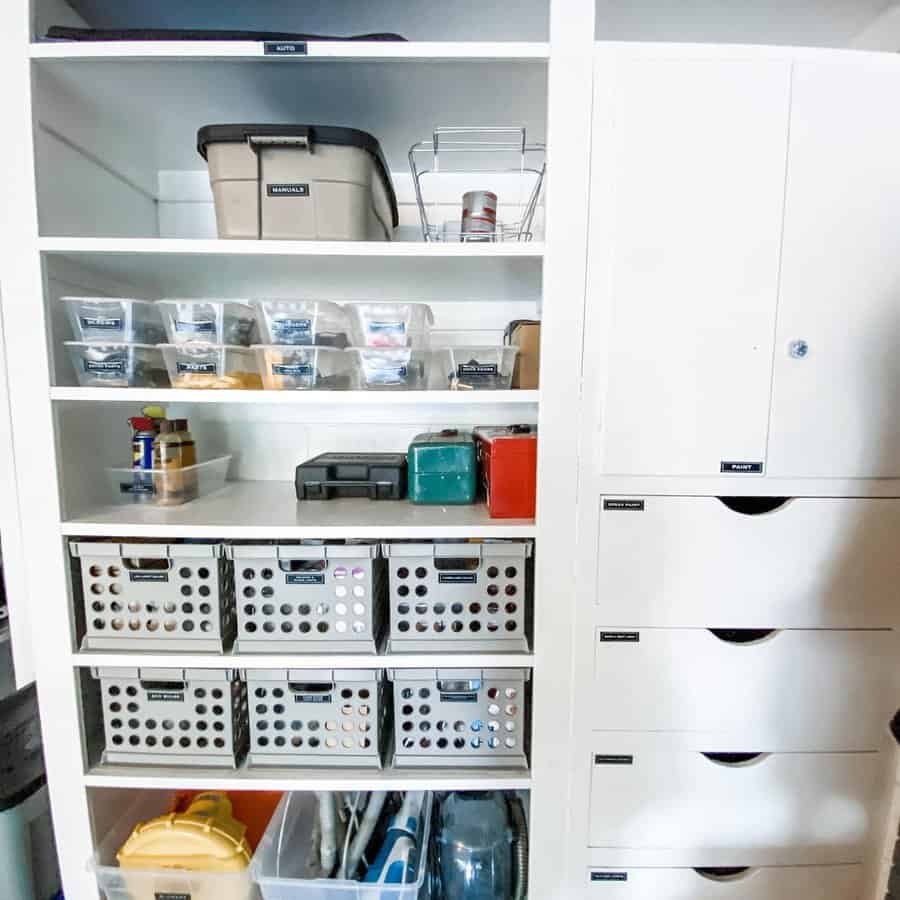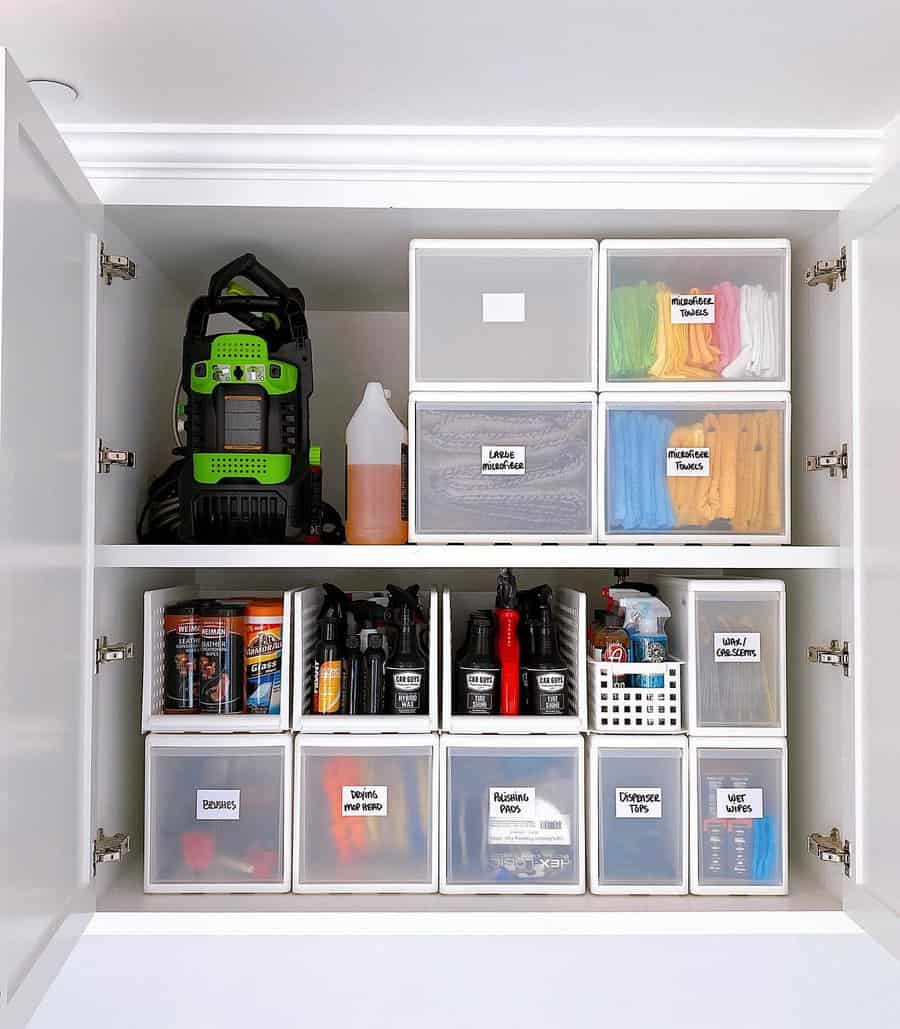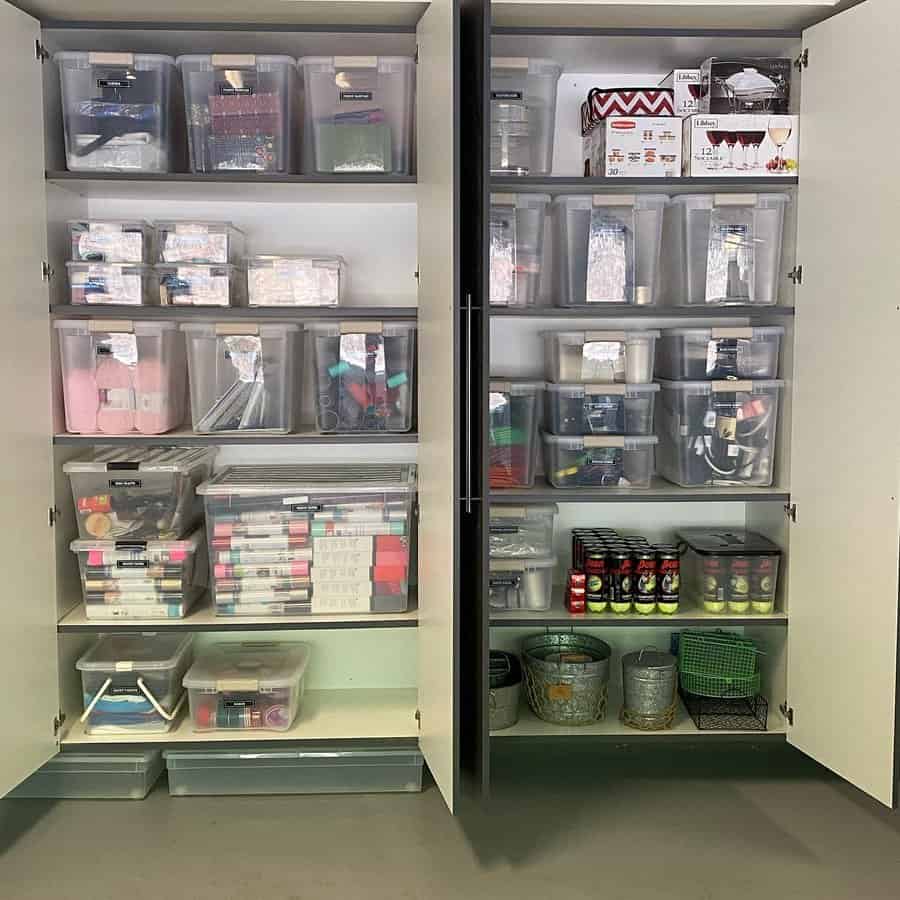 Create extra storage by looking for unused space. Look for a storage solution that makes sense for you. Staying organized is not a one-size-fits-all solution. Your chosen system needs to work for you and the items you need to organize. You could try organizing by date, color, age, family member, or use.
7. Outdoor
Turn your small garage into a garden shed that holds all of your garden tools. This gives you easy access to your gardening tools while working in the front or back yard. Garage organization tips that you can use for a garden shed include adding a workbench, shelves, and a pegboard.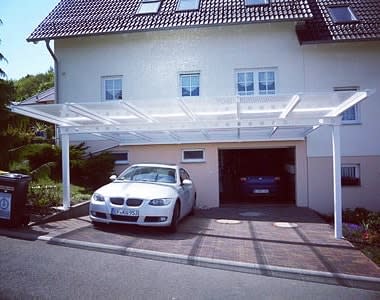 Mount a large yard tool holder that will keep shovels and rakes organized. Add a grow light to help smaller plants get their start before they are ready for transplanting to your garden. You could have a bench or stool to give your feet a break while working on your plants.
8. Pegboard
Add a traditional organizational system to your garage walls with a pegboard. It is so popular because it is incredibly versatile. You can easily cut the pegboard to fit the size of your garage wall. Then you can use hooks to hang tools on the wall. Move and arrange the hooks to maximize your storage space and hang everything you need.
There are also modern solutions that make your pegboard more flexible. Add buckets with hooks or a rail that small bins hang from. You could even add shelving that is supported by hooks and use a counterbalance system to support the shelf.
See more garage pegboard ideas here.
8. Rustic
Give your garage a rustic touch by keeping it simple. Check out DIY ideas that keep the design simple. You could finish the garage walls by painting them a cheery color. Create an accent wall by adding reclaimed or pallet wood. Use a rustic wood floor laminate to create a rustic accent wall treatment.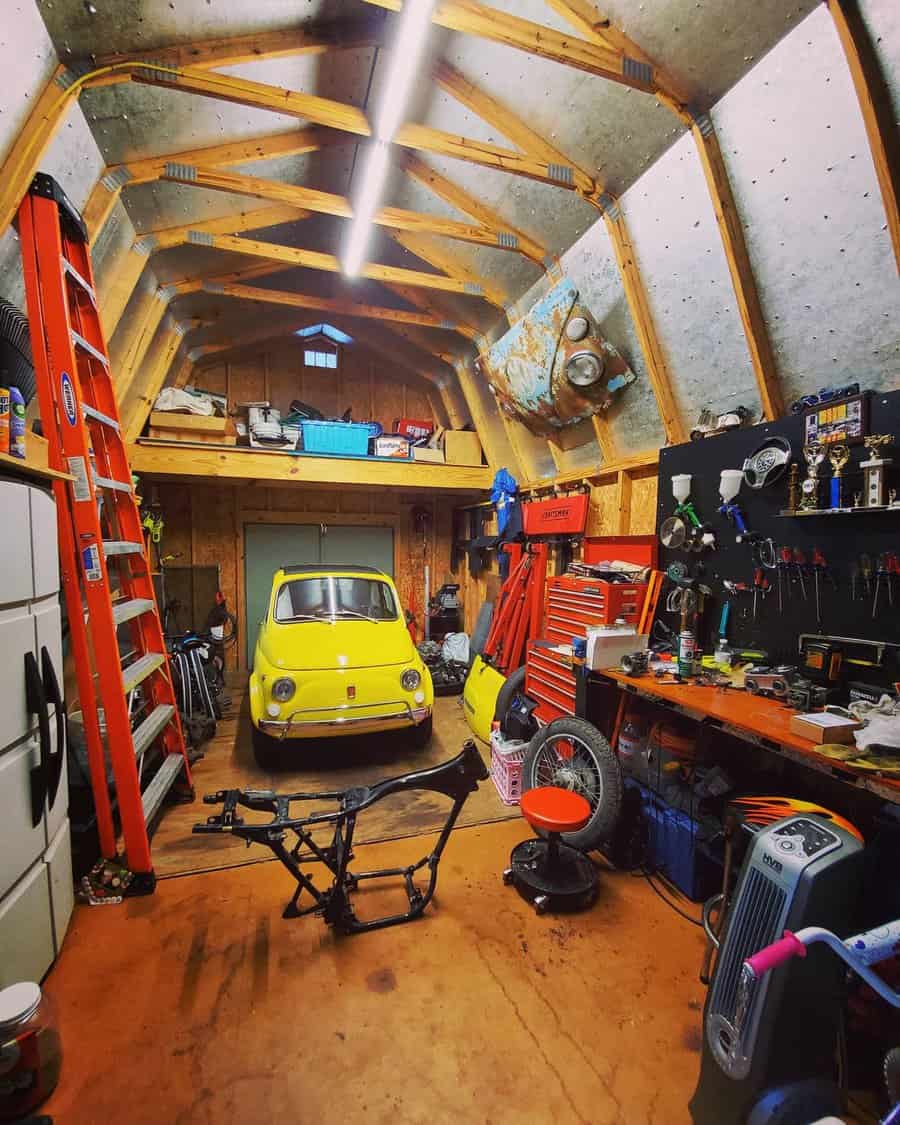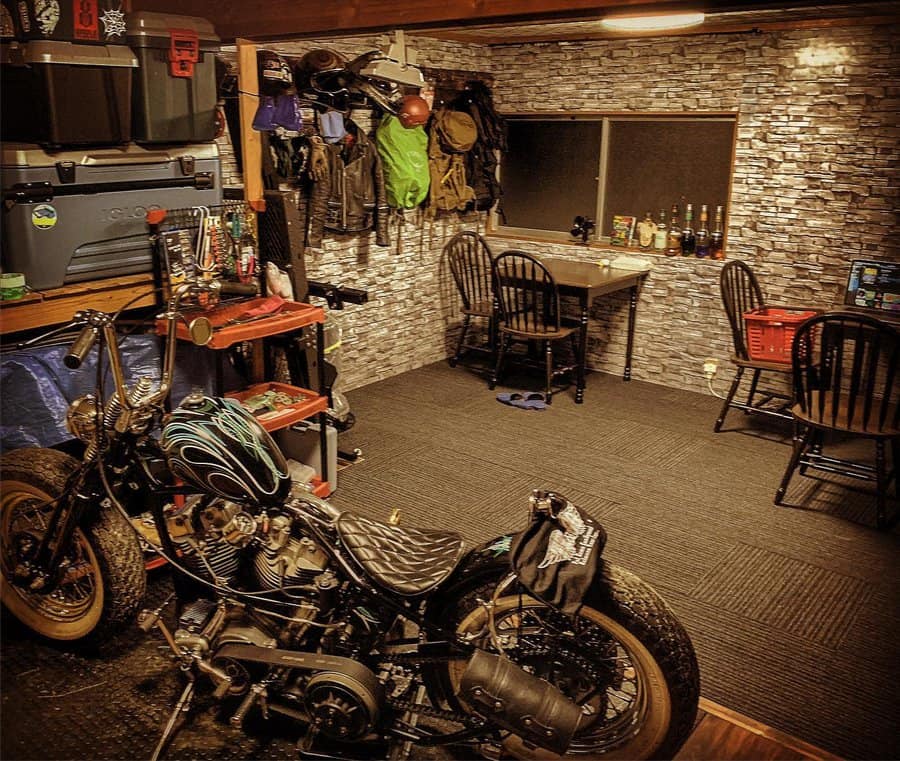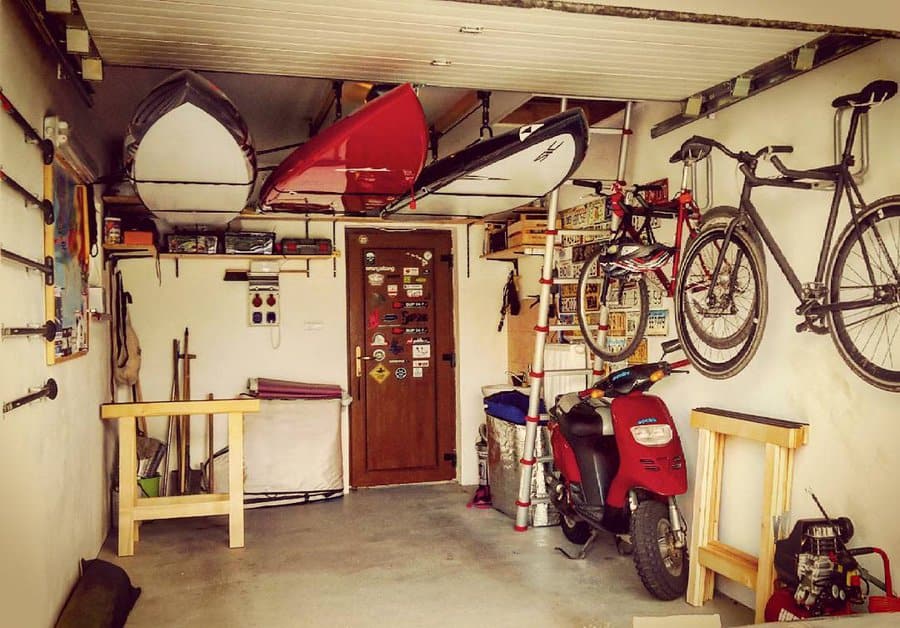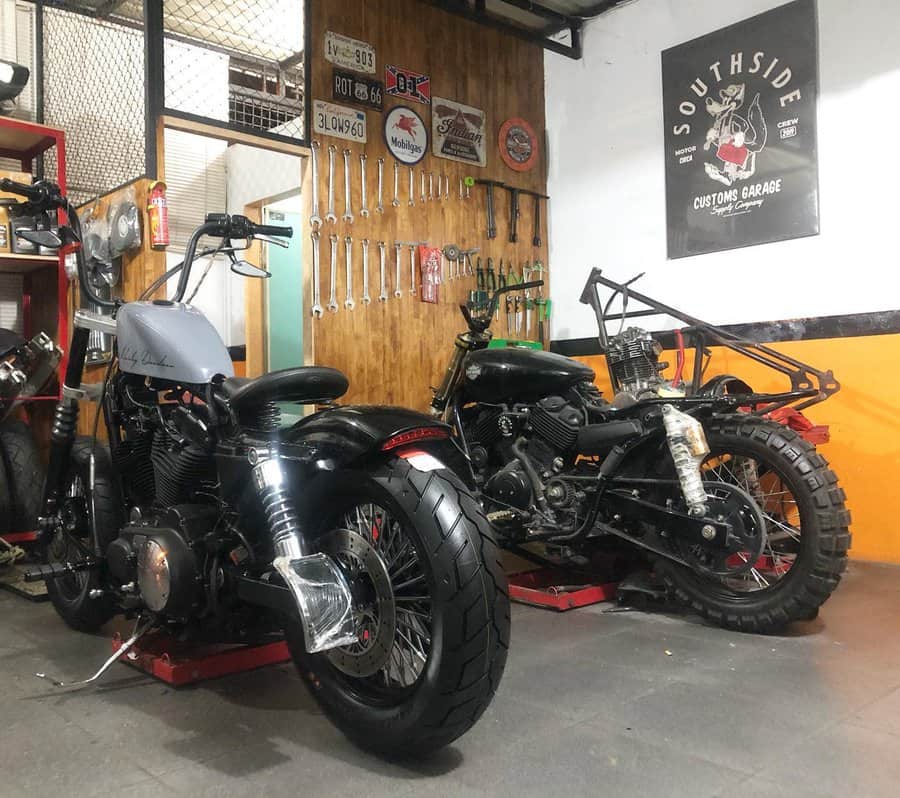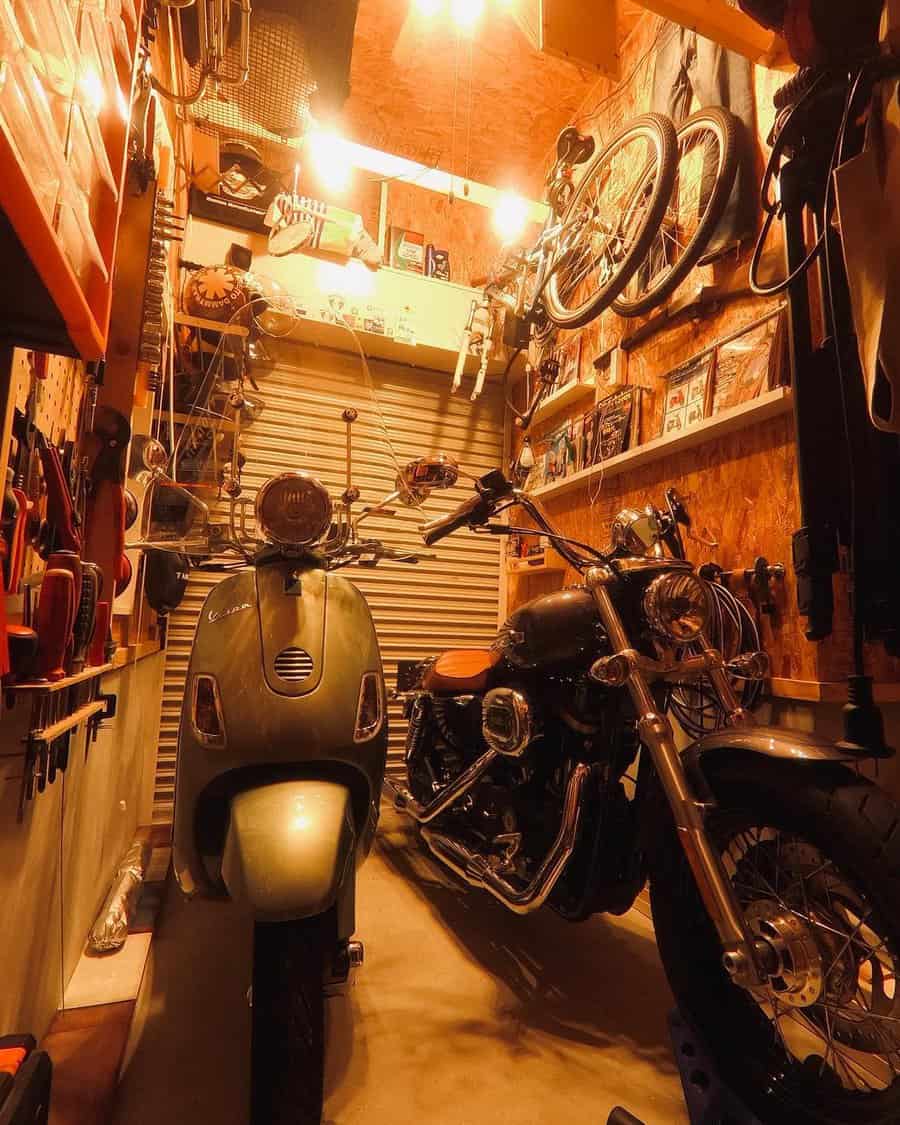 Another doable DIY project is refinishing the garage floor with a concrete stain and clear epoxy. This gives the concrete an natural stone look, while the clear epoxy protects the floor and makes it more durable.
9. Shelves
Typically, a brand new garage will come with at least one shelf. The problem is that it comes with the standard builder-grade wire shelf. You can do better. Make the most of the vertical space in your garage by taking down that one shelf and replacing it with a storage rack system.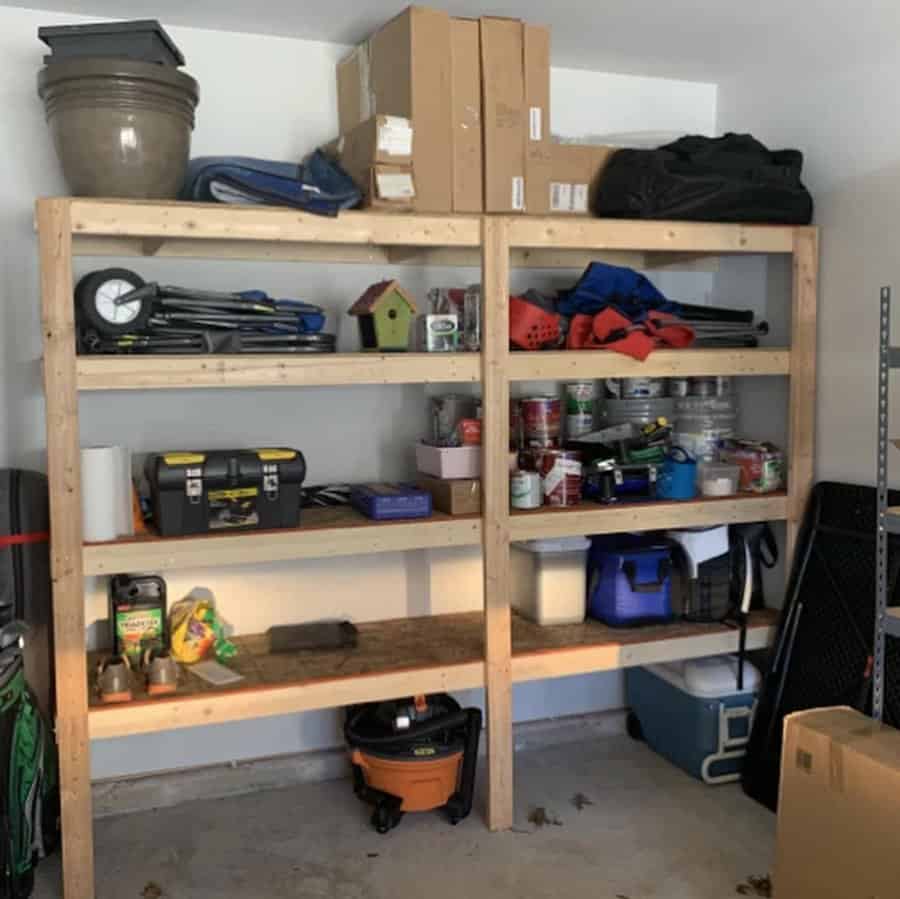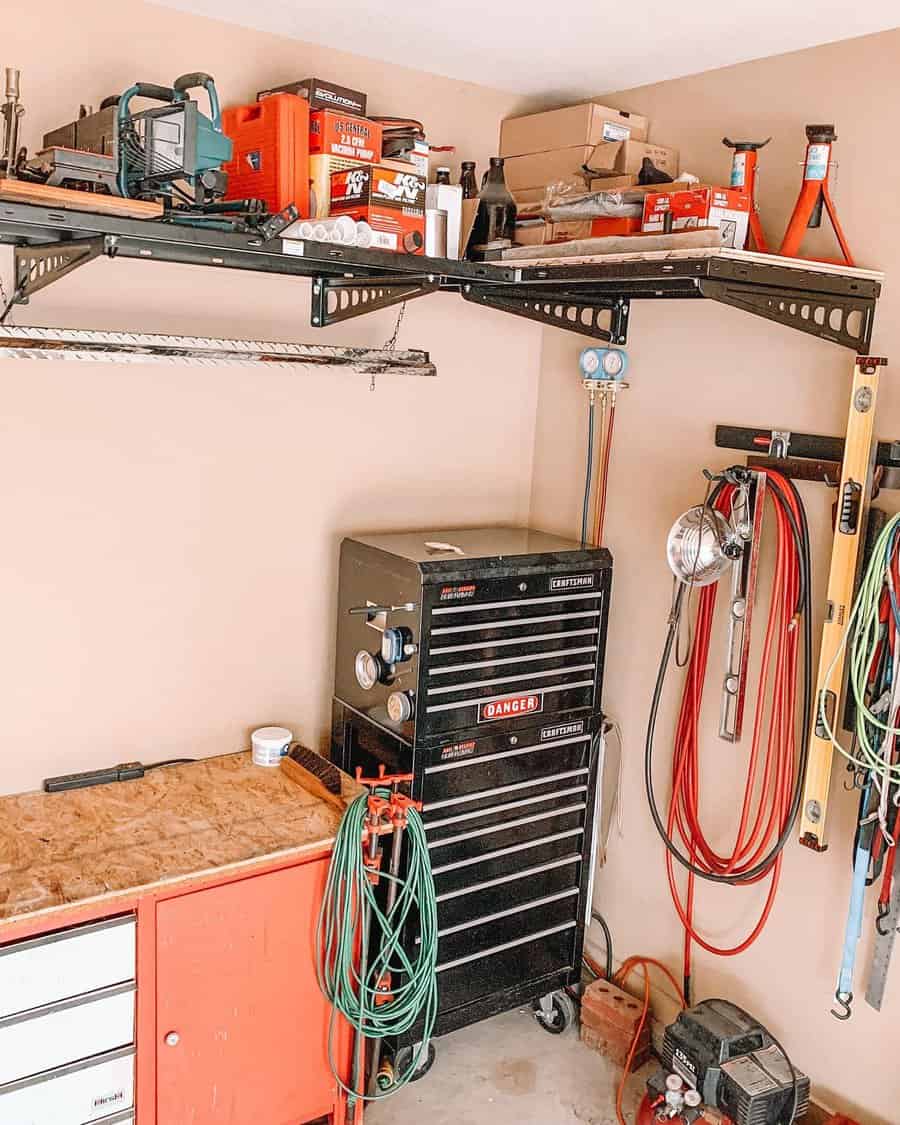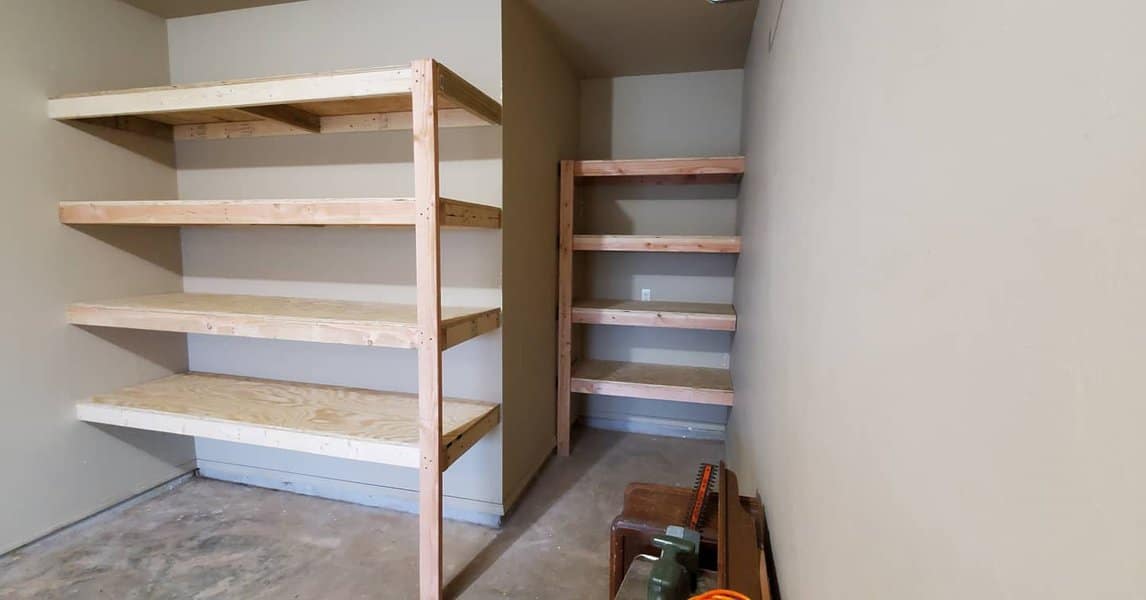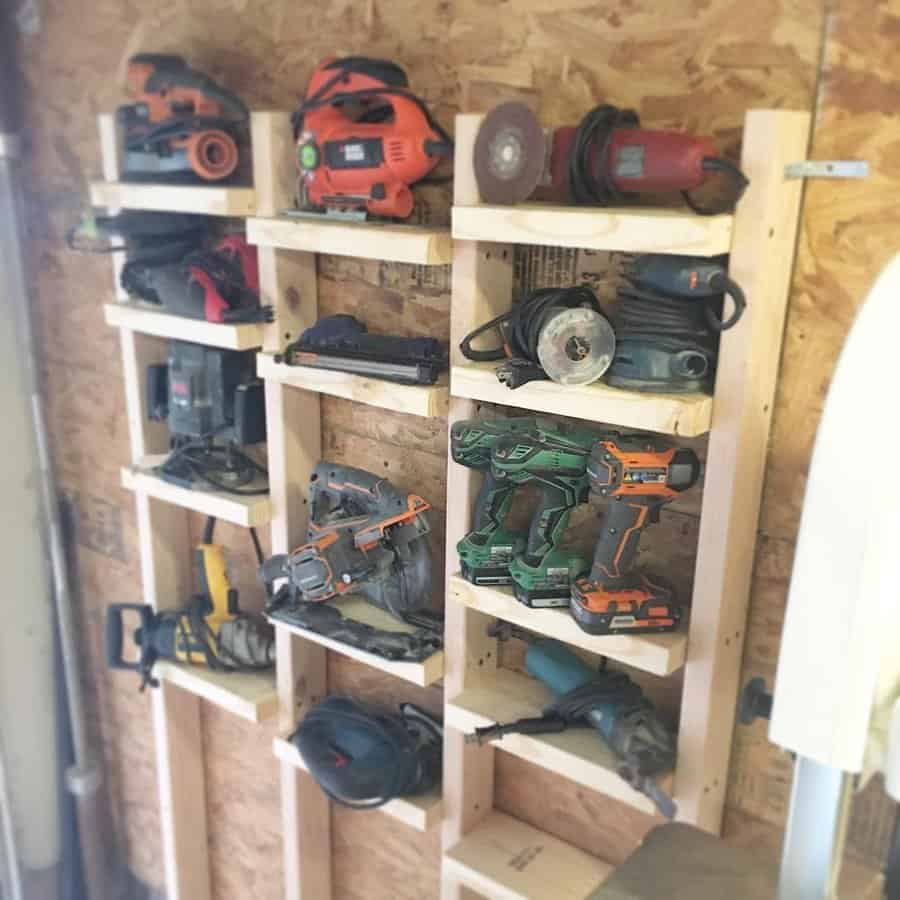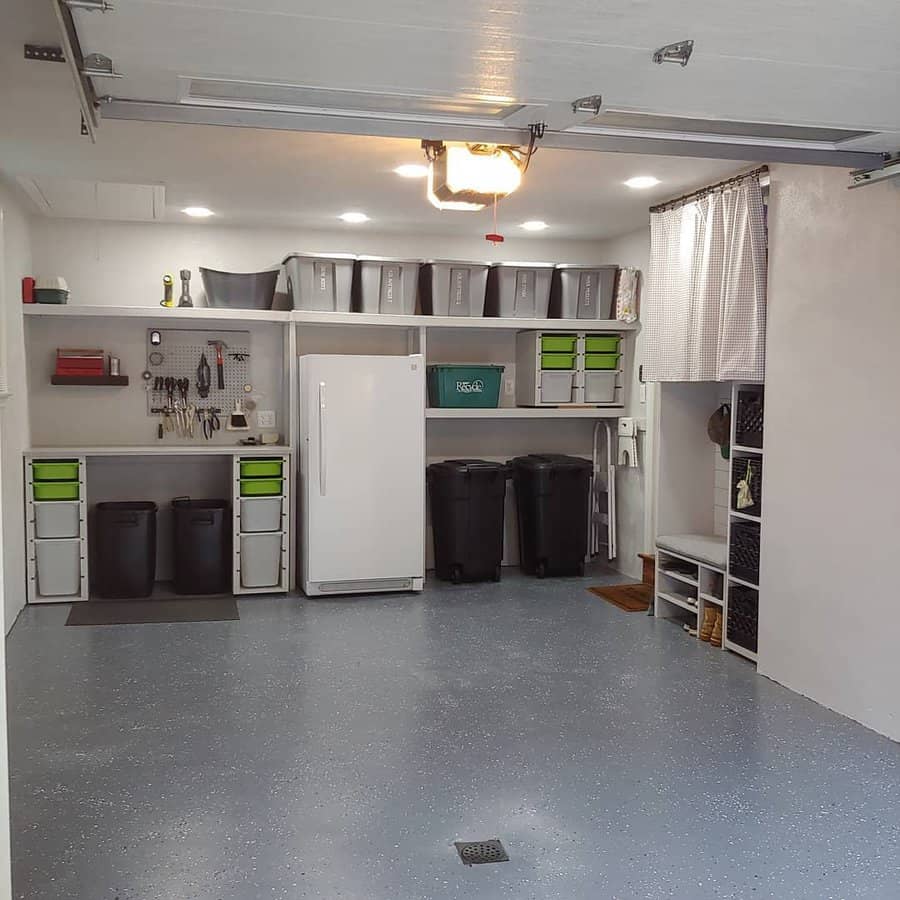 You can utilize the entire wall space by selecting a customizable storage system. Look for a system that lets you choose the number and size of the shelves you need. This lets you use the shelves for everything from long-term storage to tool storage, holding sporting equipment, gardening tools, and automotive care supplies.
See more garage shelving ideas.
10. Storage
Your garage is the perfect place to store your extra items. With so many storage options available, you are sure to find the perfect garage storage solutions for your needs. These could be cabinets that you install along one wall of your garage.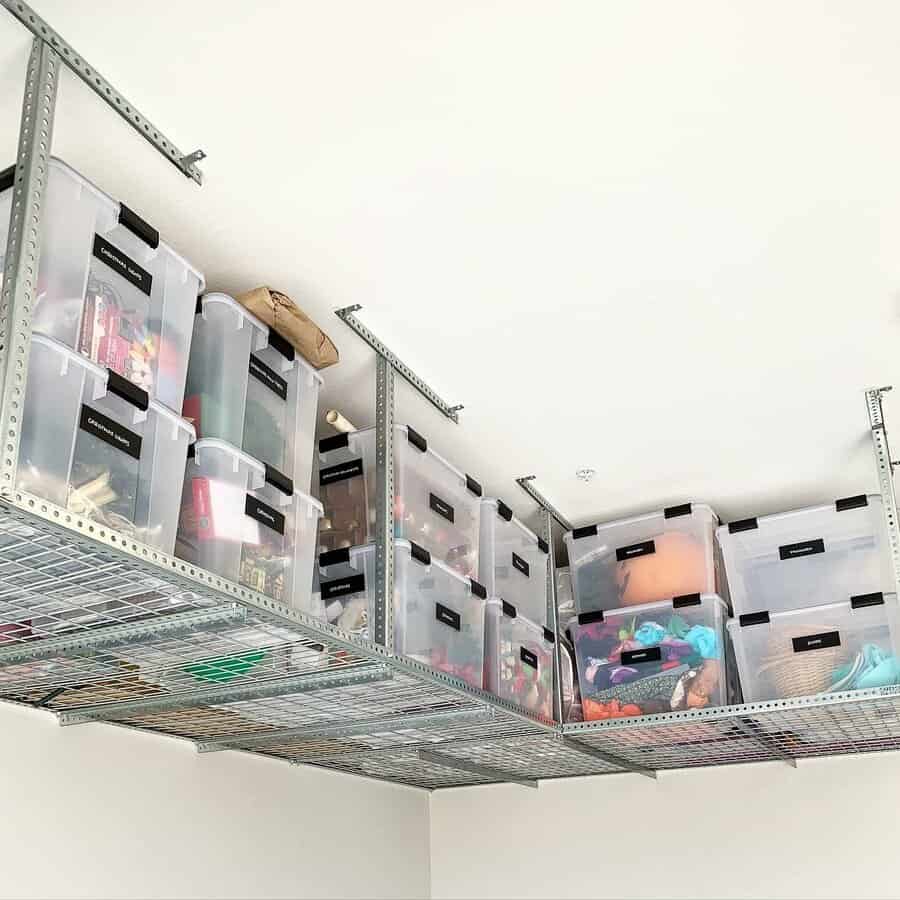 Perhaps you install a garage ceiling rack that you line plastic bins on. Start by looking for unused space in your garage. Then look for a storage solution that fits in the space. Additionally, consider what you plan to store in the available space.
See more garage storage ideas here.
11. Workbench
If you are the family handyman, you probably have a collection of power tools and scrap wood. You need a tool storage solution that not only keeps your tools organized but also protects them.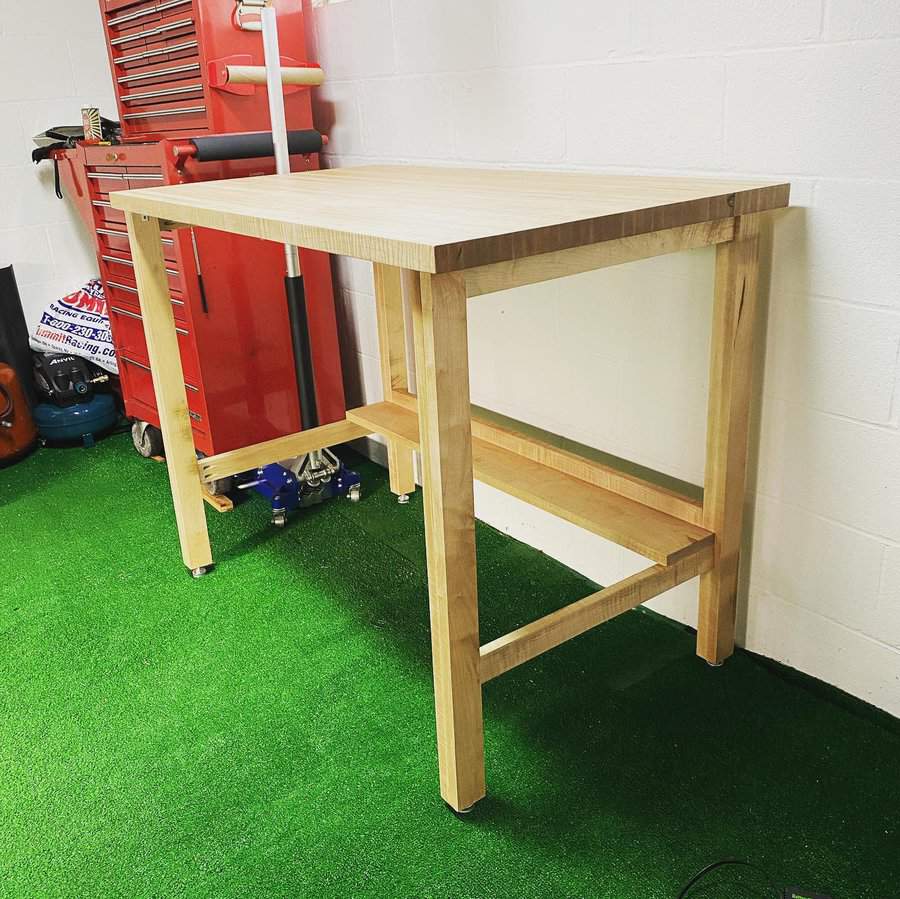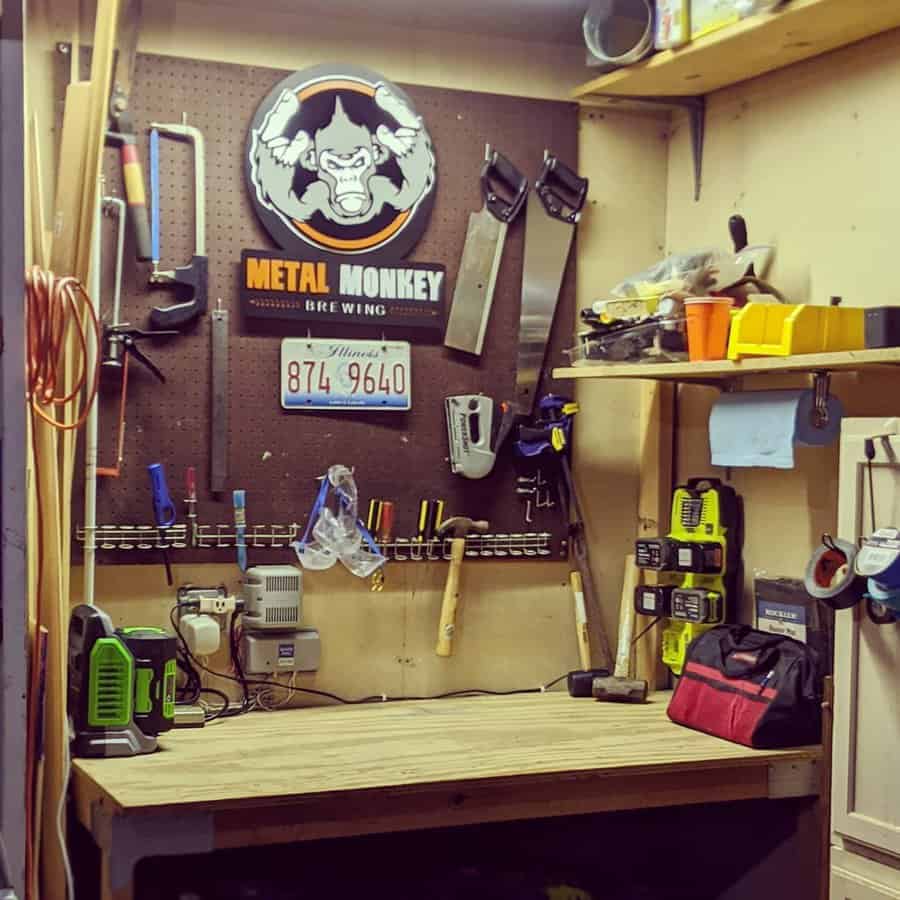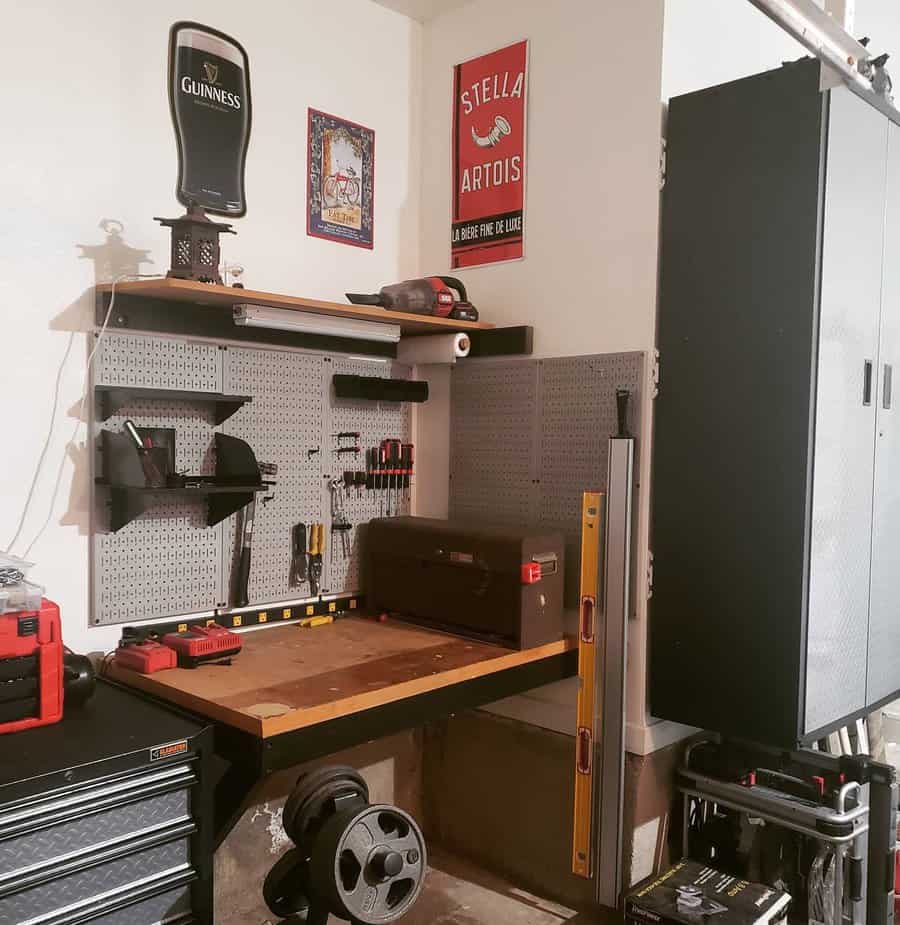 A workbench gives you a place to organize tools and work on projects. It should have a flat worktop surface for sitting or standing at. There should be several drawers of varying depths for holding various tools. You need shallow drawers for hand tools like screwdrivers, wrenches, and hammers. Then you need deeper drawers for holding larger tools. It should also have cabinets for holding the cases that handheld power tools come in.
See more garage workbench ideas here.
FAQs
What can I use to cover garage walls?
Drywall is the standard wall covering material for finishing walls. It is easy to install and increases fire resistance. However, you will need to do some finishing work to give it a smooth finish. Another option is oriented strand board (OSB), which does not require taping or finishing.
How do you renovate an old garage?
Start by getting rid of clutter and donating anything in your garage that you no longer use. Install a space heater and small air conditioner to make the temperature more comfortable throughout the year. Add cabinets for storage, finish the floor, and update the lighting.
How do I modernize my garage?
To modernize your garage, start by making it more functional. Update the flooring to make it more attractive and durable. Adding organizational furniture to make storage easy to navigate. Add more lighting to make the garage brighter. Paint the wall a fresh color to give your garage a design style.