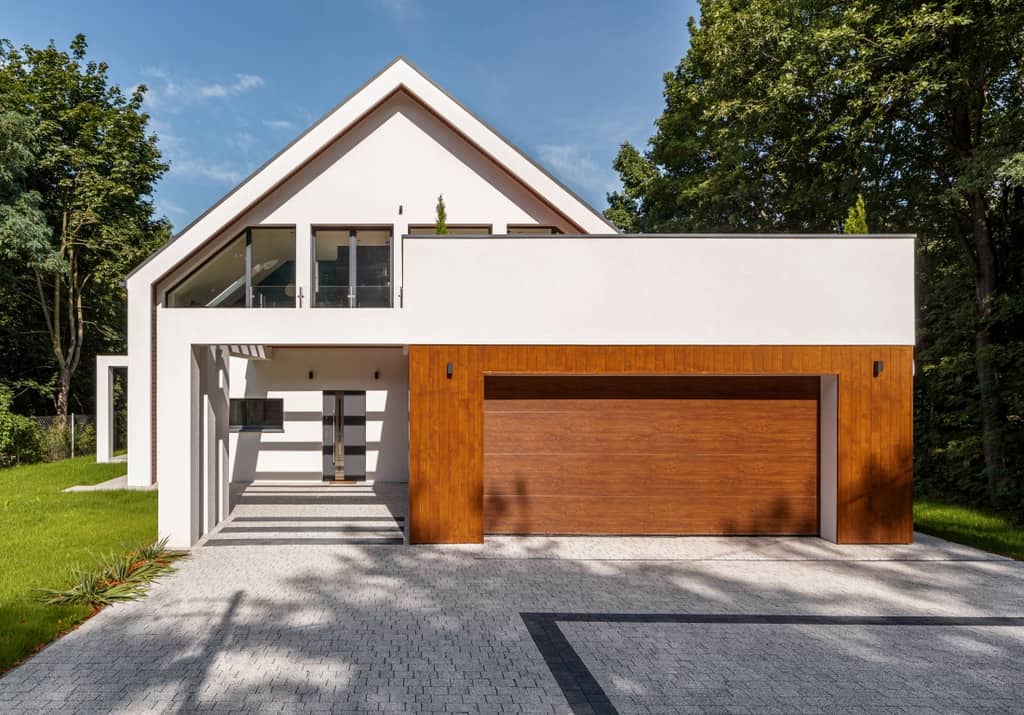 Get inspired by the images you see in Good Housekeeping and make the most of your small garage. You do not need a lot of garage space to have a useful storage space or functional workspace. Take the ideas that you find inspiring and scale them down to fit in your garage. So head to your local Home Depot or home improvement store and get to work giving your small garage a makeover. These small garage ideas will help you turn a plain and dreary small garage into a beautiful and functional space.
1. Install An Overhead Garage Door
From traditional to modern, the small garage with an overhead door is the perfect means to keep your car safe and away from dirt. Not only will it protect your car from weather damage, but it can also provide you with more storage space for all those items that don't usually have a place in the house.
Depending on what you decide to store in it, you might even have enough room for tools or do-it-yourself projects. Whether it's traditional or modern, think of these garages as tiny sanctuaries, living up to their purpose with great efficiency and style.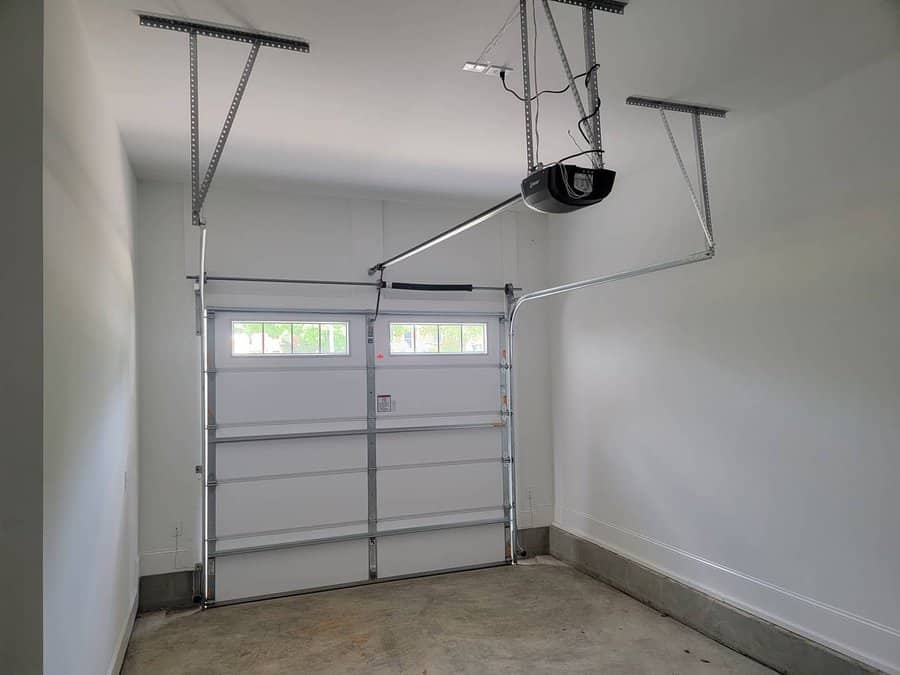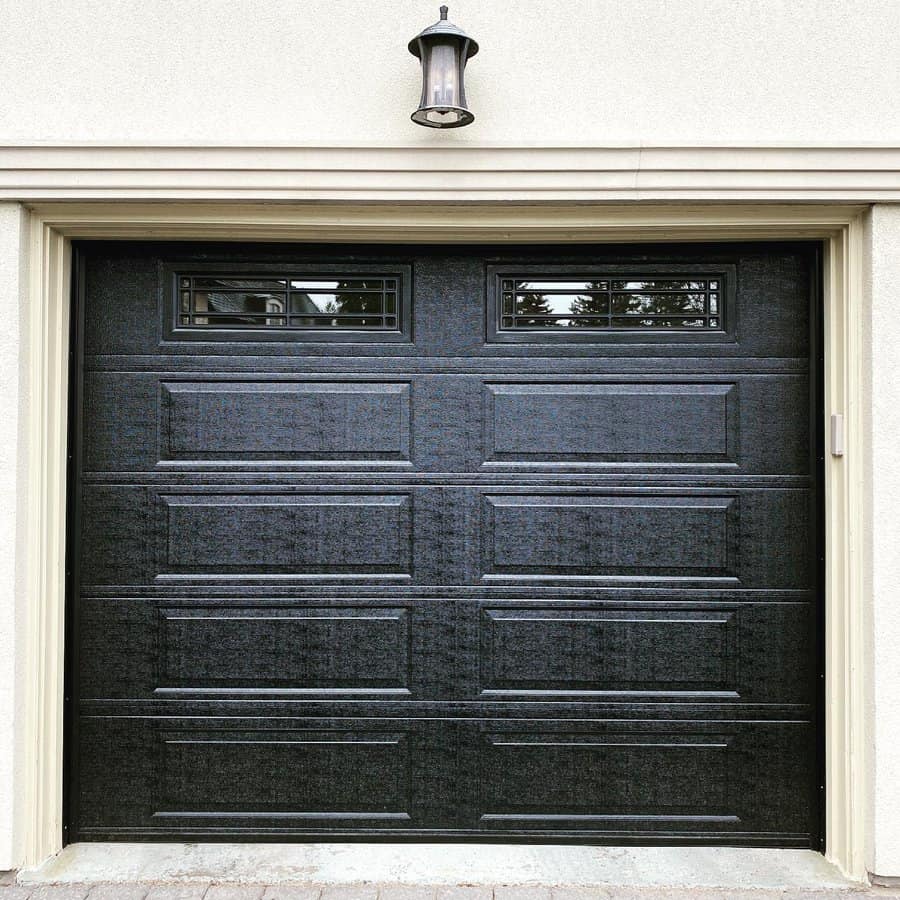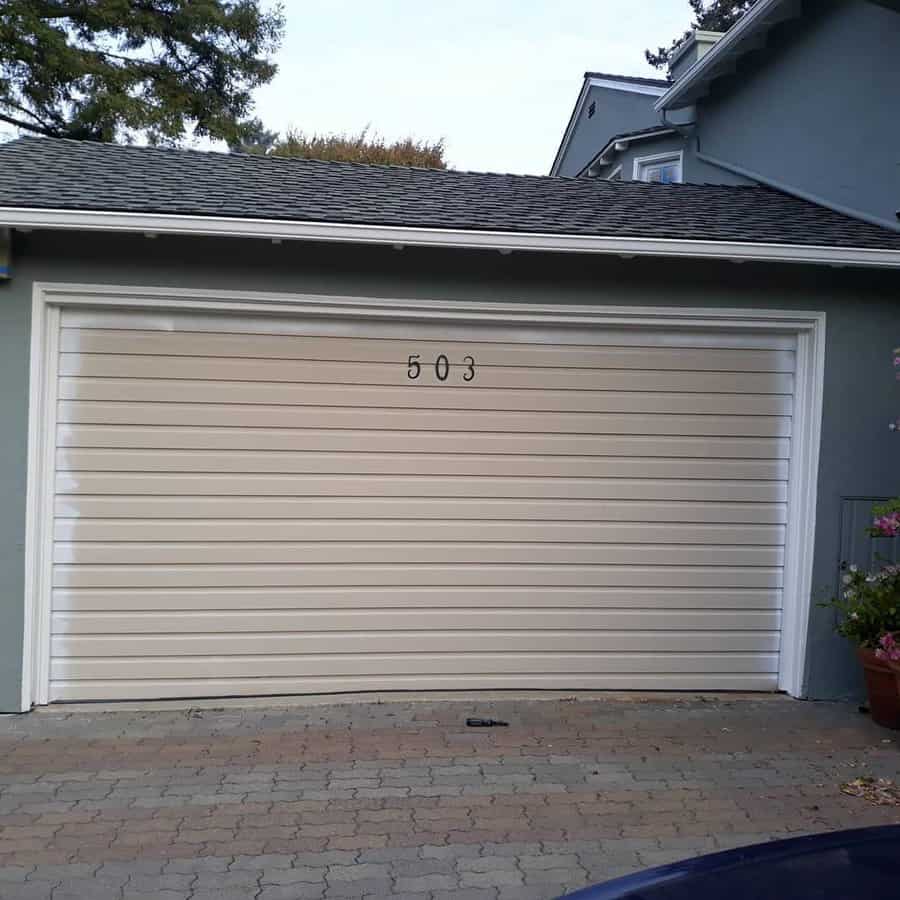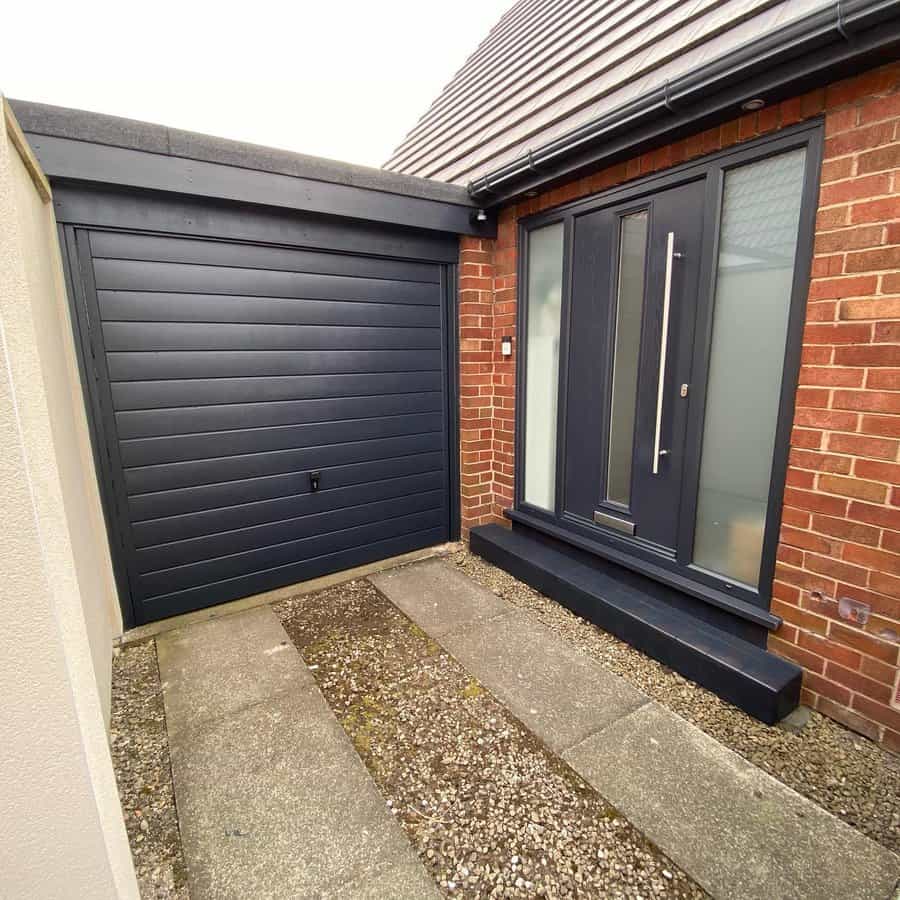 Not only that, but they also look quite stylish and can add to the aesthetic appeal of your outdoor space! There are plenty of traditional designs as well as contemporary ones – so whatever your style, there's bound to be an overhead door that fits your needs.
2. Utilize Your Walls
Stepping into your garage can easily feel like stepping into another world. With the small walls and concrete floors, it's easy to forget that there is plenty of storage potential. Investing in one high shelf for the walls, suddenly transformed a plain garage into a treasure trove full of bags, hobby materials and so much more.
The shelf brings structure into all the chaos, making your small garage appear larger and neater. Now you have all the space needed to express yourself and get creative!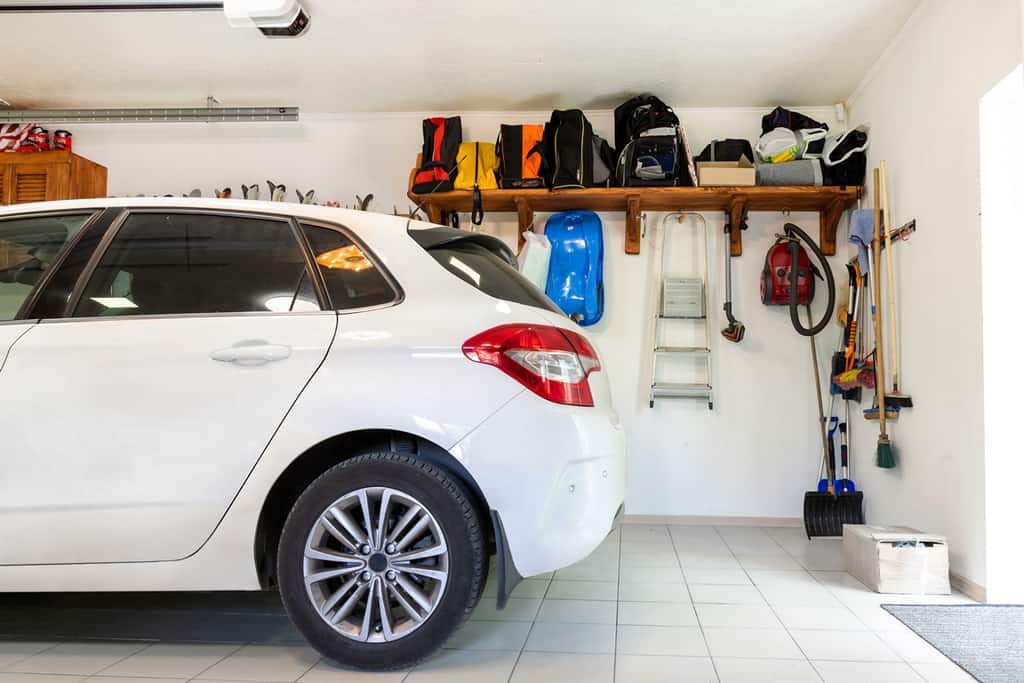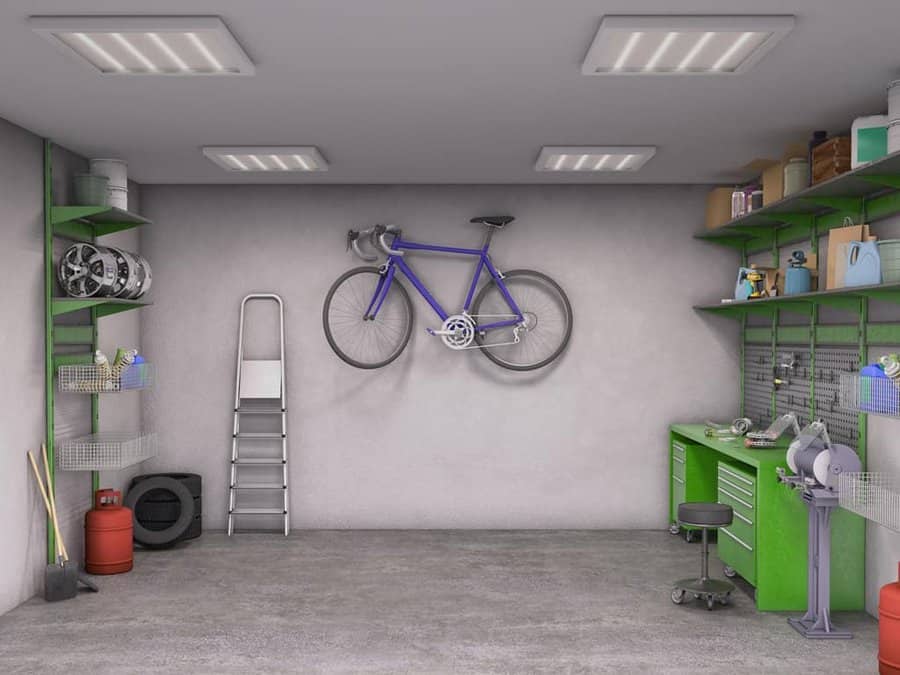 3. Play With Wallpaper
The brick wallpaper is the perfect way to spruce up your raw garage walls – no brick or special tools are required! Not having any brick material doesn't have to mean you have to be stuck with dull and lifeless walls. With brick wallpaper, you can achieve the brick look in a hassle-free and interchangeable way.
Plus, having brick wallpaper in your garage instantly adds a touch of warmth and personality that simply cannot be recreated with just plain walls.
So if you want to turn your small garage into something special, investing in brick wallpaper is definitely worth it!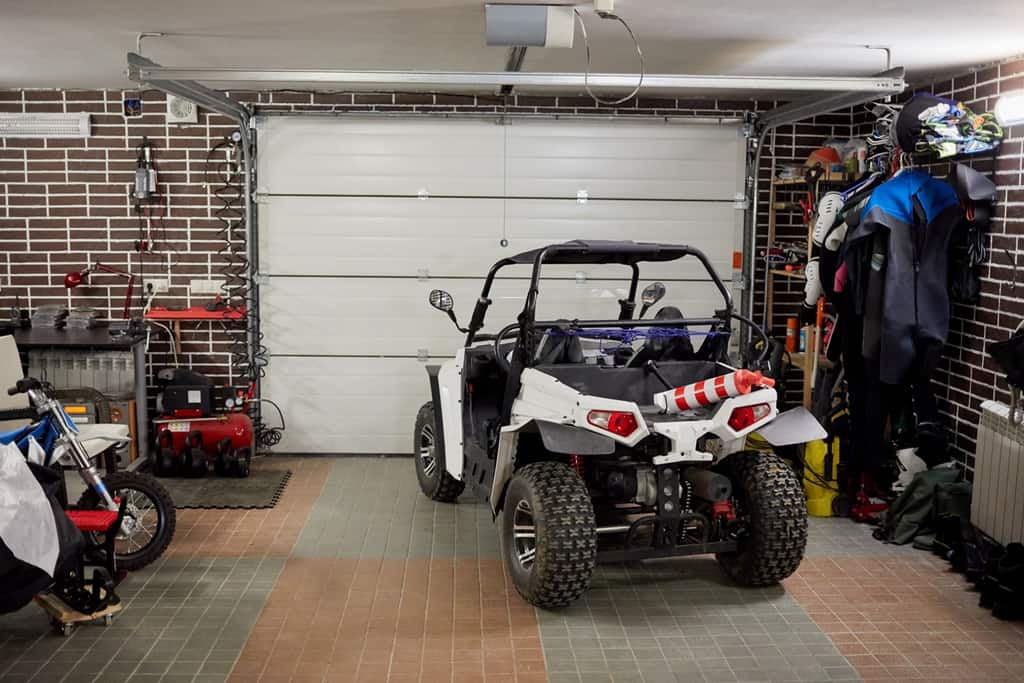 4. Build A Garage Gym
Have you ever wanted to own a gym but felt like you had no space to fit it? Look no further! A small garage can be the perfect place for wall-mounted gym equipment and other key features in order to create your very own secret gym.
Utilizing every inch of space on the wall, floor, or ceiling; these wall-mounted pieces help you make the most out of a limited area while getting fit at the same time.
Whether you're an aspiring bodybuilder looking to stay in shape or an amateur wanting to challenge themselves, a small garage with wall-mounted gym equipment is a great option for anyone interested in starting their next fitness journey.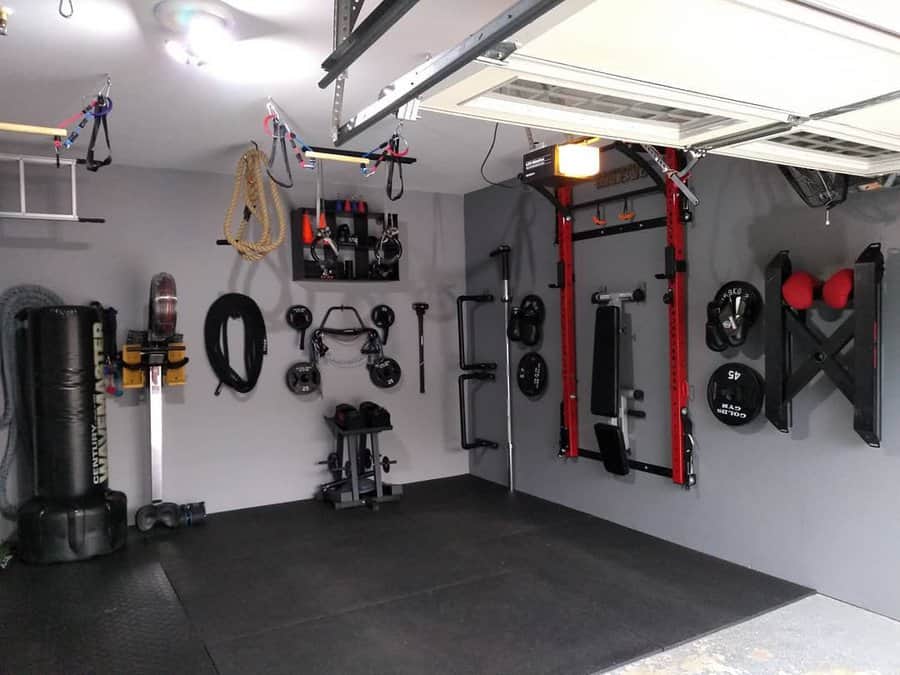 5. Be Creative With The Lighting
If you're looking to take your small garage up a notch, honeycomb lighting might be just the ticket. This creative lighting application is perfect for creating centralized illumination in any small area.
Instead of traditional ceiling lights scattering light in all directions, honeycomb lighting beams from one centralized location and fills the garage with mood-lifting energy.
To learn more about honeycomb lighting and how to incorporate it into your small space, ask your contractor or architect for their opinion. This unique feature could give your tiny garage a major boost!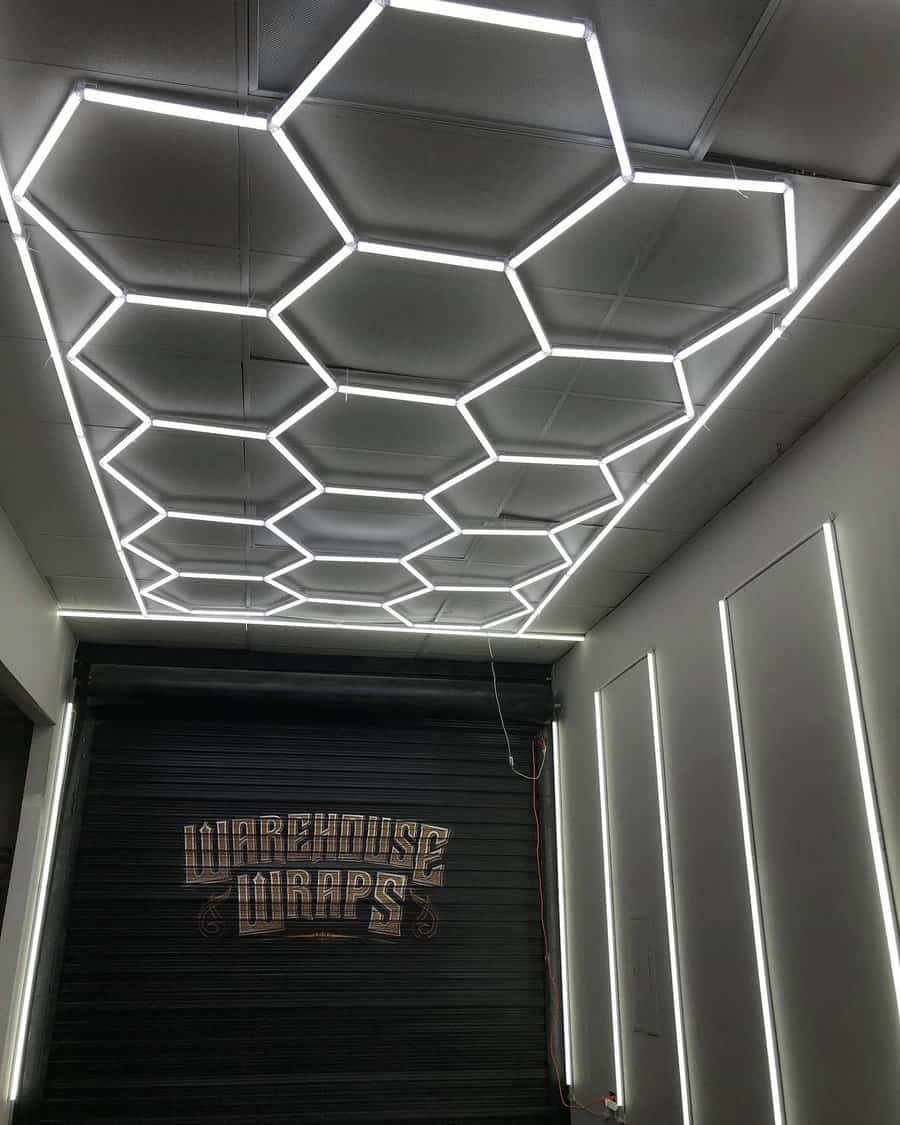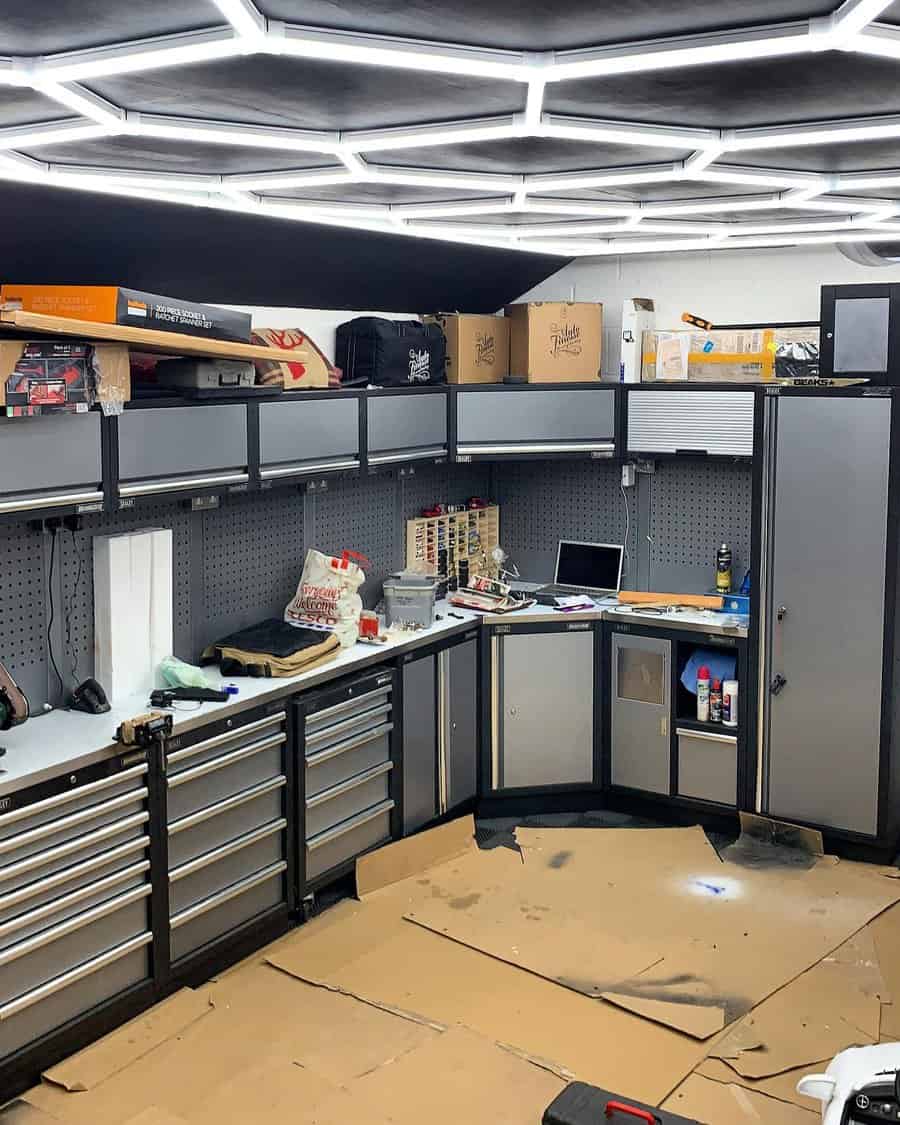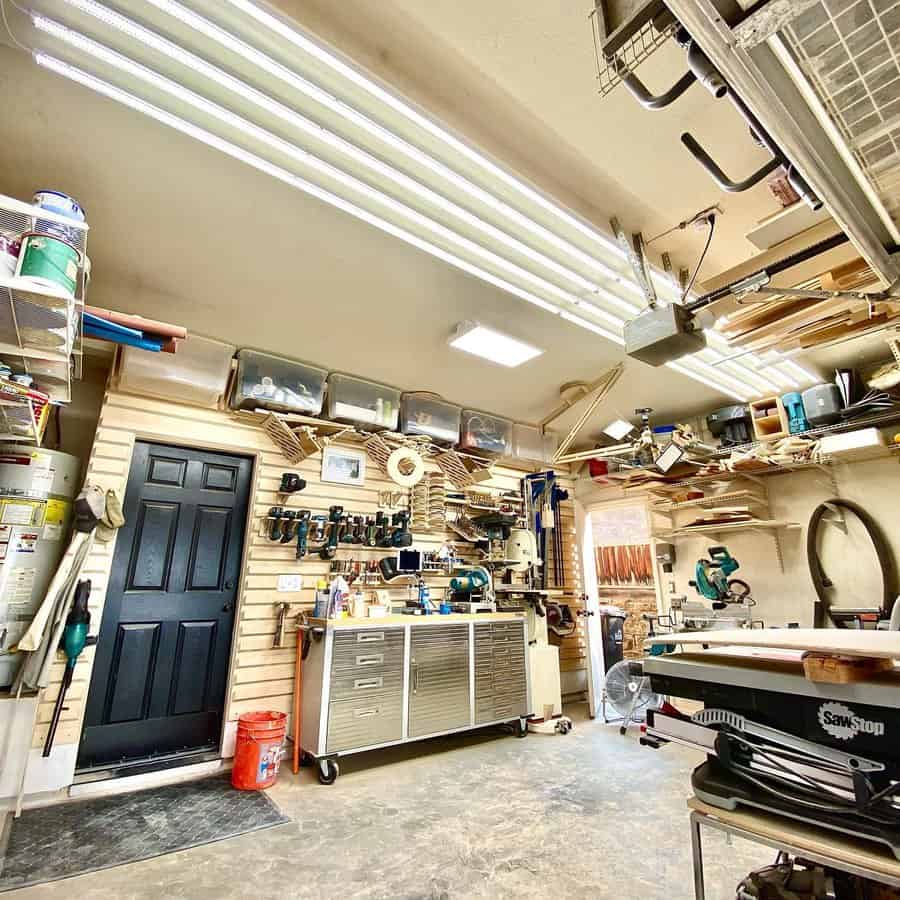 6. Keep The Walls Raw For An Industrial Look
A small garage with exposed brick walls proves that industrial chic is not limited to large industrial warehouses; the rustic industrial look can be present in any size space. The bricks offer an organic and masculine feel, while still carrying a touch of industrial charm.
Exposed brick walls give a unique texture and sense of character to the small garage, whereas white walls might make it appear more typical and commonplace.
Let the industrial elements shine in your small room; don't overlook the potential for industrial style even in a tiny setting!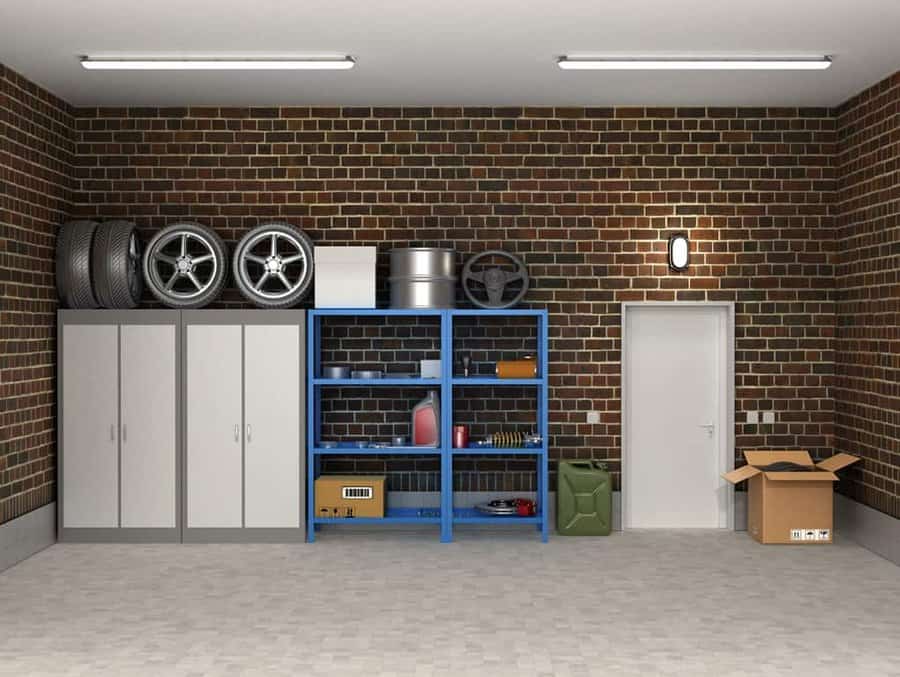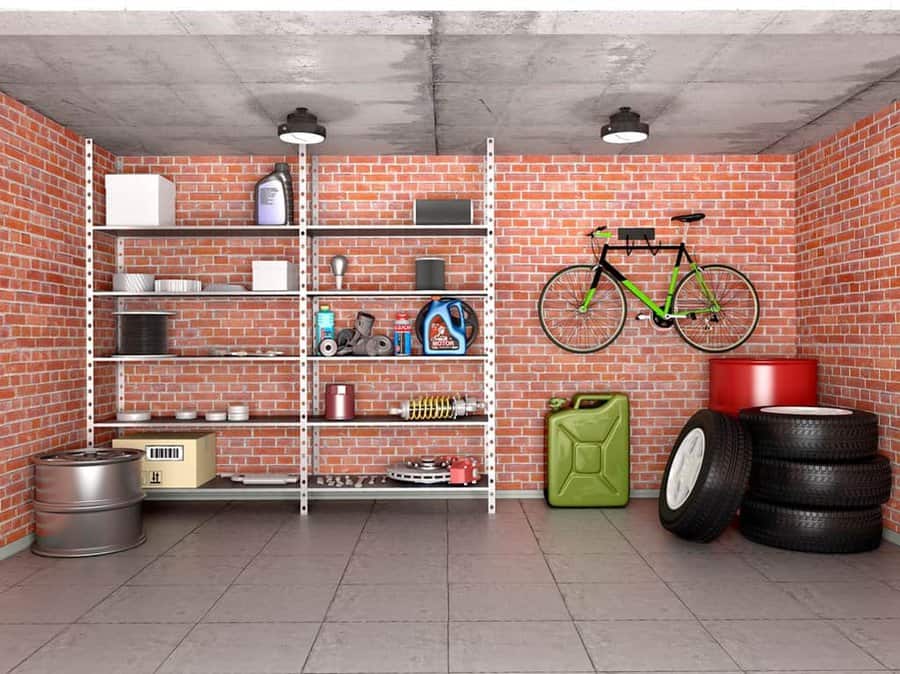 7. Install Big Hanging Shelves
If you're looking for an efficient and space-saving way to organize your tools and hardware, a small garage with hanging shelves for crates could be the perfect solution.
With sturdy holders designed to safely hold even the biggest of crates, this simple storage idea keeps your items off the ground to maximize the use of otherwise unused vertical space.
The ability to easily access your belongings without having to dig through piles is sure to be a boon for anyone in need of quick organization. Not only does it help create orgnaizing, but it also creates visual appeal, with each crate standing out against the wall.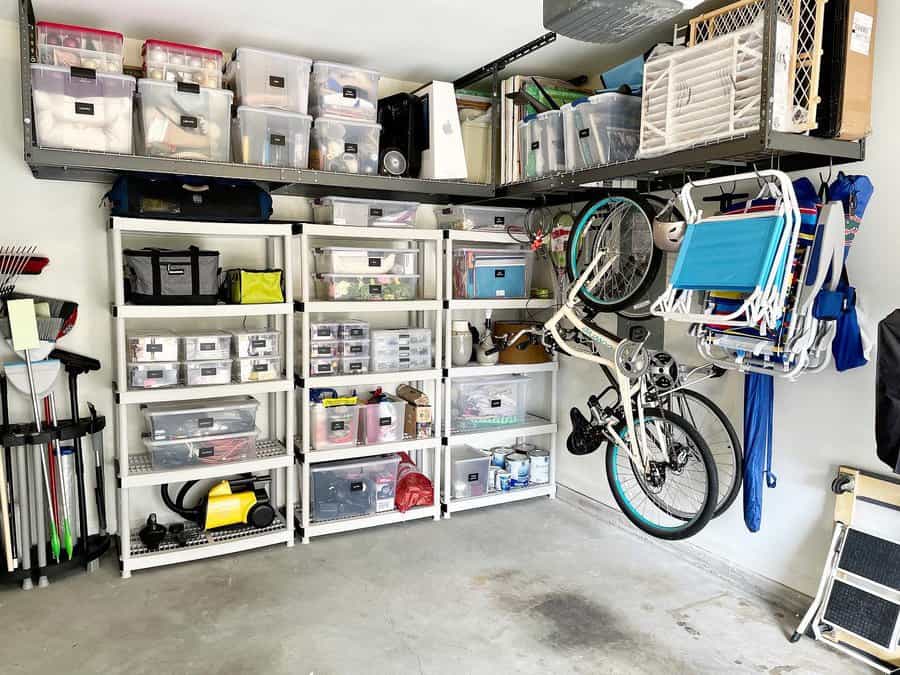 8. Organize With Plastic Crates
For those with a small garage, plastic crates provide the perfect solution for organizing while being visually aesthetic. Store items such as painting supplies, tools, or even car parts in plastic crates to keep your items organized without having to sacrifice aesthetics.
With plastic crates in a variety of colors, textures, and sizes to choose from, you can customize your plastic crate storage for whatever fits your small garage needs!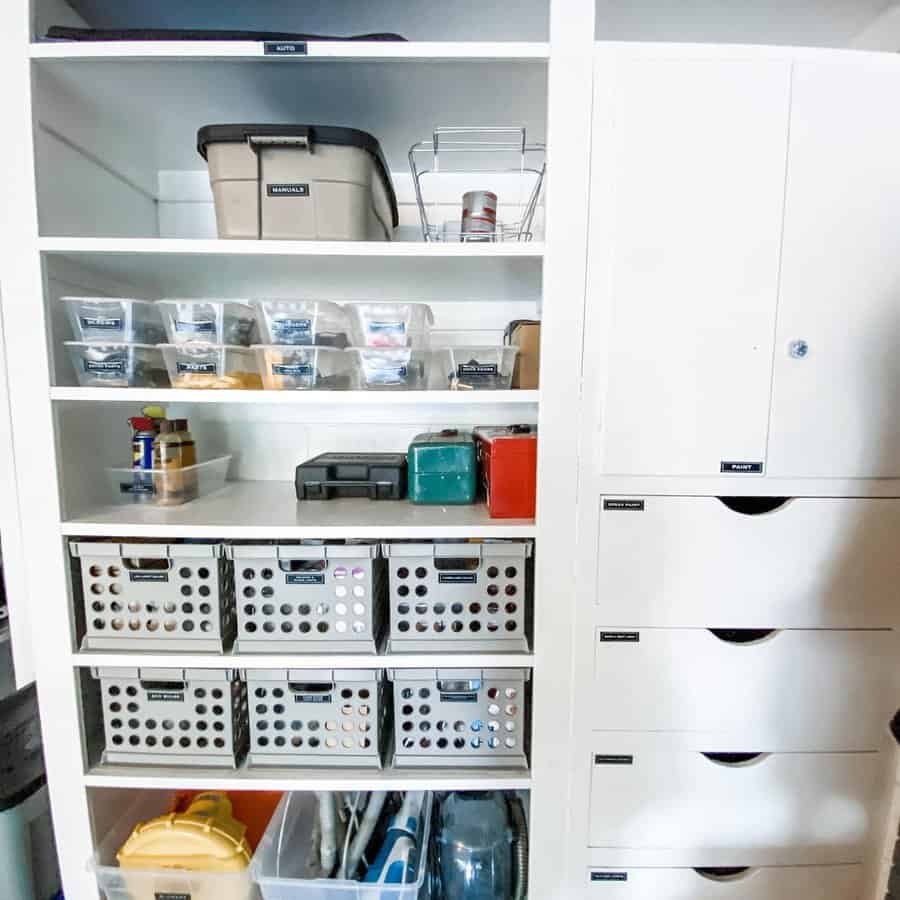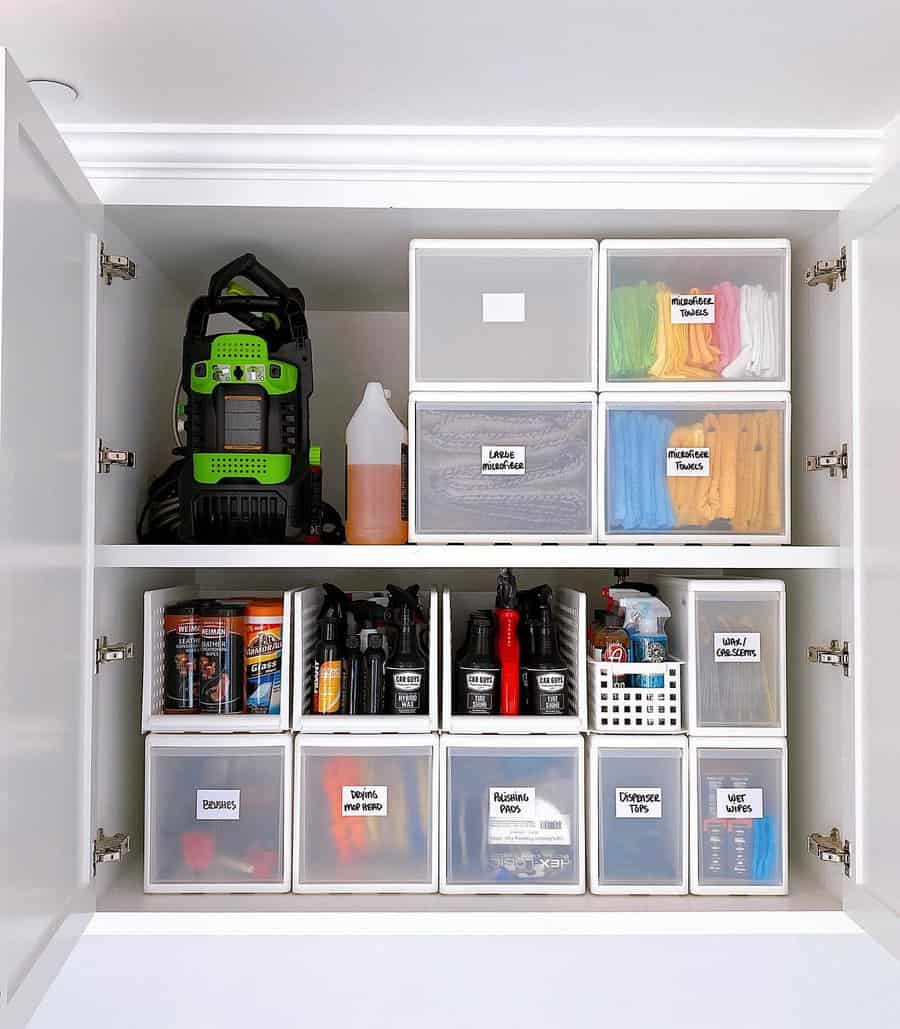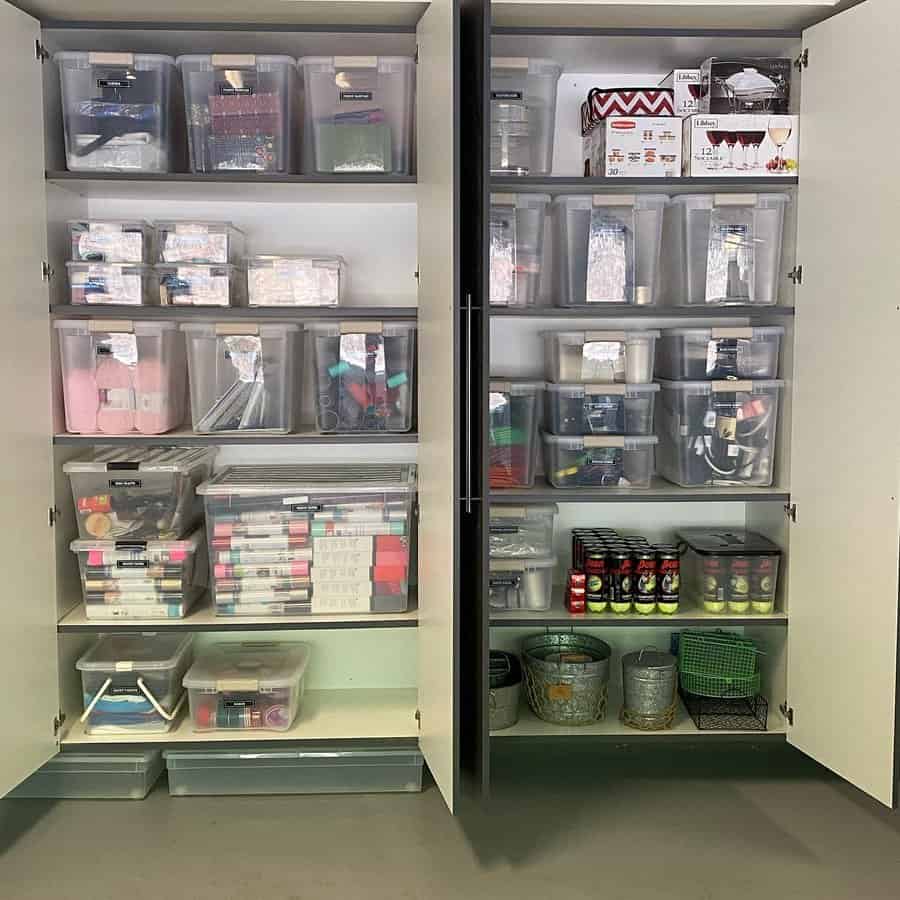 9. Opt For Aluminum Roofing
For those looking to give their small garage a functional update with an eye-catching industrial vibe, aluminum roofing could be the perfect solution. Not only is it cost-efficient and easy to install but also its high resistance against corrosion gives it an impressive lifespan that can last for decades.
It is not just functional but extremely aesthetically pleasing, providing numerous benefits and making your small garage look up-to-date and chic.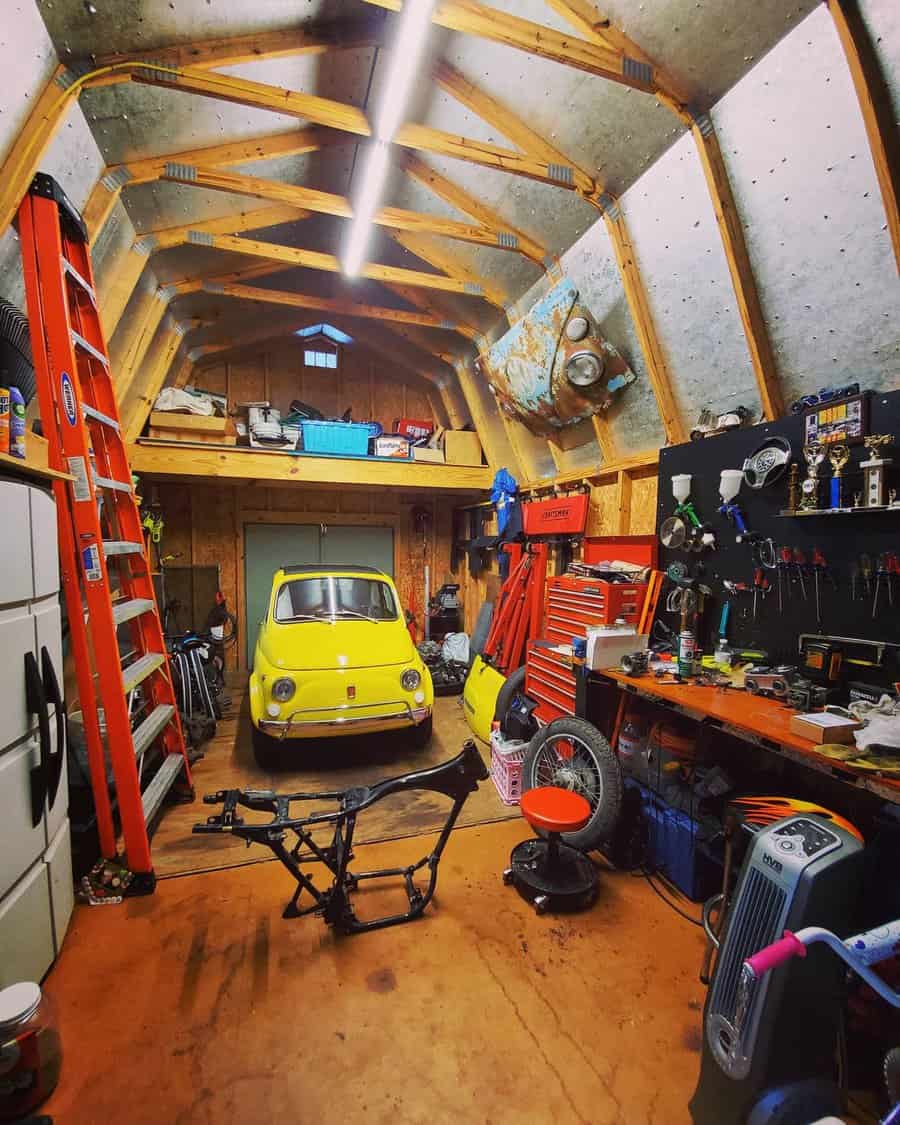 10. Set Up A Simple Garage Seating
Built from scratch, the small garage oozes character and charm. Though limited in functional seating, it creates a simple yet cozy atmosphere perfect for friends or family to gather. Whether enjoying a quiet cup of coffee or talking the night away with loved ones, the carefully crafted wooden chairs provide functional support amidst cheery conversation.
The thoughtfully placed benches afford both functional stability and unassuming flair. Despite its modest size, this garage is both functional and conducive to social gatherings that leave indelible memories of your time spent with those closest to you.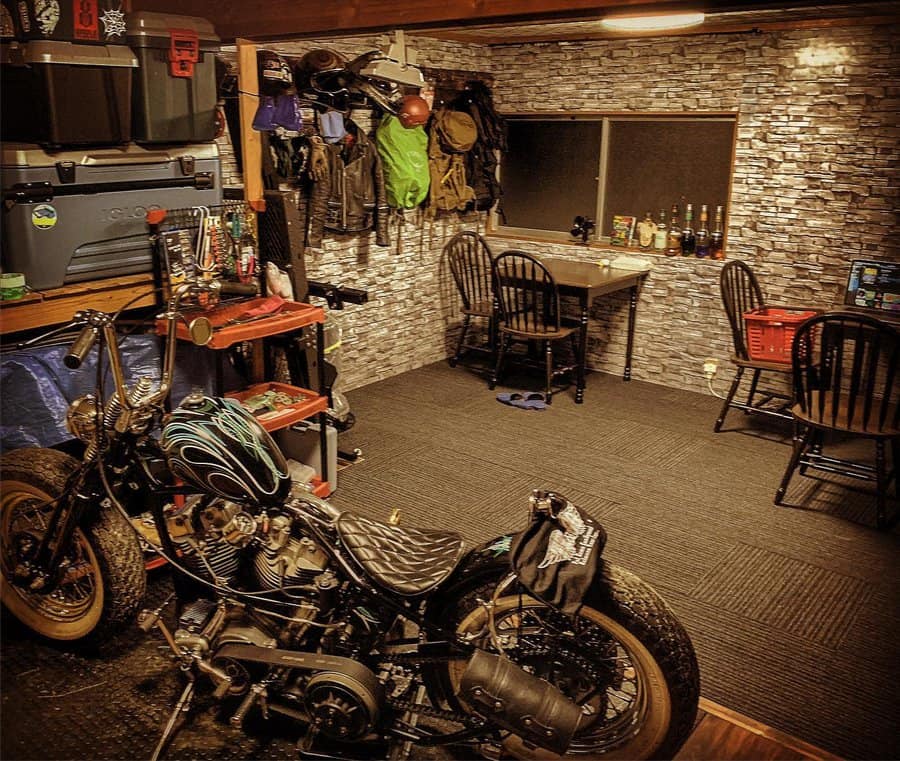 12. Create A Ceiling Mount For Your Hobby Equipment
If you've been looking for a way to maximize your storage space for all those bulky surfing equipment pieces, large hobby items, or any other large items that won't fit in your existing storage solutions, a small garage with a ceiling mount might be just the thing for you! This ingenious solution lifts the floor clear, so you can store those larger items higher up and out of the way.
Not only does this create more room for items below, but it also allows for quick access for when you need it next – because whatever hobby or activity you're taking part in, traditional storage might not always cut it. With a small garage and ceiling mount option, you're able to utilize all areas of your home with ease!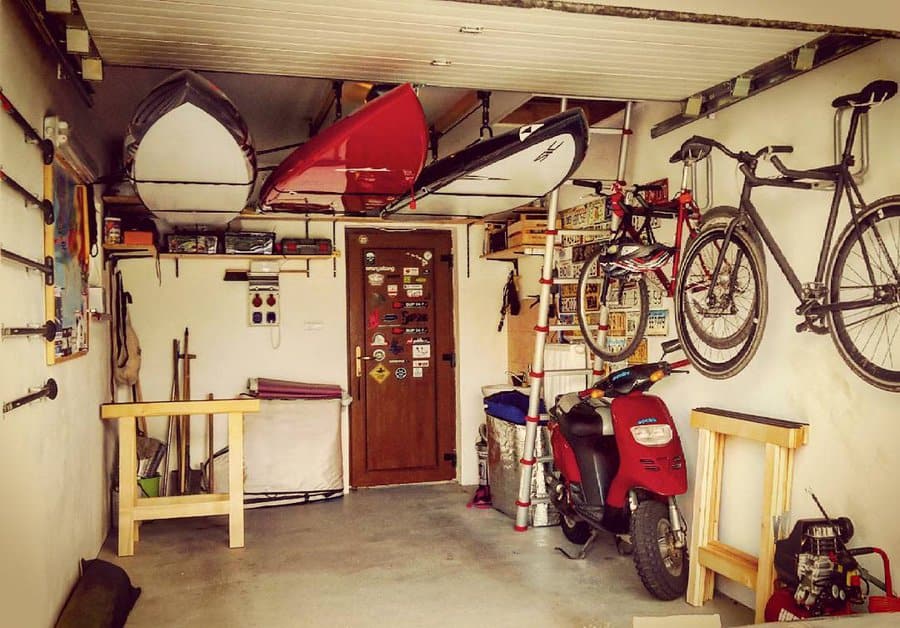 11. Create Your Own Peg Board
Transform a small, mundane garage into a do-it-yourself dream with a peg board! Hang tools, such as hammers, screwdrivers, and other equipment, on the walls in an organized fashion for easy access. Move gardening tools onto one side of the peg board, making them easily accessible when tending the garden. Have shelving above to store often-used parts and paint cans.
Make use of every wall in the small space so nothing is cluttering up your workspace, giving you more room to challenge yourself with fixing things around the house.
A simple peg board can create a do-it-yourself paradise and bring out the handyman in anyone looking to tackle any project!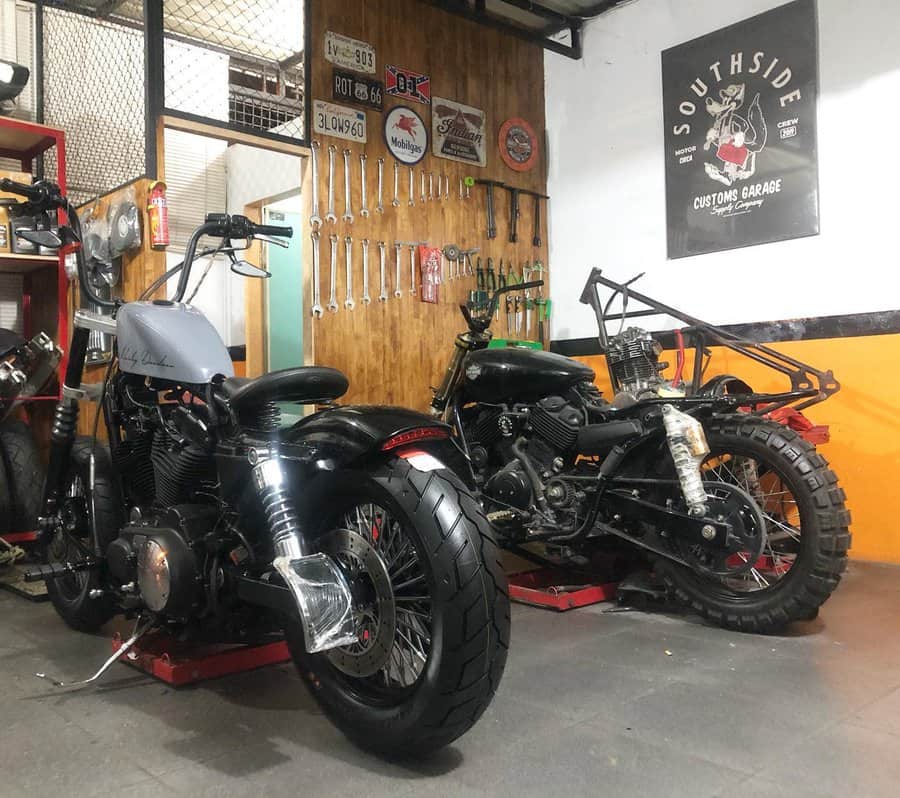 12. Build Your Own DIY Wooden Shelves
If you're looking to declutter your environment and make room for something new instead, then a small garage with wooden shelves is the ideal solution. It's perfect for display purposes; store all of your favorite collections, be it vintage books or display plates, and admire them as they warmly welcome you in as you open up the doors.
Or use it for functional purposes; hanging utensils, cleaning products, gardening equipment – anything that you can think of! With wooden shelves giving support and stability to everything placed within its walls, you can breathe easily knowing that all objects remain safe and secure.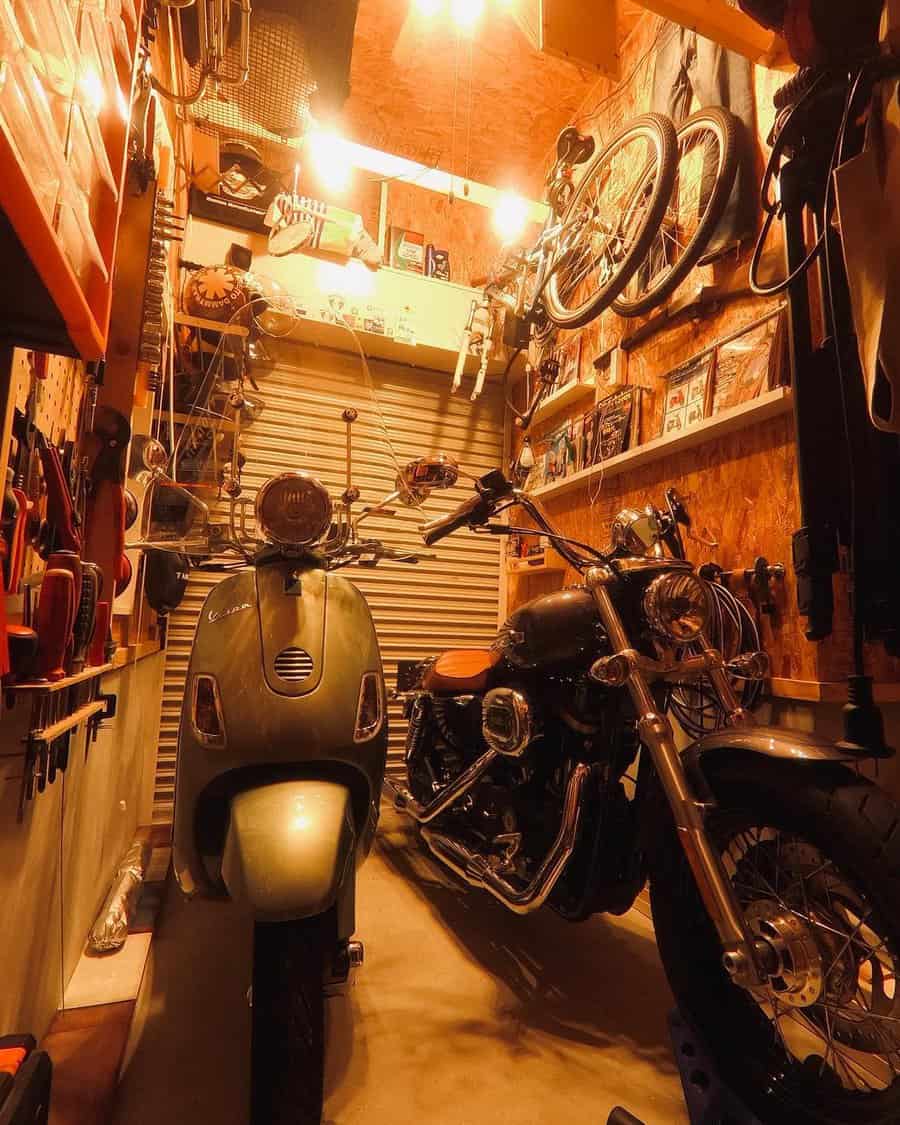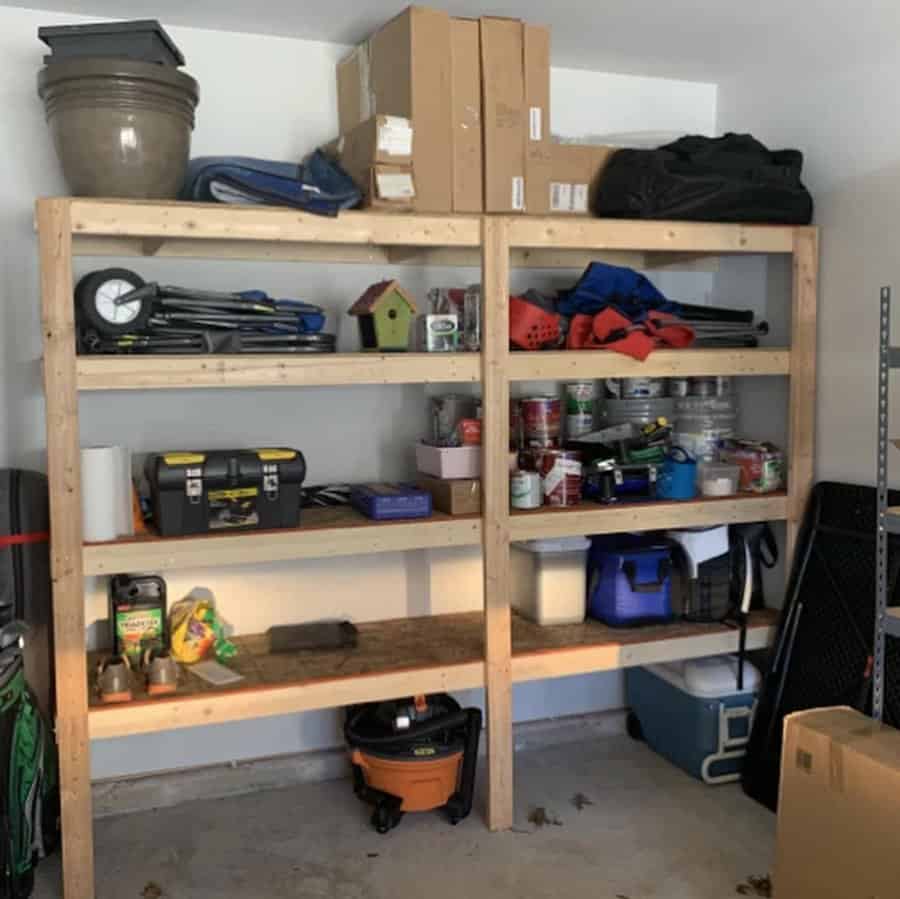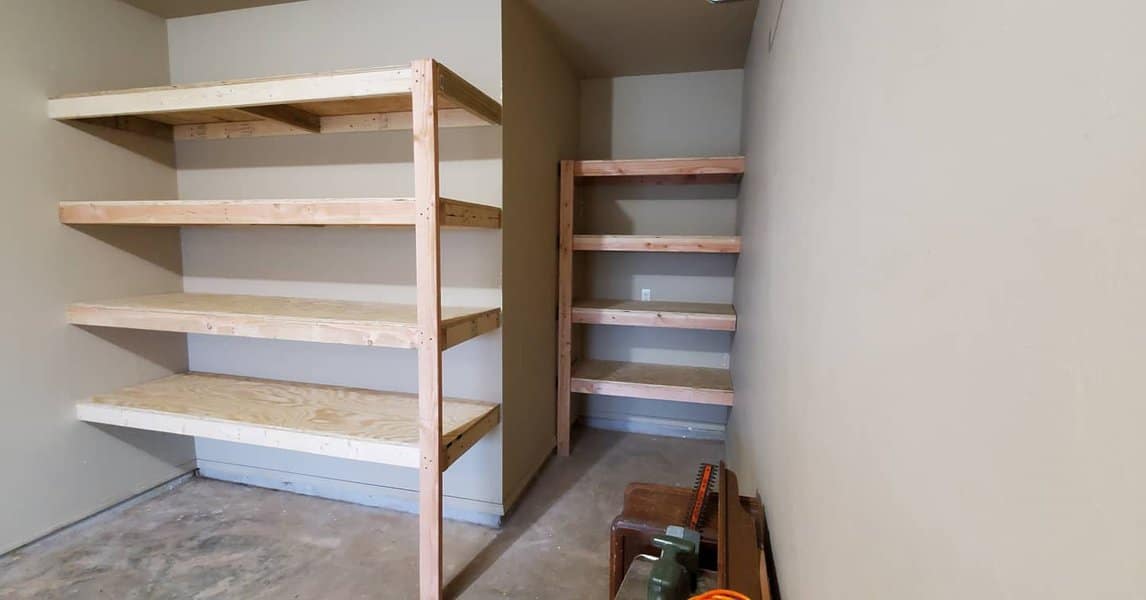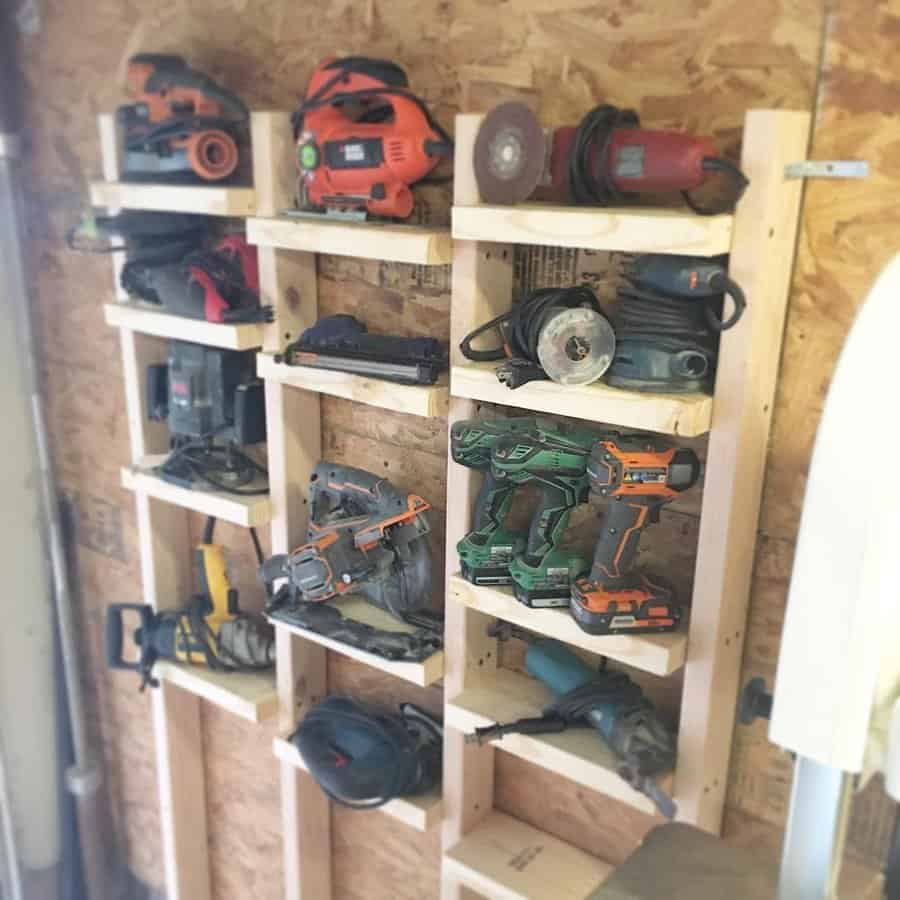 13. Opt For Overhead Metal Shelves
If you have limited space inside your garage, metal shelves are a must-have item. The metal material is more durable than wood and can easily hold big and heavy storage boxes without any risk of warping or bending. Moreover, metal shelves are rustproof as they come with a protective paint coating, allowing them to survive in moist conditions.
These metal shelves look stylish, are easy to install, and offer an effective storage solution that takes up minimal floor space in your small garage.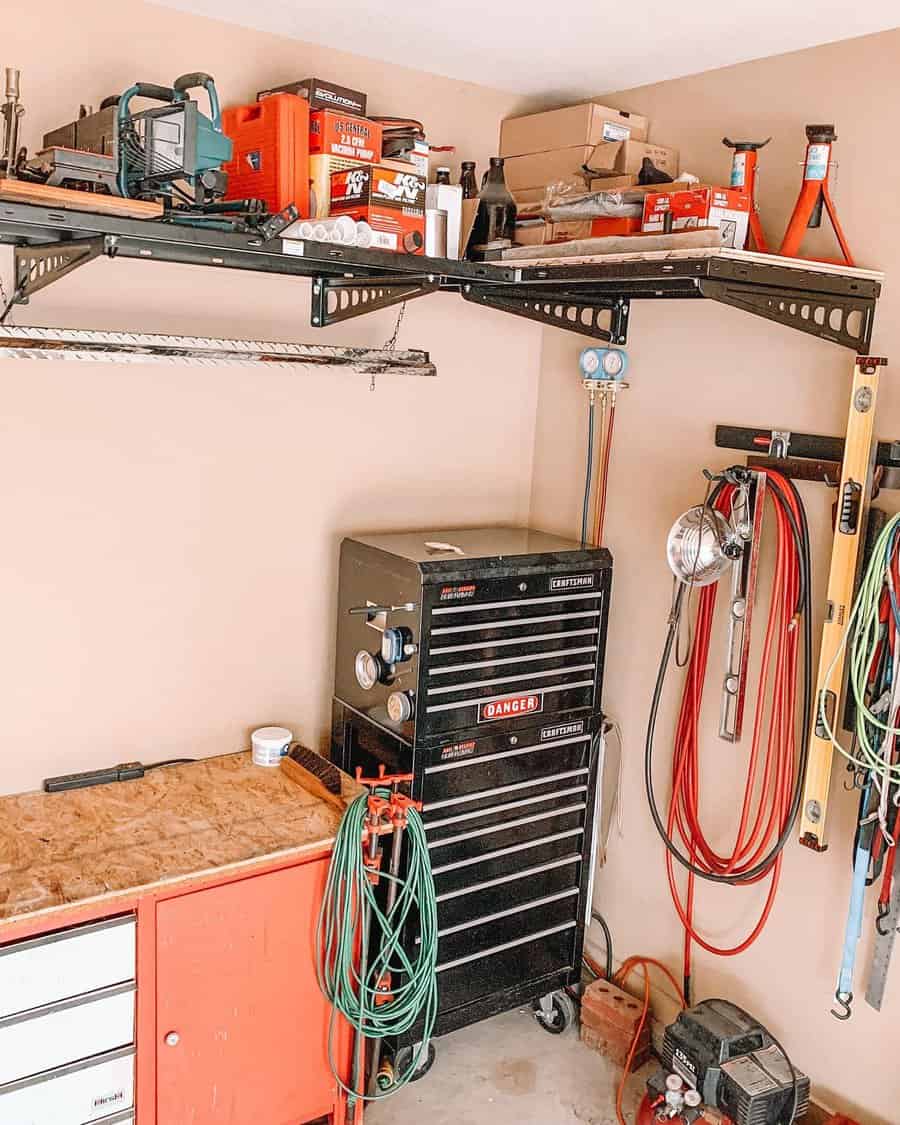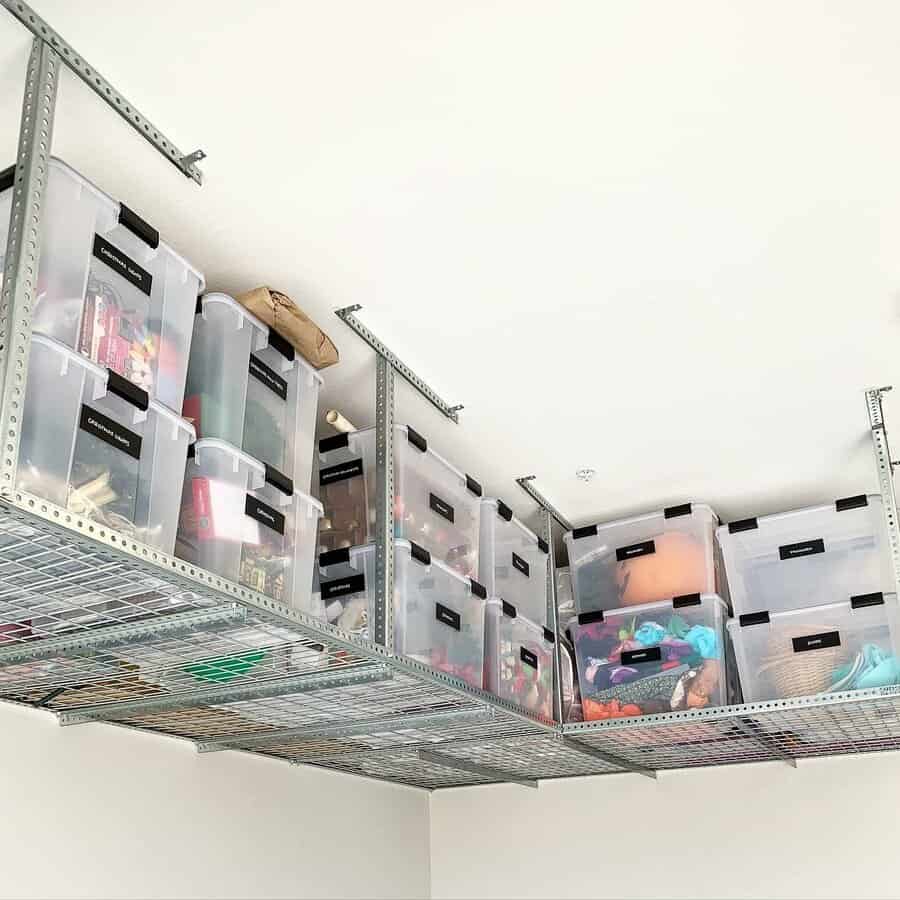 14. Install White Shelves With A Work Desk
A small garage can be a great place for getting creative and productive with built-in work desks equipped with wall shelves. It's easy to make efficient use of limited space and carve out an inspiring workspace in these unassuming spaces.
Having a built-in desk makes the project more organized and the tasks easier to manage. Put up built-in wall shelves above the desk to double up as storage while helping maintain a neat and organized look. With furniture arranged efficiently, you have a productive garage workplace in no time.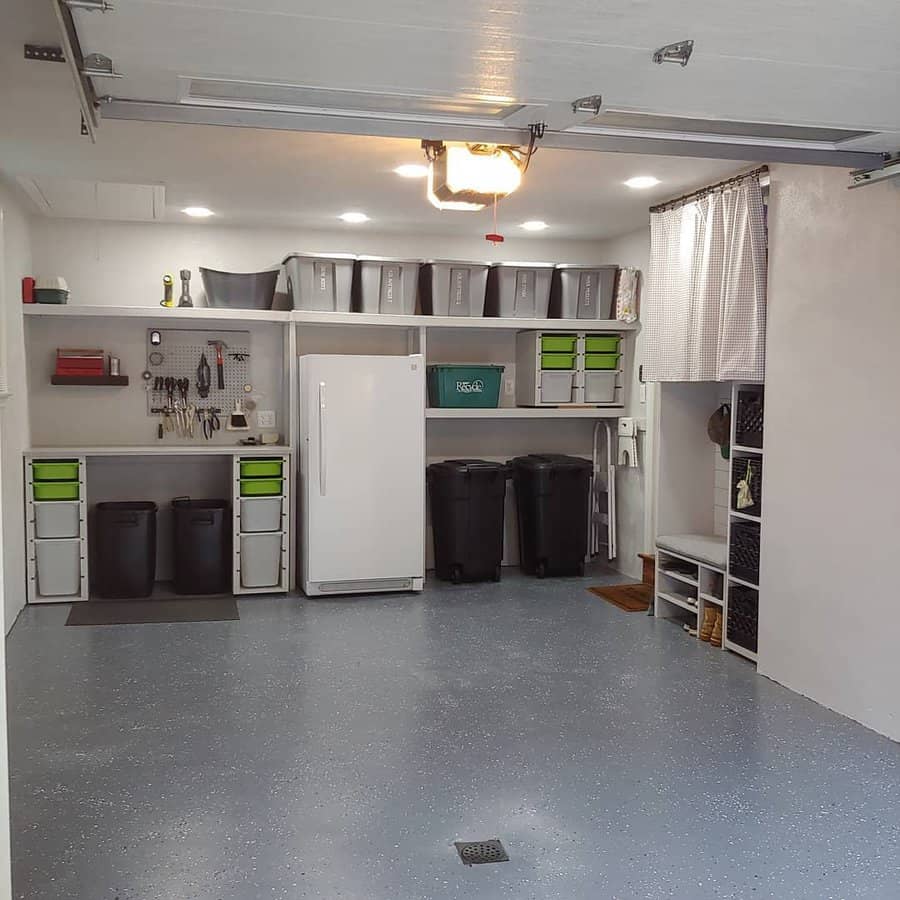 15. Create A DIY Work Table
Every backyard garage can be a place of creativity! With just a few pieces made with hardwood, some pallet wood, or even recycled wood, you can create an awesome DIY work table. It's perfect for any project big or small and it's a fun way to show off your crafty side.
Crafts like building furniture made out of wood scraps, painting projects, woodworking, and more—all become much easier and more organized when working on one of these amazing tables made with your own two hands.
So don't wait – go out and get yourself a small garage and some hard material that will help you build something truly unique!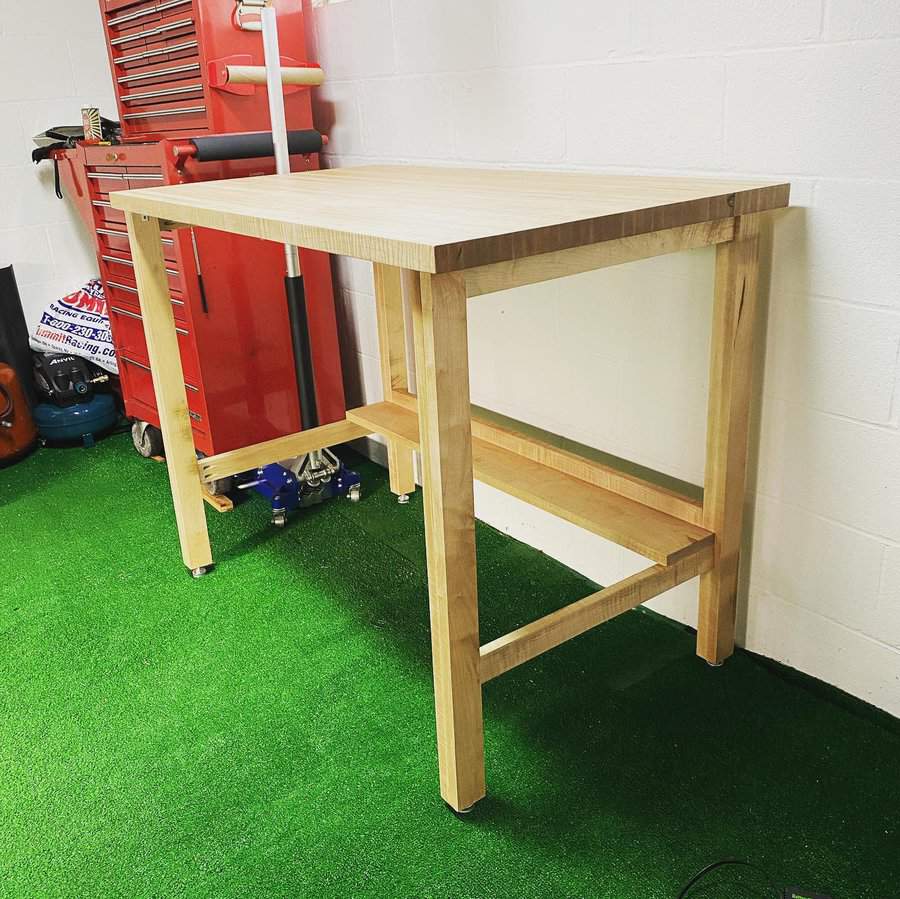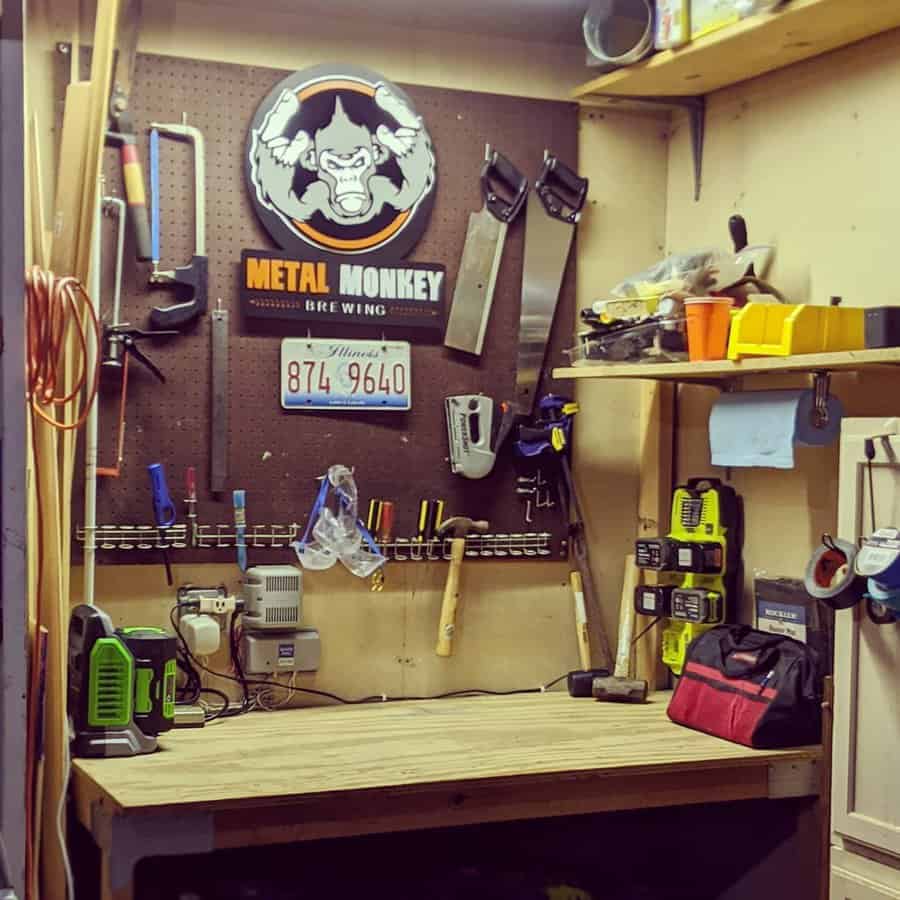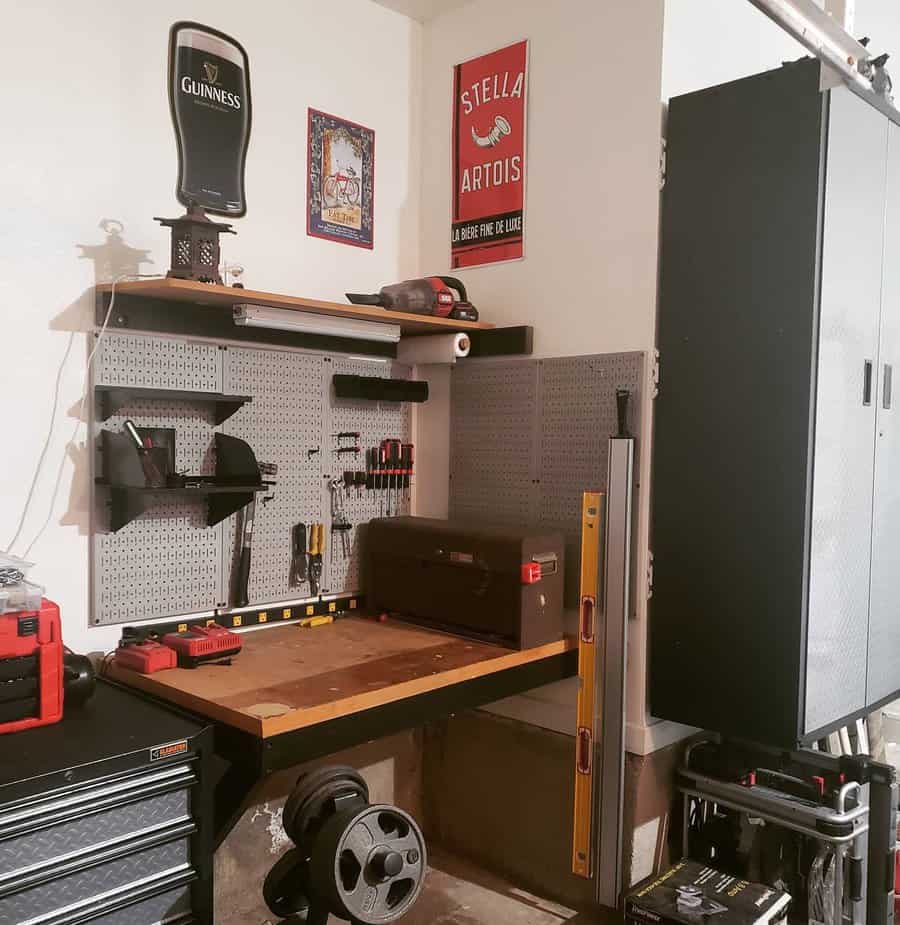 FAQs
What can I use to cover garage walls?
Drywall is the standard wall covering material for finishing walls. It is easy to install and increases fire resistance. However, you will need to do some finishing work to give it a smooth finish. Another option is oriented strand board (OSB), which does not require taping or finishing.
How do you renovate an old garage?
Start by getting rid of clutter and donating anything in your garage that you no longer use. Install a space heater and small air conditioner to make the temperature more comfortable throughout the year. Add cabinets for storage, finish the floor, and update the lighting.
How do I modernize my garage?
To modernize your garage, start by making it more functional. Update the flooring to make it more attractive and durable. Adding organizational furniture to make storage easy to navigate. Add more lighting to make the garage brighter. Paint the wall a fresh color to give your garage a design style.