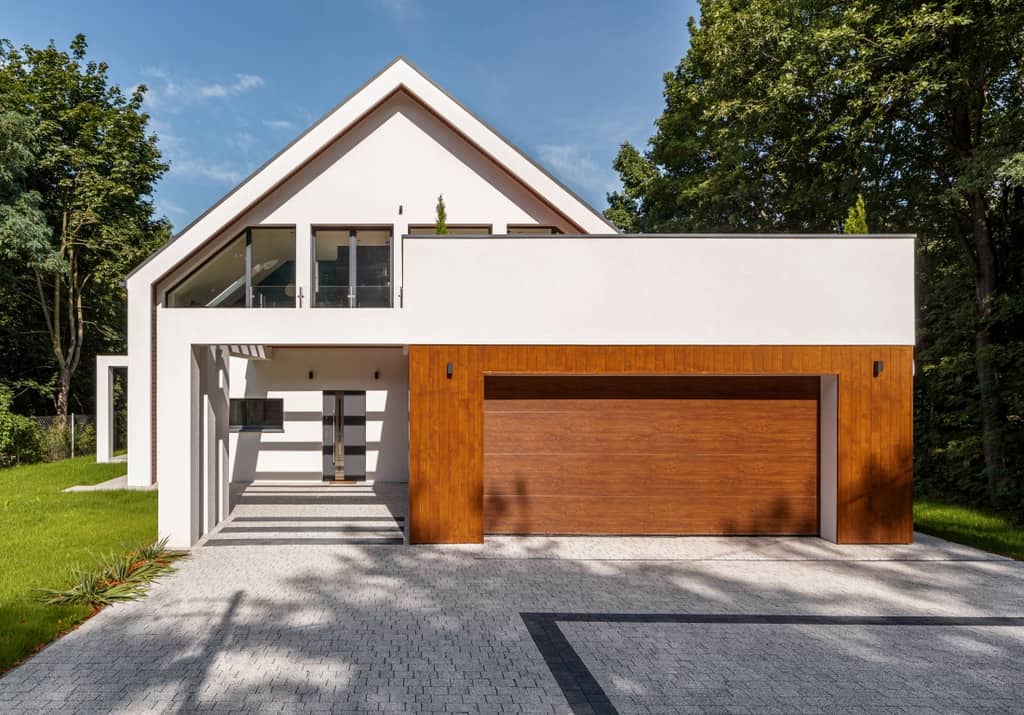 38 Small Garage Ideas
by — Andra DelMonico

Published on March 23, 2022

Updated on October 2, 2023
Get inspired by the images you see in Good Housekeeping and make the most of your small garage. You do not need a lot of garage space to have a useful storage space or functional workspace. Take the ideas that you find inspiring and scale them down to fit in your garage. So head to your local Home Depot or home improvement store and get to work giving your small garage a makeover. These small garage ideas will help you turn a plain and dreary small garage into a beautiful and functional space.
1. Upgrade Your Garage with Overhead Doors
Overhead doors are versatile additions to your small garage, offering protection for your car while creating valuable storage space. Beyond safeguarding your vehicle from the elements, they can also accommodate tools and DIY projects.
These doors come in various styles, from traditional to modern, allowing you to match your garage's aesthetics and enhance your outdoor area's visual appeal. Consider your needs and style preferences when choosing the perfect overhead door to upgrade your garage's functionality and style.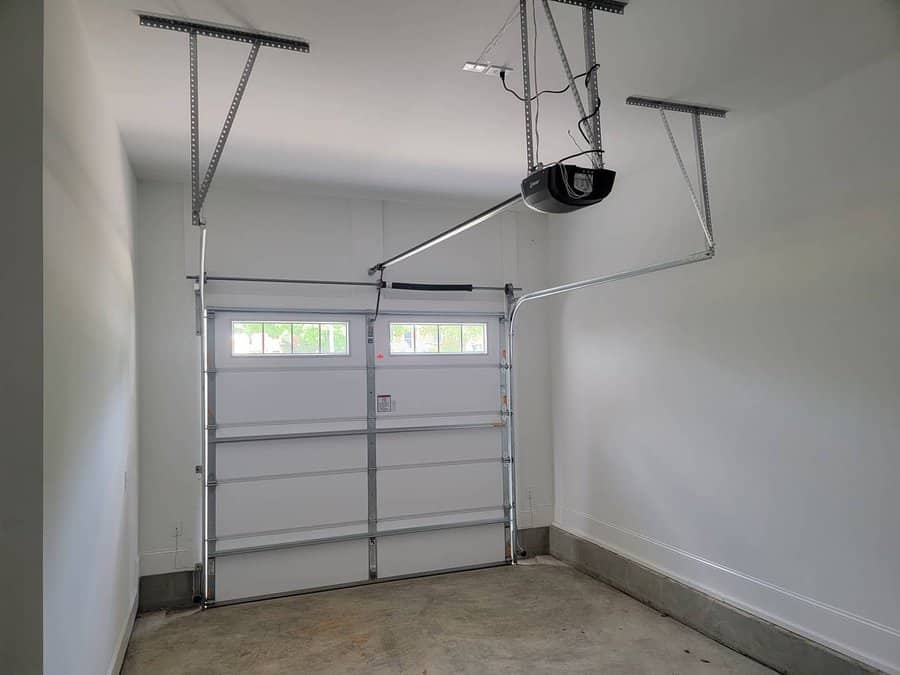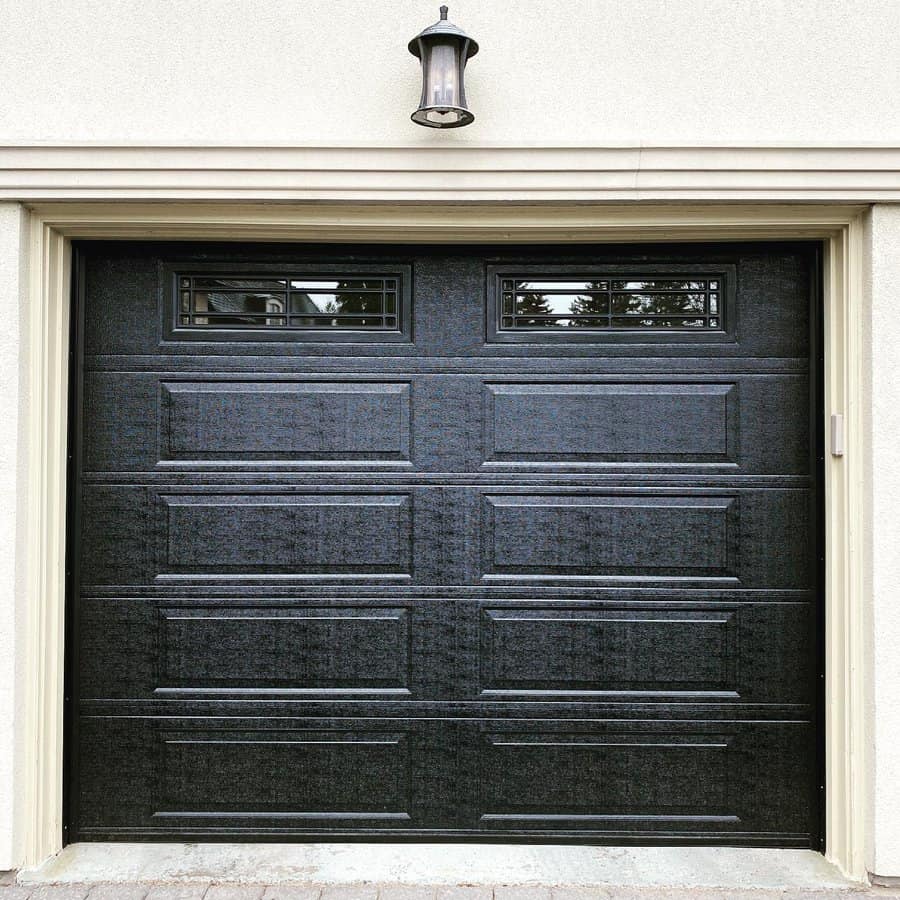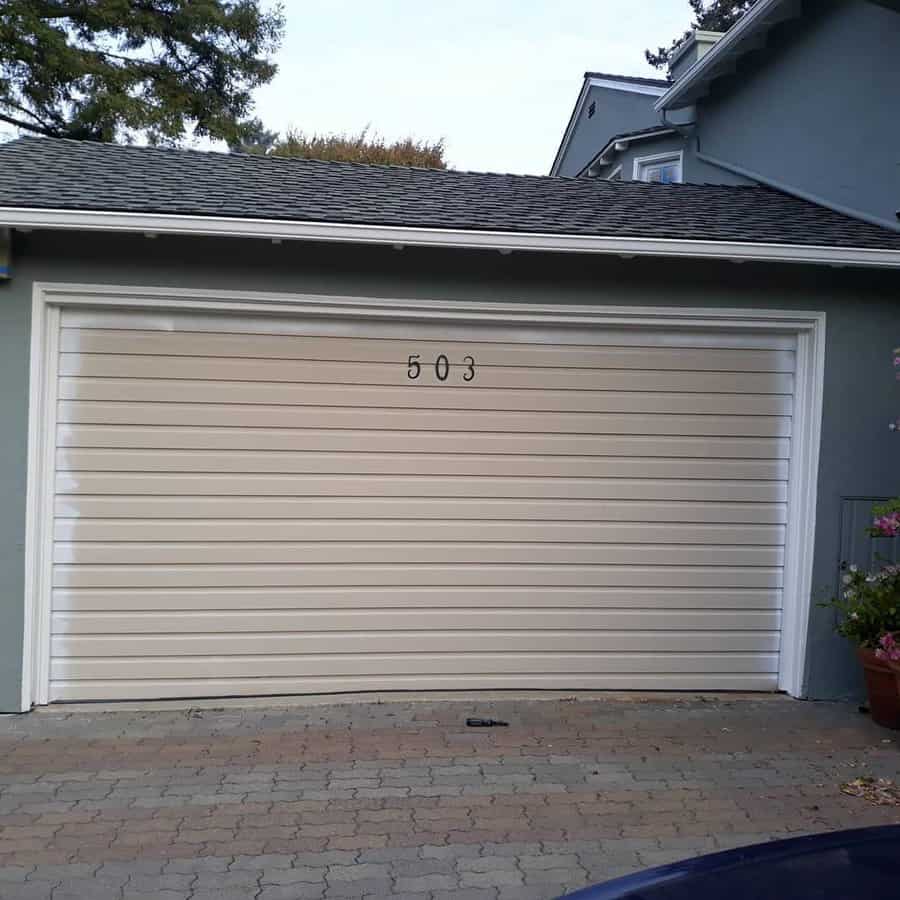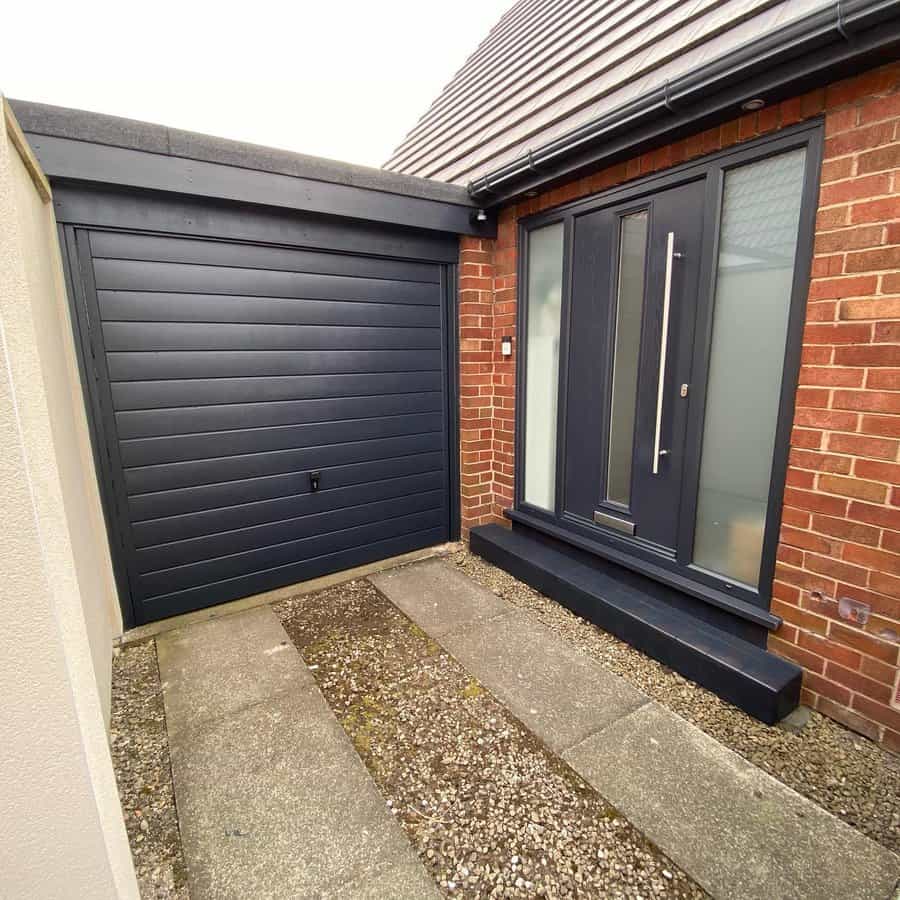 2. Maximize Space: Smart Wall Solutions
Small garages can surprise you with their storage potential. Install high shelves on your garage walls to transform the space into an organized haven for bags, hobby materials, and more. These shelves provide structure and maximize vertical space, making your garage feel more spacious and tidy. This added organization allows you to unleash your creativity and utilize your small garage effectively.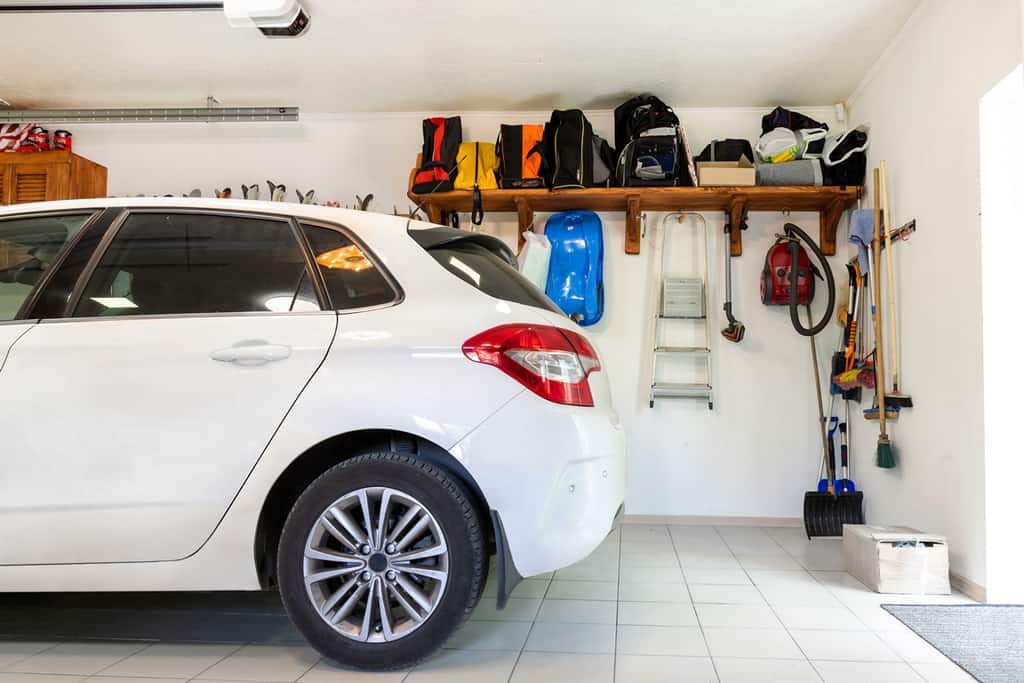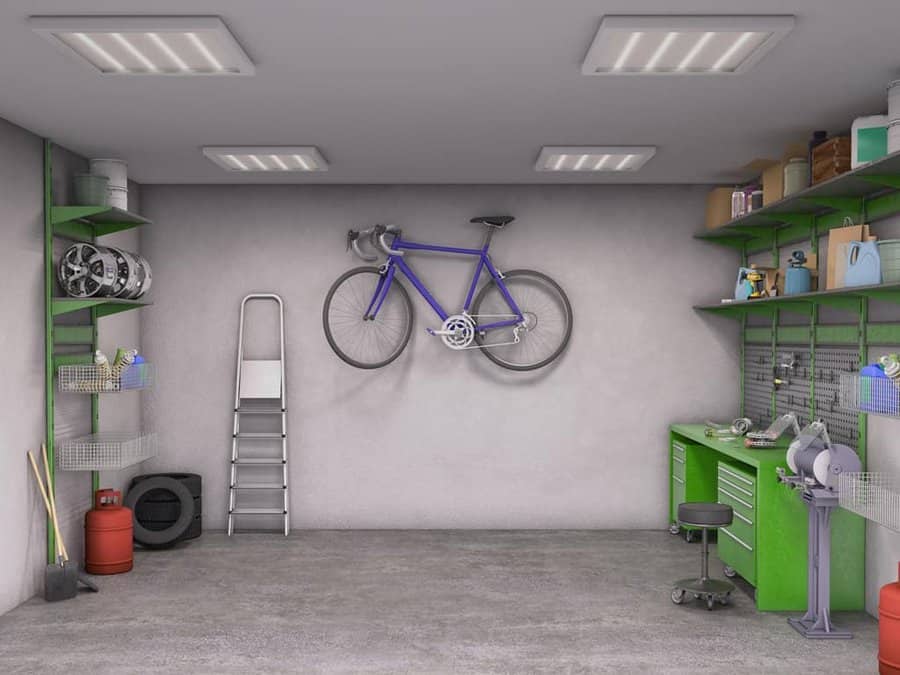 3. Elevate Aesthetics: Wallpaper Accents
Revitalize your garage's raw walls by adding brick wallpaper for a stylish transformation. You don't need actual bricks or special tools; this hassle-free option delivers the look you desire.
Brick wallpaper infuses warmth and personality, elevating your small garage's ambiance. It's an affordable and interchangeable way to make your space stand out, providing a touch of uniqueness that plain walls can't match. Invest in brick wallpaper to elevate your garage's aesthetics effortlessly.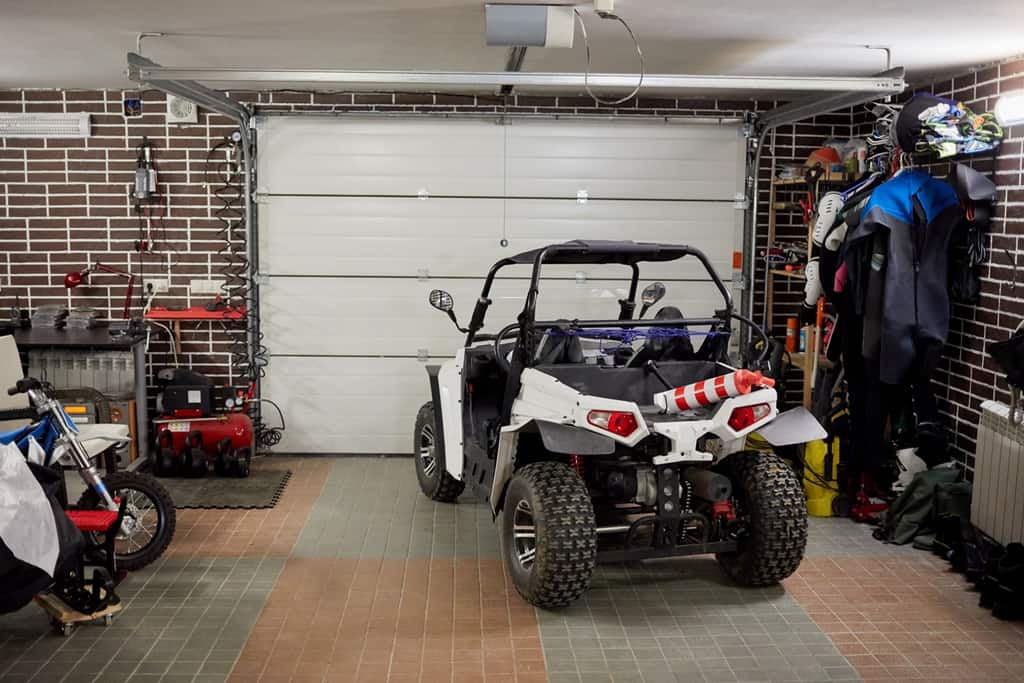 4. Transform Your Garage into a Gym
Have you ever wanted to own a gym but felt like you had no space to fit it? Look no further! A small garage can be the perfect place for wall-mounted gym equipment and other key features in order to create your very own secret gym. Utilizing every inch of space on the wall, floor, or ceiling; these wall-mounted pieces help you make the most out of a limited area while getting fit at the same time. Whether you're an aspiring bodybuilder looking to stay in shape or an amateur wanting to challenge themselves, a small garage with wall-mounted gym equipment is a great option for anyone interested in starting their next fitness journey.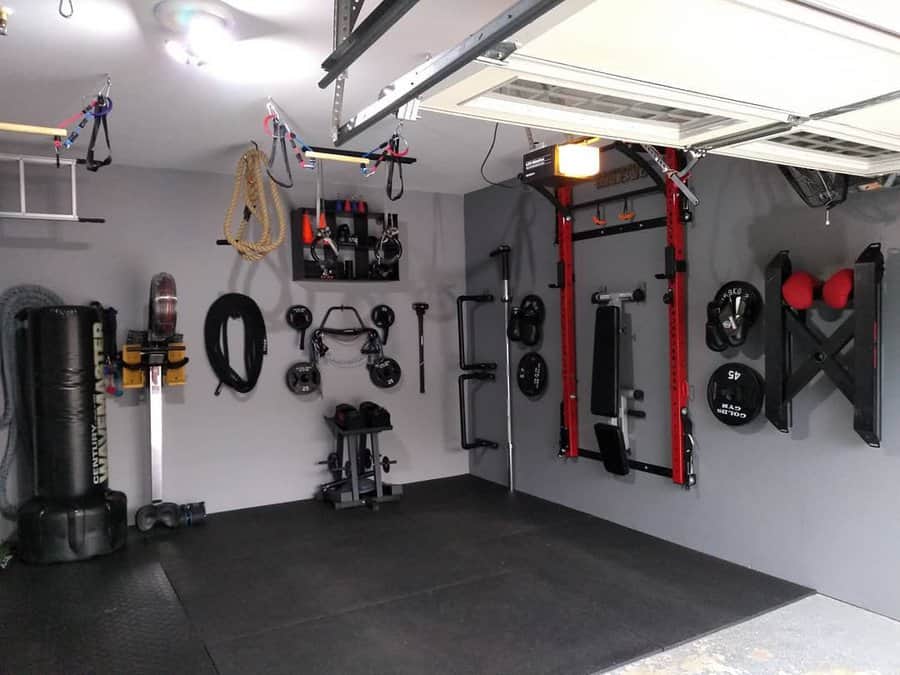 5. Illuminate Creatively with Lighting
For an innovative lighting solution in your small garage, consider honeycomb lighting. This creative approach provides focused illumination, ideal for small spaces.
Unlike traditional ceiling lights, honeycomb lighting concentrates light from a central source, creating a mood-enhancing atmosphere. To explore this lighting option further and seamlessly integrate it into your garage, consult with your contractor or architect for expert advice. Elevate your tiny garage's ambiance with this unique lighting feature.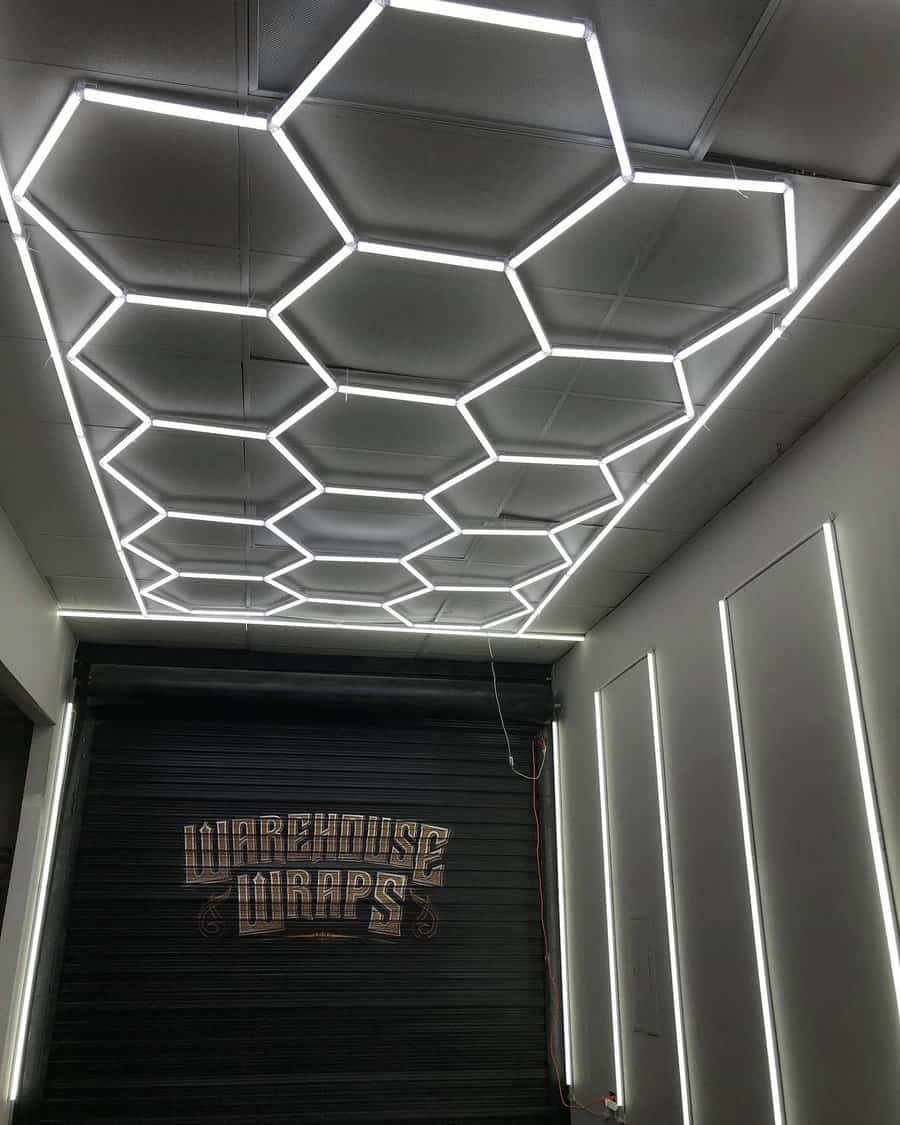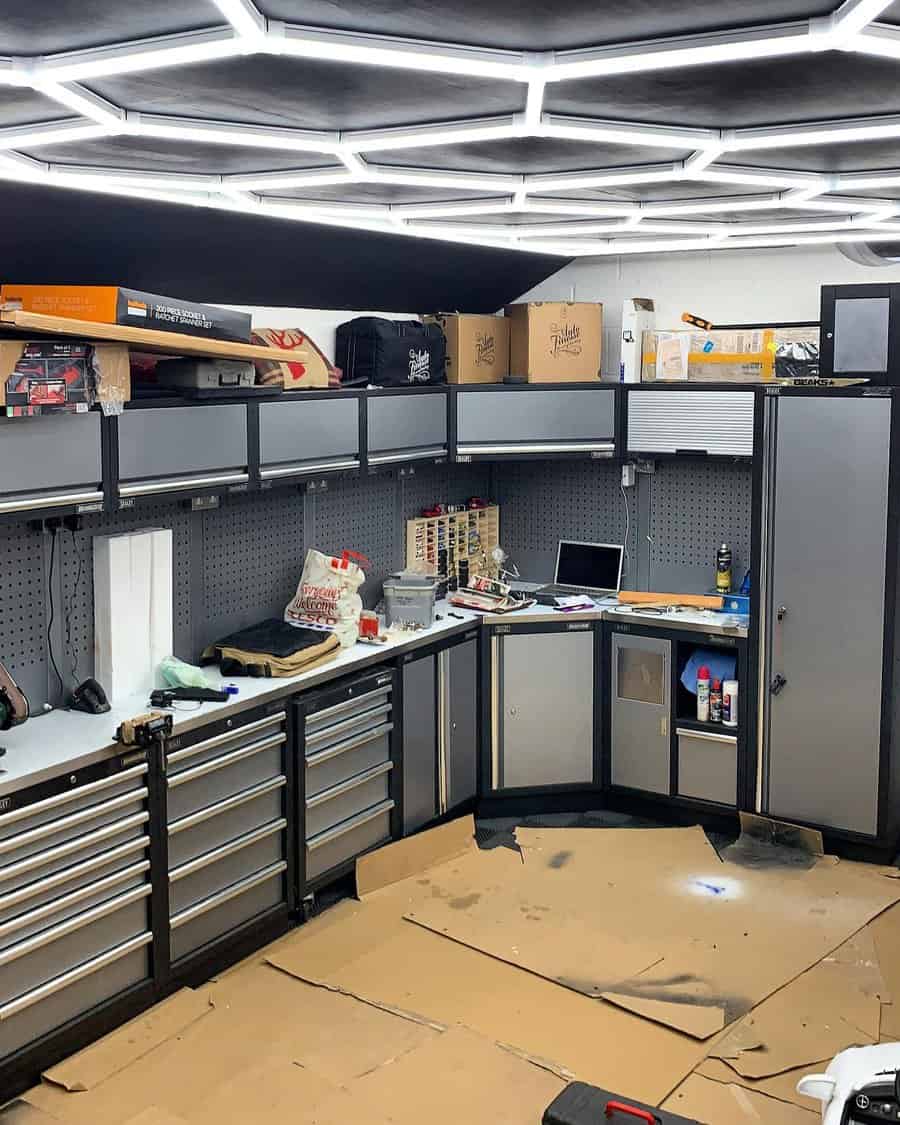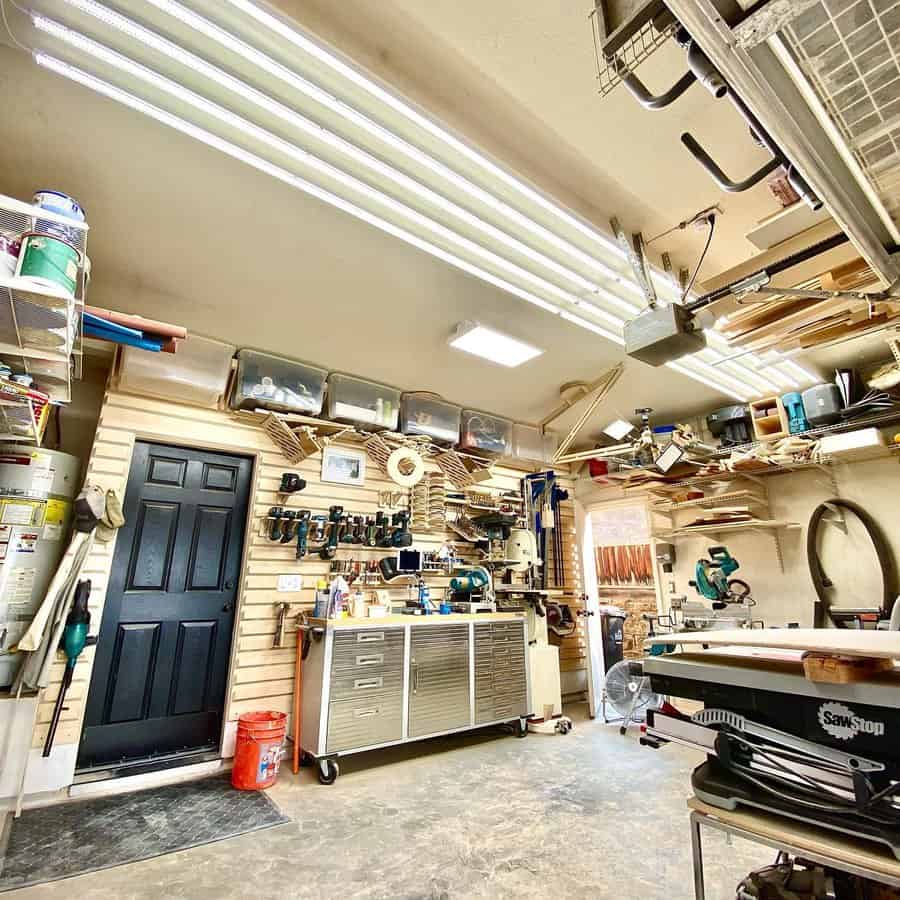 6. Embrace Raw Walls for an Industrial Vibe
Embrace the industrial vibe in your small garage by exposing its brick walls. This design choice isn't just for large warehouses; it can bring rustic industrial charm to any space. The exposed bricks add a raw, masculine touch while maintaining an industrial aesthetic.
Unlike plain white walls, they provide unique texture and character. To complement this style, consider adding industrial lighting, metal shelving, and vintage decor to fully transform your small garage into an industrial haven. Don't underestimate the power of industrial design in even the coziest of spaces!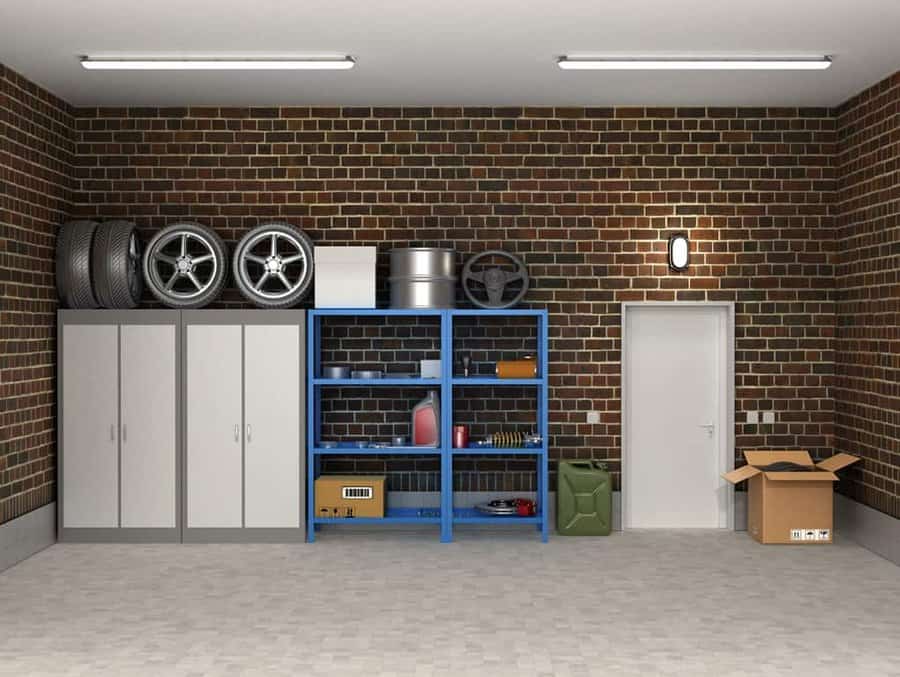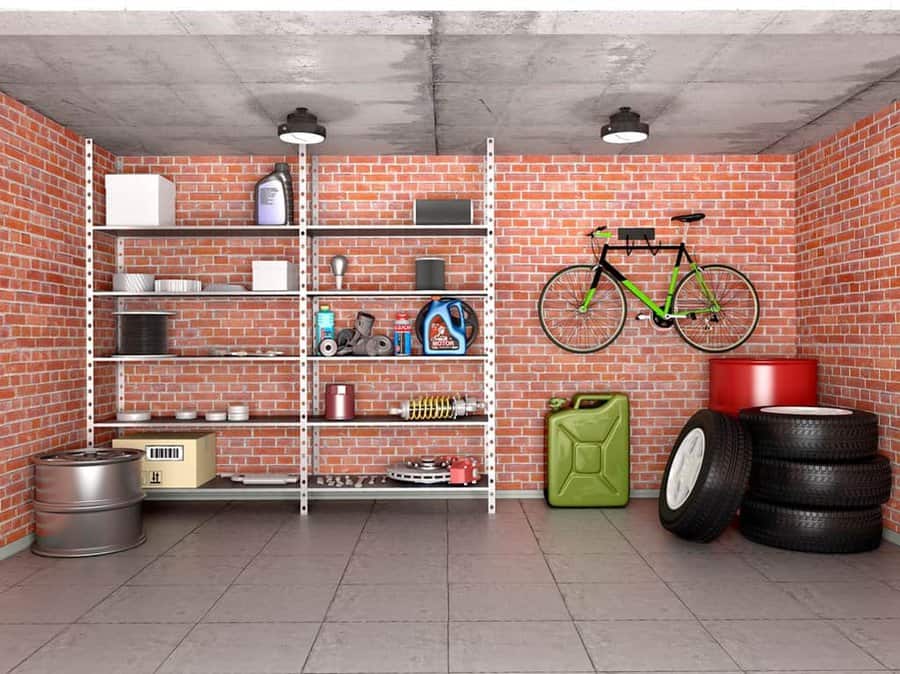 7. Hang Large Shelves for Storage
For a practical storage solution in your small garage, consider installing robust wall-mounted shelves designed to hold large crates. This efficient approach maximizes vertical space while keeping your tools and hardware easily accessible. No more digging through piles to find what you need!
To enhance the visual appeal, choose crates in coordinating colors or styles that complement your garage's overall design. This organized and aesthetically pleasing storage system will make your small garage both functional and stylish.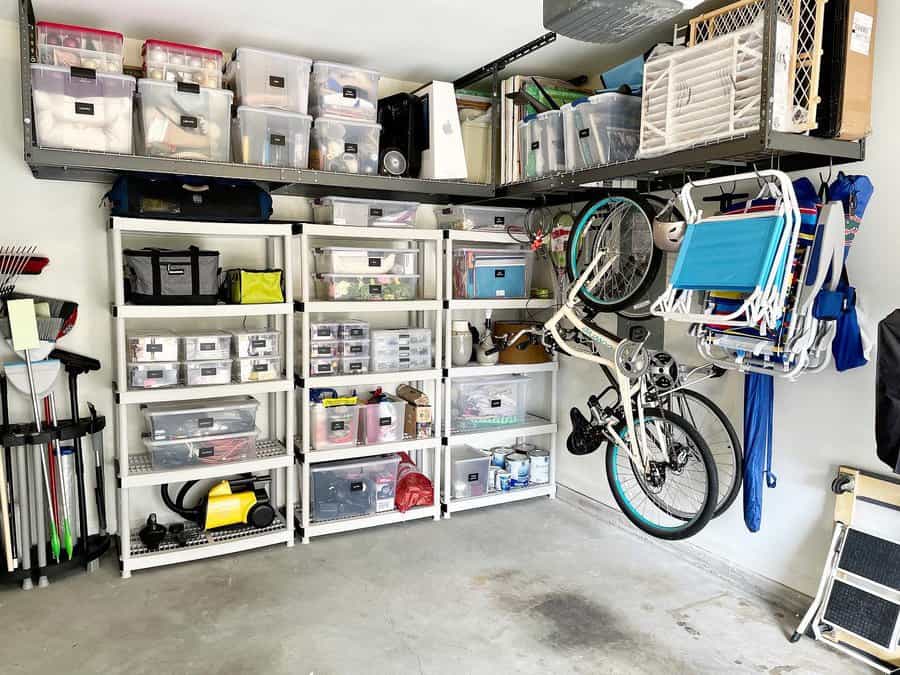 8. Organize with Efficient Plastic Crates
When dealing with limited space in your small garage, opt for efficient plastic crates that not only keep things organized but also add to the visual appeal. Use them to store painting supplies, tools, or car parts, ensuring a clutter-free environment.
Explore a range of colors, textures, and sizes to personalize your plastic crate storage, harmonizing it with your garage's overall design. This practical and aesthetically pleasing solution makes the most of your small garage space.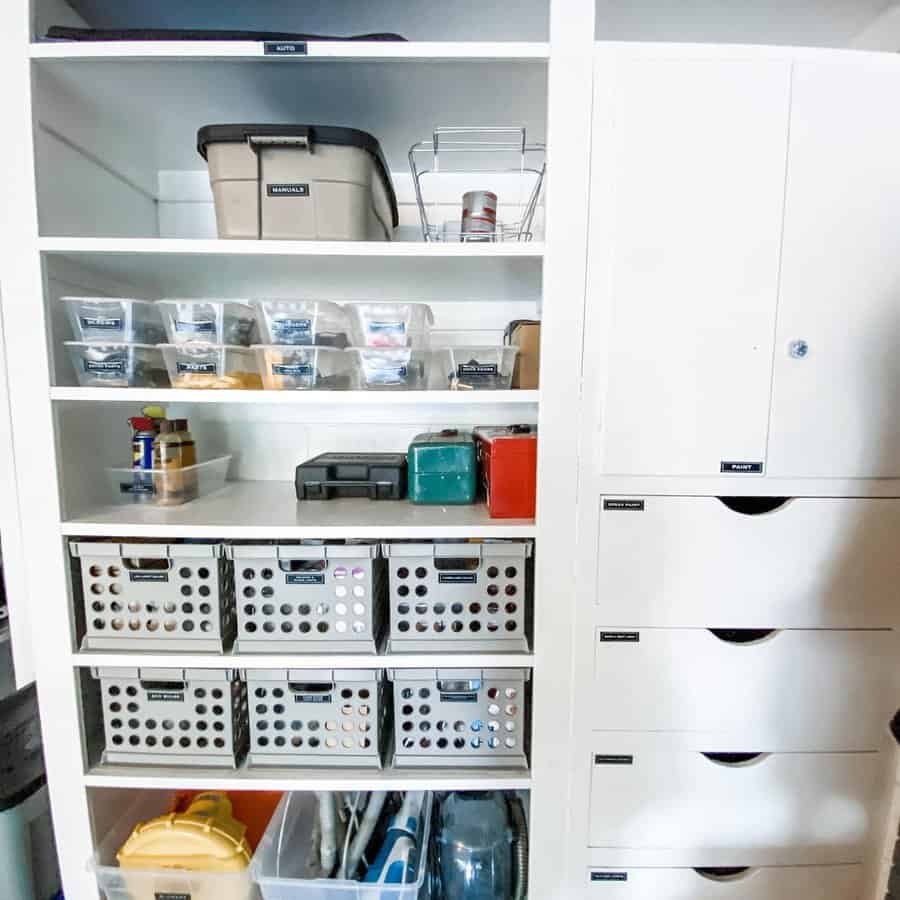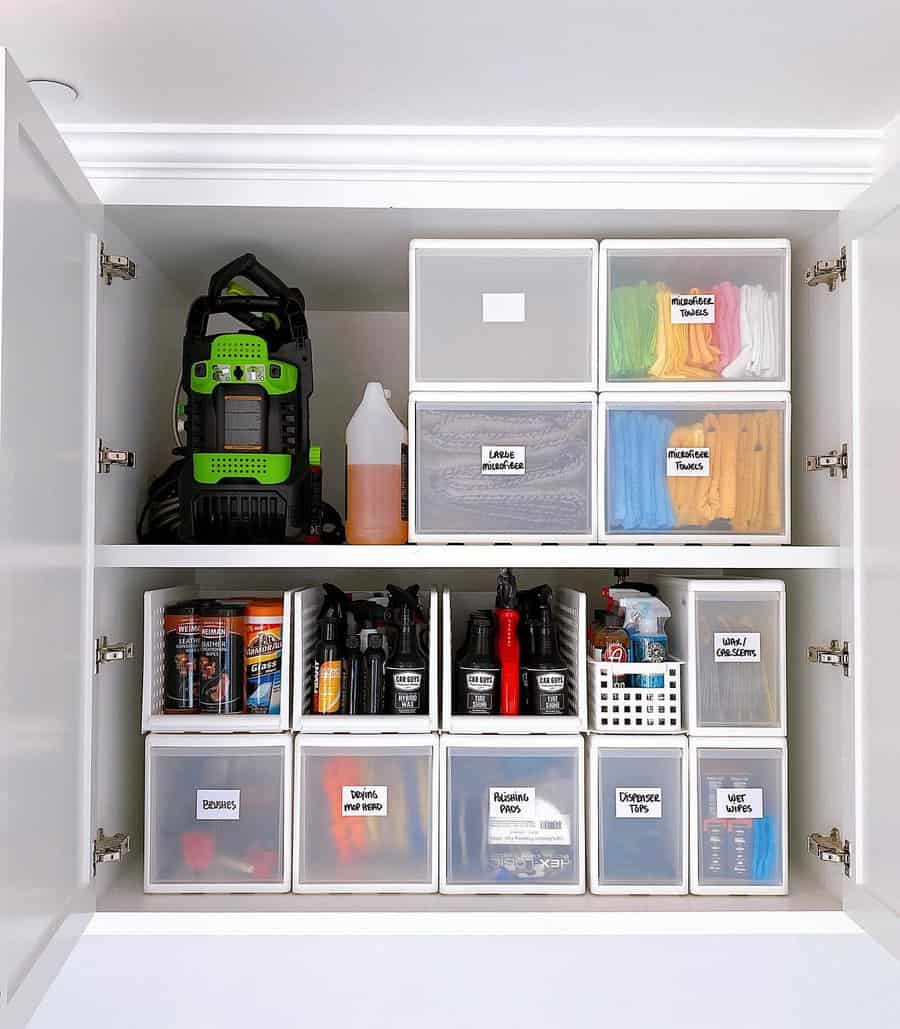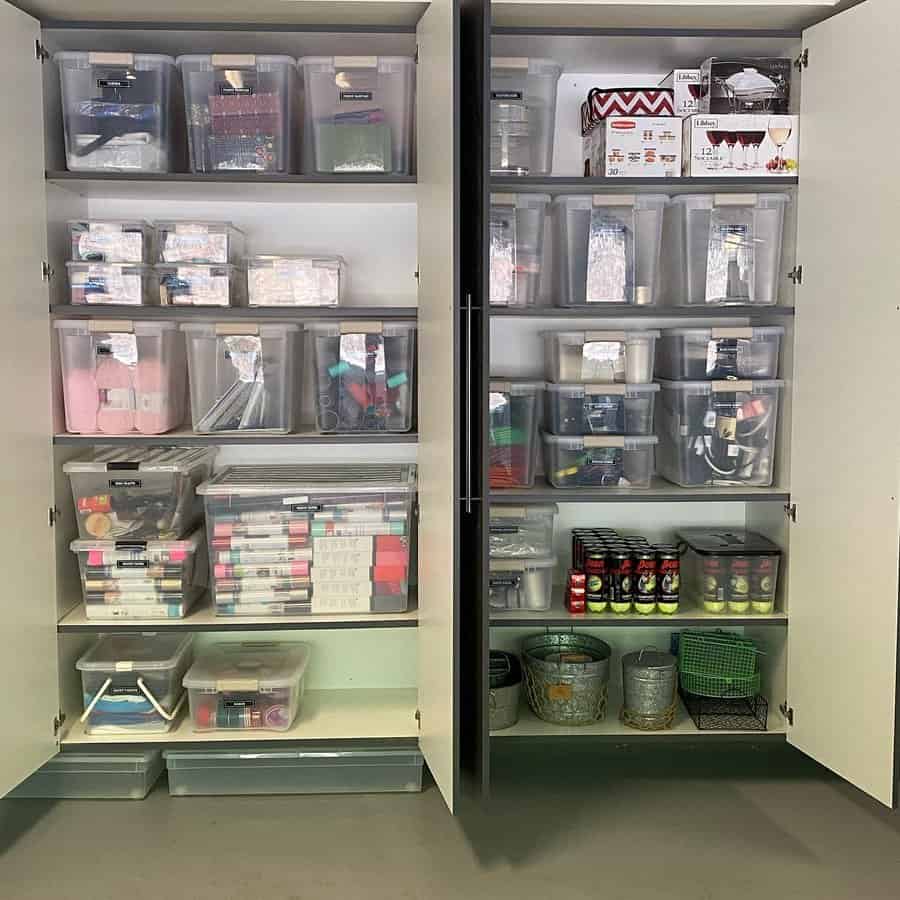 9. Choose Stylish Aluminum Roofing
When seeking to upgrade your small garage with a functional and visually striking industrial touch, consider opting for stylish aluminum roofing. Its cost-effectiveness and ease of installation make it a practical choice, while its exceptional resistance to corrosion ensures a long-lasting solution that can endure for decades.
Beyond its functionality, aluminum roofing adds a contemporary and chic aesthetic to your small garage, making it both functional and stylish. To complement this design, consider industrial lighting fixtures and metallic accents to achieve a cohesive look.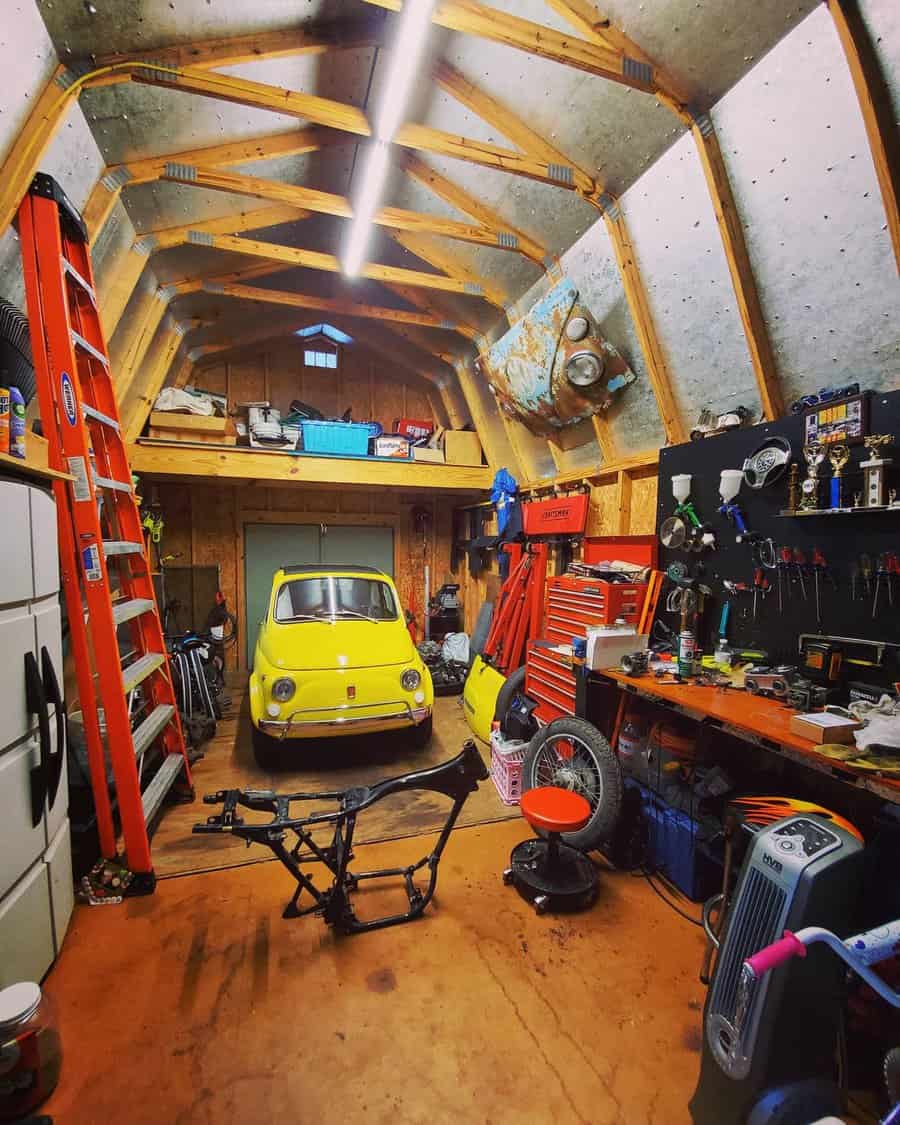 10. Establish Simple Garage Seating
In your small garage, establish welcoming seating areas that exude character and charm. Crafted wooden chairs and thoughtfully placed benches offer functional seating while adding an unassuming flair to the space.
Whether you're enjoying a quiet cup of coffee or engaging in lively conversations with loved ones, these seating options provide both comfort and style. To enhance the atmosphere, consider adding cushions or throw pillows that match your garage's overall design. With these seating arrangements, your small garage becomes a cozy and functional space for memorable gatherings with friends and family.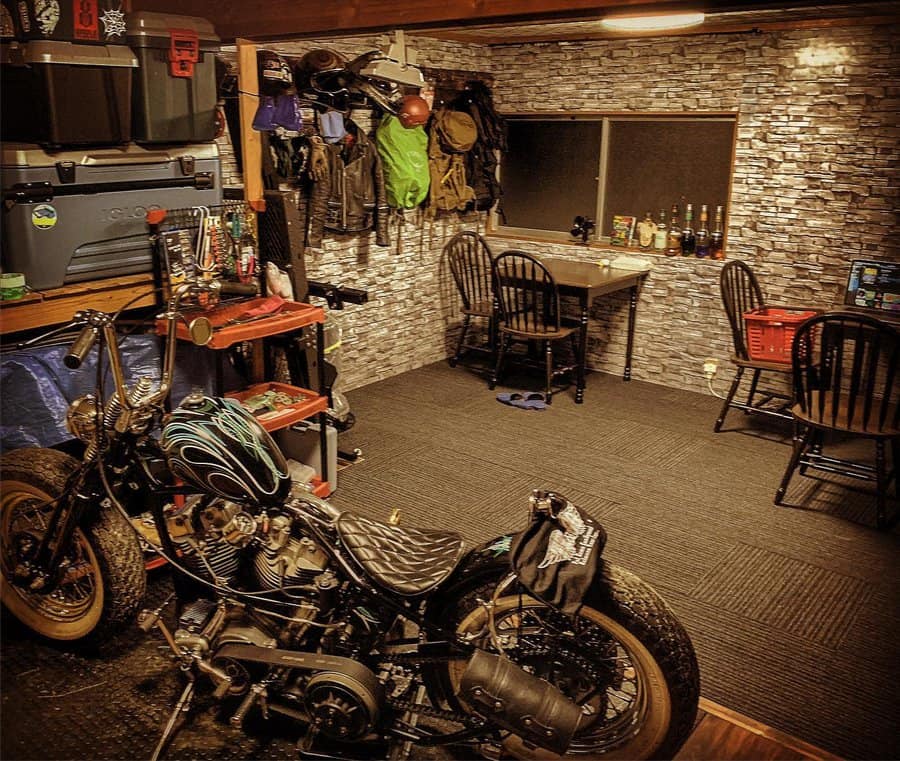 11. Craft Ceiling Mounts for Hobby Gear
To maximize your small garage's storage capacity, consider installing ceiling mounts for oversized hobby gear or other large items that don't fit into standard storage solutions. This clever solution frees up valuable floor space, allowing you to store larger items safely out of the way. Not only does this create additional room for items below, but it also ensures quick and convenient access when needed.
Whether you're into surfing, DIY projects, or other activities, a small garage with ceiling mounts lets you make the most of every inch of your space. To complete the setup, ensure proper organization and labeling to easily locate and retrieve your gear.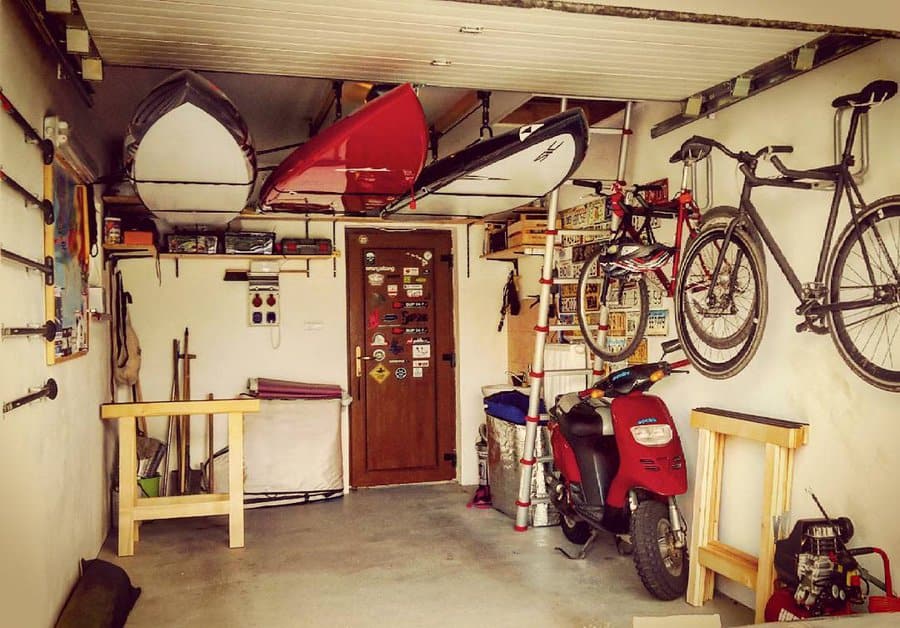 12. Craft a Custom Peg Board
Turn your small garage into a DIY haven by crafting a custom peg board. This versatile solution allows you to efficiently store and organize tools like hammers, screwdrivers, and gardening equipment. By dedicating one side of the peg board to gardening tools and installing shelves above, you'll ensure easy access to frequently used items and paint cans.
Maximize wall space to keep your workspace clutter-free, providing ample room for tackling household projects. With a well-organized peg board, you'll have everything you need at your fingertips, making DIY tasks a breeze.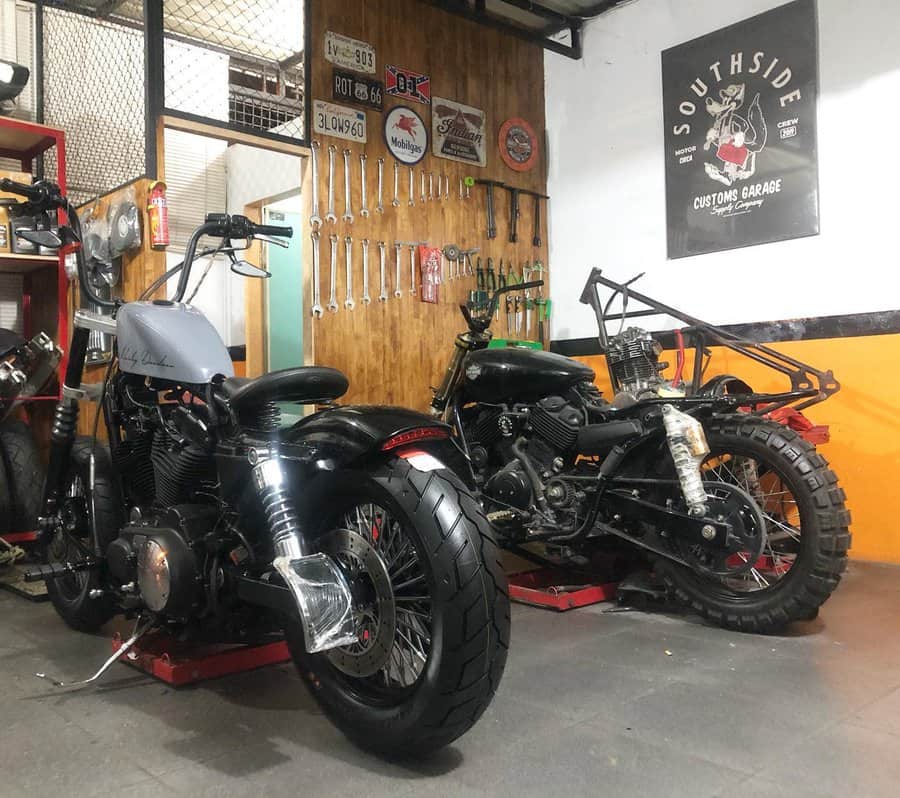 13. Build DIY Wooden Shelves
Optimize your small garage's space by building DIY wooden shelves. These versatile shelves can serve both functional and decorative purposes. Display your favorite collections, such as vintage books or decorative plates, to add a personalized touch to your garage.
Alternatively, use them for practical storage of items like utensils, cleaning products, and gardening equipment. To complement this design, consider painting or staining the wooden shelves to match your garage's color scheme, creating a cohesive look. Wooden shelves not only provide stability but also enhance the aesthetics of your small garage, making it both organized and visually appealing.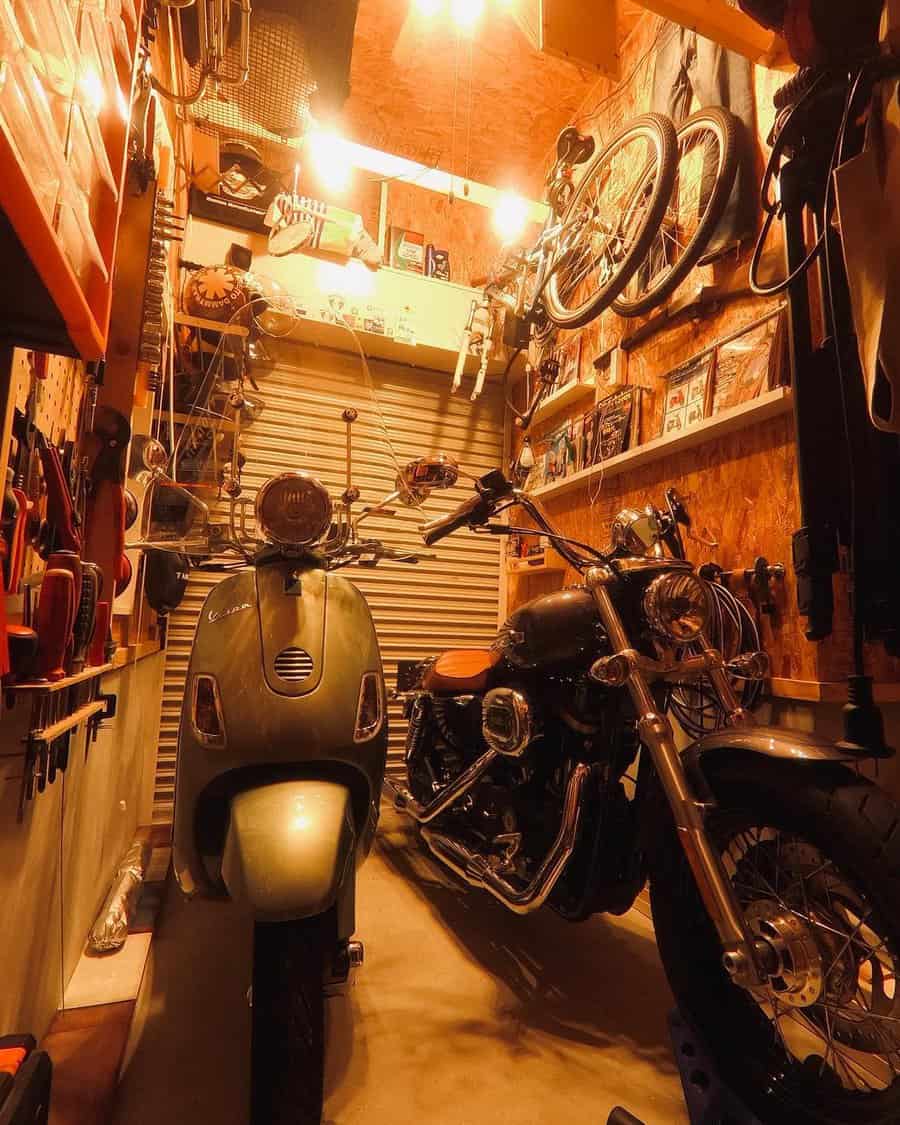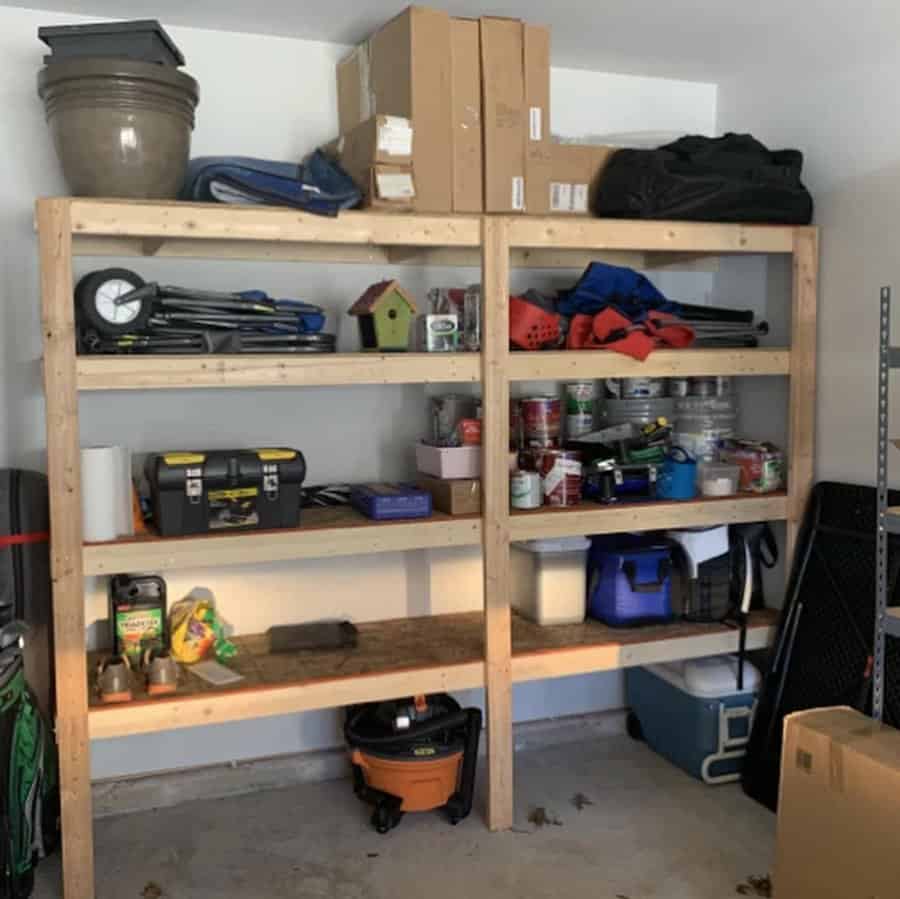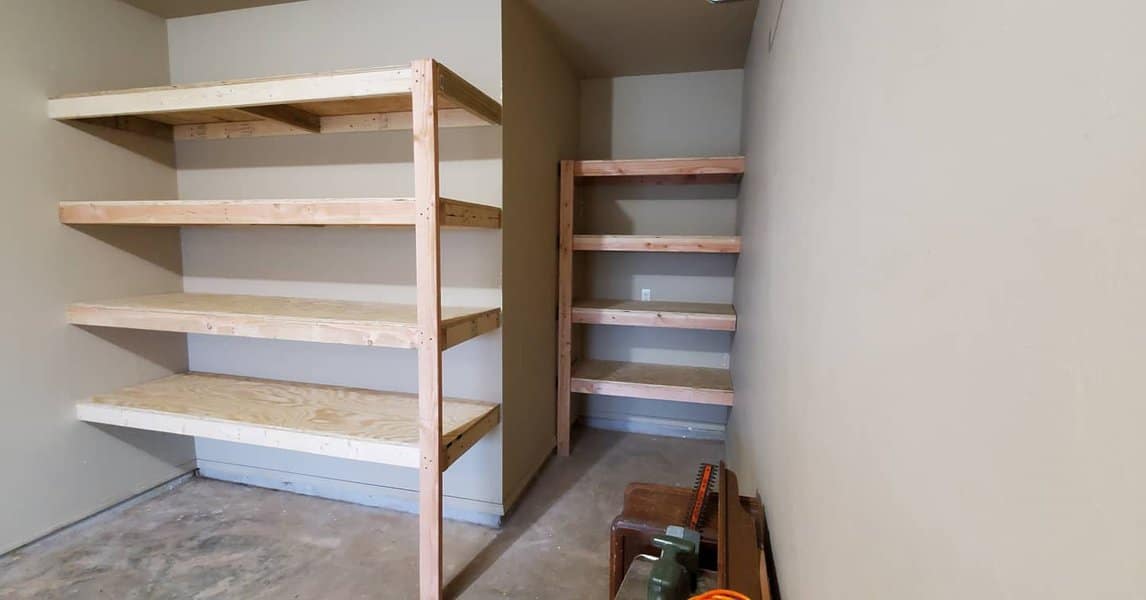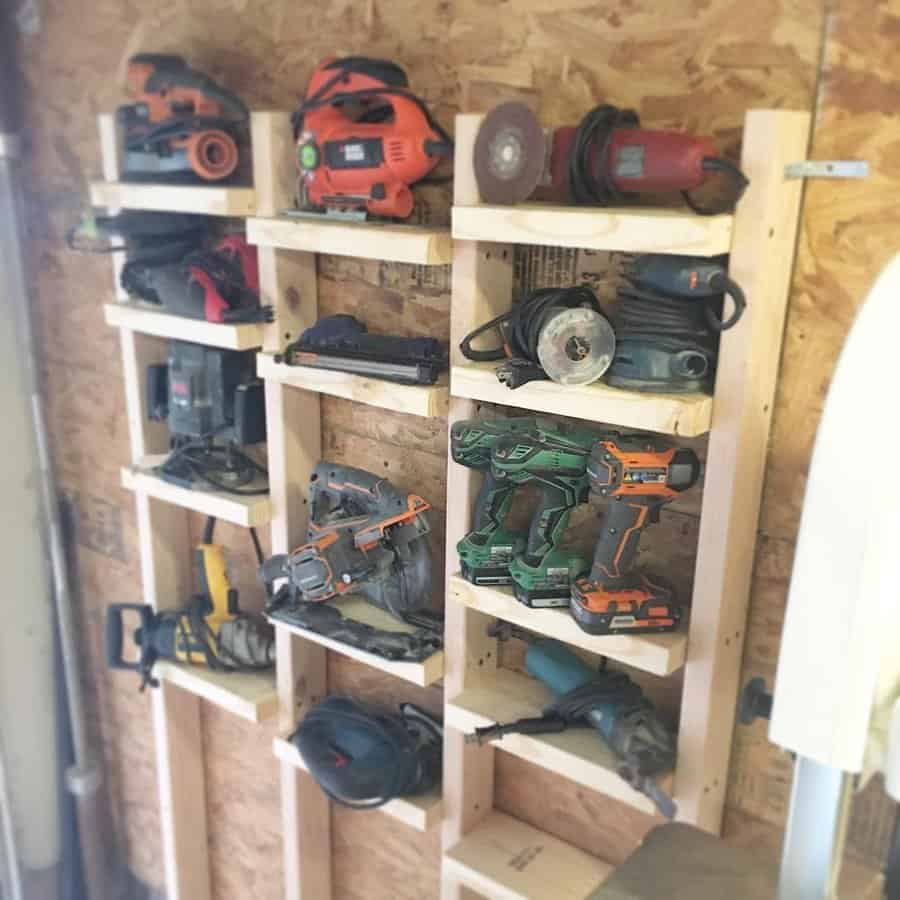 14. Optimize Storage with Overhead Metal Shelves
In a small garage, optimizing storage is crucial, and overhead metal shelves are the perfect solution. Their durability surpasses that of wood, providing sturdy support for heavy storage boxes without the risk of warping or bending.
Additionally, the rustproof metal comes with a protective paint coating, ensuring longevity even in humid conditions. To complement this space-saving design, consider labeling your storage boxes for easy identification, and use clear storage containers for a visually organized look. With stylish and space-efficient overhead metal shelves, your small garage becomes a functional and organized storage hub.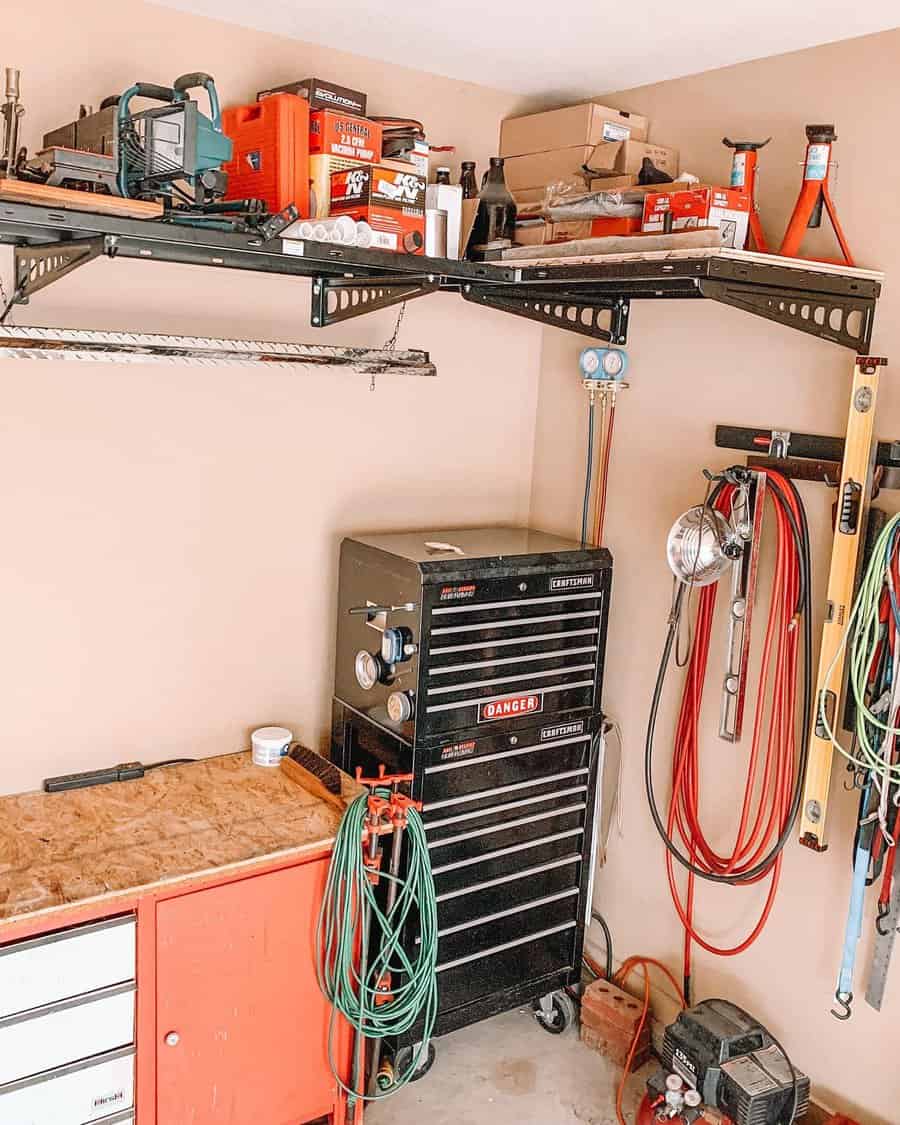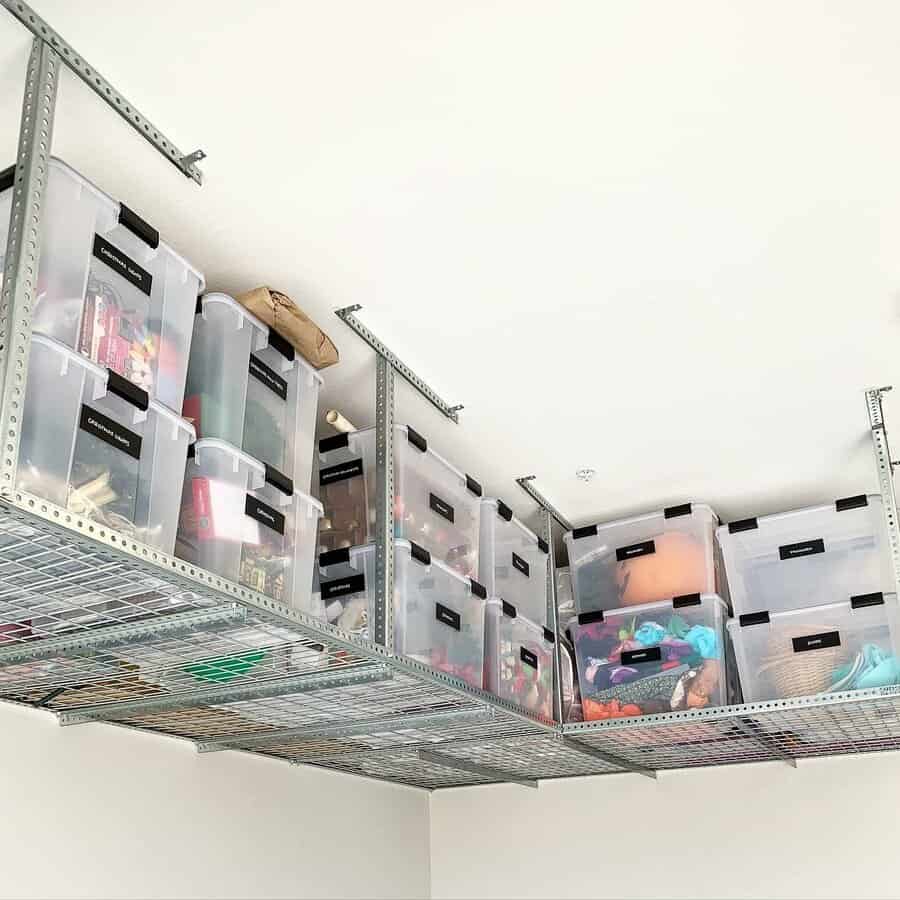 15. Combine White Shelves and Work Desk
Transform your small garage into a functional and inspiring workspace by combining a built-in desk with wall shelves. This design optimizes limited space, allowing you to create an organized and productive environment.
When setting up your desk, consider installing task lighting to enhance visibility and reduce eye strain. To keep the workspace tidy, use wall shelves above the desk for convenient storage of tools, supplies, and other essentials. With this setup, you'll have an efficient and well-organized garage workspace that fosters creativity and productivity.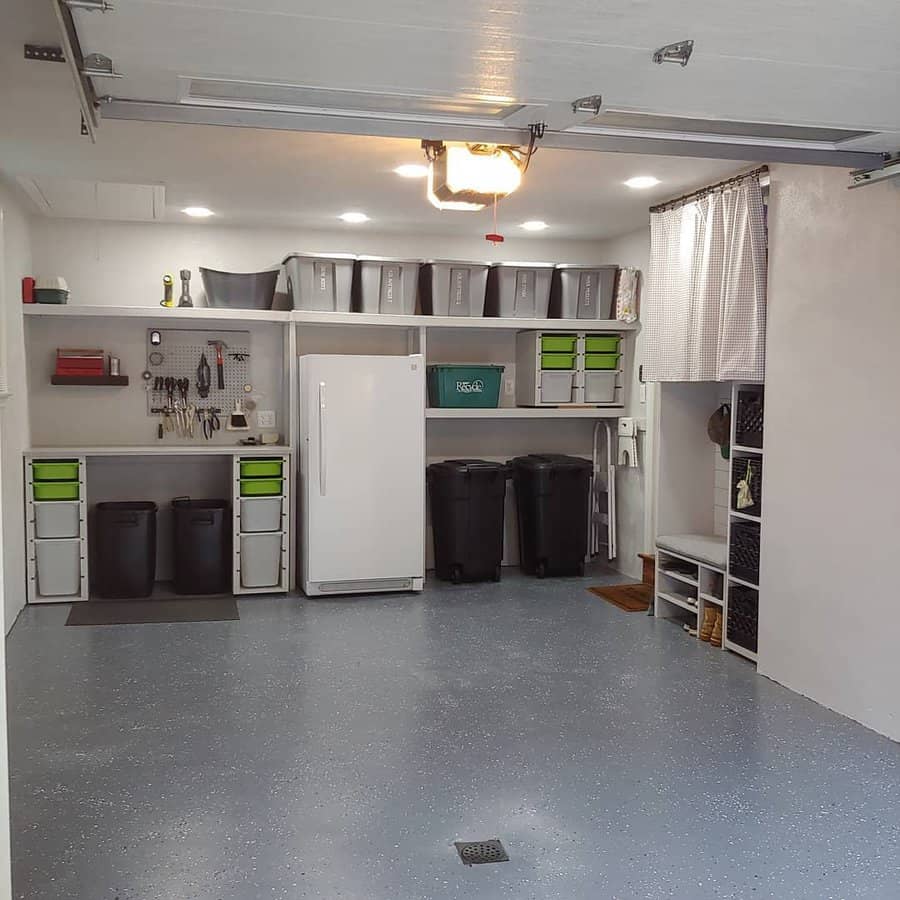 16. Craft Your Own DIY Workstation
Turn your small garage into a hub of creativity by crafting your own DIY worktable. Using hardwood, pallet wood, or recycled materials, you can create a versatile workstation that's perfect for various projects, from woodworking to painting. To enhance functionality, install built-in storage or shelving to keep tools and supplies organized and within reach.
Consider adding task lighting to ensure optimal visibility for detailed work. With a personalized DIY workstation, you'll have a dedicated space for unleashing your creativity and tackling projects of all sizes in an organized and efficient manner.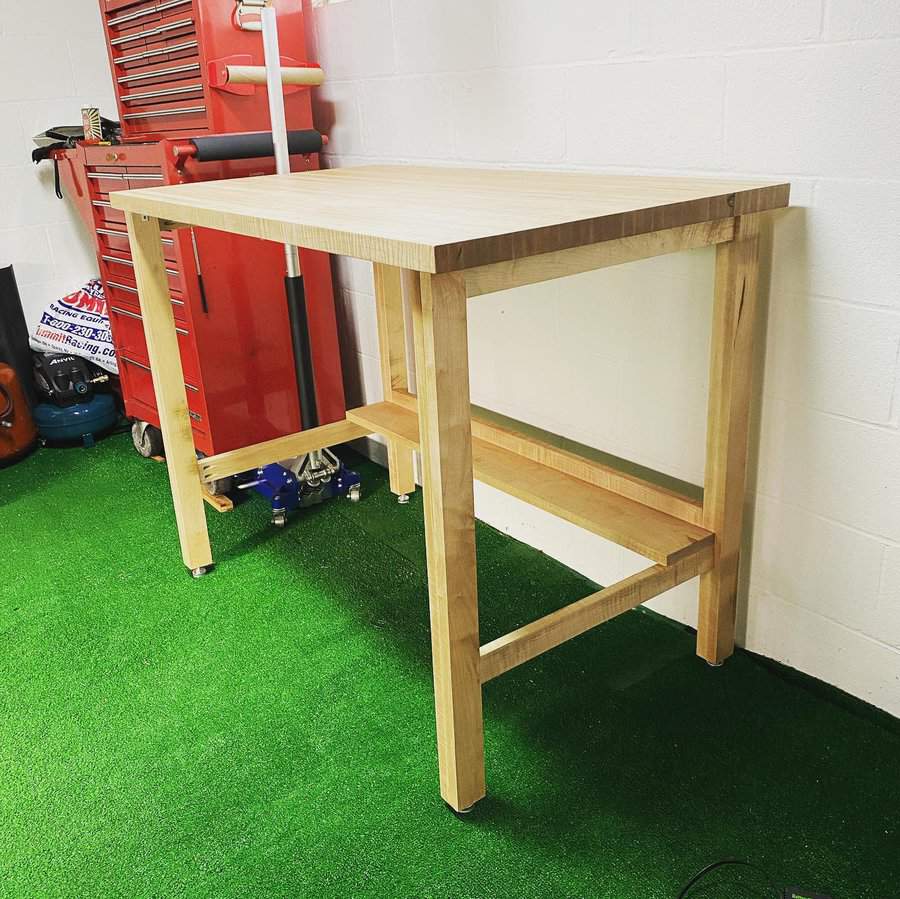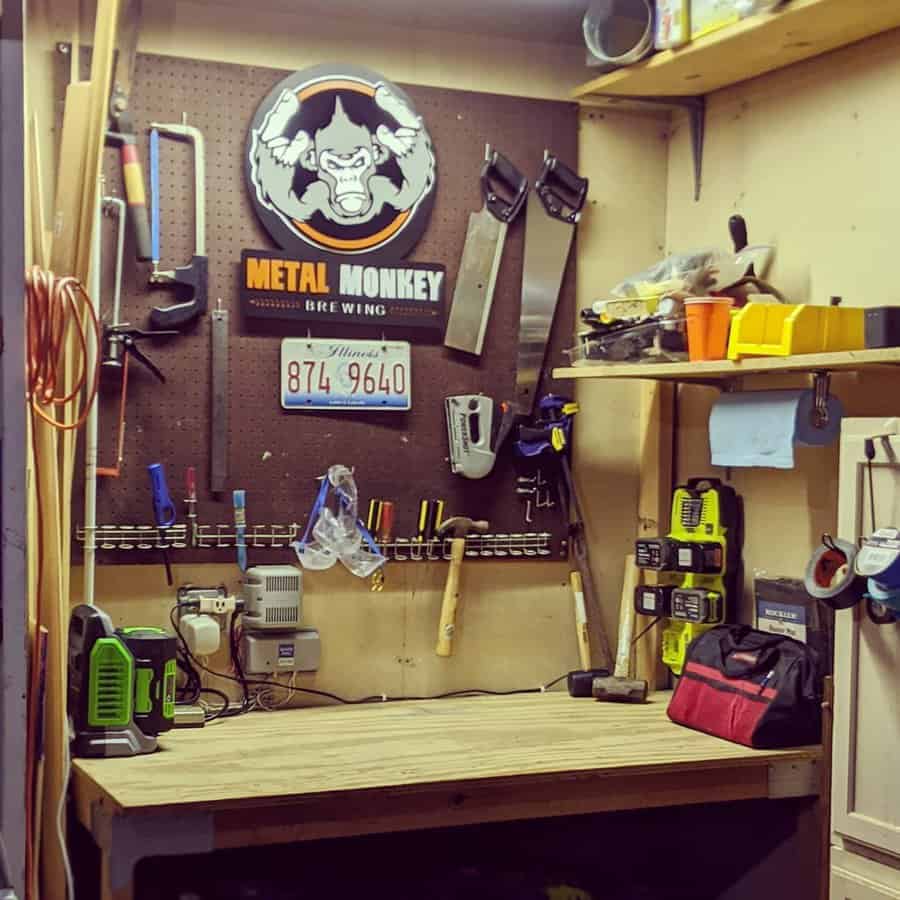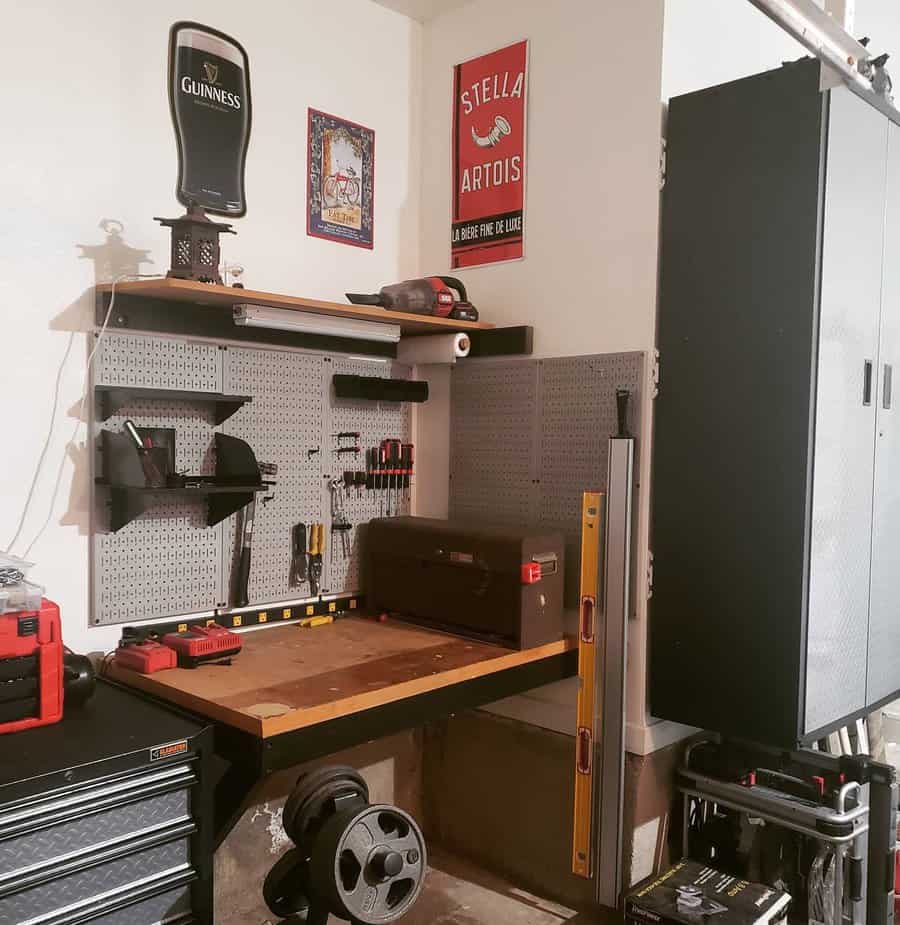 FAQs
What can I use to cover garage walls?
Drywall is the standard wall covering material for finishing walls. It is easy to install and increases fire resistance. However, you will need to do some finishing work to give it a smooth finish. Another option is oriented strand board (OSB), which does not require taping or finishing.
How do you renovate an old garage?
Start by getting rid of clutter and donating anything in your garage that you no longer use. Install a space heater and small air conditioner to make the temperature more comfortable throughout the year. Add cabinets for storage, finish the floor, and update the lighting.
How do I modernize my garage?
To modernize your garage, start by making it more functional. Update the flooring to make it more attractive and durable. Adding organizational furniture to make storage easy to navigate. Add more lighting to make the garage brighter. Paint the wall a fresh color to give your garage a design style.