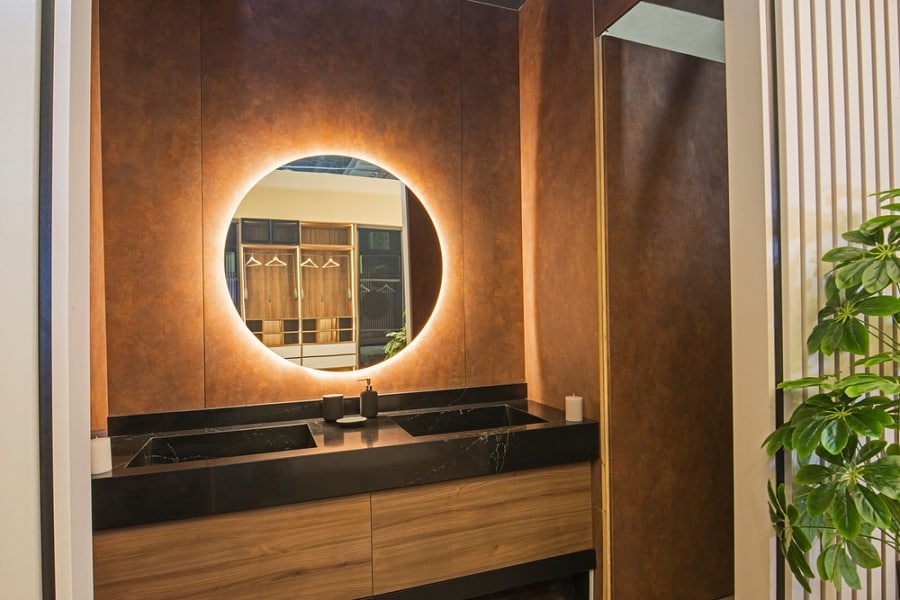 Trendey may earn a commission when you buy through links on our site.
As an Amazon Associate we earn from qualifying purchases.
7 Best LED Bathroom Mirrors
The bathroom mirror is one of the most important items in the house. Without it, we would all look less than our best. A stylish mirror is also an integral part of your bathroom design. The ideal bathroom mirror should reflect a perfect marriage between form and function.
Wall mirrors have come a long way, though. The plain vanity mirror is rapidly being replaced with new LED mirror options. Backlit, round, framed, anti-fog—the new mirror options are amazing. There are even smart mirrors that will connect to the internet and allow you to watch your favorite apps while you're in the bathroom.
If you've never had an LED bathroom mirror, it can be hard to know which features to look for. Read on to see what we think are some of the best LED bathroom mirrors to buy in 2022.
1. Bonnlo LED Dimmable Bathroom Mirror
The Bonnlo LED Dimmable Bathroom Mirror is the picture of modern simplicity. Its basic rectangular shape can be hung vertically or horizontally, depending on the size of your vanity. This average-priced vanity mirror comes in four sizes ranging from 20"x28" to 40"x24" and is made of lightweight polished aluminum.
The LED light is in the 5500-6000K range, which mimics the brighter end of the natural light available around noon each day. This kind of lighting is considered the best for applying makeup. This backlit mirror is dimmable and at its lowest light level, makes an excellent bathroom night light.
The mirror has a memory function that allows you to keep the degree of brightness you need. Once you've reached the desired brightness, move your hand away, then press the button for one second. That sets the memory so that the next time you turn it on, it automatically illuminates at your preferred level.
Like most lighted bathroom mirrors, it's not flush with the wall, but this shouldn't matter. Although this LED mirror comes with a UL-listed plug, you can also have a professional cut off the plug and hardwire it to the bathroom wall switch.
2. Langport Lighted Bathroom/Vanity Mirror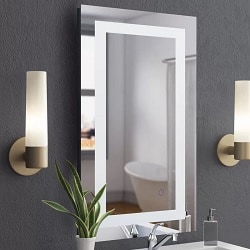 If you want an LED mirror with a simple, modern design, take a look at the Langport Lighted Bathroom/Vanity Mirror. Its bright LED light offers three different warm and cool tones and is set behind an attractive frosted white band.
The LED light strip is designed to provide 40,000 hours of life and is replaceable once it begins to fade. While it's expensive for a mirror that only measures 30 x 18 inches, it is a solid piece. If you have double sinks in your bathroom, it looks amazing to hang one of these vertically over each sink.
This lighted bathroom mirror must be hardwired to the wall light switch. It comes with a dimmer feature that allows you to use it as a nightlight or crank up the brightness for getting ready every day. Change the light levels with a simple touch control.
You can position it horizontally or vertically. It has a fog free mirror finish and wipes clean with a dry cloth. If you don't want it to stand out from the wall, it's safe to hang it in a recessed area over the vanity sink.
3. MAVISEVER 48 x 36 Inch Led Lighted Bathroom Wall Mounted Mirror
This 48 x 36 inch Mavisever LED Lighted Bathroom Wall Mounted Mirror is expensive, but it's clearly a higher-end lighted bathroom mirror. Unlike some LED mirror options that have an inset light, the Mavisever mirror's lighting is around the edge of the mirror, like a frame.
Its highly sensitive light touch button allows you to turn the LED light on and off, use the mirror defogger, and set the light's memory to come on at a certain level. It's easy to adjust the lighting color from cool white to warm yellow. The auto-defogging function is automatic and runs the entire time the light is on.
Offering 50,000 hours of life time, this LED bathroom mirror can be plugged into an outlet or hardwired to a light switch. It can be hung vertically or horizontally and features anti-explosion mirror glass. This type of glass remains in an adhesive state even if the glass is broken—an important safety feature.
The corners are rounded and polished to protect your hands. Thinner than many LED lighted bathroom mirror options, it's only 1.4 inches deep.
4. Portsmouth Modern & Contemporary Frameless Lighted Bathroom/Vanity Mirror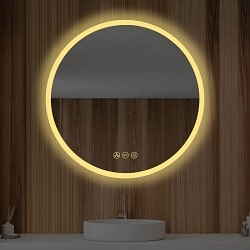 The Portsmouth Modern & Contemporary Frameless Lighted Mirror is ideal if you prefer an oval or round bathroom mirror. This LED bathroom mirror comes in two oval sizes (30" x 20" and 24" x 36") and two round sizes (24" and 32"). It is priced like other high-end LED lighted mirror models.
This frameless mirror glows around its edge, giving your bathroom decor a futuristic modern vibe. It is elegant while being eco-friendly and energy-efficient. The mirror itself is copper-free, which means it will never develop the black edges that you often see around the edge of a bathroom wall mirror.
The LED lighting system is adjustable, with three brightness options. Depending on your needs, set the brightness to 5, 50, or 100 percent light. If you like a lot of brightness when you're putting on makeup, you may want to add an overhead light or wall sconces. The defogger is built in and remains on whenever the mirror LED light is on.
A soft touch switch also allows you to adjust the lighting color temperature, which ranges from a warm 2700K to a bright and cool 6400K. The LED bulbs cannot be changed when they burn out, but the mirror was designed to last for 50,000 hours. That's the equivalent of 2,000 days if it's left on 24/7.
5. HOMCOM LED Wall Mount Bathroom Vanity Make Up Mirror
The HOMCOM LED Wall Mount Bathroom Vanity Makeup Mirror is an affordable 32" x 24" model great for someone buying their first LED bathroom mirror. LED lighting is economical and earth-friendly. This type of illuminated bathroom mirror is more energy efficient than the classic vanity mirror paired with an incandescent bulb light fixture.
This LED mirror has an inset light strip with a narrow frame of mirrored surface between the light and the edge. It has adjustable lighting levels at the swipe of a finger and a defogging feature that comes on automatically anytime the light is turned on.
It comes with a plug, but you can also hire someone to hardwire it to your bathroom's wall switch. Although it's labeled as a bathroom mirror, it's suitable for any room where you like to get ready. Use it as a lighted vanity mirror in the bedroom, or hang it beside whichever exterior door you use the most. It makes a great stylish wall mirror for everyone to check their appearance before heading out.
Unlike other illuminated mirror options we've shared, you can't adjust the color temperature settings. It also has an overall lower brightness level than some LED mirror models, so count on keeping your existing overhead lighting fixtures if you need a bright bathroom.
6. ANTEN 36x28 Inch Bathroom LED Mirror
If you're looking for an LED mirror with excellent adjustable lighting options, the Anten Bathroom LED Mirror might be the best bathroom mirror for you. This illuminated bathroom mirror has touch buttons that allow you to choose from 10, 50, 80, or 100 percent brightness. You can also choose between three lighting temperatures: 3000K warm white, 4000K natural daylight, and 6000K super bright light.
This LED vanity mirror includes an anti-fog feature that keeps condensation from collecting on the mirror's surface while you shower. Just be sure to turn it on before you step under the water—unlike some models, this one's defogging element doesn't stay on when the LED mirror lights are on. If you don't turn on the defogger until after you bathe, you'll have to wait between 2 and 4 minutes for the defogger to do its job.
Installation is pretty straightforward for this LED vanity mirror, although the manufacturer suggests having two people on hand to make it easier. You can hang it horizontally or vertically and use it wherever you have an electric outlet to plug into.
Note that if you have light fixtures over the area where your vanity mirrors hang, you may have to move them. You need at least 5 inches of free space above the mirror for proper installation.
7. SMART COOM LED Bathroom Mirror
The Smart Coom LED Mirror comes in three relatively affordable sizes and shapes. Choose from a 32" circle, a 24" x 32" rectangle, or a 24" x 36" rectangle. Whichever LED mirror size you choose, you'll enjoy the same easy touch controls for brightness, temperature, and defogging.
Shift the LED lighting level from 5 percent to 100 percent brightness by keeping your finger on the dimmer button. Choose color temperatures from cool white, to daylight, to warm light—whichever suits the task at hand. The mirror includes a memory feature that
Manually turn the defogger off and on to save energy costs (although these are already amazingly low as LED lighting is extremely energy efficient). It will quickly clear the mirror's surface from any steam or condensation buildup. This mirror is an LED backlit mirror, and like other backlit mirrors, the glow around the back can highlight any wall imperfections that were unnoticeable before.
Although the word "smart" is in the brand name, this is not the kind of smart mirror that allows you to watch the news while you get ready in the morning. However, it's a good value for what you do get. It includes a separate 3x magnification mirror that can attach to the larger mirror's surface when applying makeup or shaving.
LED Bathroom Mirror FAQs
Are lighted bathroom mirrors worth it?
Considering the high review ratings most LED bathroom mirrors receive, most people seem to be pleased with them. Not only are they useful sources of light when you're trying to get ready, they add a seriously cool ambience to your bathroom decor.
LED lights are one of the most energy-efficient light sources available. So even if you spend a little more on the LED mirror initially, you'll save money over time vs. having a traditional incandescent bathroom light fixture. The ability to adjust the light level and temperature is another huge selling point for people who choose LED mirrors.
Finally, having a smart LED mirror in the bathroom is a luxury that's definitely worth it—if your budget allows. They are not cheap, but being able to see the weather while you're getting ready in the morning is a time-saver. And since they can connect to all your favorite streaming apps, you can catch up on your shows while lounging in the tub.
How long do LED mirrors last?
Most LED bathroom mirrors have a lifespan of 40,000 to 50,000 hours. That's 42 times longer than a traditional light bulb. Some LED mirrors have replaceable LED light strips, while others aren't replaceable. That means that when the LED bulbs start fading, you'll have to replace the entire mirror.
As for the mirror glass itself, it should be quite durable. Most are made from "explosion free" glass that won't scatter everywhere even if the glass gets cracked or broken. This is an important safety feature in a room where people are often barefoot.
What's the difference between backlit and other lighted mirrors?
As the name implies, backlit mirrors have light bulbs behind the mirror. They must be attached to a wall. Regular lighted mirrors have light bulbs set on top of the glass or underneath the mirror's surface. Although they're also usually hung on the wall, some front-lit mirrors are portable.
They are both illuminated mirrors that require a power source for the lights to operate. Older illuminated mirrors had actual light bulbs on the surface or around the frame. Now, most lighted mirrors have hidden LED light strips inside.
Backlit mirrors cast a beautiful glow on the wall behind the mirror. This can almost make the mirror look like it's floating a few inches away from the wall—a nice effect in a modern or contemporary home. Mirrors with lights on the front are more functional, illuminating the face with the proper lighting for putting on makeup and other grooming.
Can you put an LED mirror on a medicine cabinet?
Yes, LED mirror cabinets are a thing! However, you will likely need to replace the entire medicine cabinet with the LED version, not just put on a new LED door. You can find medicine cabinets with single and double LED lighted mirrored doors. Note that it probably won't have certain LED mirror features, such as the ability to change the light temperature or brightness level.
Our Recommendation
The Bonnlo LED Dimmable Bathroom Mirror occupies the #1 spot on our LED bathroom mirror list of recommendations because it's a good basic mirror at an affordable price point. It's available in a longer length mirror to fit over wide or double sink vanities, or you can get a smaller version to hang in a powder room or over a pedestal sink.
It exudes the proper lighting level for applying makeup, shaving, flossing and doing hair. It is also a stylish nightlight and the memory function is a welcome feature because who wants to have to adjust the light level every time you use the bathroom mirror?
We also like that you have a choice in how to connect the mirror to electricity. If you're renting, simply plug it into the nearest outlet. If you own your home, you may feel it's worth hiring an electrician to hardwire the mirror so that you don't have to see the exposed electric cord.