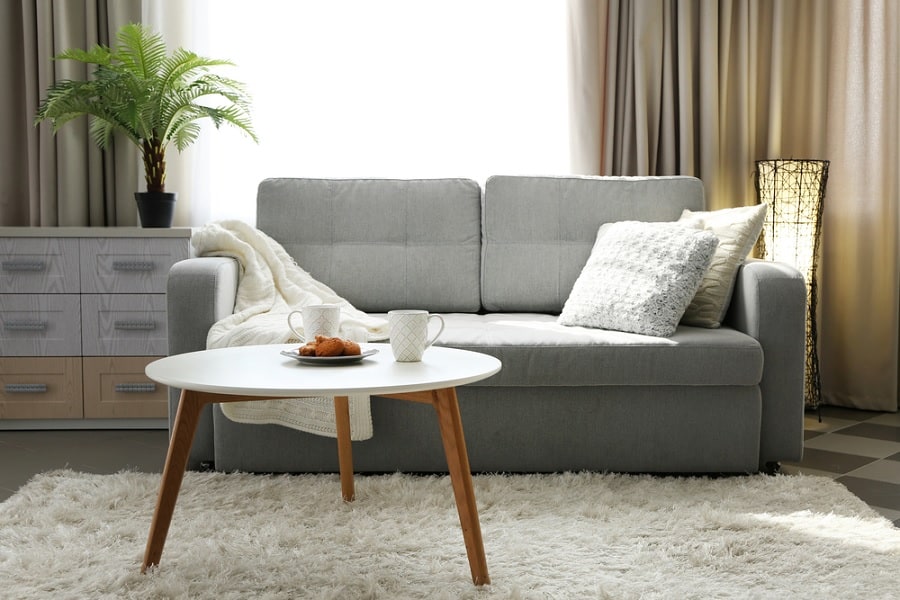 Trendey may earn a commission when you buy through links on our site.
As an Amazon Associate we earn from qualifying purchases.
Best Round Coffee Tables
Since the days of King Arthur, the round table has symbolized a place for close companions to gather. Because a circle has no beginning or end, it stands for timelessness and equality.
Round shapes draw us in nature, and round tables have the same effect. This is as true in the living room as it is in the kitchen. A round coffee table softens the lines and angles created by other living room furniture. So why choose a square coffee table when a round table feels so organic?
You don't need the help of an interior designer to choose the best coffee table for your living space. Just look through our round-up of the best round coffee tables available today and we're sure you'll find a perfect one for your space.
1. Wood
Wood is the most popular material for tables of all sizes—including coffee tables. Wood is versatile, and even the most common types of wood have strikingly different characteristics. From pale oak to dark mahogany, there's a solid wood or composite wood finish for everyone.
Paint adds another world of possibilities to creating the perfect wood coffee table. A whitewashed round coffee table is ideal in a farmhouse or seaside cottage. Distressed paint finishes are a great way to repurpose an old wood coffee table into something special.
The way wood is manipulated also creates nearly limitless looks. Roughly finish a basic round coffee table for a rustic cabin or industrial loft. Smoothly sand the same wood table to a glossy finish and it becomes a beautiful modern accent.
Cassius Solid Wood Drum Coffee Table
Check Price
As its name implies, a drum coffee table is a short, rounded table with an oversized drum-like appearance. The Cassius Solid Wood Drum Coffee Table is one of the best, with a gently curved bowl-shaped bottom that tapers up to a wide, flat top.
This is the perfect coffee table for someone who enjoys rustic textures but minimalist style. Natural wood knots and variations make each stylish coffee table unique.
Made from solid mango wood and stained a weathered dark brown, its 35.5-inch surface provides lots of space for drinkware and decor. This round industrial coffee table is shorter than some at only 12 inches tall. It's a sturdy coffee table, weighing just under 42 pounds.
2. Glass
Glass top tables are an excellent choice in smaller spaces, as their transparency casts an aura of openness. A glass table may have a wooden base, though you most often find a metal frame supporting a glass coffee table top.
Clear glass is the most common glass on coffee tables and end tables. However, you can find everything from frosted white glass to smoky, almost black coffee table tops. Sea green, blue, and even amber colored glass are other options that are a little harder to find.
A glass coffee table is ideal in a minimalist space, but you may want to skip it if you have small children. Although tempered glass is considerably less prone to breakage, most glass table tops aren't secured to the table's frame. That means it could slide off and hurt a curious, climbing toddler. Additionally, glass is very unforgiving when it comes to hiding little fingerprints, drips, and smudges.
Best Choice Modern Round Tempered Glass Coffee Table
Check Price
The Best Choice Modern Round Tempered Glass Coffee Table offers everything you love about modern minimalist design. Its clean lines, perfect circles, and open styling is the picture of simple elegance.
The solid metal frame is coated in a matte gold finish and the table top is clear tempered glass. You can also purchase the table with a black, grey, or white metal frame. Some assembly is required, but instructions are provided.
This coffee table is the ideal height of 17 inches and its 36-inch diameter width won't overtake a small space. One of the best features of this round coffee table is its price. It's a mere fraction of the cost of similar tables from Pottery Barn and comparable retailers.
3. Nesting
Nesting tables are an excellent idea when your living room is too small for a big coffee table, but you occasionally need more table surface space. Nesting table sets consist of two or three coffee tables in the same style but in graduated sizes.
The smaller coffee tables neatly fit under the largest one—an excellent space saving feature when you need it. Nesting tables are also helpful when living room space is too tight to place an end table on each side of your sofa.
Nesting style tables may stack on top of each other, or simply be arranged in an overlapping manner. With most round or oval coffee table sets, the smaller table slides under the bigger one. Be sure that sliding nesting coffee tables have an anti-scratch pad on the bottom of each table leg.
Welwick Designs 3-Piece Nesting Coffee Table Set
Check Price
Modern midcentury style is represented three times over in this Nesting Round Composite Coffee Table Set. These coffee tables are uniquely designed so that each table has matching legs but a different color top.
Choose from two different color sets: gold legs with dark walnut, light walnut, and greyish white tops or black legs with birch, grey, and black tops. Either color scheme brings a unique style that helps you tie together multiple wood finishes in one living room.
This round coffee table set has minimalist lines and simple circular tops. The tables are 22, 19.25, and 18 inches high and the round coffee table tops are 16, 20, and 24 inches in diameter.
4. Ottoman
An ottoman is one of the best round coffee table styles. Not only does it serve the purpose of a round coffee table, it also works as a footrest and extra seating. In addition, many round coffee table ottomans have storage space inside.
If your family room or living room is on the smaller side, you need multi-purpose furniture. Place a round coffee table ottoman near the corner of a sectional sofa and two or more people can use it as a footrest at the same time.
An ottoman style table is often the right coffee table in a house with children. Its upholstered top is safer to bump against than a hard piece of furniture and it doubles as a living room toy box.
OSP Home Furnishings Augusta Round Storage Ottoman
It would be hard to find a more ideal ottoman style round coffee table than the Augusta Round Storage Ottoman. Not only is its gorgeous espresso faux leather upholstery perfect in basically any home interior style, it's an ideal size for most living room spaces.
Measuring 32 inches around and 18 inches tall, it has a roomy storage compartment inside. But the best part on this drum storage coffee table is the top. Keep it on the padded side when you want a footrest or extra seat. Then flip the lid to the wooden tray side when you need to balance glasses on top.
A row of brass tacks and turned dark wood legs add a lot of style. This piece weighs 40 pounds and supports 200 pounds if you use it as a seat. If the color isn't your favorite, the faux leather finish is available in cream, black, crimson red, and pewter grey. There's also an azure blue fabric upholstery option.
5. Metal
Many coffee tables include metal accents or have a metal frame. But perhaps the most durable style of cocktail table is one that's made entirely of metal.
A metal coffee table top can take abuse that glass or wood cannot. You won't have to worry about drink condensation rings, glass smudges, or scratched wood surfaces.
Metal is a very modern coffee table material, and many project a clear midcentury vibe. Metal tables are often powder coated with different paint colors, or clear finished to showcase the metal's innate beauty.
While a metal coffee table sounds like a heavy piece of furniture, it doesn't have to be. Many are made of aluminum or other lightweight metals that are easy to move when it's time to rearrange the living room.
Safavieh Reginald Grey Metal Coffee Table
Check Price
Famous for its unique rugs, the Safavieh's creativity shines again with their Reginald Grey Metal Coffee Table. This small coffee table is just 29 inches around and stands 19 inches tall, giving it a narrower, taller profile than other coffee tables.
This light and airy piece is sculpted from thick wires covered with an epoxy finish. If grey doesn't coordinate with your sofa or decorating style, the same transitional design is available in white or blue.
Weighing just under 19 pounds, this table is sturdy but one person can move it easily. Note that it's not intended to be used as extra seating as its weight capacity is only 15 pounds.
6. Marble
Marble is one of the most modern round coffee table surface options around. A cool white marble coffee table brings an elegant simplicity to your living room, especially when paired with sleek metal legs.
If you can find a vintage or antique marble topped coffee table, it can be a great investment, especially if your home has traditional decor.
While it's possible to find a genuine marble topped coffee table for your space, most tables today have faux marble finishes. They're considerably more affordable than real stone and still capture the natural veining and organic color patterns that make marble so appealing.
Wrought Studio Belynda Cross Legs Coffee Table
Check Price
The Belynda Cross Legs Coffee Table somehow manages to meld equally well with modern, industrial, and farmhouse living room interiors. It's also a fabulous coffee table choice in a transitional design space.
Choose from two metal finishes on the stylish criss-cross base: gold or black. A faux Carrera marble laminate covers on its 36-inch circular manufactured wood top and the entire table stands 18 inches tall.
You probably won't want to use this coffee table for extra seating, but if you do, note that it only supports 99 pounds. It comes with a lifetime warranty and all the tools needed for assembly.
7. Storage
A storage coffee table is a great way to add functionality to this essential living room accessory. Whether you go for a round, square, or rectangular coffee table be sure to consider pieces that offer storage solutions.
Storage coffee tables will have an extra shelf, drawer, or compartment below the surface. Round drum and ottoman style coffee tables boast a hollow interior suitable for bigger items, such as throw pillows, blankets, or toys.
Storage coffee tables exist in every home decorating style. Solid wood pieces are best for industrial or rustic interiors, while more delicate glass or metal tables suit modern decorating styles.
Winston 34.75-Inch Blackened Bronze and Rustic Oak Round Coffee Table
Check Price
If your decorating style falls somewhere between industrial and chic, this Winston Blackened Bronze and Rustic Oak Round Coffee Table will feel right at home.
This simply designed round glass coffee table measures just under 35 inches around and stands 17 inches tall. The beautifully rounded metal base is open and airy, and has pads to protect your floors from scratches.
The round glass top provides the illusion that objects are floating above the rustic oak shelf below. The wooden shelf is a perfect place to stash your coffee table books while using the top for drinking, dining, or playing games.