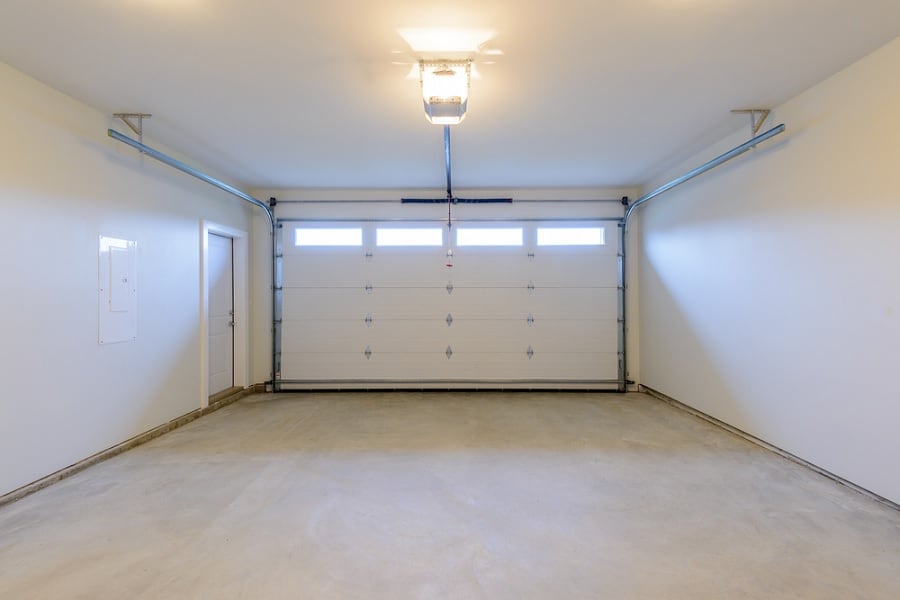 Trendey may earn a commission when you buy through links on our site.
As an Amazon Associate we earn from qualifying purchases.
Best Garage Lighting
Say the words, "garage lighting" and most people envision a pair of old fluorescent tubes buzzing on the ceiling. Ordinary fluorescent light fixtures have their place, but garage lighting has come a long way in recent years.
Excellent garage lighting options exist to illuminate every task you perform in the garage. From energy-efficient LED lights to portable lights that travel with you between jobs, we've compiled a list of our favorite garage lighting ideas.
Find out which garage light fixtures are hot right now and what features stood out as we shopped for the best garage lighting options.
1. LED Lights
LED lights have taken over the garage lighting market. Energy-efficient, affordable, and delightfully bright, LED garage light options can replace any standard fluorescent or incandescent light fixture.
LED light fixtures are superior because they come on instantly and provide an even lighting that is vital for garage-based tasks. Some LED light bulbs will be more expensive than other types of lighting, but the initial investment pays off over time due to longevity and reduced energy use.
LED garage lighting includes LED shop light tubes, LED light strips, LED recessed lights, and portable LED lights. One of the best garage LED light bulbs screws into a standard single bulb fixture. These LED bulbs have fan-shaped, light-covered extensions that can be aimed at specific areas where you need garage light.
Lightdot 2-Pack LED Three-Leaf Garage Light
Check Price
Eliminate dark garage corners when you install Lightdot's LED Three-Leaf Garage Lights into your existing E26 or E27 ceiling fixtures. Simply screw the LED light into your socket as you would any light bulb. Then, adjust the blades in the directions you need the light to shine.
Each of the three blades is its own tiny LED light panel equivalent to an 80-watt bulb. You can click each panel into one of four angles: 0, 30, 60, or 90 degrees. The maximum light coverage you get from each light is a full 360 degrees. Many find that just one of these on the ceiling provides more light output than multiple lights of other types.
Made from plastic and aluminum, this light has a lifespan of 50,000 hours of use. It has a daylight color temperature of 5000K.
2. Shop Lights
Shop lights are usually a single bar light fixture hanging from chains attached to the ceiling or under a cabinet. Traditionally, a shop light has a fluorescent bulb, but these are now often replaced with LED equivalents.
A classic shop light is an easy to install option that simply hangs from the ceiling and plugs into an outlet. Newer LED shop light fixtures are often designed to be hard wired to an existing switch. This kind of ceiling fixture is more expensive than the type that plugs into an outlet, but it comes with benefits. For example, you can add a motion sensor to a hard wired LED shop light.
If you go with plug-in shop lights, choose a style that allows you to connect two or more fixtures together. This daisy-chain style of connection enables you to only use one outlet for your lighting, freeing up the other wall outlets for your power tools.
Commercial Electric 4-Foot Linkable LED White Shop Light
Replace your outdated 32W fluorescent tube fixtures with Commercial Electric's 4-Foot Integrated Linkable LED White Shop Light. With a daylight-resembling brightness of 4000K, this LED shop light comes with a 5-foot cord for easy garage outlet access.
You can link up to nine of these best LED shop lights together with the included linking cable. It also comes with chains so you can mount each LED light fixture at the right height. It has an on/off pull chain and is suitable for damp locations.
This bright light fixture is made of steel with an acrylic diffuser. It comes with a 5-year warranty and lasts for 50,000 hours of continuous use. This LED lighting fixture is maintenance free—you never have to change the bulbs.
3. Fluorescent Lights
Chances are that your garage is illuminated by a basic fluorescent fixture centered on the ceiling. Fluorescent bulbs are classic, energy-efficient choices for lighting in garages, basements, sheds, and other utilitarian spaces.
When buying fluorescent lights for the garage, you should install at minimum one 8-foot fixture per vehicle parking space. Usually, this is done by putting up a garage light fixture that holds two 4-foot fluorescent tubes.
If your garage lighting ideas include fluorescent lighting, keep in mind that many do not work at temperatures below 50 degrees Fahrenheit. If you live in a cold climate, look for electronic ballasts as they're more reliable than electromagnetic ballasts in low temperatures.
Lithonia Lighting 4-Foot Wraparound Light
Check Price
This 4-Foot Wraparound Fluorescent Light by Lithonia Lighting is the quintessential garage ceiling light fixture. Wraparound lights are ideal when you want the clean appearance of smooth, flat overhead lights. The flush-mount design makes it a great garage light to install on a low ceiling.
The frosted white plastic diffuser wraps around the sides of the fixture and broadly distributes an even, white light. The metal parts of the light fixture are finished with a high-gloss, baked white enamel. It's suitable for damp locations, but cannot be dimmed.
Note that the fixture does not come with bulbs, but uses standard fluorescent tube lights. Choose a fluorescent light bulb with at a 5000K color temperature if you want to replicate the look of daylight inside the garage.
4. Under Cabinet Lighting
Under cabinet lighting is a wonderful addition to your garage lighting ideas. While you may feel that your overhead garage light fixture provides sufficient illumination, adding an under cabinet light can be a real life-changer.
Most under cabinet lighting has LED light bulbs. You can choose from a variety of styles: LED strip lights, light bars, rope lights, and puck lights. Light bars and puck lights come in hardwired, plug-in, and battery-powered options.
Under cabinet LED lights are also an inexpensive way to add effect lighting to the garage. Unlike other garage light fixtures that serve a specific purpose, color-changing LED strips or ropes add a fun kind of illumination to the garage.
Brilliant Evolution 6-Pack Battery Puck Under Cabinet Lights with Remote
Check Price
If you're looking for an easy, affordable way to add under cabinet garage lighting, this six pack of Battery Puck Under Cabinet Lights with Remote fits the bill. By purchasing them as a six-pack, you'll only pay a few dollars for each 3.37-inch LED garage lighting puck.
These little 3000K puck lights cast a warm white brightness suitable for most tasks. They're a good lighting choice if you don't want to drill holes, or you don't have an electric outlet nearby. They can be mounted with the included screws or adhesive tape.
Each LED bulb light is powered by three AA batteries, which are also included. Because LED garage lighting options are so efficient, you can expect a run time of over 100 hours on one set of batteries.
The remote control works from up to 15 feet away and you can control the brightness of up to 12 pucks with one remote. Additional features include a timer setting that automatically turns the lights off after 15, 30, 60, or 120 minutes of use.
5. Task Lighting
While an overhead garage lighting fixture may provide enough ambient lighting, you may need task lighting for specific garage jobs. As its name implies, task lighting provides illumination for a certain task.
In the garage, you may need to mount lights over a workbench or power tool area to up the light level as you work. Or for safety reasons, you might need to aim a specific garage light at the steps leading into your house.
Desk lamps are as helpful on a garage workbench as they are on your desk inside. If countertop space is limited in the garage, look for a wall mounted desk lamp or two for the workbench. Choose one that has a flexible arm so you can aim the light exactly where you need it most.
Williston Forge Carlisle Desk Lamp
Check Price
Your garage light fixture options don't have to be boring. Add a burst of industrial style to your workbench with the Carlisle 29-inch Desk Lamp. Its functional pulley system not only looks amazing, it lets you raise and lower the light to suit the job at hand.
Made of steel covered in a blackened bronze finish, this dramatic lamp will give your friends something to talk about when they come over to help you fix things. If you prefer a lighter metal, the lamp also comes in a golden, matte bronze finish.
It's LED compatible, so you can choose your own type of vintage bulb as long as it has an E26 medium base and is 60 watts or lower. This factory style lamp is 29 inches tall and its base is 8.5 inches around.
6. Motion Sensor Lights
Motion sensor lights can be helpful in the garage. As you drive or walk in, they come on automatically and you can often set a timer for how long they remain on after being activated.
Many LED light fixtures already have motion sensors attached. If you have an older garage light, you can sometimes install a remote motion detector instead of buying a whole new fixture.
Motion sensor lights are useful if you have a lot of people going in and out of the garage all hours of the day. Although they may cost more initially, they'll help cut your electric bill because no one will be leaving the light on 24/7.
Sunco Lighting Motion Sensor 4-ft LED Shop Light 2-Pack
Flexibility is the name of the game when you buy this Motion Sensor 4-ft LED Shop Light from Sunco Lighting. For one reasonable price, you get two 4-foot motion activated garage light fixtures.
They can be flush mounted or chain mounted, and connected together. Each comes with a 60-inch power cord as well as the mounting chains and hooks. For best results, follow the recommended installation height of 9.18 to 11.5 feet above the floor.
Each fixture has two integrated LED tube lights with a lifespan of 50,000 hours. The color temperature is 5000K, which mimics energizing natural daylight. The light's beam angle is 120 degrees.
The motion activated sensor uses the latest passive infrared technology to detect motion within 6 feet. The light remains on for 10 minutes before automatically shutting off. If you need it to stay on longer, simply wave your hand or move around. It will remain on as long as it detects motion.
Because the LED lights are integrated, you never have to worry about replacing the bulbs. Sunco offers a 7-year warranty and good customer service support.
7. Portable Garage Lights
Because so many different activities happen in the garage, it's helpful to have portable light sources that you can carry between tasks. LED lanterns, flashlights, and clamp lights are all great portable lights to keep in the garage.
Magnetic portable lights are excellent if you do a lot of mechanic work in your garage. Magnetic lights mount easily to the inside of vehicle hoods and new LED versions are extremely bright.
Other portable lights come with hooks or clamps, which also make them easy to secure to the work area at hand. Many new portable lights double as power banks. It's wise to keep them charged in case you experience a power outage or inclement weather. That also makes these handy little light sources great for taking on camping trips.
Aperture Corner Portable LED Work Light
Check Price
Waterproof, rechargeable, and it goes wherever you need it: what's not to love about this Portable LED Work Light by Aperture Corner? Measuring approximately 6 inches square, this durable portable light has a foldable easel stand. Its 360-degree rotatable folding feature allows you to securely place the light at the exact angle you need.
It has two lights that can be used separately or activated together when a stronger light is needed. The integrated LED lights can last up to 50,000 hours.
Its 5000mah lithium battery will power a single light for 8 hours and both lights for around 5 hours. It can be charged at any USB port and also be used as a power bank for your electronic devices.
Garage Lighting FAQs
What is a lumen?
A lumen is a unit of measure that tells how much light a bulb casts. The bigger the lumen number, the brighter the light. In the past, we shopped for lighting based on how much energy (watts) it used. Now it makes more sense to shop by lumens.
If you like the amount of light you get from a 100 watt incandescent bulb, look for a new bulb that provides around 1,600 lumens. An 800-lumen bulb provides the same light level as a 60 watt bulb.
How do you calculate how much light your garage needs?
Multiply the garage's length times its width to calculate the square footage of your space. Plan to need around 300 lumens per square foot in the areas of the garage where you work. If your garage only needs ambient lighting or accent lighting, plan for 50 to 75 lumens per square foot.
What is a good color temperature for garage lighting?
Color temperature describes how warm or cool your lighting appears. Color temperature is measured by Kelvins (K). The best garage lighting is over 5000K. This most closely resembles natural daylight and is an ideal brightness for workshop tasks or car repairs.
For uniformity, choose the same color temperature for every garage light fixture. If your work includes painting or other tasks that require you to see true colors, check the color rendering index (CRI) rating on the bulb.
A CRI of 85 or above is the best garage lighting level for seeing true color. CRI is not always included on light bulb packaging. If this is important to you, research CRI information online before deciding on a light bulb.