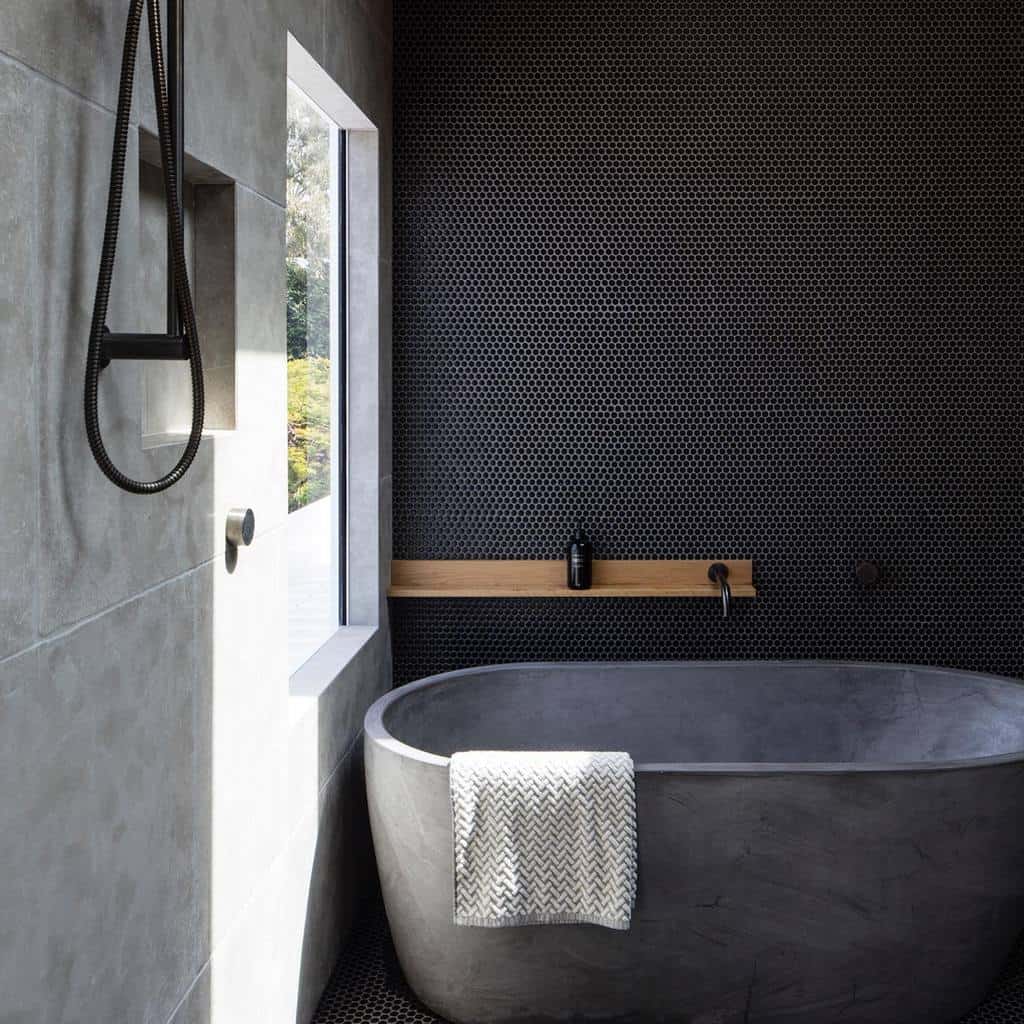 Grey has enjoyed a resurgence in popularity over the past few years. Once considered a boring, drab color for home decor, grey is now seen as a new neutral. It's on bathroom tile, flooring, the wall—everywhere!
Grey bathroom decor can be elevated into an elegant, sophisticated space, or tweaked into a quirky little hideaway. Whatever your preference, we have 57 amazing grey bathroom ideas to inspire your next bathroom makeover.
1. Concrete
The natural grey tones in concrete make it an ideal material to incorporate into your bathroom design. Concrete floors are durable and provide the same water impermeability as floor tile. Concrete can be etched or stained for a unique finish and also used for grey walls and vanity countertops.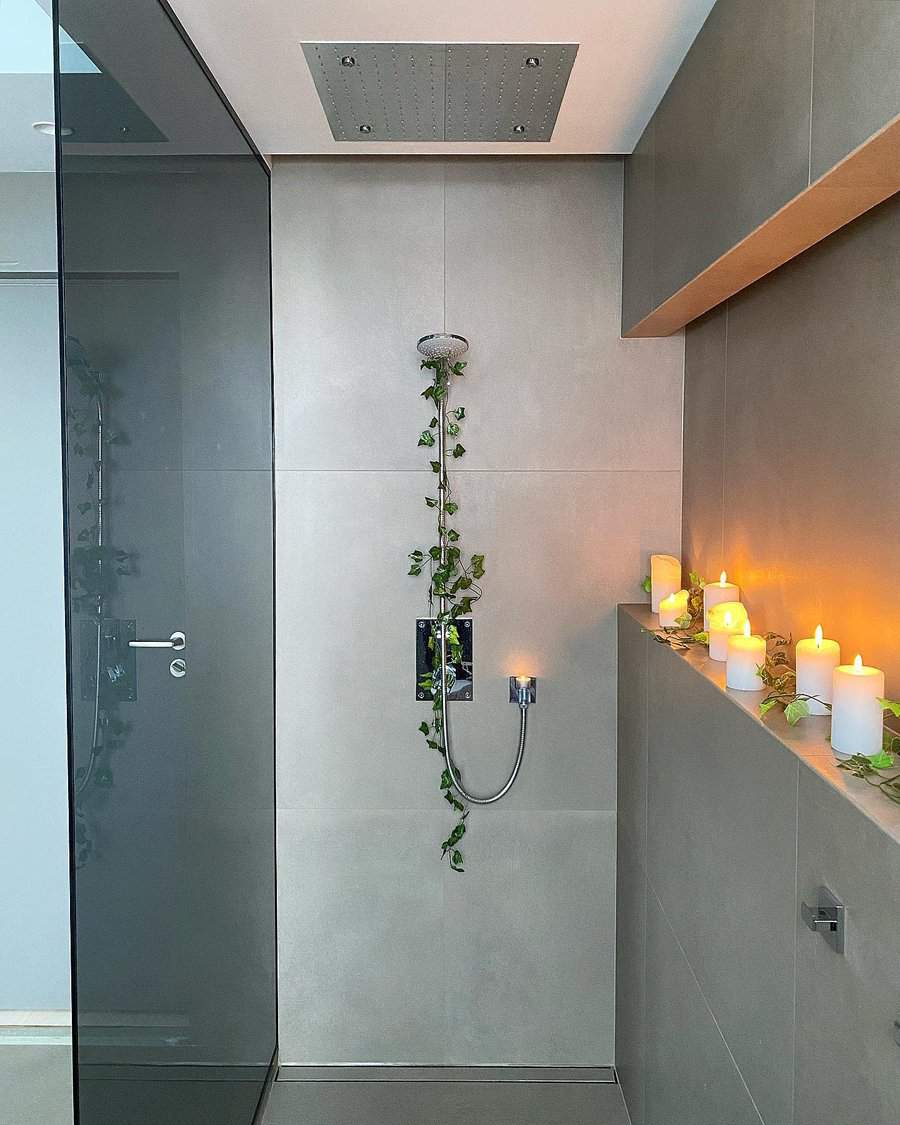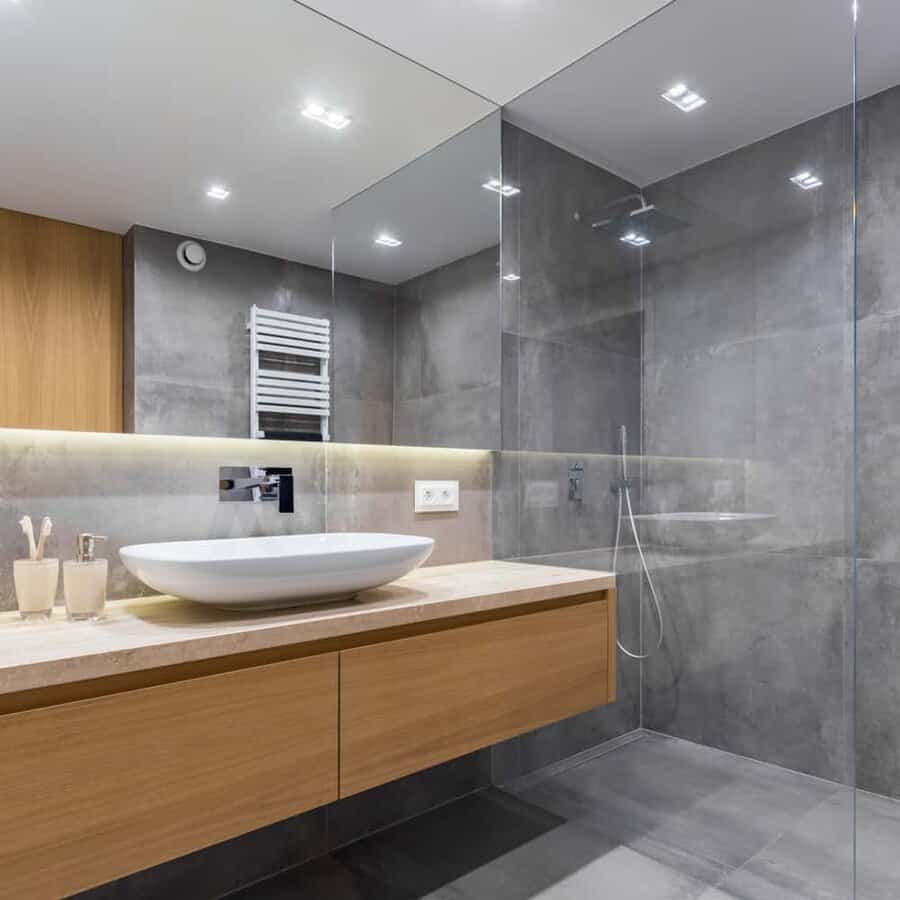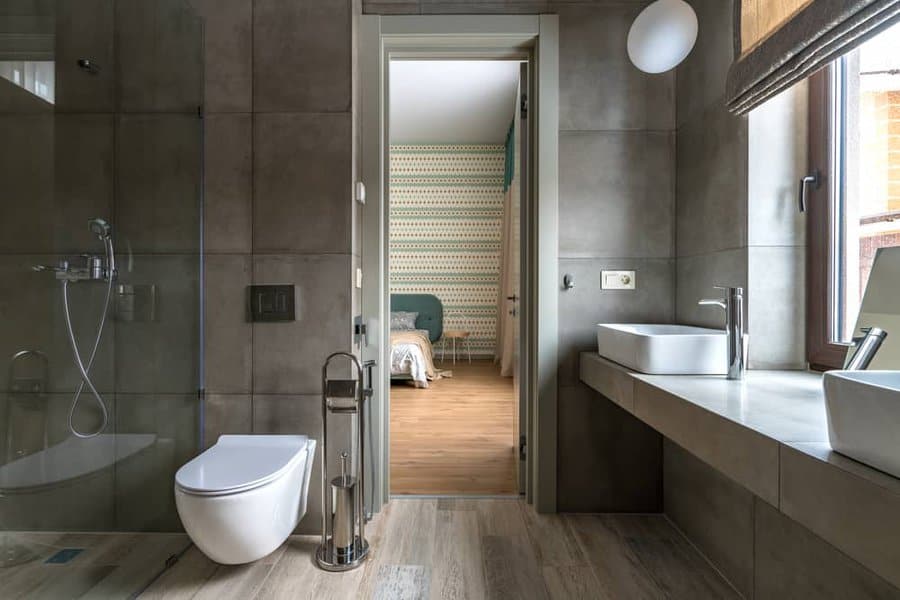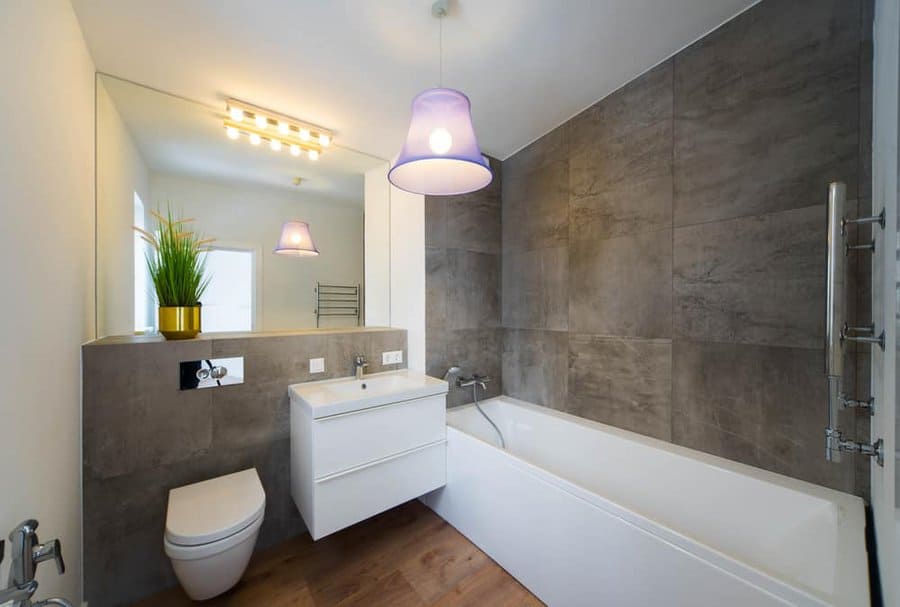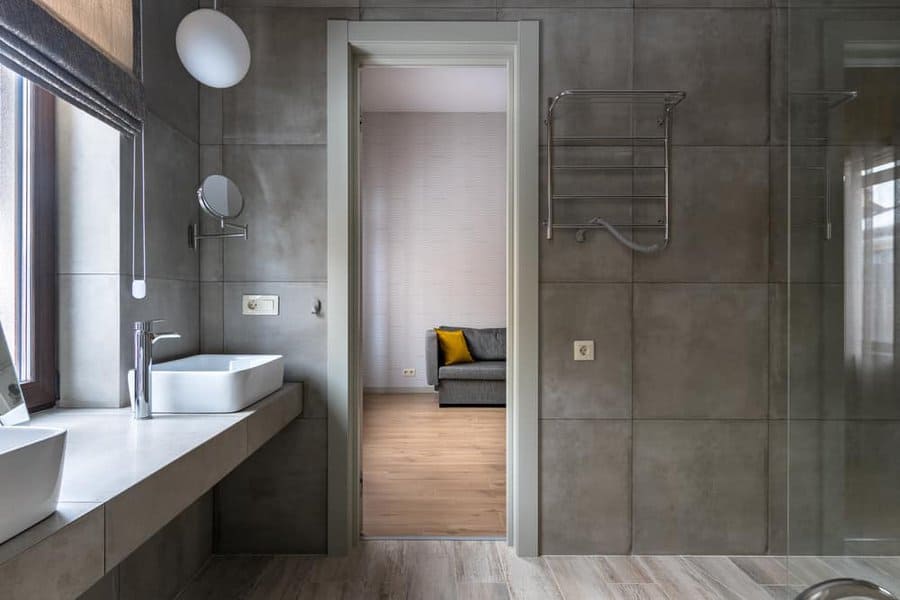 Because of its weight, it's best to save concrete for single-story homes that are built on a concrete slab, or in steel-structured apartments. Standard floor joists aren't strong enough to support its weight.
2. Contemporary
It would be hard to find a more perfect contemporary bathroom color than grey. Each shade of grey works well in contemporary and transitional decor, enabling the room's architectural details to stand out.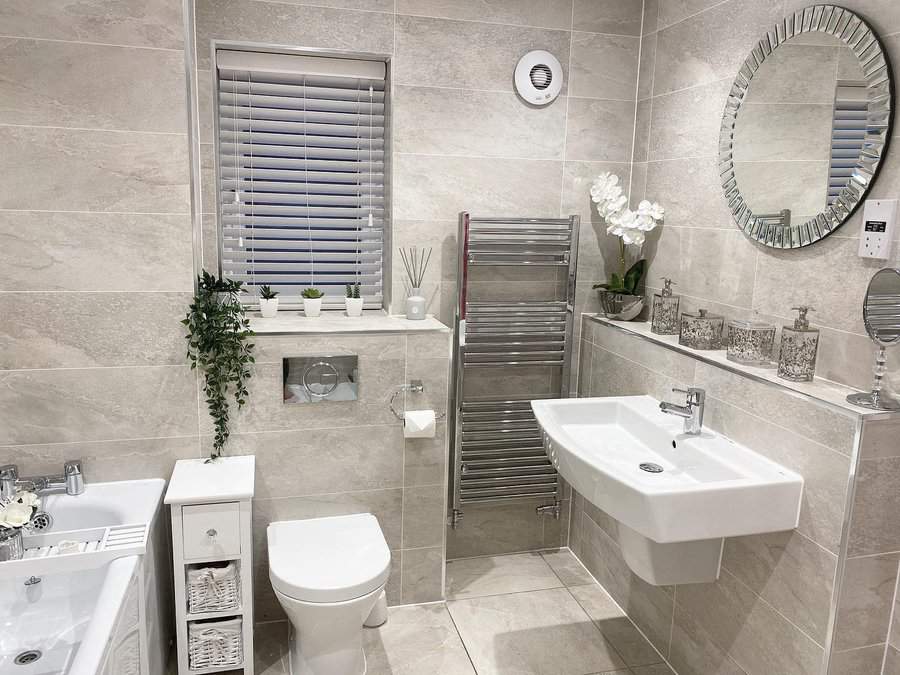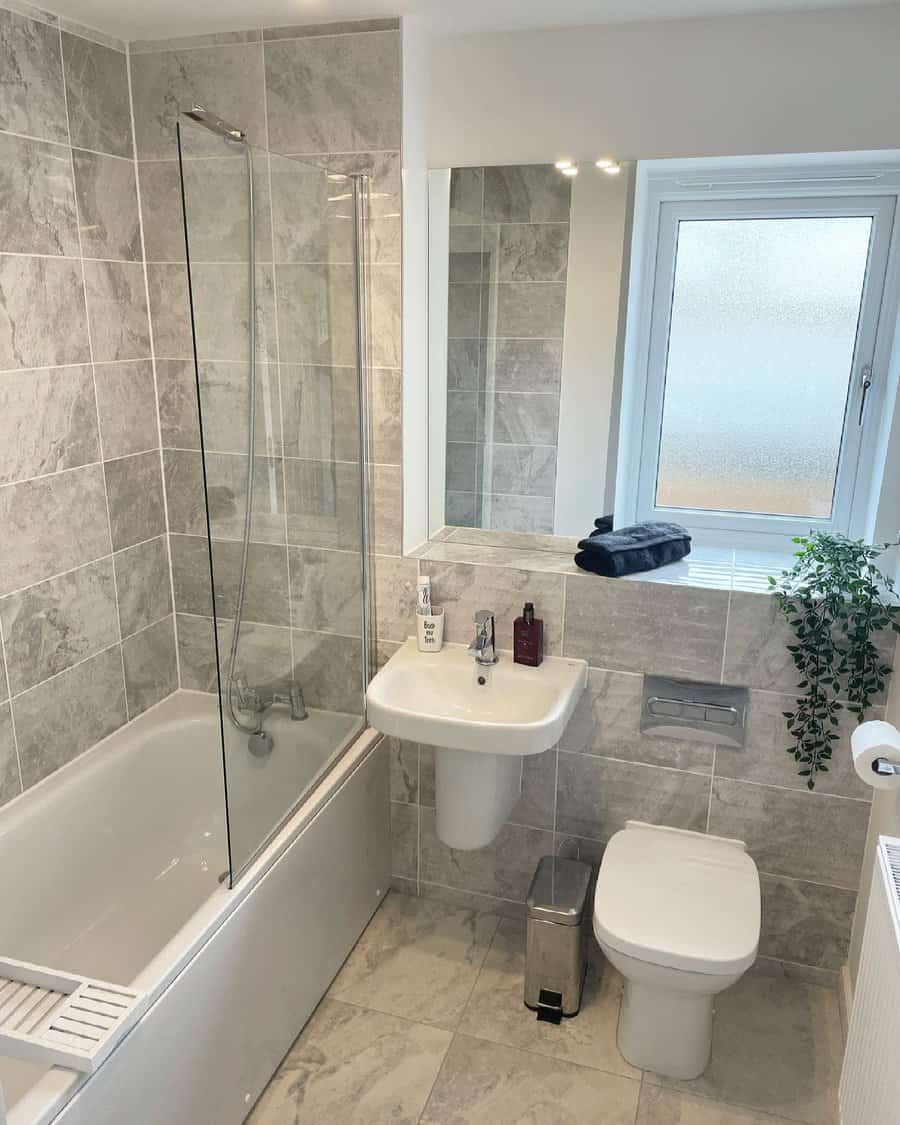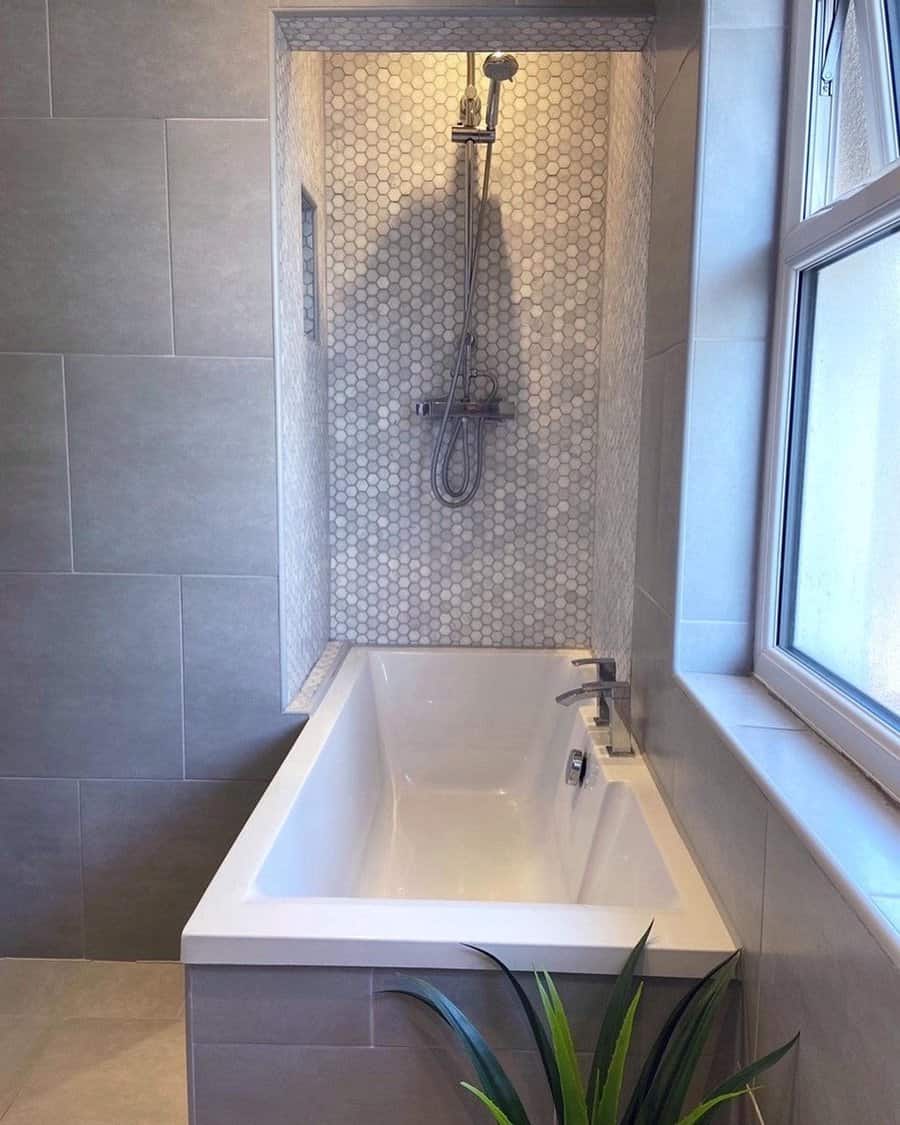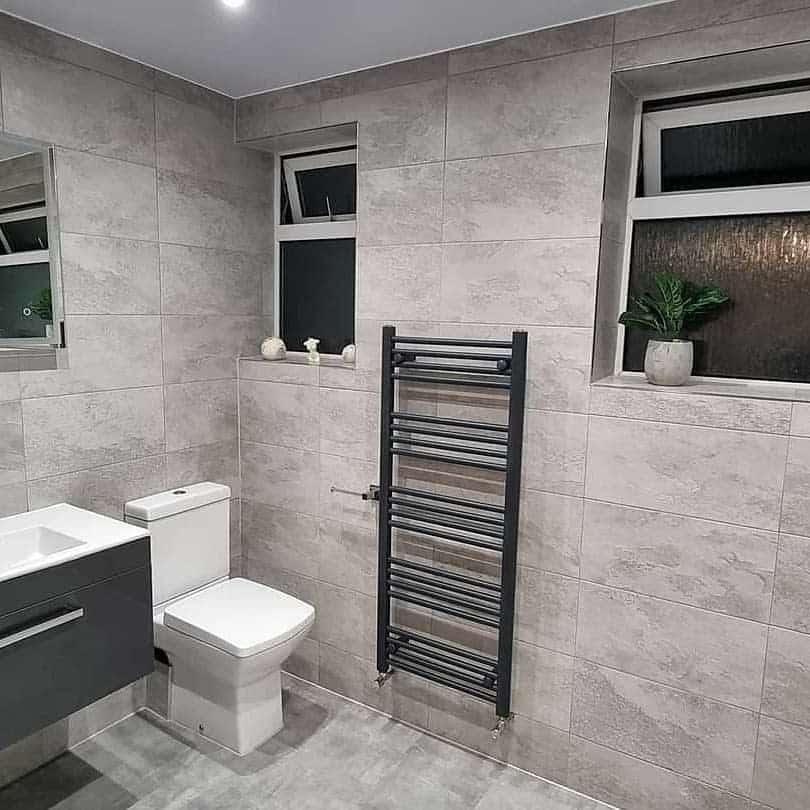 For an elegant updated grey bathroom, replace silver fixtures with black ones. You will enjoy the visual contrast between black fixtures, white tile, and grey walls and paint.
3. Dark
On the darker end of the grey tones scale, we find graphite, gunmetal, and charcoal grey color options. These almost-black tile and paint color options are ideal if you enjoy the moodiness of black but don't want a shade quite as dark.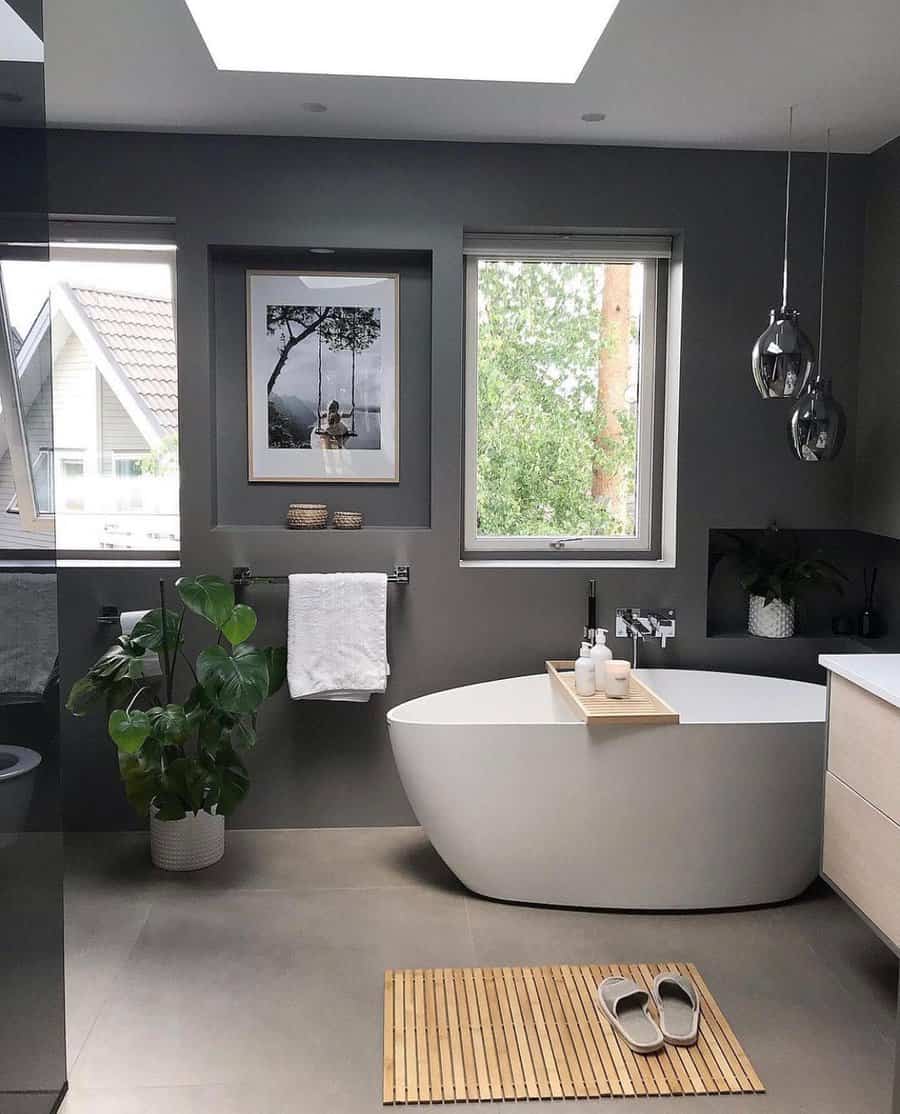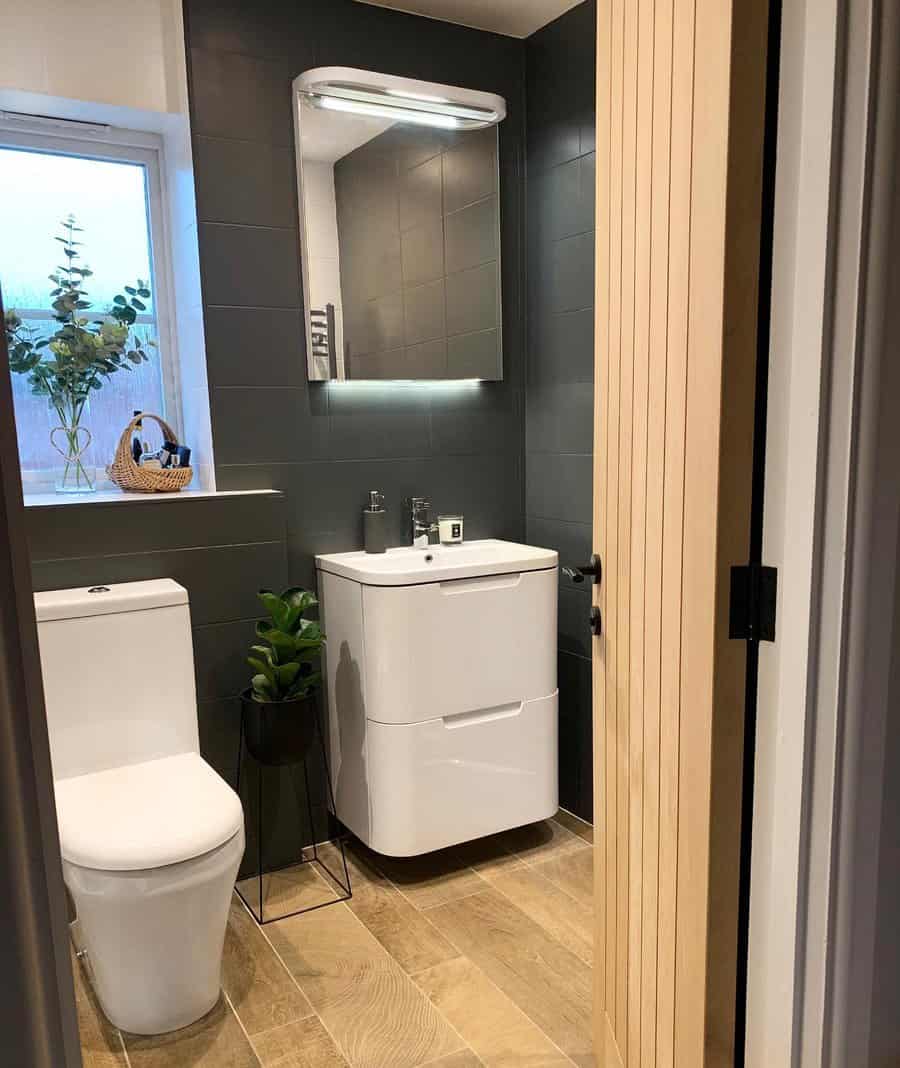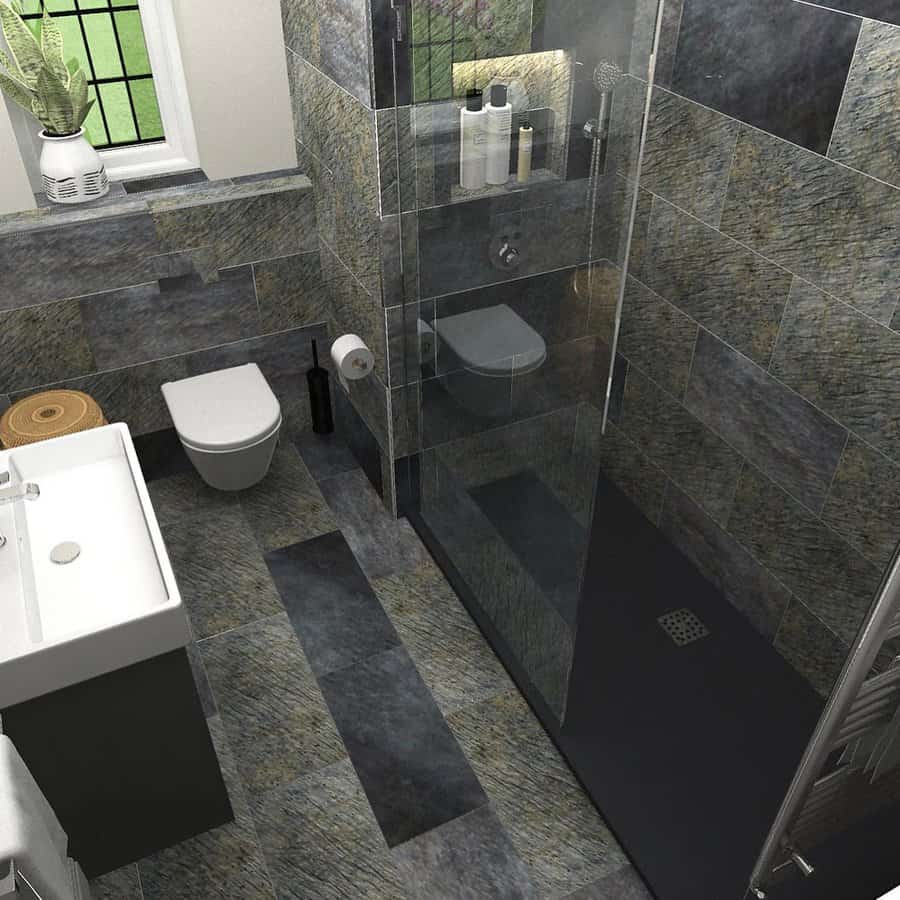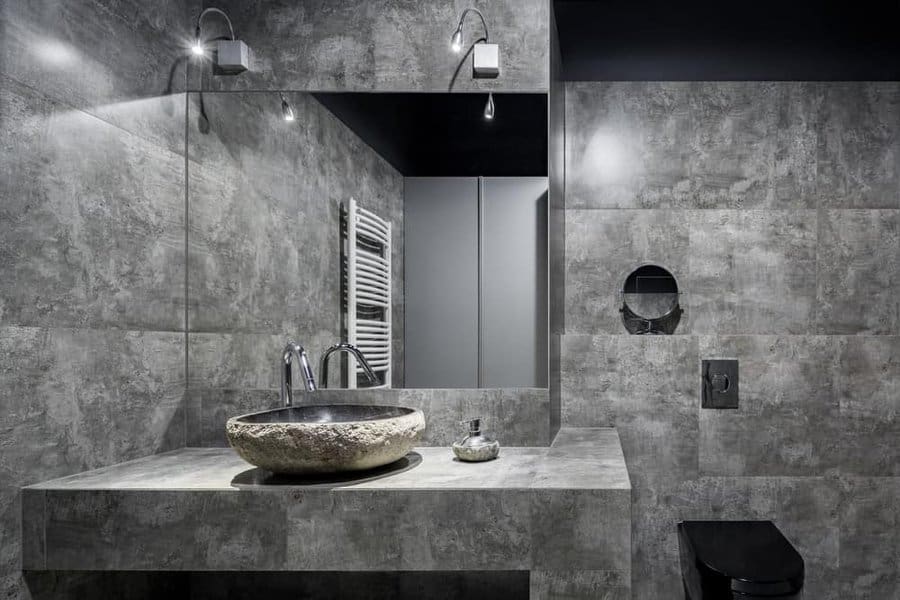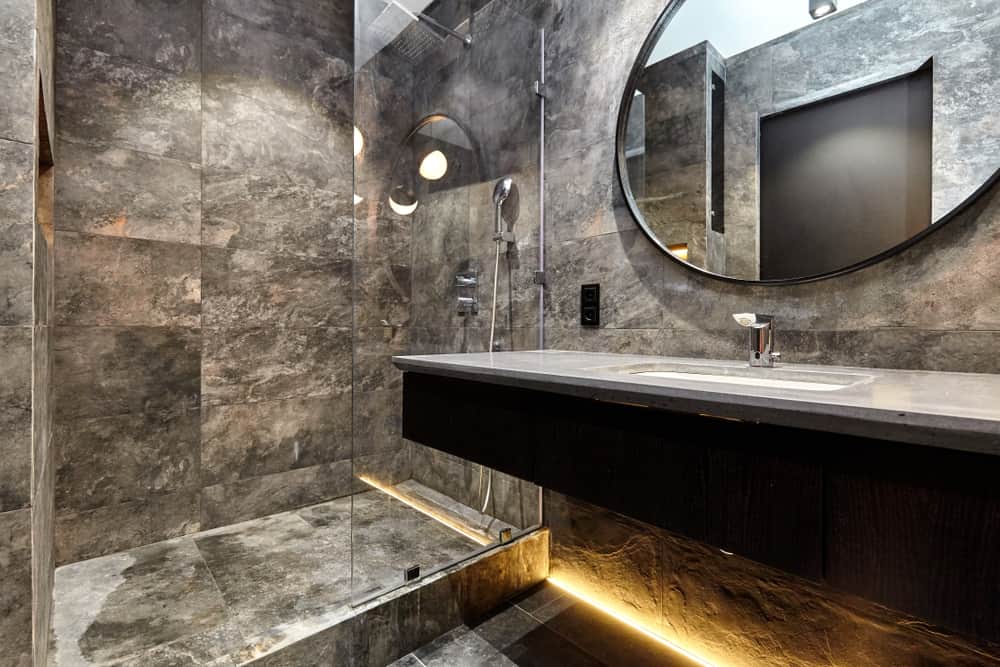 Dark grey bathroom ideas are perfect in modern or rustic homes where a masculine vibe is desired. White-veined black or dark grey marble tile is a beautiful way to merge charcoal walls with a white shower, vanity, sink, and toilet. Chrome or brushed nickel fittings are a classic pairing with this bathroom idea.
4. Fittings
When building or remodeling a home, it can be easy to confuse bathroom terminology. Bathroom fixtures are the permanent bathroom features, including the shower, tub, toilet, and sink. Bathroom fittings can be moved more easily and include mirrors, wall cabinets, toilet seats, and accessories.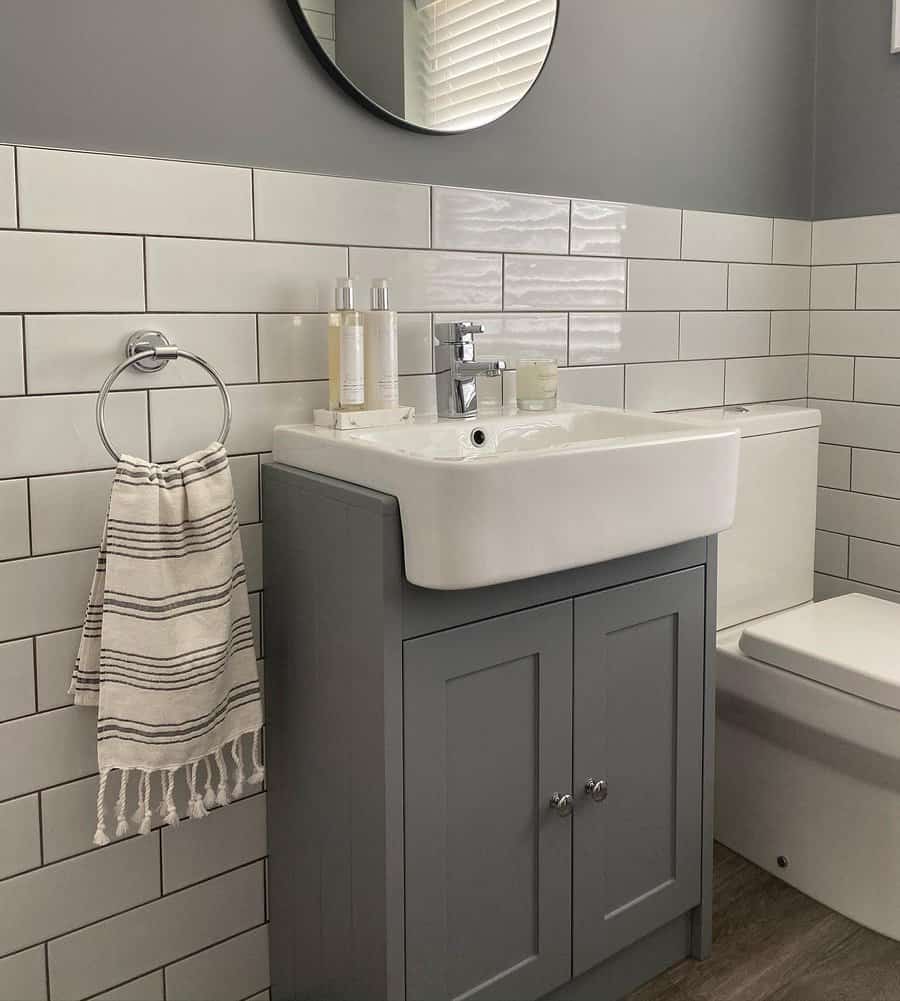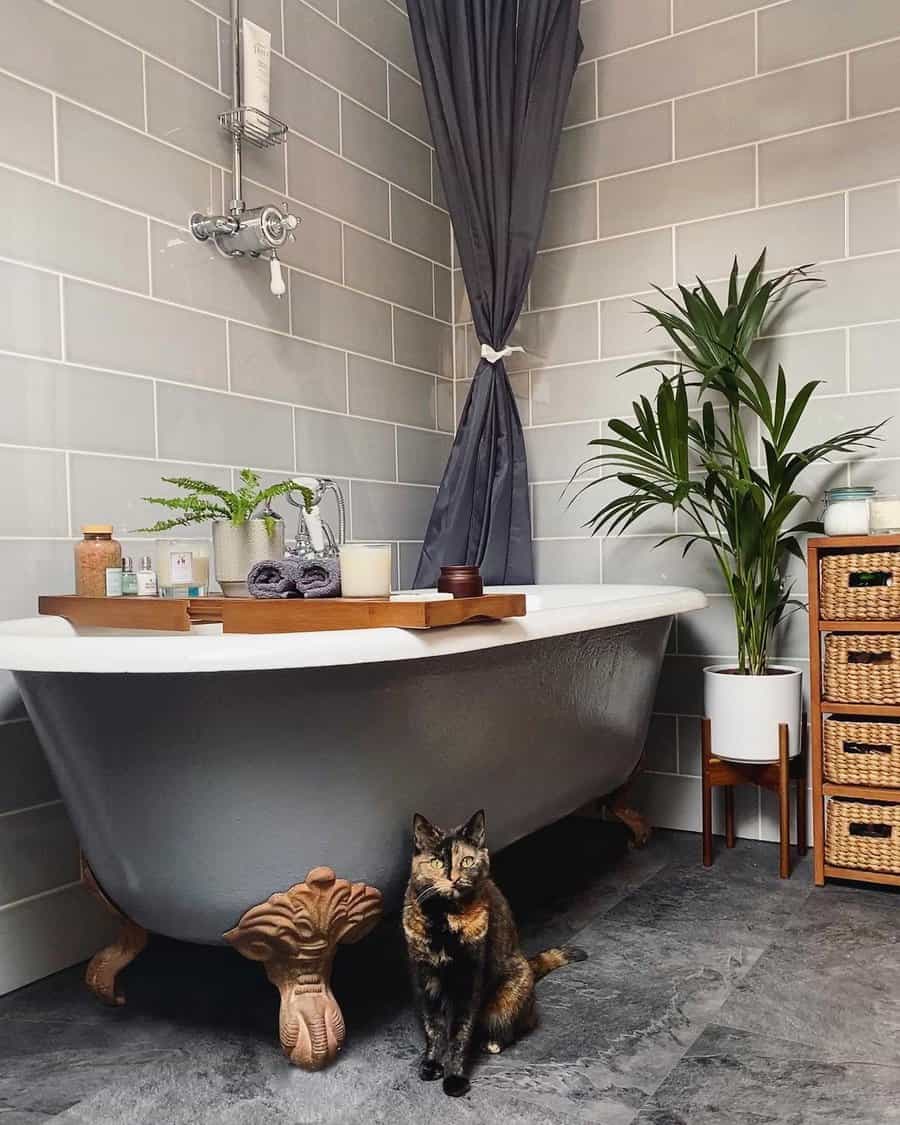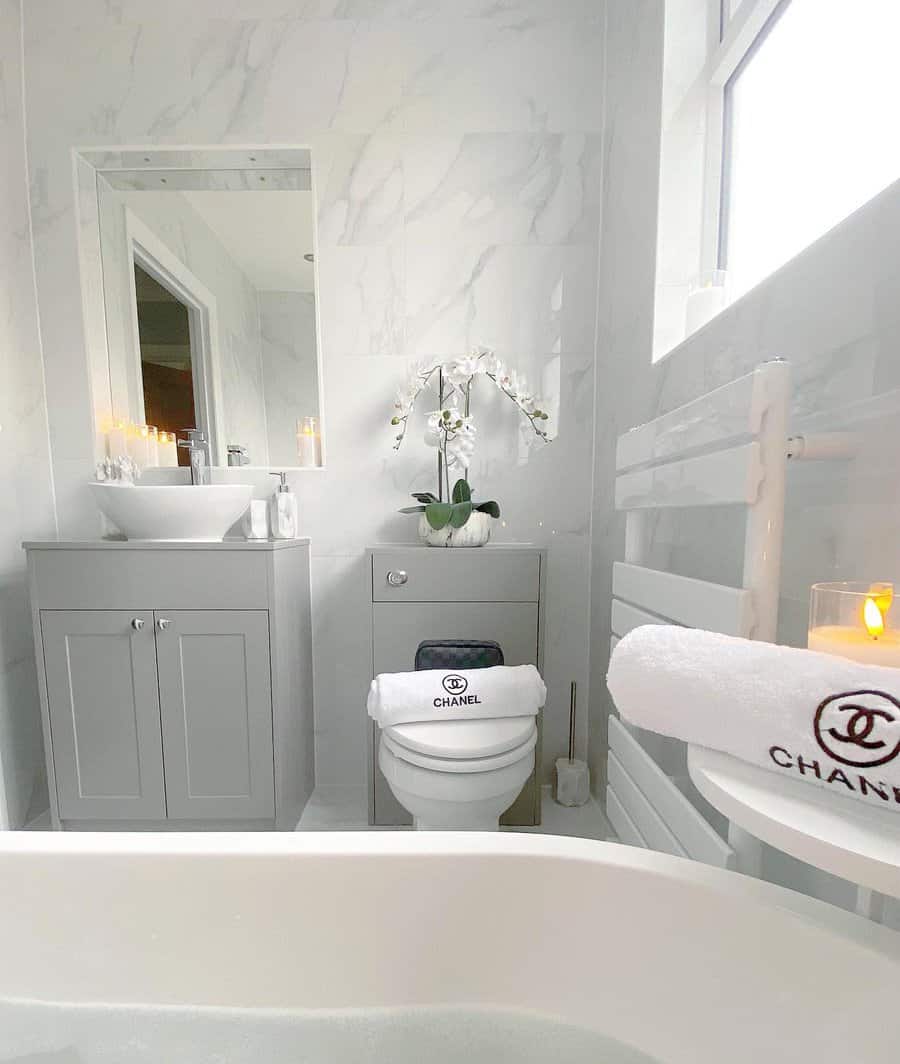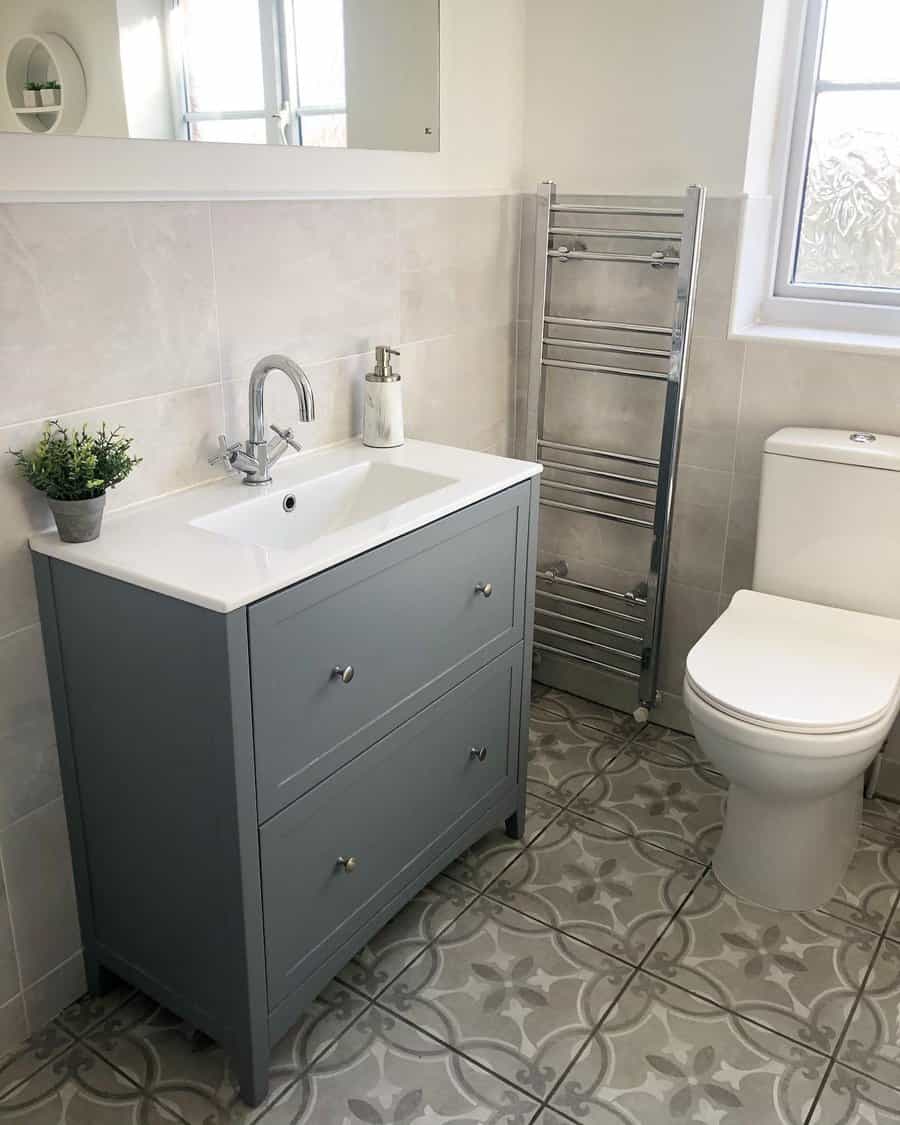 Fixtures and fittings are available in many color choices, most of which coordinate well with grey bathroom ideas. To save money, apply grey paint to the bathroom vanity, wall cabinet, mirror frames, or any other fittings that can be painted.
5. Luxury
Grey is a fantastic foundation color if a luxurious master bathroom renovation is in your near future. Carrara marble, granite, basalt, and slate are excellent natural stone grey tile options when the budget is generous. Look for unique tile shapes and materials, such as light grey fish scale tile, or liquified glass dark grey tile in an arabesque shape.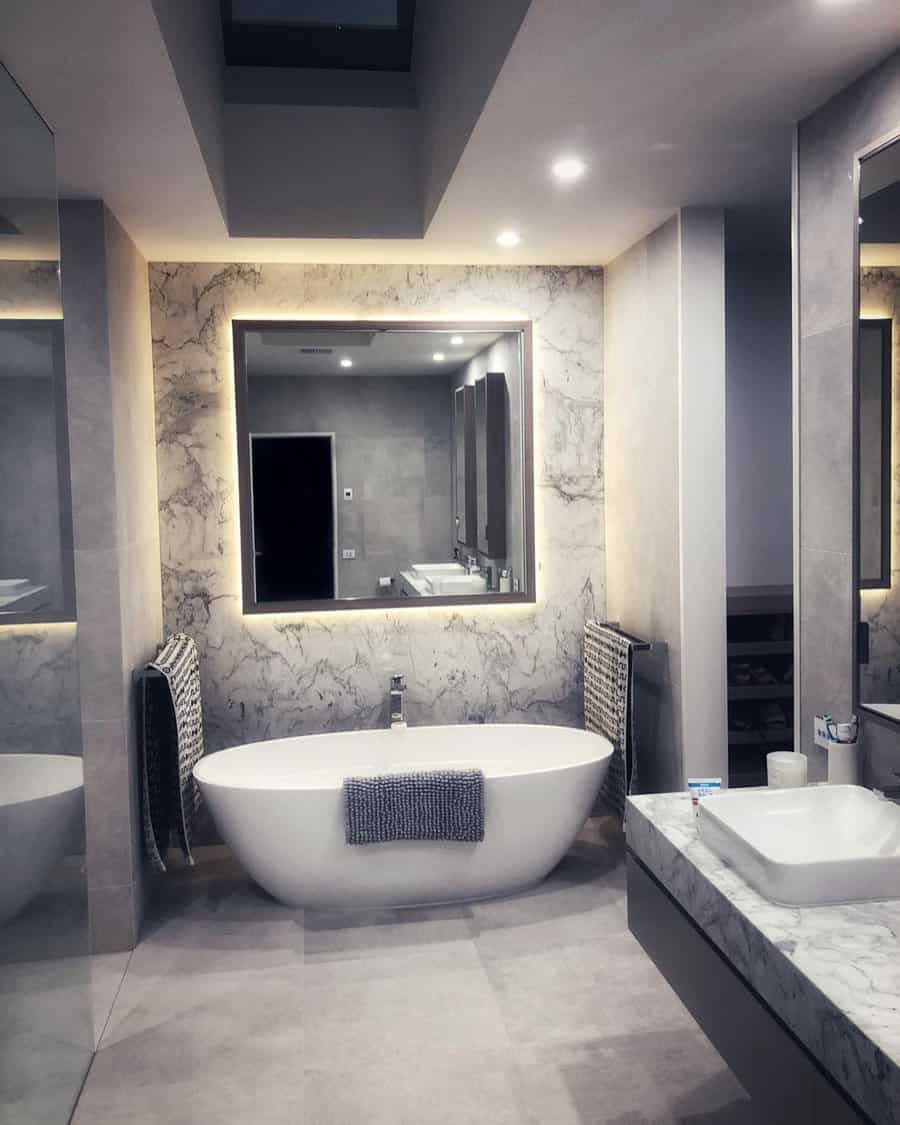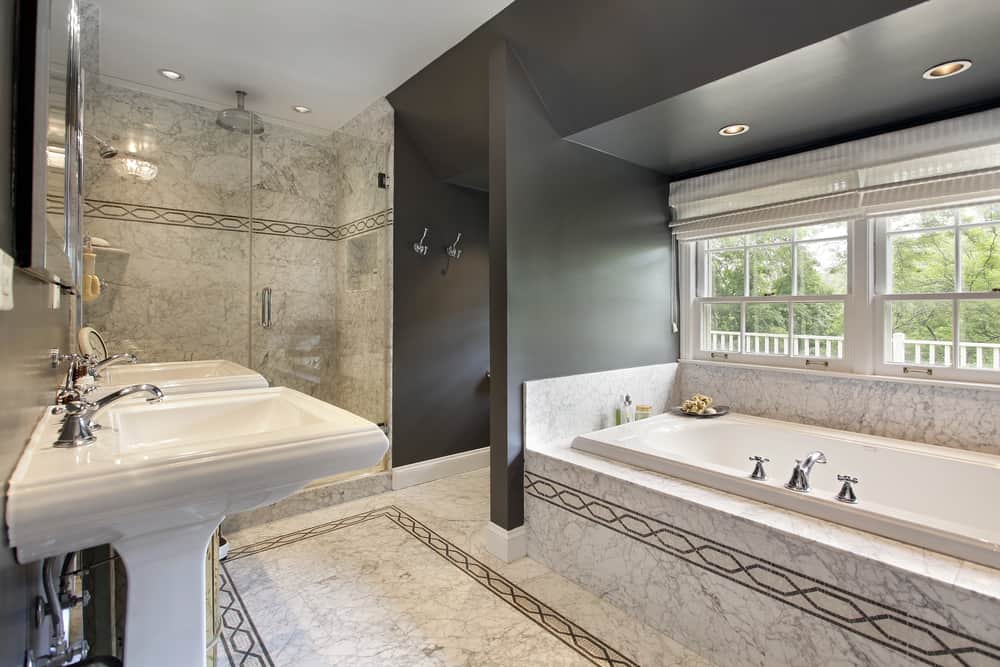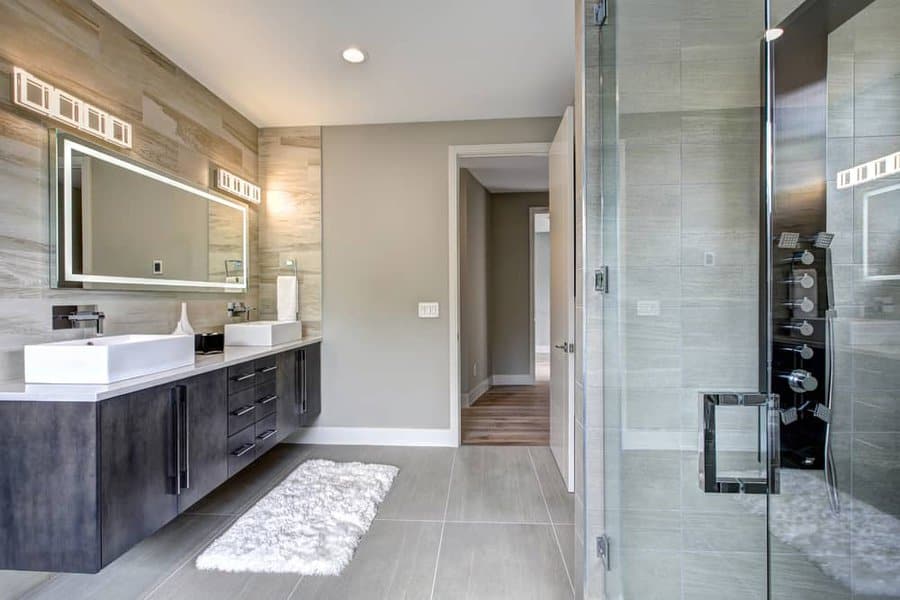 Splurge on a mosaic tile border or panel inside the shower—which of course should be fitted with multiple shower heads. Install glass shower walls instead of a shower curtain, so you can fully showcase your high-end grey tile bathroom selections.
See more luxury bathroom ideas here.
6. Modern
A modern bathroom has streamlined fixtures and fittings, paired with a simple color scheme. For example, a floating vanity and glass bowl basin takes the place of a traditional vanity and sink. Shower stalls are impressive displays of grey bathroom tile, and not hidden behind a shower curtain.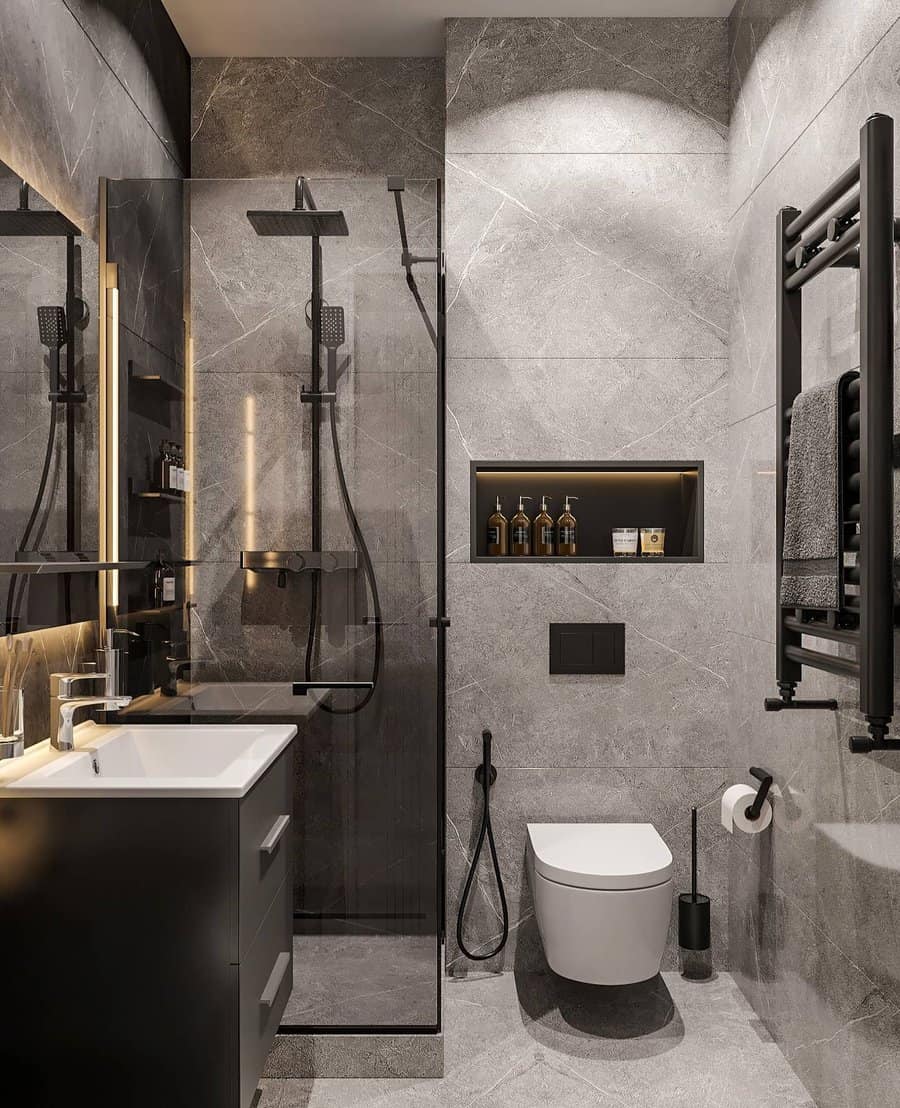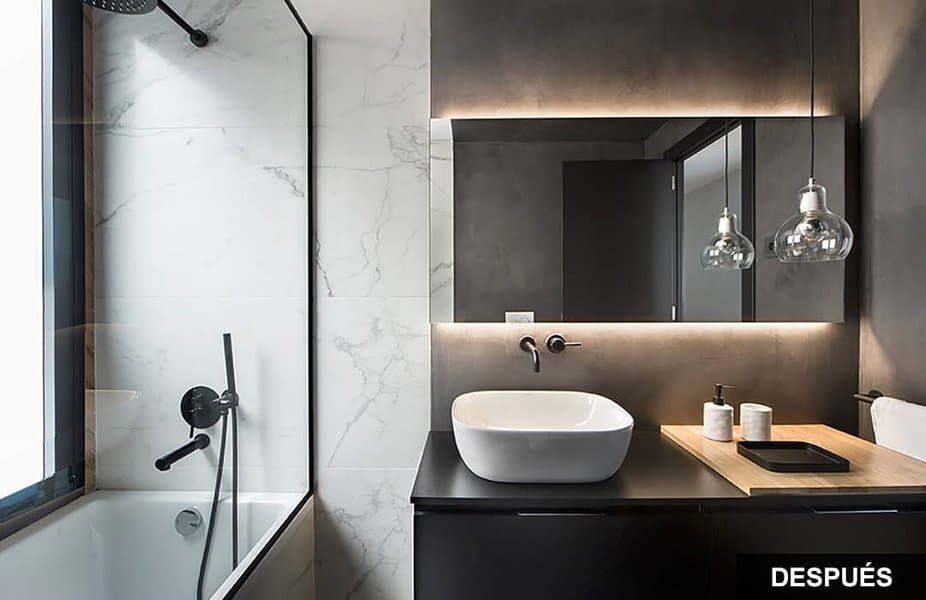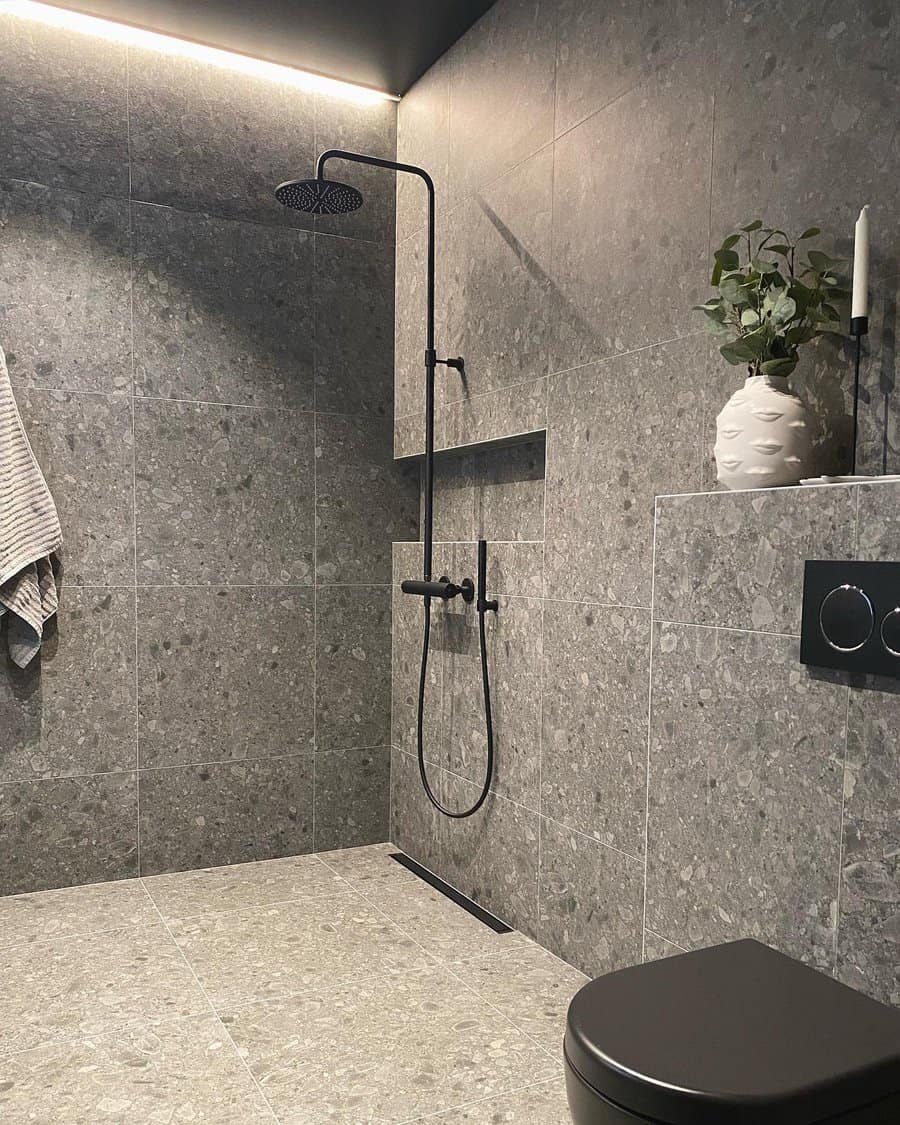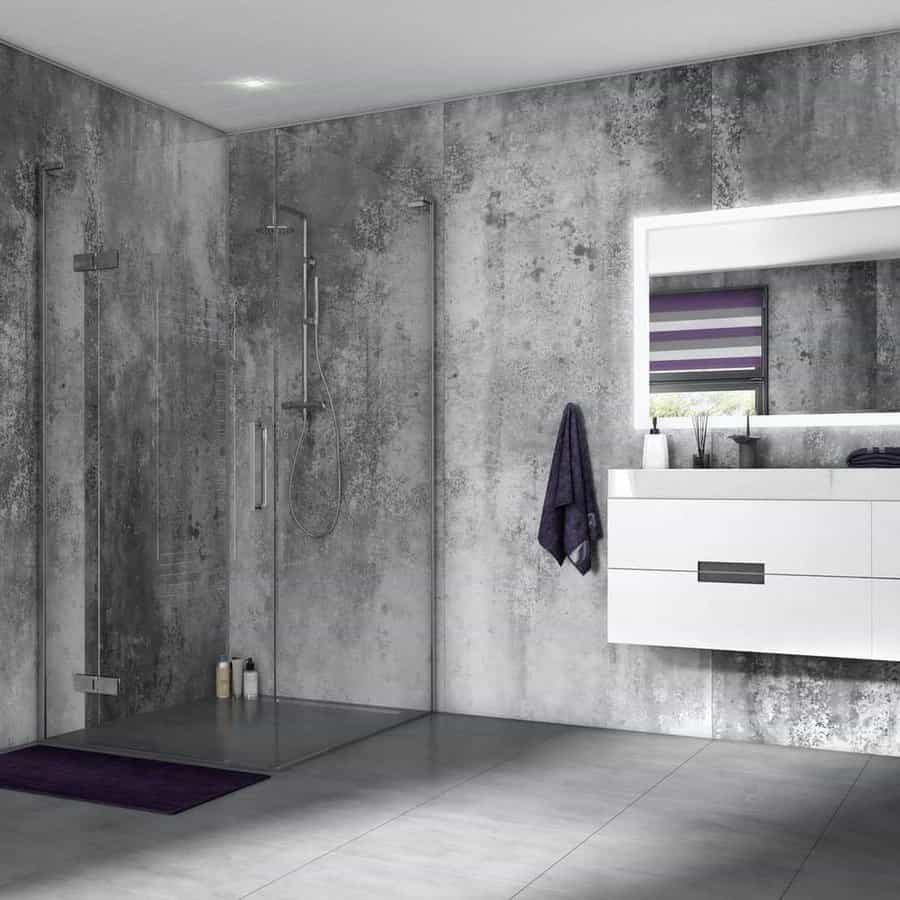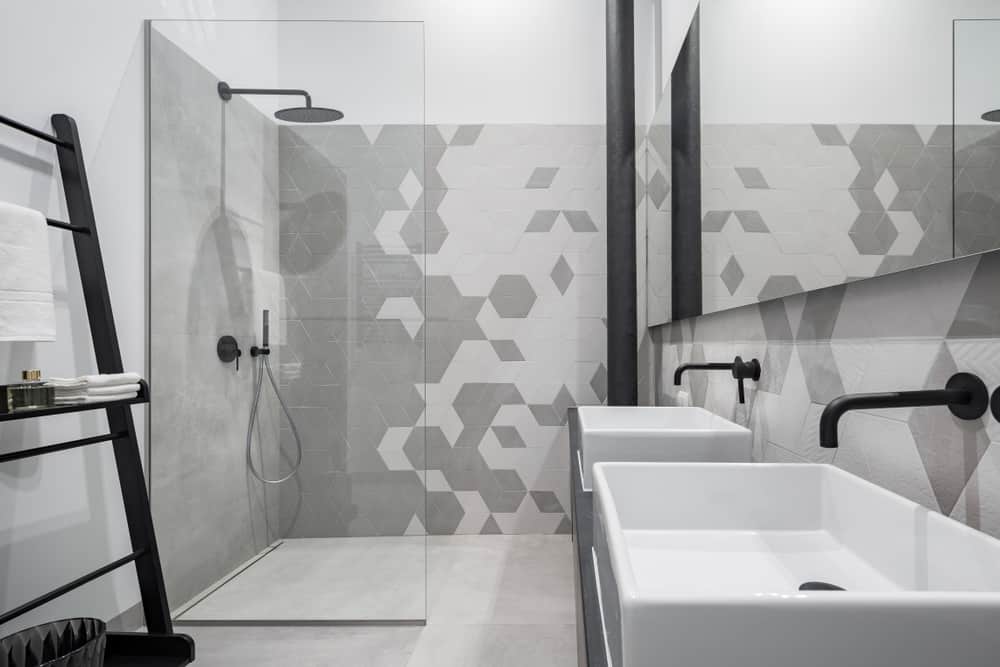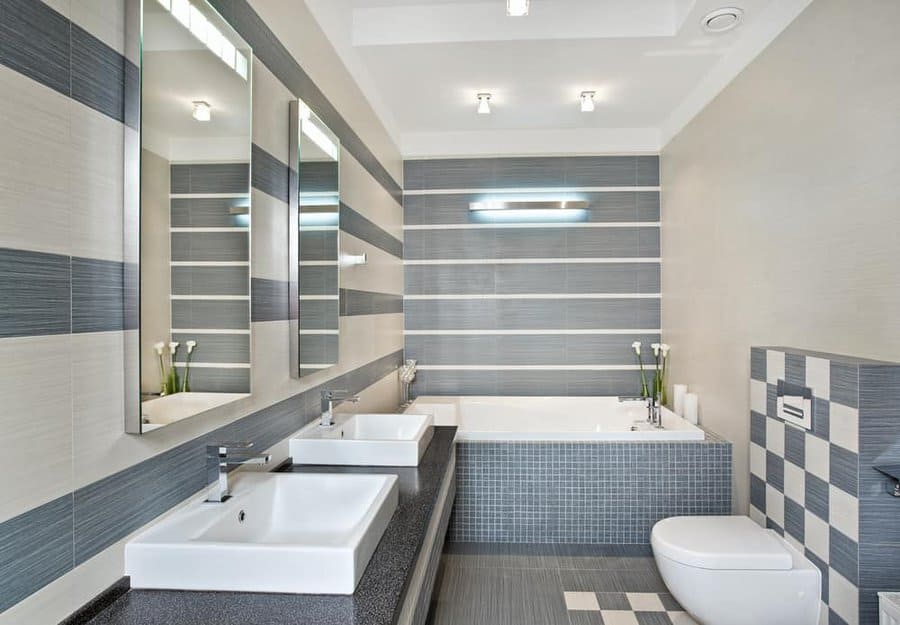 Pewter is an excellent grey paint color for a modern bathroom wall finish. A beautiful cross between grey and silver, pewter's neither light nor dark—a perfect middle tone to support grey color ranges at each end of the spectrum.
See more modern bathroom ideas here.
7. Monochrome
A monochrome photo is one that's printed in black and white or varying shades of a single color. Monochromatic room ideas are the same, with one color appearing in different shade options. Speaking of photos, framed black and white photographs make excellent grey bathroom wall decor.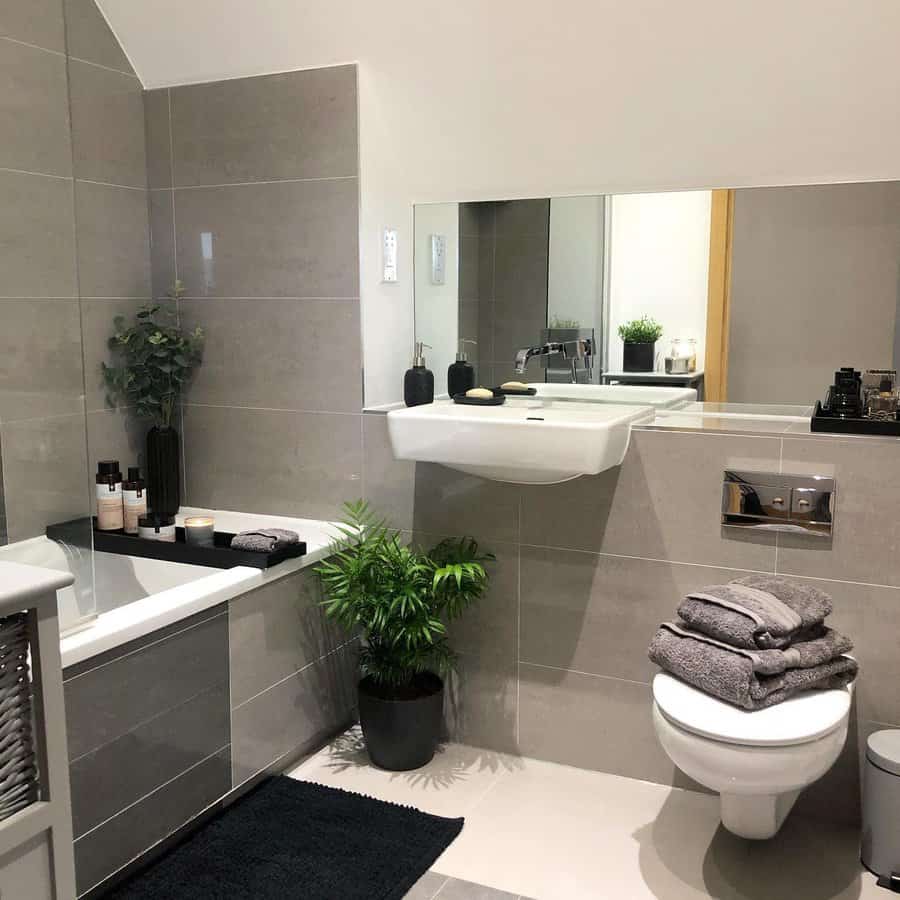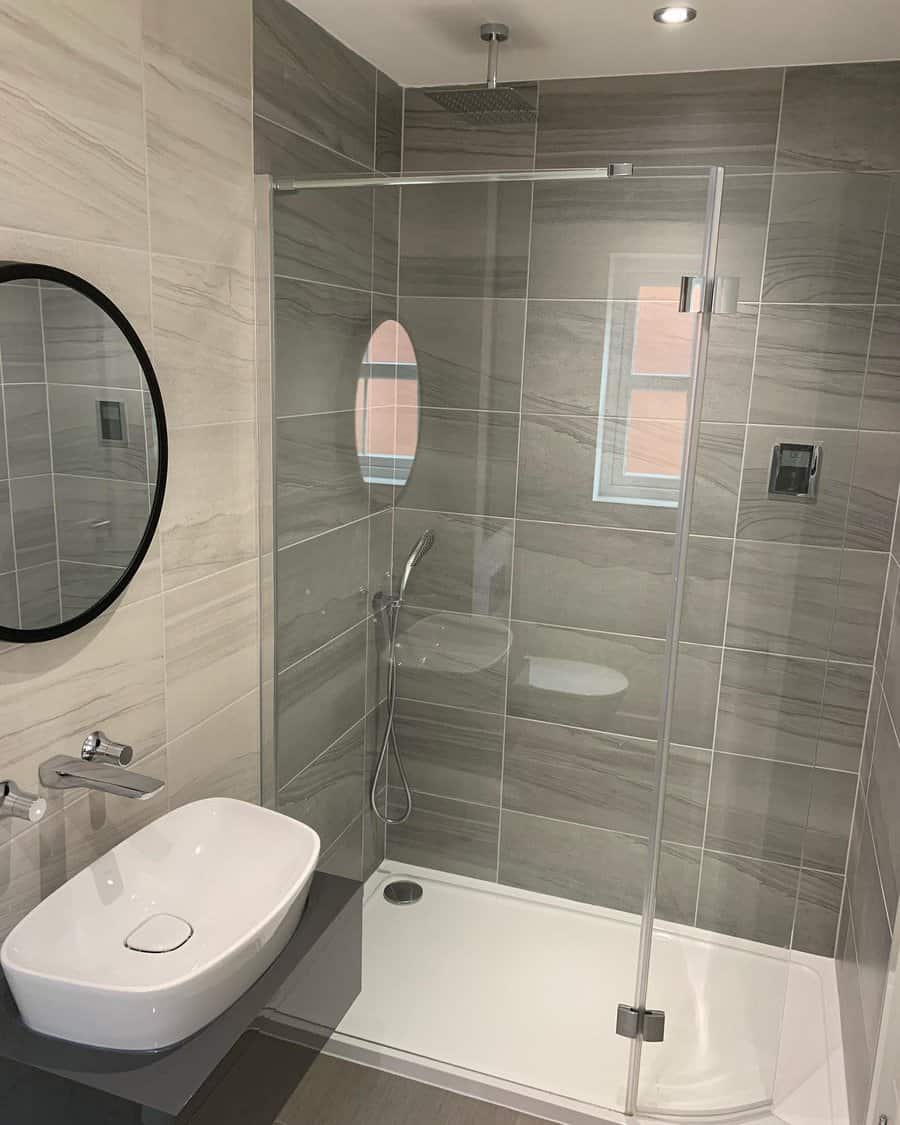 Because grey is on such a spectrum, from pale grey to nearly black, a grey monochrome bathroom doesn't have to be boring. Look for grey bathroom tile that includes multiple hues of grey, then select those individual shades when choosing your grey paint color palette.
8. Powder Room
A powder room is a small bathroom, minus a shower or tub. Vanity space and even wall space may be limited, but you can still create a beautiful small bathroom within its confines. Look for a narrow profile vanity and toilet to free up as much floor space as possible.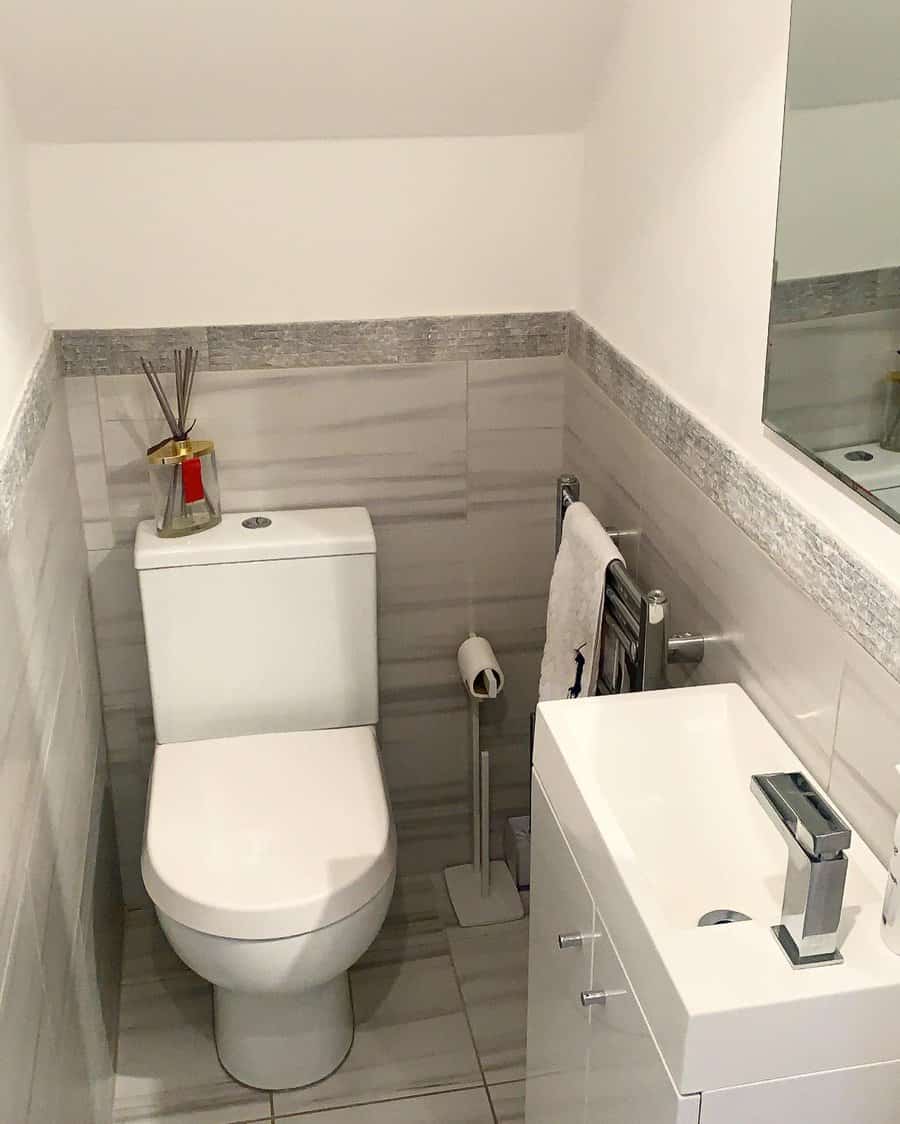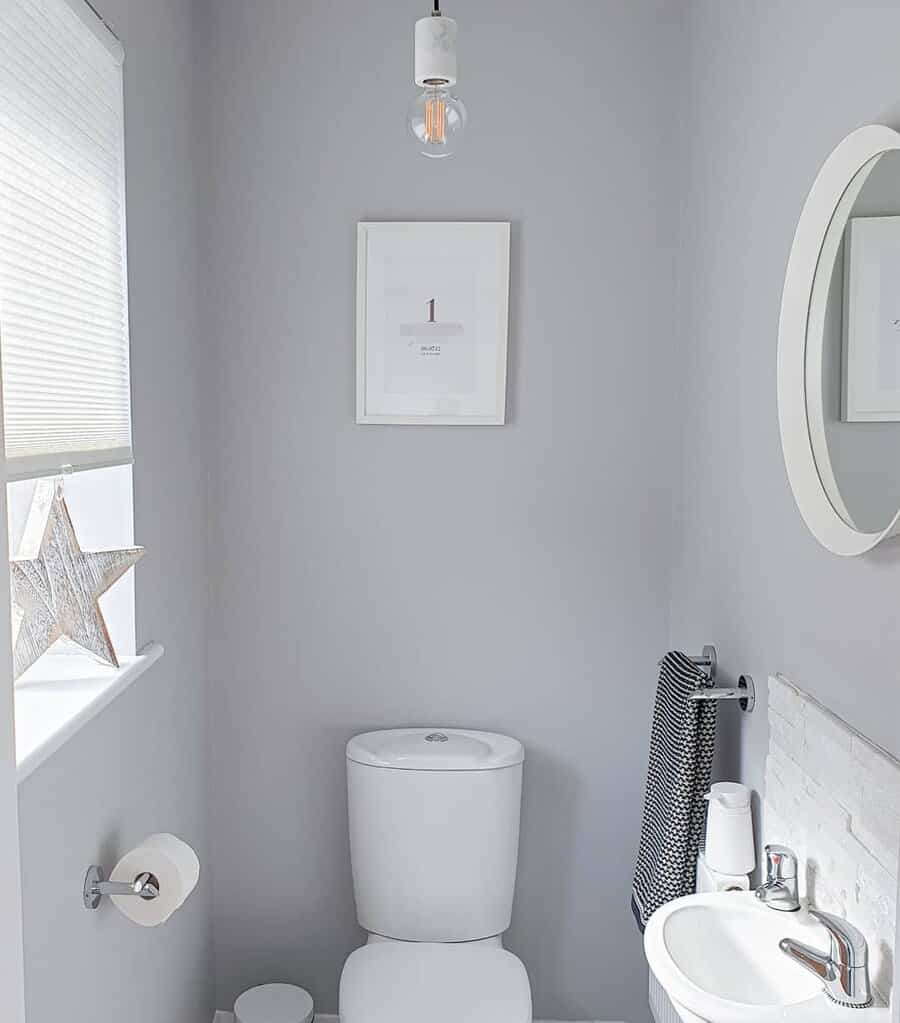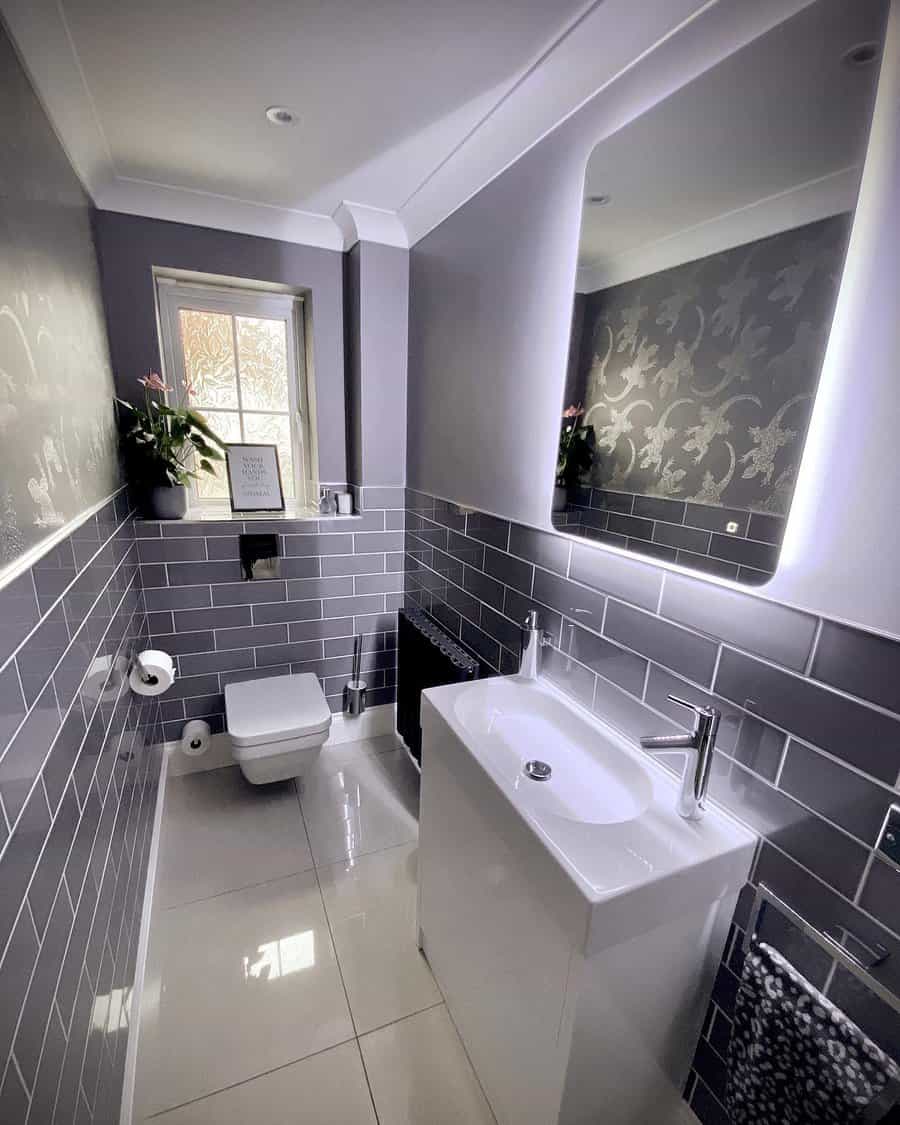 Since a white bathroom tends to look bigger than one with a darker color scheme, try to keep your greys on the lighter end of the grey spectrum. A light grey bathroom can feel just as spacious as a white bathroom, but it won't seem as sterile. If you prefer darker grey colors, choose one for an accent wall, or install dark grey floor tile.
9. Rustic
Wood tends to turn grey as it weathers, and a weathered grey wood vanity is an excellent addition to a rustic themed bathroom. Install a faux brick wall for an accent feature, and replace ordinary tile with floor tile planks that resemble grey driftwood.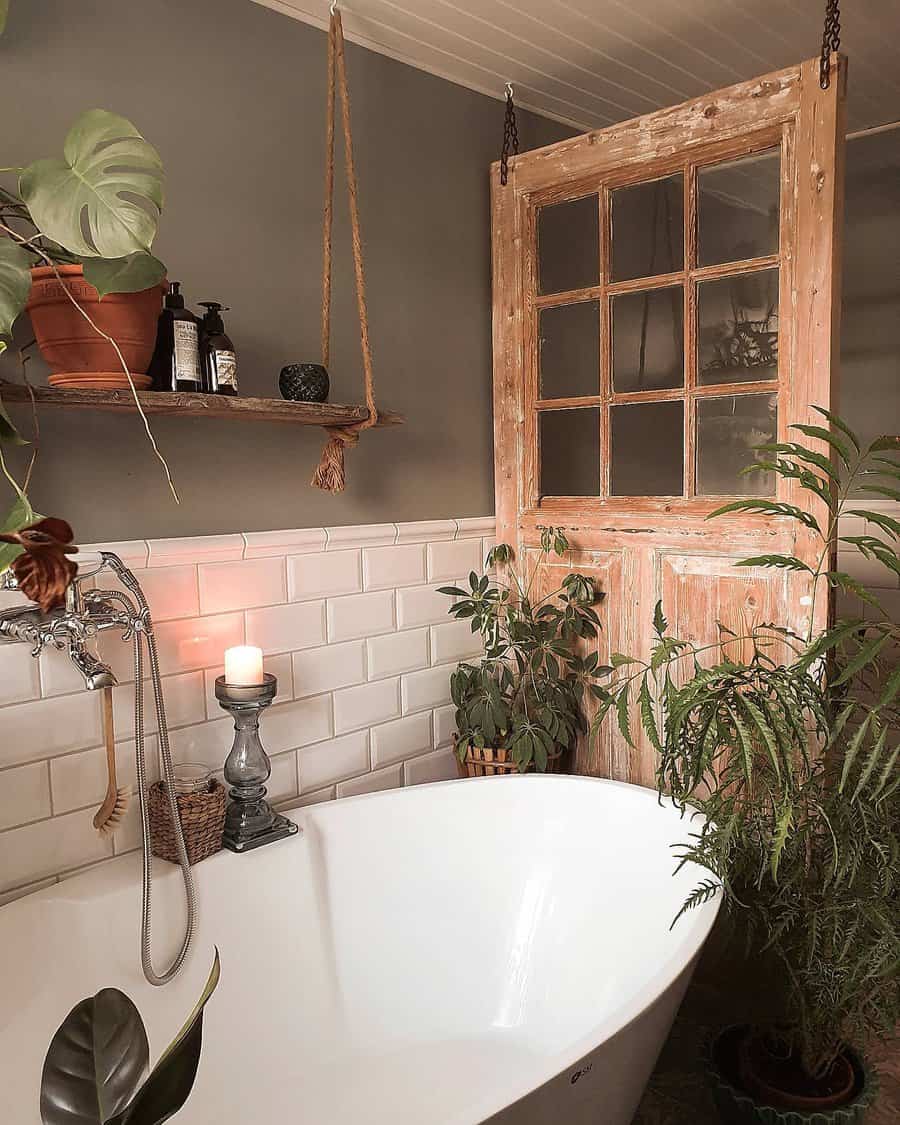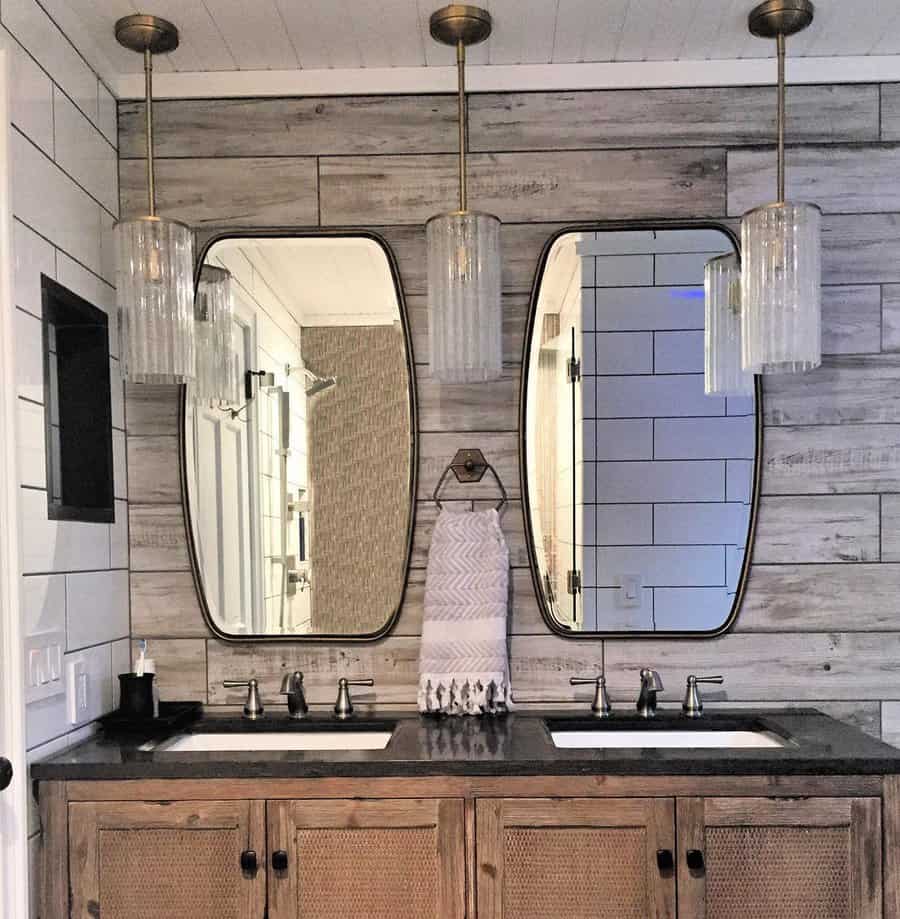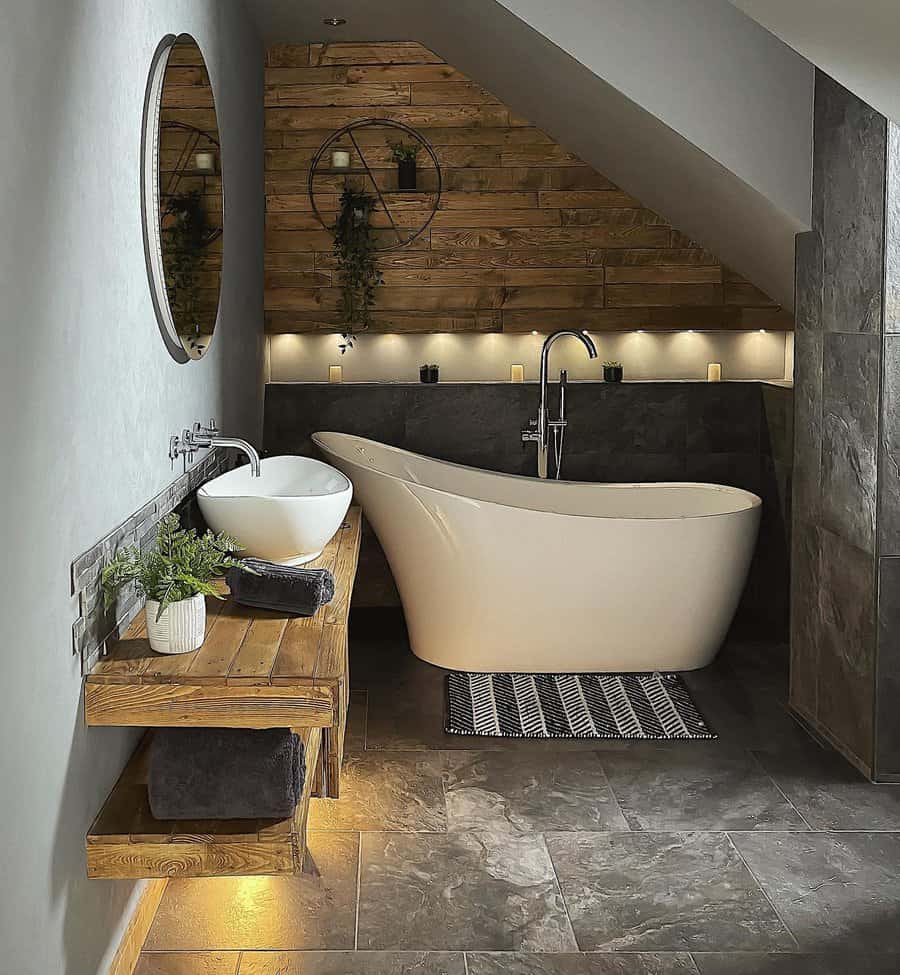 Be sure to add other unrefined textures to your grey rustic bath, such as a hammered metal sink basin and rough-cut floating shelves. Black is always a great addition to rustic spaces, so shop for black iron towel racks for the wall, and iron drawer pulls for the vanity and wall cabinet.
See more rustic bathroom ideas here.
10. Scandinavian
A grey Scandinavian bathroom needs touches of real wood to make it true Scandinavian-inspired design. It's good that grey looks great next to any type of wood stain, so feel free to use your grey colors beside the pale wood finishes that are popular in Nordic homes.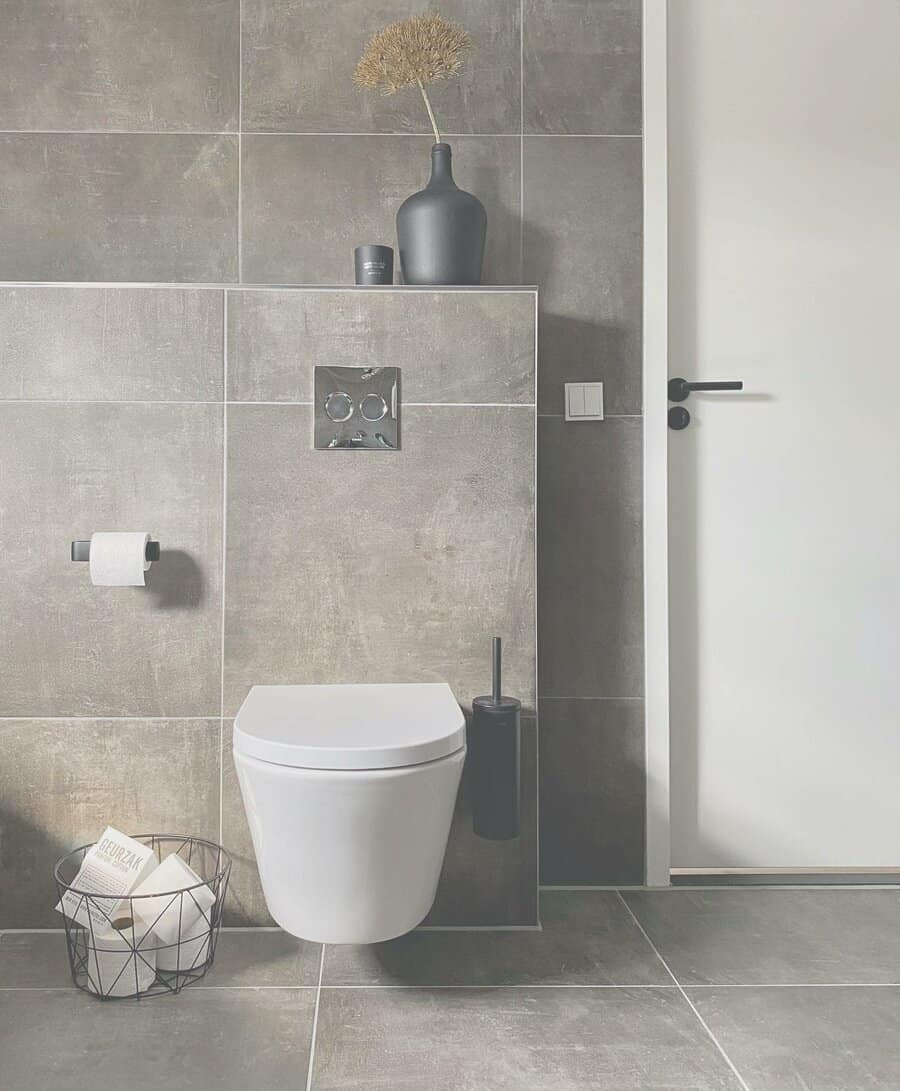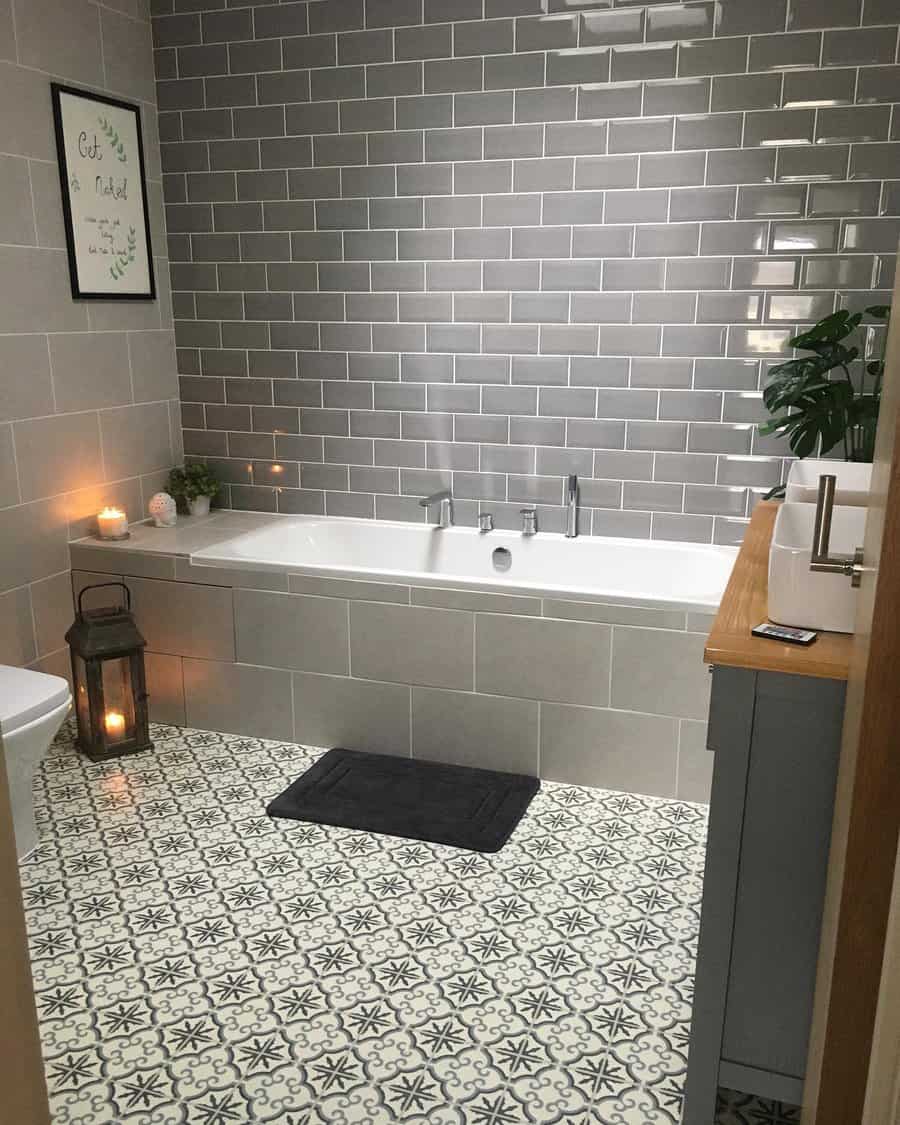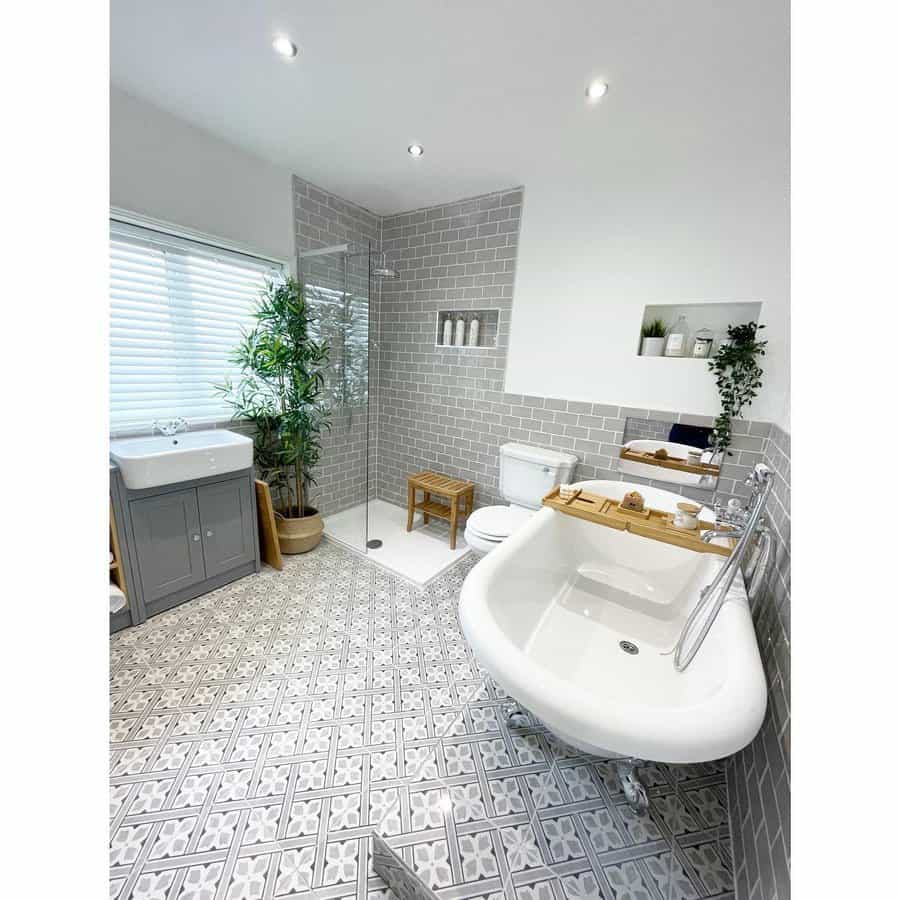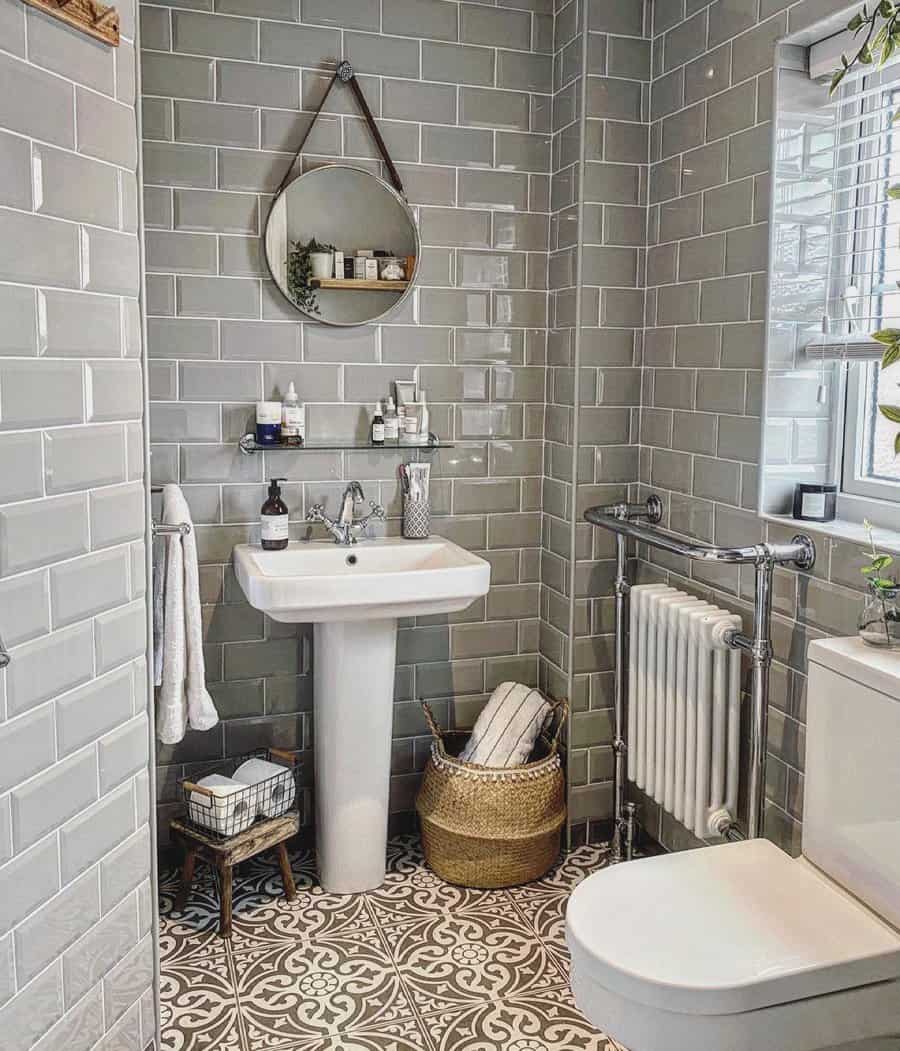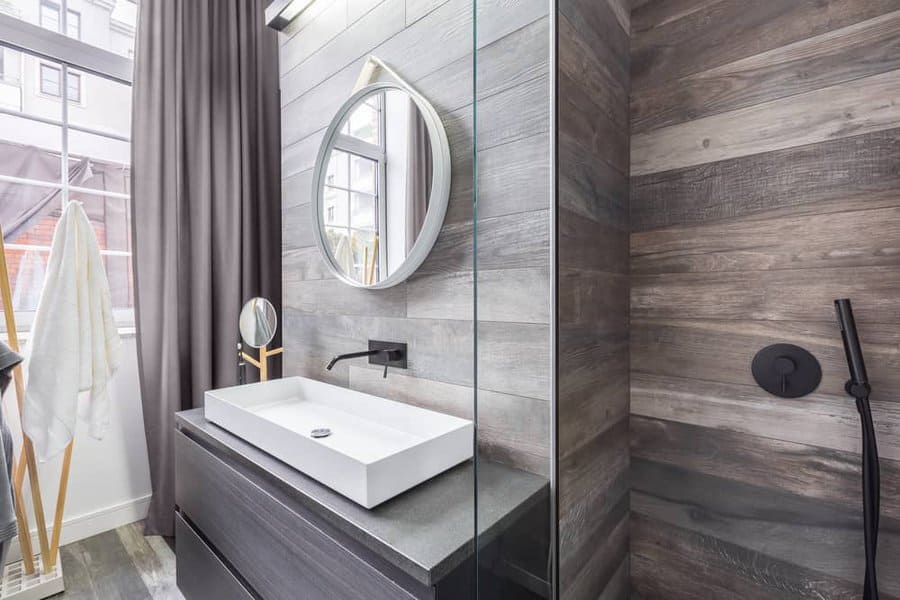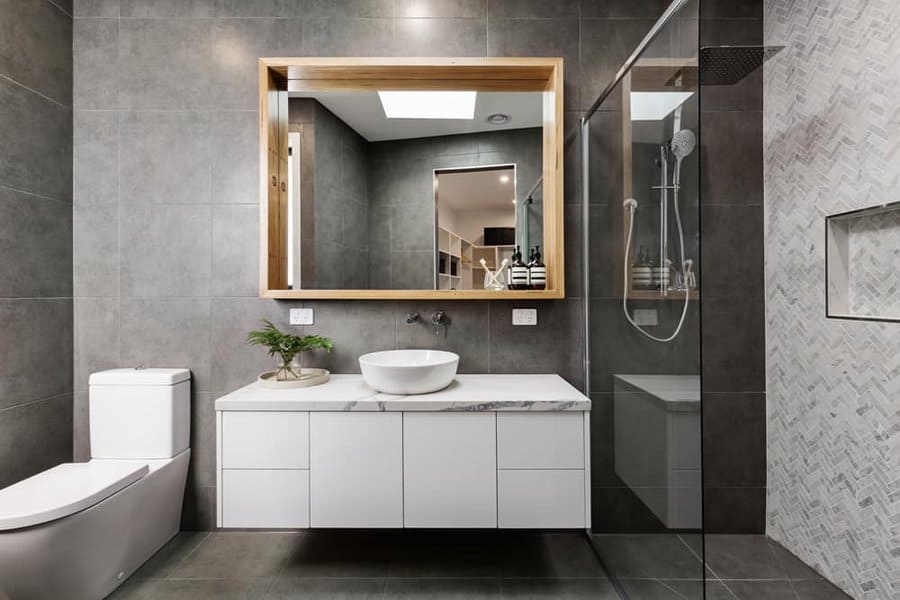 White is also a common bathroom color in Scandinavia, so either add touches of white or choose a very pale dove grey for your walls. Be sure to keep the space uncluttered and choose furniture and fittings that reflect this design style's simplicity.
11. Small
A small bathroom is a great space to add creative decorating ideas to a basic grey bathroom. Splashes of color keep the room cheerful and interesting, but try not to overdo it. Green plants will add life to the room as well as a welcome dash of color.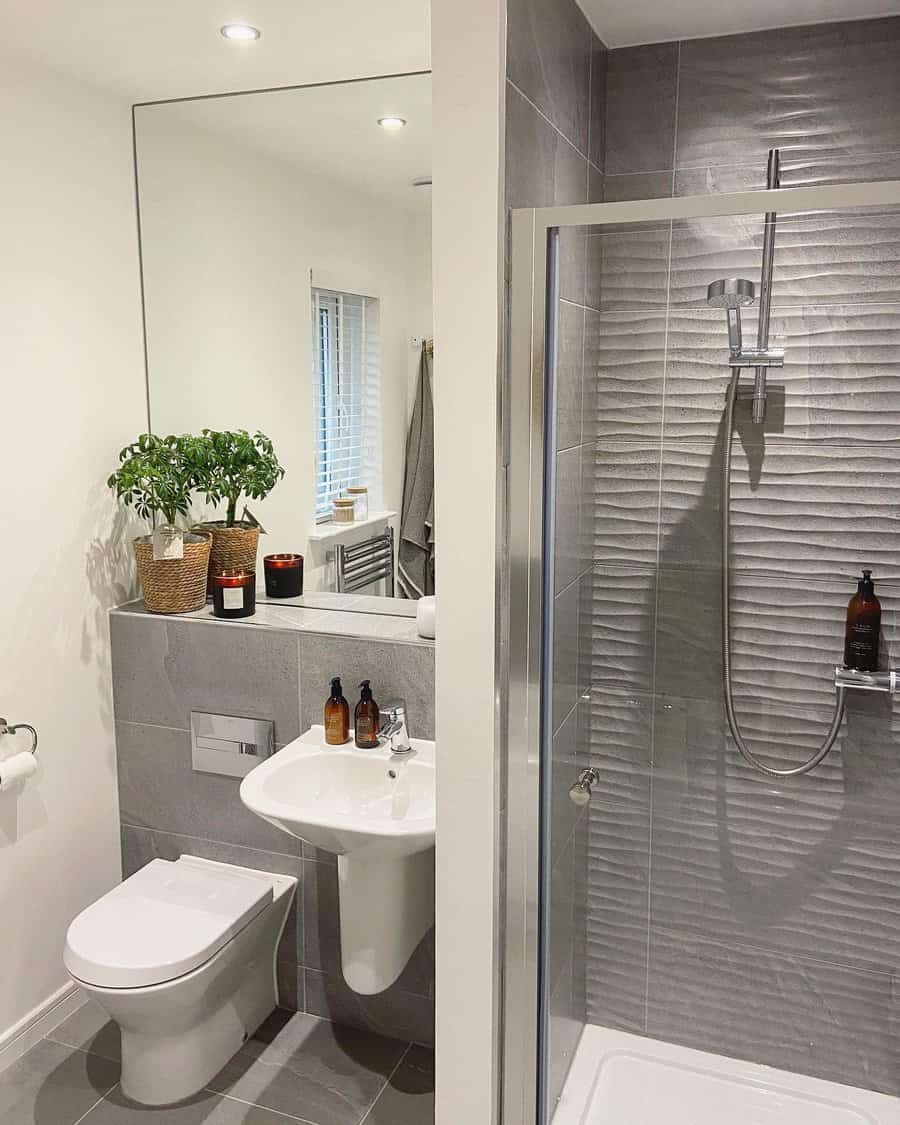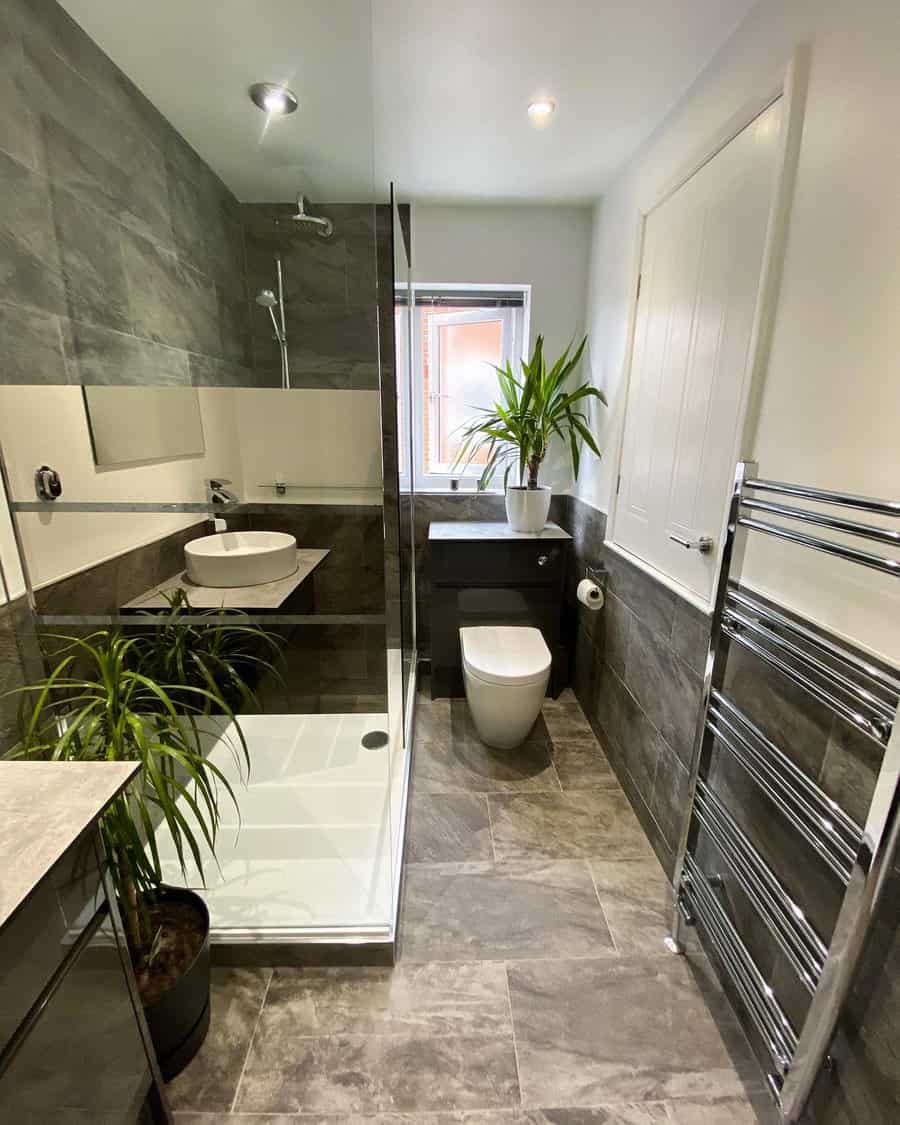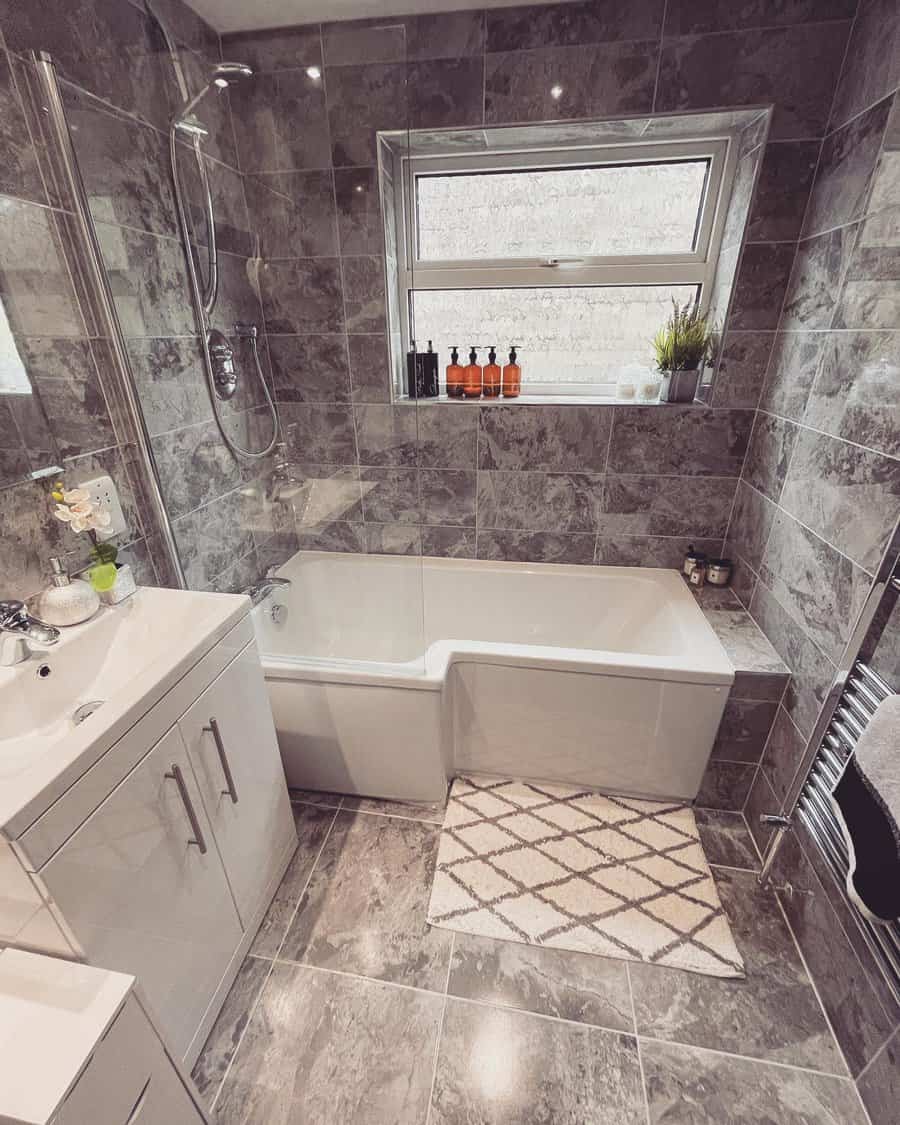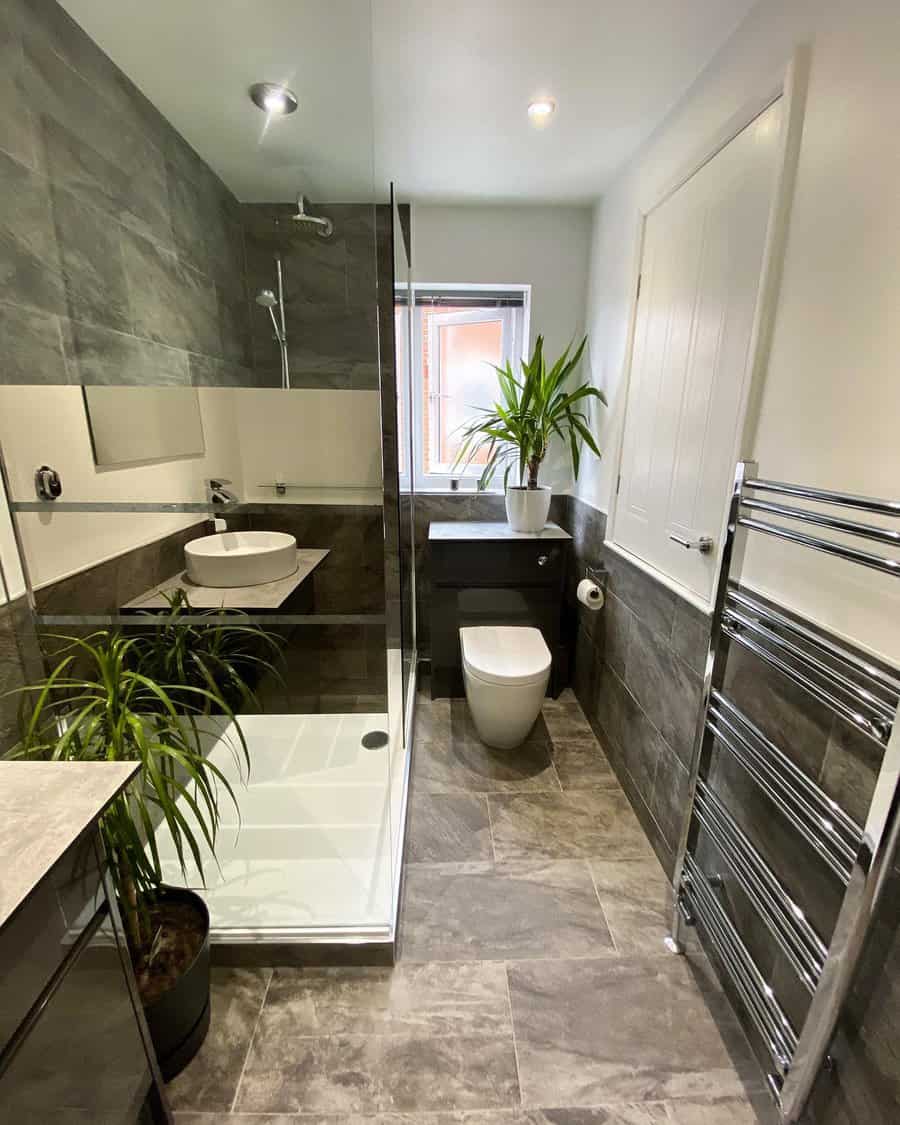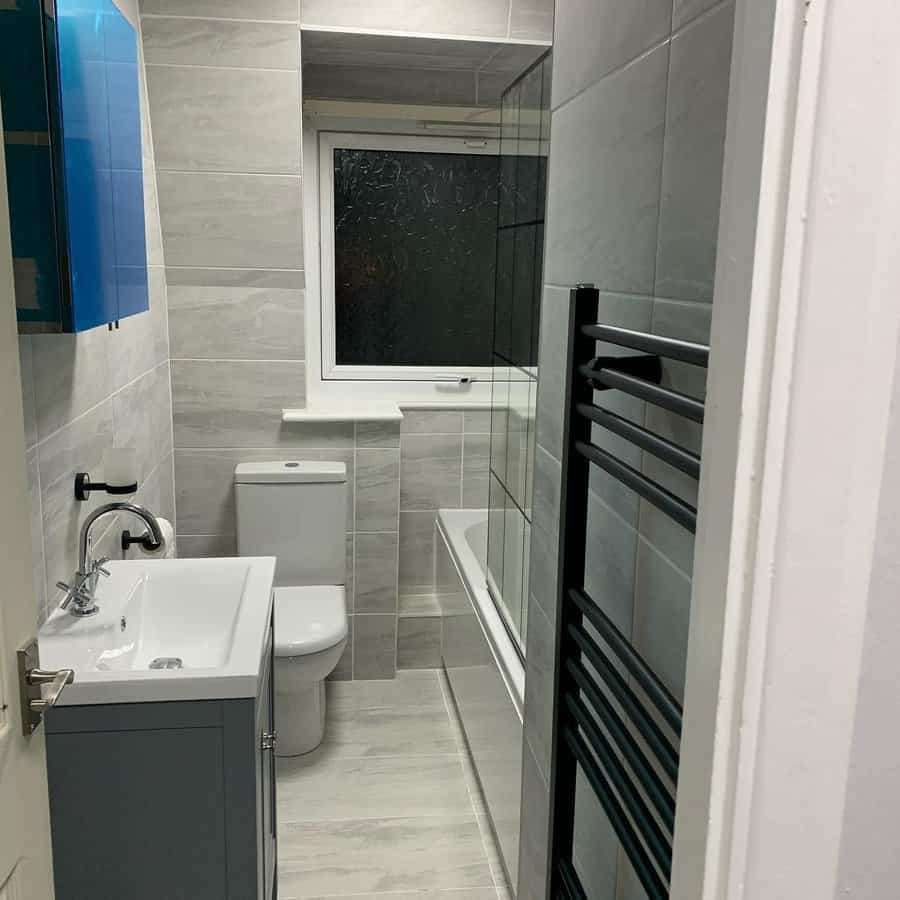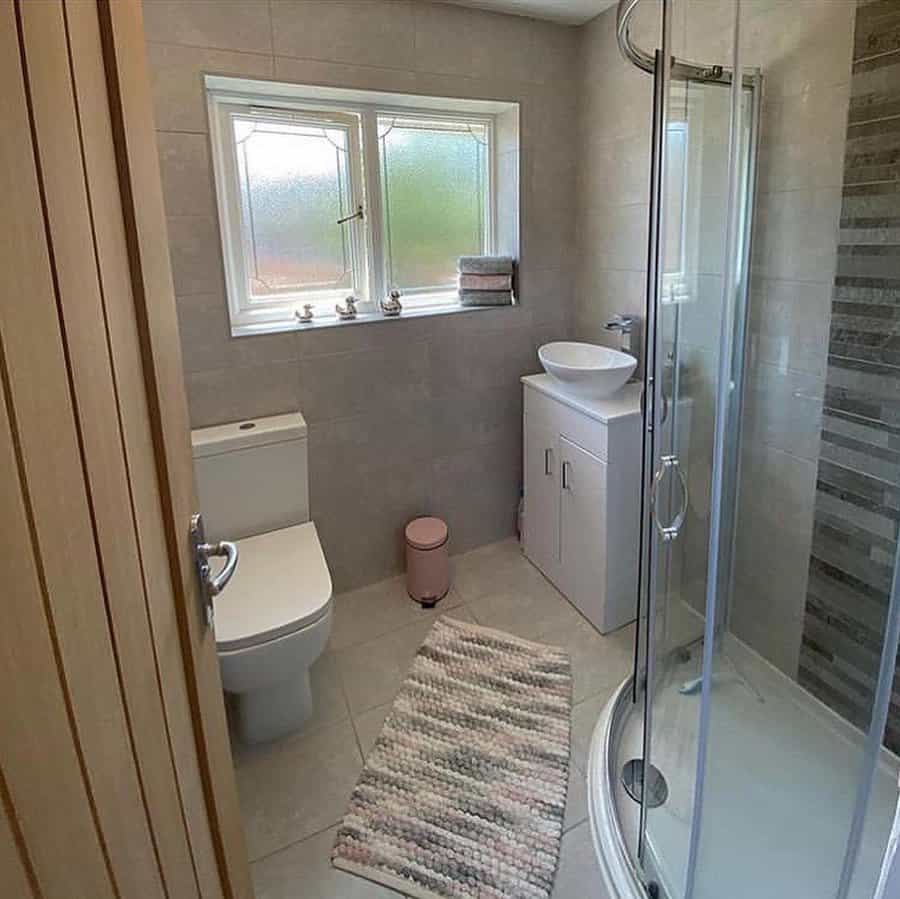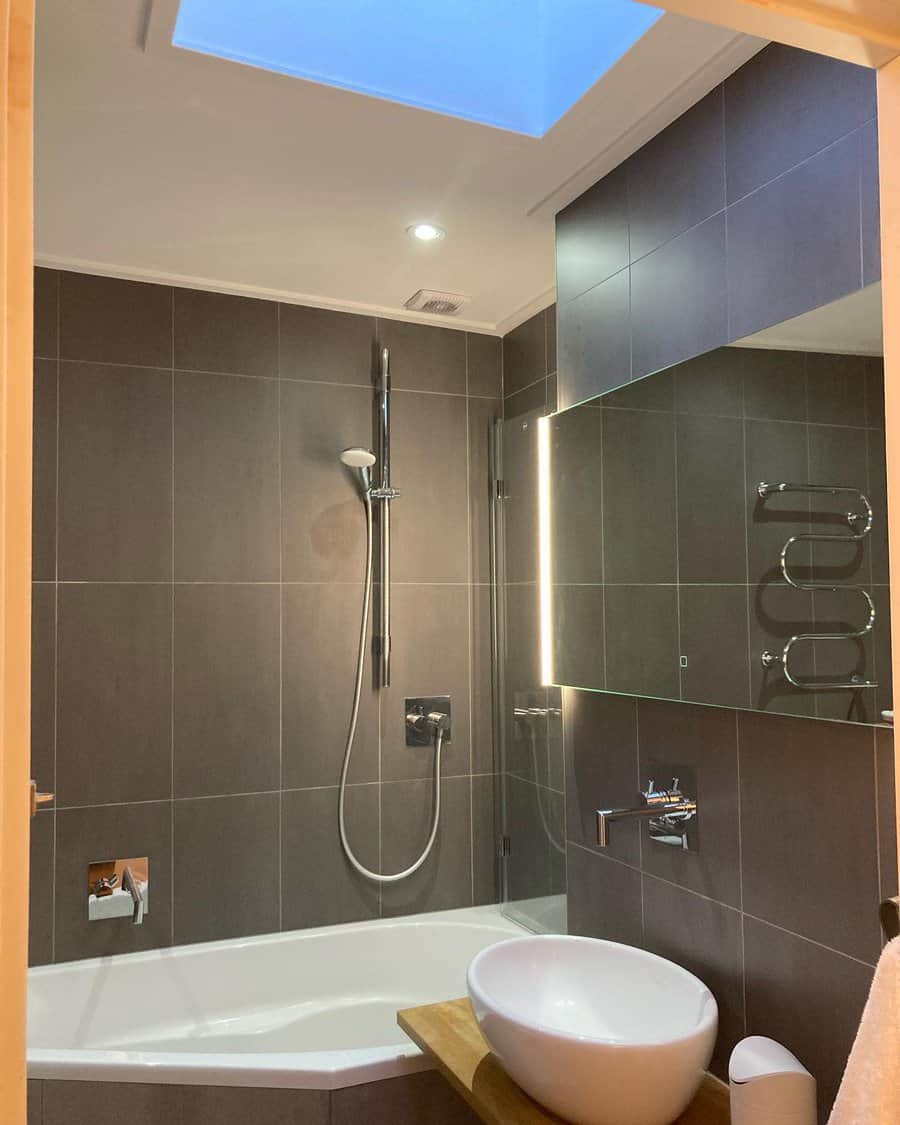 Keep in mind that any kind of horizontal lines will make the room feel wider. Arrange subway tile in a horizontal pattern, or buy textured shower tile that has horizontal lines. Cover a feature wall in shiplap and paint it dove grey, or hang a large-scale wallpaper pattern that includes wide lines.
12. Tiles
Virtually any type of bathroom tile you can imagine comes in several shades of grey. From natural marble to recycled glass tile, there's a grey tile option for every budget and design preference.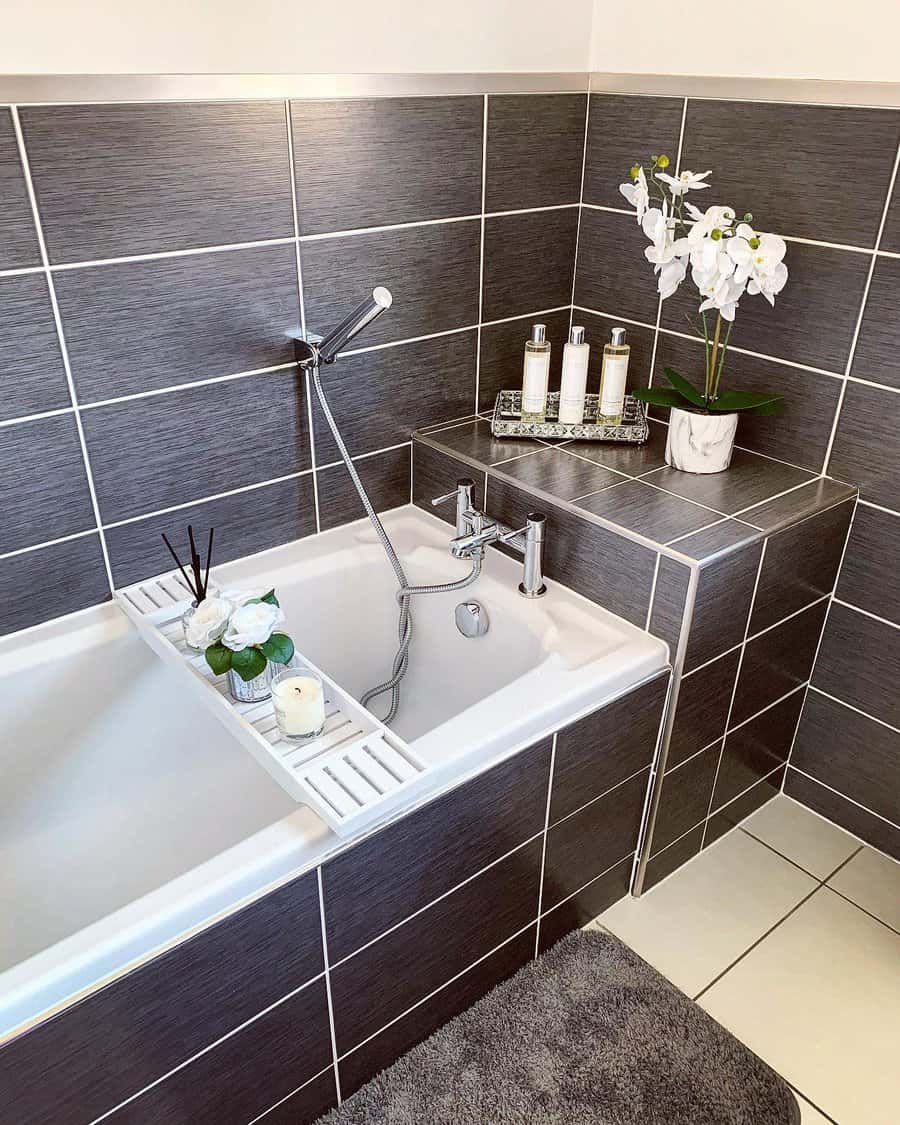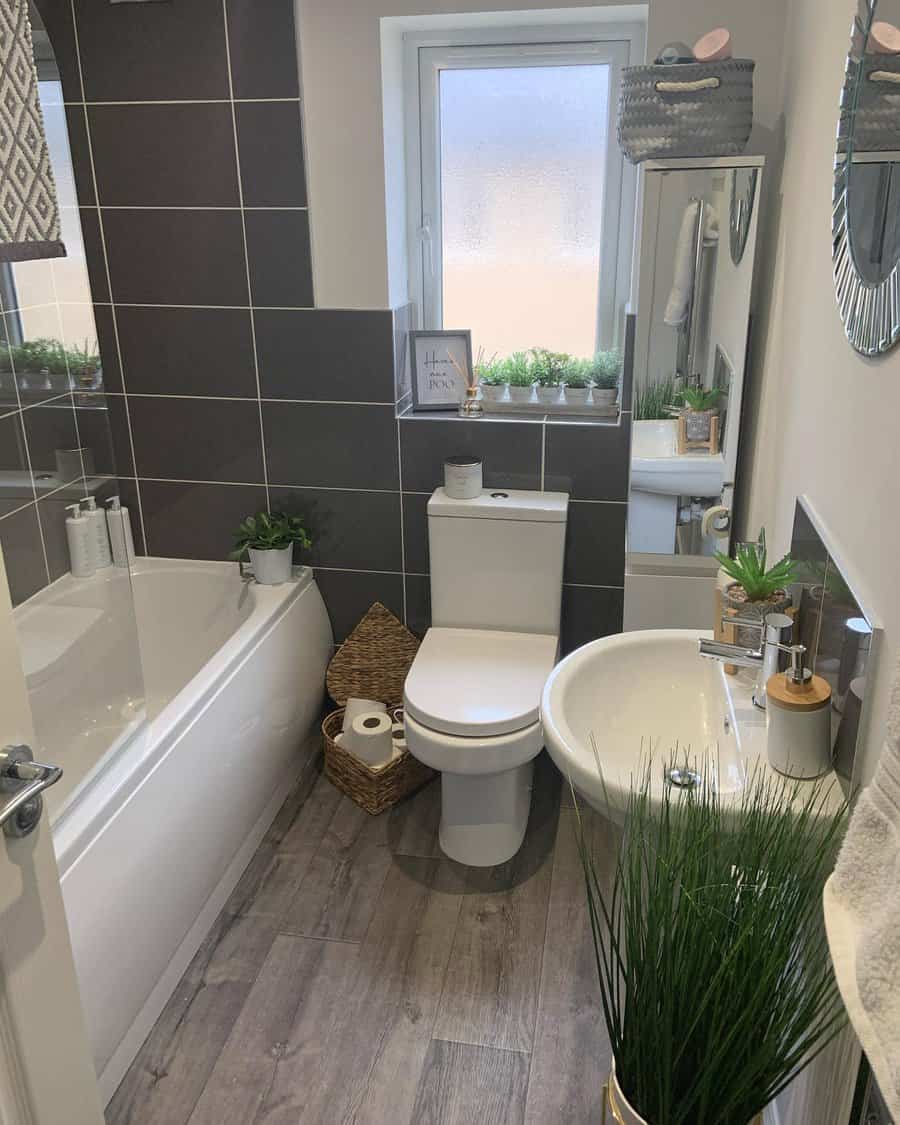 Look for ways to add expensive tile accents that add richness to a bargain-tiled bathroom. A marble tile inset is a good way to incorporate this elegant material into your grey bathroom without breaking the bank.
13. Wall
While some bathrooms are covered in tile from floor to ceiling, most have half-tiled walls. Others only have tile on the floor and leave the walls bare. Whichever type of bathroom wall you have, choosing the right paint or wallpaper is a foundational part of the room's design.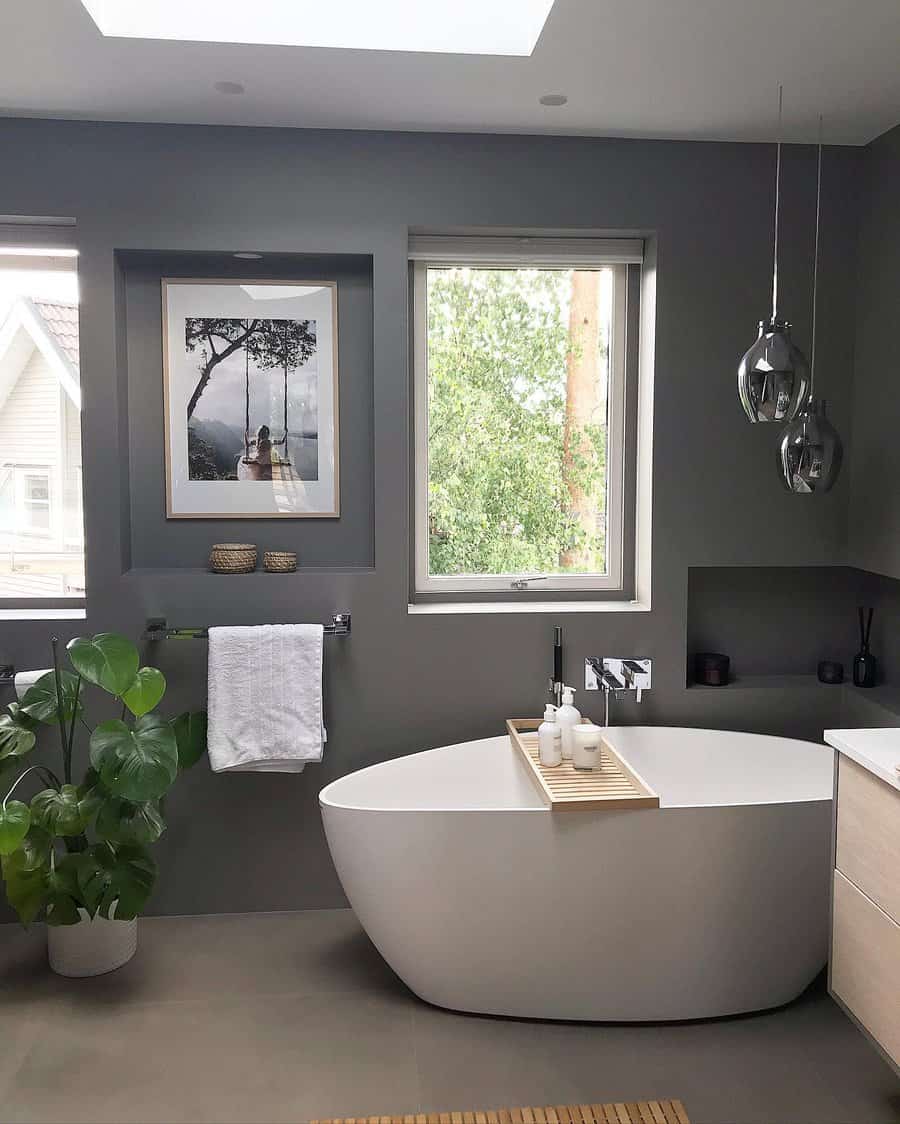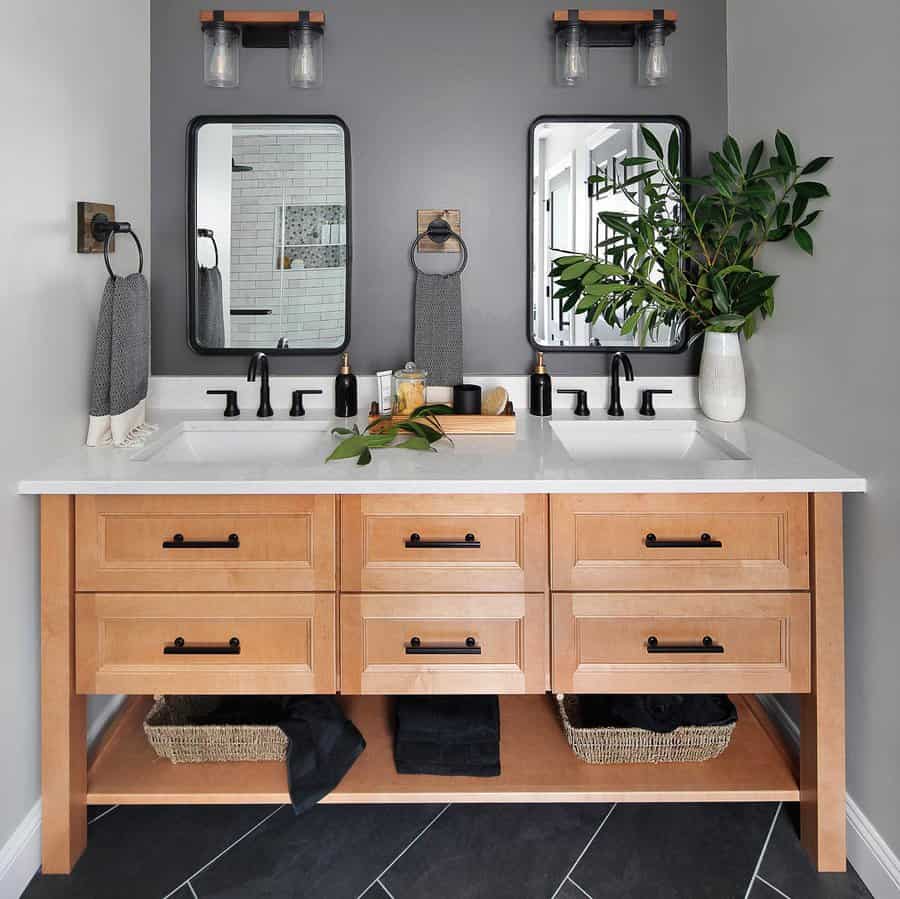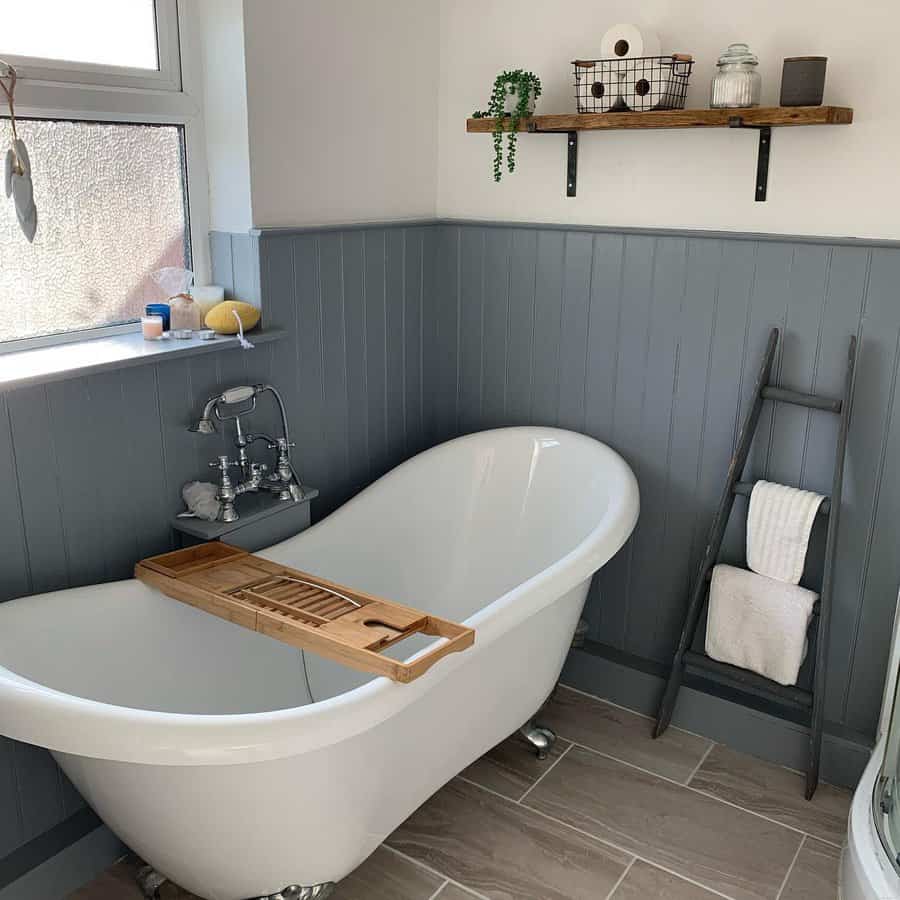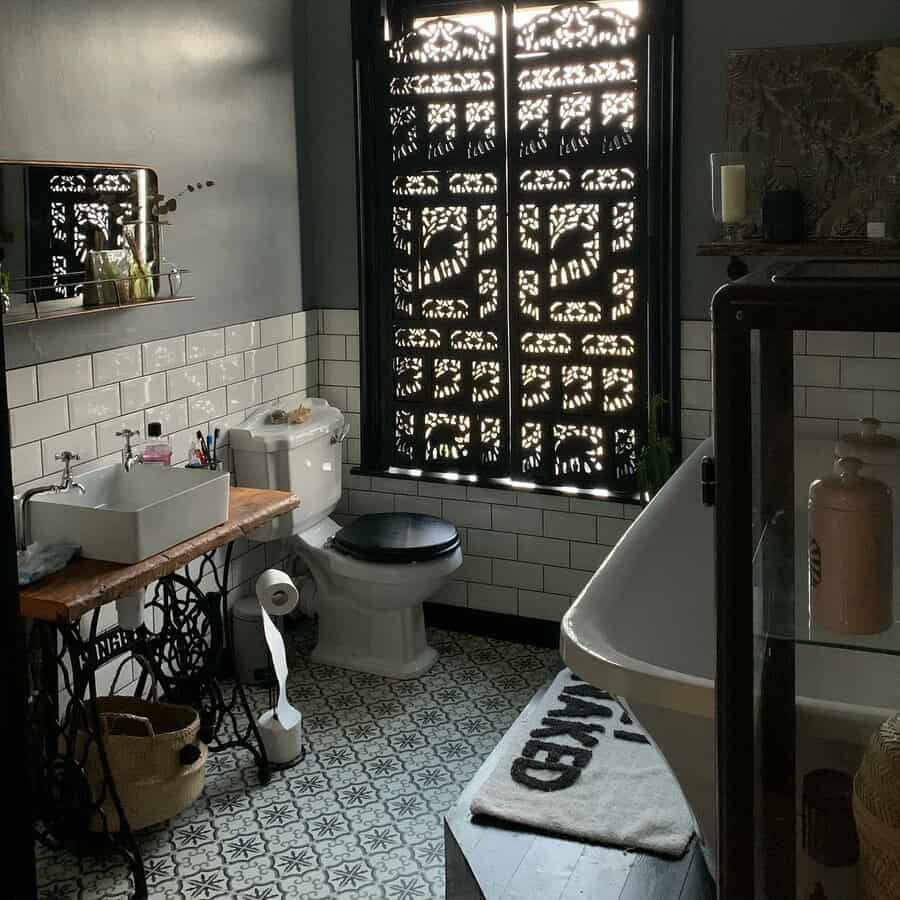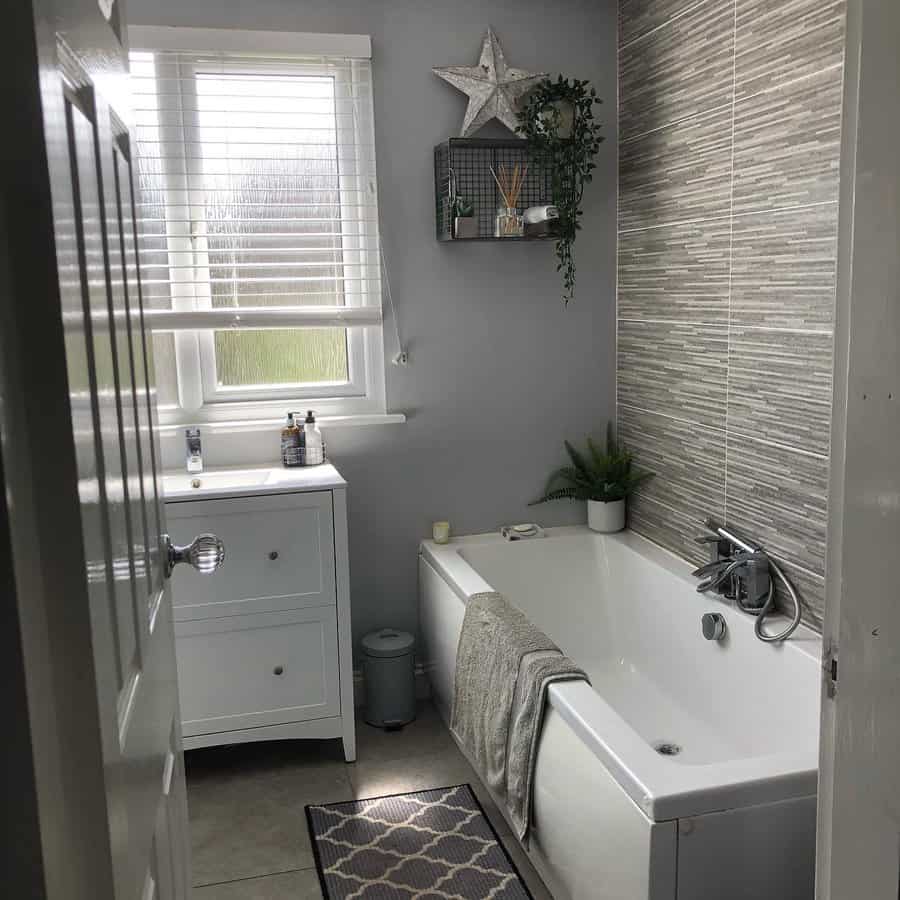 Consider painting each wall a slightly different shade of grey, or choose a light and dark grey to paint on opposite walls. Tape off stripes or another pattern for an inexpensive wallpaper substitute. Or search online for various painting techniques that are easy to DIY, such as the modern bathroom wall ideas in this video:
Read also: 46 Blue Bathroom Ideas
Grey Bathroom FAQs
How do you add color to a grey and white bathroom?
Since grey and white are neutral colors, it's easy to integrate any other color you like. The easiest way is to buy colorful towels and rugs. This also leaves you the option of switching them out for another hue when you tire of the first. For a more permanent splash of color, paint or wallpaper an accent wall.
How do I soften a grey bathroom?
It's true: an all-grey bathroom can look a little cold and harsh all by itself. A great way to warm up a grey bathroom design is to introduce wood tones. Whether that means replacing a grey vanity with a wooden one, or putting down wood-style flooring, wood makes an ordinary grey bathroom feel more welcoming.