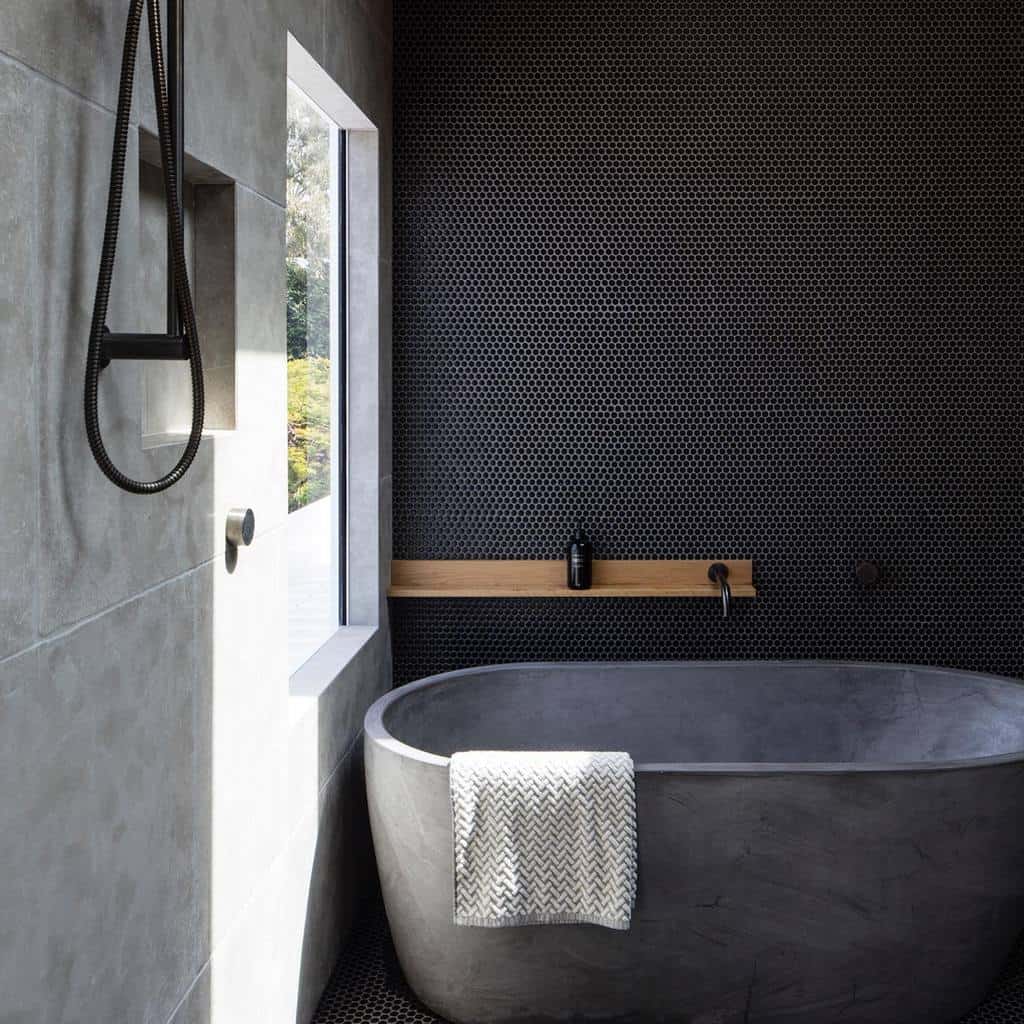 Grey has enjoyed a resurgence in popularity over the past few years. Once considered a boring, drab color for home decor, grey is now seen as a new neutral. It's on bathroom tile, flooring, the wall—everywhere!
Grey bathroom decor can be elevated into an elegant, sophisticated space, or tweaked into a quirky little hideaway. Whatever your preference, we have 57 amazing grey bathroom ideas to inspire your next bathroom makeover.
1. Concrete For A Raw Look
If you're looking to give your bathroom an edge with a cool, raw look that is still clean and modern, consider a grey concrete bathroom. The concrete walls provide an unfinished vibe that can really help to modernize the space while still keeping it minimal.
Accessorizing with touches of greenery, art, and light fixtures can add more life to the area while upholding its clean aesthetic. With a grey background, anything goes – so be creative!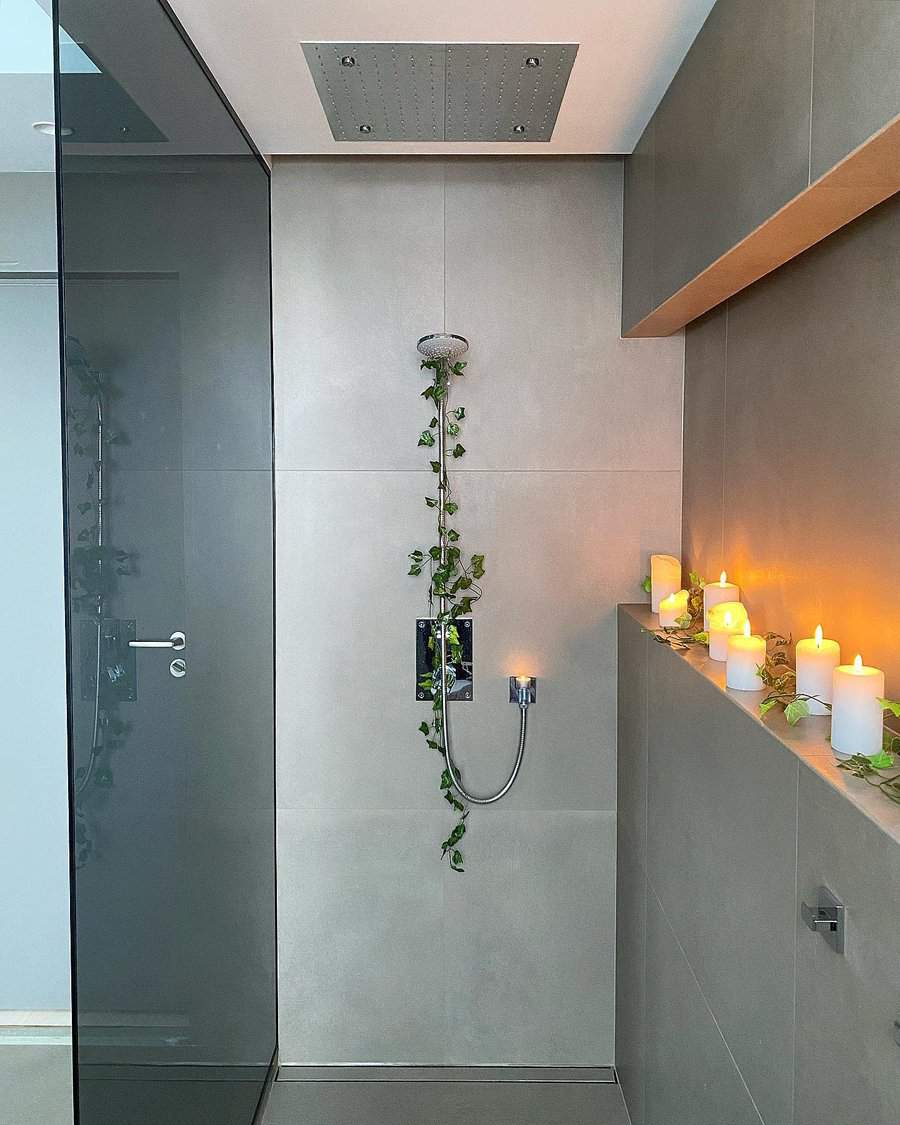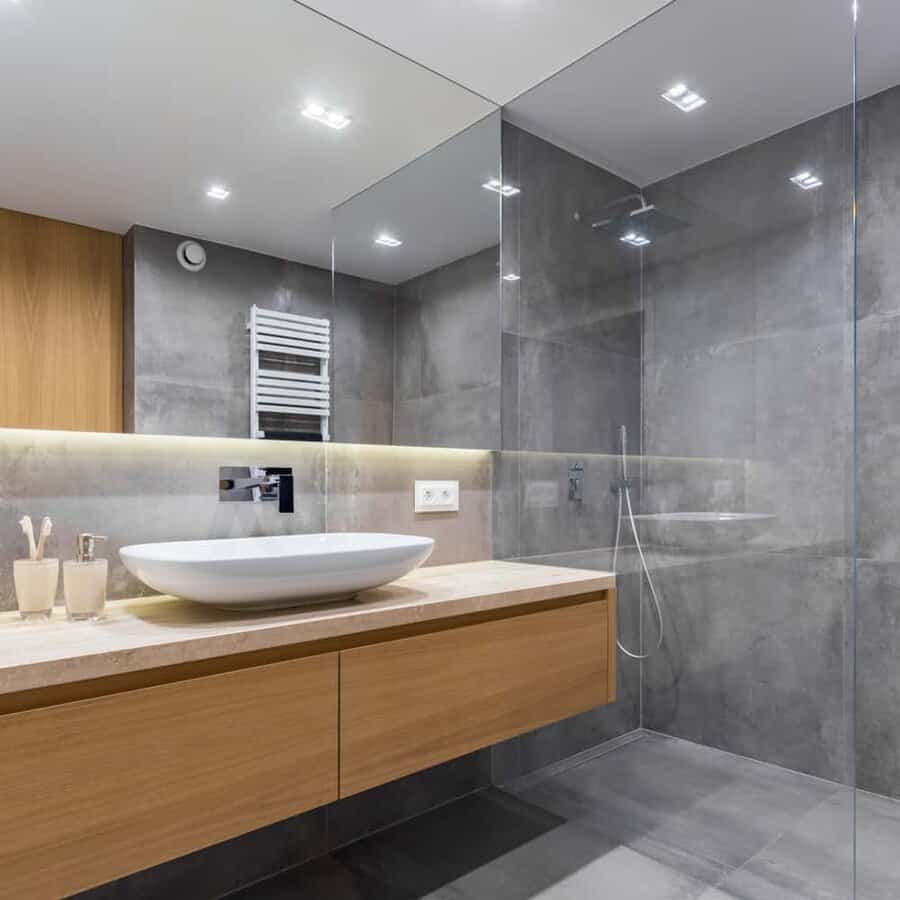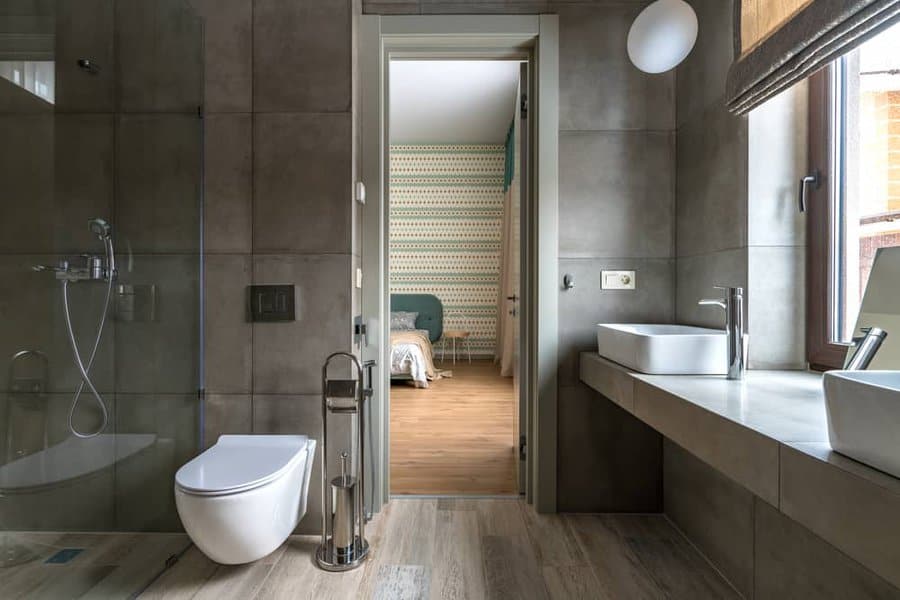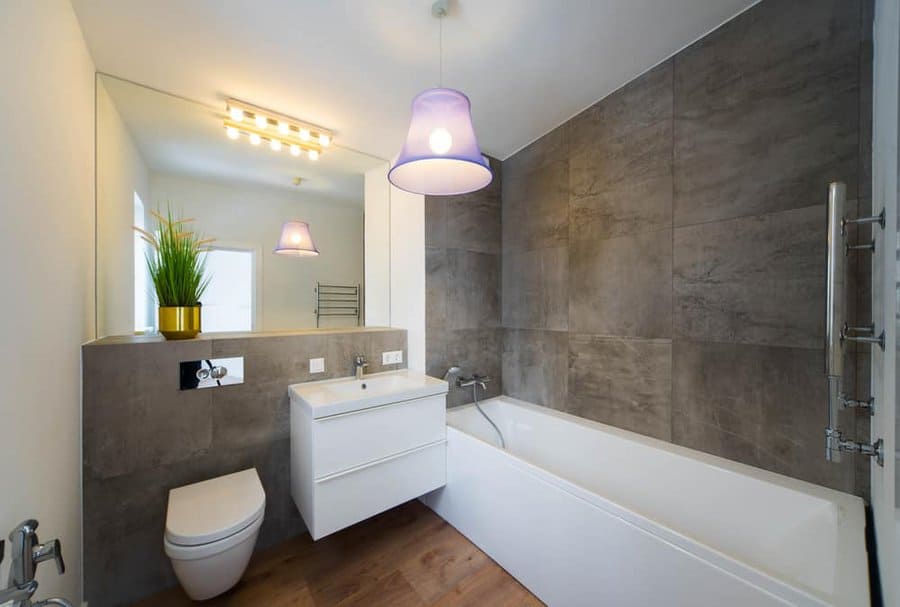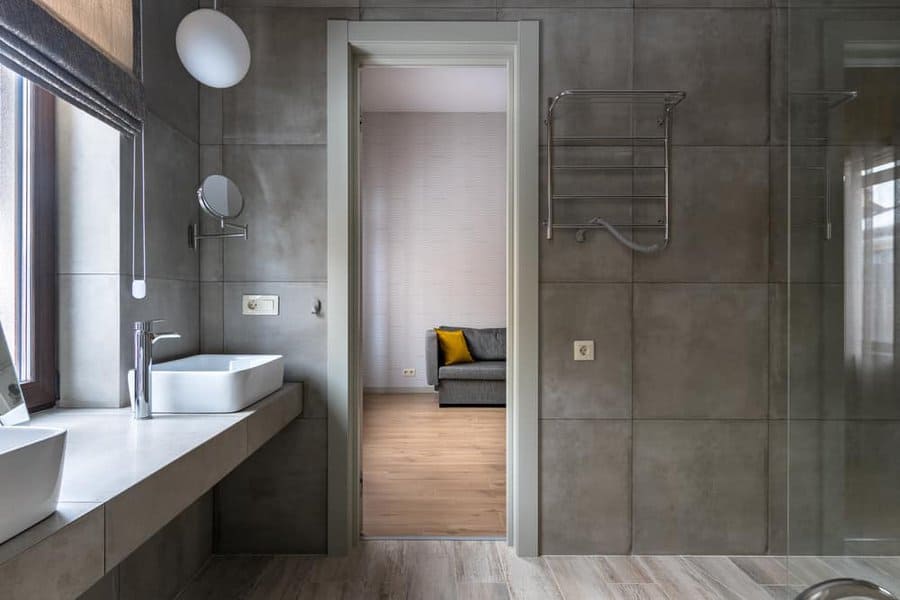 2. Pair With Contemporary Elements
Create a contemporary oasis in your bathroom with modern silver fittings and black surfaces. If you're looking to add something extra special, consider creating a graphic tile accent wall in a light grey. This will give the room a unique, contemporary look that's sure to make all guests envious.
Also, adding some greenery in the bathroom will liven up the space and provide both function and beauty. Regardless of which style elements you choose, contemporary grey bathrooms are sure to be an eye-catching feature of your home.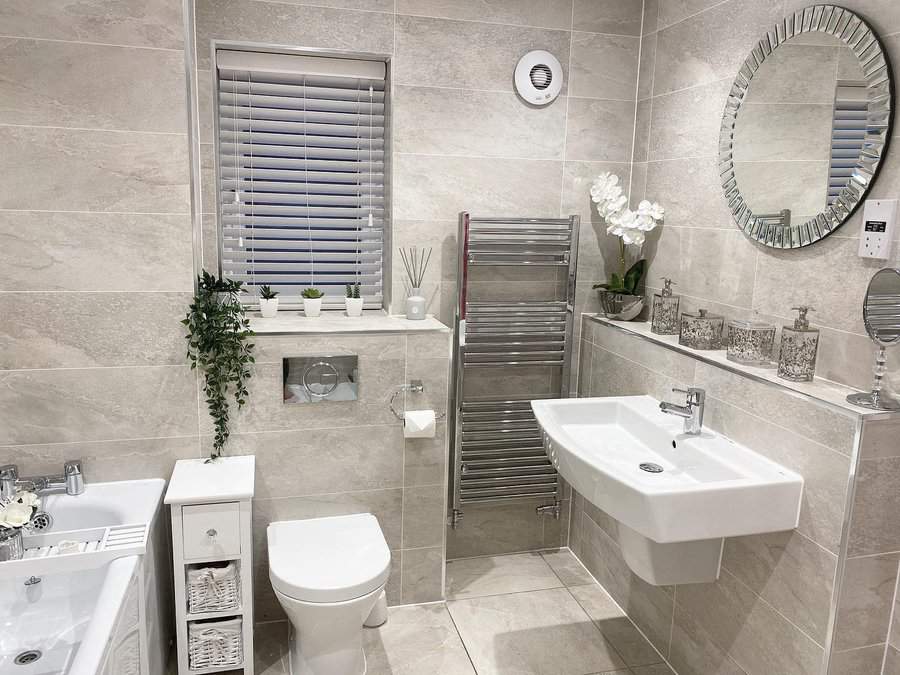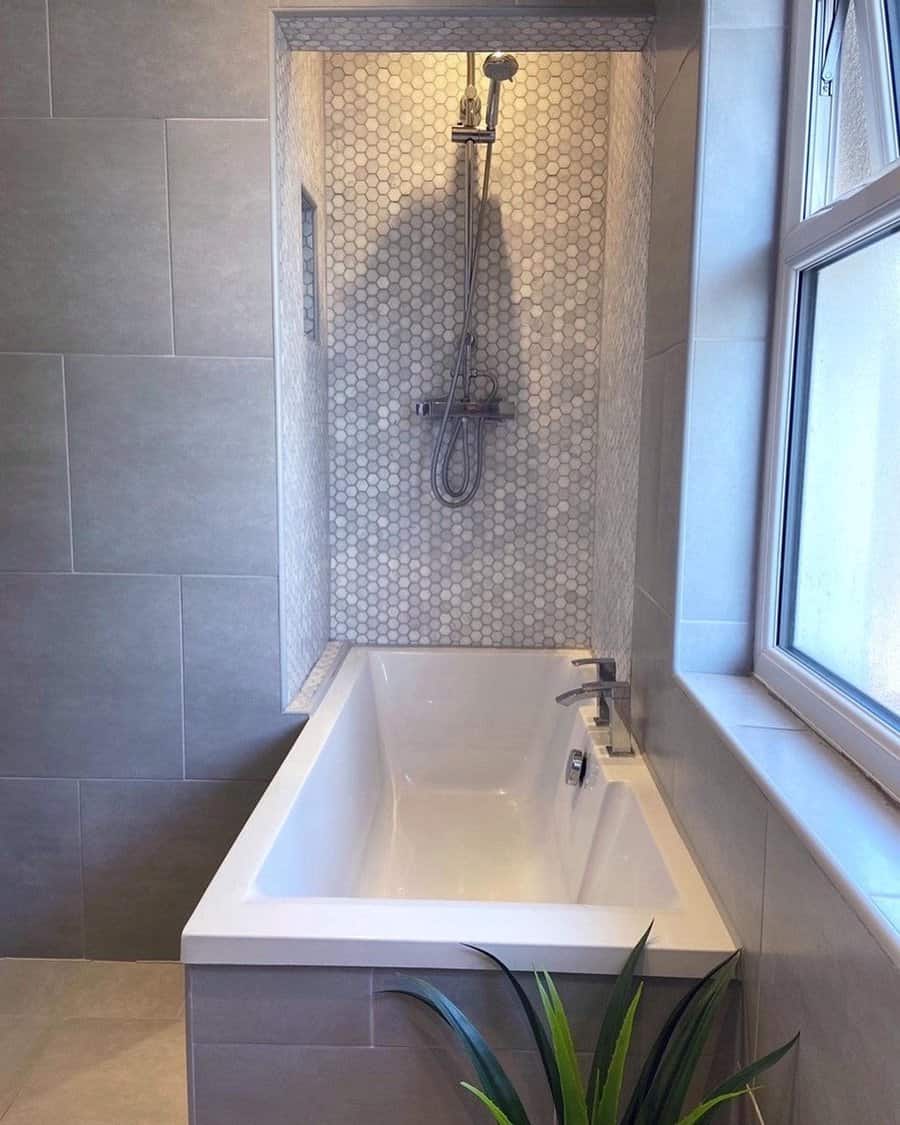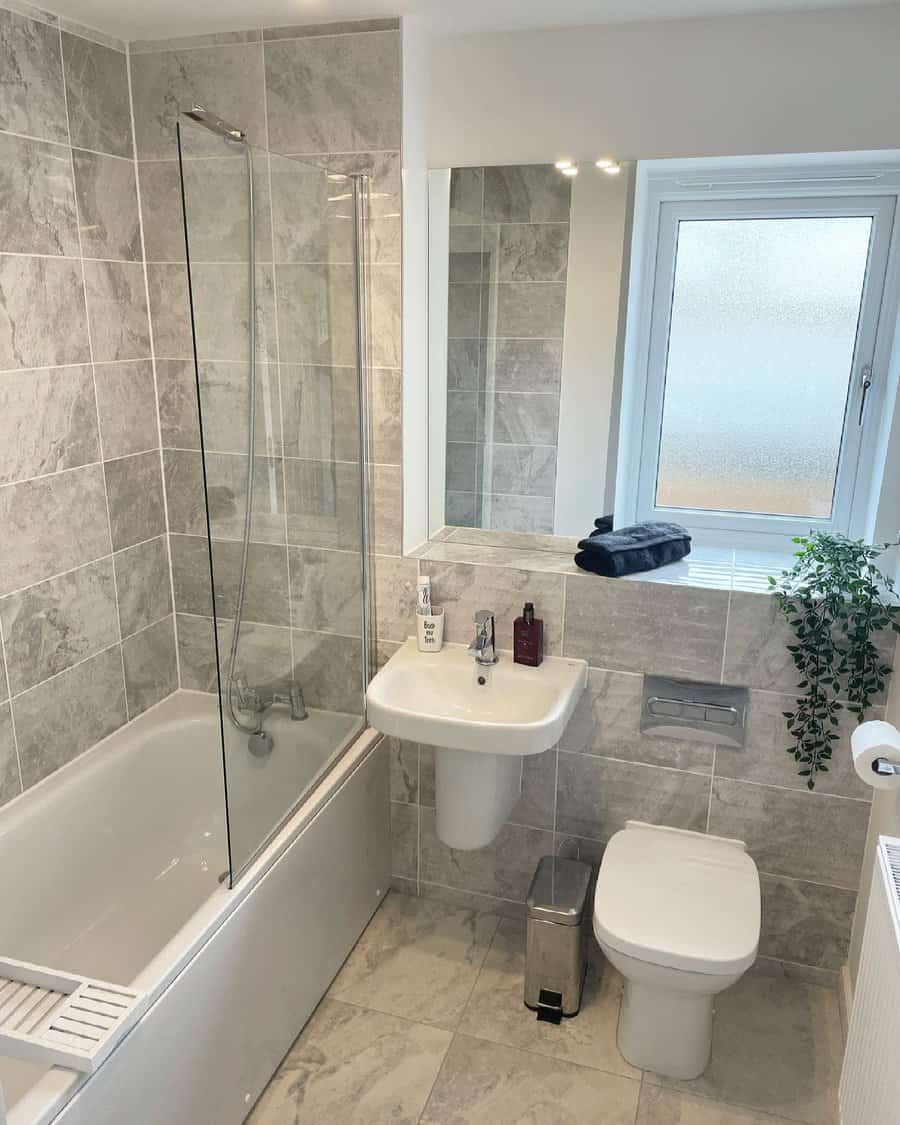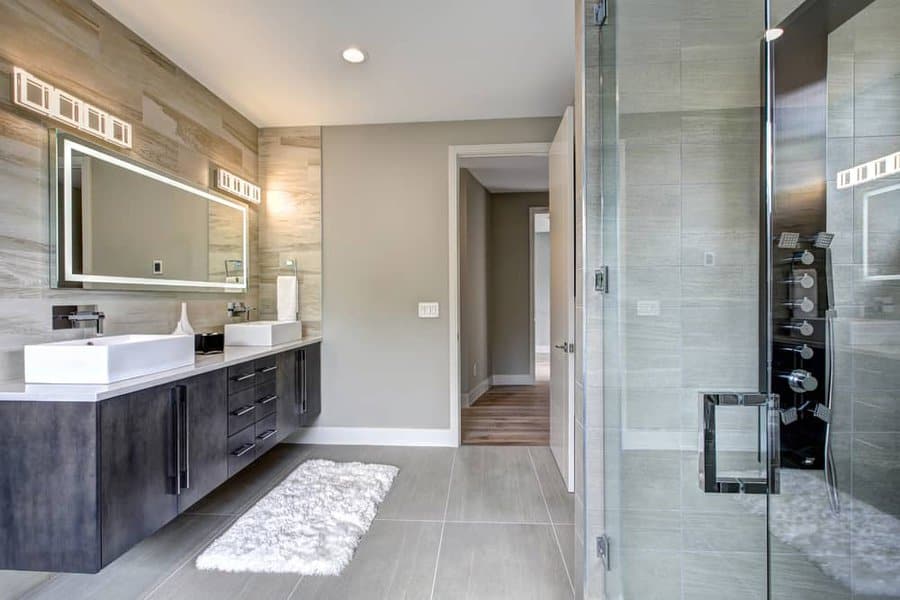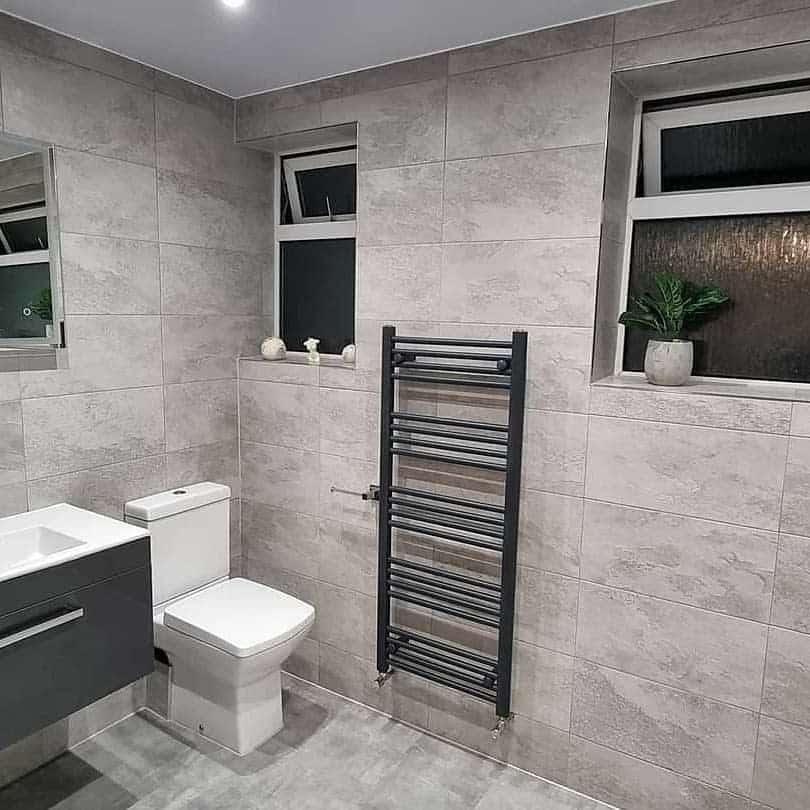 3. Set The Mood With Charcoal Shades
A dark grey bathroom is a sophisticated way to make a statement with your decor. Consider dark charcoal walls and graphite flooring for the ultimate dark grey oasis; pair them with wood elements like vanity countertops, shelves, and mirrors to add warmth and keep things from feeling too dark.
You can also integrate pops of color with bold neutral accessories like rugs, art pieces, towels, and drapery if you'd like a little more vibrancy. Good lighting is essential when creating dark grey bathrooms, without it the room will feel dreary instead of chic.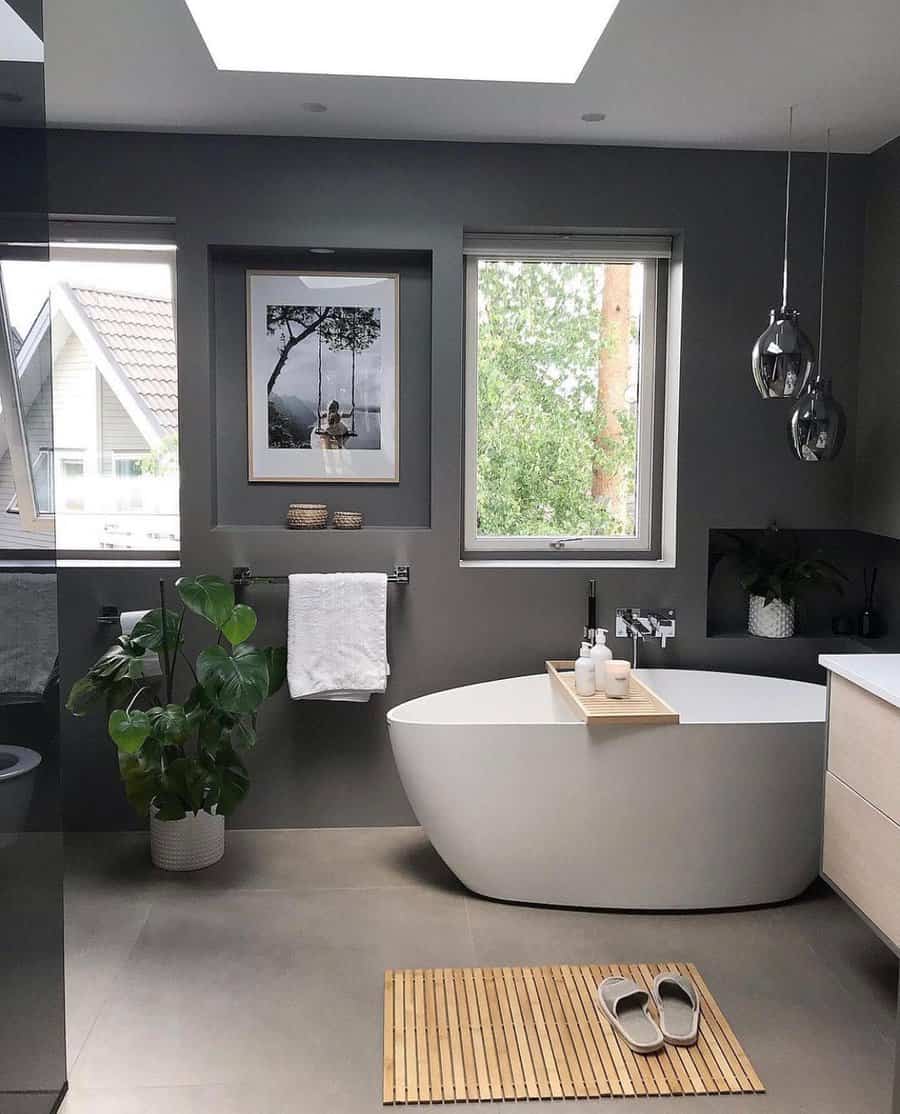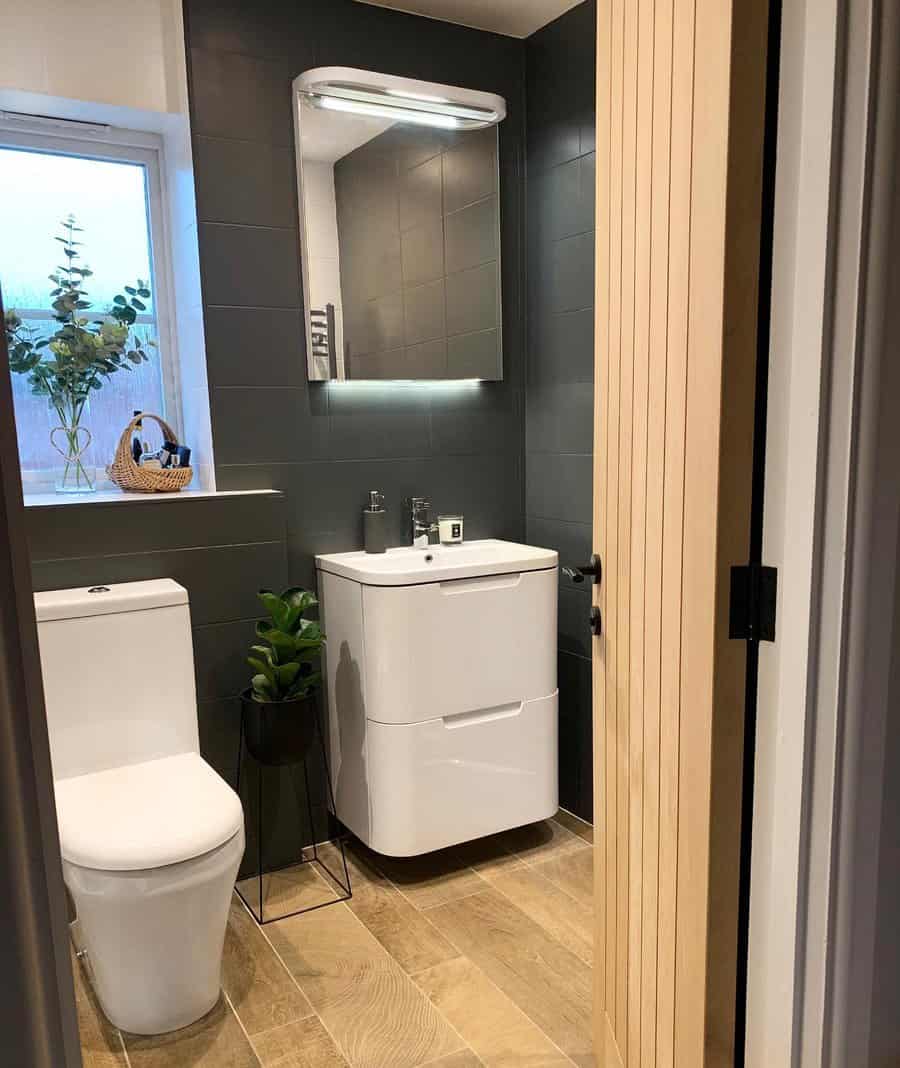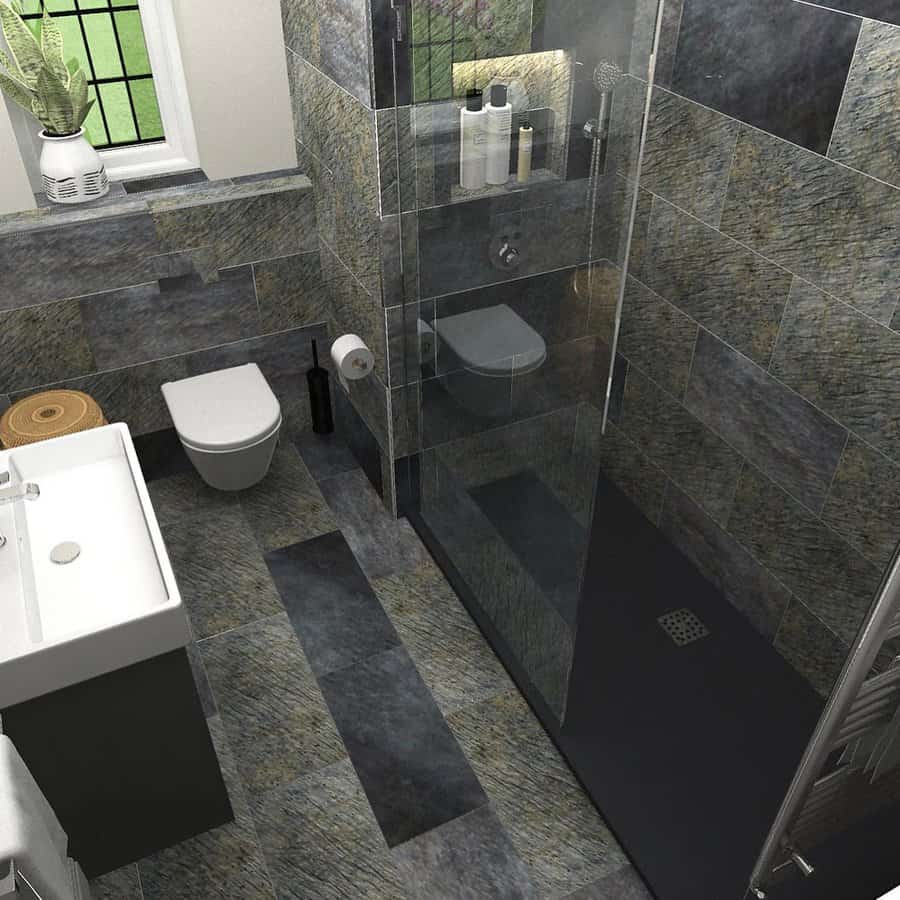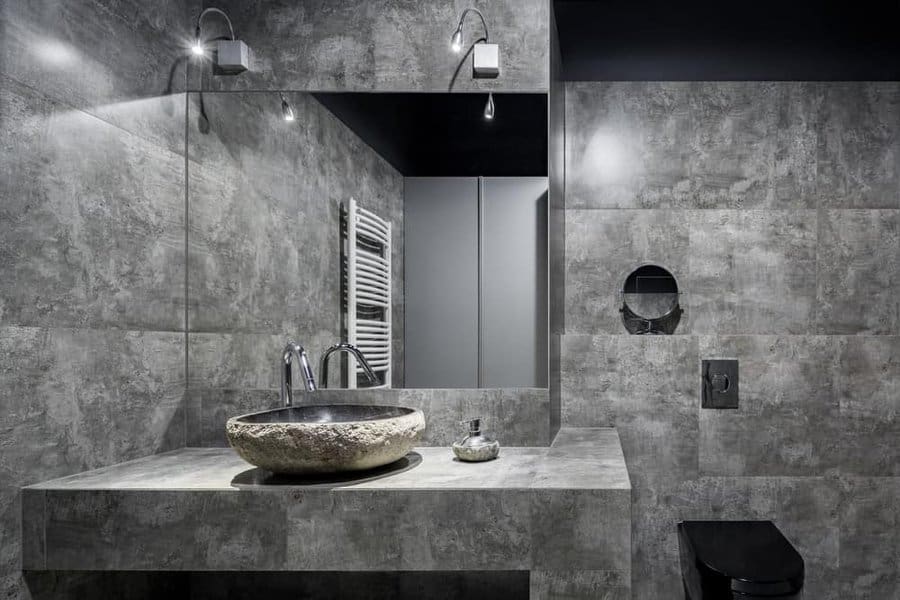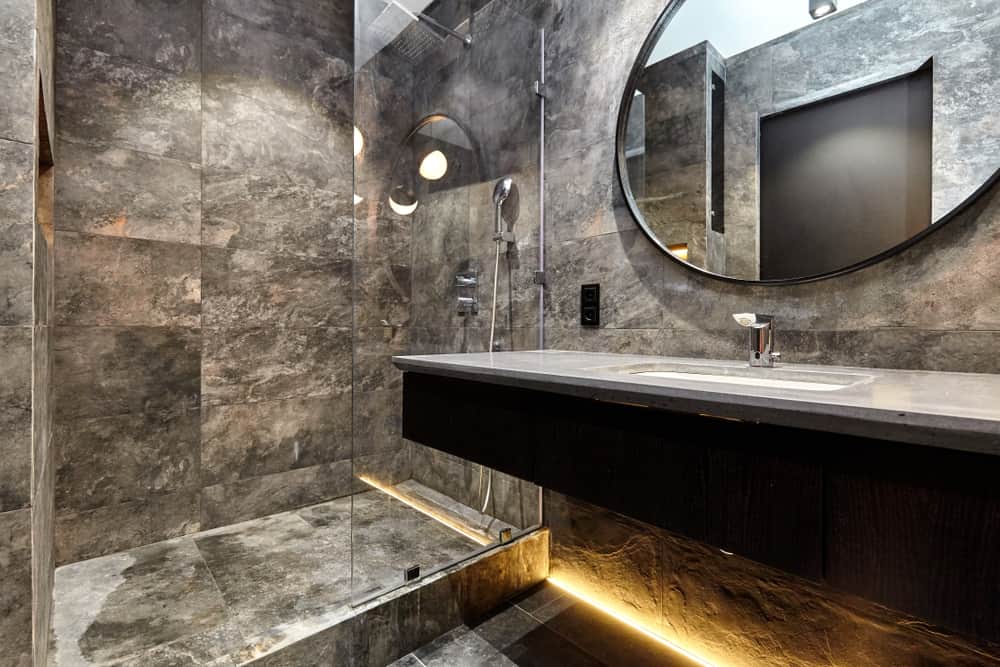 4. Polished Light Grey For A Soft Look
It's time to get creative in the bathroom. Take polished light grey tiles for instance — think of how stunning they could look when added to the bathroom walls or covering your shower interiors. Create a striking aesthetic with beveled tiles that take any grey bathroom from dull to dynamite.
The soft look also emphasizes warmth and a sense of luxury, certain to make your visitors want more. Transform your ordinary bathroom into one that is anything but ordinary with polished light grey tiles.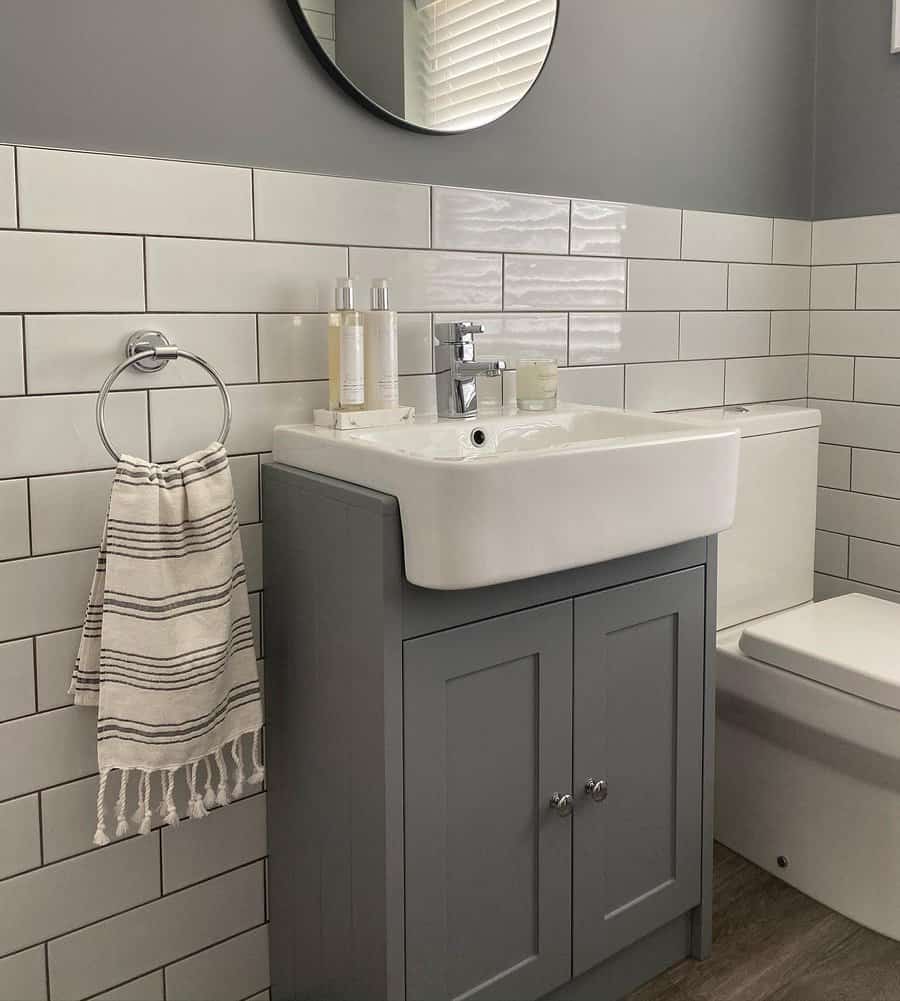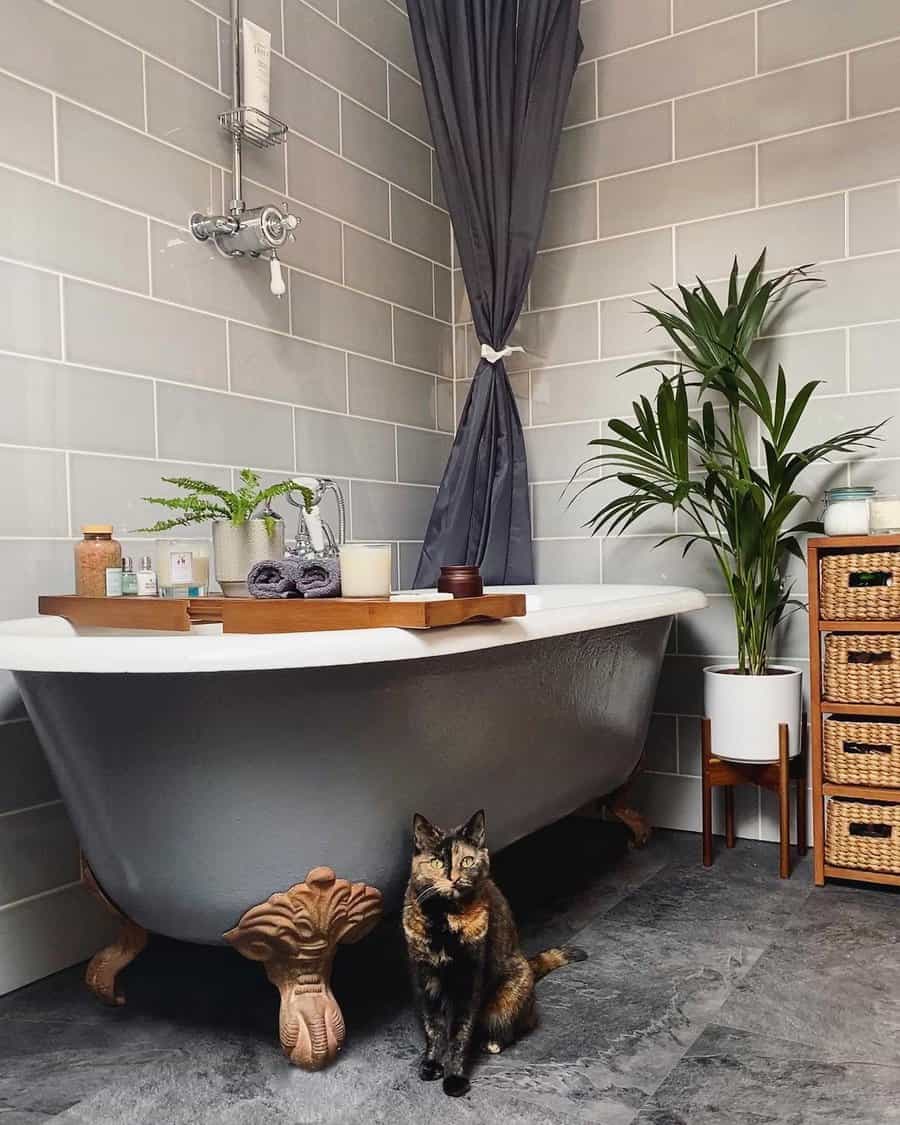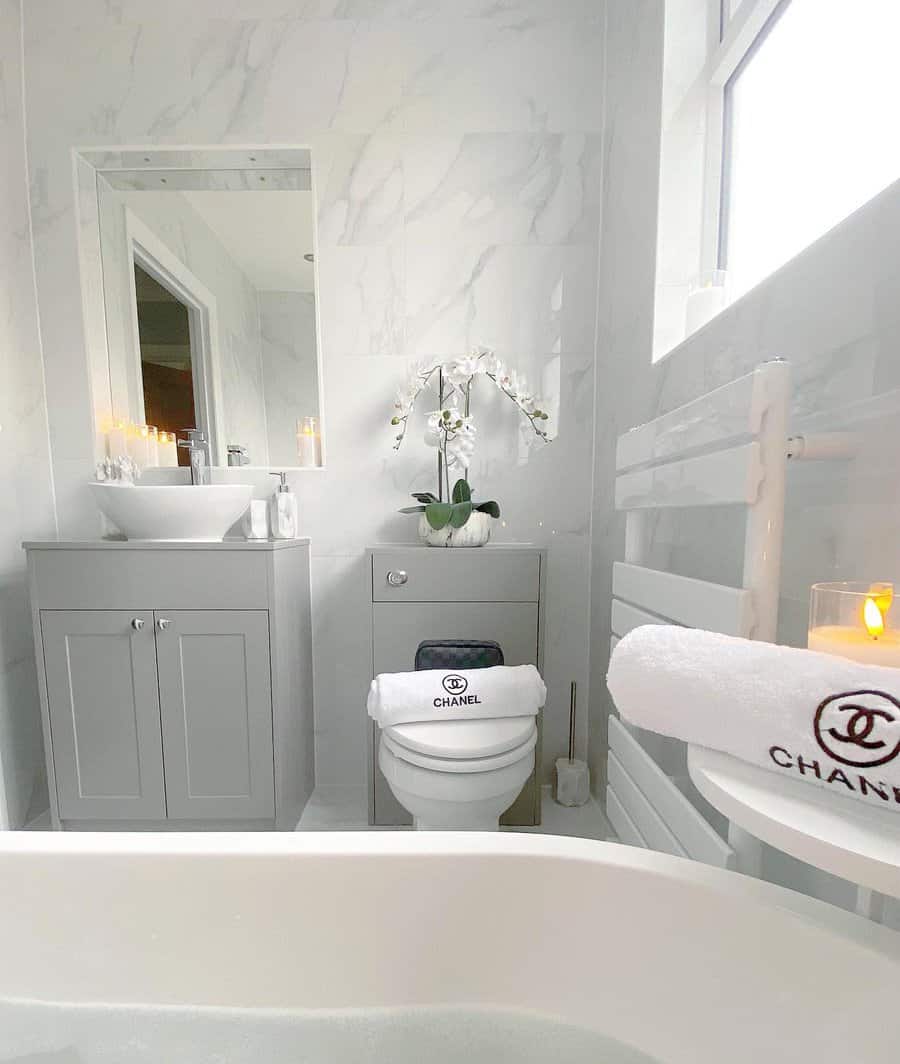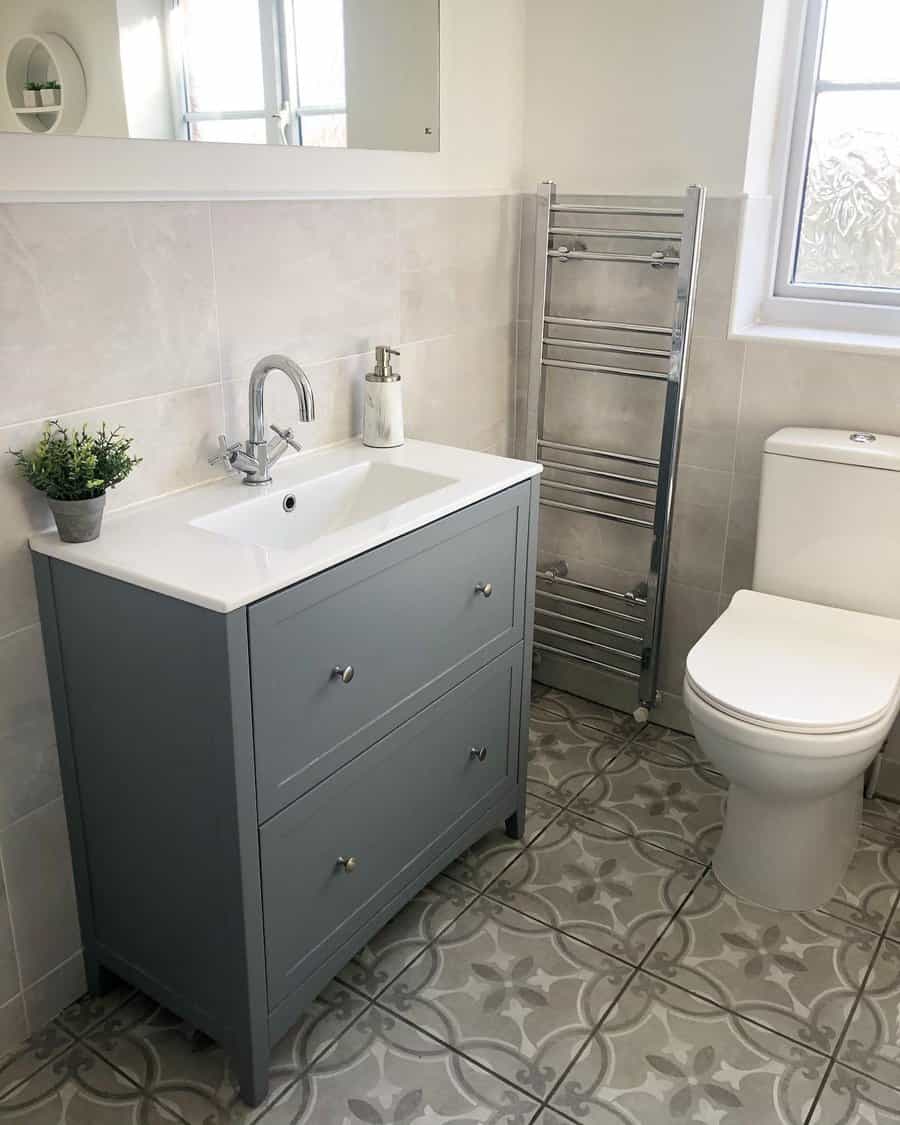 5. Try LED Strips For An Elegant Contrast To Grey
LED lighting is a great way to give your grey bathroom an inviting, luxurious vibe. LED strips can be used to line cabinets, cover door trim, and even light the shower for a dramatic LED rain effect.
Consider adding a mirror with built-in LED lighting on either side to frame the vanity tubing and add additional light. The LED lights both create drama and warmth, a perfect balance for any type of bathroom.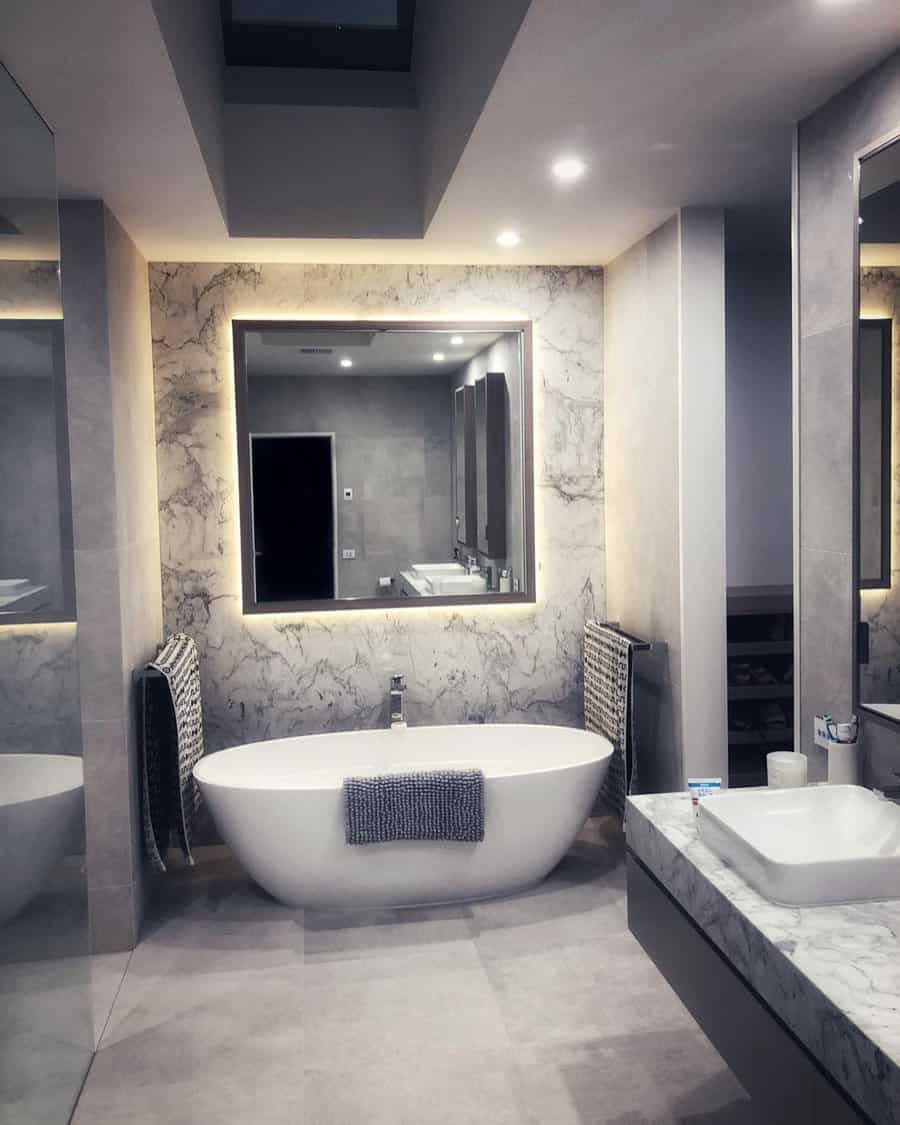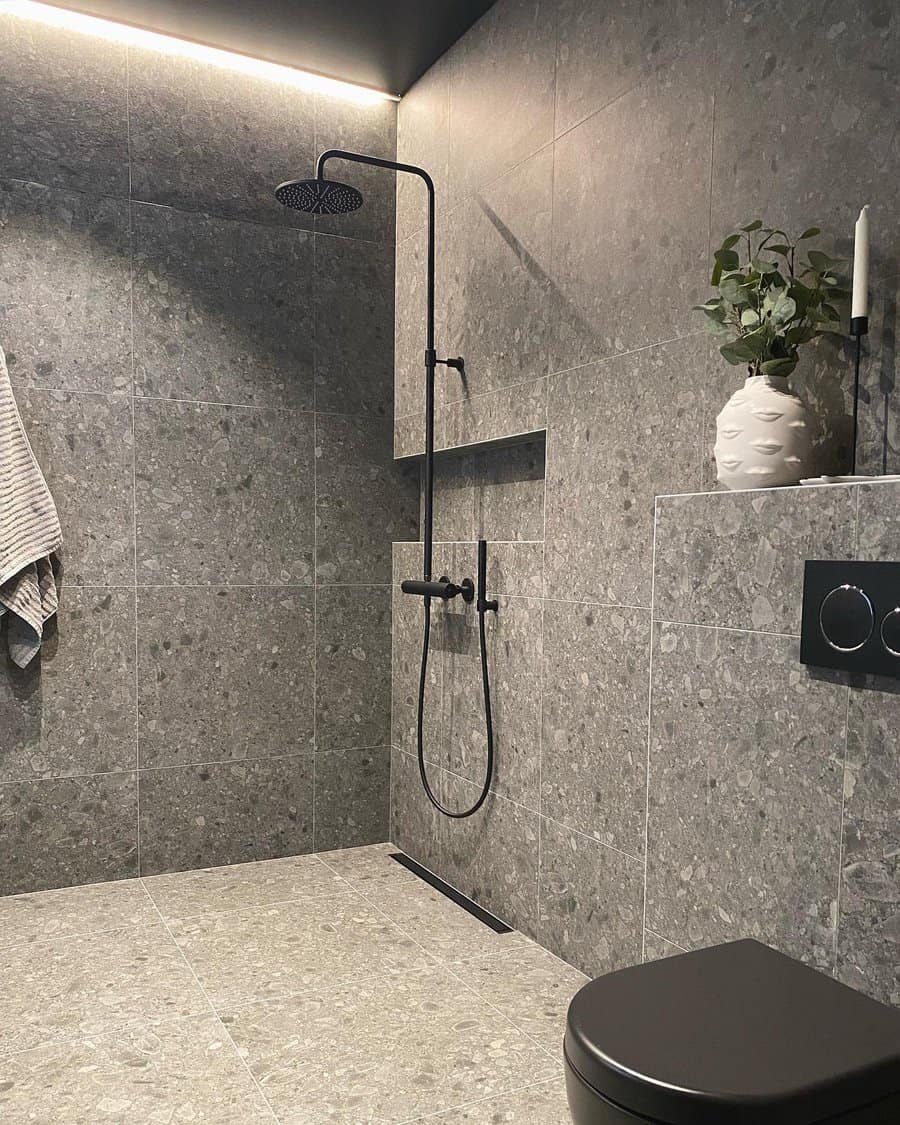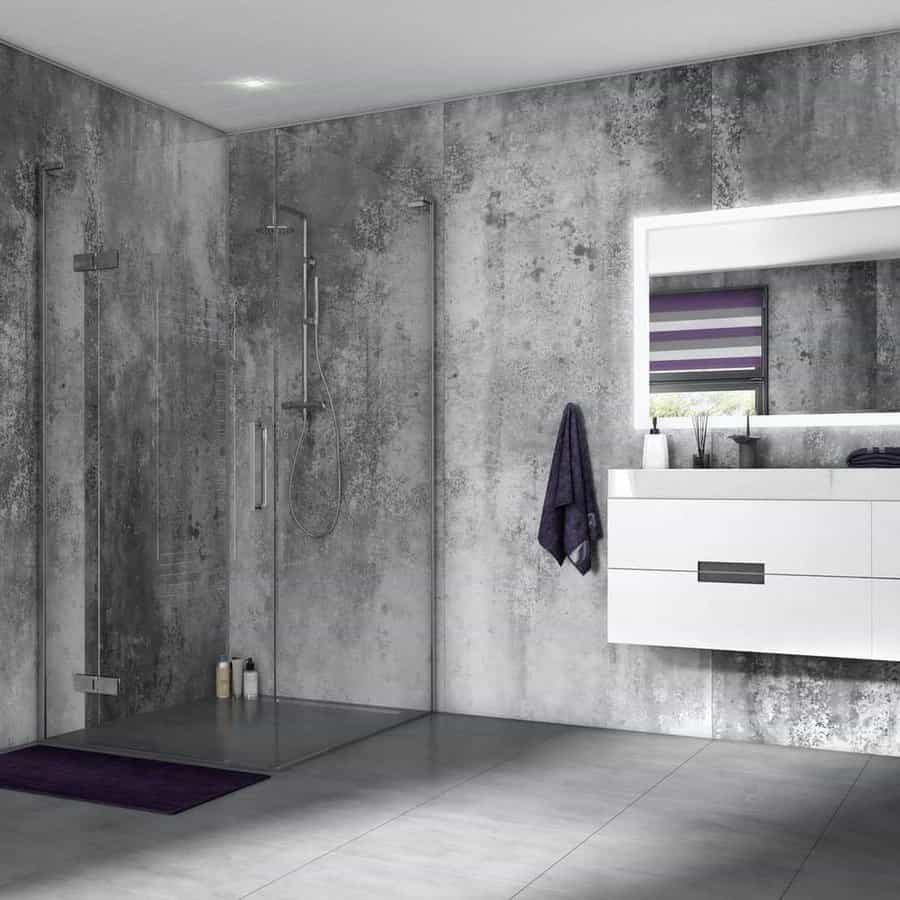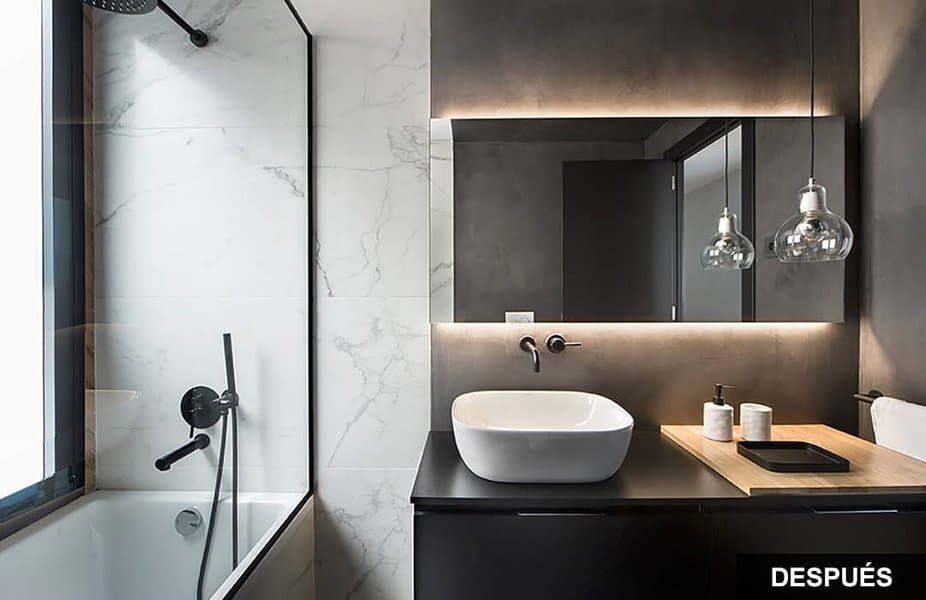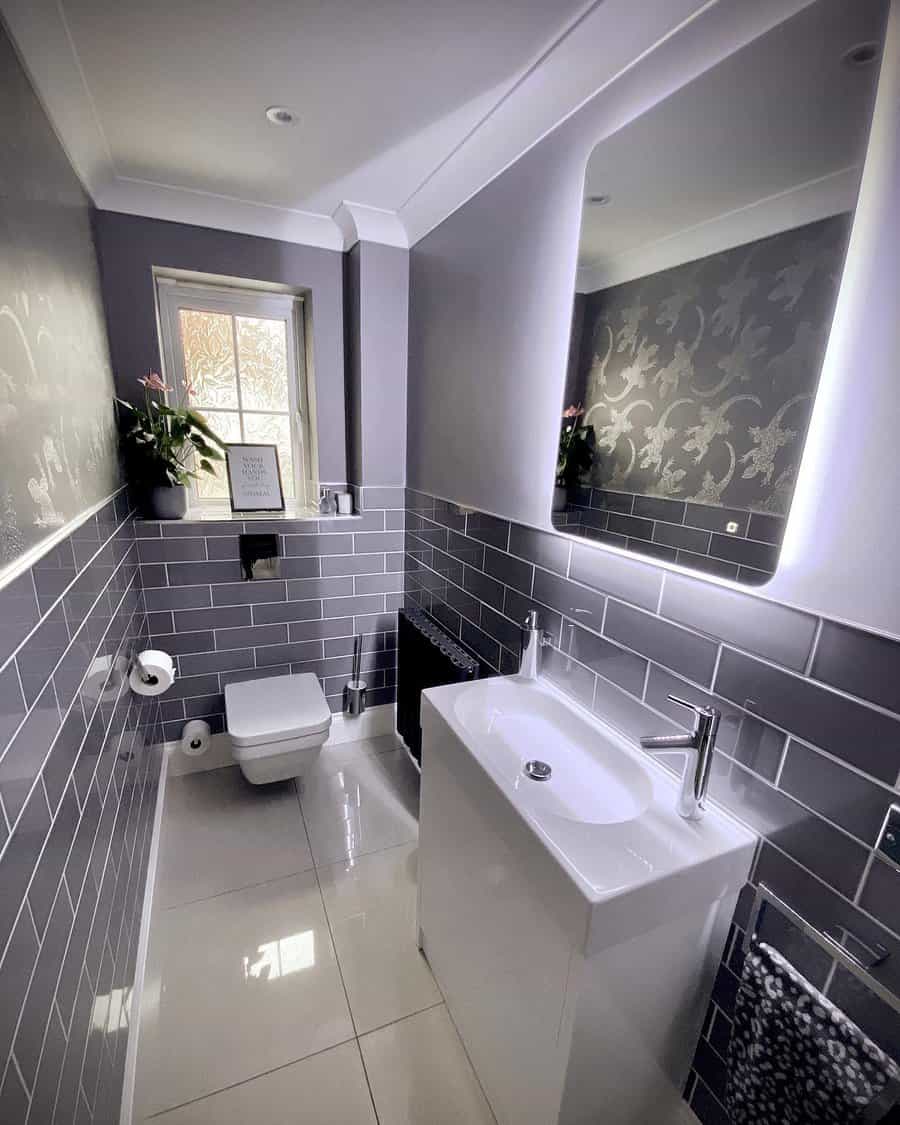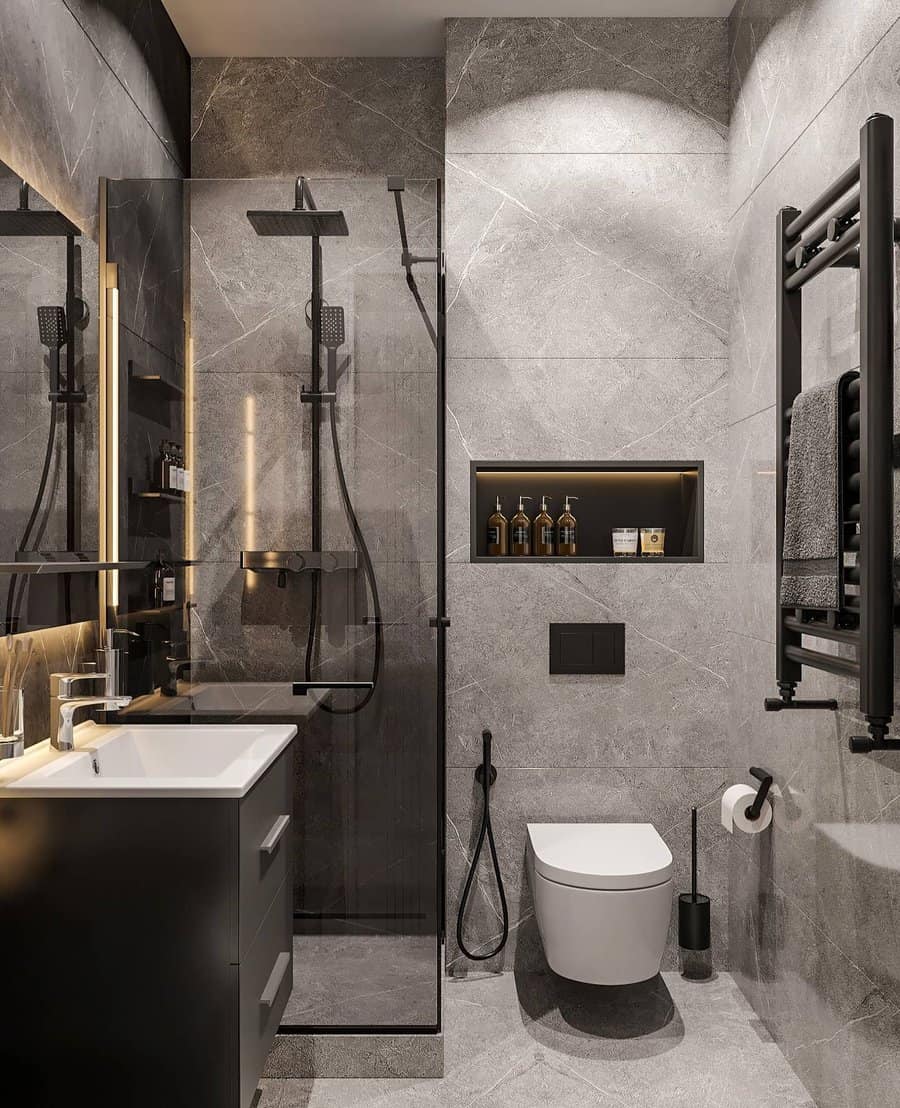 6. Play With Monochrome Patterns
Bring some life and interest to your monochromatic bathroom with decorative tile! You can use as many or as few tiles as you'd like, depending on the available space. Go maximalist to create a vibrant backdrop in the room, opt for something more subtle by just creating accents around the sink, bathtub, and shower.
Let your tastes and ambitions be your guide when it comes to colors, shapes, sizes, and patterns – what matters most is that you feel comfortable and happy in your grey bathroom. Personally, I'm always drawn to monochromatic decorative tiles – they have a timeless quality that will never go out of style!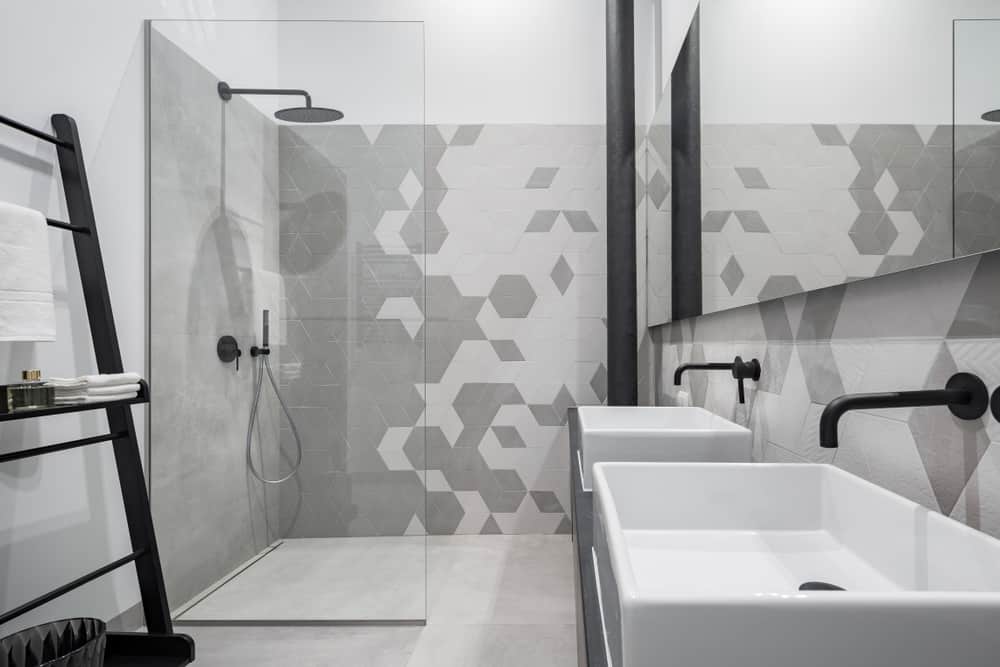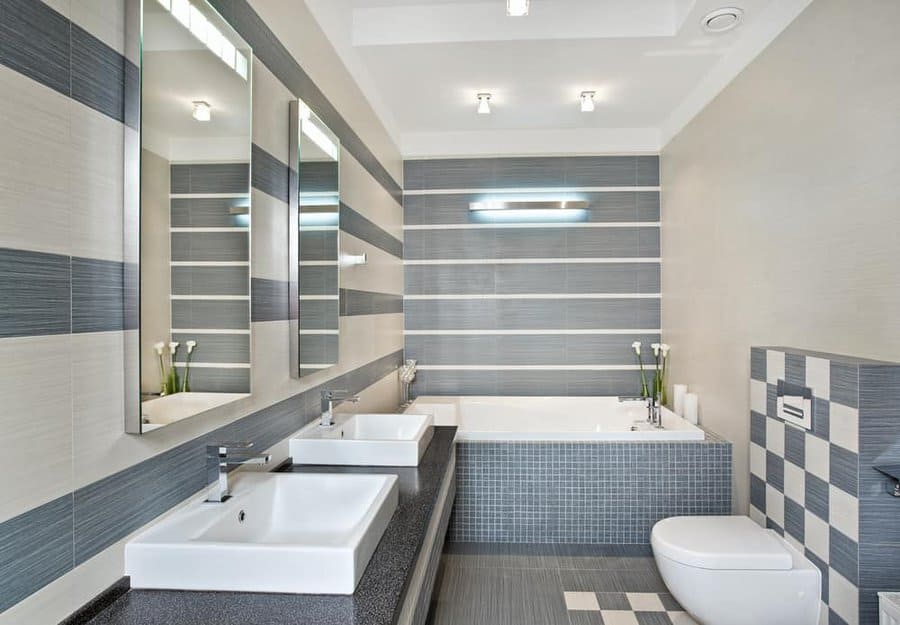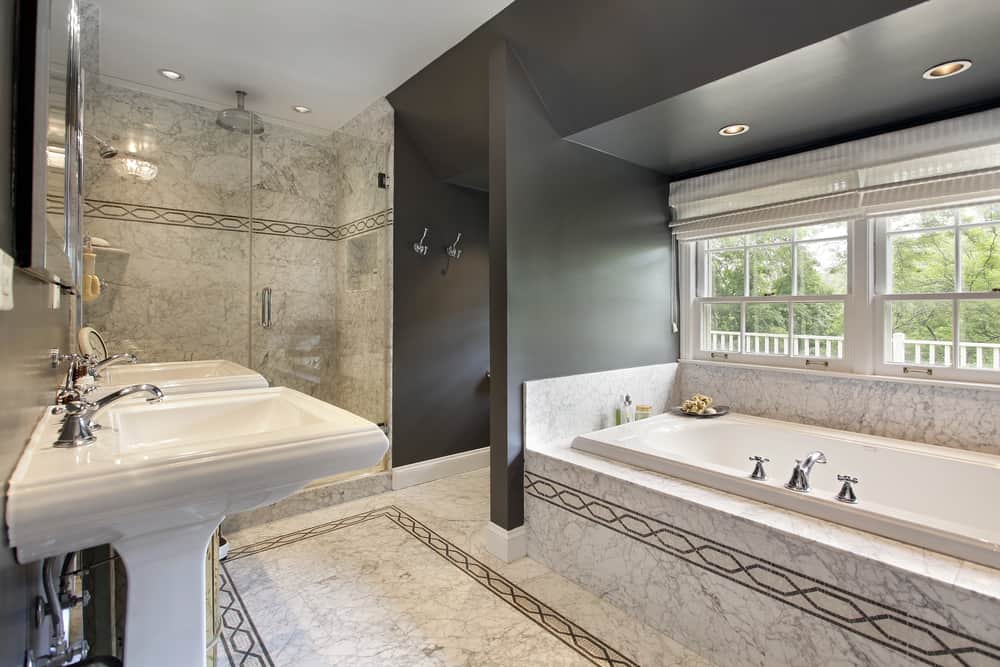 7. Incorporate Some Greens
Adding plants to a grey bathroom is an easy way to incorporate some color and life into the room. Try bright, cheerful potted plants in corners or around the bathtub for a vibrant splash of nature.
Alternatively, incorporate hanging plants for an eye-catching look that will draw attention to the walls and ceilings. Both options are easy to incorporate, so why not get creative and incorporate both? It may take a little extra effort but it'll be worth it when you get to enjoy your new bright green oasis.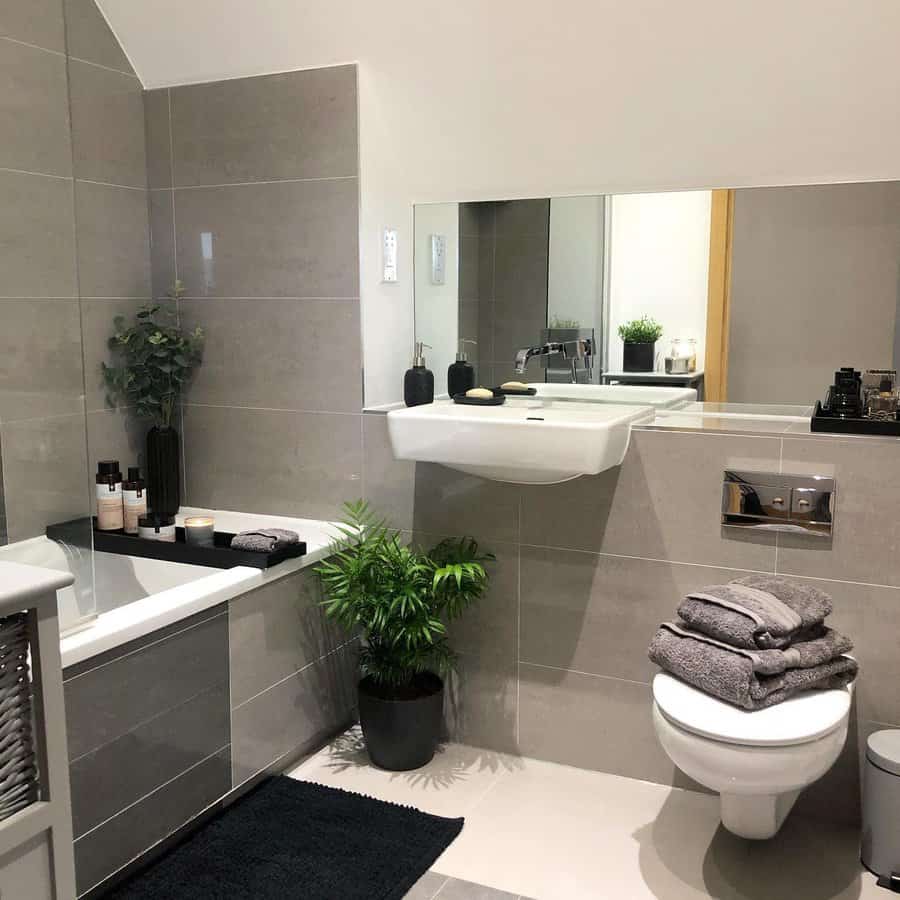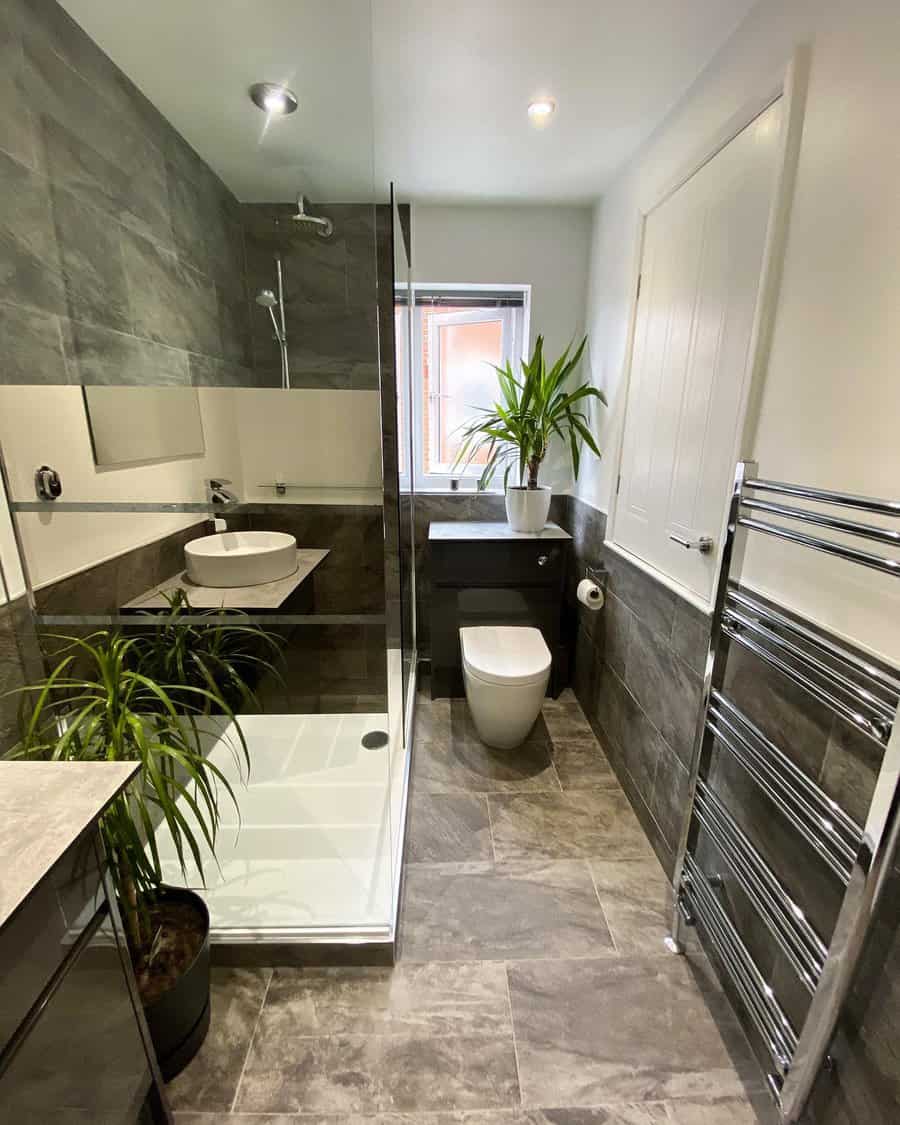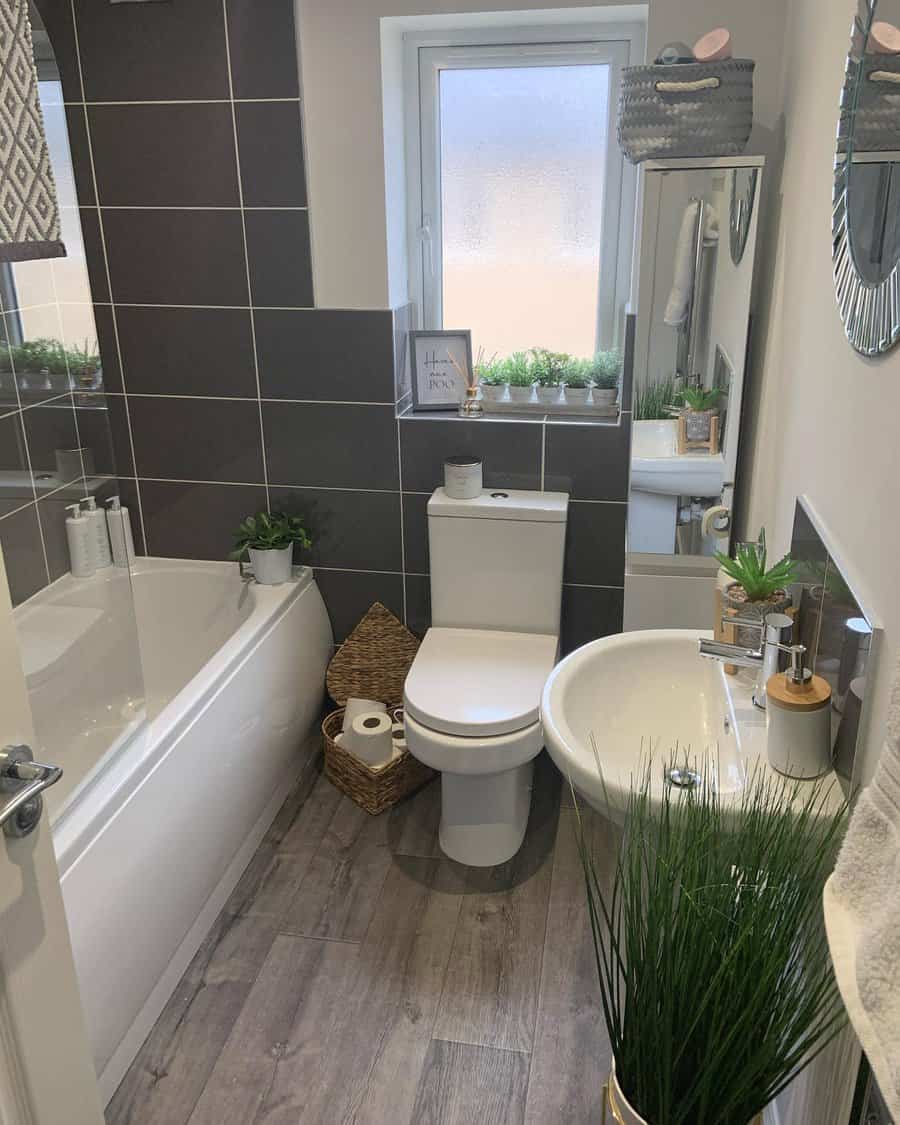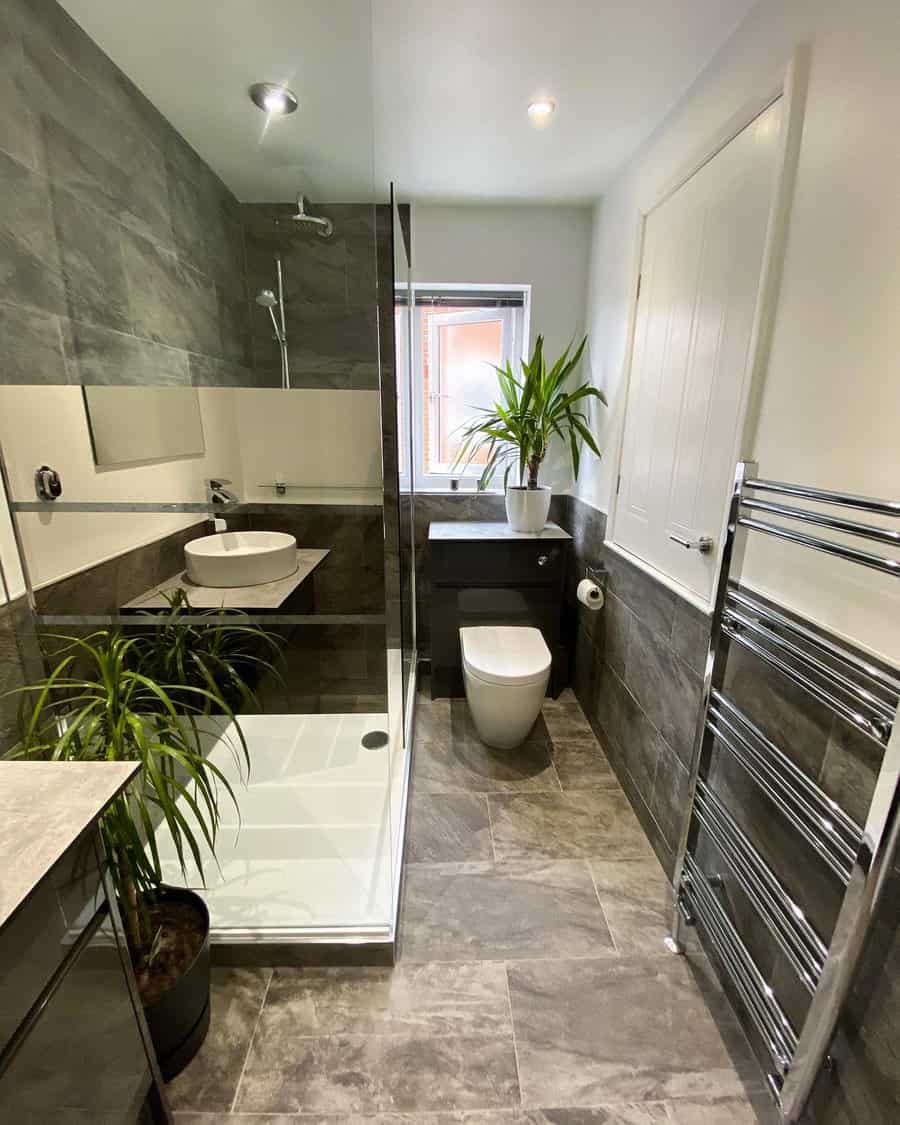 8. Glass Dividers To Open Up A Grey Bathroom
Transform your grey bathroom from drab to dazzling with glass dividers! Adding glass partitions or doors can create an optically pleasing sense of space, while still providing privacy without cramping your style. Furthermore, glass helps reflect natural sunlight, accentuating parts of the room that would usually be overlooked.
Depending on the glass design you choose, you can bring in a touch of class or a playful vibe. Whether you're looking for sleek minimalism or something more eye-catching, glass divisions are sure to provide the perfect finishing touch to any grey bathroom.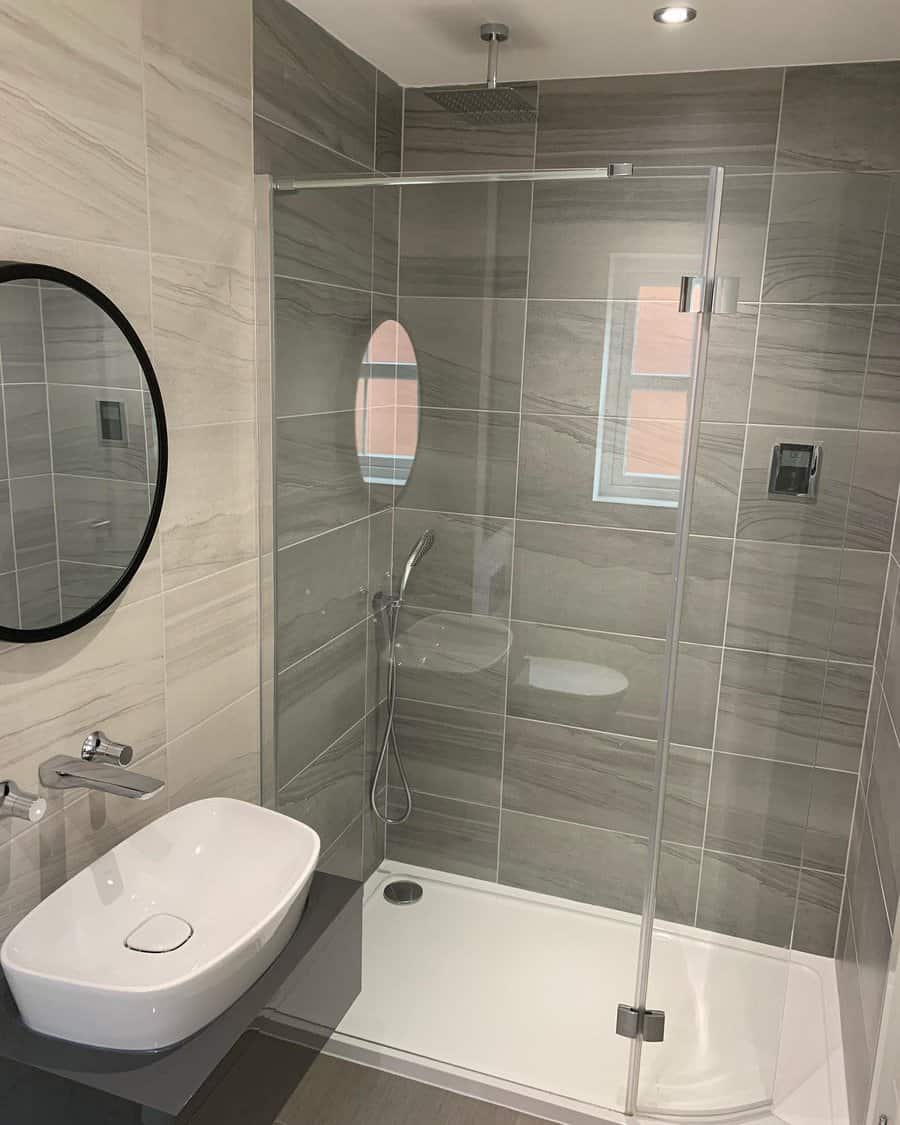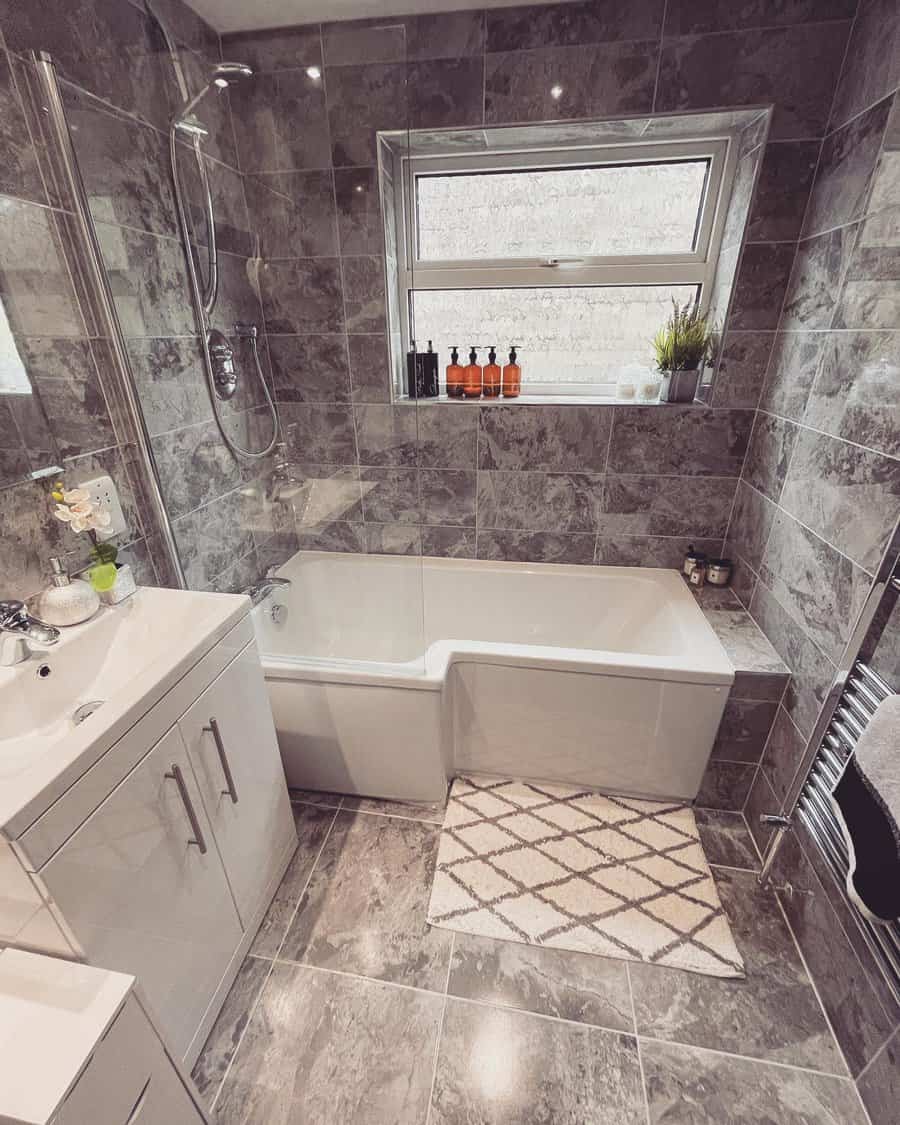 8. Add Stamped Mosaic Tiles For A Subtle Accent
The mosaic tiles in your grey bathroom are a great way to add both personality and texture to the space. You can go for a contemporary look by using stamped mosaic tiles, with earthy and subtle colors, or create an eye-catching accent wall with bolder mosaic patterns and vibrant colors.
Play around with different tile layouts like herringbone or staggered brick to create an interesting focal point and get the boldest look you're aiming for.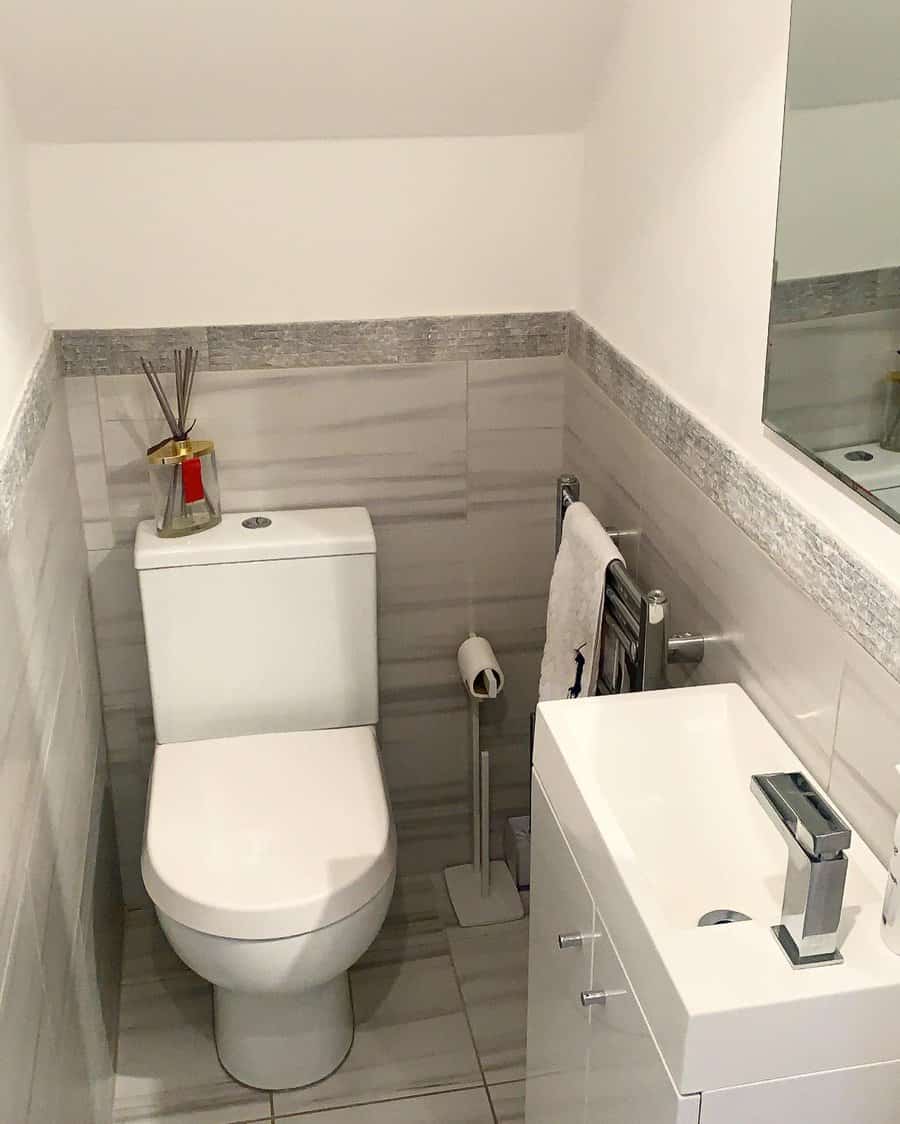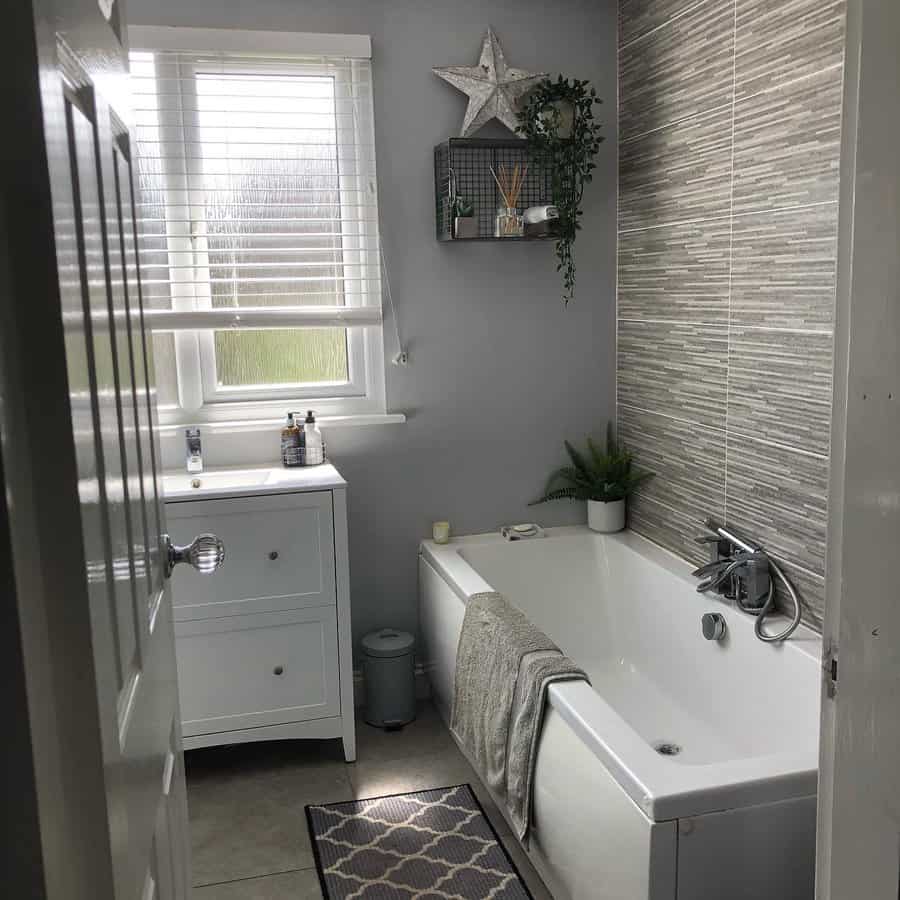 9. Pair White & Grey For Maximum Brightness
To create a bright, stunning grey bathroom, you should opt for white and grey interior decor. This combination can open up the bathroom and make it feel much brighter than it actually is. It's a great way to break up the monotony of an all-grey color scheme while still keeping the timeless look.
To complete the look, you could switch out your old lighting fixtures with white accents like white pendants or white wall sconces. Not only will this brighten up the area, but it could also add a touch of contemporary charm to the room.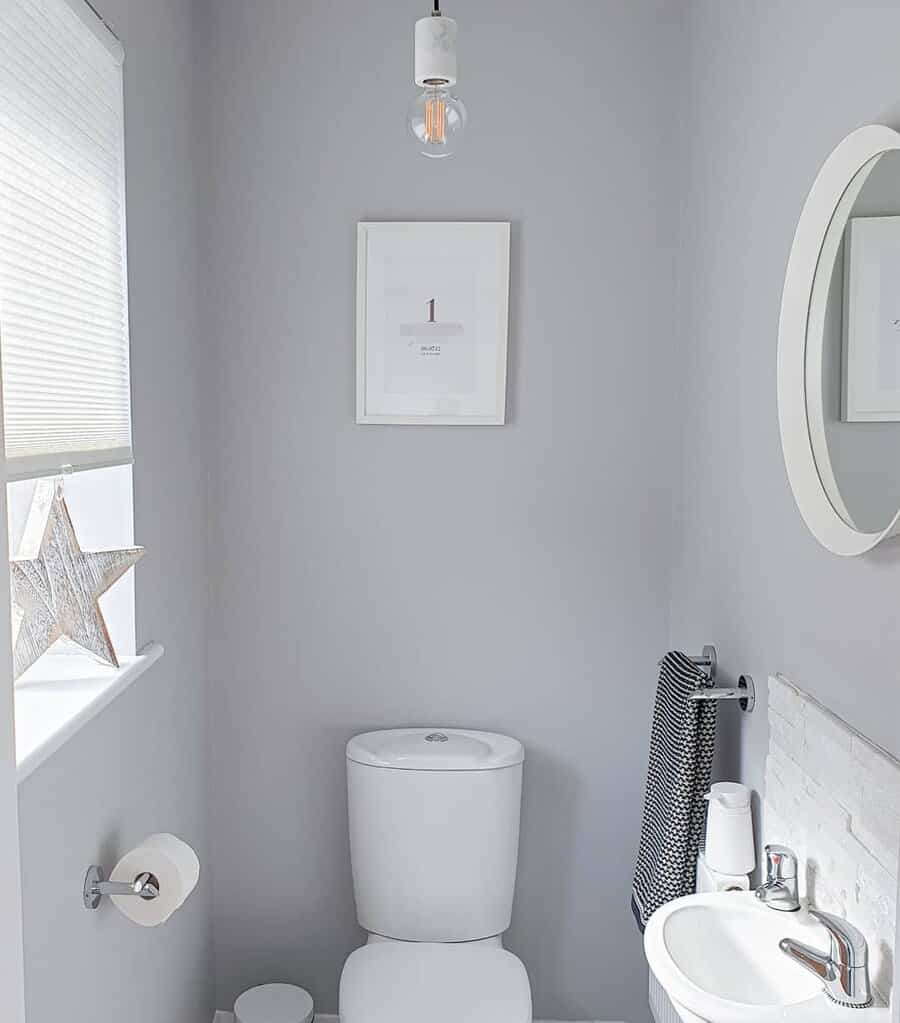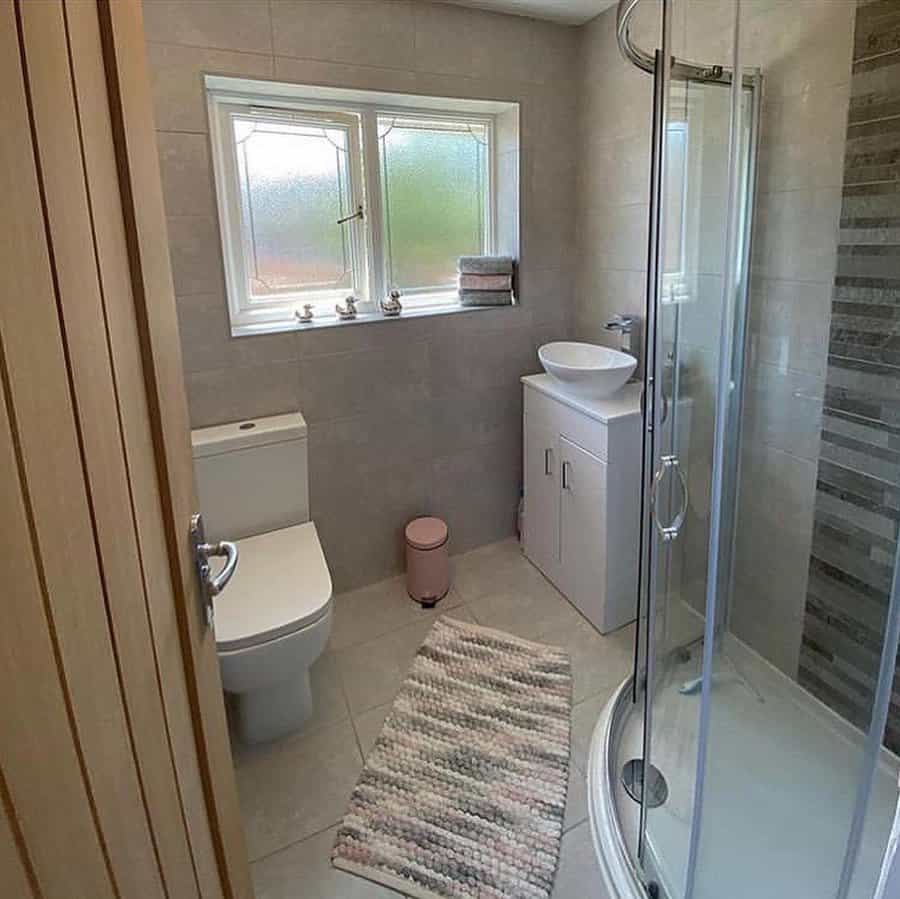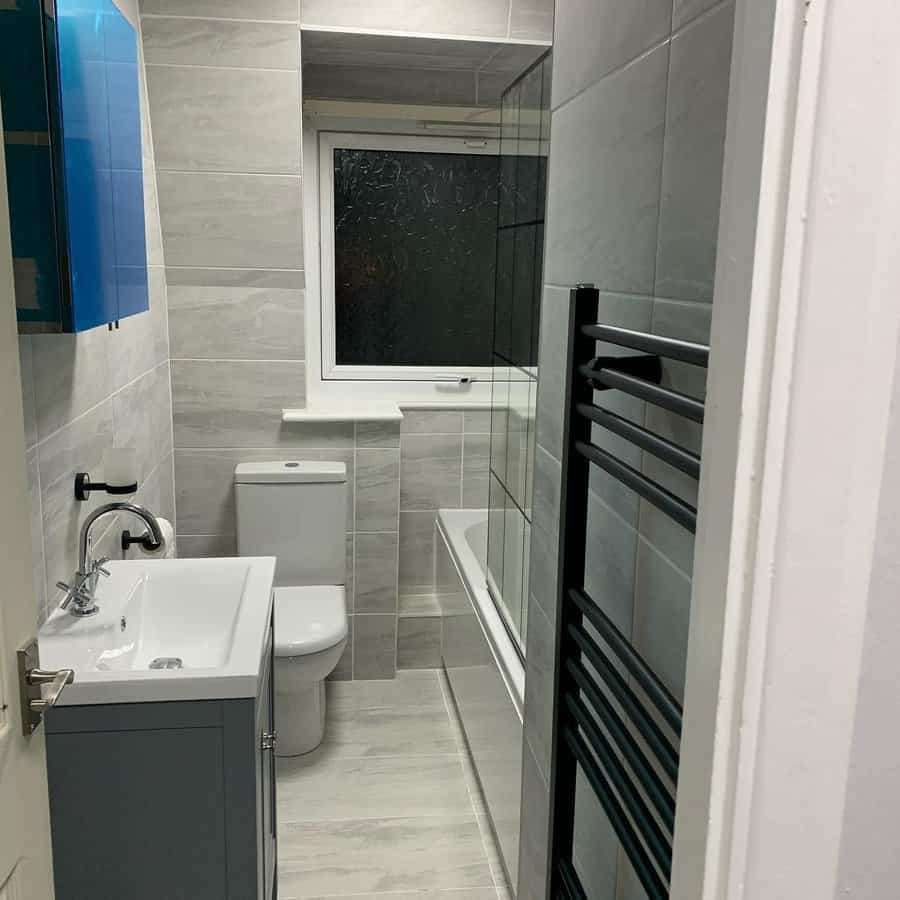 9. Contrast Grey With A Rustic Interior
If you want to add some character, why not go for grey with rustic elements for your bathroom? A grey bathroom with wood accents and accessories like galvanized metal and vintage-style vases can create an interesting contrast to the grey interior.
This type of décor will bring a feeling of rustic authenticity to the room. A grey wall paired with shiny surfaces like copper or brass fixtures, a wooden ladder leaning against a wall, and a jute rug on the floor will help create a relaxing atmosphere.
An added bonus is that greys are very versatile shades and for almost any color scheme you'll surely find tones that will match perfectly.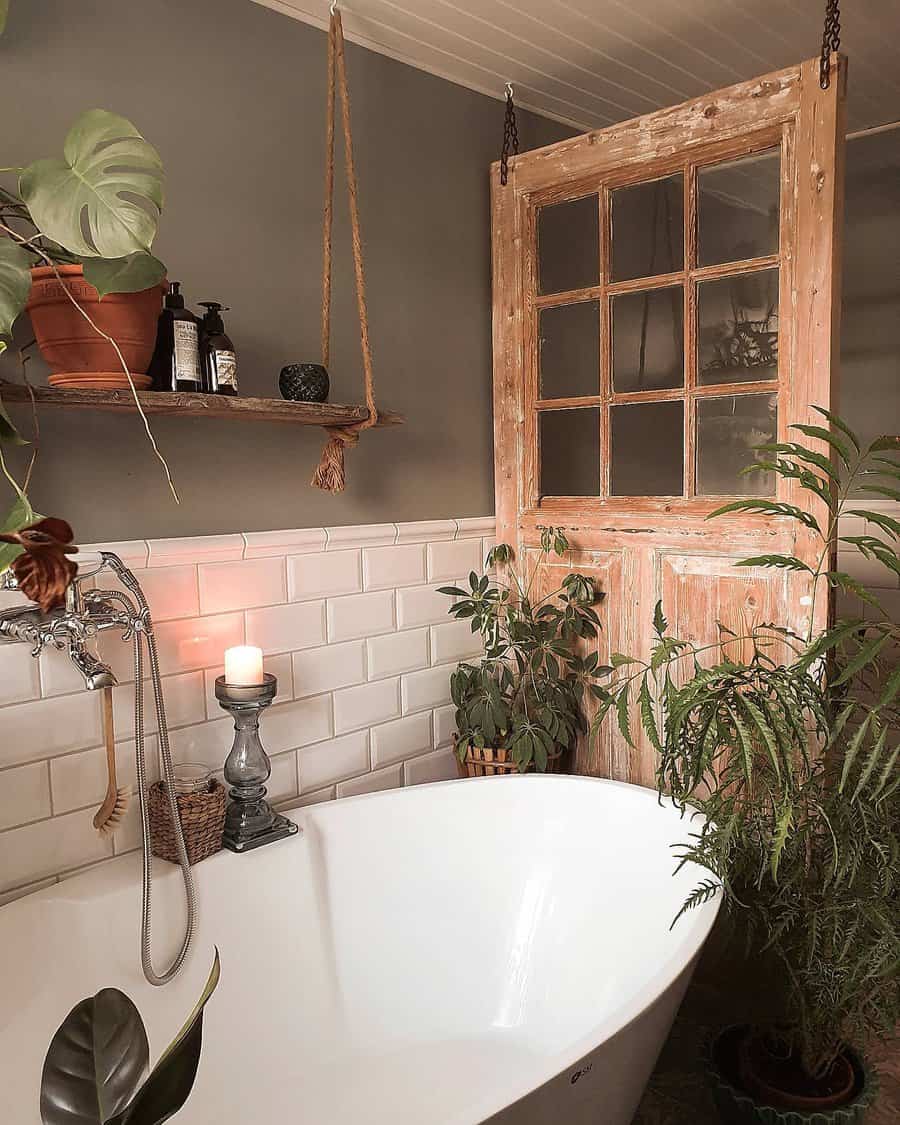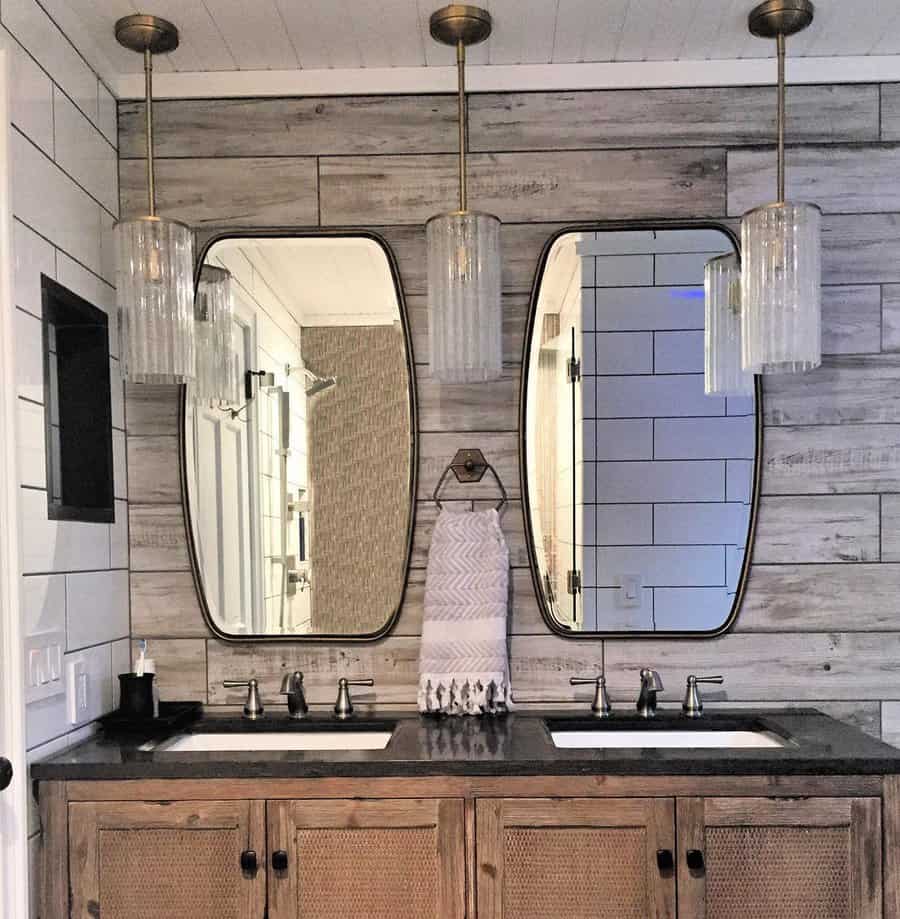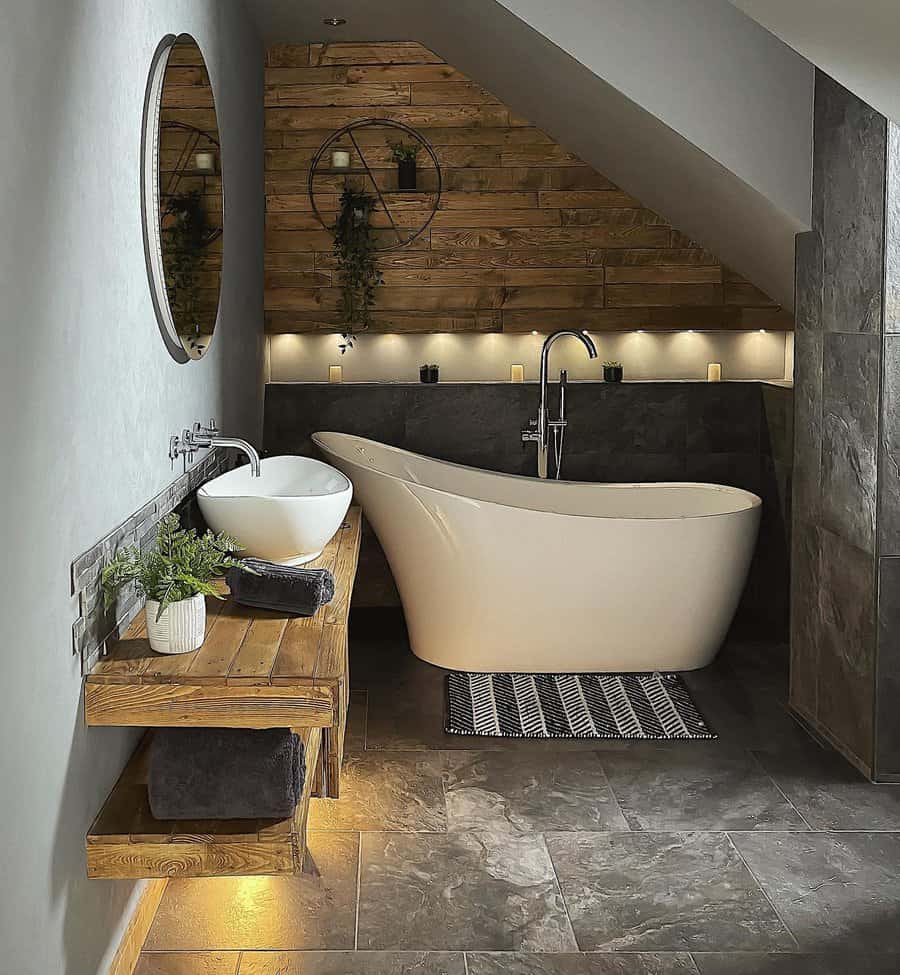 10. Recreate A Scandinavian Escape With Minimal Fittings
To achieve the Scandinavian look in your grey bathroom, minimal fittings are key. Incorporate clean lines and keeps things simple by choosing chrome taps and accessories which will make a great backdrop for strong accent colors. To take it one step further try adding darker elements like black fixtures as an added contrast which will add depth for a unique and modern look.
Alternatively, if you plan on updating your tiles consider patterned tiles to make your grey bathroom even more interesting. Overall, this timeless combination of grey, black, and white is the ideal classic Scandinavian interior design style in your bathroom.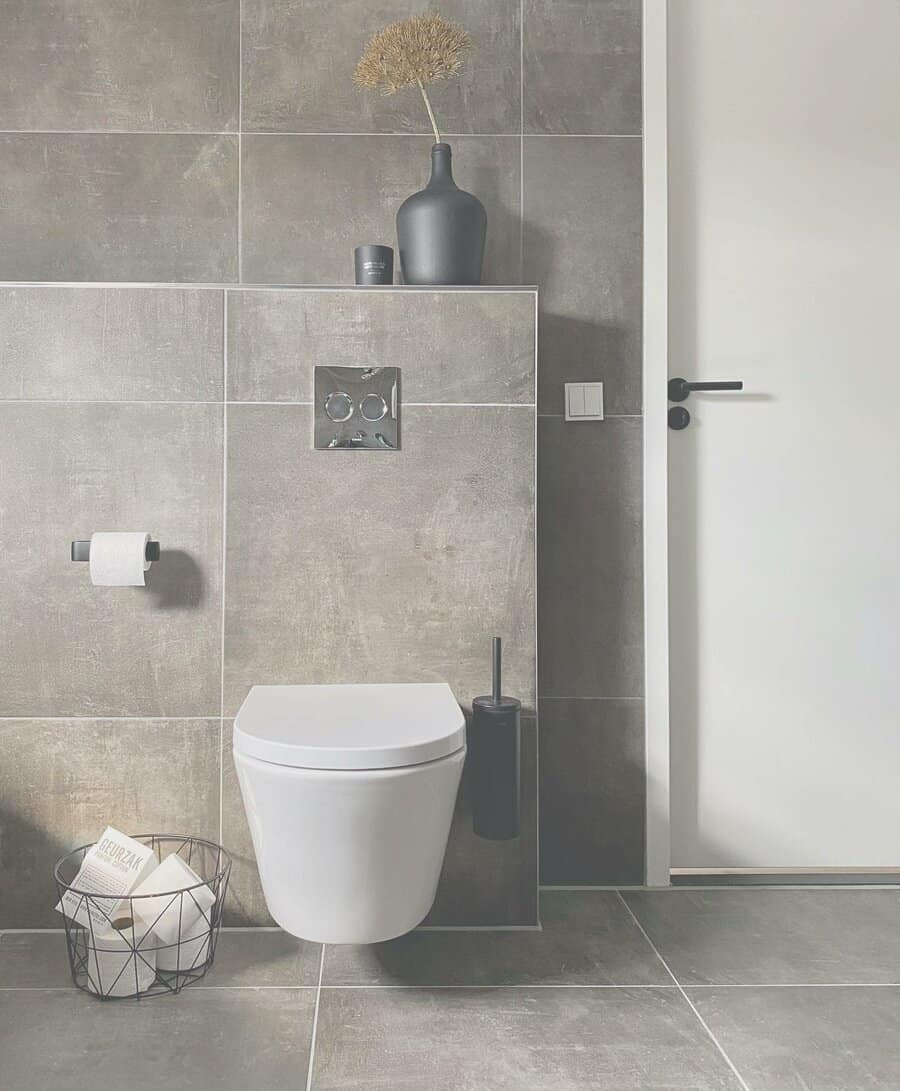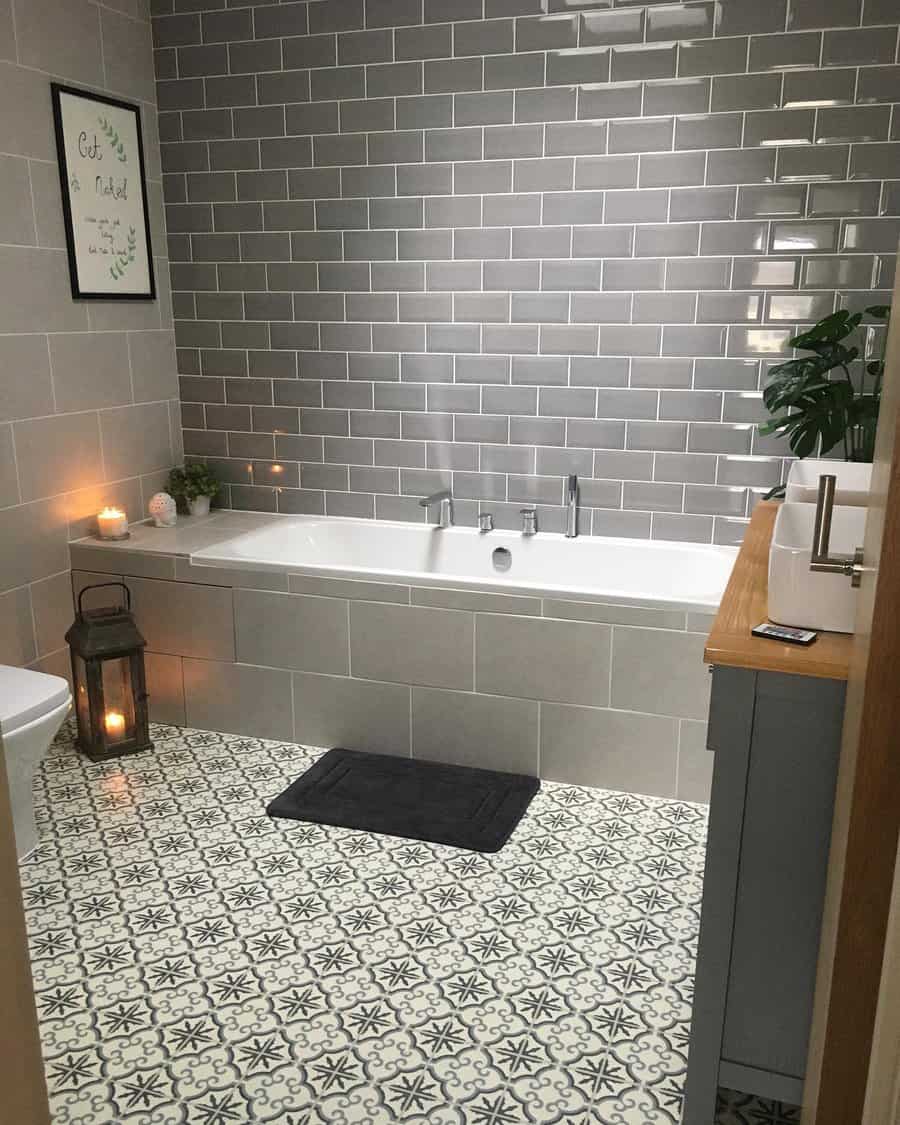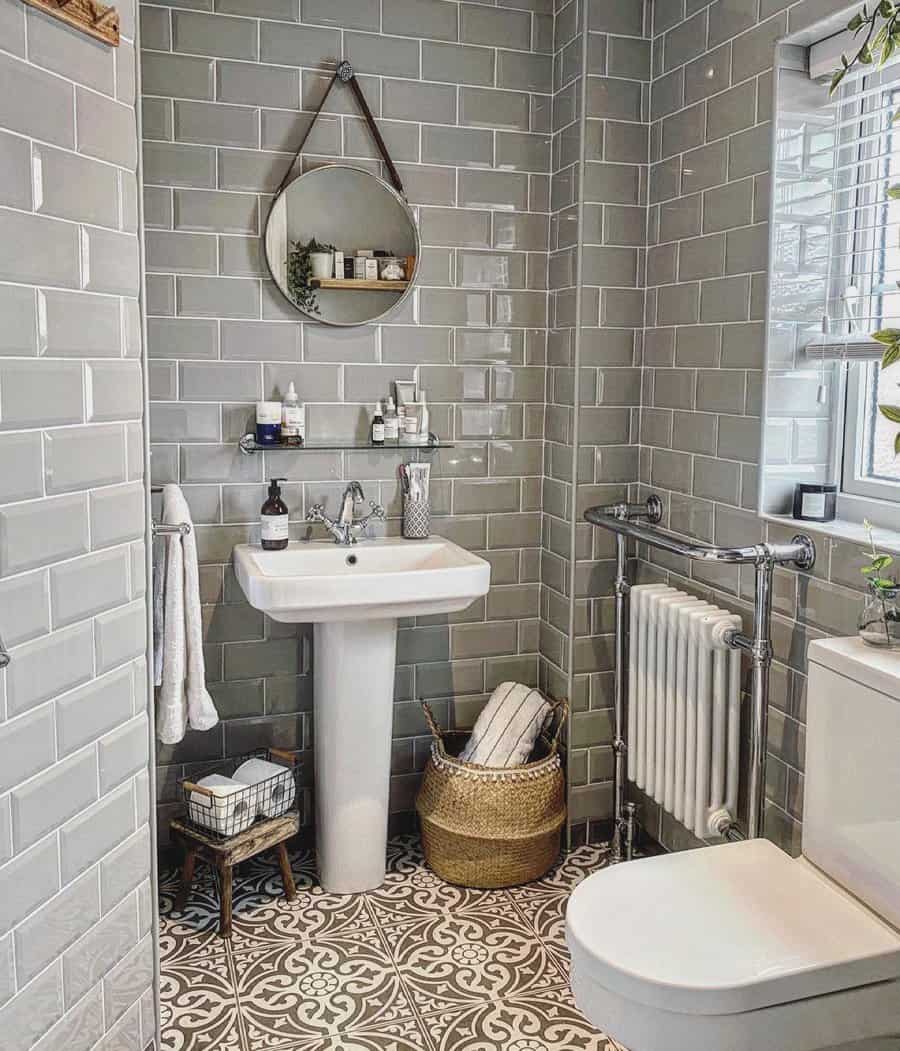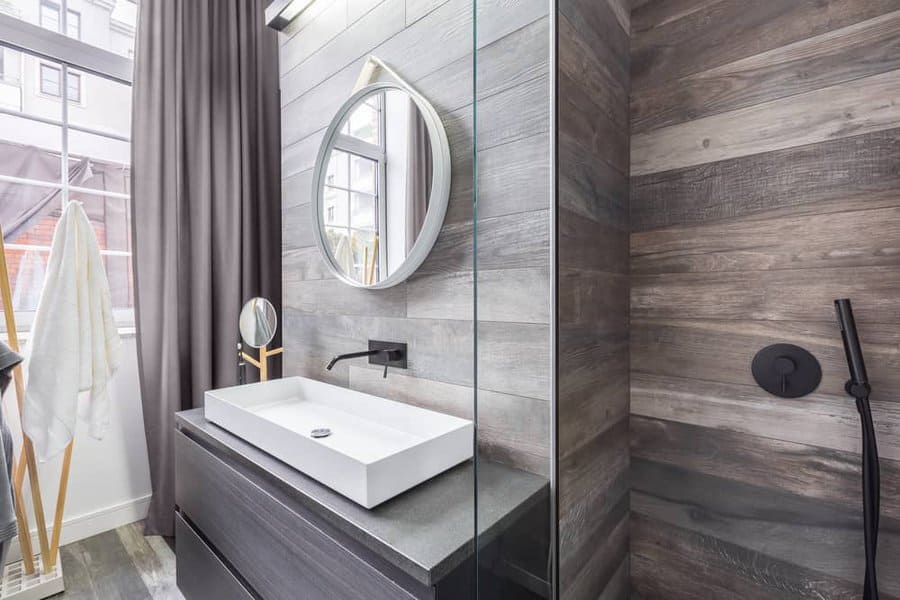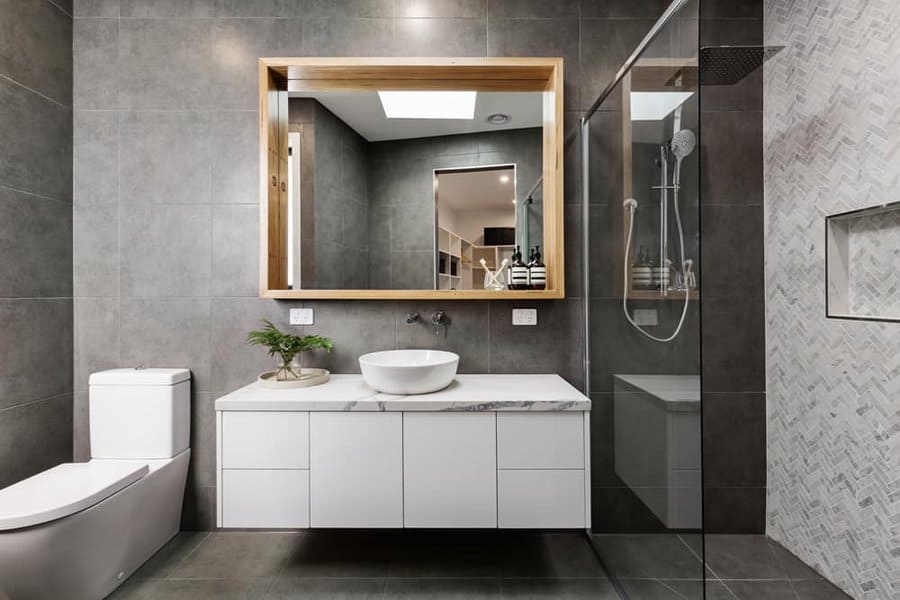 11. Add Some Texture
If you're looking to add a textured twist to your bathroom makeover, why not consider a textured accent wall? Stamped tiles are an easy way to bring texture and depth to your walls without too much effort. Not only will the textured tiles bring an interesting dimension to the room, but it also gives you the opportunity to get creative with your design.
For example, you could experiment with different glazes and finishes to play up the color of your grey bathroom walls. So don't be afraid of textured walls—they just might be the perfect addition to making your bathroom unique and stylish!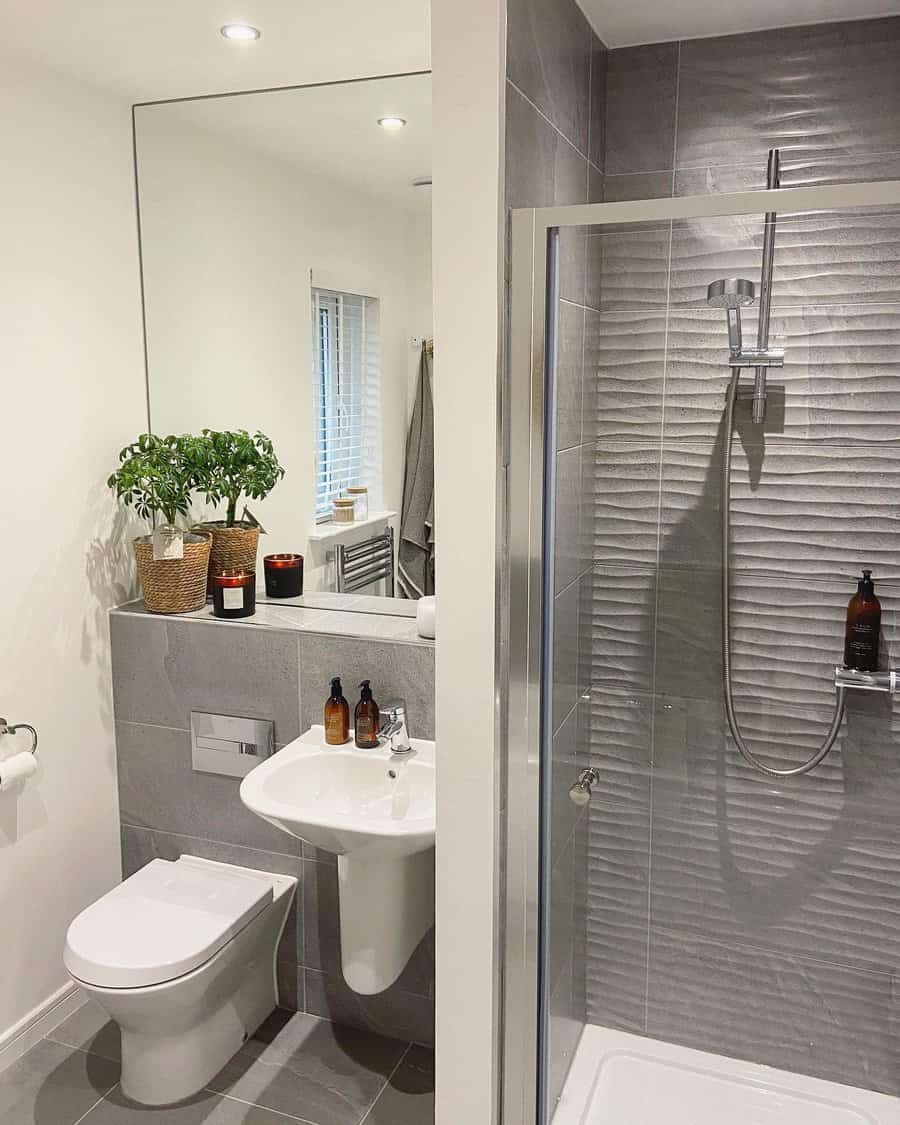 12. Install Grey Tiles For A Classic Look
Create a modern aesthetic in your bathroom with grey tiles and white grout. The grey tile creates the perfect backdrop for white features such as sinks, faucets, and toilets, allowing them to stand out even more. When complemented properly with accent colors like greyish-blue or pops of pink or yellow, this classic combo makes for a warm and inviting color palette that is beautiful yet timeless.
Plus, grey is so versatile that it can be incorporated into any style bathroom – modern, contemporary, classic – you name it! So go ahead and spruce up your bathroom with some grey tiles and create an effortlessly chic destination.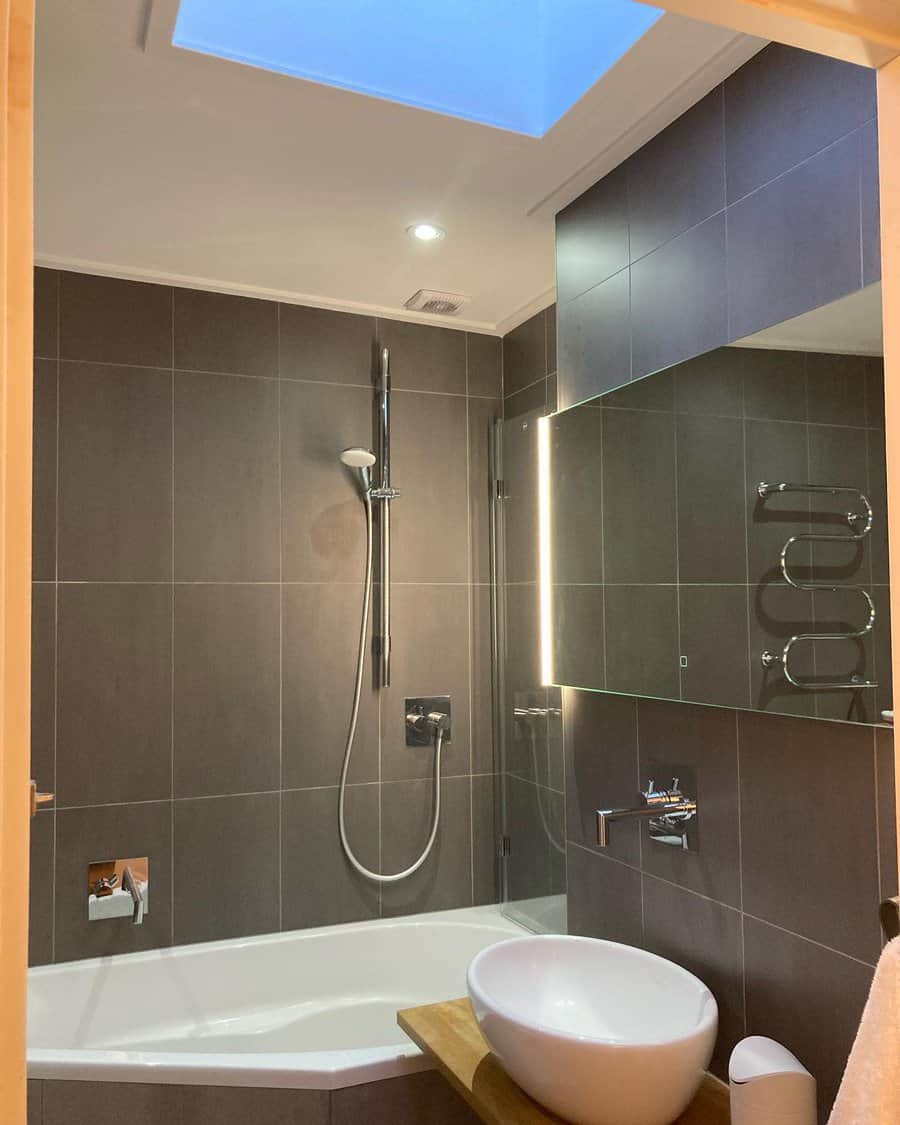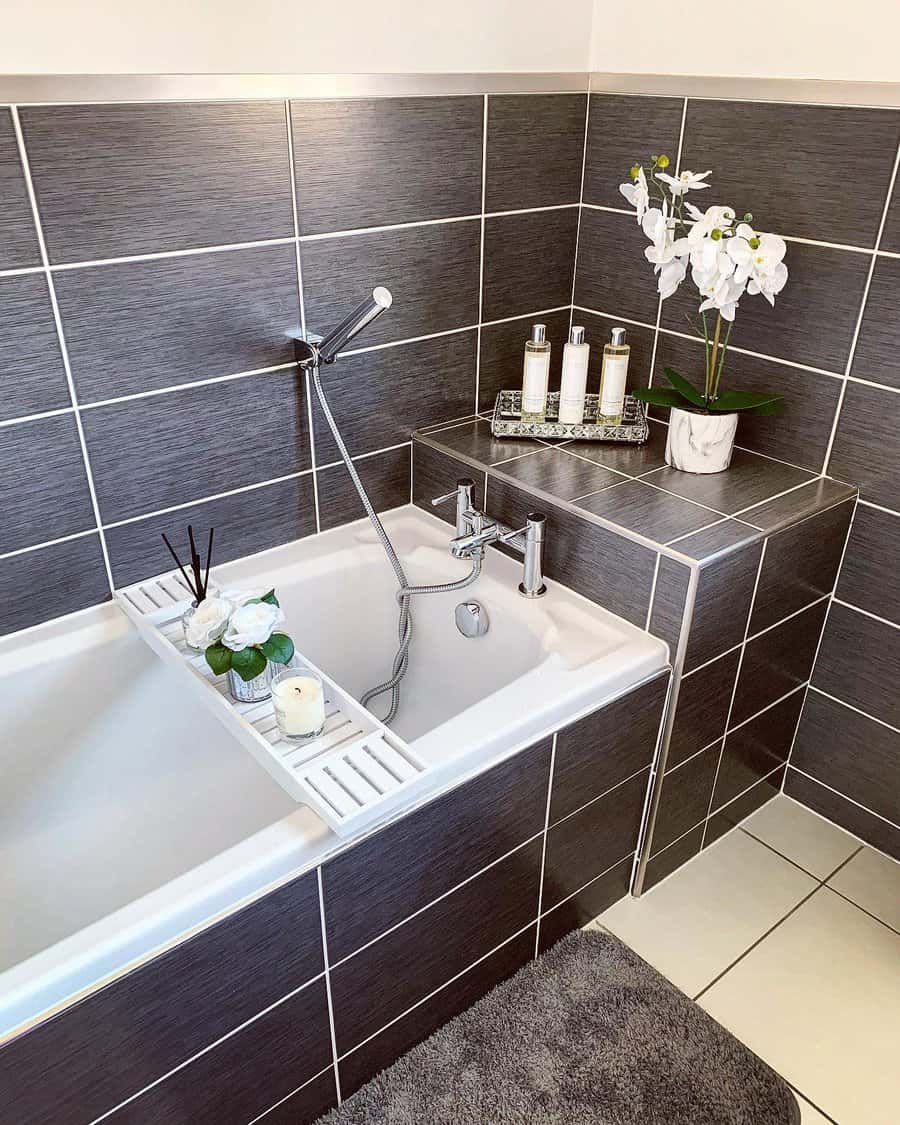 13. Add Pendant Lighting For An Eye-Catching Accent
Installing pendant lighting in your bathroom can transform the space from a utilitarian, practical room to a haven of relaxation and pampering. Whether you're giving yourself a much-needed spa day or preparing to face the world, pendant lighting allows the perfect amount of light with its soft and diffused glow.
You have endless options when it comes to pendant lighting, so take the time to find something that compliments both you and your bathroom. Start by choosing colors inspired by nature and softened light to create an atmosphere that is soothing as well as luxurious.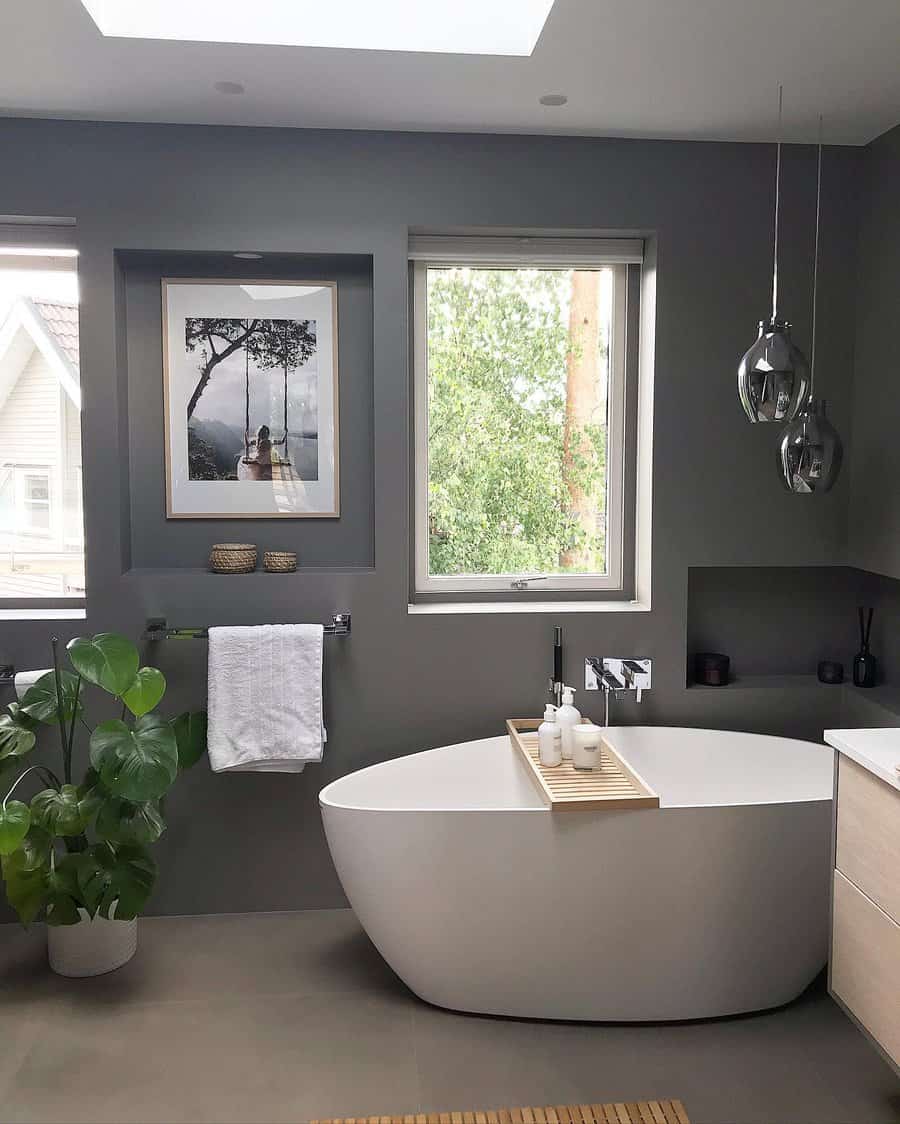 14. Pair A Grey Bathroom With Wood Elements
A great way to contrast the coldness of grey is to add wood. Installing wooden cabinetry and floorboards or adding other wooden furniture in the room will bring an instant homely feel.
Another way to enhance this cozy atmosphere is by painting one wall or fixture such as an exposed pipe with a pale shade of grey, which provides a subtle contrast to the grey tone that's already there.
Overall, grey combined with wood elements can create a lovely interior look while making your bathroom still feel like part of your home.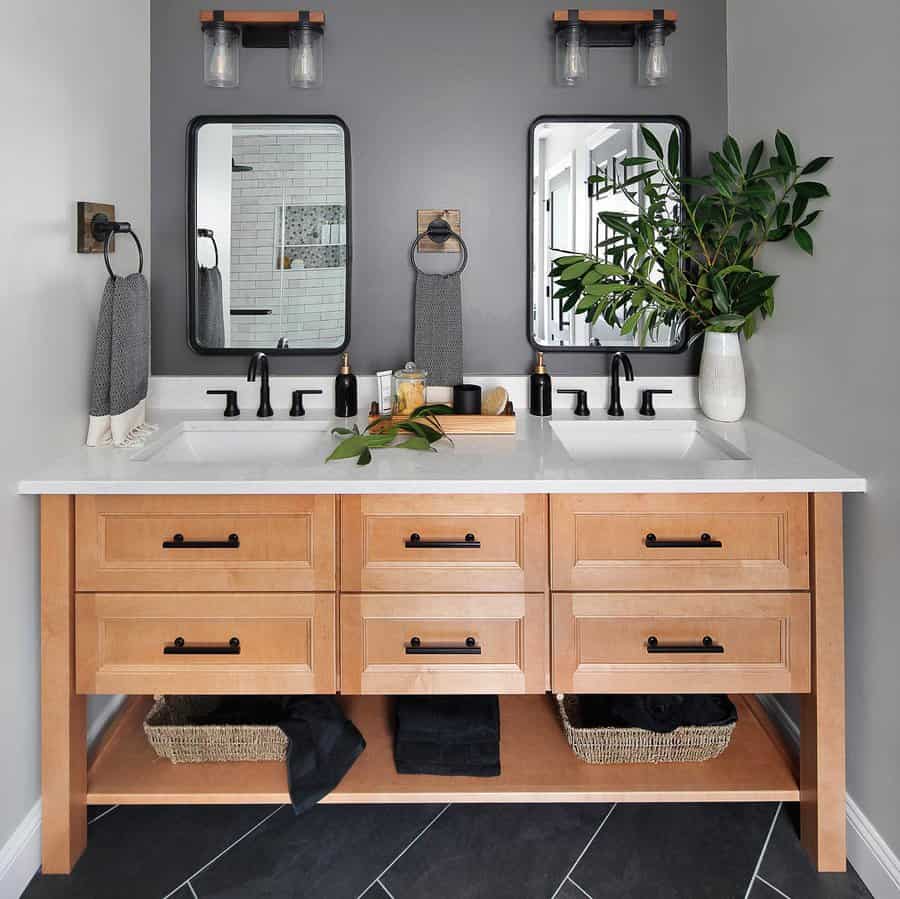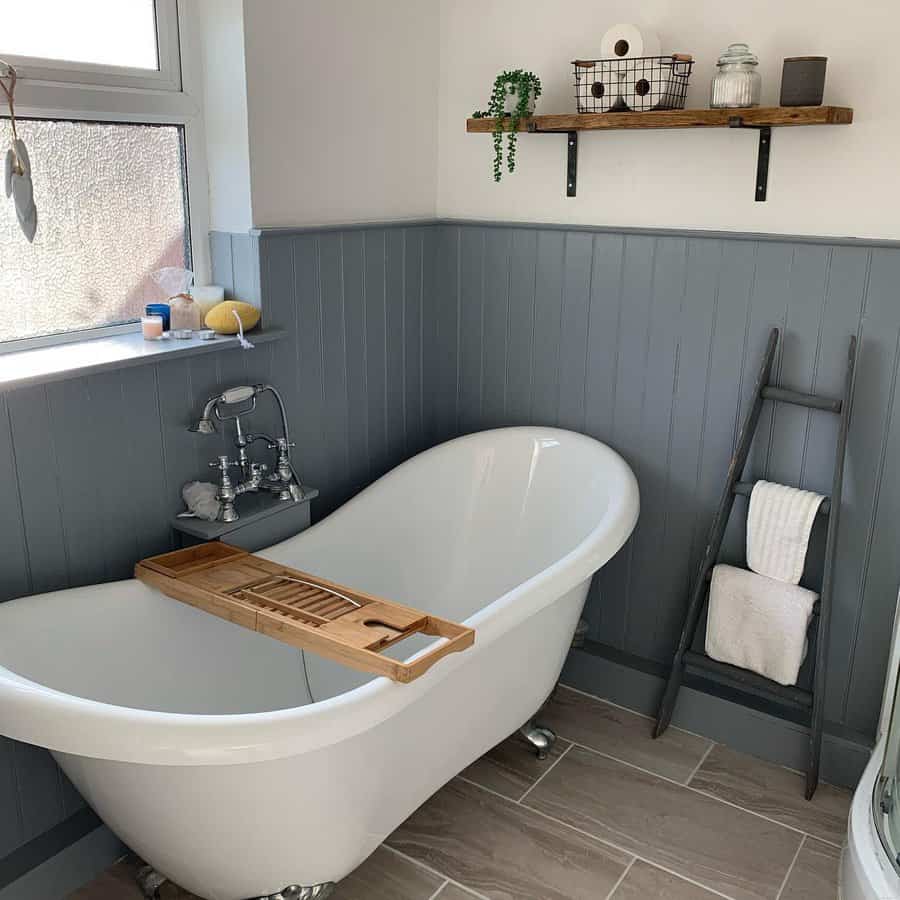 15. Build A Statement Window
If you're looking to spruce up your grey bathroom, consider adding a statement window! A decorative shade can be an eye-catching addition that really elevates the style of the room. Not only will it add texture and depth to the bathroom space, but it can also bathe the room in natural light — perfect for a serene morning routine.
A statement window will also provide plenty of privacy while allowing you to take advantage of picturesque views outside. From patterned to plain, there is sure to be a style that suits your bathroom's unique needs — get creative with color and texture and make it yours!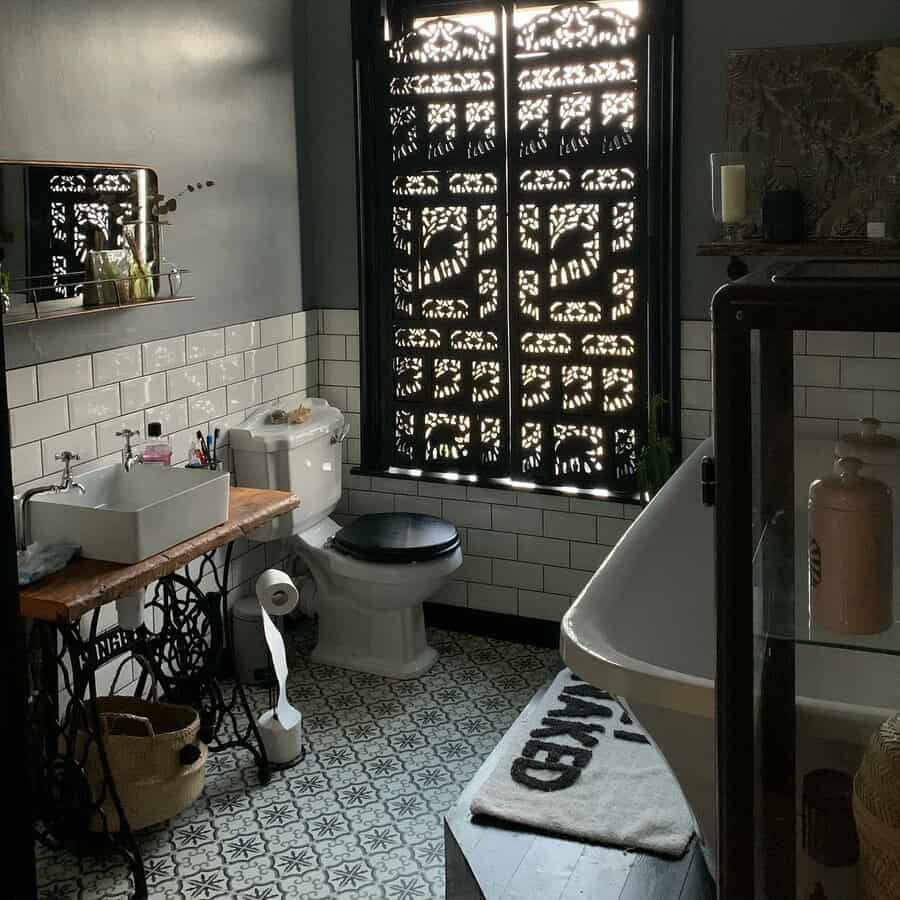 Grey Bathroom FAQs
How do you add color to a grey and white bathroom?
Since grey and white are neutral colors, it's easy to integrate any other color you like. The easiest way is to buy colorful towels and rugs. This also leaves you the option of switching them out for another hue when you tire of the first. For a more permanent splash of color, paint or wallpaper an accent wall.
How do I soften a grey bathroom?
It's true: an all-grey bathroom can look a little cold and harsh all by itself. A great way to warm up a grey bathroom design is to introduce wood tones. Whether that means replacing a grey vanity with a wooden one, or putting down wood-style flooring, wood makes an ordinary grey bathroom feel more welcoming.