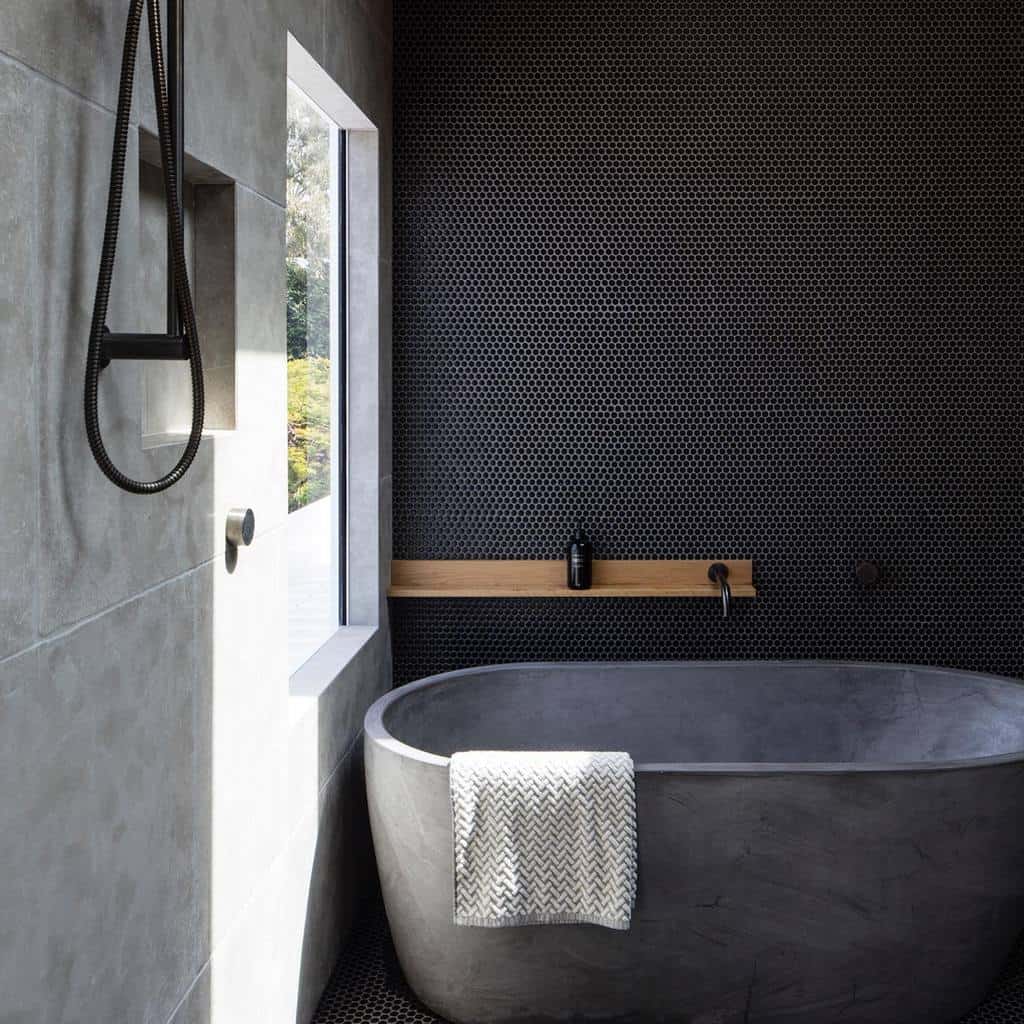 57 Grey Bathroom Ideas
by — Kari Apted

Published on March 16, 2022

Updated on October 22, 2023
Grey has enjoyed a resurgence in popularity over the past few years. Once considered a boring, drab color for home decor, grey is now seen as a new neutral. It's on bathroom tile, flooring, the wall—everywhere!
Grey bathroom decor can be elevated into an elegant, sophisticated space, or tweaked into a quirky little hideaway. Whatever your preference, we have 57 amazing grey bathroom ideas to inspire your next bathroom makeover.
1. Embrace Raw Aesthetics with Concrete
A grey concrete bathroom offers a sleek, modern, and edgy feel. To achieve this look, opt for concrete walls that exude an unfinished yet minimalistic charm. Enhance the space with elements like greenery, art, and unique lighting fixtures to infuse vibrancy while maintaining the clean aesthetic. The versatility of grey allows for boundless creativity in decor.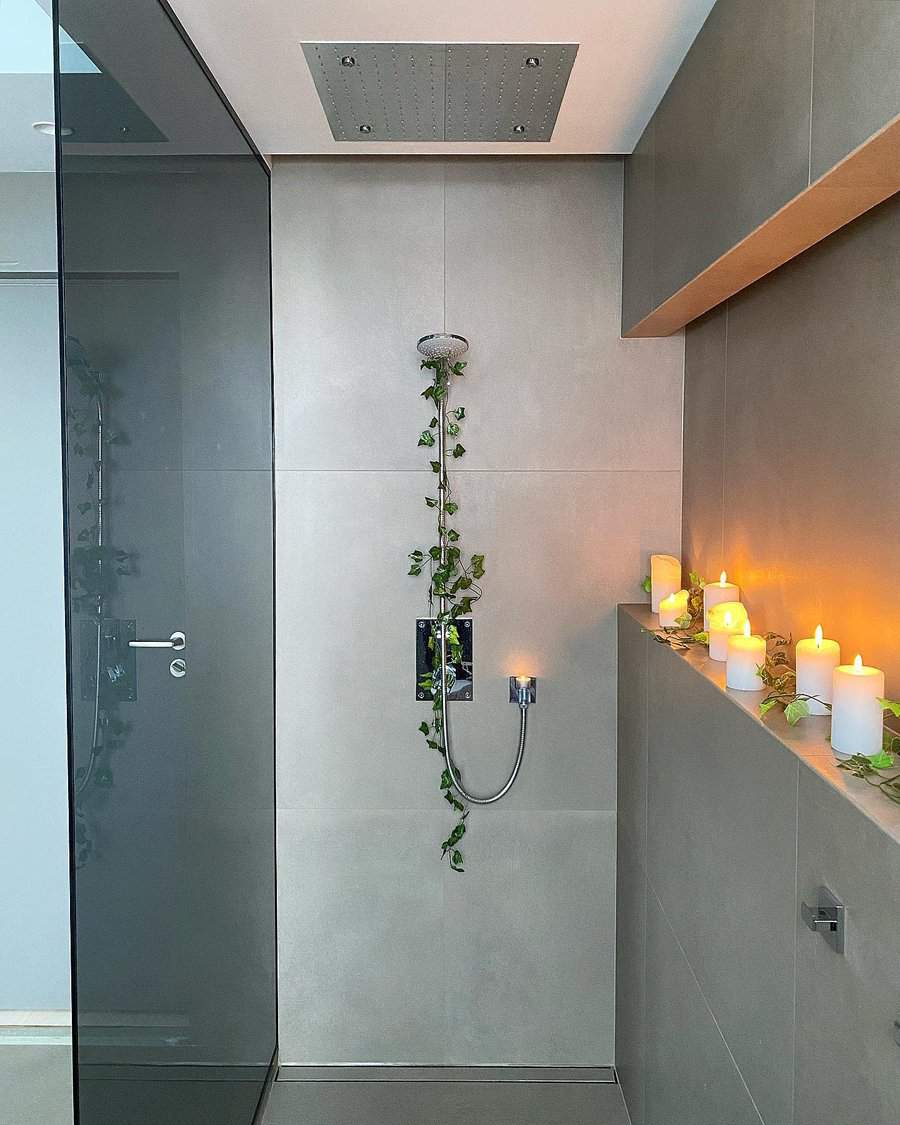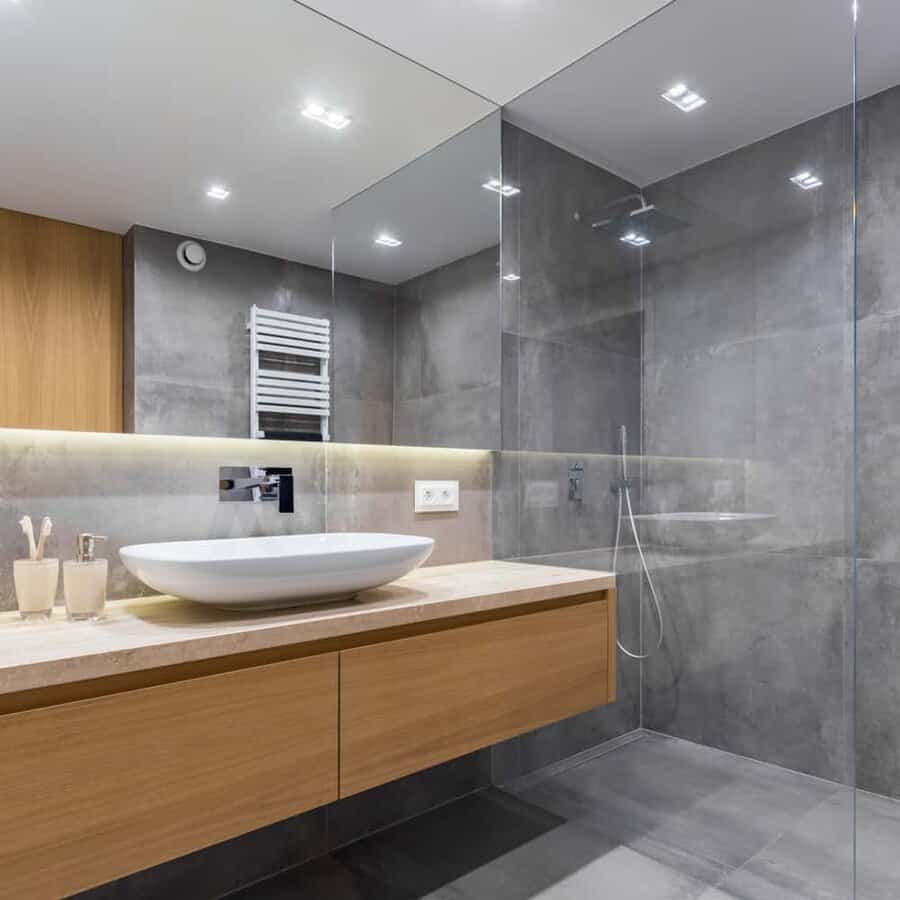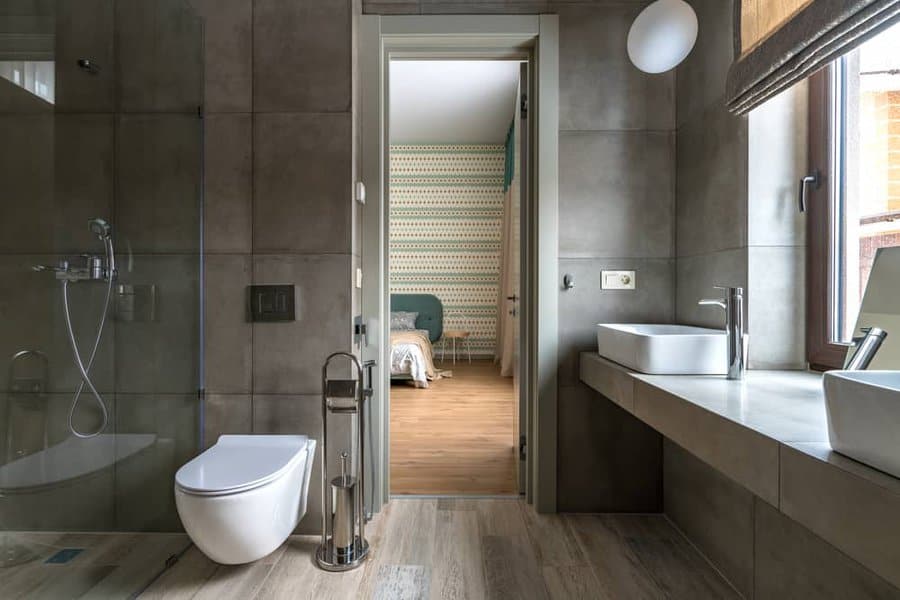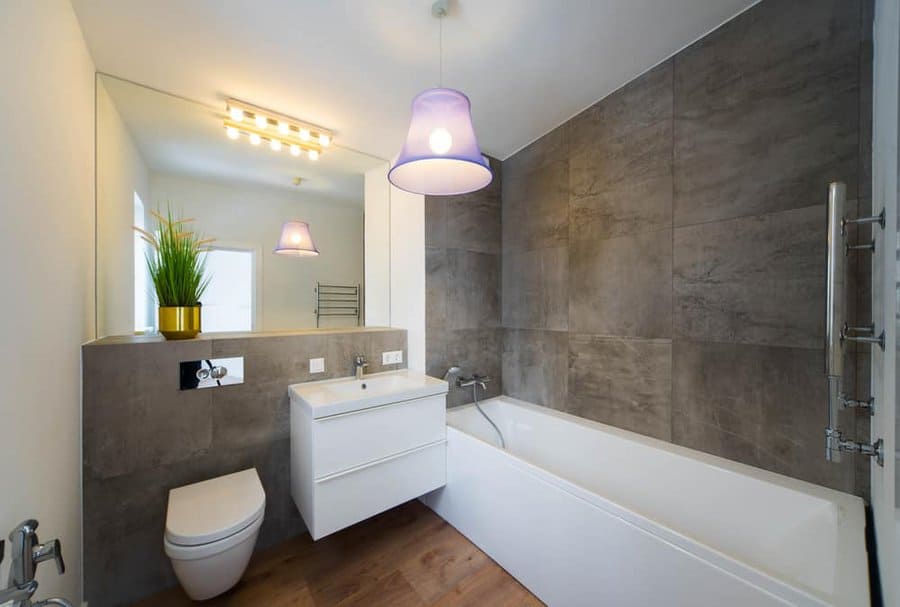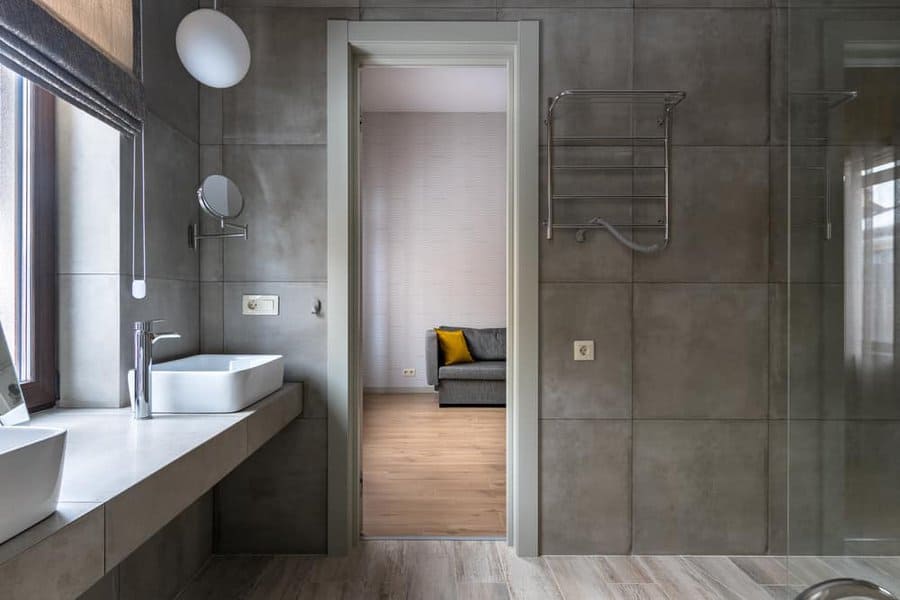 2. Blend Contemporary Elements with Grey
Craft a contemporary bathroom oasis by incorporating sleek silver fixtures and stylish black surfaces. For an extra touch of sophistication, introduce a graphic tile accent wall in a soft grey shade, which will infuse a unique, modern charm into the space. Enhance the ambiance by adding greenery, not only for aesthetics but also for a breath of freshness. Regardless of the style elements you select, a contemporary grey bathroom is bound to be a captivating highlight of your home's design.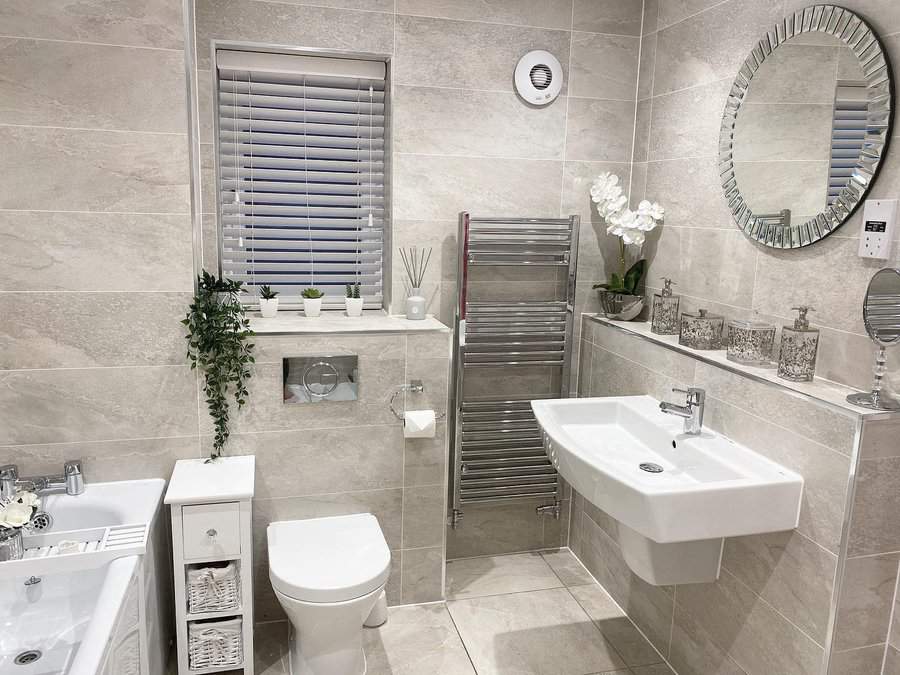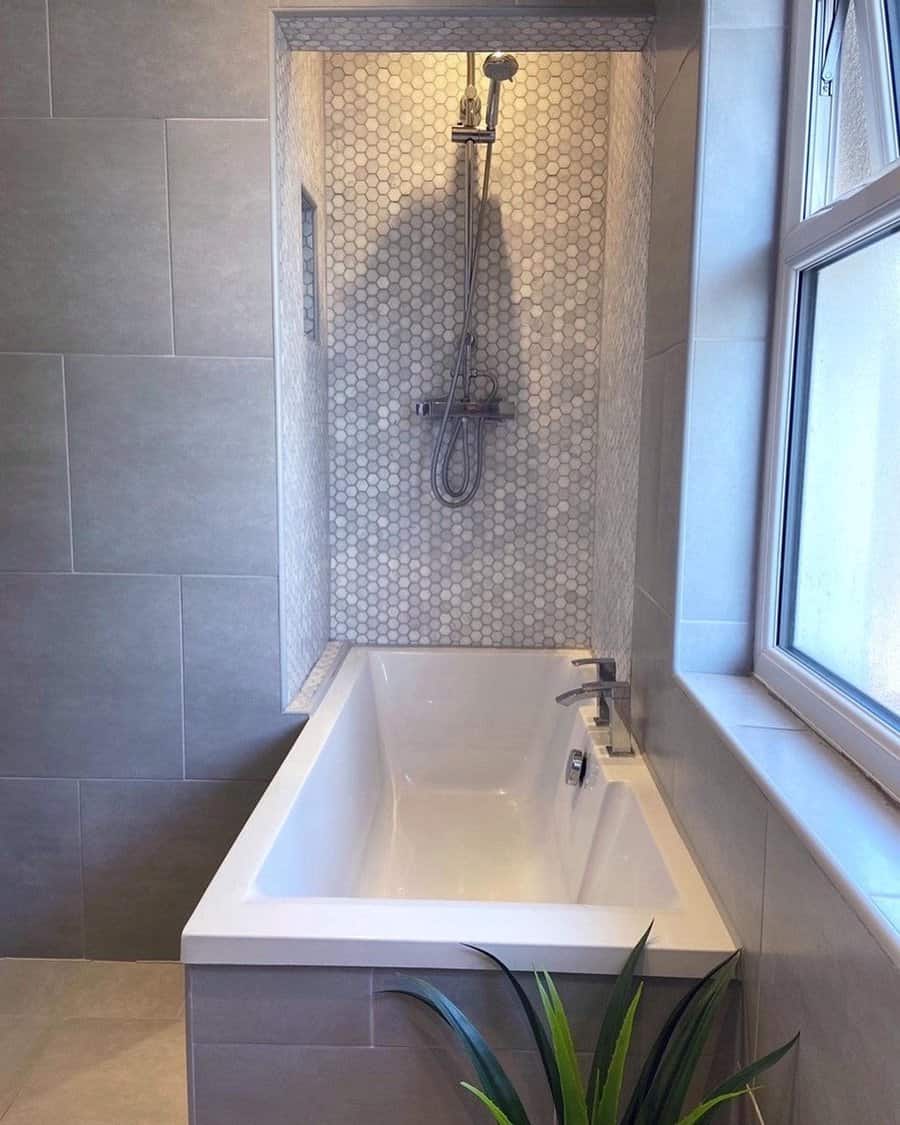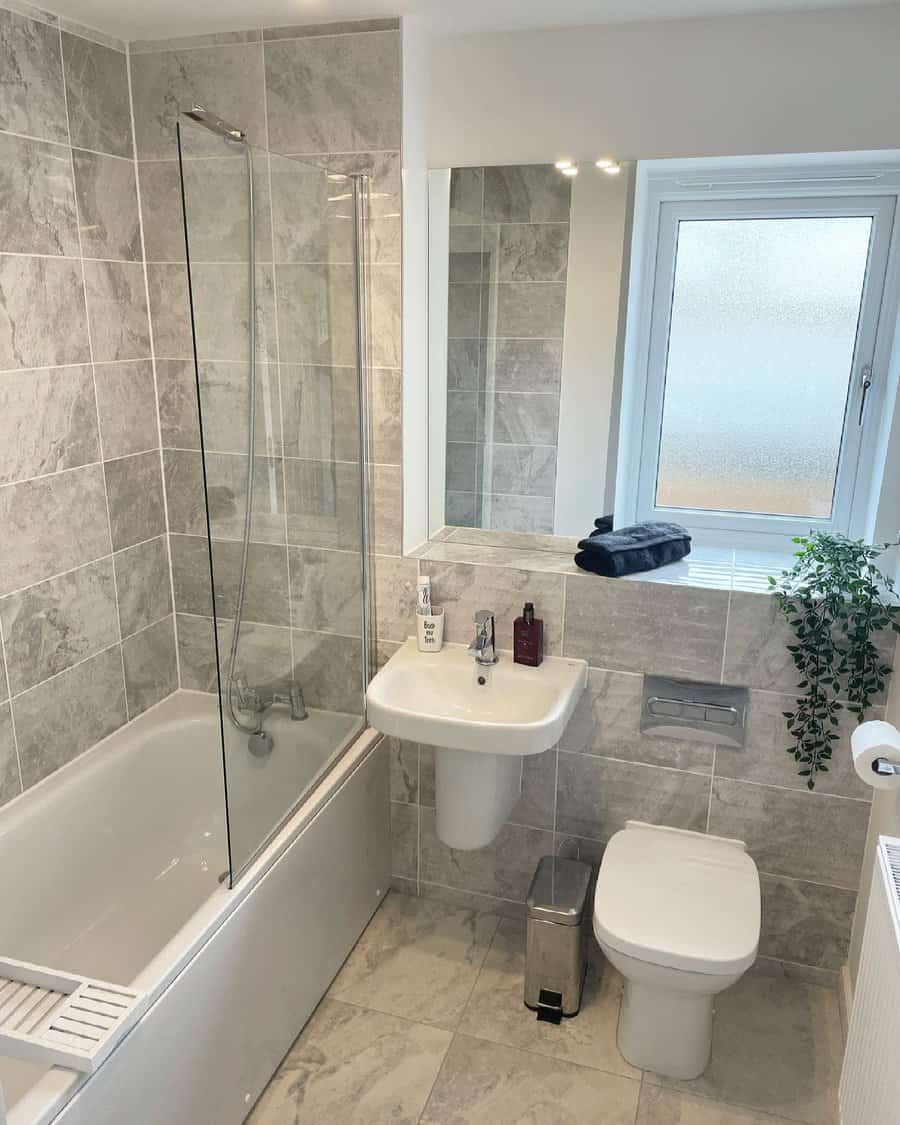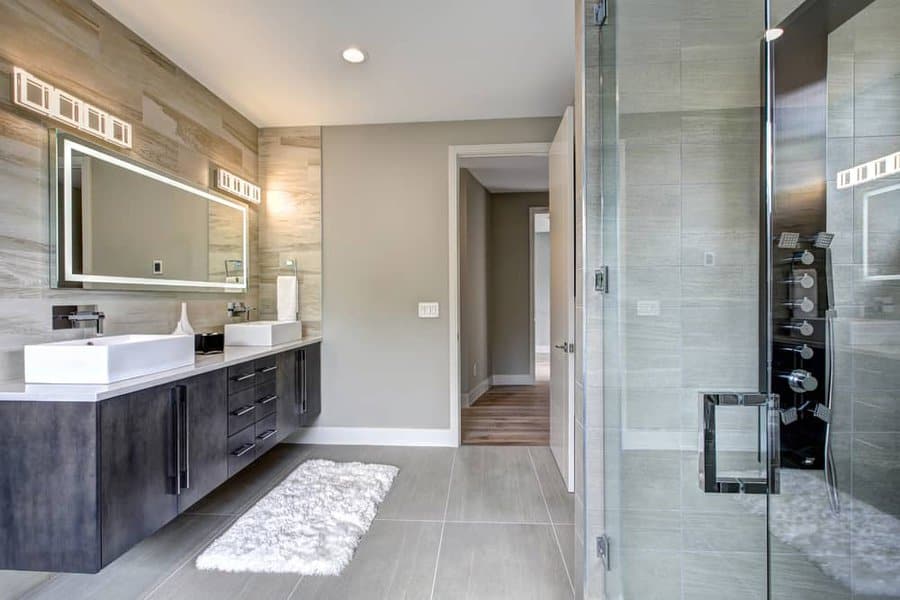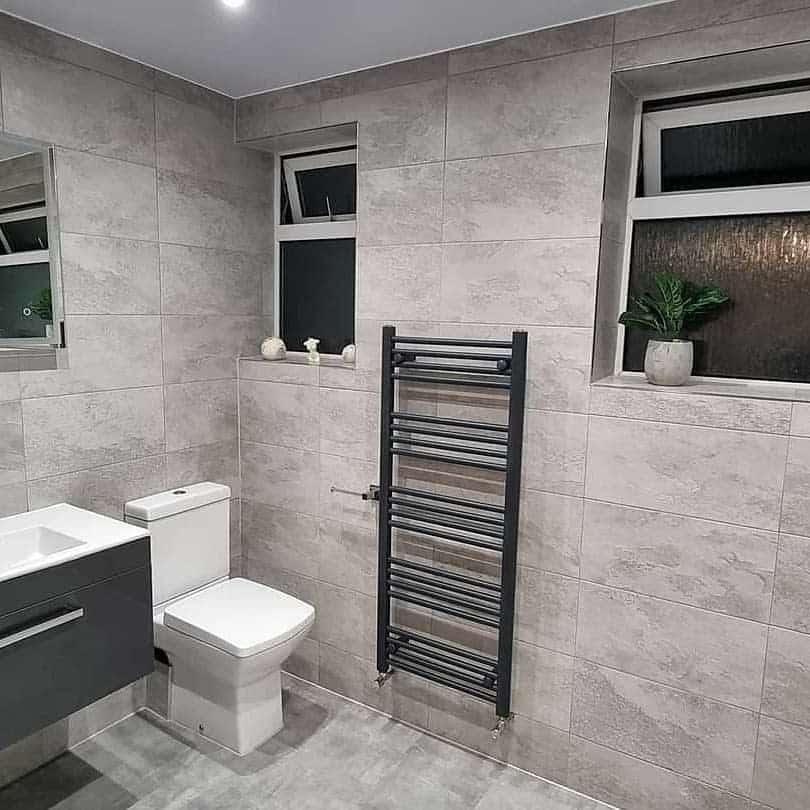 3. Set the Mood with Charcoal Shades
For a sophisticated statement, opt for a dark grey bathroom. Create the ultimate dark grey oasis with charcoal walls and graphite flooring. To balance the darkness, incorporate wood elements such as vanity countertops, shelves, and mirrors to infuse warmth and prevent the space from feeling overly dim.
If you desire a touch of vibrancy, introduce pops of color through bold neutral accessories like rugs, art pieces, towels, and drapery. Ensure good lighting to maintain a chic ambiance; it's crucial for preventing the room from feeling dreary.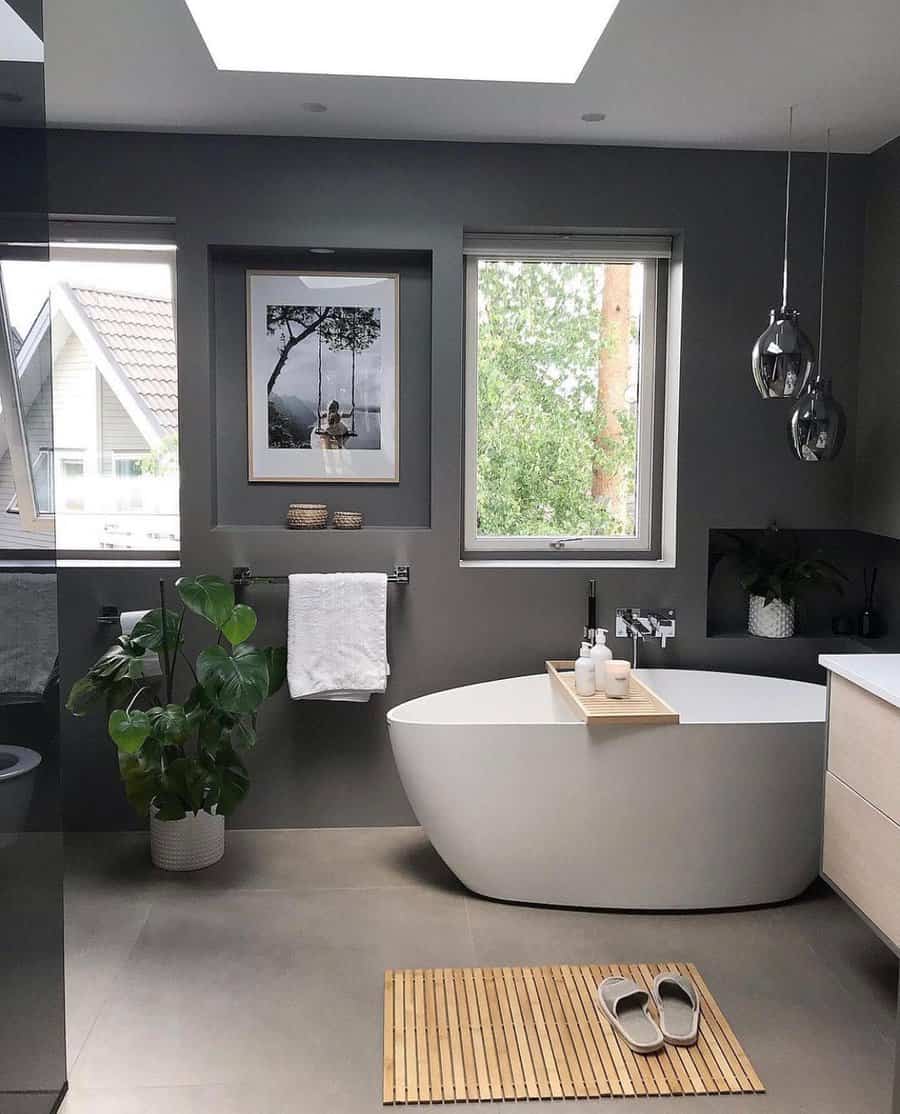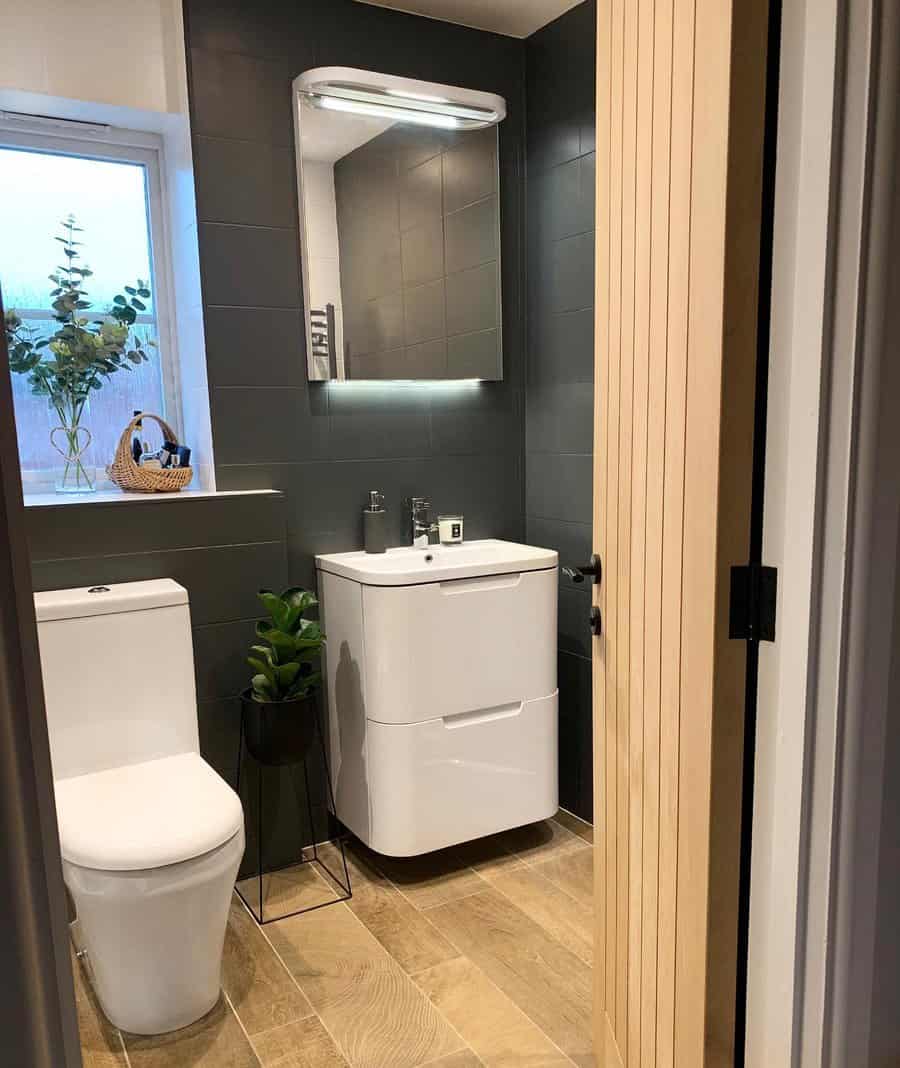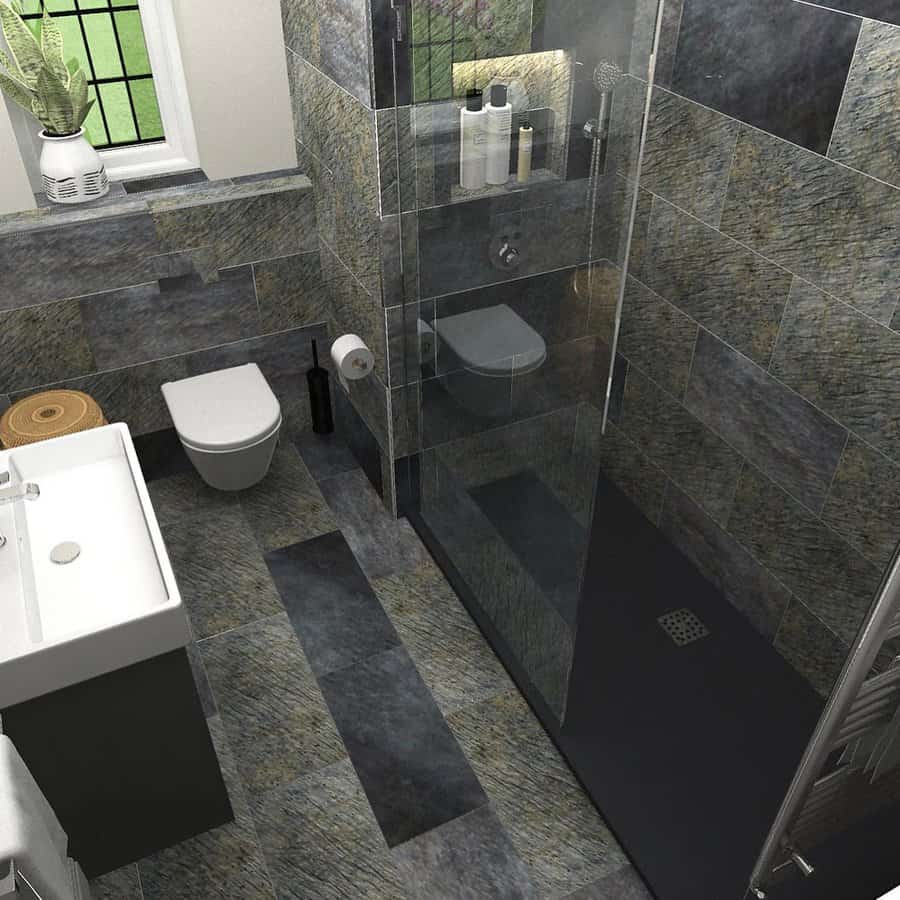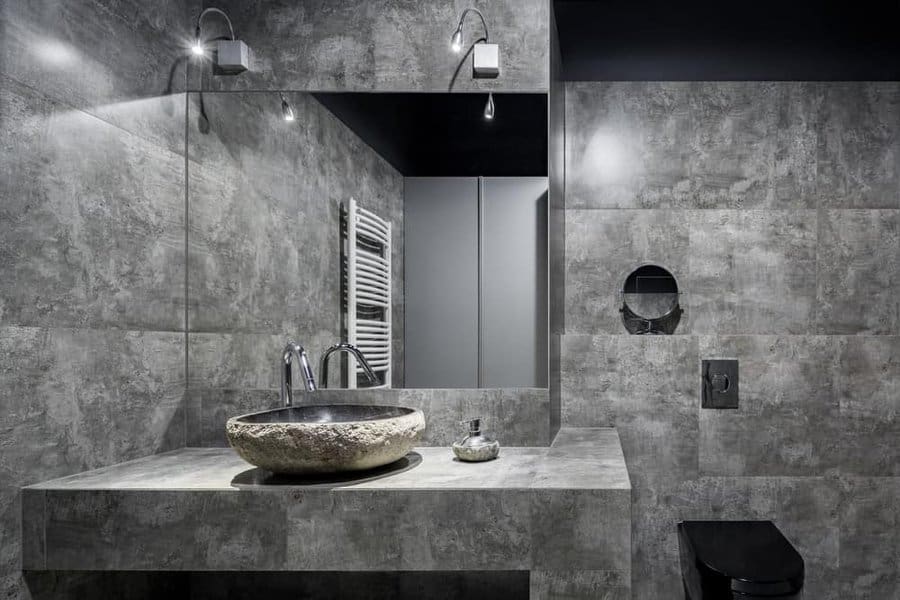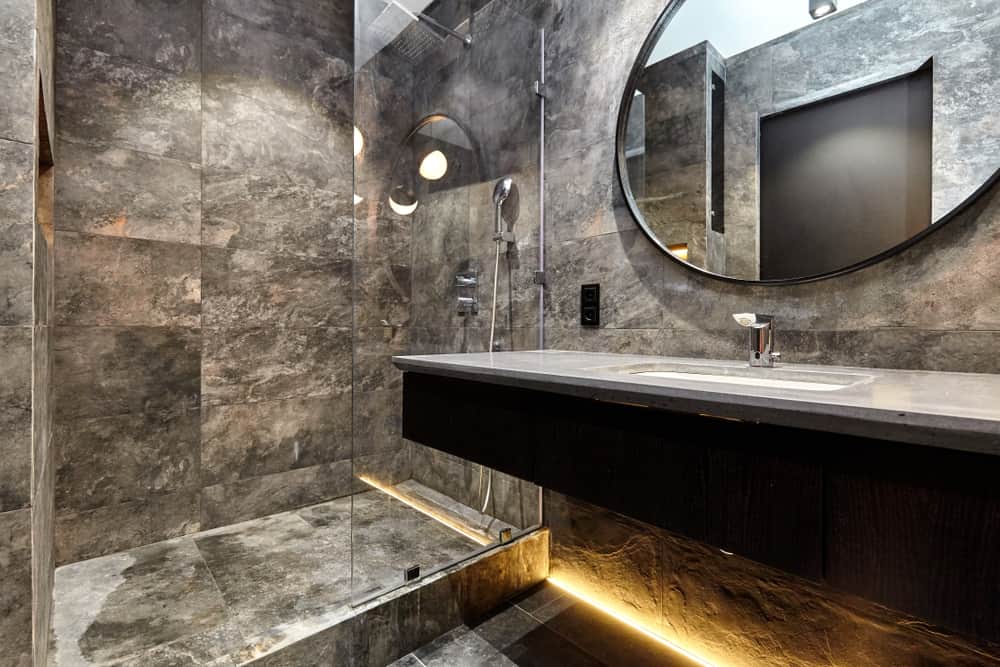 4. Soften the Ambience with Light Grey
Unleash your creativity in the bathroom by incorporating polished light grey tiles to elevate the aesthetic. Consider adorning your bathroom walls or shower interiors with these stunning tiles, especially beveled ones, to transform a plain grey bathroom into a captivating space. This soft and luxurious design exudes warmth, making your bathroom all the more inviting to guests. Discover how polished light grey tiles can turn your ordinary bathroom into an extraordinary one.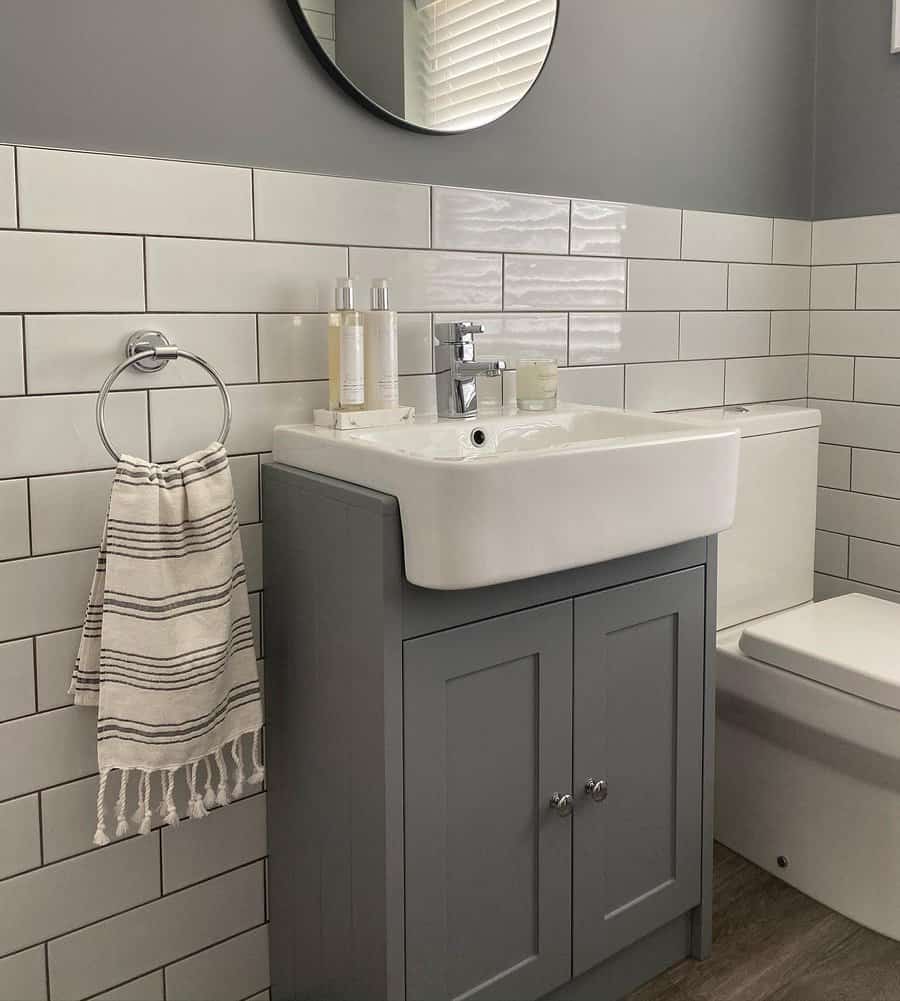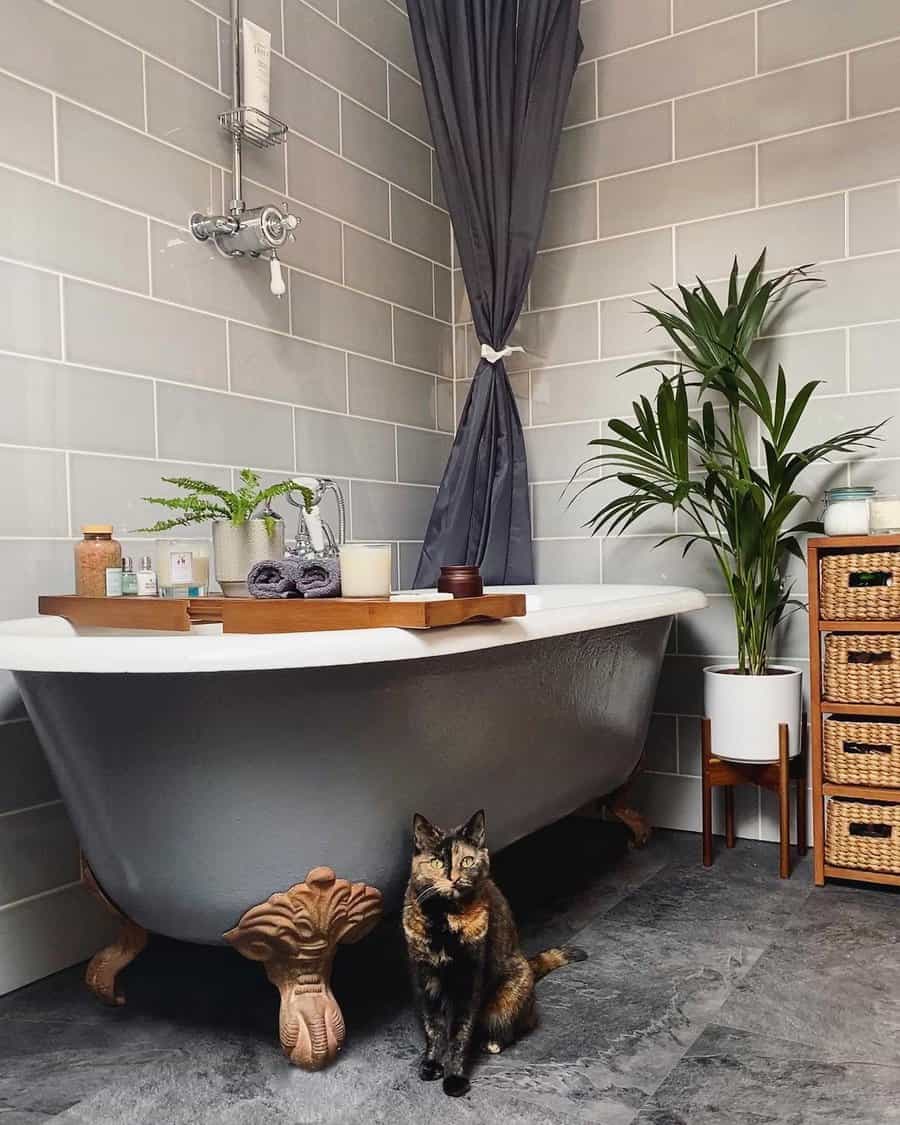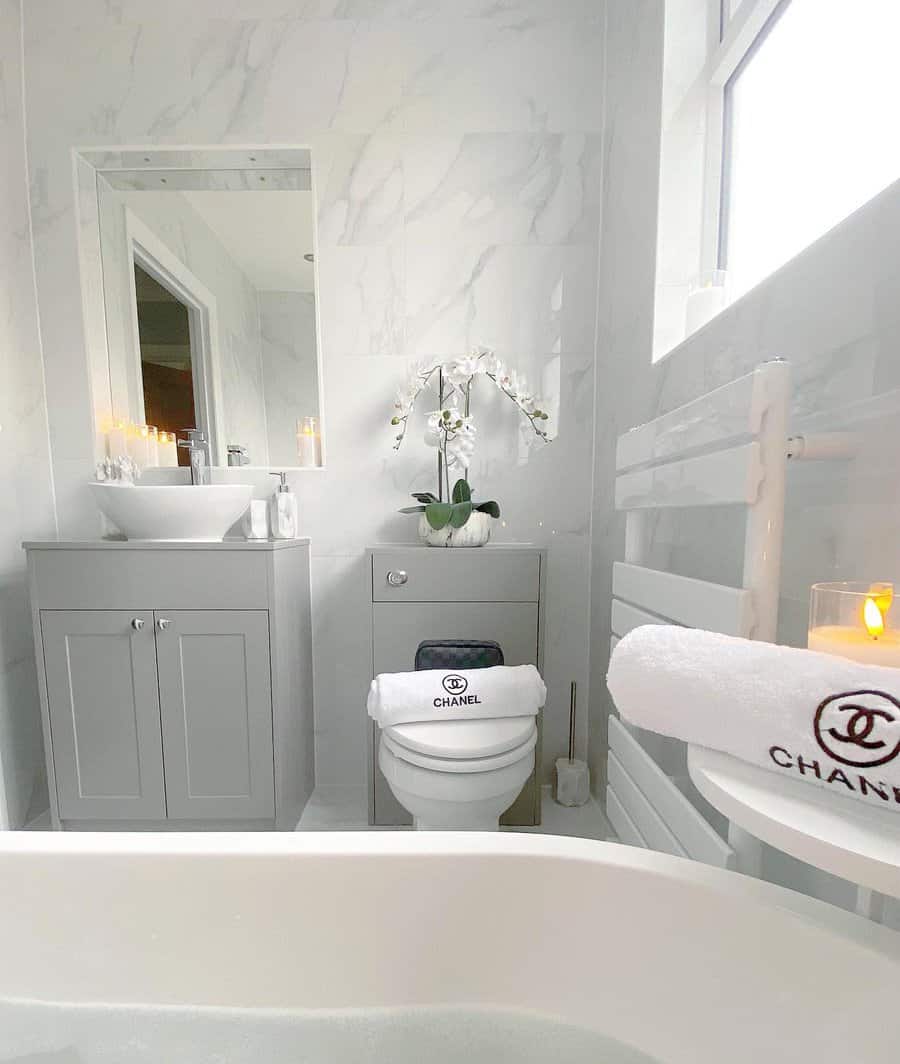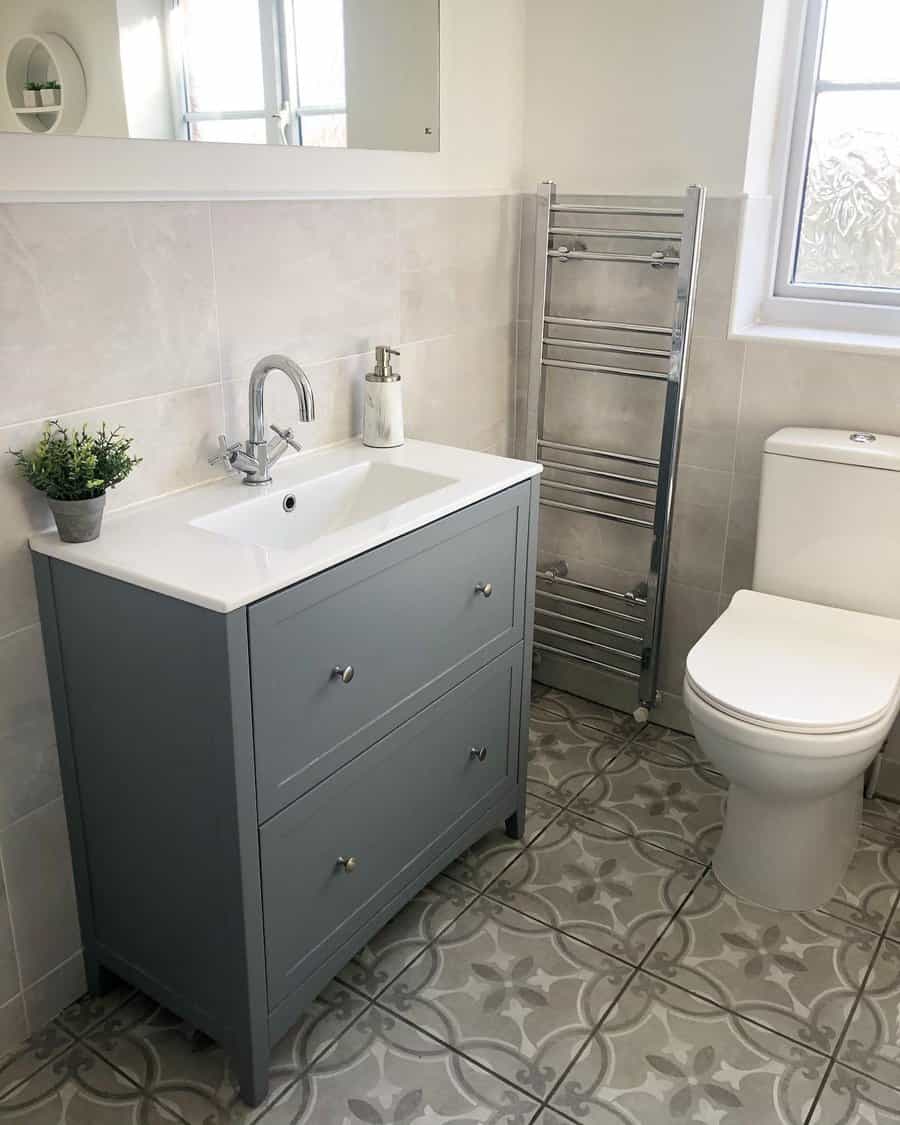 5. Illuminate with Elegant LED Strips
Enhance the allure of your grey bathroom with LED lighting for a welcoming, luxurious ambiance. Use LED strips to line cabinets, highlight door trim, or create a captivating LED rain effect within the shower. Install a mirror with built-in LED lighting on either side to frame the vanity, adding both illumination and style. These LED lights strike the perfect balance, delivering drama and warmth, making them an ideal choice for any bathroom.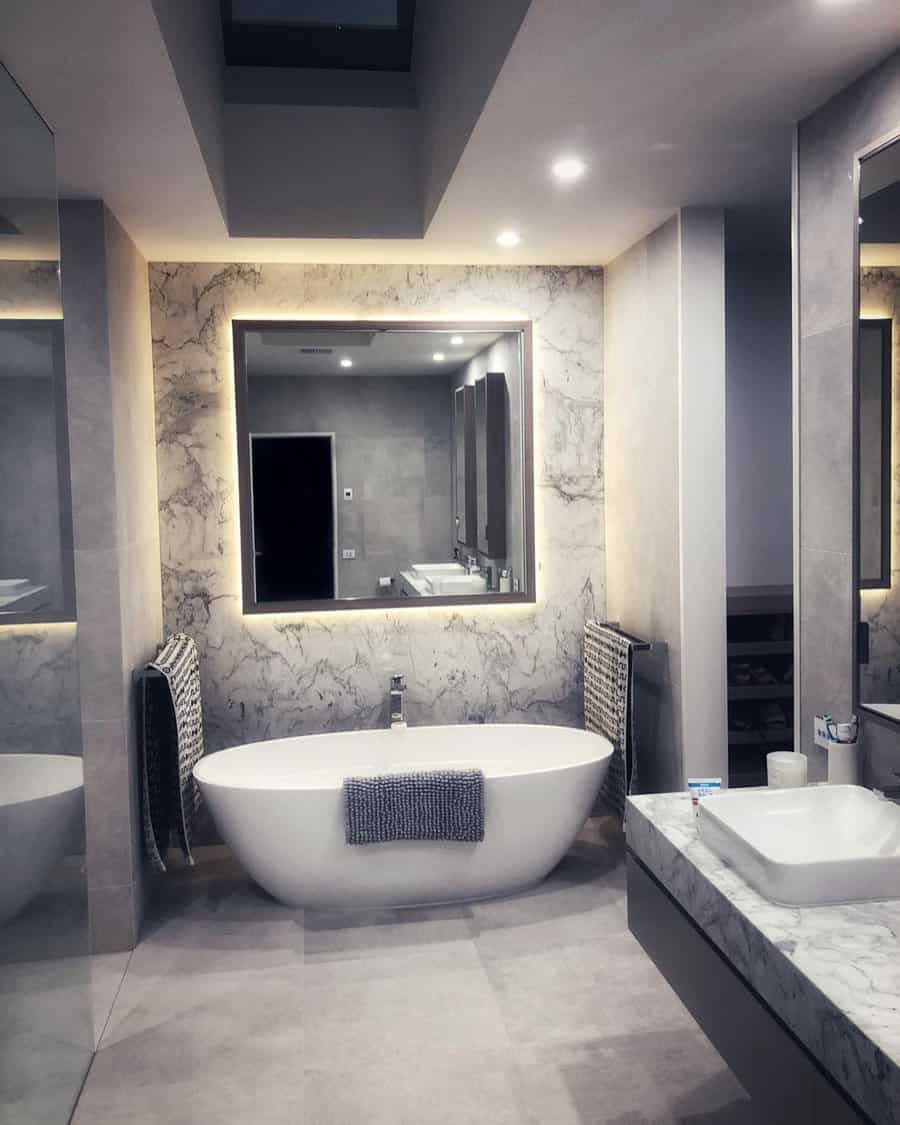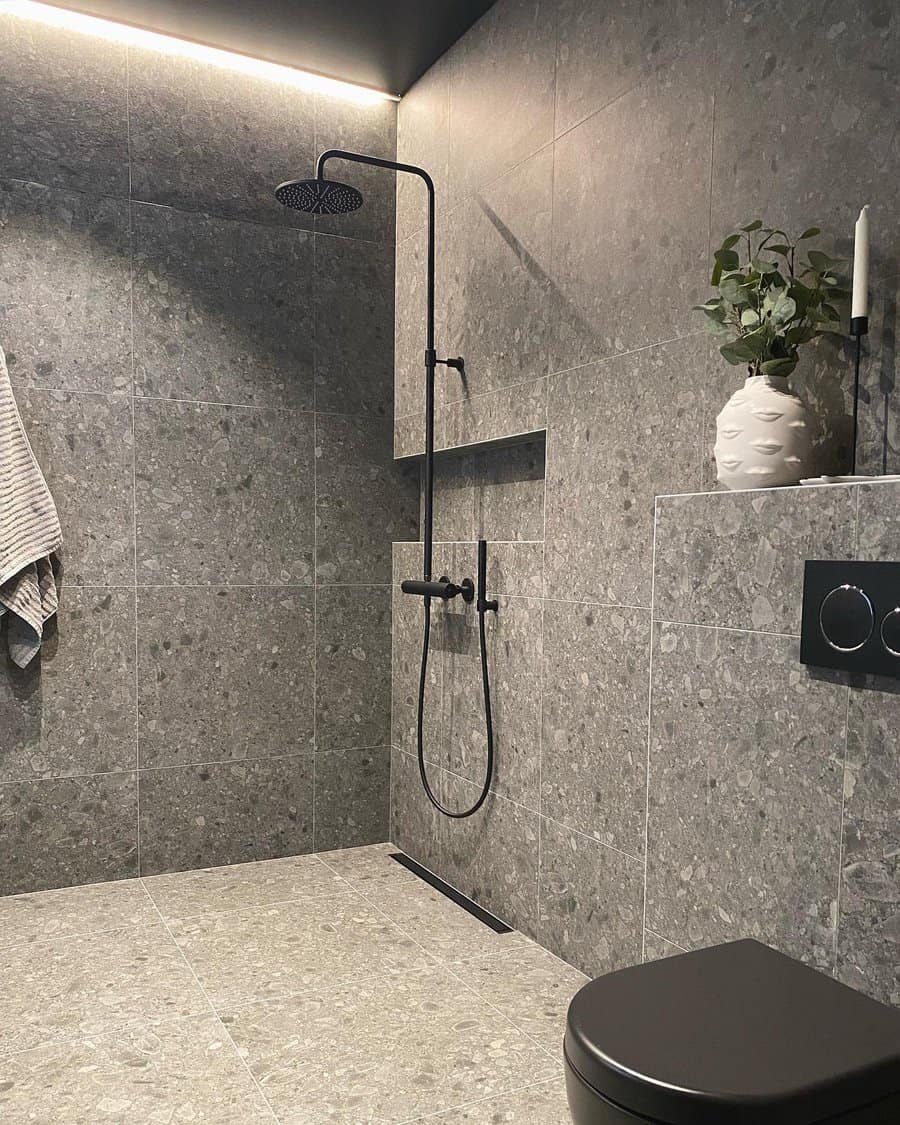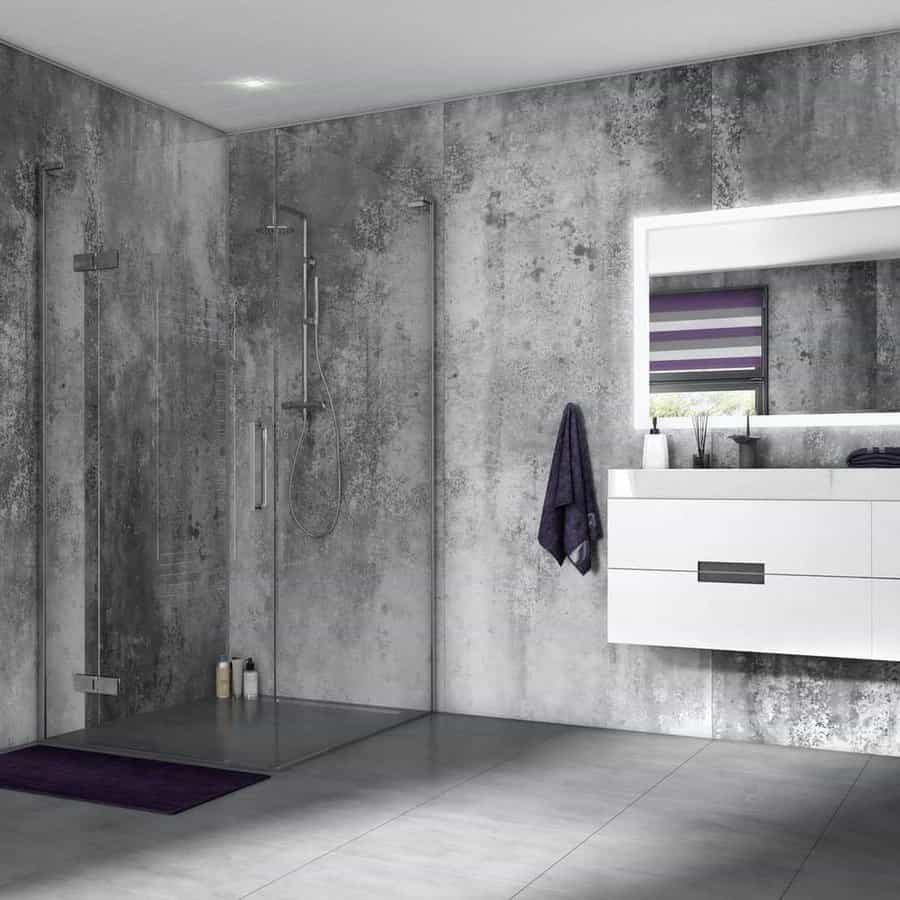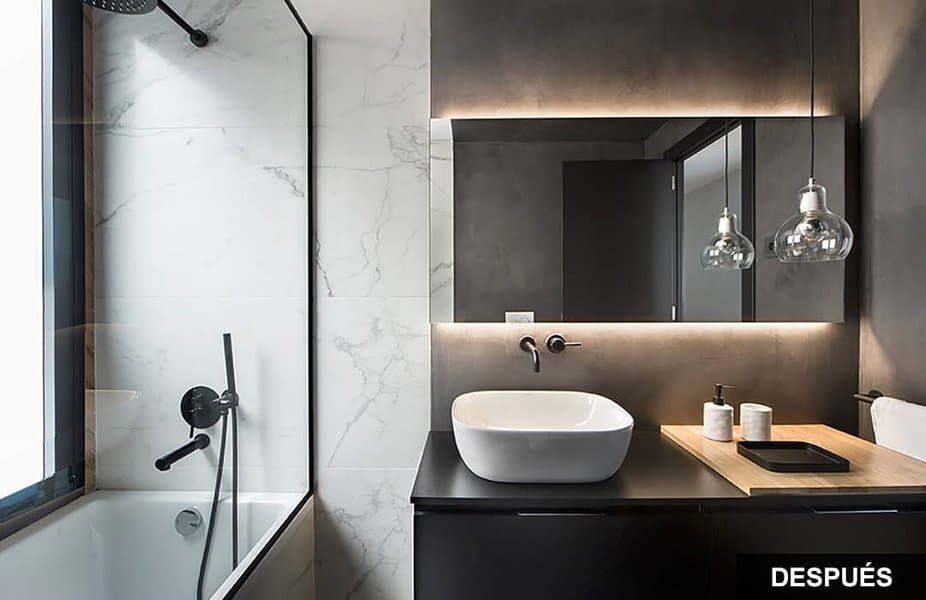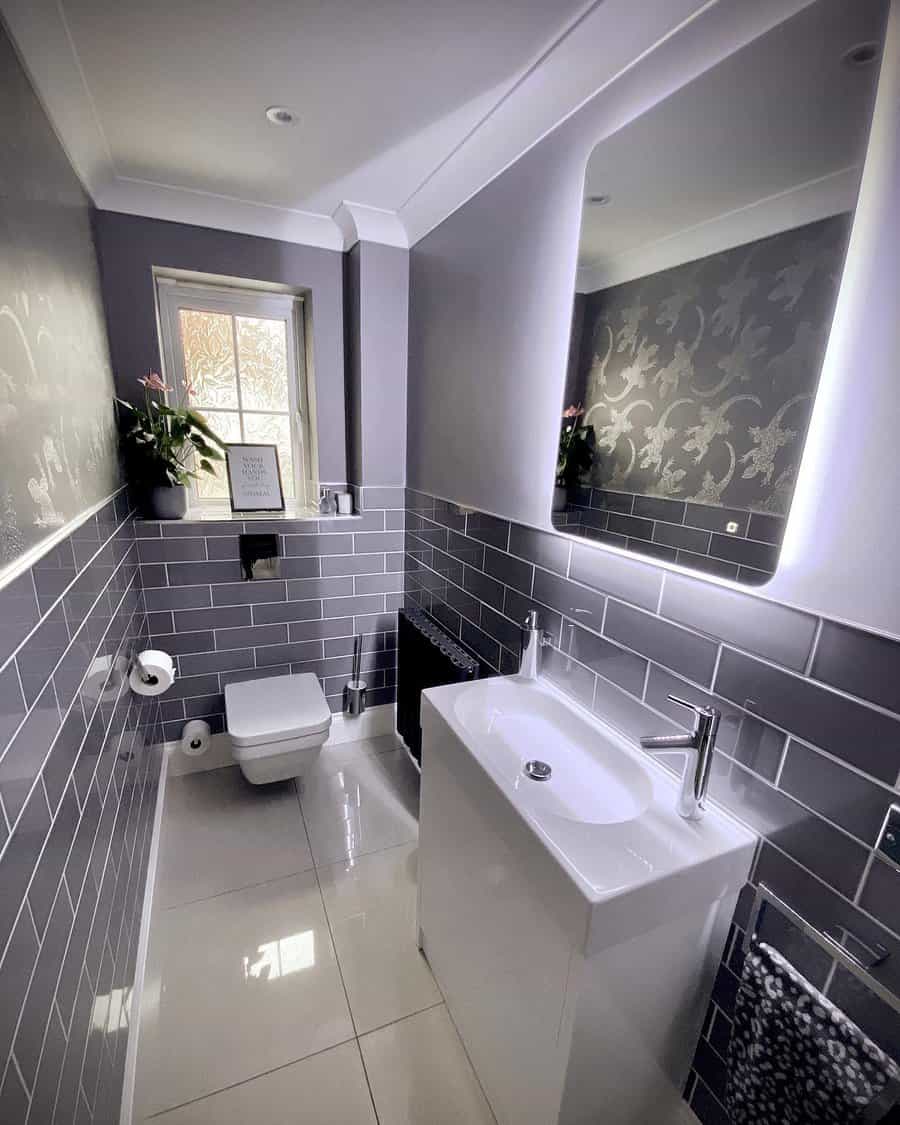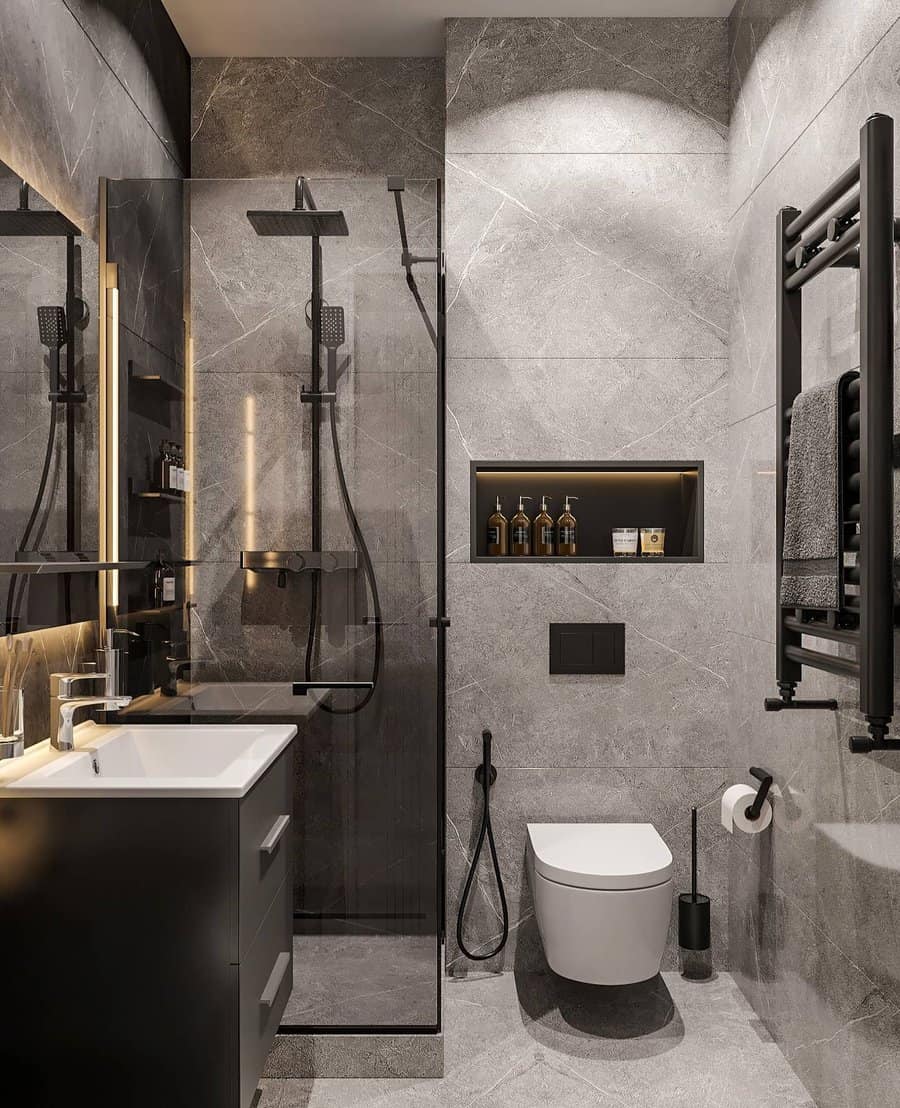 6. Play With Monochrome Patterns
Revitalize your monochromatic bathroom with decorative tiles. Whether you choose to go bold with a maximalist approach, creating a vibrant backdrop, or opt for subtle accents around the sink, bathtub, and shower, let your creativity flourish. Explore various colors, shapes, sizes, and patterns to suit your preferences and create a comfortable, stylish grey bathroom that will stand the test of time. Monochromatic decorative tiles offer timeless appeal that never goes out of style.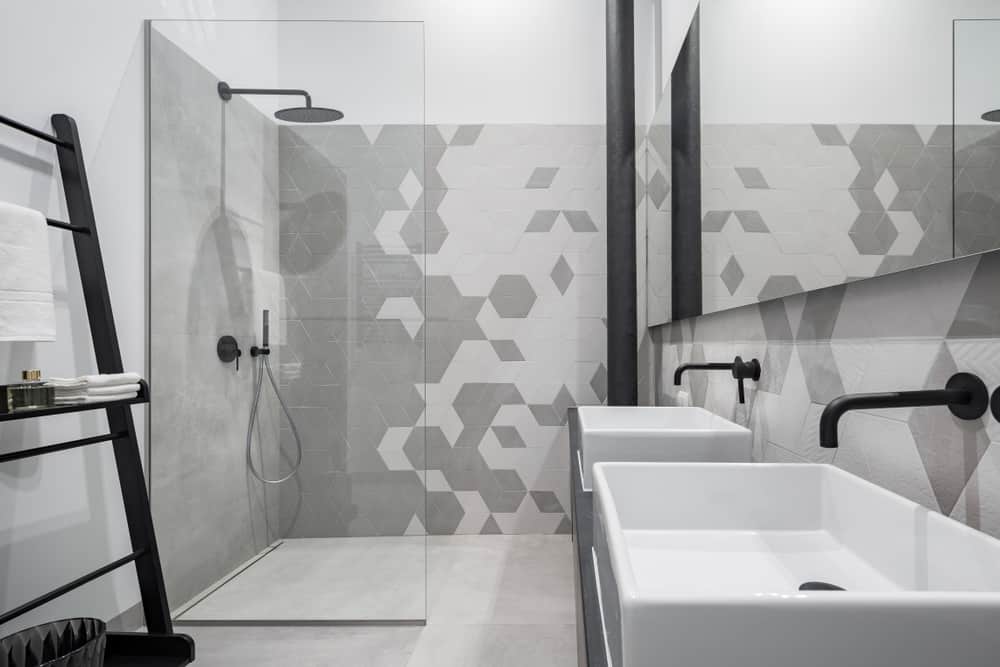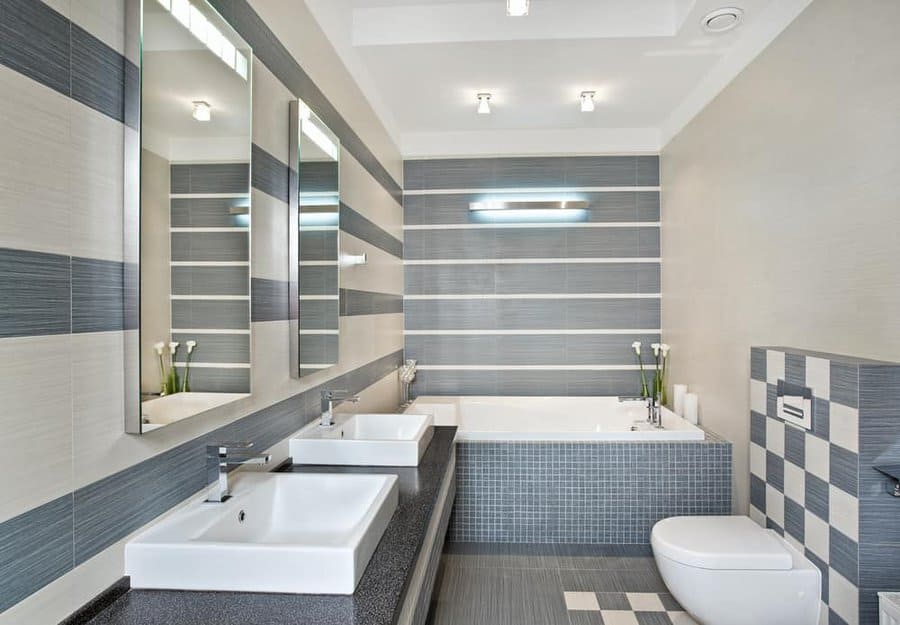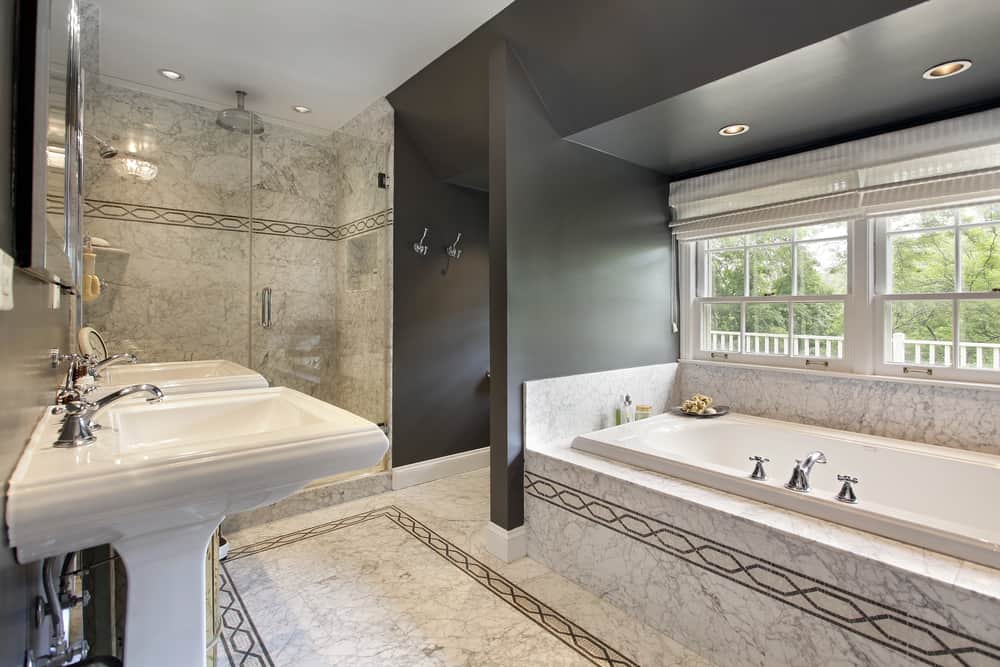 7. Infuse Greenery for Vibrant Serenity
Enliven your grey bathroom with the vibrancy of plants. Consider placing cheerful potted greenery in corners and near the bathtub for a touch of nature. Alternatively, hang plants strategically for an eye-catching look that adorns both walls and ceilings. Get creative by incorporating both options to transform your bathroom into a lush, soothing oasis.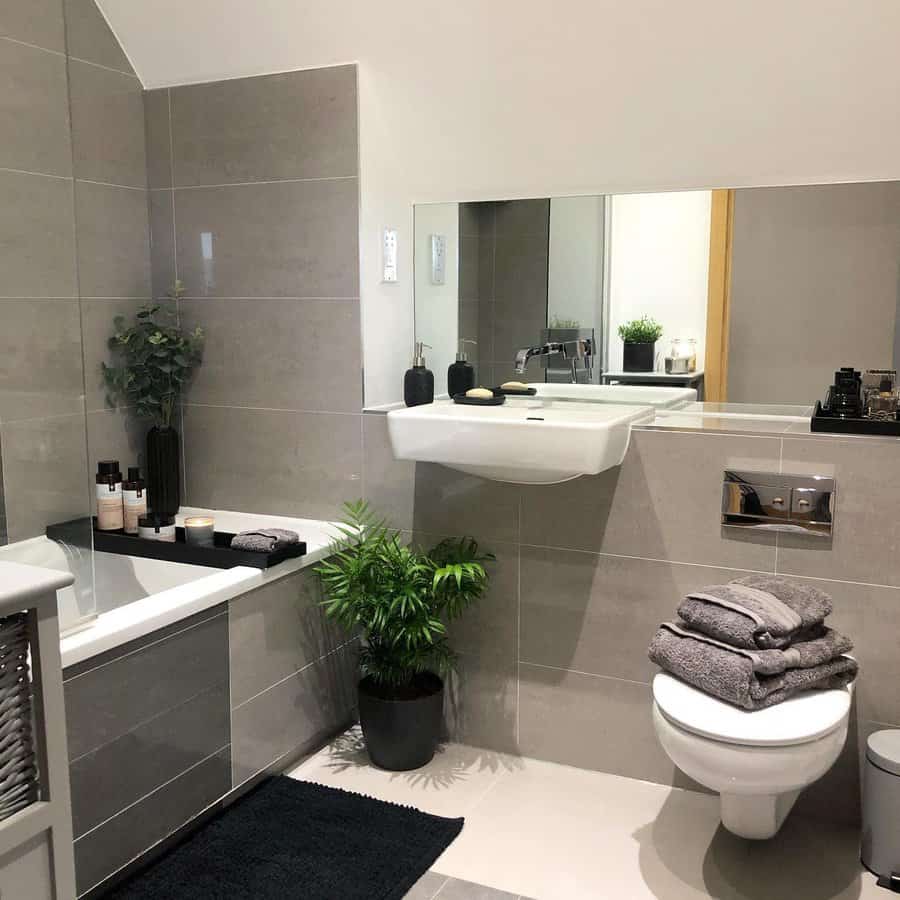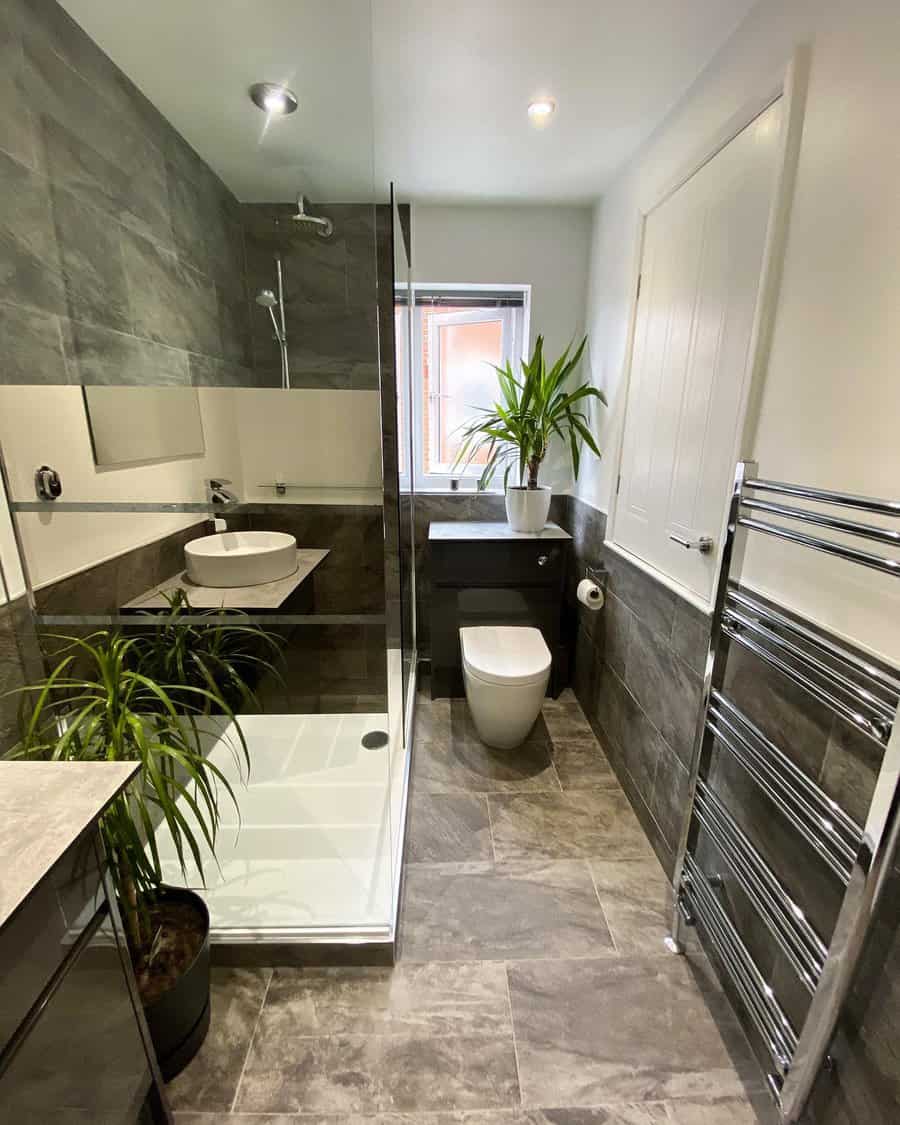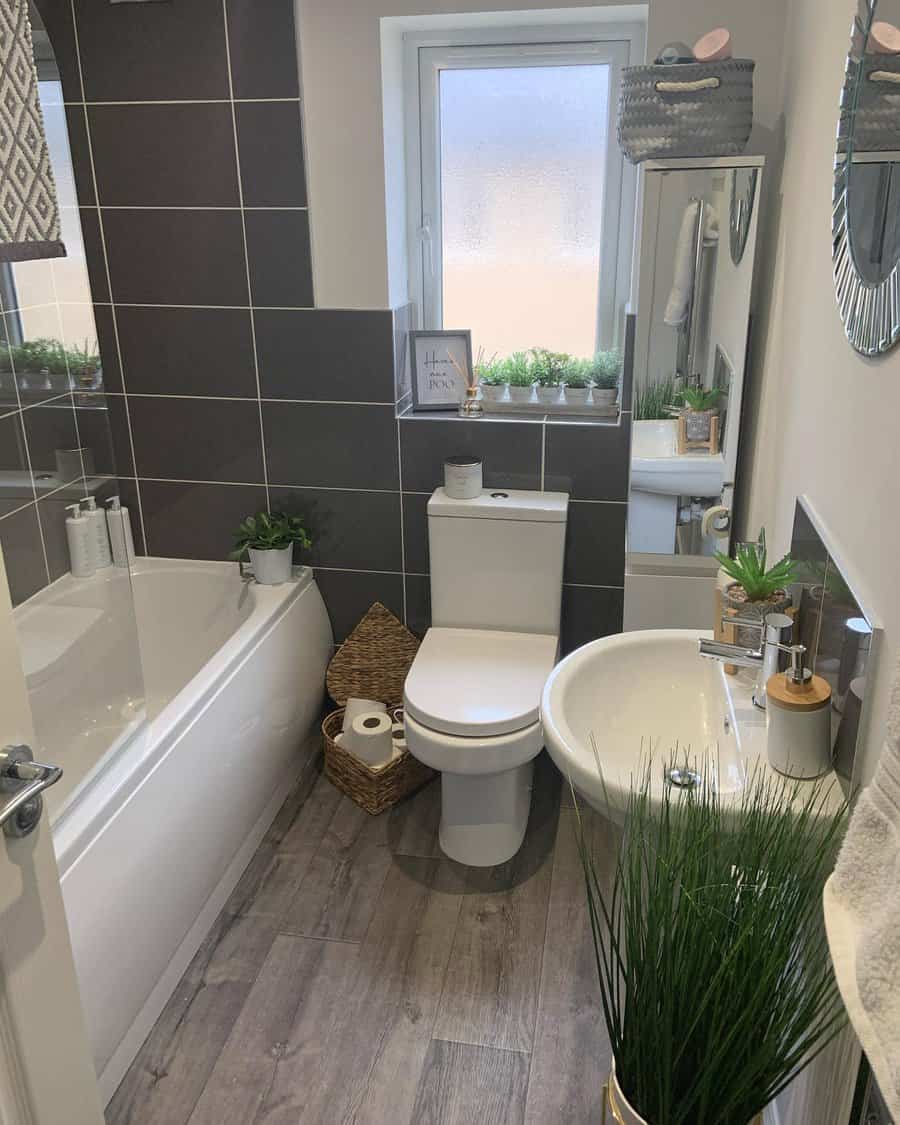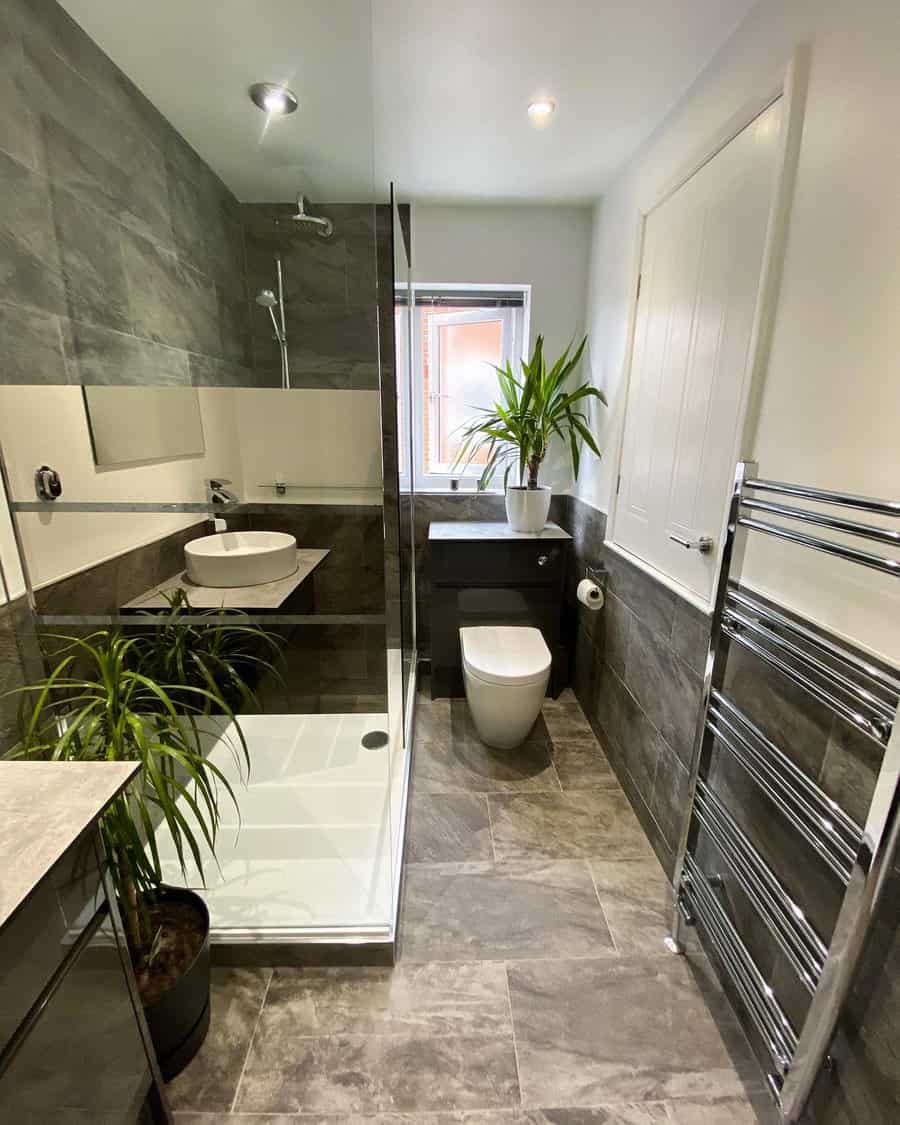 8. Open Up with Glass Dividers
Revamp your grey bathroom by introducing glass dividers to create a more spacious and visually open setting. These dividers offer the perfect balance between privacy and an open feel. They also optimize the flow of natural light, illuminating overlooked areas. Your choice of glass design can infuse class or playfulness, ensuring it's the ideal finishing touch for your grey bathroom.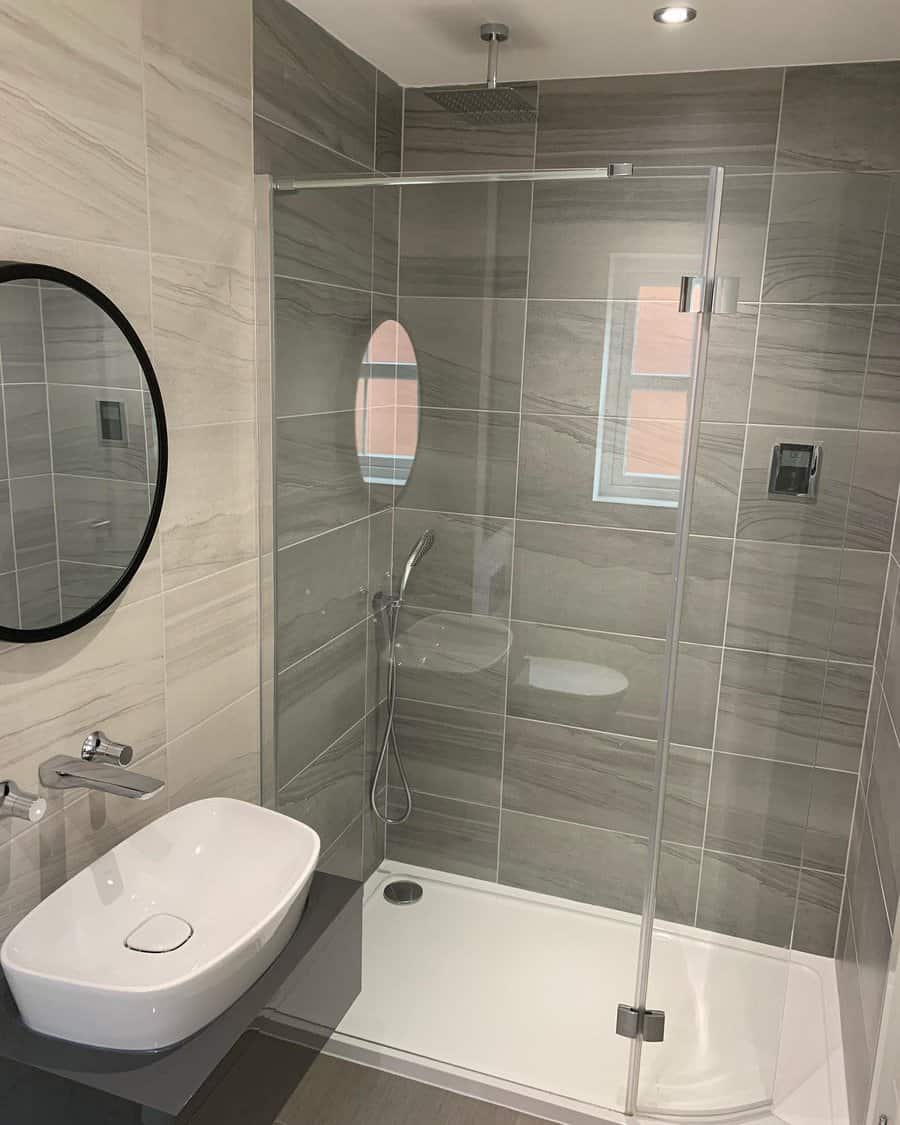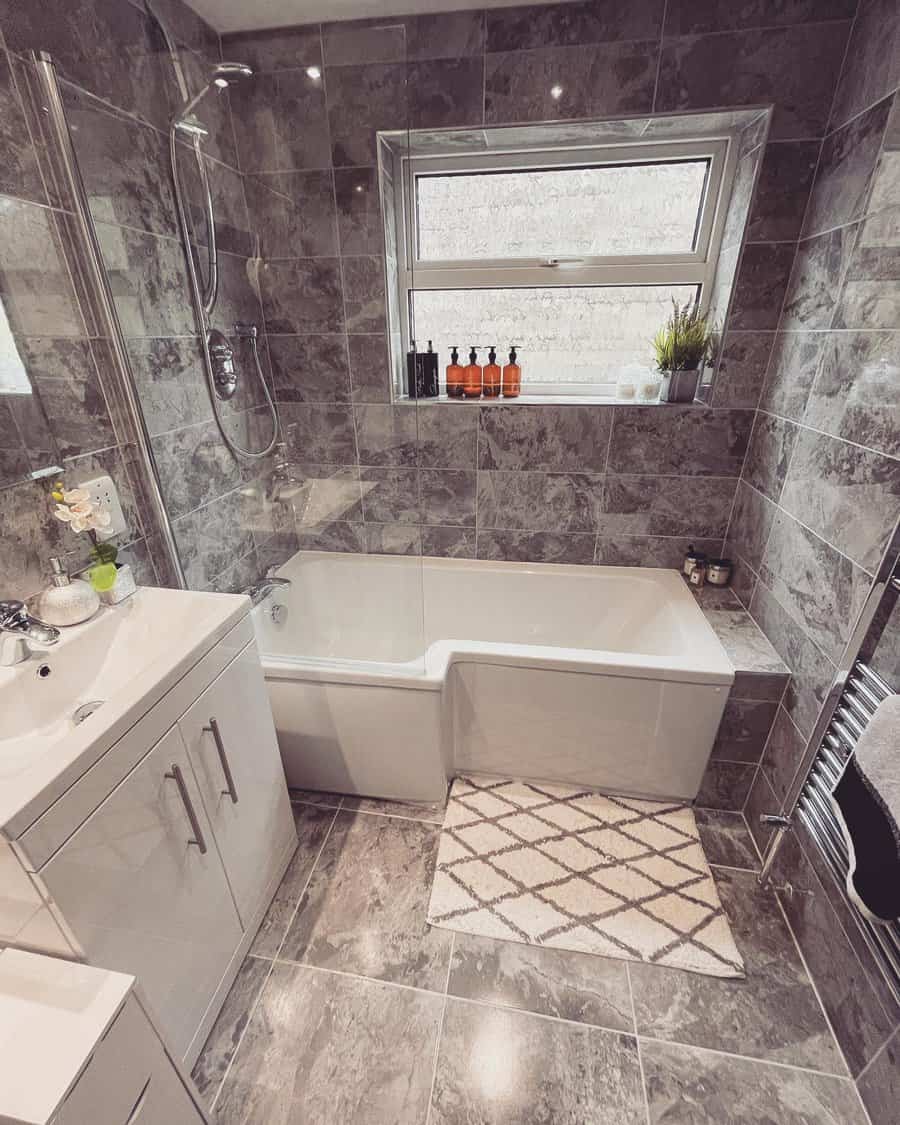 9. Subtle Accents with Stamped Mosaic Tiles
Mosaic tiles are an excellent means to infuse character and dimension into your grey bathroom. Opt for stamped mosaic tiles in muted, earthy shades for a contemporary vibe, or go bold with vibrant patterns for an attention-grabbing accent wall. Experiment with diverse tile arrangements, such as herringbone or staggered brick, to establish a captivating focal point and achieve your desired statement look.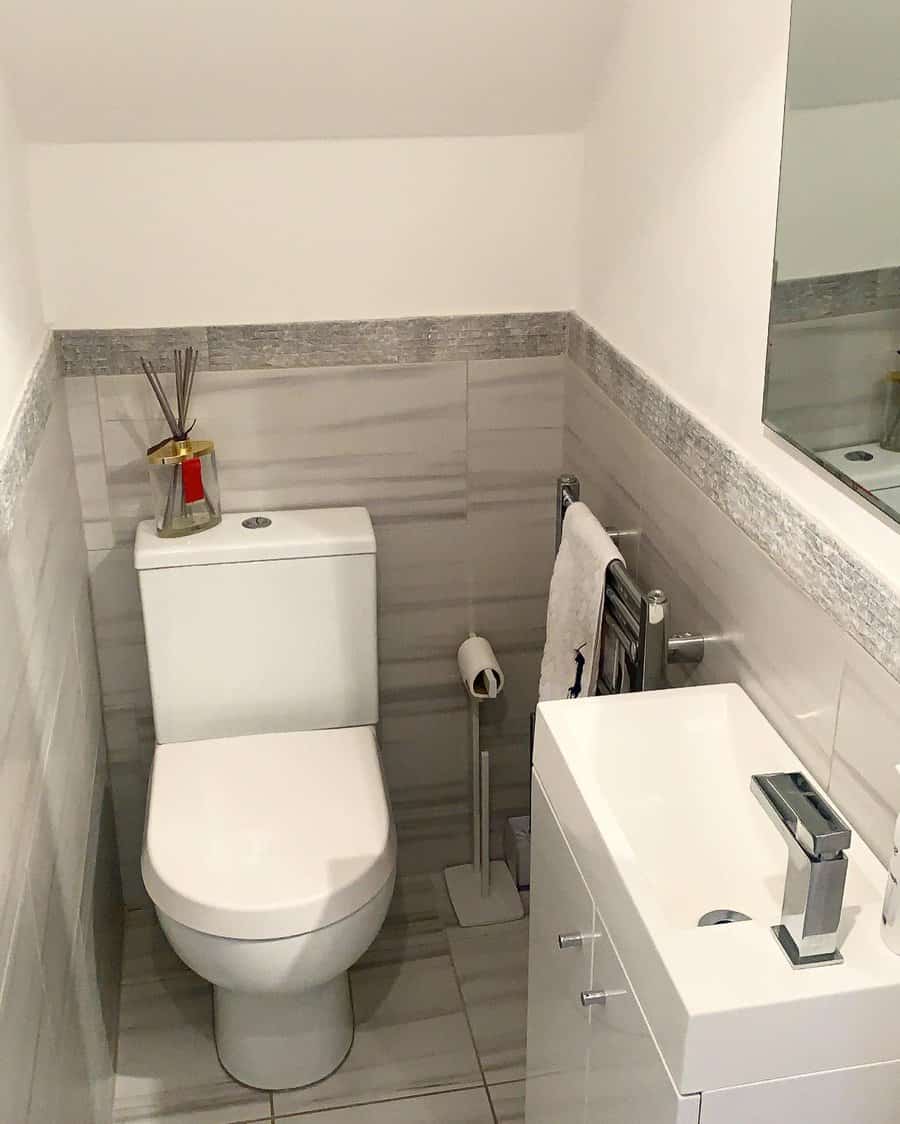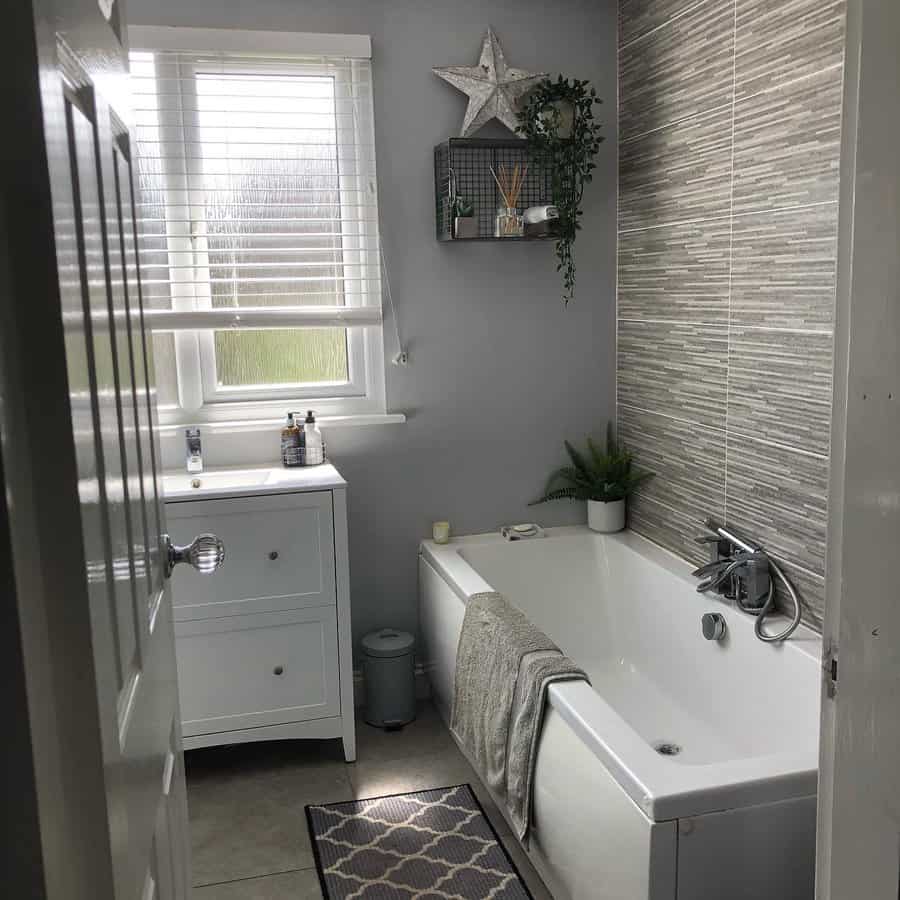 10. Maximize Brightness with White & Grey
For a luminous and visually striking grey bathroom, consider incorporating a white and grey color scheme. This blend works wonders in expanding the space and imparting a brighter atmosphere. It effectively breaks the monotony of an all-grey palette while preserving a timeless appeal. To fully realize this design, update your lighting fixtures with white accents, such as white pendants or wall sconces. This not only enhances the brightness but also introduces a contemporary touch to the room.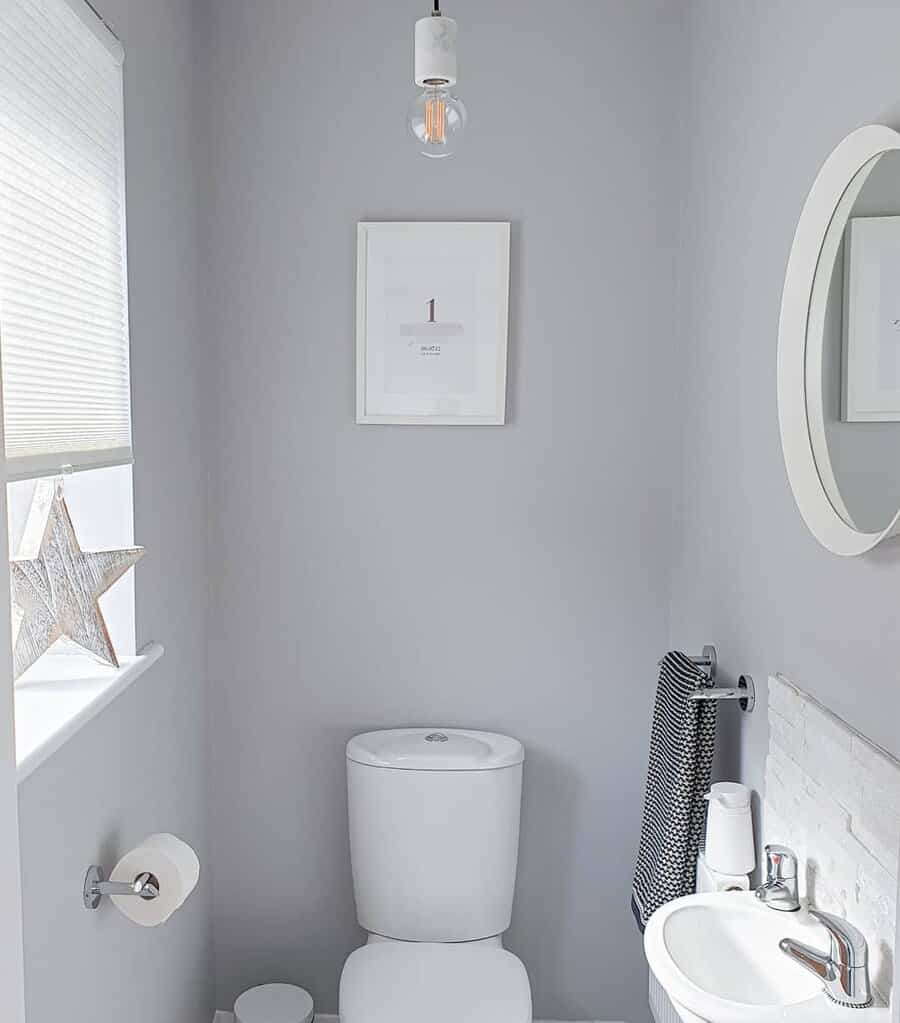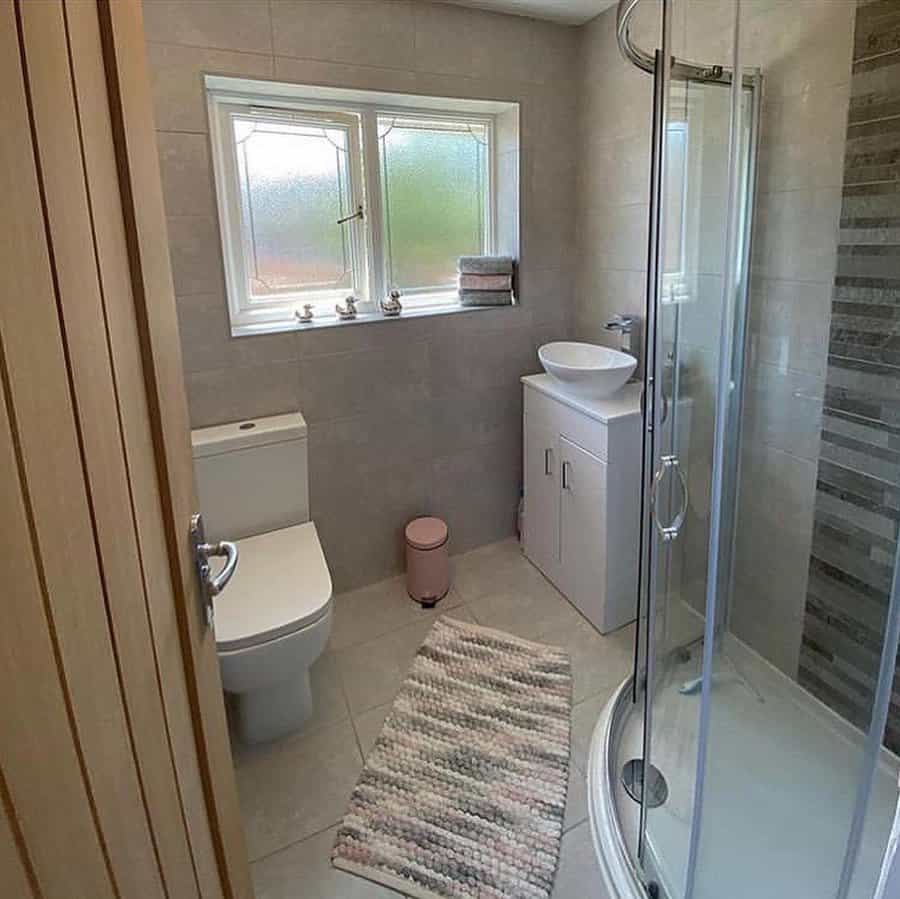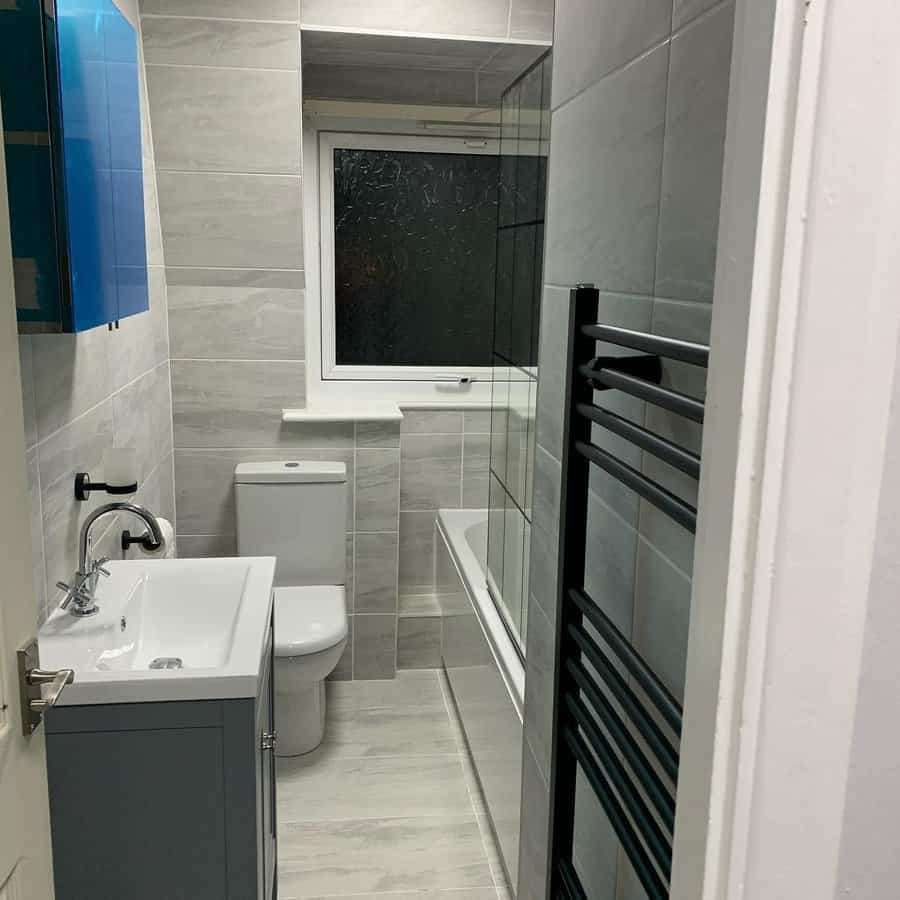 11. Rustic Contrast for a Unique Vibe
Infuse character into your bathroom by combining grey with rustic elements. Enhance the grey backdrop with wood accents, galvanized metal, and vintage-style vases to create an intriguing contrast. This decor style introduces a sense of rustic authenticity, providing a unique atmosphere.
Pair a grey wall with shiny surfaces like copper or brass fixtures, a leaning wooden ladder, and a jute rug for a relaxed and inviting ambiance. Grey shades are highly versatile, allowing you to find tones that seamlessly complement nearly any color scheme, making it a versatile choice for your bathroom design.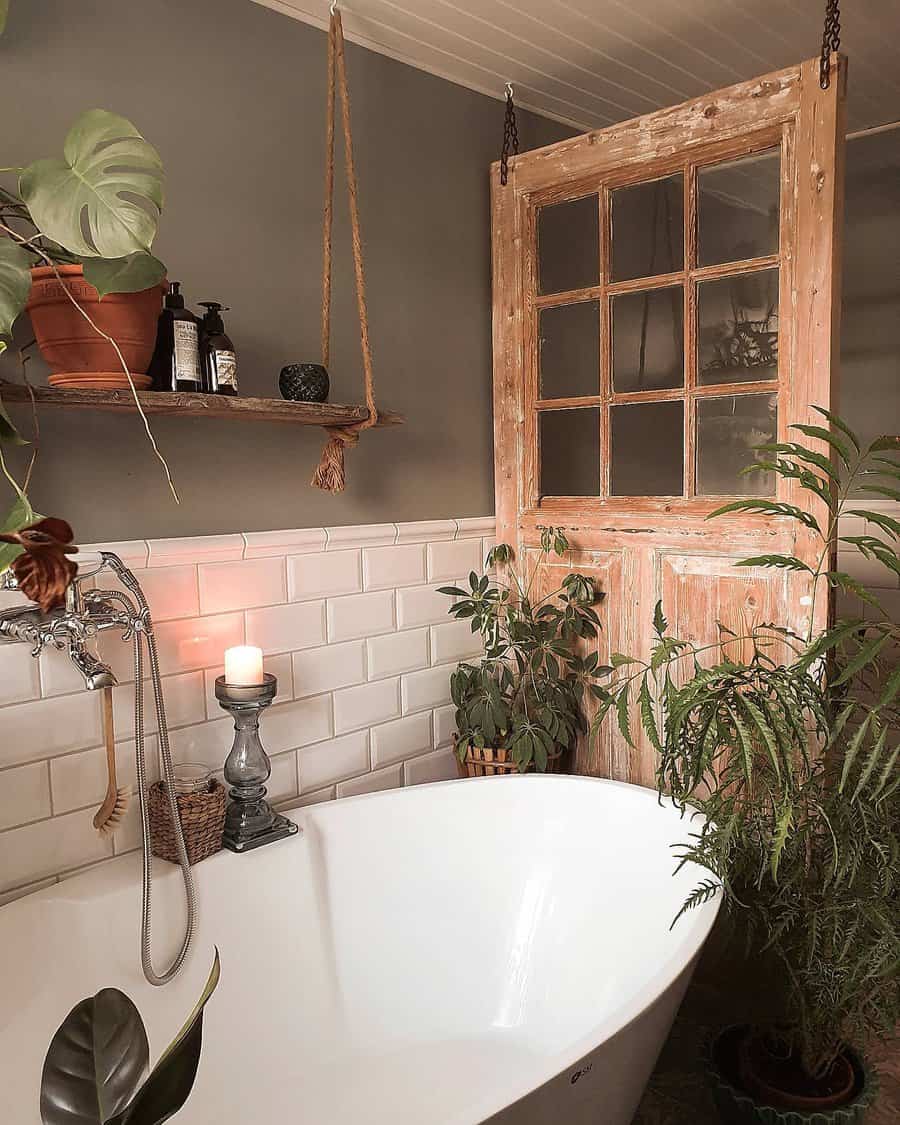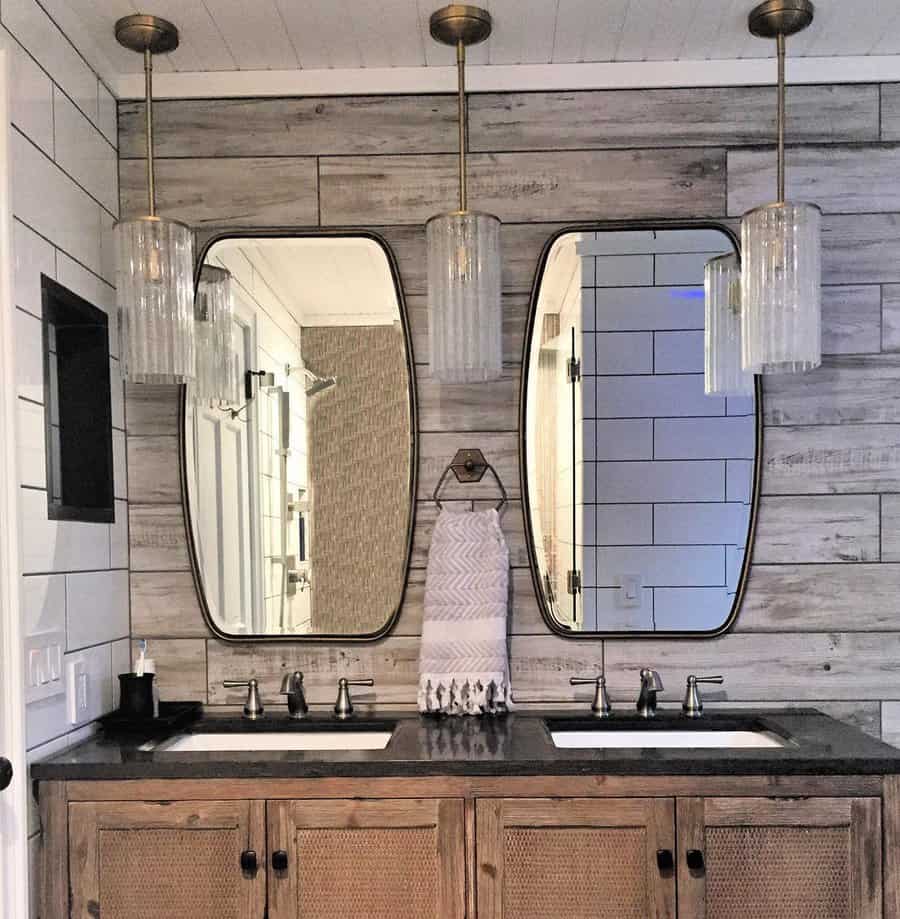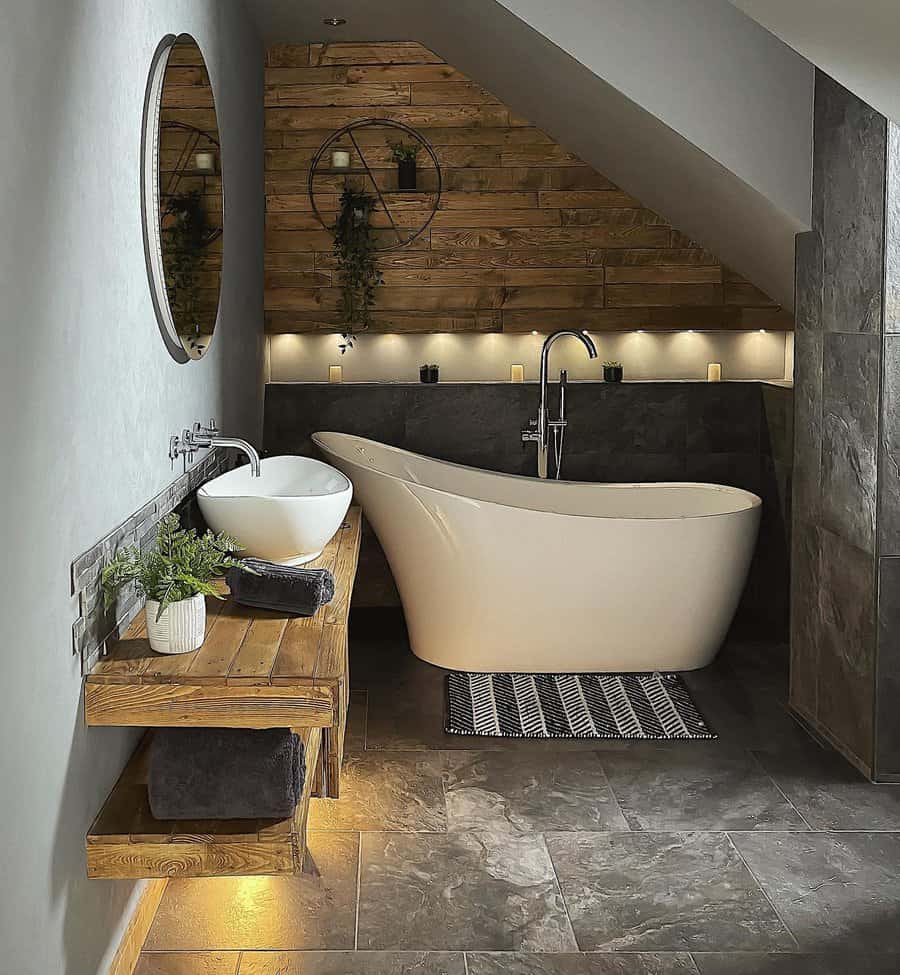 12. Minimalistic Scandinavian Escape
For a Scandinavian-inspired grey bathroom, prioritize minimalism. Opt for clean lines and simplicity by selecting chrome taps and accessories, creating a versatile backdrop for accent colors. To enhance the look, introduce darker elements like black fixtures for added contrast and modern depth.
If updating your tiles, consider patterned options to add intrigue to your grey bathroom. This timeless blend of grey, black, and white embodies the classic Scandinavian interior design style, making it perfect for your bathroom.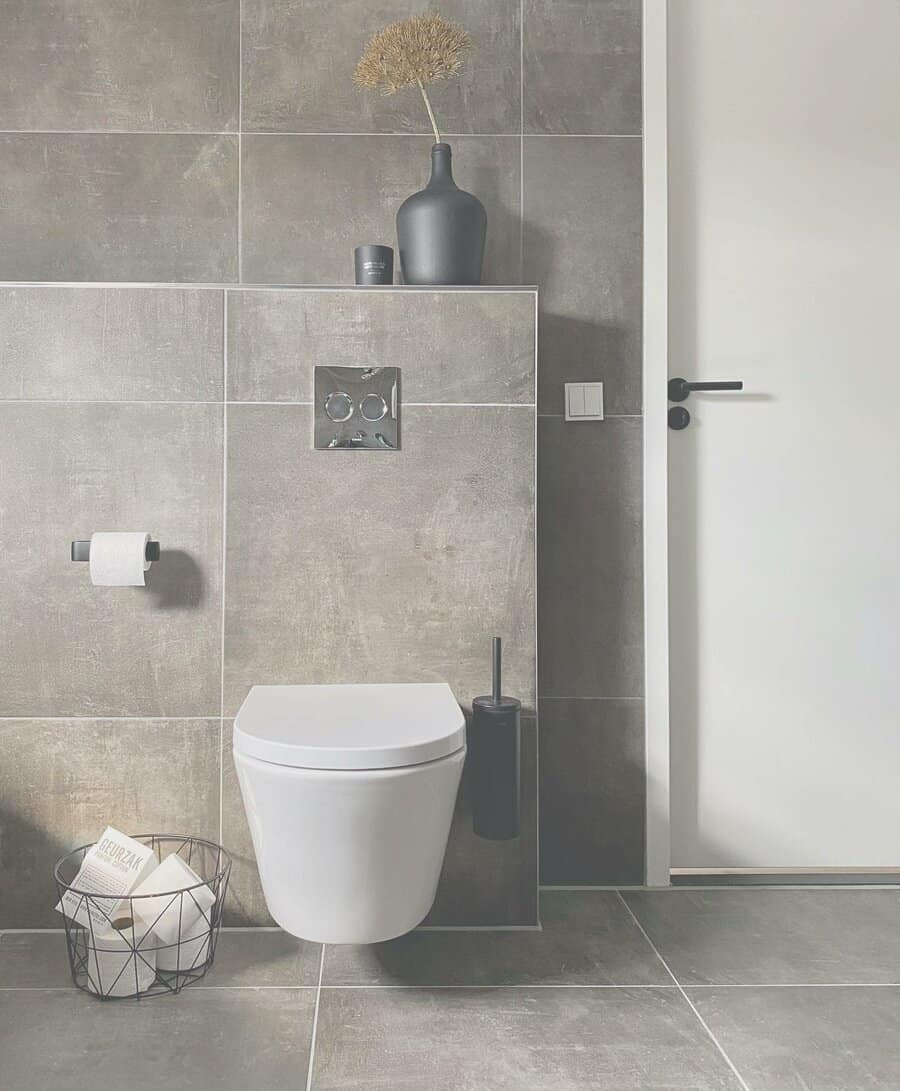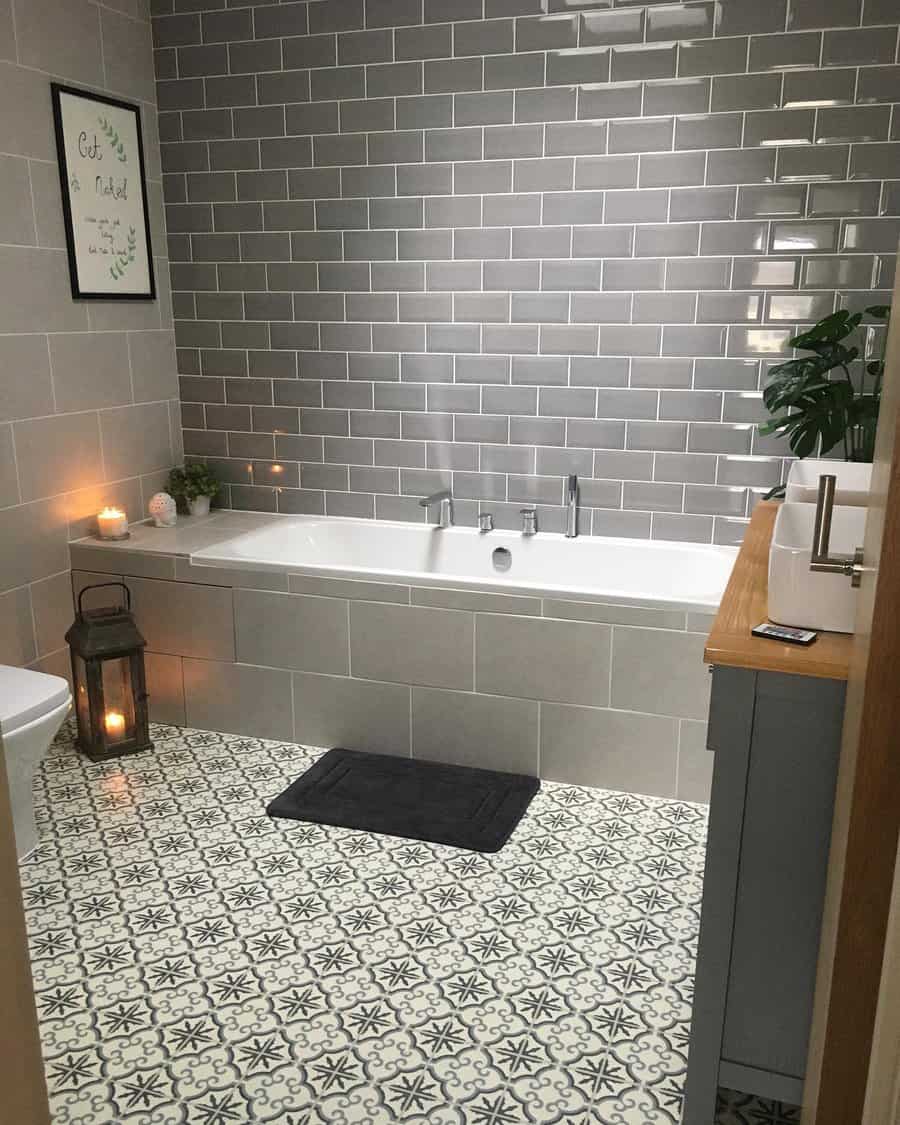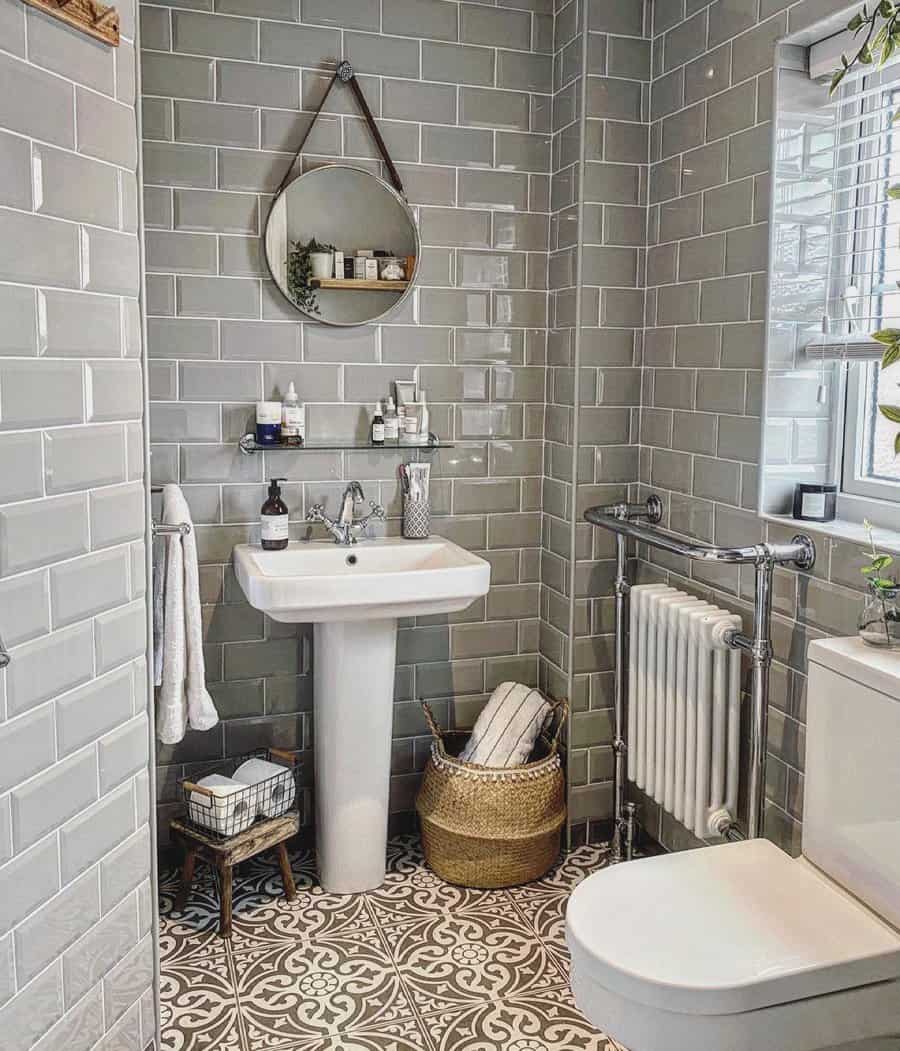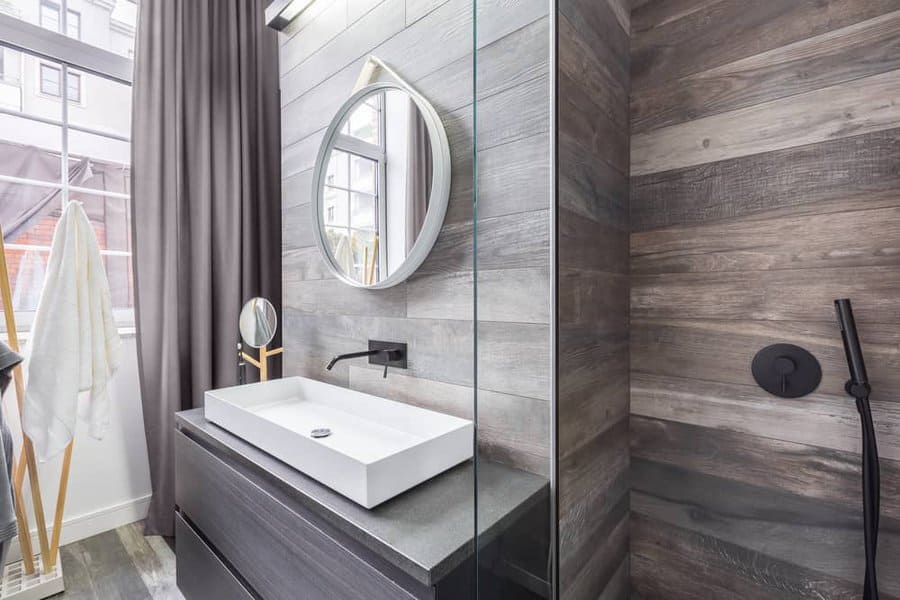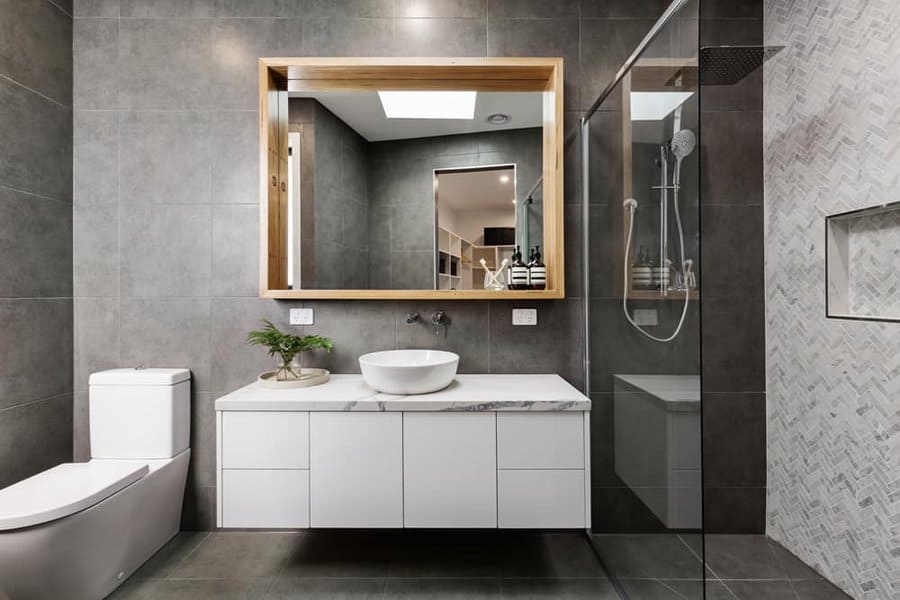 13. Add Rich Texture to Your Space
To introduce rich texture to your bathroom, consider a textured accent wall. Stamped tiles offer a simple way to add depth and dimension to your space. Beyond enhancing the room's dimension, textured tiles allow for creative design choices. Experiment with various glazes and finishes to complement the color scheme of your grey bathroom. Embrace textured walls as a distinctive and stylish addition that can make your bathroom truly unique.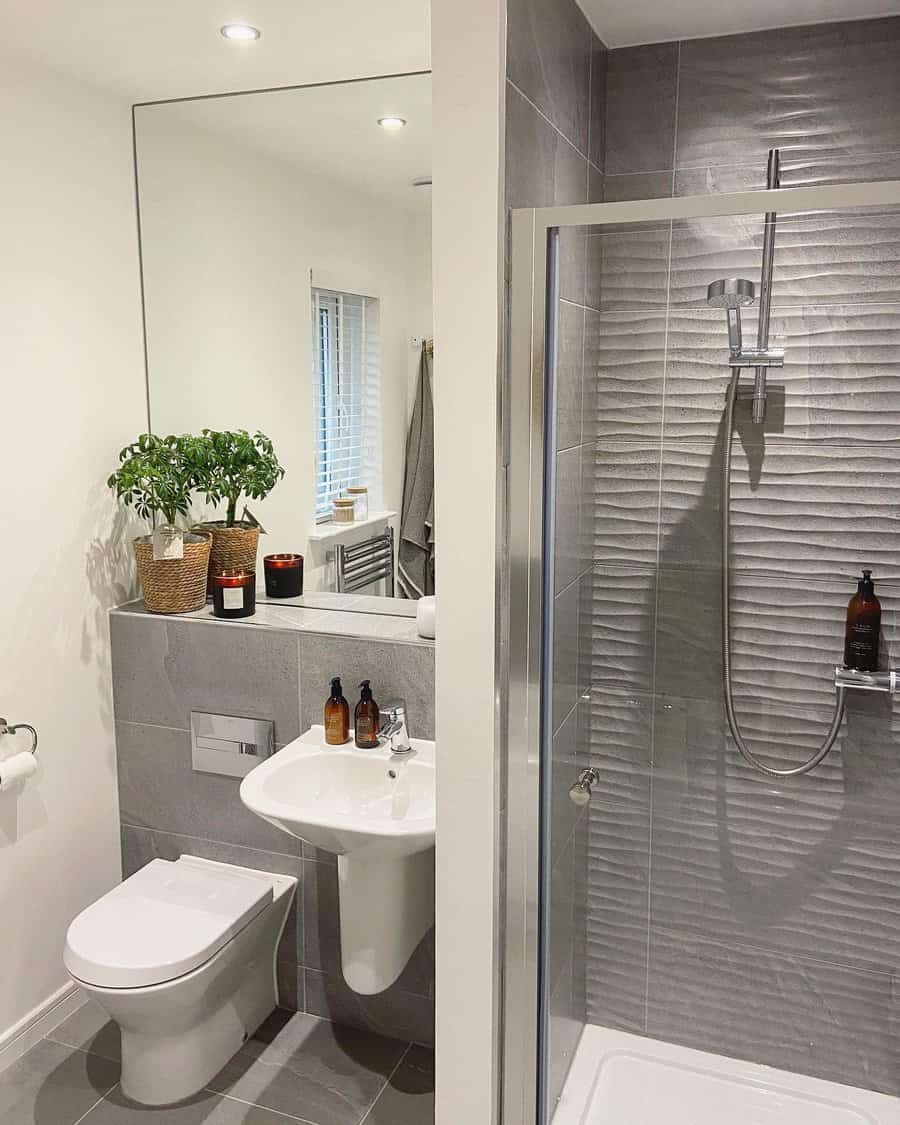 14. Timeless Elegance with Grey Tiles
Achieving a modern and timeless bathroom is a breeze with the right choice of grey tiles and white grout. Grey tiles serve as a stylish backdrop, allowing white features like sinks, faucets, and toilets to shine. To enhance this classic combination, introduce accent colors like soft greyish-blue or pops of pink and yellow, creating a warm and inviting color palette. Grey is incredibly versatile, making it suitable for various bathroom styles, from modern to classic. Enhance your bathroom's chic appeal by incorporating grey tiles, crafting an effortlessly elegant space.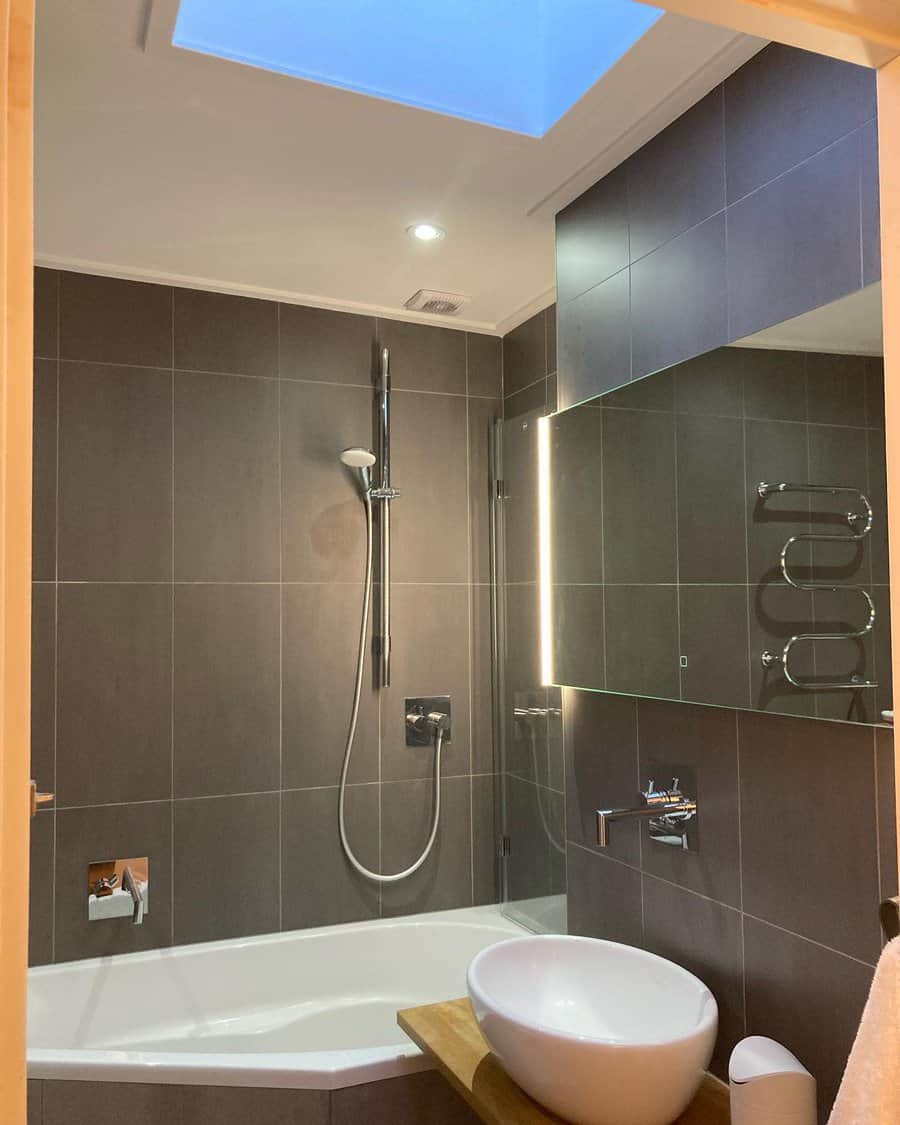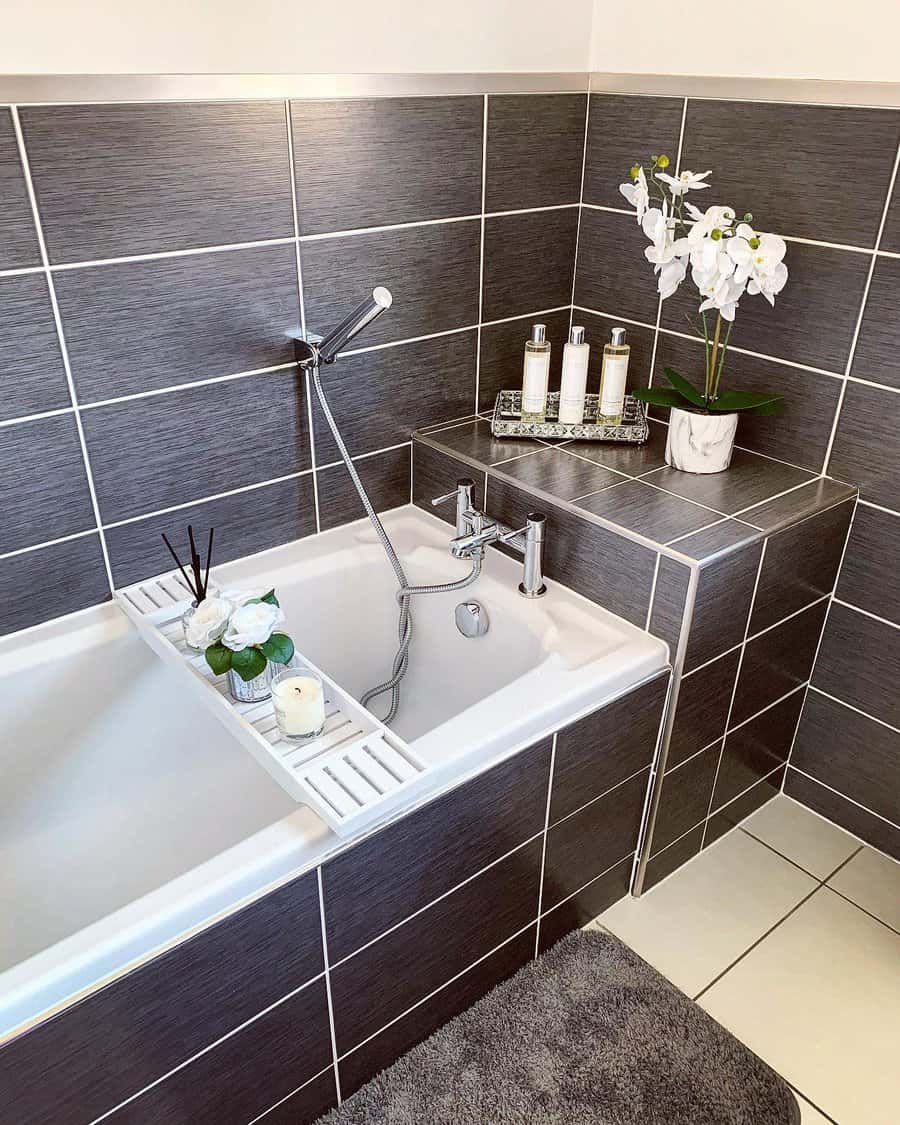 15. Catch Eyes with Pendant Lighting
Upgrade your bathroom's ambiance by incorporating pendant lighting. This addition can shift your bathroom from a purely functional space to a haven of relaxation and self-pampering. Pendant lighting provides a soft, diffused glow that's ideal for unwinding during a spa day or preparing for your daily routine. With a wide array of pendant lighting options, take the time to select fixtures that complement your personal style and bathroom decor. Opt for colors inspired by nature and gentle lighting to create a soothing and luxurious atmosphere, enhancing the overall appeal of your bathroom.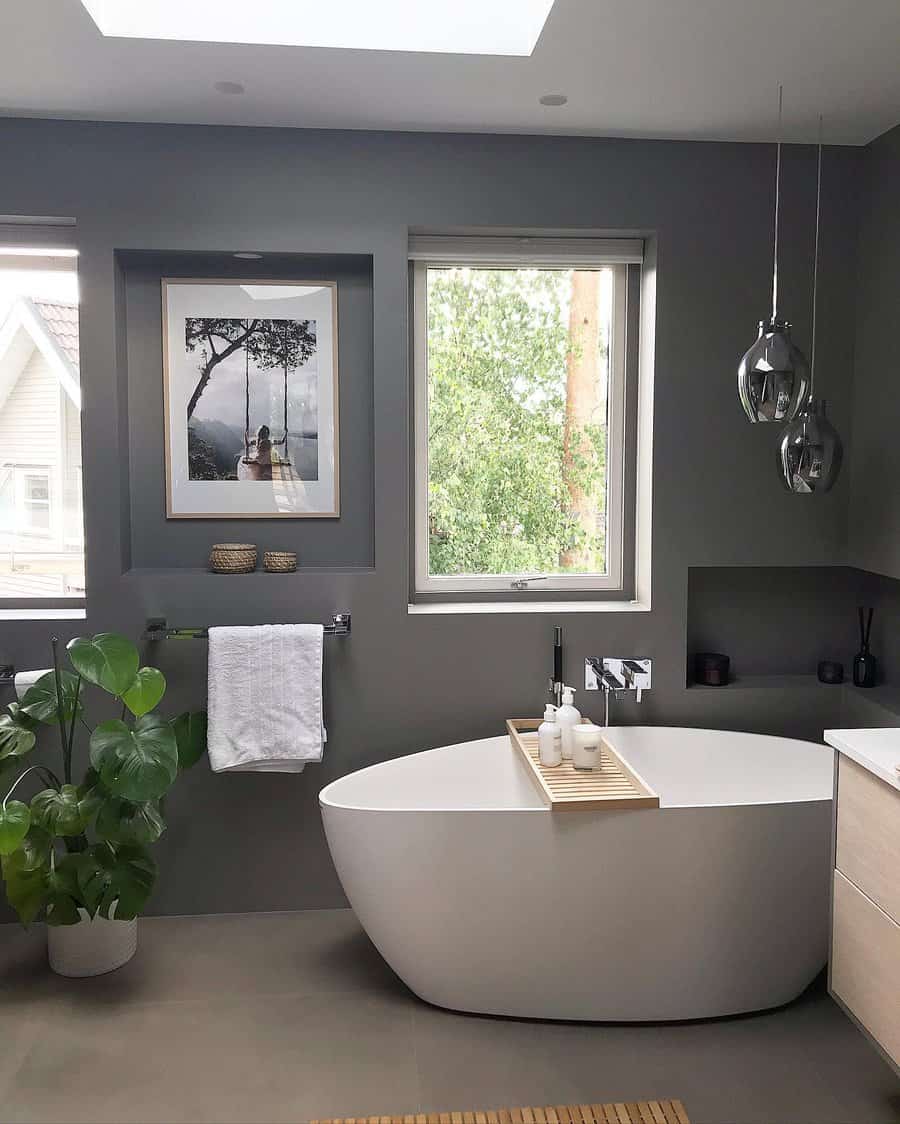 16. Balance Grey with Warm Wood
To counter the coolness of grey in your bathroom, consider incorporating warm wood elements. Wooden cabinetry, floorboards, or furniture can instantly introduce a homely feel. Enhance this cozy atmosphere by painting one wall or a fixture, like an exposed pipe, in a pale shade of grey to provide subtle contrast. The blend of grey and wood creates a harmonious interior design, ensuring your bathroom feels like an inviting part of your home.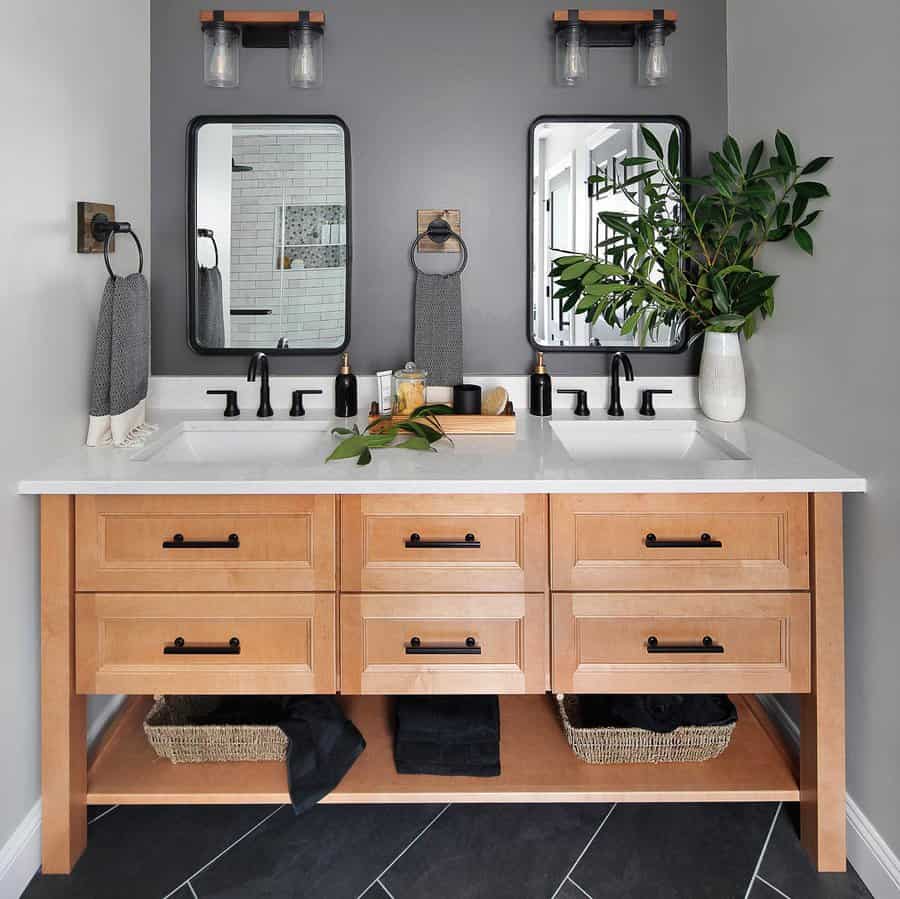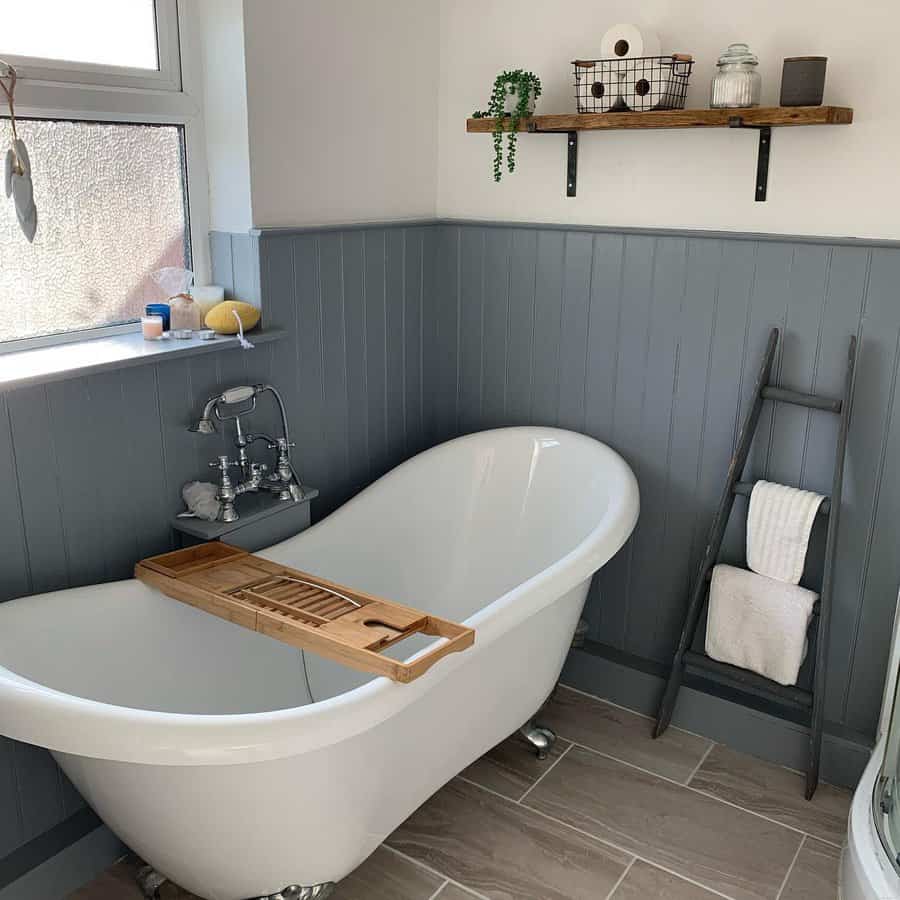 17. Create a Statement Window Design
For a captivating enhancement in your grey bathroom, consider installing a statement window. A decorative shade can serve as a focal point that elevates the room's style. Beyond its aesthetic appeal, it introduces texture and depth to the space while filling the room with natural light, creating a serene environment for your daily routine.
Statement windows also offer privacy and the opportunity to enjoy scenic outdoor views. With a wide range of styles, from patterned to plain, you can tailor the window to your bathroom's unique requirements. Get creative with colors and textures to make it your own and enhance your bathroom's overall look.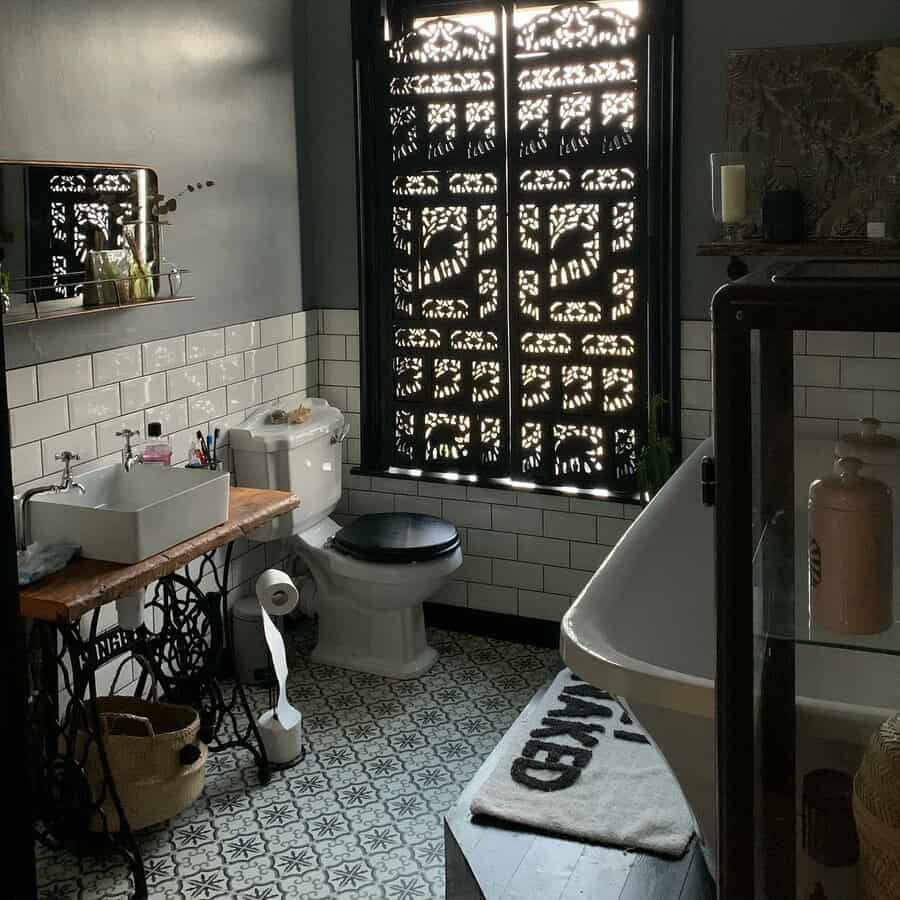 Grey Bathroom FAQs
How do you add color to a grey and white bathroom?
Since grey and white are neutral colors, it's easy to integrate any other color you like. The easiest way is to buy colorful towels and rugs. This also leaves you the option of switching them out for another hue when you tire of the first. For a more permanent splash of color, paint or wallpaper an accent wall.
How do I soften a grey bathroom?
It's true: an all-grey bathroom can look a little cold and harsh all by itself. A great way to warm up a grey bathroom design is to introduce wood tones. Whether that means replacing a grey vanity with a wooden one, or putting down wood-style flooring, wood makes an ordinary grey bathroom feel more welcoming.