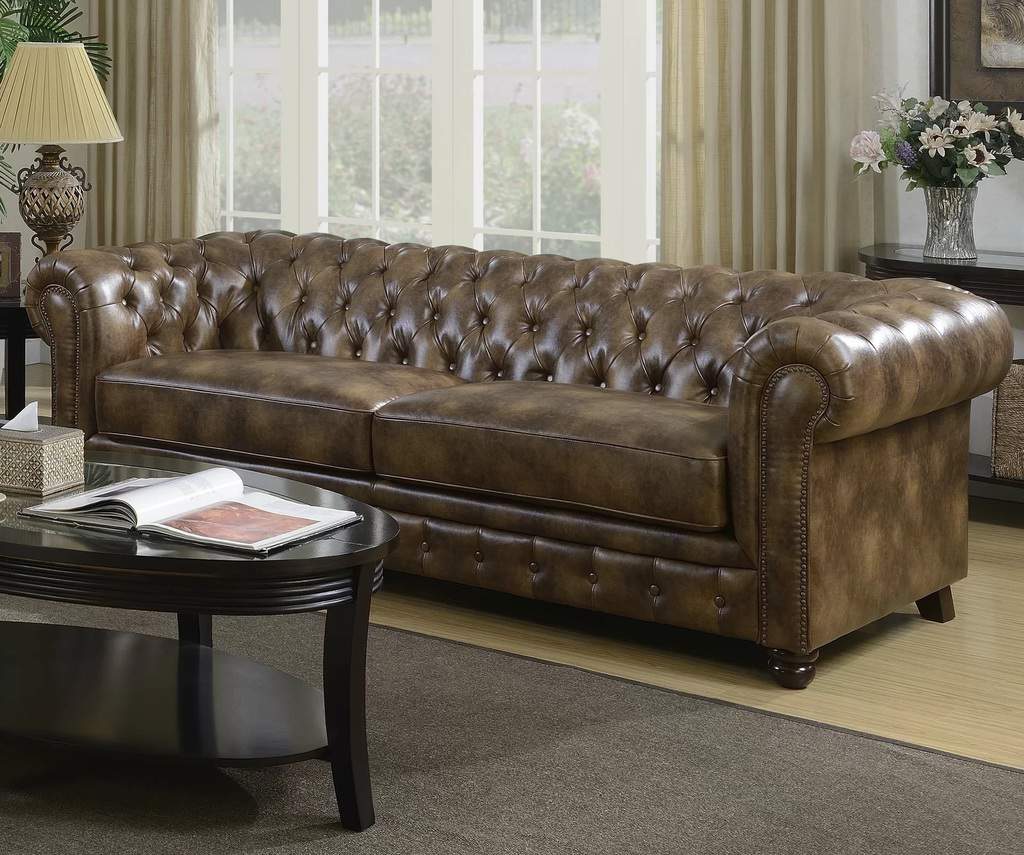 Trendey may earn a commission when you buy through links on our site.
As an Amazon Associate we earn from qualifying purchases.
Best Leather Sofas
Leather is a classic upholstery material that dates back centuries. It's one of those materials that instantly elevates the look of your home and gives it a sophisticated feel.
What really makes leather stand out, though, is its adaptability. It blends beautifully with a wide range of interior design styles, helping it to blend in and look at home in any home.
We've done the research for you to curate a list of the best leather sofas you can buy for your home.
Top Picks
Best Overall: Natasa' Faux Leather Rolled Arm Chesterfield Sofa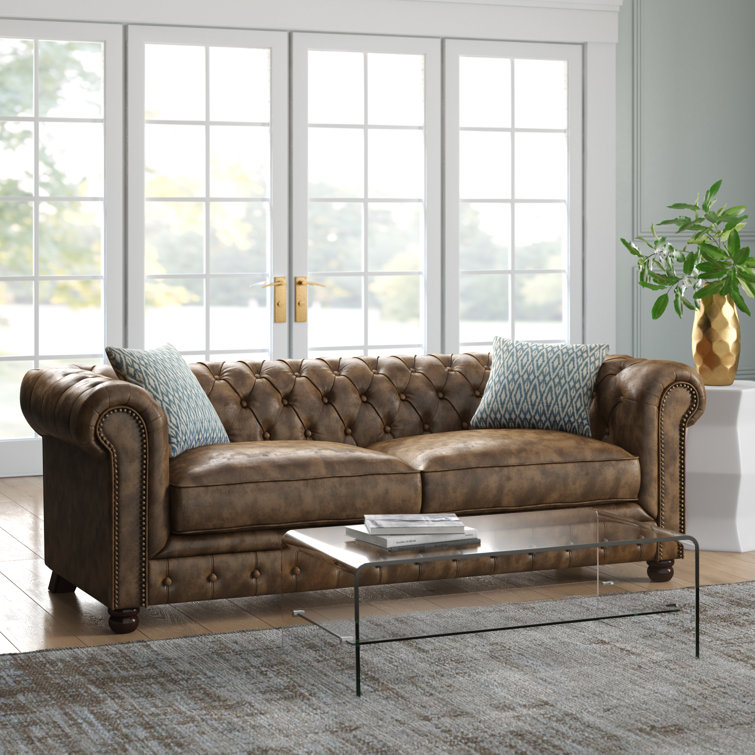 Specs:
Dimensions: 31" H x 91" W x 40" D
Seating Capacity: 4
Seat Fill Material: Foam and feather
Frame Material: Solid wood
This elegant dark brown faux leather sofa has a traditional look with large rolled armrests and tufting throughout. The design of this sofa will never truly go out of style, but it does look best in certain types of homes and design styles.
This isn't the type of sofa you'll choose for a contemporary or modern home. However, a vintage, sophisticated, or American craftsman home would look perfect with this style of sofa.
The large, deep seating is comfortable and inviting as you sink back on the foam and feather-filled cushions. Supporting the sofa is a solid wood frame that gives the sofa strength and durability.
The high-quality faux leather looks and feels like real leather. It's also easier to maintain and clean than real leather. Just spot clean with a damp rag. The drawback of this sofa is that you cannot remove the cushions, and they aren't reversible. This can limit the useful life of the cushions.
Check Price
Best Budget Pick: Vonanda Faux Leather 3 Seater Sofa
Specs:
Dimensions: 27.95 x 73.23 x 26.38 inches
Seating Capacity: 3
Seat Fill Material: High resilience sponge
Frame Material: Steel
If you're on a tight budget, this mid-century modern leather sofa is the perfect piece for your living room. Its slim legs elevate the sofa and help your small space feel more open and airy. The tufting on the back cushions gives the sofa a finished look. There are bold rivets on the ends of the sofa that give the nod to traditional styling and help to give the sofa an air of sophistication.
This sofa's smaller scale helps it fit comfortably into smaller spaces, such as apartment living rooms. A nice additional touch is the two bolster pillows that should be placed at either end of the sofa to finish its look and make it more comfortable. The back cushion's cover has a zipper to make it removable, making it easier to clean.
Unfortunately, this sofa may fall short with the cushion fill that's made from a high resilience sponge. It isn't as durable or resilient as other fill materials.
Check Price
Best Rustic Pick: Mercana Cochrane Country Brown Genuine Leather Sofa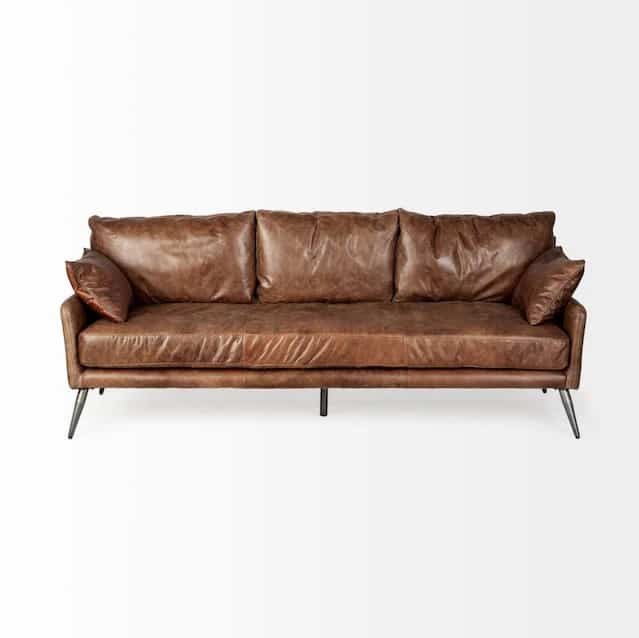 Specs:
Dimensions: 82″W x 33″D x 32.25″H
Seating Capacity: 3
Seat Fill Material:
Frame Material: solid iron
The relaxed styling of this sofa makes it the perfect piece for a farmhouse, country, or rustic living room. The leather has a lived-in feel that looks as though this sofa has seen many years of service before arriving in your living room. Touch the leather, and you will quickly appreciate its quality.
The premium top-grain leather adds a touch of quality to the sofa. After all, you want rustic, not cheap. The legs add to this look of quality as they are solid iron with a matte silver-tone finish.
Place this sofa in your living room and pair it with other rustic and high-quality built pieces. The smooth leather can feel cold, so add one or two throw pillows made from a cozy textile in addition to the leather accent pillows. Then style the sofa with a cozy throw blanket that you can wrap around you while sitting on the sofa.
Read also: What Color Goes With a Brown Leather Sofa?
Check Price
Best Premium Pick: Axel Motion Leather 5-Piece Sectional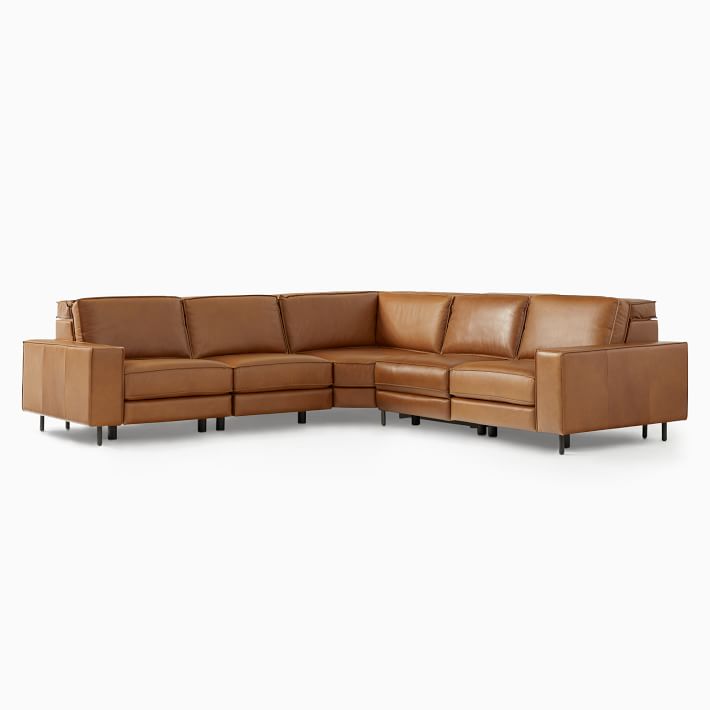 Specs:
Dimensions: 119″W x 119″ D x 33″H
Seating Capacity: 4–5
Seat Fill Material: fiber-wrapped and polyurethane foam cores
Frame Material: Solid pine and engineered wood frame
If you are ready to invest in a high-quality sofa, then this five-piece sectional is worth a look. What makes this sofa stand out is the number of color options for the leather. There are 18 colors and five leather finishes to choose from to help you create a custom look for your living room.
The quality of this sofa starts with the frame, a kiln-dried sustainably sourced wood. This gives the wood strength and durability.
Sit back into the sofa, and you'll appreciate the leaned-back design that equates to a relaxed comfort. Sitting on the sofa becomes even more comfortable with small comfort touches like the adjustable headrest and foot recliner.
When adding it to your home, the sofa's sharp lines and slightly industrial feel give this sofa an edgier design. This is perfect for someone who doesn't want a rustic or overly traditional leather sofa. It's also ideal for someone who doesn't want their sofa to be the focal point in the room. The clean design allows it to fade back so that other elements in the room draw attention.
Check Price
Best Modern Pick: Zuo Modern Claremont Modern Brown Faux Leather Sofa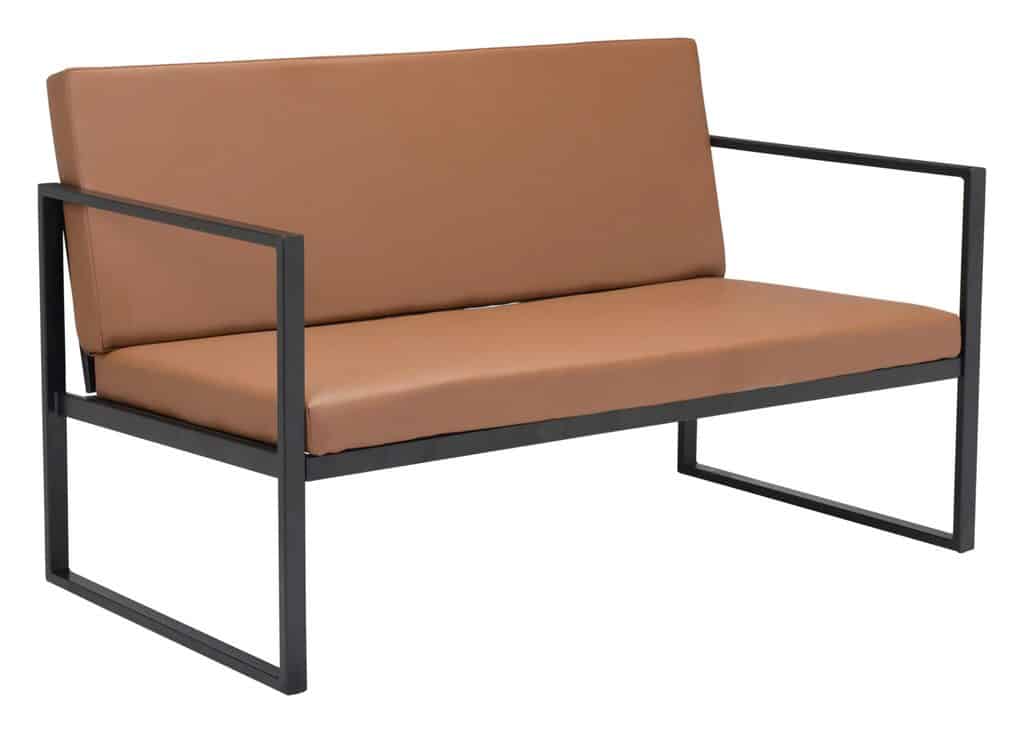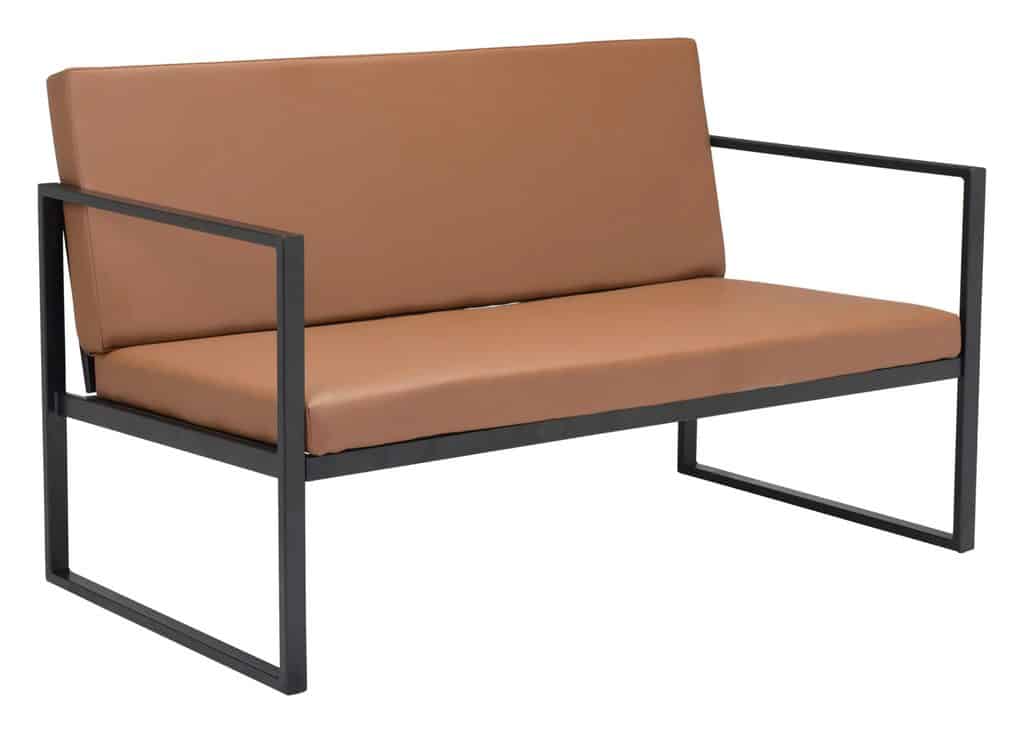 Specs:
Dimensions: 30.3" H x 51.2" W x 24.4" D
Seating Capacity: 3
Seat Fill Material: Unknown
Frame Material: Powder-coated steel frame
The ultra-sleek styling of this sofa gives it a minimalist and modern design. Its small size and slim frame make it perfect for small spaces, such as an apartment living room.
The metal frame is powder-coated black, which improves the look of the metal and protects it from corrosion and damage. The frame acts as the support for the cushions and as the armrests. Placed on the frame are seat and back cushions that are upholstered in faux leather.
Unlike other sofas on this list, the seat is a single cushion, and the back is a second single cushion, with both extending the length of the sofa.
One potential drawback of this sofa is the faux leather that doesn't feel as real as other sofas on this list. It's also a specific color that may not blend well with the rest of your living room due to its orange undertones.
Check Price
Best Sleeper Pick: Pennock Armless Sleeper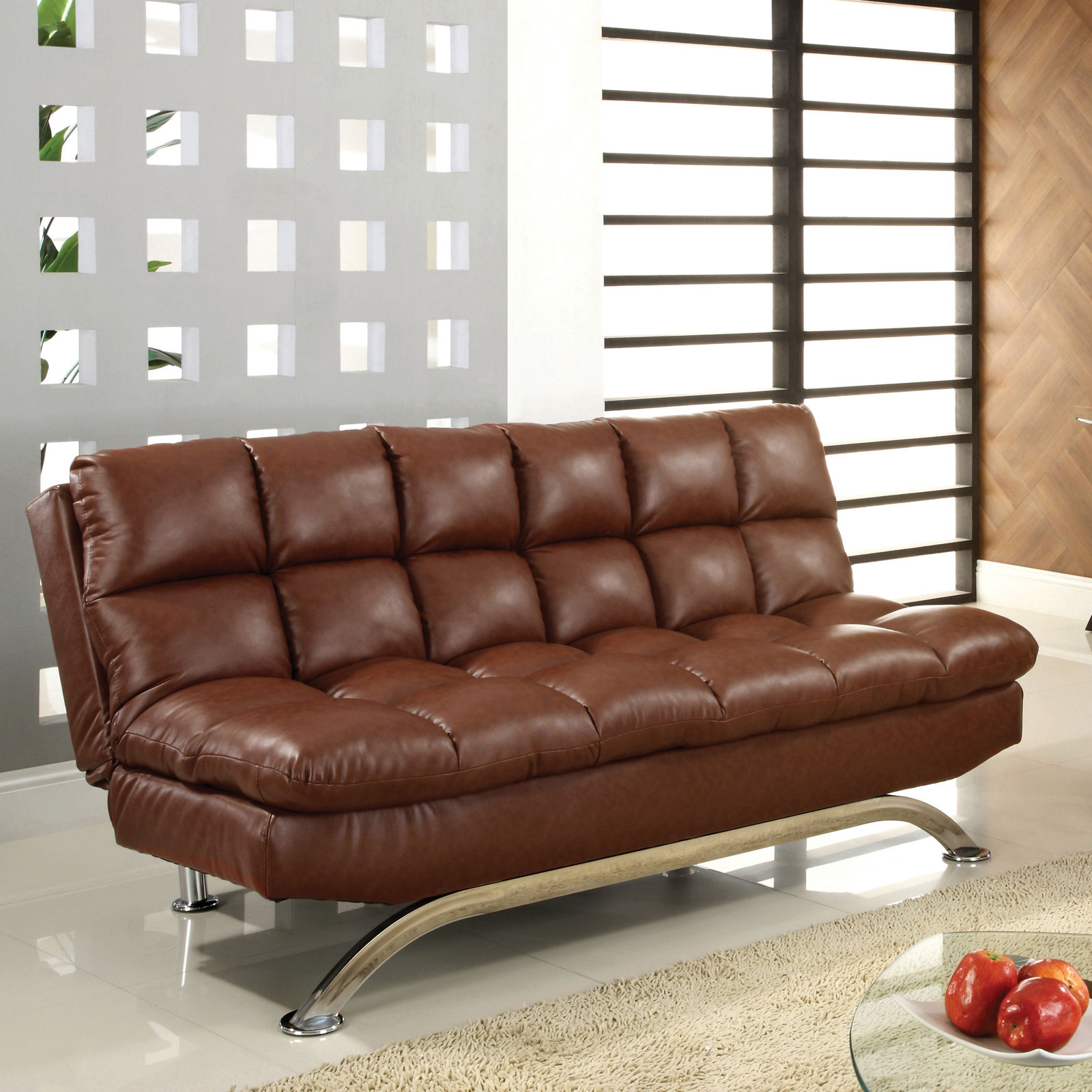 Specs:
Dimensions: 35.5" H x 71" W x 36.5" D
Seating Capacity: 2
Seat Fill Material: Foam and coil springs
Frame Material: Metal and Solid Wood
This crazy-looking sofa may have a unique look, but give it a chance, and you'll be pleasantly surprised. All of the plush cushions are filled with a supportive yet soft foam that will give you one of the most comfortable sitting experiences of your life.
Additionally, this isn't just a sofa; it can also turn into a bed, giving you increased functionality out of your sofa. The coil springs in the cushion foam step up to give your body the support it needs for a comfortable night's sleep.
The modern design of this sofa is perfect for an urban apartment, loft, or funky style of living room. The beautiful leather sofa rests on large chrome tube pipes that extend the length of the sofa and to the floor as legs.
Despite this sofa making a big visual impact, it won't take up a ton of space, making it versatile enough for a teen's bedroom or a college dorm room. One problem with this sofa is that the chrome legs lack the stability that you would really want from a sleeper. You also can't place this sofa up against a wall because the rear leg supports extend out beyond the sofa, requiring the sofa back to be several inches from the wall.
Check Price
Best Recliner Pick: Medora' Pillow Top Arm Reclining Sofa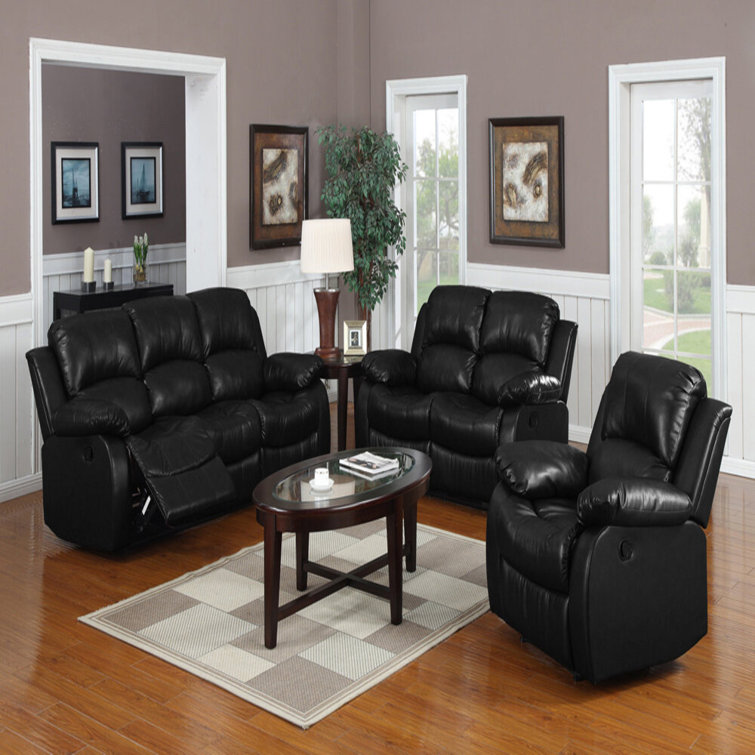 Specs:
Dimensions: 38" H x 83" W x 39" D
Seating Capacity: 3
Seat Fill Material: Foam and pocket springs
Frame Material: Metal and engineered wood
Enjoy the ultimate in relaxation with this reclining leather sofa. It's the classic sofa that you see in a modern American family home. It has dark brown leather that's rich in color and a slightly rustic appeal without looking worn and used. The cushions are filled with foam and pocket springs for a plush design that begs you to sink back and relax.
On either end of the sofa, there are manual levers that you can pull to release the footrest and have it rise up as the seat back leans back. Thanks to the metal and engineered wood frame, this sofa can safely accommodate and support up to 1,000 pounds.
The armrests have a pillow top design, making them soft and supportive for your arm to lean on while sitting. If you are styling your living room, you'll appreciate that the sofa is a part of a set. You can buy what you need and what will fit in your home. Other pieces include a loveseat and armchair.
Check Price
Best Chaise Pick: Ovios Mid-Century Top-Grain Suede Leather Chaise Sofa
Specs:
Dimensions: 100.39″ L×51.18″ W×33.07″ H
Seating Capacity: 4
Seat Fill Material: High-density foam and spring coils
Frame Material: Metal
Have the best of both worlds with this L-shaped sofa that has a chaise feature on one side. A two-sided sofa like this one is perfect for defining a space and creating a more intimate area for entertaining family and friends. It comes in several colors, including ones that you don't typically see in leather, such as gray and blue.
The high-density sponge fill in the cushions gives this sofa a firm feel, making it a better option for a more formal room. It's not the ideal sofa for lounging back and watching a movie. However, there are spring coils to give you plenty of support. Even the pillow upholstery on the armrests has a crisp look.
The legs complete the look with a slim, round design that elevates the sofa several inches. Despite the slim styling, this sofa is best in a larger room because of its long length. You'll also want to soften its look with a throw blanket in a cozy material.
Check Price
Best Traditional Pick: Brandon Distressed Italian Leather Sofa and Loveseat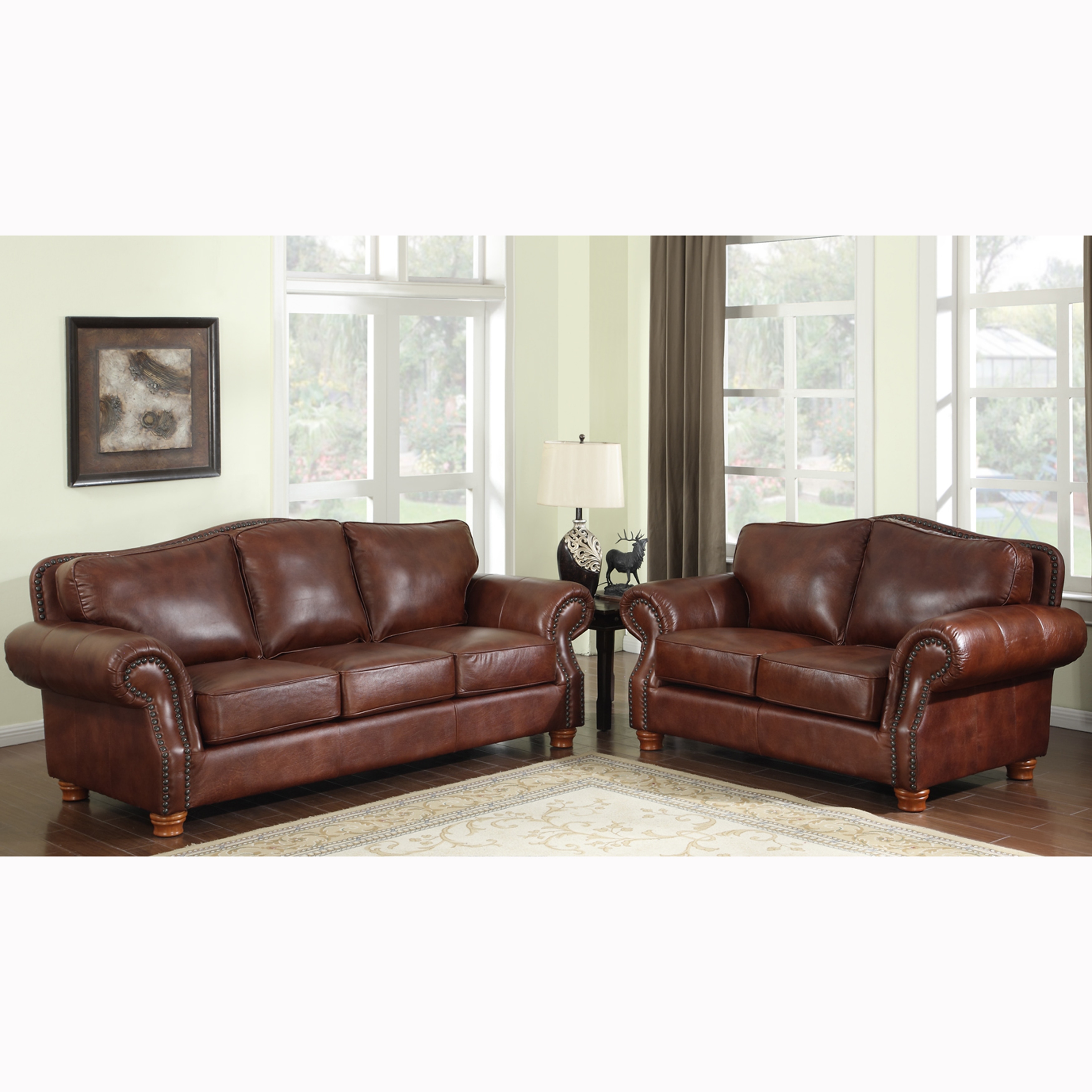 Specs:
Dimensions: 40" H x 95" W x 36" D and 40'' H x 72" W x 36" D
Seating Capacity: 5
Seat Fill Material: Foam fill
Frame Material: Corner-blocked hardwood
If you love the look of a vintage leather sofa, then you will love this sofa and loveseat set. They come as a pair, which is perfect for styling your large living room. They feature top grain leather and Italian leather upholstery techniques. The dark walnut-stained wood legs, whiskey-colored leather, and traditional styling give this sofa a heavy and imposing look.
The two pieces take up a lot of visual space, so they aren't ideal for small rooms. The armrests are rolled with brass metal nailhead riveting. The back is slightly scalloped to mimic the look of old-world European furniture styling.
The cushions have foam fill to give them a semi-firm feel. As with any true leather sofa, you'll want to keep these furniture pieces away from heat sources and direct sunlight. Exposure to UV rays will cause the leather to fade. You'll want to routinely clean and moisturize the leather to keep it soft and supple.
Check Price
Best Curved Pick: Adylene Genuine Leather Flared Arm Curved Sofa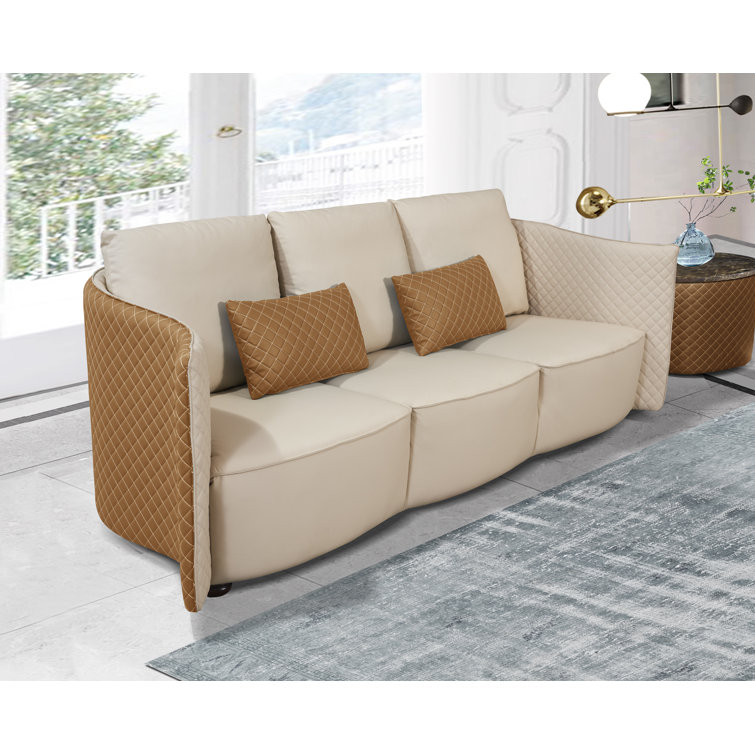 Specs:
Dimensions: 34.5" H x 95" W x 35.5" D
Seating Capacity: 3
Seat Fill Material: Foam; Synthetic Fiber
Frame Material: Solid + Manufactured Wood
This unique sofa proves that not all leather sofas look the same. This one features a bold curved design that's popular in home interior design trends. The top grain aniline leather feels soft and supple. The sofa features two contrasting colors that give the sofa style and dimension. The back and pillows have diamond tufted stitching in a contrasting thread color for a bold pattern.
Paired with the back is smooth cream-colored leather for the cushions. The mix of foam fill and synthetic fibers for the cushion fill give them firm support that won't allow you to sink too far back into the sofa. Try styling your sofa in a contemporary, minimalist, or coastal living room.
While this sofa has a unique shape and design, it isn't always practical. The thin armrests that are also curved are not meant for actually resting your arm on. They are too tall for this to be comfortable. The curved shape may not fit comfortably into all living rooms. Placed incorrectly, you could lose the effect completely by not showcasing the shape.
Check Price
How to Choose a Perfect Leather Sofa?
Leather Quality
There are several grades of leather, and choosing a top-quality leather means you'll have a sofa that will last for decades. Top grain is high quality, while genuine is lower quality. However, your budget may only let you buy genuine. This doesn't mean you shouldn't buy the sofa; it just means you should take more care of it to ensure it lasts. Additionally, some sofas use multiple leather qualities for different sofa parts. This gives you the durability where you need it but saves where you don't.
Frame Construction
The frame is like the bones of your sofa. You won't see the frame, but it does the heavy lifting for supporting the sofa and whoever sits on it. For the greatest durability, choose a frame made from high-quality wood. If you have a tighter budget, then consider a metal frame. Additionally, look for strong meal hardware that holds the frame together.
Design Style
The style of your sofa will set the tone for your entire living room. A tufted Chesterfield with rolled arms will give your living room a traditional feel. A simple pillow design will give your sofa a contemporary feel. Crisp square cushions with sharp 90-degree corners will give your living room a modern feel. Additionally, consider the finish and color of the leather. Black looks more sophisticated and modern, while a caramel saddle color can look more rustic. Smooth leather is easy to care for, while suede has a soft and cozy feel.
Scale
Always scale the size of your sofa to the size of your living room. Leather sofas come in a wide range of sizes, so you can find the perfect sofa or your space. First, measure the available space in your living room, and then choose a sofa that fits that space. Sofas on legs and have a low back help make the room feel more open. Slim features and long straight lines help the sofa feel and look smaller. Conversely, an overstuffed sofa with a solid feel can have an imposing stance that fills a space.
Seat Depth and Back Slant
Sofas with a deep seat and leaned back seat are considered the most comfortable. They allow someone to sink back into the sofa to lean back and relax. If you want to create a more casual seating option, this is a smart choice. If you want to create a more formal seating space, choose a sofa with a level seat and a more upright seat back. However, you'll want to be careful about not choosing a sofa that's too shallow. This can be uncomfortable for tall individuals.
Conclusion
Our top pick for the best leather sofa is the Natasa' Faux Leather Rolled Arm Chesterfield Sofa. Its traditional styling will give your home a timeless interior design that will look beautiful and welcoming for decades to come. In addition, the solid wood construction and foam with feather fill mean your sofa will be durable enough to last.
If you're looking for a more affordable sofa, then the Vonanda Faux Leather 3 Seater Sofa is ideal because its mid-century design doesn't sacrifice styling. In addition, its small size will help the room to feel larger and more spacious.
FAQs on Leather Sofa
How can you tell a good quality leather sofa?
Use your senses to determine if a sofa has high-quality leather. It should feel soft and warm to the touch while also having that classic "leather" smell. There shouldn't be a chemical smell, which is a hallmark of faux leather. Finally, look at the grain and variation of the leather.
How long do leather sofas last?
If you take care of your leather sofa, you can expect it to last 15 to 20 years. The leather quality will also contribute to how long you can expect the sofa to last. A solid wood frame with corrosion-proof metal hardware will also help the sofa last longer.
Do real leather couches peel?
A quality leather sofa will not peel. Cheap and faux leather will peel if it isn't maintained. High-quality leather will dry out and eventually crack if it isn't moisturized and maintained. In some cases, the leather can begin to separate.