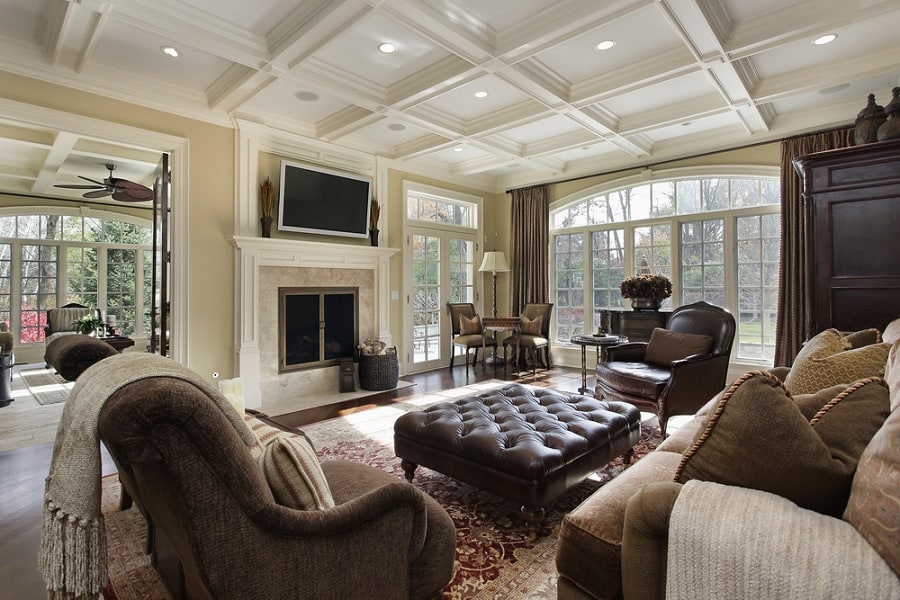 Trendey may earn a commission when you buy through links on our site.
As an Amazon Associate we earn from qualifying purchases.
7 Best Ottoman Coffee Tables
If you need an ottoman and a coffee table, why not buy a furniture piece that combines both? Not only is this a space saving storage solution, it is an incredibly stylish choice that even adds additional seating to your space.
With so many fabric, size, and style choices, it can be hard to figure out which is the best ottoman coffee table for you. Take a look at our favorite ottoman coffee tables—you'll be sure to find one that will be an amazing addition to your living room.
1. SIMPLIHOME Harrison 36 inch Wide Square Coffee Table
The Simplihome Harrison Square Storage Ottoman is 36 inches square with clean modern style suitable for any home decor style. It's available in over a dozen different fabric and faux leather upholstery options and each has tapered, dark espresso solid wooden legs that lift the ottoman a few inches above the floor.
This coffee table ottoman has a beautifully tufted split top that opens on each side. One side lifts up and has a locking mechanism that allows you to use it as a higher coffee table in front of your sofa. Both sides have child safety hinges to prevent lid slamming on tiny hands.
The entire ottoman coffee table stands 16.5 inches tall and weighs 53 pounds. The interior is an expansive storage space and a great place to hide extra throw blankets, throw pillows, or toys.
This ottoman's well-padded top is a comfortable source of extra seating, but be aware that it only supports up to 250 pounds. Therefore, you wouldn't want to allow more than two small adults to sit on it at one time.
Because of its size, this may not be the best choice for a small space. It's also the highest-priced item on our list of best ottoman coffee tables. However, if you have the room and the budget, we think it's a good value for such a versatile piece of furniture.
2. Landis 34.63'' Wide Tufted Square Cocktail Ottoman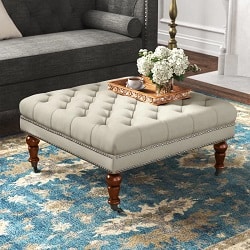 Part of Wayfair's Kelly Clarkson Home line, the Landis Tufted Square Cocktail Ottoman is an affordable and practical touch of elegance for your living room.
This beautiful ottoman coffee table is just under three feet square and stands almost 18 inches tall. Its upholstery is a lush polyester or polyester/linen blend fabric. This ottoman comes in a variety of neutral hues: mink, charcoal grey, grey velvet, natural, and tan velvet. The top is well-padded and features button tufting.
Two rows of metal nail-head trim are a luxurious addition. The grey-colored fabrics have silver tacks and the brown-hued upholstery fabrics have brass tacks.
The entire ottoman sits atop four turned wood feet with a dark espresso finish. The elegant curves convey a traditional French country vibe that also fits well into farmhouse decor. Legs have rolling casters that make it easy to rearrange your furniture whenever the urge strikes.
This plush ottoman doesn't include a storage area, but it can serve as extra seating in your living spaces. You can also use it as a cocktail, game, or coffee table. If using it as an extra seat, note that it has a 275-pound weight capacity.
3. Christopher Knight Glam Coffee Table Ottoman
Add a stunning centerpiece to your small living room when you buy this Christopher Knight Glam Coffee Table Ottoman. This elegant round ottoman is covered in a lush, medium grey velvet upholstery and features stylish button tufting all around.
It has a smoke hued tempered glass table top that makes it an excellent spot to serve drinks or play cards. This ottoman coffee table is 30 inches in diameter and stands 14.5 inches high—and no assembly is required.
If you need a big round coffee table, or an ottoman with a plush top, this isn't the piece for you. Even though the black glass top is removable, the inside is not designed to be used for storage.
However, if you want a circular ottoman design that's elegant and perfectly scaled for a small space, this is a good quality piece at a medium/high price point. You can always purchase two if you get it home and decide that you want a wider table area in your living room.
4. Deco De Ville Rectangle Lift Top Storage Ottoman Bench
The Deco De Ville Rectangle Lift Top Storage Ottoman Bench is a beautiful faux leather rectangular ottoman with ample hidden storage inside. Choose from four affordable hues: dark espresso, black, brown, or warm olive green.
Elegant metal tack trim draws the eye down to the rounded, solid wood feet. This storage ottoman measures 35.4 inches long, 17.3 inches wide, and 16.9 inches tall. The interior storage compartment is a bit smaller, measuring 31.5 inches long, 13.8 inches wide and just over 10 inches high.
This is an incredibly sturdy storage ottoman, supporting up to 360 pounds when used as extra seating. This tufted ottoman has a thickly padded top that's comfortable as a seat or a footrest. The ottoman top also serves as a convenient console table, especially if you create a more level surface with a serving tray.
Like most ottoman coffee tables, it works great in your living area, but its benchlike shape also makes it an ideal accent at the foot of your bed. Simple assembly is required.
5. Fordbridge Faux Leather Rectangle Storage Ottoman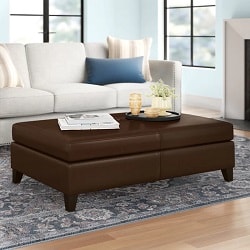 If you prefer a flat ottoman top over a tufted ottoman coffee table, this Fordbridge Faux Leather Rectangle Storage Ottoman is an excellent choice. Long and low, this faux leather ottoman measures 48 inches long by 32.3 inches wide. Its overall height is 16.3 inches tall.
Inside, you'll find plenty of storage space for your extra blankets, magazines, or DVD collection. Set upon four tapered wood feet, this upholstered ottoman is covered in smooth, chocolate brown faux leather. It has a simple, contemporary style suitable for modern, industrial, or transitional home decor.
The safety hinged lid has a thick padded foam top with one button tufting the middle. Its mostly flat surface is ideal if you'd rather have more of a coffee table ottoman than one that doubles as seating space. In fact, you probably won't want to encourage guests to sit on this leather ottoman as it only supports 150 pounds.
6. Artechworks Storage Coffee Table Ottoman
Classic button tufting and compact sizing make the Artechworks Storage Coffee Table Ottoman a fabulous piece to add to a small, traditional living space.
This stylish storage ottoman comes in three luxurious upholstery fabric choices: a soft, suede-like polyester material in green or grey, or chocolate brown faux leather. It has elegant, turned wood feet in a dark espresso finish.
More of a footrest than an ottoman coffee table, this piece will still substitute for an old coffee table if you place a sturdy tray on top. Its button-tufted surface needs that extra stability beneath drinks or dishes. If you plan to use it for extra seating, it will support up to 250 pounds.
This small ottoman coffee table has the same look as similar pieces from Pottery Barn and other high-end retailers, but at a fraction of the cost. It is just 24 inches long, 16 inches wide and just under 18 inches tall.
There's a hand strap that makes the lid easy to open, and the safety hinge remains open as long as you need to access the extra storage area. It measures 21 inches long by 13 inches wide and 5.5 inches deep—a little smaller than expected.
7. Nathan James Nelson Coffee Table Ottoman
If you don't need an ottoman coffee table with hidden storage, this modern architectural piece may be ideal for your home. The Nathan James Nelson Coffee Table Ottoman has a simple, bench-like vibe with its open metal base and faux leather padded top.
This rectangular ottoman measures 47 inches long, 24 inches wide, and 18 inches high. Its modern vintage base is made from sturdy, black powder coated metal with floor protectors. The top is made from distressed vegan leather in warm brown or your choice of other neutral colors.
Although the top is well-padded, it's mostly flat enough to support beverages without fear of spilling them. However, adding a wooden tray provides more level support for your glassware.
This piece isn't just useful as an ottoman coffee table. Use it as an entryway bench or place it at the end of your bed.
Be prepared to spend about 30 minutes on assembly when it arrives. If you plan to use it as extra guest seating, keep in mind that it can support a total weight of 275 pounds.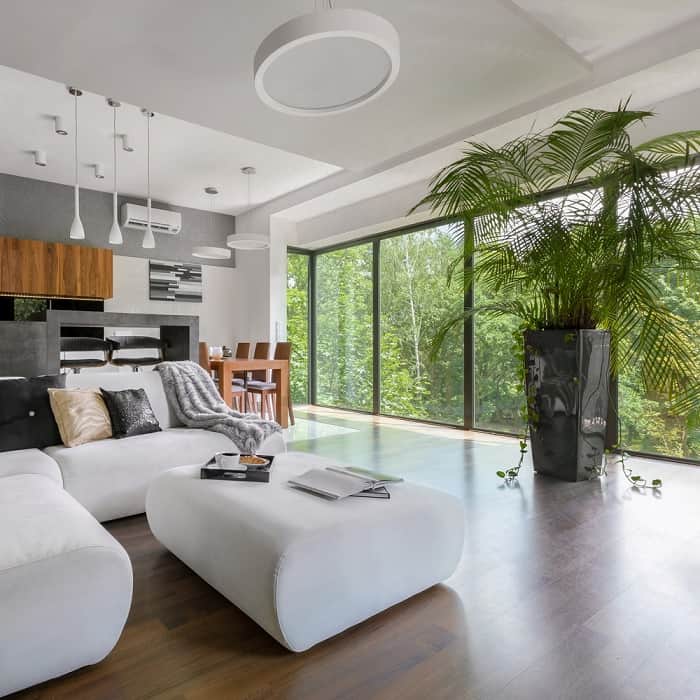 Ottoman Coffee Table FAQs
Are ottomans good coffee tables if you have kids?
Yes! Not only are ottoman coffee tables great places to hide toys and board games out of sight, they have important safety features that make them ideal for a home with small children.
Big ottomans with padded, upholstered surfaces are much safer for kids to play around and climb upon. Their rounded edges cushion little heads from falls and they make great places to curl up and watch TV.
If you have older children, they'll appreciate having a generously sized ottoman to rest their feet on while relaxing in the living room. They're also a great surface for spreading out notebooks, schoolbooks, and papers while doing homework in a comfortable location.
Be sure to look for an ottoman table that has safety hinges on the lid. This will keep your little ones' fingers from being smashed by a heavy falling lid.
Can you sit on a storage ottoman?
In most cases, the answer is yes. However, you should always check the weight limit on any piece of furniture before attempting to sit on it.
Storage ottomans can have a wide range of weight capacities, usually anywhere from 150 to 350 pounds. Kids and teenagers tend to pile onto these multipurpose pieces of furniture, so be sure to choose a well-built ottoman with a high weight limit if you plan to use it in this way.
How do I know what size ottoman to buy?
The size of your chosen ottoman coffee table can really affect the overall look and feel of your room. If it's going in your living room, use your sofa size as a guideline. An ottoman should be no less than half the length of your couch.
For example, a 60" long sofa looks best with an ottoman no smaller than 30" in length. If your sofa is 80" long, shop for an ottoman at least 40" long. Following this rule will help keep your ottoman from taking over the room, or looking too small in front of your couch.
Where should I put an ottoman?
Most of the time, an ottoman is placed in front of a couch or a chair and used as a footrest. Depending on its size, it can be used in place of a glass-topped or wooden coffee table. You can also use a padded ottoman as a low desk chair or a stool for extra seating.
The ottoman isn't just for the living room, however. Many ottoman styles are great additions to a foyer, mudroom, or bedroom. An ottoman is great to have anywhere that you need extra seating, or a comfortable place to put on your shoes.
Why is it called an ottoman?
The name "ottoman" comes from the Ottoman Empire, or the country known today as Türkiye. When the French invaded the Ottoman Empire in the late 1700s, they admired the low cushioned furniture the Turkish people used in their homes.
Originally, ottomans were long structures that often spanned an entire wall. They were piled with cushions for comfort. By the time the French arrived, the Turkish people had created a smaller version that was often seen in the corner of most rooms. They brought the idea back home and the ottoman became a popular piece of furniture around the world.
Conclusion
Why does the Simplihome Harrison Square Storage Ottoman hold the number one spot on our list of ottoman coffee table options? We love a lot of this great square ottoman's features, starting with the innovative split top design. It's convenient to raise one side higher when you need to, for Friday pizza-and-a-movie nights or sofa study sessions with friends.
Its storage compartment is spacious, making it more functional than some of the other ottoman coffee table models we've shared. Additionally, its style is one that can truly integrate into any home interior—from a modern industrial loft to a comfortable, beach side cottage.
We also love having over a dozen colors to choose from. While most are neutral hues, crimson red and denim blue are also on the menu.