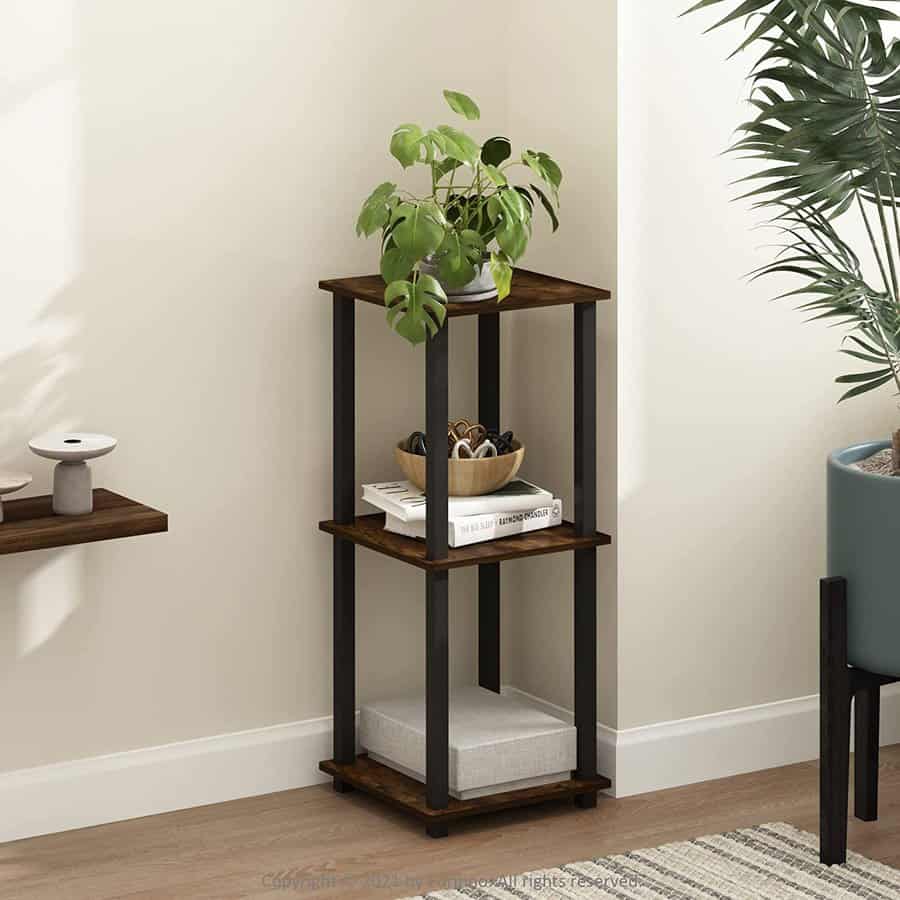 Trendey may earn a commission when you buy through links on our site.
As an Amazon Associate we earn from qualifying purchases.
Best Side Tables for Living Room
If you want to have a living room that looks as if a professional interior designer did the styling, then you need to have all of the right living room furniture.
The essential elements go beyond sofas, coffee tables, and table lamps. You also need accent tables. These are the small tables that sit on either end of the sofa or next to an accent chair.
The best side tables for your living room will be both beautiful and functional.
Top Picks
Best Overall: Santa Cruz Tall End Table with Storage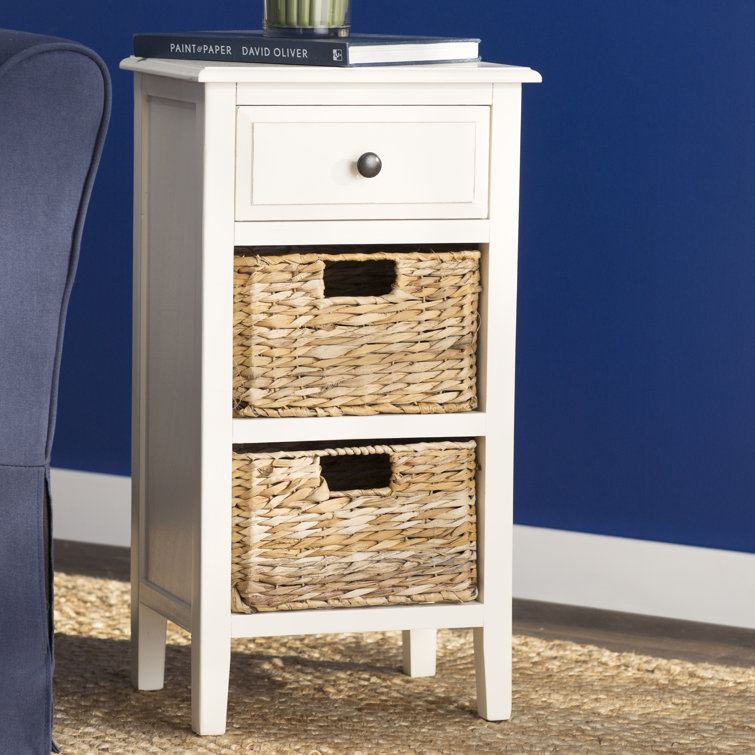 Specs:
Dimensions: 26 H x 15 W x 11.8 D inches
Material: Solid and Manufactured Wood
Storage Options: Drawer and two bins
This accent table offers you a little bit of everything, making it a smart choice for your living room. It has plenty of storage, with two nicely sized woven baskets and a drawer. It sits on legs so that it's raised off the floor, giving the table some lightness despite having a solid body design. It comes in five colors, so you can perfectly match your neutral-colored living room or make a bold statement with a cherry red color. The combination of woven natural fibers and wood gives this table a cottage charm that will blend with a country or coastal aesthetic perfectly. It also has a slightly distressed finish, giving the table a casual feel so that it isn't too stuffy. The simple hardware and classic detailing of the wood frame give the table a timeless appeal, helping it to look contemporary.
Check Price
Best Budget Pick: Furinno Simplistic Set of Two End Tables
Specs:
Dimensions: 15.6 D x 15.6 W x 19.6 H Inches
Material: composite wood and PVC
Storage Options: Shelf
If you have a tight budget, this pair of end tables can be the perfect solution. They are made from wood and PVC, making them lightweight and affordable. However, the PVC has a black finish, which mimics the look of black metal pipe. The overall effect is to create an industrial feel. The wood has a dark stain finish that gives it a richness and depth of color that you can't achieve with light wood. The wood edges are given a rounded finish to create a soft look and feel. The maximum weight capacity of each table is ten pounds, so you'll want to keep your arrangements and decor lightweight or minimal. One thing to note about these tables is that they are shorter than many of the other tables on this list. This can make them too short for some sofas, so be sure to measure the height of your armrest to ensure these will work.
Check Price
Best Glam Pick: Home Decorators Collection Bellkirk Round Gold Metal Accent Table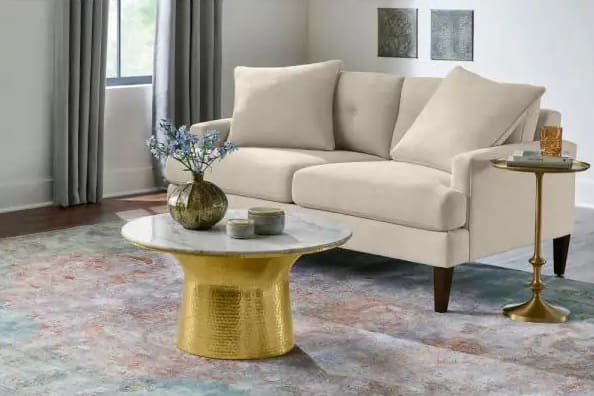 Specs:
Dimensions: 14.50 in W. x 14.50 in D. x 22.25 in H.
Material: Aluminum
Storage Options: None
Add a touch of glamor to your living space with this gold fluted side table. It is made from aluminum to keep the table lightweight and affordable. It has a lustrous gold finish to give it an air of sophistication and elegance. It is the perfect table to place next to a traditional tufted, rolled arm sofa. The wide base gives the table stability, making it safe to place several items on the tabletop. The pedestal design keeps the table compact, making it ideal for small spaces. The detailing on the pedestal keeps the table from looking too modern. For the tabletop, there is a small raised lip around the outside, which helps keep items from accidentally slipping off. If gold isn't your taste, you can also buy it in dark bronze or pewter. The color you choose should match the rest of your wall decor and metal accents in the room. That way, your sofa table turns into an accent piece.
Check Price
Best Premium Pick: Westelm Fluted Side Table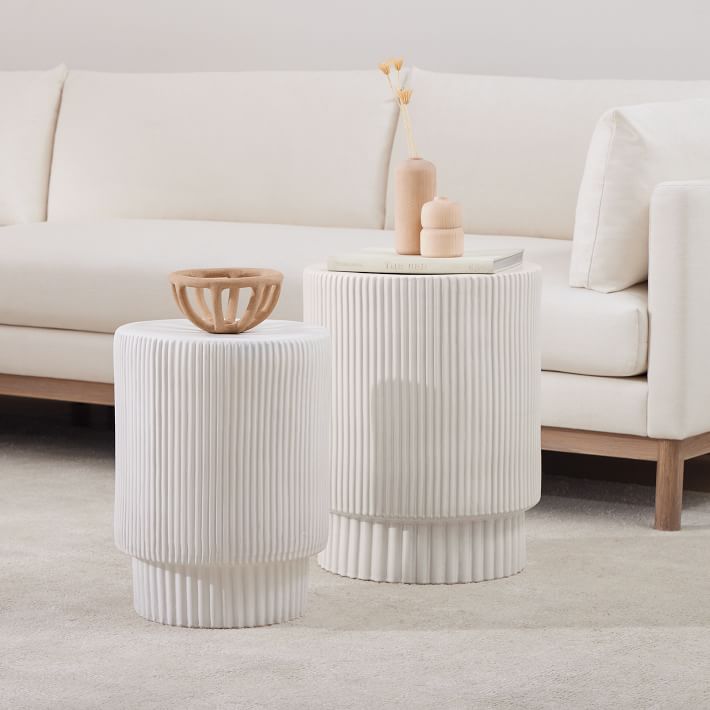 Specs:
Dimensions: 13 diameter x 17.7 H inches
Material: Earthenware
Storage Options: None
Do something different with your end tables. These handmade pieces are crafted from earthenware and finished with a semi-matte glaze. Each one is hand molded and glazed to give it a unique personality. With each purchase, you help support artisans in Vietnam. Despite being handmade, each accent table is made to high-quality standards to make them durable enough for contract-grade commercial use. There are four colors to choose from, white, terracotta, pink, or gray. The fluted sides of the table create texture, adding depth and visual interest to your living room. The semi-matte glaze gives the table a subtle sheen that keeps the table's design from falling flat. Arrange a lamp, vase with flowers, picture frames, or a stack of books on the flat tabletop surface. The drawback of this table is that it doesn't have any storage. It also has a solid construction, which can feel heavy and bulky in small spaces.
Check Price
Best Mid-Century Modern Pick: Allen + Roth Gunmetal Wood Mid Century End Table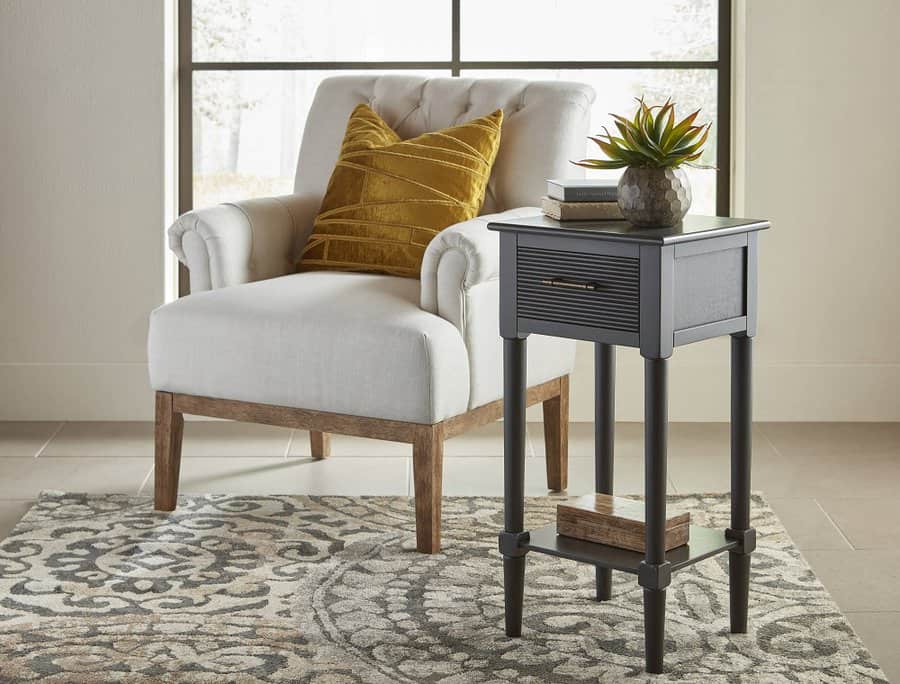 Specs:
Dimensions: 13.4 in. L X 14 in. W X 28 in. H
Material: Wood
Storage Options: Drawer and shelf
The contemporary design of this mid-century modern end table gives it versatility in the variety of living rooms that you can place it in. It features high-quality solid wood construction with metal hardware accenting the drawer. A deep drawer offers ample hidden storage while the long legs keep the table looking light. There's also a lower shelf for additional storage or display space. What makes this table stand out is the subtle detailing throughout the end table. The drawer front features a ribbed design, adding texture. This accent table works well in contemporary and transitional-styled rooms. The simple details are enough to accent the piece without making it become the center of attention. One drawback of this table is that it lacks durability. This may not be the best table for a living room with high traffic, pets, or children.
Check Price
Best Natural Wood Pick: Greenage Cedar Roots Natural Flower Stand Reclaimed Woods End Table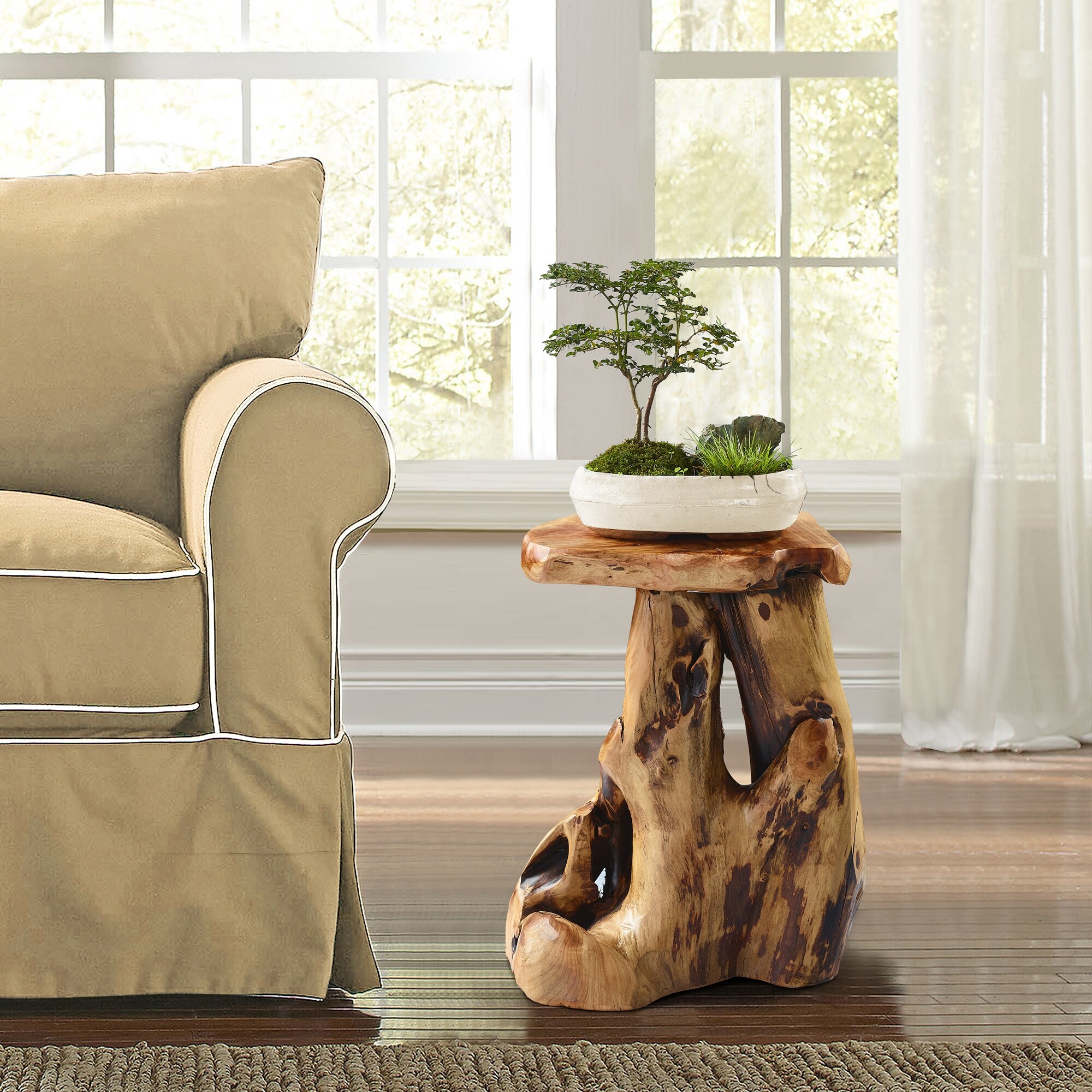 Specs:
Dimensions: 15.5 L X 13.5 W X 19.5 H inches
Material: Cedar
Storage Options: None
Make a statement with your wood ends tables. This one-of-a-kind piece is made from reclaimed Cedar Root, so no two tables are the same. This turns your end table into a piece of art gracefully accenting your sofa arm. While these tables don't offer much in terms of storage, they make up for it by being an art piece. Each table is finished to showcase the beauty of the wood with all of its wood grain, knots, and burls. The solid construction of this gives it extra strength and stability, making it capable of supporting up to 300 pounds. One potential issue with these console tables is that they tend to vary in size. Because they are handmade from reclaimed wood, they are not made to exact measurements. Each table can vary in size by up to two inches. If you have a small space, this can be an issue.
Check Price
Best Modern Pick: Ebern Designs Inaayah End Table Set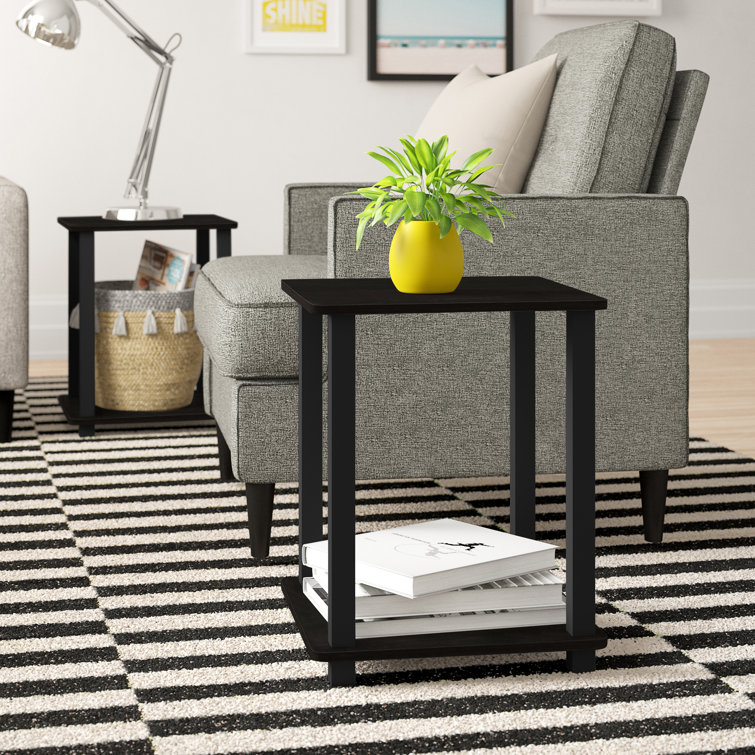 Specs:
Dimensions: 19.6 H x 15.6 W x 15.6 D inches
Material: Manufactured Wood, plastic
Storage Options: Shelf
This simple modern end table is just what you need when you're looking for simplicity and function. They come as a set of two and in ten different wood finishes, making it easy to find the perfect matching hue so that your tables complement the rest of your living room furniture. With two matched tables, your living room will have symmetry and a look of professional design. Each table features long clean, straight lines and an open feel that will help keep your living room feeling open and airy. There is a tabletop and lower shelf for two levels of display and storage. One complaint about this table is that the manufactured wood and plastic construction would be of batter quality for the price of the two tables. This and the fact that you need to assemble them can lead to a lack of stability with the tables.
Check Price
Best Farmhouse Pick: Glitzhome Farmhouse Nesting Side End Tables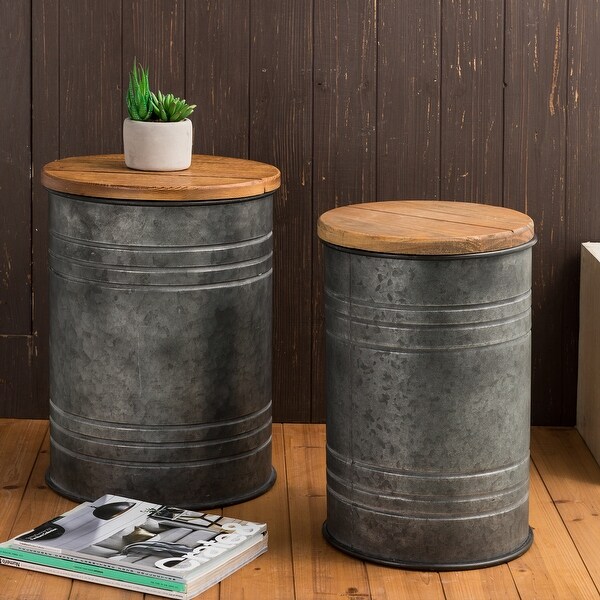 Specs:
Dimensions: 14.0 L X 14.0 W X 19.0 H inches
Material: Metal, Wood
Storage Options: Internal
Nesting tables are an ideal option for living rooms that lack space but see a lot of use. These coffee accent tables come as a set of two with eight color options. The metal barrel design with the wood top gives them a rustic appeal as if you salvaged them from a dairy farm out in the country. The base of both tables is hollow; you can access it by lifting the wood top off. The warm honey finish of the wood adds warmth to your living room. There is slight distressing on the wood and barrel to give the tables a worn-in look, and a sense of authenticity to the rustic farmhouse feel. One thing to note is that these tables are made of iron, which can be heavy. However, it is galvanized, so it will resist rust and corrosion. The bin style of storage can also be awkward as you only have access from the top down, which means you are piling items inside the barrel.
Check Price
Best French Farmhouse Pick: Winston Porter Carminella Tall End Table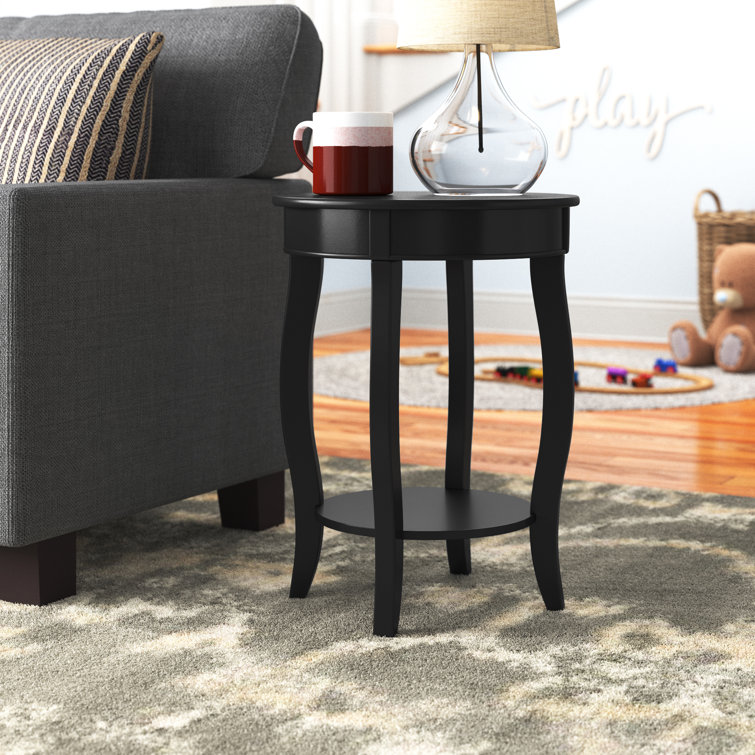 Specs:
Dimensions: 24 H x 18 W x 18 D inches
Material: Manufactured Wood
Storage Options: One shelf
This simple little table is the perfect accent to a French farmhouse living room. It has a more elegant design than what you would see in an American farmhouse, but that is what makes it an ideal piece for a French country design. The four legs are bowed with a gentle arch that mimics the look of vintage furniture. The small shelf below gives you a bit more storage for books or magazines. It comes in 14 colors, so you can match your end table to the color scheme you've chosen for your living room. The circular design is in line with current furniture trends that are embracing curves. While the compact design of the table makes it a perfect accent piece in tight spaces. The construction of the table uses a combination of solid and manufactured wood, which helps to keep the cost down while also not sacrificing quality.
Check Price
Best Coastal Pick: Selah Solid Wood Tree Stump End Table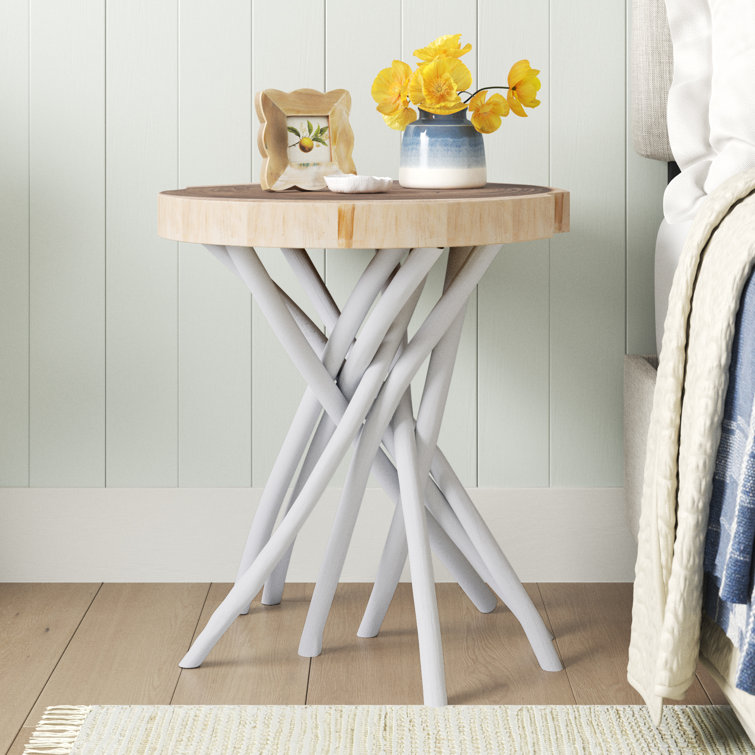 Specs:
Dimensions: 22 H x 20 W x 20 D inches
Material: Solid Wood
Storage Options: None
This unique end table is the perfect unique accent to your coastal living room. The base is crafted from sustainably sourced reclaimed teak branches, so no table is the same. The top is a cross-cut slab of teak, completing the coastal feel and showcasing the natural beauty of the teak. You can choose from natural or whitewashing for the branch base color. Distressing throughout the branches gives the table a worn-in feel as if it had seen years of use on the coast. The top is a thick slice of wood, giving the table a feel of quality. While this table doesn't offer a lot in terms of storage, it is the perfect tabletop for creating a display. Place a lamp or vase with flowers, books, or picture frames on it. The compact size of this table makes it the perfect accent in a small or large room, as it will neatly sit next to a sofa or accent chair.
Check Price
How to Choose a Perfect End Table for the Living Room?
Size
Measure the size of the space that you have available in your living room. The accent tables that you choose need to fit into the space. Just like bedside tables, side tables come in a range of sizes, from small tables to large cabinets. Small spaces can look better with a simple and small table on legs. Measure the length and width to determine the best footprint. Then measure the height of your armrest to know the best height.
Material
When choosing the material that your accent tables are made out of, consider your budget and the material of the other furniture in your living room. Marble tables can be a beautiful accent to a luxurious or elegant living room but can be expensive. Solid wood adds a sense of quality to your living room. If you're on a budget, engineered wood is an affordable base material.
Storage
Could you use additional storage in your living room? If so, then look for accent tables with a cabinet built into them. Some tables are on long legs with a small cabinet, while others are single cabinet units with a lot of storage space. The best side tables for living rooms will be a balance of functionality and design. You don't want to sacrifice all design just to have functionality. However, a sleek design with no functionality isn't good either.
Style
The style of your end table needs to make sense with the interior design style you have chosen for your living room. An ultra-modern side table with sleek lines will look out of place in a rustic farmhouse-inspired living room. Contemporary side tables are a safe choice, though, if you are unsure of what to buy. These tables are typically made out of wood. They have some ornamentation but nothing ornate or intricate.
Conclusion
Our top pick for the best side table is the Santa Cruz Tall End Table with Storage. It has a contemporary or transitional design that mixes multiple materials for a design that adds texture and pattern to your living room. The multiple bins and a drawer give you plenty of additional storage while also creating a display space.
For a more affordable option, the Furinno Simplistic Set of Two End Tables is a great option. They have a slightly industrial feel and multiple shelves for decor display. The combination of black pipe and rich wood will be a beautiful accent to your living room.
FAQs on Side (end) Tables for Living Room
How tall should an end table be next to a sofa?
The end table you place next to your sofa or accent chair should have a height that's within two inches of the sofa or chair's arm height. If the table is too high, it will be awkward to place your glass or other items on it. Too low, and the table lamp or other items on it will look awkwardly low. 
Do end tables in a living room have to match?
There's nothing wrong with having two end tables that match. However, you don't have to make them match. The key to having two different end tables that look purposeful is to have them coordinate in their features. They should be of a similar height, color, or design style. That way, they look like they belong to the same family.
What is the difference between a side table and an end table?
Sides tables and end tables are two different types of tables. A side table is larger and has more surface area on the top. An end table is smaller and has a smaller surface area on the top. Traditionally, side tables stood alone in a room, off to the side. While an end table sits next to another piece of furniture, such as a sofa or chair. Today, most people use the two terms interchangeably.