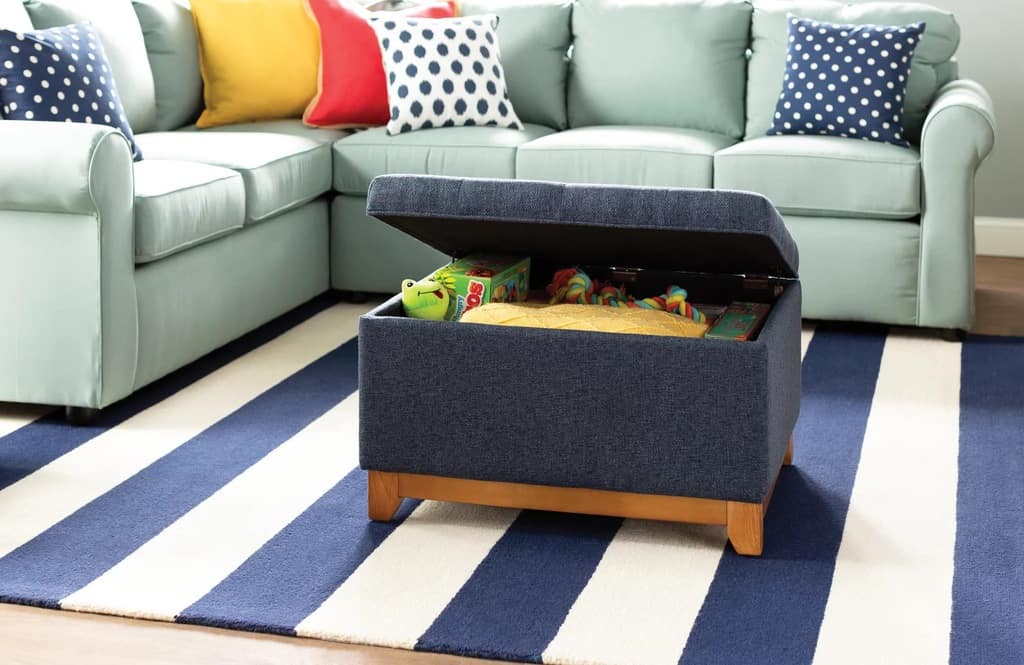 Trendey may earn a commission when you buy through links on our site.
As an Amazon Associate we earn from qualifying purchases.
Best Storage Ottomans
When you're working with a limited amount of space, you need to make the most of what you have. This means choosing furniture that does double duty. A storage ottoman is a perfect example of this.
Use it to kick your feet up, set drinks or plates down, and as a convenient storage place. It's the place for keeping extra blankets, pillows, magazines, or even games.
Our list of the best storage ottomans will help you make the most of your home.
Related read: 55 Living Room Storage Ideas
Top Picks
Best Overall: Alcott Hill Wide Tufted Rectangle Storage Ottoman
Specs:
Dimensions: 18" H x 30" W x 24" D
Material: Manufactured wood and polyester
Style: Contemporary
This simple yet contemporary ottoman may not look like much but will provide you with plenty of storage. Its rectangle shape will help it fit into most living rooms. The lid is on hinges, so you can fit the lid to access the storage compartment.
The top has plenty of cushioning to give you a place to sit or rest your feet. Evenly spaced buttons secure the upholstered fabric and give it subtle detailing. A nice touch is the wood base that can pair beautifully with your home's other wood furniture pieces. Lift the lid, and you'll appreciate the high-quality hardware.
There are three small basic hinges and two larger hinges to help the lid close slowly. Choose from dark blue or gray colors, both of which are perfect for use in trending home color schemes that use both blue and gray.
Check Price
Best Budget Pick: Nicehill 30-inches Storage Ottoman
Specs:
Dimensions: 15″D x 30″W x 15″H
Material: Manufactured wood and linen
Style: Traditional
Just because you have a small budget doesn't mean you have to give up on having a beautifully styled home or extra storage. This affordable storage ottoman looks just as elegant as others on this list but for a fraction of the price.
It has wooden legs, button-tufted upholstery on the lid, and a soft light gray fabric that wraps around the entire ottoman. Overly thick and stiff sponge padding on the lid will give you plenty of support. The premium linen fabric used to upholster this ottoman helps elevate the ottoman's look and adds visual texture to the room.
An impressive feature of this ottoman is that it can support up to 350 pounds. Add this ottoman in more places than just the living room. Use it in the kid's room as a toy storage bin or the entryway for shoe storage.
Check Price
Best Contemporary Pick: Copper Grove Upholstery Cylindrical Storage Ottoman
Specs:
Dimensions: 15.7" H x 14.1" W x 29.53" D
Material: Plywood and fabric
Style: Vintage
Sometimes, all you need is a small and simple additional storage solution. This cute and round ottoman has a small footprint that enables it to fit anywhere. You can also choose from five colors, gray, black, brown, pink, and yellow.
The soft fabric upholstery has the texture look of linen that's wrapped around an embedded solid wood supports. You'll appreciate how easy it is to clean and care for this ottoman, making it perfect for homes with pets and children.
The biggest drawback of this ottoman is that it is very small, which means you won't be able to put very much inside it. The lid is just large enough with a single button tuft on the top. The lid also isn't reversible, so there's no tray on the underside like you would find with other ottomans.
Check Price
Best Premium Pick: West Elm Upholstered Square Storage Ottoman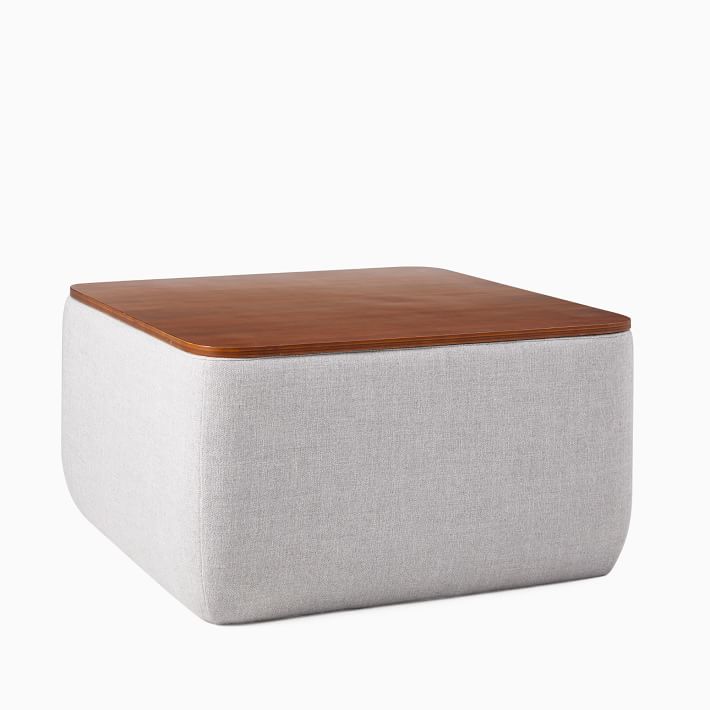 Specs:
Dimensions: 19.3″sq. x 19.3″h, 25″sq. x 17.7″h, and 30.3″sq. x 16″h
Material: Walnut and fabric
Style: Contemporary
If you have a large living room or other space where you need more hidden storage, then a large and low ottoman is the perfect solution. This one comes in three sizes, so you can choose the perfect size for the available floor space.
This ottoman stands out because it has fabric upholstery for the body and a rich walnut wood lid. While you probably won't want to sit on this ottoman, it's perfect for using it as a place to set drinks, plates, or decor arrangements.
There are also countless fabric weave and color options, so you can style this ottoman to match your color scheme and decor style.
The underside of the lid has a notch carved out that allows the lid to sink into place and stay secure on the base. A nice touch is the vents in the base of the ottoman, which help prevent moisture buildup in the ottoman. This helps whatever you store in the ottoman to stay fresh.
Check Price
Best Art Deco Pick: Cerra Velvet Round Storage Ottoman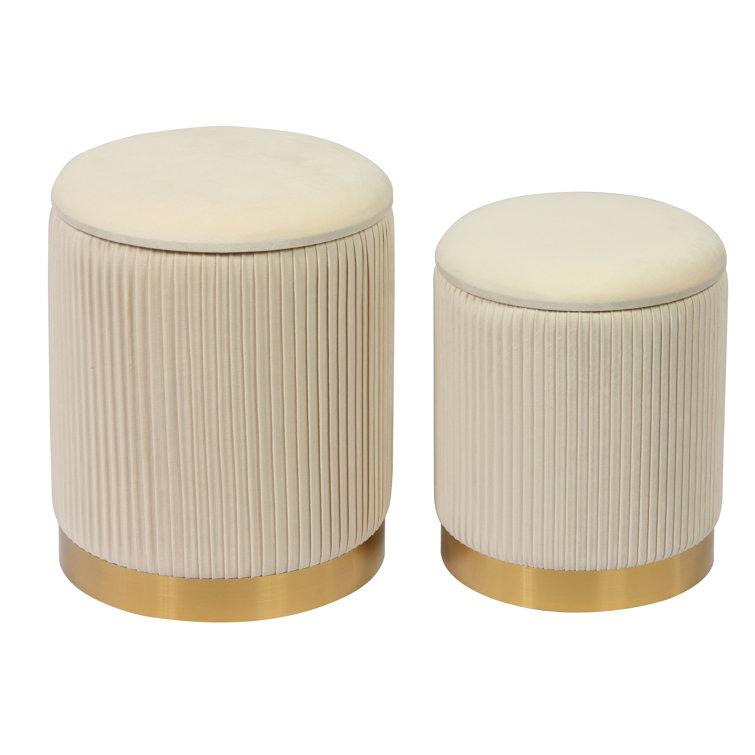 Specs:
Dimensions: 17.3" H x 14.2" W x 14.2" D and 15" H x 12.4" W x 12.4" D
Material: Manufactured wood and velvet
Style: Art Deco
Add a touch of the roaring twenties to your home with these art deco inspired ottomans. They come as a set of two, with one slightly larger than the other. This is perfect for creating an asymmetrical look.
You can choose from two colors, cream or gray; both colors have a gold metallic accent band around the base of the ottoman.
The sides and top are upholstered in luxurious velvet fabric with rows of pleating and a smooth top. The lid double as a seat with plenty of thick, dense foam cushioning.
The potential drawback of this ottoman is that they aren't a great solution for long-term sitting. The small size and lack of back support can make it uncomfortable. You'll also need to be careful with the cream color, as it can get dirty quickly.
Check Price
Best Modern Pick: George Oliver Wide Velvet Round Storage Ottoman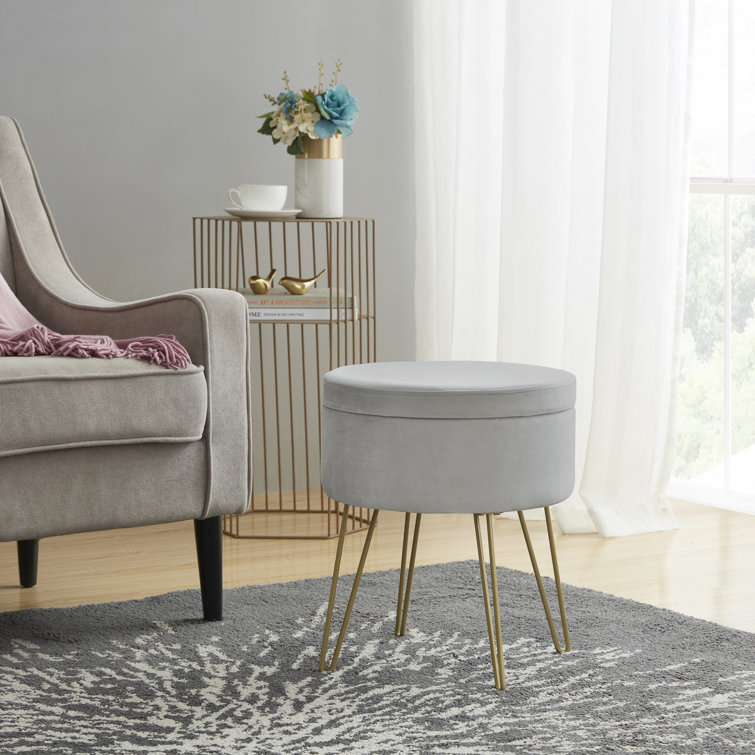 Specs:
Dimensions: 18" H x 15" W x 15" D
Material: Manufactured wood and velvet
Style: Minimalist
Place this storage ottoman in your living room for a touch of modern minimalism. The long gold legs elevate this ottoman off the ground to give it an open and airy feeling. This is perfect for the minimalist aesthetic and for small spaces.
There are nine richly saturated colors to choose from, making it easy to find a color that perfectly complements your room's color scheme. The top of the ottoman lifts off to reveal the storage compartment underneath. The lid has thick and supportive foam cushioning, making it the perfect spot to kick your feet up. Flip the lid over, and there's a serving tray, making it the perfect spot for resting a small plate or drink glass.
You can use this ottoman in more places than just a minimalist design. It can work well in a glam, bohemian, or maximalist room. The rich velvet adds a sense of elegant coziness.
Check Price
Best Children's Pick: Gray Elephant Animal Shape Storage Ottoman
Specs:
Dimensions: 14″L x 26″W x 16″H
Material: Rubberwood and fabric
Style: Whimsical
Storage ottomans aren't just for your bedroom or living room. You can also add them to your baby or children's room. You can never have enough storage in these rooms, so a fun storage solution can get your children involved in keeping their room clean.
This fun ottoman looks like a friendly gray elephant, but lift its back lid off, and you have a handy storage compartment. The small stature of this ottoman makes it easy for children to open and access the ottoman on their own.
This whimsical elephant is perfect for animals, zoos, or wildlife-themed rooms. The lid is attached to the base with a single hinge and velcro closure, making it easy for small hands to operate. You'll appreciate the high-quality fabric that you can spot clean to keep it looking like new.
Check Price
Best Coastal Pick: Highland Dunes Weathered Storage Ottoman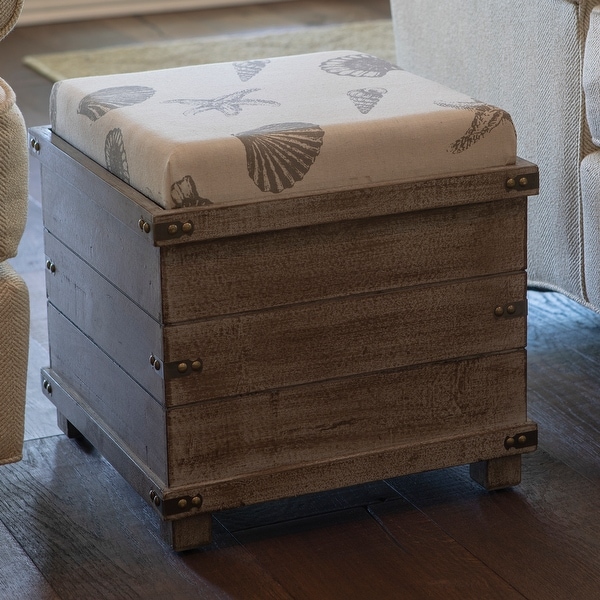 Specs:
Dimensions: 15.75 In. X 15.75 In. X 15.75 In.
Material: Foam, MDF, Wood
Style: Coastal
Complete the look of your coastal living room with this nautical-inspired ottoman. The ottoman is a small square with open space inside. You'll lift the top off to access the storage compartment.
The lid has a serving tray on one side and a cushion on the other. The fabric used to upholster the cushion has an ocean theme with shells and starfish. The wood has a weathered finish, creating the effect of the ottoman getting left outside and the sand and salt air slowly wearing away at the paint.
Use more than one of these ottomans in your living room to create portable hidden storage. For example, you can use them to frame your sofa, coffee table, or TV. Unfortunately, this ottoman is very small, which can mean that it's too small to be an effective storage solution. You may also find that the weathering doesn't look authentic. However, this is ok if you pair it with authentic coastal pieces.
Check Price
Best Rustic Pick: Highland Dunes Wide Square Storage Ottoman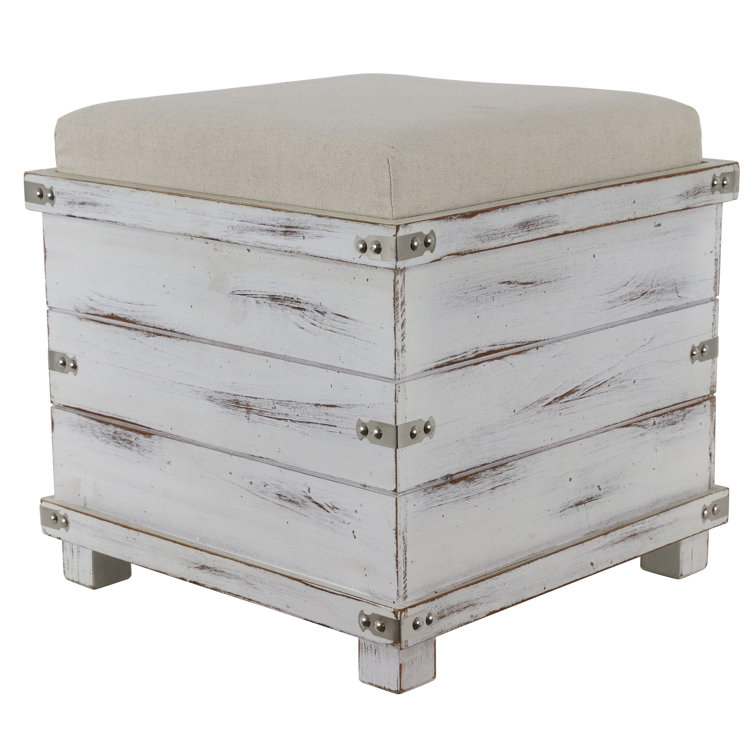 Specs:
Dimensions: 15.75" H x 15.75" W x 15.75" D
Material: Manufactured wood and polyester blend
Style: Rustic
This rustic storage ottoman is perfect for your farmhouse, country, or rustic interior design. Unlike a vintage rustic ottoman, this one has faux aging. As a result, you'll have the look of rustic design without giving up modern functionality and durability.
It comes in three shades, whitewashed, tan, and honey nut. Each has a cushion on the top to create a cushioned sitting spot, or you can flip it over and have additional entertaining space. When you lift off the seat cushion, you'll also have access to the storage space inside of the ottoman.
Place your ottoman next to a coffee table or at the end of your sofa. Its small size will help it to fit anywhere.
One of the biggest drawbacks of this ottoman is that it's made from manufactured wood and then given a faux finish, which will never be a convincing replication of vintage and worn rustic wood.
Check Price
Best Glam Pick: Kaylee Navy Blue Storage Ottoman Bench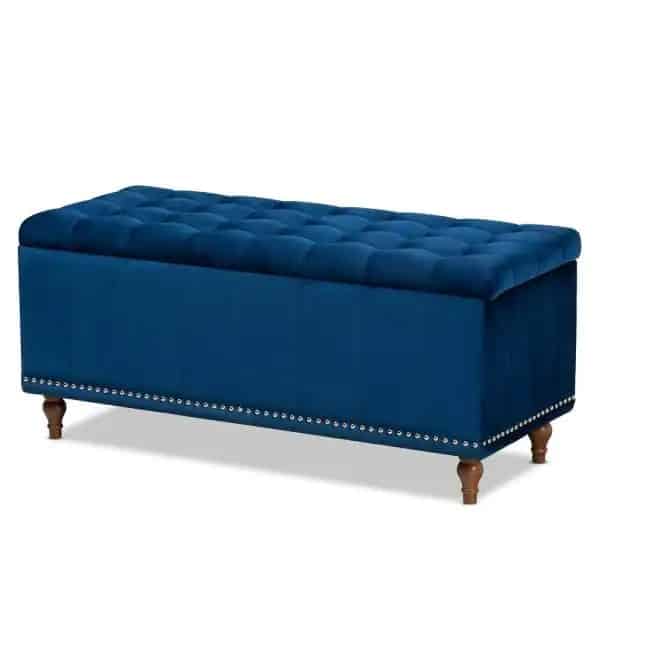 Specs:
Dimensions: 18.7" H x 41.73" W x 16.73" D
Material: Rubberwood and velvet polyester fabric
Style: Glam
Add glamour and elegance to your home with this highly saturated blue velvet storage ottoman. Its long length makes it perfect for use at the foot of a bed, in our living room, or in a long hallway. If the jewel-toned blue isn't to your taste, there are two other color options, gray, and light teal.
Around the bottom of the ottoman are bright silver nail heads, and the top has a traditional tufted design with plenty of plush padding to turn it into a comfortable seating option. You'll love the plentiful storage that this ottoman gives you, making it perfect for housing extra blankets, towels, or linens.
The lid lifts up on three hinges, giving you plenty of space for loading the ottoman and getting what you need out.
Unlike lower-quality ottomans with only two hinges, this one has three hinges that support the lid. The solid rubberwood construction gives this ottoman a sturdy feel while also helping it to be durable.
Check Price
Read also: 7 Best Ottoman Coffee Tables
How to Choose a Perfect Storage Ottoman?
Size
Balance functionality and available space when choosing the size of your storage ottoman. It needs to be large enough to have plenty of storage space inside the ottoman. It also shouldn't be too large because you need to be able to walk around it in your living room. Measure the available space and purchase an ottoman that leaves enough room for you to walk around it. You may find that buying a taller ottoman gives you more internal storage when you don't have a lot of floor space.
Construction Material
The material you choose for the construction of your ottoman will depend on your budget and interior design style. Common materials are wood, metal, plastic, and concrete. While most of these materials are durable, plastic will not stand up to the same level of use as the others. Upholstered fabric-covered ottomans are beautiful but require more care because they can get stained.
Style and Design
What is the design style of your living room? Your storage ottoman should match so that it blends in and helps to create a cohesive design theme. If you have a traditional or American craftsman design, an upholstered ottoman will make the most sense. For a modern or minimalist design, consider a metal or concrete ottoman with a simplistic and sleek design. You could have an aged wooden trunk for a rustic design.
Storage Ability
What do you plan to keep in your storage ottoman? Some ottomans have a drawer, while others have a cabinet or are a bin with a removable lid. The style of storage compartment that you choose will depend on what you plan to put in it. For example, a stack of games may fit perfectly into a cabinet or bin while they wouldn't fit in a drawer. On the other hand, small items like remotes will fit in a drawer but get lost in a bin.
Conclusion
Our top pick for the best storage ottoman is the Wide Tufted Rectangle Storage Ottoman. It has a clean and timeless design that will help it look great for years to come. In addition, the large compartment will give you plenty of additional storage space.
For a more affordable alternative, the Nicehill Storage Ottoman won't disappoint with its long and narrow shape and easy-to-work lid on hinges.
FAQs on Storage Ottomans
What should I keep in my storage ottoman?
You can keep anything you want in your storage ottoman. Most people keep spare textiles like throw pillows and blankets in their ottoman. You could also keep magazines, remotes, games, or shoes in your ottoman.
Should your ottoman match your sofa?
While many people have an ottoman that matches their sofa, you don't have to. For many people, they are buying a furniture set, so it's cheaper and easier to buy a matching ottoman. However, there are no design rules that say they have to match. You could buy an ottoman that coordinates instead of matches.
Do you need a coffee table with an ottoman?
If you have a large room that can accommodate both a coffee table and an ottoman, you could have both. However, if you have a small space, then you'll end up choosing one or the other.