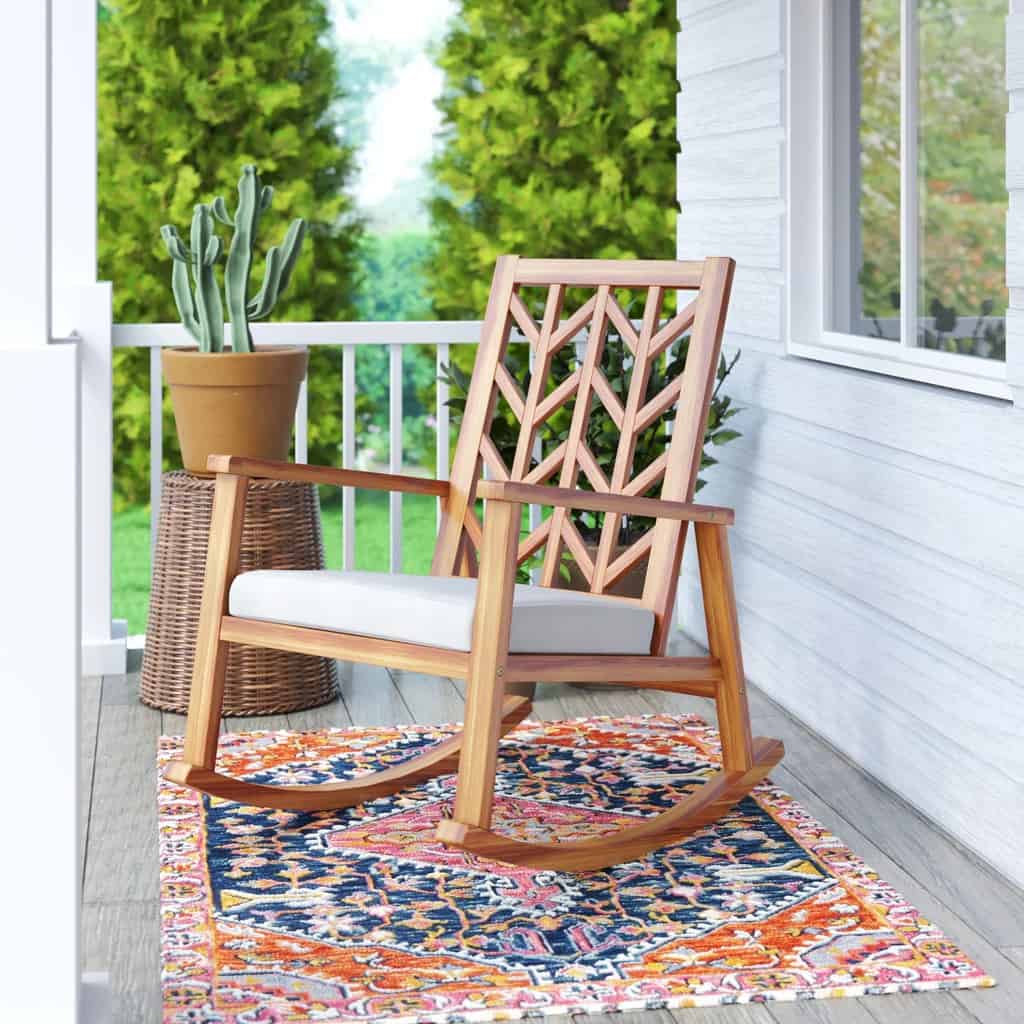 Trendey may earn a commission when you buy through links on our site.
As an Amazon Associate we earn from qualifying purchases.
Best Outdoor Rocking Chairs
It's a beautiful late summer day where the temperatures are beginning to cool, and the sun is heading down. You head out to your deck or patio to enjoy a cool refreshing drink. You could sit on a standard patio chair or grab a seat and your outdoor dining table.
However, neither of these seating options is particularly relaxing. Instead, what you need is an outdoor rocking chair.
Our list of the best outdoor rocking chairs proves that you don't have to sacrifice style or comfort to have this seating option on your porch or patio.
Top Picks
Best Overall: Hampton Porch Rocker Wood Outdoor Rocking Chair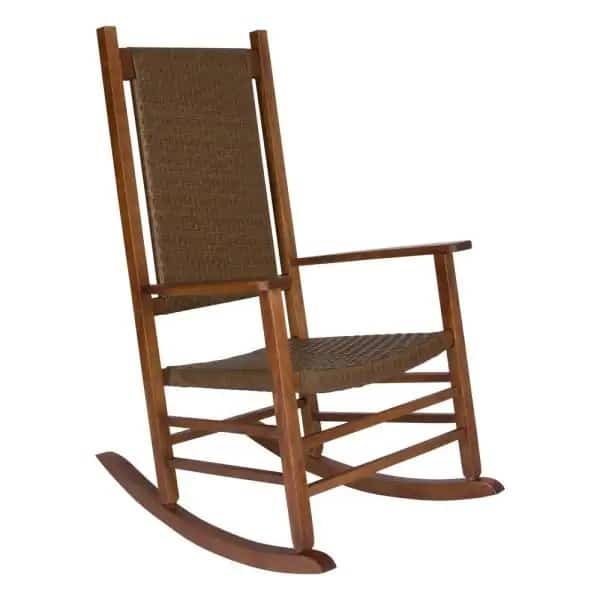 Specs:
Dimensions: 45.25 x 27 x 34 inches
Frame Material: Wood
Style: Classic
Stick with a classic design with this high-backed black rocking chair. It has a natural beauty with a frame made from genuine solid hardwood and a polyurethane coating. Unlike authentic vintage rocking chairs, this one is made with ergonomics in mind to make it incredibly comfortable. Once assembled, individuals weighing up to 250 pounds can safely rock in this chair. The seat and back are woven designs that give this chair a subtle texture. It has a chevron pattern that gives it a unique and fresh take on the traditional woven design. This chair has a maximum weight capacity of 250 pounds.
One drawback of this rocker is that the assembly can be complicated. It also needs a lot of room for the rocking motion. The chair also lacks some ergonomics, so while comfortable, it isn't as relaxing as it could be.
Check Price
Best Budget Pick: Suncrown 3 Piece Outdoor Rocking Bistro Set
Specs:
Dimensions: 28.5 x 23 x 36 inches
Frame Material: Powder coated solid steel
Style: Modern
This three-piece set comes with two chairs and a coffee side table. There are five colors to choose from, beige, cyan, dark blue, dark grey, and red. All sets come with a slim black frame that has an open design. The rocker rails are a part of the frame and connected to the armrest. The seat and backrest are tightly woven black wicker to give you plenty of support. The top of the side table is also woven wicker that is topped with glass. A thick foam pad wrapped in polyester fabric is included with the chair to give you extra support. The powder-coated steel frames give the chair durability to ensure it stays strong and continues to look good for years to come.
Unfortunately, the seat in this chair is short, so these chairs can feel small if you're tall. The assembly of this chair is pretty complicated, making it difficult and tedious.
Check Price
Best Bistro Pick: Veikous 3-Piece Outdoor Rocking Chair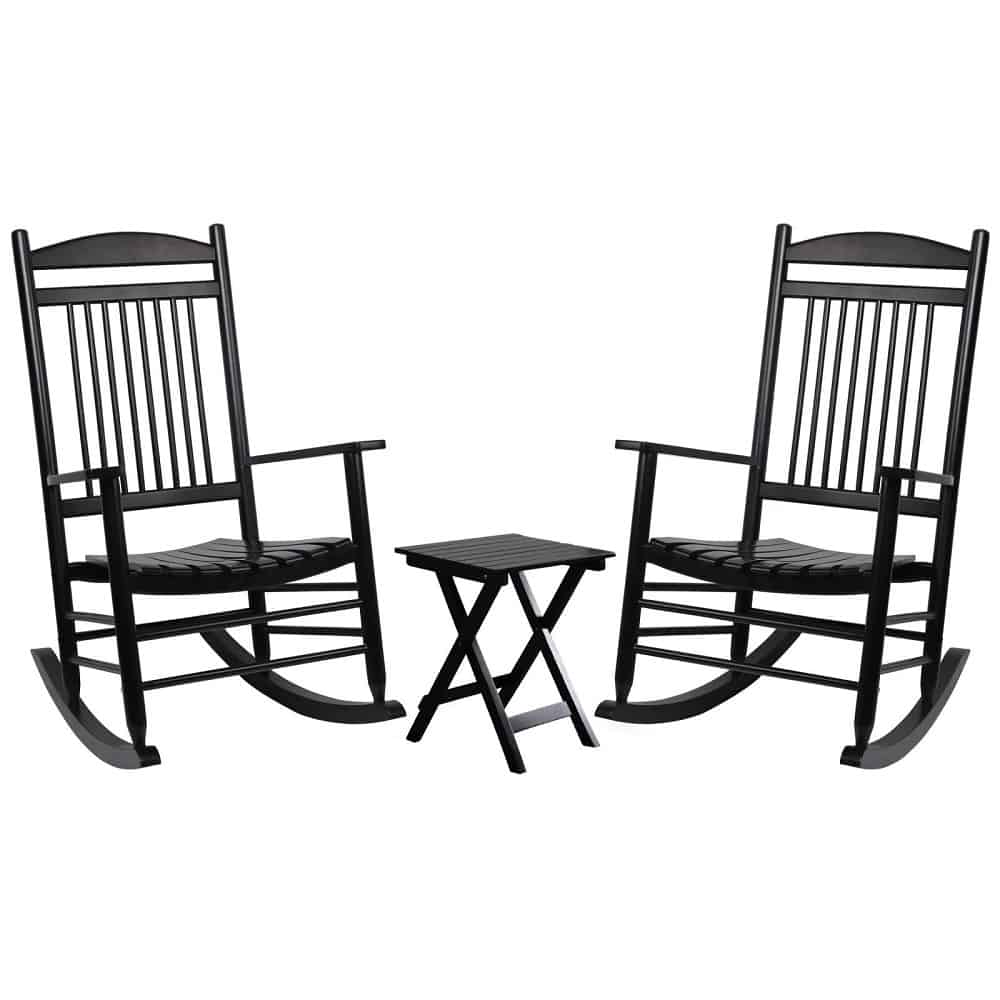 Specs:
Dimensions: 33.1 x 30.9 x 20 inches
Frame Material: Wicker
Style: Coastal
Give your backyard a coastal feel with this three-piece set that includes two rocking chairs and a coffee table. Choose from either the brown or the grey finish. The woven wicker design of the chairs and coffee table gives this set a coastal feel. Unlike other settings, the two cushions on this set are slightly different. The seat is a crisp square shape with a single square piece of foam. The backrest is a plush cushion with foam fill. These chairs are nicely sized and have a lower back to give them an armchair-like feel. The classic design of this set makes it perfect for giving your backyard a traditional look. Embrace this by adding a large area rug underneath for a living room setup.
The drawback of this set is that wicker can make this set less durable than other construction materials. Additionally, the armrests have a concave shape, making them awkward to lean on.
Check Price
Best Premium Pick: West Elm Vernon Outdoor Rocker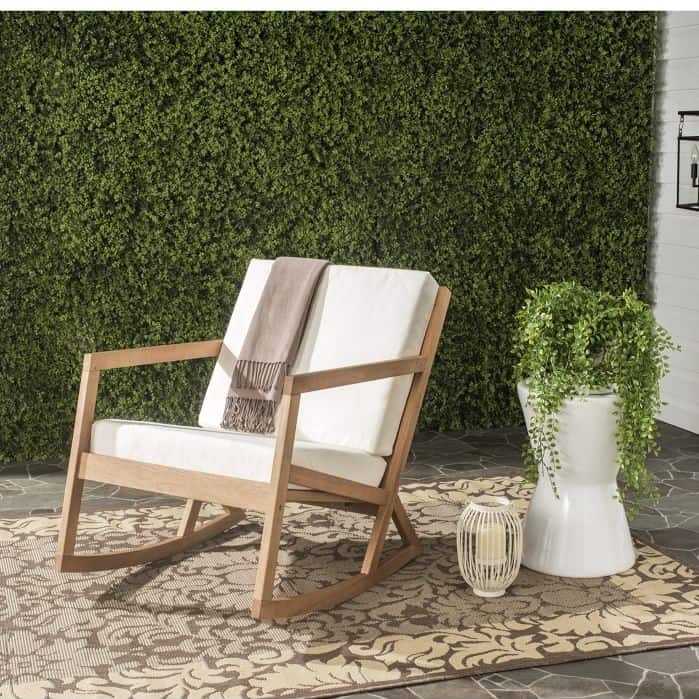 Specs:
Dimensions: 25.6 x 37.7 x 30.7 inches
Frame Material: Eucalyptus wood
Style: Modern
Give your backyard an elegant touch with this ultra-modern rocking chair. It features a beautiful eucalyptus wood frame with a warm teak finish. Paired with the frame is a cushion set with a seat and back for plenty of comfort. You'll love the deeper slanted back seat and back, which gives you a relaxed comfort. The rails' subtle design helps the chair look like a typical armchair yet also be a rocker. You have two cushion colors to choose from, beige or navy.
The drawback of this chair is that it has a deeper seat, making it take up more floor space despite being a smaller chair. The light-colored beige is also harder to keep clean, showing dirt and stains faster.
Check Price
Best Cushioned Pick: Crestlive Products Outdoor Rocking Metal Chair with Cushions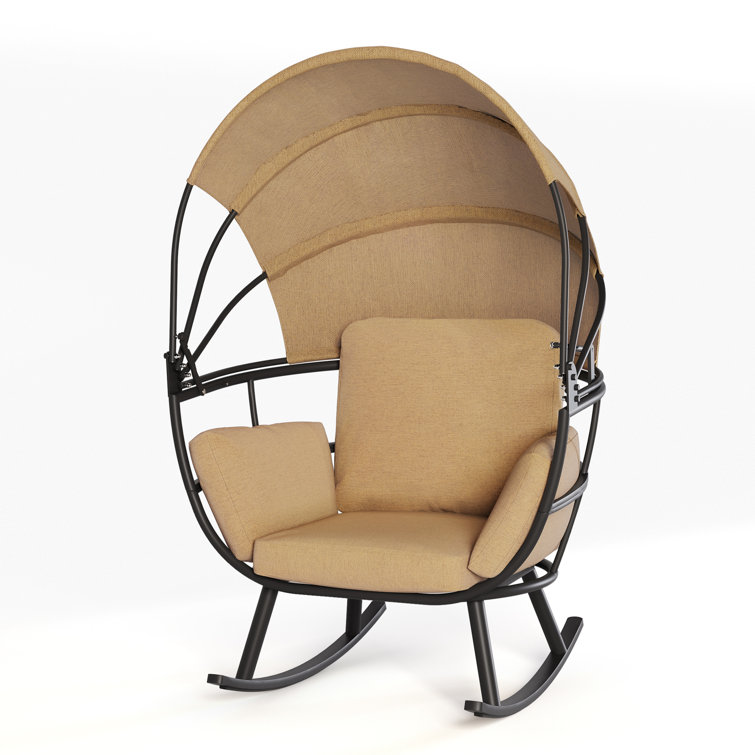 Specs:
Dimensions: 58.66 x 38.38 x 33.85 inches
Frame Material: Aluminum
Style: Bohemian
What if you could have a multi-functional chair that can convert into more than one type of chair? Meet this outdoor rocker. The base of the chair is styled like an armchair. It has a rounded metal frame with a plush seat, armrest, and back. Then there is an arched cover that turns the armchair into an egg chair. Look to the bottom, and there are rails that allow the entire chair to rock forward and back. Choose from six fabric color options and two frame options. Fabrics come in tan, gray, teal, pale blue, and navy. The frame can come in either black or white.
The biggest drawback of this chair is that it takes up a ton of room. You need a large space to keep this chair from looking monstrous and bulky. It can also feel hot sitting in this chair because it blocks so much airflow. However, this is balanced out by the shade the egg cover provides.
Check Price
Best Bohemian Pick: Redwood Rover Outdoor Paloma Rocking Chair with Cushions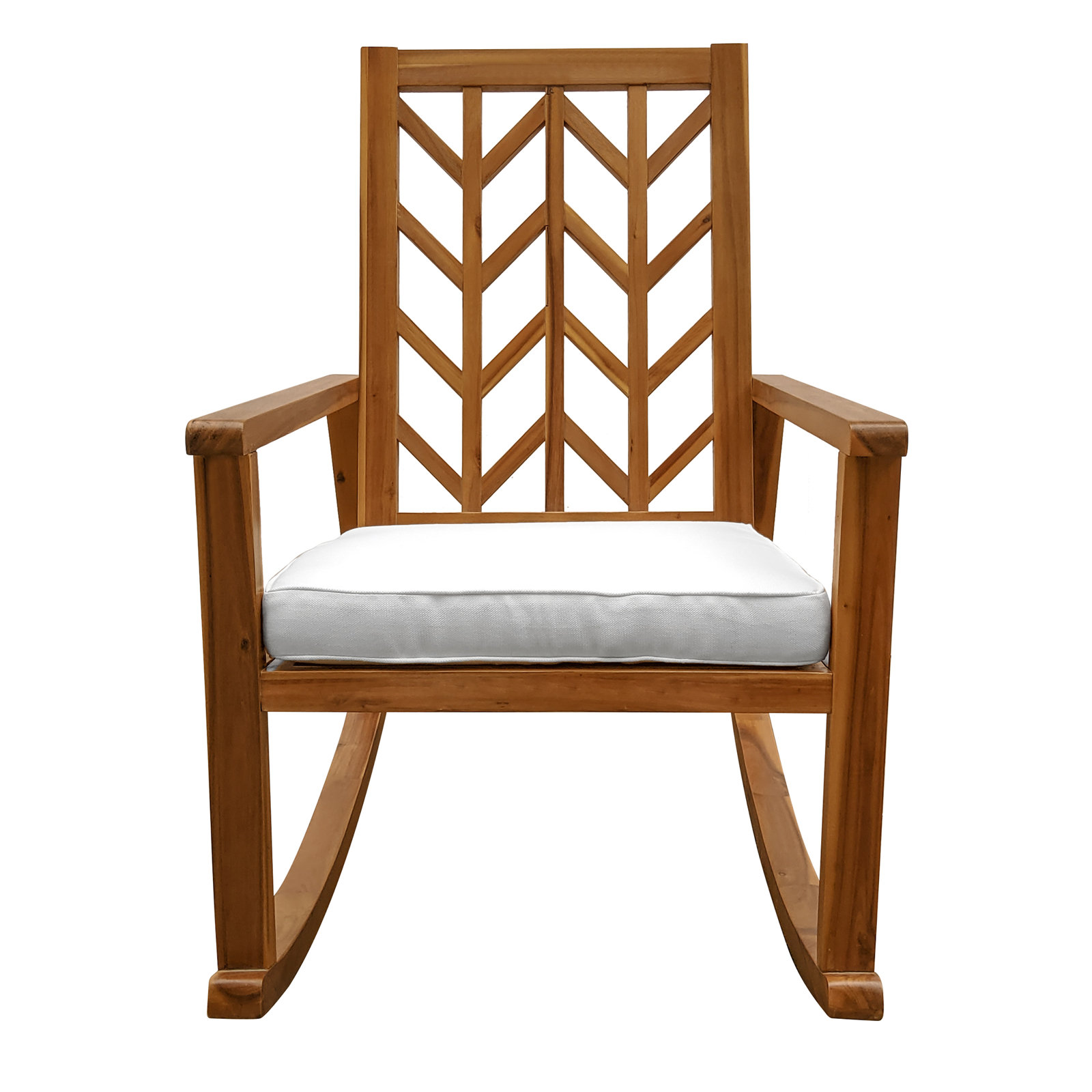 Specs:
Dimensions: 41.3 x 26.5 x 37.8 inches
Frame Material: Acacia wood
Style: Contemporary
Rocking chairs don't have to be old and tired. This outdoor rocking chair has a solid Acacia wood construction with a chevron pattern on the seatback. This gives it a contemporary design that features a geometric pattern, straight armrests, and elegantly curved rails. The open design of the back will provide you with plenty of breathability. The chair also comes with a seat cushion with a removable cover to make cleaning easier. This chair can accommodate individuals weighing up to 250 pounds. The durability of this chair is impressive, thanks to the wood being naturally water and UV resistant. Even the cushion is made from durable foam.
The drawback of this chair is that those large openings on the seatback can be slightly uncomfortable on your back. The armrests are also perfectly flat and straight, which can be somewhat uncomfortable. There's a lack of ergonomics to it.
Check Price
Best Unique Pick: Corvus Sarcelles Modern Wicker Rocking Chairs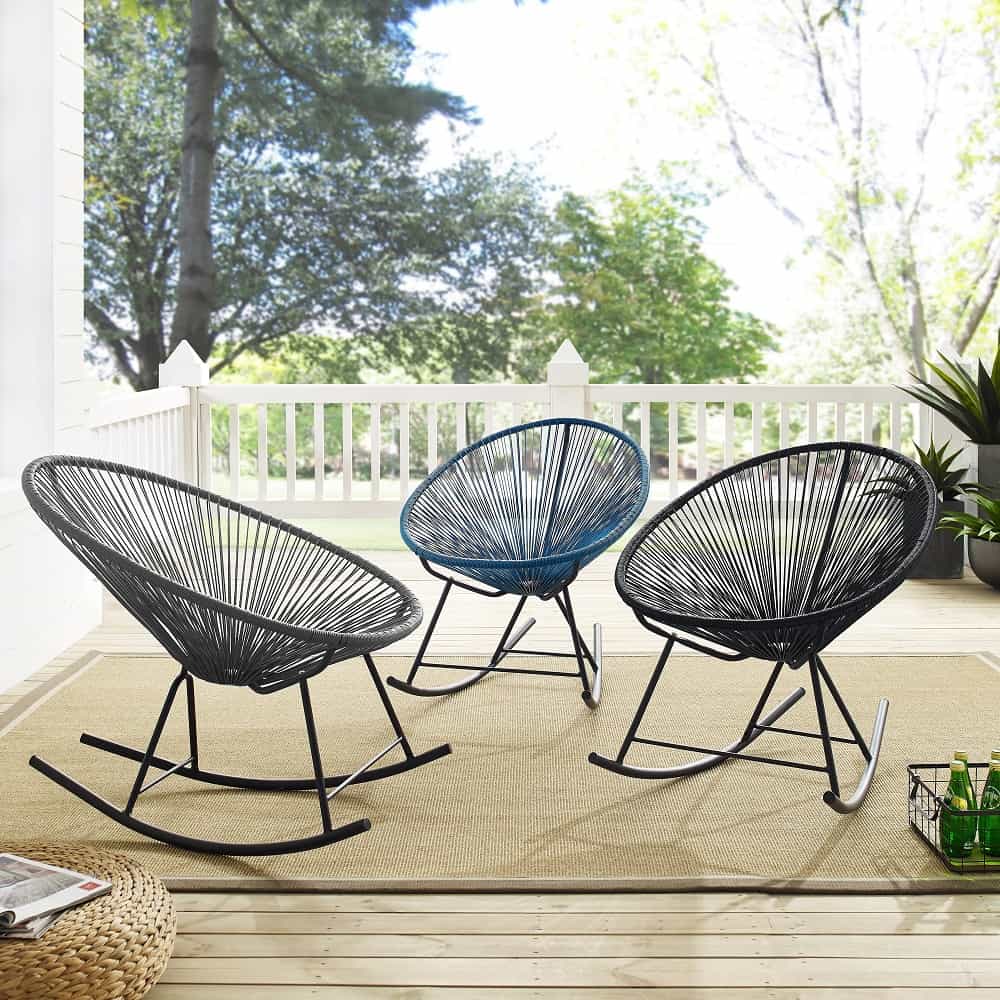 Specs:
Dimensions: 30.7 x 34.6 x 27.5 inches
Frame Material: Metal and Wicker
Style: Urban
Sink back into this unique rocking chair that looks more like a dish chair on rails. It comes in four modern colors, grey, dark blue, black, and peacock. The chairs come as a two-person set, so you'll have a ready-to-use setup. The frame is made from metal with a PE wicker cord woven around the metal and drawn together at the center base of the seat. This creates a deep seat that you sink back into. The aggressively curved rails give the chair a large rocking motion. This rocker has a mid-century modern design that still feels fresh and relevant in today's design. If you have a small space, such as a balcony or apartment patio, then this set is a perfect seating option.
The drawback of this chair is that it can be hard to get in and out of the chair due to the deep seat. It can also feel awkward with the cord support and a harsh metal rail around the outside edge.
Check Price
Best Loveseat Pick: Costway Patio Glider Rocking Bench 2 Person Chair Loveseat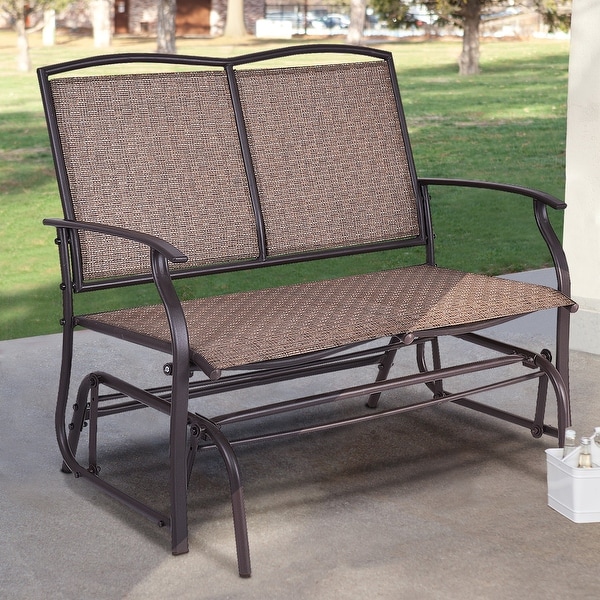 Specs:
Dimensions: 41.3 X 36.6 inches
Frame Material: Steel
Style: Contemporary
Don't rock alone! This double seat rocking chair is like a love seat for your patio. It's the length of two rocking chairs put together, making it suitable for two people to sit on it simultaneously. A durable steel frame for the rocking mechanism and the chair make it strong. The fixed four legs make the chair stable and safer for two people to use simultaneously. Unlike traditional rockers that lean when moving forward and back, this chair is more of a glider. It stays on a single plane when moving forward and back. What's nice about this is that you don't need to account for a ton of extra space around the chair to accommodate its movement.
Unfortunately, the manufacturer warns against placing the chair outside on rainy days. This would have me worried that the steel construction of this frame is not really weatherproof. If exposed to the elements, I'd be concerned about this frame rusting over time. It's best to use this rocker in a protected space to prevent corrosion.
Check Price
Best Wicker Pick: Cambridge Wicker Outdoor Patio Rocking Chair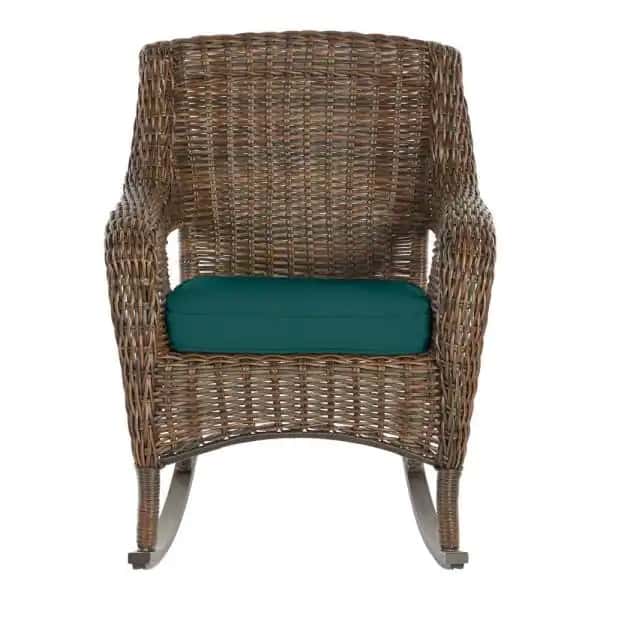 Specs:
Dimensions: 27.5 x 36.5 x 27.5
Frame Material: Wicker
Style: Lounge Armchair
This wicker rocker will give your home a classic coastal look. The chair's frame and body look like a traditional wicker patio chair. Except that the legs are attached to rocker rails instead of sitting on the ground. Underneath the wicker is a powder-coated steel frame to give your rocker strength and stability. Thanks to that steel frame, the chair has a maximum weight of 300 pounds. This chair is a part of a larger set, so you can have a complete matching set of outdoor furniture instead of having a rocker that doesn't quite match and looks out of place. The cushion that comes with the chair is designed for outdoor use, being made from CushionGuard fabric that resists water and fading. There are 12 colors to choose from for your cushion.
The drawback of this chair is that it takes up a lot of visual space. While its size is relatively small, its body is solid, so it looks bulky. This chair is best used in more open spaces where you won't feel cramped or closed in when walking around this chair. You'll also want to keep the chair covered when not in use. Wicker becomes brittle from long UV exposure.
Check Price
Best Metal Pick: Tortuga Outdoor Garden Rocker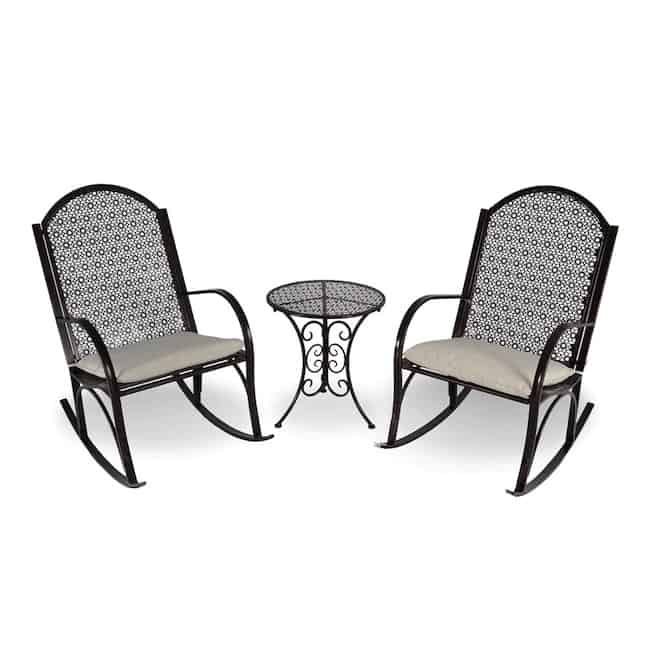 Specs:
Dimensions: 23 x 36 x 41 inches
Frame Material: Steel
Style: Vintage
Give your patio a touch of vintage inspiration with this simple yet elegant chair. The seatback is the standout feature with an intricate daisy pattern. The frame has an oiled copper finish that gives the chair an antique feel without looking old or rustic. You will need to assemble the chair, but thankfully, this is an easy task. A square, tan seat pillow comes with this chair for additional comfort. The slim and open design of the frame and smaller scale of the entire chair make this an ideal seating open for smaller outdoor spaces. The frame's construction is steel, making it strong and sturdy.
One drawback of this chair is that the seat pillow is a bit disappointing. It's on the thin side and will flatten out over extended periods of sitting. Combine this with the straight and flat back, and this chair lack ergonomics. This isn't a big deal for short periods of sitting but could be an issue if you plan to spend hours outside in your rocker.
Check Price
How to Choose a Perfect Outdoor Rocking Chair?
Comfort Features
Rocking chairs are known for their ability to encourage relaxation. Your rocking chair needs to have comfort features to make the most of this. Lok for a cushioned or contoured seat. The backrest should have a slight recline. The armrests should be at a natural height. The chair should also have a natural rocking position that feels comfortable.
Size
Rocking chairs take up a lot more room than you'd think. Because they move, you'll need additional space behind them. The first step is knowing the dimensions of the chair. This will help you estimate the chair's movement. Scale the size of your rocking chair to the amount of available space you have. If you plan to have more than one rocking chair, you need to account for the movement of both chairs so they don't interfere with each other while you're rocking.
Design Style
The design style of your rocking chair should match the rest of your outdoor furniture and home style. This would mean adding modern rocking chairs to your modern home or traditional rocking chairs to a craftsman-style home. While this isn't a hard-set rule, it can help to make your home look more cohesive. The design style is the shaping and material of the frame, its color, backrest height, rocker style, and whether or not it has a cushion. If you have more than one rocking chair, they should match in style to create a cohesive design.
Construction Materials
Unlike an indoor rocking chair, your outdoor seating takes a beating from the elements. Because of this, choosing the right construction material is crucial to ensuring the longevity of your new chair. Teak, acacia, and hardwood are all popular choices. If you buy a chair made from softwood, regularly treat the wood to protect it. These woods are durable and impervious to water. Metal is another good option; just be sure it won't rust. Wicker is a popular outdoor furniture material, but be sure it's high quality, or you risk it drying out and becoming brittle.
Conclusion
Our top pick for the best outdoor rocking chair is the Hampton Porch Rocker Wood Outdoor Rocking Chair. This comfortable chair features a classic design in a sleek black. The woven wicker gives the chair some flexibility while sitting in the rocker. For a more affordable option, the Suncrown 3 Piece Outdoor Rocking Bistro Set is a scaled-down modern set that brings everything you need.
FAQs on Outdoor Rocking Chairs
Can a wooden rocking chair be kept outside?
Yes, you can keep wooden rocking chairs outside. Just be sure that the wood is treated to give durability to the elements. If your chosen wooden rocking chair isn't already treated, you can waterproof it yourself at home before leaving it outside.
Is rocking in a rocking chair good for you?
Sitting in a rocking chair and actively rocking can give you several health benefits. It can increase blood flow throughout your body. This increase in blood flow means your body gets more oxygen, helping to ease aches, pains, and arthritis symptoms. It can also increase your knee flexibility and develop muscle strength.
What wood is best for rocking chairs?
Teak is the best wood because it's a hardwood that is high in natural oils, making it durable to the elements. If left alone, it will patina into a weathered gray. You can also regularly oil it to retain the rich brown color. Acacia is a good alternative because it's more affordable, but not quite as durable.