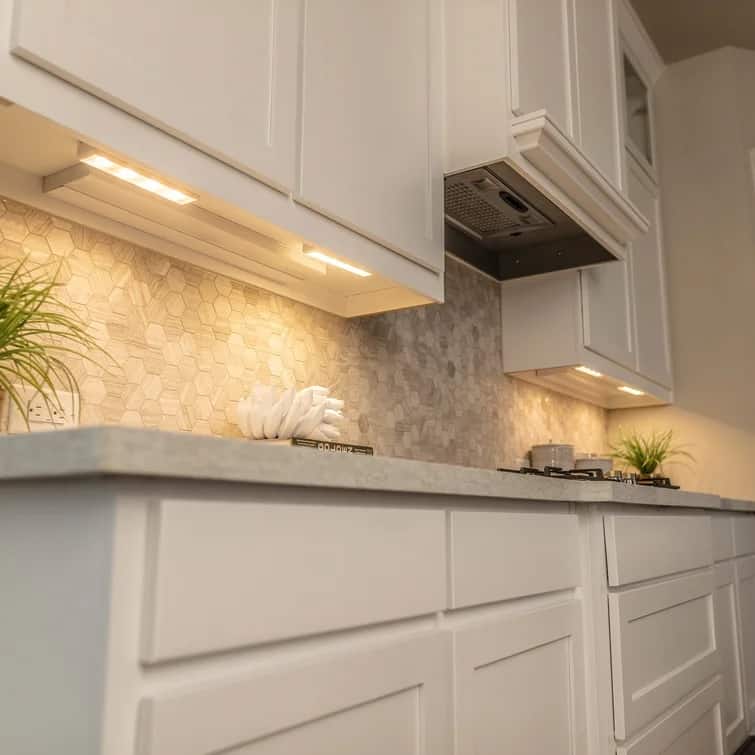 Trendey may earn a commission when you buy through links on our site.
As an Amazon Associate we earn from qualifying purchases.
Best Closet Lighting
There's a reason people ask if you got dressed in the dark when you wear an outfit that doesn't look quite right. Having enough and the right type of lighting in your bedroom closet is a must for helping you get ready in the morning. The old single bulb that produces a dark yellow light just isn't going to cut it. What you need is an upgrade.
Check out some of the best closet lighting options that will transform your closet.
Top Picks
Best Overall: Breanna 2 Light Statement Drum Semi Flush Mount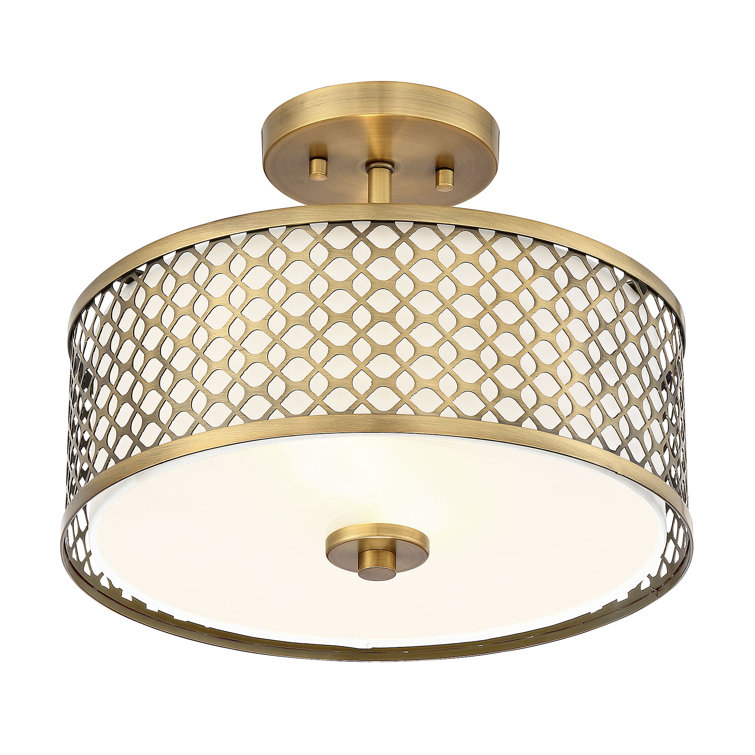 Specs:
Type: Semi flush mount
Bulb: Standard
Power Source: Hardwired
Adding this semi flush mount light to your closet will elevate the look of the entire space. As a closet light fixture, it will provide plenty of ambient light, thanks to the two 60-watt bulbs that it takes. The shade is a unique design of a clean white inner shade with an intricate metal shade over the top of it. The large drum design with the brass finish gives your closet a slightly glam and slightly chic design. The soft inner shade creates a pleasant ambient glow while the metal trellis design adds texture without hindering the light. Try mounting yours in the center of a large walk-in closet. Pair it with brass hardware for your cabinets.
One drawback of this light is that it uses halogen lights or incandescent bulbs. These aren't as efficient as LEDs and will require changing more often. However, they will produce plenty of bright light.
Check Price
Best Budget: Drosbey LED Ceiling Light Fixture
Specs:
Type: Flush Mount
Bulb: LED
Power Source: Hardwired
This truly flush mount LED closet light will sit right up against your closet ceiling. You can't get much more low profile than that. It comes in an attractive brushed nickel or oil-rubbed bronze finish with a frosted lens to diffuse the light. Thanks to the long-lasting LED bulbs, you can expect up to 30,000 hours of 2,200 lumens and 5,000K color temperature light. The LED lighting is able to create a natural light that is bright enough to comfortably see without being too harsh or cold feeling. The LEDs are also energy-efficient, helping you to reduce your home energy costs. This light would be perfect for someone with a small closet and minimal space. It has the perfect aesthetic for a coastal, modern, or minimalist style.
Unfortunately, this ceiling light is difficult to install by yourself. You'll either need to find someone to help you or have a professional do it.
Check Price
Best Under Cabinet: Brilliant Evolution Under Cabinet Light Bar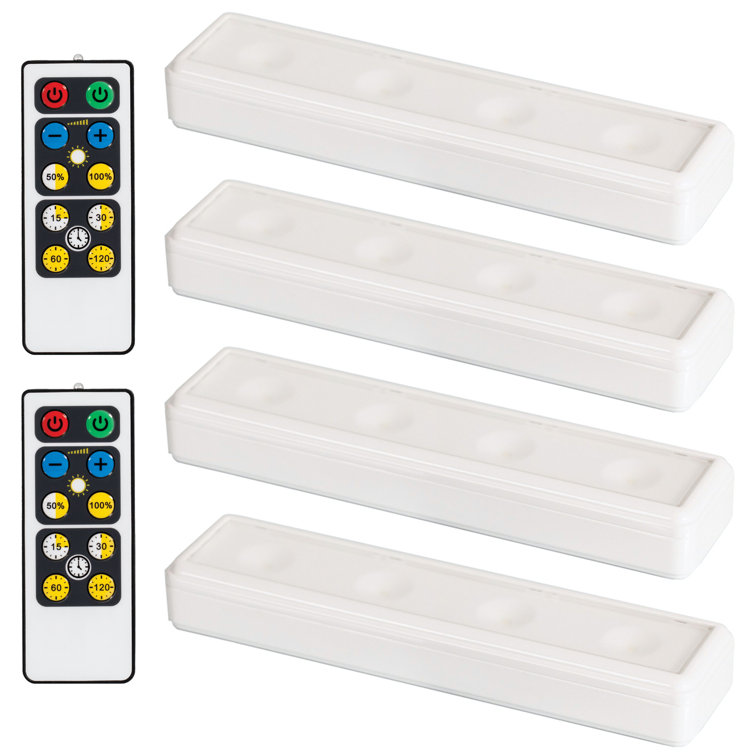 Specs:
Type: Light bar
Bulb: LED
Power Source: Battery
Homeowners forget that light bars have more uses than just your kitchen cabinet lighting. These battery-operated lights are perfect for adding additional light to your closet when you can't hardwire additional lights. Each of the four wireless lights in the set produces 80 lumens and has a run time of 100 hours. A remote control comes with them that lets you dim them, control up to 12 lights, turn them on or off, and set the timer. You can choose from 15,30,60, or 120 minutes for the timer. To mount them, you can either use adhesive or screw them in.
Unfortunately, because these lights are battery-powered, you'll need to replace the three AA batteries in them. This presents an ongoing maintenance cost and task. Another potential problem is that the frequency of the remote can coincide with other electrics, which means the remote might interfere with your other home electronics.
Check Price
Best Flush Mount: Lithonia Lighting LED Closet Flush Mount Light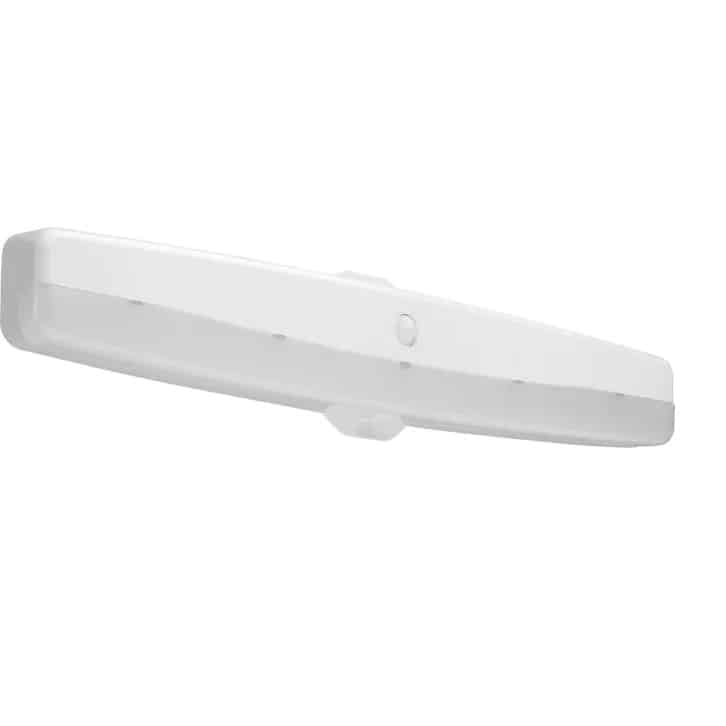 Specs:
Type: Light bar
Bulb: LED
Power Source: Hardwired
This functional closet light can be mounted on your ceiling or a wall. It's energy-efficient, helping you to save money. It can produce 1,225 lumens of 4,000K light from the included LEDs. You can expect it to have a long useful life of up to 50,000 hours. A standout feature of this light is that it's motion-activated. It has a passive infrared (PIR) sensor that will activate the light when it senses motion. This means the light would turn on when you open the closet door or reach in. It also comes with a five-year limited warranty.
Unfortunately, the styling of this light leaves a lot to be desired. It has a plain white plastic housing with a translucent lens covering the LEDs. It's best for use in a place where you won't directly see the light but will benefit from the illumination. For example, mount it on the wall above you for a reach-in closet.
Check Price
Best Colored Accent: Monster Under Cabinet Strip Light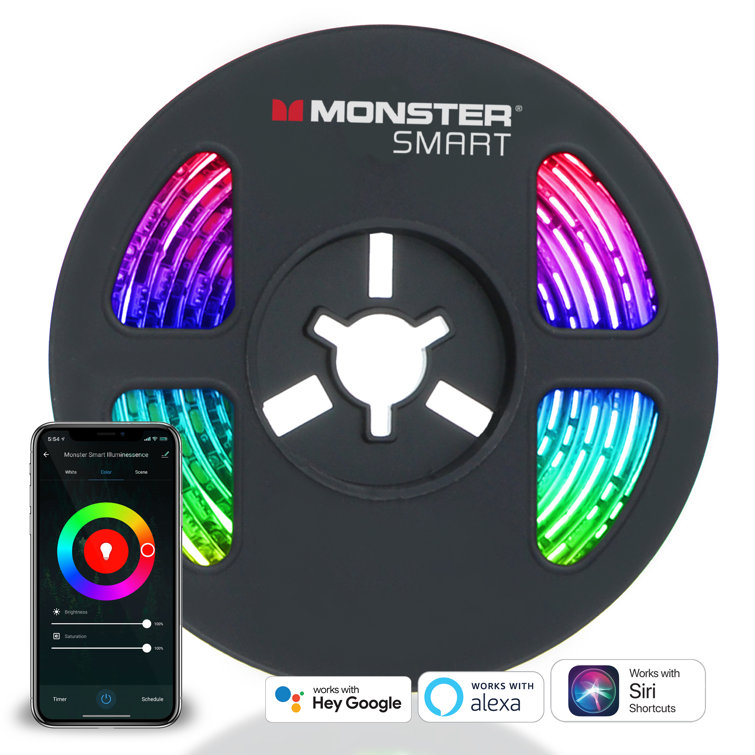 Specs:
Type: Strip light
Bulb: LED
Power Source: Hardwired / Plug-in
These led strip lights aren't specifically meant for your closet, but that doesn't mean you can't use them in there. They are perfect for adding accent lighting or illuminating long shelves. They come with app control, making it easy to change the color and customize the lighting to match your mood. Thanks to the LEDs used, there are 16,000,000 color options. You can also program them to respond to voice control. A single roll comes with 6.5 feet of LED strip lighting. The backing has pre-applied adhesive to allow for peel and stick installation.
The drawback of these lights is that they require a bit more knowledge than the average homeowner might have. You'll need to know how to run the lights and attach them to your cabinets, shelves, walls, or ceiling. You'll also need to know how to cut them and connect them to power.
Check Price
Best Premium: Fabric Shade Drum Flushmount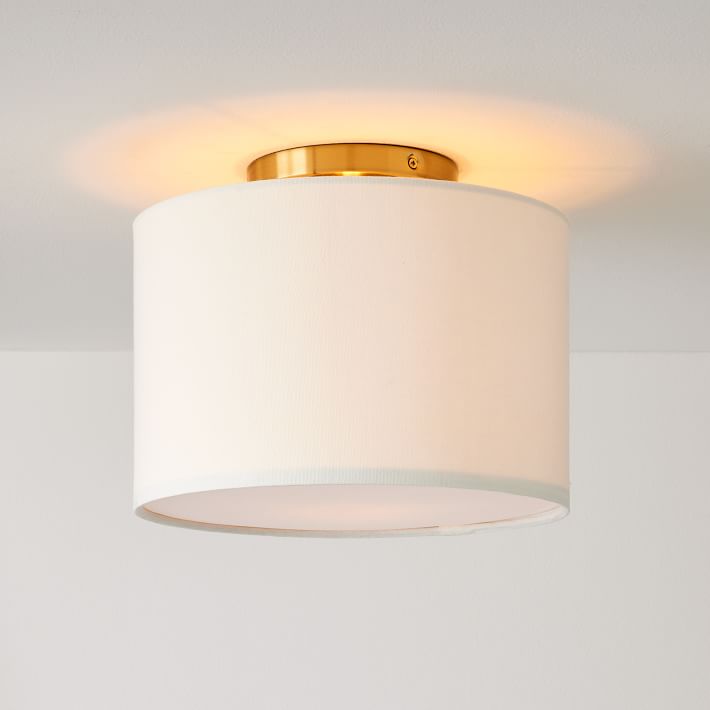 Specs:
Type: Semi flush mount
Bulb: 40W incandescent bulb
Power Source: Hardwired
Add simple elegance with this semi-flush mounted light. It's compact with a drum-style shade that softly diffuses the light produced by the light bulb. You'll have plenty of light that illuminates the entire closet space. The neutral design helps to make this light perfect for a wide variety of interior design styles. Unlight lower quality lights, the shade on this light is made from cotton and linen, giving it a natural look and feel. The metal hardware has an antique brass finish for a touch of understated glam. You'll need to hardwire the light, but you can attach it to a dimmer switch. Once installed, it's compatible with 40- watt incandescent bulbs or the LED equivalent.
Unfortunately, a 40-watt bulb isn't as bright as many of the other lights on this list, so this light may not be as bright as you'd hope for. It also uses a single bulb, so you don't have any directional control like you would with another light.
Check Price
Best Industrial Design: MAXvolador Semi Flush Mount Ceiling Light
Specs:
Type: Semi flush mount
Bulb: E26 medium base bulb
Power Source: Hardwired
Add an industrial touch to your closet with this exposed bulb semi-flush mounted light. Choose from black or silver for the base of the light. It's compatible with a wide variety of bulbs, so you can use it with the pictured Edison bulb for a more industrial aesthetic or an incandescent, LED, CFL, and halogen bulb. The manufacturer claims 100 percent satisfaction by putting each of its lights through rigorous testing. Everything required for installation comes with the light, so you won't need to buy any additional hardware. The semi-flush mounted design helps to make this light versatile, so you can mount it on ceilings that are low without worrying about the light being too low.
The downside of this light is that it can be a bit harsh. The glass doesn't do anything to filter the light, so it can be bright in a confined space. It's also quite small with a diameter of 8.66 inches, which could make it too small for larger walk-in closets.
Check Price
Best Glamorous: CO-Z 3-Light Mini Crystal Chandelier with Raindrop Crystals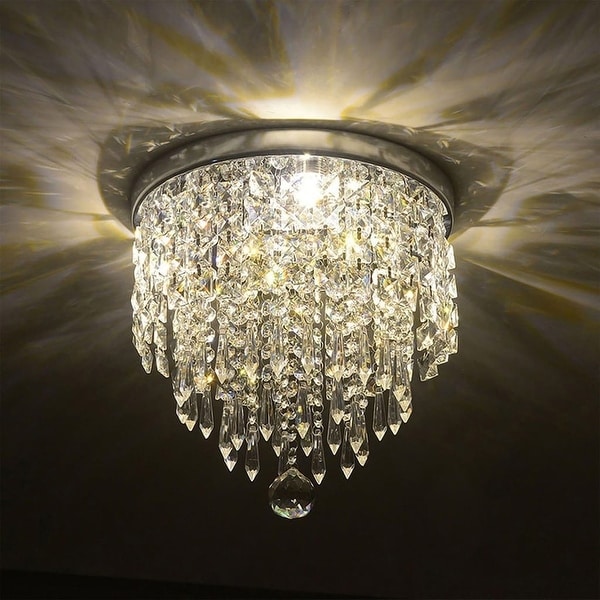 Specs:
Type: Semi flush mount
Bulb: LED, CFL and halogen bulbs
Power Source: Hardwired
When it comes to closet lighting ideas, this crystal chandelier is sure to stand out. Its ultra-glam style will add sparkle and shine to your custom close space. Underneath the crystals, there are three bulbs. The chrome finish adds a shine to the light and provides it with a sturdy base for the K9 crystal beads and balls. There's also an alternative brown base for more of a contrast. A nice feature of the light is that it's compatible with LED, CFL, and halogen bulbs. You can also hardwire it to a dimmer switch if you want to control its brightness level.
The drawback of this light fixture is that it won't give you the brightest or purest light. The crystals tend to refract the light, so it won't be a clean wash of bright white light throughout the room. This light is best for adding a decorative accent to your closet when you have alternative functional lighting.
Check Price
Best Puck Lights: Brilliant Evolution Under Cabinet Puck Light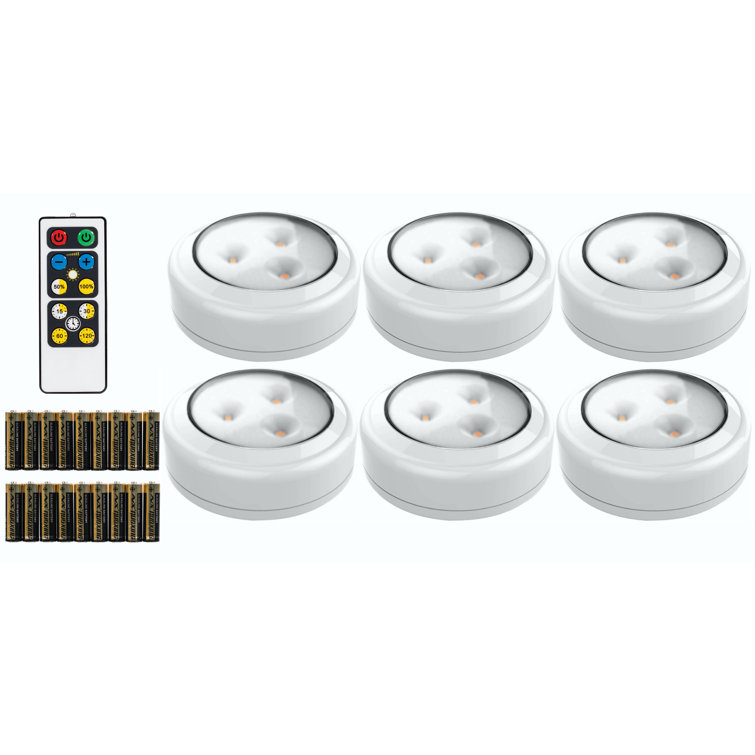 Specs:
Type: Puck light
Bulb: LED
Power Source: Battery
If you don't have the space for a large light fixture or long strip lights, then this set of six puck lights are the perfect solution. They easily mount to the underside of your cabinets or shelves to illuminate directly underneath them. This makes them perfect for creating task lighting or acting as a night light. Each puck light comes with three built-in LEDs. They produce a warm white light at 3000K. To mount these lights, you can use adhesive, two-sided tape, or screws. To control the lights, you could use the individual switch on each puck or you can use the included remote. The remote can control up to 12 lights at a time and can work up to 15 feet away. Additionally, you can schedule the auto shut-off timer for 15, 30,60, or 120 minutes or use the dimmer to select the level of brightness.
Unfortunately, you'll need 18 AA batteries to run all of the lights. This can get quite expensive when it's time to replace the batteries. Each light should last up to 100 hours before requiring new batteries.
Check Price
Wall Sconce: Aanya 1 Light Dimmable Armed Sconce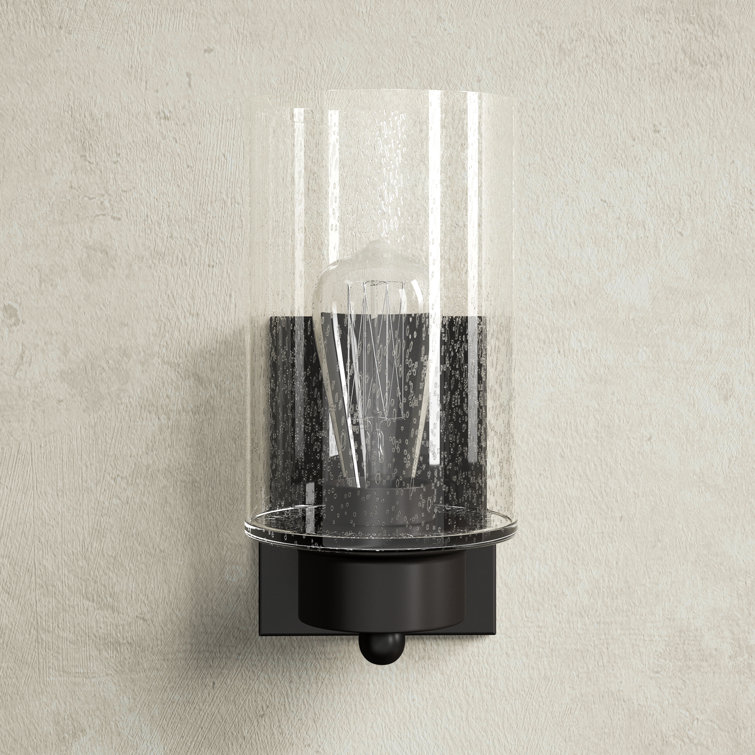 Specs:
Type: Armed Sconce
Bulb: E26/Medium
Power Source: Hardwired
Unlike the other lights on this list, this sconce gets mounted on the walls instead of the ceiling. The modern design with the glass shade helps this sconce to be the perfect balance of ambient and task lighting. The square geometric shape and circular glass give this sconce a modern design on a traditional light fixture. Instead of a traditional fabric shade, it features a glass shade that's accented with tiny bubbles. You'll hardwire them into the home's electrical. You can connect them to a dimmer switch or even decide to reverse their mounting. There are five finishes to choose from, matte black, brass, brushed nickel, oil rubbed bronze, and polished nickel. To illuminate this light, you'll need a 60-watt bulb.
Unfortunately, this light fixture doesn't have a way to plug it in or a switch. This means you're required to hardwire to a switch in your wall or there's no way to work it.
Check Price
How to Choose the Perfect Closet Lighting?
Lumens
The lumens rating is the amount of light that a bulb gives off. The larger your closet is, the more lumens you need to brighten the entire space. Not enough lumens and your closet will feel like a dark cave. Too many lumens and it will be overwhelmingly bright. A small 12-25 square foot closet can be effectively illuminated with 100-250 lumens. An average closet at 30-80 square feet can be effectively lit with 300-1,200 lumens. A large closet that's 100-150 square feet needs 1,500-3,000 lumens.
Wireless or Wired
Wired lights are nice because you never have to worry about replacing batteries or having the light unexpectedly die on you. However, wired lights are more complicated to install. Wireless lights are nice because you can install them literally anywhere you want. This makes them more versatile. Wired lights are best for providing the general ambient light. Wireless lighting is useful for accent or task lighting.
Style
The style of your light should reflect your personal taste and the aesthetic you have in your home. For a cohesive look, try to blend your bedroom design into the closet because the two rooms are so closely connected. However, there is no rule that says you have to do this. Some common style options are rustic, industrial, farmhouse, mid-century modern, minimalist, modern, bohemian, or contemporary. To determine the style of a light fixture, look at the materials used, the construction, amount of ornamentation, shape, and finish.
Type
As you can see from this list, there are several types of lights you can use in your closet. The type of light fixture that you use will depend on the size of your closet, where you want to add light, and the amount of light you want to add. Pucks and strip lights are perfect for under your shelves or cabinets and can add task or accent lighting depending on how bright they are. You could also add strip lights to the inside of a reach-in closet. Flush mount, or close to the ceiling lights can add a wash of ambient light that illuminates a walk-in closet.
Read also: 83 Best Closet Organization Ideas
Conclusion
Our top pick for the best closet lighting is the Breanna 2 Light 13-inch Statement Drum Semi Flush Mount. It produces plenty of ambient light while adding decorative style with the metal design around the drum.
For a more affordable option, the Drosbey LED Ceiling Light Fixture adds plenty of light without taking up too much room and having a simple, modern design. The long lifespan of the LEDs will ensure this light is built to stand the test of time.
FAQs on Closet Lighting
What types of lighting are available for closets?
In addition to flush mount, chandeliers, strip lights, and pucks, there are other options. You could use track lighting or recessed lights. The downside of these lights is that rack lighting looks outdated and can create too many hot spots and shadows. Recessed lighting is often considered one of the best lighting options. However, it requires a professional for installation. These closet light fixtures require a more extensive installation process.
Can I make my closet lights motion activated?
Yes, you can. You need to have the right hardware for a motion sensor light. Typically, there is a separate sensor from the light fixture that will sense motion and trigger the light to turn on when you enter the closet. In sensor mode, you won't need to use the light switch.
What kind of light do you put in a closet?
The most popular options are LED or fluorescent lighting. These types can produce bright white light and are energy efficient. This helps you to not spend a fortune while also being able to easily see your clothes and accessories when getting ready. Halogen bulbs are not good for closets because they produce a lot of heat.