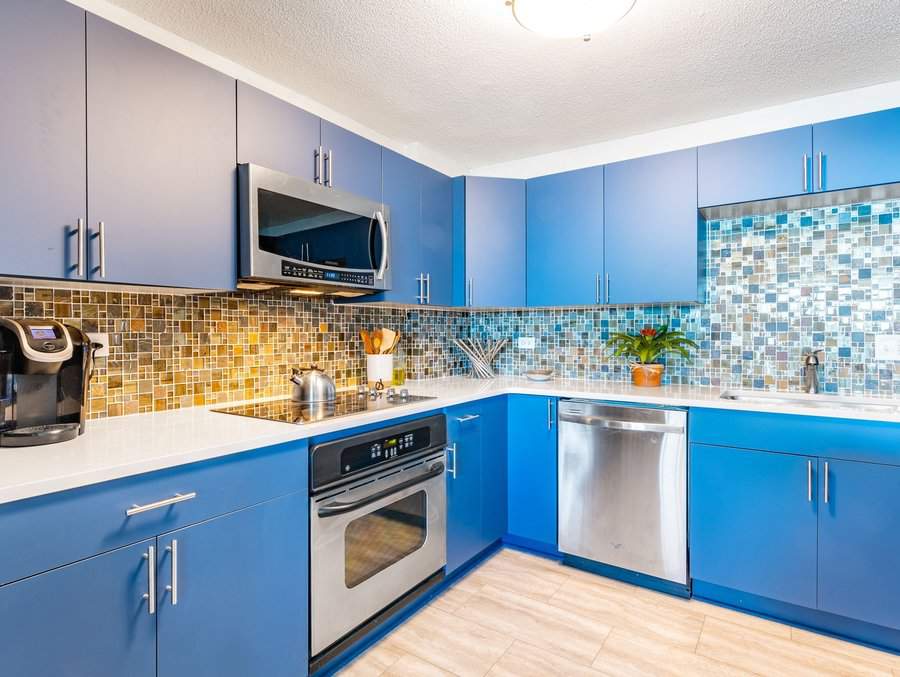 40 Small Kitchen Ideas on a Budget
Are you ready for a kitchen renovation but your budget says, "No"? While a full-on kitchen remodel may not be doable, there are dozens of budget kitchen decorating ideas that can greatly improve your small kitchen space.
Whether it's your cabinetry, tile, paint, or storage space that needs redoing, we can help you refresh the heart of your home. Check out our small kitchen ideas on a budget and see how far a dollar can stretch when you know what to do.
1. Backsplash
A kitchen backsplash is the area between your countertop and the bottom of your upper kitchen cabinets. It's not the biggest area in a small kitchen, but it has amazing kitchen design impact.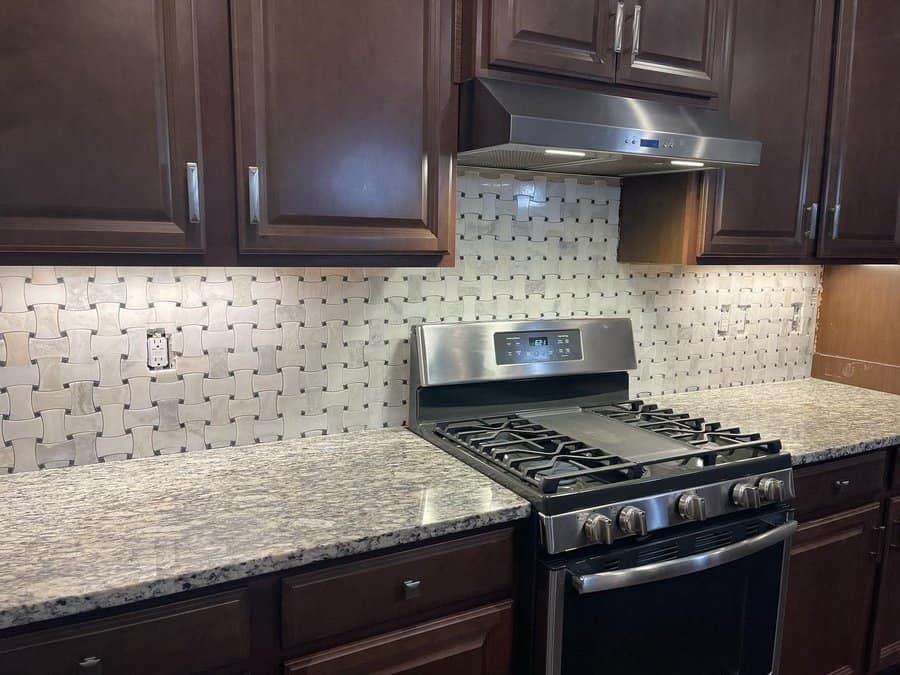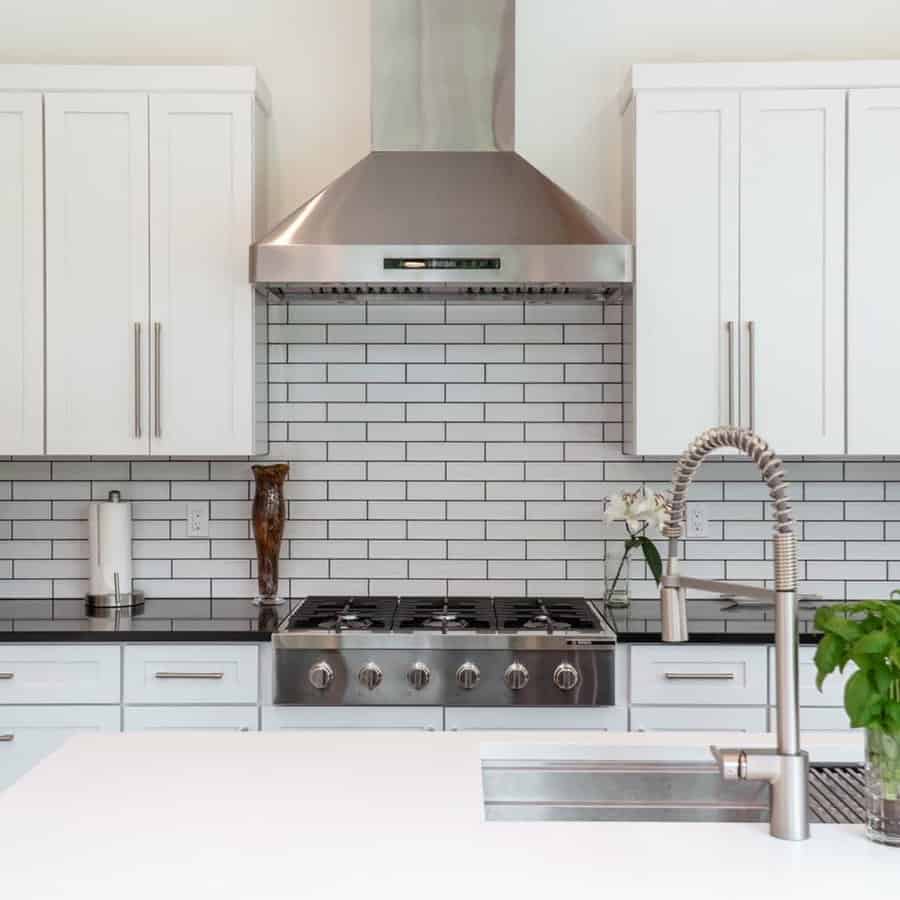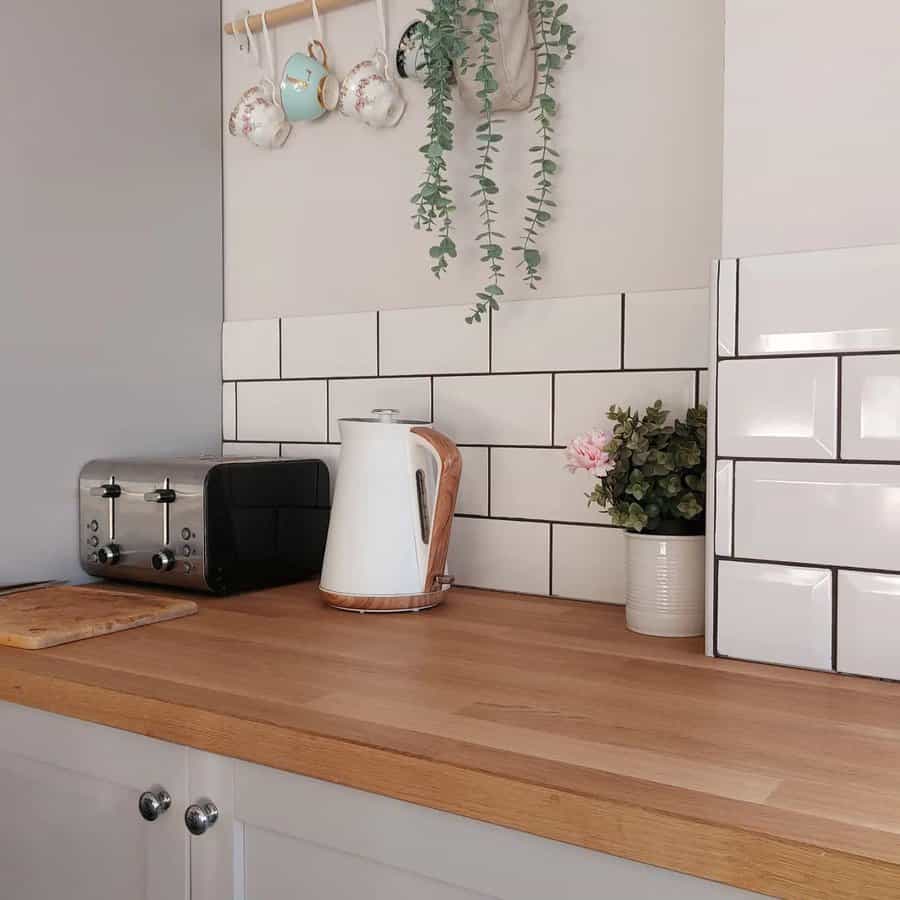 Sometimes the backsplash area is bare but most are covered in some type of tile. Peel and stick backsplash panels are an inexpensive way to update this cabinet gap area. They can last around three to five years—or even longer—although it is fun to switch them out every couple of years for a quick kitchen update idea. Ideally, the kitchen sink area will have a waterproof or water-resistant surface.
See more kitchen backsplash ideas here.
2. Cabinet
Painting your kitchen cabinets a light color is an idea that makes a small kitchen feel less cramped. Replacing a few solid cabinet door panels with glass is another way to visually open your kitchen design.
Inside your kitchen cabinet doors is another great hidden storage space. Hang hooks inside the doors and use them for towels, measuring spoons, or utensils. Another great storage hack is a wire basket that hooks onto the bottom of a cabinet shelf. This small kitchen idea makes use of the unused space above your dishes or glasses.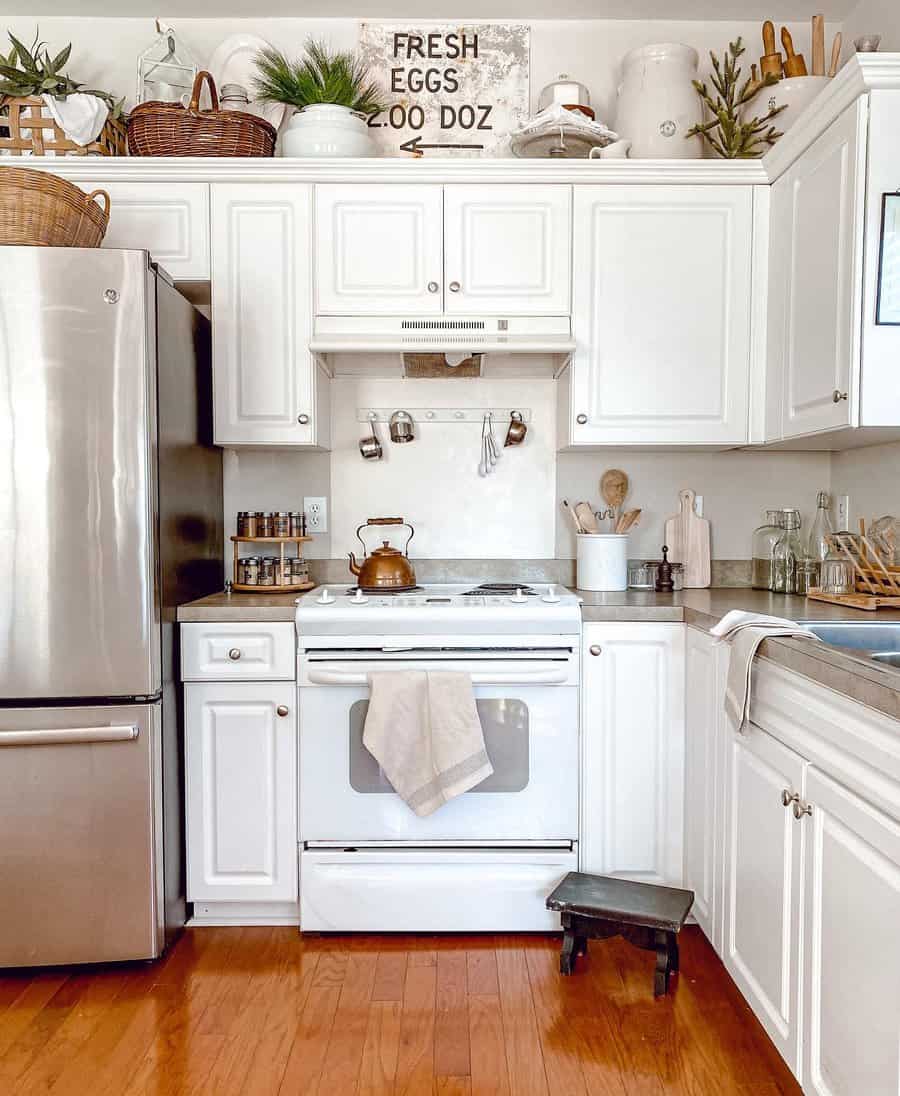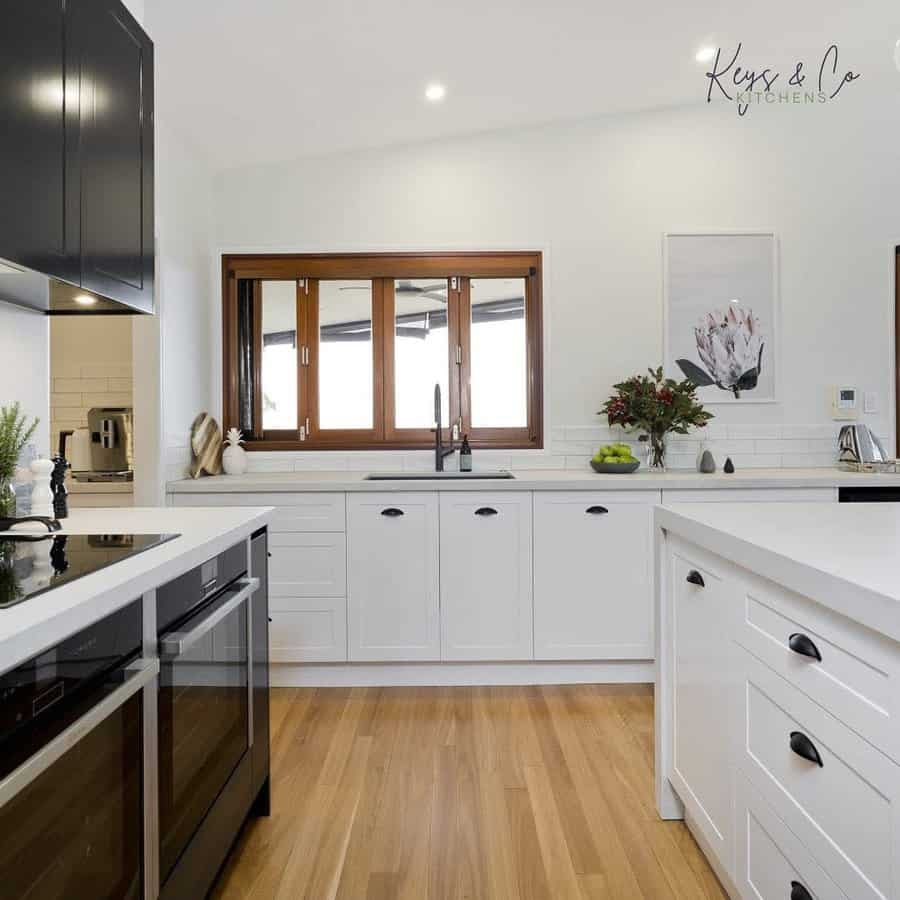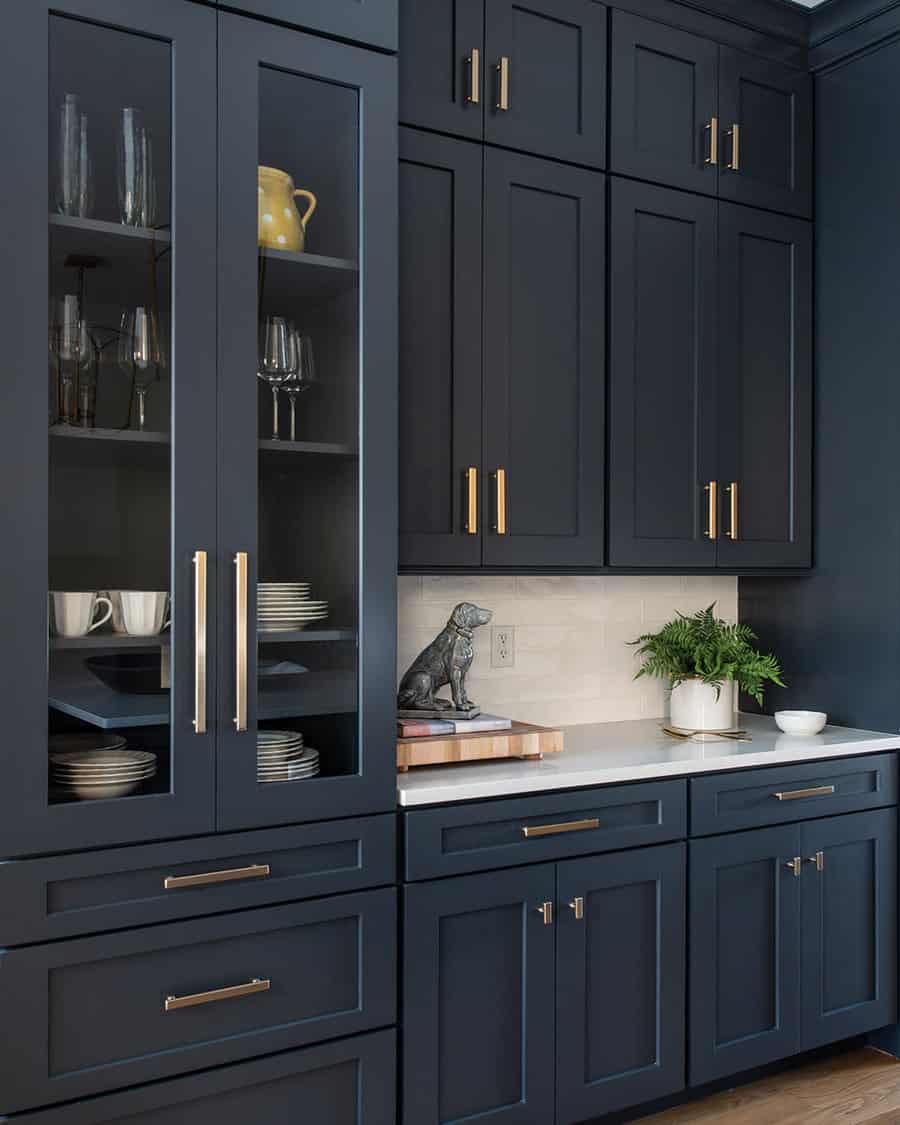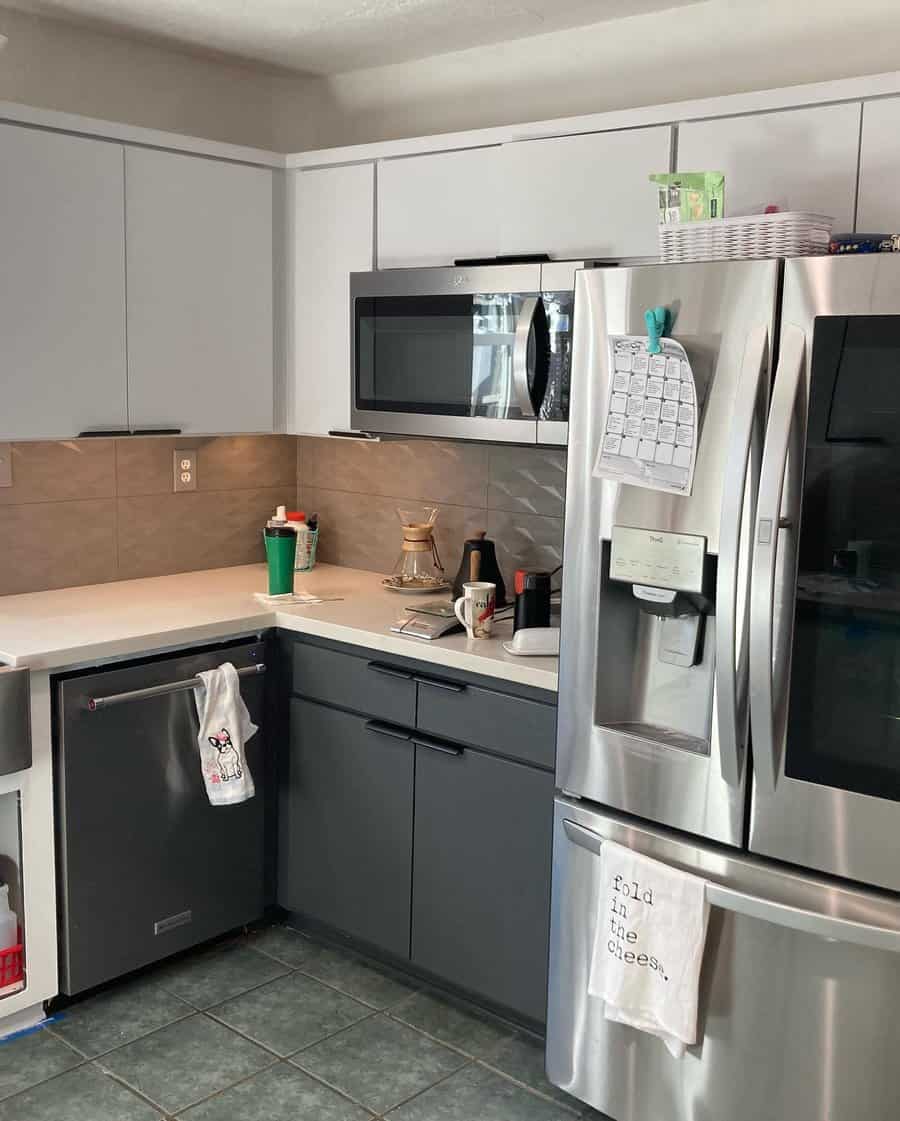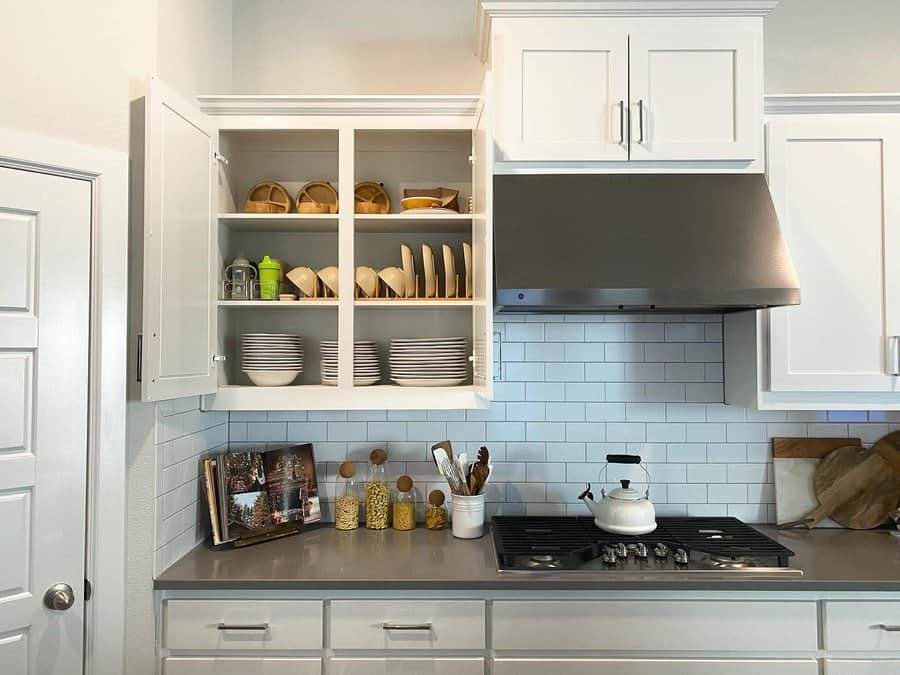 Make the most out of any open space you have above your kitchen cabinets. Treat this space as you would open shelving, using it to store platters and other equipment you only use occasionally. Make it a beautiful space by displaying trailing plants, antique kitchen signs, woven baskets, or other home decor touches.
See more kitchen cabinet ideas here.
3. Curtains
New curtains are a quick, inexpensive idea for sprucing up the kitchen. A bold buffalo check valance or café curtain adds a farmhouse vibe, while sheer kitchen curtains allow the most light to filter through. Curtains are a great way to introduce a new color or pattern to your kitchen design ideas.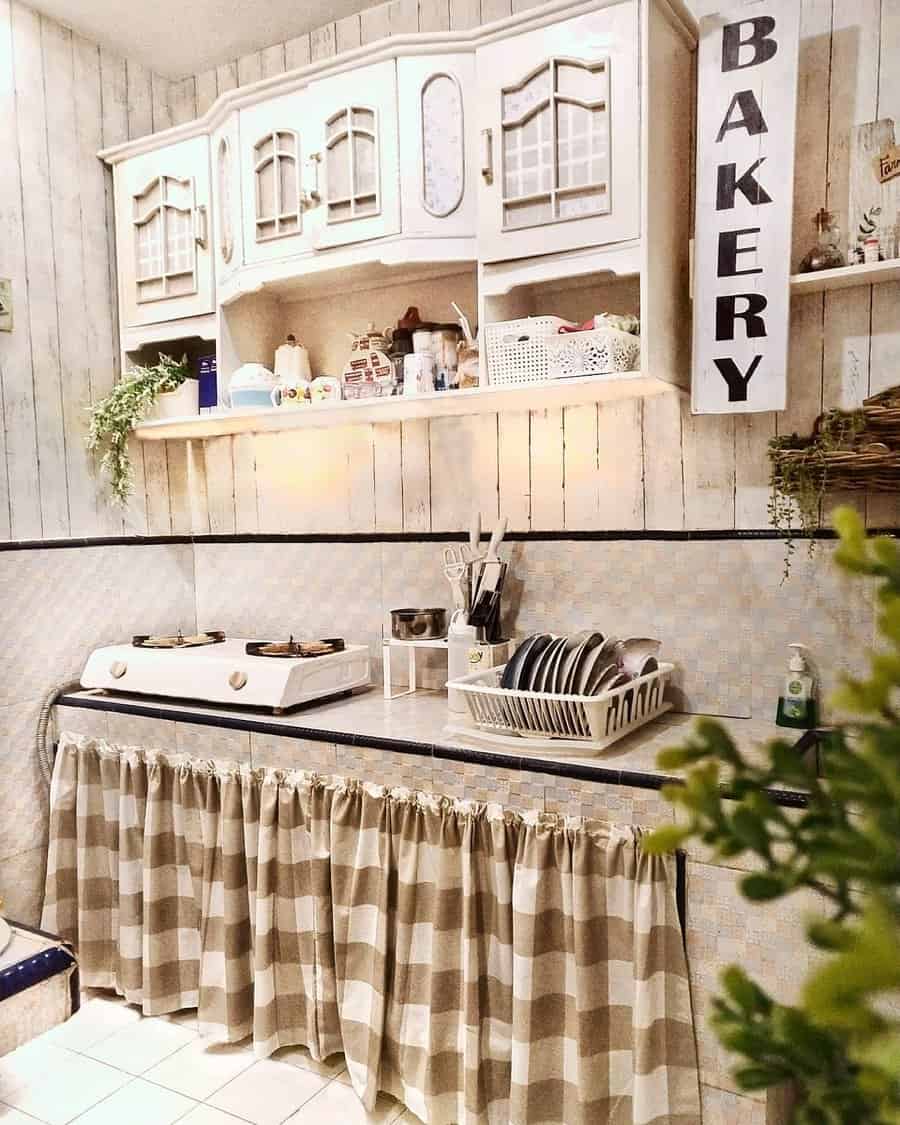 After you choose your favorite new curtains, shop for coordinating kitchen or dining room chair cushions. Also, upgrade a boring kitchen mat with a non-slip rug in your chosen colors. These little splashes of color and texture are great affordable kitchen ideas.
See more kitchen curtain ideas here.
4. Farmhouse
Farmhouse style is a casual, welcoming way of decorating that's perfect for a budget kitchen remodel. Farmhouse small kitchen ideas include white walls, reclaimed wood floating shelves, touches of black, and plenty of natural textures.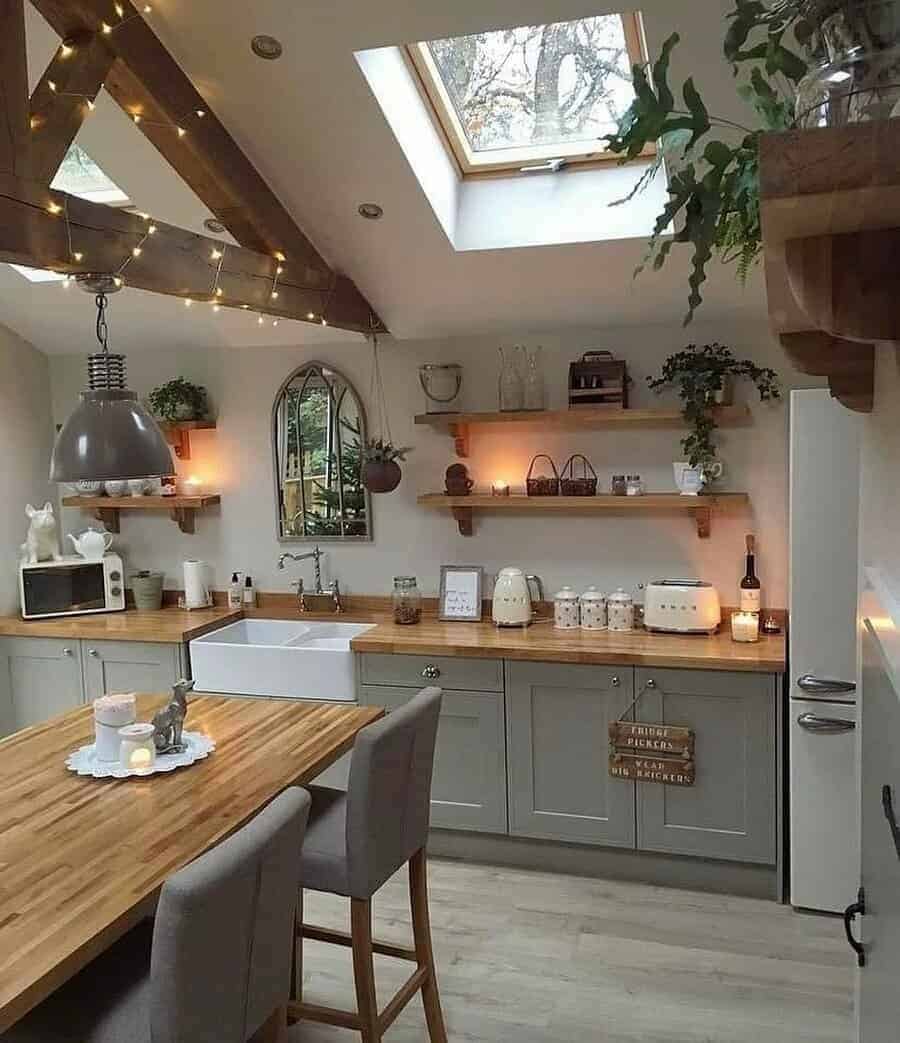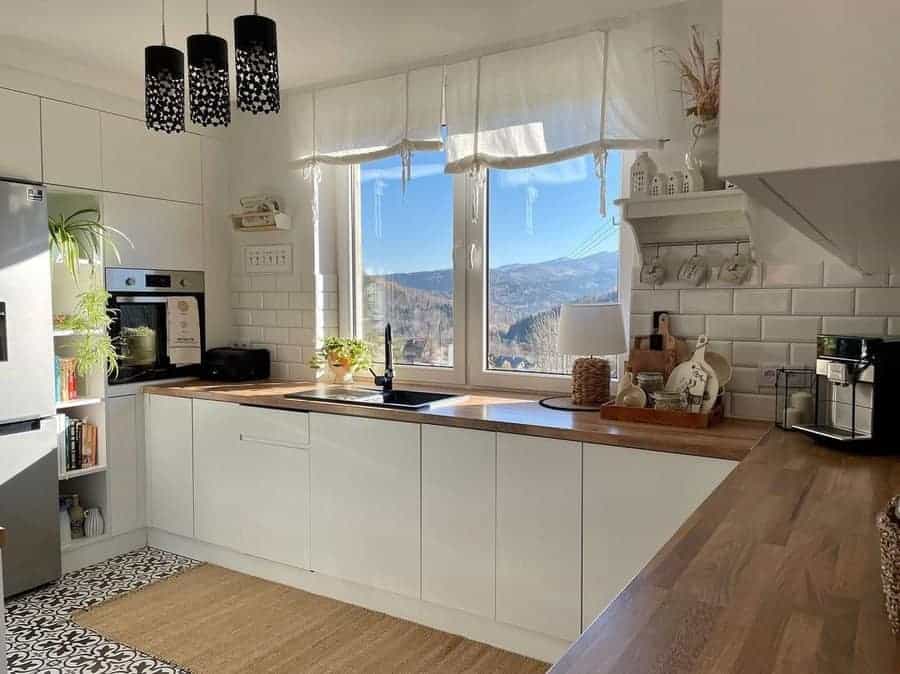 Replace an ordinary sink with a small farmhouse sink, or put in a copper kitchen sink with copper faucets. Hang pots and pans from a wrought iron ceiling rack over the kitchen island. Not only is this a great farmhouse kitchen design idea, it also frees up extra storage space for other kitchen necessities.
See more farmhouse kitchen ideas here.
5. Galley
A galley kitchen is a narrow kitchen layout that has cabinets and appliances on both sides with an aisle down the middle. It's name comes from ships and trains, where kitchens are designed that way and referred to as the "galley."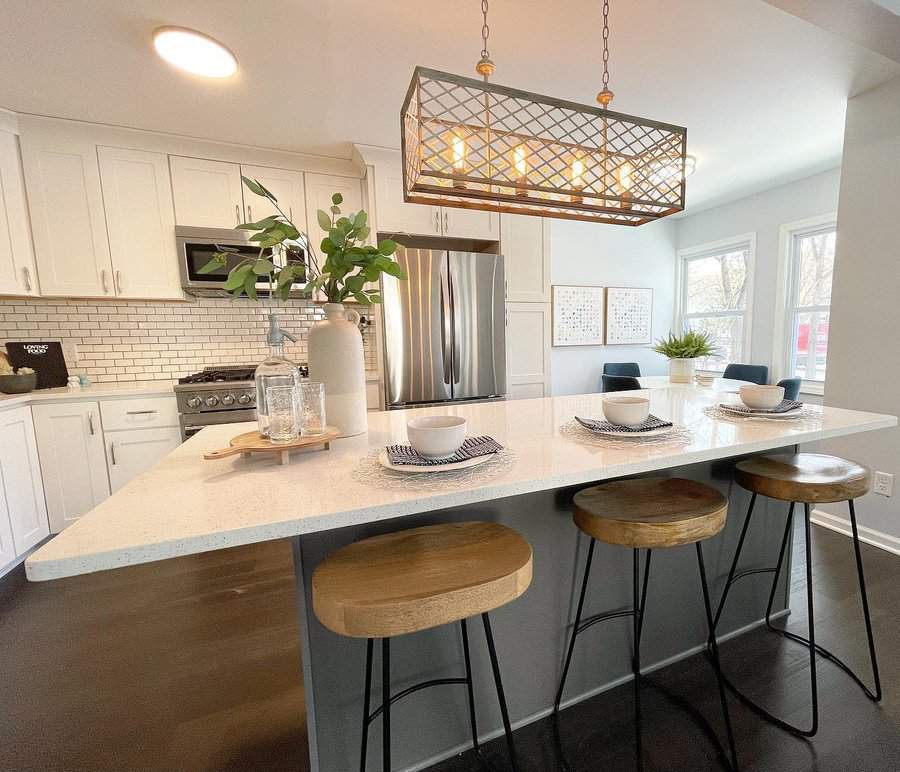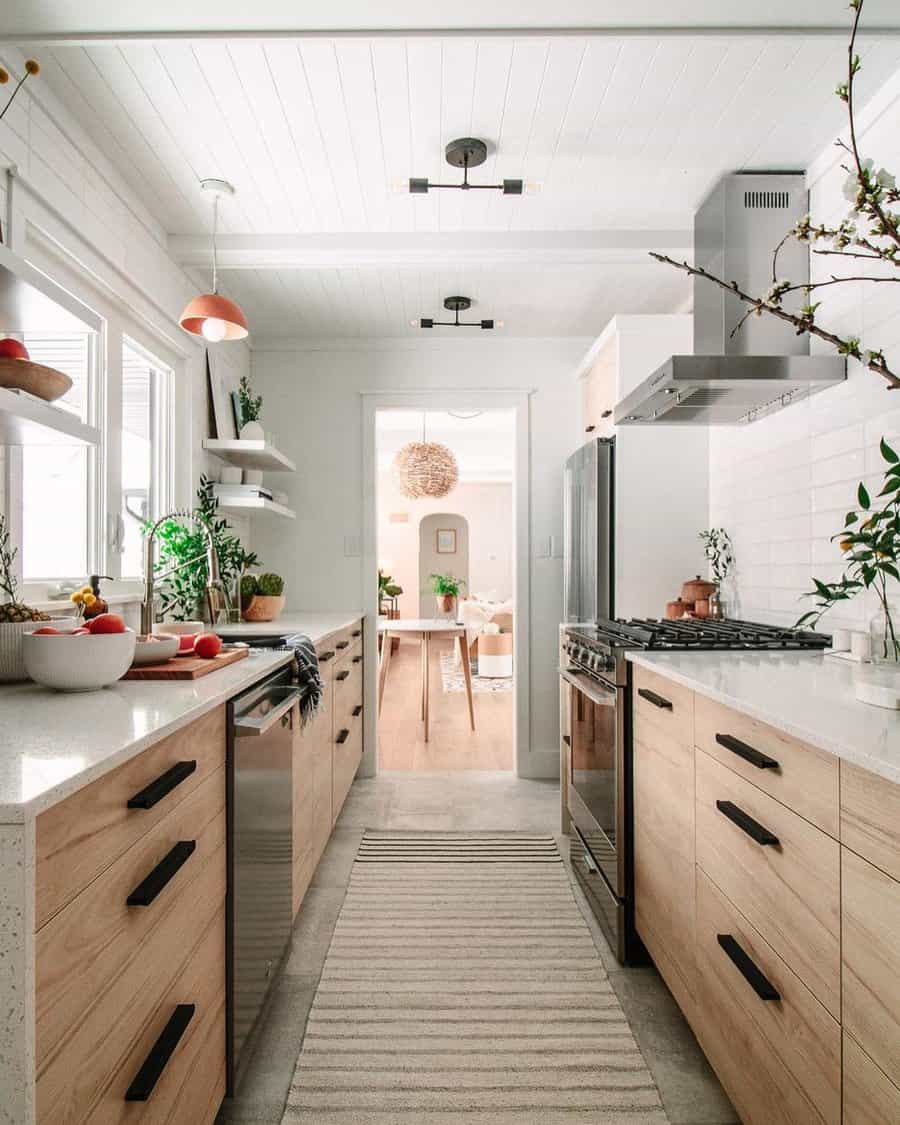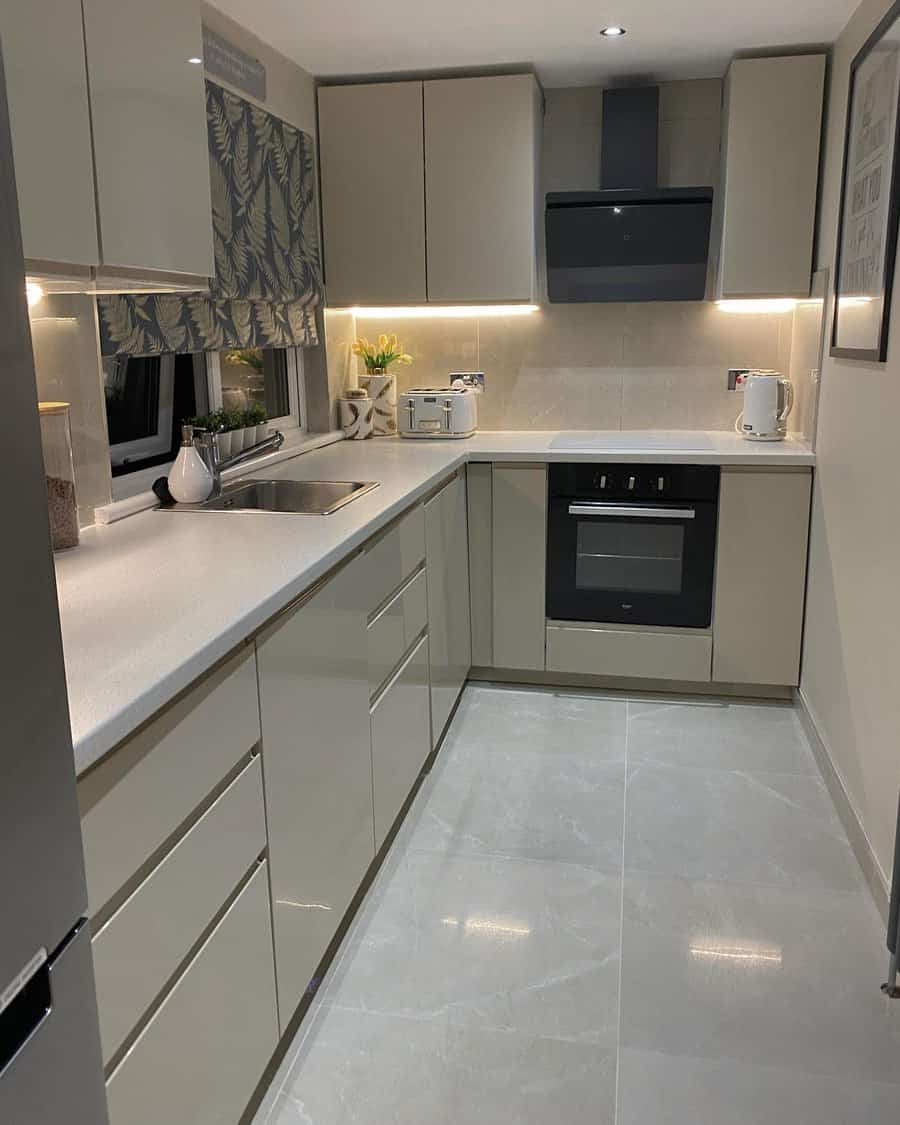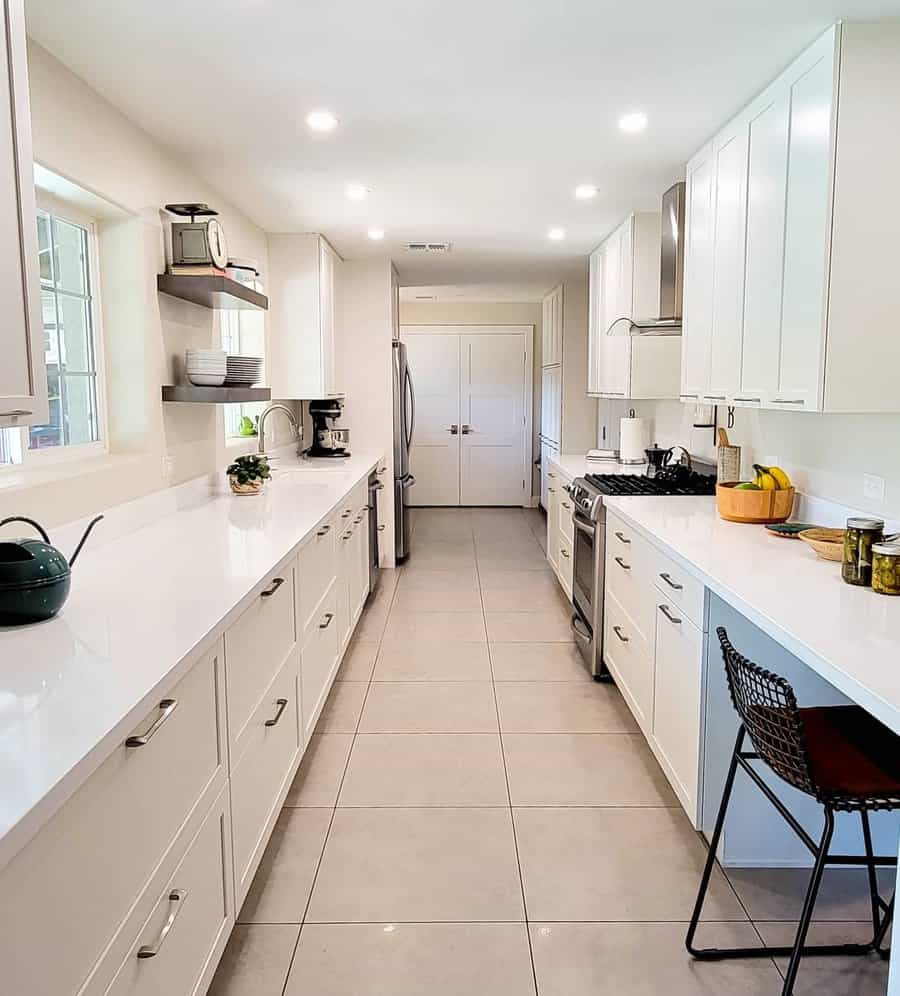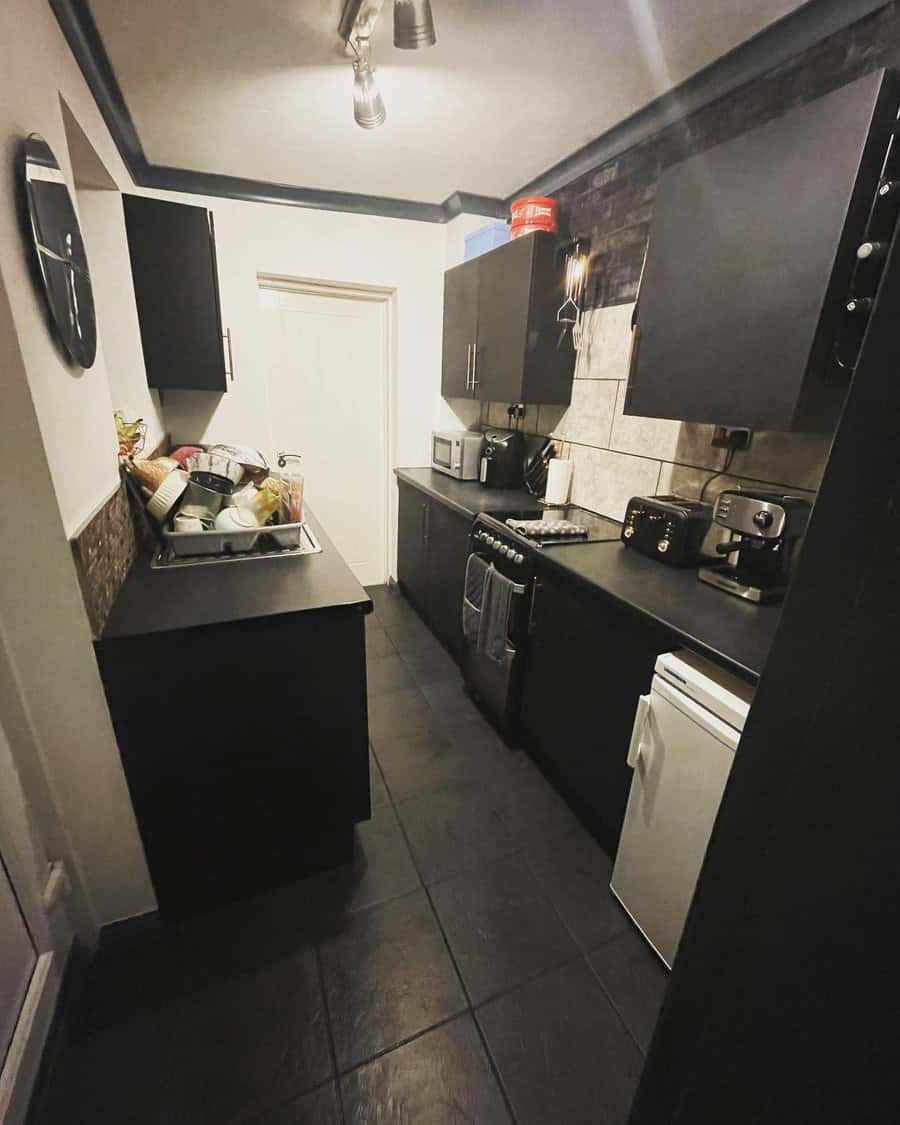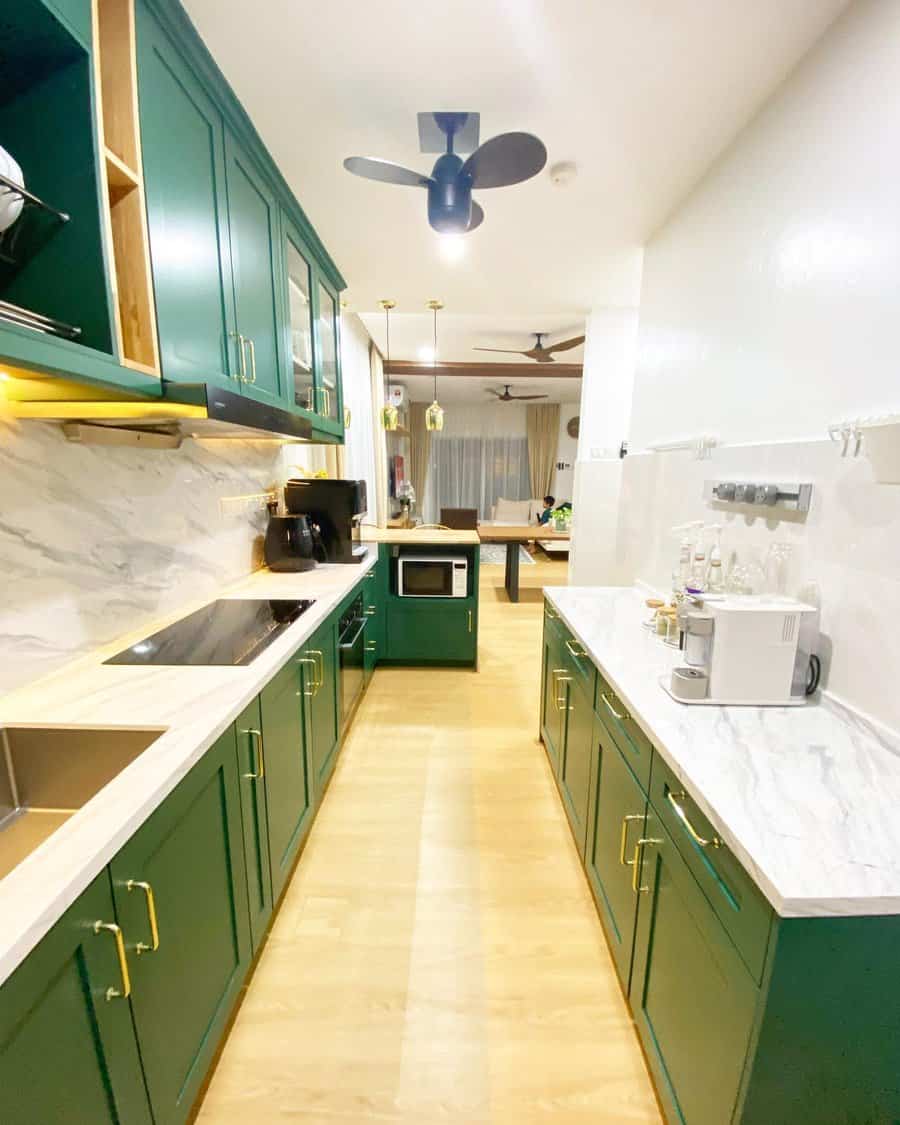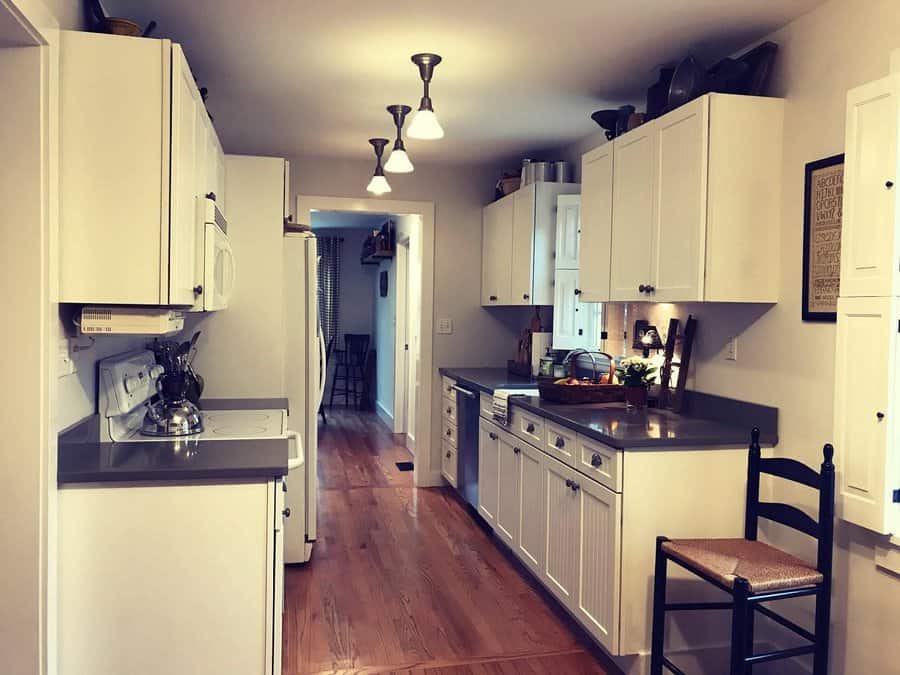 A galley kitchen floor plan is one of the most common small kitchen ideas. Paint upper and lower cabinets a different color to add interest to the room's basic style. A runner with an interesting color and pattern will also jazz up the space, as will a colorful or textured backsplash.
See more galley kitchen ideas here.
6. Lights
If your small kitchen space is low on natural light, it will look dark regardless of what kitchen design ideas you use. Mimicking the beauty of natural light is a must when kitchen space is limited—especially if the room doesn't have a window.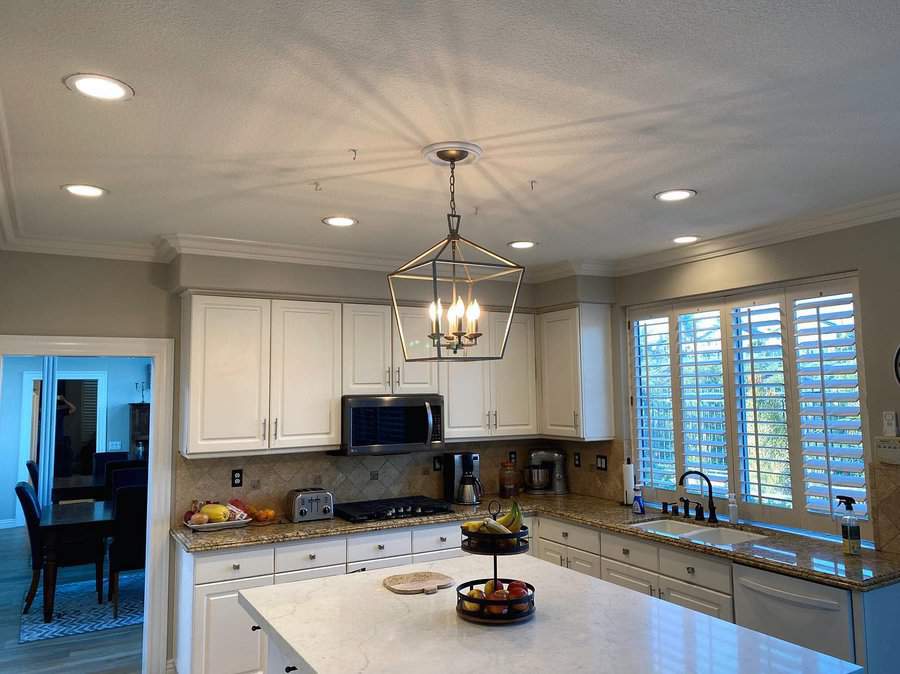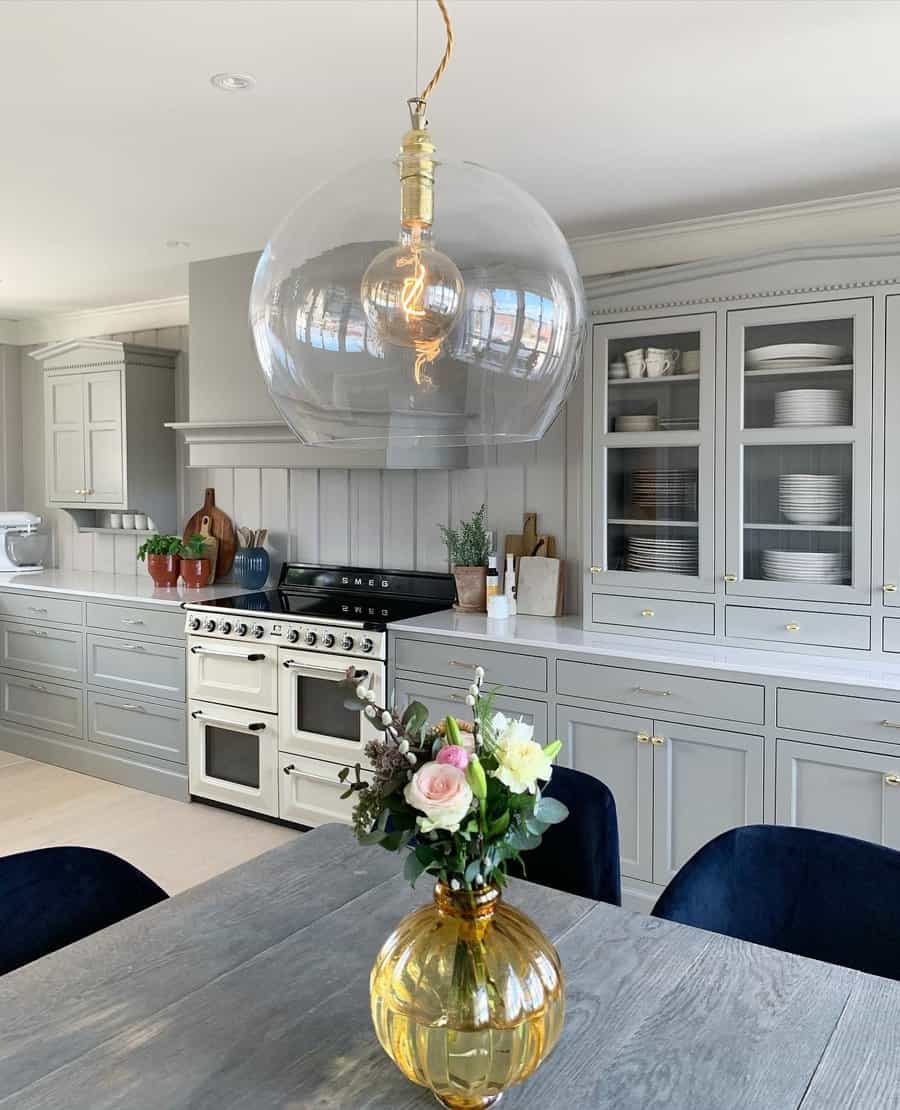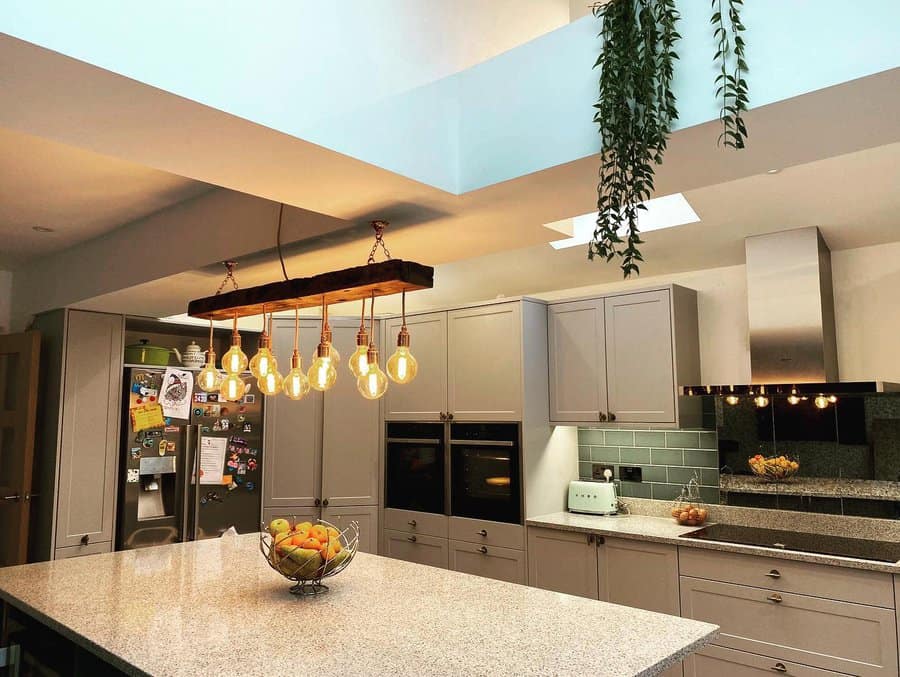 A small kitchen often has just one light, so make it a statement piece. An oversized light fixture can look grand in a small space. Be sure to fit it with an LED bulb that mimics natural daylight.
Woven metal or rattan pendant lights over the kitchen island have an open, airy design that can help a small kitchen feel spacious. Add hidden task lights under the kitchen cabinet to help illuminate your worktop and brighten the space.
7. Modern
Black and white, monochromatic grey, or primary colors are all excellent choices for a modern kitchen remodel. Don't be afraid of bold colors in modern design. A bright yellow or brilliant pink might be just what you need to liven up the space.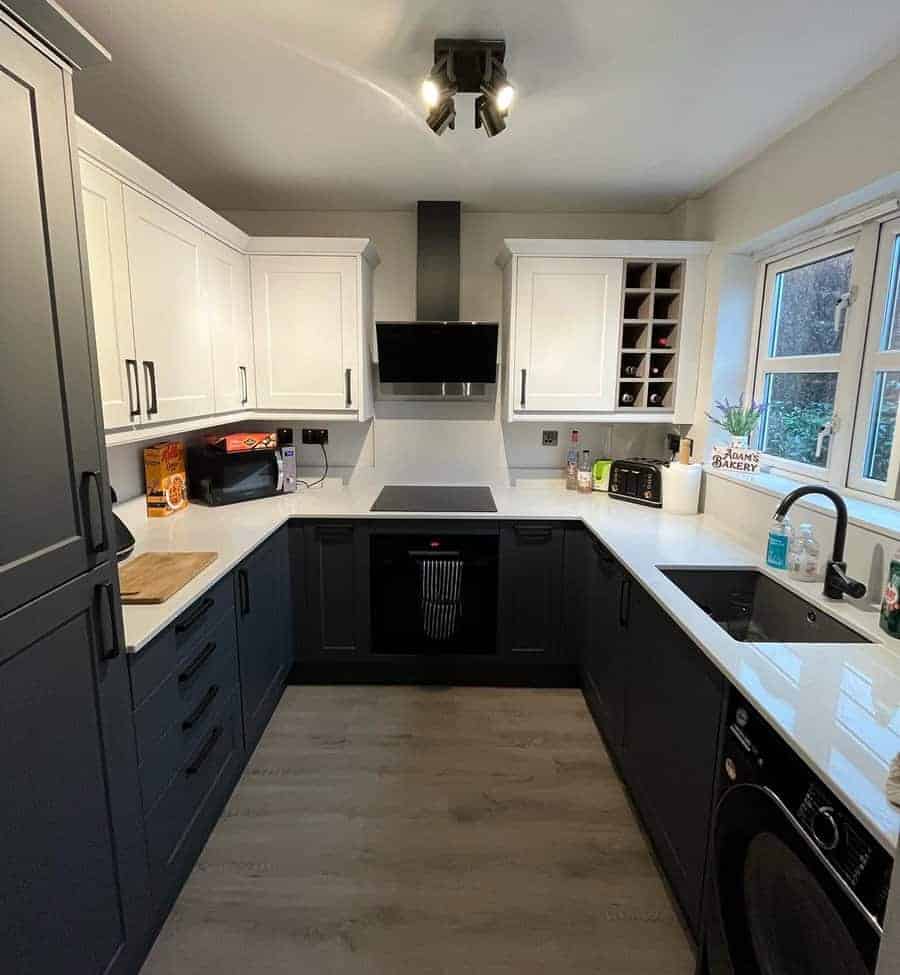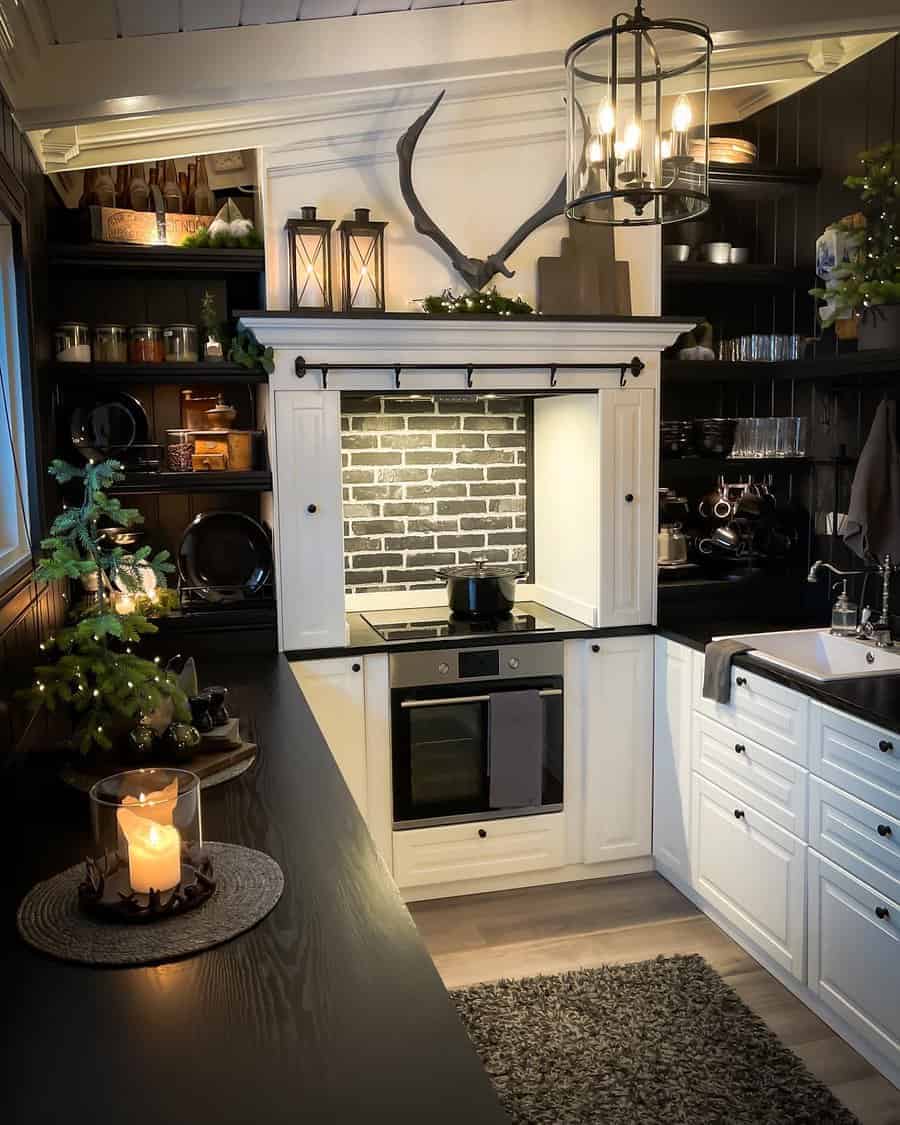 IKEA is a great source for modular kitchen units that you can assemble and install yourself. Also shop there for sleek, modern shelf cabinets that turn a blank wall into covered storage while taking up a minimal amount of floor space.
See more modern kitchen ideas here.
8. Remodel
Whether you decide on a full affordable kitchen remodel or a simple upgrade, consistency is key. Use the same paint colors, wallpaper, and textiles in other rooms of the house—especially if you have an open floor plan. Having complementary kitchen, dining room, and living room accents keeps your home decor consistent.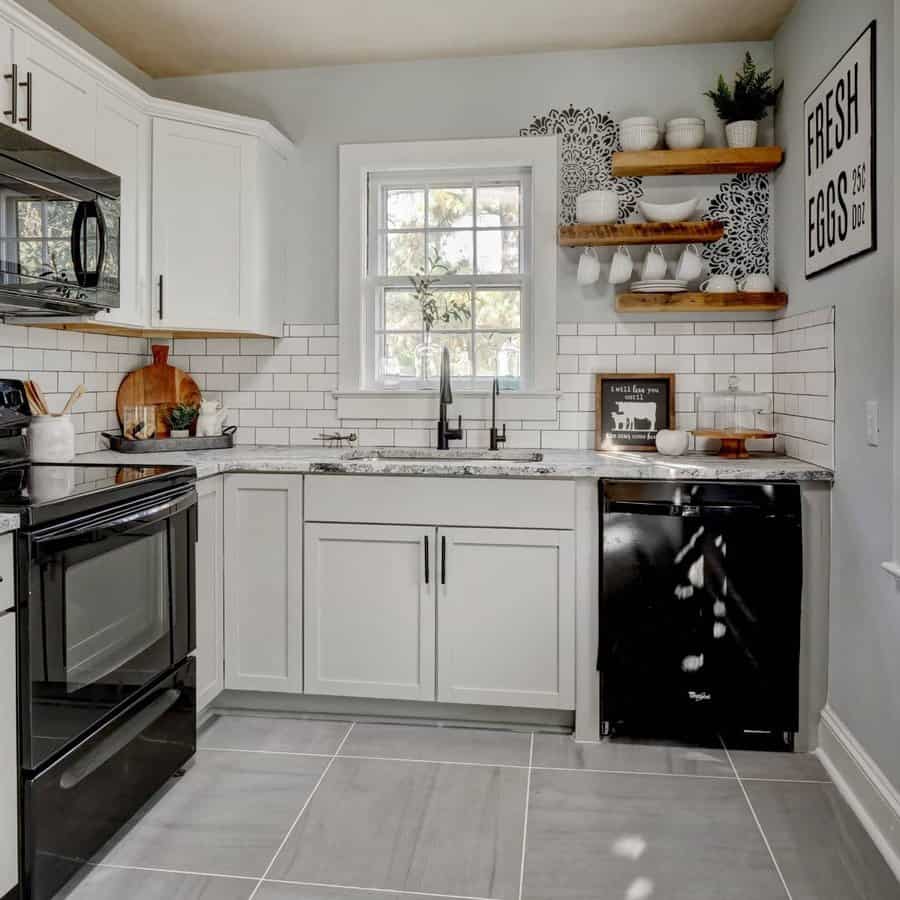 To save money on a small kitchen remodel, consider buying used kitchen cabinets from a builder's surplus store. You can also replace battered cabinet doors with curtains on tension rods for a cleaner, updated look.
9. Rustic
Your dream kitchen makeover may include lots of rustic elements—especially if you live in an industrial loft or country cabin. Rustic design ideas that work well in a small kitchen include exposed brick, reclaimed wood, stone and concrete surfaces, burlap, and other natural textures. Add a faux exposed beam to the ceiling and you'll instantly up the rustic ambience.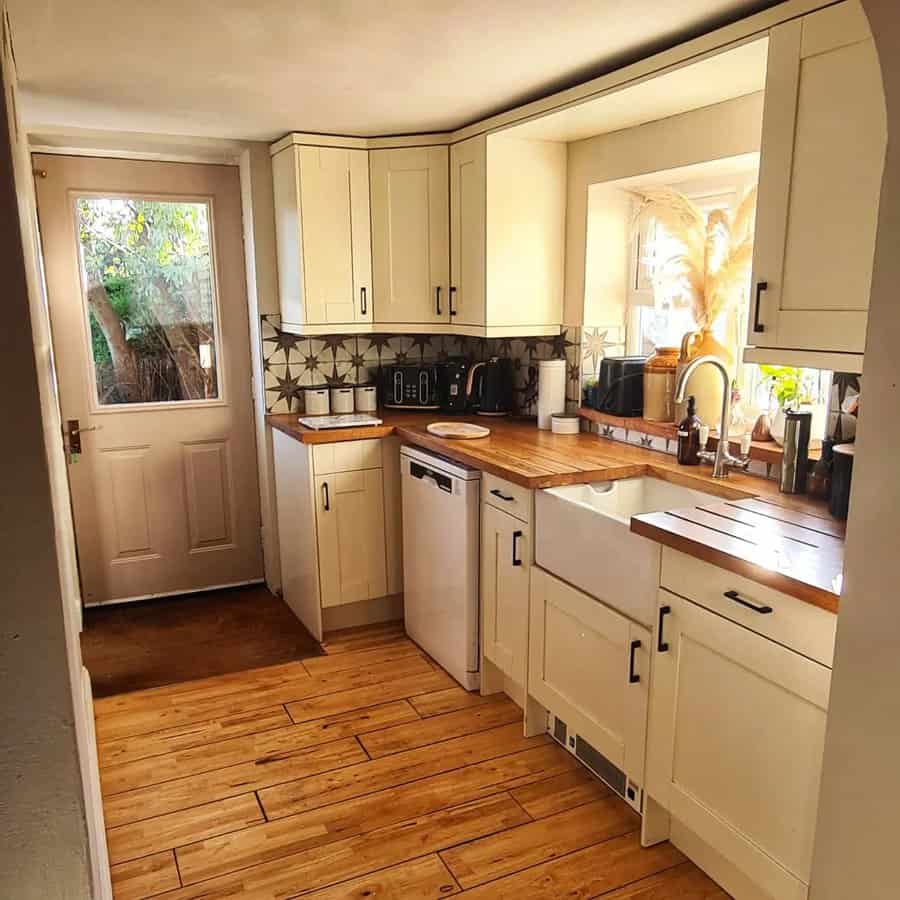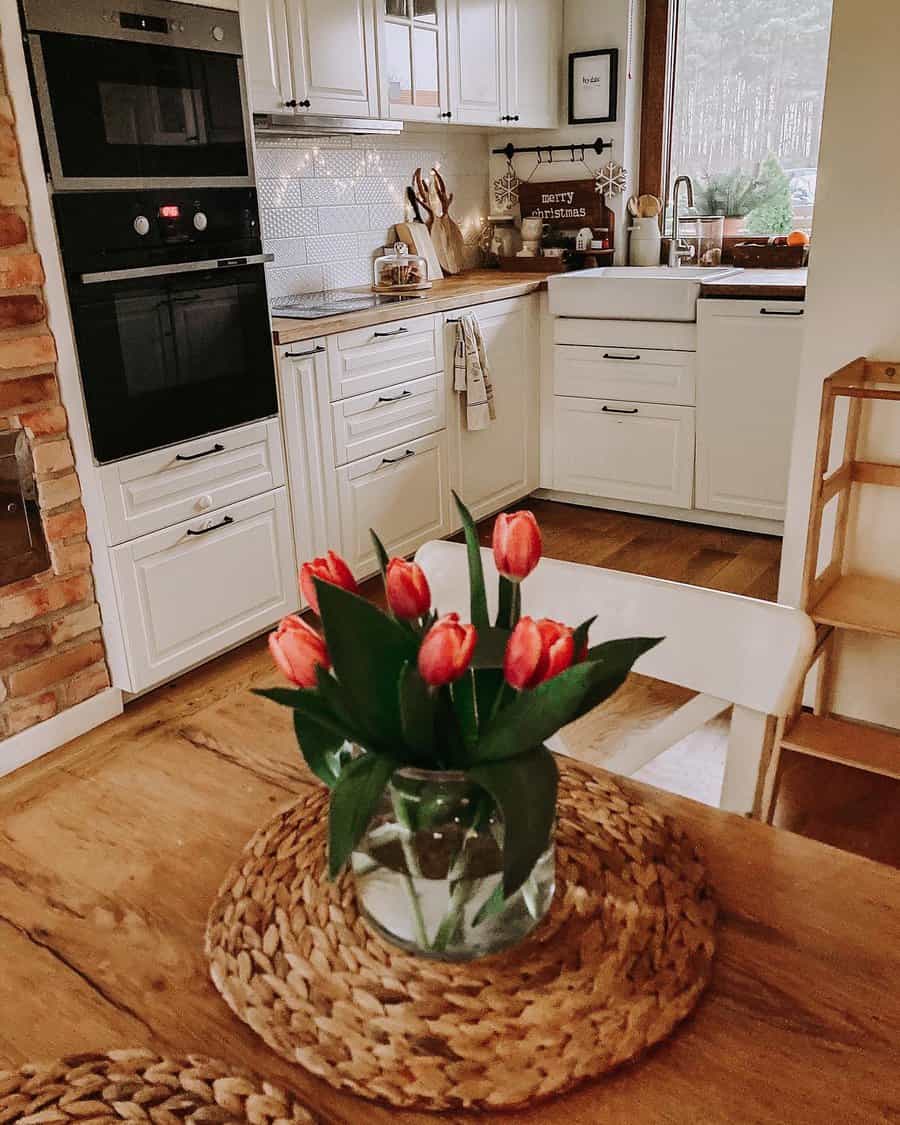 If your budget includes appliances, choose industrial-style stainless steel surfaces. If those are beyond the budget, look for black appliances instead of white ones. Remember that your light fixtures and cabinet hardware choices can supply a lot of a kitchen's rustic vibe.
See more rustic kitchen ideas here.
10. Shelves
Open shelving is a fairly easy DIY kitchen design idea that modernizes the room while adding kitchen storage space. A floating shelf is basically just a wooden board attached to the wall with a special type of hidden bracket. Floating shelves can extend over windows, creating new storage space for beautiful glassware.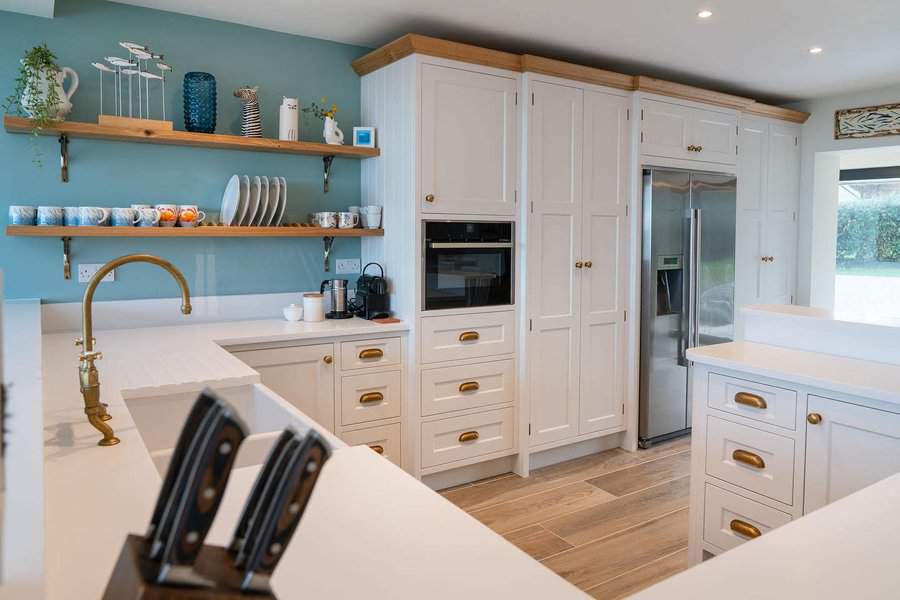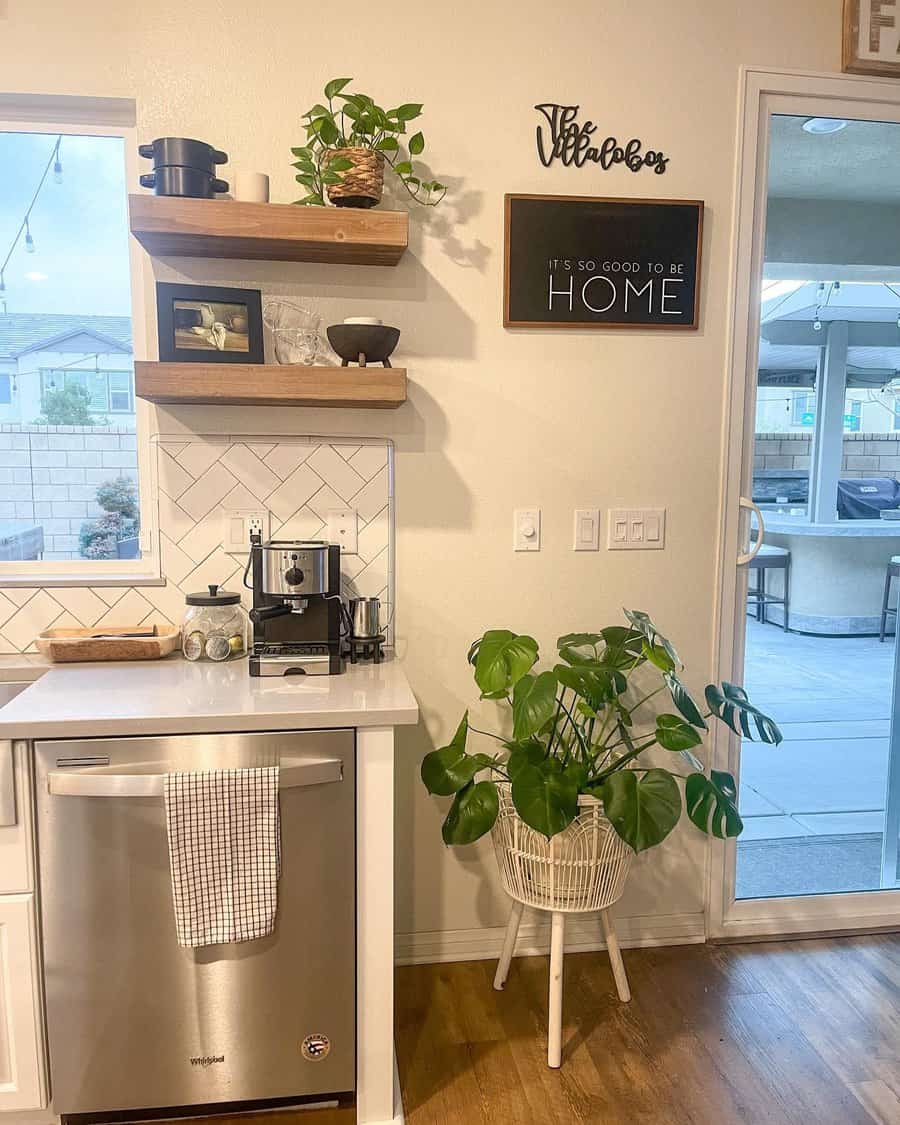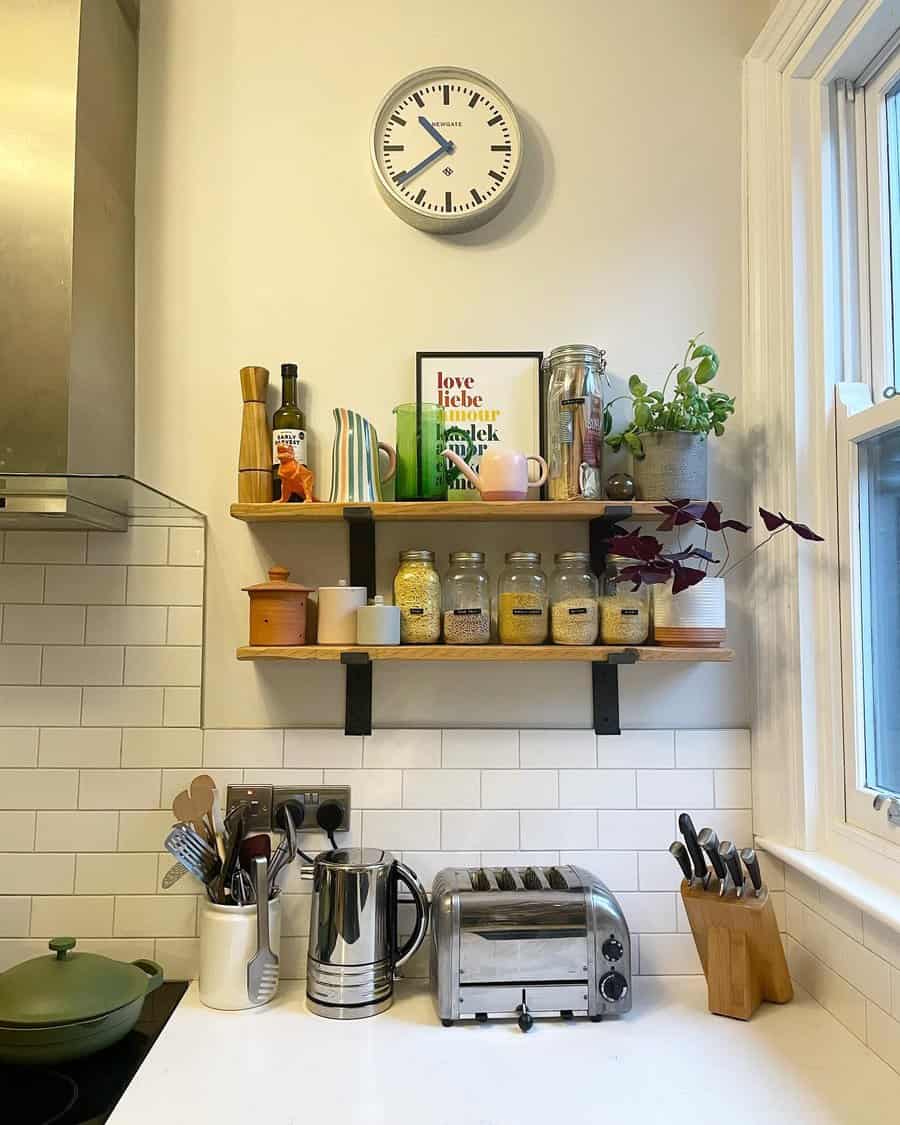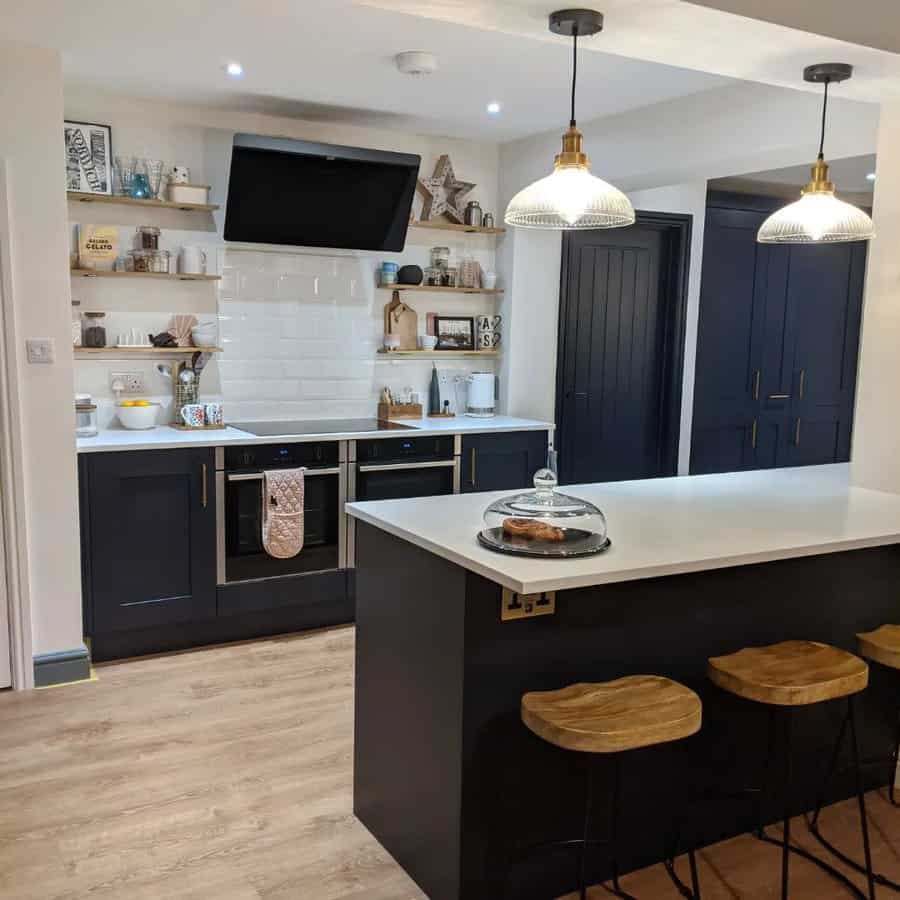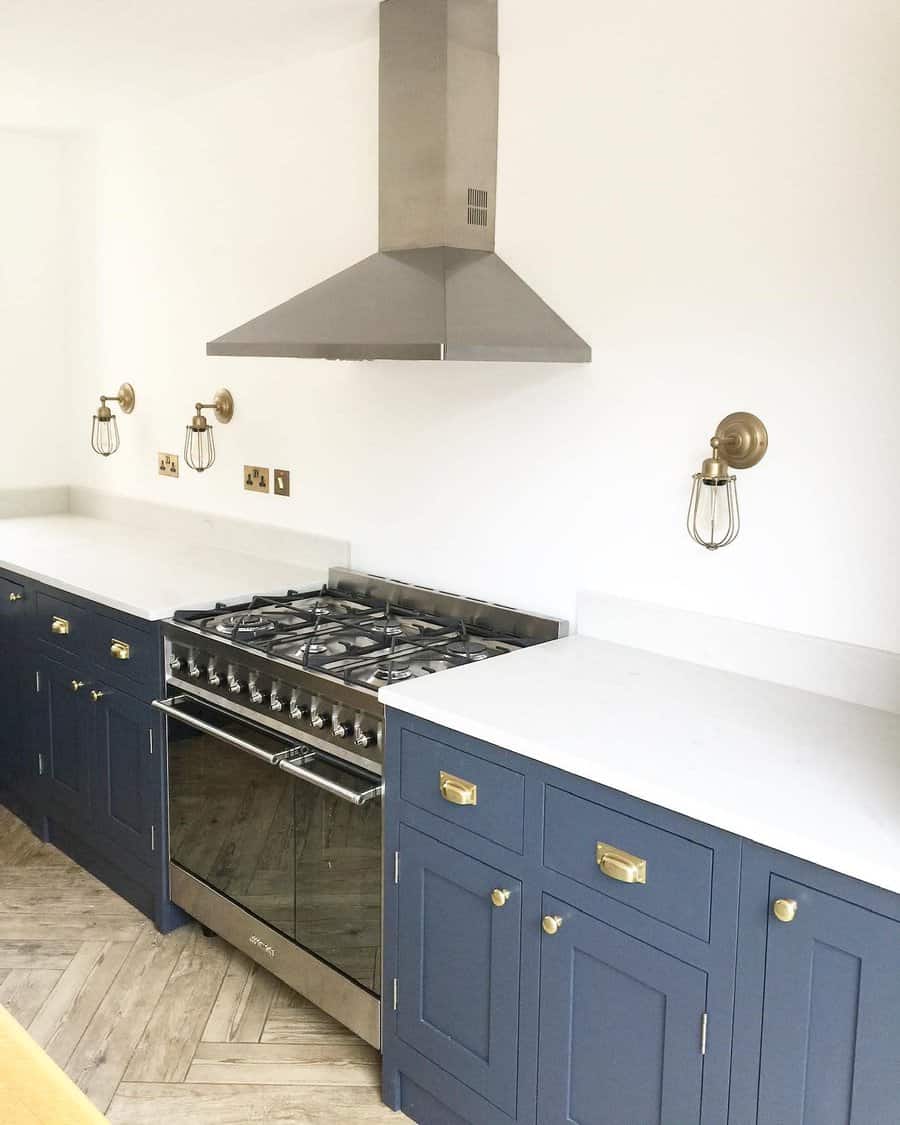 You can also buy decorative shelf brackets and simply lie a wooden board on top. If you want to double each shelf's storage capacity, screw cup hooks into the bottom and hang your mugs there. Always keep your most-used items on your shelves, so they're easy to grab when you need them.
See more kitchen shelf ideas here.
11. White
A white kitchen is always welcome, whether it's sleek and modern or carries a country cottage vibe. White makes a small kitchen feel light, spacious, and clean. Any color you want to add will work, from black, to grey, to candy apple red.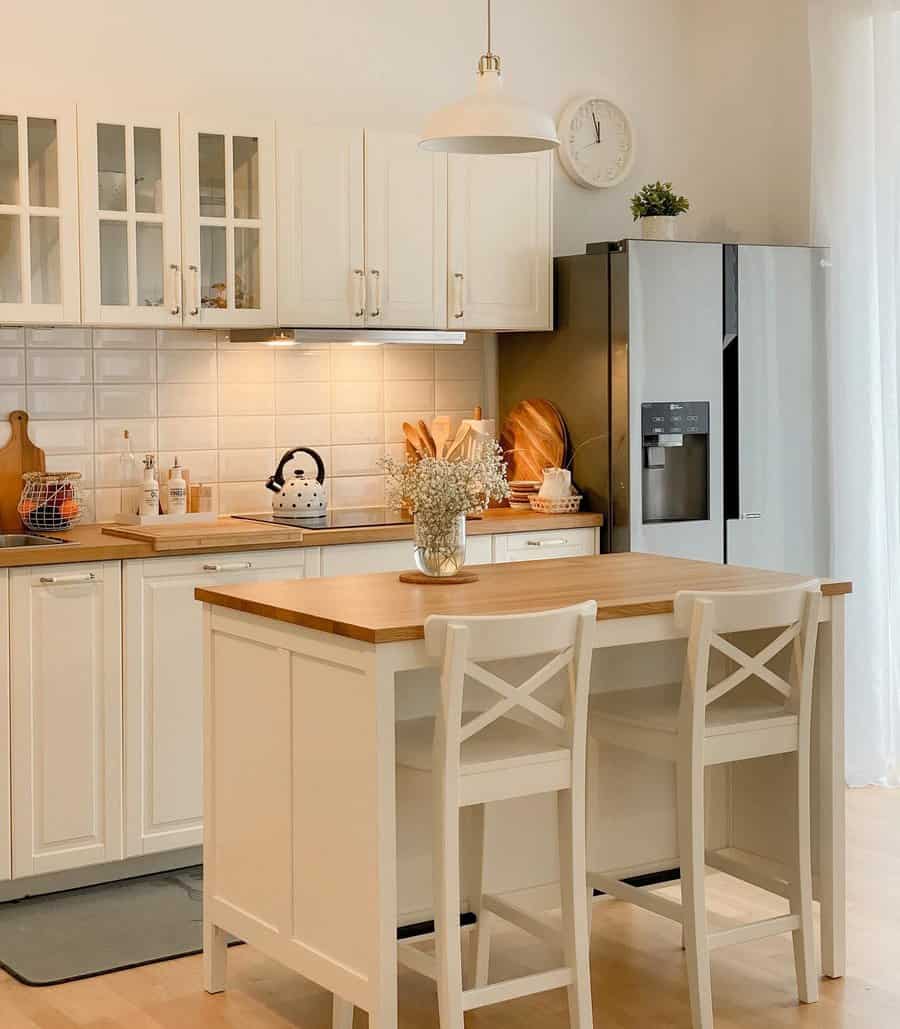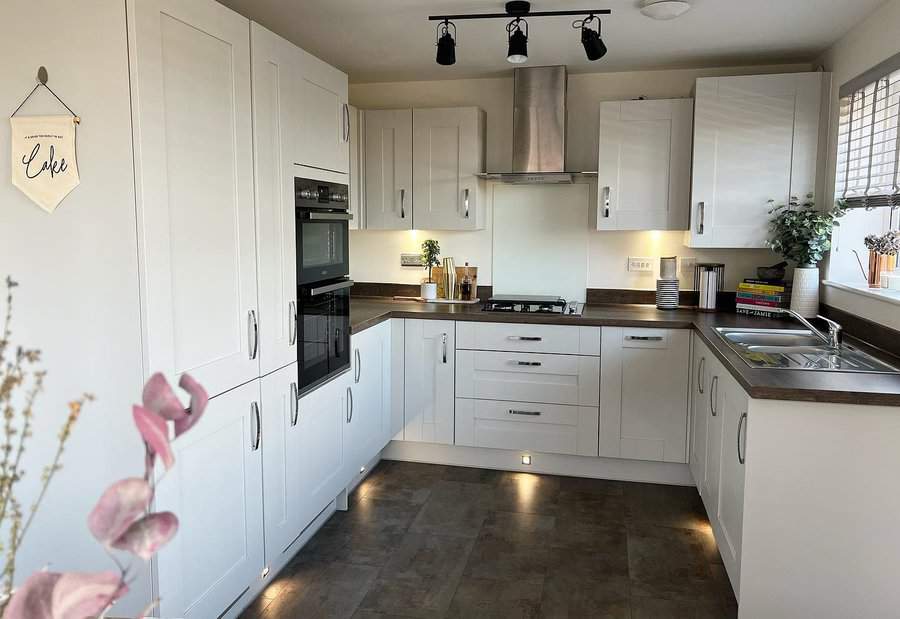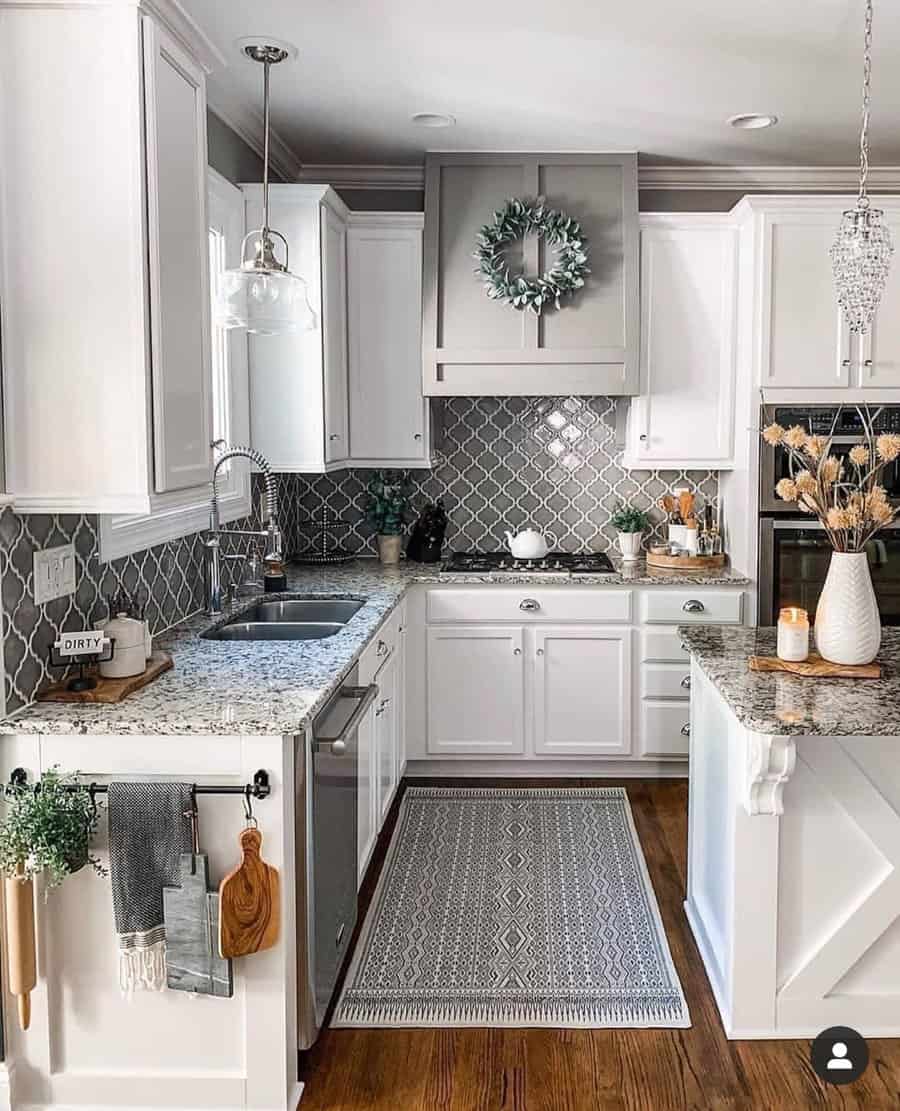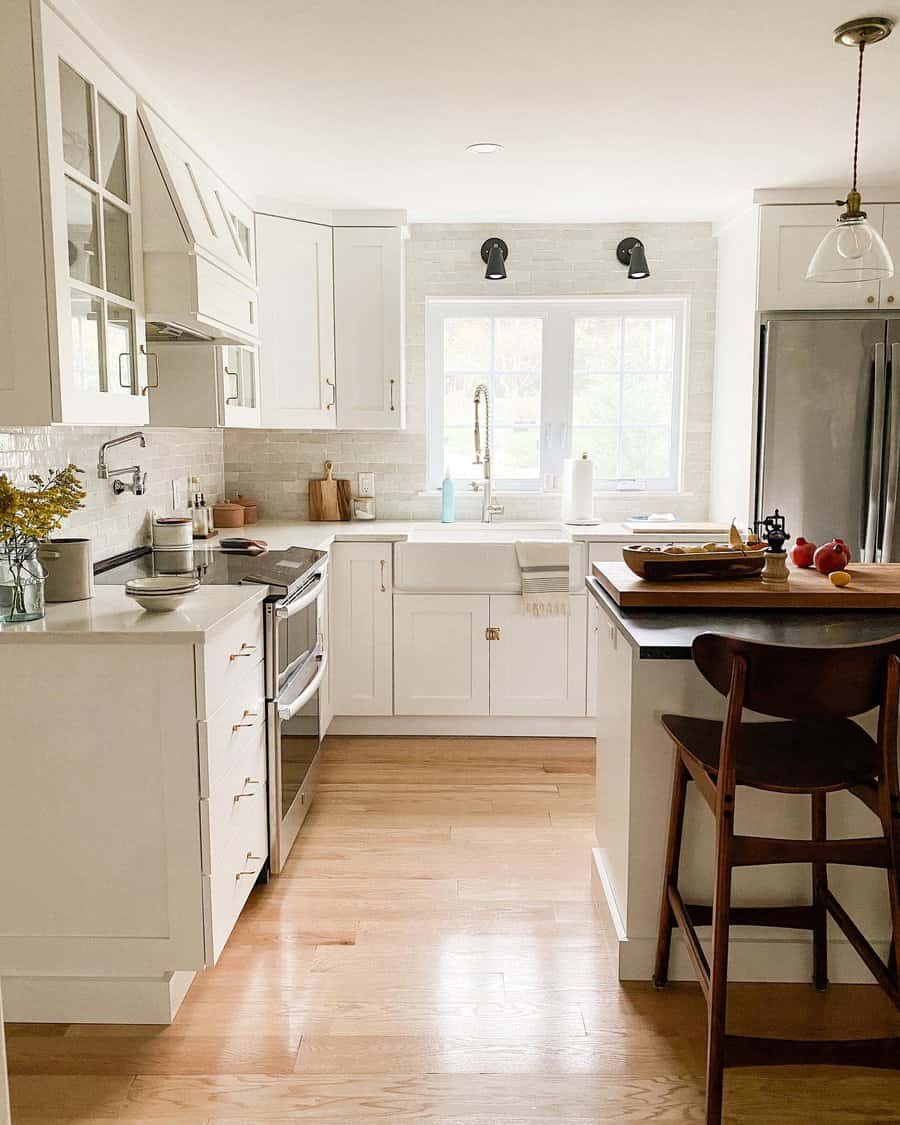 To keep a white kitchen from looking stark, choose a warmer shade of white that has a touch of ivory or cream. Pearly or iridescent backsplash tiles look amazing next to white cabinets and further brighten the space with their reflectivity.
See more white kitchen ideas here.
12. Window
Allow as much natural light as possible to flow through your small kitchen. If light is limited, don't exacerbate the problem with dark, heavy curtains. Replace drapes with light colored blinds or sheer fabrics to maximize the available light.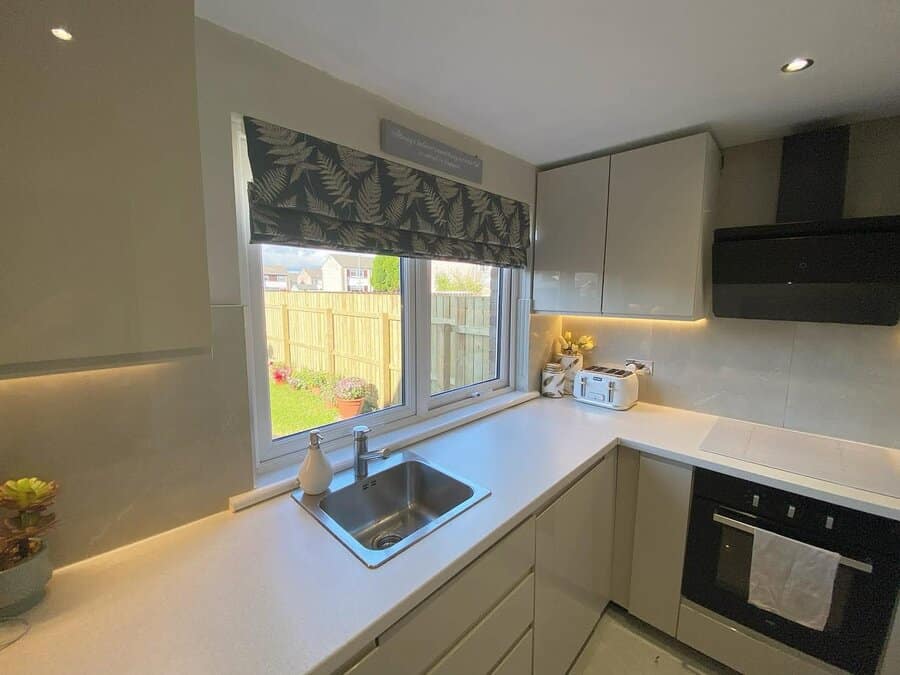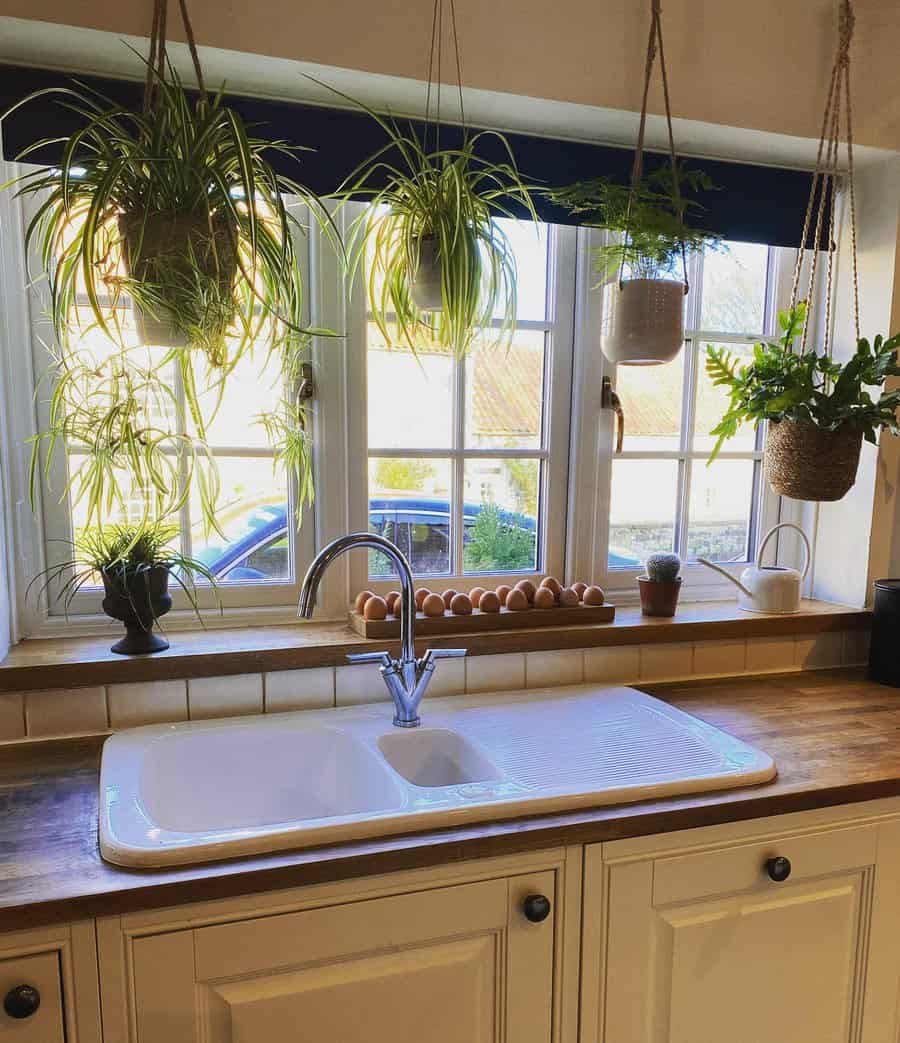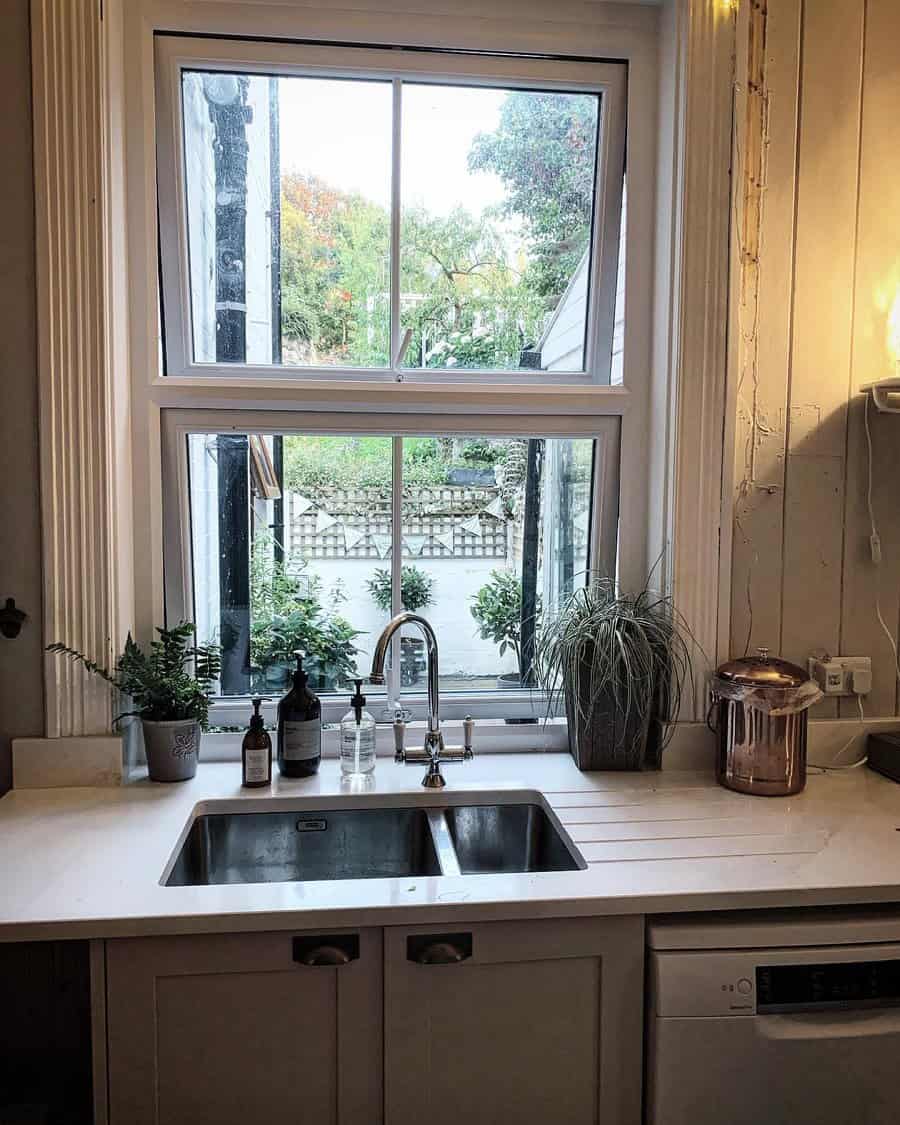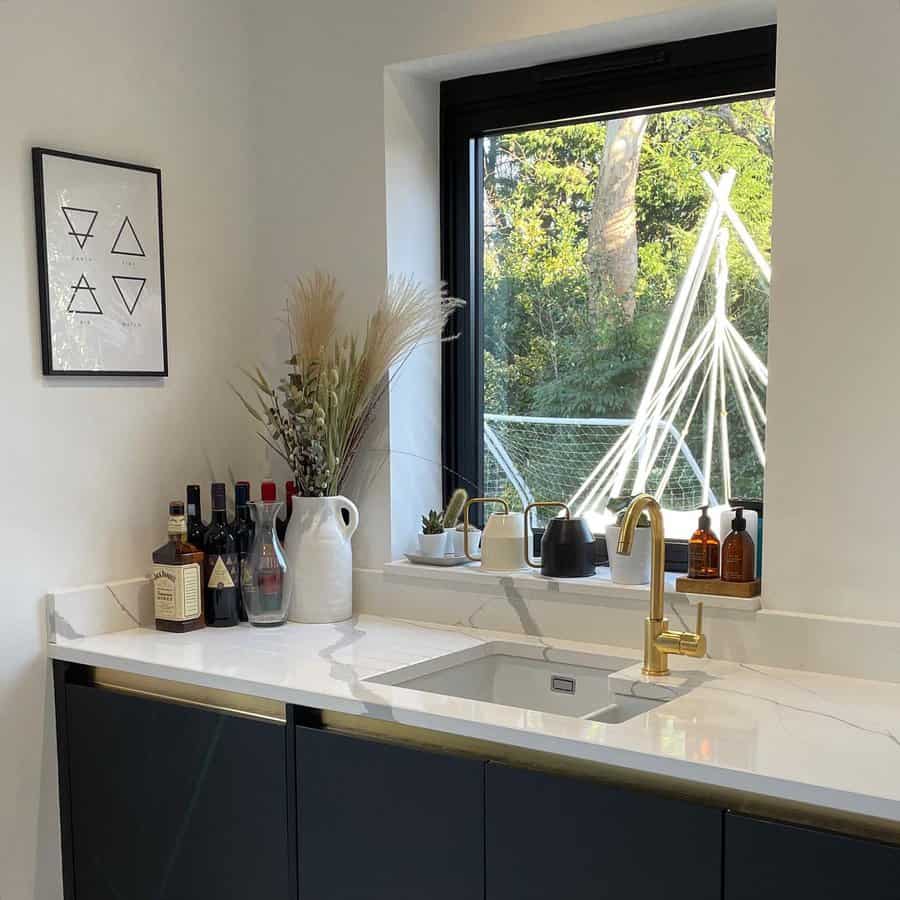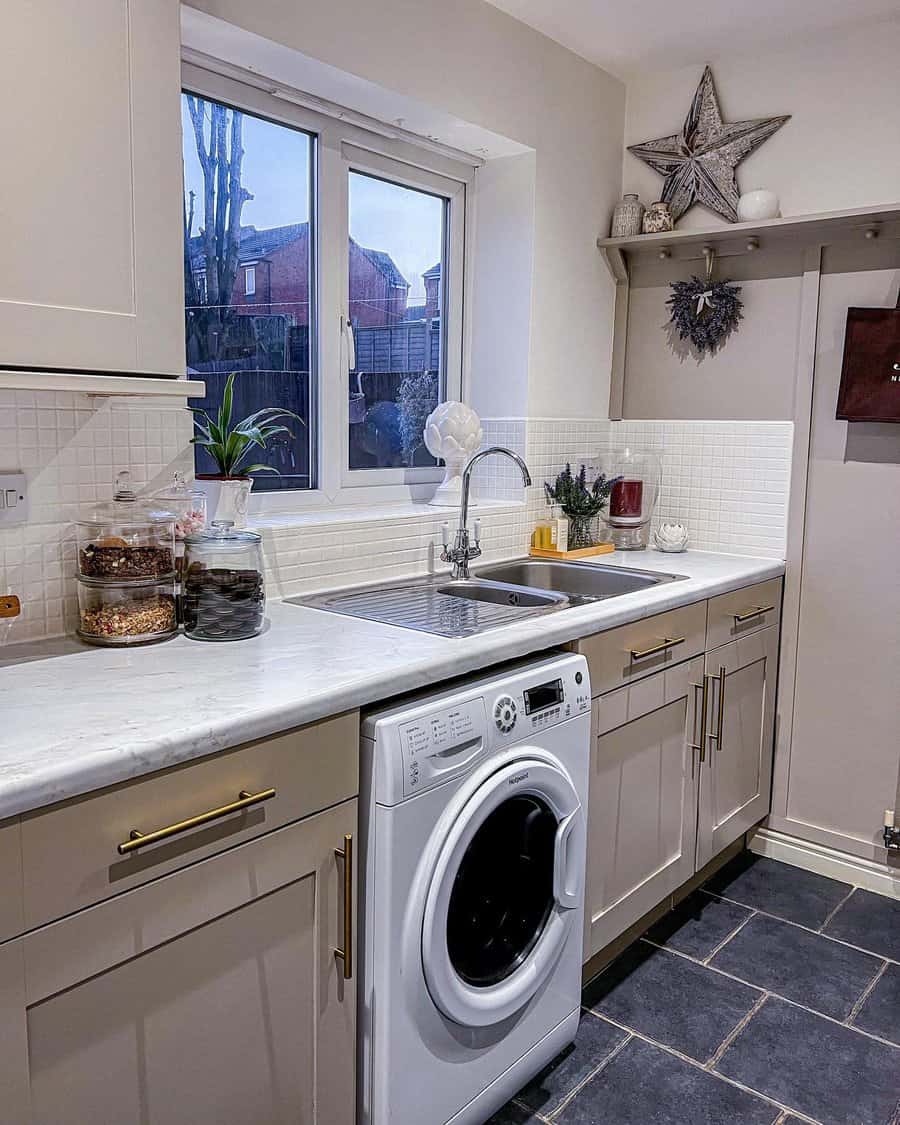 If your small kitchen budget includes enough for replacement windows, choose windows with large glass panes for a more open view. Windows with lots of small panes and wooden mullions can make a small room feel a bit claustrophobic.
Budget Small Kitchen Idea FAQs
What can I do instead of a backsplash?
While tile or peel-and-stick coatings are the most common type of backsplash, they aren't the only options. Faux brick is one of the coolest design ideas for this area below your upper cabinet row. Wood panels, such as wainscoting, beadboard, or shiplap are great kitchen ideas for a backsplash.
How can I replace my kitchen cheaply?
Sticking to your original kitchen layout will help you save money. If your appliances need an upgrade, look for good quality used appliances instead of dumping most of your kitchen remodel money into brand new ones. Good places to shop for used appliances include thrift stores, builder surplus stores, and Facebook Marketplace.
Paint is the cheapest way to make cabinetry look brand new, and you should paint the walls while you're at it. If your worktop needs refreshing, Home Depot and other big retailers sell special paint kits that can make your worn counters look like a new granite or marble countertop.
Where do you put a microwave in a small kitchen?
When you have a tiny kitchen, you don't want to waste even an inch of precious worktop space. So where should the microwave go? Over the range is the logical first choice for getting this vital appliance up and out of the way. Other spots that free up counter space in a small kitchen include putting it on an open shelf, tucking it under the kitchen island, or hiding it in a cabinet.