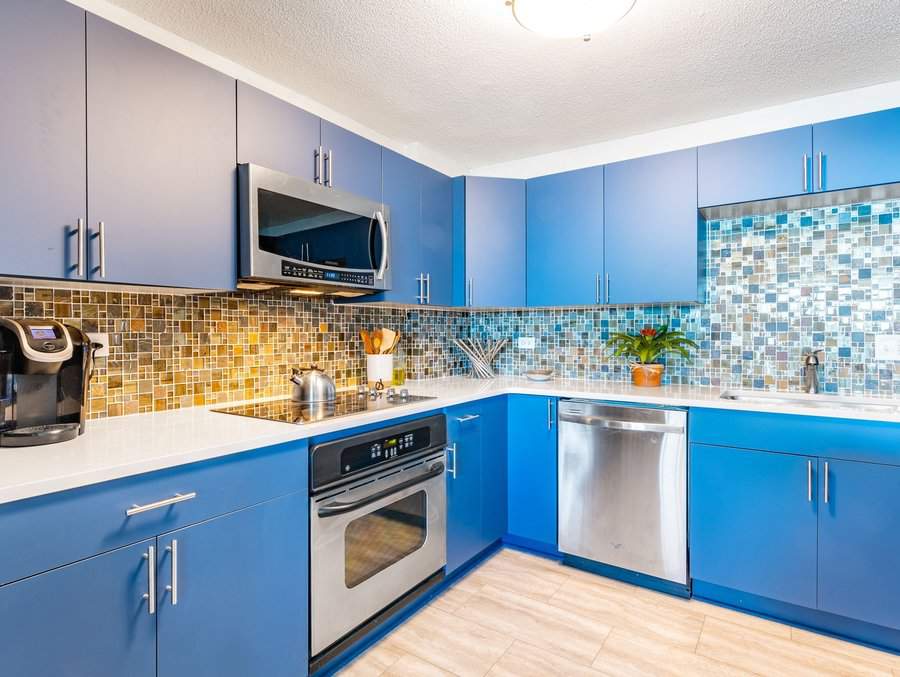 31 Small Kitchen Ideas on a Budget
Are you ready for a kitchen renovation but your budget says, "No"? While a full-on kitchen remodel may not be doable, there are dozens of budget kitchen decorating ideas that can greatly improve your small kitchen space.
Whether it's your cabinetry, tile, paint, or storage space that needs redoing, we can help you refresh the heart of your home. Check out our small kitchen ideas on a budget and see how far a dollar can stretch when you know what to do.
1. Utilize Space Above The Countertop
If you have ever lived in a small kitchen, you know the power of maximizing every inch of space. A way to get around limited countertop space is to use what lies above the counters—the walls! Installing shelves on walls above the counters can create so much extra storage or even use them for decorative items and useful books that may come in handy while cooking.
With a few items, such as sturdy brackets and some boards, you can add a practical yet creative space that offers plenty of storage options in your small kitchen.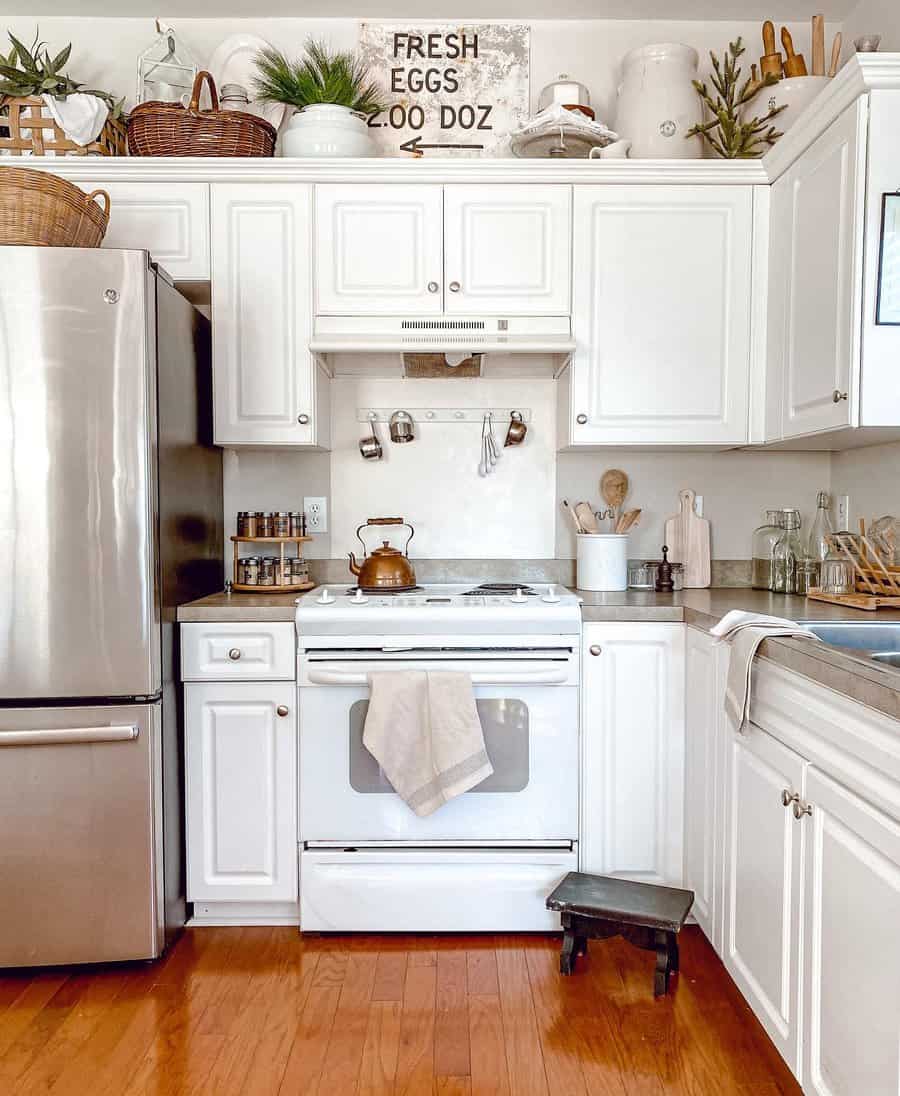 2. Install Sliding Windows
With modern-style decor and a unique sliding window, your small kitchen will feel not just cozier but brighter than ever. The larger-than-average window lets in far more natural light than a traditional kitchen, giving you an opportunity to make your space modern yet inviting.
Plus, if you mount the window higher on the wall, you can get an even better view of the outdoors and enjoy a bit more privacy. Whatever materials you choose for the room, a modern design with lots of light being brought in through the large sliding window makes for a modern yet airy kitchen.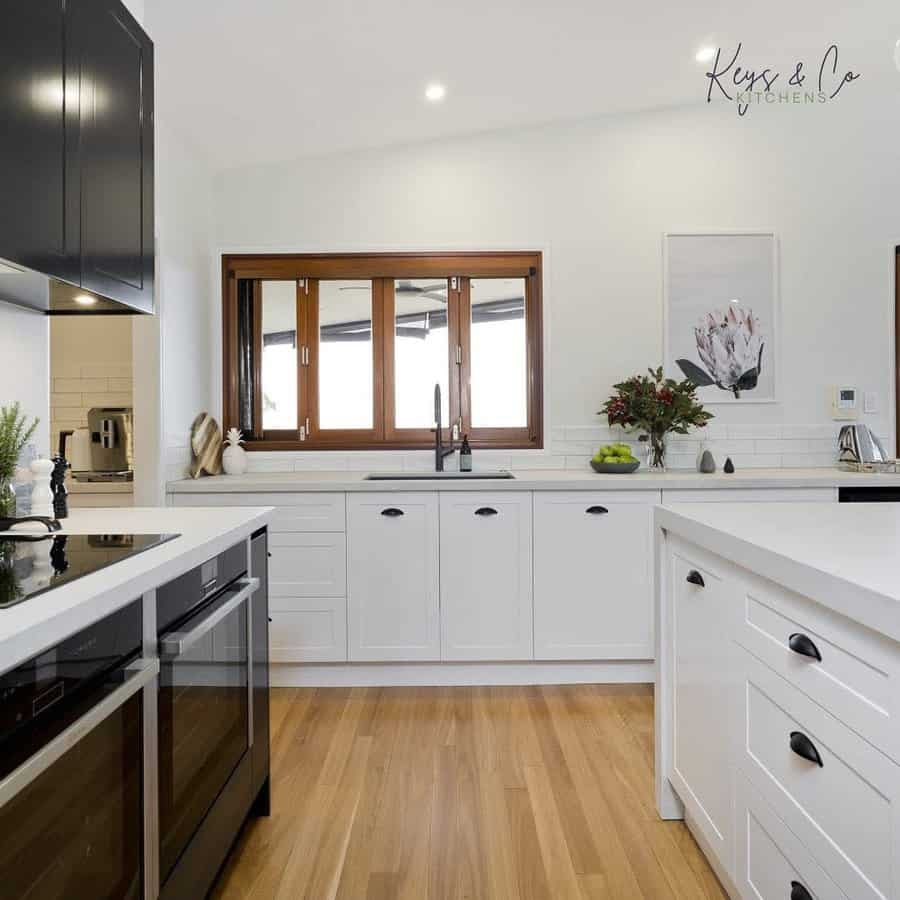 3. Keep It Cool With Blue
With cool, blue furnishings and a modern layout, small kitchens can still be just as chic and elegant as their larger counterparts. Despite the limited space, careful thought has gone into the design of this room, from the splashes of cool blues to the contemporary units that fit perfectly.
This cool interior is an inviting place for getting creative in the kitchen, whether it's rustling up a tasty dish or simply making breakfast!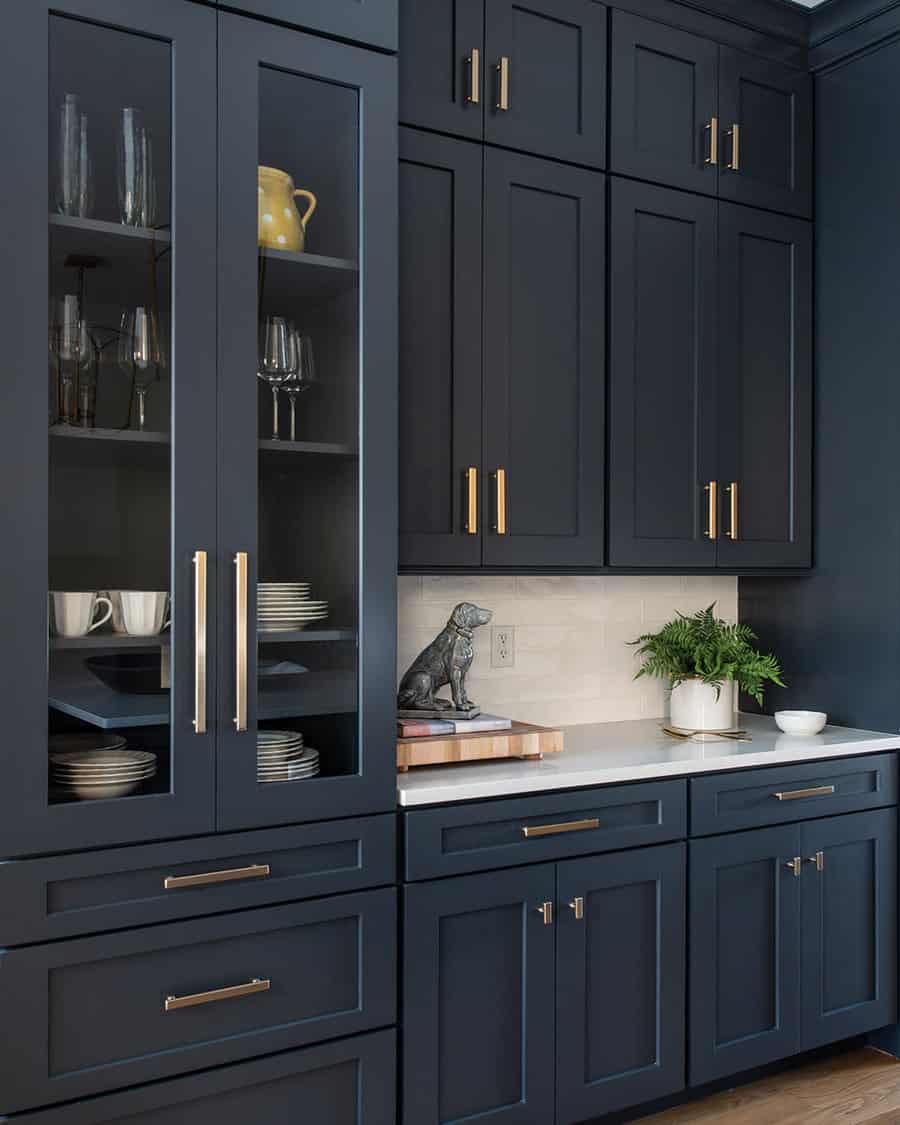 4. Build An Over-the-range Microwave Storage
Having a small kitchen can be frustrating when it comes to efficient cooking, but an over-the-range microwave provides endless convenience and bonus space. Not only does it cook your food quickly and easily, but also is efficient in saving workspace – you don't need any extra counter space to place the oven.
Get creative with the saved space and turn it into a buffet bar with some plants or other decorative pieces on top. Your kitchen will look modern and spacious, all thanks to that one efficient over-the-range microwave.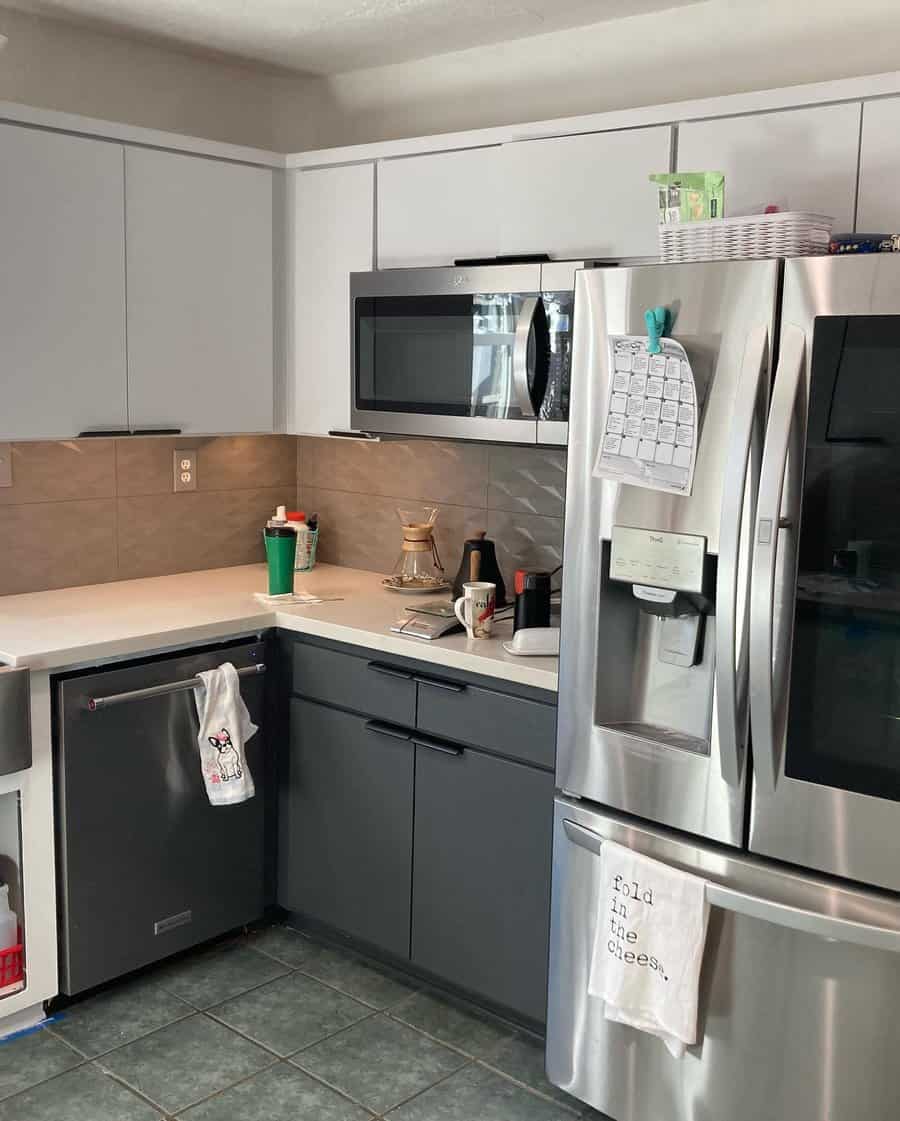 5. Opt For Subway Tiles
The accent of small subway tiles in a kitchen can be incredibly bold yet feminine. The right accent of white or cream tiles arranged in an orderly fashion can bring incredible life to the walls, transforming a dull room into one that radiates warmth and charm.
With careful consideration, accenting with subway tiles can turn the compact kitchen into a very inviting space. It can also introduce extra elements of dimension, color and texture-creating the perfect recipe for a cozy space that is pleasing to work in.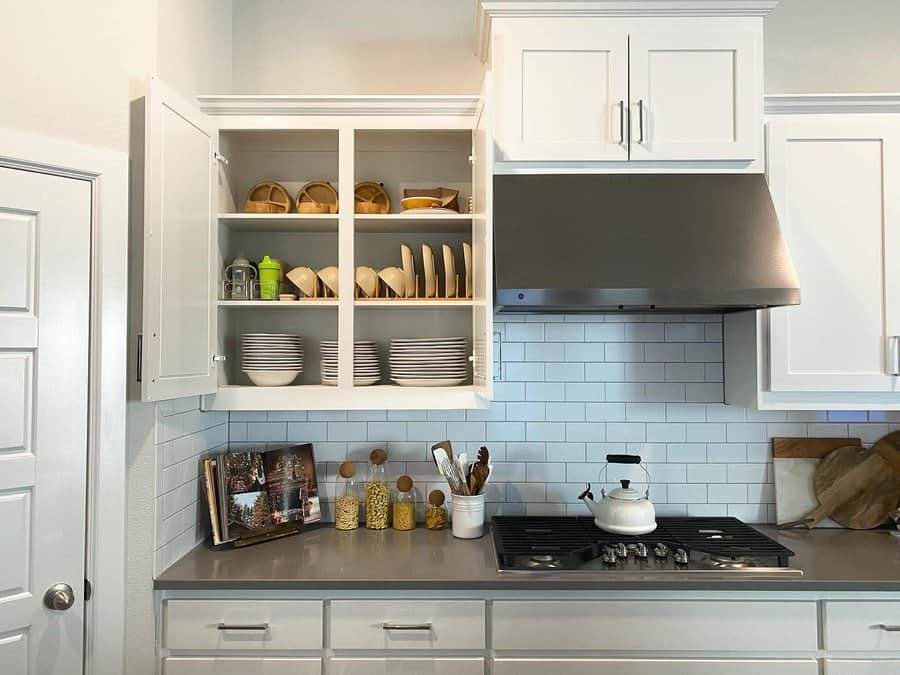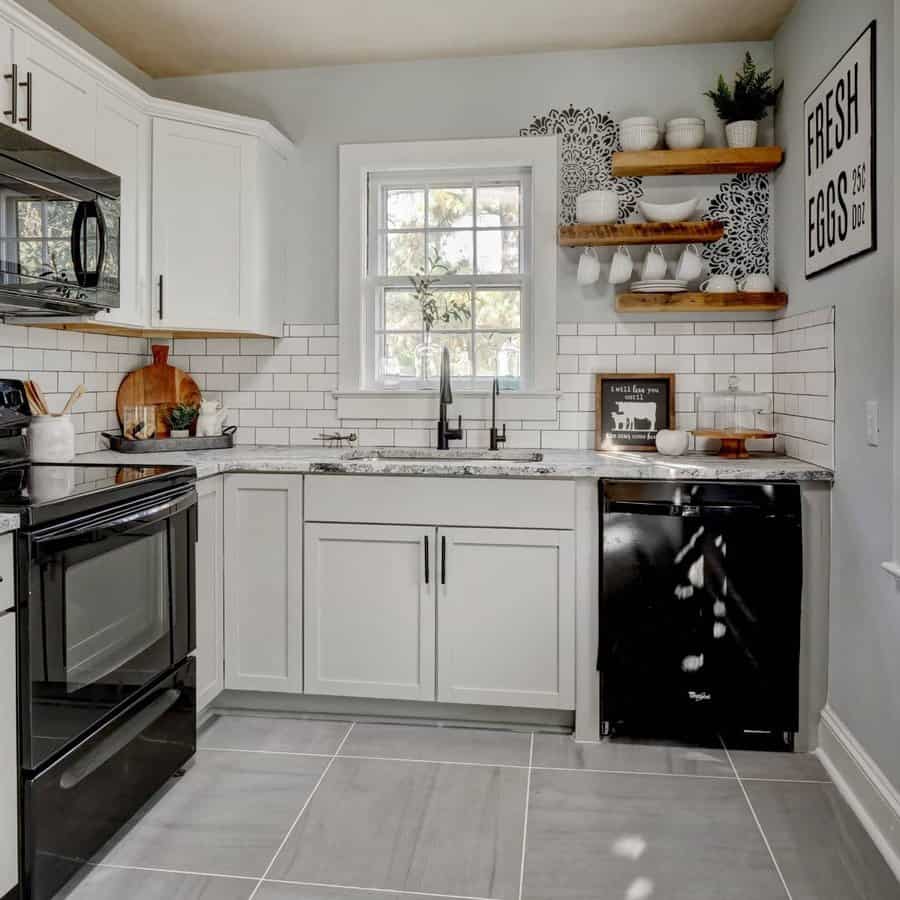 6. Make It Shabby Chic
For the feminine and chic small kitchen of your dreams, try out the charming look of Shabby Chic with a rustic cabinet! Every detail is carefully considered, from the natural colors and textiles to the vintage-inspired accents. Plus, with its soft tones and distressed textures, you'll create a cozy atmosphere that will make your kitchen feel right at home.
Whether you're making dinner for two or gathering around your heart to share stories and laughs, a shabby chic small kitchen will be just the warm and inviting space you need.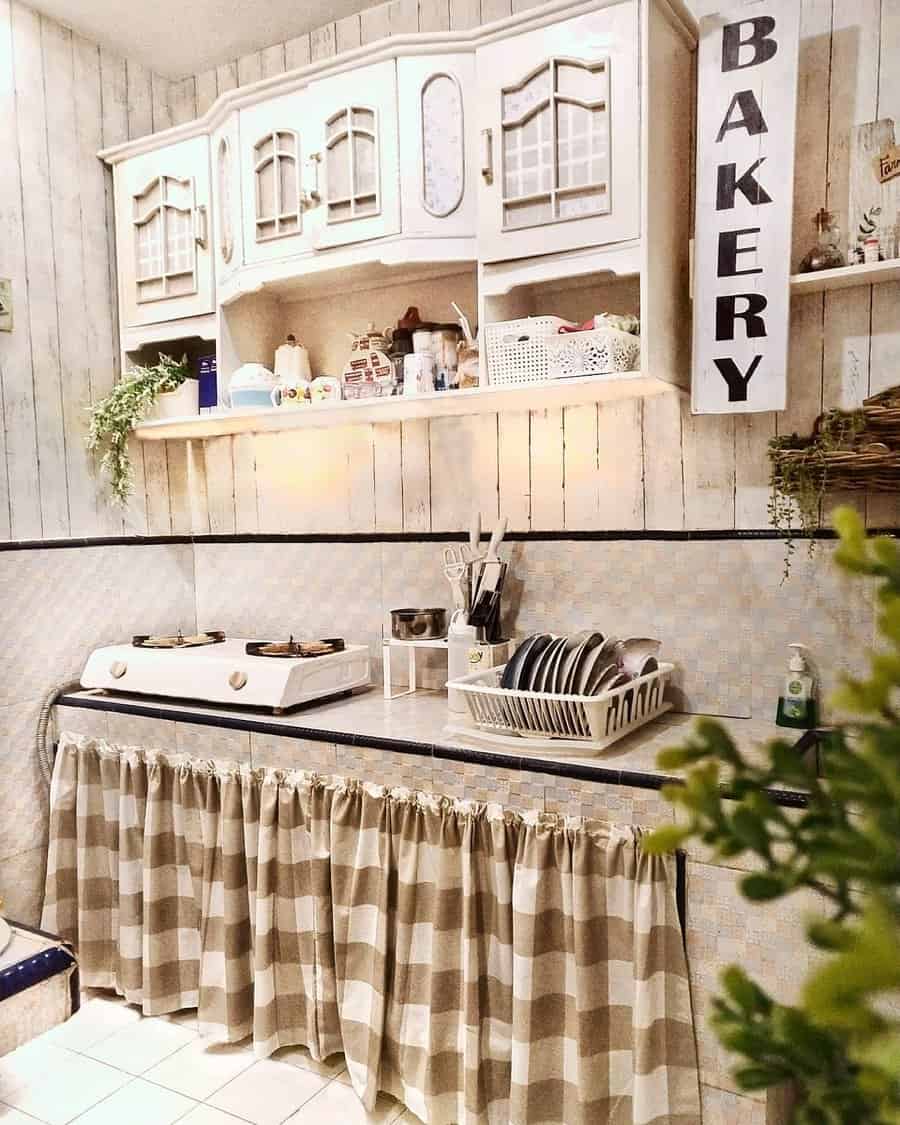 7. Add A Skylight Window
Transform your small kitchen into an energy-saving showpiece with a skylight window! Not only does it provide additional space for a much-needed breath of fresh air, but it also saves energy during the day by allowing natural light to filter in. The light from the sky is the perfect solution for brightening up the most difficult of spaces while still keeping things uncomplicated.
Whether you're looking to brighten up the darkest corner or flood your kitchen with sunshine, installing a skylight window is an easy and creative way to save energy and make your little home shine.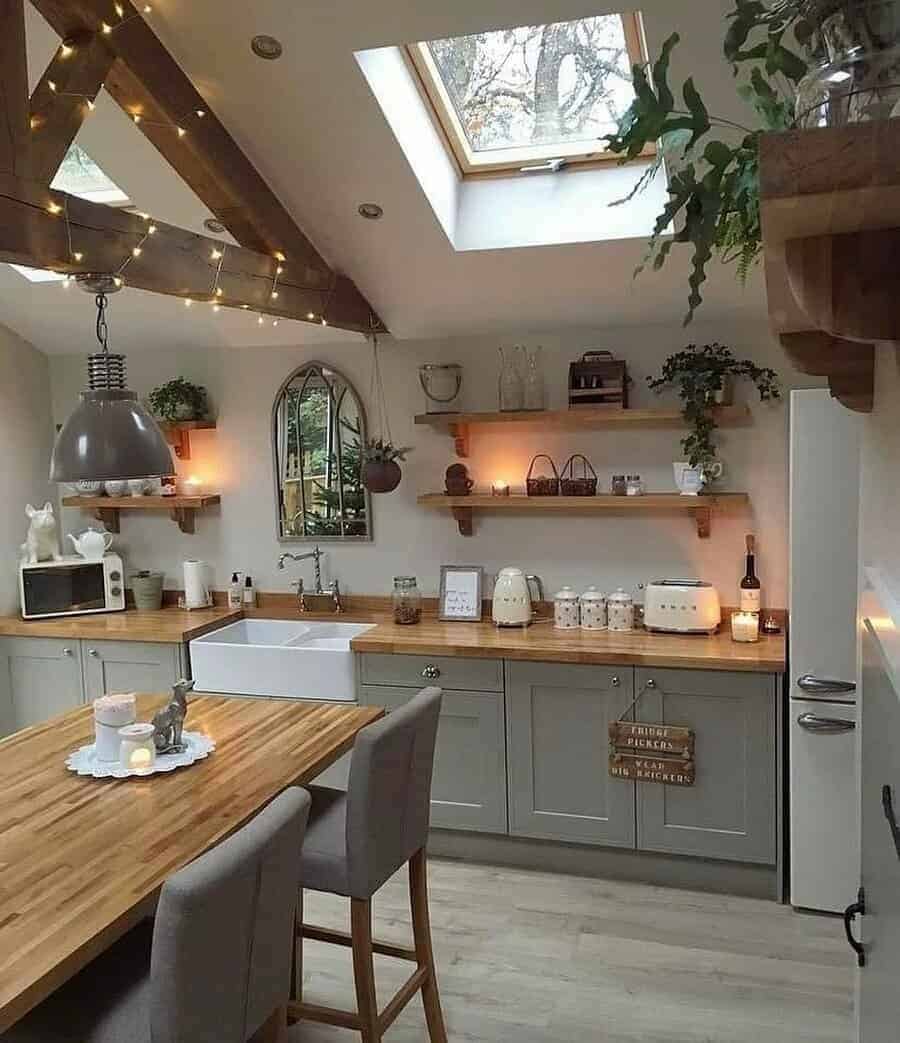 8. Go For A Wooden Countertop
Cooking in a small, modern kitchen can provide an amazing experience when it is equipped with a functional and aesthetic wooden countertop. The natural wood gives the room a classic, rustic look that can instantly add warmth and character.
Depending on the type of wood used, the countertop can be light to dark in color and become one of the focal features in your kitchen. It will support many functional tasks like meal-prepping while providing an inviting atmosphere to prepare meals and entertain guests.
Whether you decide on pine, maple, or oak for your small kitchen's wooden countertop, getting creative with your selection and design will give you the unique outcome you've always dreamed of.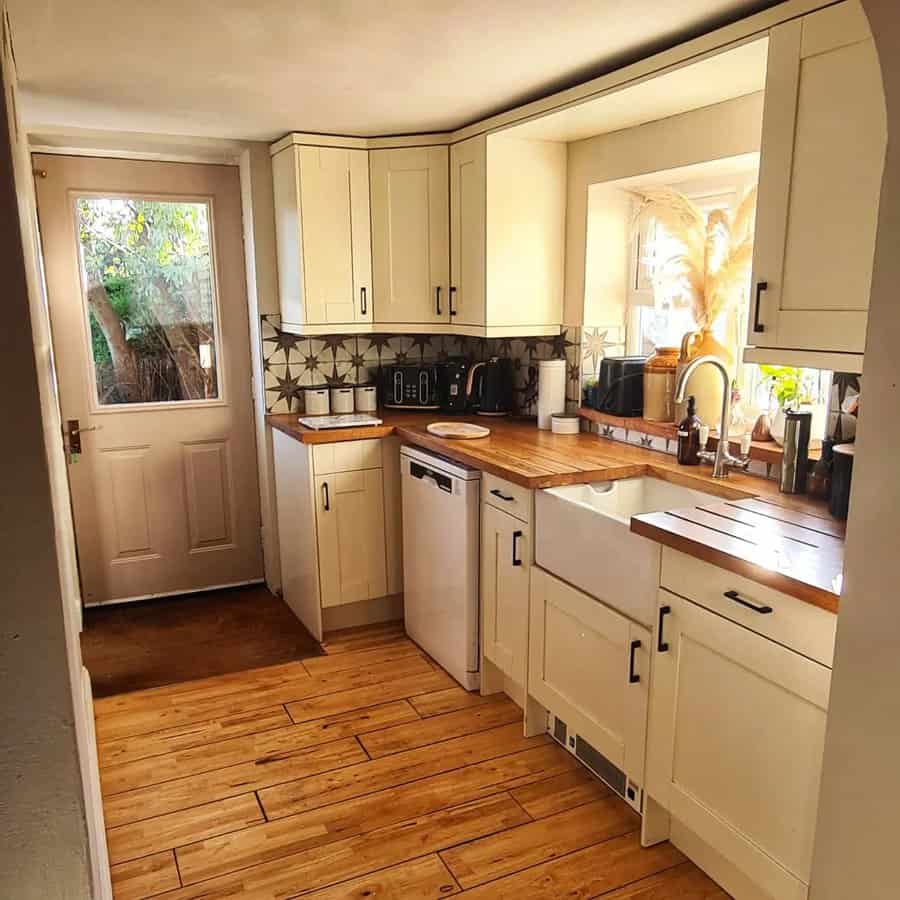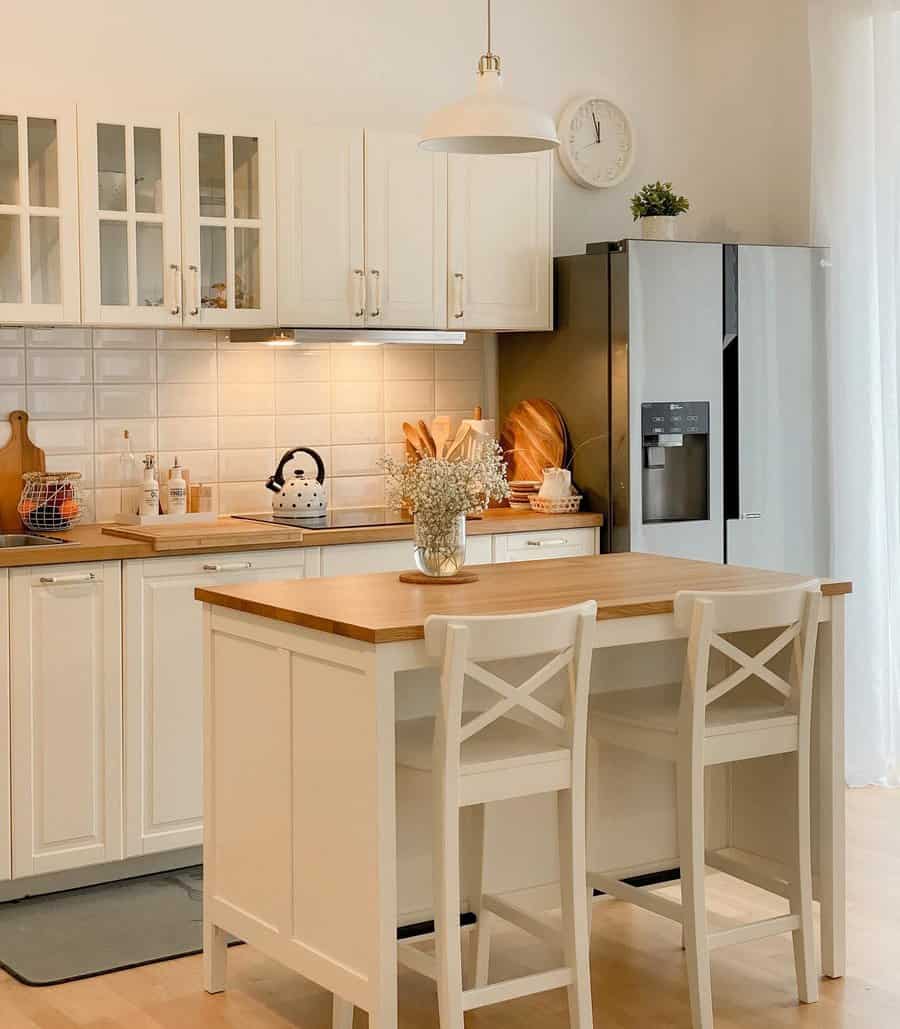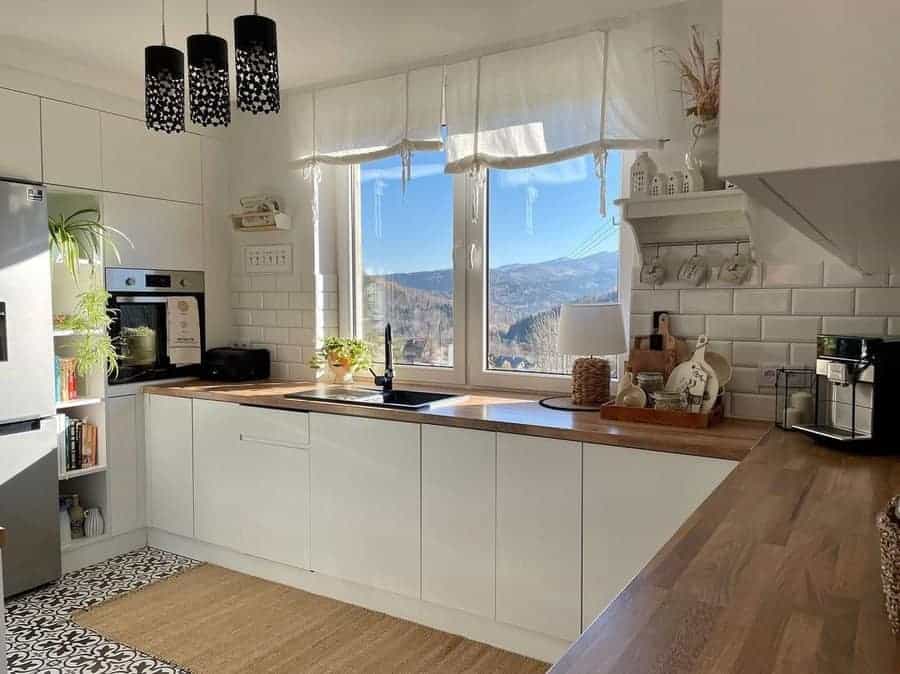 9. Add A Kitchen Island
A small kitchen with a kitchen island can feel like a dream for any home cook. Not only does it provide extra functional counter space, but it also revolutionizes the way dinner parties and conversations with friends are experienced in the kitchen.
Suddenly the cook is surrounded by their friends and family as they prepare dinner, rather than being isolated up against one wall like in traditional kitchens. Inviting conversation and companionship while cooking becomes effortless- creating an even tastier meal!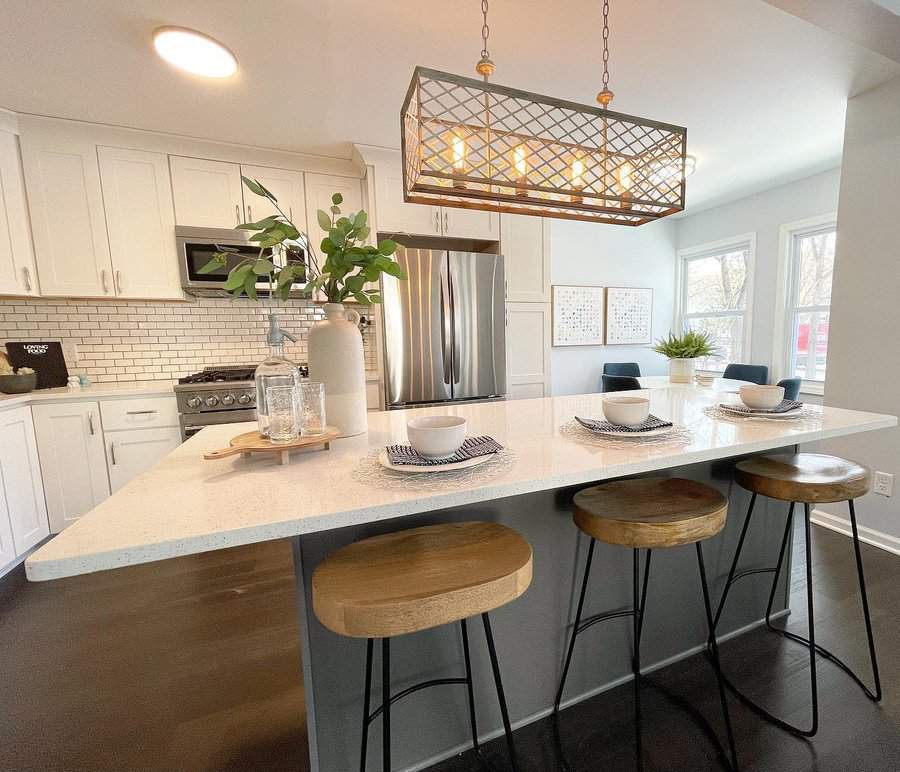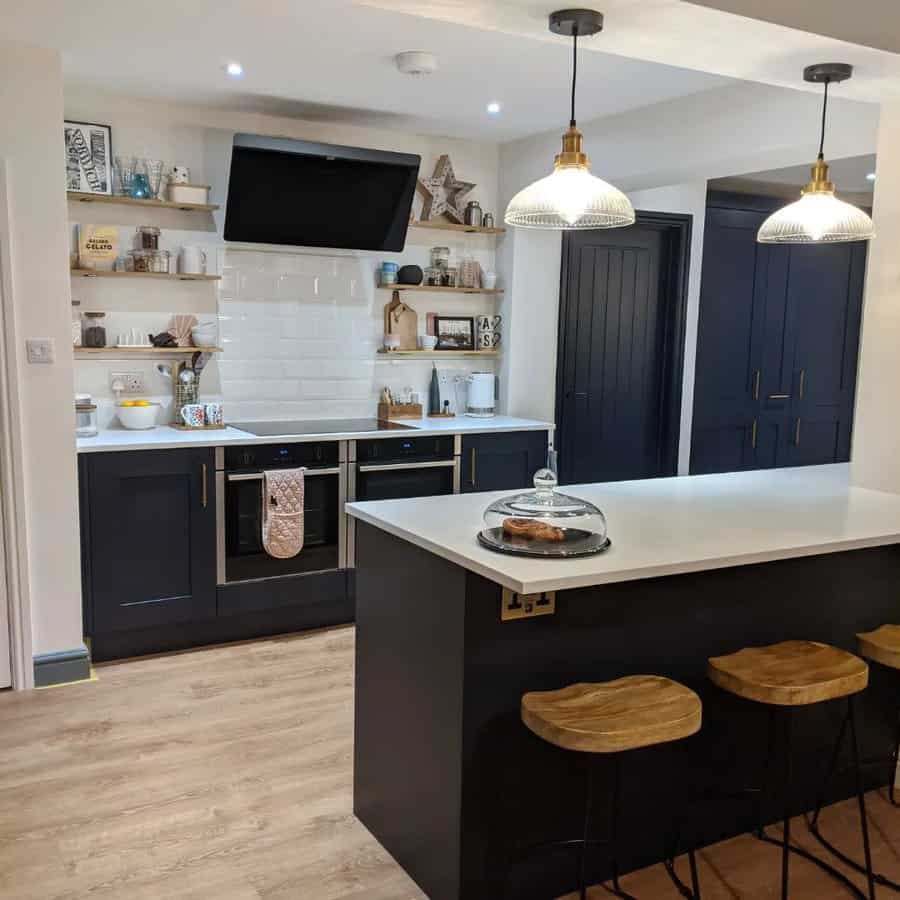 10. Make It Galley Style
If you're looking for an easier workflow in a narrow space, a galley-style small kitchen is a perfect solution. With plenty of storage options and countertops on either side of the room, it offers an efficient design to maximize the space. To add an accent to the room, consider adding a runner to your floor or desk area.
It will bring cheer and personality to the room while still retaining a comfortable look. Doing so can help make the most of your small galley-style kitchen while creating an inviting atmosphere that is both practical and stylish.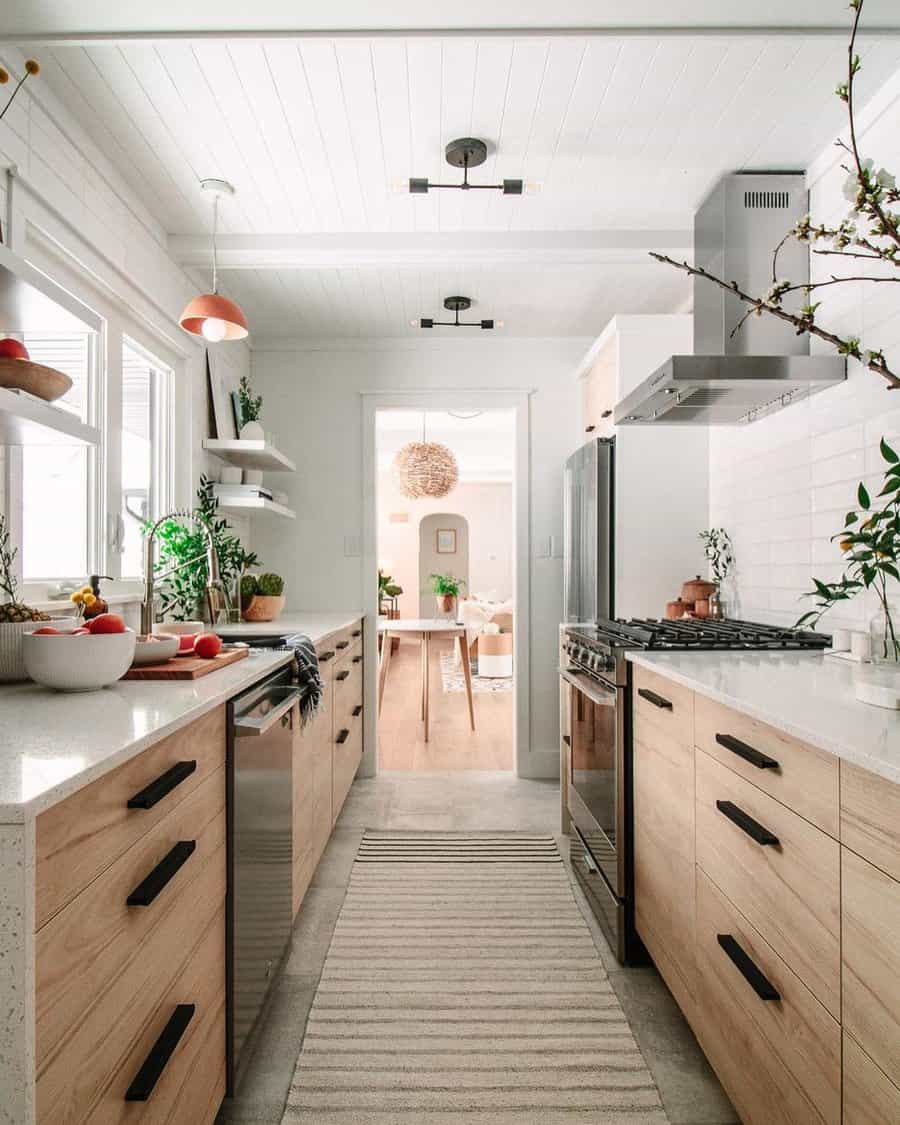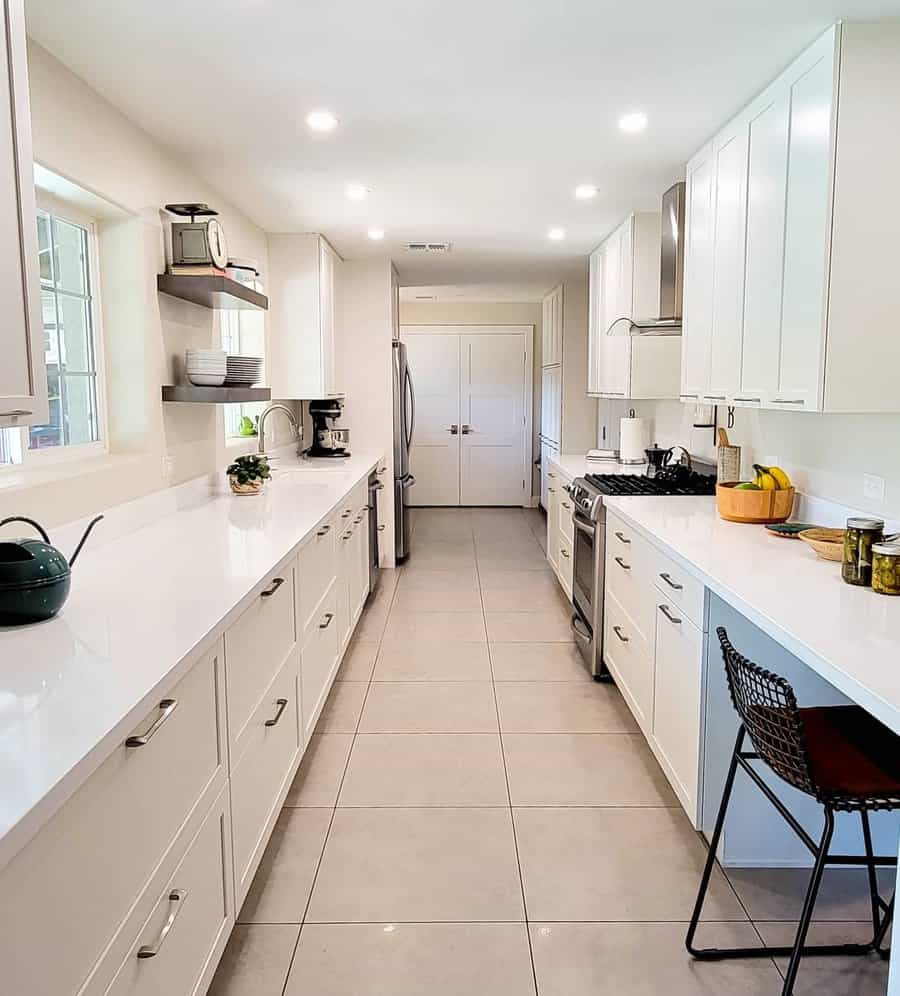 11. Build An L-Countertop
Having a small kitchen doesn't mean settling for a cramped, inconvenient environment. With an L-countertop, you can maximize space and make the most of every square inch.
Perfect for really small kitchens, this design helps clear up counter space, providing more room to move about and cook however you please without feeling overwhelmed by the size of your space.
An L-shaped countertop allows plenty of room for all your kitchen gadgets and cab to be easily incorporated into any interior style!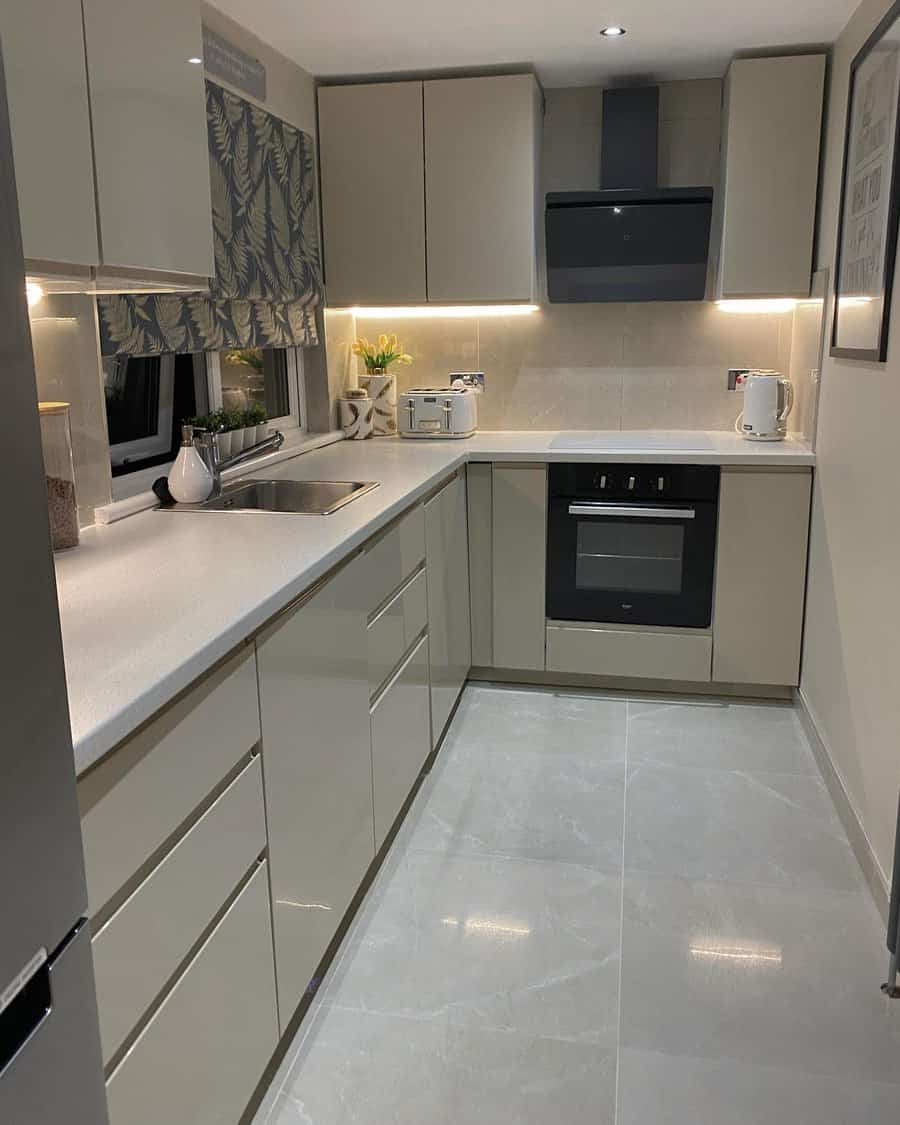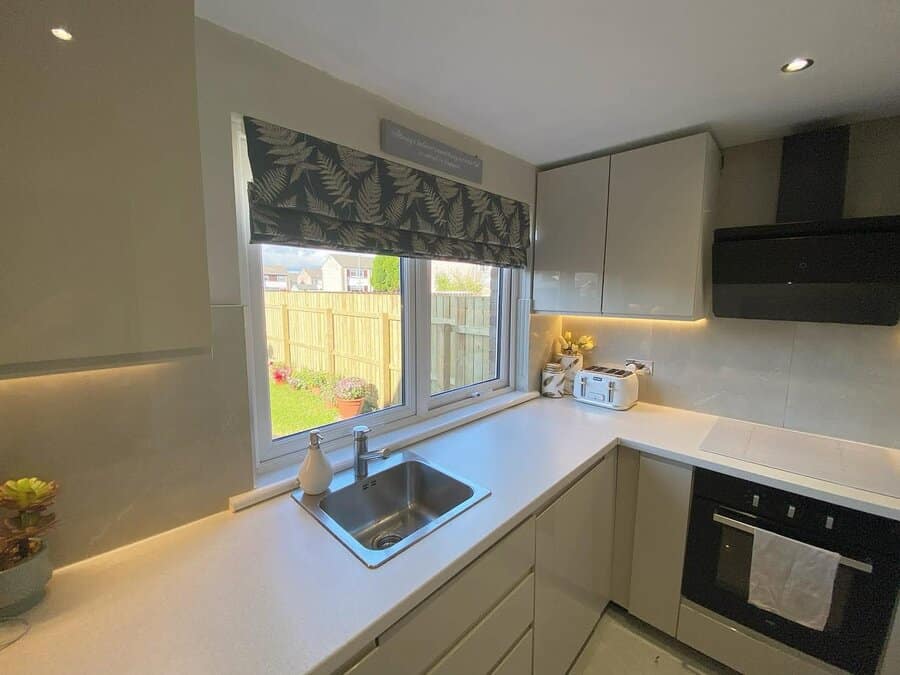 12. Go All Black
If you're looking for a masculine, minimalistic interior that isn't afraid to make an impact, an all-black small kitchen is a perfect answer! Black has become a popular color choice among homeowners in recent years, and it really comes alive when painted in smaller spaces. N
ot only does black bring sophistication and elegance to any room, but the color also helps bring out the features of your kitchen that often end up overlooked. Backsplashes, utensils, knick knacks—all are on full display against a matte black wall. It may be small, but with this look, yours will be a kitchen that truly stands out from the rest.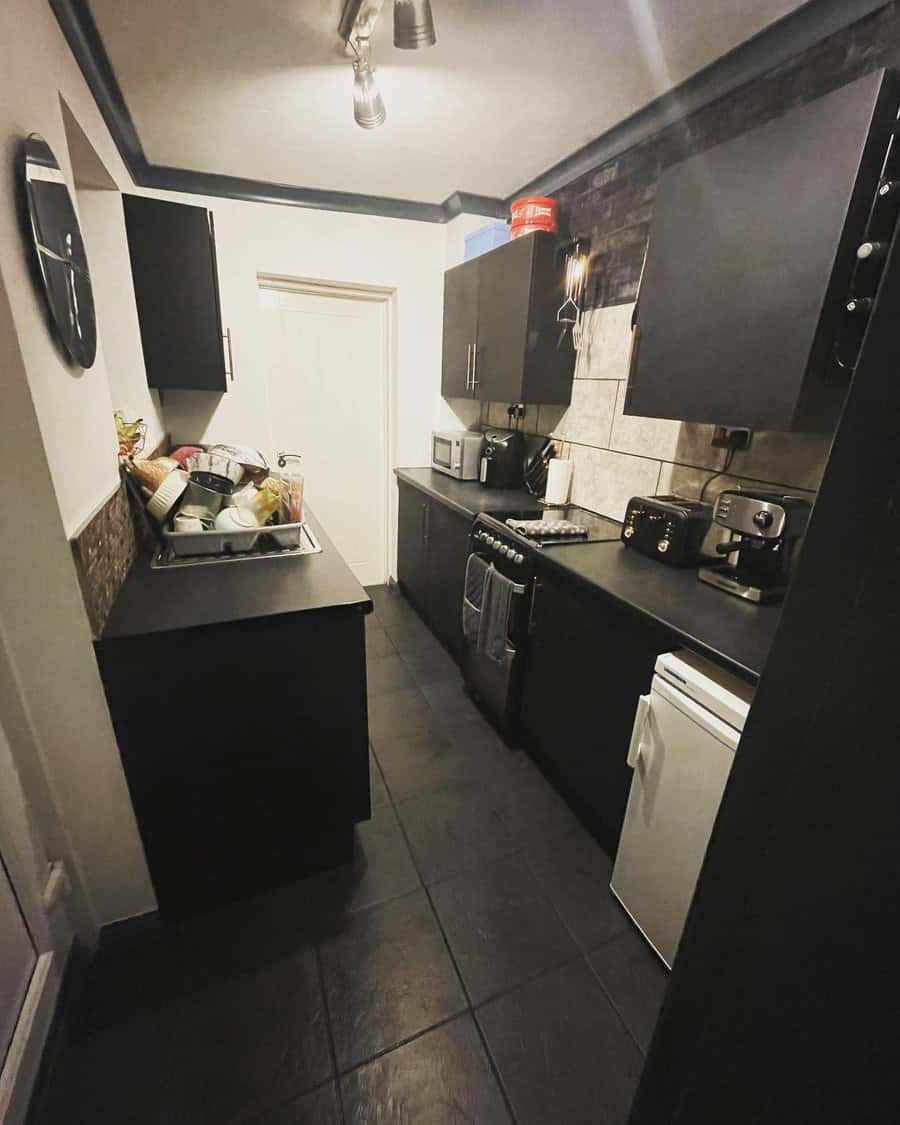 13. Set Up An Art Deco Interior
Transform your small art deco kitchen into a playfully inviting space by combining bright, vibrantly colored tiles with gold fixtures and accents. This play on color and contrast can be further accentuated by adding playful patterns and textures throughout; think gilded mirrors, marble countertops, or patterned wallpaper for the walls.
Mix and match decor pieces to give it an eclectic look, like glimmering copper cooking vessels or a modern-vintage chandelier for sparkling charm above the island cabaret. Either of these design touches will playfully flatter any art deco small kitchen.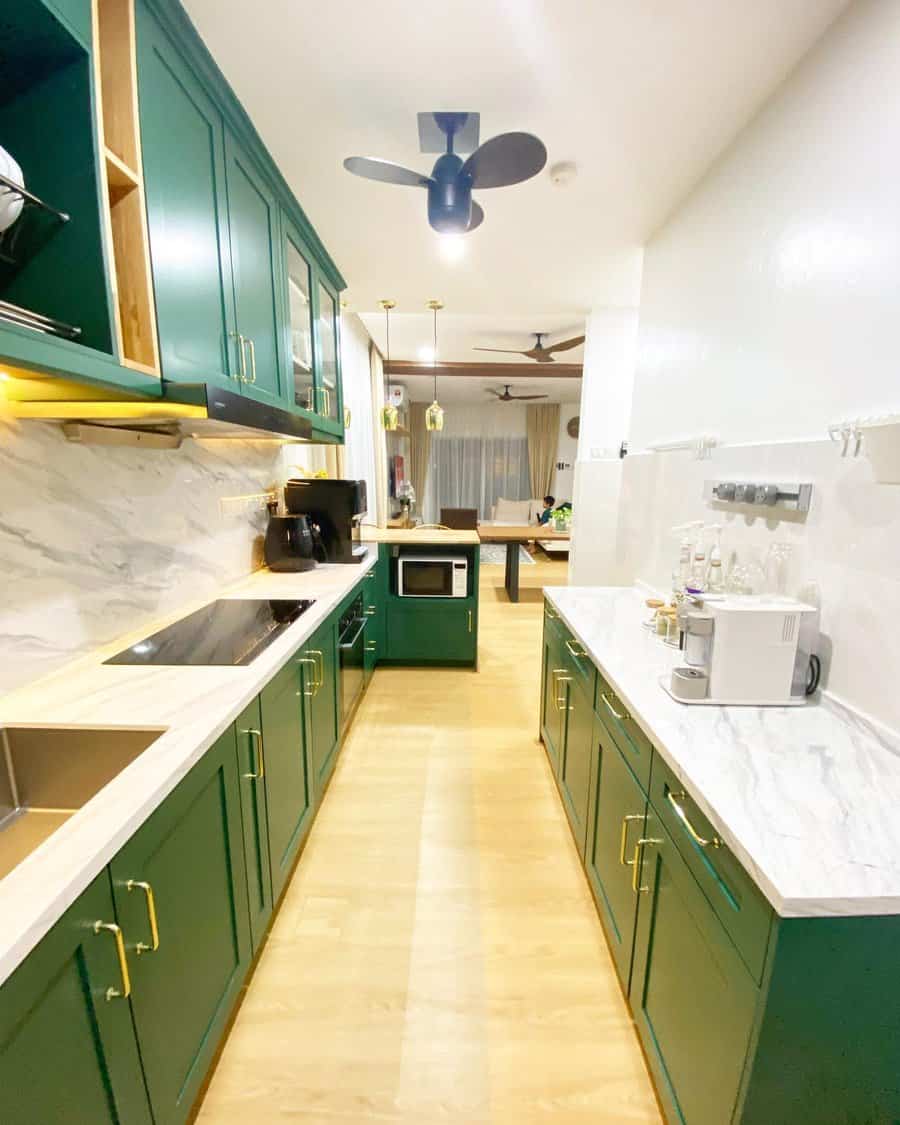 14. Add A Pendant Lamp
Nothing adds accent and charm to a small kitchen like the sparkle of a single pendant lamp. This small addition can become the highlight of the room, giving focus to an otherwise forgotten space.
You'll be sure to find yourself lingering in the kitchen with its cozy and inviting atmosphere made possible by this simple element. Who knew such a minimalistic addition could make such a transformative impact?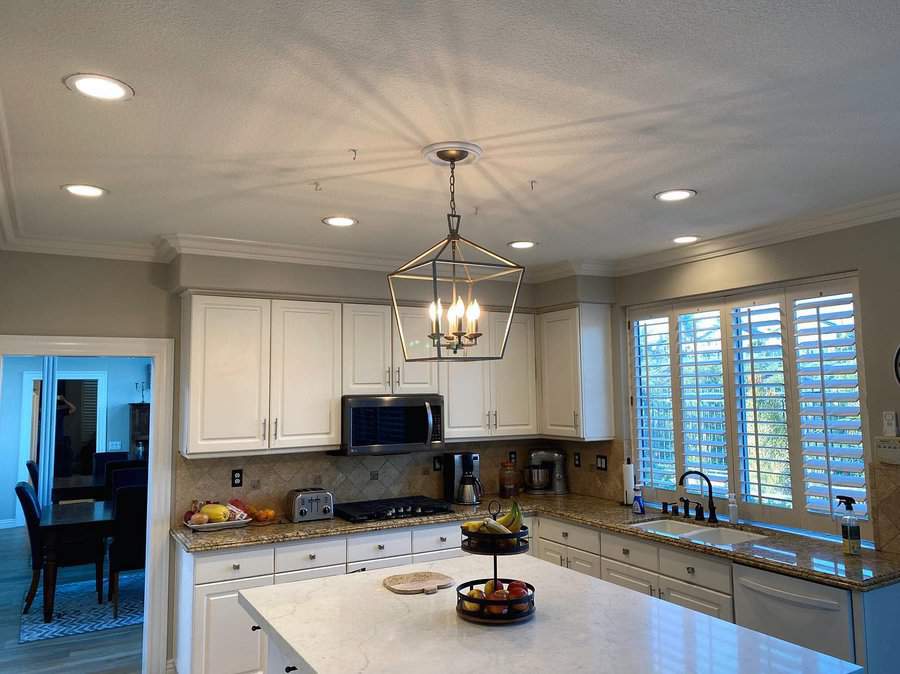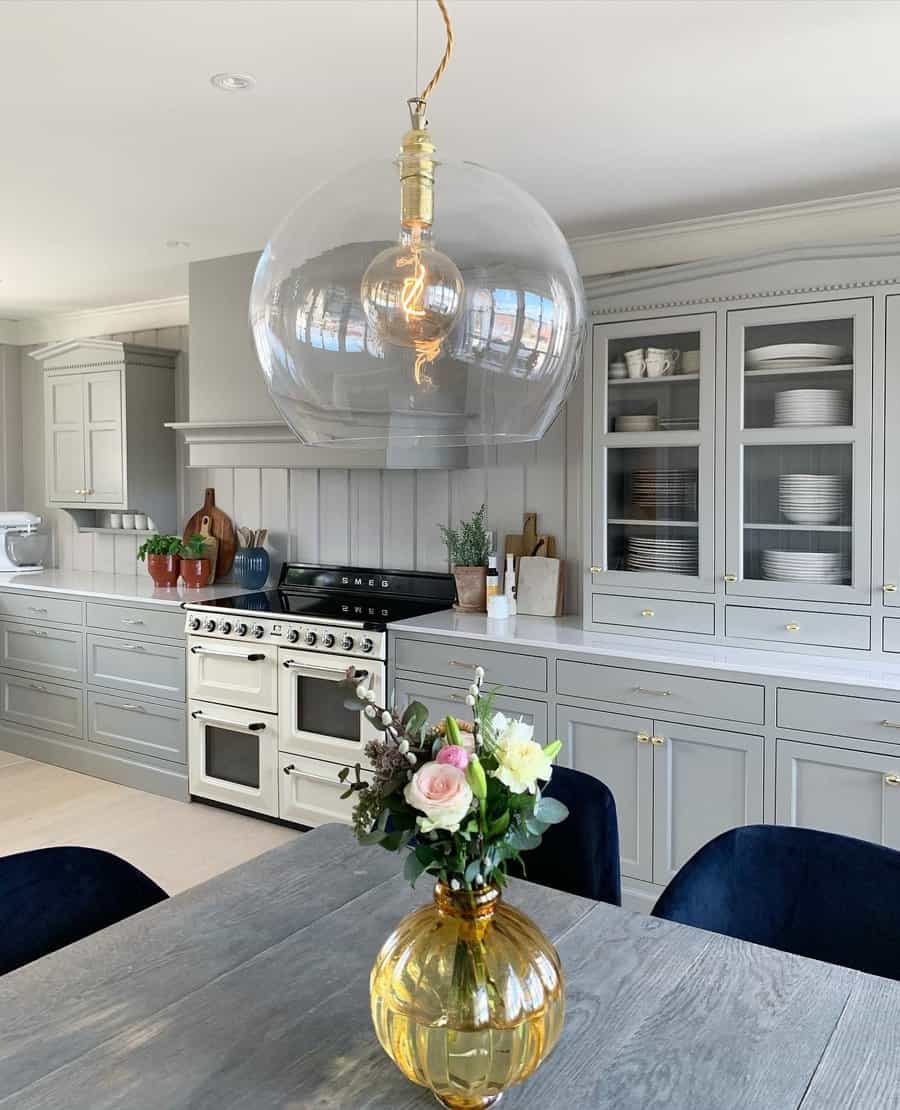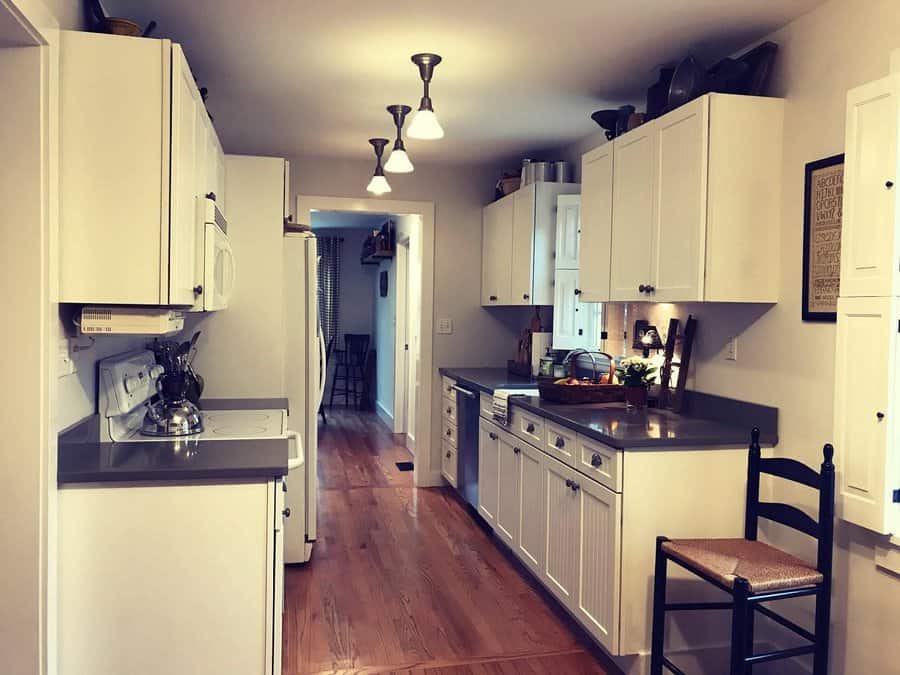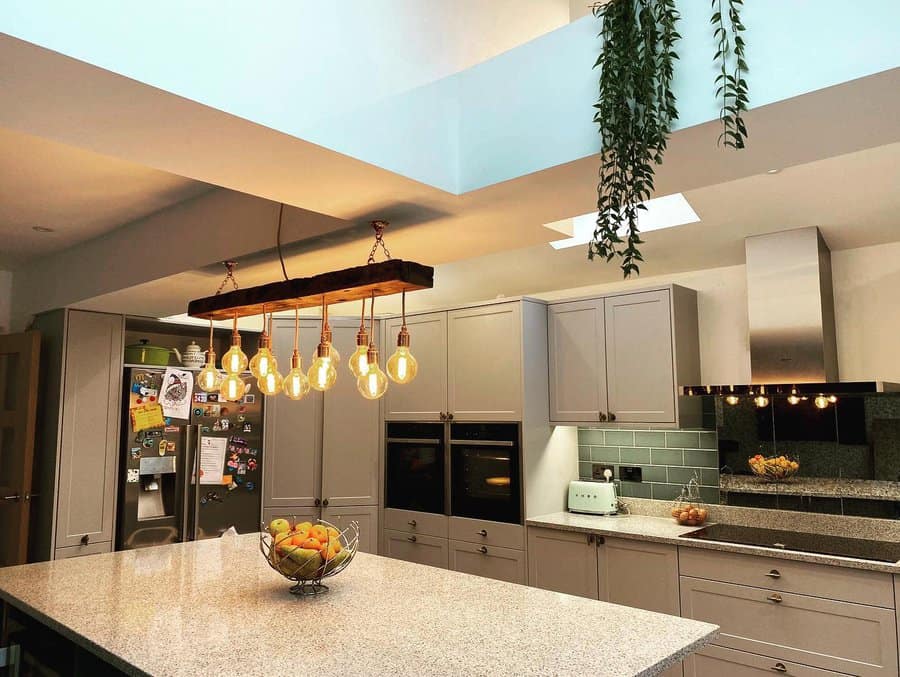 15. Add Drop Lights
Create a dramatic lighting atmosphere in your small kitchen with droplights. Not only do they look beautiful, but they add a fantastic ambiance to the room. Drop lights attract the gaze of any visitor and make an immediate good impression!
You can even customize the colored lighting to create different scenes or moods throughout your evening – red for romance, blue for tranquility, or yellow to energize the space.
With drop lights, you can make a statement without sacrificing the precious floor space that small kitchens require.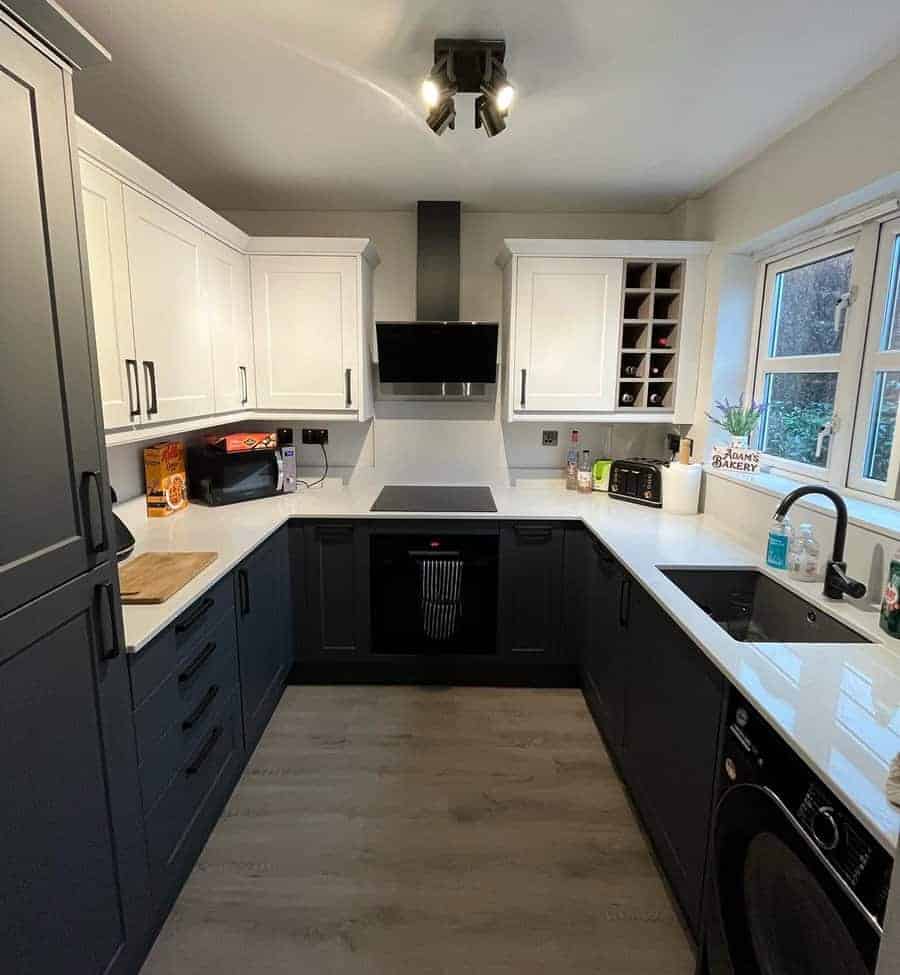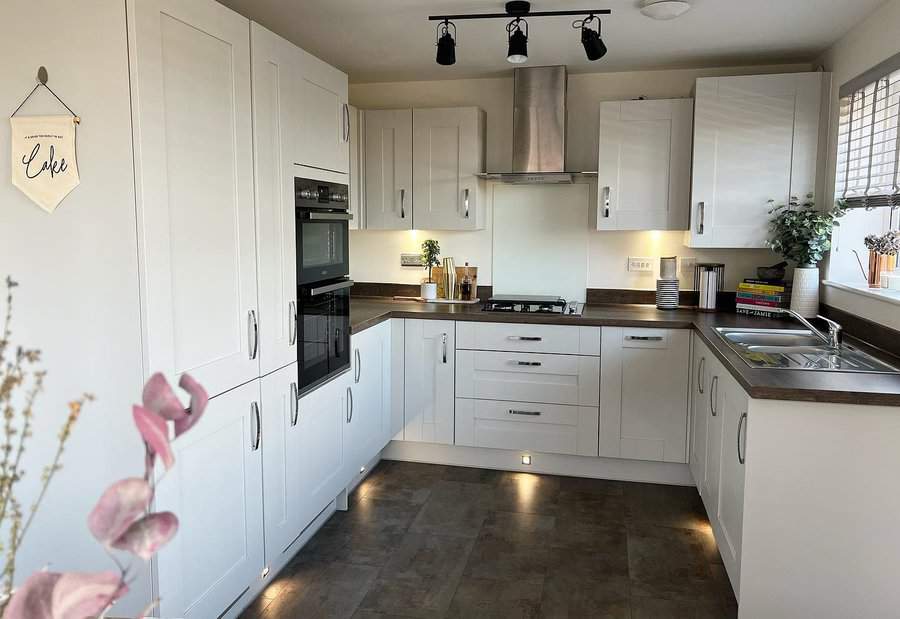 16. Throw A Cozy Rug
Having a small kitchen with a carpet rug creates an inviting atmosphere that encourages cooking and dining. This simple addition can add a welcoming quirk even to the smallest of spaces, acting as an eye-catching accent that creates coziness and warmth.
Whether you choose a neutral muted tone or an exciting multicolored pattern, the right rug can help turn your small kitchen into something special.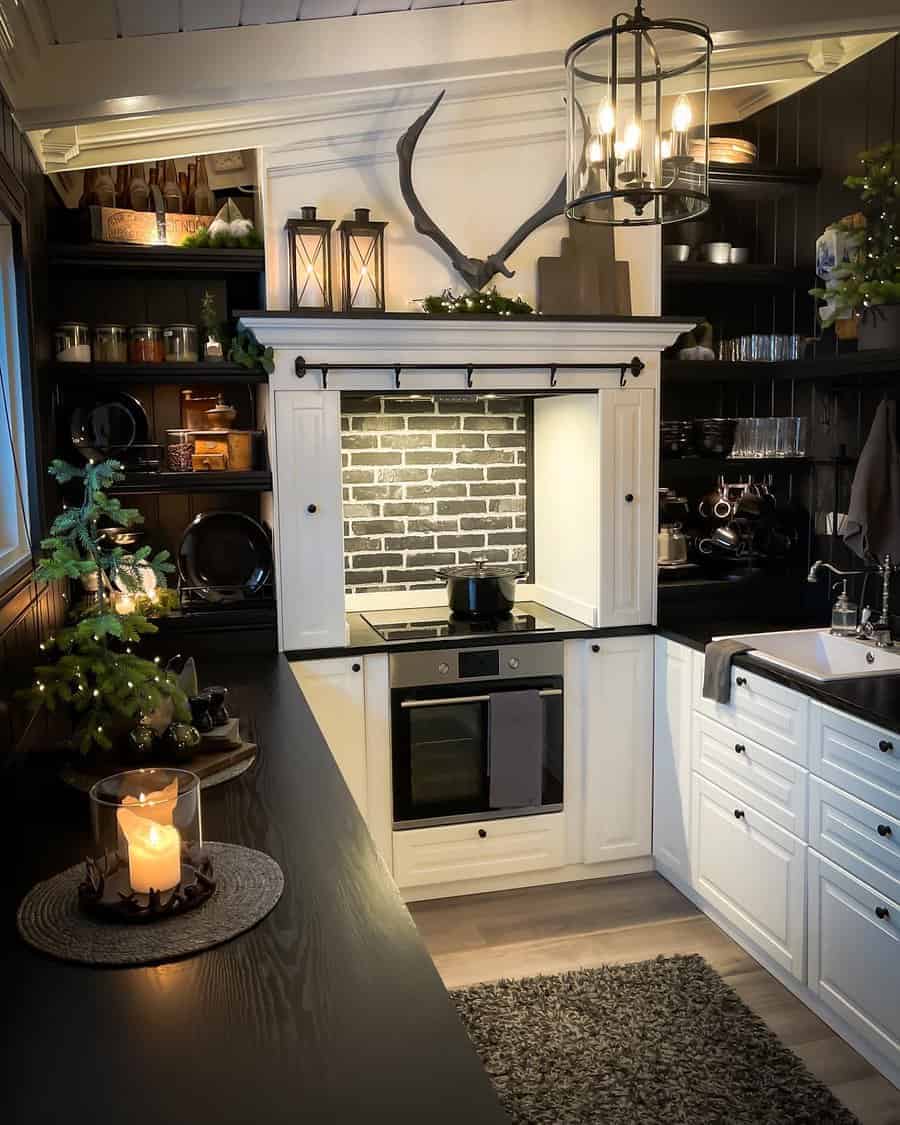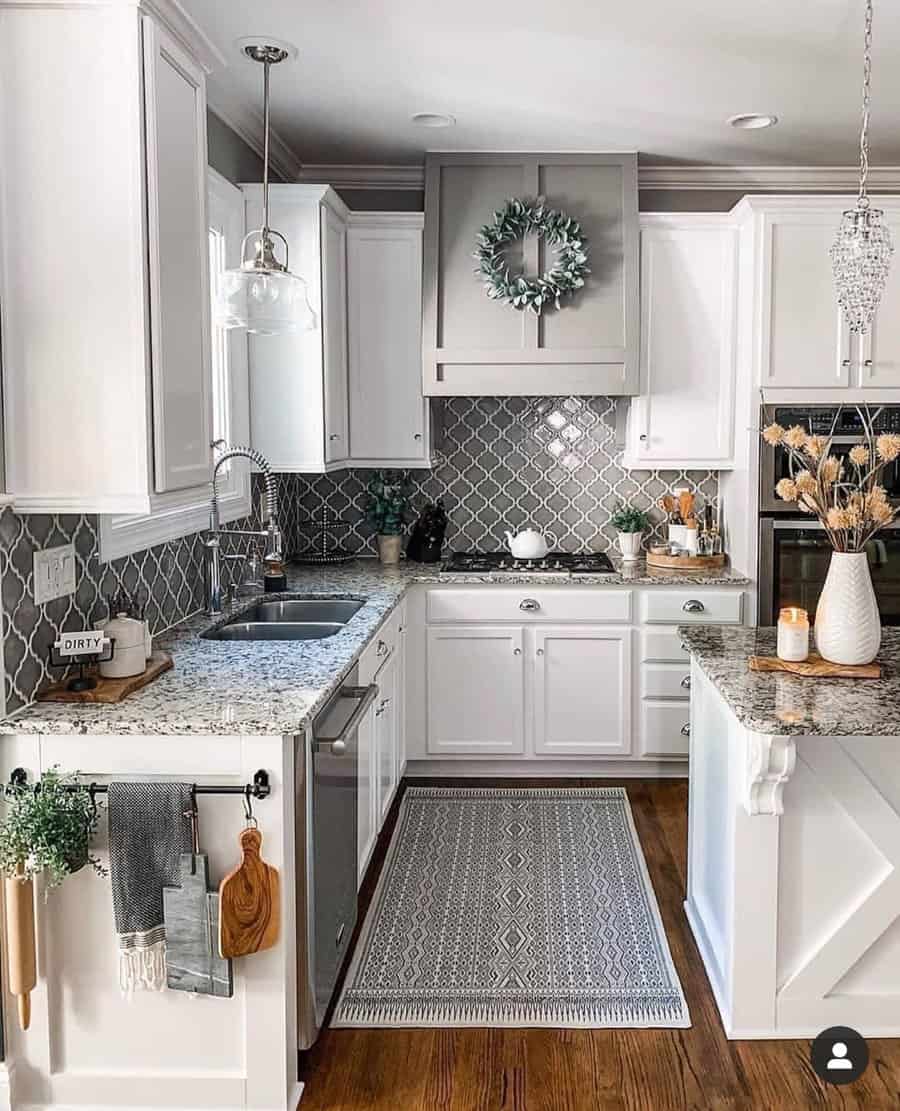 17. Keep The Flowers Fresh
Walking into a small kitchen with vibrant, freshly picked flowers makes the space come alive in an unexpected way. Despite its lack of size, the attention brought on by these blooms makes this room full of life and energy. Flowers can be used as a good accent to draw the eye towards finishes such as wooden cabinets or splashes of color on the walls or decorations.
Investing in fresh flowers for your kitchen will make it feel larger than what it actually is. In addition, fragrant bouquets placed on countertops, shelves, or windowsills will contribute to making your cooking space more inviting and homely.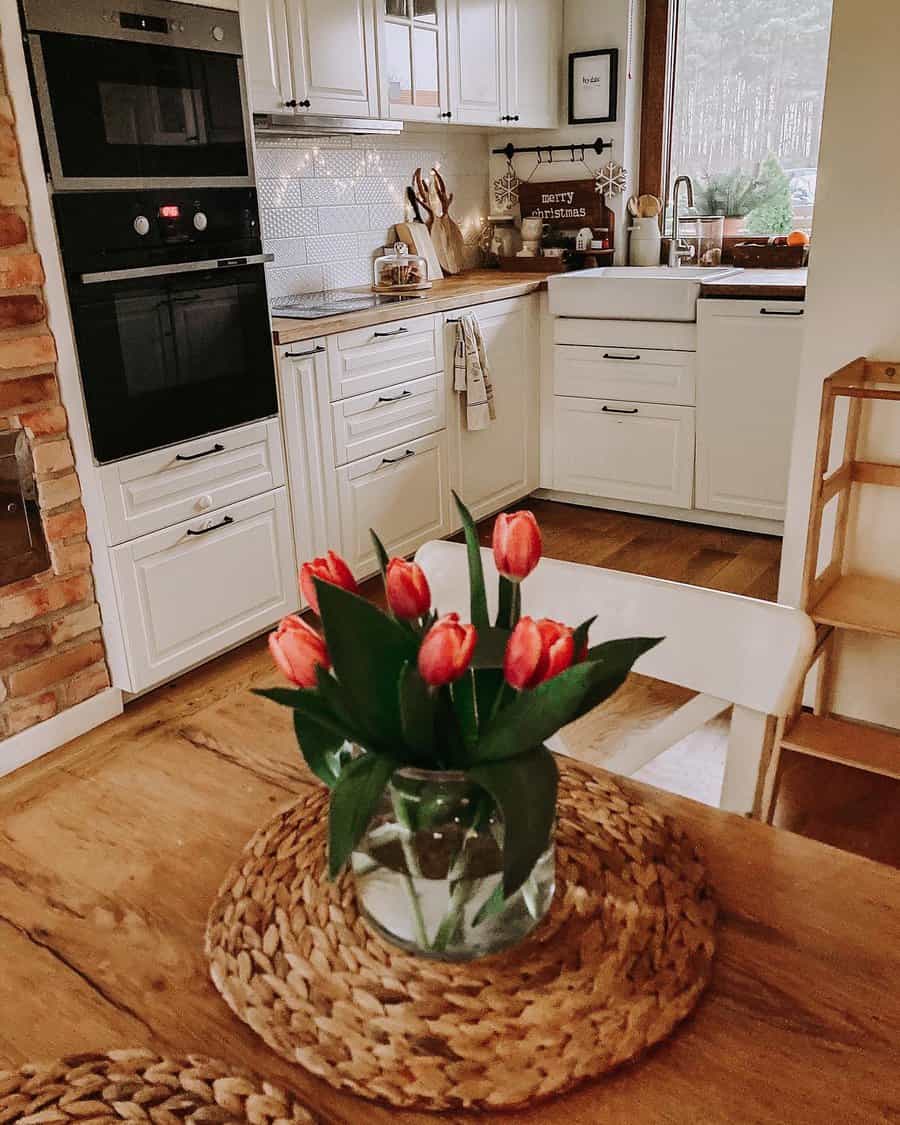 18. Install Gold Fixtures
A small kitchen can feel vintage and sophisticated with the right gold fixtures! From light switch covers to faucet handles and sink strainer baskets, a warm, subtle yet chic touch of gold can immediately lift up the mood of any small kitchen.
he vintage vibe is great for adding character to a small space while the sophistication is perfect when entertaining guests. With some vintage gold accents, your small kitchen will instantly transform into an elegant yet cozy environment.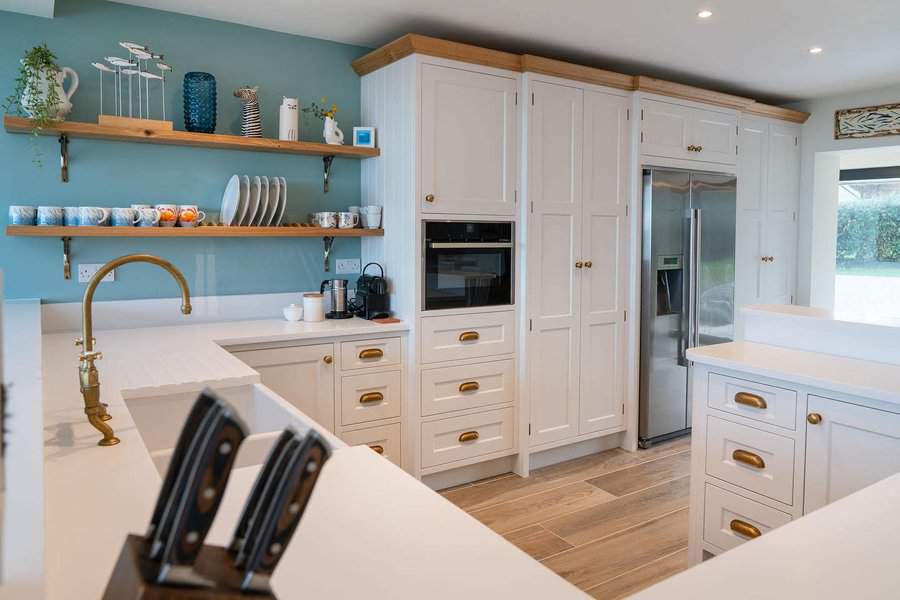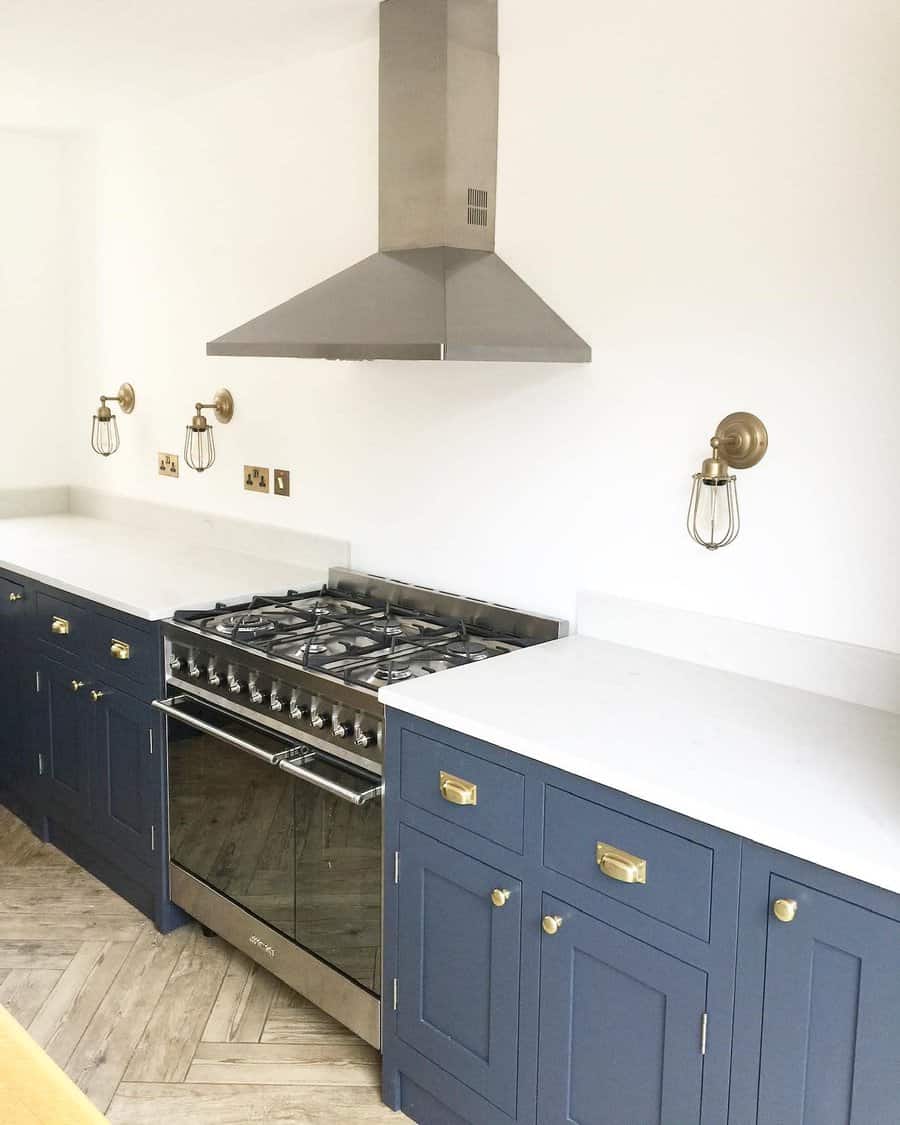 19. Make It Rustic
Transform your small kitchen into a cozy, rustic escape with distressed furniture, light wood accents, and pretty dried flowers to bring a touch of nature indoors.
Get creative by adding stamped accent tiles for a handmade feel that will give your kitchen the extra charm it deserves. Your guests are sure to find themselves lingering in a warm and inviting atmosphere every time they visit.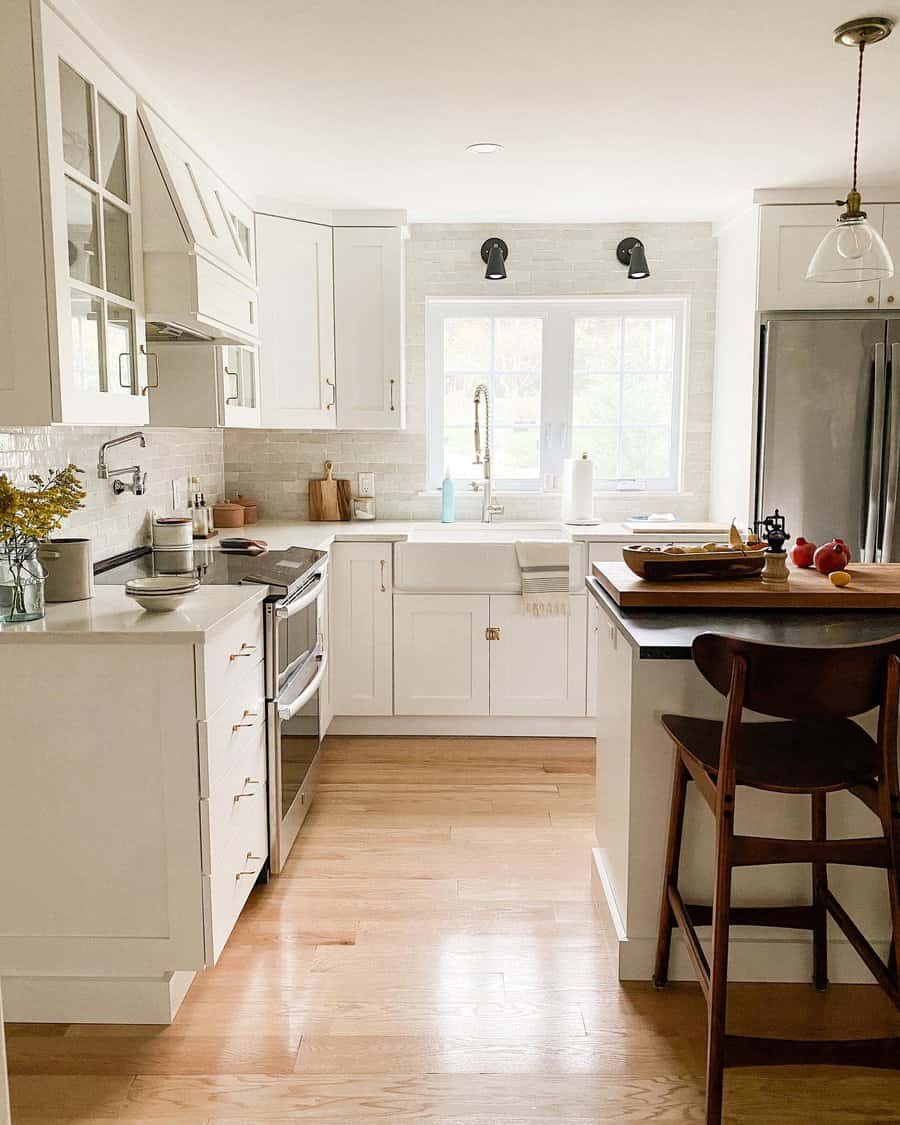 Budget Small Kitchen Idea FAQs
What can I do instead of a backsplash?
While tile or peel-and-stick coatings are the most common type of backsplash, they aren't the only options. Faux brick is one of the coolest design ideas for this area below your upper cabinet row. Wood panels, such as wainscoting, beadboard, or shiplap are great kitchen ideas for a backsplash.
How can I replace my kitchen cheaply?
Sticking to your original kitchen layout will help you save money. If your appliances need an upgrade, look for good quality used appliances instead of dumping most of your kitchen remodel money into brand new ones. Good places to shop for used appliances include thrift stores, builder surplus stores, and Facebook Marketplace.
Paint is the cheapest way to make cabinetry look brand new, and you should paint the walls while you're at it. If your worktop needs refreshing, Home Depot and other big retailers sell special paint kits that can make your worn counters look like a new granite or marble countertop.
Where do you put a microwave in a small kitchen?
When you have a tiny kitchen, you don't want to waste even an inch of precious worktop space. So where should the microwave go? Over the range is the logical first choice for getting this vital appliance up and out of the way. Other spots that free up counter space in a small kitchen include putting it on an open shelf, tucking it under the kitchen island, or hiding it in a cabinet.